TweakTown's Rating: 89%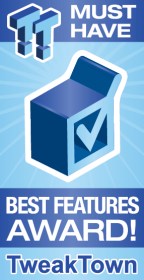 The Bottom Line
The ASUS RT-AC88U is a unique and great looking solution that fits between the AC2600 and AC5300 markets. While this router may be a bit early in terms of client support, it does offer eight Gbe ports along with future-proof wireless technology.
Introduction & Pricing, Availability and Specifications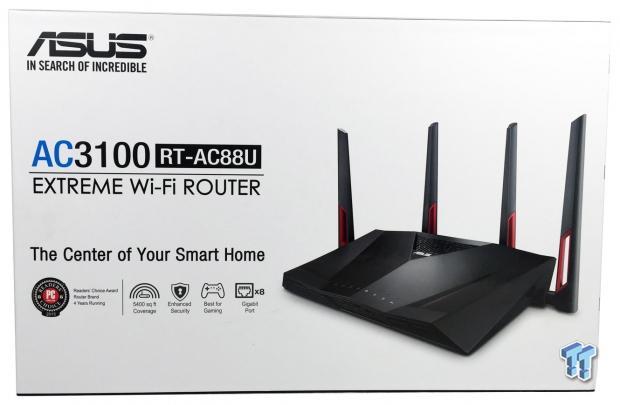 It has been a while since we had last taken a look at a networking solution from ASUS, so with that in mind, I set out to get my hands-on the RT-AC88U.
ASUS has always had a small share of the wireless router market going all the way back to the WL-500b, but its seems they have been becoming more of a powerhouse with the launch of the 802.11n solutions and now their 802.11ac devices. The AC88U is a rather interesting solution as with its large AC3100 marketing number you would think there are at least three bands within this solution, but instead, ASUS has thanks to advances in beamforming technology, enabled this solution to use 1024QAM on both 2.4 and 5GHz. This means the 88U which operates at 600 Mbps on the 2.4GHz and 1734 Mbps on the 5GHz can now be pushed to 1000 Mbps on 2.4 and 2167 Mbps with 5GHz.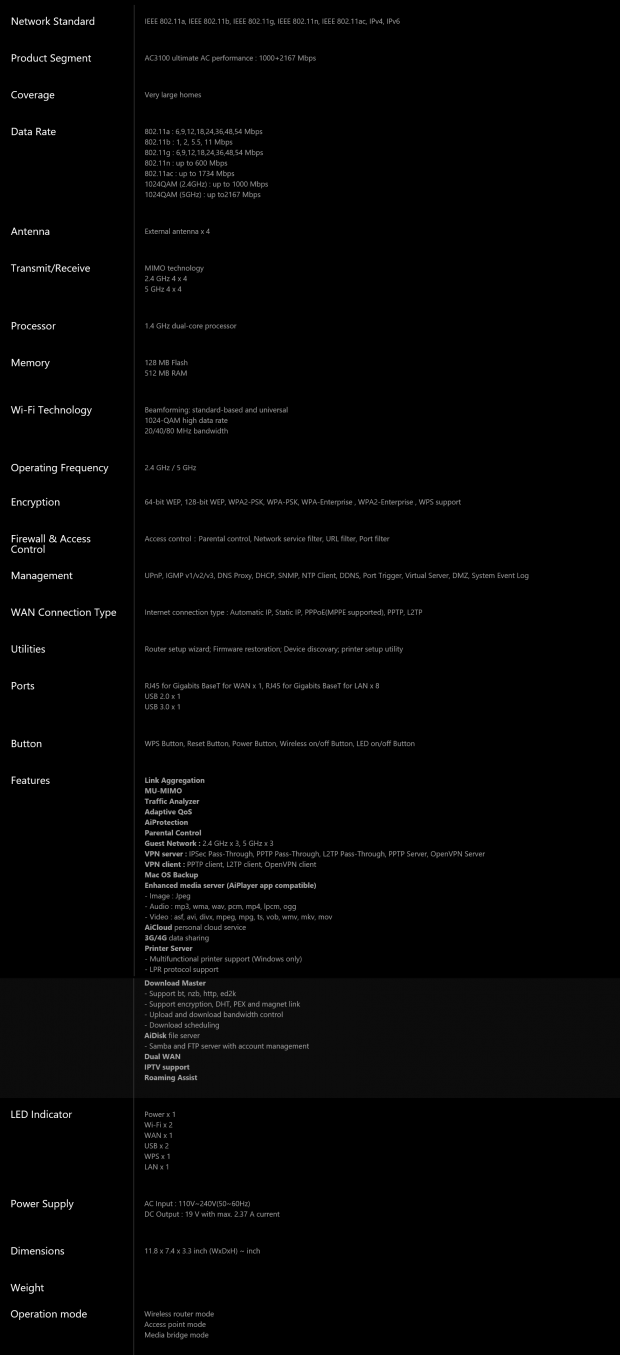 Specifications of the 88U include MIMO functionality with a 4x4 Tx/Rx setup. At the heart of this platform lies the 1.4GHz dual-core Broadcom BCM4709 with 512MB of DDR3 and 128MB of NAND for firmware. Adding to this, ASUS has all the standard bells and whistles including WEP, WPA, and WPA 2 security along with uPnP, IGMP, and SNMP for monitoring. 802.3ad support is really starting to become a mainstream feature with client solutions as ASUS, like Netgear, has deployed this setup over LAN1 and 2 on the 88U. Also, ASUS has enabled 3G/4G functionality along with dual WAN and VPN.
MSRP of the ASUS RT-AC88U sits at $299.99 with a two-year warranty.
Router Details
ASUS RT-AC88U Router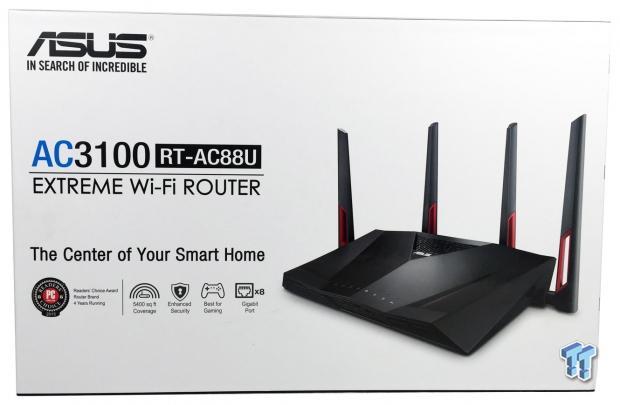 Packaging for the AC88U carries a modern vibe to it. On the right side, we have an image of the router while just a slight bit of marketing tucked to the left.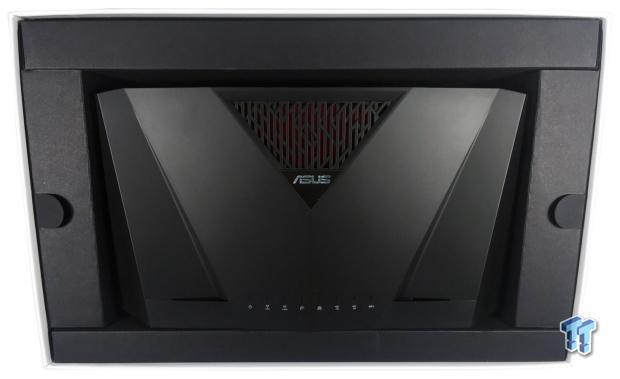 So the first thing I thought of when opening the packaging is the Lamborghini Aventador. ASUS has always had an excellent taste for styling and the mix of a soft black with a touch of red really sets this router off.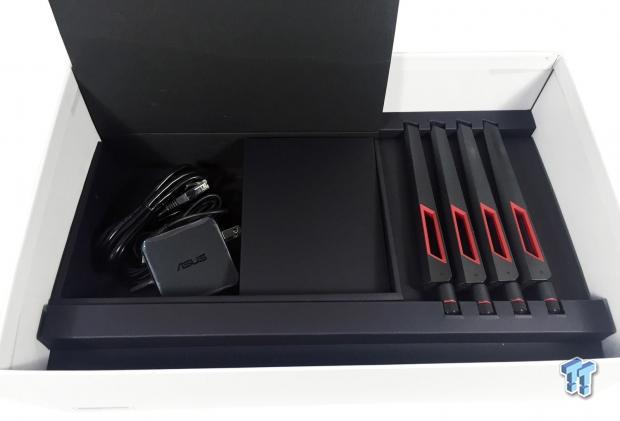 Adding to the overall experience of the 88U is the packaging, as you can see here, ASUS has laid out the four antennas to the right while the power adapter and accessories are tucked away.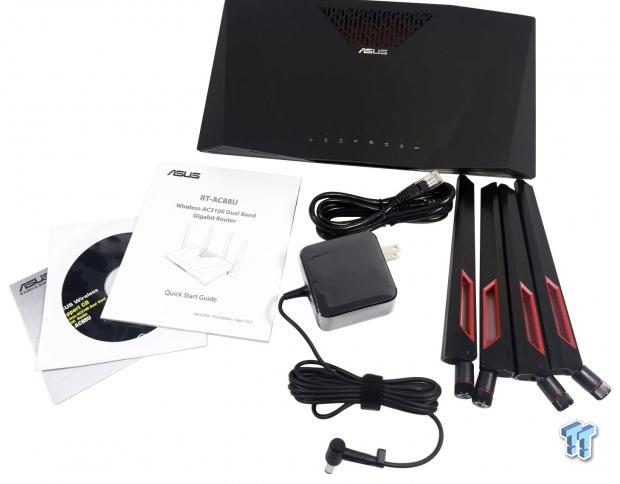 We finally made it to the scope of delivery and as you can see the ASUS comes with everything you will need including reading materials, antennas, and the power adapter.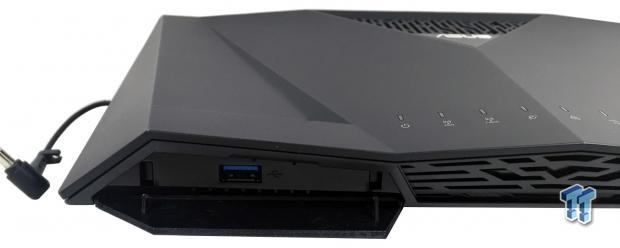 Tucked away under the left side of the 88U is the USB 3.0 port, much easier to access for the consumer.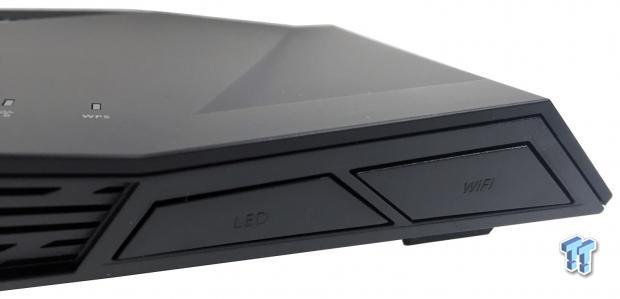 Over to the right, we have LED and Wi-Fi buttons that can enable or disable each of these features.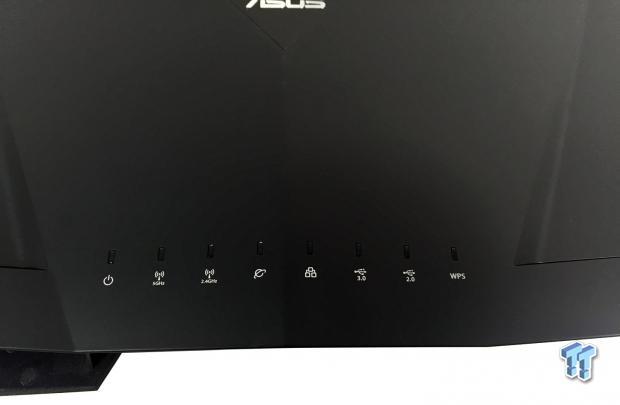 The top, like many solutions, is chocked full of LEDs. Here we have everything from power to the wireless bands, WAN and USB denoted.

To the business side, we have eight Gigabit LAN ports along with a single WAN port to the right. USB and reset are to the far left as is the WPS button.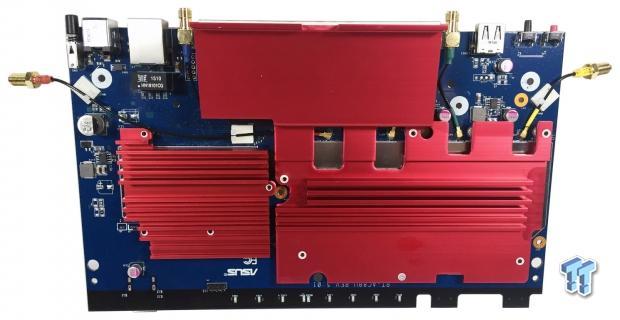 Tucked away underneath the soft black plastic is a stunning array of anodized aluminum heat sinks.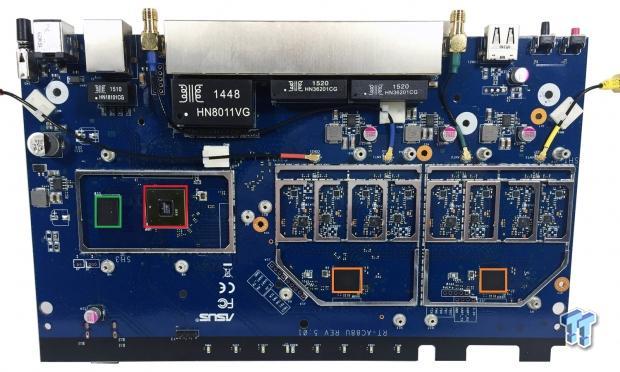 After removing the heat sink we find the main CPU, the BCM4709 to the left along with its 512MB of RAM. To the right, we have both BCM4366 radios.
Test System Setup and Management GUI
Tyler's Router Test System Specifications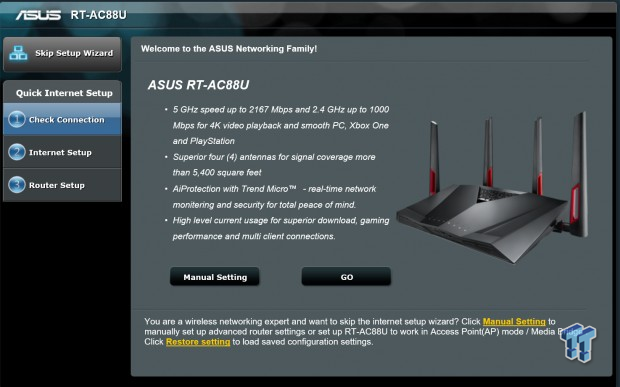 ASUS like many vendors uses a setup wizard to guide you through. It has the option of manual or automatic setup as you can see above.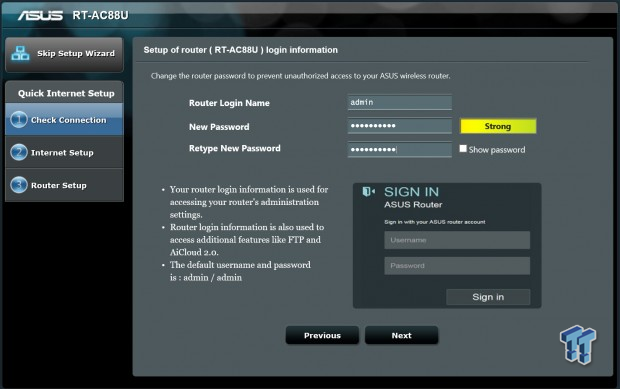 Following the automated guide, we enter our preferred username and password.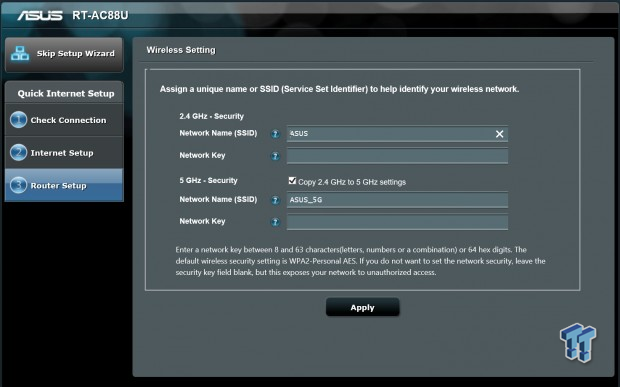 We then set up our wireless SSIDs and passwords to our liking.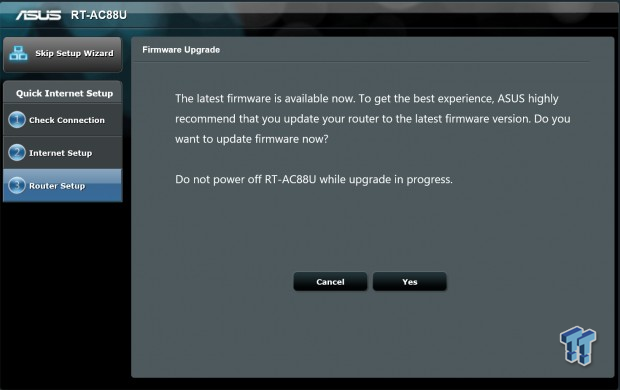 Following a brief firmware update procedure, we are ready to go.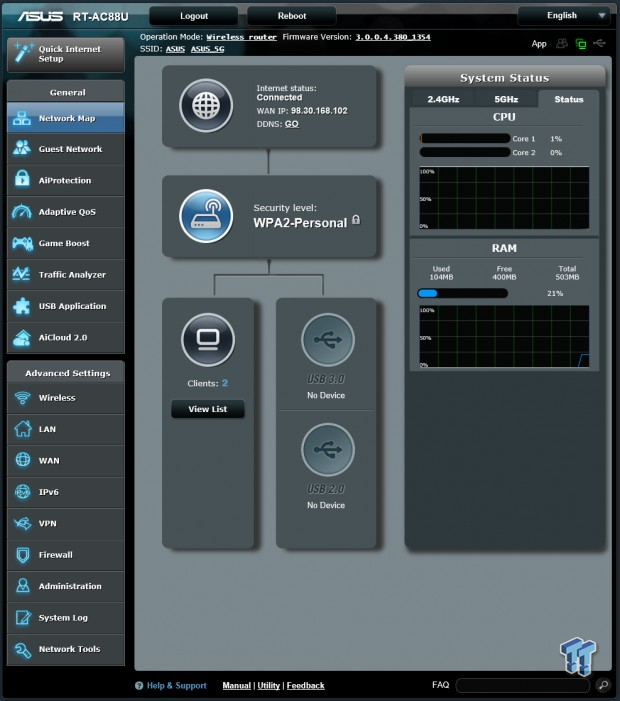 The landing menu for the AC88U is quite similar as I remember the 87U I tested a few years back. Here we have a status menu to the right and client list at the bottom. To the left, we have a full range of options for managing the router.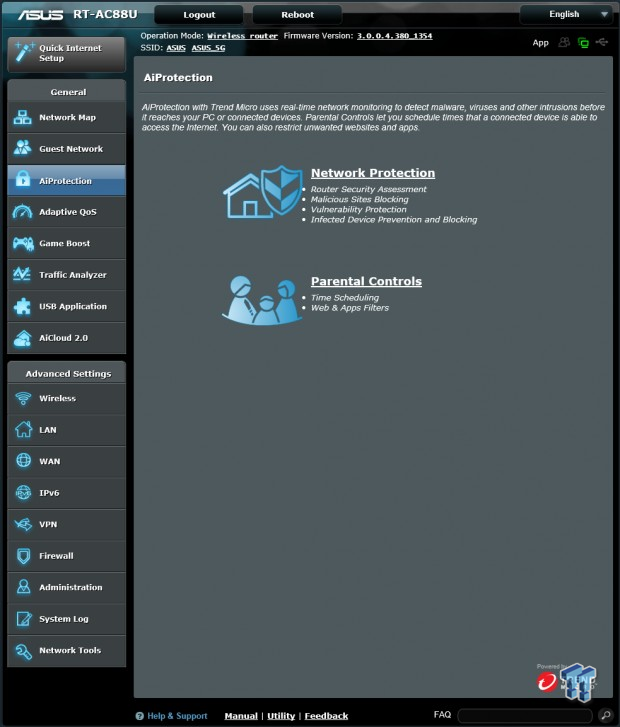 AiProtection encompasses both parental controls and network protection powered by Trend Micro.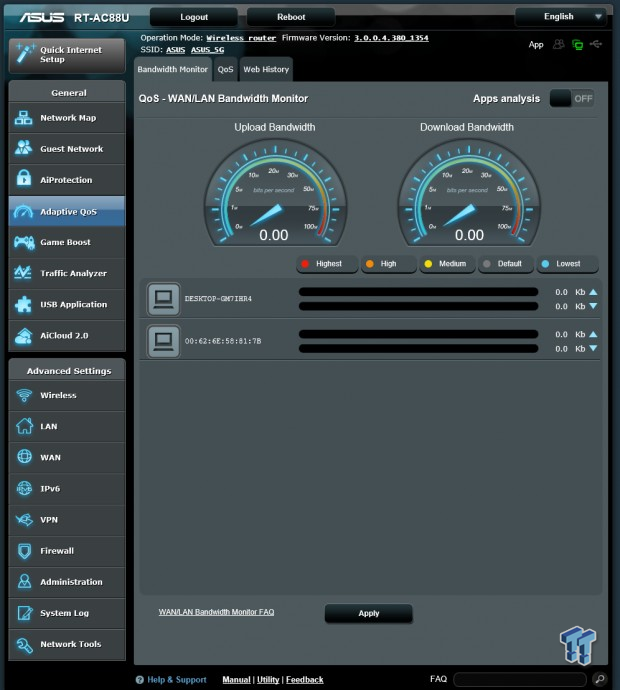 Adaptive QoS has always been one of the strong points for ASUS routers and as you can see it's a little more in depth than I remember with the AC87U. At the top, we have meters for up and download speed with devices listed below.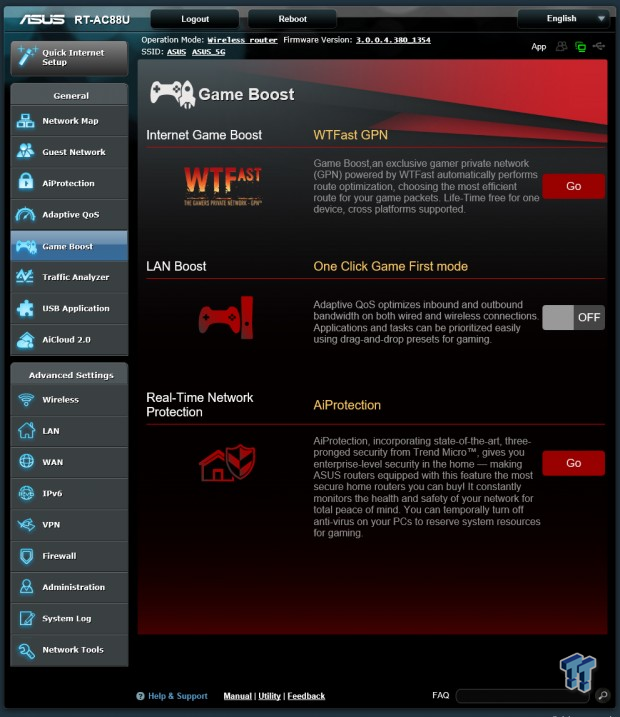 GameBoost is a new technology ASUS is deploying with the 88U as it enables a private network to optimize your packets.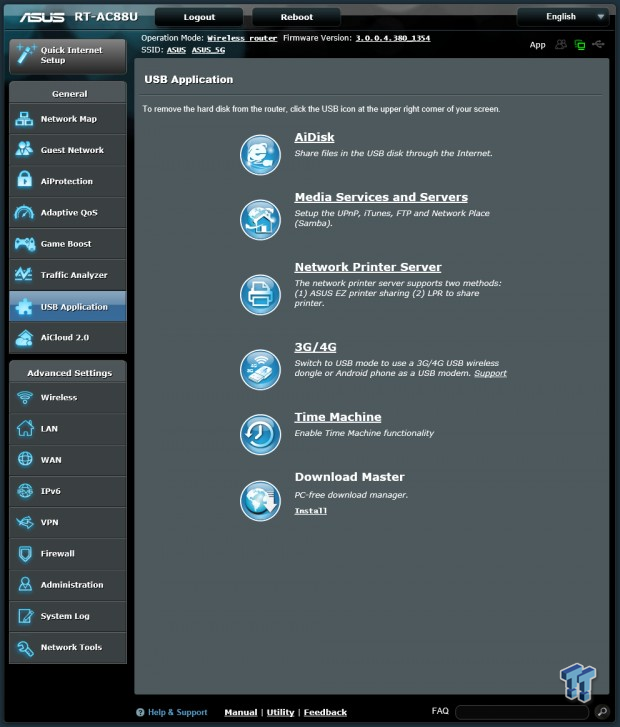 USB functionality, in my eyes, has always been an ASUS strong suit. As you can see, they have enabled quite a bit of functionality with this solution including Storage with AiDisk, Media Services such as iTunes and Network Print Server.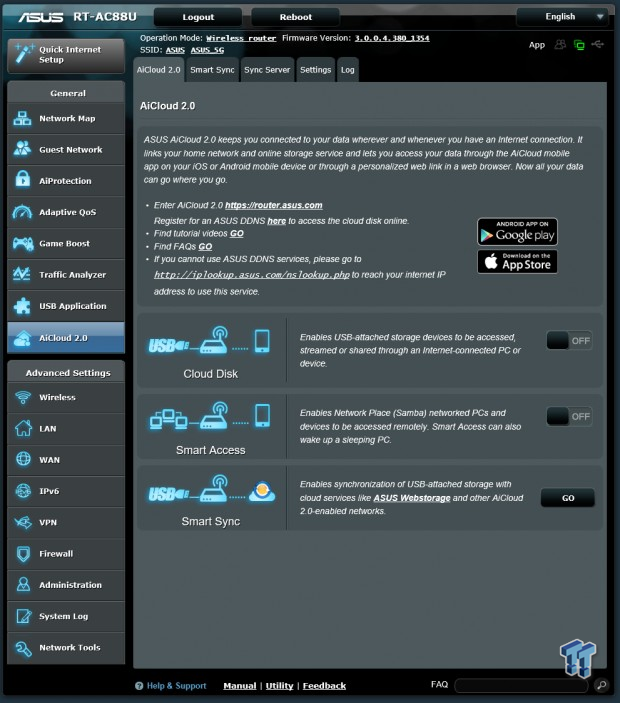 AiCloud is a cloud service that included Cloud disk along with smart access to the router.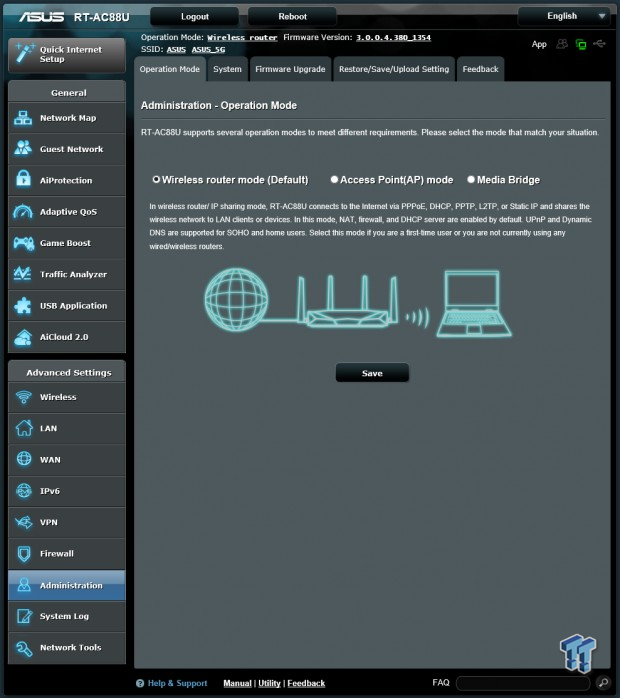 The AC88U has a few modes of operation including router, access point, and bridge mode.
Benchmarks - Throughput
Wired Throughput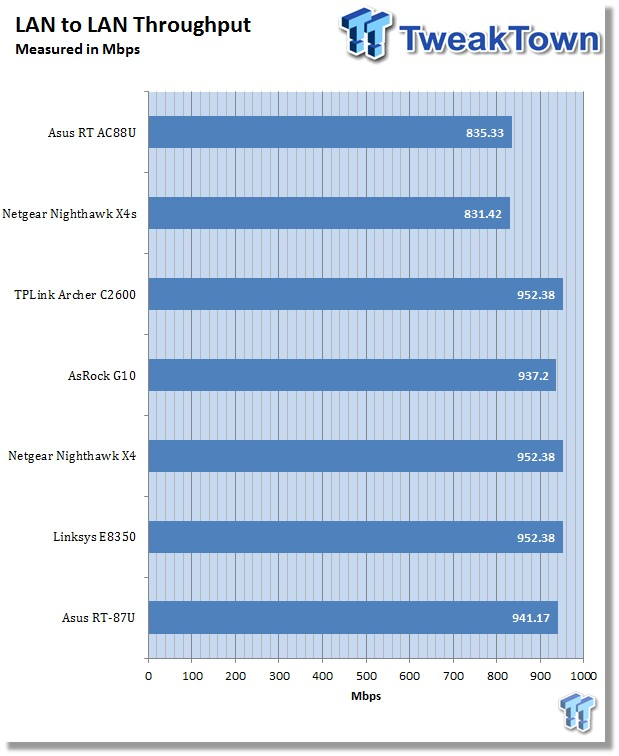 LAN to LAN throughput for the AC88U came in at 835 Mbps a touch below what we normally see.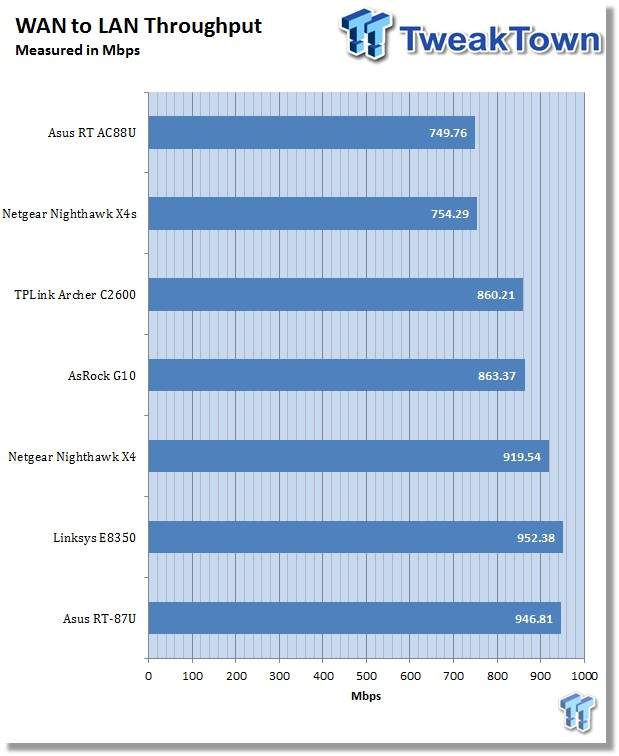 WAN to LAN came in at 749 Mbps, just under the X4s.
Wireless Throughput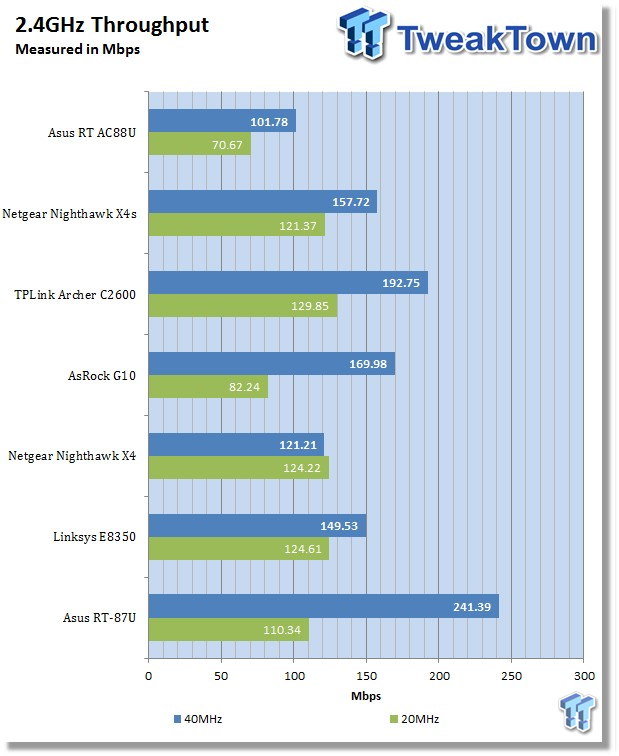 Moving over to 2.4GHz throughput, I was able to gather 70 Mbps for the 20MHz band and 101 Mbps in the 40MHz band.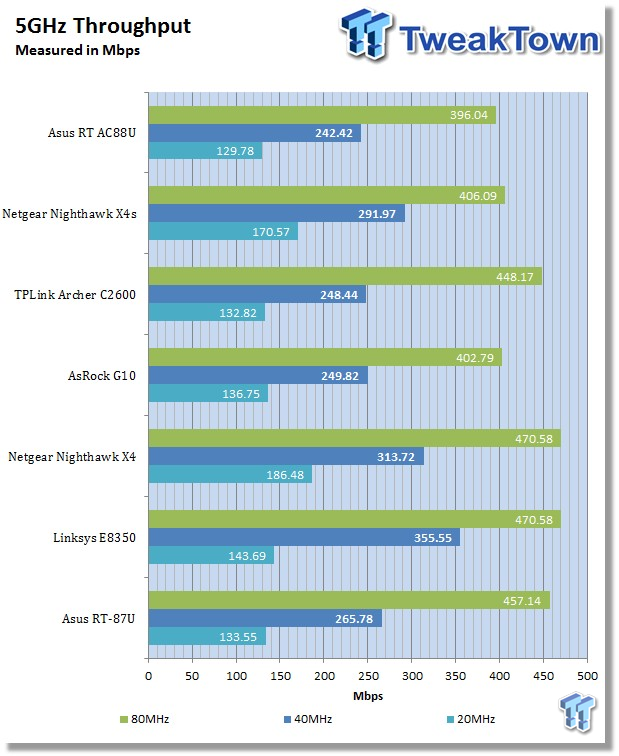 Switching to the 5GHz band, the AC88U was quite good coming in at 129 Mbps at 20MHz, while 40MHz came in at 242 Mbps, and lastly 80MHz at 396 Mbps. It is worthy to note these are all 256 QAM results as we can't entirely test 1024QAM at the moment.
MIMO Wireless Throughput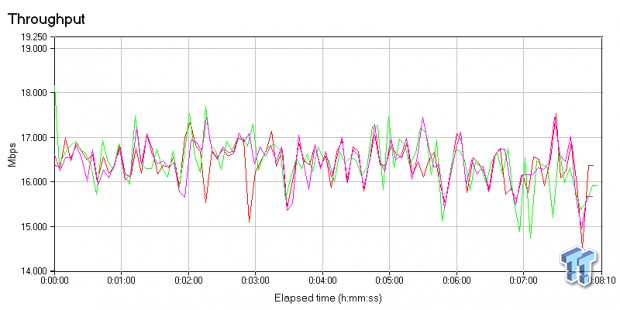 Instead of the typical chart I create for this part of the testing, I wanted to give a snapshot of what the results look like. As you can see above, we have three devices all getting the same 18 Mbps of throughput telling me that MU-MIMO is working for all three. For devices where MU-MIMO wasn't available or had a 3x3 or 2x2 antenna configuration the results would show devices all getting different throughput results or for 3x3 only two devices getting the same throughput.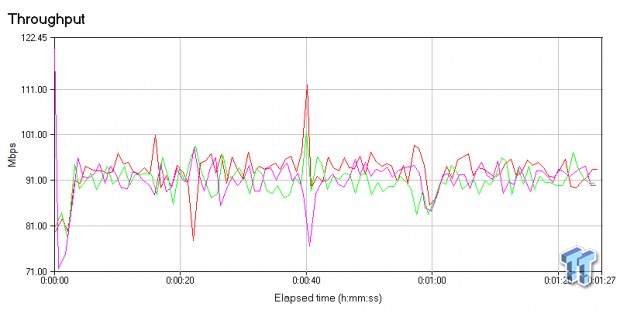 Switching to 5GHz, you can see each of the three clients are reaching 95 to 100 Mbps.
Storage Performance & Final Thoughts
Storage Performance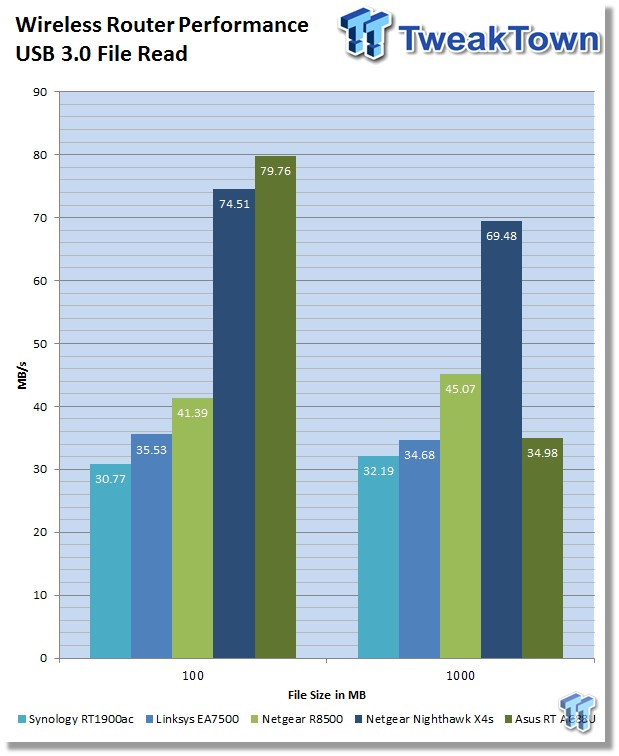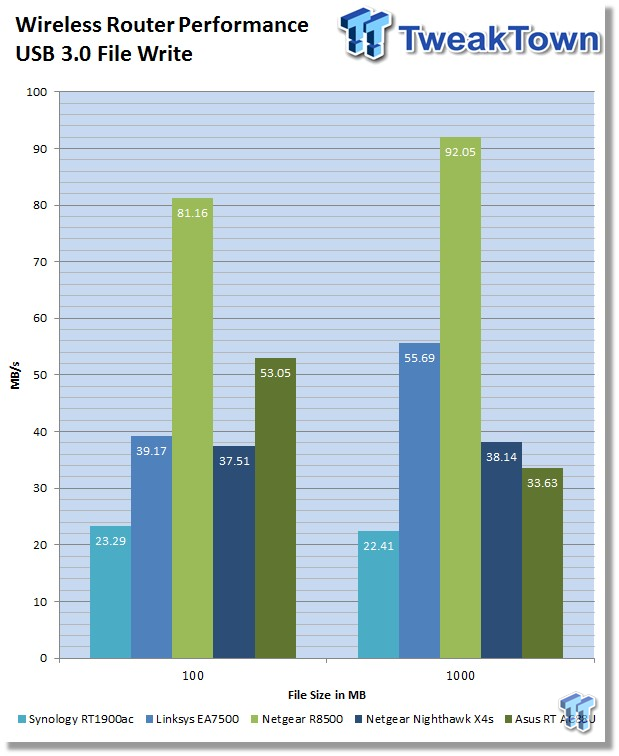 Storage testing for the ASUS 88U went quite well and as you can see the router was capable of 79 MB/s with the 100M file size while 1000M allowed 34 MB/s read. Write testing gave us 53 MB/s for the 100M and 33 MB/s on 1000M.
Final Thoughts
The ASUS RT-AC88U is one of a kind in the market. It lies somewhere between the top tier AC5300 and AC2600 solutions like the RT-AC87U. Build quality of this router is solid from the internal components to the external design, and on that note, I have always enjoyed the levels of edgy design ASUS has used with its products and with the 88U this has never been more pronounced. Like I said at the beginning of the review, design notes had to have been taken from the Aventador as this thing just looks like a mean Italian sportscar.
The performance of the ASUS 88U was good but not top notch. In our wired throughput testing, I was able to reach in the mid-800s for LAN to LAN and WAN to LAN topped out in the 750 Mbps range. Wireless throughput was below normal for the 2.4GHz band only reaching 101 Mbps, but the 5GHz band did bring things back into perspective pushing very near to 400 Mbps. Of course, this router is more advanced than our current testing equipment, but we were able to give MU-MIMO a run and see that the ASUS does in fact work as intended with all three of our clients reaching equal throughput on 2.4 and 5GHz.
Storage performance was some of the best we have seen with the 100M file size especially in read where we topped 79 MB/s. However, larger file sizes did tend to slow performance slightly as we were only able to reach 34 MB/s with 1000M.
One of the most important features in my mind is the router's web interface. The ASUS 88U, while using the same interface we have grown accustomed to, has deployed one of the most stable foundations for routers. Within this, we have everything from the ability to switch router modes, to high-level QoS functionality, and all the way down to basic NAS features. And adding to the whole package this time around is 802.3ad support or NIC teaming as some would call it.
Overall, the ASUS RT-AC88U is a high-end solution for those looking to upgrade without becoming obsolete within a few months. At the pace the wireless market is moving, you can rest assured this AC3100 solution will give you years of reliability and look great while doing it.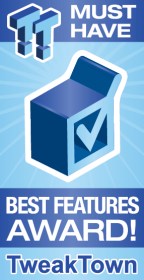 | | |
| --- | --- |
| Performance | 85% |
| Quality including Design and Build | 93% |
| General Features | 90% |
| Bundle and Packaging | 90% |
| Value for Money | 89% |
The Bottom Line: The ASUS RT-AC88U is a unique and great looking solution that fits between the AC2600 and AC5300 markets. While this router may be a bit early in terms of client support, it does offer eight Gbe ports along with future-proof wireless technology.
PRICING: You can find products similar to this one for sale below.

United States: Find other tech and computer products like this over at Amazon.com

United Kingdom: Find other tech and computer products like this over at Amazon.co.uk

Australia: Find other tech and computer products like this over at Amazon.com.au

Canada: Find other tech and computer products like this over at Amazon.ca

Deutschland: Finde andere Technik- und Computerprodukte wie dieses auf Amazon.de
We openly invite the companies who provide us with review samples / who are mentioned or discussed to express their opinion. If any company representative wishes to respond, we will publish the response here. Please contact us if you wish to respond.