Audio-Technica ATH-AG1X Audiophile Gaming Headset Review
Stepping into the gaming audio scene, will Audio-Technica's pricey ATH-AG1X headset blow away the rest? Take a look at our review.
Published
6 minute read time
TweakTown's Rating: 81%
The Bottom Line
Audio-Technica's ATH-AG1X Audiophile Gaming Headset is a perfect sidekick to any budding CS:GO professional, but some issues with bass let it down in other areas.
Introduction
While many forum and social media group users have been telling their peers to dump gaming audio and focus on audiophile brands for pure quality, Audio-Technica has stirred the pot by releasing its closed ear ATH-AG1X and open ear ATH-ADG1X models.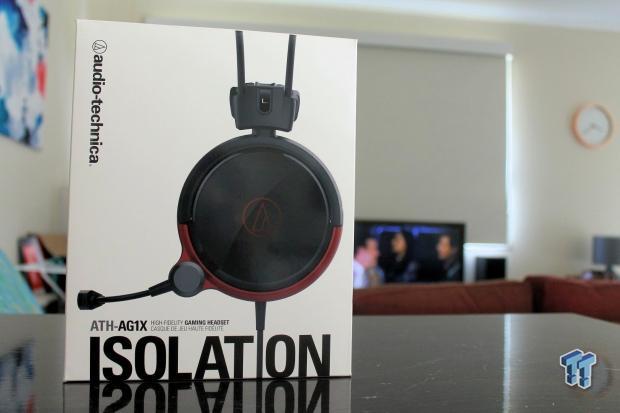 These products aim to blur the lines between what is audiophile and what is general gaming, with these pricey cans vying for your top consumer dollar.
While we're likely to expect some quality audio from these products, we'll be paying close attention to the quality versus the price. This review will often look at whether it is worth spending the extra going for such a highly-priced headset or if you should save your pretty pennies for a better video card instead.
Specifications
This headset breaks the mold from the beginning, sporting 53mm drivers in each earcup, operating in a stereo 2.0 formation.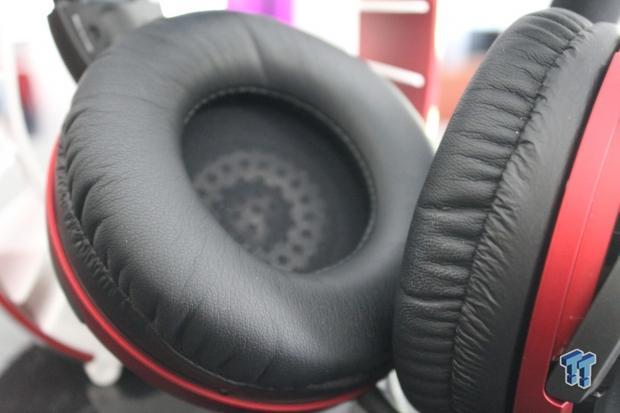 Connecting to your PC through either a 3-ringed (4 pole) 3.5mm jack capable of mobile and console applications, it also comes with the option to connect to a Windows PC through the separated microphone and audio 3.5mm AUX jacks. The hard wired cable measures in at 1.2m with the extension providing a long further 2 meters of wiggle room.
The closed-back dynamic drivers push a wide-ranging frequency response of 5 Hz to 35,000 Hz, an impedance of 50 Ohms and an output sound pressure level of 100dB/mW.
Weighing in at 320 grams in total, this headset further contains a super cardioid microphone attached to a bendable boom. Carrying a sensitivity of -41 dB and frequency response of 100 Hz to 12,000 Hz, this further shows that this headset is packing some seriously powerful internals.
Pricing & Availability
Listed as currently available for $299.99 plus shipping on the official Audio-Technica website, this headset comes in at $40 more expensive than our previously reviewed Feenix Aria, and throwing it squarely into the middle of a new class of audiophile gaming headsets.
What's in the box?
For around $300, you're going to expect a few goodies thrown in. The 2-meter extension cable is certainly helpful and long enough for just about anything you could want it for, but that's where the buck stops.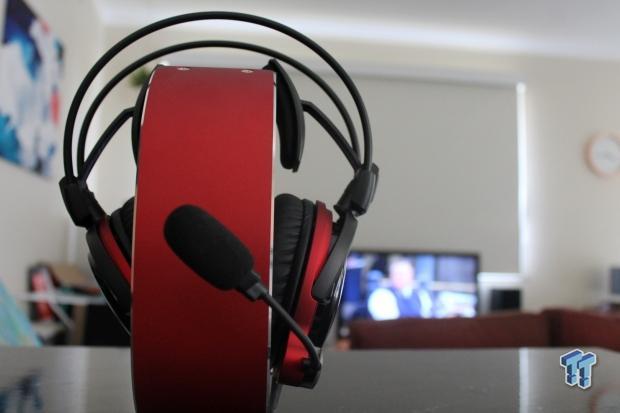 The headset further comes packed sitting on a soft cloth that is stuck to the plastic underneath, seemingly to help keep the packaging presentable and possibly work as a cleaning cloth if you were to rip it off, but there's no designated carry pouch in sight.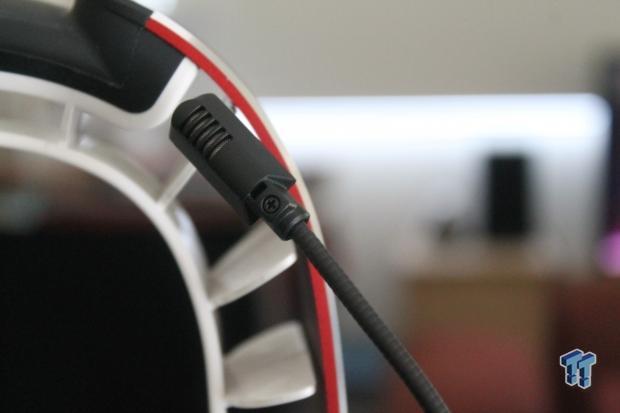 For this kind of pricing, I would love to see a sturdy carry pouch – something that the Feenix Aria also missed out. If you're taking a $300 headset to gaming competitions, LANs, or a mate's place, you are certainly going to want to hope that it stays safe from harm.
While carry cases and pouches might not be all too common in audiophile headphones, it's worth noting that this has been pitched and branded as a gaming headset, thus will need to compete with other similar offerings. If you're looking to help battle against microphone wind and breathing noises, Audio-Technica does provide a 'windscreen' in the box, which is a handy addition.
Let's dig deeper
The first thing you notice when looking at and wearing this headset is the different headband design. Audio-Technica describes it as a '3D Wing Support system' and has some positives and negatives attached.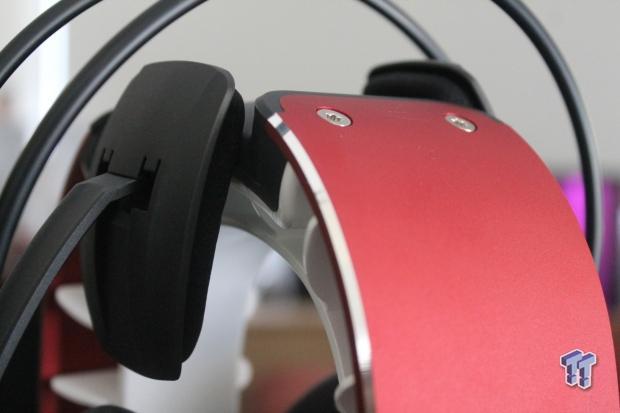 The headband feels weird at first. You're going to have to get used to laying the headset atop your noggin quite softly, compared to some other complete-banded models that you pull on to get them to firmly perch. This took a small teething period for me, ensuring that it would sometimes sit in the wrong place and push on points under or above my ears, causing pain (it also doesn't sit on the headset holder well, as seen in the images).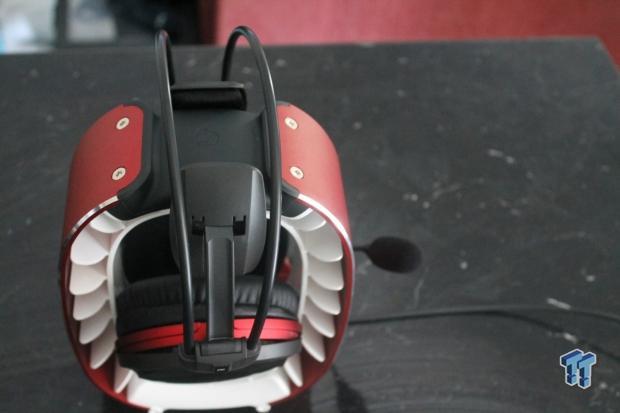 Once that issue was sorted, the headset felt fine. It's packed with cloth earcups, so you're not going to get that Feenix or Sennheiser plush leather feel, but it's made quite light due to the frameless headband and sits on your head without issue.
The extra-long cable isn't packed with a Velcro tidy strap which can become annoying, especially if your device is close to you and you end up with 1.5 meters of cabling sitting on the floor or desk. It's also worth noting that the 1.2m hard wired cable with the 3-ring (4 pole) connection did not function correctly with my computer setup, meaning that I had to use the extension cable and adapter no matter what.
The microphone is extremely nimble and quite small which is a significant bonus, alongside the earcups being big enough to accommodate most ears. The large earcups suit me perfectly, but smaller gamers or children might have some issues.
A Dota 2 and CS: GO analysis
Dota 2 and CS: GO are my current games of choice, allowing me to test this headset in a wide range of situations and scenarios while putting it to various tests.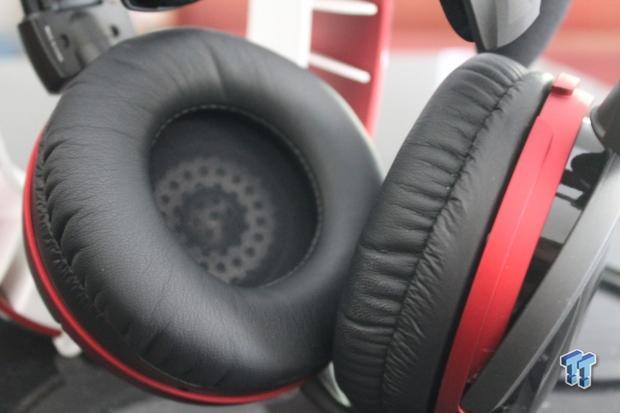 The Australian Counter Strike scene are collective fans of the old Audio-Technica products, meaning that CS: GO was the first game I tried with this product. Instantly upon loading into a competitive match and completing the pistol round, I was made well aware that this headset was designed for games such as this.
Although the marketing on the box and website talk about extra and rich bass, it's the subtlety and clarity of CS: GO's distant AK fire or footsteps that make this product come to light. Loading into Dota 2 and playing two matches helped show that the headset was cable of being an all-around gaming beast, but its true calling was FPS.
The bass, although present, is slightly hollow in its presentation, making bass-heavy titles such as Dota 2 sound a little off. This was made apparent when things like Enigma's Black Hole ultimate ability were being cast, or Gyrocopter and his call down spell being activated.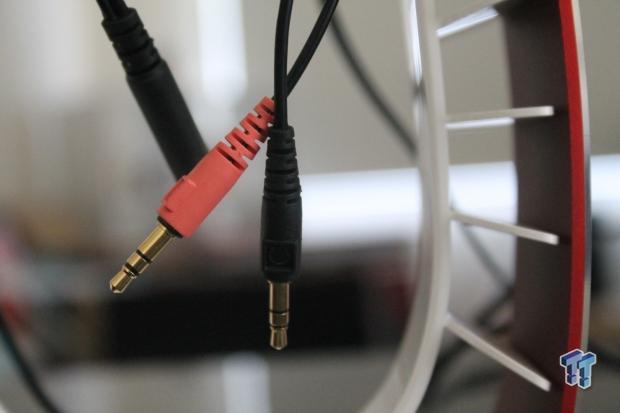 While I'm playing down the bass and up CS: GO, it's worth noting that this headset can handle Dota 2 just fine, but it's going to excel at all things competitive FPS; the drivers are simply tailored more towards these types of titles.
Extended gaming sessions didn't hurt my head after the initial teething period, and I didn't get any hot ears due to the closed earcup design. Talking to my friends in Mumble (VOIP) program also helped push another positive point about the microphone. It's small and easily maneuvered, alongside sounding decent for any gaming application.
The music testing mirrored what I learned in CS: GO and Dota 2 as explained above, the bass was present, but sometimes a little hollow. The clarity was on point and amazing for tracks from artists and bands such as Twenty One Pilots or Pink Floyd.
Some of the music I tested this product with included:
What's Hot
It's different: The headband and overall design provide something fresh and unique to the often stale gaming headset realm.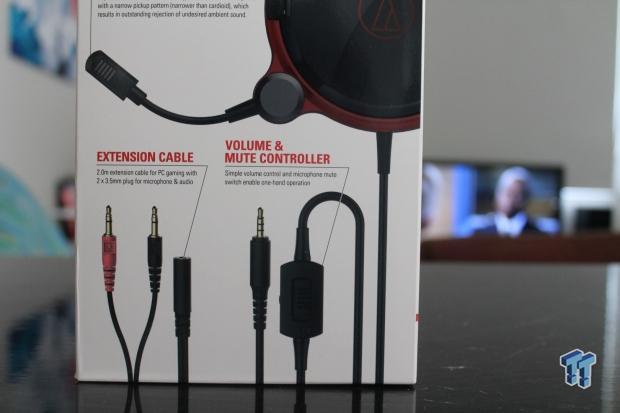 The clarity: Listen to footsteps from the other side of Jupiter with this product; CS: GO gamers will be impressed.
Microphone design: It's small, it's out of the way, and it sounds great.
What's Not
Lack of full bass: The lack of full sounding bass is good for sound-sensitive gaming titles, but bad for an all-round gaming experience. Lovers of FPS should enquire within.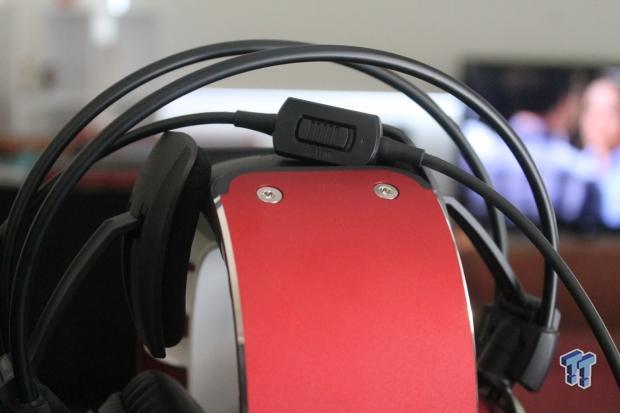 Uncomfortable at first: Don't be turned off during the teething period, it takes a while to position this product atop your noggin well.
Accessories: I would enjoy a carry pouch or aircraft adapter here, especially for $300.
Final Thoughts
Offering brilliant clarity and precision, this headset has proven itself to be a worthy sidekick for any budding CS: GO professional. However, the lack of full-sounding bass means that others may be left a little disappointed in their $300 purchase.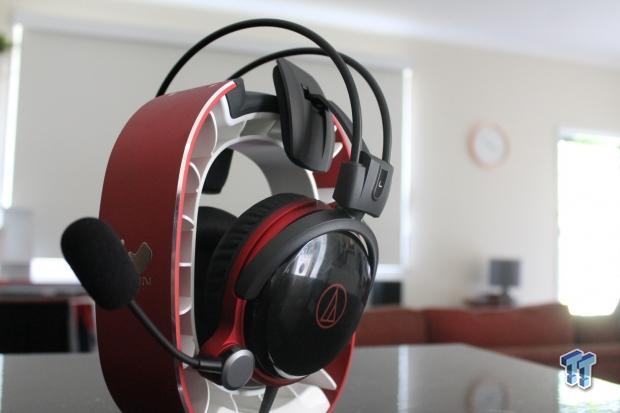 This headset feels great once you've got it right, it works exceedingly well in sound-sensitive gaming titles, and can serve just fine as an all-rounder product, but lovers of booming and full bass should look elsewhere. In conclusion, this headset is well worth the price tag for any training CS professional, but lovers of an overall experience should look elsewhere.
Chris' Test System Specifications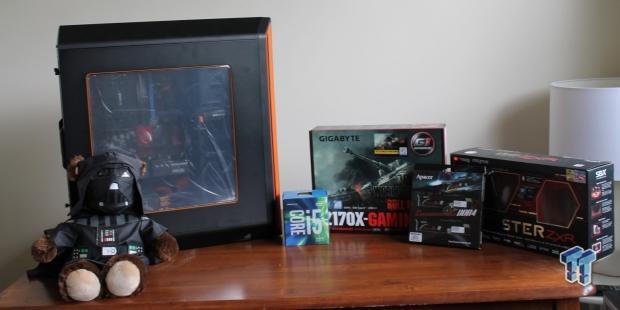 | | |
| --- | --- |
| Performance | 85% |
| Quality including Design and Build | 90% |
| General Features | 90% |
| Bundle and Packaging | 65% |
| Value for Money | 75% |
The Bottom Line: Audio-Technica's ATH-AG1X Audiophile Gaming Headset is a perfect sidekick to any budding CS:GO professional, but some issues with bass let it down in other areas.
PRICING: You can find products similar to this one for sale below.

United States: Find other tech and computer products like this over at Amazon.com

United Kingdom: Find other tech and computer products like this over at Amazon.co.uk

Australia: Find other tech and computer products like this over at Amazon.com.au

Canada: Find other tech and computer products like this over at Amazon.ca

Deutschland: Finde andere Technik- und Computerprodukte wie dieses auf Amazon.de
We openly invite the companies who provide us with review samples / who are mentioned or discussed to express their opinion. If any company representative wishes to respond, we will publish the response here. Please contact us if you wish to respond.