ROCCAT RENGA Gaming Headset Review
Promising 'studio grade' sound, ROCCAT is looking to provide an acoustic wonder with this new model. Read on for our full thoughts on the RENGA headset.
Published
7 minute read time
TweakTown's Rating: 77%
The Bottom Line
ROCCAT's RENGA is a perfect headset for budding FPS professionals, but this product isn't built for all round gaming.
Introduction
While ROCCAT has often catered towards eSports and competitive gaming with its mice releases, it still hasn't quite hit the nail on the head audio wise with previous products, sporting goods such as the amazingly comfy, yet muffled, ROCCAT Kave XTD with 5.1 analog sound.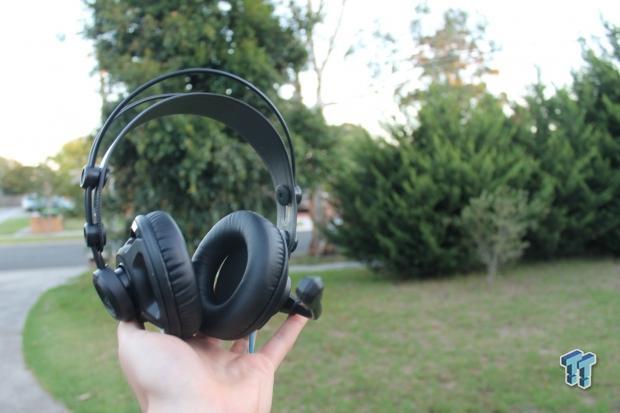 The Renga aims to work on past issues, with the supplied marketing material throwing out bolded and full-stopped catch phrase words such as "acoustic" and "performance," while also promising to deliver "studio-grade stereo sound" to whoever chooses to pick one up.
I've talked before about how competitive gaming headsets are often a little light on bass in return for acoustic performance, rigging up the drivers to allow for gamers to listen in on light footsteps or for enemies reloading through a wall. This is in comparison with some more casual headsets, offering overbearing bass that will drown out most other audio. While the Renga does use some interesting words and makes significant claims for high performance, I'm here to see if they have become reality.
Specifications
Able to be connected to your Windows PC, mobile, or Sony PlayStation 4, the Renga offers a wide yet thin expanding bridge type plastic headband and thin SteelSeries-like leather earcups.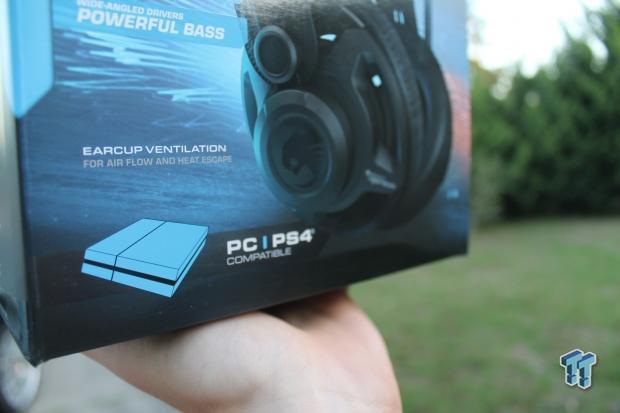 The earcups are ventilated to allow heat to escape, resulting in this headset being open-ear in design. The earcups house a 50mm neodymium driver that pushes out a frequency response of 20hz – 20KHz, something that's completely standard for headsets in this field. Further specifications include an impedance of 32 Ohms and a max SPL at 1kHz of 110dB.
The microphone is attached to a tough rubber boom and can swivel vertically when not in use. As far as internals are concerned, it provides sensitivity at 1kHz of -52dB and an impedance of 2.2kOhms, while picking up sound in an omnidirectional partner.
The headset overall weighs a relatively light sum of 210g and connects to your device through a 3.5mm AUX jack for sound and a separate one dedicated to the microphone. Connection to your device is provided through dual 3.5mm AUX 2-ring jacks (one for audio and one for microphone), or through the supplied dual-3.5mm to single 3-ringed connector for audio and microphone use on devices with only one port.
Pricing & Availability
Available on Newegg for $49.99 and set for release to the market on 8 Feb 2016, this product sits on the lower-end of the gaming headset spectrum. Headsets around this price point will need to sacrifice some factor of design to come in at a low price. Given that ROCCAT has talked mostly about the acoustic audio in all marketing materials, this may ensure issues with build quality, design, or bass.
A recently reviewed and similarly priced product I have looked at recently is the Patriot Memory Viper V360, being named as the top-scoring budget audio review of 2015 on TweakTown.
What's in the box?
There's the aptly labelled 'important document' that outlines how to apply for ROCCAT support, a small Velcro strap to keep the cable tidy and the AUX adapter cable, that's it.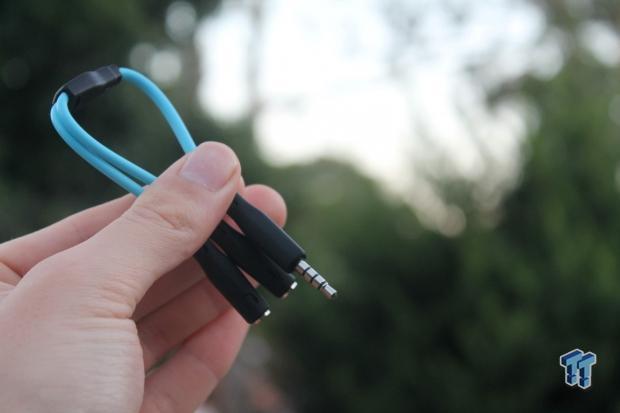 Unfortunately, there's nothing really to see here in regards to accessories. It's not too big of a complaint seeing as the headset itself is cheap, but competing companies are often seen throwing in things like a carry pouch with $40 headsets.
While a carry pouch is not mandatory, it helps. Because of the marketing based around this product, being touted as an acoustic dream and coming from a company with a significant competitive gaming focus, a carry pouch helps keep your product safe from wear and tear or becoming dirty while in transit to friend's houses, LAN events or competitions alike.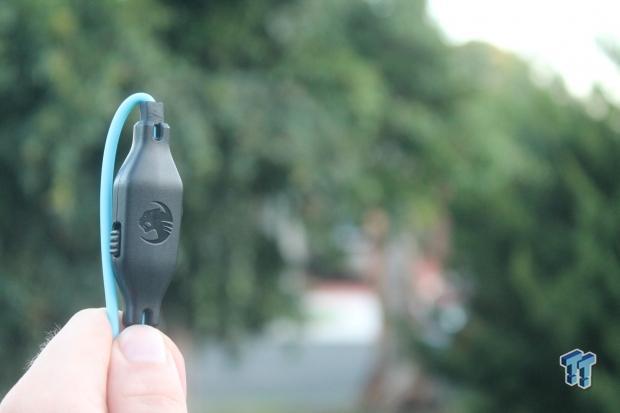 The supplied AUX adapter was mentioned previously in the specifications section. To reiterate, it helps the dual 2-ring AUX 3.5mm connections become a single 3-ring AUX jack to carry audio and microphone through one port – meaning it can be used with smartphones and similar products.
Let's dig deeper
While the headband is one of the most simple and thinnest I've ever seen, it works great due to it being an expanding bridge style design and connected to the headset body in a different and creative fashion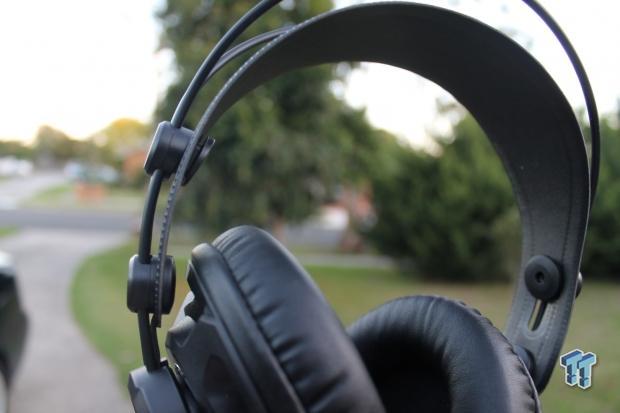 The microphone is quite bulky at the tip, and the boom isn't as free-moving as I would like, often catching my attention through peripheral vision while in the testing phase. The headset fits and feels similar to a SteelSeries product, which isn't too weird given that the headband and earcup designs are quite similar. However, ROCCAT has improved by making the headband a little sturdier than SteelSeries, winning out in this sector.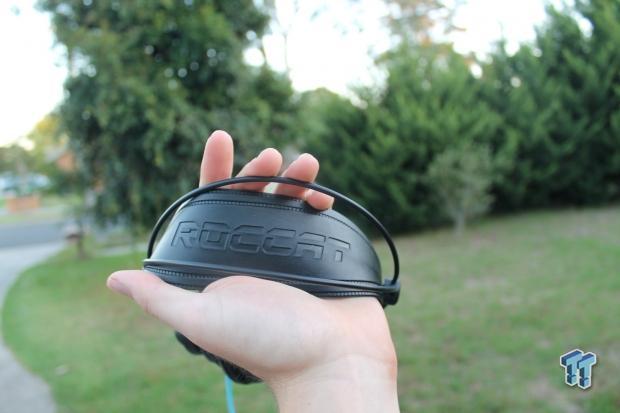 While this headset is quite light and offers ventilation to work as an open-ear product and keep your head cool during long gaming sessions, it brings forward some concerns for durability and longevity. The thin wire headband frame seems like it will last through quite a few knocks due to springing back into position in my testing. However, the external hard and brittle plastic on the earcups cause concern – be careful if you're prone to rage, as this product might not take too much of a beating before it comes apart forever. In saying that, the headset is ridiculously light and thus 'very' open ear, meaning I'm able to hear myself and everyone around me.
A Dota 2 and 'The Division' analysis
While talking about studio-grade acoustics on the packaging and supplied marketing materials will be seen as a marketing gimmick by most, this train of thought is partially justified by looking at the small $50 price tag. Keeping this in mind, my testing phase proved to me that anyone looking at a sub-$80 gaming headset will be impressed.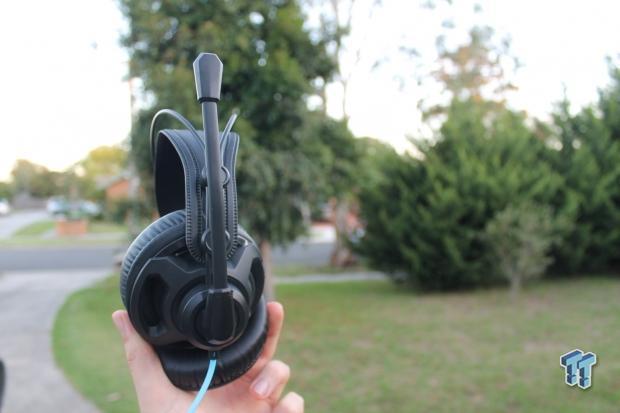 It's certainly not going to match real $400+ studio grade headphones, but the Renga does a fantastic job with acoustic clarity in the price range that it has been given, performing well throughout my tests in Dota 2 and The Division beta. The latter title helps test acoustic clarity more so that many other new release games, thanks to the distant wailing sirens, lurking injured residents and sneaky assailants, with all of these factors helping show off the prowess of this headset.
I mentioned previously that the price tag and large audio claims mean that this headset will have to fall in other areas. Due to my analysis in Dota 2 and The Division, it becomes apparent that the shortcomings come in the form of brittle ear cups and a lack of overall bass. It's still better than some headsets I have tested around this price range, don't get me wrong, but you should take the packaging's claim of "powerful bass" with a grain of salt.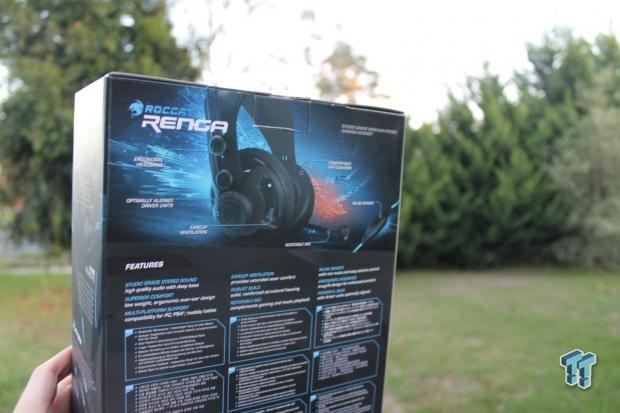 The lack of bass becomes prominent in Dota 2, with large ultimate abilities such as Enigma's Black Hole lacking the punch it should have, followed up by a lacklustre and ill-sounding Gyrocopter call down ability. The lack of bass won't detract too much from your gameplay or skill as some other headsets will, but it's noticeable for anyone who has a little experience in audio.
Using this headset in Mumble (a VOIP program) while playing Dota 2 and listening to music through Spotify Premium caused no issues, showing that this headset can tackle a variety of tasks at once without too much issue, furthermore showcasing a decent microphone. What is important is that no sound was overbearing, with some products that showcase low-quality sound or overdriven bass often drowning out concurrent audio through different programs.
The lack of bass became more prominent when testing out this product with a variety of music, choosing to load up a bunch of tracks that covered genres ranging from hardstyle to rock and more. The punch in many tracks was lost, reminding me of many SteelSeries headsets of old. While this headset might handle acoustics and songs like Pink Floyd well, it's not going to give you an overall balanced product experience.
Some of the music I tested this product with included:
What's Hot
You can't even feel it: This thing is seriously light and airy. You're never going to get hot ears or a sore head.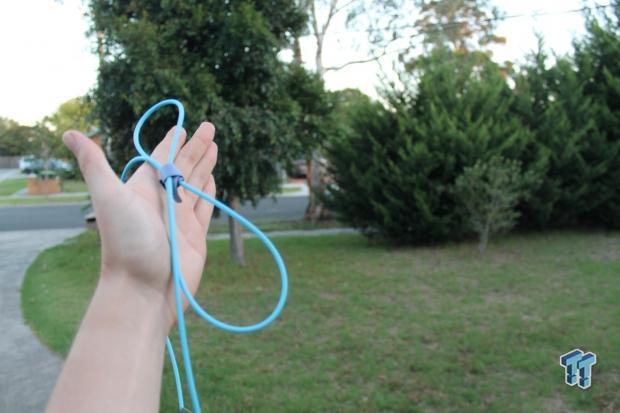 The price: It's set for a seriously low release price.
The acoustics: ROCCAT has nailed the acoustics on this headset (within its price point), meaning it's a dream product for any aspiring FPS professional.
What's Not
A lack of bass: The acoustics are nice, but a low price point means that ROCCAT is going to have to sacrifice something. Lovers of heavy music beware.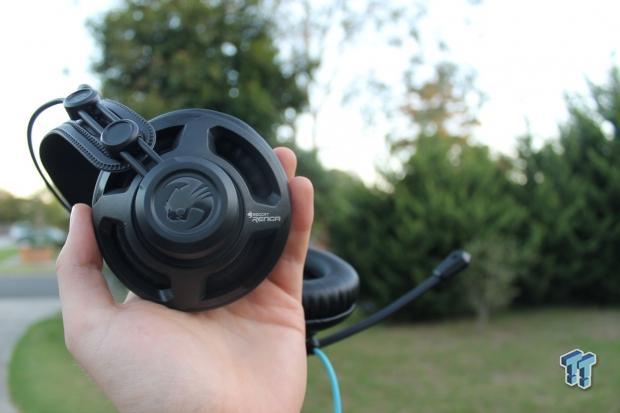 Brittle earcups: Treat it nicely otherwise it's going to break.
Accessories: This product is great for anyone aspiring to be a top-tier FPS gamer, but doesn't come with any protection for you to take it to events.
Final Thoughts
Keeping in mind that I'm comparing this product to similarly-priced gaming headsets, ROCCAT has nailed the acoustics on this new release, meaning it's a dream device for any aspiring FPS professional.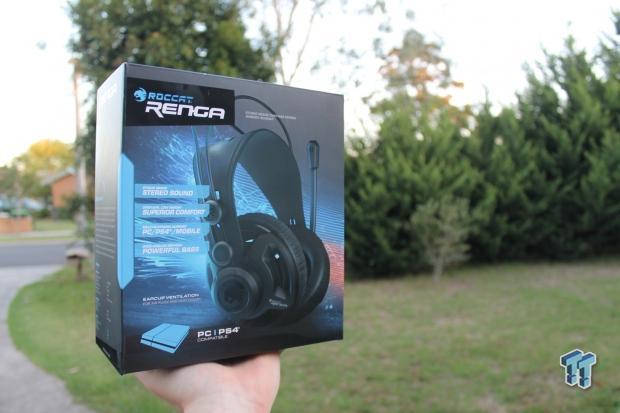 The extremely cheap price point showed that ROCCAT was going to have to sacrifice something, and that came in the form of brittle earcups and a distinct lack of bass. Don't get me wrong, this headset is brilliant at what it does, but consumers must keep in mind that this isn't an all-rounder product.
Proving prowess in the competitive field, ROCCAT has further provided a great microphone with this product, so here's hoping that they release another similarly-priced and fitted edition that comes with tweaked drivers – then everyone can have a go!
Chris' Test System Specifications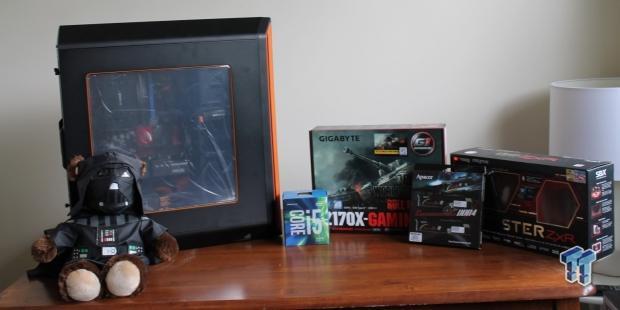 | | |
| --- | --- |
| Performance | 75% |
| Quality including Design and Build | 80% |
| General Features | 75% |
| Bundle and Packaging | 65% |
| Value for Money | 90% |
The Bottom Line: ROCCAT's RENGA is a perfect headset for budding FPS professionals, but this product isn't built for all round gaming.
PRICING: You can find products similar to this one for sale below.

United States: Find other tech and computer products like this over at Amazon.com

United Kingdom: Find other tech and computer products like this over at Amazon.co.uk

Australia: Find other tech and computer products like this over at Amazon.com.au

Canada: Find other tech and computer products like this over at Amazon.ca

Deutschland: Finde andere Technik- und Computerprodukte wie dieses auf Amazon.de
We openly invite the companies who provide us with review samples / who are mentioned or discussed to express their opinion. If any company representative wishes to respond, we will publish the response here. Please contact us if you wish to respond.
Related Tags