TweakTown's Rating: 95%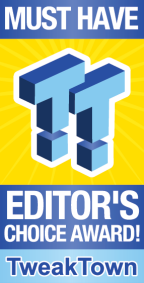 The Bottom Line
The new king of UltraWide gaming monitors, the Acer Predator X34. 3440x1440 + G-Sync + 100Hz refresh rate = absolutely amazing. Do not hesitate, just buy it!
Introduction, Quick Specs, and Availability & Price
In nearly all of my display reviews, I state that I'm a huge resolution and refresh rate fanatic, and it's true. But since the introduction of UltraWide monitors, I've yearned for one with a high enough refresh rate that I would use it as my daily driver and gaming monitor - instead of needing an UltraWide for work, and high refresh rate monitor for gaming.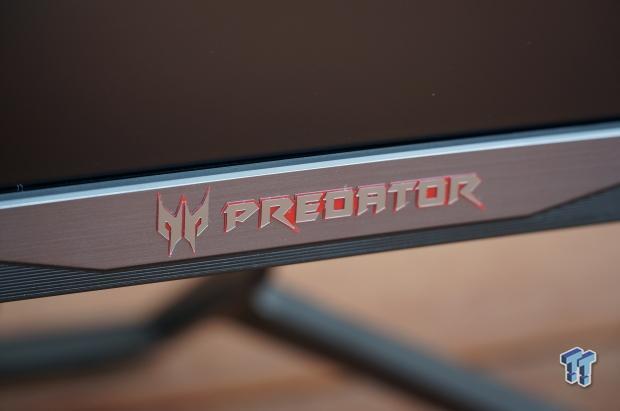 Well, Acer is a huge step closer to that with the introduction of the Predator X34. Acer's new Predator X34 is backed by NVIDIA's G-Sync technology, with the display rocking the usual 34-inch curved UltraWide panel with a native resolution of 3440x1440 and 75Hz refresh rate. But, and this is a big but - the Predator X34 can be 'overclocked' to 100Hz. Yes, 100Hz. Add that together with G-Sync, and we have a truly delicious UltraWide gaming monitor on our hands.
It wasn't too long ago that we were looking at the Acer XR341CK, which is nearly the same monitor but with AMD's FreeSync technology and a refresh rate of 75Hz. But the Predator X34 is that step above, and that's what we're here to see - can it top what Acer started with the XR341CK? Yes, yes it can.
Quick Specs
The Acer Predator X34 features a curved 34-inch IPS panel with a native resolution of 3440x1440, rocking an aspect ratio of 21:9. Included is NVIDIA's G-Sync technology, which drives the panel at 75Hz, but it can be run at 100Hz in an 'overdrive' mode through 'overclocking' the LCD.
To run 3440x1440 at 100Hz, you're going to need a baller GPU setup - so I'd recommend a GTX 980 Ti or Titan X as a minimum, or GTX 970s in SLI. Of course, you can run less powerful GPUs, but you'll be turning details down in most games at this resolution if you want to maintain 100FPS or so.
Availability & Price
The Acer Predator X34 is $1290 on Amazon right now, but it's sold out. I wonder why. Oh, that's because it kicks ass. Unfortunately at the time of writing it's a bit hard to purchase, but there will be more stock coming very soon.
Packaging & Detailed Look
Packaging
The box for the Predator X34 is slick as hell, from every single angle.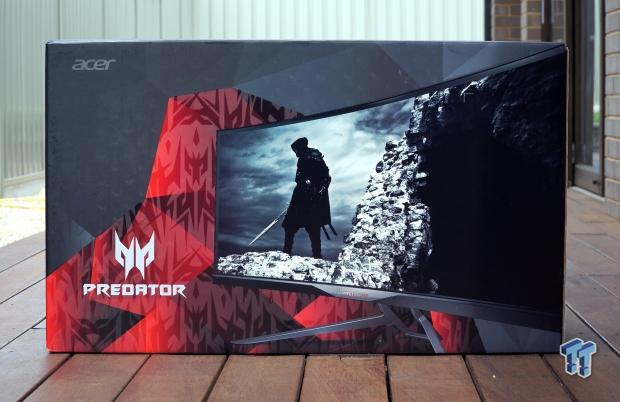 The front of the box.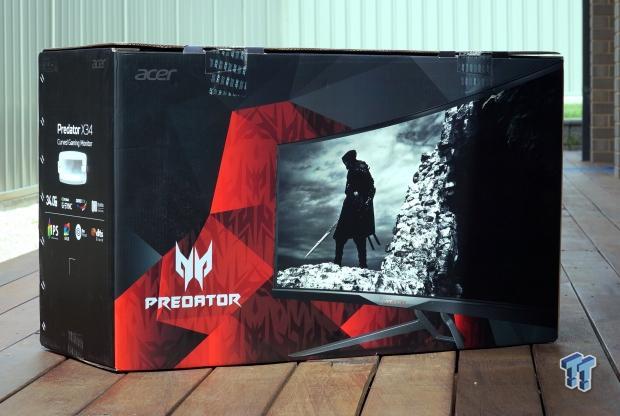 The rear of the box, with a tease of the side of it, too.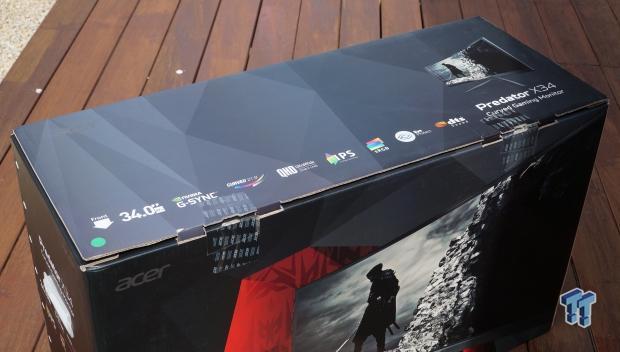 On top of the box, we find out what the Predator X34 is capable of, including NVIDIA's G-Sync.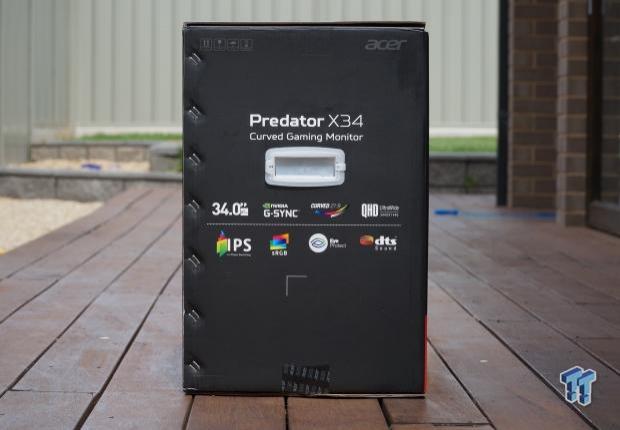 The side of the box has great handles, sturdy as hell for carrying it long distances, or to and from LAN parties.
Detailed Look
Now, onto the monitor itself.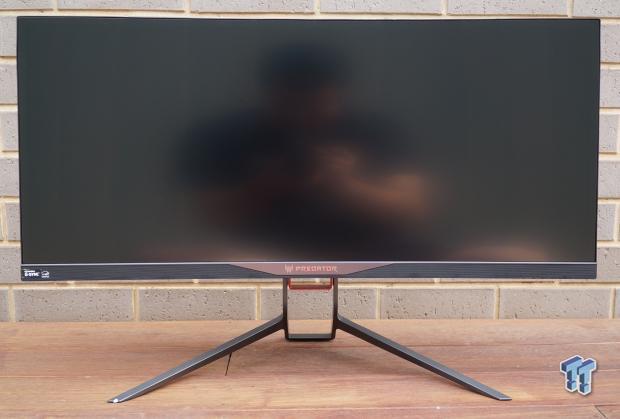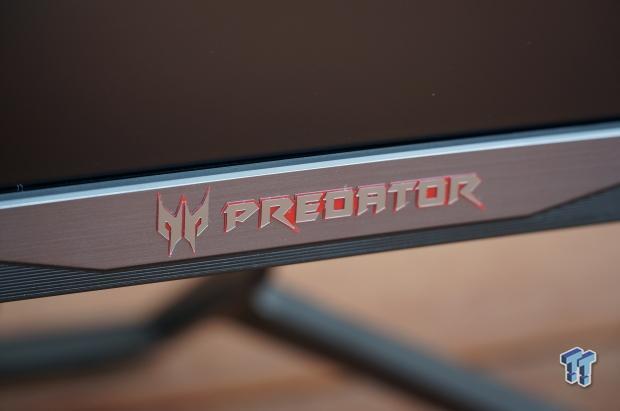 While the XR341CK looked great, the Predator X34 just looks insanely PC Master Race worthy. The Predator branding is front and center, showing Acer is serious about its gaming brand.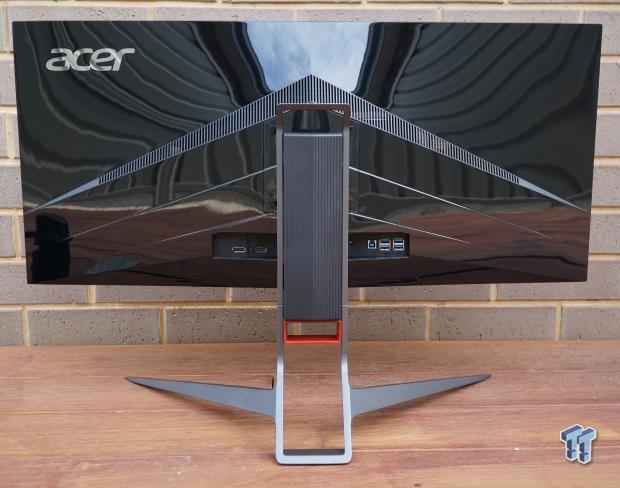 Around back, we have the various IO ports and the cable management hole that is colored red.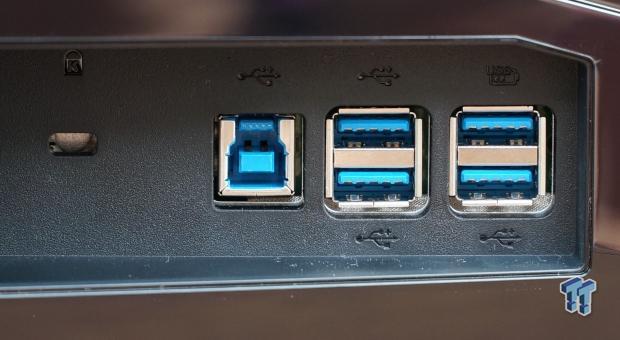 To the right, we have a Kensington lock port, USB 3.0 host port, and 4 x USB 3.0 ports.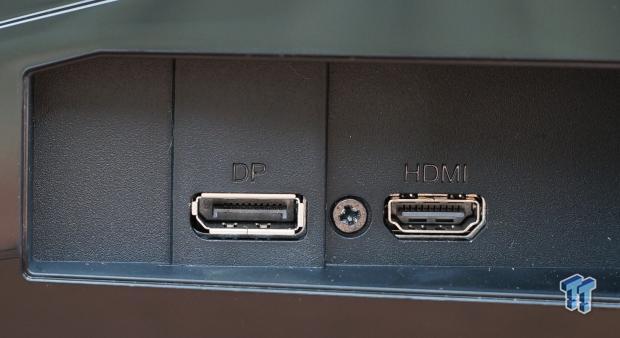 On the left, we have DisplayPort and HDMI connectivity.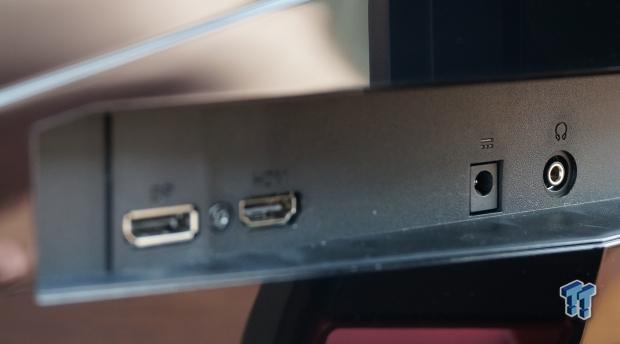 In the middle, the AC power port and headphone jack.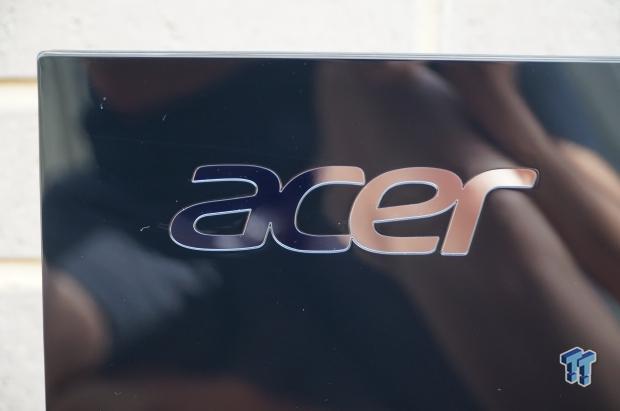 The aforementioned cable management hole, colored in lipstick red (I guess?).
Test System Configuration
Our Setup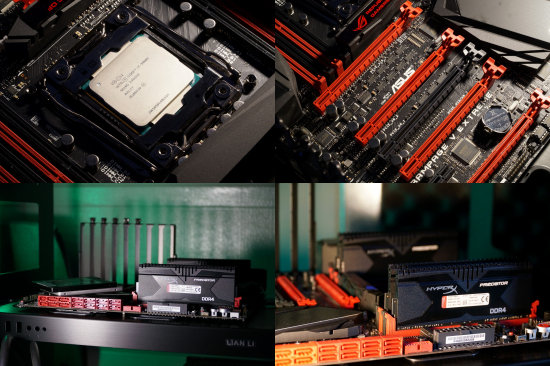 For our monitor reviews, we're using a different PC to our VGA benching PC. We're using the latest Skylake-powered Core i7-6700K processor mixed with a GIGABYTE Z170X-Gaming 7 motherboard. We've got a bunch of Kingston and be quiet! hardware inside of the system too, with a kick-ass M.2-based SSD and super-quiet cooler and case rounding out an awesome gaming PC. The perfect system to test monitors on.
Anthony's Monitor Review Test System Specifications
On-Screen Display
Cumbersome On-Screen Display
I had the same headline for my review on the Acer XR341CK display, saying that it had a 'cumbersome on-screen display,' with the same being said here on the Predator X34. The on-screen display is just not that great to navigate. It's not the worst - I have a ViewSonic display here that has a worse display, review coming after this one - but it's not the best.
Let's run through the menu quick, as things haven't really changed from the Acer XR341CK.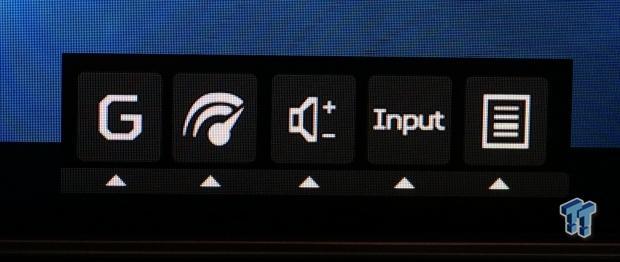 Pressing the first of six buttons will display the menu you see above, starting with the 'Game Mode' option that you can see here as 'G'.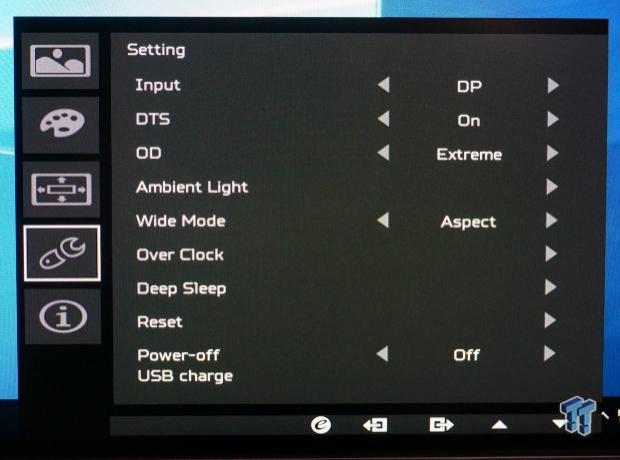 Going into the Settings (fourth icon down with the spanner) you're provided with a bunch of different options. You can change the display input here from DisplayPort to HDMI, DTS sound on/off, the Overdrive mode, the Ambient light (there's some LEDs under the screen), the Wide Mode, Over Clock (this is where you can drive it up to 100Hz), Deep Sleep, Reset, and Power-off USB charge that will charge your USB devices while the monitor is sleeping.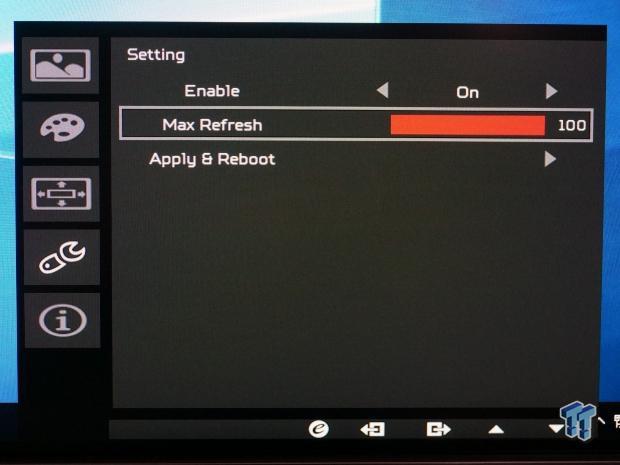 In the Over Clock menu, you can enable it and then apply a max refresh rate of between 75Hz and 100Hz. We drove our sample right up to 100Hz right away, and left it there - sublime.

You'll need to apply and reboot the display, and then go to your NVIDIA display panel and manually select 100Hz in the drop down menu, too.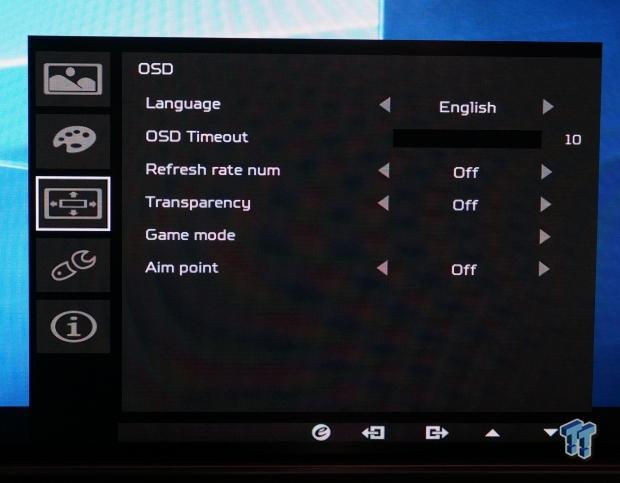 The OSD can be played around with, where you can enable the refresh rate number (60, 75, 100Hz) to be displayed on the screen at all times.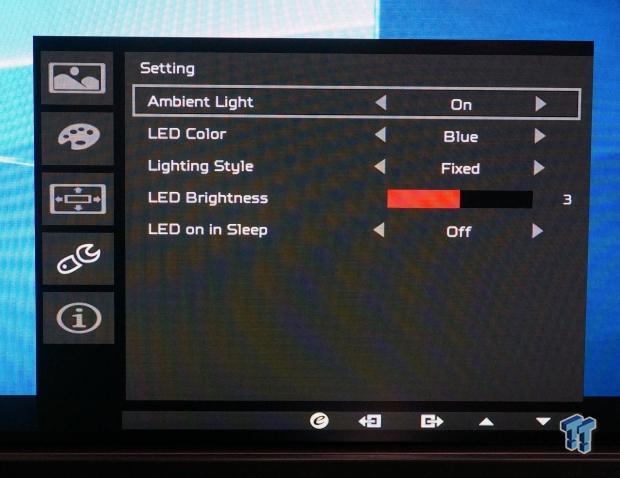 The ambient light can be fixed on, and you can change the color too - it's not something I would buy the monitor for, but it's a nice addition to an already kick ass gaming display.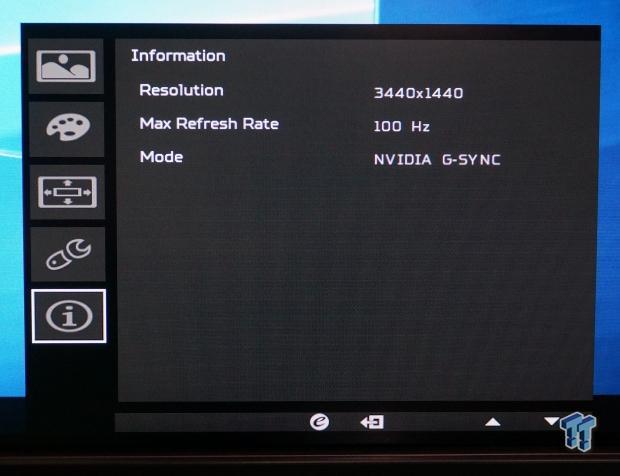 The money shot - 3440x1440 @ 100Hz with NVIDIA's G-Sync technology enabled. Nerd boner enabled.
Everyday Use & Gaming
Everyday Use
After I had finished with my review on the Acer XR341CK, the new Acer Predator X34 arrived. It felt like fate, so I boxed up the FreeSync-based monitor, and took out the new Predator X34 for a spin. Well, I was quite impressed. I think I've found the best UltraWide monitor for gaming - and that's not an exaggeration.
I used the Predator X34 for around 10-14 days for the review, for hours per day during my usual work day, and for those gaming sessions throughout the day and night - don't kick me, I have an awesome job. The first thing I did when I turned the Predator X34 on was switch from 75Hz to 100Hz overdrive in the OSD, letting loose that liquid smooth 100Hz refresh rate and just oozing into a pool of high refresh rate drool on my desk. Acer, you owe me a new Corsair mouse pad, by the way.
As always, the 3440x1440 resolution is perfect for a single display - it provides much wider desktop real estate, which can be used for so many things. I use countless Google Chrome windows and tabs on my desktop, and with a native resolution of 3440x1440, I never run out of space. Most of the time I have them split 50/50 on the screen, as it feels like I have so much more desktop space than even two 1080p displays.
After hours upon hours of use, I didn't find my eyes burning while using the monitor - this is a testament to the IPS panel that Acer has used, but it also has something to do with the 100Hz refresh rate, too. Moving things around in Windows, right down to the mouse cursor, feels unbelievably smooth at 100Hz. I find it incredibly hard going back from my Acer XB270HU because of its 144Hz refresh rate.
I thought the 75Hz refresh rate on the XR341CK was impressive, but the 100Hz here on the Predator X34 is definitely a huge step up. It might not sound like much, but moving from 60Hz to 75Hz is a leap in itself, but the leap to 100Hz feels much bigger. NVIDIA's G-Sync technology comes into play with gaming, so let's jump right into that.
Gaming on the Acer Predator X34 with NVIDIA's G-Sync Technology
When the Acer Predator X34 arrived, I had only just finished reviewing the Acer XR341CK, which is virtually identical to the Predator X34. The big difference is that the Predator X34 can hit 100Hz, and that it features NVIDIA's G-Sync technology - versus the XR341CK which reaches 75Hz, with AMD's FreeSync technology.
Gaming at 3440x1440 at 75Hz was great, but reaching 100Hz is a completely different experience. At 100Hz and at 100FPS minimum, gaming is absolutely awesome - and then throw in G-Sync for added gaming domination.
At 3440x1440 and 100Hz, I was playing Battlefield 4 with a 105-degree field of view, and 100FPS minimum as I knocked down the in-game details to Medium. I was using an NVIDIA GeForce GTX Titan X, so I had more than enough grunt, but dialed down to Medium so that I could hit 100FPS minimum. The results? Nothing short of amazing.
The Acer Predator X34 is the best UltraWide gaming monitor on the market, without a doubt. The issue I have here is that this is a premium display, and to push 100FPS at 3440x1440, you're going to need at least GTX 980s in SLI, a GTX 980 Ti or Titan X and in some games you will be forced to drop the settings down to maintain 100FPS.
NVIDIA's G-Sync technology helps considerably, so if your GPU isn't quite up to 100FPS constant, and you're hitting somewhere like 85-90FPS, G-Sync will do its job and you'll have a near-perfect gaming experience, even if you can't reach 100FPS.
This isn't an issue, as the Predator X34 isn't a casual gaming monitor - this is a hardcore UltraWide enthusiast's dream display. It's everything I've ever wanted; with the only jump I need to see now is up to 144Hz. I'm sure we'll see that in 2016.
Viewing Angles & Glare
Viewing angles aren't something that are going to worry most gamers, with most gamers having no direct sunlight to blast onto the screen. But, some gamers do - so we take our monitors and put them on another desk where we get some sunlight coming in to see what the glare is like.
Just like the FreeSync-based XR341CK from Acer, the Predator X34 is quite good with natural light hitting the screen. The glare wasn't too distracting at all.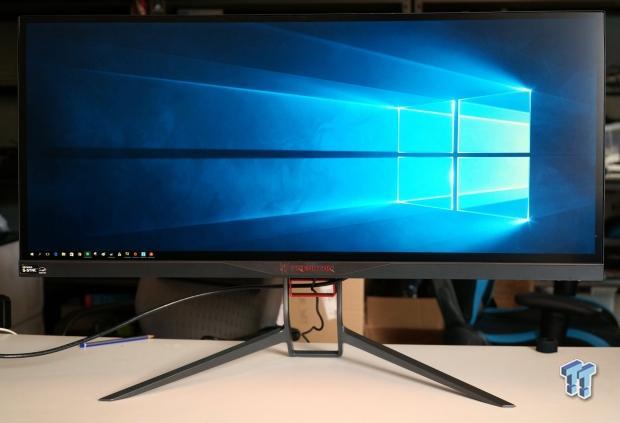 Here we have a shot from directly in front of the Predator X34, with minimal glare.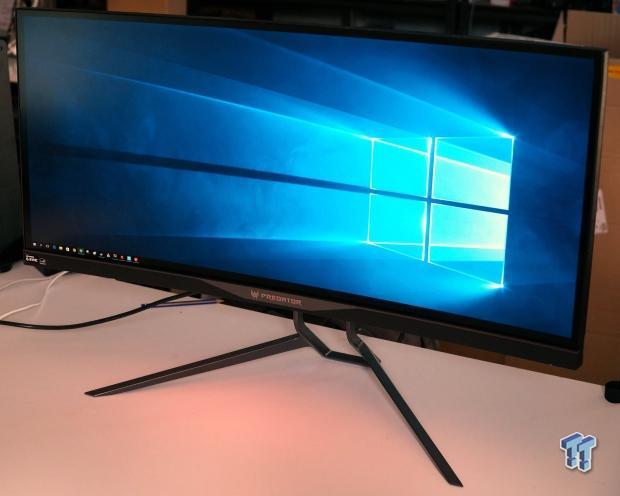 On an angle, and again the glare is fine - nothing distracting here.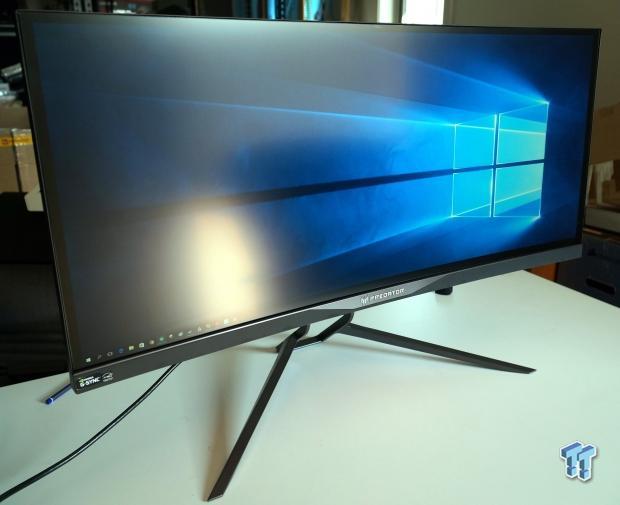 From the left, we have noticeable glare - but you wouldn't be looking at your shiny, awesome new Predator X34 from this angle.
What's Hot, What's Not & Final Thoughts
What's Hot
3440x1440 is AWESOME: For productivity, there is NO going back to any resolution apart from 3440x1440. The 21:9 aspect ratio is great, and in my opinion, is better than a single 4K monitor. Heck, two of these side-by-side is unstoppable, trust me - I've tried it.
Port Orientation: This is something Acer nailed, especially when compared to the DisplayPort placement on the FreeSync-powered XR341CK. Both the DisplayPort and HDMI ports are easily accessible, where you do not have to get under the monitor to plug them in at a 90-degree angle. Kudos, Acer - this is a big deal. While it might be a small detail, it really helps with the entire monitor as a package.
Productivity Nuts Will Love It: If you're currently using two 1080p displays, a single 3440x1440 display is a huge upgrade. I'll say this about every single UltraWide display - 3440x1440 is freaking awesome. The shift from 1080p or even 1440p is quite noticeable, and not just for gaming - productivity is just great at 3440x1440.
100Hz! G-Sync!: It might have only been a couple of weeks since I was gaming at 3440x1440 at 75Hz, but the jump to 100Hz is an absolute game changer. Add NVIDIA's G-Sync technology into the mix and you have the best UltraWide gaming display, period.
Aesthetics - It Looks AWESOME!: The Acer XR341CK looked great, but the Predator X34 is another slide of awesomeness on top. The Predator logo at the front looks menacing, while the red and black styling might remind you of the ASUS ROG hardware - and specifically the ROG Swift - but it is its own beast. The Predator X34 is a mean looking monitor, that's for sure. Acer is definitely serious about gaming.
What's Not
OSD - It Needs to be More Simple: I should've ragged on this on the Acer XR341CK review, but this is the only thing wrong with the Predator X34. The OSD could be better to navigate, but this is nitpicking. Once you've made your adjustments on a monitor, you don't play around with the settings that much post-setup. But, some people do - and this is something that needs to be pointed out.
Final Thoughts
Going into this review, I knew I was going to love the Predator X34. First off, I had just boxed up the AMD FreeSync equivalent and had nothing but good things to say about it. The XR341CK is only capable of 75Hz, which is a big roadblock to it being the best UltraWide monitor on the market.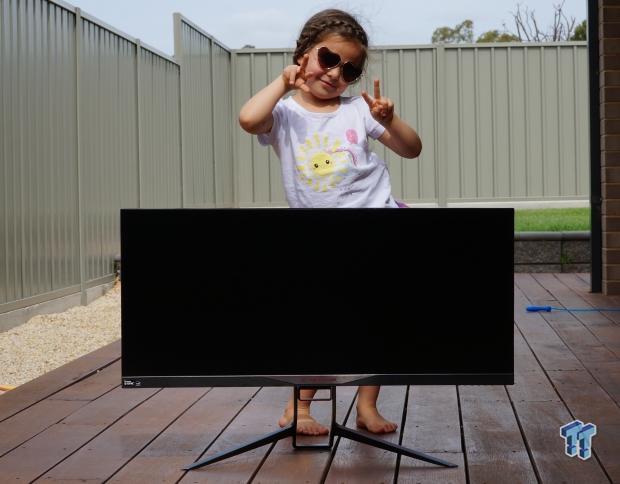 (My daughter Delilah wanted to help me work, so she posed for this photo. Thanks, Delilah!)
Not only is the Predator X34 the best UltraWide on the market, it's one of the best gaming displays you can buy. Unless you're a hardcore CS:GO player or frame rate enthusiast that requires 144-165Hz, 3440x1440 @ 100Hz with NVIDIA's G-Sync technology is gaming bliss. It's absolutely awesome to be gaming at 100Hz on an UltraWide monitor, and it's a significant jump from the 75Hz on the XR341CK.
All in all, Acer has crafted a duo of UltraWide monitors that can't be contested just yet. If you're packing an NVIDIA GeForce video card, and you're in the market for a new UltraWide, the Acer Predator X34 is the one for you. It's as easy as that. You should have no problem pressing the 'buy now' button, as there will be no buyer's remorse.
The Predator X34 is the new monitor to beat; it's as simple as that.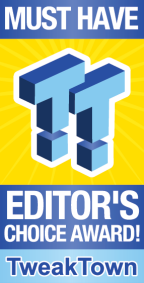 | | |
| --- | --- |
| Performance | 100% |
| Quality including Design and Build | 95% |
| General Features | 95% |
| Bundle and Packaging | 95% |
| Value for Money | 90% |
The Bottom Line: The new king of UltraWide gaming monitors, the Acer Predator X34. 3440x1440 + G-Sync + 100Hz refresh rate = absolutely amazing. Do not hesitate, just buy it!
PRICING: You can find products similar to this one for sale below.

United States: Find other tech and computer products like this over at Amazon.com

United Kingdom: Find other tech and computer products like this over at Amazon.co.uk

Australia: Find other tech and computer products like this over at Amazon.com.au

Canada: Find other tech and computer products like this over at Amazon.ca

Deutschland: Finde andere Technik- und Computerprodukte wie dieses auf Amazon.de
We openly invite the companies who provide us with review samples / who are mentioned or discussed to express their opinion. If any company representative wishes to respond, we will publish the response here. Please contact us if you wish to respond.