TweakTown's Rating: 97%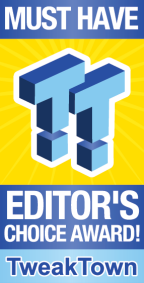 The Bottom Line
Any way you slice it when you bring forth class leading supremacy like be quiet!'s Dark Rock TF does, the cost is irrelevant. With hardly any noise and great results from a top flow designed cooler, we see no reason that you should pass on a cooler such as this.
Introduction, Specifications, and Pricing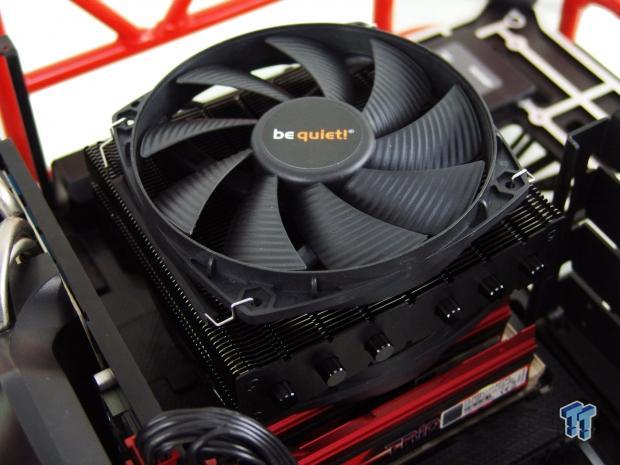 be quiet! is a company that has steadily been gaining grown since we first found out about them. At this point, we have seen various versions of Dark Rock coolers, Shadow Rock, Black Rock, even Pure Rock coolers, but every single submission up to this point was a tower style design. Until today, we never even knew that be quiet! had a C-style or Top Flow cooler in the works, but following along the lines of many other companies, be quiet! is taking their turn at offering such a cooler for those without the room for a full-tower cooler, or even those who appreciate massive amounts of air being blown down at the motherboard, cooling more than just the CPU.
Now they could have just brought forth a basic design as we would see from someone like Scythe tends to produce time and time again, but that just is not be quiet!'s style at all. They have taken the typical C-Style cooler, giving it, of course, the traditional be quiet! black that it seems all their coolers are, but takes things up a few notches as well with this cooler. They offer a basic pre-cooler as part of the base assembly, but unlike where most C-Style coolers have pipes all terminated on one side of the base, be quiet! chose to use most of them and developed a smaller, yet very effective secondary array of aluminum fins just above the base of this design.
The be quiet! Dark Rock TF cooler is a beefy design and is a bit large. At the same time, this is a sleek looking cooler, which even if it does overlap the memory a bit, clearance under the cooler is pretty good for most RAM kits to fit without issue. On top of all of this, where these designs will typically be cooled with a single 120mm or single 140mm fan, this design sports a pair of 135mm fans to offer the most efficiency from this design. Yet still in keeping with the company name, keep noise at bay while providing a cooler that is more than capable of taming even the hottest processors.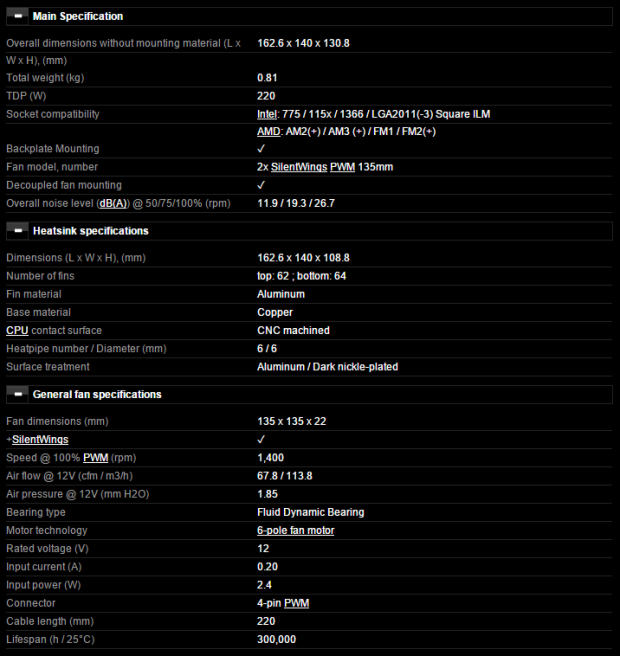 From the chart provided, we are first given the 162.6mm of length, the 140mm of depth to this design, that it is only 130.8mm tall, and weighs in at 810 grams. This is all of course including the fans with those specifications. The TDP is rated at 220W, and it fits LGA775 and up for Intel, including ILM, and on the AMD side of it, AM2 and newer sockets are all covered. There are check marks for a backplate and that there is decoupled fan mounting too.
The body of the cooler is mainly aluminum with the 62 fins in the top section and 64 of them at the bottom. All of these aluminum fins at the top surround six 6mm diameter heat pipes but the smaller lower section uses only four of them. The lowest section of the base is copper, and is machined, and once that is completed, both the base and the heat pipes receive a nickel plating.
To cool this cooler, we are given a pair of SilentWings PWM fan, both 135mm in diameter and 22mm in thickness. The fans are rated to deliver 26dB(A) at extreme levels with a maximum speed of 1400RPM. While at that speed each fan delivers 67.8CFM with 1.85mmH2O of static pressure. The fans are suspended on a fluid dynamic bearing, the 4-pin leads are 220mm long, and these fans are also slated to run for up to 300,000 hours or more.
Locating the Dark Rock TF is fairly easy, both Google as well as individual store searches both come up fruitful. One thing we have become accustomed to with be quiet! products are that they tend to come with a premium price tag as well. As for this Dark Rock TF, it definitely crosses the $50 mark, but finding it at Newegg where it is currently listed at just $79.90 with free shipping is a fair better deal than the $125 price we caught at Amazon. Of course, at near $80 this is still a tad on the expensive side, but with many coolers and a couple of cases to base an opinion from, be quiet! does offer a product with a more professional feel to them, sleek looks, and coolers that do their job with barely a peep heard from them, making them well worth their value so far.
Packaging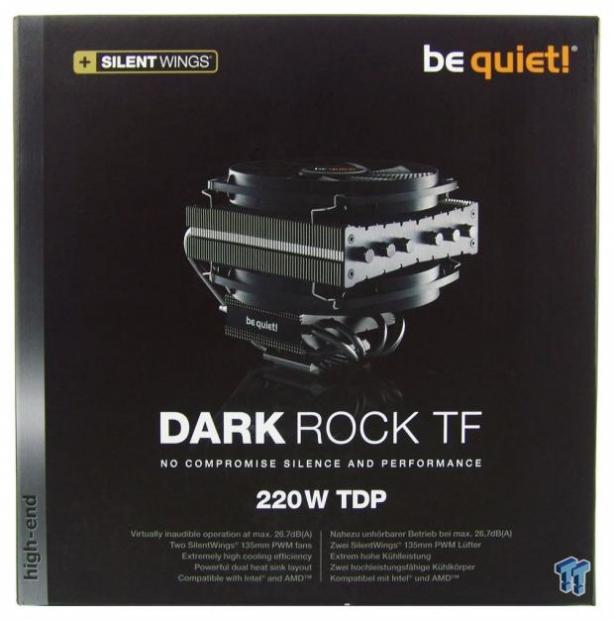 Packaging is typical to be quiet! with the all black packaging. At the top, we are told about the SilentWings fans and are given the company name before we see the image of the Dark Rock TF that is inside. It also tells is this s no compromise silence and performance with a 220W TDP, followed up with five features at the bottom.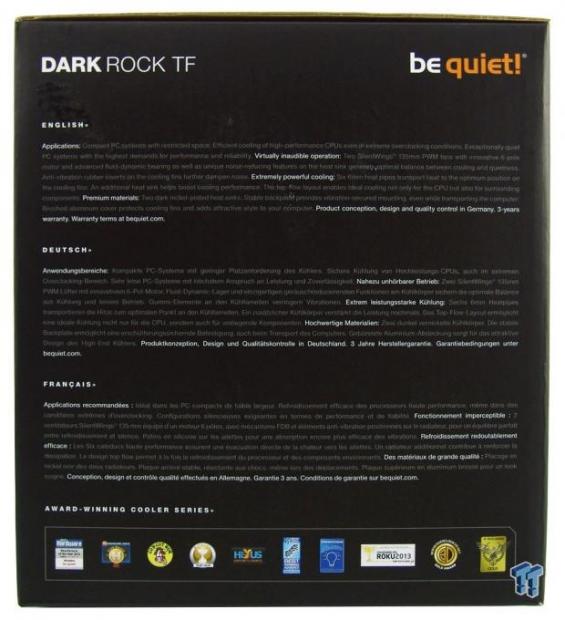 Spinning to the next panel, we are offered a paragraph about what the Dark Rock TF is for and about. It mentions that it is built for places with restricted height, it offers near silent operation, it's powerful, made for high-end materials and that it is entirely done in Germany with a three-year warranty to back all of that up. We also see one of our previously given awards attached to the bottom.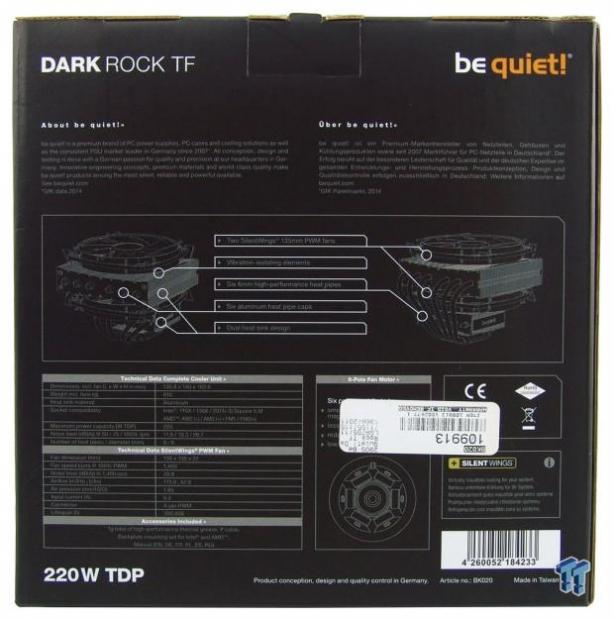 On the back, we find out what drives the company at the top. This is followed with renderings where five features are pointed to in the design. The lower section then offers a specifications chart as well as a look at the six-pole motor used in these fans.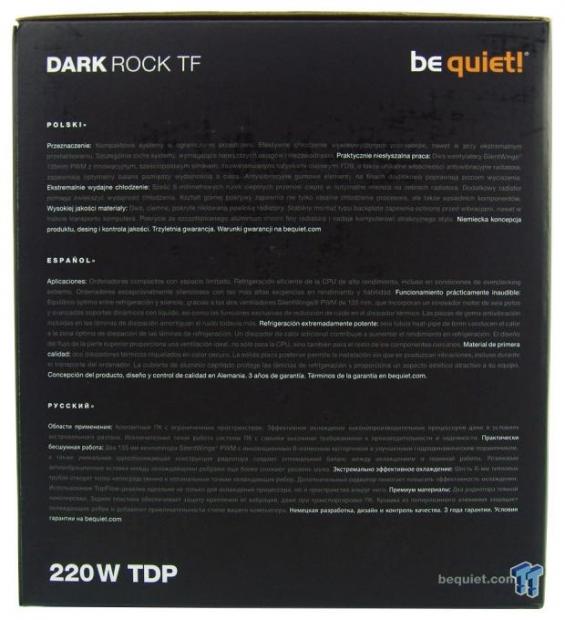 Just now on the opposing panel, English was not the only displayed language converting all the features found in the Dark Rock TF. This side continues the list to a total of six languages covered now.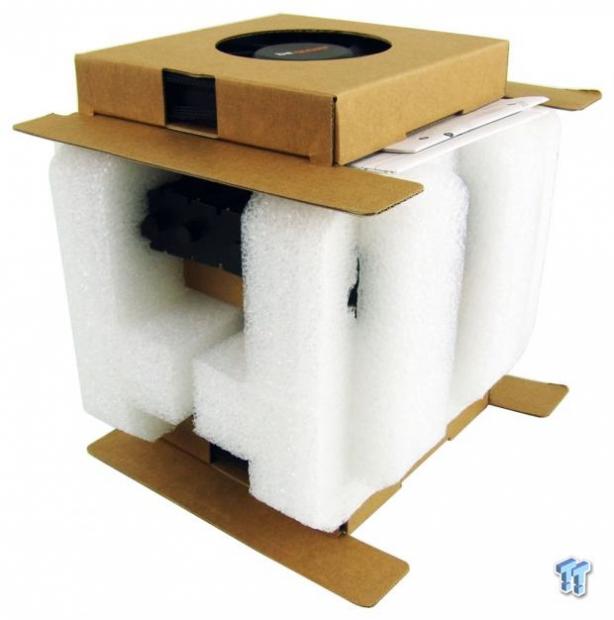 Inside of the large box, we find that a fan set into a folded cardboard container is placed at the top and bottom of the cooler body for transit. This along with the dense foam used to make the center support makes sure the cooler inside of it all arrives in great shape as this one did. The hardware and paperwork are to be found between the fin arrays, all inside of a cardboard box.
be quiet! Dark Rock TF CPU Cooler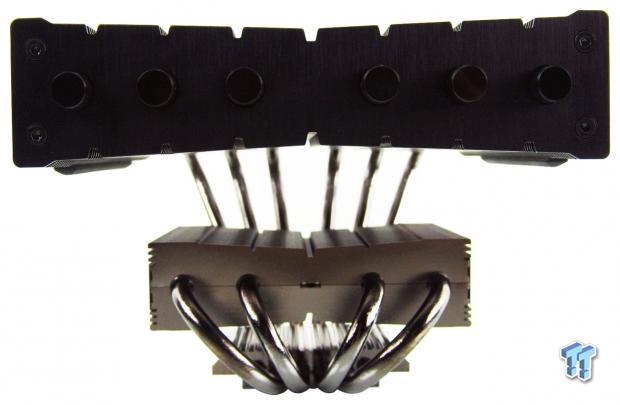 We are going to call this the front of the cooler, and here we are looking at six black metal caps to cover the tips of the heat pipes, and the thick aluminum cover fin is anodized to match the caps. Don't worry so much about below that, we will get to that in a bit.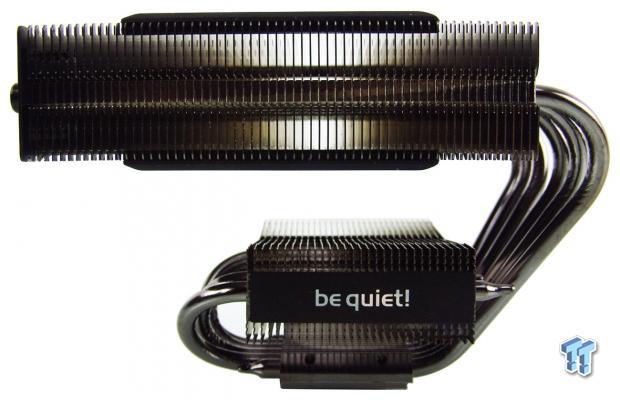 Scoping out the Dark Rock TF from this angle, we can see the thicker fin at the end along with an array of fins after it that have spaces kept with tabs bent along the side. As those six pipes curve out of the fins and go through the base, they also come back out and run through the lower dense section of fins flanked on the side with the be quiet! name.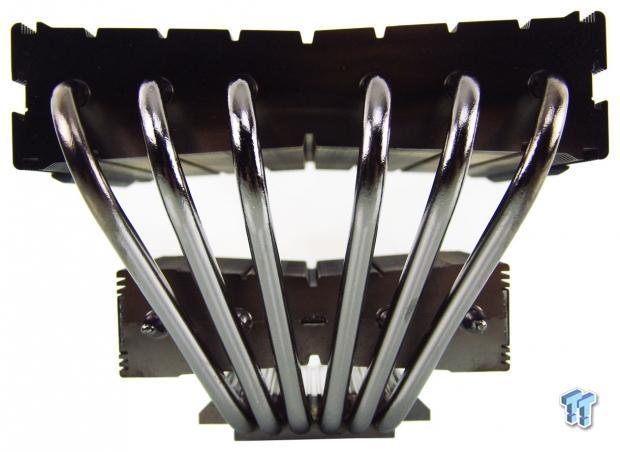 The fins are pressed onto the heat pipes, and the pipes are also nickel plated offering coloring and anti-oxidation benefits, and get much closer to each other as they get closer to the base.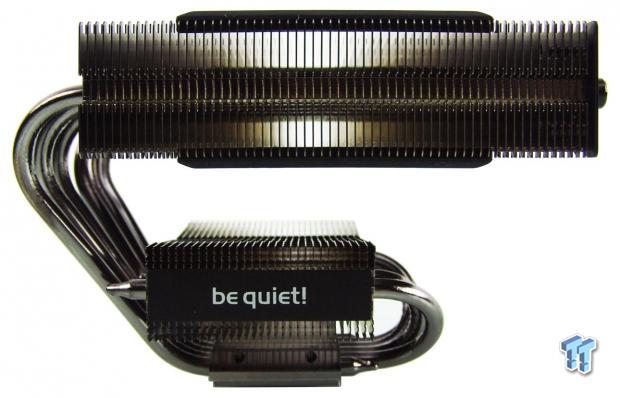 Compared to the other side we just looked at, this view is a mirror image, down to the naming found on the lower section. At this juncture, we may as well mention the very thick rubber strips that isolate the fans, that are pressed into a groove in the fins to make sure they never move.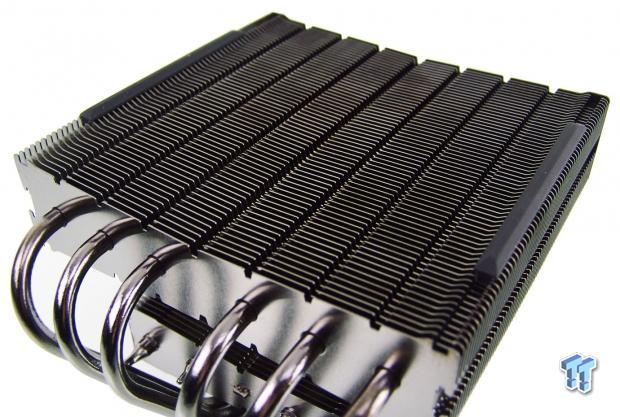 One look at the top of the Dark Rock TF, and we can see a couple of things worth mentioning. The surface from left to right is concave in the middle allowing the fan a better chance at cooling it. Also, there are deep grooves run along the fins edges also to disturb the airflow and take more advantage of what these fans offer.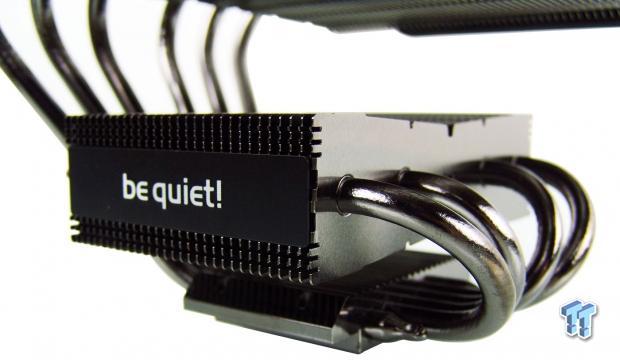 While six of the pipes run through the upper section of fins, only four of them are bent and spread apart to run through the lower section. Since this cooler offers push and pull fans, this second smaller radiator can really come into play in aiding the efficiency of the overall design.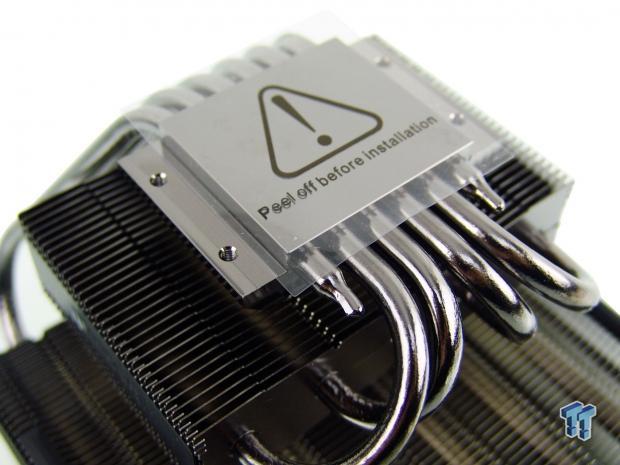 For mounting hardware a bit later, each side of the base has a wing added with a pair of holes drilled and threaded to accept screws in the hardware. As for the base, a plastic sticker is offered to keep the clean finish the base had when it left the factory.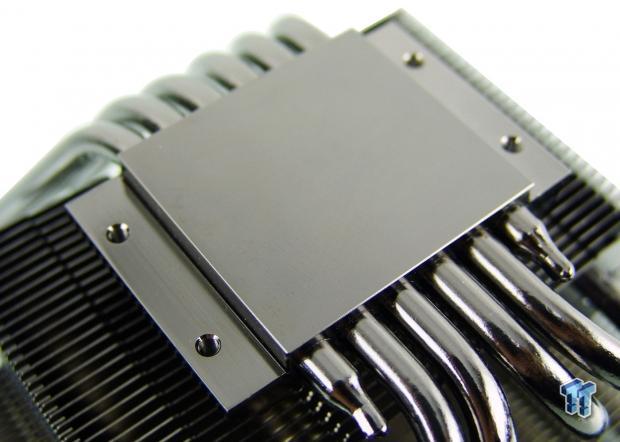 We wouldn't say there are visible machining marks, what you are seeing is likely residue from its last cleaning before it left the building. The base is convex, and is near polished, but is not quite reflective.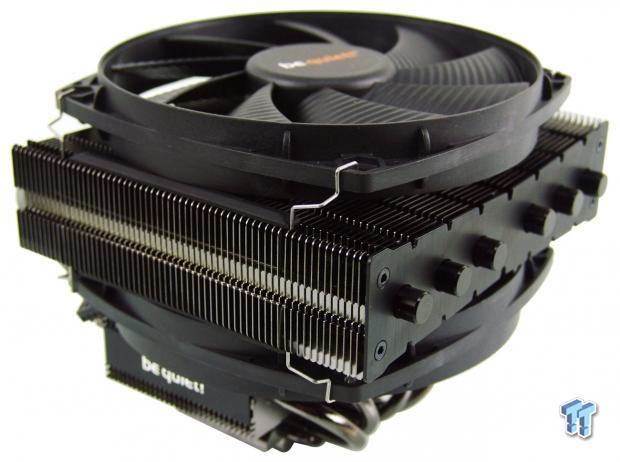 We will obviously be showing this cooler in later build images, but we wanted to give you a sense of what the Dark Rock TF was all about once the fans are installed. This top flow cooler has plenty to force loads of air through this cooler and onto surrounding components on the motherboard.
Accessories and Documentation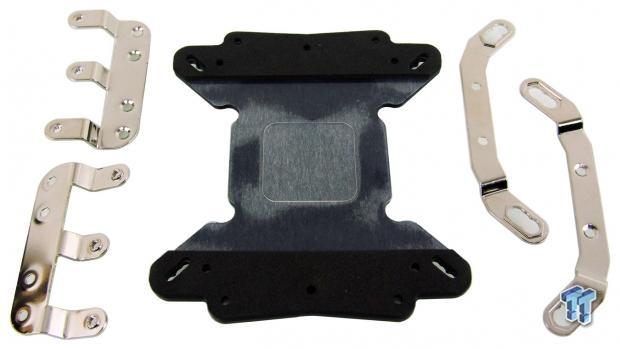 The hardware is also typical to these coolers. There is a steel backplate in the middle that first is coated with plastic, and also offers foam at both ends to make sure it is isolated. To the left of it at the AMD mounting legs to mount to the base of the cooler, and to the right is the set for Intel mounting.

At the top is a set of four studs to pass through the backplate, with clips to hold them onto the motherboard below them. There is a wrench to aid in mounting with LGA2011 standoffs and the cooler mounting nuts below it. At the right are the universal standoffs, and below them are the screws to mount the brackets to the base of the cooler.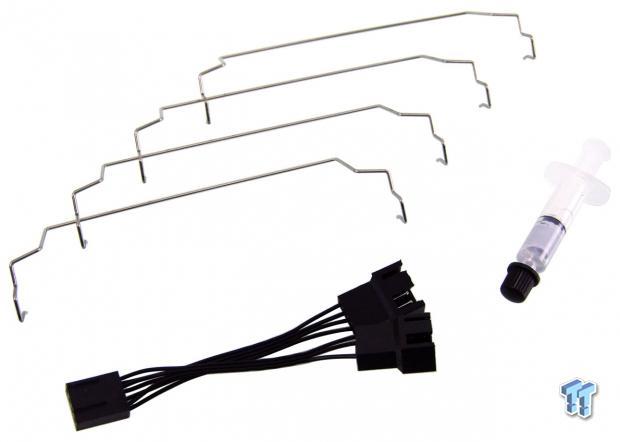 Since we are given two fans with this cooler, it only makes sense to give us four wire fan clips to mount them. We are also given a short Y-Splitter cable to power both fans from one motherboard header. We are given some thermal paste as well, at least enough for two tries at mounting this cooler, maybe three.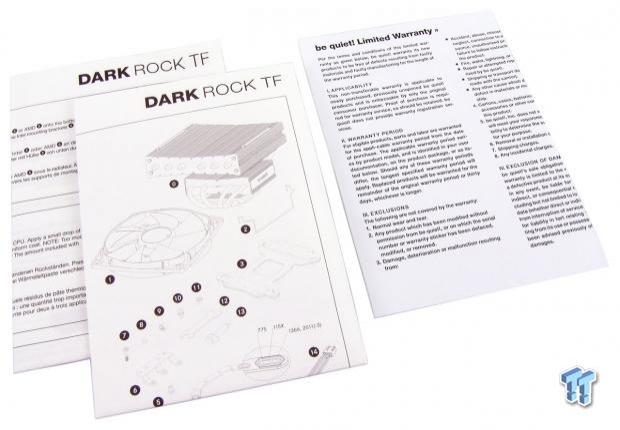 Two manuals come with this cooler. The one in the back is dedicated to AMD while the one up front covers only Intel installations. Both offer great renderings along with descriptions that can get anyone through this slightly complicated mounting system. They also include a bit of literature on what they do and what they do not cover in the three-year warranty.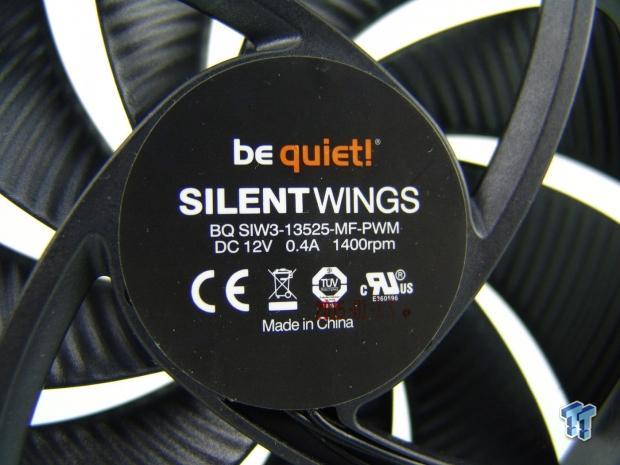 We knew these 135mm fans sent with the cooler were SilentWings, but the sticker shows us that more specifically, these are BQ SIW3-13525-MF-PWM. It was not until we saw this sticker we realized the chart has an error stating these fans are a bit thinner than the 25mm they are.
Installation and Finished Product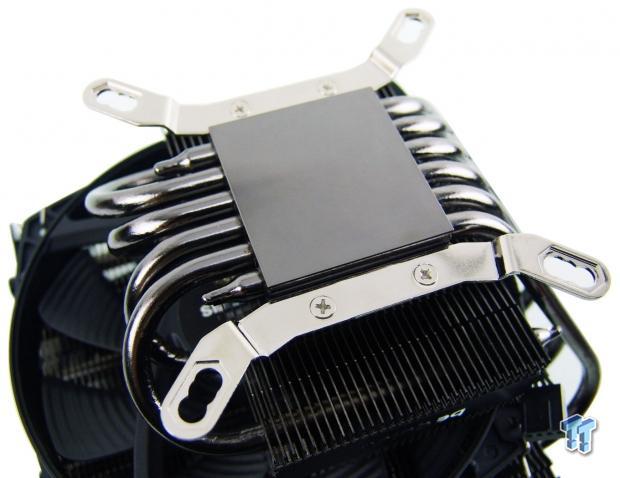 As always we tend to the cooler before the motherboard when it comes to hardware. Here we have the Intel brackets screwed onto the base, and if the countersunk hole on one side of the brackets doesn't help you out, be sure the ends of the brackets bend away from the cooler.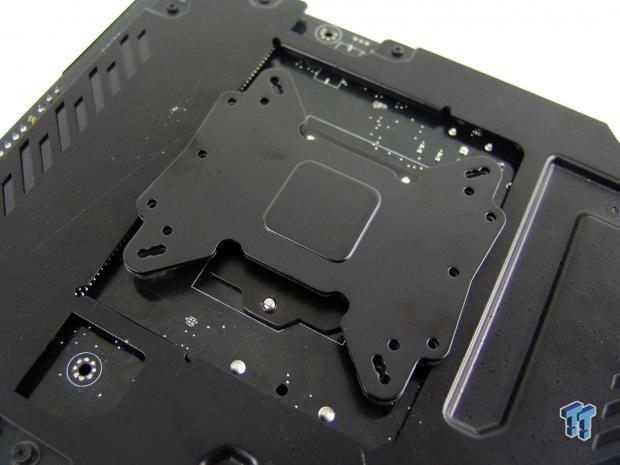 Sadly, we donated our last be quiet! cooler, so we were back to the realization that their backplate is a little too large for our motherboard.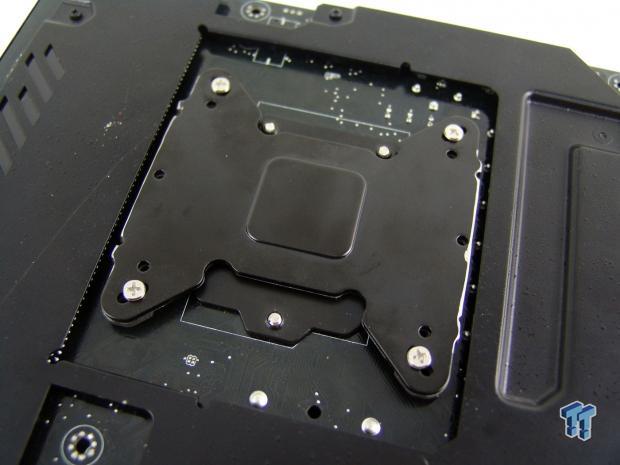 Nothing we couldn't fix with about fifteen minutes of our time and a Dremel in our hand. Of course this isn't typical of what you will run into, but to allow the cutouts to sit around the socket screws, we had no other choice. We also like that the studs have a Phillips head on them to greatly easy tightening them later.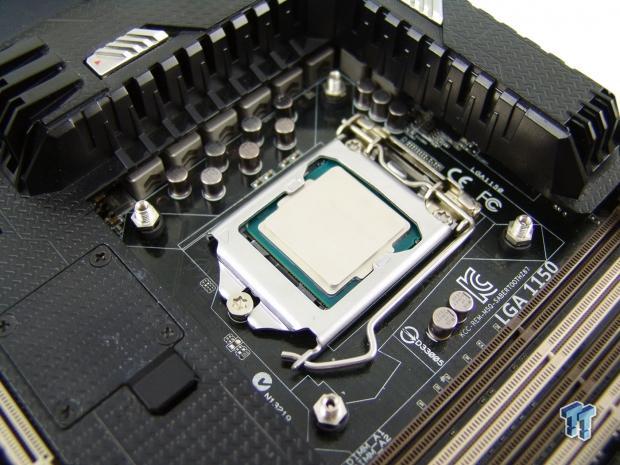 Once the backplate is lined up and the studs are passed through, you lock it into place with a plastic clip and then screw on the standoffs that cover the studs. After this, you can set the cooler down and work with the wrench and a screwdriver to get the cooler mounted to the motherboard.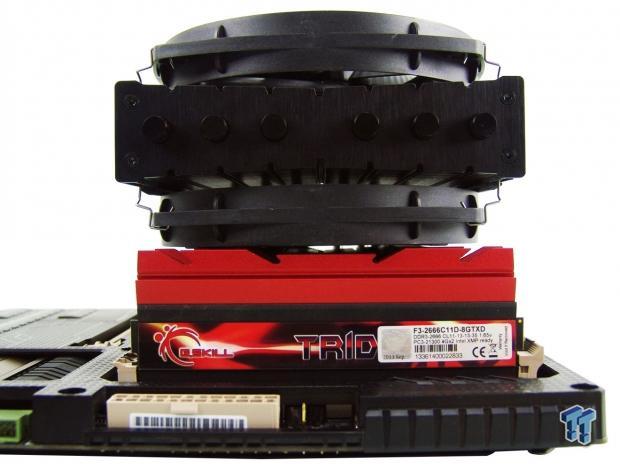 With our slightly taller RAM on the motherboard, we find the Dark Rock TF fitting, but only just. We also like that the cooler is not much wider than the memory either, leaving us access to other things around it.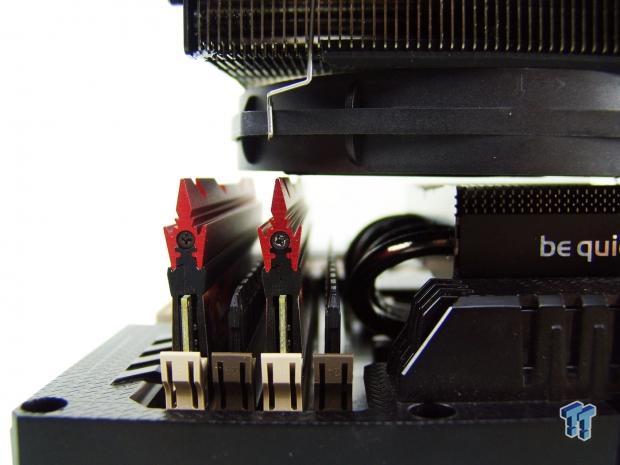 Just how much room is offered for us, just enough, as light is just barely shining through. While the typical RAM kit will fit, and you can fill all four slots, swapping them out later may be a bit of a hassle.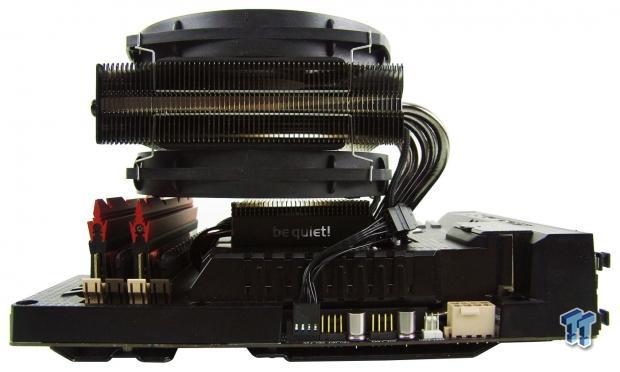 We did look at mounting the cooler in reverse, with the pipes closest to the memory, but in that orientation, clearance becomes an issue. We do still have room to get to the 8-pin cable, though, and the motherboard screws are also accessible.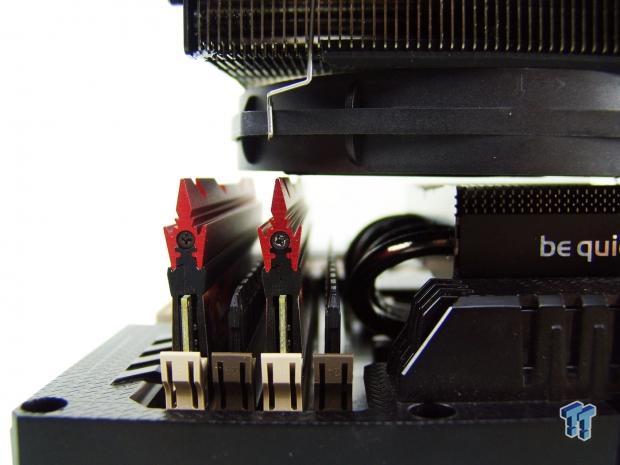 With everything moved into the chassis, we can see all the access around the cooler, and it is very close to the first PCI-e slot, but it can still be used in this orientation.
Test System Setup, Thermal Tests, and Noise Results
Chad's CPU Cooler Test System Specifications
I would like to thank ASUS, InWin, Patriot, and Fractal Design for supplying products for me to test with.
To see our testing methodology and to find out what goes into making our charts, please refer to our CPU Cooler Testing and Methodology article for more information.
Thermal Results

While 51.5 degrees is a good result in many respects, when you take a closer look at the chart, you realize this is the best performing top flow style cooler on our charts. So while it may fall six degrees below the best on the chart, in this style, there are none better.

Here as well, with the overclock applied, the 72.25-degree result is around ten degrees out of the lead, but we find the Dark Rock TF again offering the best results in coolers of this design.
Noise Level Results

With a company name like this, it would be almost embarrassing if their coolers did not come in with low noise results. However, keeping with what we know, we find these fans purring along at 24dB spinning at 954RPM.

Even when we let them loose to do their worst on our ears, the most we could get from them was 37dB with them spinning now at 1400RPM. Maybe not the most silent choice out there, but damn close to it.
Final Thoughts
be quiet! delivers us a cooler that tested best in its category, against many others, including the likes of coolers from Noctua. At roughly the same price as the Noctua as well, but this time you are given a fair bit more style than what Noctua has ever offered. This does bring us to the only downfall of this kit that comes to mind, though. All the attention to detail with the nickel plating and the black anodized bits, even the nameplate that adorns the lower section, unless the chassis horizontally mounts the motherboard and has a window on both sides, much of that effort is taken down to looking at the striped blade of the top SilentWings 135mm fan.
Mounting the cooler is nowhere near impossible, but it is nowhere near the easiest to use either. The backplate is fine for anyone outside of motherboards with restrictive thermal armor or those with power bits behind the socket, but the rest of the gear is over complicated. Rather than a stud, a clip, then a standoff on top of that, why not one screw to go in from the front. This is accepting the fact that in many instances accessing the nuts to mount the cooler is typically complicated by motherboard heat sinks.
Performance is as good as it gets so far with coolers that offer a top flow design. Besting all other candidates in their genre as well as not doing half bad against all the rest is really saying something for those with space issues, and are looking for a cooler like this in the first place. Most of the time this cooler is in operation, sound levels will be much closer to our idle results, with PWM in control of them in other testing, we found they rarely spooled to full speed, and our GPU was usually much louder than the CPU cooler.
While we feel the pricing for this cooler is definitely justified with everything we have covered here, we do feel that the masses will tend to pass on this cooler just based on this fact alone. Most users out there do not allow themselves to invest in a cooler. With coolers like this as well as those from other manufacturers, though, you have to think about it a bit differently. Do you want to buy one cooler that is more of a "professional grade" tool for the job that can last through many builds, or would you rather pick up three or four sub-par coolers in the same period? You know where our advice is going to lead. Even at near $80 to obtain the be quiet! Dark Rock TF, in every aspect, is it very much worth the wait for it to arrive, and certainly in our eyes worth the asking price.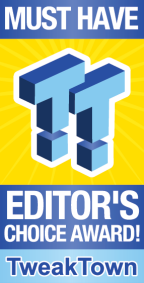 | | |
| --- | --- |
| Performance | 98% |
| Quality including Design and Build | 99% |
| General Features | 99% |
| Bundle and Packaging | 96% |
| Value for Money | 95% |
The Bottom Line: Any way you slice it when you bring forth class leading supremacy like be quiet!'s Dark Rock TF does, the cost is irrelevant. With hardly any noise and great results from a top flow designed cooler, we see no reason that you should pass on a cooler such as this.
PRICING: You can find products similar to this one for sale below.

United States: Find other tech and computer products like this over at Amazon.com

United Kingdom: Find other tech and computer products like this over at Amazon.co.uk

Australia: Find other tech and computer products like this over at Amazon.com.au

Canada: Find other tech and computer products like this over at Amazon.ca

Deutschland: Finde andere Technik- und Computerprodukte wie dieses auf Amazon.de
We openly invite the companies who provide us with review samples / who are mentioned or discussed to express their opinion. If any company representative wishes to respond, we will publish the response here. Please contact us if you wish to respond.