Patriot Memory Viper 4 DDR4-3400 8GB Dual-Channel Memory Kit Review
Patriot's Viper 4 DDR4-3400 8GB dual-channel memory kit is the most affordable Z170 Skylake kit we've reviewed, but that doesn't mean poor performance.

Published Sat, Nov 21 2015 4:37 PM CST
|
Updated Tue, Nov 3 2020 6:59 PM CST

When Patriot offered up selections for dual-channel DDR4 testing, they offered us the PV4416G280C6K kit we tested not too long ago. And we were also shown an 8GB kit that was binned higher. At that time, not knowing what our IMC was capable of, we asked for both kits so that we could play around a bit and broaden our experience across more of what Patriot has to offer for Intel Z170 Skylake-based systems.
That is where the PV48G340C6K kit comes into play. This is a dual-channel kit of 8GB density, but is binned to 3400MHz, and its XMP 2.0 profile leaves you with 16-18-18-36 2T timings and the use of 1.35V to power them. These also come with a limited lifetime warranty that seems to be near industry-wide. This kit also sports the same aesthetics as the previous kit and still offers the removable red fins at the top.
One thing we have seen since we got into the clocking game is that there are two ways to look at it. Try to find the kits like the Ripjaws V, or go the other route of buying whatever speed sticks it is you want to run. For work and gaming related builds, we tend to choose the latter, but keep in mind, when it comes to higher binned parts, you typically lose some flexibility in the kit when it comes to overclocking. This sort of holds true for this Patriot Viper 4 3400MHz dual-channel 8GB kit, but that does not mean that it isn't more than capable of handling its business right out of the box, though.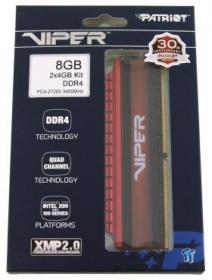 The packaging for this set of Viper 4 kit is nearly identical to what we saw on the previously submitted set. What changes is all found inside of the white box to the left where we find that this is an 8GB kit of 3400MHz memory.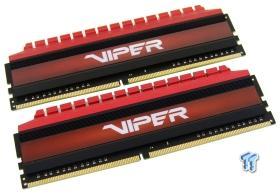 This time around we are given single sided sticks to use with ICs on just one side of the black PCB. Over that, we are offered the black heat spreader and the fins at the top in red. Offering the VIPER name in white also makes it pop and is easily read.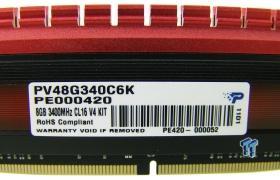 The other side of the sticks is where the product sticker is located, and on are just the basics. There is the PV48G340C6K part number, below that is noted that this is an 8GB kit that runs 3400MHz at CAS16. That is it though outside of the warning not to remove these stickers.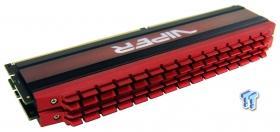 Across fifteen tabs, there are four little fins in each section that are slightly angled away from each other. These red tops do offer quite an attractive look to their tops, and would look even better with four of them in our ASUS Maximus VIII Hero.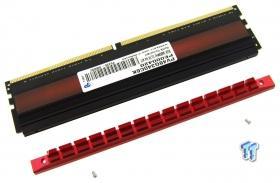 Just as the other kit offered, these 3400MHz sticks are also adaptable to various conditions. With the red tops still on the sticks, they measure 41mm in overall height, but by removing them, they require 7.25mm less room.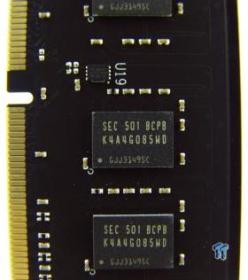 We again find Samsung at the heart of this kit, but rather than SEC 537 ICs this time, we found SEC 501s used. This side uses a thin tape to hold on the heat spreader while on the reverse is a much thicker foam tape to offset the lack of ICs and keep the heat spreaders centered.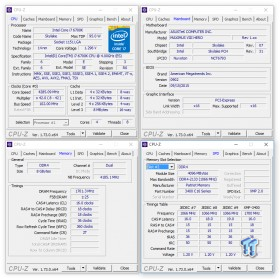 Setting XMP on this kit of 3400MHz memory shows us that they slightly increase the BCLK to 102MHz and uses a 3333MHz memory strap. This slight boost in XMP also adds a slight advantage to this kit due to the increased CPU speed that came with it.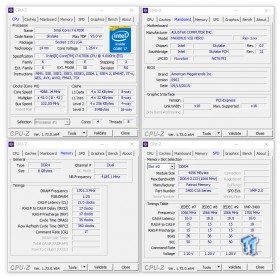 We also looked at lowering the timings of this kit and were somewhat successful in our attempts here. We did get this kit down to 15-17-17-36 1T with 1.40 VDIMM used. Anything tighter in timings would cause a no post issue, and we even tried a touch more voltage, but that got us nowhere.
We would typically have a maximum speed CPU-Z screen shot as well, but we found they binned this kit to it capacity, as various straps, and various BCLK adjustments just continued to lead us to no post scenarios.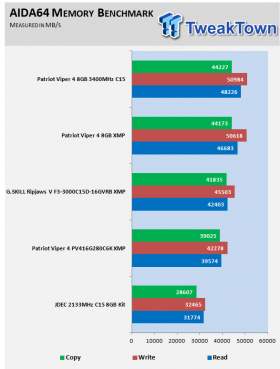 Speed counts when it comes to AIDA64, and we see that right up from the bottom to the XMP run of this that the Patriot Viper 4 DDR4-3400MHz kit has its advantages. Reducing the timings does show a slight advantage, but honestly it is not worth the stress and extra voltage.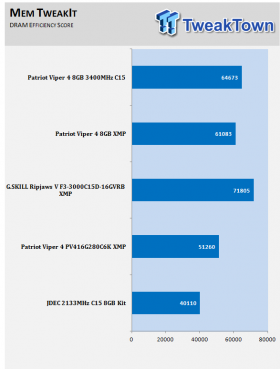 MemTweakIt loves the Ripjaws V kit, but the results for this Viper kit at XMP is on par with what we have seen in quad-channel speed improvements. This time, however, with the lower timings, this kits efficiency went up by a nice margin.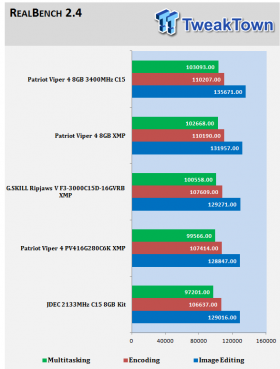 RealBench favors the Vipers at 3400MHz over all other kits and their XMP runs. XMP to XMP every single section gets a boost in performance, and with the timings lowered, we aren't saving days of time, but in the long haul, more speed will save time when it comes to productivity.
For all the same reasons we liked the 2800MHz 16GB kit, we like the aesthetics and modularity of this higher binned kit as well. Many will say 16GB is the least you should buy, but 8GB will get most average gaming systems online and fragging with the best of them. It isn't until you look into multiple card setups and major rendering projects or maybe the need for a RAMdisk, you can save a bit and not pay for wasted density, and is where this kit falls into the market. Also, with less density and the higher speeds, more processors should be able to run this kit than say the same speed with twice the density.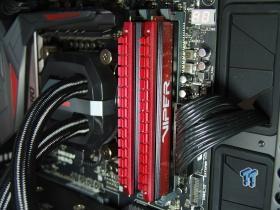 While this kit falls into the realm of buying the speed you want and being happy with that, we feel that more and more users are leaning on exactly this. Since overclocking is so mainstream now, and since XMP profiles can do all sorts of behind the scenes changes, it makes it easy to go and grab some high-end gear and have a fairly good sense that it will all boot and run properly. For that, we appreciate the PV48G340C6K dual-channel kit for what it is, buying what it is you want right out of the box.
Of course, we have had more fun tinkering with other kits, but being able to reduce the timings with just a couple of small bumps to the VDIMM was a nice surprise as we truly did not expect this kit to be even flexible enough to offer even that much. In the end, though, it is better just to run the kit as specified in this instance and enjoy the speed and benefits that this 3400MHz kit brings to the table.
Looking around to purchase this kit from the interwebs, we find that we are again locked into Fry's at the moment, as nowhere else has stock currently. We do like the pricing though where we found them at $89.99 with free shipping. Comparatively, that is lower than most any other 8GB kit you can find listed elsewhere anywhere near this speed. While we only have three dual-channel DDR4 kits under our belts so far, this is the most affordable so far, and packs quite a bit of punch into an 8GB kit with 3400MHz speeds that have topped our charts so far.
Chad's DDR4 Dual-Channel Test System Specifications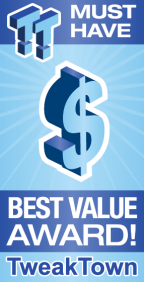 | | |
| --- | --- |
| Performance (including Overclocking) | 96% |
| Quality including Design and Build | 94% |
| General Features | 90% |
| Bundle and Packaging | 90% |
| Value for Money | 97% |
The Bottom Line: The most affordable dual-channel DDR4 kit to cross our desk! The Viper 4 3400MHz 8GB kit has plenty of speed to take full advantage of a gaming system while not getting too far outside of average IMC limits, and has a look to them most will appreciate.
PRICING: You can find products similar to this one for sale below.

United States: Find other tech and computer products like this over at Amazon.com

United Kingdom: Find other tech and computer products like this over at Amazon.co.uk

Australia: Find other tech and computer products like this over at Amazon.com.au

Canada: Find other tech and computer products like this over at Amazon.ca

Deutschland: Finde andere Technik- und Computerprodukte wie dieses auf Amazon.de
We openly invite the companies who provide us with review samples / who are mentioned or discussed to express their opinion. If any company representative wishes to respond, we will publish the response here. Please contact us if you wish to respond.