Areca Technology ARC-1883i Eight-Port 12Gb/s SAS RAID Adapter Review
Areca Technology's ARC-1883i eight-port 12Gb/s SAS RAID adapter goes under the spotlight today. Want to supercharge your PC's storage? Take a look.

Published Fri, Oct 30 2015 12:22 PM CDT
|
Updated Tue, Nov 3 2020 6:59 PM CST
Introduction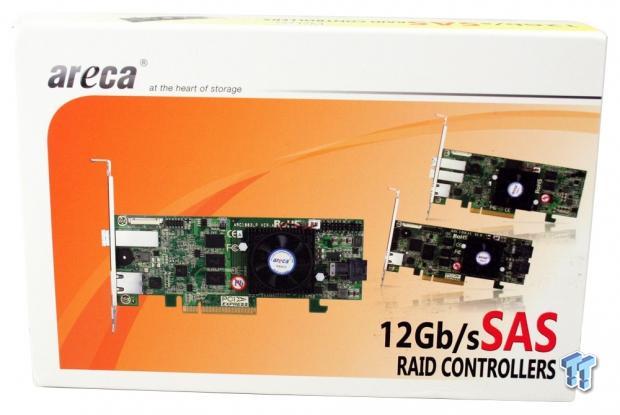 Areca was founded fifteen years ago by a group of engineers with the core goal of providing leading edge technologies and the highest quality products. With years of experience that Areca has put into their products, they are now at the forefront of the storage industry with solutions ranging from SATA and SAS RAID adapters, HBAs, Expanders and Thunderbolt solutions.
With the launch of third-generation SAS products, Areca is now offering a full lineup of 12G SAS adapters including the 1883ix-12/16/24 along with the 1883LP, 1883x and the solution we are testing today the ARC 1883i. The 1883i is a dual SFF-8643 RAID controller featuring 2GB of onboard DRAM with a 1.2GHz dual-core RoC.
This solution along with each of the third-generation adapters from Areca are capable of supporting up to 256 12 Gb/s SAS SSD/HDD using the ARC 8028 Expander. As this unit sits it is capable of driving up to eight 12 Gb/s SAS or SATA hard drives along with SSDs if you are so inclined. For our testing, we will be using eight Seagate Enterprise Capacity V4 HDDs.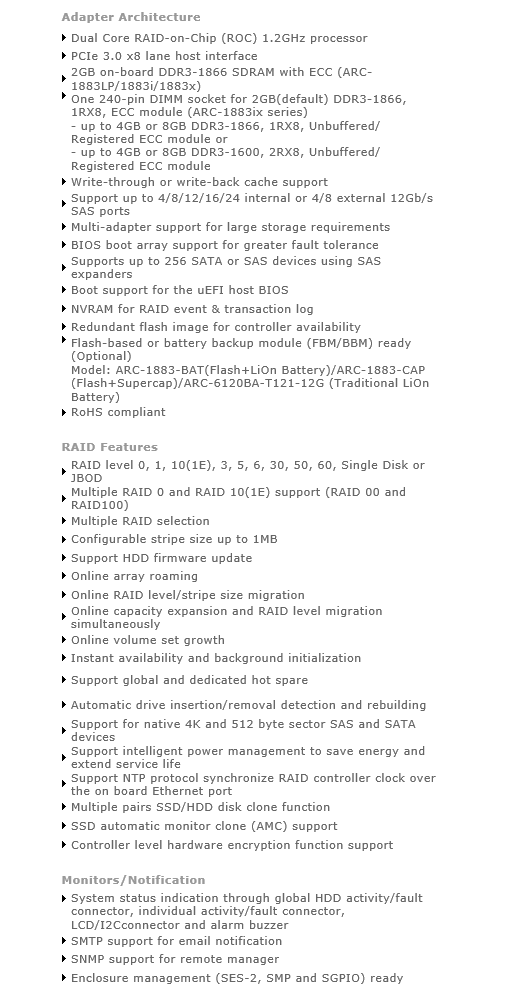 Above, we have the specifications for the ARC-1883i. For starters, as mentioned above in the introduction we have a dual-core RoC operating at 1.2GHz. Adding to this, Areca has designed the RAID adapter to use a PCIe 3.0 x8 interface offering 7.8 GT/s of throughput. 2GB of DDR3 1866 DRAM sets onboard featuring ECC support. RAID features for the 1883i include support for modes 0, 1, 3, 5 and 6 along with 10, 50 and 60 support.
Areca 1883i RAID Adapter
Packaging and a Closer Look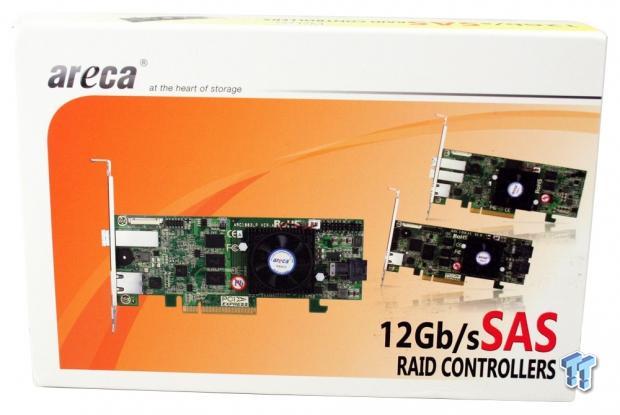 The packaging for the Areca 1883i is above. The front of the box housing an image of the adapter with the 12 Gb/s SAS label in the bottom right.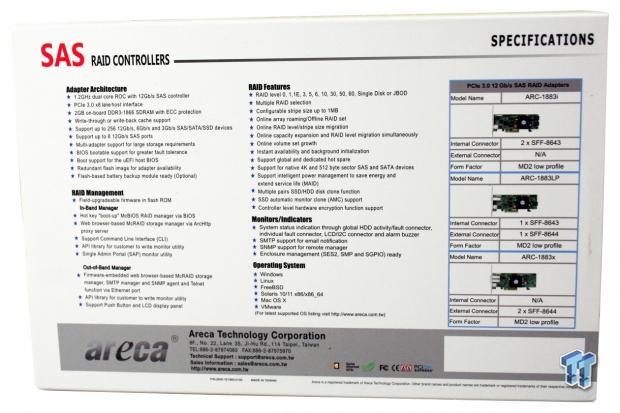 The back of the box includes a full specification list along with features of each adapter model to the right.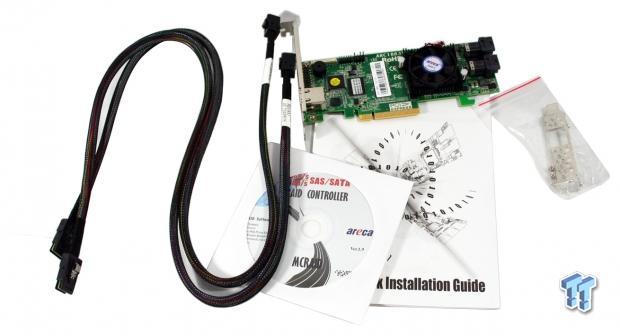 The scope of delivery of the ARC-1883i includes the adapter at the top of the image along with driver disk along with Areca's McRAID. To the far right, we have the low profile adapter and SAS cables to the far left.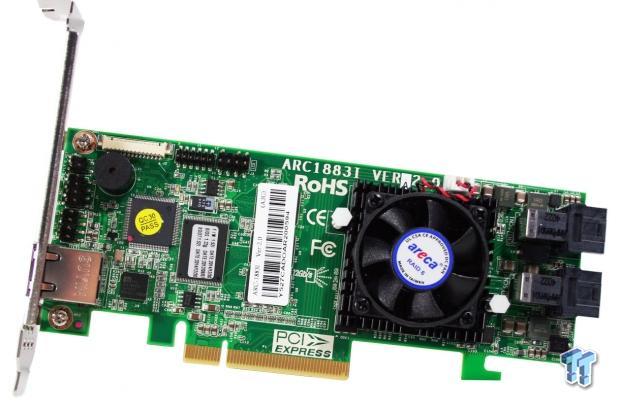 Looking at the RAID adapter, we have the dual SFF-8643 ports to the far right with an aluminum heat sink and the fan next to it. To the left on the PCB, we have connections to the battery backup unit, sold separately.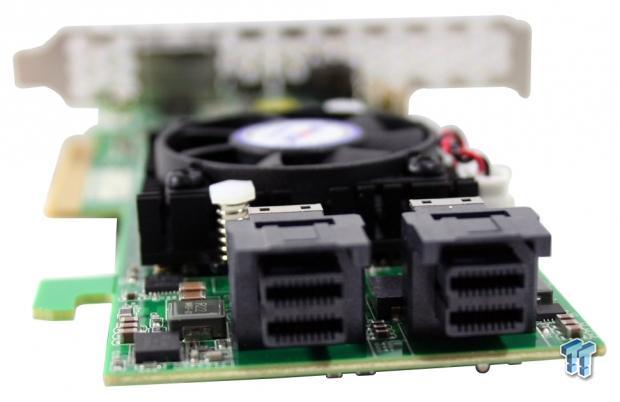 Above, we have a closer look at the SAS ports.

The PCI end of the 1883i includes a LAN port for accessing the management of the RAID adapter.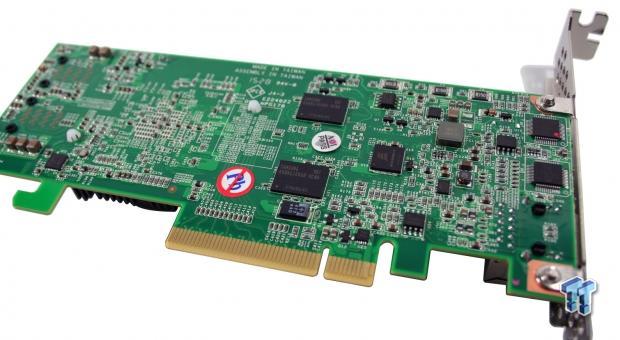 The back side of the card houses all 2GB of DRAM cache with our sample using Samsung.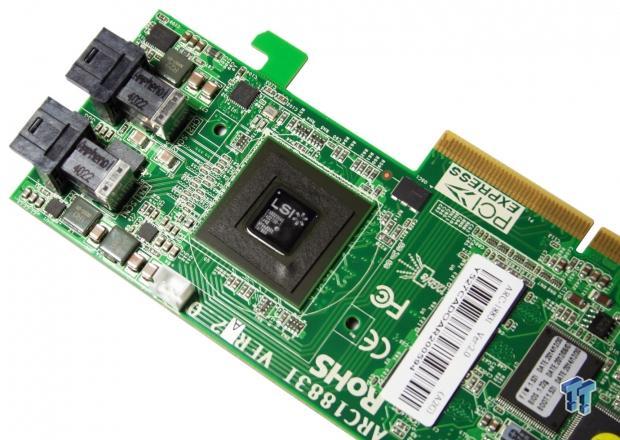 Removing the heat sink from the Areca 1883i reveals the LSI SAS3108 RoC.
Test System Setup and Web Management
Tyler's Test System Specifications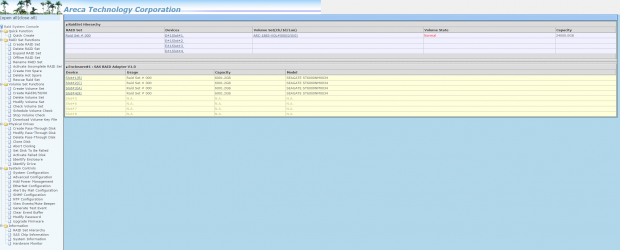 The management for the Areca 1883i family of RAID controllers is accessible through the McRAID software or the built-in LAN port on the rear of the card.
As was the case when we took a look at the Areca 8050T2 eight-bay Thunderbolt 2 DAS, the left side offers options for creating RAID sets along with volume sets, creating pass-through disks with system level features including power management.

Looking at the system controls, options for NCQ support, read ahead cache among other is made available. Near the bottom of this list, you can also set PCIe Gen 3 support.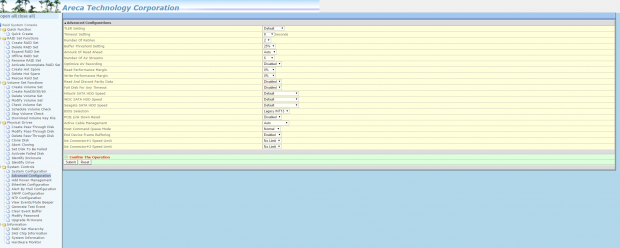 The advanced management options allow the end-user to set the TLER, the number of retries along with optimizations for each hard drive vendors.
Benchmarks - RAID Performance with ATTO
RAID Performance with ATTO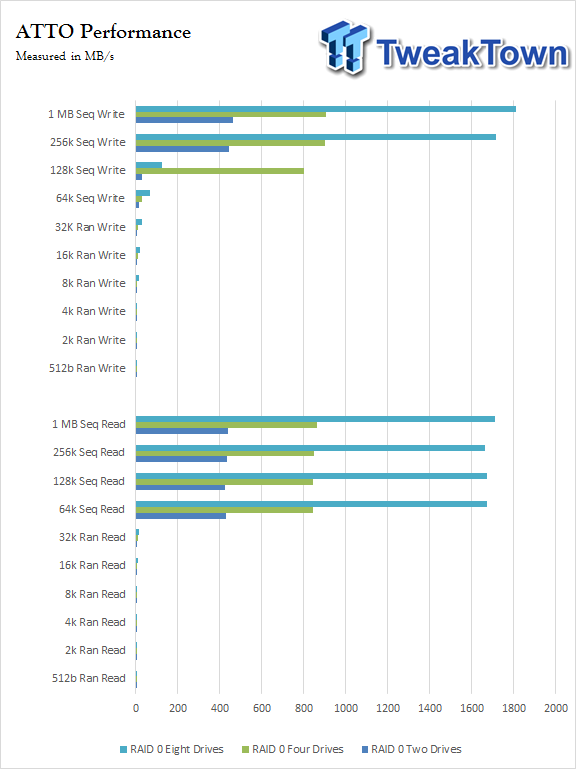 To start off with our testing of the Areca 1883i, we loaded up the RAID card with eight Seagate Enterprise Capacity v4 12 Gb/s SAS hard drives.
In the chart above, we have our results for RAID 0 starting with two drives all the way up to eight drives. Two drives were able to reach 425 MB/s read and 440 MB/s write. Moving to four drives, we peaked at 820 MB/s read and 850 MB/s write, and lastly eight drives topped out around 1700 MB/s read and 1800 MB/s write.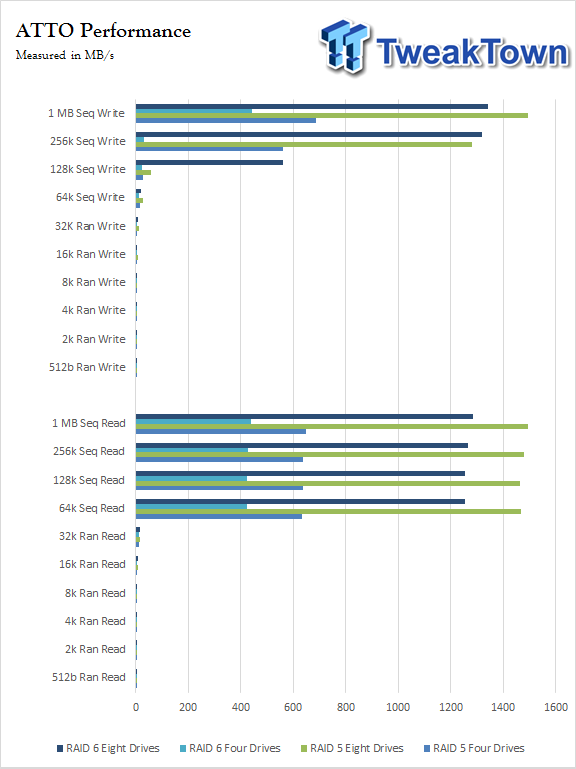 Swapping over to RAID 5 and 6 with both four and eight drives, we start with our results of the four drives RAID 5 array that ended up topping out at 600 MB/s read and 650 MB/s write. Adding four more drives allowed around 1400 MB/s read and 1400 MB/s write.
Moving over to RAID 6 results start with our four drive array at 400 MB/s read and 400 MB/s write again adding four more drives to our RAID 6 this array topped 1200 MB/s read and write.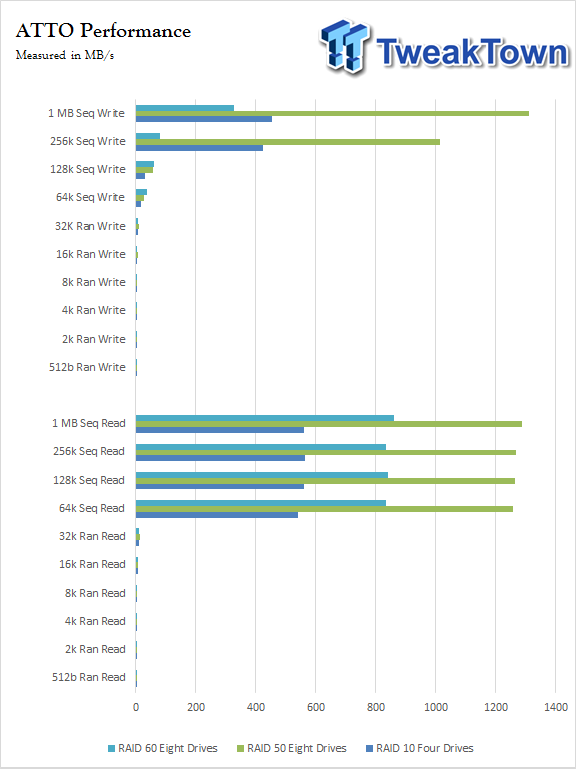 Taking things to the next level with the 1883i, we built three more arrays for testing. These include a four drive RAID 10 along with an eight-drive RAID 50 and RAID 60 array.
Starting with the RAID 10 results came in at a touch under 600 MB/s read and a touch over 400 MB/s write. Over to RAID 50, results topped 1200 MB/s read and write, while our RAID 60 hovered around 800 MB/s read and 400 MB/s write.
Benchmarks - Sequential Workloads
Sequential Workloads
Our Sequential read/write workload is centered on 128K transfer sizes.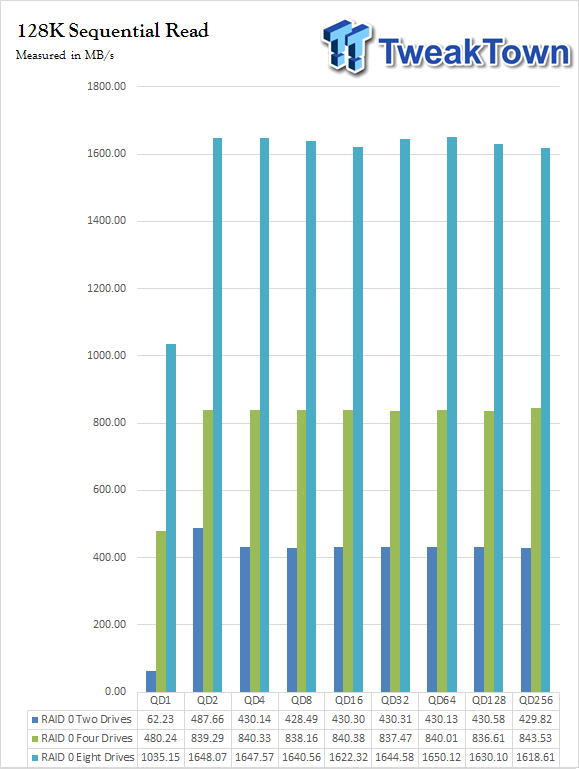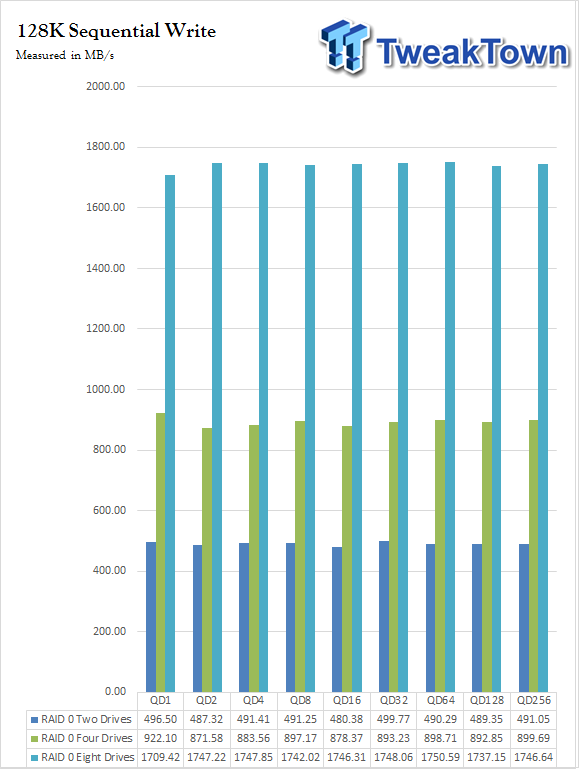 Looking at our sequential test results for our RAID 0 arrays, we found the two drive array to top out around 450 MB/s read with write results managing to reach close to 500 MB/s.
Adding two drives for a total of four in RAID 0, the array performance almost doubled up to 850 - 900 MB/s write with read performance coming in at a touch over 800 MB/s. Adding four more drives bringing our total to eight drives our RAID 0 array touched upwards of 1650 MB/s read and 1750 MB/s write.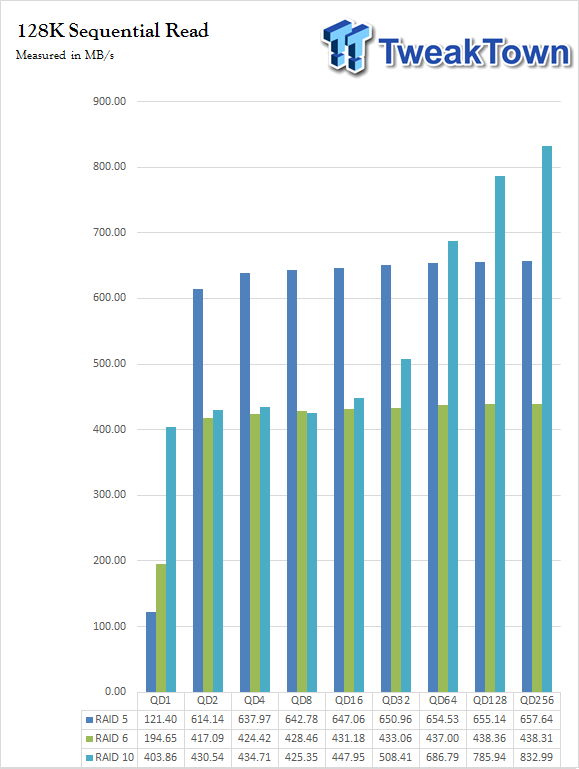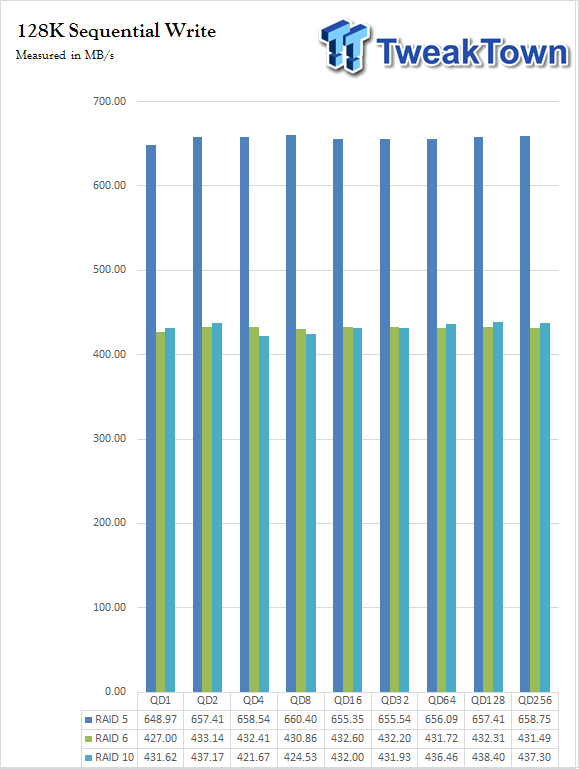 Moving on to our RAID 5, 6 and 10 arrays, we first start with RAID 10 with four drives reaching just over 800 MB/s read and 450 MB/s write. RAID 5 was able to touch north of 650 MB/s write with read performance coming in at 650 MB/s as well. RAID 6 was quite close to RAID 10 with read numbers touching 450 MB/s with write around 430 MB/s.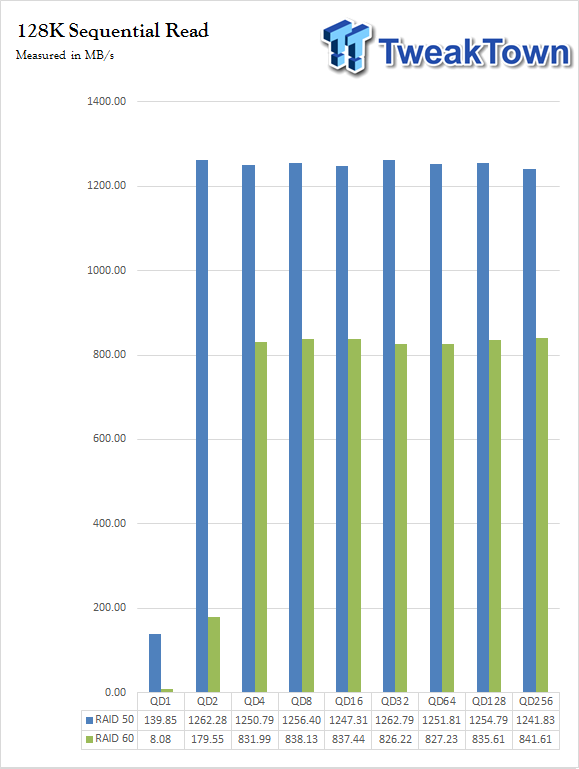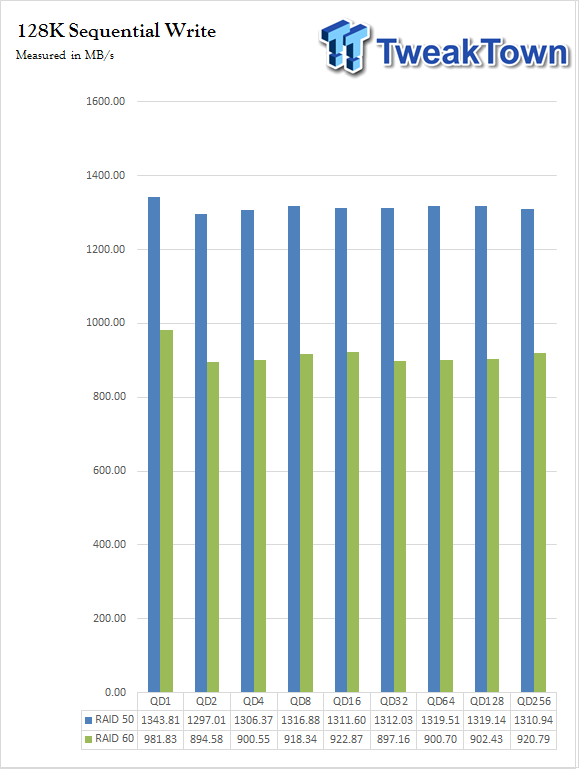 Touching on RAID 50, we find read performance touching very close to 1300 MB/s with write performance going over 1300 MB/s at 1320 MB/s. RAID 60 too was rather good, reaching just shy of 1000 MB/s write while read was just over 820 MB/s.
Benchmarks - SMB Workloads
SMB Workloads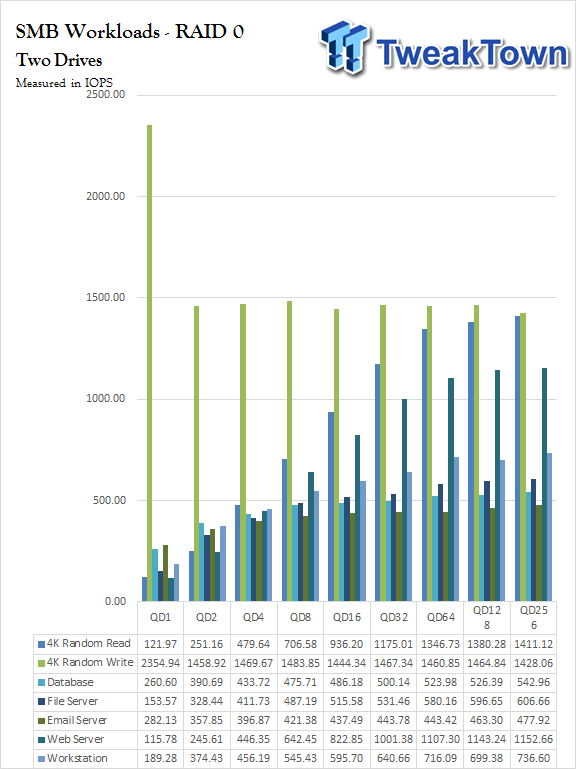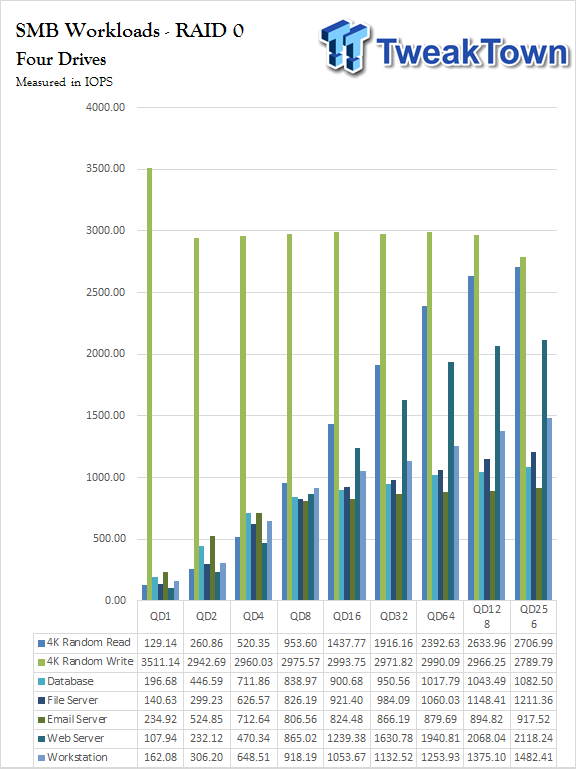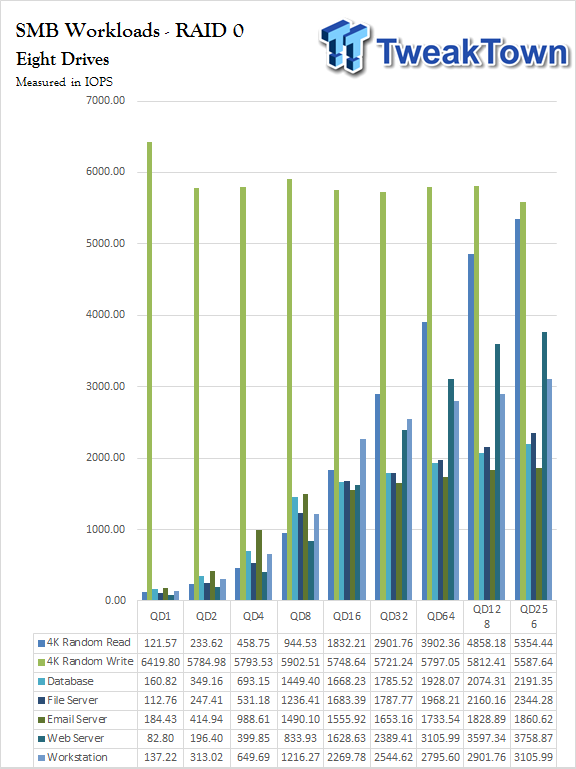 In the first of three charts above, we take a look at our two drive RAID 0 performance with 4K and SMB workloads with queue depth up to 256. Peak results for 4K read and write came in around 1400 IOPS while Web Server came in at 1100 IOPS.
Adding two more drives random read and write jumped to 2900 IOPS write and 2700 IOPS read while Web Server, Workstation and File Server jumped up as well reaching 2100 IOPS, 1400 IOPS and 1200 IOPS, respectfully. Eight drives again increased performance as it should with random read reaching 5300 IOPS with write touching 5500 IOPS.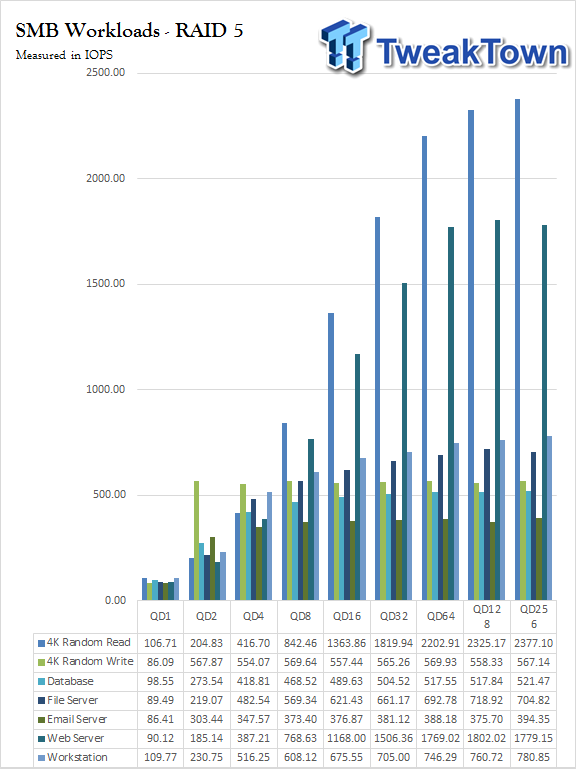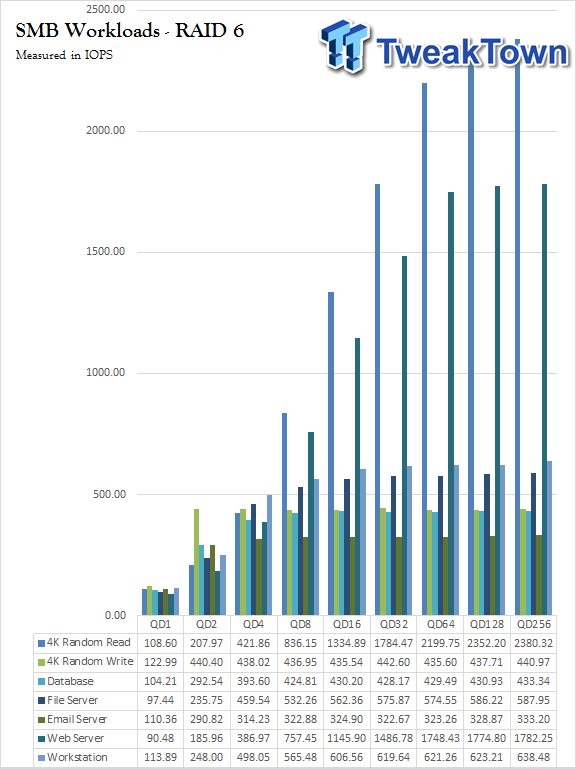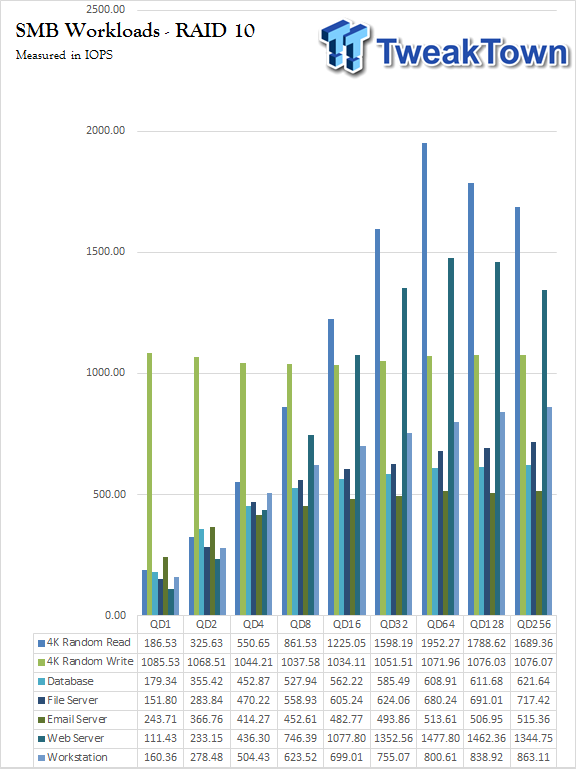 Moving on, we have RAID 5 reaching 2300 IOPS in random read while write hovered around 560 IOPS. Top workloads were Web Server at 1700 IOPS with Workstation in second at 780 IOPS. RAID 6 started off with 2300 IOPS random read with write touching 430 IOPS.
Workloads showed 1700 IOPS for Web Server once again while Workstation brought in 630 IOPS. RAID 10, on the other hand, was a bit more even with random read and write coming in at 1600 IOPS and 1100 IOPS, respectfully.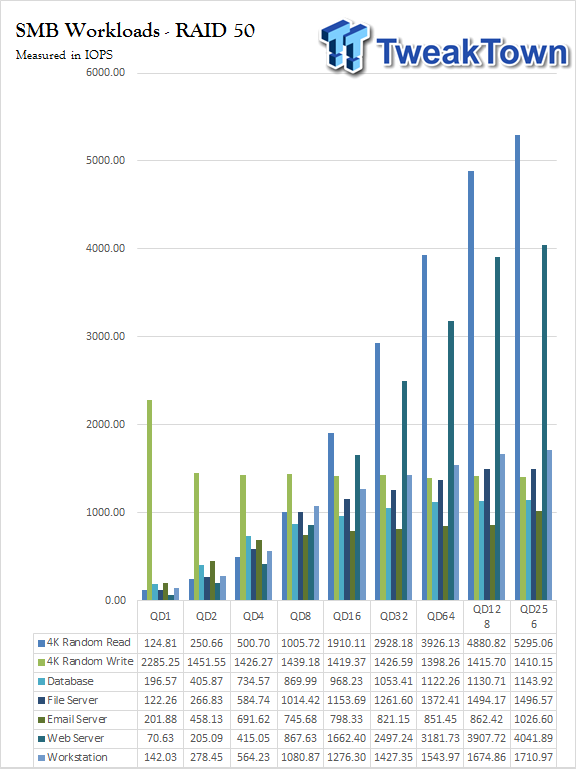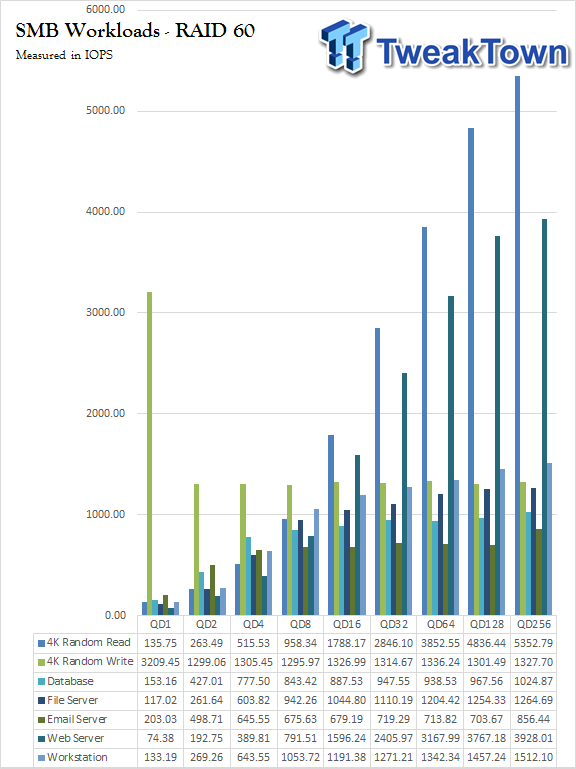 RAID 50 started things off with 5200 IOPS random read with write at 1400 IOPS. Web Server once again was the quickest workload at 4000 IOPS with Workstation not too far behind at 1700 IOPS.
Moving over to RAID 60 we touched 5300 IOPS random read with 1300 IOPS in random write. Web Server again was rather quick at 3900 IOPS while Workstation and File Server came in at 1500 and 1200 IOPS, respectfully.
Final Thoughts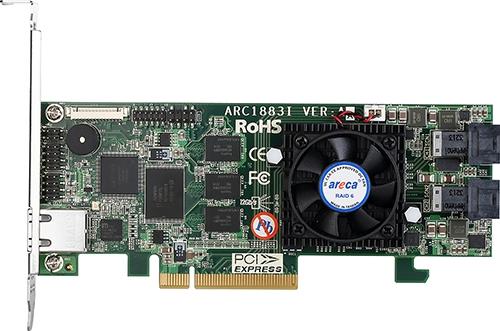 As I have stated in past reviews, I'm not the most experienced person when it comes to RAID. However, with that said, I was pleasantly surprised to find how easy the Areca 1883i was to setup.
Similar to the RAID management I found with the Areca 8050T2 management, the 1883i follows the same "WEB GUI" design with the left pane offering you plenty of options for RAID and Volume sets with quite a few in depth options for enthusiasts once you dive into advanced management. The build quality and design of the Areca 1883i was quite good; I was pleased to see the heat sink for the RoC to include its own cooling fan along with the RAID card coming with built-in DRAM cache.
The performance of the Areca 1883i with our eight drives was rather good, of course, it would have been even better with solid state drives. Peak sequential throughput with two and four drives came in at 400 and 800 MB/s while eight drives reached a solid 1800 MB/s. With our RAID 0 workloads, we were able to reach 5500 IOPS for random read and write while Web Server and Workstation touched over 3000 IOPS.
With RAID 5, sequential performance reached over 1400 MB/s while RAID 6 was a touch over 1200 MB/s. In workloads, we found RAID 5 and 6 to perform quite well with 2300 IOPS random read. Higher RAID levels with the Areca 1883i were able to perform quite well too with 5200 IOPS random read in RAID 50, with RAID 60 reaching 3900 IOPS in Web Server.
With third-generation SAS been on the market for a few years now, the 1883i is the entry-level solution from Areca. With this, you get many of the same features found in higher-end models including a solid management solution along with higher RAID level options including 50, 60 and 100 if you so wish.
The performance of this card is helped along by the 2GB of DRAM cache that is onboard with this solution along with its PCIe 3.0 x8 interface. With these features, the Areca 1883i is carrying an MSRP of $599.99 with three-years warranty.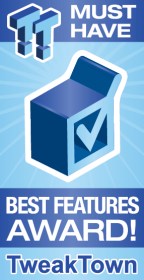 | | |
| --- | --- |
| Performance | 91% |
| Quality including Design and Build | 89% |
| General Features | 91% |
| Bundle and Packaging | 90% |
| Value for Money | 87% |
The Bottom Line: The 1883i from Areca is their entry-level 12Gb/s SAS RAID solution, yet carries a plethora of features including onboard cache with the option for battery backup. This coupled with a highly reliable RoC design and its solid MSRP make it a card certainly worth your hard earned dollar.
PRICING: You can find products similar to this one for sale below.

United States: Find other tech and computer products like this over at Amazon.com

United Kingdom: Find other tech and computer products like this over at Amazon.co.uk

Australia: Find other tech and computer products like this over at Amazon.com.au

Canada: Find other tech and computer products like this over at Amazon.ca

Deutschland: Finde andere Technik- und Computerprodukte wie dieses auf Amazon.de
We openly invite the companies who provide us with review samples / who are mentioned or discussed to express their opinion. If any company representative wishes to respond, we will publish the response here. Please contact us if you wish to respond.