GIGABYTE Z170XP-SLI (Intel Z170) Motherboard Review
GIGABYTE's new Z170XP-SLI motherboard based on the still new Intel Z170 chipset gets reviewed today. A cheaper alternative, still with solid features.
Published
|
Updated Tue, Nov 3 2020 6:59 PM CST
15 minute read time
TweakTown's Rating: 90%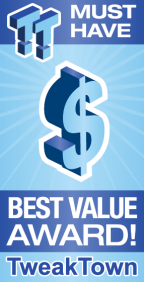 The Bottom Line
If you have a budget of $150 for an Intel Z170 motherboard and you want an Intel NIC, SLI support, decent OC support, and a good allotment of platform features, then the GIGABYTE Z170XP-SLI is worth a look.
Introduction, Specifications, and Pricing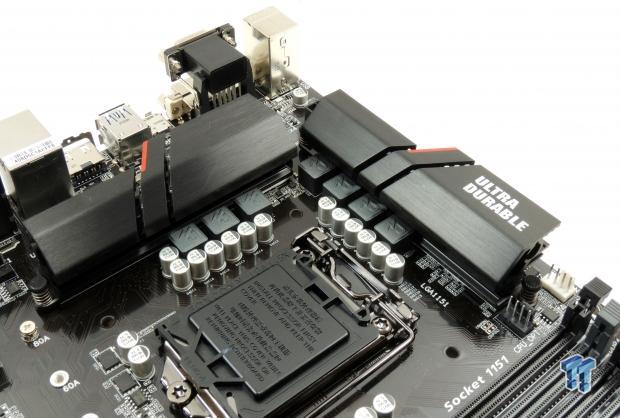 Intel's Z170 chipset is like previous Z-series chipsets. The product lines span from super-affordable to ultra-expensive price ranges as we have seen in previous reviews. Today, I take a look at a more mainstream offering from GIGABYTE, the Z170XP-SLI.
The Z170XP-SLI fits into the value segment, offering basic chipset features at an affordable price. While I say basic features, the Z170 chipset is possibly the most feature packed platform controller hub Intel has ever launched.
The Z170 PCH comes loaded with endless possibilities and combinations of SATA, USB, and PCI-E that each manufacturer implements differently depending on the model. While we usually review high-end motherboards, I also don't mind taking a look at offerings more in line with most peoples' budgets, and since differentiation between Z170 motherboards is quite tough, the market is filled with sub $150 offerings. Nevertheless, let's see what GIGABYTE has in store for us with the Z170XP-SLI.
Specifications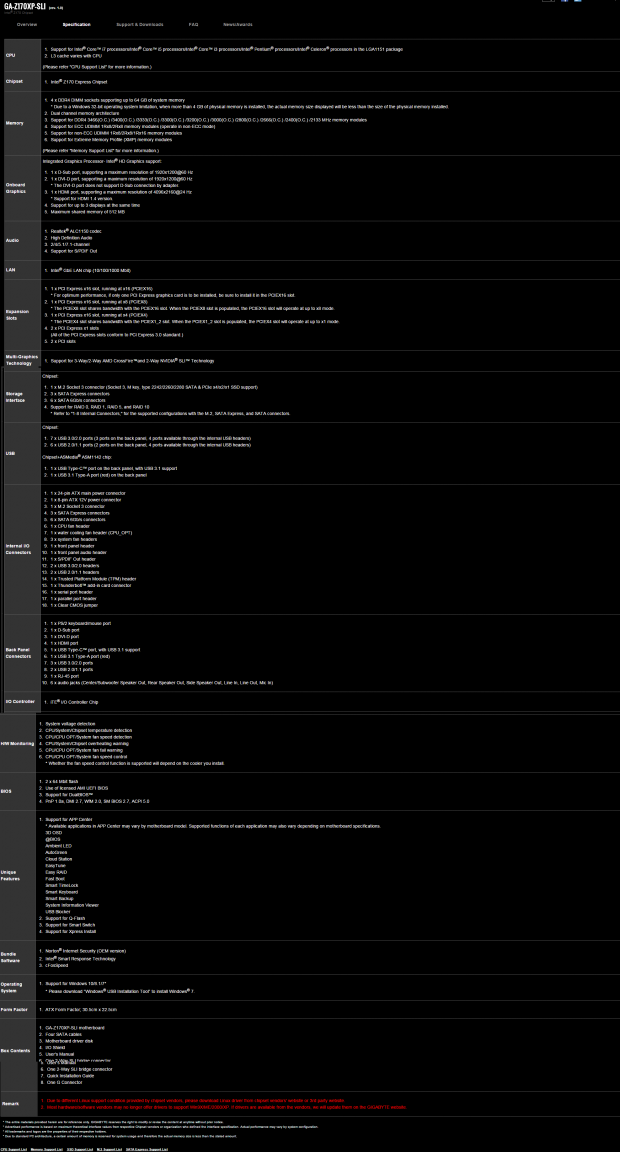 The GIGABYTE Z170XP-SLI might not be the most feature-packed Z170 motherboard, but on paper, it does carry a wide selection of features.
If you couldn't tell by the model name, the motherboard supports not only CrossFireX but also SLI, which isn't present on all Z170 motherboards. NVIDIA's SLI licensing is quite expensive (compared to other parts of the board), and I have come across some motherboards that do not have SLI capabilities even though they are priced as though they should. Back to the Z170XP-SLI, the motherboard does carry USB 3.1 as well as an Intel NIC and a 32Gb/s M.2 slot.
Pricing
The GIGABYTE Z170XP-SLI motherboard is currently listed at $136 on Amazon, making it a rather reasonable price for what you get.
Packaging and Z170XP-SLI Overview
Packaging and Overview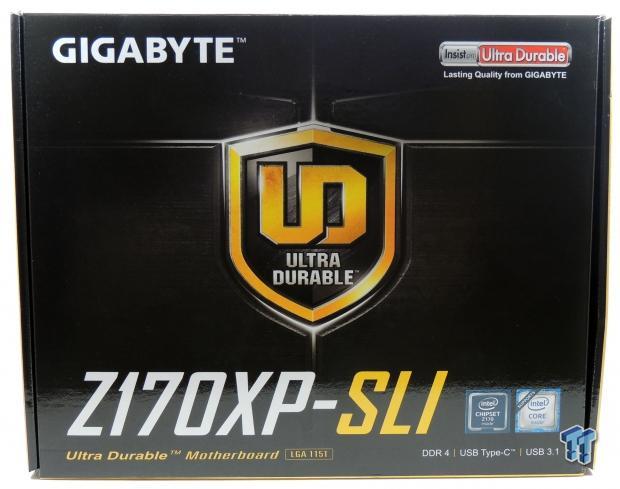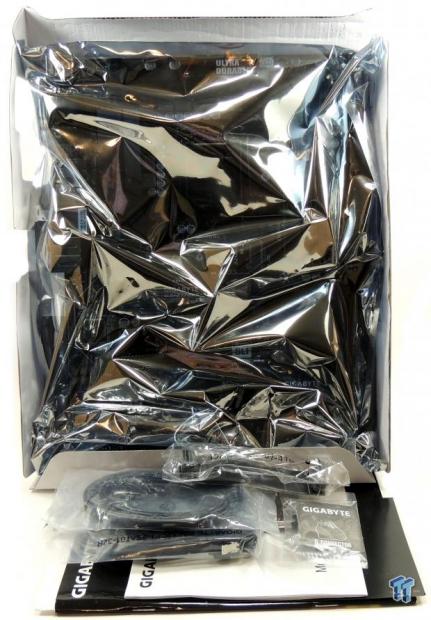 The Z170XP-SLI has basic packaging, and it's a no frills experience. The motherboard comes in an anti-static bag and the way things are packaged, it does seem the motherboard is protected from the elements by the cardboard lining and box.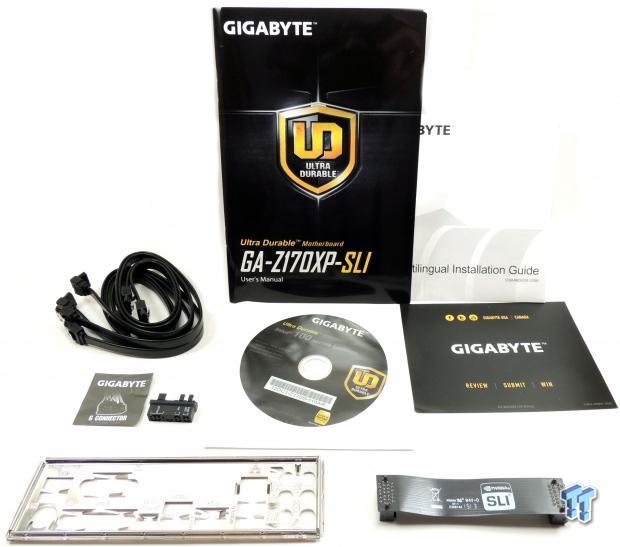 The Z170XP-SLI comes with a modest amount of accessories; 4x SATA6Gb/s cables, 2-way SLI bridge, IO Shield, G-Connector, manual, driver DVD, and a case badge.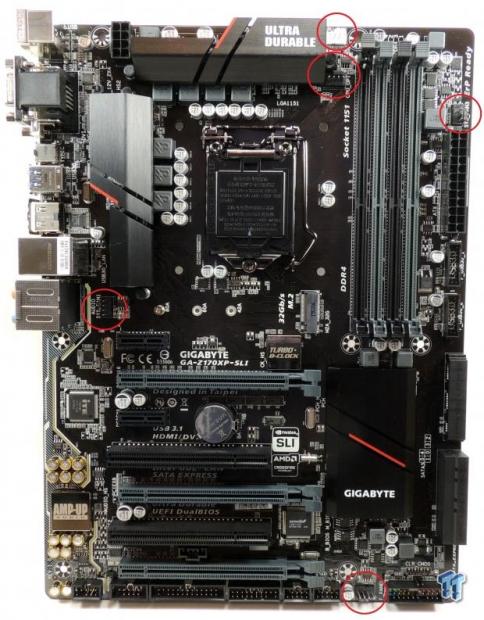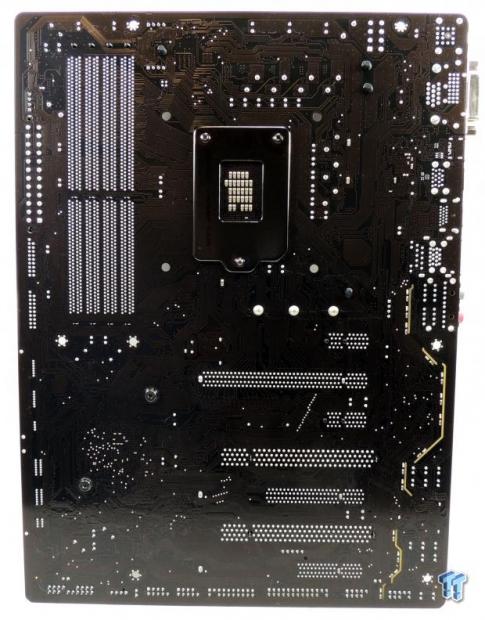 The GIGABYTE Z170XP-SLI has five 4-pin voltage mode fan headers circled in red. They are voltage mode which means they will control both 3 and 4-pin fans. The back of the motherboard is bare except for some yellow LEDs that illuminate the PCB divide for the audio. The motherboard has a basic color scheme, and it doesn't scream enthusiast.
Although it is quite basic, GIGABYTE did make some strides towards the enthusiast market by adding red accents to the heat sinks, a spruced up audio section, and a metallic shield over the clock generator. I think the motherboard is a bit confused when it comes to color aesthetics; while the heat sinks have red accents, the audio PCB divide lights up yellow. So if you are going to buy accessories and want to color match you should keep that in mind. You can disable the audio LEDs through the UEFI, or you could cover up the red accents on the heat sinks.

The IO panel features a PS/2 keyboard/mouse port, 2x USB 2.0, DVI, D-SUB (VGA), HDMI, 3x USB 3.0, 1x USB 3.1 Type-C, 1x USB 3.1 Type-A (red port), 1Gbit Intel NIC, and 7.1 audio outputs.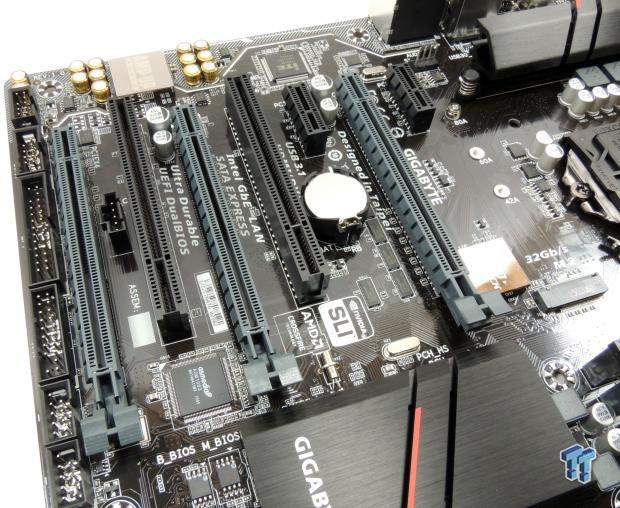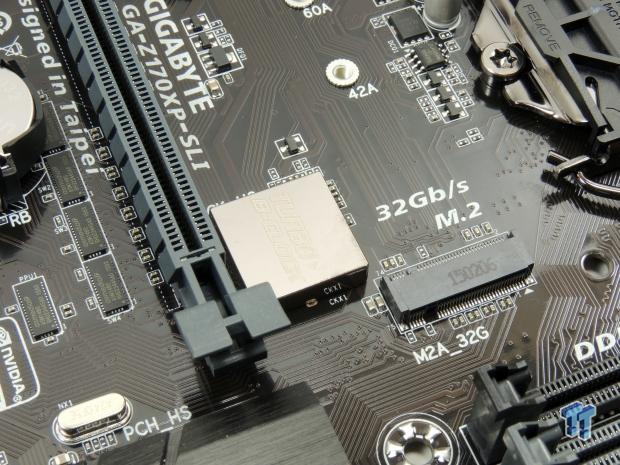 The PCI-E layout supports up to 2-way SLI and 3-way CrossFireX. The first and second full sized PCI-E slots run at 16x/0x or 8x/8x and are hooked up to the CPU. The third full sized PCI-E slot is routed to the PCH and shares 1x bandwidth with the second PCI-E 1x slot. There are also two legacy PCI slots and even an LPT port for your vintage printer. PCI-E spacing is quite good, allowing for two cards to get a good amount of airflow while not restricting CPU heat sink size since the first slot is shifted down by one PCI-E slot space.
There is a single M.2 slot that provides 4x PCI-E 3.0 for 32Gb/s and installing a PCI-E based M.2 drive won't have any effect on the SATA ports, but if you install a SATA based M.2 drive, then you will lose SATA3_0. A dedicated BLCK clock generator is hidden under the metal shield.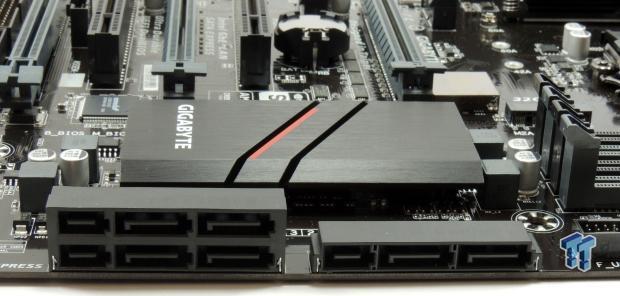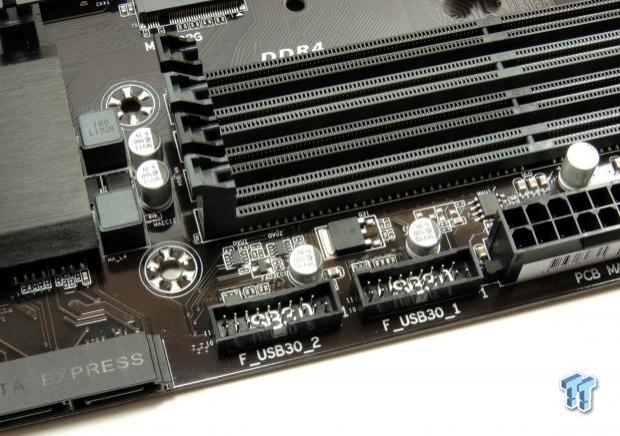 GIGABYTE provides all six SATA6Gb/s ports in the form of SATA Express ports so you can use either. If a SATA based M.2 drive is installed into the M.2 slot then SATA3_0 will be disabled. It's nice to see that GIGABYTE is providing two internal USB 3.0 headers positioned for front panel case ports.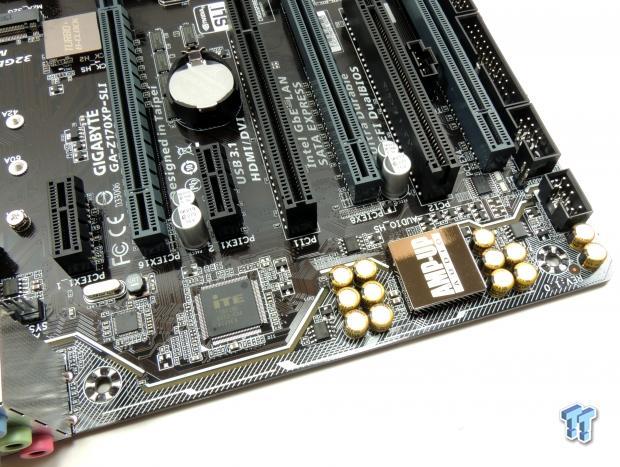 The audio section of the PCB is physically isolated from the rest of the PCB; there is a shield over the codec, and high-grade audio capacitors are provided to enhance aesthetics and audio quality.

The PCH heat sink is held down by two screws and two spacers even out the load. The VRM heat sinks are held down by push pins, but they seem to make decent contact with the VRM components.
GIGABYTE Z170XP-SLI Circuit Analysis
Circuit Analysis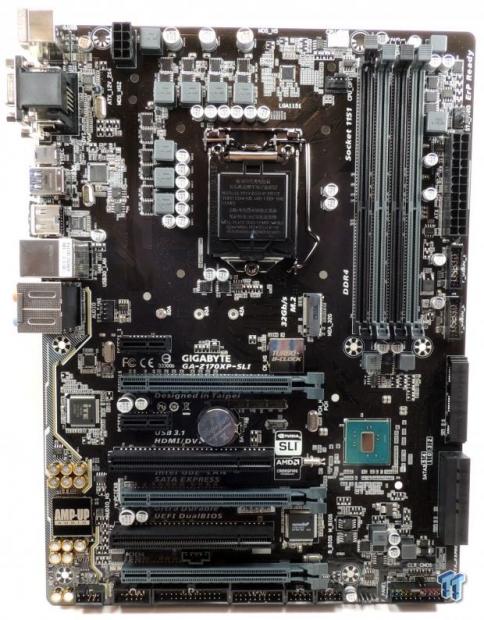 I think the Z170XP-SLI looks better without heat sinks, but that's just a personal opinion, as I think all motherboards look better without heat sinks.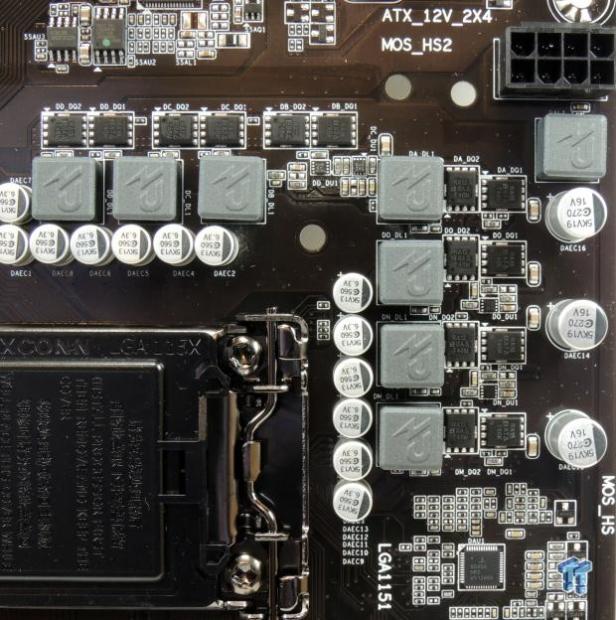 This motherboard carries a 4+3 phase (VCore+ VCCGT) VRM. I believe that this might be the Intel standard VRM configuration for this platform considering its very low power consumption. The VCCIO and VCCSA are derived from a linear regulator I will cover later on. Surprisingly the inductors have a custom GIGABYTE "Power" logo embedded on them which looks quite cool. The capacitors are rated at 5K, and there seems to be a decent amount of them to reduce ripple. The good thing here is that there is no phase doubling.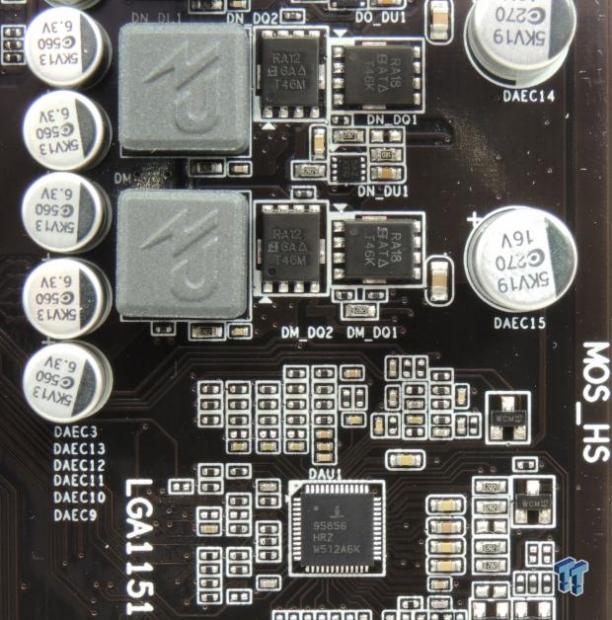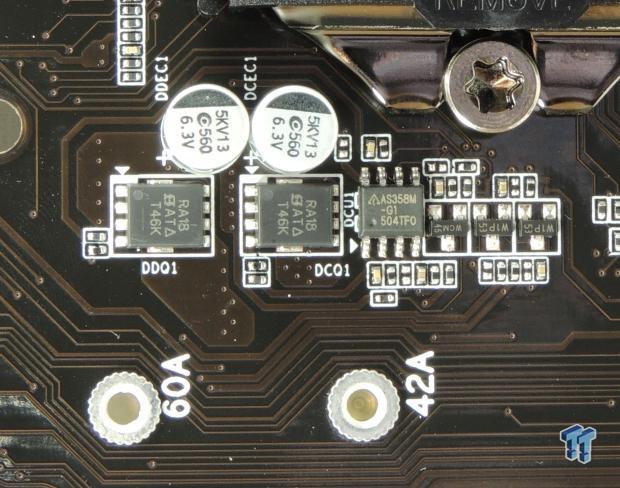 A single Intersil ISL95856 Hybrid-Digital PWM provides the 4+3 phase output for the VCC (VCore) and VCCGT (iGPU voltage). It has three integrated drivers, two for the 4 phase rail and a single one for the 3 phase rail. GIGABYTE adds an extra four ISL6625a drivers; two for the VCC and two for the iGPU. Each phase consists of a single high-side and low-side MOSFET. In this case, GIGABYTE opted to use one Vishay Siliconix SiRA12 and one SiRA18 for each phase. These MOSFETs have decent specifications, and each phase should output roughly 15-20A if needed, which is enough for air overclocking. The VCCSA and VCCIO are derived from a linear regulator considering their low power requirements.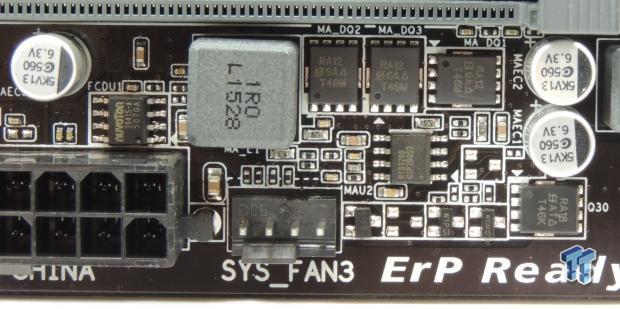 The memory VRM is a single phase consisting of a Richtek RT8120D single phase PWM with integrated driver and two SiRA12 for the low-side and a single SiRA12 for the high-side to facilitate DDR4 overclocking.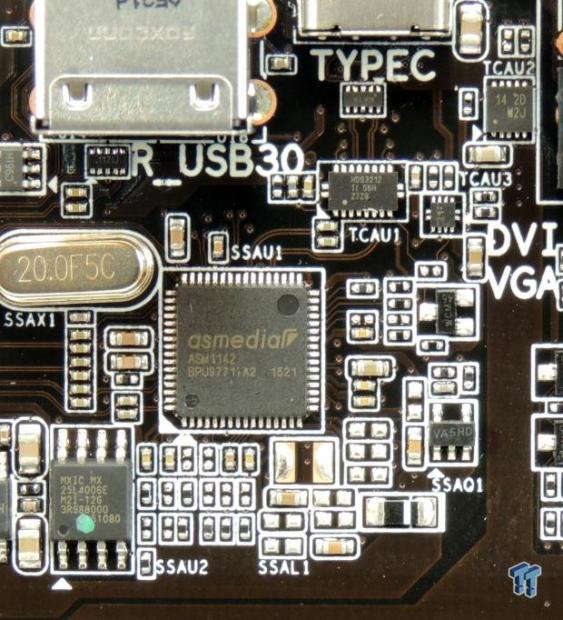 GIGABYTE is using the ASMedia ASM1142 USB 3.1 controller on the Z170XP-SLI along with a Texas Instruments HDS3212 for the type-C switch since users can plug the cable in upside down or right-side up (there is a right way to plug in Type-C, so C-Type switches are used to ensure compatibility).
GIGABYTE Z170XP-SLI Circuit Analysis Continued
Z170XP-SLI Circuit Analysis Continued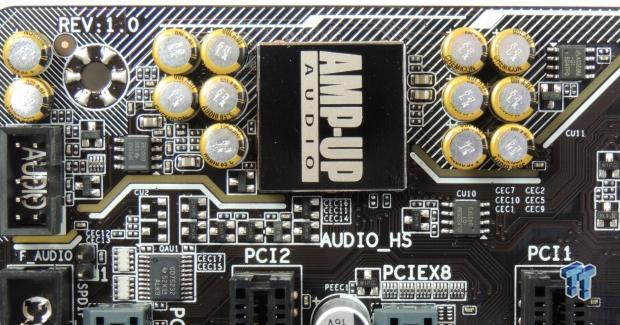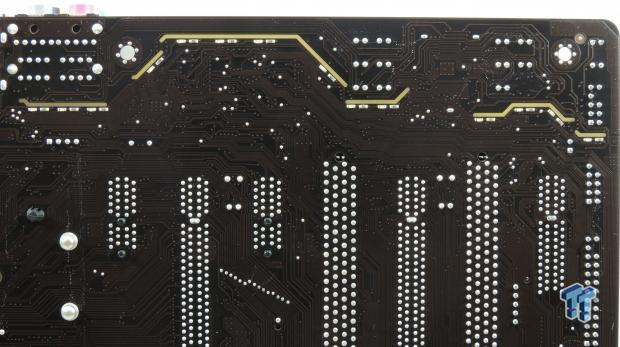 The audio section is quite interesting because it is in line with more expensive GIGABYTE offerings. For starters, the ALC1150 is utilized along with a Texas Instruments OP1652 and 13x Nippon Chemi-Con audio grade electrolytic capacitors. There are 15x yellow LEDs located on the back of the PCB that illuminate the audio PCB divide. GIGABYTE is also using a Texas Instruments GD75232 drivers and receivers chip for COM port functionality.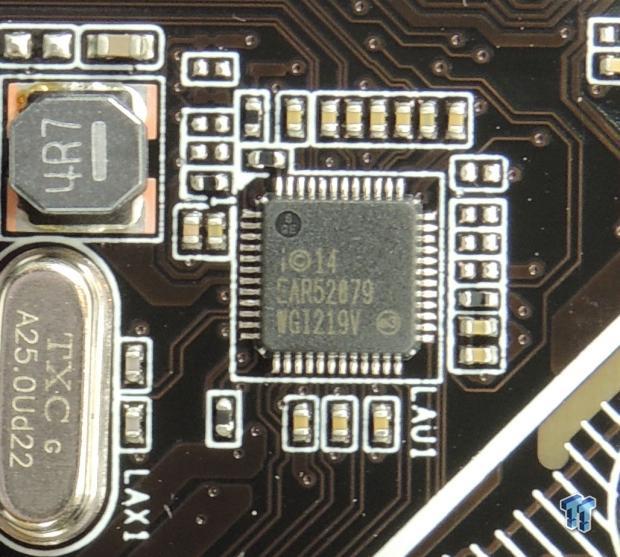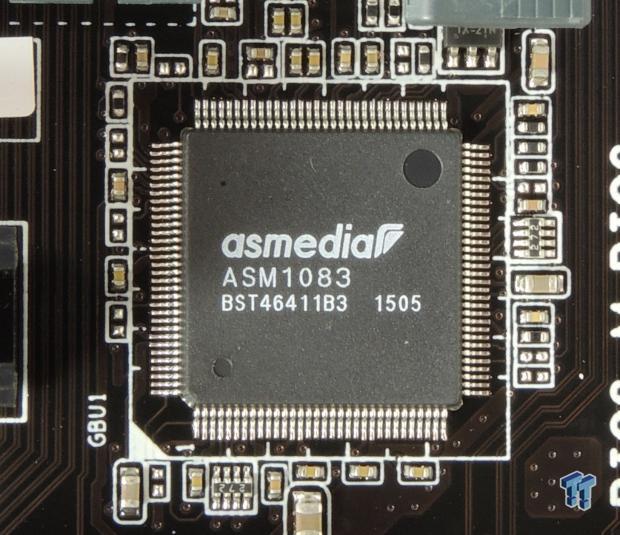 GIGABYTE decided to use the Intel i219v Intel LAN implementation instead of cheaper alternatives. Surprisingly this motherboard has a lot of legacy connectivity like LPT and two PCI slots. The two PCI slots are provided by this PCI-E 1x to 2x PCI bridge, the ASMedia ASM1083.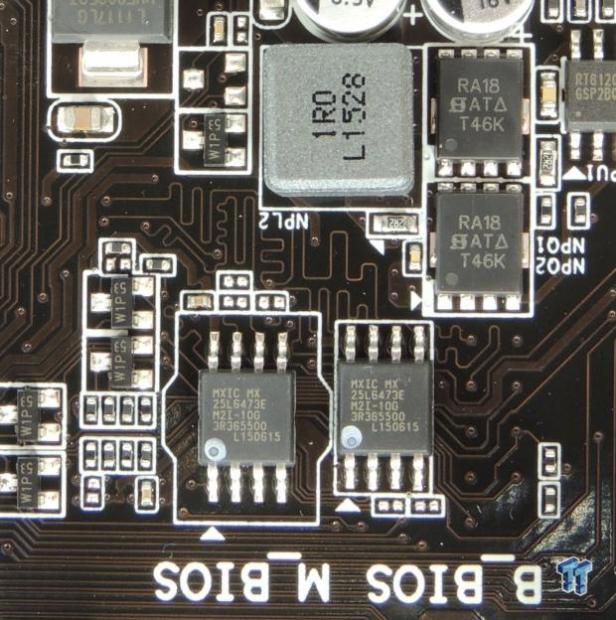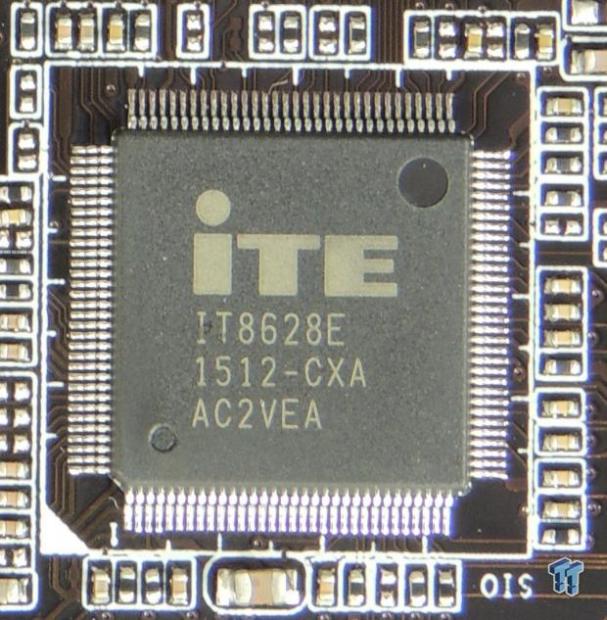 The Z170XP-SLI does carry dual 64Mbit/8MB BIOS ROMs, which is interesting since most ROMs are now 128Mbit, but it doesn't seem to have a negative impact on the UEFI. GIGABYTe decided to use the iTE IT8628E as the SuperIO, which provides legacy connectivity, temperature and voltage monitoring, and fan control.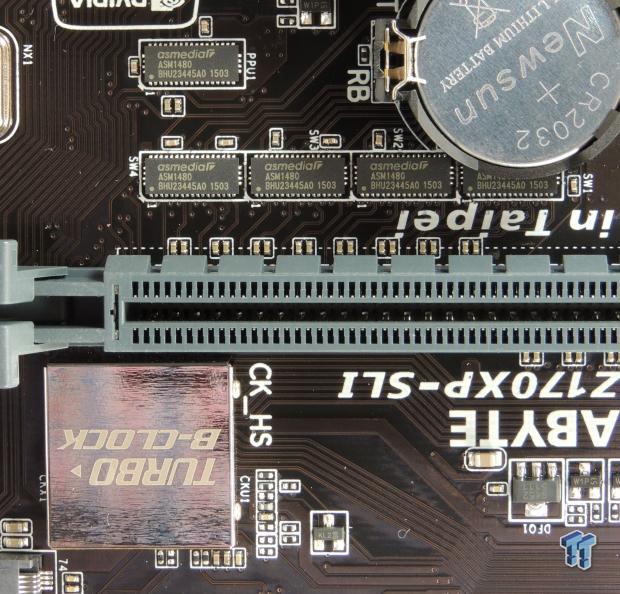 Four ASMedia ASM1480 quick switches move 8x from the first 16x slot to the second for SLI/CrossFireX. The single ASM1480 all by itself in the image above handles switching bandwidth from the 4x slot to the second 1x slot.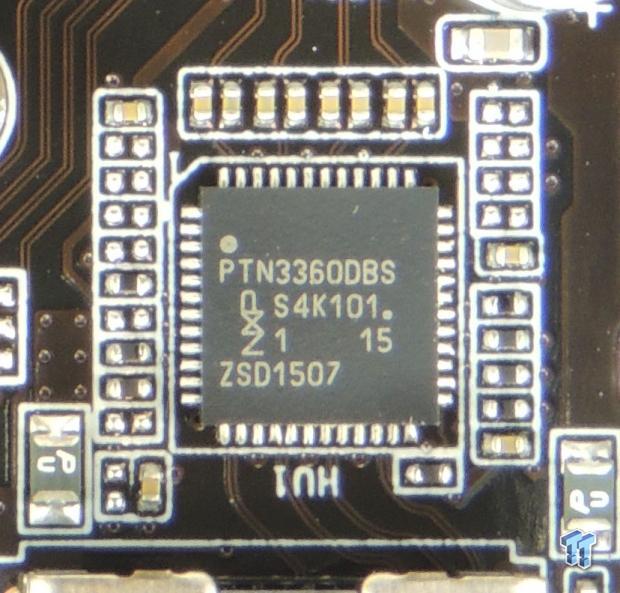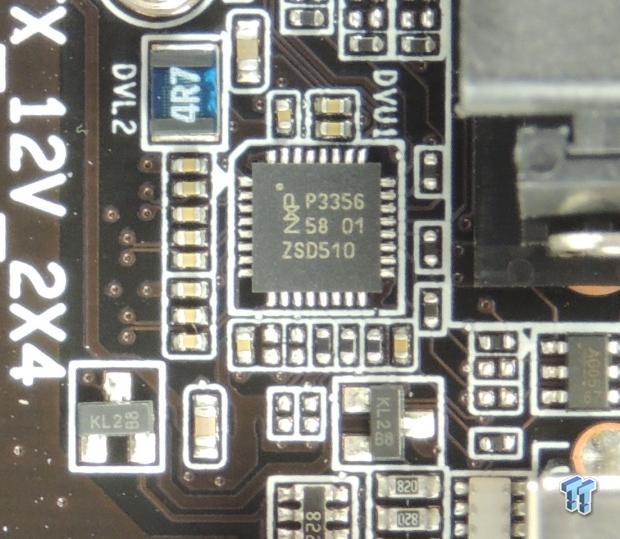 Two level shifters from NXP provide the different digital video outputs on the IO panel.
BIOS and Software
BIOS
The Z170XP-SLI has a single BIOS mode, known as the Advanced Mode, and it's what I like to use when I have multiple options in GIGABYTE's UEFIs. It offers every option you need for overclocking and system control, and surprisingly the Z170XP-SLI isn't missing anything. It carries all the same OC setting as boards such as the Z170X-UD5, which is a bit surprising. The board also provides control over all five fan headers, and you have the same control options as other GIGABYTE motherboards.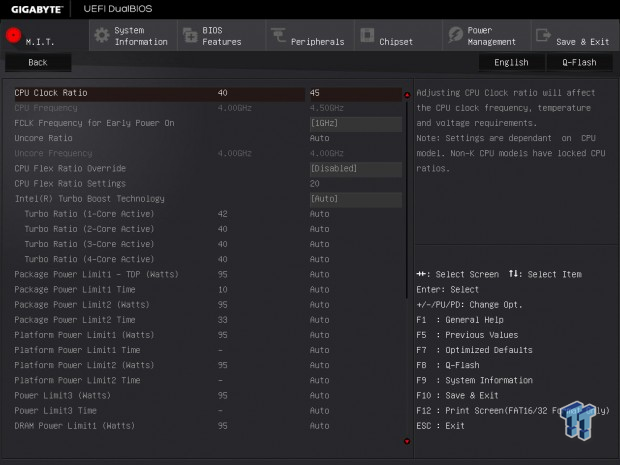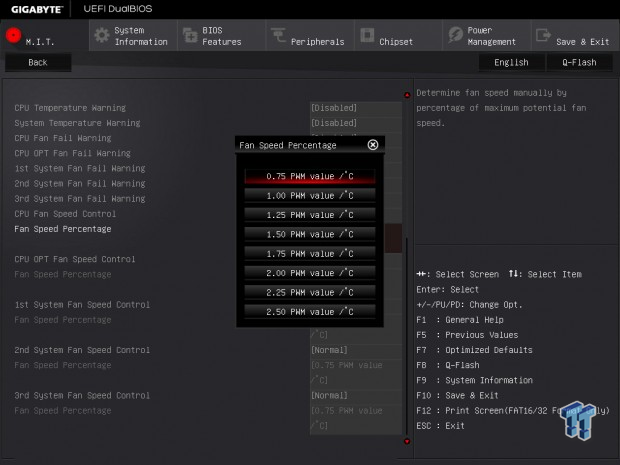 You can set a manual static PWM slope, or you can go to Windows and set the fans up with more precision and with variable trigger points. The BIOS also allows for the ability to control the LEDs located in the audio divide. There is also LLC provided on this motherboard that is a nice touch, and which I will cover in the overclocking section. Overall the BIOS was quite solid, and I didn't run into any issues.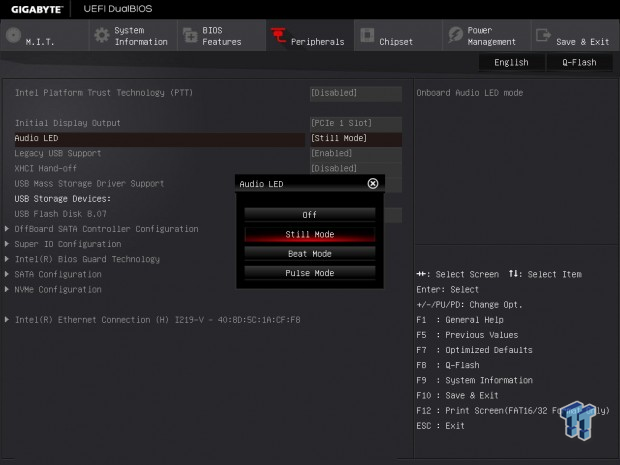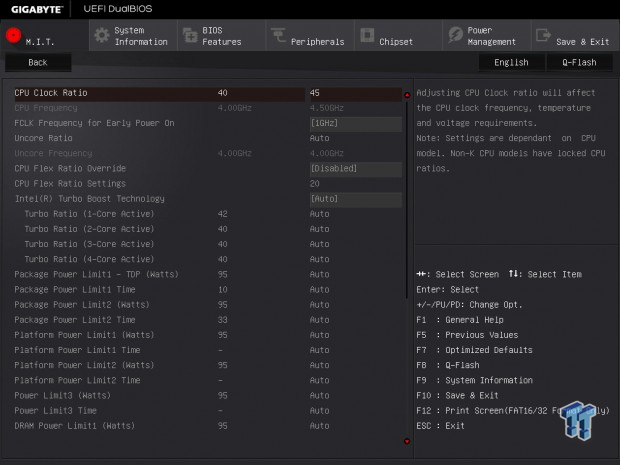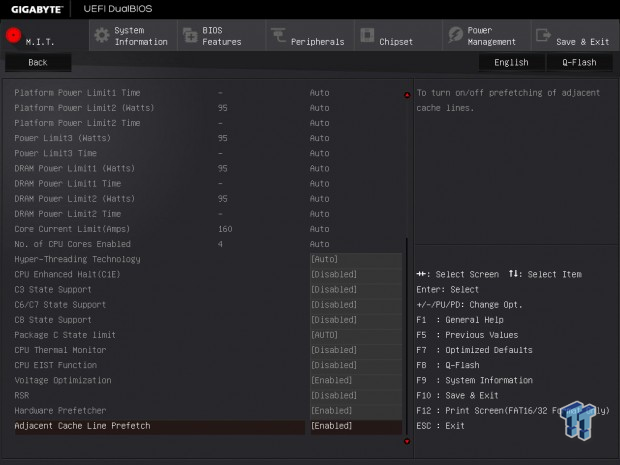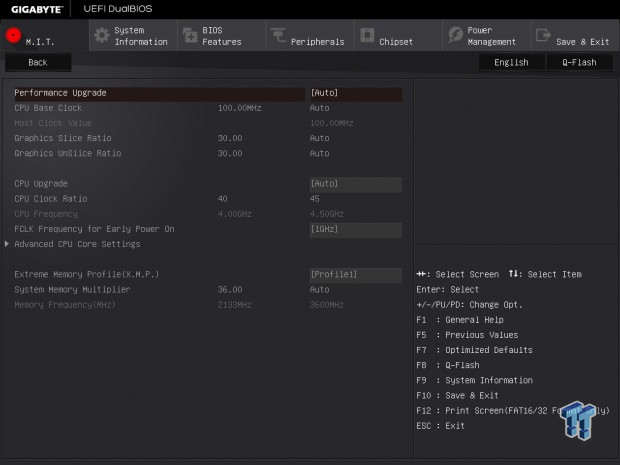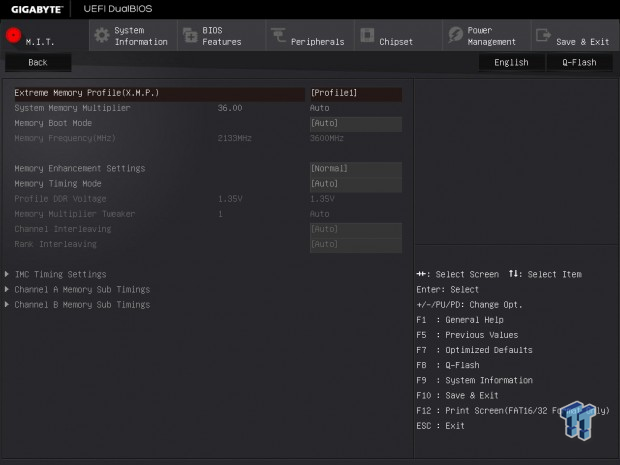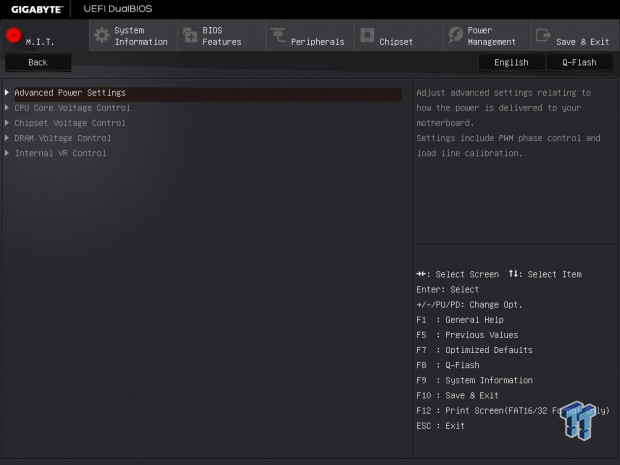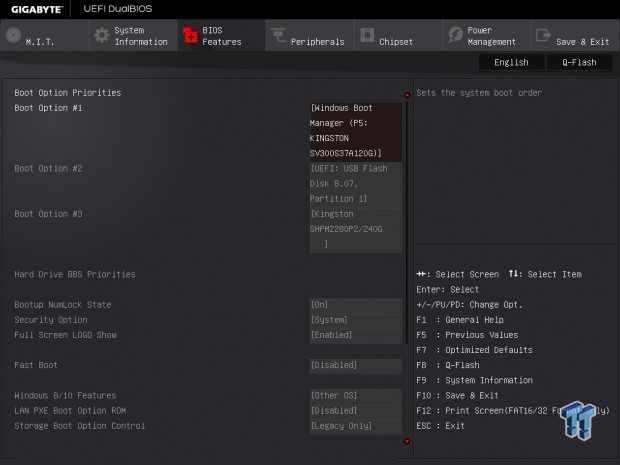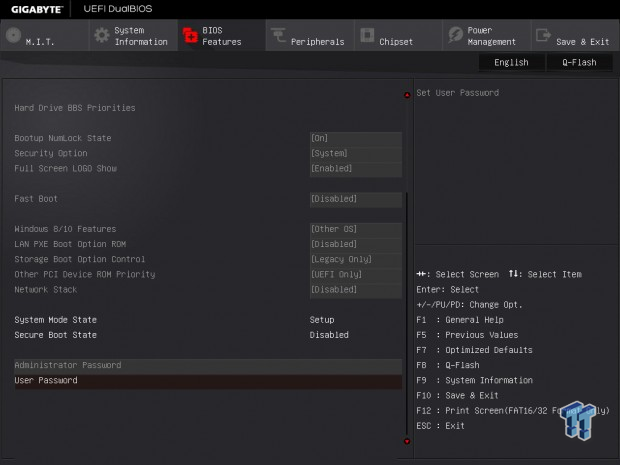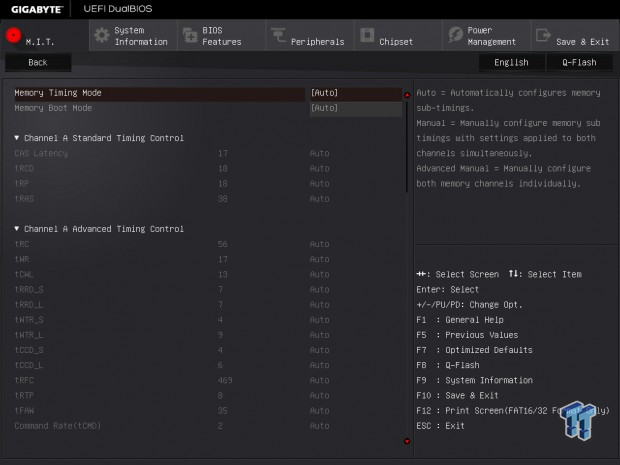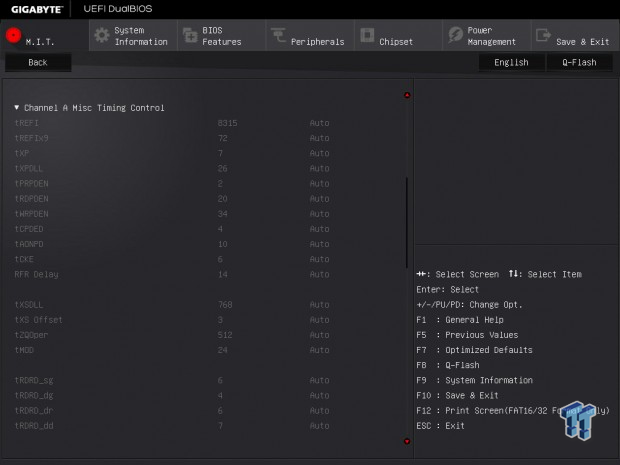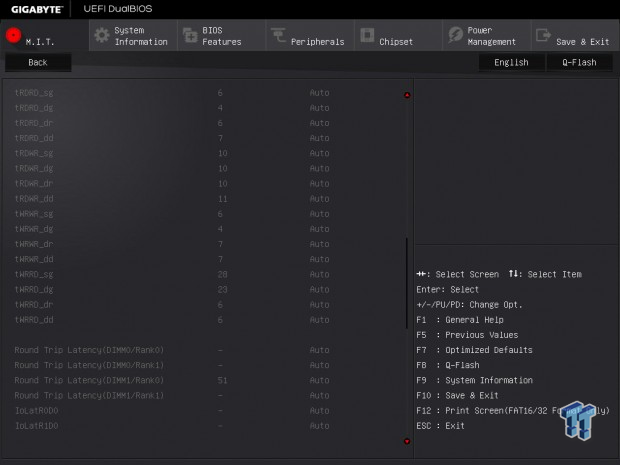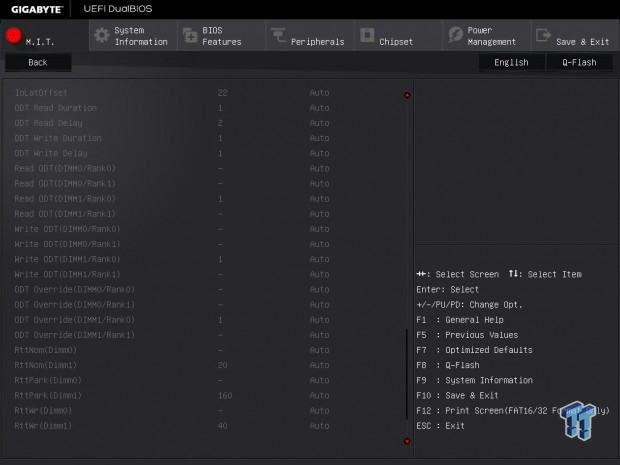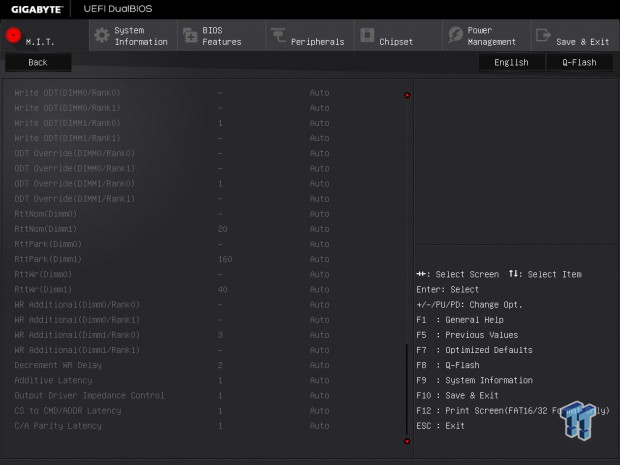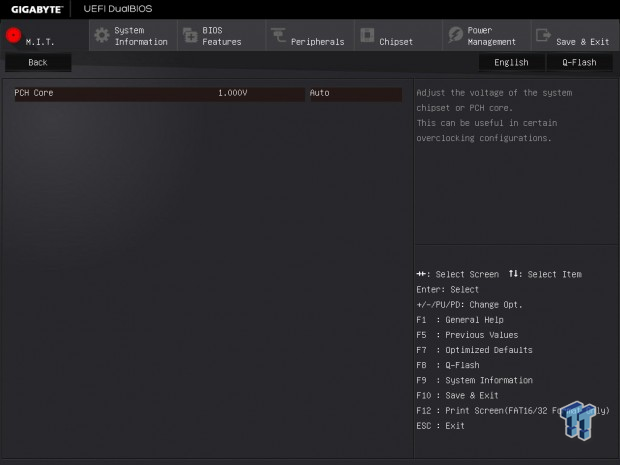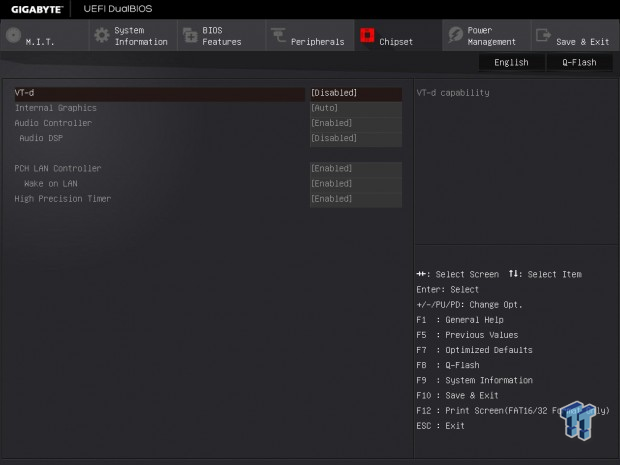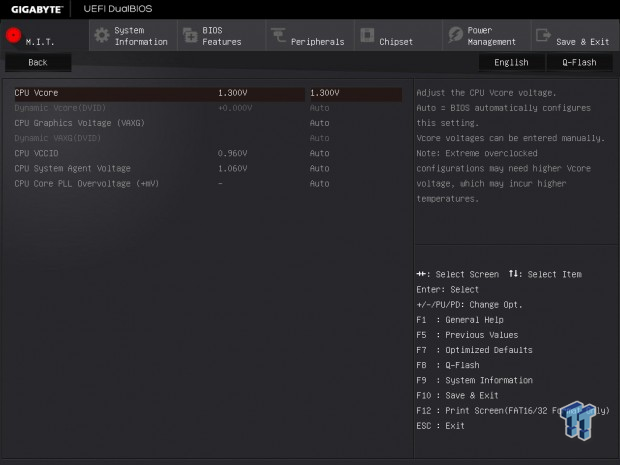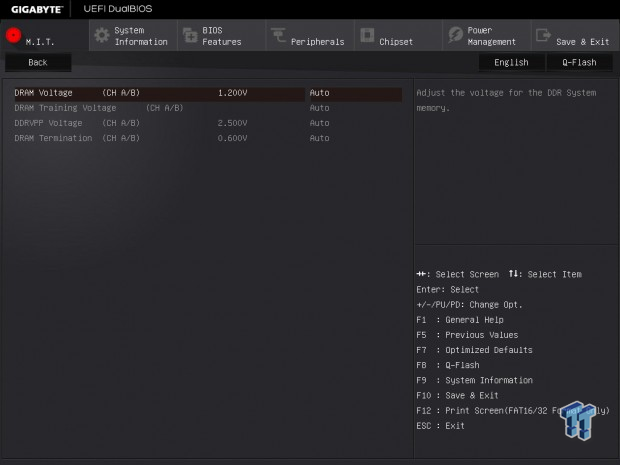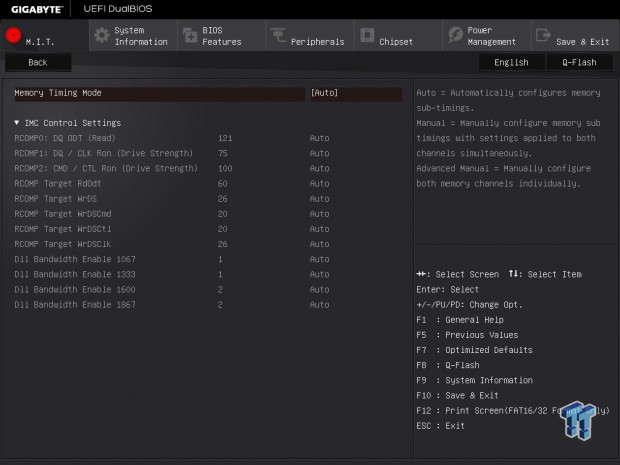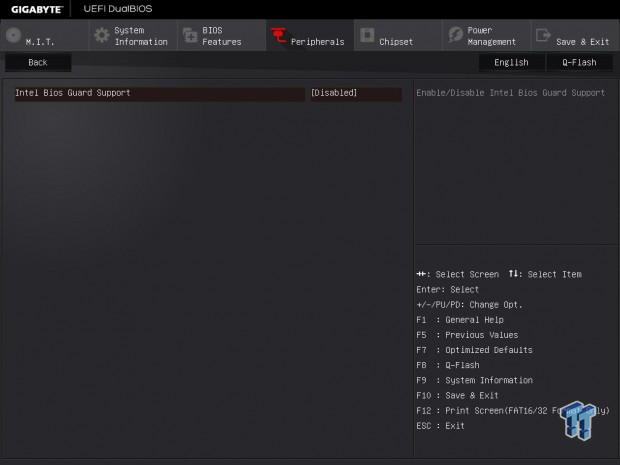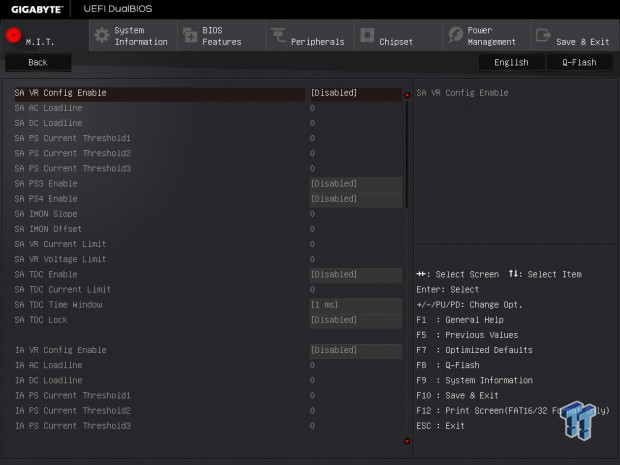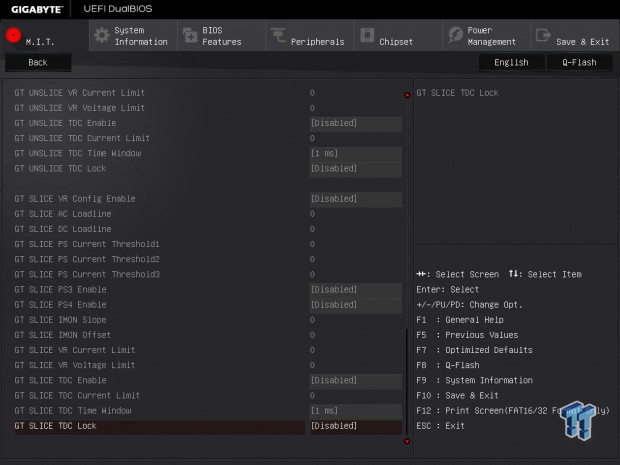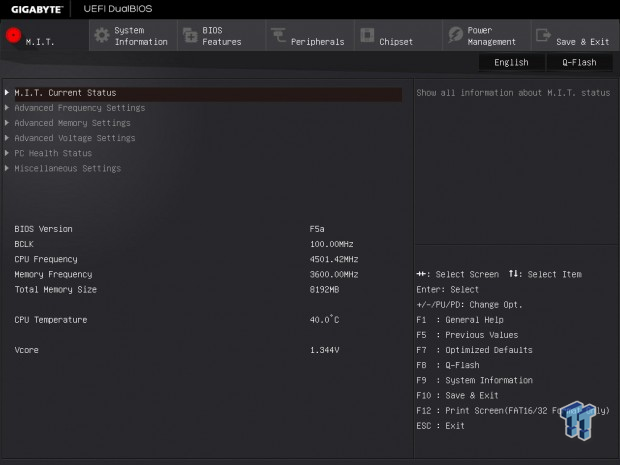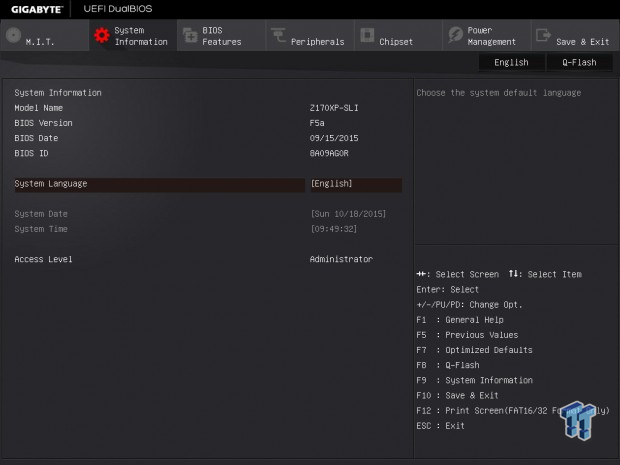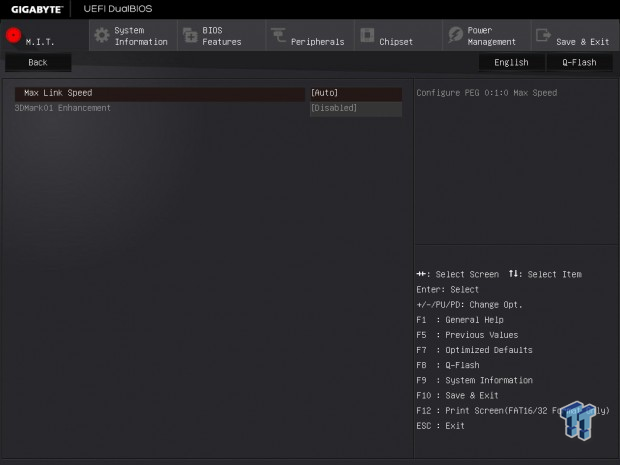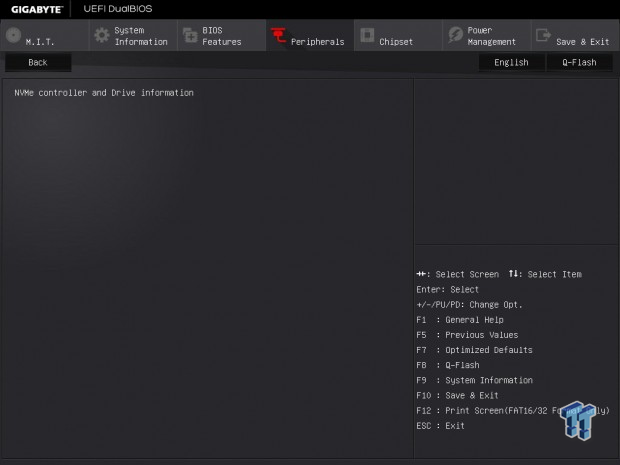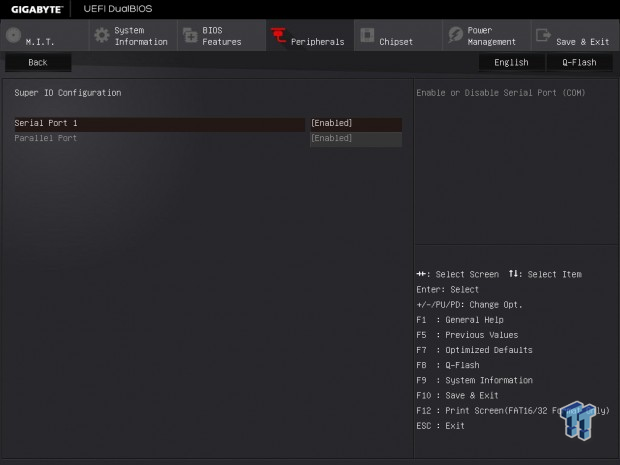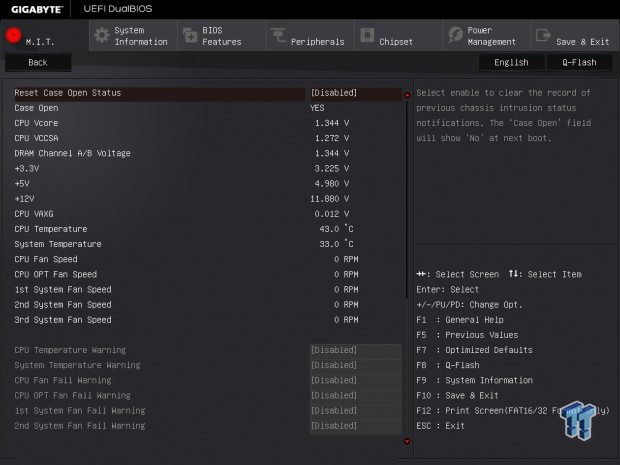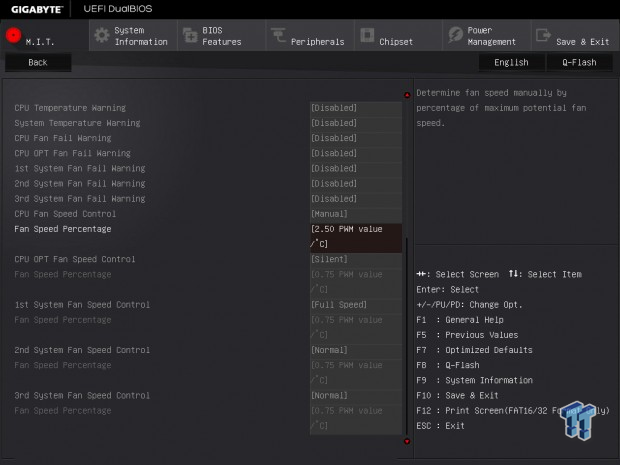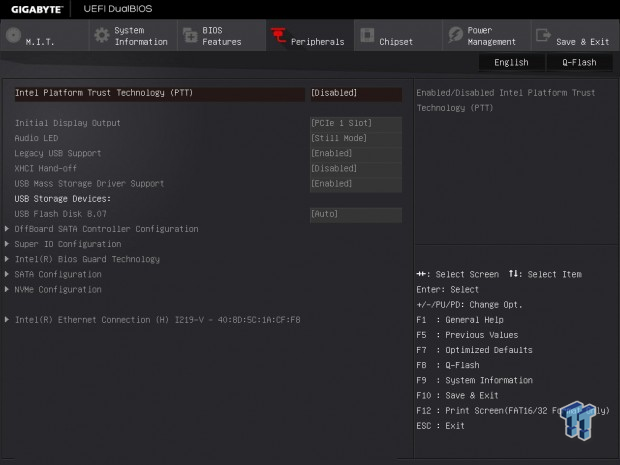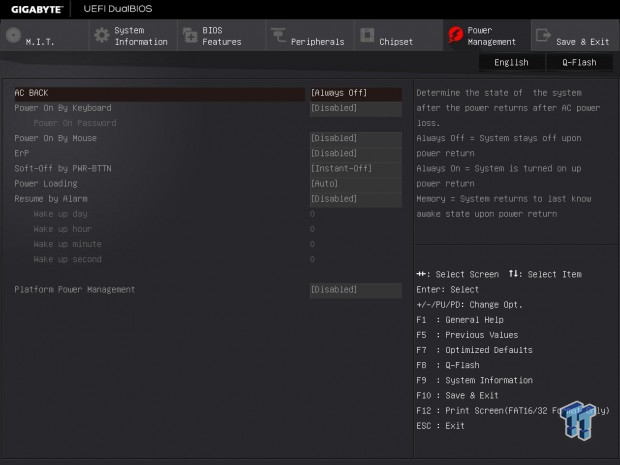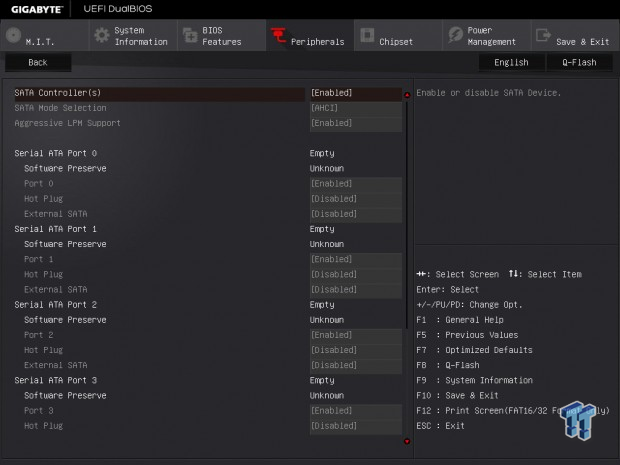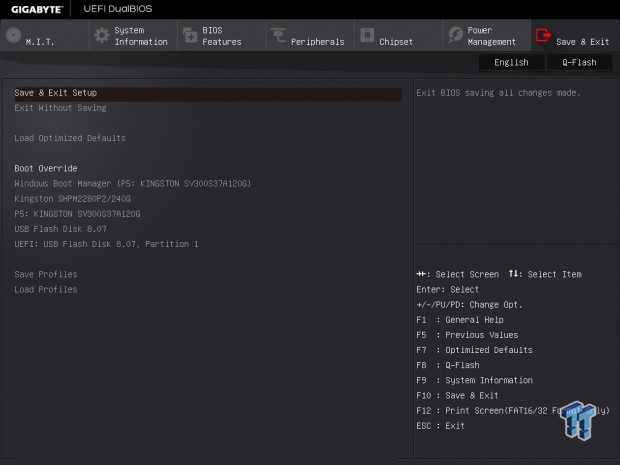 Software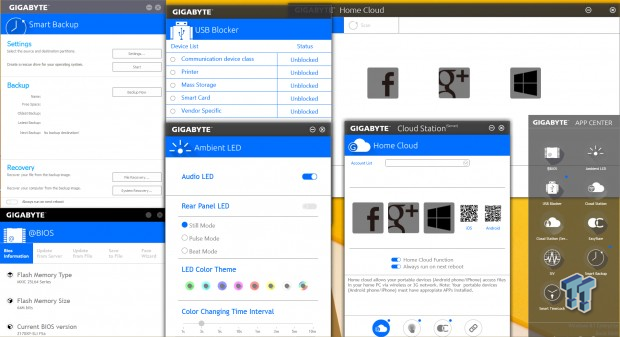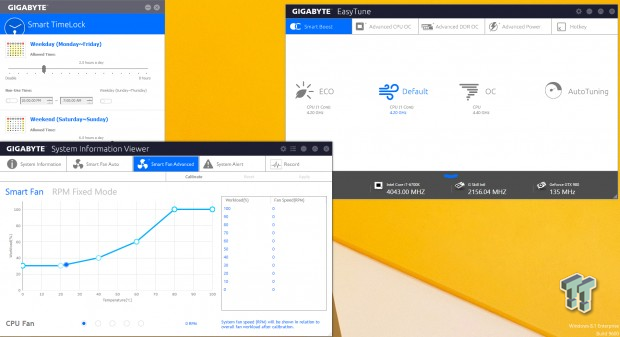 GIGABYTE provides software that is accessible through the APP Center. This includes; EasyTune, System Information Viewer, @BIOS, Ambient LED, Home Cloud, Smart Backup, USB Blocker, Smart Timelock, and Smart Backup.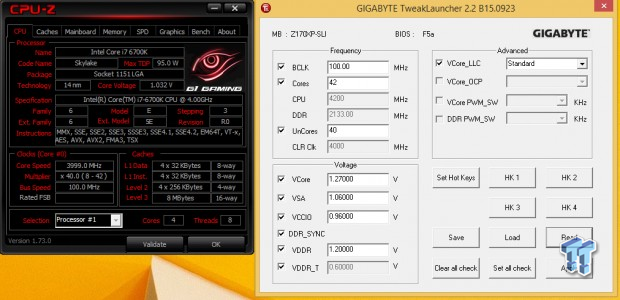 I was able to get GIGABYTE's TweakLauncher to work on this motherboard, but the board isn't meant for extreme overclocking. GIGABYTE also has two custom CPU-Z skins in case you want to use one.
Test System Setup
Steven's Motherboard Test System Specifications
This is the new test bench, and it is designed to test every aspect of the motherboard and IO. I have designed it so that the motherboard sits in a case and is cooled by fans always on at a constant rate to keep the conditions similar for all tests. I have cut out part of the case behind the motherboard so I can get thermal images of the back of the PCB where the VRM heat spreads. System and CPU power measurements are now digitally logged.
I am also using a Netgear Nighthawk X4 AC2350 for our network (including wireless AC) tests. The latest M.2, SSD, and USB technologies are also being utilized to test the maximum potential of the motherboards that are being tested.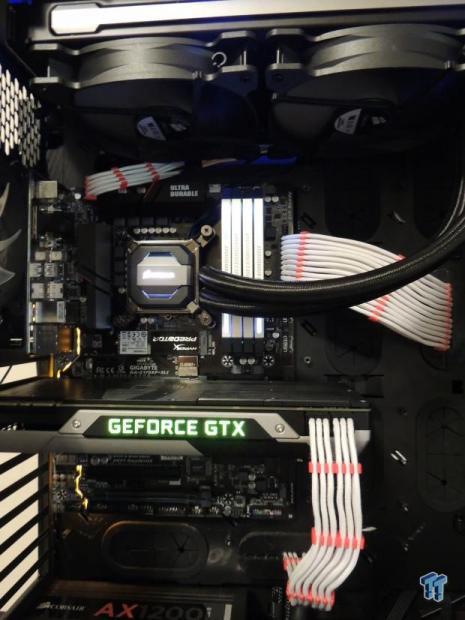 Like I said earlier the motherboard is a little confused about what color it should be. GIGABYTE utilizes yellow LEDs instead of red ones while proving red accents. Perhaps this is done on purpose so users can mix and match accessories or cover up the color scheme they don't like. I am pleased that GIGABYTE provides some sort of LEDs in the audio section, especially considering the price point.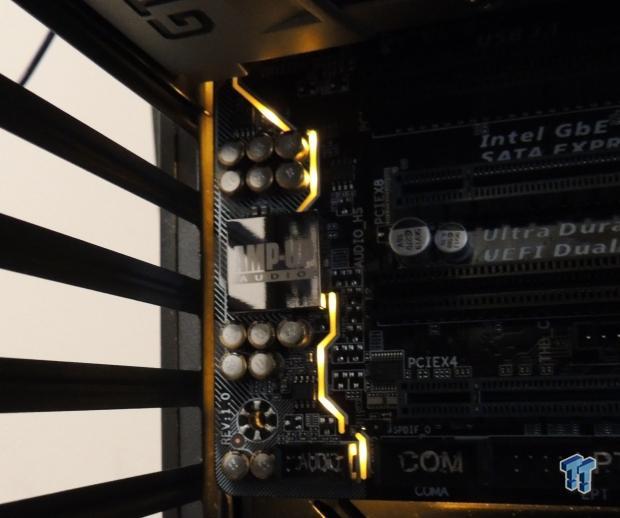 The yellow LEDs do a nice job of lighting up the back of the motherboard.
Overclocking
Overclocking Results
CPU Overclocking
CPUID recently released their latest CPU-Z version that brings some major changes to the much-loved software. One of these changes has made it harder to get validation at lower stability levels, so it becomes much more troublesome to validate 5.2GHz at 1.5v with every board. While CPU-Z has changed, many motherboards (not this one) don't have LLC. I have to set a higher voltage to compare all these boards at the same voltage. I have decided to reduce the CPU VCore to 1.4v applied (I will measure real VCore at the output capacitors), and see how high I can validate. On most boards its 5.0. I have also decided to add real voltage levels compared to what is set for all motherboards, if they don't have voltage read points I will mark where I got the readings from.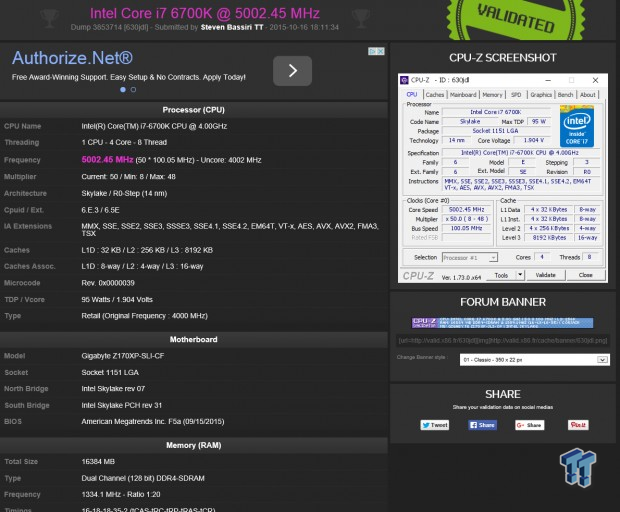 The Z170XP-SLI is doing 5.0GHz just like the high-end motherboards which isn't too surprising considering the low power requirements of the 6700K, but the VRM did have strong, active cooling, so keep that in mind. CPU-Z misreads VCore, and I used GTL to change the multiplier in-Windows.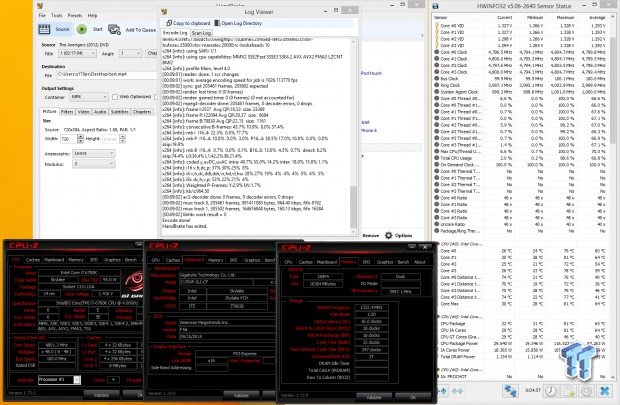 I tested stability at 4.8GHz CPU, 4.1GHz Uncore, and 2666MHz on the memory with 1.4v on the VCore.
I am using HandBrake to transcode a 2GB video, and it is very telling since it pulls all cores to the maximum frequency and load. Handbrake is good for a quick stability check, plus I get a log of the encoding speed and the number of errors. It is very easy for the queue not to finish all the way and just error out, and 1-3 hours of AIDA is about equal to this HandBrake test, so I am replacing it.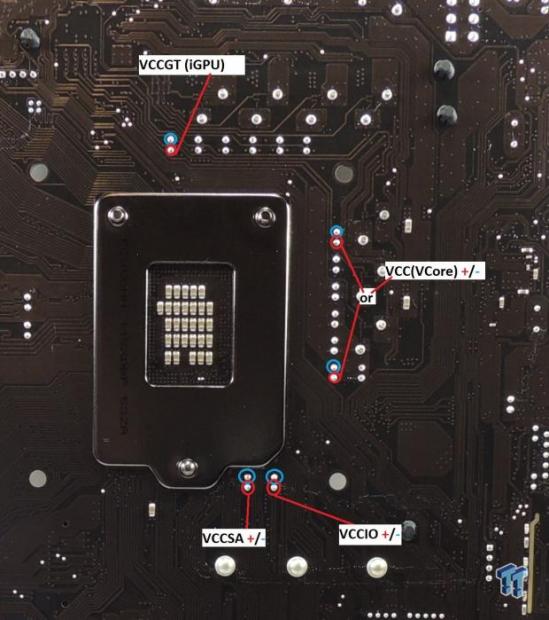 I have pointed out the voltage read points for this motherboard since software is inaccurate, and there is no dedicated voltage read points available. These results are using the "High" setting, and as you can see, they increase the VCore under load, which is a good thing as this increase will be reduced as the voltage level is increased. The LLC allowed me to achieve the overclocks I did above, even if a tad bit more voltage was required than normally would be.
Memory Overclocking
Test 1: 4x4GB (32GB) Corsair VENGEANCE LPX 2666MHz C16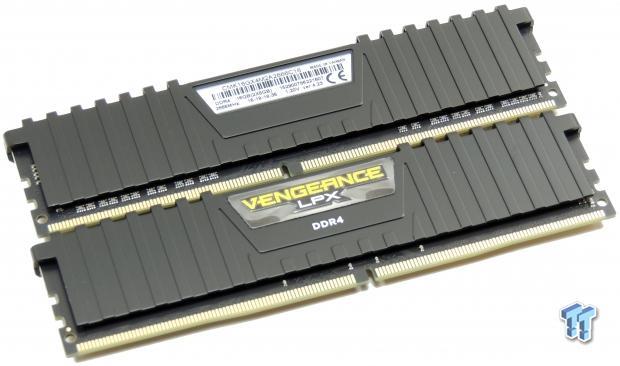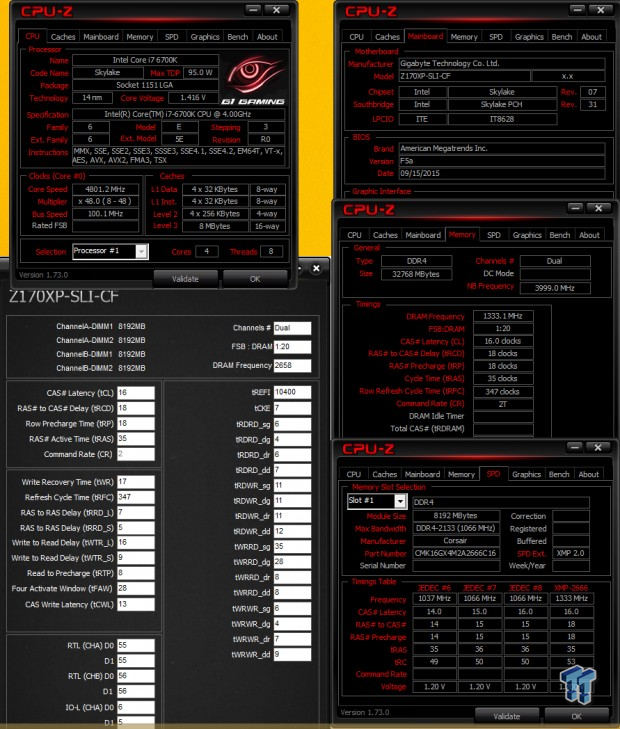 The Z170XP-SLI passed this test with flying colors. To be clear, this is two kits of 16GB Vengeance LXP memory not meant to be run together in most situations.
Test 2: 4x4GB (16GB) Corsair Dominator Platinum 3200MHz C16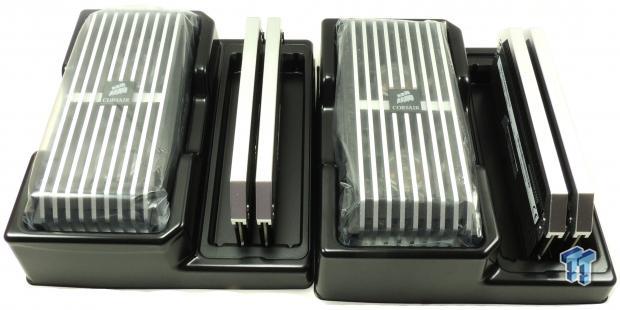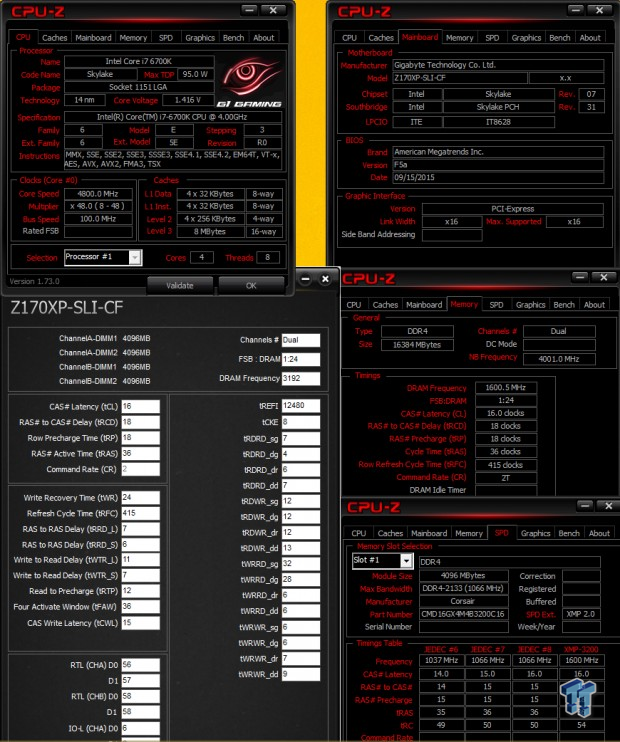 This kit meant for X99 works just fine on the board, and I was a bit shocked that it worked without hiccups.
Test 3: 2x4GB (8GB) G.Skill Ripjaws V 3600MHz C17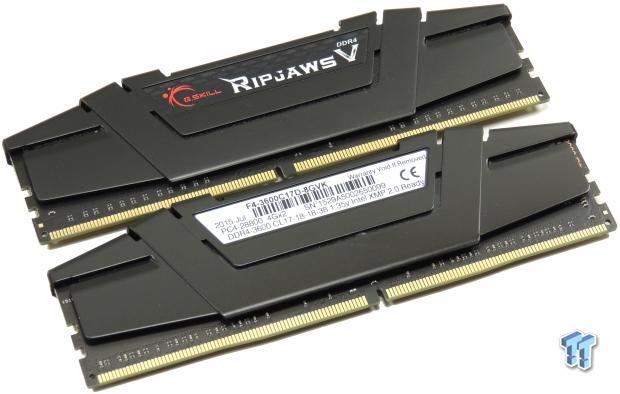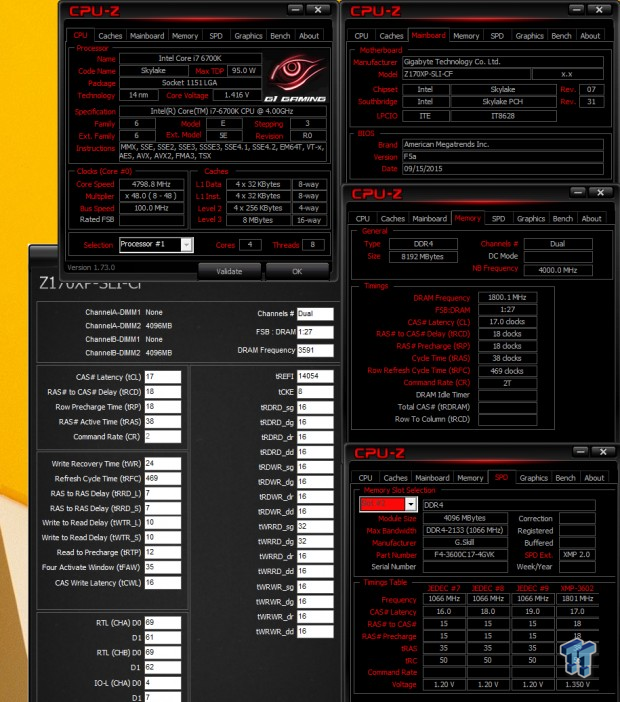 This kit doesn't work on all motherboards. Usually, only overclocking models can even boot this kit by just enabling XMP. The Z170XP-SLI runs this kit at 3600MHz like it's taking a stroll in the park; I was super impressed with this capability, but I reckon we have only begun to see the potential of DDR4 and Skylake.
CPU, Memory, and System Benchmarks
CINEBENCH 11.5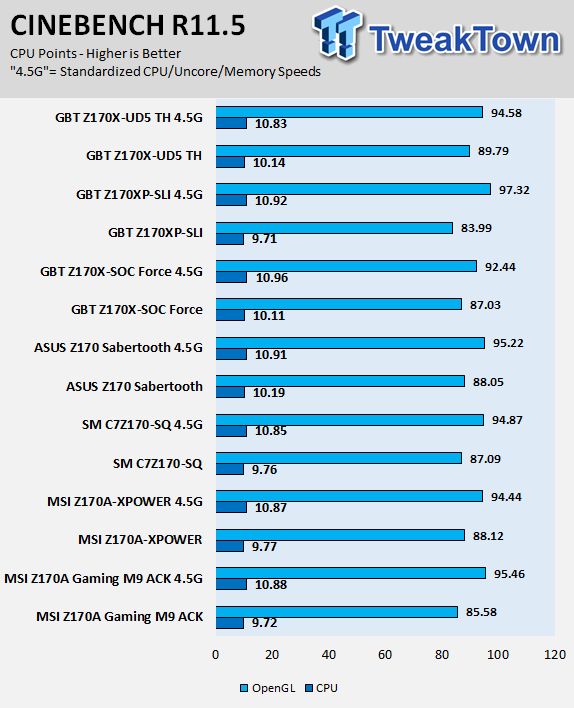 wPrime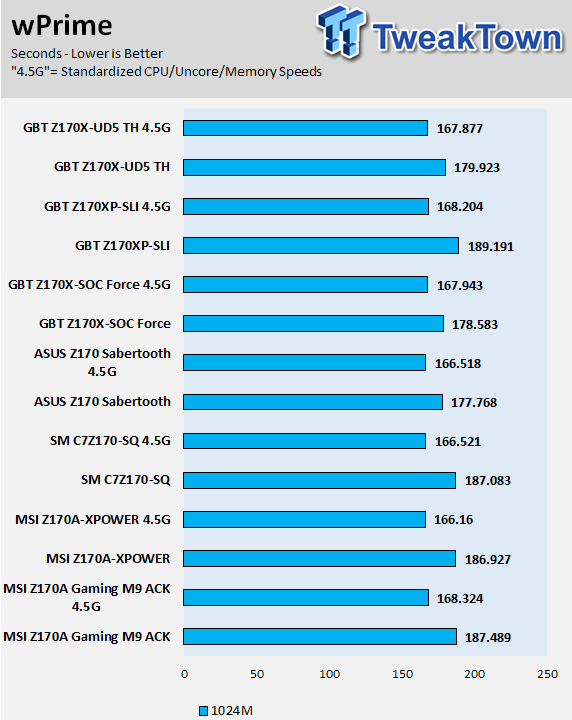 AIDA64 AES and HASH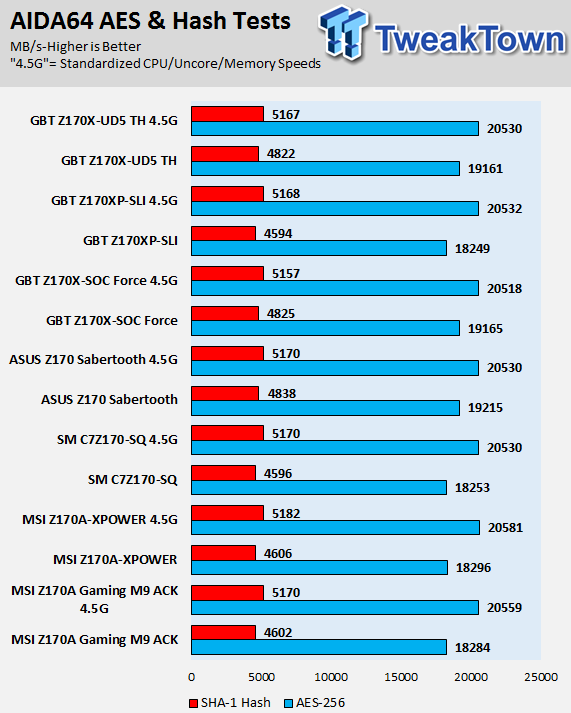 AIDA64 FPU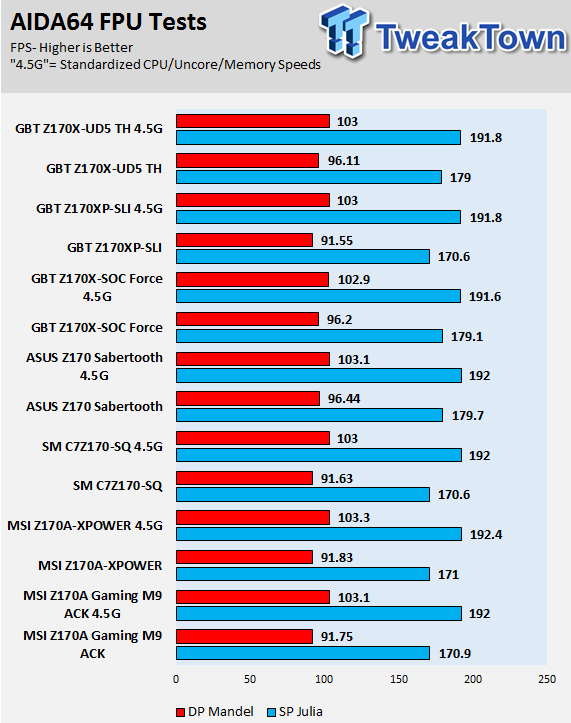 AIDA64 Memory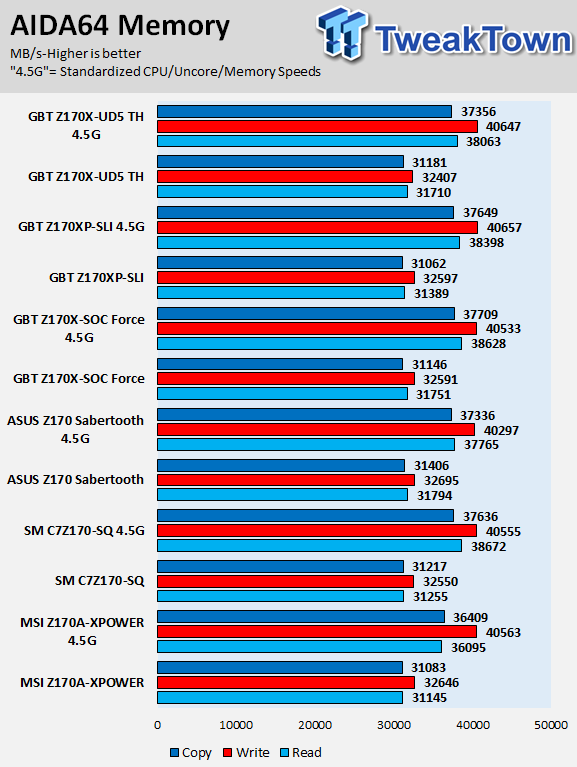 PCMark8 Home Test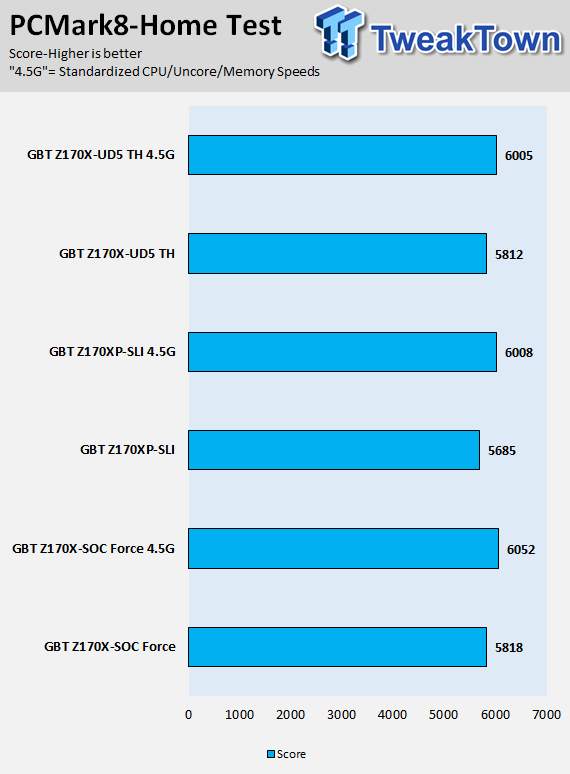 3DMark: Cloud Gate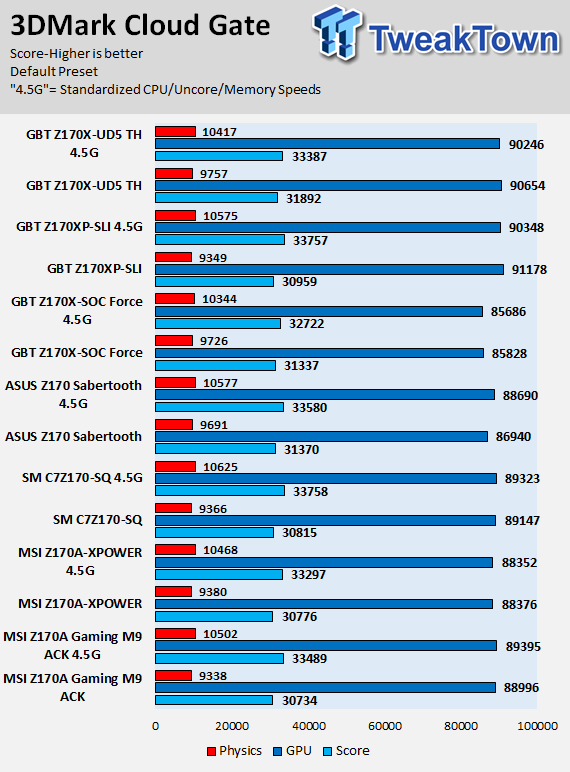 3DMark: Fire Strike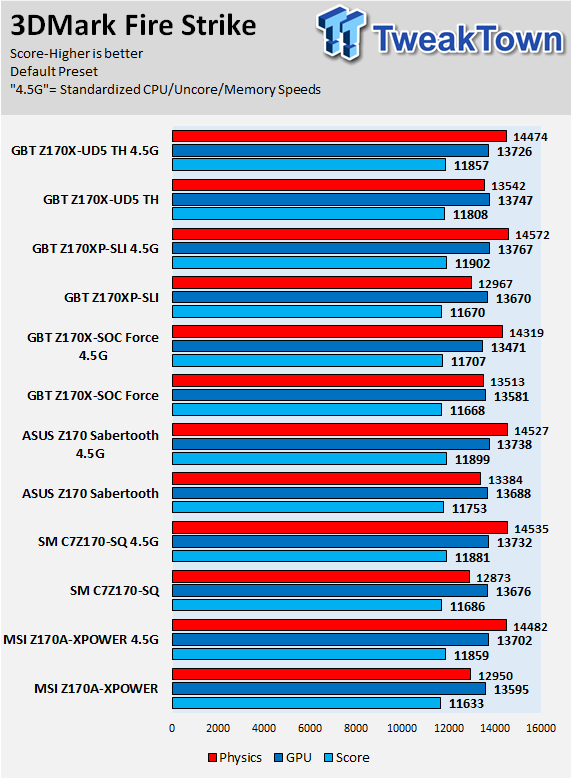 3DMark: IceStorm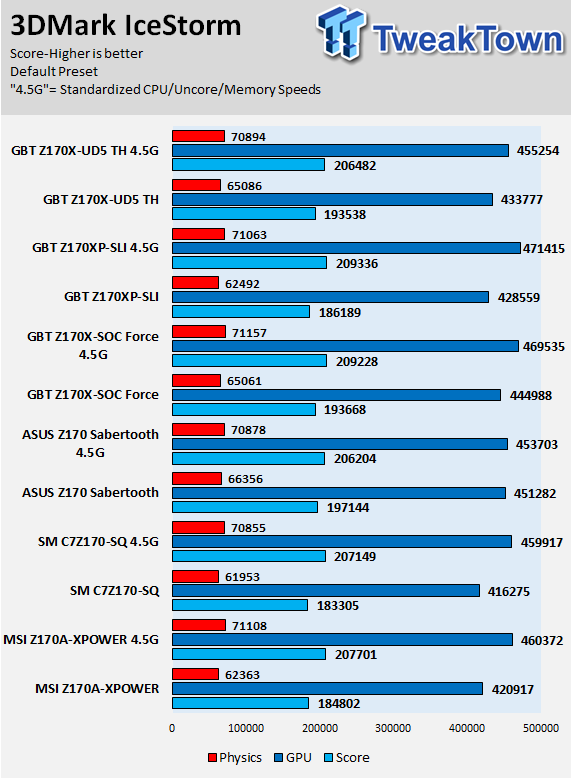 GIGABYTE's Z170XP-SLI looks like it is using Intel's stock profile instead of one with multi-core enhancement which puts it at a disadvantage at stock in CPU and memory tests. It actually does quite well compared to others at overclocked speeds, but I expected as much since performance isn't really a motherboard parameter. I was surprised by the motherboard's 3D performance, but that is to be expected on boards with less IO switches.
Some motherboard reviewers put a lot of weight into motherboard CPU, memory, and GPU benchmarks, but for me CPU, memory, and GPU benchmarks on motherboards should be more about finding anomalies and I do that at standard settings (4.5G in graphs).
System IO Benchmarks
CrystalDiskMark SATA6G: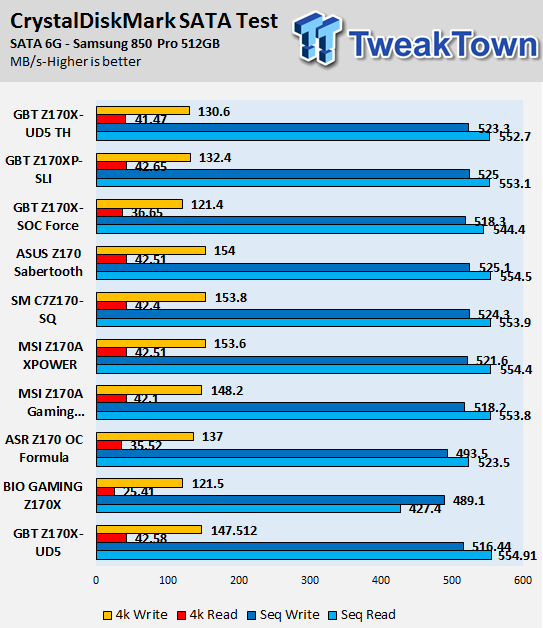 CrystalDiskMark M.2: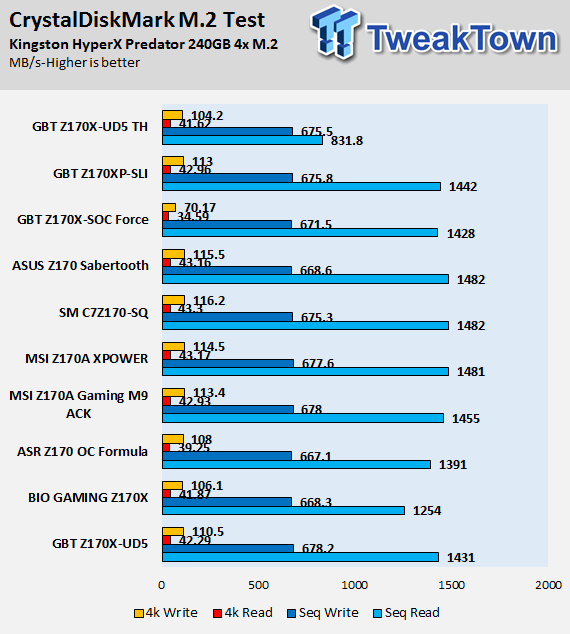 CrystalDiskMark USB 3.0: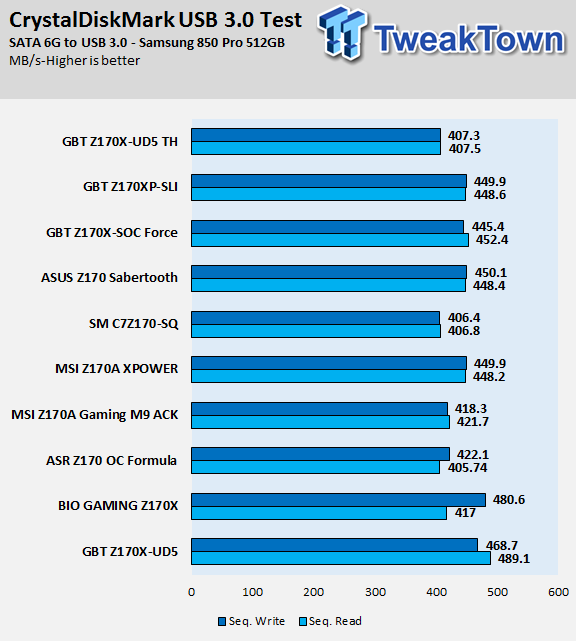 ixChariot Network Throughput: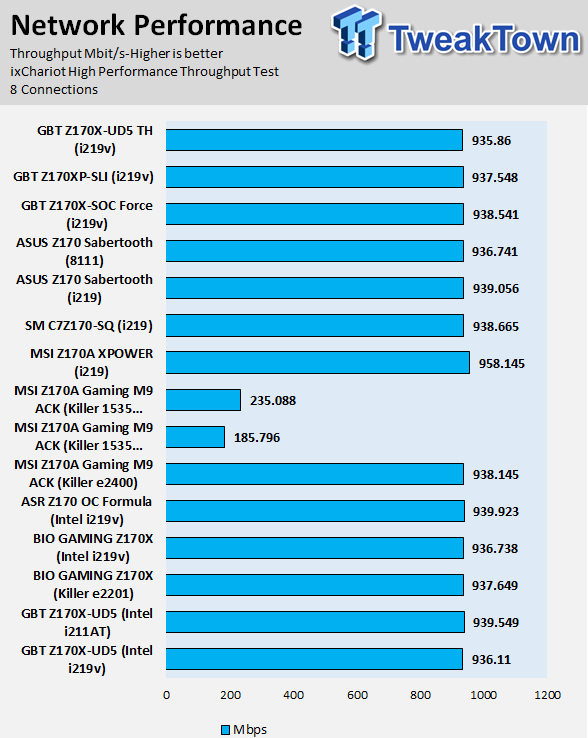 The Z170XP-SLI's storage and IO performance is quite strong because there isn't much port sharing or switching. It's a basic board, and that is good in regards to IO performance. What you lose in options you gain in tiny margins, so you get that extra one or two MB/s in SATA and USB speeds. Network speeds are quite fast as well because of the Intel LAN implementation.
Audio RMAA 5.5:
I disable all audio features, set the correct bitrates, and then test the audio with a loopback test.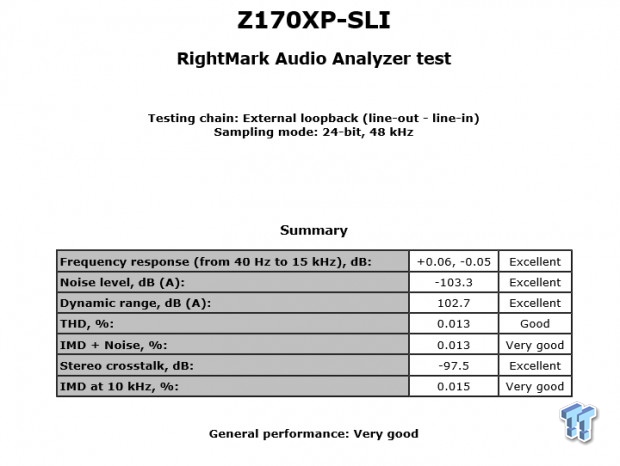 Sound Judgment by Ear: Very Good. There are 5 ratings for audio: 1. Problems, 2. Okay, 3. Acceptable, 4. Very good, 5. Excellent
Thermal Imaging and Power Consumption
System power usage is measured at the AC/DC PSU (the Corsair AX1200i) which I have connected to another system to measure the test system, and as a backup I have a wall meter to verify. The CPU power is measured through the 8-pin connector, which is hooked up to a hall effect IC, which measures current and puts out a voltage in proportion to the current. That voltage is logged by a National Instruments ADC, which logs the DC voltage level that I then convert into current.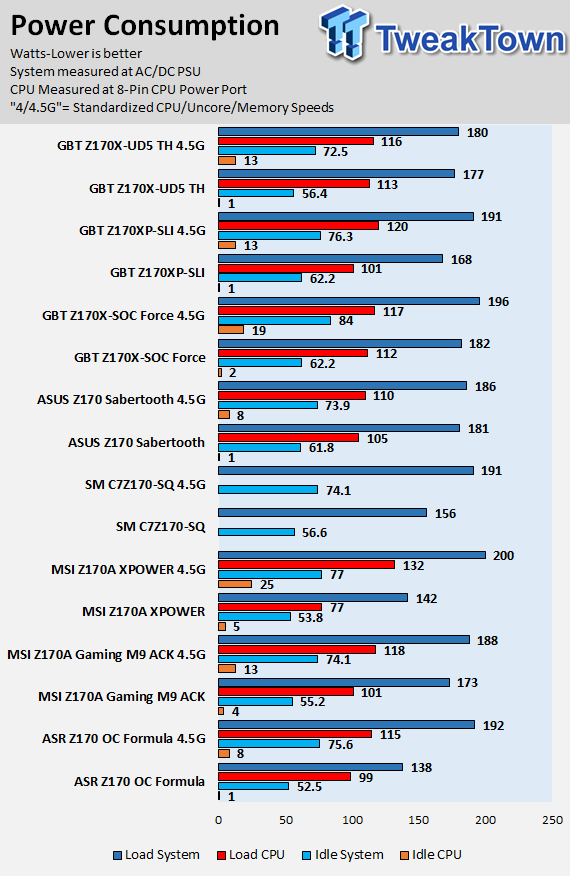 Note on Thermal Images: In the temperature section, we use our Seek thermal imaging camera to capture the surface temperatures of major components on the board. I look at the VRM and then all other things that light up the screen. If there is something to worry about, then I will state it. Otherwise, I will just show the hotter running parts of the board for fun. Unless some component is over 80-90C, then there isn't anything to worry about.
All systems will act differently, so I will look for commonalities, such as how far from the VRM the heat spreads through the PCB and the difference in temperature between the front side and backside of the PCB. Keep in mind, the majority of the heat from the VRM goes into the PCB as it is a giant soldered on copper heat sink. A larger difference in temperature between the back and front of the PCB points towards a more effective heat sink.
Thermal Testing at Stock Speeds:
The image on the left is always at idle, and the image on the right is at load. During ALL TESTS, fans above the VRM that cool the CPU cooler's (Corsair H110i GT) radiator are turned on to high (12v).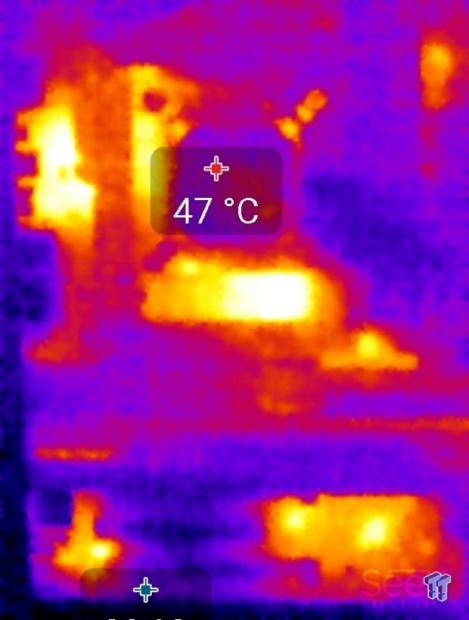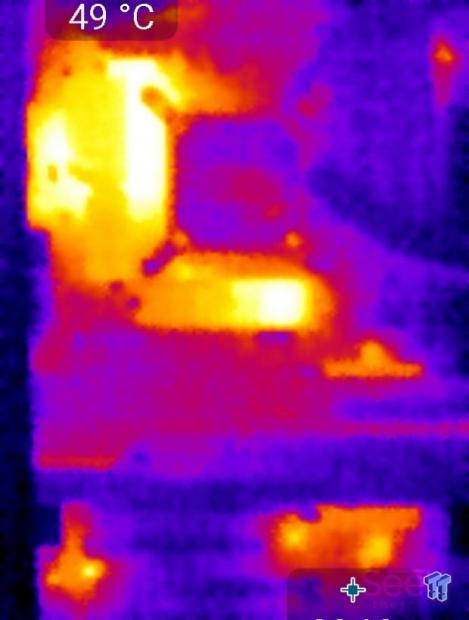 Full frontal.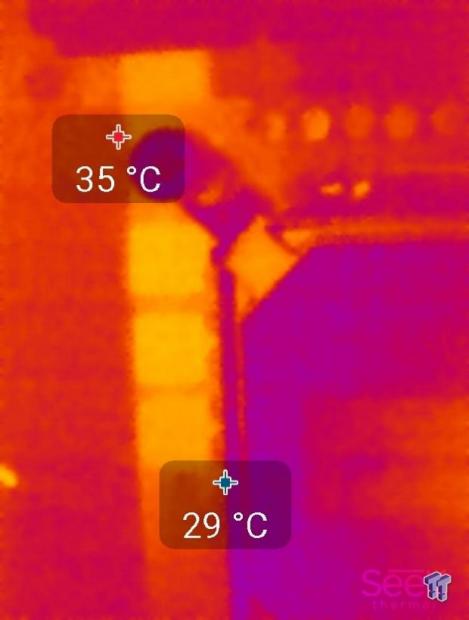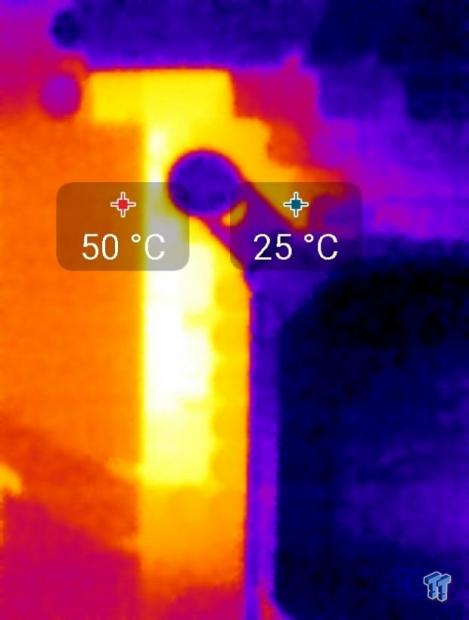 Up-close of the front of the VRM.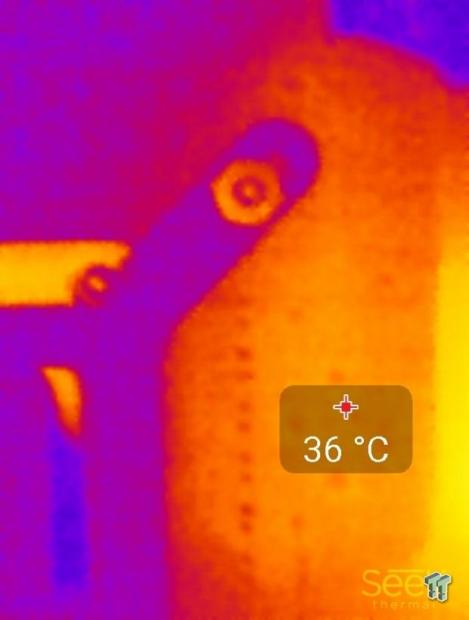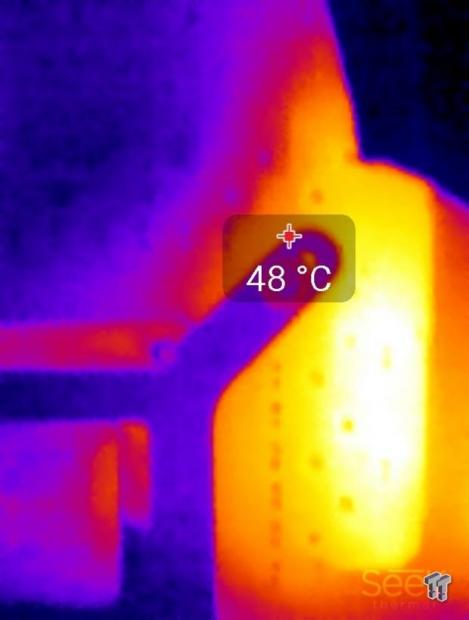 Up-close of the back of the VRM.
Thermal Testing at 4.5GHz Overclocked Speeds:
The image on the left is always at idle, and the image on the right is at load. During ALL TESTS, fans above the VRM that cool the CPU cooler's (Corsair H110i GT) radiator are turned on to high (12v).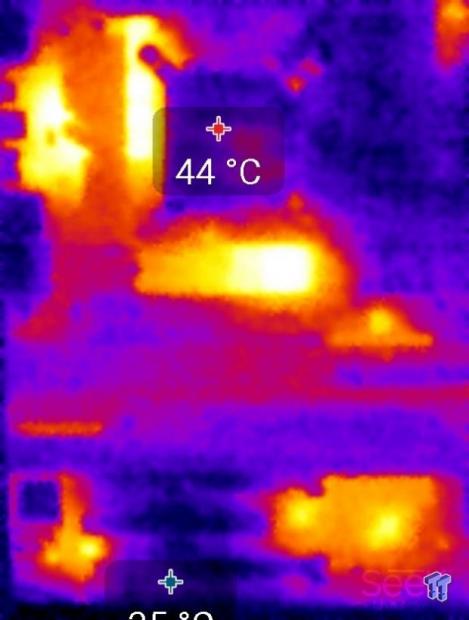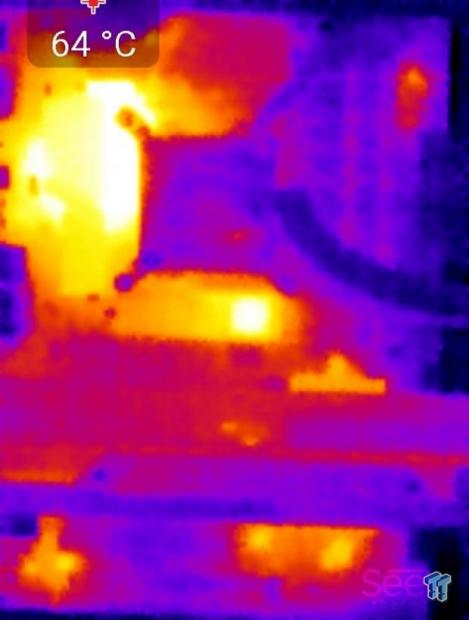 Full frontal.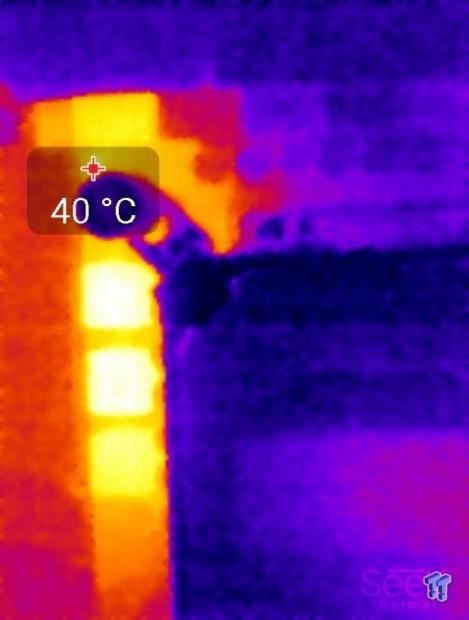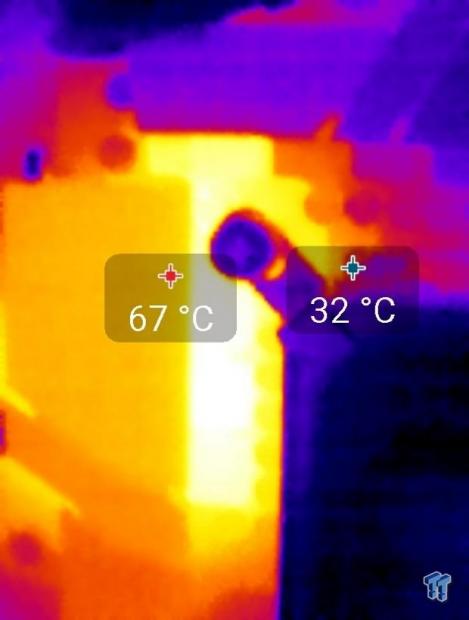 Up-close of the front of the VRM.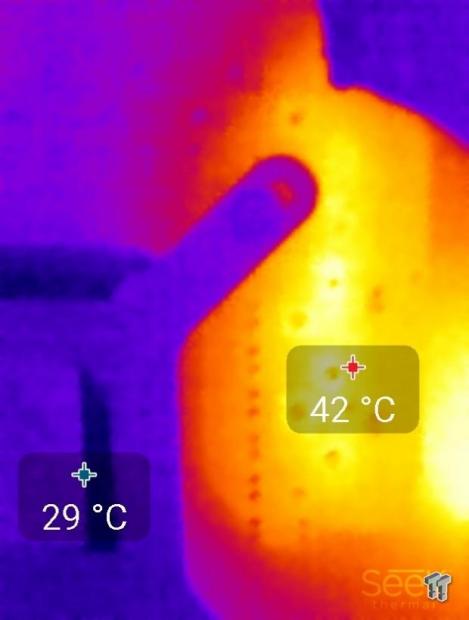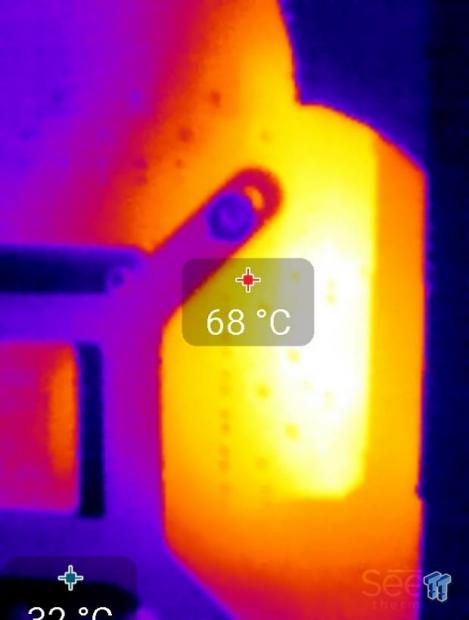 Up-close of the back of the VRM.
The VRM on the Z170XP-SLI isn't built for hardcore overclocking. As you can see, when the system is overclocked I can hit the targets (4.8GHz for instance at 1.42v), but what is pictured above is at 4.5GHz at 1.3v, so 4.8GHz at 1.42v was hotter. The VRM does get pretty warm. I strongly suggest active airflow if you overclock. Overall, the VRM is acceptable.
Anything under 60C is great, 60-80C is acceptable, and anything above 80C is a bit worrisome (if at stock).
What's Hot, What's Not & Final Thoughts
This is where you can fast forward to the final section of the review, and get a quick recap and points on the GIGABYTE Z170XP-SLI.
What's Hot
Basic Feature Set Equates to Strong IO Performance: Since the Z170XP-SLI is a considerably basic motherboard, there is a lack of quick switches and hubs. This leads to above average performance in IO benchmarks and even 3D benchmarks since there are fewer levels of quick switches to go through to get to 16x.
Intel NIC: At this price point, you can't come to expect Intel's NIC implementation as it can be pricey for the motherboard vendor to implement, but the Z170XP-SLI delivers.
Upgraded Audio: The audio on this motherboard is upgraded, and is the same implementation I see on GIGABYTE boards in the $200+ range (excluding gaming series). Audio performance is also quite good.
SLI: SLI support isn't abundant in the sub $150 price range, but as the model name would imply, this motherboard supports NVIDIA SLI.
Solid Memory Support at 3600MHz: I was surprised that the Z170XP-SLI was able to handle memory overclocking so well. It ran every kit I threw at it, and all I did was set XMP. GIGABYTE has obviously improved their memory overclocking on their mainstream motherboards, and you can run faster DDR4 kits on this board.
What's Not
If you overclock over 4.5GHz, I recommend using active airflow over the VRM: GIGABYTE's VRM is capable of supporting the majority of air cooled overclocks, but if you overclock over 4.5GHz, I strongly recommend active airflow. On more expensive motherboards, you might not need it.
Mix and Match Color Theme: This could also be a pro depending on how you look at it, but the color of the LEDs around the audio section and the accents on the heat sinks don't match. While the accents on the heat sinks get lost in a dark case and you can disable the LEDs it would have been nice to have a consistent color scheme.
Final Thoughts
The Z170XP-SLI has a lot of the latest features I come to expect from a Z170 motherboard above the $150 price range; USB 3.1, upgraded audio, Intel NIC, solid performance, and decent overclocking capabilities. That being said, this motherboard only costs $136 on Amazon making it a very good deal for those on a budget.
While it's obvious that the VRM isn't the most robust, the capacitors aren't as high quality as higher-end motherboards, and it doesn't have as many features as more expensive motherboards it is quite mighty in its own regard.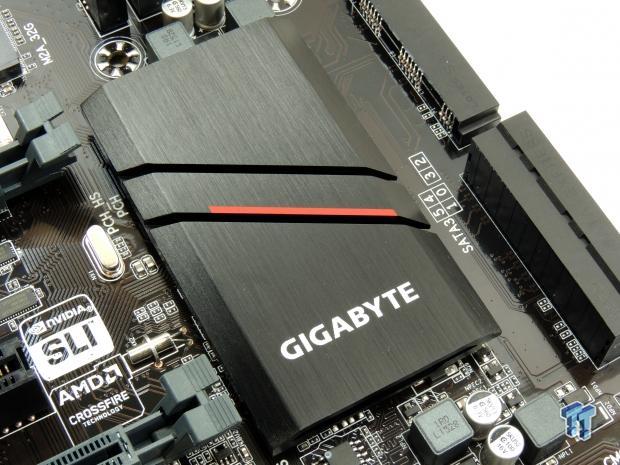 The Z170XP-SLI can perform like more expensive motherboards and even overclock like them in the right conditions, but producing those conditions might be difficult, and that is why people pay more for better overclocking.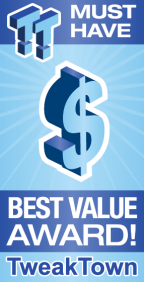 | | |
| --- | --- |
| Performance (including Overclocking) | 88% |
| Quality including Design and Build | 85% |
| General Features | 91% |
| Bundle and Packaging | 89% |
| Value for Money | 95% |
The Bottom Line: If you have a budget of $150 for an Intel Z170 motherboard and you want an Intel NIC, SLI support, decent OC support, and a good allotment of platform features, then the GIGABYTE Z170XP-SLI is worth a look.
PRICING: You can find products similar to this one for sale below.

United States: Find other tech and computer products like this over at Amazon.com

United Kingdom: Find other tech and computer products like this over at Amazon.co.uk

Australia: Find other tech and computer products like this over at Amazon.com.au

Canada: Find other tech and computer products like this over at Amazon.ca

Deutschland: Finde andere Technik- und Computerprodukte wie dieses auf Amazon.de
We openly invite the companies who provide us with review samples / who are mentioned or discussed to express their opinion. If any company representative wishes to respond, we will publish the response here. Please contact us if you wish to respond.