Acer XR341CK 34-inch Curved UltraWide AMD FreeSync Monitor Review
Acer has the most impressive AMD FreeSync monitor yet with its XR341CK, sporting a resolution of 3440x1440 and impressive refresh rate of 75Hz.

Published Oct 27, 2015 9:12 AM CDT
|
Updated Tue, Nov 3 2020 6:59 PM CST
3 minutes & 11 seconds read time
TweakTown's Rating: 95%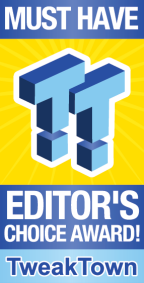 The Bottom Line
If you own an AMD Radeon GPU and need a new UltraWide monitor in your life, the Acer XR341CK is calling out your name. An incredible UltraWide gaming monitor.
Introduction, Quick Specs, and Availability & Price
I have to admit this: I'm an UltraWide addict. I use two UltraWide monitors on my workstation machine for everyday work, and now I'm just addicted. I've been waiting for the 3440x1440 displays to shift past the 60Hz refresh limit, and now we're here thanks to the new Acer XR341CK.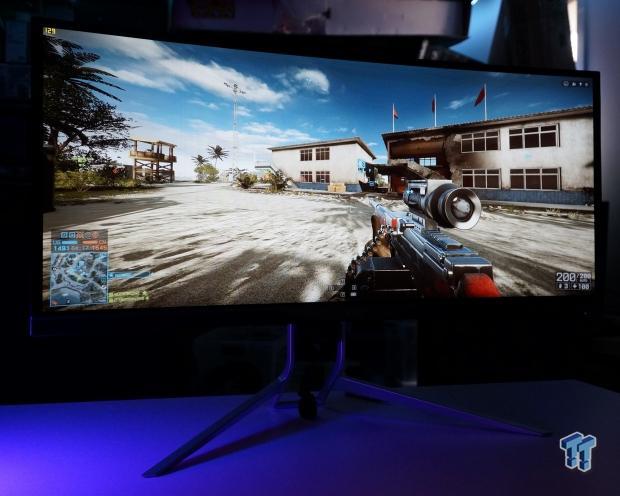 Acer has bumped up the refresh rate on their XR341CK to 75Hz, as well as including support for AMD's variable refresh technology, FreeSync. Acer's new XR341CK is not just an UltraWide monitor, but a Curved UltraWide - this means it has a curved 34-inch IPS-based panel, which is simply beautiful.
Over the last year, we've seen both LG and Acer stamp out UltraWide after UltraWide monitor, with each respective release getting better and better. The money shot here is the 75Hz and FreeSync support, so if you're rocking a Radeon video card, you'll want to read the rest of this review.
Quick Specs
As you've probably guessed, the XR341CK is a 34-inch Curved UltraWide display with a resolution of 3440x1440, providing an aspect ratio of 21:9. Acer has provided FreeSync support with this display, which oodles awesome sauce all over the place thanks to its impressive 75Hz refresh rate. The FreeSync range on the Acer XR341CK is 30-75Hz.
If you're using a higher-end AMD video card, something like the R9 290 and above, you're going to be all over this display. As long as you can drive 3440x1440 at 75FPS, that is.
Availability & Price
You'll be paying a premium for the Acer XR341CK, with the 34-inch monitor going for around $1039 on Amazon at the time of writing. You'll pay up to $1099 depending on the discount at any given time, with the $1039 price being a $150 premium on top of the current 34-inch Curved UltraWide monitors from LG.
LG's 34UC87, which we loved, is on Amazon right now for $889. The LG monitor doesn't include FreeSync or G-Sync support, so if you're not buying it for gaming, the LG monitor would be the better deal.
Packaging & Detailed Look
Packaging
Acer has a great looking box for the XR341CK, with a stylish theme and great handles. Thanks to its weight, the handles are perfect for toting it from the shop to your car - or from the front door when it's delivered, to your desk.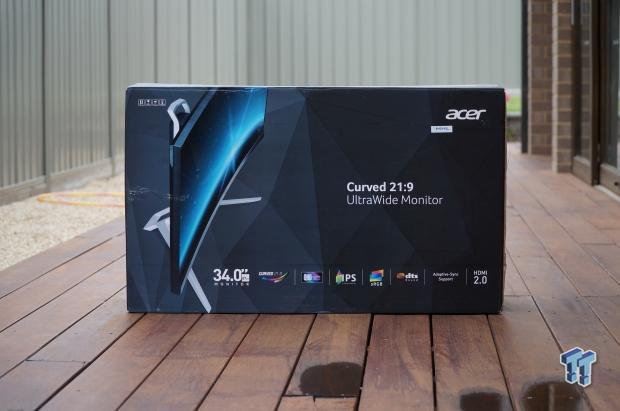 The front of the box shows the curved 34-inch panel, and down the bottom we see it has a QHD resolution of 2560x1440, an IPS panel, sRGB, DTS sound, Adaptive-Sync (FreeSync) support, and HDMI 2.0 connectivity.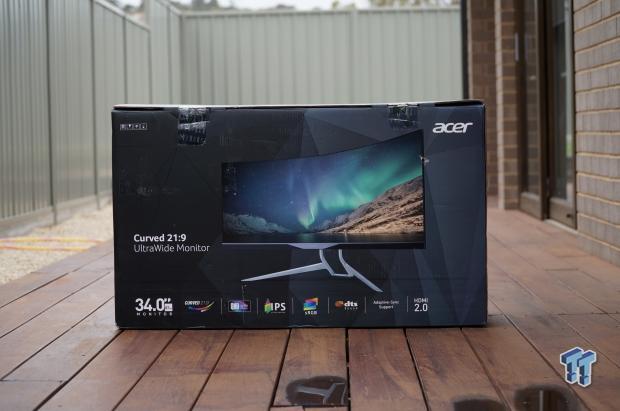 The back of the box is very similar, but we get a much better look at the Curved UltraWide display.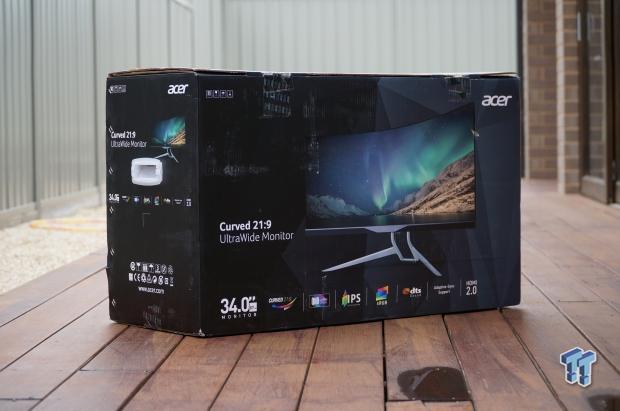 On the sides, we have some very heavy duty handles.
Detailed Look
Now, onto the monitor itself.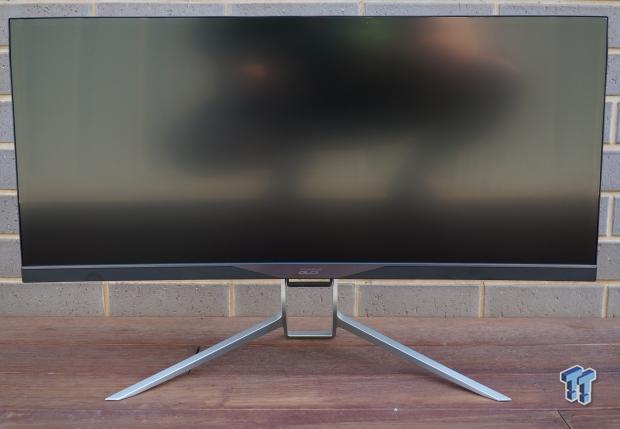 Starting with the front, Acer has a great design on the XR341CK, with an awesome stand and style throughout.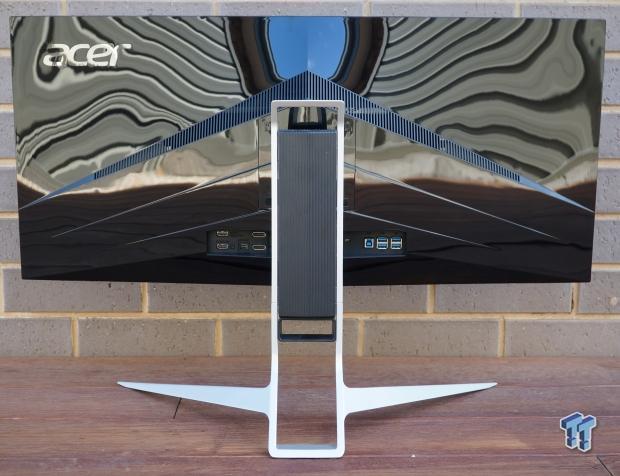 On the back, you can see just how much the glossy back reflects - so you'll need to device whether this is something you're into, or not. I think the back looks even better than the front with an aggressive styling, with a hole to route your cables through to keep everything neat. We can also see the connectivity at the bottom of the screen that we'll look at in greater detail.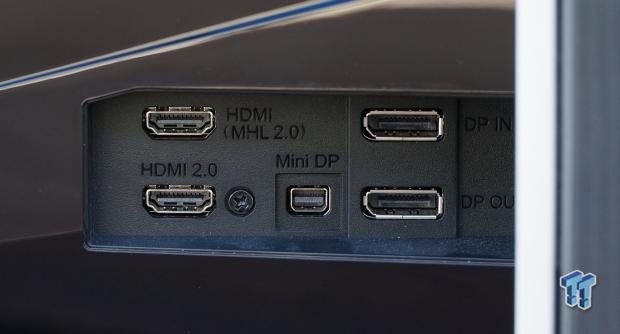 On the back of the Acer XR341CK, we have an MHL 2.0-capable HDMI port, an HDMI 2.0 port and a bunch of DisplayPort connections. There's a miniDP port, and a full-sized DisplayPort in, and full-sized DisplayPort out for daisy-chaining multiple displays together.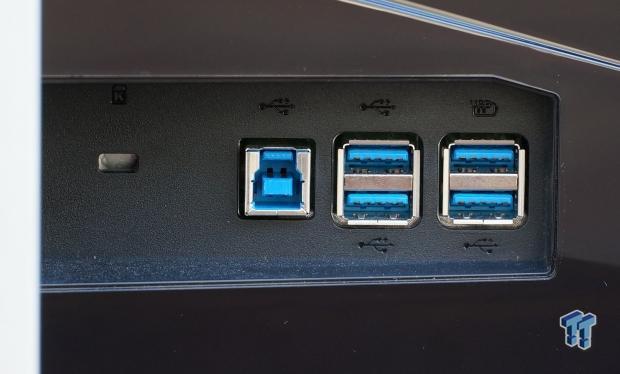 On the right, we have a Kensington lock hole, USB 3.0 hub, and 4 x USB 3.0 ports.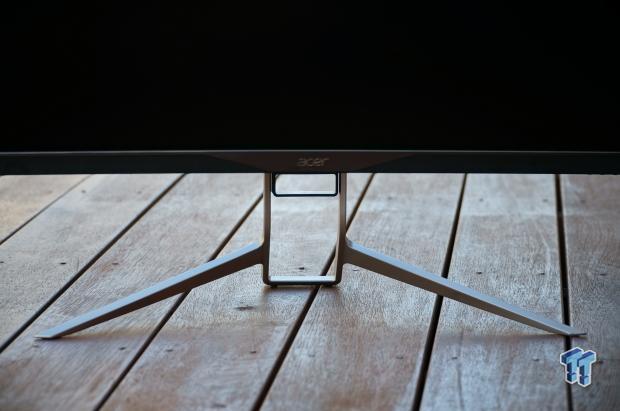 The stand itself is sturdy, where I found the monitor sat well on my desk and for my shots of the screen itself.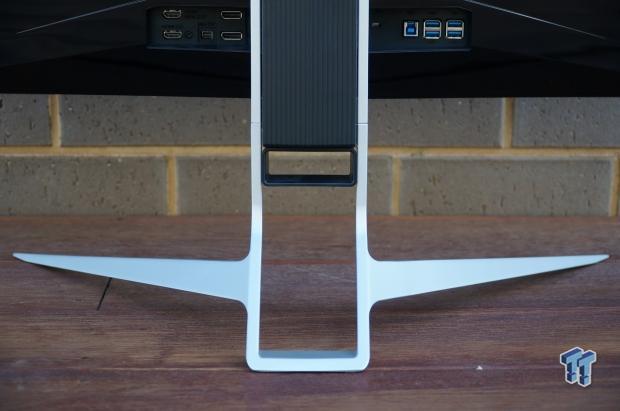 And again, this time from the back, where we can see the cable management hole that you can use to keep the back of your XR341CK nice and tidy.
Test System Configuration
Our Setup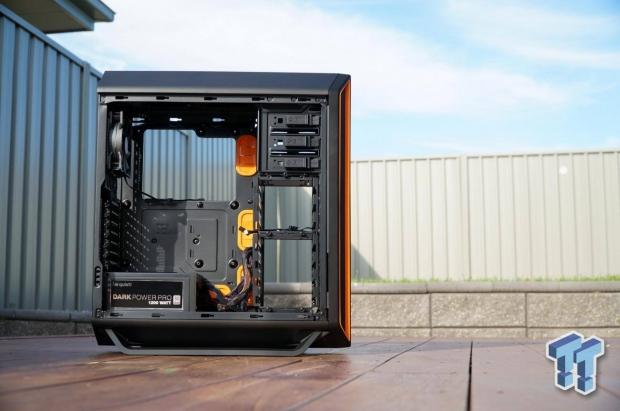 For this review, I've used a different setup to my 5960X system - with it being powered by the new Skylake-based Core i7-6700K. I'm also using a GIGABYTE Z170X Gaming 7 motherboard and Kingston M.2-based HyperX Predator SSD.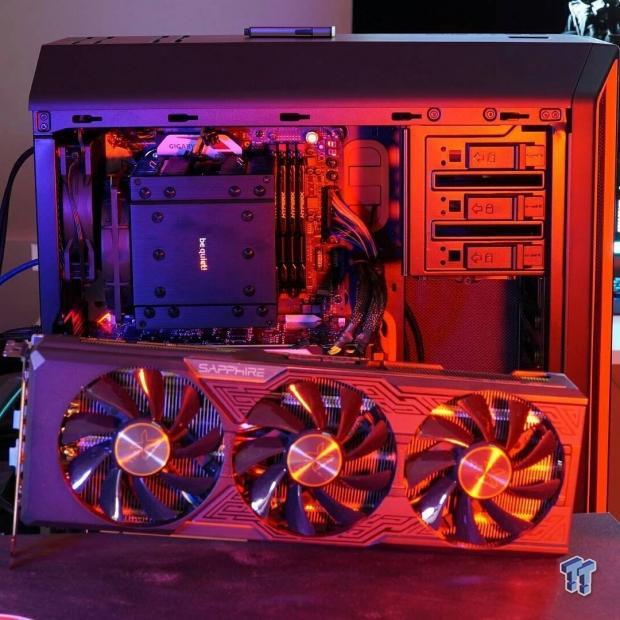 Anthony's Monitor Review Test System Specifications
On-Screen Display
Cumbersome On-Screen Display
There are a bunch of buttons in the bottom right-hand corner of the XR341CK, which give you control over the various technologies, functions, profiles and what not. I found the OSD a bit cumbersome to use, but you get used to it.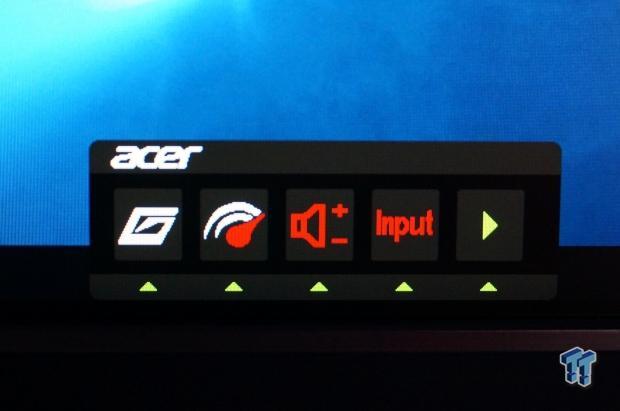 Pressing the second last button to the right will display the OSD, providing you with options to get you through your Acer XR341CK. Pressing this button doesn't get you into the main screen of the OSD, so you have to press the button again (which is the green right arrow in the photo above).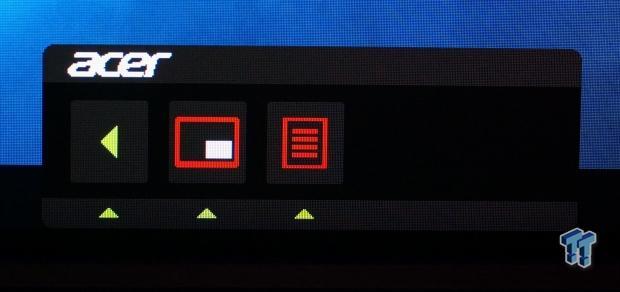 Pressing that button will display the above menu, where you'll have to tap it again to get to the main screen in the OSD.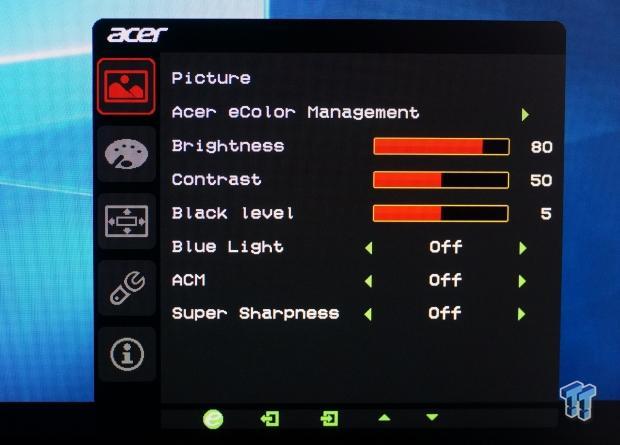 Here we have the main OSD display, where you can get through the menu easily enough with the buttons on the bottom of the screen. It's not perfect, but it'll do. I'd like to see this improved in a future revision of the screen, though.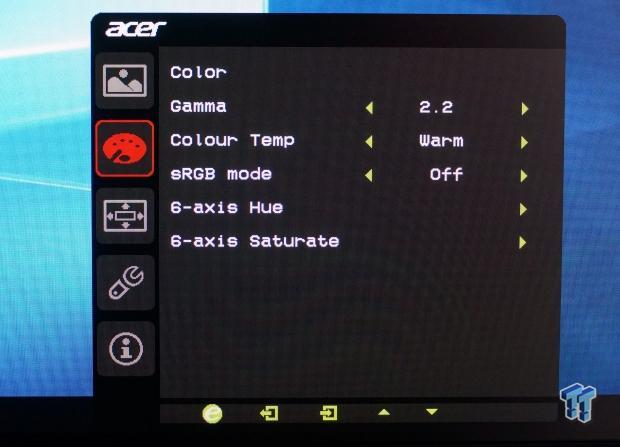 Going down to the next notch on the OSD provides you with color adjustments on the XR341CK, where you can change the gamma, color temperature, enable or disable sRGB mode, and more.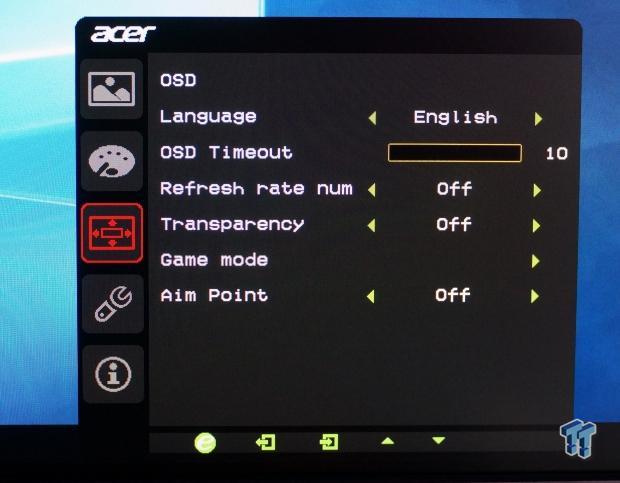 The third menu lets you change the language on the screen, the OSD timeout, and more. You can see here that we have an adjustment for 'refresh rate num' that can be set to on/off - this allows you to see the refresh rate on your screen in a similar way to how FRAPS works - displaying the refresh rate in the top right-hand corner of your screen.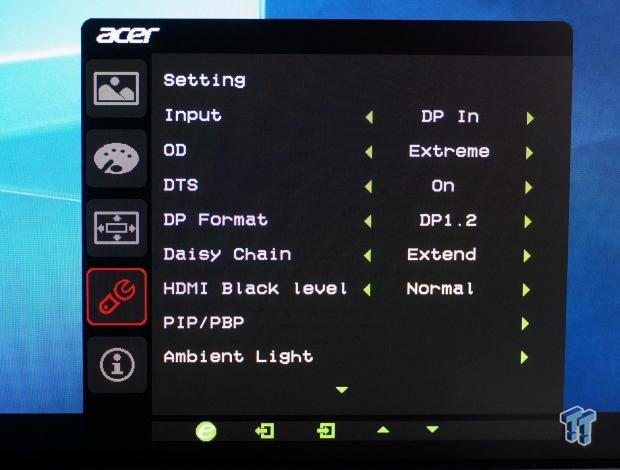 The fourth menu is where a bunch of display-orientated options lay, where you can change the input from DisplayPort to HDMI, the DP format, and you can choose to adjust the daisy chain option too - in case you're plugging multiple DP-based monitors into your PC.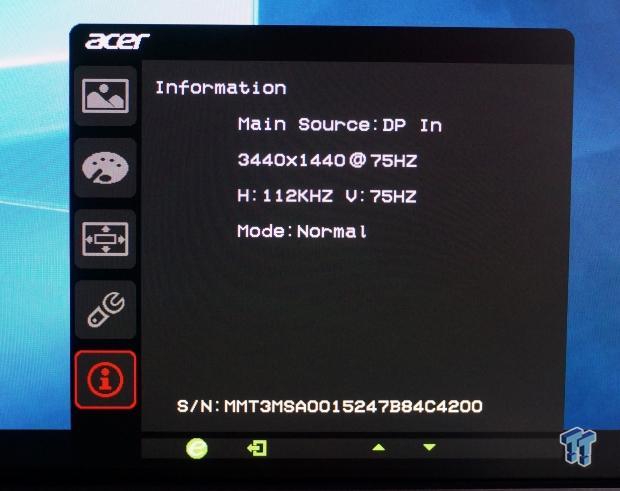 The final menu in the OSD provides you with the information you need to see; the main source of input, the resolution and refresh rate.
Everyday Use & Gaming
Everyday Use
I used the Acer XR341CK for around two weeks as one of my workstation displays, working on it every day with various tasks. I used Windows 10, so the UI scaling was perfect at 3440x1440 on the display, and I also used a SAPPHIRE Radeon R9 Fury Tri-X video card to power it for my gaming. On the desktop side, I also used an NVIDIA GeForce GTX Titan X, too.
The Acer XR341CK sat side-by-side with my LG 34UC87 monitor, so I could go between the monitors for instant comparison at all times. This provided me with the best way to come into this review, as I could directly compare it with the LG model throughout my testing.
I write so much every day of the week, with the Acer XR341CK not faulting me whatsoever. The color reproduction is great, the white is not too bright, the text is beautifully clear and most of all; I can sit in front of it for hours and my eyes don't feel like they're straining.
The 3440x1440 resolution is perfect in my opinion, and far better than 4K on a 28-inch panel. The 75Hz refresh rate makes a big difference over 60Hz, and when it comes to games... well, FreeSync kicks ass on an UltraWide monitor.
Gaming on the Acer XR341CK with FreeSync
Acer is aiming the XR341CK at the enthusiast gaming market, with the larger price tag and hardware requirements of driving 3440x1440. We've been doing our video card reviews a little different lately, offering 3440x1440 results. The last one I reviewed was the ZOTAC GeForce GTX 980 Ti ArcticStorm at 3440x1440, which you can check out here.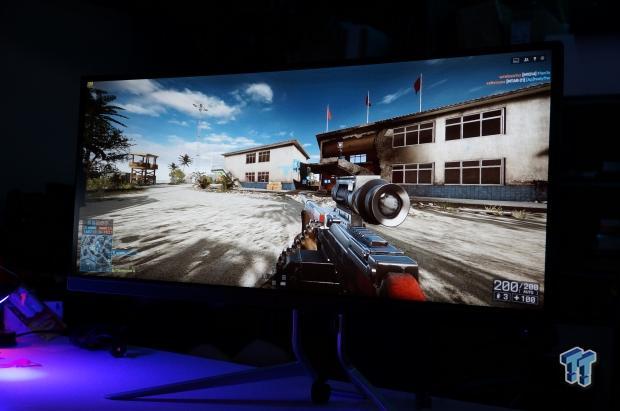 As for gaming on the Acer XR341CK, it's glorious - absolutely, hands down beautiful. If you've got the GPU chops to game at 3440x1440 @ 75Hz, it's an experience that cannot be missed. I prefer gaming at 3440x1440 than I do with a 4K monitor, as the 21:9 aspect ratio adds to the immersion of the game.
The games that benefit the most from the UltraWide resolution are, for me at least, first-person shooters. I spent a considerable amount of time playing both Battlefield 4 and Star Wars Battlefront on the Acer XR341CK, where I didn't have a single complaint.
I enjoyed the increase from the 60Hz refresh rates on the previous LG monitors I've reviewed, with the Acer XR341CK feeling much smoother at 75Hz. Smoother again when you enable FreeSync, which lends a helping hand when those frame rates drop to just under 75FPS and hover between 60FPS and 70FPS.
I've got nothing but great things to say about the gaming side of things on the Acer XR341CK. If you're an AMD Radeon owner with something above an R9 290 (you could probably get away with an R9 380/380X if you dropped some details down) - this display should be at the top of your shopping list.
Viewing Angles & Glare
Viewing Angles & Glare
90% of the time you're going to be sitting directly in front of your monitor, but I thought I would take a look at the viewing angles of the Acer XR341CK. I walked away impressed with the Curved UltraWide display and its viewing angles.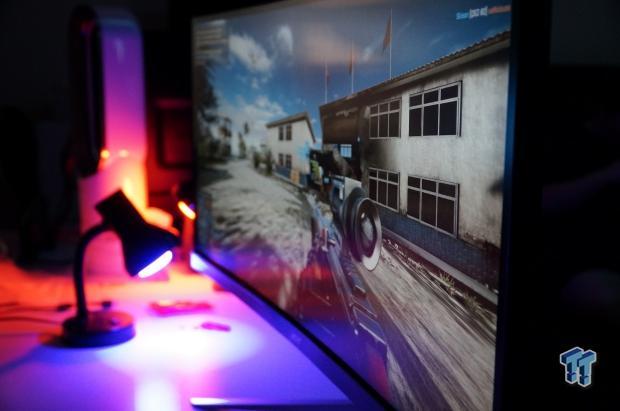 The glare is a bigger consideration for most people, as some users have natural light coming into their room/office. I have a large door directly behind my desk, so I decided to take some photos of the XR341CK from different angles with the natural light glare.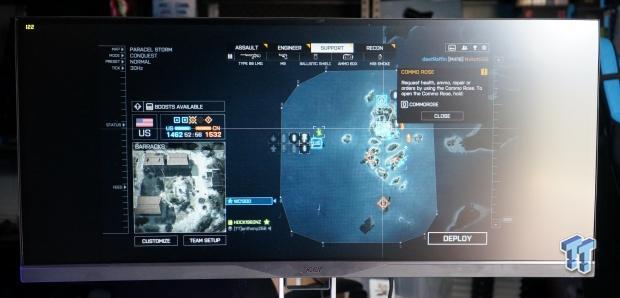 This is the Acer XR341CK with natural light from the perspective of where you'd be sitting - directly in front of it.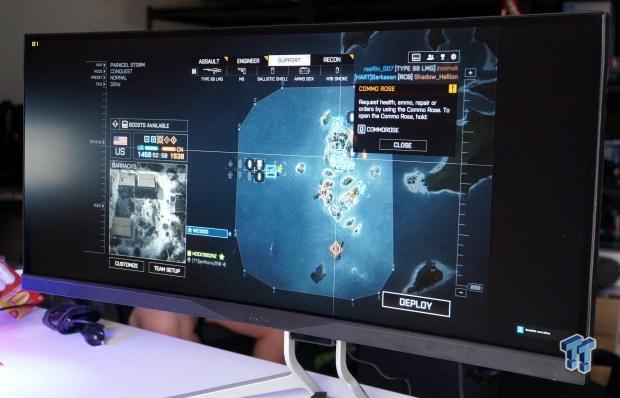 Here, we're slightly off to the right, and the glare disappears for the most part.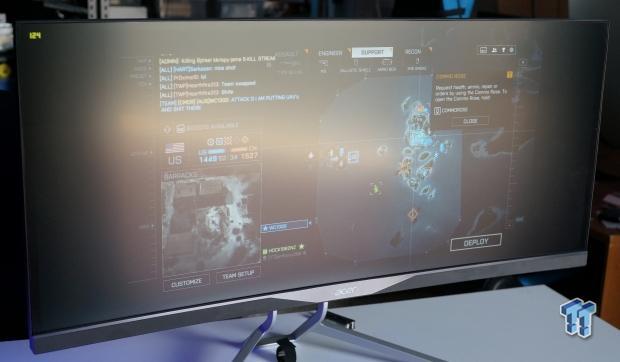 From the left and slightly above, the glare hits really bad - as the light is coming in from the right.
What's Hot, What's Not & Final Thoughts
What's Hot
3440x1440 is AWESOME: For productivity, there is NO going back to any resolution apart from 3440x1440. The 21:9 aspect ratio is great, and in my opinion, is better than a single 4K monitor. Heck, two of these side-by-side is unstoppable, trust me - I've tried it.
Great Styling & Port Orientation: I love the style on the Acer XR341CK, from the stand to the color scheme and design of the monitor. The USB and display inputs are beautifully placed - except for that massive failure of a decision by Acer to have the main DisplayPort right next to the top fold of plastic - making it nearly impossible to remove the DP cable.
Productivity Nuts Will Love It: If you're currently using two 1080p displays, a single 3440x1440 display is a huge upgrade. Even if you're using a single 2560x1440 monitor, the Acer XR341CK is a great upgrade, especially for productivity.
75Hz Refresh Rate: It may be only 15Hz more than 60Hz, but at 75Hz gaming becomes much more fluid. It's not quite 144Hz, but it's getting there. It's a nice, welcomed increase over the current 21:9 screens with 60Hz refresh rates.
AMD FreeSync Support: One of the 'What's Not' entries in my previous reviews on LG's UltraWide panels is that I wanted G-Sync or FreeSync support - well, here we are. Acer has used FreeSync on the XR341CK, but G-Sync fans aren't left out in the cold - there's a G-Sync model coming soon with 100Hz support!
What's Not
DisplayPort Placement: What the hell, Acer? This could've been avoided, and I don't know how it wasn't discovered before manufacturing began. During the design phase someone would've noticed this, right? It's not the biggest deal - but it's something you need to be warned about. If you are constantly disconnecting and connecting your DP cable, this is going to be a showstopper for you.
Final Thoughts
Acer has the best UltraWide monitor on the market for AMD Radeon gamers with its XR341CK, offering 3440x1440 at 75Hz, with the addition of AMD's FreeSync variable refresh rate technology. FreeSync is a great addition to an already great monitor, with little flaws.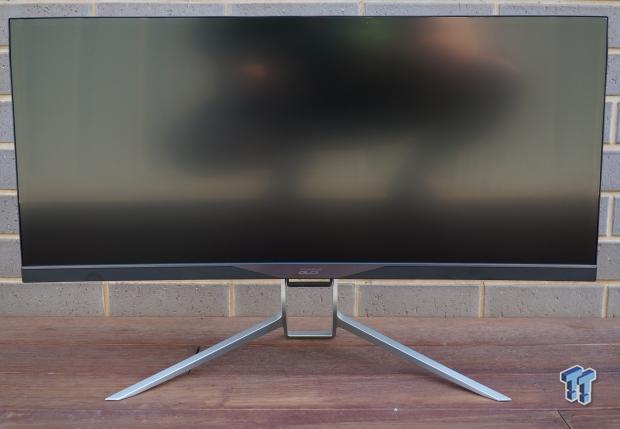 To summarize; the DisplayPort placement is utterly horrible. I had to use a knife wedged between the monitor and the DP cable to eject it, which is just ridiculous. I would advise buying a DP cable without the lock in place, which shouldn't cost much - but when dumping down this much money on a display, you shouldn't have to do that.
But the good easily outweighs the bad here with the XR341CK. I was gaming with the SAPPHIRE Radeon R9 Fury and was more than capable of smashing 75FPS+ at 3440x1440, but if you aren't it's not all bad. Even if you're reaching 60FPS or so, FreeSync does its job at helping smooth out your gaming experience.
All in all, if you're in the market for a new UltraWide monitor, and you own an AMD Radeon GPU, you owe it to yourself to grab the Acer XR341CK. It's truly the best FreeSync-capable UltraWide on the market right now.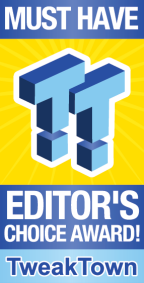 | | |
| --- | --- |
| Performance (display quality/resolution) | 100% |
| Quality (build/matte or gloss finish) | 95% |
| General Features (outputs, ports) | 95% |
| Bundle and Packaging | 95% |
| Value for Money | 90% |
The Bottom Line: If you own an AMD Radeon GPU and need a new UltraWide monitor in your life, the Acer XR341CK is calling out your name. An incredible UltraWide gaming monitor.
PRICING: You can find products similar to this one for sale below.

United States: Find other tech and computer products like this over at Amazon.com

United Kingdom: Find other tech and computer products like this over at Amazon.co.uk

Australia: Find other tech and computer products like this over at Amazon.com.au

Canada: Find other tech and computer products like this over at Amazon.ca

Deutschland: Finde andere Technik- und Computerprodukte wie dieses auf Amazon.de
We openly invite the companies who provide us with review samples / who are mentioned or discussed to express their opinion. If any company representative wishes to respond, we will publish the response here. Please contact us if you wish to respond.
Related Tags