Supermicro C7Z170-SQ (Intel Z170) Motherboard Review
Our first Supermicro Intel Z170-based motherboard review comes in the form of the C7Z170-SQ. It impresses for its value for money.
Published Oct 23, 2015 1:10 PM CDT
|
Updated Tue, Nov 3 2020 6:59 PM CST
18 minute read time
TweakTown's Rating: 91%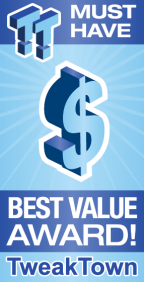 The Bottom Line
If you want a well-rounded Intel Z170 motherboard with server level quality and overclocking in an affordable package, then the Supermicro C7Z170-SQ is definitely worth a look.
Introduction, Specifications, and Pricing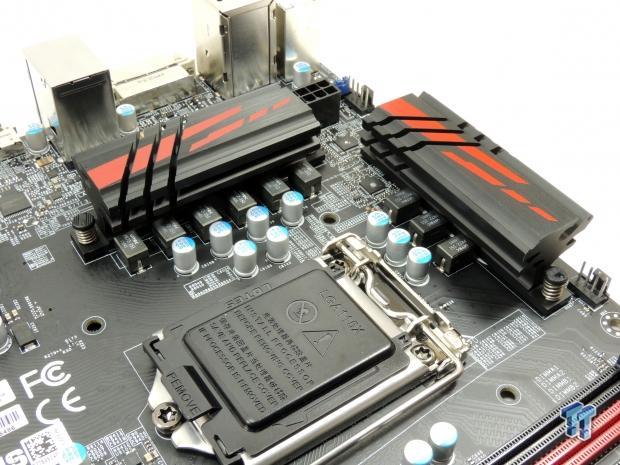 Not too long ago Supermicro decided to break into the gaming motherboard segment. Supermicro is known for their high-performance server hardware, but for the past few generations they have launched a few consumer motherboards. With the Z170 and Skylake platform launch came a pretty strong message from Intel; let's focus on gamers.
Most, if not all, motherboard companies have taken this to heart, and now every brand is focusing on gaming more than ever before. Supermicro launched two OCE series boards for the Intel Z97 and X99 platforms aimed at bringing workstation class design to overclocking and gaming motherboards. However, the gaming factor wasn't as prevalent as they wanted - for Z170, they did things differently.
Supermicro rarely shows off their boards before they launch, but with Z170, things were a bit different. They showed off their motherboard privately a few months before launch and invited some to provide their opinions and any suggestions they might have. The final product is different than the previous products in that they did integrate a lot of the feedback. For starters, buttons are in places that are easier for users to access, they have implemented the latest features, and they have implemented a new uniform red color theme. I should also say that this isn't the only Z170 motherboard that Supermicro is going to be bringing to the market for Z170, there will be others. So far we have seen the motherboard on paper, but let's see how it does in person.
Specifications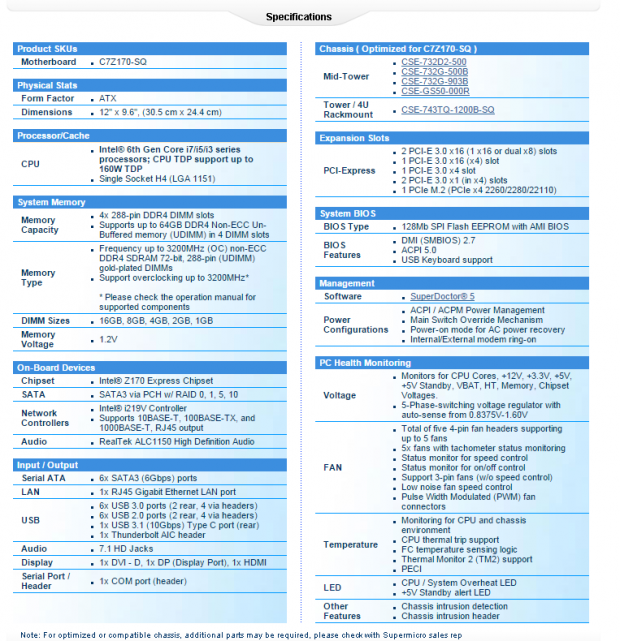 The Supermicro C7Z170-SQ has many of the latest features that users want including USB 3.1, 6x SATA6G, 32Gb/s M.2, Intel Gbit NIC, 6x USB 3.0 (two on the back four through two internal headers). The motherboard also supports CrossFireX, but not SLI.
Pricing
The C7Z170-SQ is available from a lot of stores and ranges in price from 209.99 to 219.99 (as per Supermicro).
Packaging and C7Z170-SQ Overview
Packaging and Overview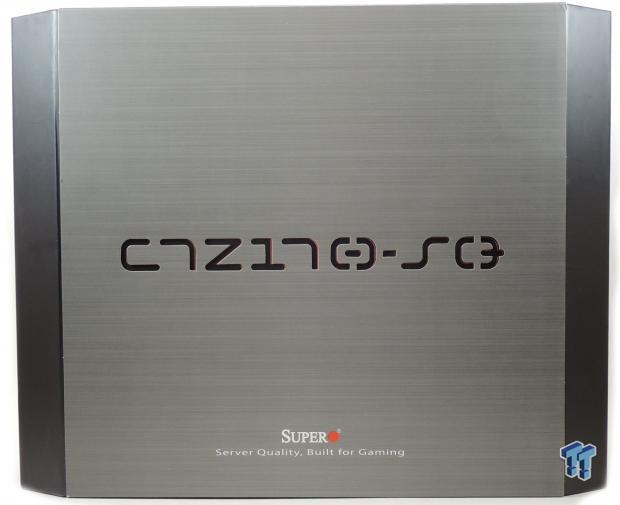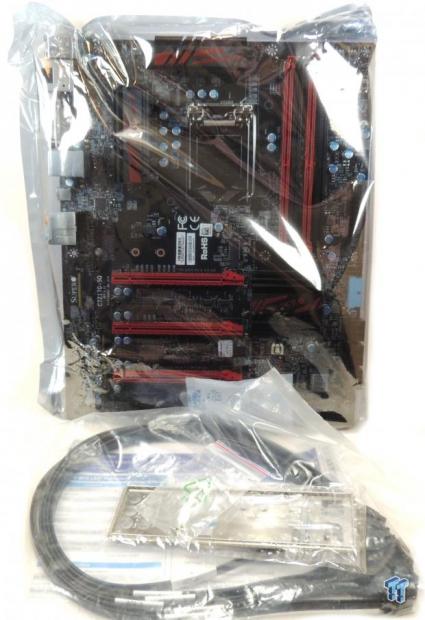 Supermicro ships their new motherboard in a unique box, possibly the best I have seen in a long time when it comes to being simplistic yet elegant. The motherboard box is like that of phones, where you lift off the top, but the motherboard is sitting on a slant on the red internals. I would use the box for something afterwards because it is slanted at the edges and looks quite neat. The accessories are not much different compared to previous Supermicro consumer motherboards, but they have changed the color of the SATA cables from red to a much more popular black.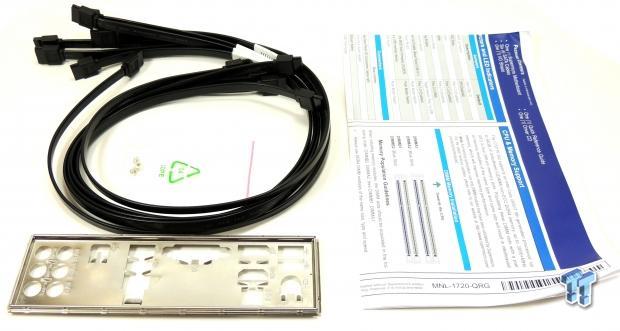 There are only a few accessories including; 4x SATA6Gb/s cables, screws for the M.2 slot, IO shield, driver DVD, and a chart with jumper locations and functions. There is a manual on the driver DVD and the website.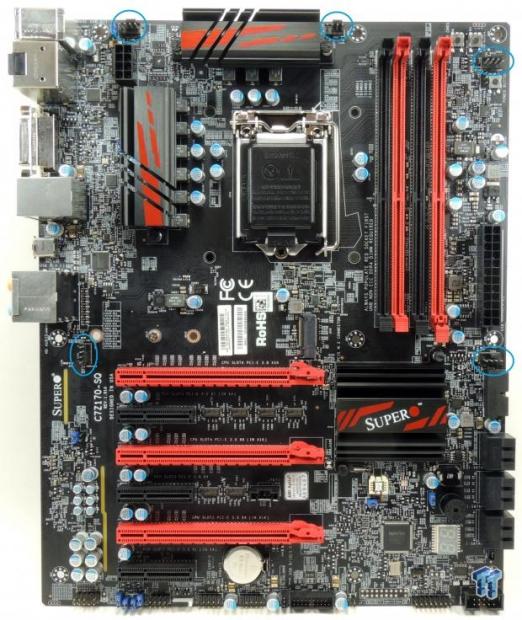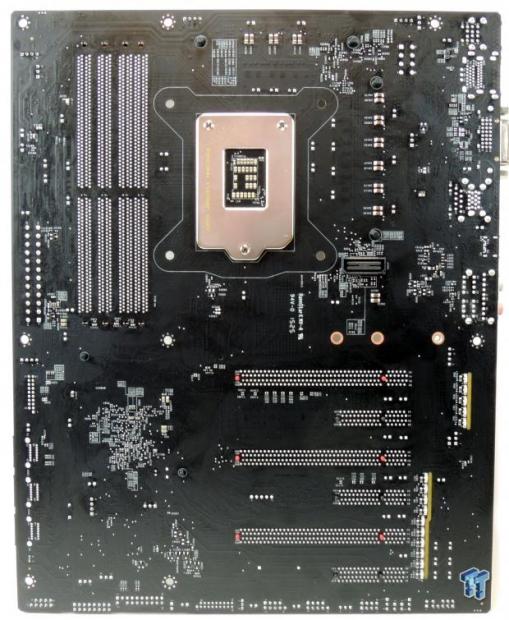 The Supermicro C7Z170-SQ has five fan headers, all of which are 4-pin PWM headers with automatic motherboard fan control. While 3-pin fans will work, they won't have the speed control that 4-pin PWM fans will have. There is one strong point; each header can support up to 2.5A @ 12v. There isn't any fan control other than pre-set automatic settings (and full speed), and Supermicro says they will address this in the future. The motherboard has a red and black color theme going on, and it's simple enough to blend in nicely with red and black themed builds and not overpower the aesthetic appeal of other accessories. The back of the motherboard is bare of components, except there are 15 red LEDs with insanely high output stacked below the audio divide.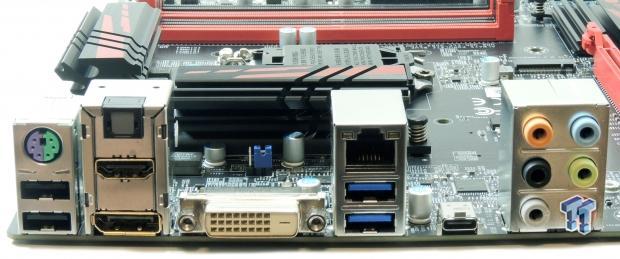 The IO panel features a PS/2 keyboard/mouse port, 2x USB 2.0, S/PDIF, HDMI, DisplayPort, DVI, 2x USB 3.0, 1x USB 3.1 Type-C, 1Gbit Intel NIC, and 7.1 audio outputs.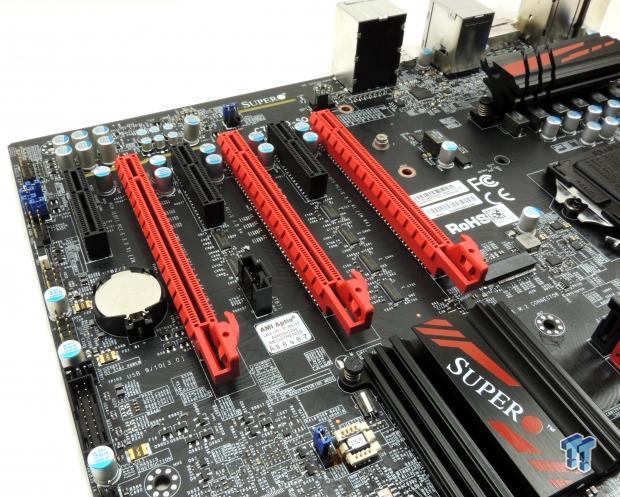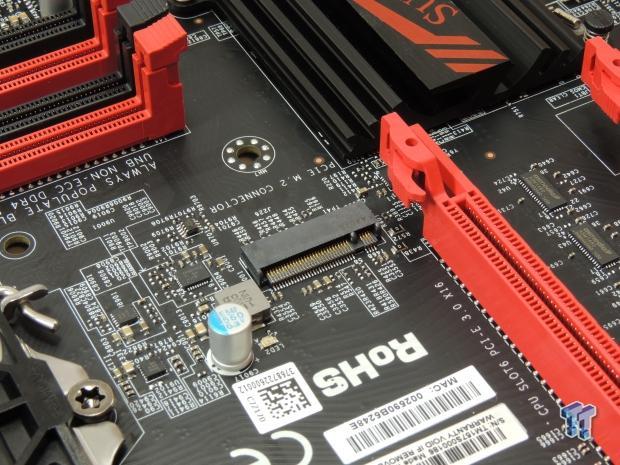 There are three red full sized PCI-E 3.0 slots. They operate at: 16x/0x/0x, 8x/8x/0x, or 8x/4x/4x for 2-way or 3-way CrossFireX, but SLI is not supported. The black slots are connected to the PCH. The first two black slots look like 4x slots, but they each only get 1x of bandwidth, but the last PCI-E 4x black slot operates at 4x PCI-E 3.0. A single M.2 slot operates at PCI-E 3.0 4x for 32Gb/s of bandwidth, but there is no SATA connectivity which means that only PCI-E based M.2 drives will work.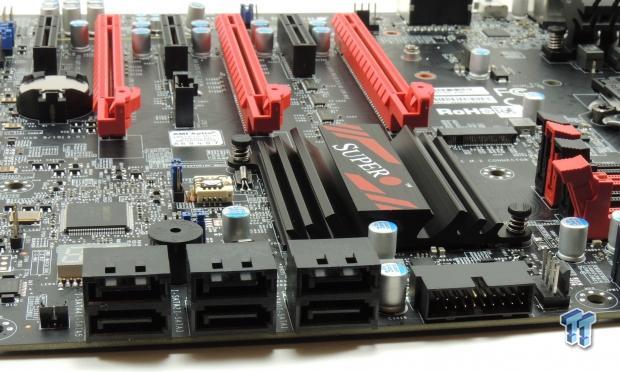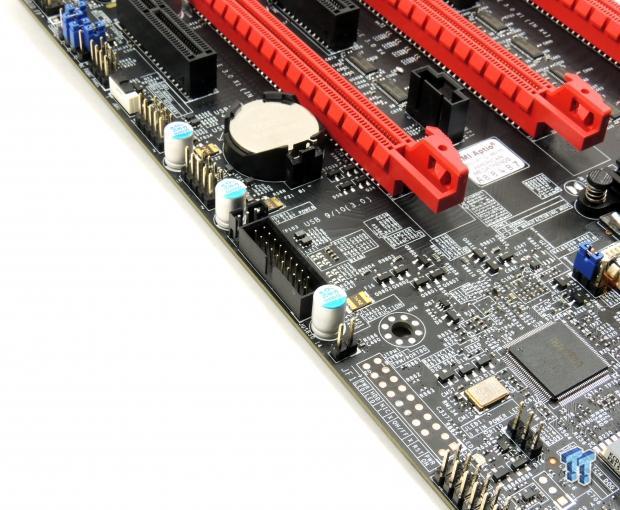 There are six SATA ports from the Intel PCH, and none of them share bandwidth with the M.2 slot. There are also two USB 3.0 internal headers, each supporting two USB 3.0 ports. These two USB 3.0 headers are located apart from each other; one is easier to reach for a case's front panel ports and the other for a back PCI-E add-in slot. The one for the front panel is angled at 90 degrees to enhance aesthetics. The clear CMOS battery is located under the last full sized PCI-E 16x slot for easy access with one or two cards installed. There is a BIOS recovery enable/disable switch located below the last PCI-E slot which will enable the BIOS recovery feature that needs to be initialized by the button in the image below.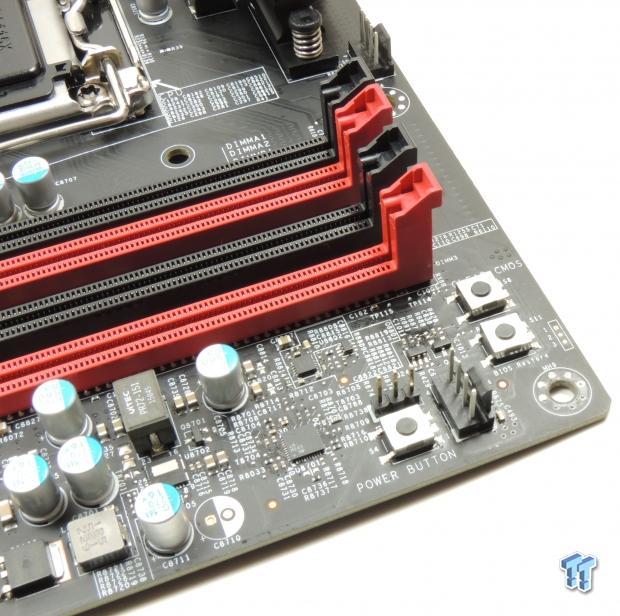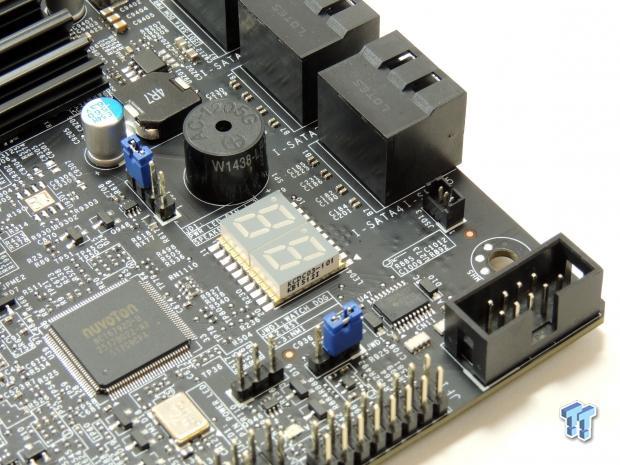 While Supermicro claims that this isn't the top end SKU for the Z170 platform, they do provide some critical OC features. A power button and a clear CMOS button are located at the top of the motherboard. There is also a BIOS recovery button that will initialize BIOS recovery from a USB stick with a BIOS ROM loaded onto it. This BIOS recovery only works if the recovery mode is enabled by the first switch. The motherboard also carries a POST code LED and an onboard speaker. Most of the controllers on the motherboard have jumpers nearby that allow you to disable them.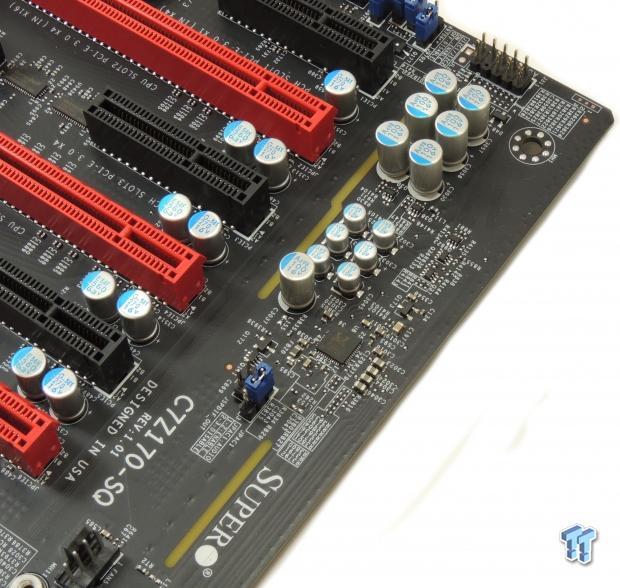 The audio section of the PCB is isolated from the rest of the motherboard by a thick PCB divide. 15 underside red LEDs illuminate this divide, and these aren't your typical motherboard LEDs, they are high powered directional LEDs.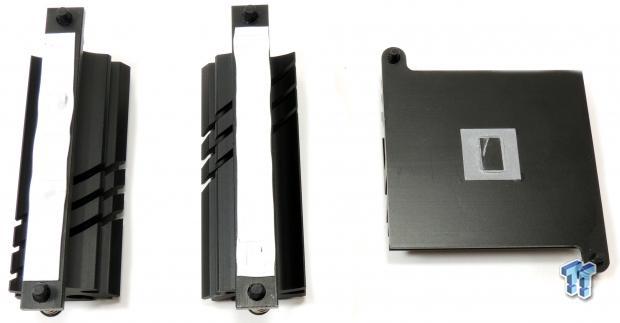 Supermicro has improved the styling and color scheme of the motherboard and heat sinks, and here they make good contact with the PCB, but they are still using plastic pushpins to secure the heat sinks to the PCB.
Supermicro C7Z170-SQ Circuit Analysis
Circuit Analysis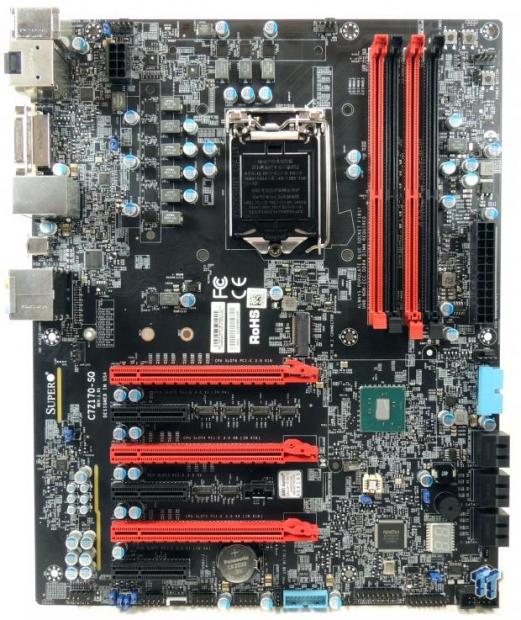 The C7Z170-SQ looks nice without the heat sinks, and now we can get into the important stuff. This image has blue USB headers because it's an early review sample. I took pictures of the early sample but used a more recent sample that is identical to the retail part for the review.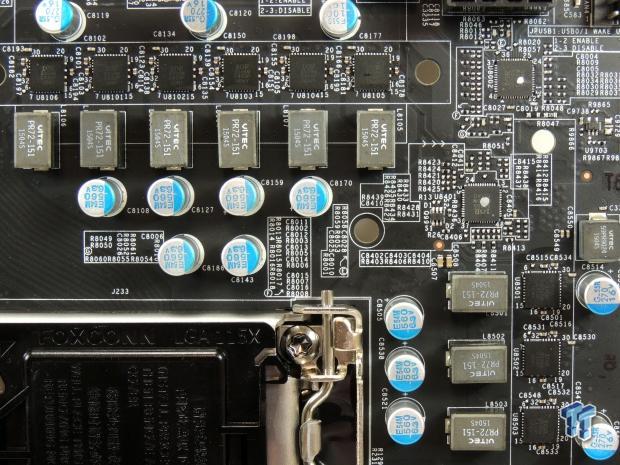 This motherboard carries a 6+3+1+1 phase (VCore, VCCGT, VCCSA, VCCIO) VRM, but the VCCIO uses a much smaller voltage converter. Supermicro implements server grade power control on a consumer motherboard. For starters, the inductors for each switching power phase is a Vitex 59PR72-151 rated for 66A saturation current, among the highest found on a Z170 motherboard. To add to the server grade reliance, Supermicro isn't doubling any phases and is using two PWMs so that each phase is directly controlled by the main PWM.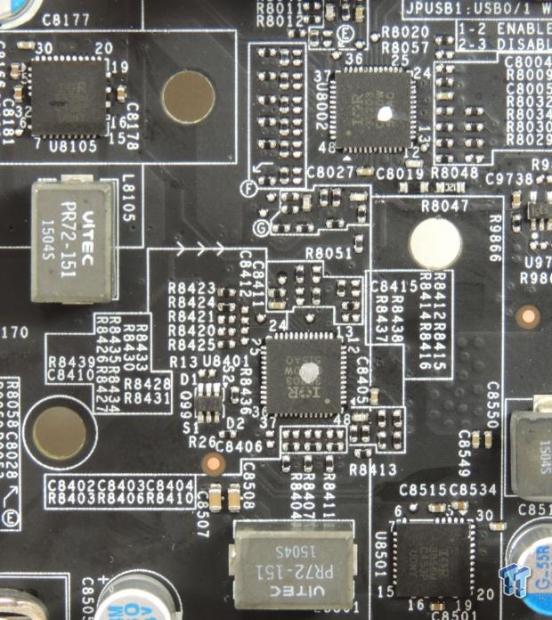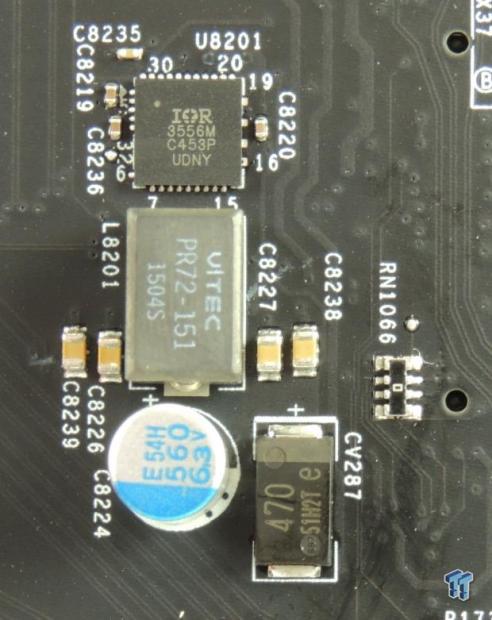 Supermicro is using two IR35203 digital PWMs from International Rectifier. I could not find a datasheet, but it is safe to say that these are dual output PWMs with at least 6 phases on the main rail and one on the second rail. I have seen the IR35201 on many motherboards that are 6+2 phases with flex to 8+0, but I deduce this PWM might be fixed (no flex) or has one less phase on the second output.
The CPU VCore is six true phases, and the iGPU gets three true phases. Each phase for the VCore, VCCGT (iGPU), and VCCSA uses International Rectifier IR3556 50A PowIRstages. In this case, the inductor has a higher current rating than the power stage that is also rare on the Z170 chipset. The VCCSA uses a single 50A power stage and a 66A inductor. This is one of the highest quality VRMs I have seen on the Z170 platform as well, and it is totally overkill.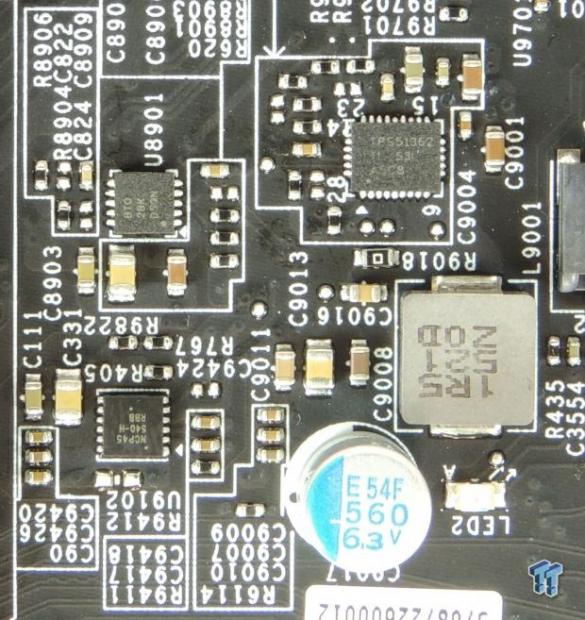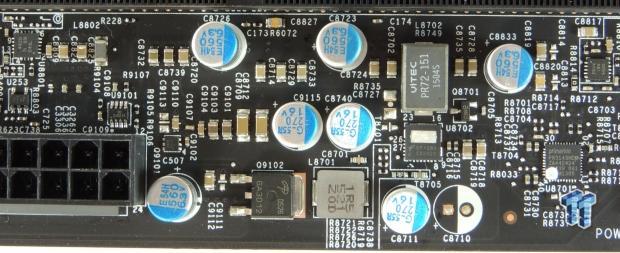 The VCCIO uses a Texas Instruments TPS51362 10A voltage converter, which is more than enough for the VCCIO. The memory VRM utilizes a Primarion digital PWM (both Primarion and International Rectifier are now owned by Infineon Technologies) and a single Fairchild Semiconductor FDMF5820DC DrMOS rated at 60A, complimented with a 66A Vitec inductor. This is more than enough for the memory voltage rail.
Supermicro C7Z170-SQ Circuit Analysis Continued
C7Z170-SQ Circuit Analysis Continued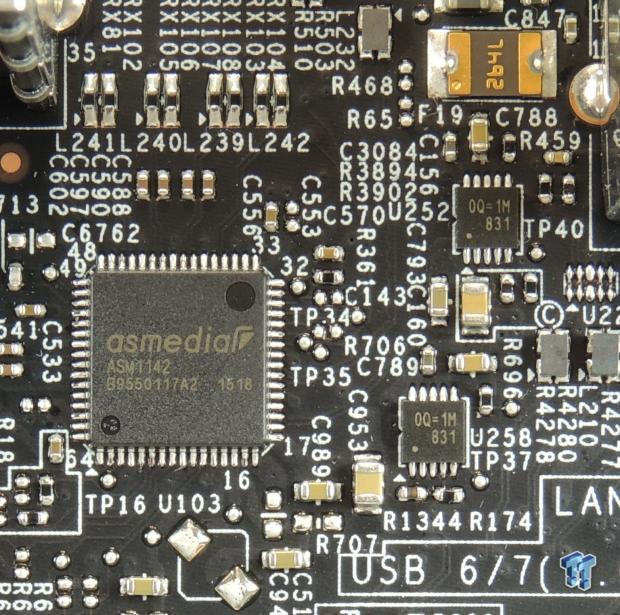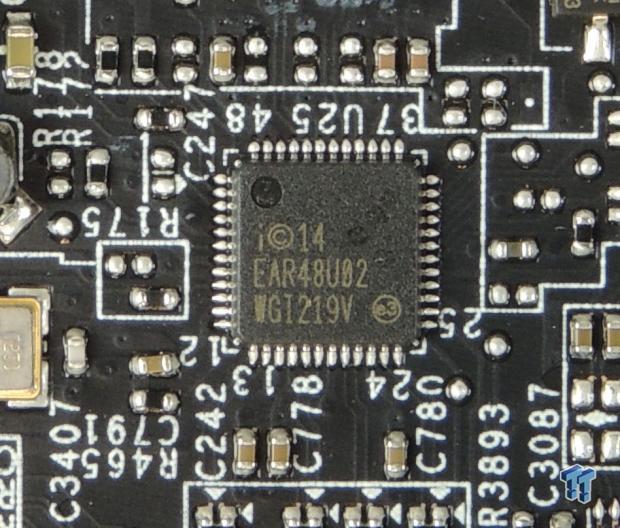 Supermicro uses the ASMedia ASM1142 for the single USB 3.1 Type-C connector on the backpanel IO. The C7Z170-SQ has a single Gbit NIC powered by Intel's WGI219V, which is the PHY for the integrated Gbit MAC in the PCH.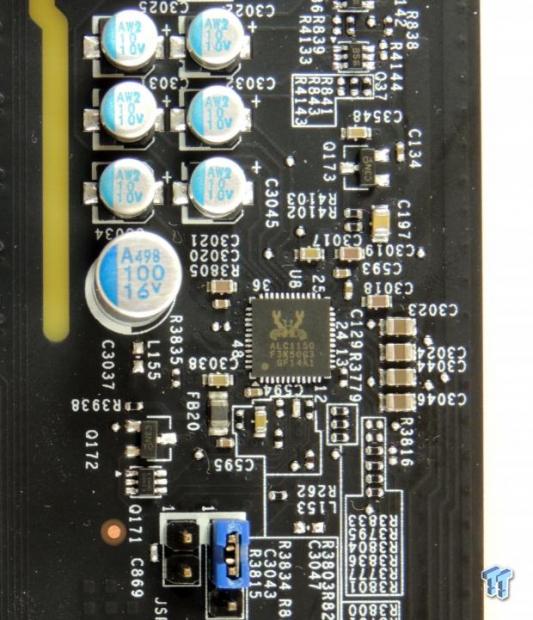 The Realtek ALC1150 is being used for the audio and is separated from the rest of the PCH through an isolated PCB. There is no amplifier that I can see, but audio should be high quality regardless. The back-side LEDs are directed towards the edge of the motherboard, and they are quite bright which some modders and enthusiasts might appreciate.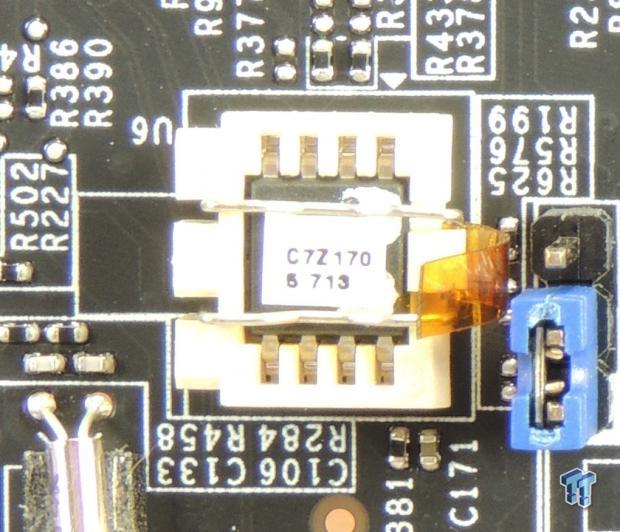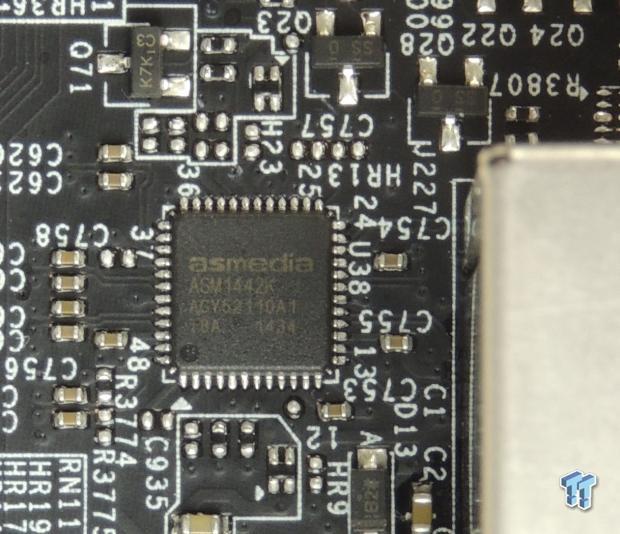 A 128Mbit (16MB) Winbond BIOS ROM sits in a socket so that you can pop it out and replace the BIOS if something happens to it. An ASM1442K is a level shifter used for the HDMI output on the backpanel IO.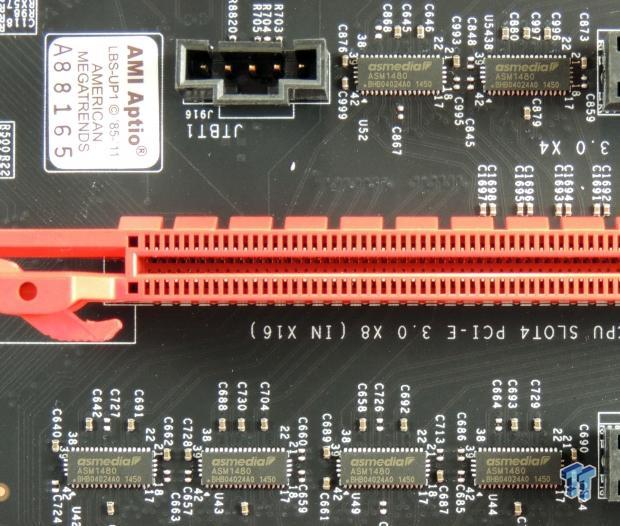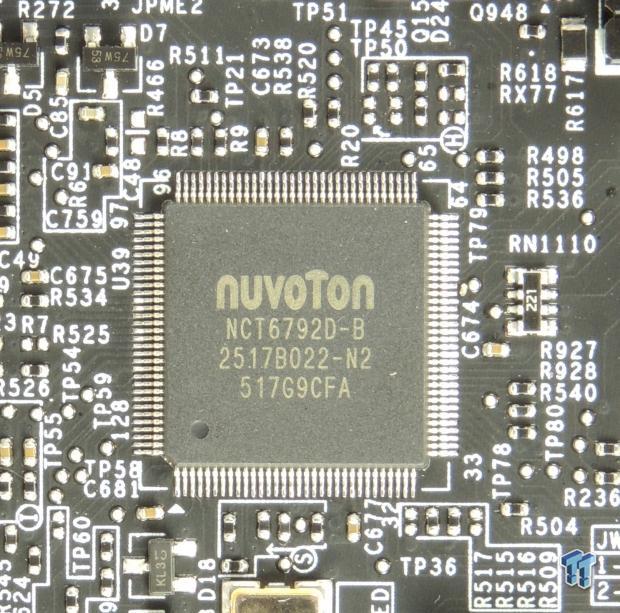 Six ASMedia ASM1480s are PCI-E 3.0 quick switches which move 8x of PCI-E between three PCI-E slots for multi-slot operation. This is Intel's standard CPU PCI-E allotment. A nuvoTon NCT6792D is the main SuperIO on the motherboard. It helps with fan control, voltage monitoring, and other system features.
BIOS and Software
BIOS
As I had mentioned earlier, Supermicro has totally revamped their consumer motherboard lineup for the Intel Z170 platform, and the BIOS is one think they changed. This new BIOS/UEFI iteration is much more visually appealing and much better organized than their previous UEFI, which was pretty basic. It is also a bit easier to use, and it is much more intuitive. There are still some limitations such as the inability to take a screenshot and the fact that you have to type in values without a decimal point.
You have to know the basics of how to operate it, so I thought I would provide some pointers. If you want to change the CPU frequency from 40 to 48, you need to backspace the 0 and type an 8, the UEFI won't just replace the other value you have to delete it first. If you want to change the VCore to 1.35v, then you need to backspace and erase the current VCore and type in 1350 without a decimal, as it is in units of millivolts. If you don't know what value to set, then 0 should maximize the value (useful for maximization of current restrictions).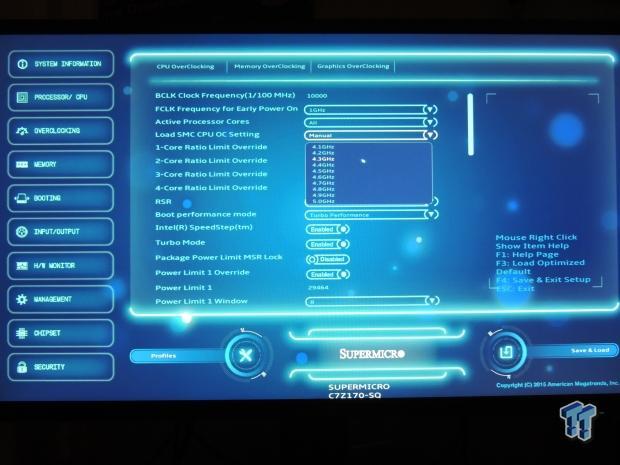 Supermicro does provide built-in profiles for overclocking. I strongly recommend only using the profiles to see how Supermicro maximizes overclocking settings, and then toning down some things like voltages. Overall, the UEFI is significantly better than it was a month ago; Supermicro is making huge heaps in the usability of their BIOS with each new release.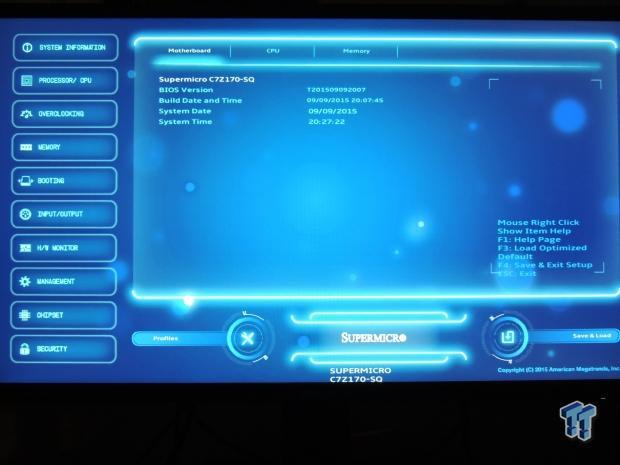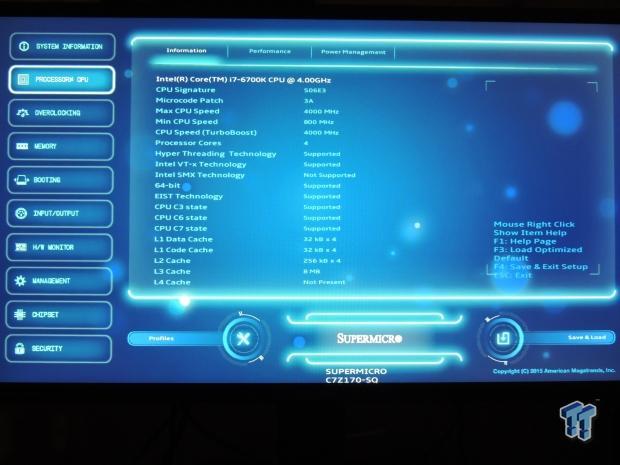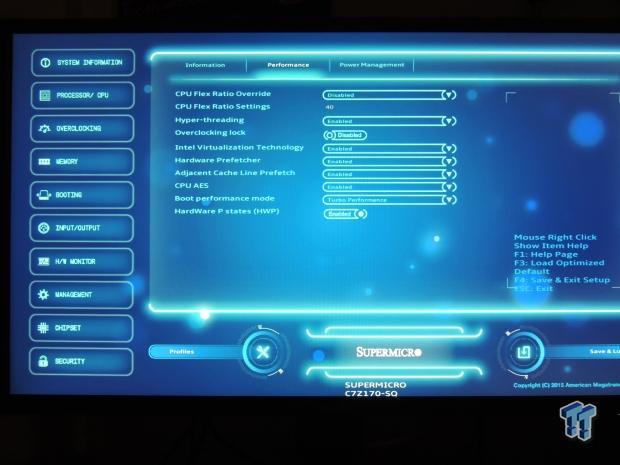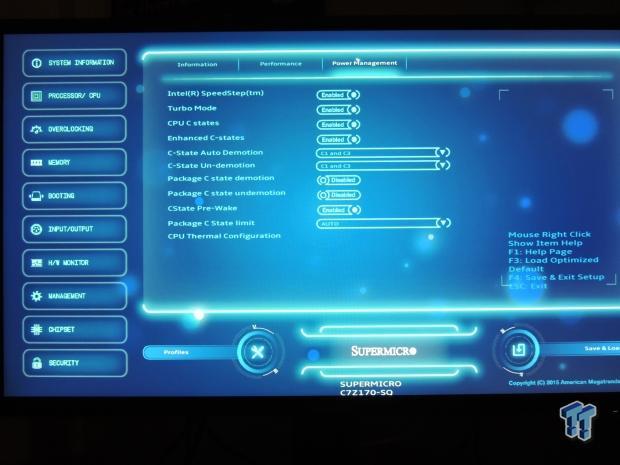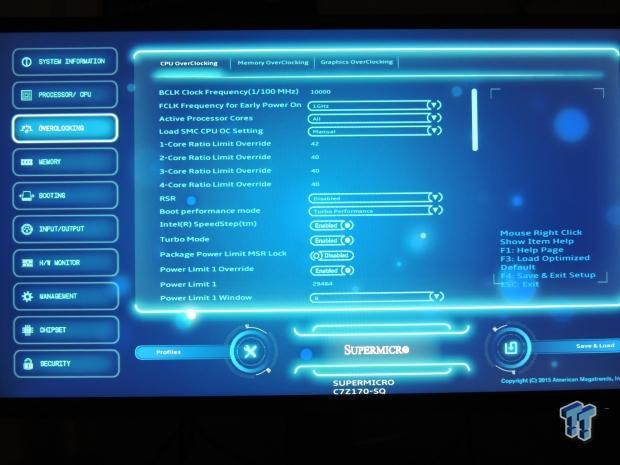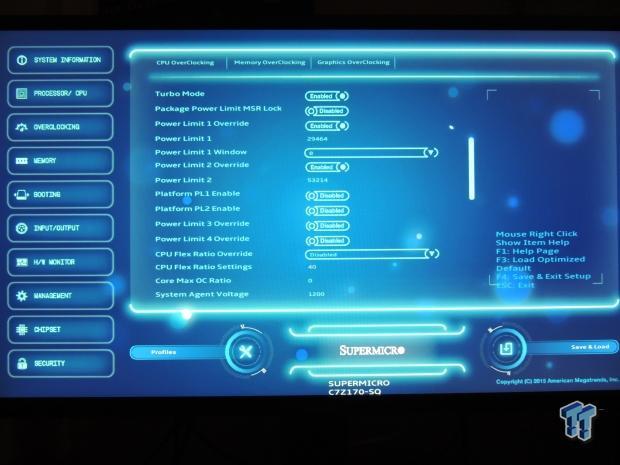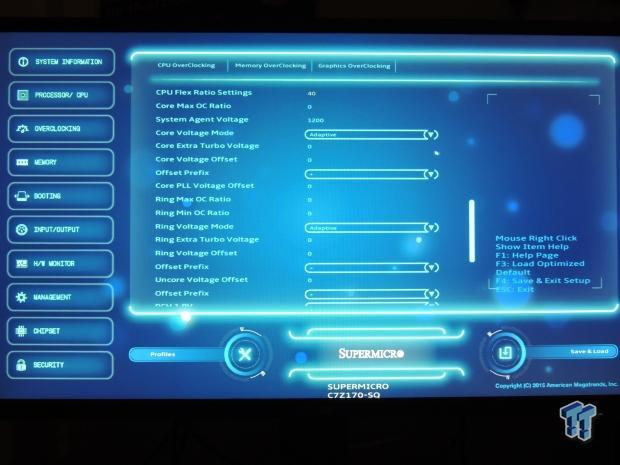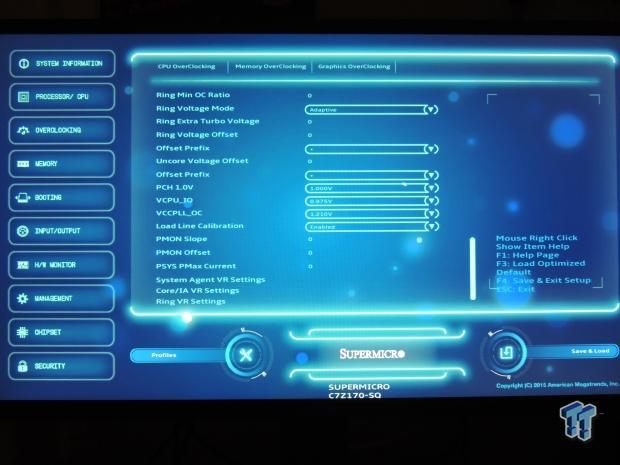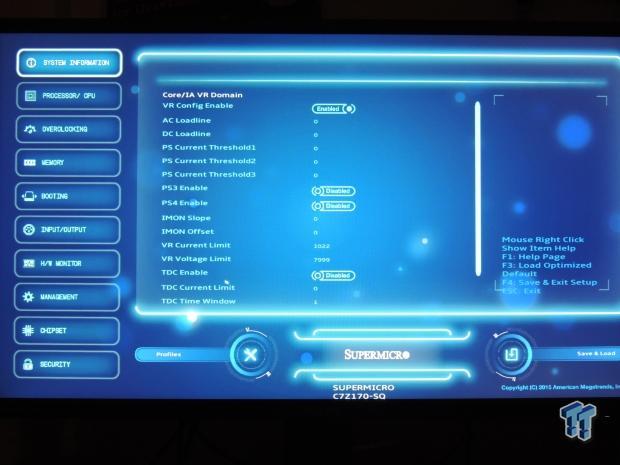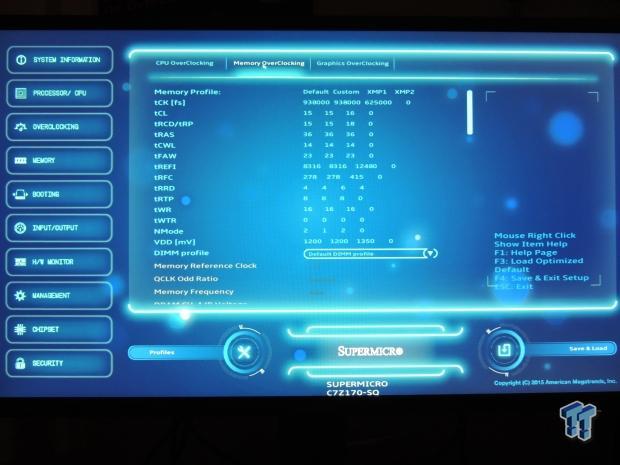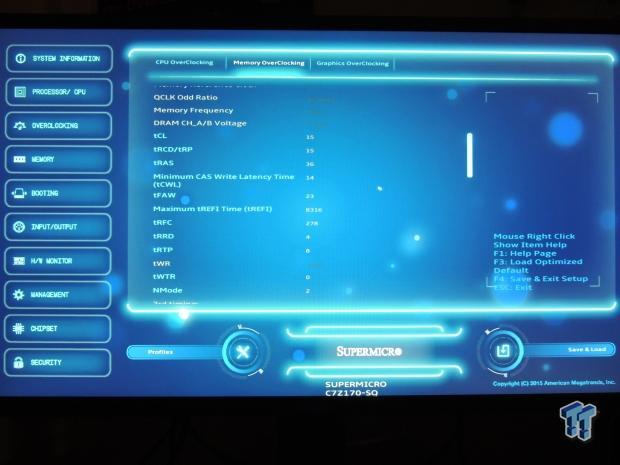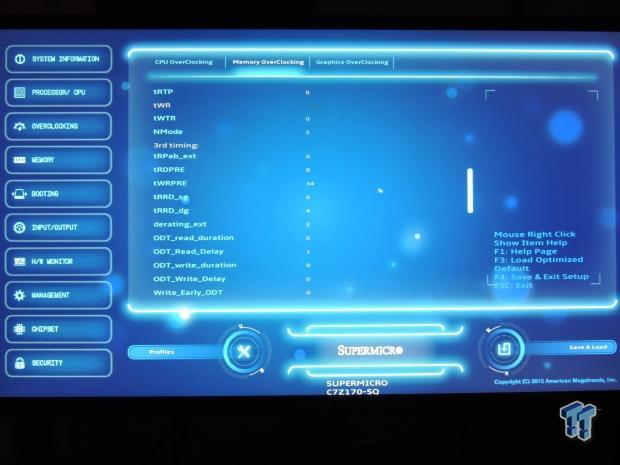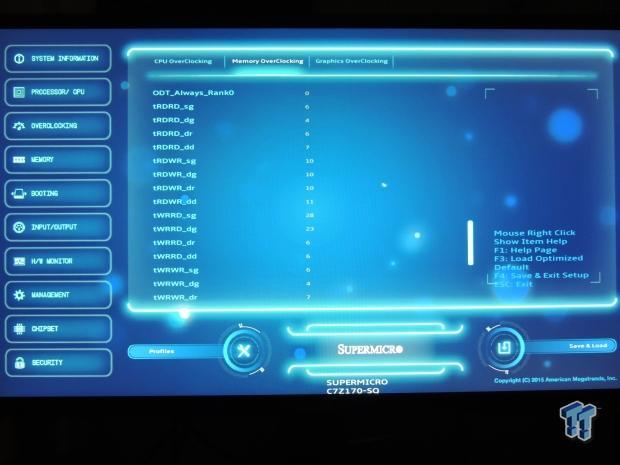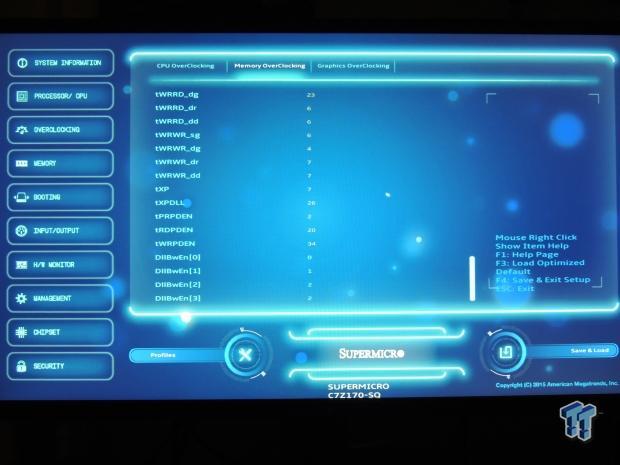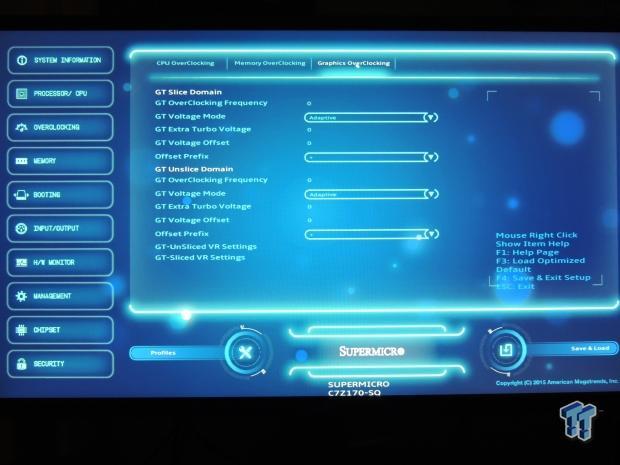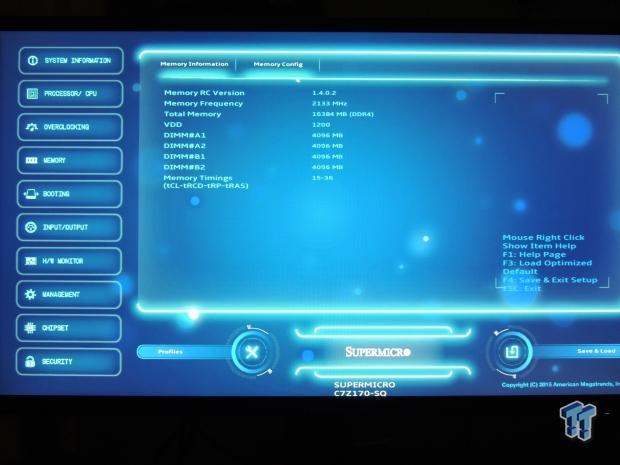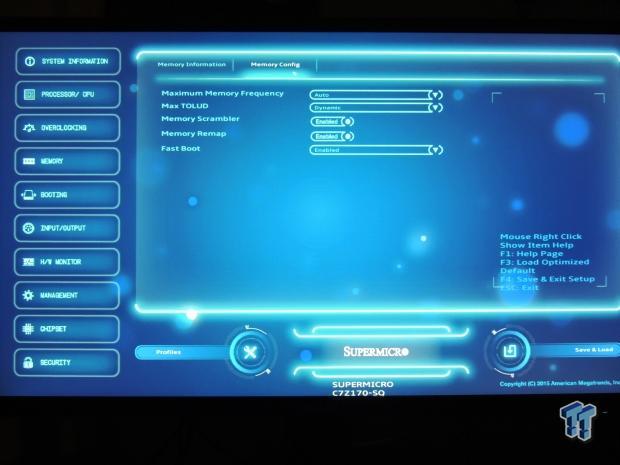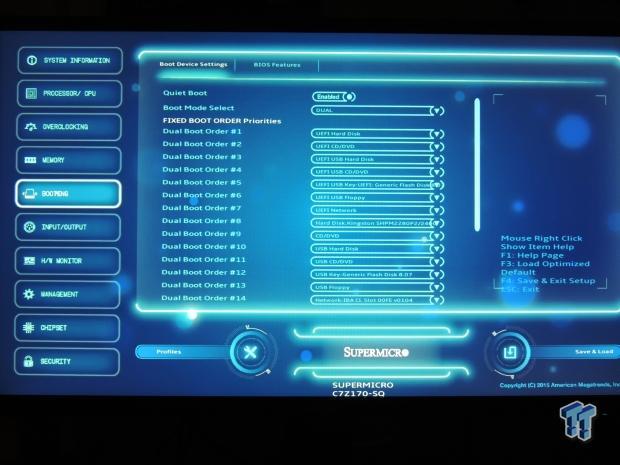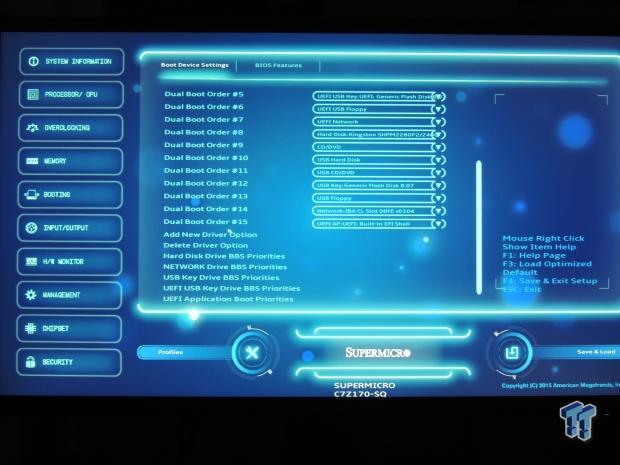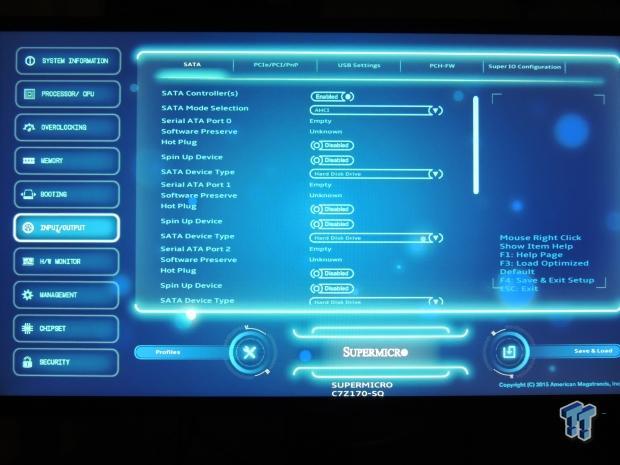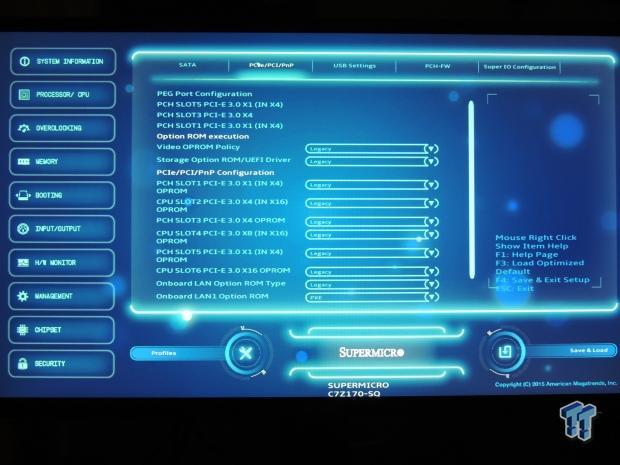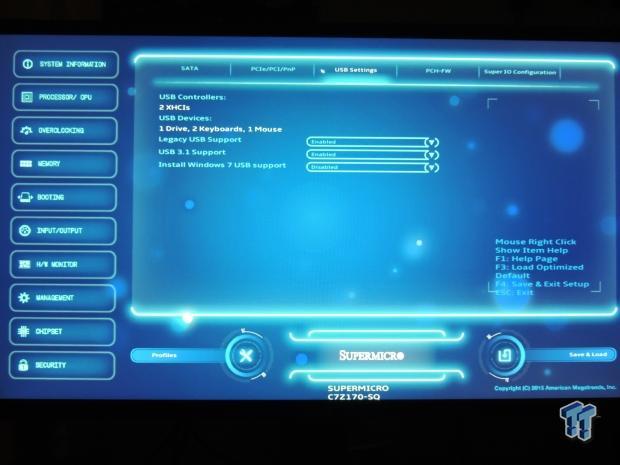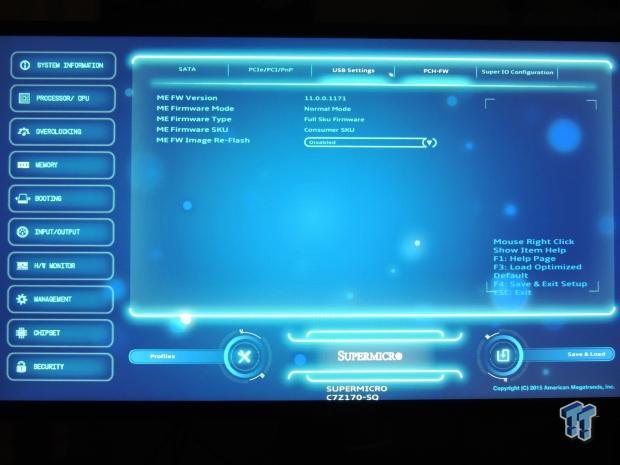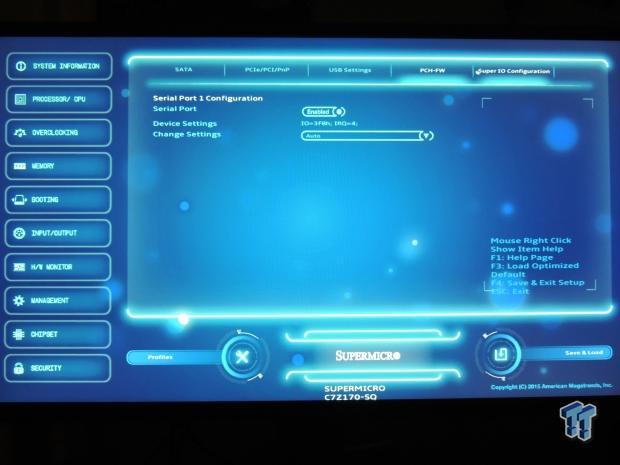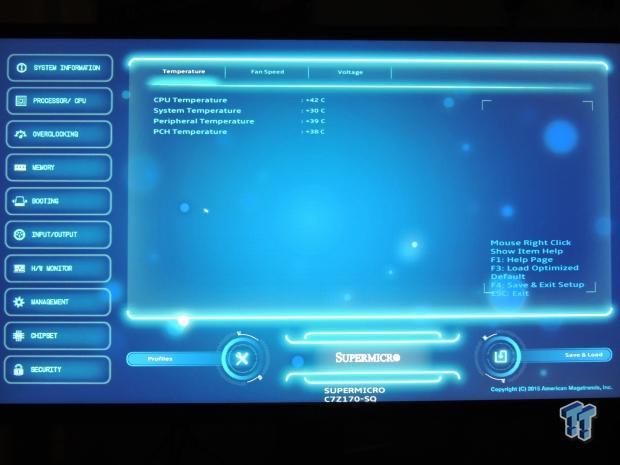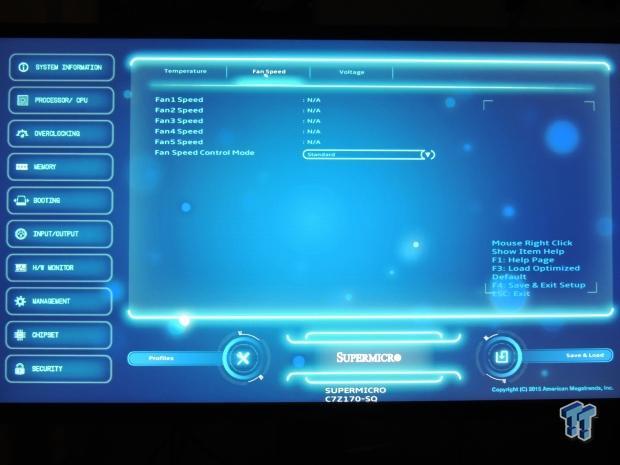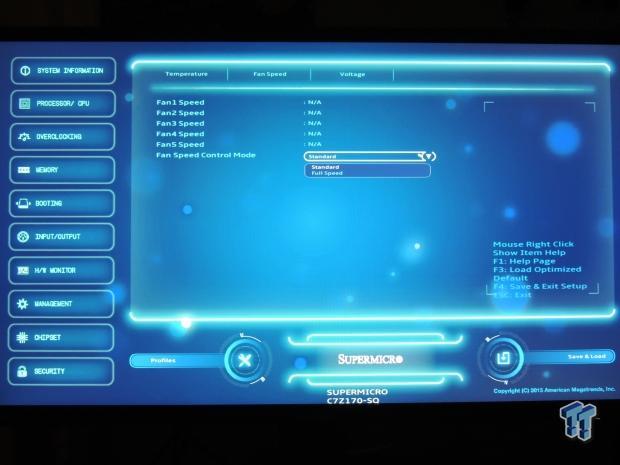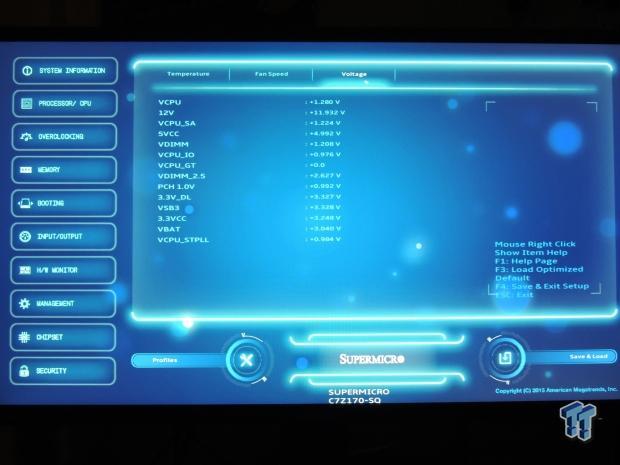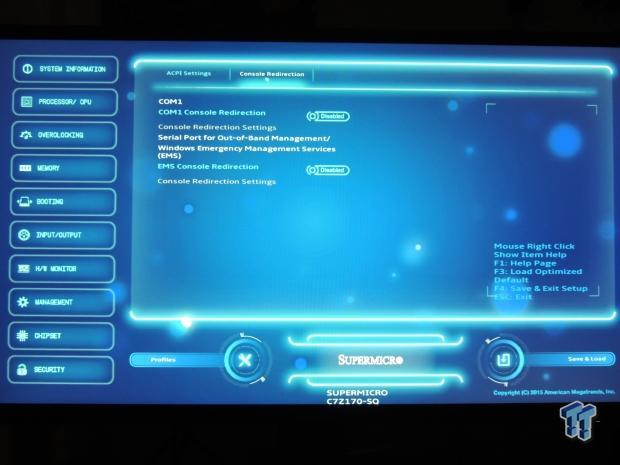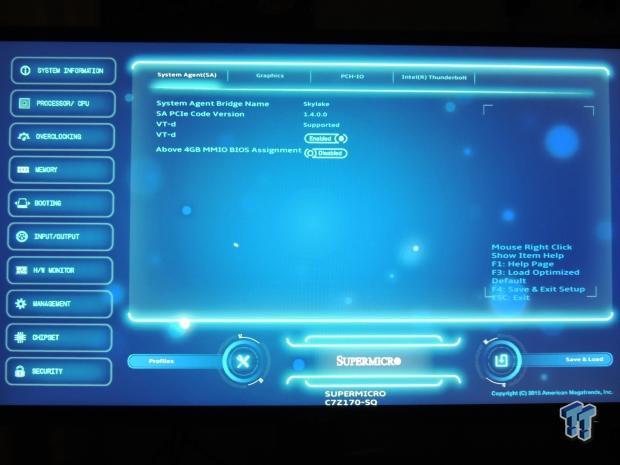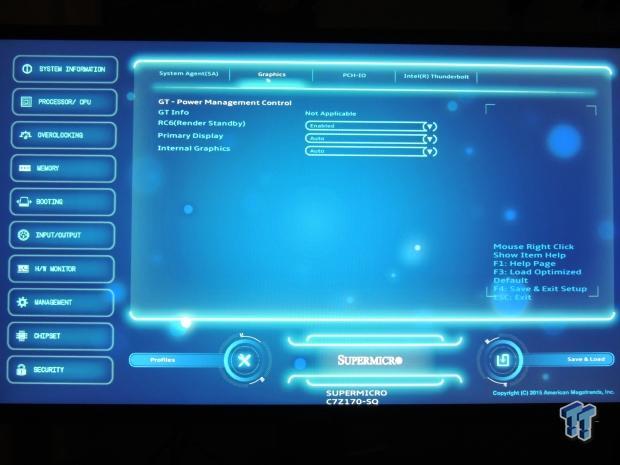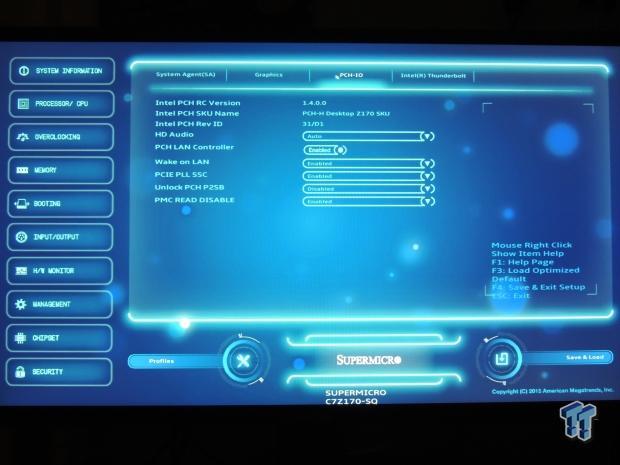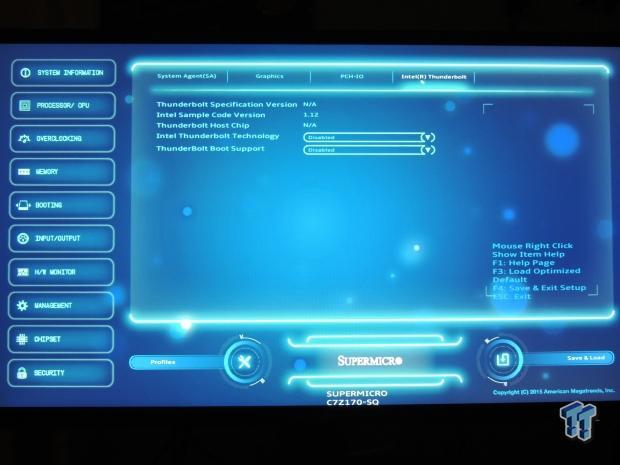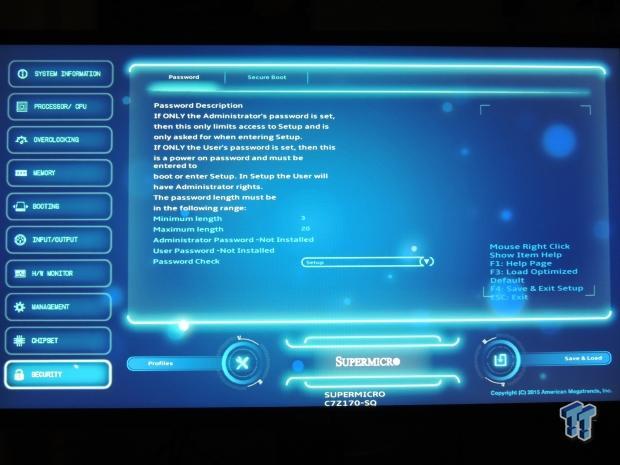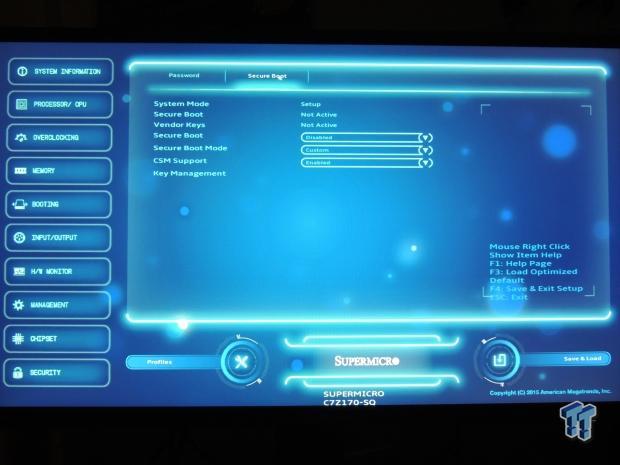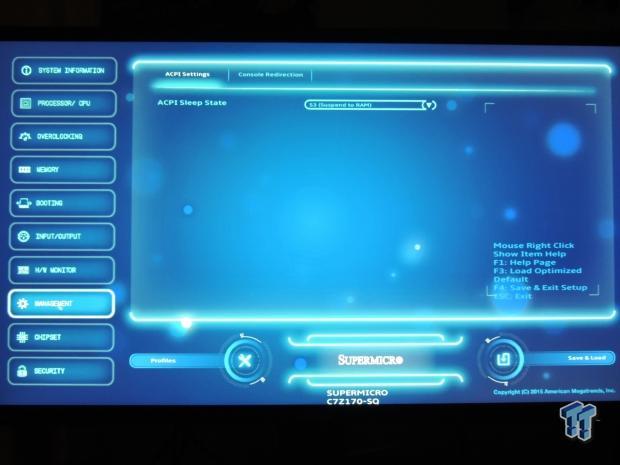 Software
Supermicro provides a disc with drivers and the manual, but there is no SM software that you need to install. You should use Intel Extreme Tuning Utility to overclock in Windows.
Test System Setup
Steven's Motherboard Test System Specifications
This is the new test bench, and it is designed to test every aspect of the motherboard and IO. I have designed it so that the motherboard sits in a case and is cooled by fans always on at a constant rate to keep the conditions similar for all tests. I have cut out part of the case behind the motherboard so I can get thermal images of the back of the PCB where the VRM heat spreads. System and CPU power measurements are now digitally logged.
I am also using a Netgear Nighthawk X4 AC2350 for our network (including wireless AC) tests. The latest M.2, SSD, and USB technologies are also being utilized to test the maximum potential of the motherboards that are being tested.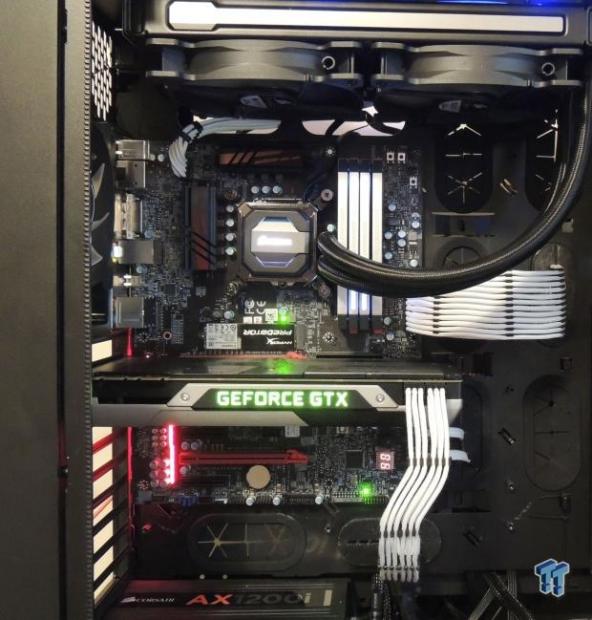 The C7Z170-SE looks much better than previous Supermicro motherboards. It blends into the background and the red hints match the red LEDs well. With enhanced aesthetics, accessories like braided power cables with cable combs (I custom 3D printed them), the motherboard looks quite nice.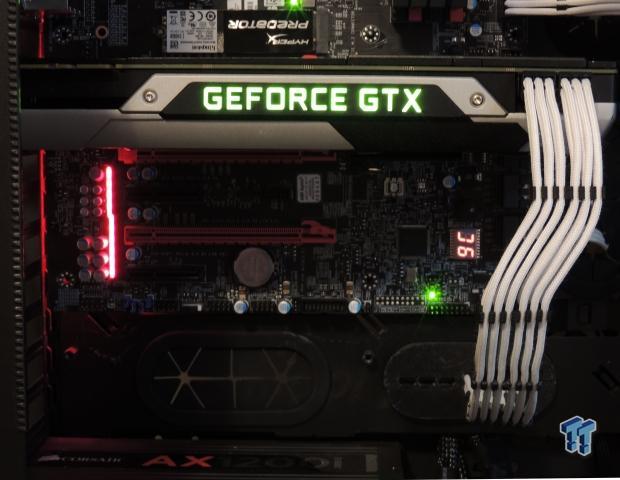 The red LEDs are quite strong, and they provide red light to more than just the audio divide, and illuminate the underside of the motherboard quite well.
Overclocking
Overclocking Results
CPU Overclocking
CPUID recently released their latest CPU-Z version that brings some major changes to the much-loved software. One of these changes has made it harder to get a validation at lower stability levels, so it becomes much more troublesome to validate 5.2GHz at 1.5v with every board. While CPU-Z has changed, many motherboards (not this one) don't have LLC. I have to set a higher voltage to compare all these boards at the same voltage. I have decided to reduce the CPU VCore to 1.4v applied (I will measure real VCore at the output capacitors), and see how high I can validate. On most boards its 5.0. I have also decided to add real voltage levels compared to what is set for all motherboards, if they don't have voltage read points I will mark where I got the readings from.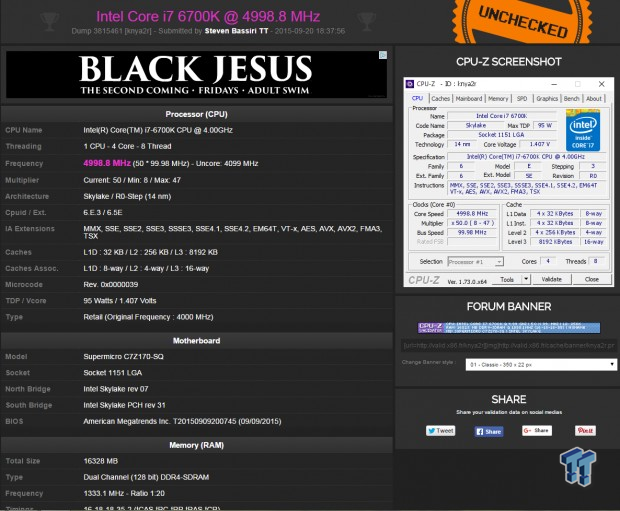 The C7Z170-SQ is doing 5.0GHz just like other high-end boards.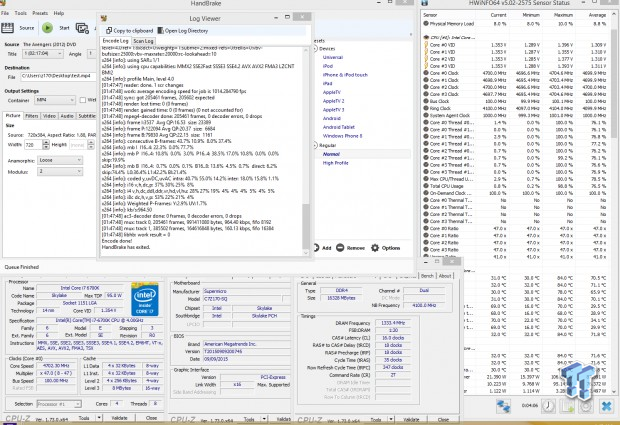 I tested stability at 4.7GHz CPU, 4.1GHz Uncore, and 2666MHz on the memory with 1.4v on the VCore.
I am using HandBrake to transcode a 2GB video, and it is very telling since it pulls all cores to the maximum frequency and load. Handbrake is good for a quick stability check, plus I get a log of the encoding speed and the number of errors. It is very easy for the queue not to finish all the way and just error out, and 1-3 hours of AIDA is about equal to this HandBrake test, so I am replacing it.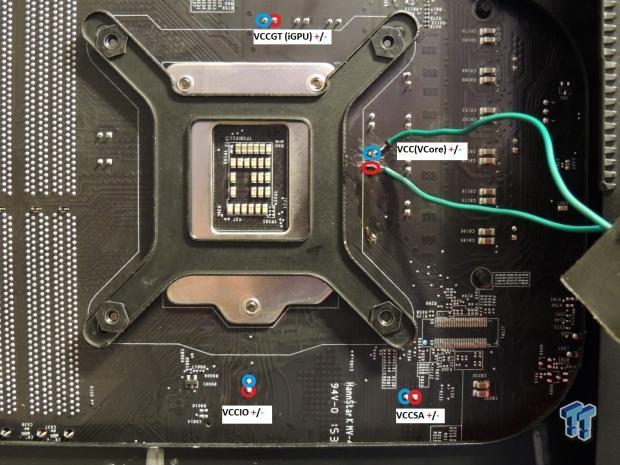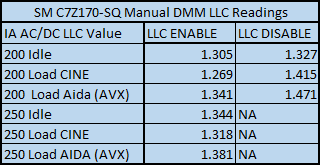 I have marked where you can measure the VCore manually with a digital multimeter, but the LLC is tricky. Supermicro has improved on their LLC (by adding in an LLC setting), so I am sure they can greatly improve on it in future BIOS releases. You have to enable and disable on the main overclocking page; enable allows for less voltage drop at load and disable increases VCore under load. Apart from that you also have AC/DC load line values in the UEFI under IA internal VR settings ( the standard part of the Intel UEFI source code, and is present on other boards as well).
These settings alter the feedback mechanism PWM chips use to control the VCore so that load line can be controlled by the CPU's internal mechanisms as well as external LLC. This internal LLC helps reduce the drop or increase it, any value above 350 (maximum is 6000) resulted in a constant 1.53v no matter what I set, so stay between 100-300, I preferred 200-250.
Be advised, that any software that engages the AVX extension (AIDA64, IBT, etc.) will incur a much larger voltage increase (around 500-700mv on average). I strongly recommend using a digital multimeter to read the VCore manually (CPUz isn't working). Otherwise, higher voltage will result in much higher temperatures and instability.
Memory Overclocking
Test 1: 4x4GB (32GB) Corsair VENGEANCE LPX 2666MHz C16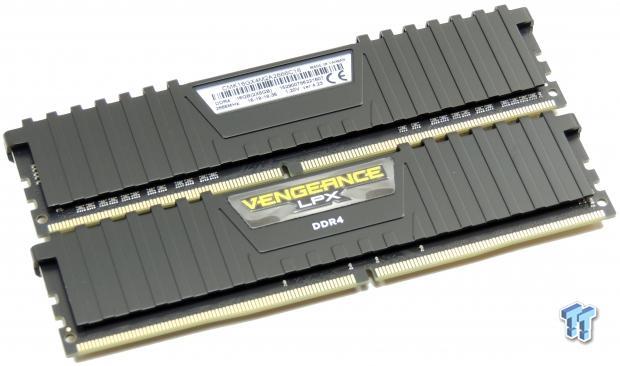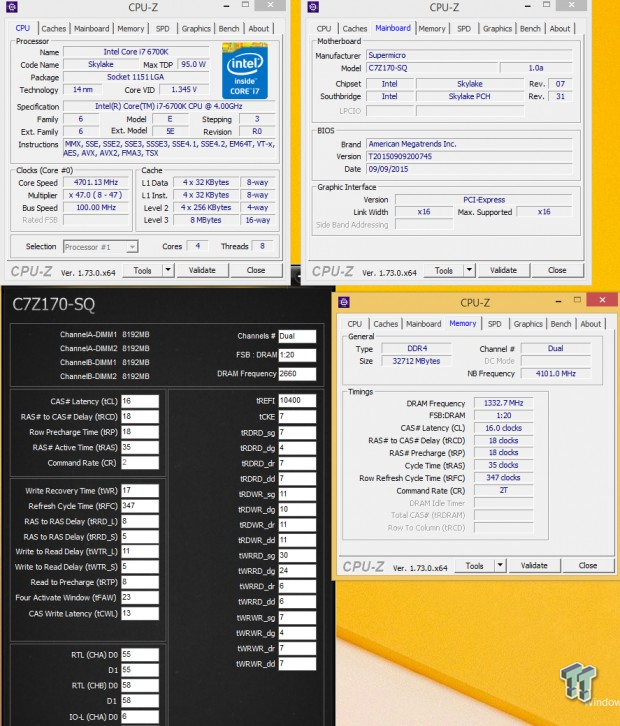 The C7Z170-SQ passed this test easily. I believe that Supermicro worked hard to improve XMP compatibility with higher-end DDR4 kits, and since a month ago it's possible to run high density at relatively high speeds compared to highest speed kits on the market. To be clear, this is two kits of 16GB Vengeance LXP memory not meant to be run together.
Test 2: 4x4GB (16GB) Corsair Dominator Platinum 3200MHz C16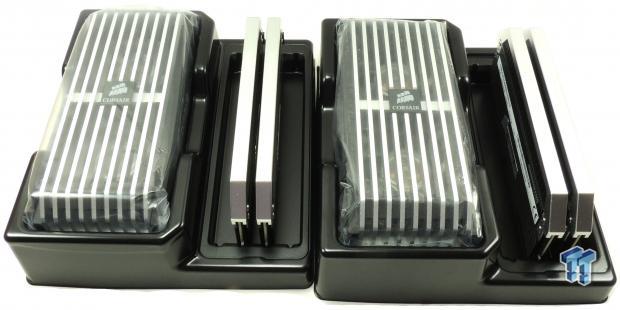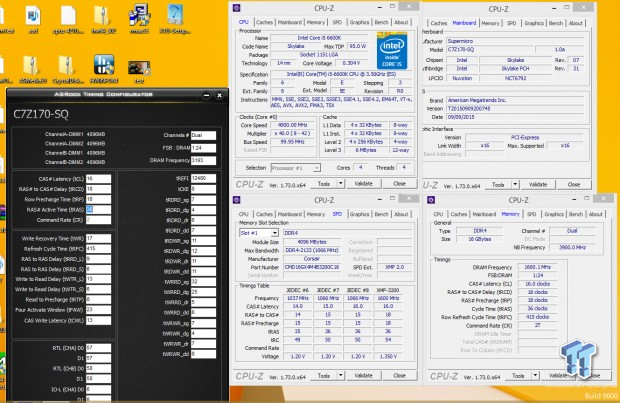 This kit meant for X99 works just fine on the board, which is expected for a Z170 overclocking motherboard.
Test 3:2x4GB (8GB) G.Skill Ripjaws V 3600MHz C17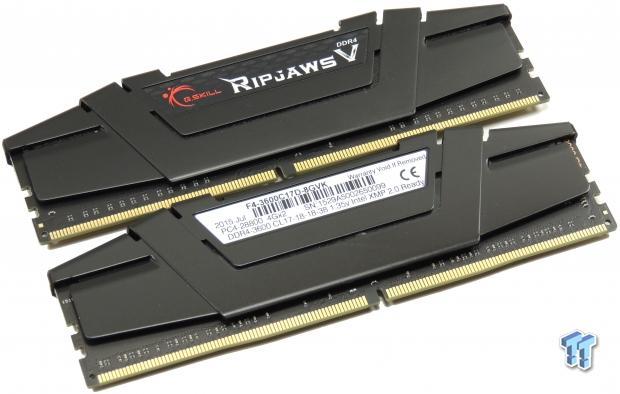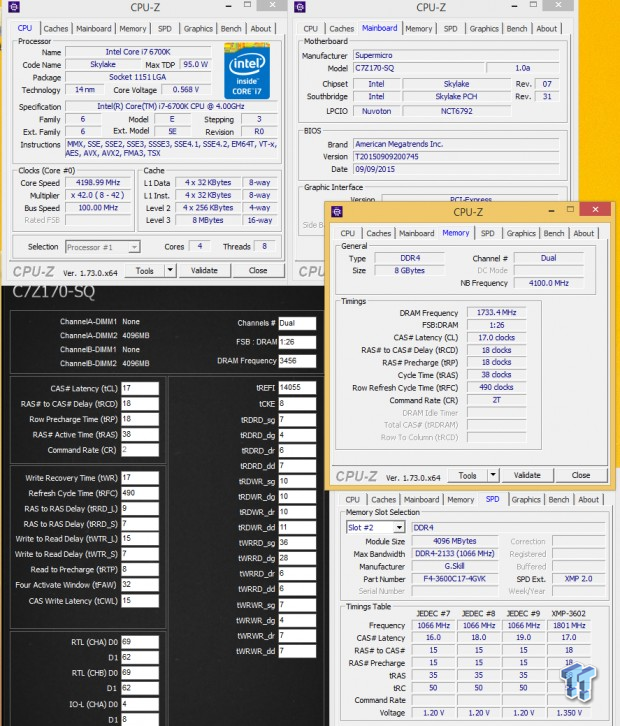 This kit doesn't work on all motherboards. Usually, only overclocking models can even boot this kit by just enabling XMP. The C7Z170-SQ runs this kit at 3466MHz pretty well but getting to 3600MHz proved troublesome when I tried just enabling XMP. Supermicro tells me that I have an older version of this kit (this is a pre-production sample from G.Skill) and that the latter versions work fine with XMP. Overall this kit wouldn't work with earlier BIOSes, but after updating the BIOS it worked.
CPU, Memory, and System Benchmarks
CINEBENCH 11.5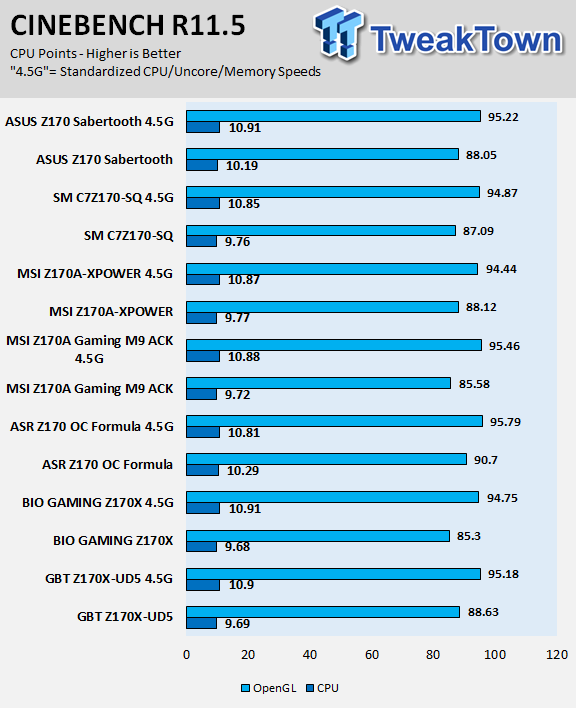 wPrime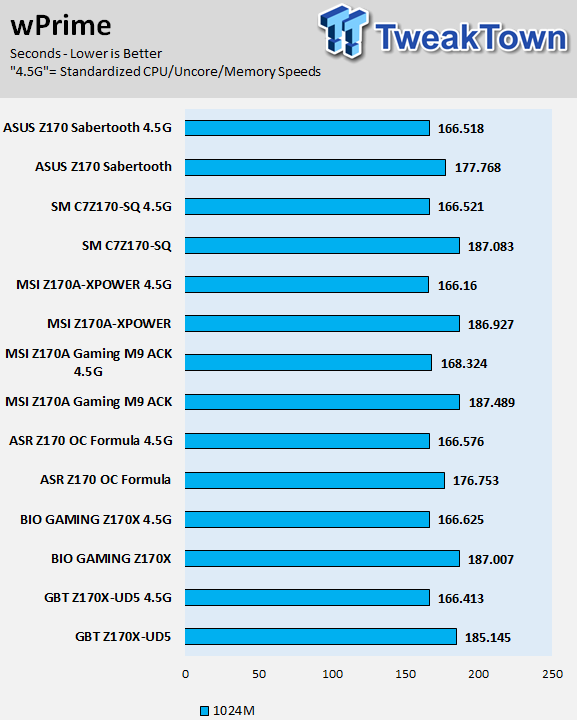 AIDA64 AES and HASH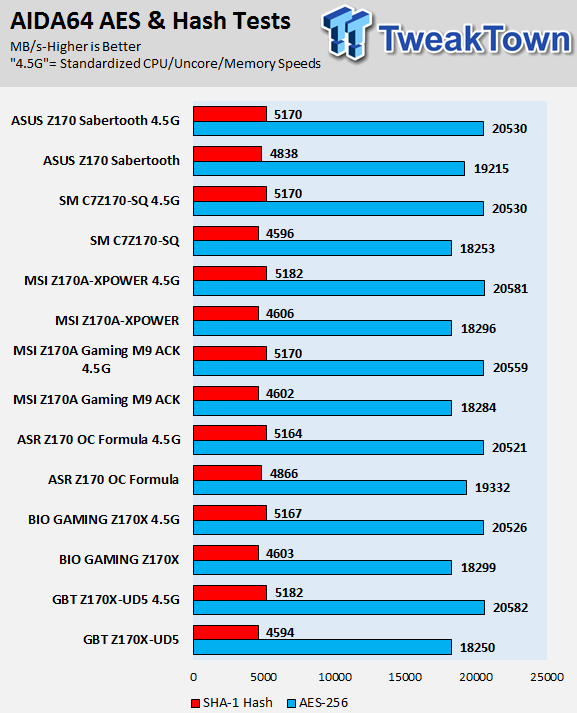 AIDA64 FPU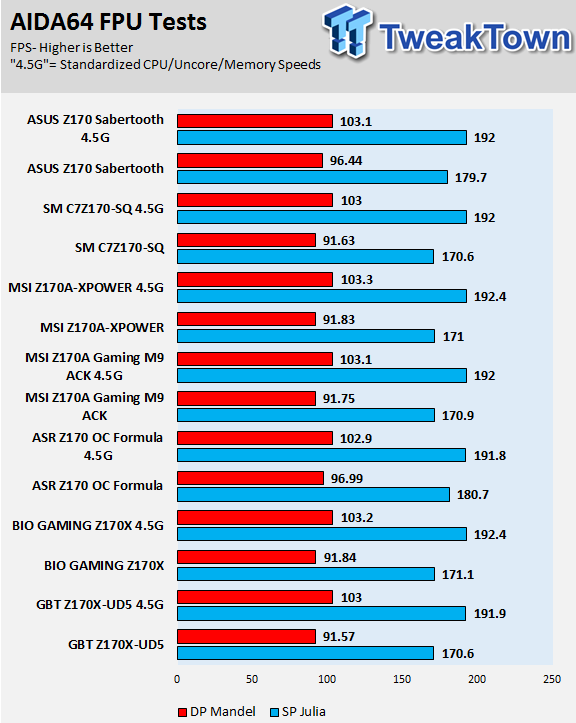 AIDA64 Memory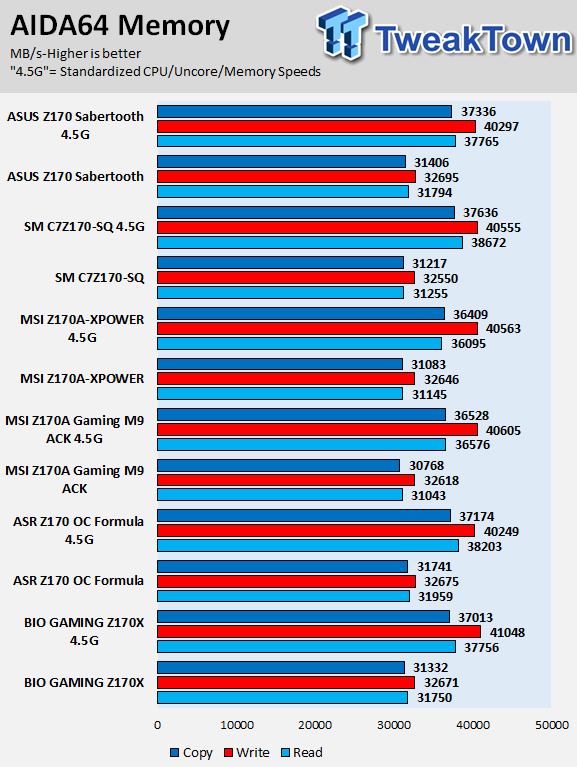 PCMark8 Home Test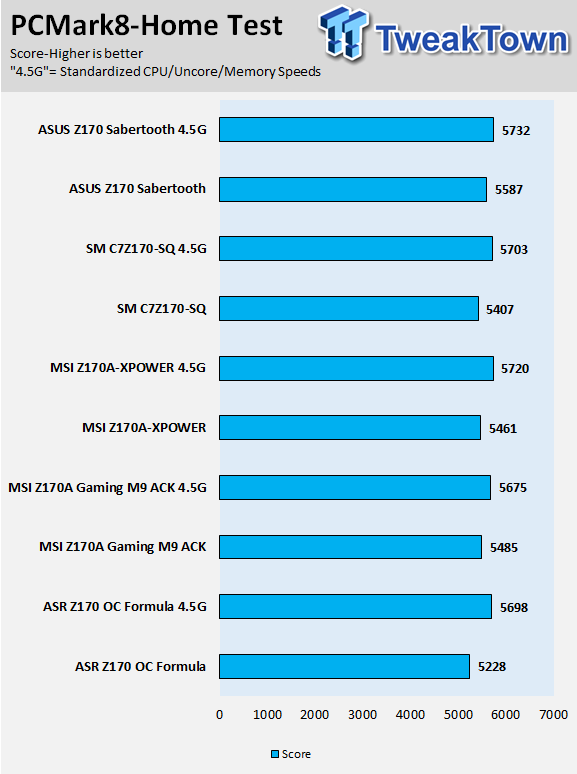 3DMark: Cloud Gate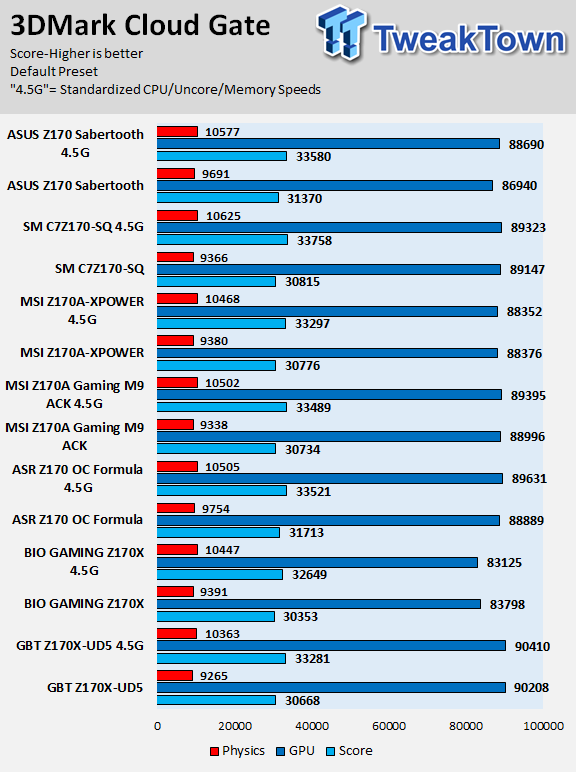 3DMark: Fire Strike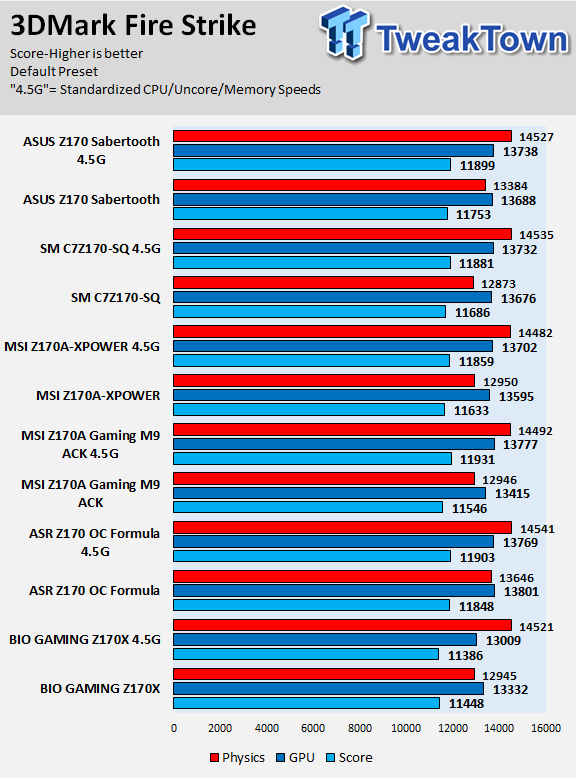 3DMark: IceStorm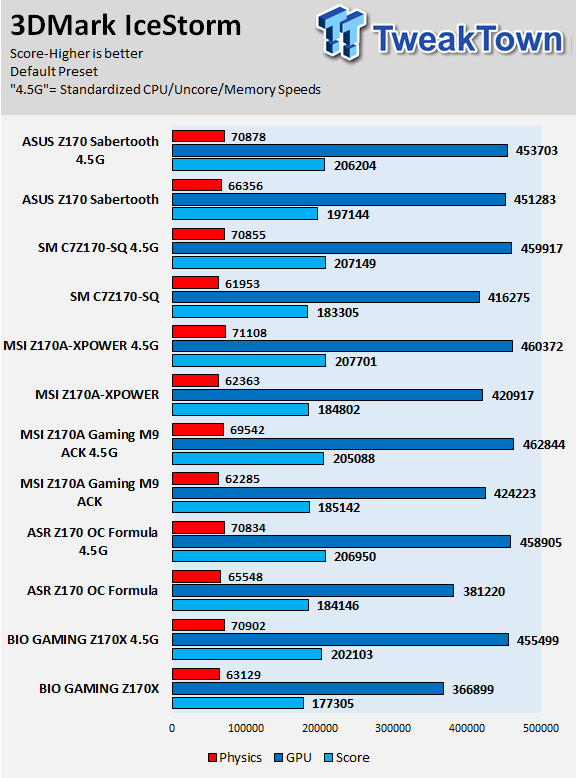 Resident Evil 6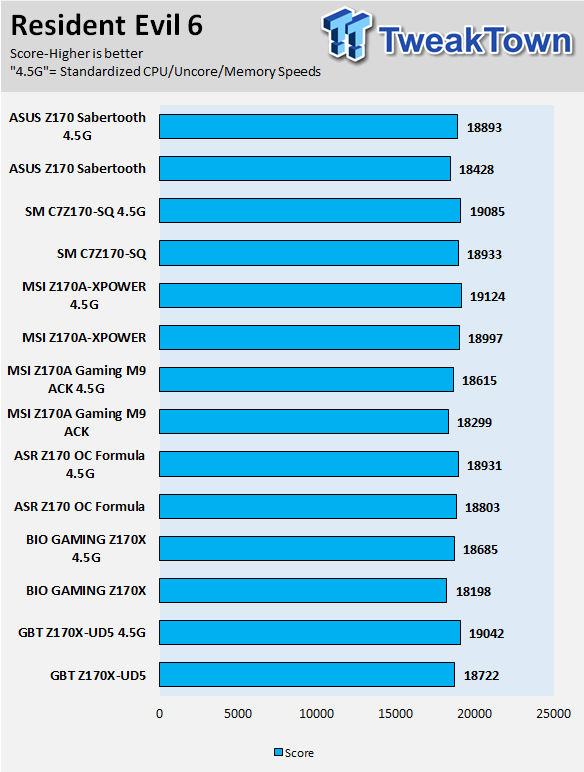 Supermicro's C7Z170-SQ is using Intel's specified parameters for CPU speeds instead of multi-core enhancement which some others in the lineup are using resulting in others scoring a little higher at stock but even with standardized settings. Overall CPU performance is strong, and all around the motherboard keeps up with other more expensive models.
Some motherboard reviewers put a lot of weight into motherboard CPU, memory, and GPU benchmarks, but for me CPU, memory, and GPU benchmarks on motherboards should be more about finding anomalies and I do that at standard settings (4.5G in graphs).
System IO Benchmarks
CrystalDiskMark SATA6G: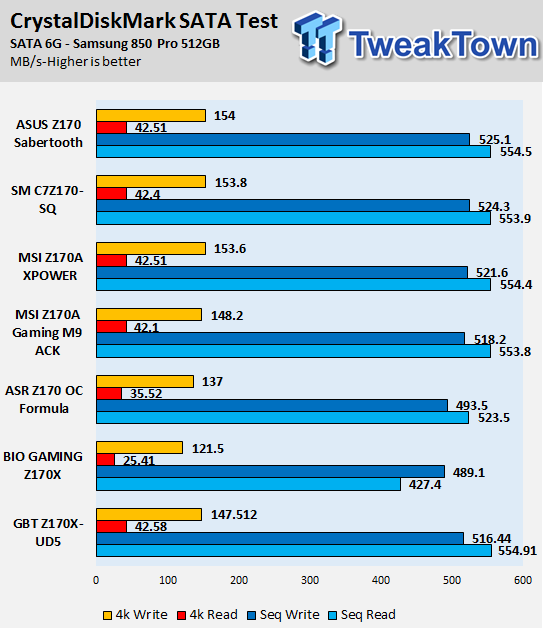 CrystalDiskMark M.2: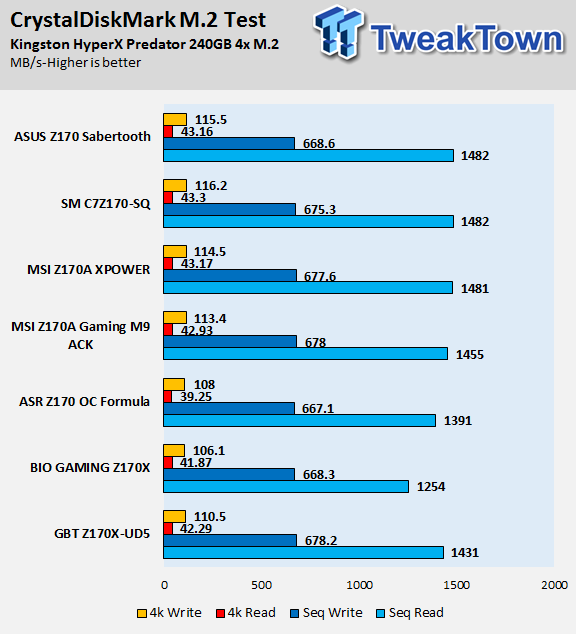 CrystalDiskMark USB 3.0: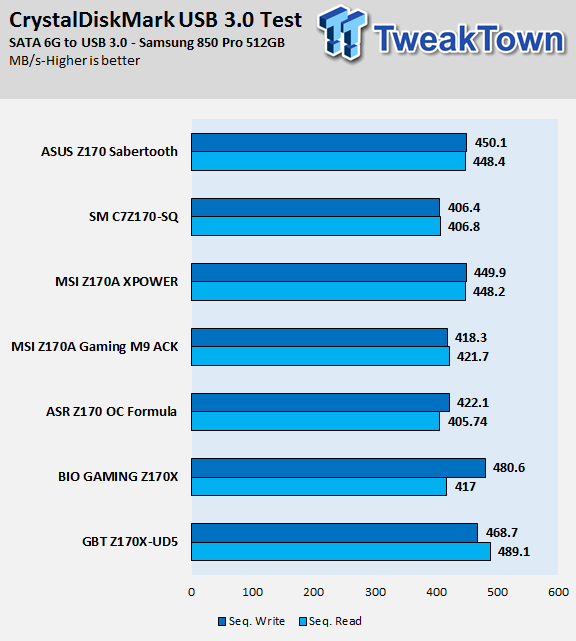 ixChariot Network Throughput: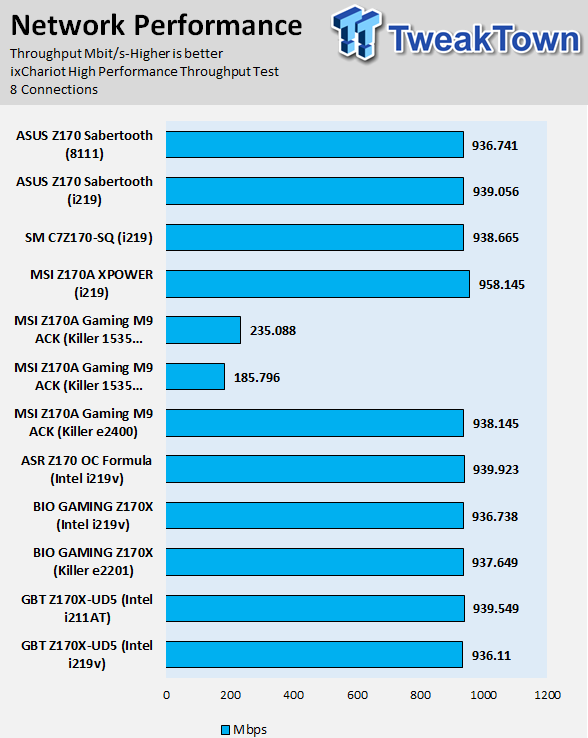 The C7Z170-SQ's storage performance is quite strong in both SATA and M.2 tests. This comes as no surprise considering this is one of the only motherboards with an M.2 slot not being shared with SATA ports. USB 3.0 performance could be a bit better, but network performance is solid.
Audio RMAA 5.5:
I disable all audio features, set the correct bitrates, and then test the audio with a loopback test.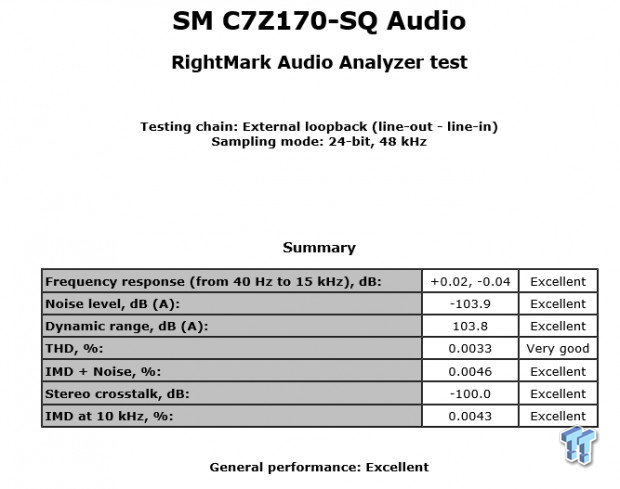 Sound Judgment by Ear: Very Good. There are 5 ratings for audio: 1. Problems, 2. Okay, 3. Acceptable, 4. Very good, 5. Excellent
Thermal Imaging and Power Consumption
System power usage is measured at the AC/DC PSU (the Corsair AX1200i) which I have connected to another system to measure the test system, and as a backup I have a wall meter to verify. The CPU power is measured through the 8-pin connector, which is hooked up to a hall effect IC, which measures current and puts out a voltage in proportion to the current. That voltage is logged by a National Instruments ADC, which logs the DC voltage level that I then convert into current.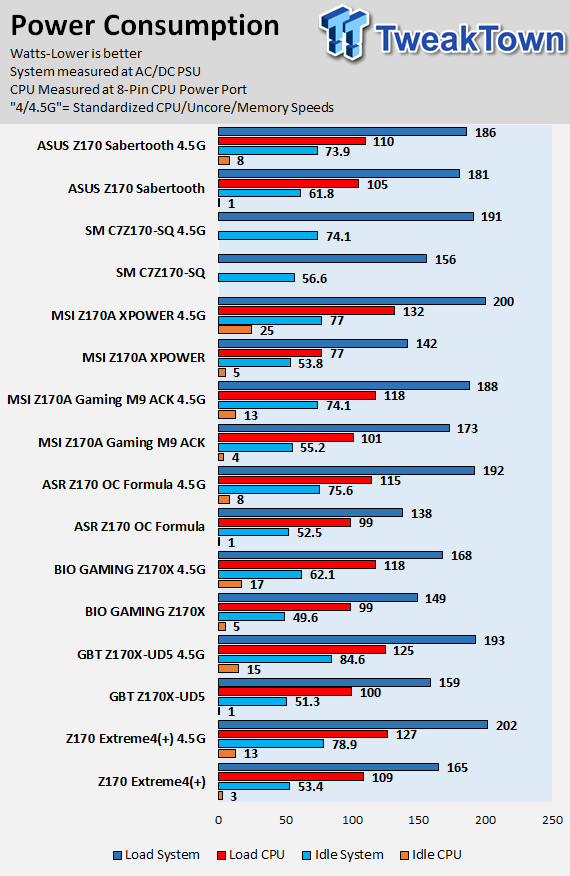 Note on Thermal Images: In the temperature section, we use our Seek thermal imaging camera to capture the surface temperatures of major components on the board. I look at the VRM and then all other things that light up the screen. If there is something to worry about, then I will state it. Otherwise, I will just show the hotter running parts of the board for fun. Unless some component is over 80-90C, then there isn't anything to worry about.
All systems will act differently, so I will look for commonalities, such as how far from the VRM the heat spreads through the PCB and the difference in temperature between the front side and backside of the PCB. Keep in mind, the majority of the heat from the VRM goes into the PCB as it is a giant soldered on copper heat sink. A larger difference in temperature between the back and front of the PCB points towards a more effective heat sink.
Thermal Testing at Stock Speeds:
The image on the left is always at idle, and the image on the right is at load. During ALL TESTS, fans above the VRM that cool the CPU cooler's (Corsair H110i GT) radiator are turned on to high (12v).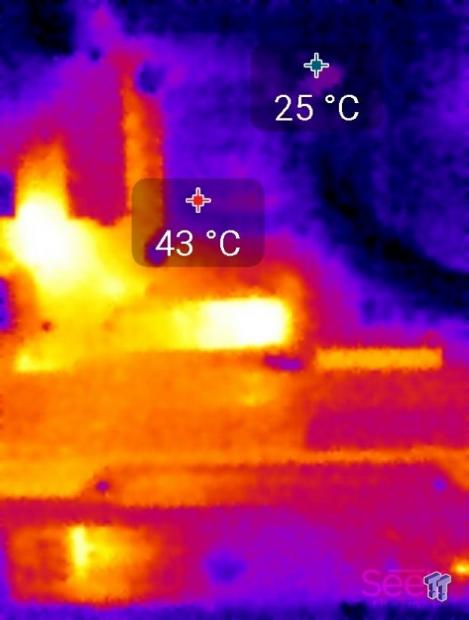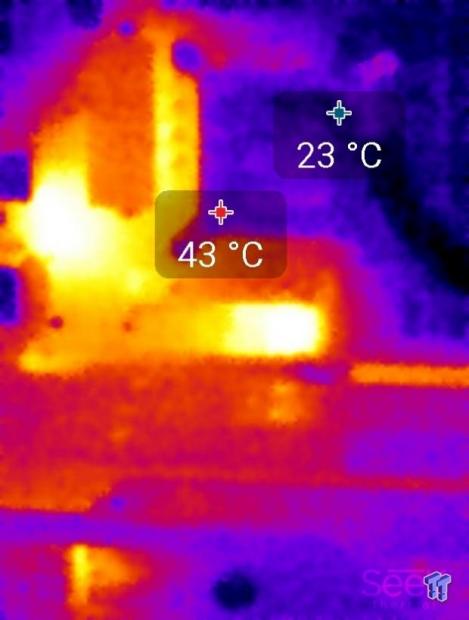 Full frontal.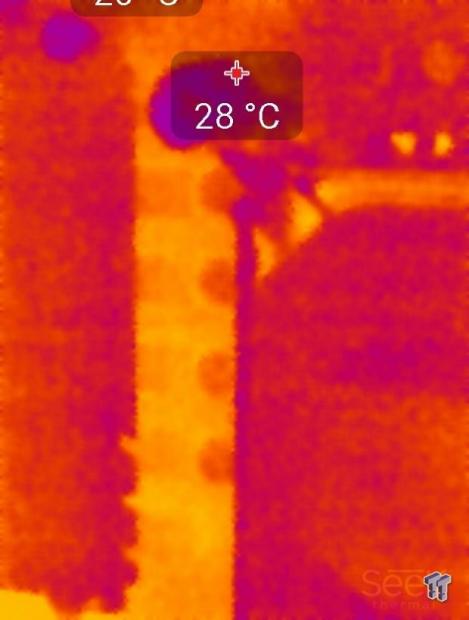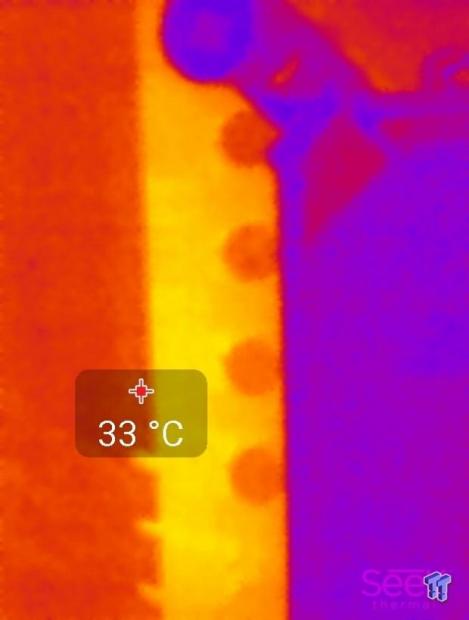 Up-close of the front of the VRM.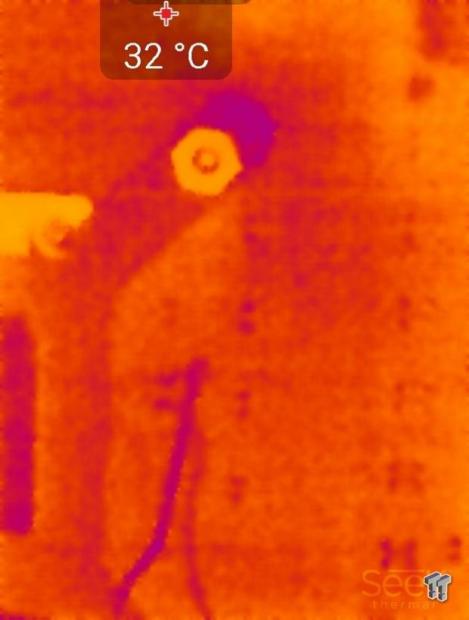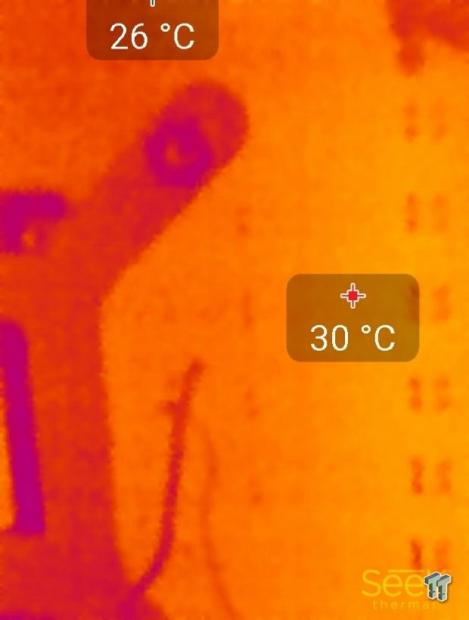 Up-close of the back of the VRM.
Thermal Testing at 4.5GHz Overclocked Speeds:
The image on the left is always at idle, and the image on the right is at load. During ALL TESTS, fans above the VRM that cool the CPU cooler's (Corsair H110i GT) radiator are turned on to high (12v).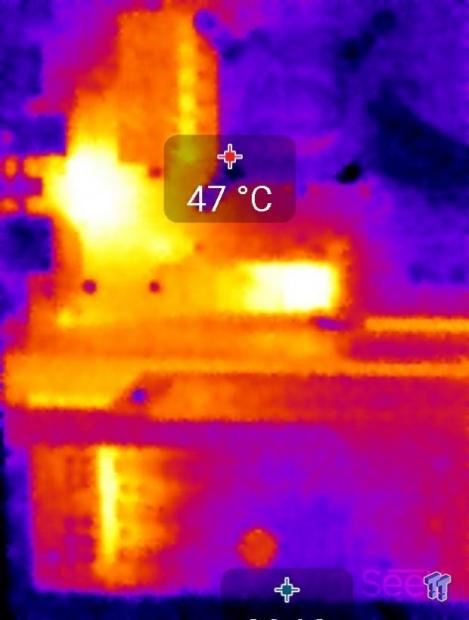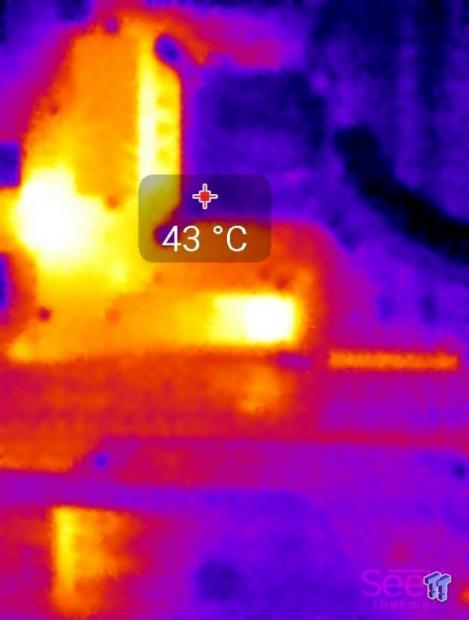 Full frontal.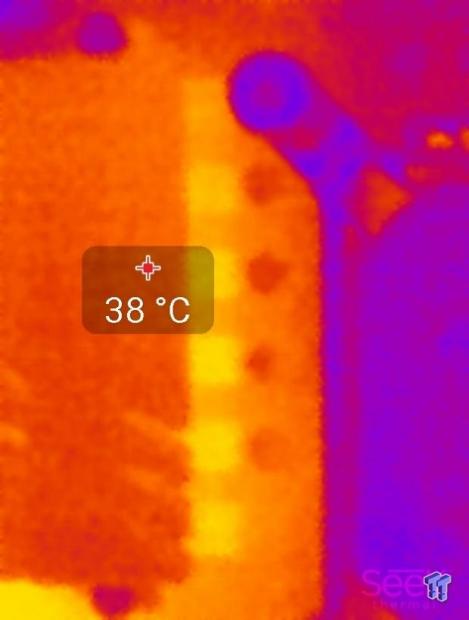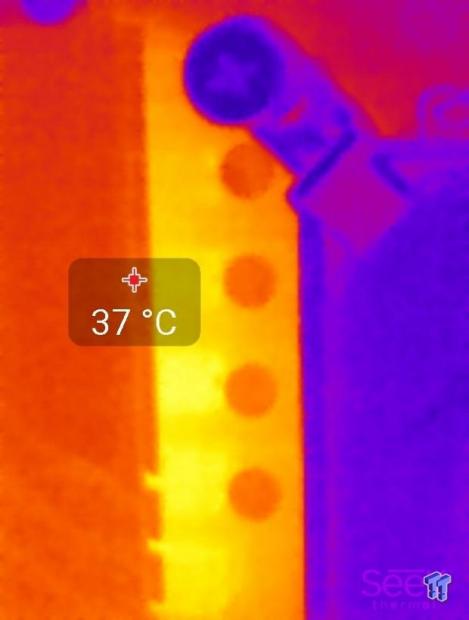 Up-close of the front of the VRM.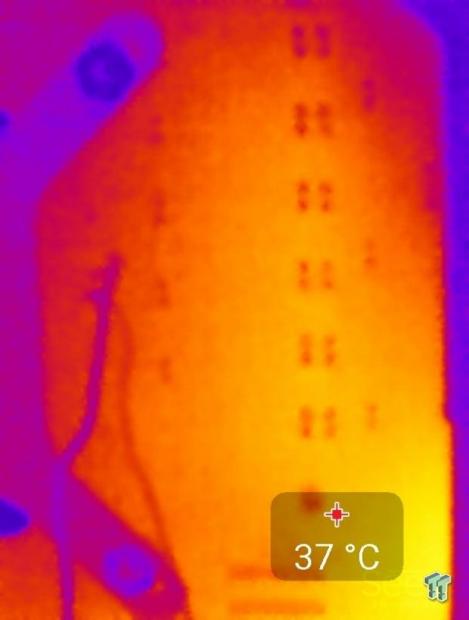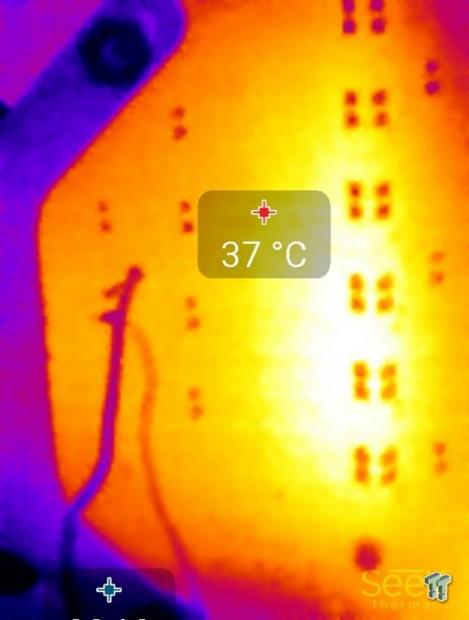 Up-close of the back of the VRM.
This is one of the coolest running VRMs at stock and even overclocked due to its very high-quality server grade components. The 50A power stages coupled with 66A inductors proves to run quite cool, and the PWM ensures even heat dispersion during load by balancing the current load of each phase. Overall this is an excellent VRM.
Power consumption numbers for the CPU VRM alone cannot be attained because like other Supermicro motherboards, the 24-pin also supplies power to the VRM.
Anything under 60C is great, 60-80C is acceptable, and anything above 80C is a bit worrisome (if at stock).
What's Hot, What's Not & Final Thoughts
This is where you can fast forward to the final section of the review, and get a quick recap and points on the Supermicro C7Z170-SQ.
What's Hot
Server Level Quality with Validation: The C7Z170-SQ carries over a wide array of server-level parts and design practices, just like we have seen with previous Supermicro consumer motherboards.
They use higher quality parts throughout including the PCB, MLCCs, and polymer capacitors. Server grade Vitec inductors are also used with Infineon parts for the rest of the VRM. Supermicro also tells us that they run a 100% load with intensive programs running for 150+ hours to test the stability of the product, the same validation process as their server lineup. Their server practices are also evident when you look at the audio, as the results are the best I have seen for a motherboard that only uses the Realtek codec without amplifiers or audio grade capacitors.
No Sharing, Only Caring: The Z170 platform offers a wide array of features, but to expand the feature set of many of their products, many manufacturers employee port sharing through hubs and switches. Supermicro does none of that; making it almost unique. At a minimum, we see other manufacturer share one or two SATA ports with the M.2 slot to provide SATA support, but Supermicro forgoes this practice to provide only PCI-E, so you can run a PCI-E based M.2 drive with six SATA drives all on Intel ports. Nothing on this motherboard is shared or switched other than the 16x PCI-E slots that are a given for this platform, and we see the performance benefit of not using switches in the IO testing.
Overclocking Features and Focus: While the C7Z170-SQ isn't the typical C7XXX-OCE model, it does use many of the same OC features. The post code display, BIOS recovery, onboard ClearCMOS, and power buttons show that Supermicro has overclockers in mind. The ability to disable individual controllers manually through jumpers is also a nice touch. They provide an external clock generator for higher BLCK overclocking as well. The new UEFI is also more overclocking friendly than previous versions from Supermicro, and there are also profiles for more novice users. However, one of the better overclocking features of this motherboard is its powerful VRM that operates at cool temperature due to its high quality.
Value: The C7Z170-SQ provides quite a good value when you take into consideration the high quality and the price point, considering you have to go close to $250 to get the same quality in a Z170 motherboard.
What's Not
Few IO Panel USB Ports: There are only four backpanel USB Type-A ports, and only two are USB 3.0. There is a USB 3.1 Type-C connector, but the lack of Type-C devices doesn't help. Most people will use two USB ports off the bat for a keyboard and mouse, and that only leaves two more unless you add more through the internal headers. I think Supermicro had in mind users who would use the internal headers to provide more USB ports on the back and front of the case, but maybe an included bracket would smooth over this point.
Fan Control: For starters, the C7Z170-SQ does have the same number of fan headers as most other Z170 motherboards, but they are all 4-pin PWM only fan headers. This means that you can use 3-pin voltage mode fans, but they will run full speed. Apart from that, fan control is almost non-existent except for a standard mode (an automatic profile that should suffice for most people), and a full speed mode.
Final Thoughts
The C7Z170-SQ can be found for $210 (Supermicro says it should be $209.99 on Amazon), and it does provide a lot for that price. Many people think motherboards are all the same, but it couldn't be further from the truth. If you are going to work your system hard, the motherboard is going to be worked hard as well. Heat from the CPU coupled with other components can strain the PCB and components, which will reduce their lifespan.
Supermicro is known for high quality, and their C7Z170-SQ exemplifies just that; bringing the latest in server components and digital PWM technology to a reasonably priced motherboard. Some manufacturers have moved away from very high-quality hardware at the $200 price point, but Supermicro is sticking with it, hoping that buyers will notice.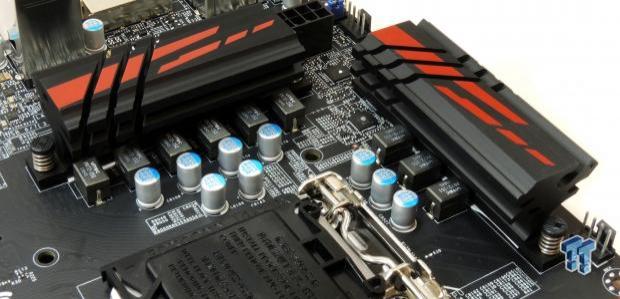 In the end, the C7Z170-SQ offers everything you could expect from a Z170 motherboard, but it does have its caveats. If you use a lot of USB at the back of the case, I recommend buying a cheap $10 USB bracket to stick in one of the case's PCI-E slots for extra USB, the headers are located perfectly for USB expansion. What surprised me was that IO performance was quite strong, but I should have expected it because Supermicro isn't sharing or swapping bandwidth anywhere.
If you want a well-rounded Z170 motherboard with server-level quality and overclocking in an affordable package, then the C7Z170-SQ is worth a look.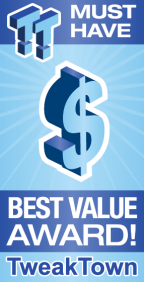 | | |
| --- | --- |
| Performance (including Overclocking) | 90% |
| Quality including Design and Build | 95% |
| General Features | 90% |
| Bundle and Packaging | 89% |
| Value for Money | 93% |
The Bottom Line: If you want a well-rounded Intel Z170 motherboard with server level quality and overclocking in an affordable package, then the Supermicro C7Z170-SQ is definitely worth a look.
PRICING: You can find products similar to this one for sale below.

United States: Find other tech and computer products like this over at Amazon.com

United Kingdom: Find other tech and computer products like this over at Amazon.co.uk

Australia: Find other tech and computer products like this over at Amazon.com.au

Canada: Find other tech and computer products like this over at Amazon.ca

Deutschland: Finde andere Technik- und Computerprodukte wie dieses auf Amazon.de
We openly invite the companies who provide us with review samples / who are mentioned or discussed to express their opinion. If any company representative wishes to respond, we will publish the response here. Please contact us if you wish to respond.