Pixels (2015) Cinema Movie Review
'You can't kill Q-Bert! You gotta talk to it, get to know it better. Then kill it!'

Published
2 minutes & 51 seconds read time

Pixels (2015)
As a self-confessed vintage gaming nerd/pop culture obsessee and a huge fan of Patrick Jean's 2010 viral short film 'Pixels', I've been eagerly awaiting the promised big screen adaptation and followed its production for some time.
Despite the casting of two of my least favourite comedians of all time; Adam Sandler and his frequent cohort Kevin James, I held out hope that director Christopher Columbus could reign in their grating style of egocentric, crass humor and present fans a love letter to the games of a youth misspent plunging coin after coin into an arcade cabinet, and investing hours in their console recreations. How spectacularly wrong was I.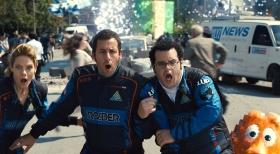 As a youth, Brenner (Adam Sandler) was robbed of the mantle of Donkey Kong world champion by nemesis Eddie (Peter Dinklage), which set in motion a series of events that led to his talent being squandered installing home theatre equipment in the present day. But when an alien force mistakenly interprets video game signals broadcast into space as a declaration of war, Brenner and Eddie are forced to team up in order to save the world from annihilation at the hands of the same 8-bit sprites they've defeated time after time - behind a CRT screen.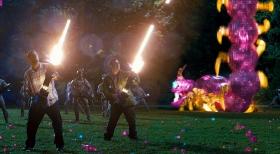 A fast paced action comedy joining together some of the biggest arcade video game franchises such as Donkey Kong, Super Mario, Q*Bert, Frogger, Burger Time, and Pac Man (just to name a few) really should be an easy sell, transcending age, sex and location. But Pixels is a stumbling, pathetic excuse of a film which quickly squanders any goodwill and nostalgia for the collective memories of the audience's own gaming memories.
Such is the film's complete shunning from audiences (the film is expected to post a $75 million loss after international grosses are finalized) that it ensures that there'll never be a film like it for a very long time. But the fault isn't in the classic characters and it doesn't signal an inherent distaste from audiences to see a film of such concept. No, the fault lies in almost every other aspect of the film - its story, acting, direction, and general execution.
Let's face it - the notion of Adam Sandler as a bankable star has long since passed, with a career on a steadily declining slope since 1998's The Wedding Singer. Following project after project of mediocre and cheaply made 'comedies', his name is more of a liability for the vast majority of cinemagoers. Why he was cast in Pixels is simply because his production company, Happy Madison (in conjunction with Sony Pictures), successfully won the bid to turn the short film of the same name into this film. Still, you'd think with a bit of skin in the game, he'd at least try a little harder than the half-assed performance he phones in here. He is capable of more, but here he looks tired, bored and just, well, old.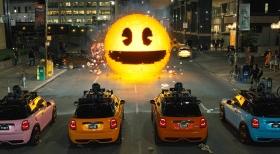 Faring slightly better is comedic sidekick Josh Gad and love interest Michelle Monaghan who at least try their best with the material at hand. Still, the blossoming romance between the male and female leads is eye-rolling at best and embarrassing at worst. Game of Thrones has given Peter Dinklage's career a shot in the arm, but his character is little more than a pain in the ass.
Director Christopher Columbus, well known for some huge successes over the years, including comedies such as Home Alone, Mrs. Doubtfire, and youthful visual epics such as the first two Harry Potter adaptations and Percy Jackson & the Olympians displays none of the comic timings or visual flair that he's known for.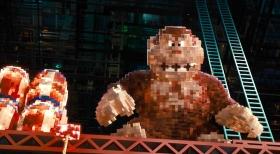 I wanted to like Pixels, I really did. It seems like a film that wasn't just relevant to my interests, but made for me. But Pixels does almost everything wrong. But for all the jokes that fall flat, its poor acting, annoying characters, and a script that must read worse than a phone book, its worst crime is that it wastes decades of amazing video game characters. Just like Mickey Mouse and Bugs Bunny appearing in the same frame in Who Framed Roger Rabbit, this opportunity surely won't present itself again.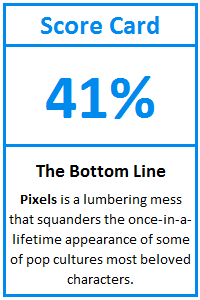 PRICING: You can find products similar to this one for sale below.

United States: Find other tech and computer products like this over at Amazon.com

United Kingdom: Find other tech and computer products like this over at Amazon.co.uk

Australia: Find other tech and computer products like this over at Amazon.com.au

Canada: Find other tech and computer products like this over at Amazon.ca

Deutschland: Finde andere Technik- und Computerprodukte wie dieses auf Amazon.de
We openly invite the companies who provide us with review samples / who are mentioned or discussed to express their opinion. If any company representative wishes to respond, we will publish the response here. Please contact us if you wish to respond.