ASRock Fatal1ty Z170 Gaming K6 (Intel Z170) Motherboard Review
Our second Intel Z170 motherboard reviews comes in the form of ASRock's Fatal1ty Z170 Gaming K6. It offers solid gaming features for the price.
Published Fri, Aug 7 2015 8:38 AM CDT
|
Updated Tue, Nov 3 2020 6:59 PM CST
Rating:

90%
Manufacturer: ASRock
Introduction, Specifications, and Pricing
Intel's Z170 chipset landed recently and with it comes a slew of enticing motherboards. Many brands have done their best to diversify their lineups with unique features and aesthetics to compliment the new chipset and its rich connectivity.
ASRock has carried over their Fatal1ty gaming line up to the Z170 platform, and today I have the Fatal1ty Z170 Gaming K6, which is aimed at mainstream users who want an affordable gaming motherboard. The chipset is loaded with 26x I/O ports which can be configured as USB 3.0, SATA6G, or PCI-E 3.0. Out of those 26 ports, six must be USB 3.0, leaving 20 of which four can be allotted to more USB 3.0 or PCI-E. Out of those leftover 16 ports (all of which can be PCI-E 3.0), there is support for a maximum of six SATA6G ports, which can be configured as SATA6G or PCI-E 3.0.
To take things to a new level, those 16 ports also support three sets of 4x PCI-E lanes with iRST support for M.2 slots which can be used in RAID (each M.2 slot must also have two SATA connections blended in). This means that there will be many motherboards with different configurations catering to the target users of each individual motherboard. In the past, the Fatal1ty series has done a nice job of satisfying the needs of gamers and enthusiasts alike, so let's see how ASRock's newest Fatal1ty board does.
Specifications
The ASRock Fatal1ty Z170 K6 has a large feature set, most of them from the PCH, and a few others added to increase port count. Above the included SATA and USB 3.0 from the PCH, ASRock has added two extra SATA ports and two USB 3.1 ports (one type-A and one type-C). ASRock is also using Killer's latest gaming NIC, and they upgraded the audio section of the board. The motherboard supports 2-way SLI and 3-way CrossFireX.
Pricing
The price of the Fatal1ty Z170 Gaming K6 is currently $185 on Newegg, and the price of the K6+ version (comes with front panel USB 3.1 bay) is $200. This puts the K6 is the mid-range of currently available Z170 motherboards.
Packaging and the Fatal1ty Z170 Gaming K6
Packaging and the Board
ASRock's box features their new original logo which is supposed to resemble the claws of a Pray Mantis. Packaging is well done, the board is on top of anti-static foam inside and anti-static bag protected from the elements.
Accessories include 4x SATA6G cables, IO shield, 2-Way SLI bridge, screw for M.2, driver DVD, case badge, and manuals.
The ASRock Fatal1ty Z170 Gaming K6 has 6 fan headers circled in blue, and there does seem to be both PWM and dc (voltage mode) fan control for each header, but I am unsure how to change the fan to either PWM or DC mode, it might be automatically done. This is a welcomed upgrade from their X99 motherboards, and ASRock provides a lot of customization options in the UEFI for fan speed.
For Z170, ASRock has stepped up the aesthetics of their Z170 motherboards, and the gaming series has been made over. A plastic shield covers up the IO panel and the audio section of the motherboard while providing a glimpse of the audio hardware as a teaser. ASRock is using more neutral black tones on their heat sinks with touches of red, which is much easier to match with case accessories compared to their previous solid color scheme. The PCH heat sink has a raised praying mantis logo, and it actually fits in quite nice with the rest of the aesthetics. The back of the PCB is pretty much bare except for two drivers for the VRM, and ASRock's USB 3.1 driver and switch chip.
The IO Panel features 6x USB 3.0 ports, 1x USB 3.1 Type-A, 1x USB 3.1 Type-C, a single NIC, DVI, HDMI, DisplayPort, PS/2 KB/Mouse, 7.1 audio outputs with TOSLINK, and a clear CMOS button.
The PCI-E layout is pretty simple; for starters all PCI-E slots are PCI-E 3.0. The black ports are all PCI-E 3.0 1x ports directly routed to the PCH and the last full sized 16x slot is 4x directly routed to the PCH. The first and second PCI-E 16x slots are 16x and 8x electrical and operate at 16x/0x or 8x/8x if both slots are occupied.
The Z170 PCH provides six SATA6Gb/s ports, so ASRock added two more through an ASMedia controller. There are two SATA Express ports which share four SATA ports with the PCH's ports. One of these SATA Express ports shares bandwidth with the M.2 slot, so if either is in use then the other is disabled. A USB 3.0 internal header is located right below the 24-pin connector as well for an easy reach for front panel USB 3.0 wires.
ASRock is now in their third generation of upgraded integrated audio with Purity Sound 3. It features Nichicon fine gold capacitors, dual amplifiers, and PCH isolation.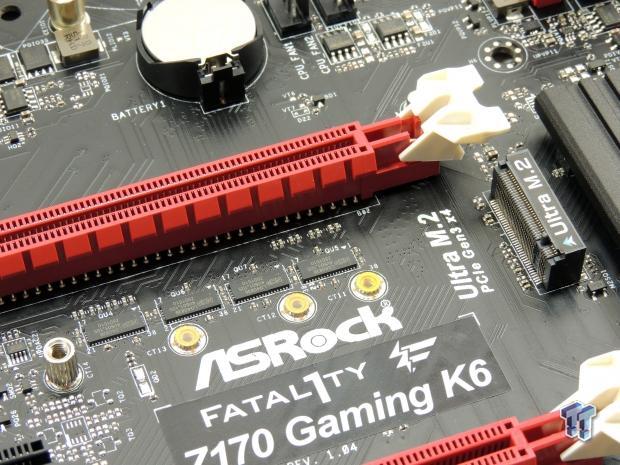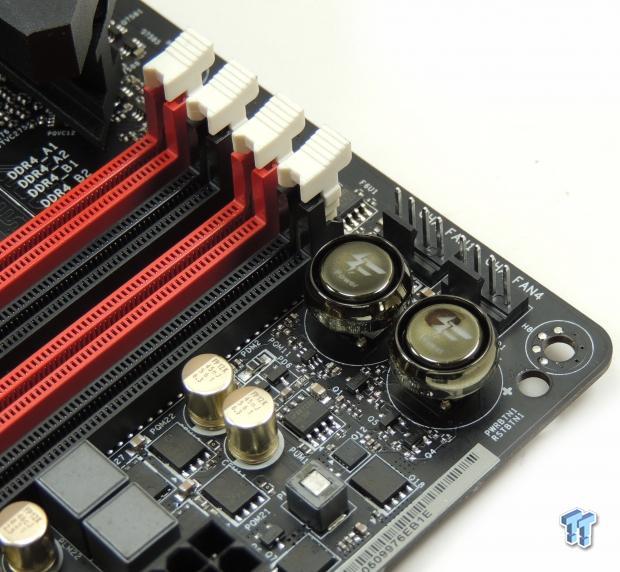 The M.2 slot on the Fatal1ty Z170 Gaming K6 runs at 4x PCI-E 3.0 (32Gb/s). If you use the M.2 slot, then SATA Express (SATA_EXP0) and its corresponding SATA ports (SATA3_0 and SATA3_1) are disabled. ASRock has located two customized backlit buttons at the top of the motherboard, one is for power and the other is for reset capabilities.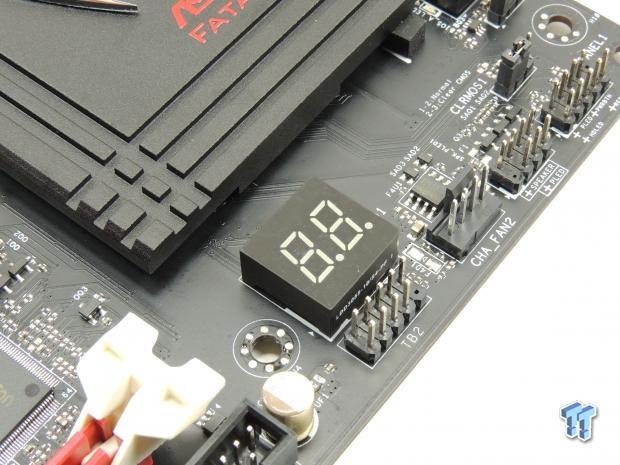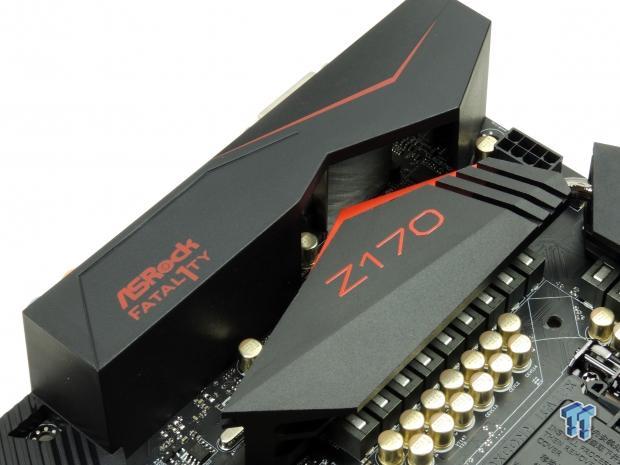 A POST code display is located at the bottom of the motherboard right above a header for an add-in ThunderBolt car. ASRock's IO shield covers up the IO panel while their heat sinks do a nice job cooling the VRM.
The heat sinks make solid contact with the PCB. The shield over the IO panel and audio section is made of plastic, but it looks high quality.
Fatal1ty Z170 Gaming K6 Circuit Analysis
Circuit Analysis
In my opinion, motherboards look best when they don't have any heat sinks on them, but I know a lot of you like your heat sinks so I will take them off and do the circuit inspection so you don't have to!
If you count the phases, there are a total of 13 shown in the image above. There are four major input rails to the CPU for Z170; VCC (VCore), VCCGT (Graphics core), VCCSA (System Agent), and VCCIO (CPU IO). A single phase boxed in green powers the VCCSA, the eight phases boxed in blue power the VCore, and the four phases boxed in red power the graphics voltage. ASRock is using a 4+2 phase PWM which has its phases doubled to 8+4. ASRock is using 60A inductors along with their 12K gold capacitors.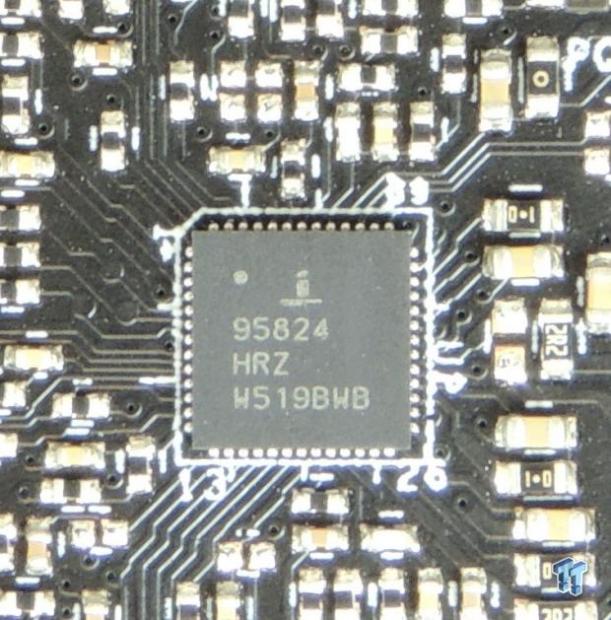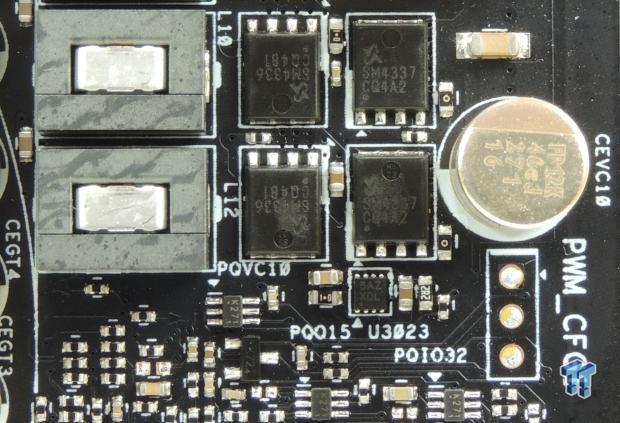 The Intersil ISL95824 is a hybrid digital PWM which has a total of 4+2 phase outputs with three integrated drivers. The PWM provides two integrated drivers for the CPU VRM, which ASRock compliments with two ISL6625A located on the backside of the motherboard, and the third integrated driver powers half the iGP voltage output and ASRock compliments it with another ISL6625A located on the top side of the PCB. ASRock isn't using phase doublers, so the VRM is like a big doubled up four phase VRM.
Each inductor gets one pair of Sinopower SM4336 for the low-side MOSFET and one SM4337 for the high-side. I would estimate each phase can output around 20A and stay cool enough, which is acceptable considering the low power nature of Skylake. I think most manufacturers have decided to go with four phase PWMs for the CPU output, as I look at other products from other brands, I see this same configuration, with more expensive products having more phases.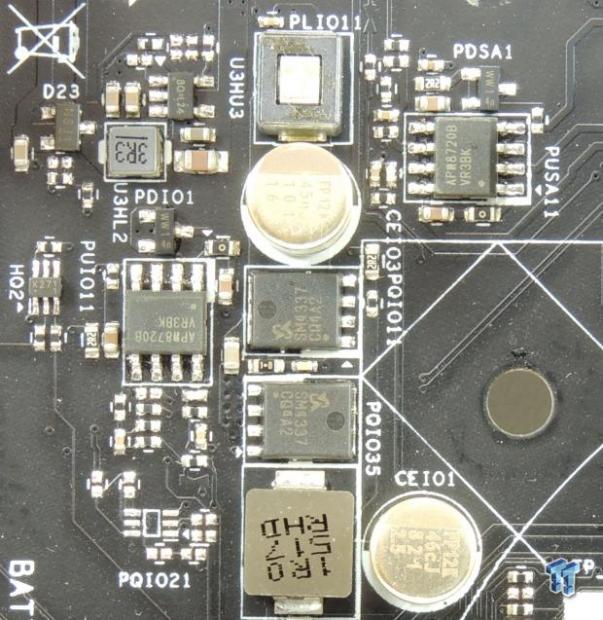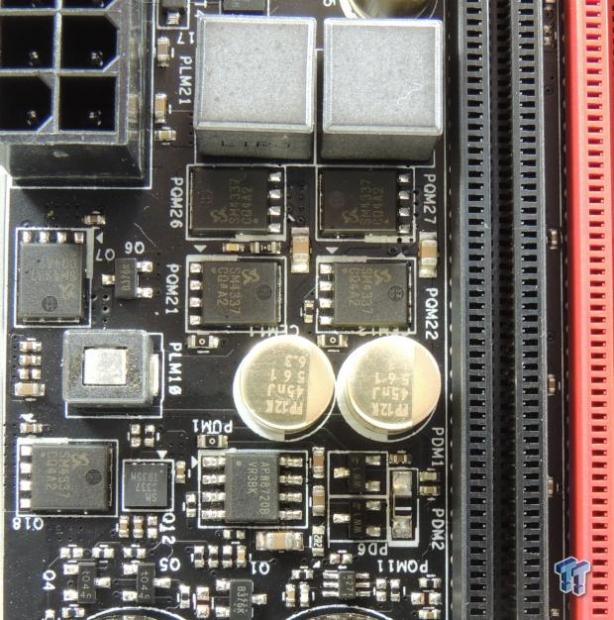 The VCCSA and VCCIO are each powered by their own Anpec APW8720B single phase voltage mode analog PWMs with integrated drivers. While the VCCSA uses the same 60A inductors as the VCore phases, the VCCIO uses a lower profile power inductor but the same MOSFETs. The memory VRM uses a single PWM phase from the Anpec APW8720B and doubles up the MOSFET and inductor count just like the VCore and iGP voltage VRMs.
Another single phase Anpec VRM setup is used right below the memory slots, it could be used to power the DDR VPP or the PCH.
Fatal1ty Z170 Gaming K6 Circuit Analysis Continued
Circuit Analysis Continued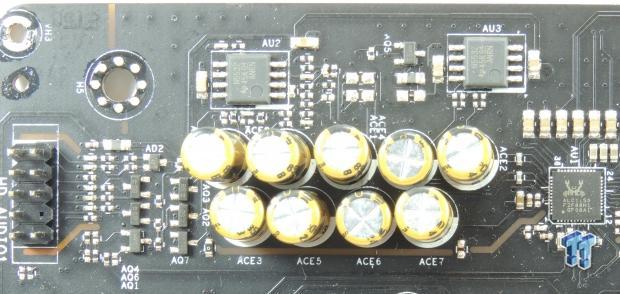 ASRock has upgraded the basic Realtek ALC1150 codec with two Texas Instruments NE5532 which support up to 600ohm impedance, and has added nine Nichicon Gold Series electrolytic audio capacitors. ASRock also has divided the audio signals from the rest of the motherboard to reduce noise interference with a physical PCB divide, but there are no back-side LEDs like I have seen on some other boards.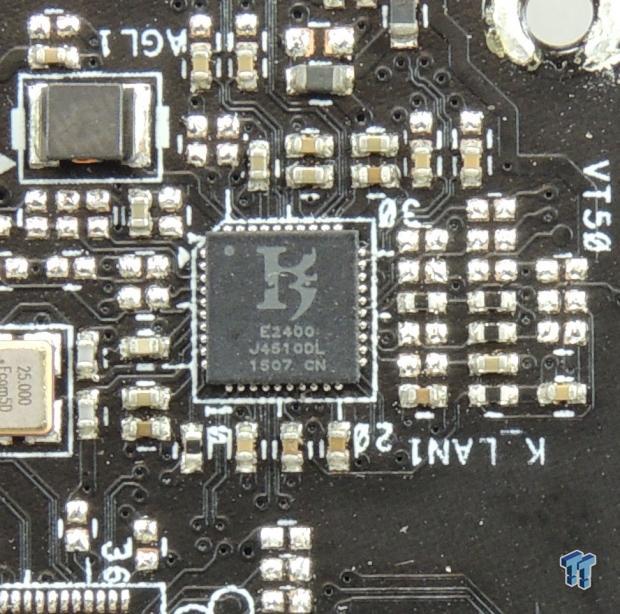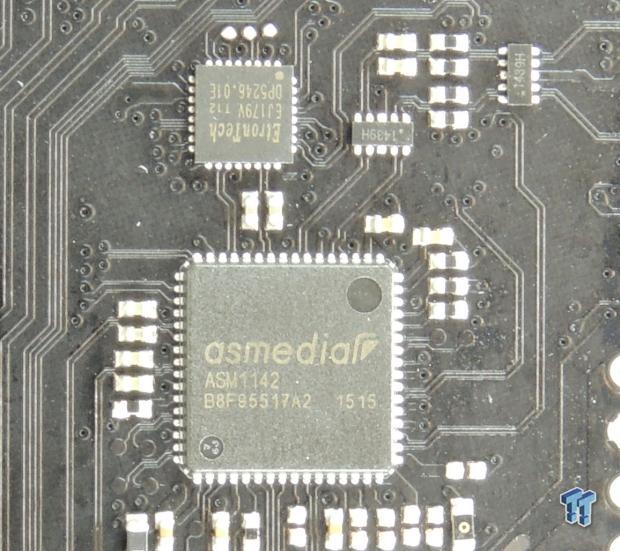 ASRock is using Qualcomm's Killer series e2400 1Gbit gaming NIC which was recently released. For USB 3.1 support on the IO panel ASRock is using an ASMedia ASM1142 for the actual PCI-E to USB 3.1 conversion and an EtronTech EJ179v which supports external power source logic control and up to 15W (5v@3A) of output power to USB 3.1 type-C devices.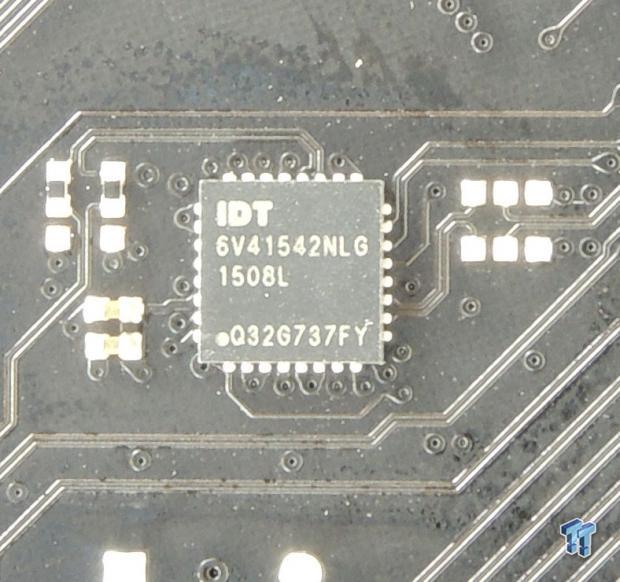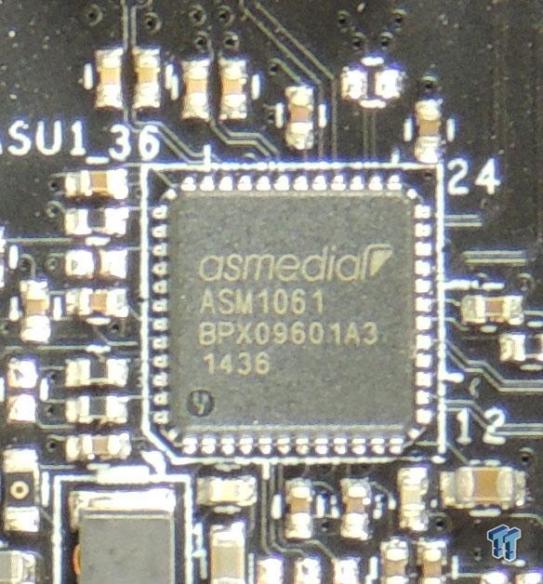 An IDT6V41542NLG is used as a secondary clock generator to provide much higher BLCK margins than the clock generator Intel provides. An ASMedia ASM1061 is used to provide two SATA6Gb/s ports.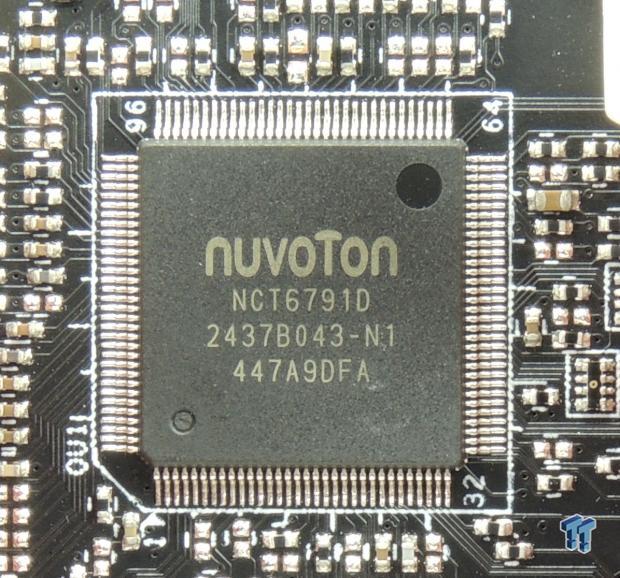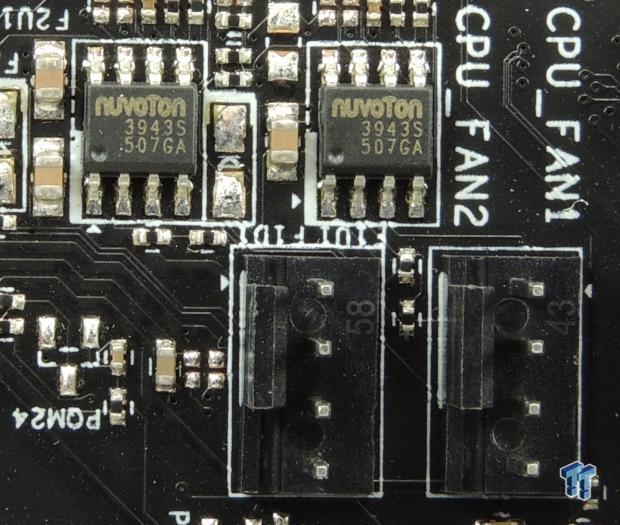 The nuvoTon NCT6791D provides SuperIO functionality such as temperature, voltage, and fan monitoring and control as well as the PS/2 port on the backpanel. To support each fan header and provide all of them with PWM support, ASRock is using a single nuvoTon NCT3942S for each header.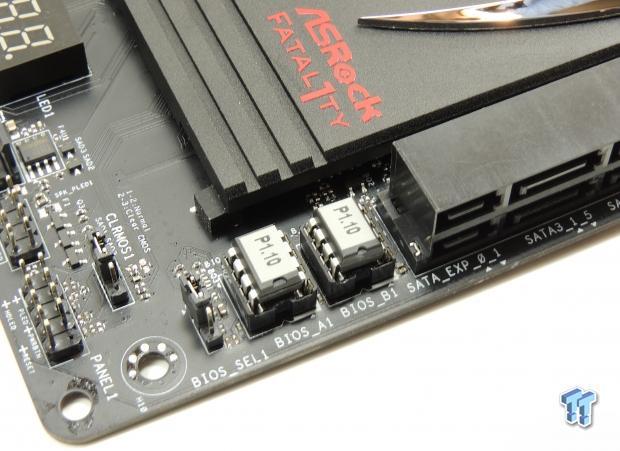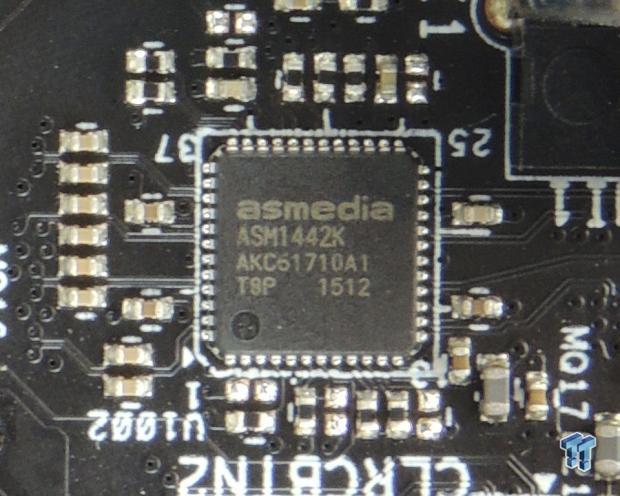 ASRock provides two 128Mbit (16MB) BIOS ROMs in DIP sockets and a jumper to choose which BIOS is in play. To get DVI/HDMI out of the Skylake iGP, ASRock uses an ASmedia ASM1442K digital video to HDMI/DVI level shifter.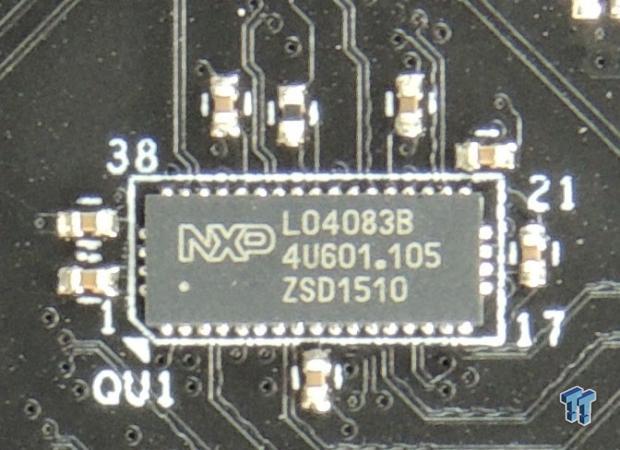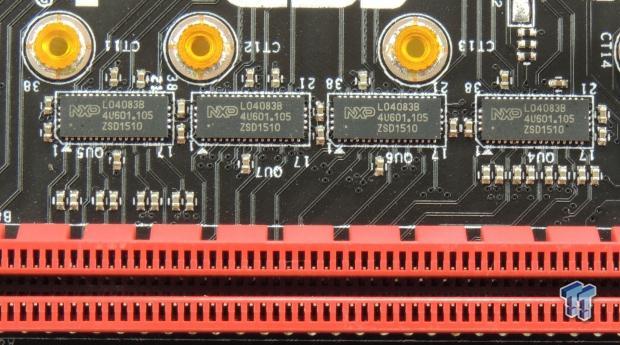 A single NXP L04083B (PCI-E 3.0 quick switch) switches bandwidth between the M.2 slot and the two SATA ports (single SATA Express) discussed earlier. Four NXP L04083Bs switch 8x of bandwidth between the first and second PCI-E 16x slots for SLI/CrossFireX.
BIOS and Software
BIOS
ASRock has made some refinements to its Z170 UEFI. For starters, there is a new landing page when you enter the UEFI and it actually looks simple yet elegant in nature. It has most everything you need to get started customizing the UEFI, as well as an CPU EZ OC button. While I am not a fan of large panels in my start menu (hint Microsoft), they don't look too bad in the UEFI since they don't waste much space, but are rather used as indicators. ASRock's Advanced more is also available by pressing F6.
ASRock has a decent GUI for fan control and offers many performance settings and a decent amount of customization. The advanced UEFI mode is much like ASRock's previous UEFIs and is organized the same way. There aren't that many overclocking controls, ASRock has heavily simplified overclocking settings on this model, and I am sure that their OC Formula will have more. That being said, I found overclocking to be easy; the UEFI does need some polishing. There are minor bugs here and there that will be fixed as the platform matures, but as you will see in the overclocking section, I was able to overclock pretty high on both the CPU and memory.
Software
ASRock has their APP shop which will update your drivers and software and offers a few free programs and games. ASRock also provides their basic software suite including F-Stream for on-the-fly overclocking and other system tuning. If you plug into the Fatal1ty mouse port, you can control the polling rate of your gaming mouse.
ASRock has also upgraded the looks of their XFast LAN networking application, which actually worked for monitoring, Killer's application is also provided.
Test System Setup
Test Setup
A big thanks to Corsair for sponsoring the case, fans, SSD, USB drive, and PSU! A big thanks to Seek for sponsoring the Thermal Camera. You can find my review of the camera here.
This is the new test bench, and it is designed to test every aspect of the motherboard and IO. I have designed it so that the motherboard sits in a case and is cooled by fans always on at a constant rate to keep the conditions similar for all tests. I have cut out part of the case behind the motherboard so I can get thermal images of the back of the PCB where the VRM heat spreads. System and CPU power measurements are now digitally logged.
I am also using a Netgear Nighthawk X4 AC2350 for our network (including wireless AC) tests. The latest M.2, SSD, and USB technologies are also being utilized to test the maximum potential of the motherboards that are being tested.
Overclocking
Overclocking Results
In this section, I will go through overclocking this board.
CPU Overclocking
Max CPU Overclock is found by setting the VCore/cache to 1.5v, CPU ratio to 45x and disabling any features that would result in CPU frequency fluctuation. I then proceed into Windows and use software to increase the multiplier; in this case I opted to use F-Stream.
5.2GHz is the maximum of our CPU on this board with ambient cooling. Maximum AIDA64 Stable Overclock (BIOS settings below for this):
I was easily able to pull off 4.8GHz on the CPU with 4.1GHz cache and a 2133MHz on my memory manually tuning the UEFI. This was quick and dirty because of time constraints, but I could go higher on cache and memory frequency.
Memory Overclocking
For this review, I also used two DDR4 memory kits specifically designed for Skylake; the Corsair Vengeance LPX 2666MHzC16 (2x4GB) and G.Skill Ripjaws V 3600MHzC17 (2x4GB).
The Corsair 2666Mhz kit worked very well with just enabling XMP. However, most Z170 motherboards including the Fatal1ty Z170 Gaming K6 cannot run memory at 3600MHz, but I was able to get 3466MHz to work with the 34.66x memory multiplier and some tuning in the UEFI.
CPU, Memory, and System Benchmarks
CINEBENCH 11.5
wPrime
AIDA64 AES and HASH
AIDA64 FPU
AIDA64 Memory
PCMark8 Home Test
3DMark: Cloud Gate
3DMark: Fire Strike
Resident Evil 6
ASRock has an option in their UEFI called multi-core enhancement which overrides Intel's standard Turbo procedures in favor of that of the manufacturer, which is why the results at "4G" are more in line with other Z170 motherboards. Some motherboard reviewers put a lot of weight into motherboard benchmarks, but for me, benchmarks on motherboards these days should be more about finding anomalies and I do that at standard settings (4G in graphs).
Looking at the 4G results, ASRock has tuned the system to perform really well in 3D scenarios, which would make sense since this is a gaming motherboard.
System IO Benchmarks
Anvil SATA6G:
Anvil M.2:
DiskBench USB 3.0:
ixChariot Network Throughput:
IO Performance is solid, the ASRock board has very good M.2 speeds and the Killer NIC keeps up with the Intel in bandwidth.
Audio RMAA 5.5:
I disable all audio features, set the correct bitrates, and then test the audio with a loopback test.
Sound Judgment by Ear: Very good audio capabilities, the audio is clear and the highs and lows are pretty evident, almost like a discrete card. There are 5 ratings for audio: 1. Problems, 2. Okay, 3. Acceptable, 4. Very good, 5. Excellent
Thermal Imaging and Power Consumption
System power usage is measured at the AC/DC PSU (the Corsair AX1200i) which I have connected to another system to measure the test system and as a backup I have a wall meter to verify. The CPU power is measured through the 8-pin connector which is hooked up to a hall effect IC which measures current and puts out a voltage in proportion to the current. That voltage is logged by a National Instruments ADC which logs the DC voltage level, which I then convert into current.
Note on Thermal Images: In the temperature section, we use our Seek thermal imaging camera to capture the surface temperatures of major components on the board; I look at the VRM and then all other things that light up the screen. If there is something to worry about then I will state it, otherwise I will just show the hotter running parts of the board for fun. Unless some component is over 80-90C then there really isn't anything to worry about.
All systems will act differently, so I will look for commonalities, such as how far from the VRM the heat spreads through the PCB and the difference in temperature between the front side and backside of the PCB. Keep in mind that the majority of the heat from the VRM goes into the PCB as it is a giant soldered on copper heat sink. A larger difference in temperature between the back and front of the PCB points towards a more effective heat sink.
Thermal Testing at Stock Speeds:
The image on the left is always at idle and the image on the right is at load. During ALL TESTs Fans above the VRM that cool the CPU cooler's (H110i GT) radiator are turned on to high (12v).
Full frontal.
Up-close of the front of the VRM.
Up-close of the back of the VRM.
Thermal Testing at 4.5GHz Overclocked Speeds:
Full frontal.
Up-close of the front of the VRM.
Up-close of the back of the VRM.
The highlights of this VRM are its chokes and capacitors which together make up the output filter. The inductors are pretty high quality and should run cooler to accommodate the large doubled up phases, especially during load conditions. The hybrid-digital PWM does a good job of keeping idle temperatures and power consumption pretty low, as it has the ability to use only one of the PWM phases during idle.
There is a slight increase in thermals going from 4GHz stock to 4.5GHz, but there is no negative impact on overclocking to 4.8GHz stable, at least not at the 1.35-1.4v range which I run the CPU. Skylake's overall low power consumption, even when overclocked, means you don't need an X99 quality VRM to overclock the CPU, but it could potentially help. While the VRM should do okay under normal conditions, if you are going for more extreme overclocks ~5GHz+, I would make sure that there is some type of airflow over the VRM, otherwise the large heat sink should cool the VRM well.
Anything under 60C is great, 60-80C is acceptable, and anything above 80C is a bit worrisome (if at stock).
What's Hot, What's Not & Final Thoughts
This is where you can fast forward to the final section of the review, and get a quick recap and points on the ASRock Fatal1ty Z170 Gaming K6.
What's Hot
Strong Focus on Graphics: For starters, the PCI-E layout on this motherboard allows for two triple slotted GPUs in either SLI or CrossFireX and a dedicated add-in PCI-E 1x card. Not only that, but the CMOS battery is located above all the PCI-E slots, allowing for its removal without having to remove any GPUs (which can be a pain if you installed hard tube water cooling). During benchmarking, it was also kind of obvious that ASRock has somehow tuned the board for 3D performance over 2D, and while the difference is pretty small, it's still something to consider. ASRock also provides their Fatal1ty Mouse port, Killer's brand new Killer NIC, and pretty good audio with headphone amplifiers.
Improved Fan Control: For many generations now, ASRock has maintained only 1 or 2 PWM headers while the rest were either voltage controlled (works with both type of fans) or had no control. With Z170, ASRock has provided PWM control for all the headers as well as voltage control, and has increased header count and optimized header placement above the PCI-E area so that GPUs won't block header insertion.
OC Features: I am a strong believer that when you pass the $200 mark for a motherboard, you should get some type of POST code display. Diagnostics can be such a pain without one, and ASRock not only provides the POST code display, but also provides dual BIOS ROMs, back-panel clear CMOS button, as well on-board power and reset buttons.
Modern Styling: With the Z170 chipset adding so many features to the motherboard, there is little that manufacturers can do to stand out with boards that cost under $200 in terms of features. Many have taken to aesthetics as a selling point, and honestly I don't think it is bad to focus on the looks of the product, considering many people have open air systems or cases with windows. One of the cool parts of building a computer is that you can look at it and show it off, and the ASRock Fatal1ty Z170 Gaming K6 is a good looking board. ASRock used mostly black heat sinks with sharp angled edges and hints of red that looks more appealing in person than in pictures. Even though the shield over the IO and audio is plastic, it is very appealing in person and the cutout for the audio capacitors adds to its appeal.
What's Not
OC Recovery: Honestly, it was hard for me to find negative things to say about the layout or design of the motherboard, but there is something worth mentioning that will probably be fixed soon enough through BIOS updates. If you set a bad overclock and the board doesn't automatically recover from the bad OC (keeps failing to boot and gets stuck on a POST code), then you need to either clear the CMOS or flick the power switch on the PSU to get the board to reset. The issue is that an AC power loss can be a bit scary. The first time you power the board back up, it will immediately shut off and then after a second or two it will start up again and then the POST code will look like it will boot, but then it will reboot again and then finally give you the OC failed or system reset warning. This is a minor BIOS issue, and I am sure ASRock will fix this with the next BIOS release or two, and for most users this is a non-issue because it takes a pretty bad OC setting to cause this.
Final Thoughts
The ASRock Fatal1ty Z170 Gaming K6 is a solid motherboard that performs as advertised. For starters, the board offers a very good selection of Intel Z170 chipset features; ASRock chose to make all the IO panel ports USB 3.0 directly from the PCH and still provided an internal USB 3.0 headers. ASRock also provided six Intel SATA 6G ports and four of them can be SATA Express. If you want a USB 3.1 front panel down the road, you can still use one because the USB 3.1 front panels all use SATA Express as their interface. ASRock also provided only one M.2 slot, which makes a lot of sense for a value gaming motherboard because high density M.2 drives are expensive and gamers are more likely to have one fast M.2 slot for OS and HDDs for game storage.
Like I mentioned earlier, it was hard for me to find any design or layout issue with the board, ASRock used a lot of common sense in designing this affordable board for gamers. The Fatal1ty Z170 Gaming K6 has a launch price of $185, which puts it in a pretty competitive arena. While there are many other Z170 motherboards in this price range, the K6 offers great value in terms of common sense design as well as features garnered towards gamers.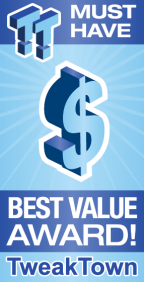 | | |
| --- | --- |
| Performance (including Overclocking) | 92% |
| Quality including Design and Build | 90% |
| General Features | 89% |
| Bundle and Packaging | 85% |
| Value for Money | 96% |
The Bottom Line: ASRock's Fatal1ty Z170 Gaming K6 offers great value as a gaming motherboard with solid gaming features, sharp aesthetics, and optimized GPU layout considerations.
PRICING: You can find products similar to this one for sale below.

United States: Find other tech and computer products like this over at Amazon.com

United Kingdom: Find other tech and computer products like this over at Amazon.co.uk

Australia: Find other tech and computer products like this over at Amazon.com.au

Canada: Find other tech and computer products like this over at Amazon.ca

Deutschland: Finde andere Technik- und Computerprodukte wie dieses auf Amazon.de