TweakTown's Rating: 92%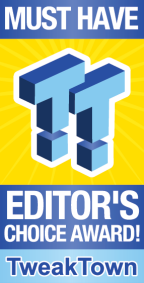 The Bottom Line
Whether you are looking for a feature-packed motherboard, a gaming motherboard, or an overclocking motherboard, the Fatal1ty X99 Professional/3.1 can fill any of those roles with ease. It, simply put, is a solid high-end motherboard that is built to impress.
Introduction, Specifications, and Pricing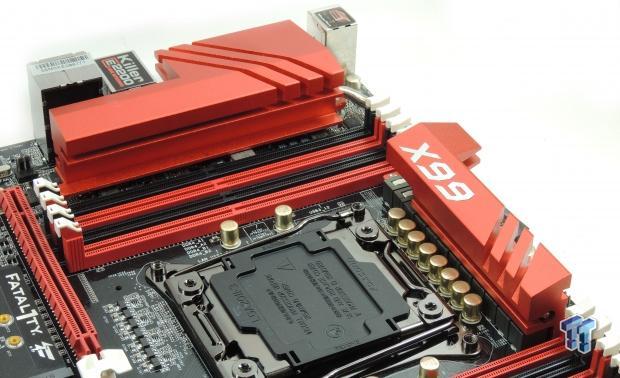 ASRock is a company focused on bringing performance motherboards to the market, and with the Intel X99 chipset, they have done just that. I previously reviewed many of ASRock's X99 offerings and today I take a look at one of their "second" generation X99 motherboards with some more refined features. Although this is one of two iterations of the Fatal1ty X99 Professional, this one features the X Series OC Socket, and USB 3.1. The Fatal1ty Professional line is ASRock's top tier gaming motherboard.
ASRock has segmented their lineup into their mainstream, overclocking, and gaming lineups, the Fatal1ty name is for their gaming series. The original Fatal1ty X99 Professional I tested a while ago performed really well, but it lacked the special socket with extra pins that enables higher cache and memory overclocking potential. The Fatal1ty X99 Professional/3.1 has the X Series OC socket which should help boost cache and memory overclocking potential. It has also been a long time since I used the original Fatal1ty X99 Professional, and I am excited to see what ASRock has improved upon.
Specifications

ASRock has provided dual GBit NICs, USB 3.1 on the IO Panel and on an extra A+A type card, two M.2 slots, mPCIe slot, Purity 2 Audio, and SATA Express. Those are just a few of the features of the Fatal1ty X99 Professional/3.1, there are also many gaming features such as Killer LAN and streaming software bundled with the motherboard.
Pricing
The Fatal1ty X99 Professional/3.1 is priced at $359.99 plus a bit extra for shipping on Newegg at the time of writing, putting it in the high-end of X99 motherboards.
Packaging and the Fatal1ty X99 Professional/3.1
Packaging and the Board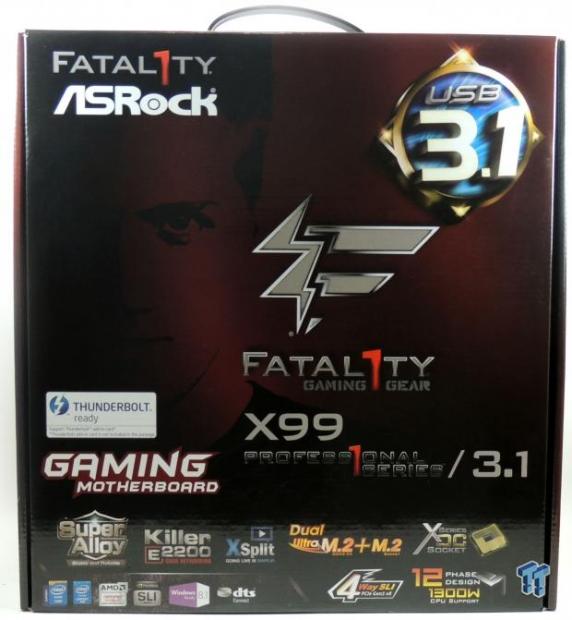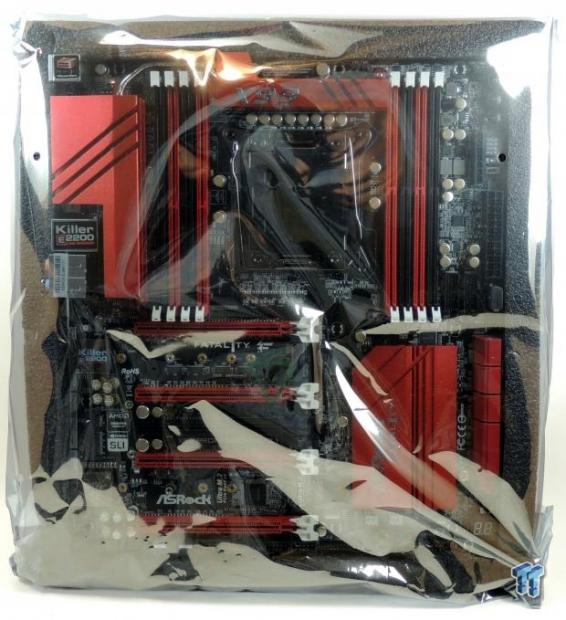 The box carries a picture of the famous gamer Fatal1ty. The packaging is well done, the board is zip tied into a foam container and there is an antistatic bag covering the board.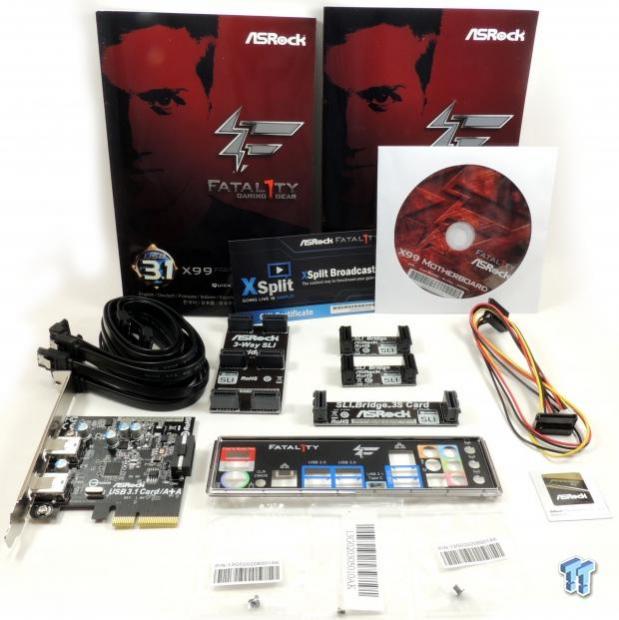 Accessories are plenty; 6x SATA6G cables, two 2-Way SLI bridges, one extended 2-Way SLI bridge, USB 3.1 card (A+A), IO Shield, SATA Saver power connectors, screw for M.2, manuals, case badge, XSplit trial card, and driver DVD.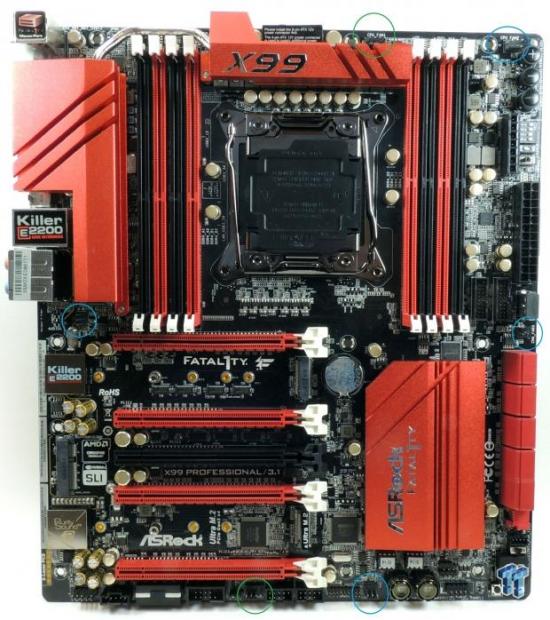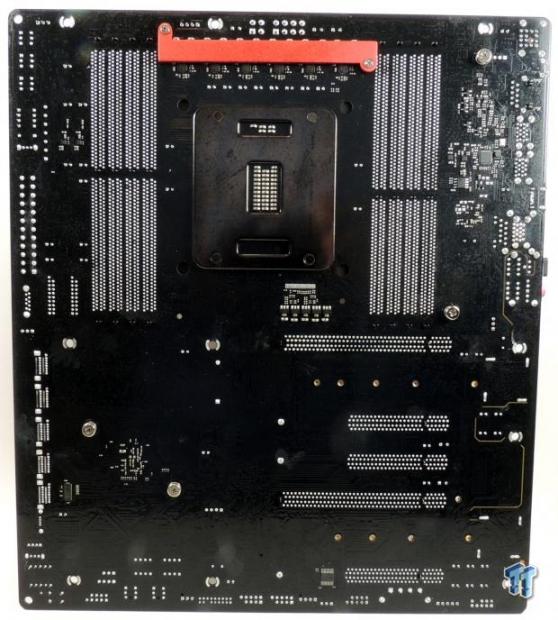 I have circled the fan headers on the board, there are a total of six headers, two circled in green are 4-pin PWM headers, and four circled in blue are 3-pin voltage mode headers. The crimson red heat sinks are vibrant and actually look quite nice in person. It can be a little overpowering depending on your color scheme, especially if it isn't red. The back of the board has some components on it, there are backside MOSFETs and they are protected by a red shield. You can see the PCB isolation for the audio, the Intel NIC, the doublers/dual drivers for the CPU VRM, and the socket holes which aren't present on most other X99 ASRock motherboards.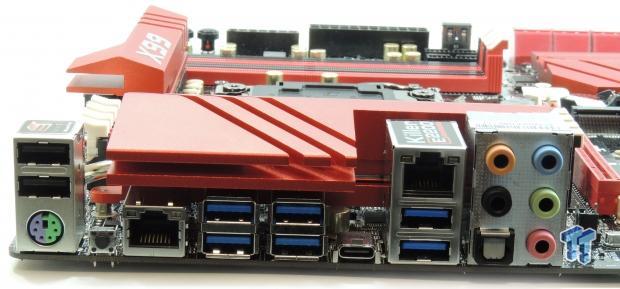 The back panel IO features a 2x1GBit NIC, 6x USB 3.0 ports, 1x C-Type USB 3.1 port, 2x USB 2.0 ports, PS/2 keyboard/ mouse, a 7.1 TOSLINK for audio with S/PDIF out, and a ClearCMOS button.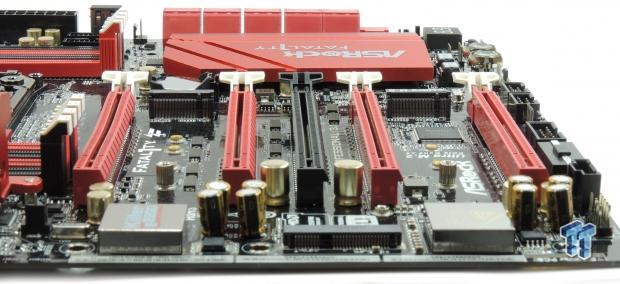 The PCI-E layout on this motherboard is optimized for 4-Way SLI/CrossFireX. Eight PCI-E 3.0 lanes from the CPU are routed to the middle black slot, which is linked to the Ultra M.2 slot. If you install an M.2 drive into the Ultra M.2 slot, it will disable this slot. The first and third red 16x slots operate at 16x/16x when two cards are installed, and when 4 cards are installed these each go down to 8x, while they each give 8x to the red 16x slots below them.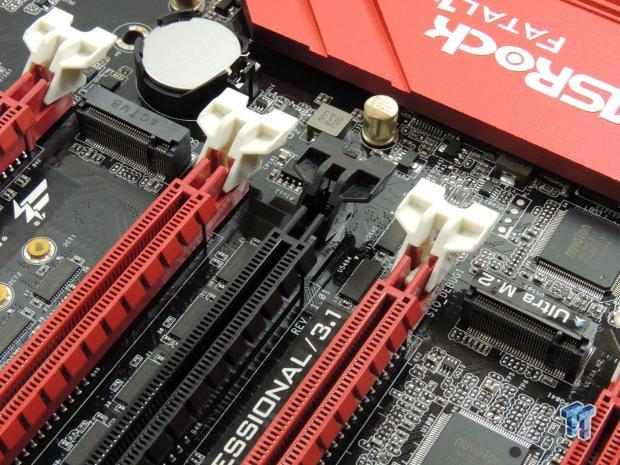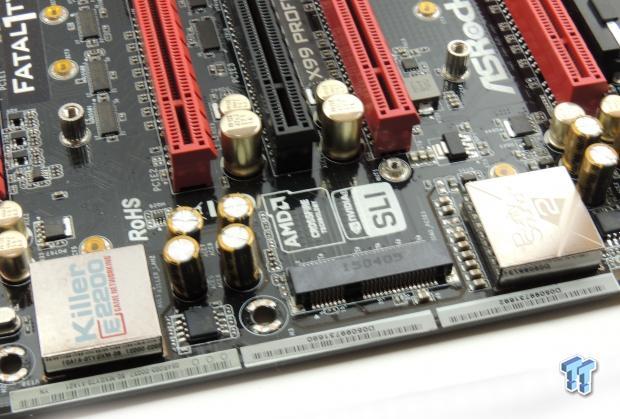 Dual M.2 slots are present. The one near the CMOS battery is a 2x PCI-E 2.0 M.2 slot, and will support both PCI-E and SATA based M.2 drives. When that slot is in use the S_SATA3_3 will be disabled. The second M.2 slot is an Ultra M.2 slot meaning it was 32Gb/s of bandwidth opposed to the 10Gb/s of the other M.2 slot. There is also a half-size miniPCIe slot located between the Purity Audio and Killer NIC EMI shields. A MOLEX power receptacle is there for extra PCI-E power when running three or more GPUs.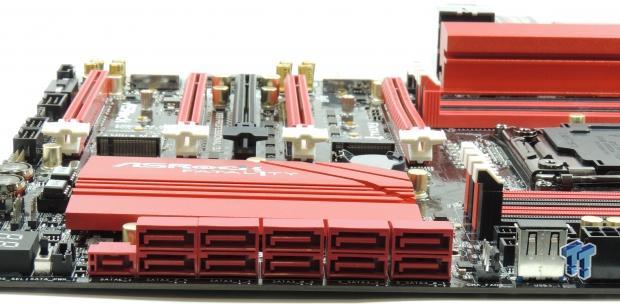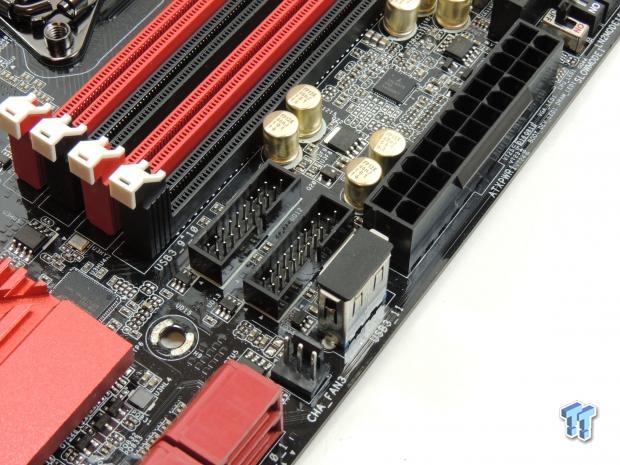 There are 10 SATA6G ports from the PCH. S_SATA3_3 shares its bandwidth with the PCI-E 2.0 M.2 slot. SATA Express is also present, and those two SATA ports near the connector can be used for SATA or SATA Express. Two USB 3.0 front panel headers are located north of the PCH which is great for cable management. A USB 3.0 port is located near the two USB 3.0 internal headers and can be used as a normal USB slot on an open-air test bench.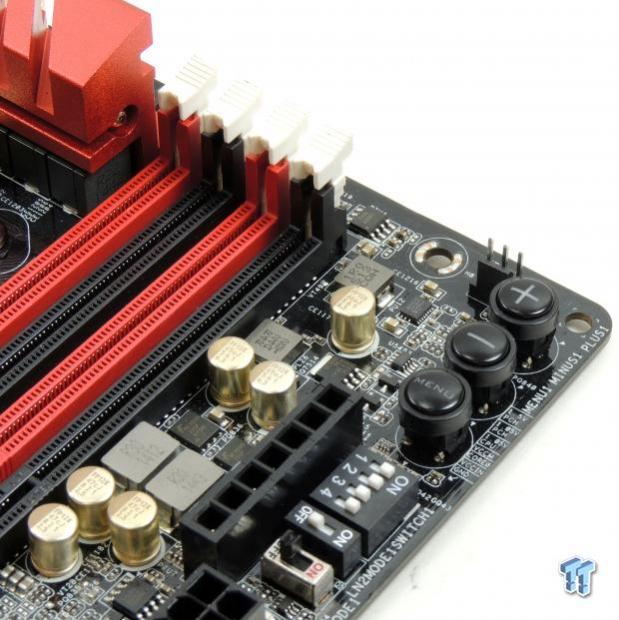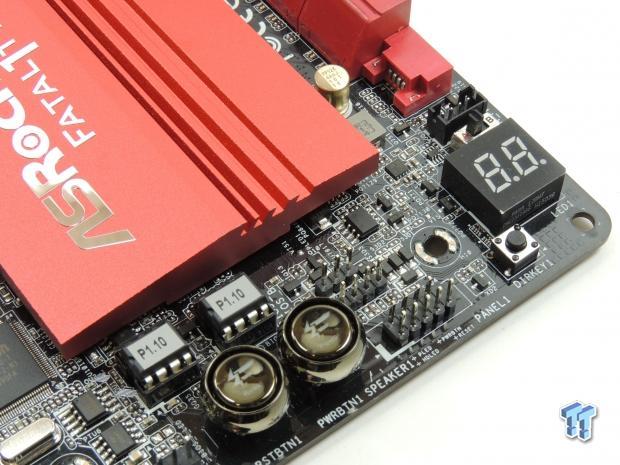 Even though this is a gaming centric motherboard, there are a ton of overclocking features. The Fatal1ty X99 Professional/3.1 has rapid OC buttons for on-the-fly frequency and voltage adjustment, voltage read probe connectors, LN2 mode switch, slow mode switch, and PCI-E disable switches. Some LEDs adjacent the 24-pin connector show boot, VGA, CPU, and memory status. Moving to the bottom of the board there is a trusted POST code display, a direct key button, dual BIOS selector button, and your power and reset buttons.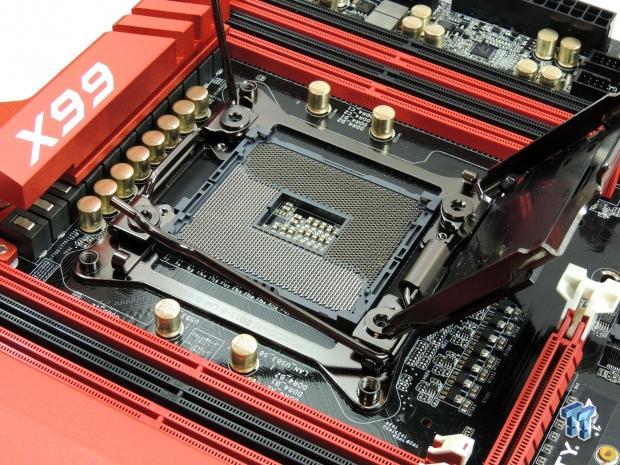 ASRock has the socket with the extra pins. They refer to it as X Series OC Socket as it allows for higher cache frequency overclocking and lower required IMC voltages for higher DRAM clocks.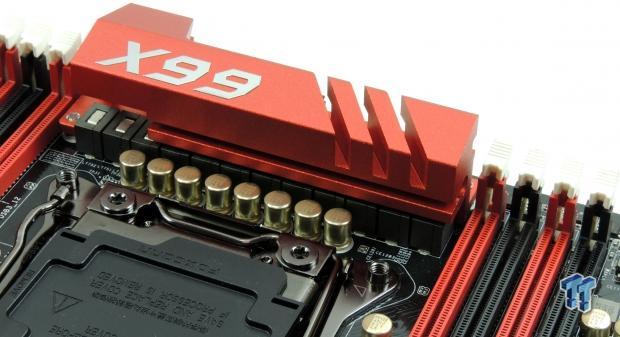 The board also carries a powerful 1300W 12 phase VRM, which is cooled by a hefty heat sink.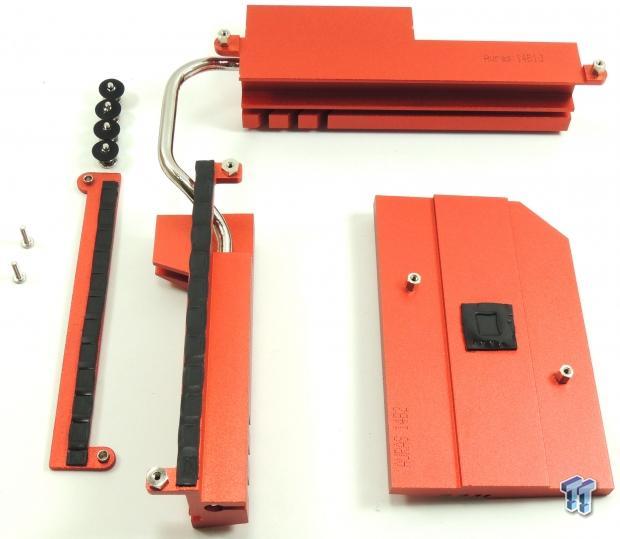 These are the heat sinks, all of them use screws and contact looks great on the VRM and PCH.
Fatal1ty X99 Professional/3.1 Circuit Analysis
Circuit Analysis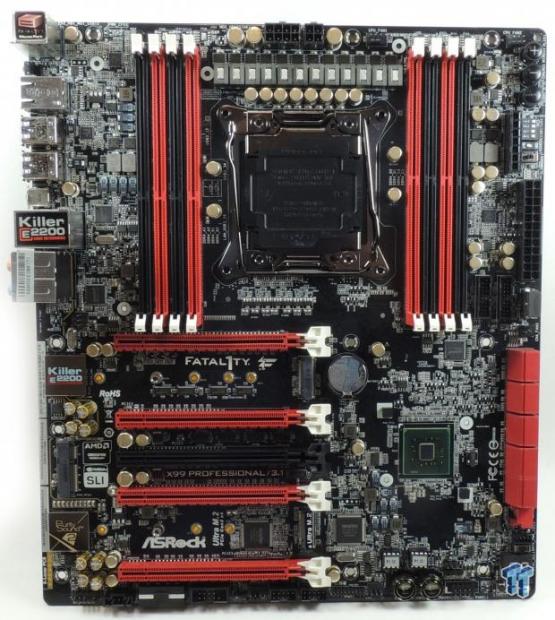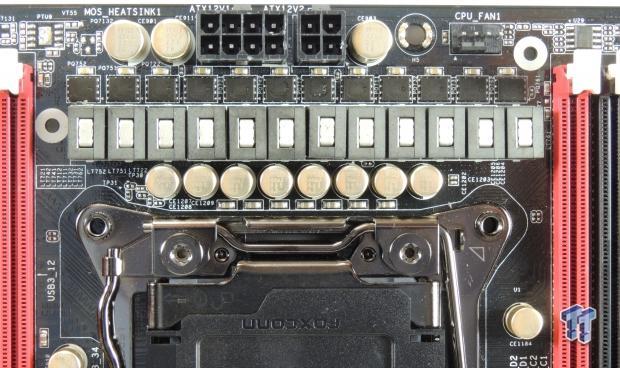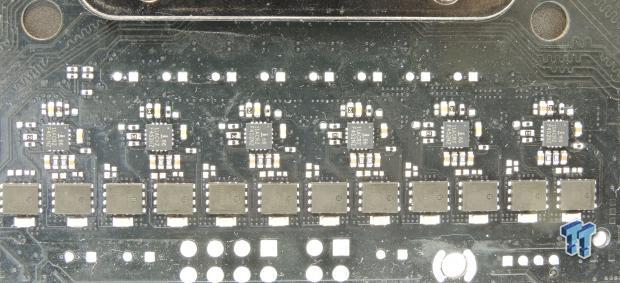 The VRM on this board consists of 12 phases, but ASRock has further enhanced the power output of the Fatal1ty X99 Professional/3.1 by doubling up on the normal number of MOSFETs they use for their 12 phase/1300W VRM. ASRock has focused on power density by utilizing lower profile 60A inductors and more integrated phases. The output filter is made up of 8x 560uF solid 12K Nichicon capacitors at 4480uF.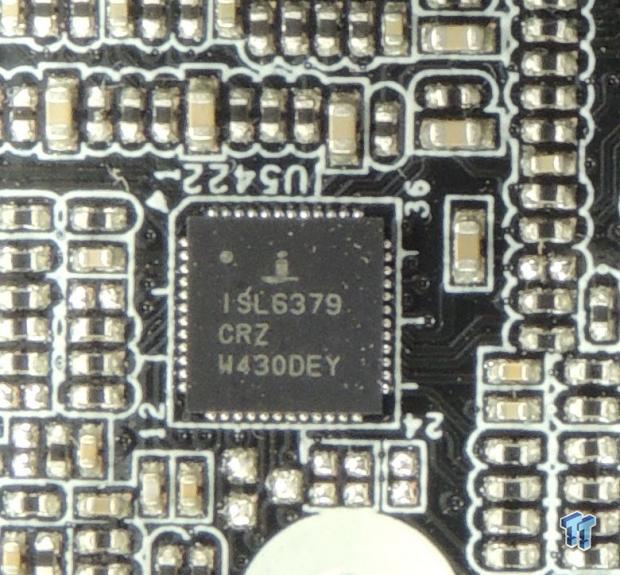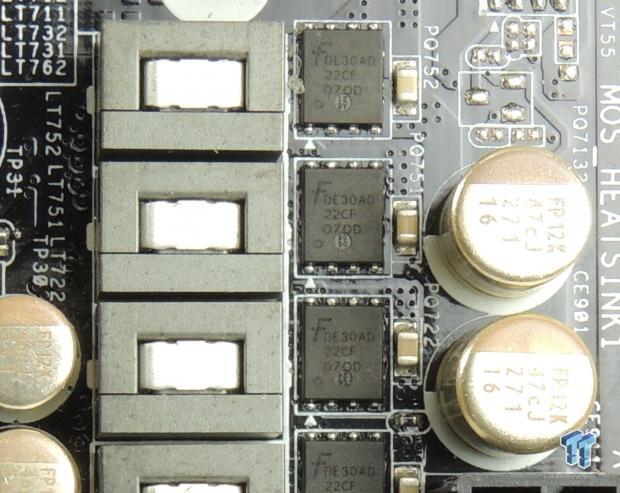 The PWM controller is an Intersil ISL6379 Digitally Controlled Hybrid 6 phase PWM. There is no datasheet, but I would venture to guess that it is a 6+1 phase PWM. To get 12 phases, manufacturers must double the phase count from the PWM since there is no 12 phase PWM in production for motherboards. ASRock uses 6x Intersil ISL6611A which are phase doublers with integrated dual drivers located on the backside of the motherboard.
This saves a lot of space which is important considering the limited motherboard real-estate of the X99 platform. ASRock is using 24x FDMS3668S which are dual N-Channel MOSFETs from Fairchild Semiconductor in the PowerTrench package. They have very good thermal and current ratings at 13A/18A (high/low side) at only 2.5W, which is excellent.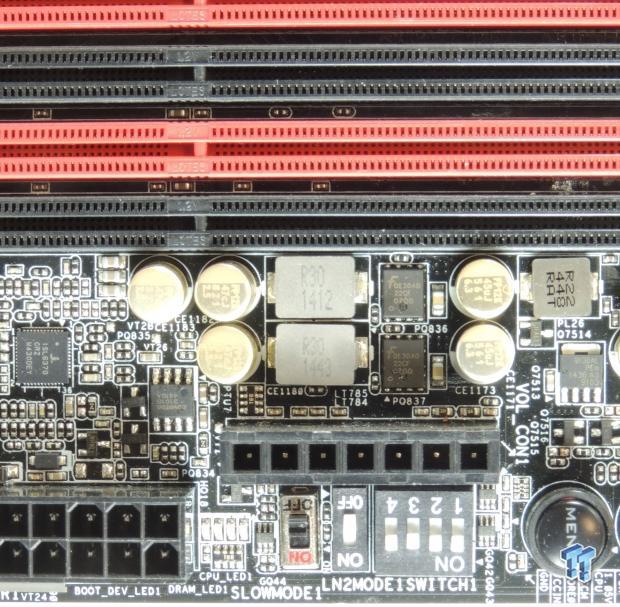 Each memory VRM is like a two phase version of the CPU VRM, using the same ISL6379 PWM and the same dual N-Channel PowerTrench MOSFETs for a total of three ISL6379 and 16 dual MOSFETs on the board. This is just one of two identical memory VRMs on this board.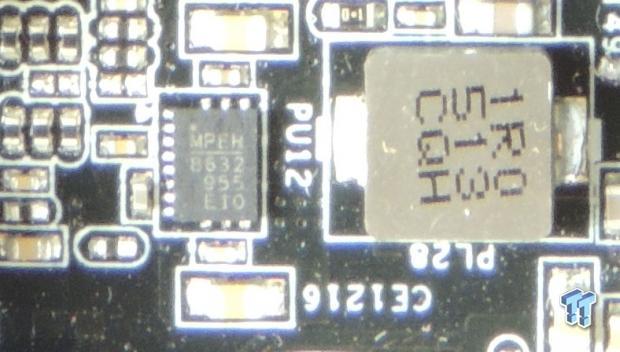 The memory DIMM's main MOSFETs need drivers and four tiny ones are found on the back of the board. The drivers are Intersil ISL6208. An MPS MPQ8632 is used for the VPP power for each set of the four DIMMs.
Fatal1ty X99 Professional/3.1 Circuit Analysis Continued
Circuit Analysis Continued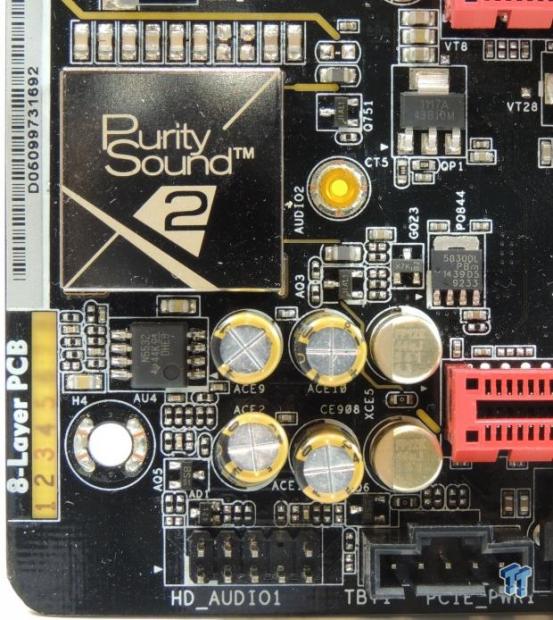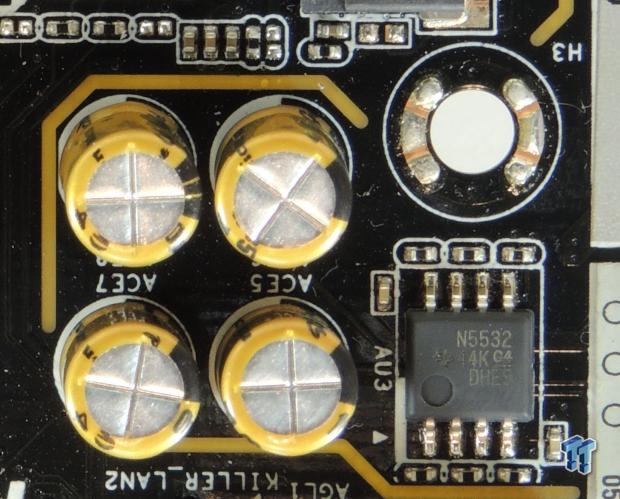 The audio is powered by an ALC1150 which compliments the Intel Azalia processor in the PCH and two Texas Instruments NE5532 are used to amplify the backpanel and front panel audio outputs. Eight Nichicon gold 100uF electrolytic audio capacitors are used for the analog domain and the audio circuitry is isolated to reduce noise. The audio section of the PCB is also isolated so electrical noise doesn't interfere with audio operation.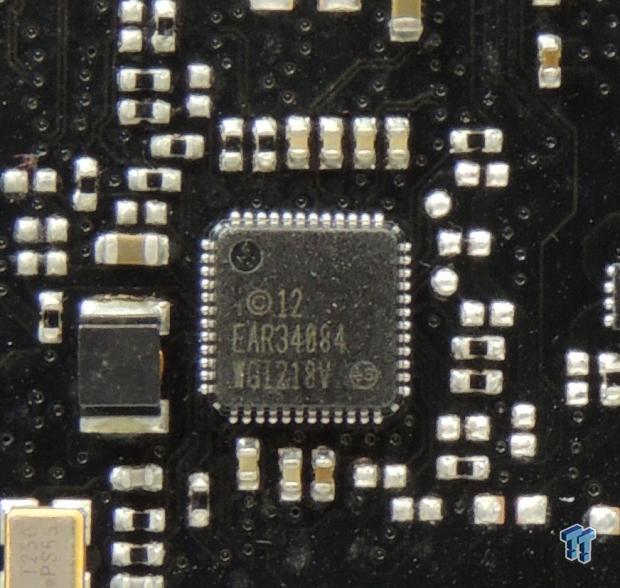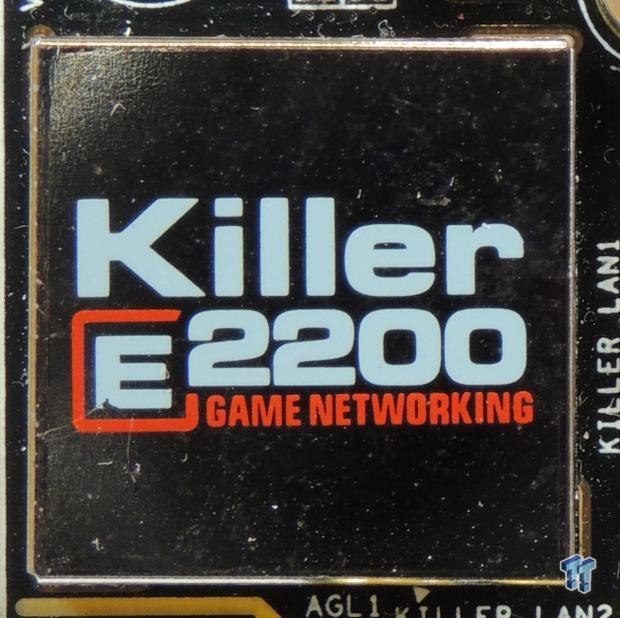 The Fatal1ty X99 Professional/3.1 has two wired NICs; one utilizes Intel's i218v and the other is a Killer e2200.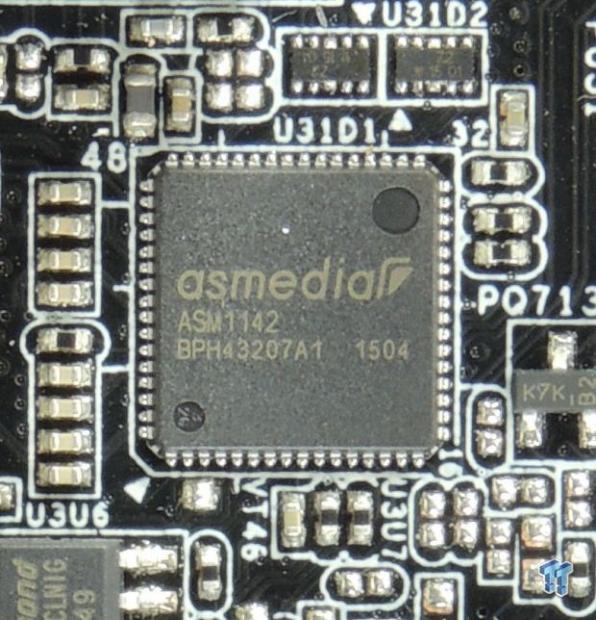 An ASMedia ASM1142 provides a single USB 3.1 type-C (reversible) port from two PCI-E lanes from the PCH.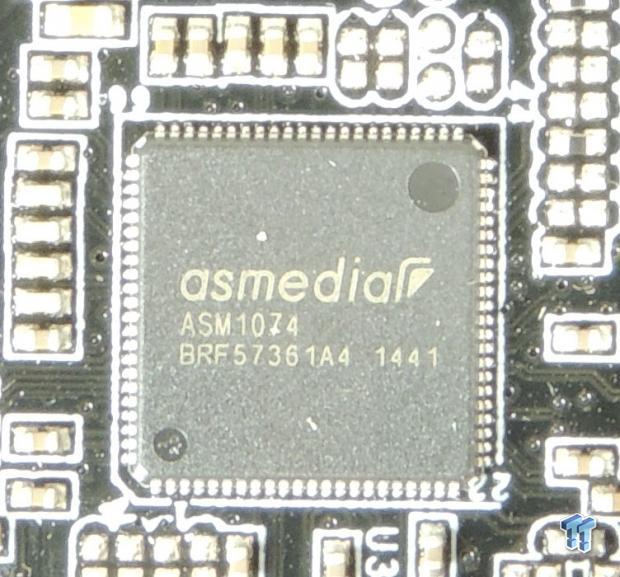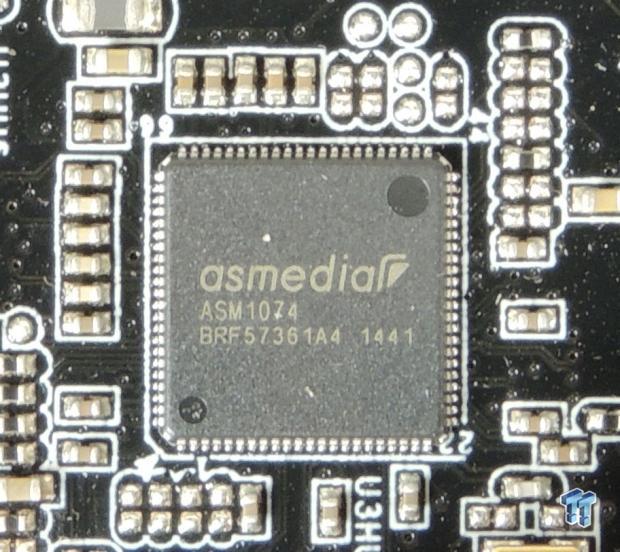 Two ASMedia ASM1074s are used, they are USB 3.0 hub controllers which take one USB 3.0 port and expand it into four USB 3.0 ports on the back panel and two internal headers.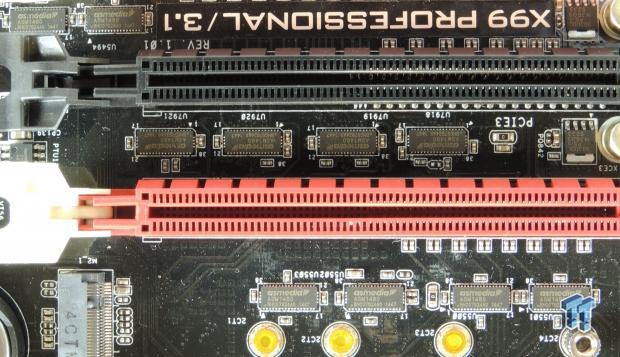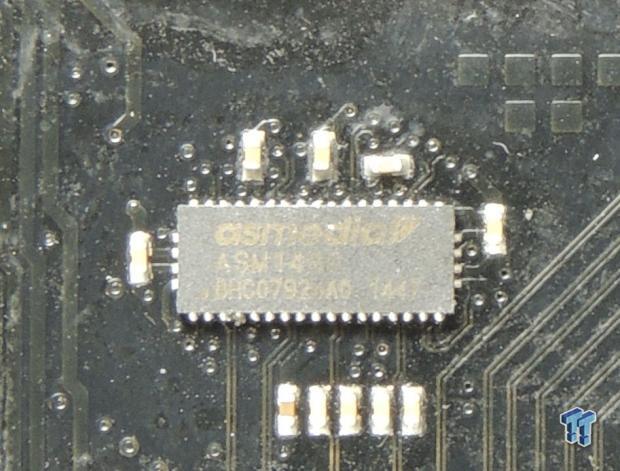 Eight ASM1480 PCI-E 3.0 quick switches allocate bandwidth to the yellow 16x PCI-E slots. The Ultra M.2 slot will take its bandwidth from the middle black PCI-E slot through two ASM1480 quick switches which are wired to the CPU's PCI-E 3.0 controller. It can provide up to 32Gb/s bandwidth. A since ASM1480 switches SATA bandwidth to the 2x PCI-E 2.0 M.2 slot from the S_SATA3_3 connector.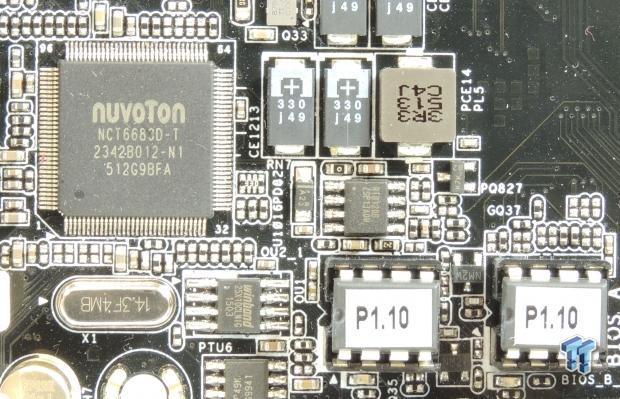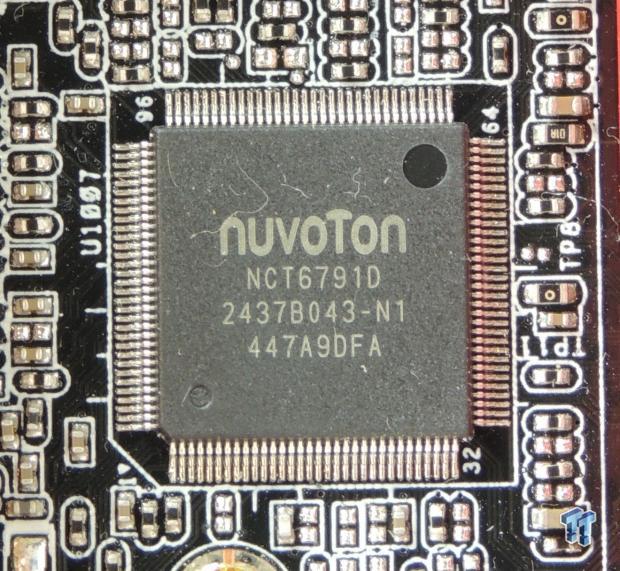 Dual BIOS ROMs are present, each is a 128Mbit part from Winbond. The nuvoTon NCT6683D is used to control the OC features on the board, and I think it helps control the OC socket features. A nuvoTon NCT6791D provides SuperIO functionality and the PS/2 port on the backpanel.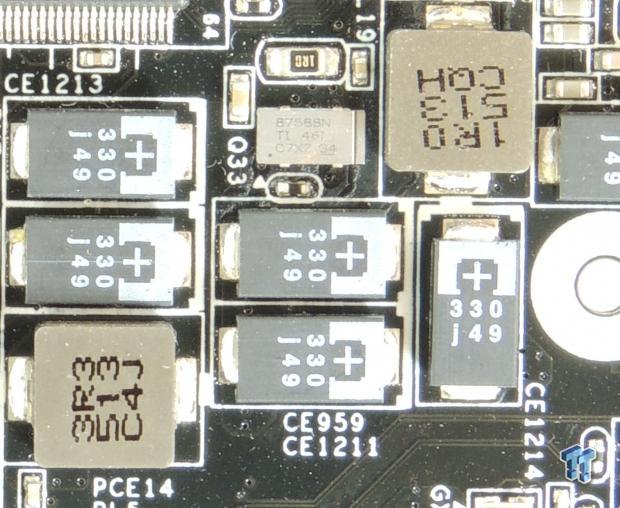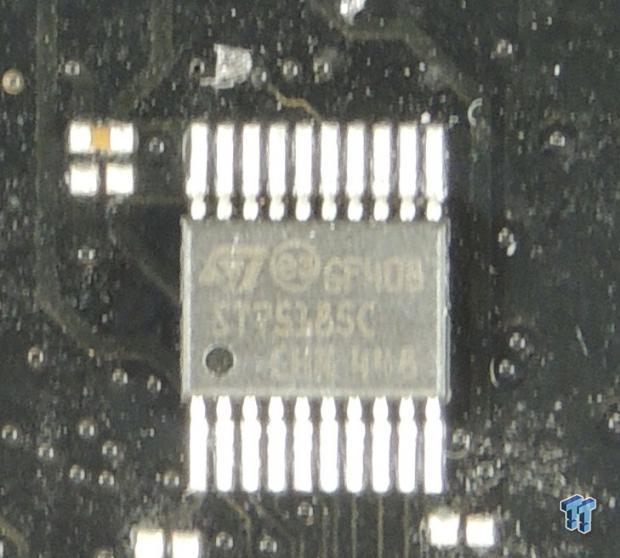 A single Texas Instruments NexFET, the CSD87588N, is used to power the PCH VRM. A STMicro ST75185C is used for the COM port.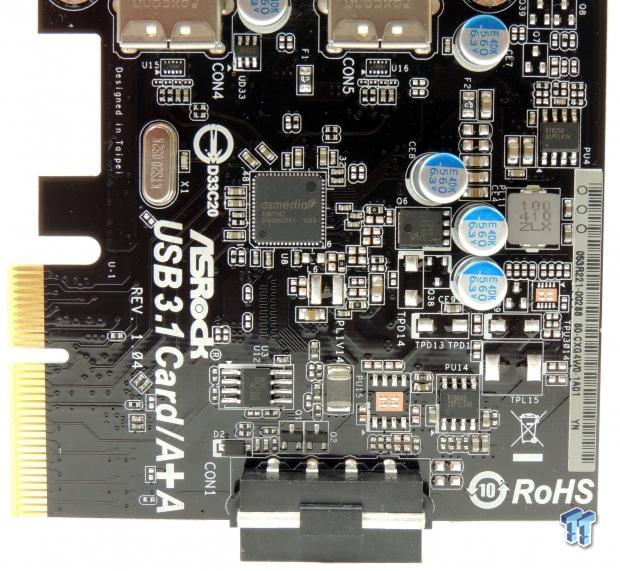 To expand the USB 3.1 capabilities of the Fatal1ty X99 Professional/3.1 even more, ASRock provides a 2x A-Type USB 3.1 card. The A -Type USB 3.1 connector is backward compatible with USB 3.0, 2.0, and 1.0. This card won't fit in a PCI-E 1x slot and needs a full sized or half sized slot. It uses an ASMedia ASM1142 and a Molex connector to provide the power that is required by USB 3.1. In total the board has three USB 3.1 connectors.
BIOS and Software
BIOS
ASRock's UEFI it's quite extensive and provides a large variety of options for tweaking. If you are a novice overclocker there are also profiles in the UEFI for 4GHz with XMP and other higher speed overclocks (up to 4.5GHz). Since the release of the X99 chipset, ASRock has made major strides in the memory overclocking department. The original Fatal1ty X99 Professional/3.1 didn't provide memory multipliers above 26.66x, and you would have to use the BLCK dividers to get above that frequency, but the Fatal1ty X99 Professional/3.1 provides all the memory multipliers you would expect including 32x, which I will test later in this review.
A trick that another editor at TweakTown taught me is to go into the storage configuration and set each drive to SSD mode if it's an SSD, because by default the ports are set to HDD mode for compatibility. Changing the drive mode to SSD will improve SSD performance.
I found by manual measurement that LLC level 3 gives the least deviation from the set voltage. The X Series OC Socket has its own extra voltage which is under voltage control menu labeled CPU IO Voltage; I leave it on auto as the board does increase this.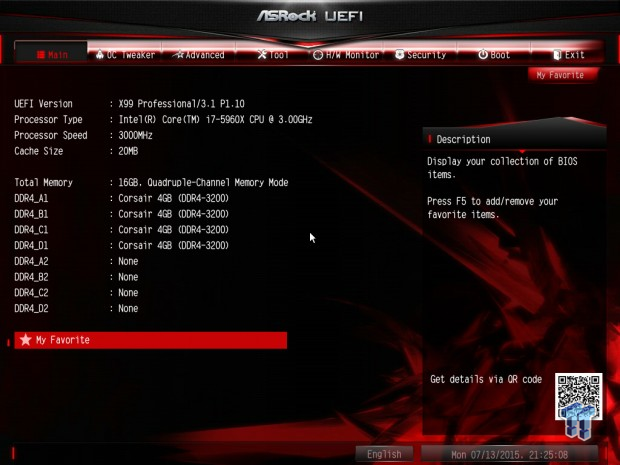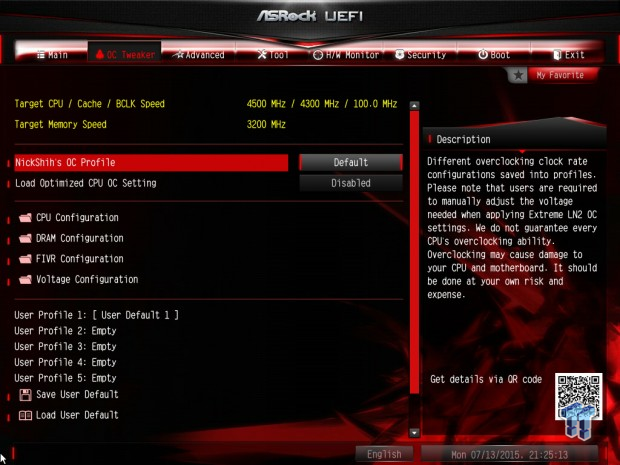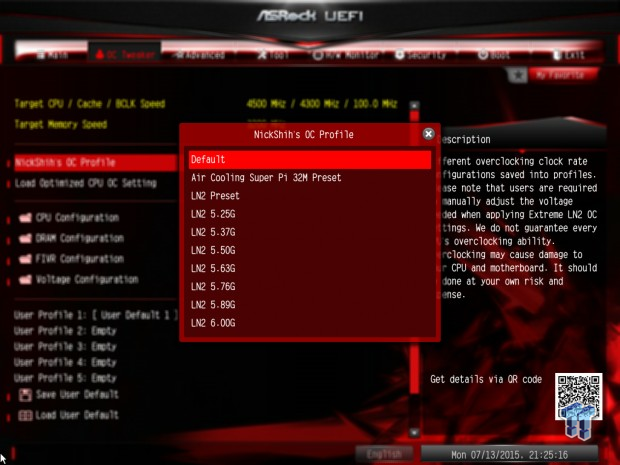 Nick Shih, ASRock's Overclocker, provides his own memory OC profiles for those interested in benchmarking and tuning. I was surprised to find an easy to use GUI for fan control under the PC Health menu, it is quite intuitive.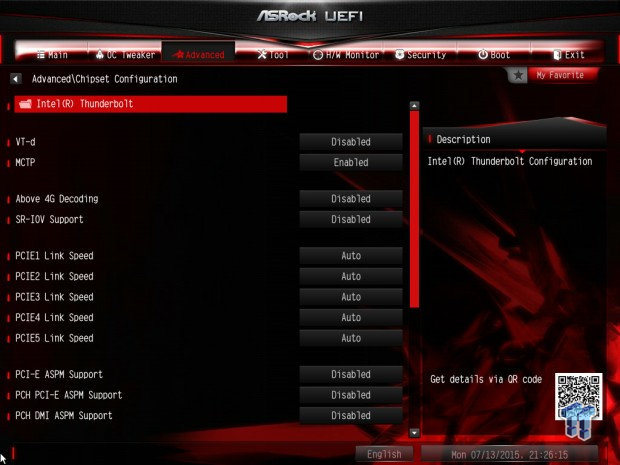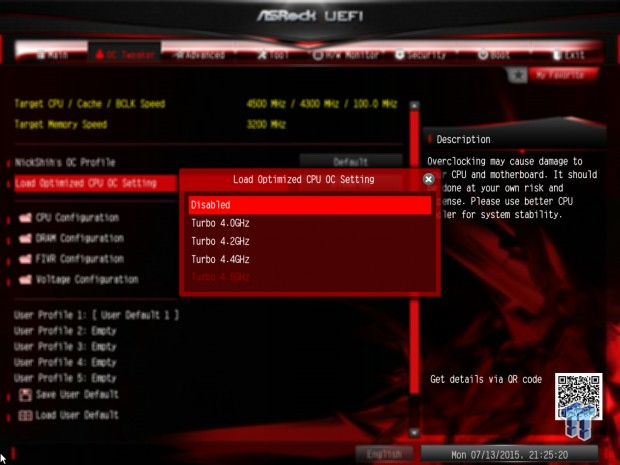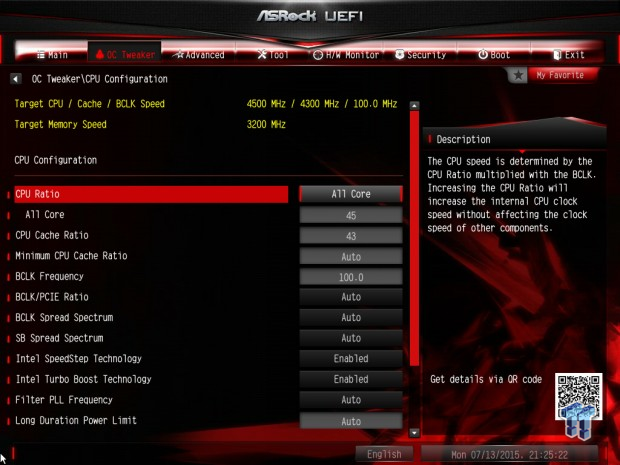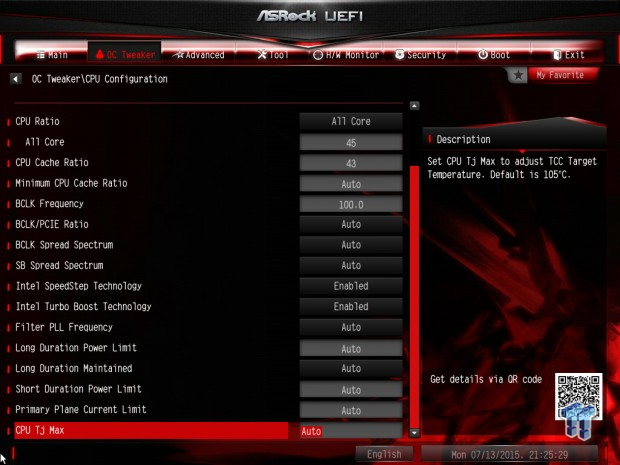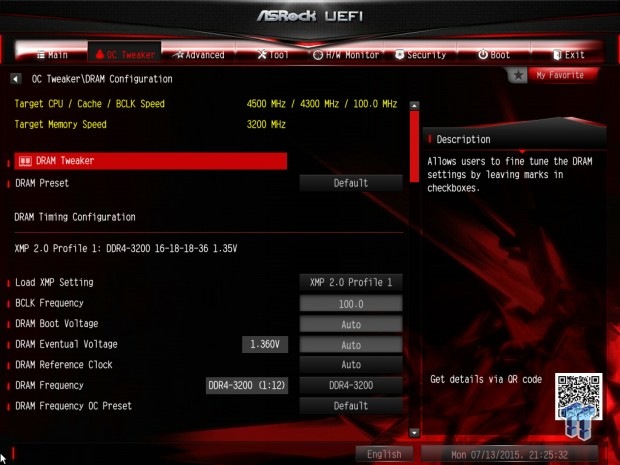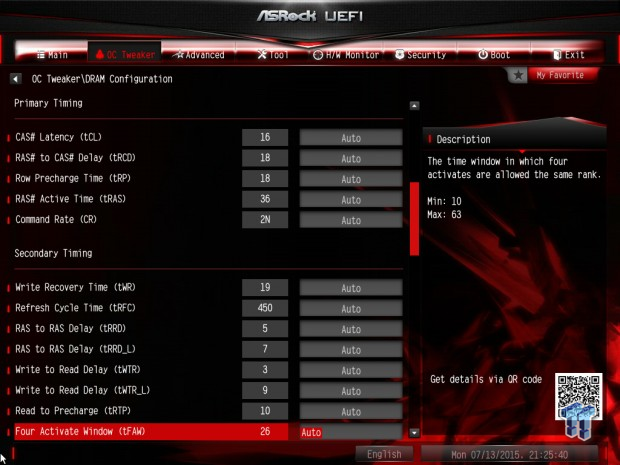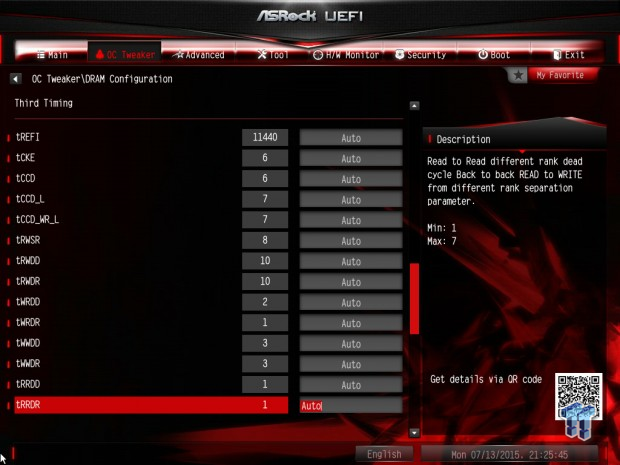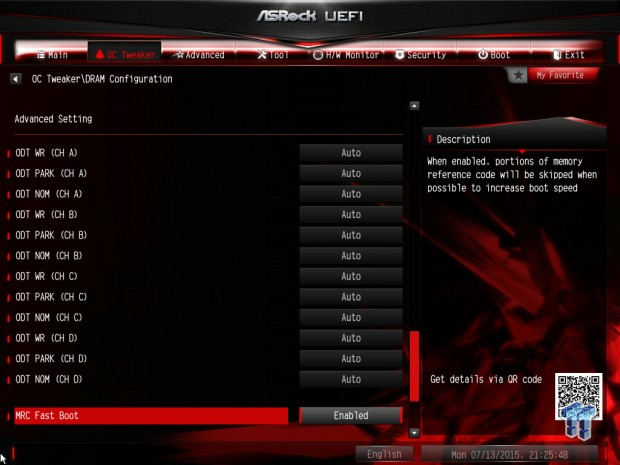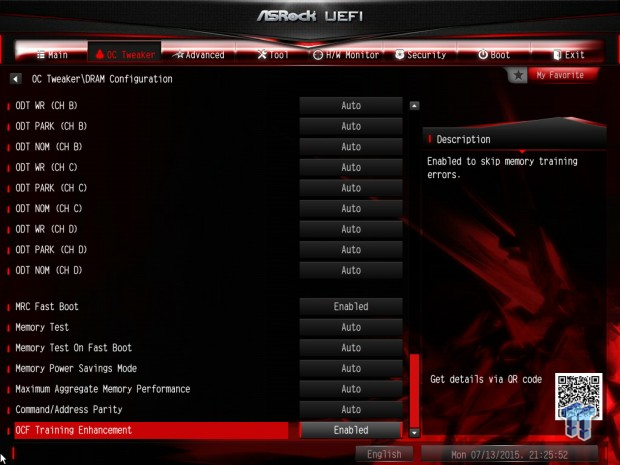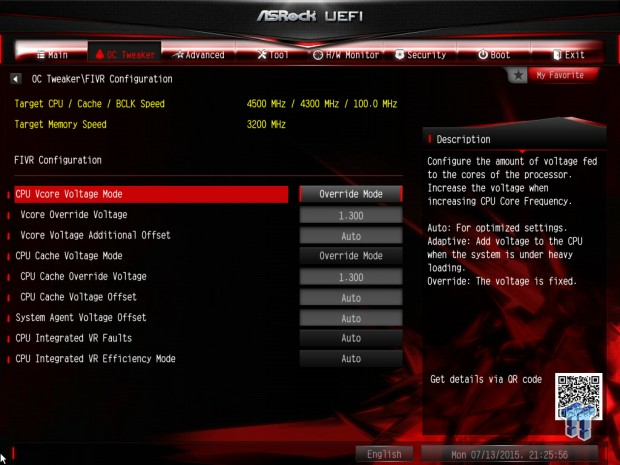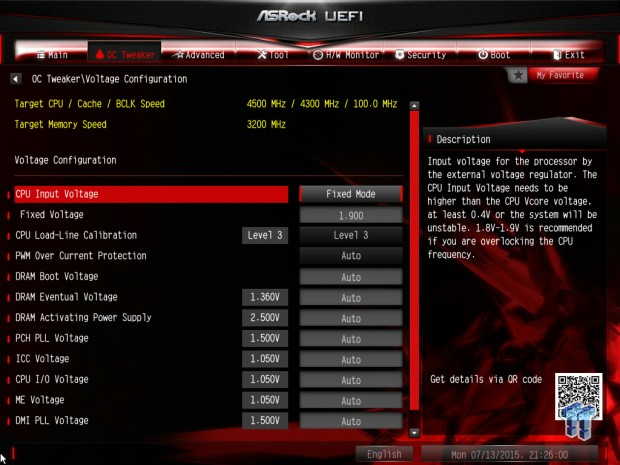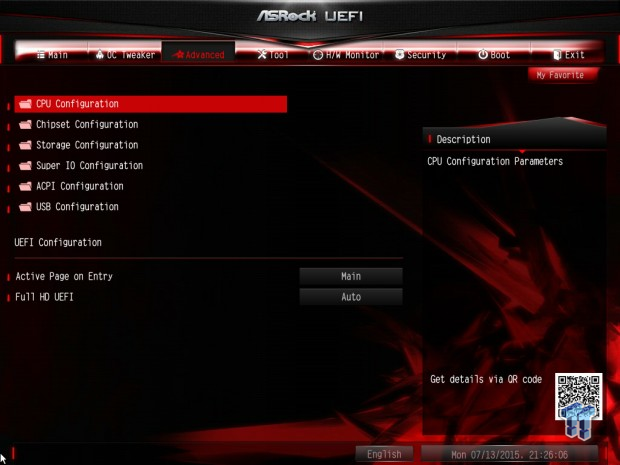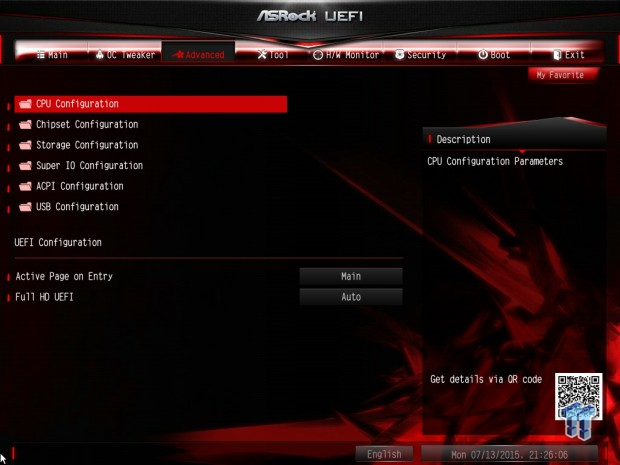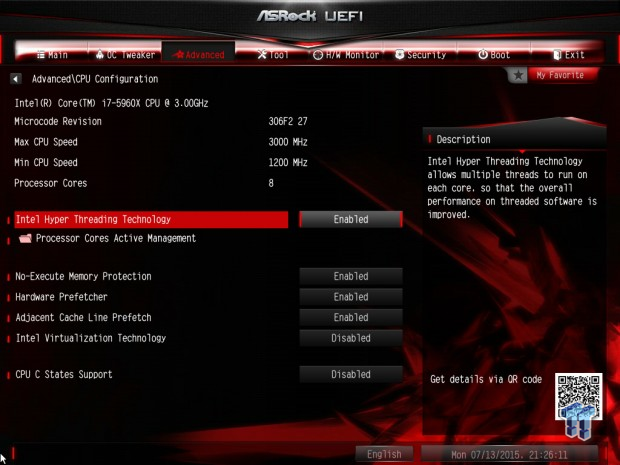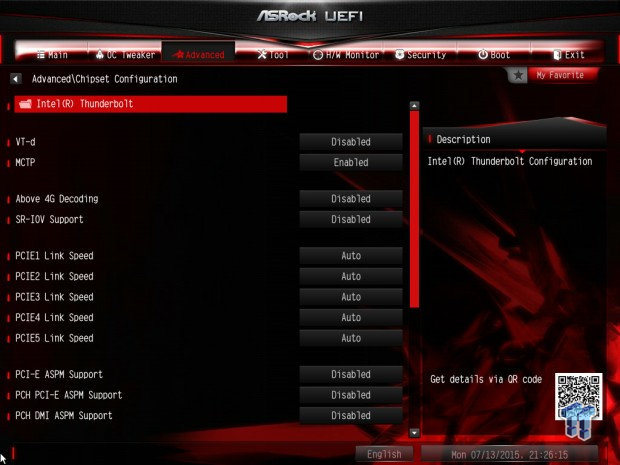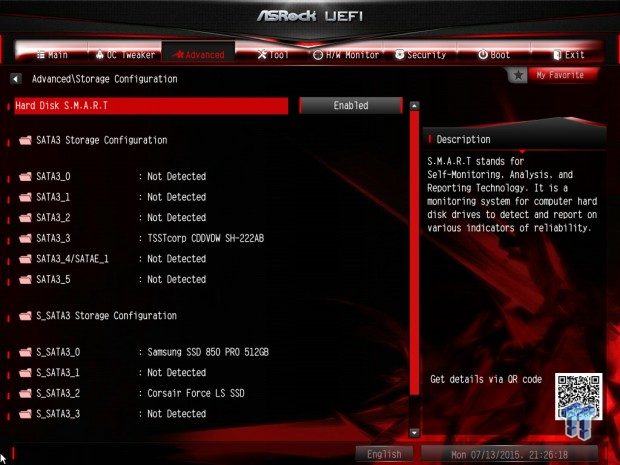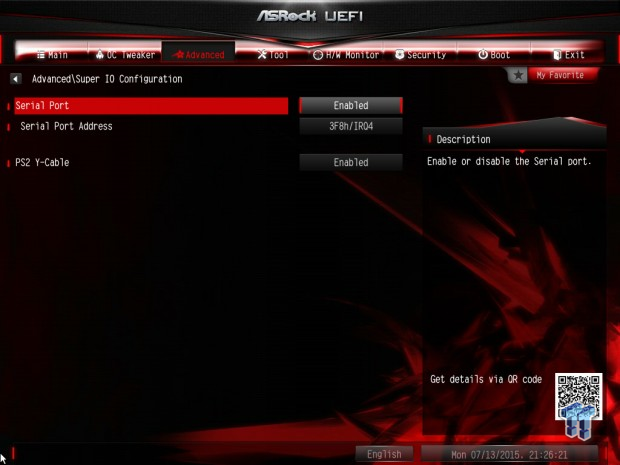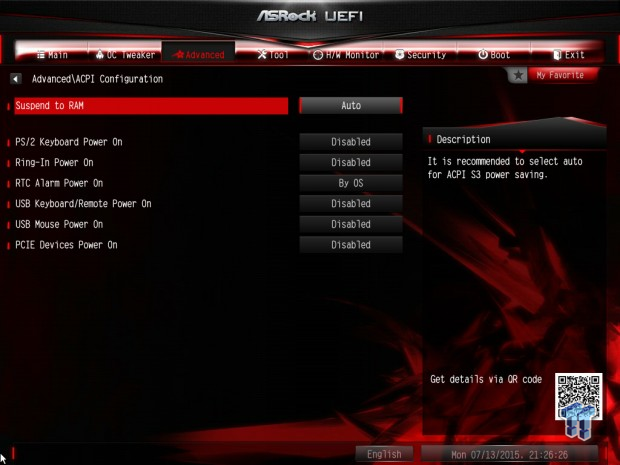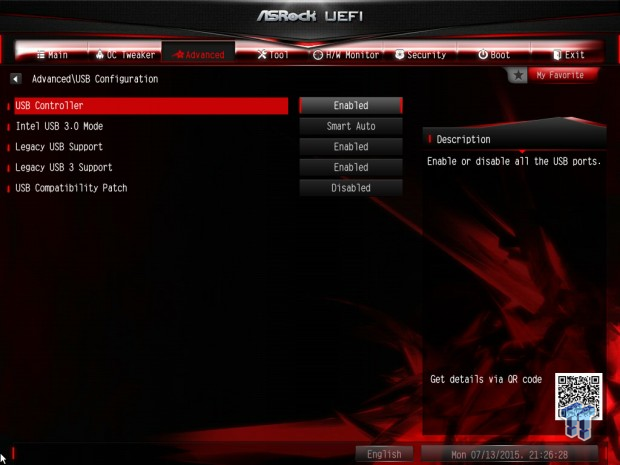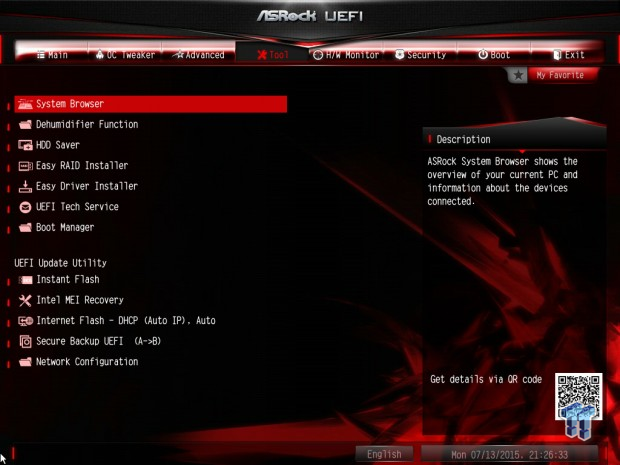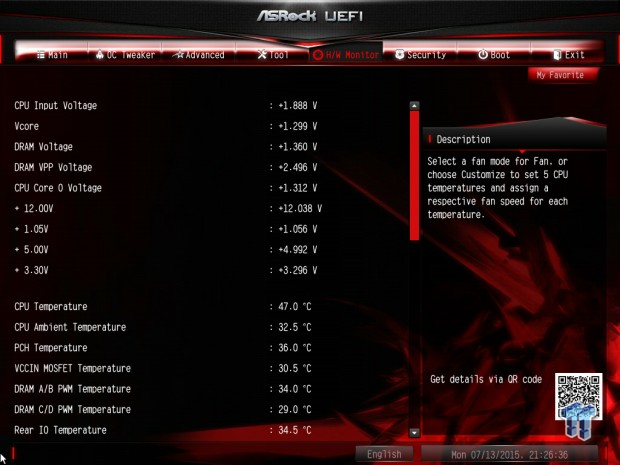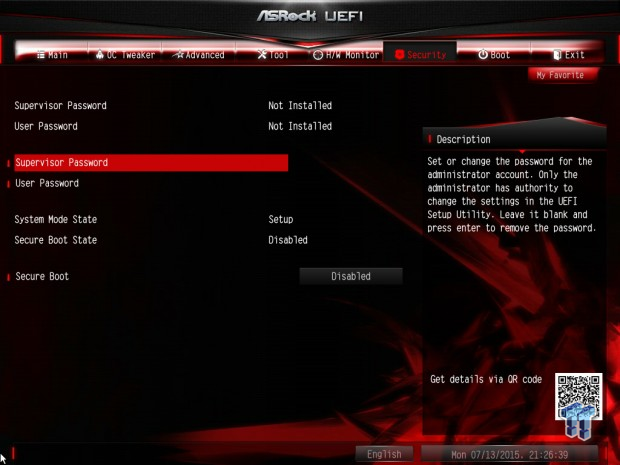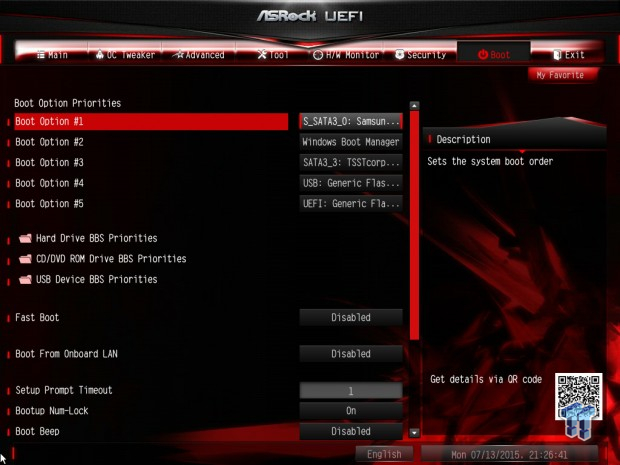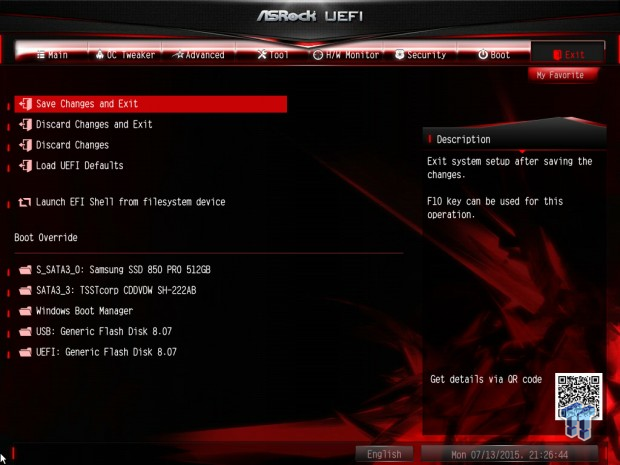 Software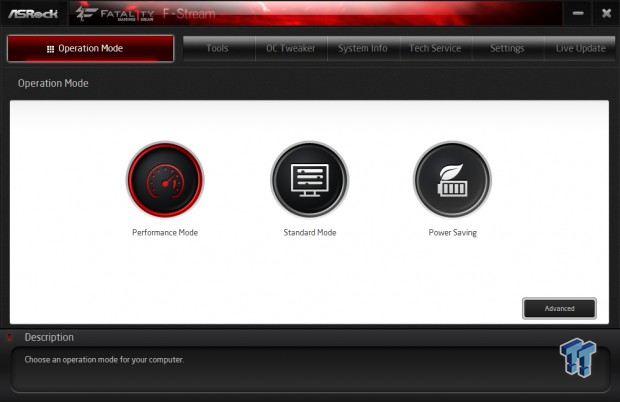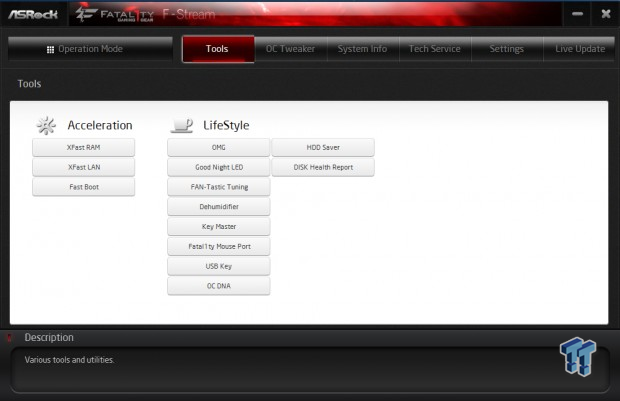 ASRock has consolidated a lot of its software into F-Streaming, which will let you set up functions like Good Night LED and Dehumidifier, while allowing you to overclock the CPU in real-time.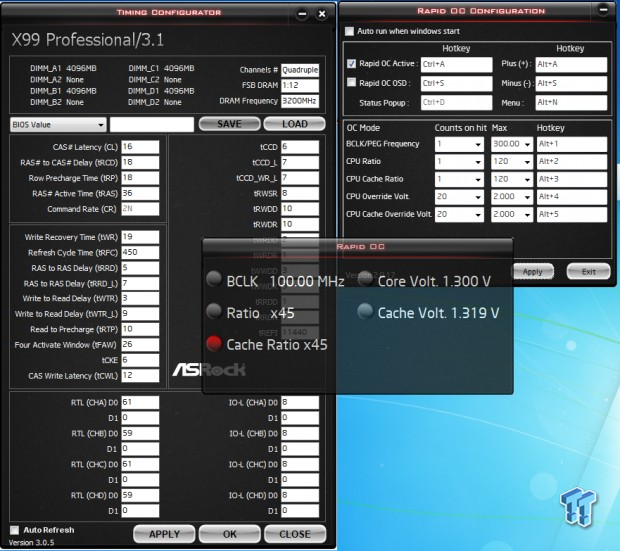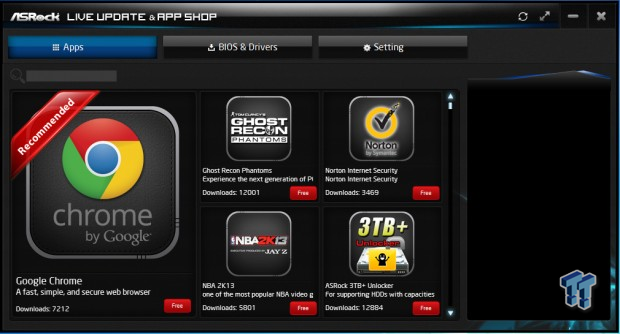 ASRock's Fatal1ty X99 Professional/3.1 also comes with Rapid OC, which is the software that works with the on-the-fly multiplier and voltage adjustment buttons on the board. ASRock's App Shop works like a live update utility, it will scan your system and recommend updates.
Test System Setup
Test Setup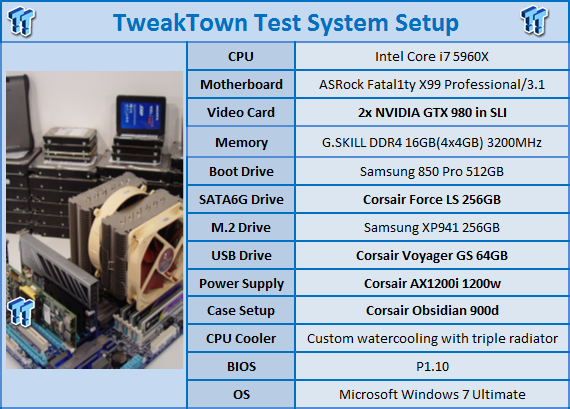 An ultra- big thank you to Corsair for sponsoring the CPU watercooling, DDR4 memory, case, fans, SSD, USB drive, and PSU! A big thanks to Seek for sponsoring the Thermal Camera. You can find my review of the camera here.

This is the new test bench, and it is designed to test every aspect of the motherboard and IO. I have designed it so that the motherboard sits in a case and is cooled by fans always on at a constant rate to keep the conditions similar for all tests. I have cut out part of the case behind the motherboard so I can get thermal images of the back of the PCB where the VRM heat spreads. System and CPU power measurements are now digitally logged.
I am also using a Netgear Nighthawk X4 AC2350 for our network (including wireless AC) tests. The latest M.2, SSD, and USB technologies are also being utilized to test the maximum potential of the motherboards that are being tested.
Overclocking
Overclocking Results
In this section, I will go through overclocking this board.
CPU Overclocking
Max CPU Overclock is found by setting the VCore to 1.5v, Input voltage to 2.1v, cache voltage to 1.15v, booting with a CPU multiplier of 45x and disabling any features that would result in CPU frequency fluctuation. I then proceed into Windows and used Rapid OC buttons to increase the multiplier.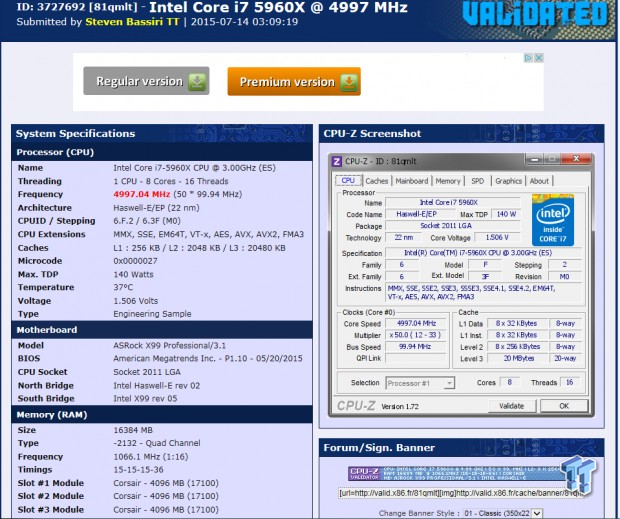 5.0GHz is the maximum of our CPU on this board and other X99 motherboards. It is clear that this board is pretty good for CPU overclocking. Maximum AIDA64 Stable Overclock (BIOS settings below for this):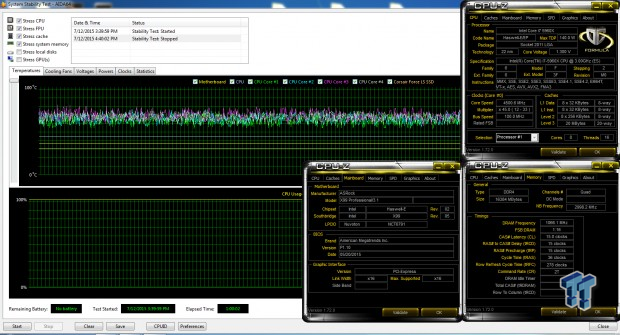 I was easily able to pull off 4.5GHz on the CPU with 3.3GHz cache overclock and 2133MHz on my memory manually tuning the UEFI.
Memory Overclocking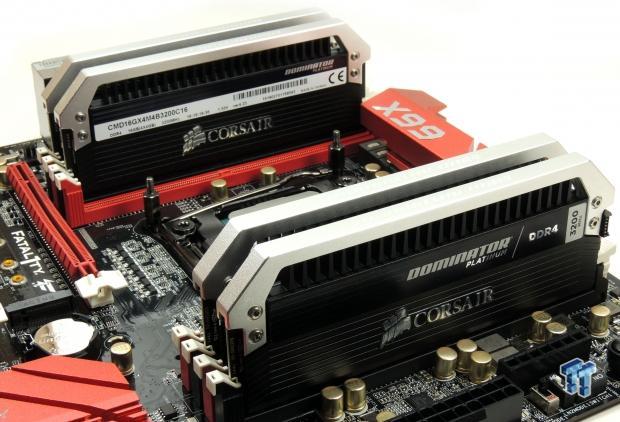 This section is a new addition. Corsair was nice enough to provide a 3200MHz quad-channel DDR4 kit for our benchmarks, and I decided to see how easy it is to boot with their XMP profile on different motherboards. In the early days of X99 trying to boot with the 32x memory multiplier was a nightmare, some boards did it with a lot of training (loops on startup), and some didn't even have the option. At this point in time I decided to test out how easy it is to use on each board.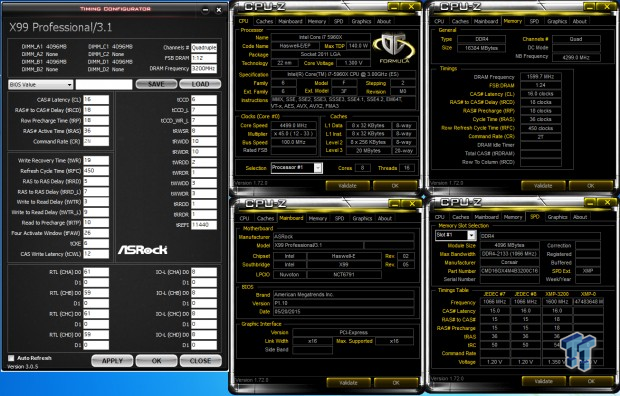 The Fatal1ty X99 Professional/3.1 handled this kit with ease and when I loaded XMP it set the 32x multiplier from the get-go. I was able to boot into Windows and there was no noticeable memory training upon the first boot. I then restarted from Windows and had no issue with memory training again. I then shut the computer down, waited five minutes and powered up, the board performed perfectly. The board sets MRC Fast Boot to enable, Training to enable, and sets 1.36v for the DRAM voltage.
Uncore/Cache Overclocking
Boards with the extra pins in the socket can overclock the cache further, on this board I was able to OC the cache to 4.5GHz, while the core was 4.5GHz.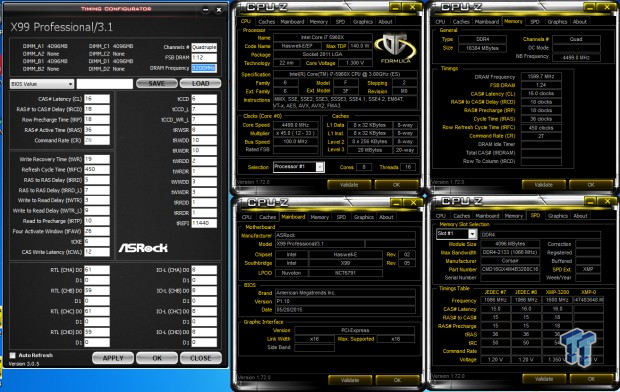 CPU, Memory, and System Benchmarks
CINEBENCH 11.5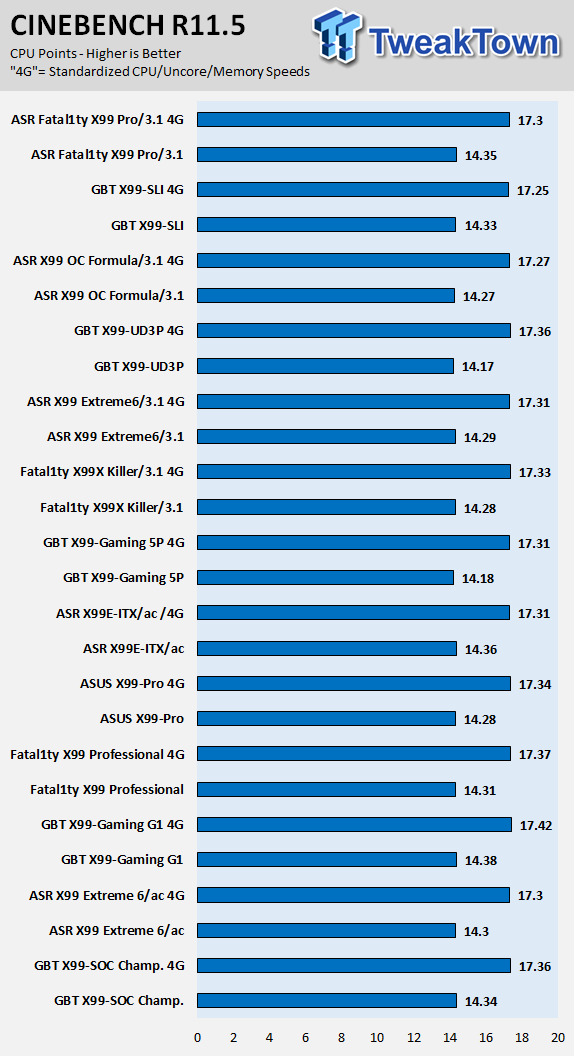 wPrime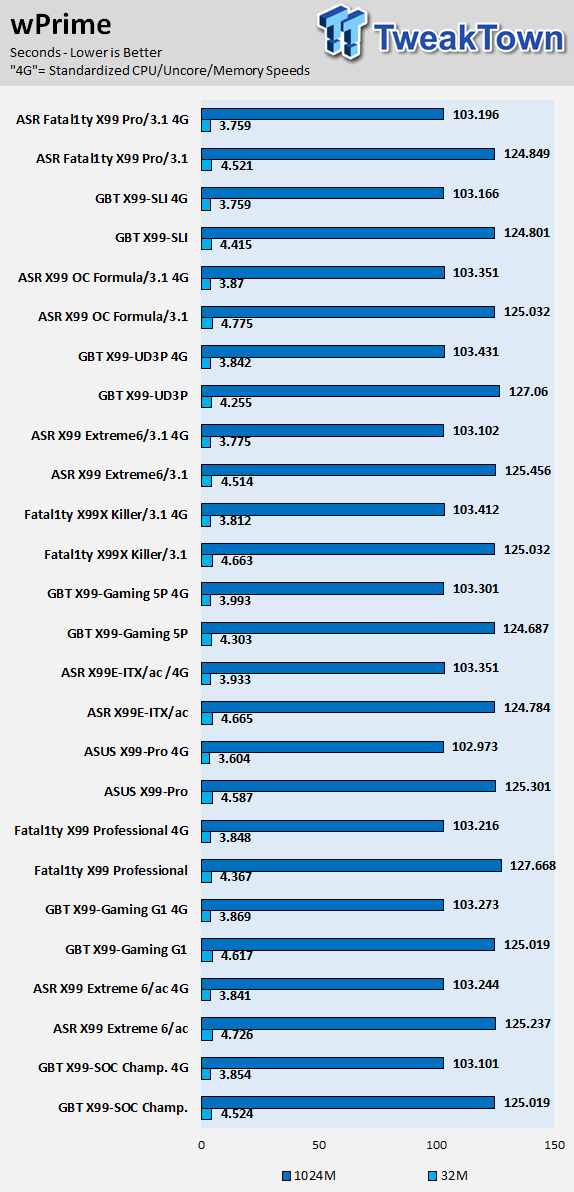 AIDA64 AES and HASH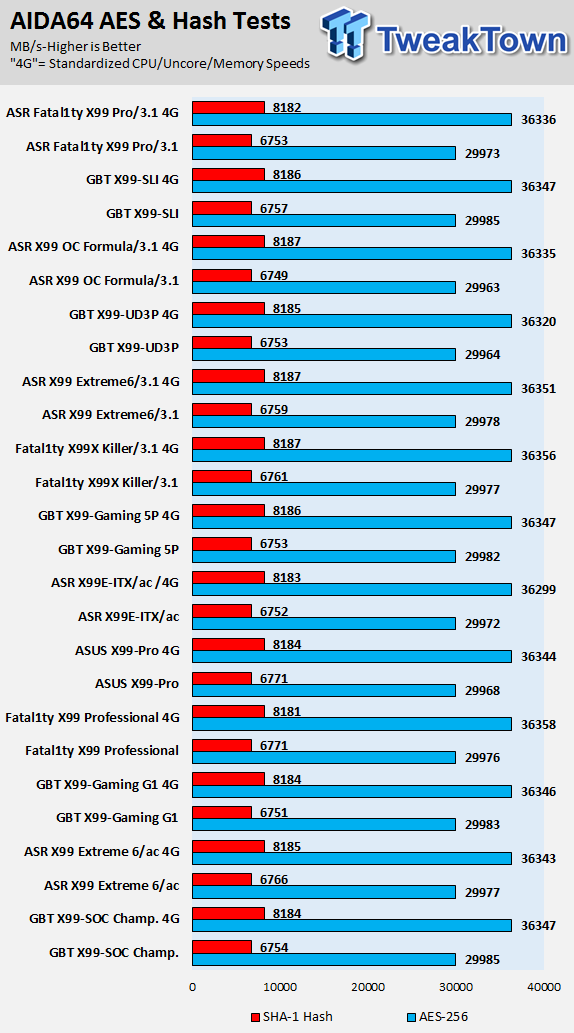 AIDA64 FPU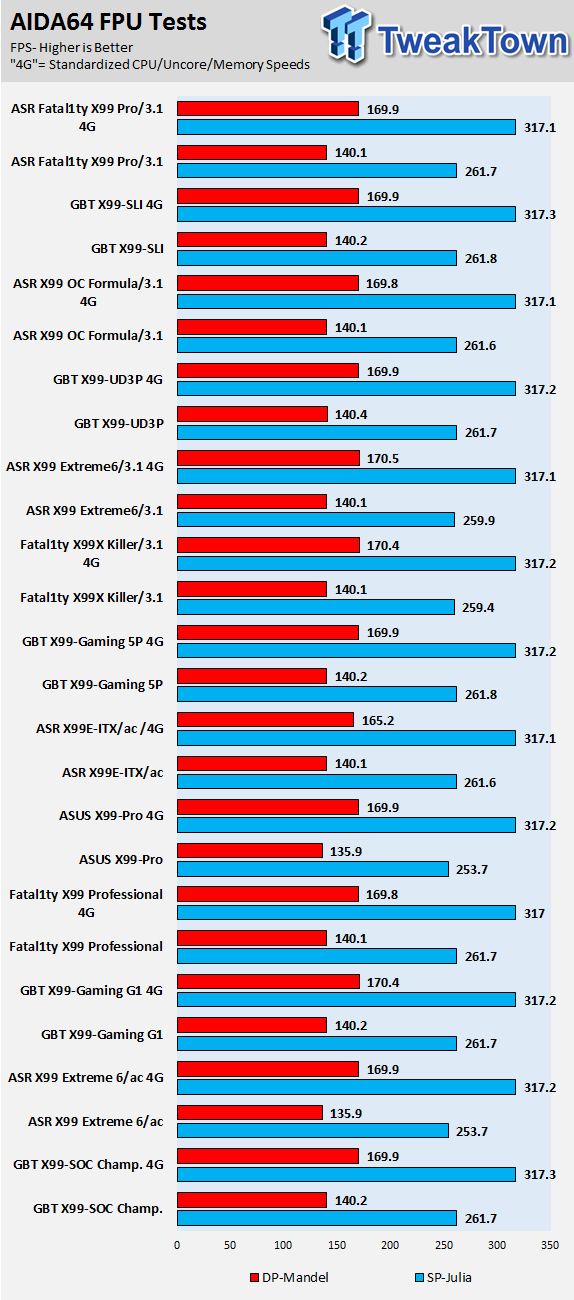 AIDA64 Memory

PCMark8 Home Test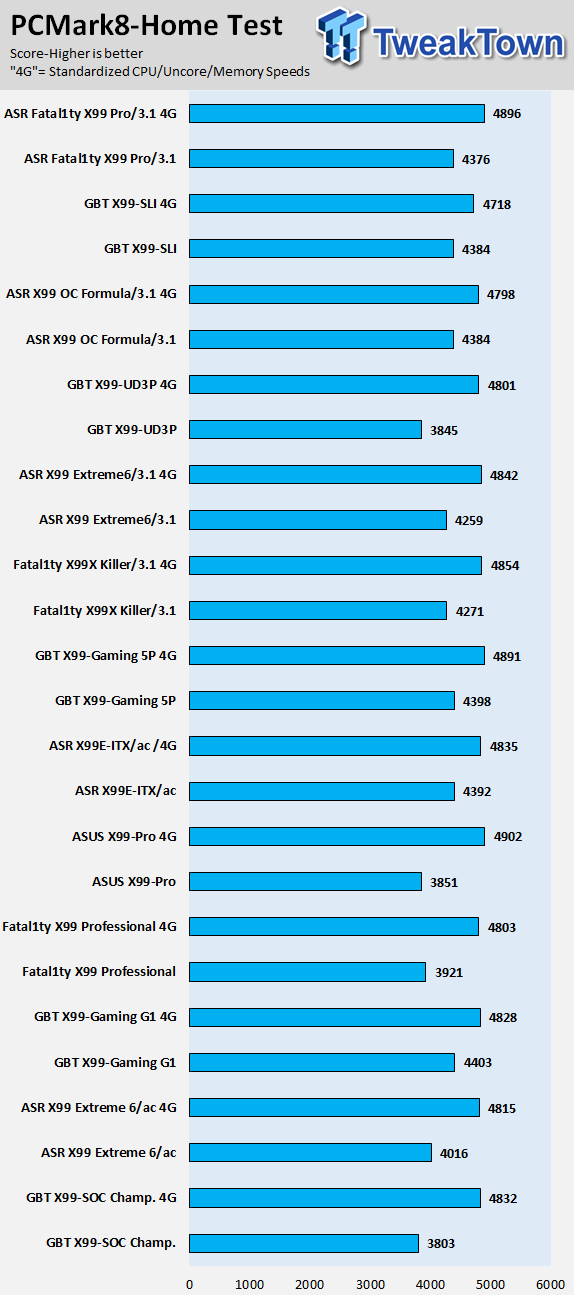 3DMark: Cloud Gate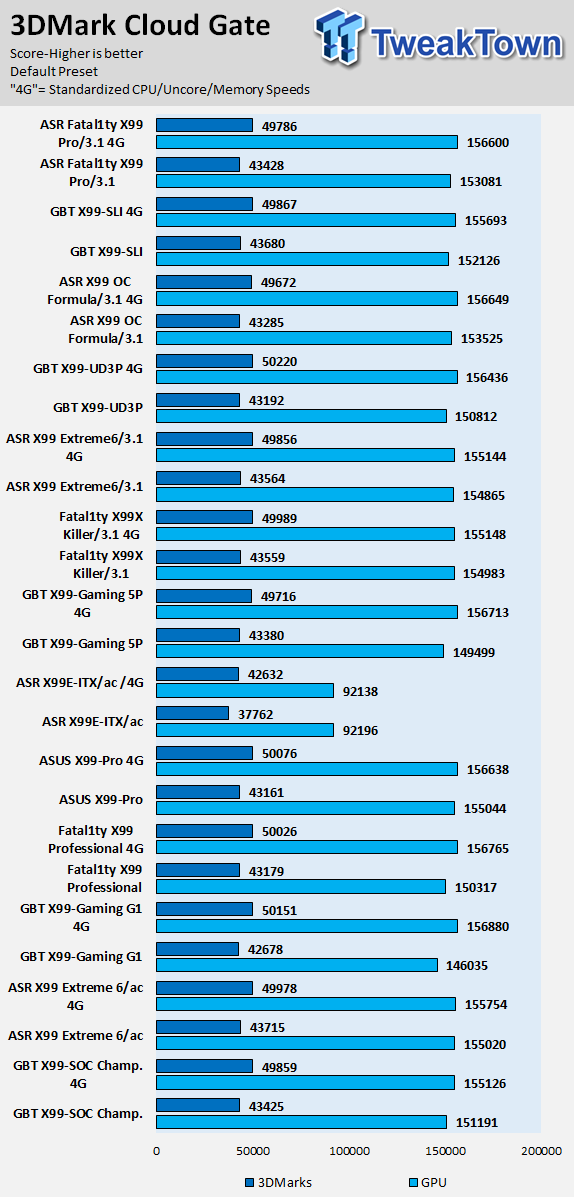 3DMark: Fire Strike

Resident Evil 6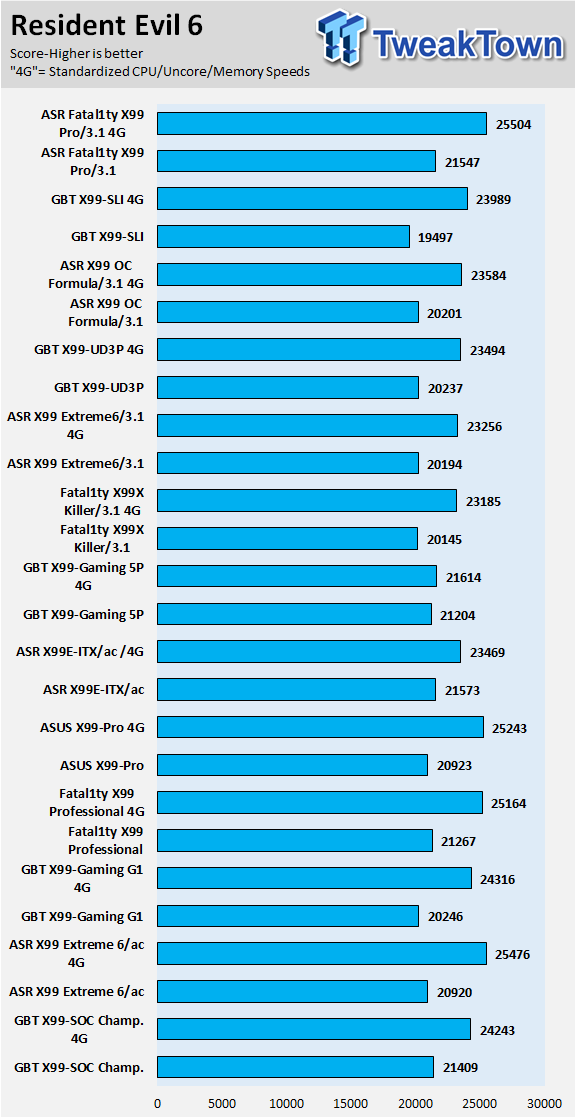 CPU, memory, system, and 3D performance are all very strong and there don't seem to be any issues, I was surprised by how strong the 3D performance was. These benchmarks are to find either exceptional performance or flaws; however, in this case the Fatal1ty X99 Professional/3.1 performs just like it should.
In fact, performance is quite good in the CPU and memory benchmarks. Since this board is a second generation X99 motherboard, I expect good results, and the Fatal1ty X99 Professional/3.1 delivers.
System IO Benchmarks
Anvil SATA6G: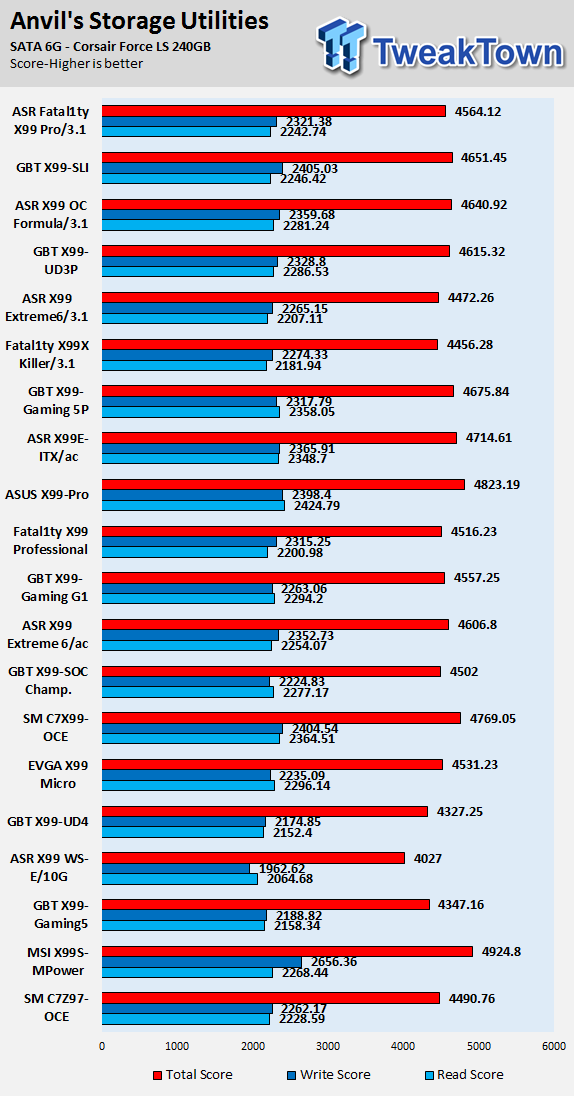 Anvil M.2: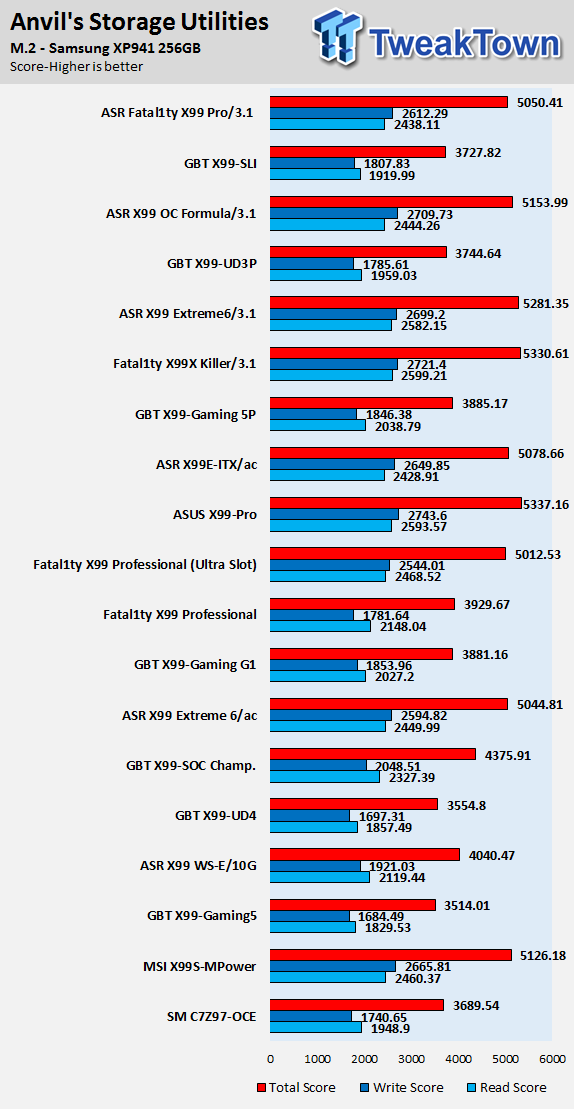 DiskBench USB 3.0: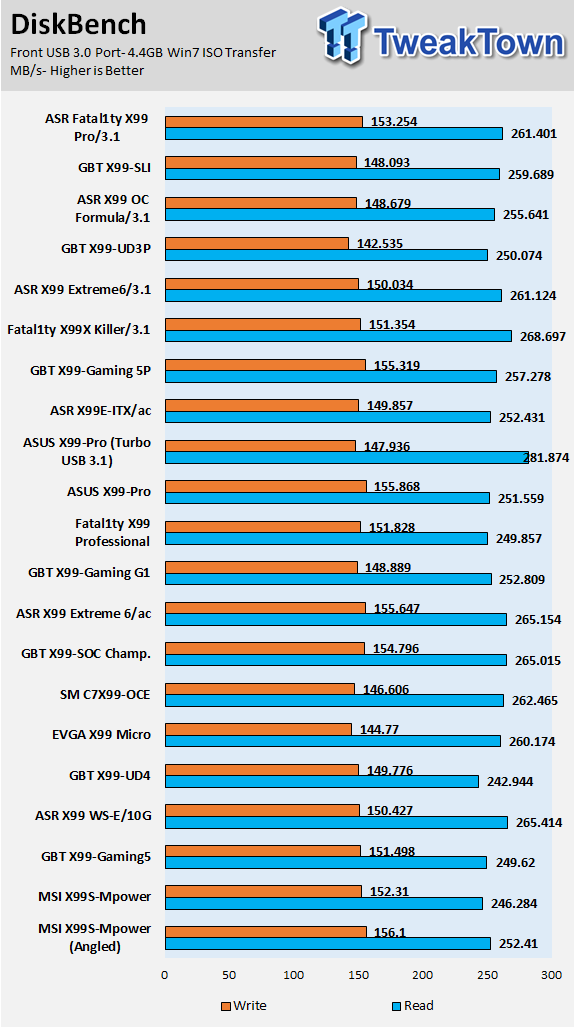 ixChariot Network Throughput: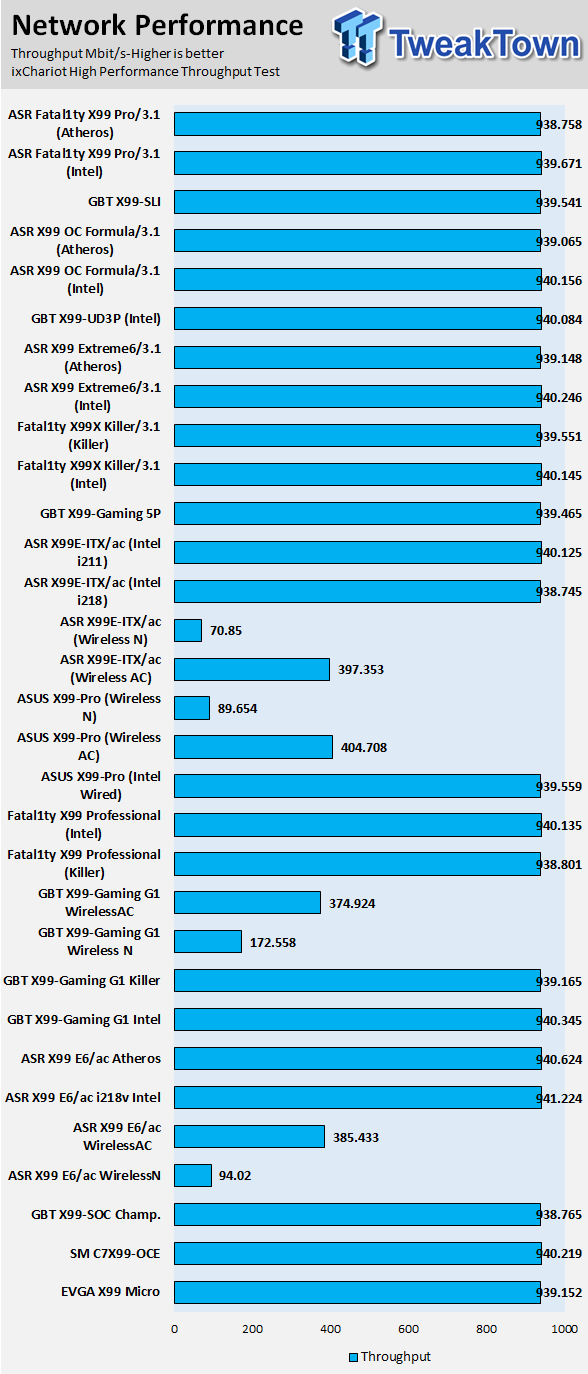 IO performance is where I expected it to be; it's an excellent board for M.2. Network performance is also solid on both the Intel and Qualcomm NICs.
Audio RMAA 5.5:
I disable all audio features, set the correct bitrates, and then test the audio with a loopback test.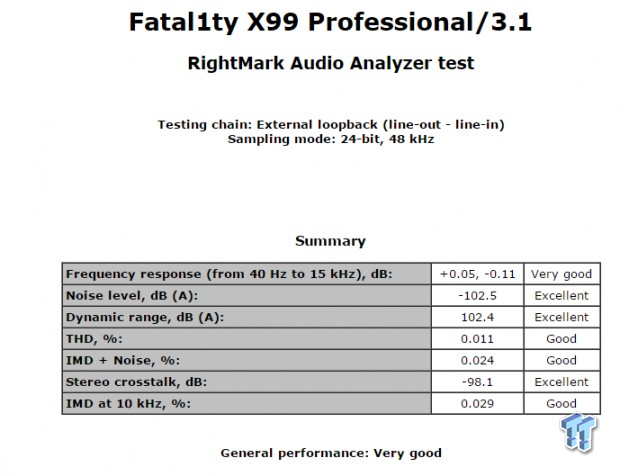 Sound Judgment by Ear: Very Good. I think that RMAA is a bit harsh on the way ASRock implements things as it sounds just as good if not better than other ALC1150 implementations but doesn't score as perfectly. There are 5 ratings for audio: 1. Problems, 2. Okay, 3. Acceptable, 4. Very good, 5. Excellent
Thermal Imaging and Power Consumption
System power usage is measured at the AC/DC PSU (the Corsair AX1200i) which I have connected to another system to measure the test system and as a backup I have a wall meter to verify. The CPU power is measured through the 8-pin connector which is hooked up to a hall effect IC which measures current and puts out a voltage in proportion to the current. That voltage is logged by a National Instruments ADC which logs the DC voltage level, which I then convert into current.

Note on Thermal Images: In the temperature section, we use our Seek thermal imaging camera to capture the surface temperatures of major components on the board; I look at the VRM and then all other things that light up the screen. If there is something to worry about then I will state it, otherwise I will just show the hotter running parts of the board for fun. Unless some component is over 80-90C then there really isn't anything to worry about.
All systems will act differently, so I will look for commonalities, such as how far from the VRM the heat spreads through the PCB and the difference in temperature between the front side and backside of the PCB. Keep in mind that the majority of the heat from the VRM goes into the PCB as it is a giant soldered on copper heat sink. A larger difference in temperature between the back and front of the PCB points towards a more effective heat sink.
Anything under 60C is excellent, 60-80C is acceptable, and anything above 80C is a bit worrisome (if at stock).
Thermal Testing at Stock Speeds:
The image on the left is always at idle and the image on the right is at load.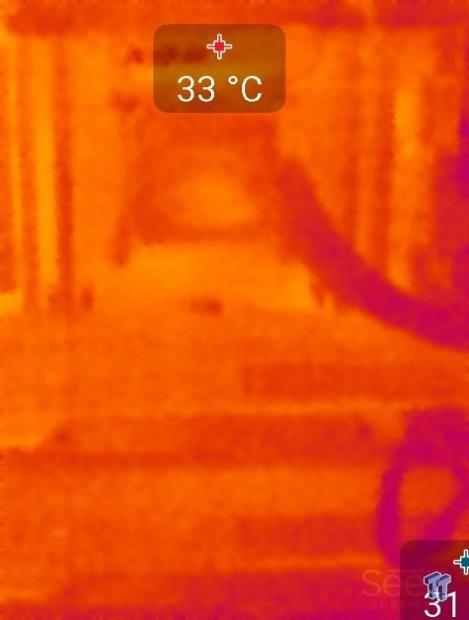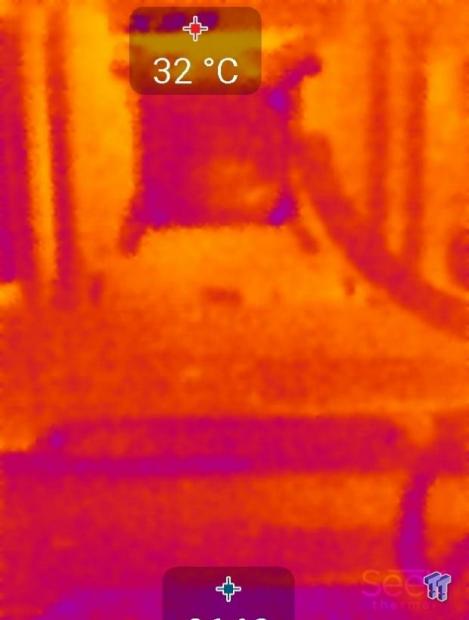 Full frontal.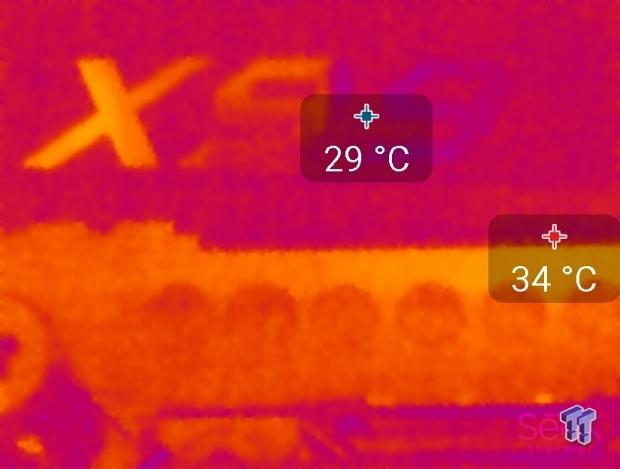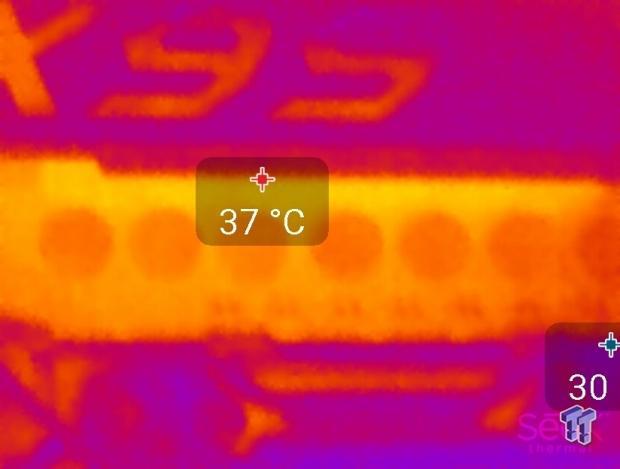 Up-close of the front of the VRM.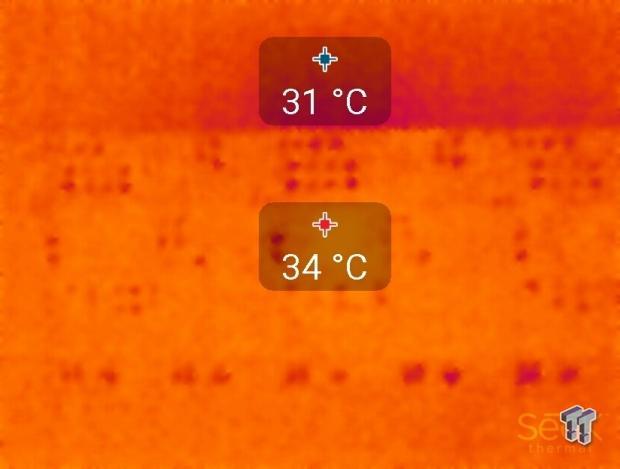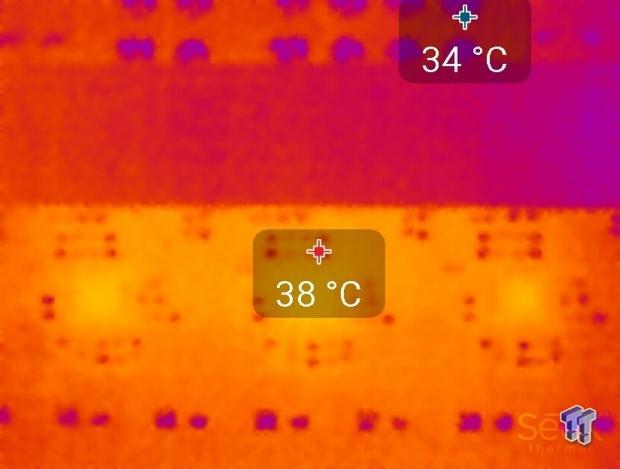 Up-close of the back of the VRM.
Thermal Testing at 4.5GHz Overclocked Speeds: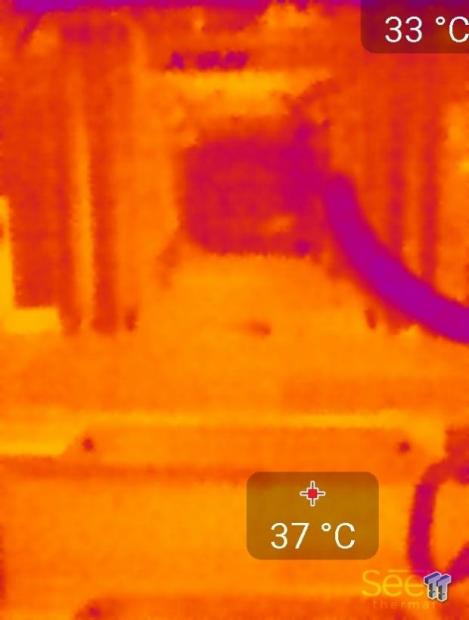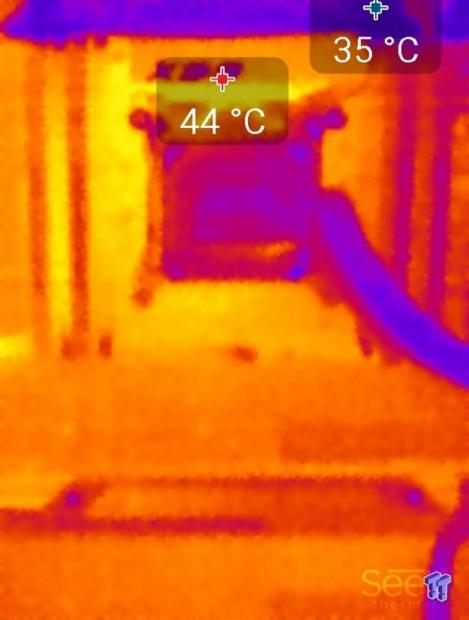 Full frontal.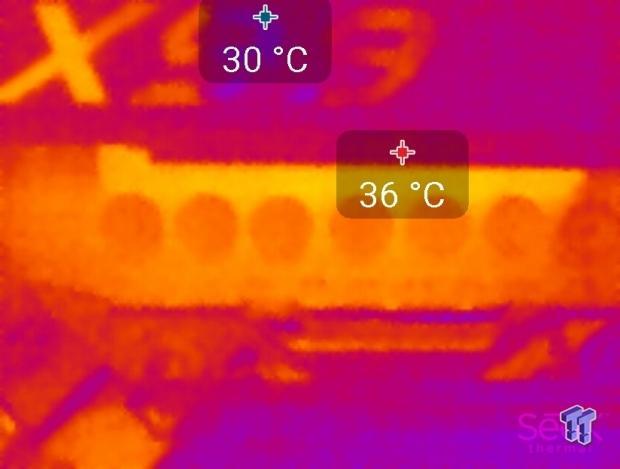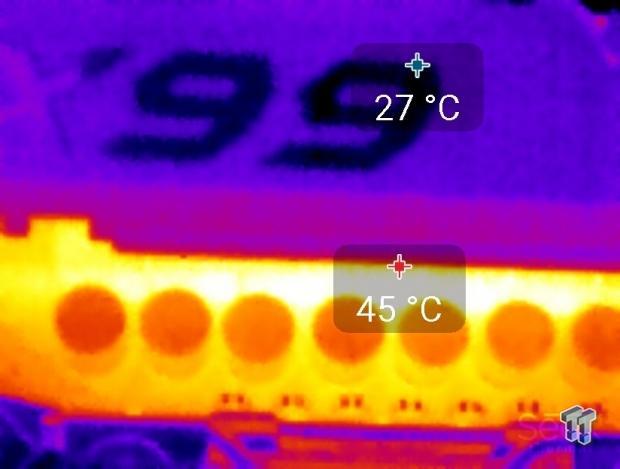 Up-close of the front of the VRM.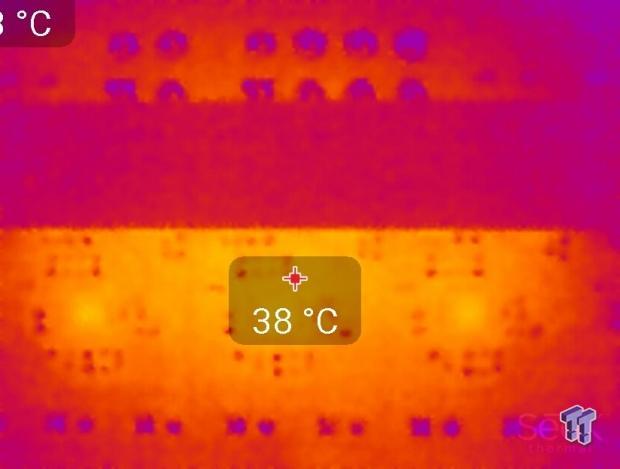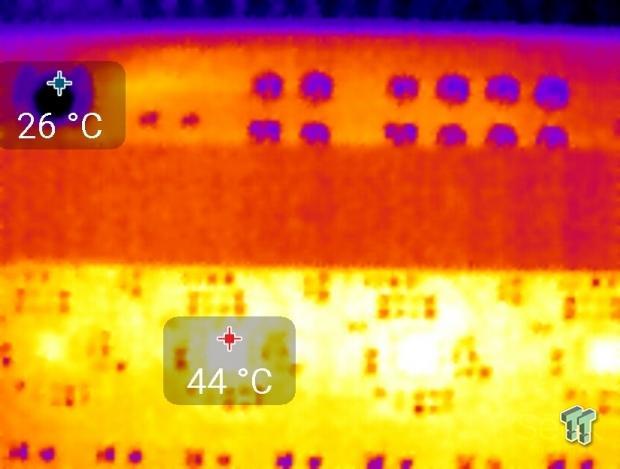 Up-close of the back of the VRM.
The VRM on the Fatal1ty X99 Professional/3.1 has double the number of MOSFETs compared to the other 1300W VRMs on other ASRock X99 motherboards. Since the number of MOSFETs is so higher (24), ASRock was forced to put half of them on the back of the PCB. You might expect that temperatures at idle be kind of high, but because of the phase shedding the temperatures stay very low even at idle.
Load performance is pretty good considering how many MOSFETs are being switched. The temperature on the back of the PCB was within 1C of the front of the PCB; that is because half the MOSFETs are on the back.
What's Hot, What's Not & Final Thoughts
This is where you can fast forward to the final section of the review, and get a quick recap and points on the ASRock Fatal1ty X99 Professional/3.1.
What's Hot
Great Overclocking Potential: The Fatal1ty X99 Professional/3.1 has excellent CPU, Uncore, and Memory overclocking potential. It was on par with ASRock's X99 OC Formula/3.1, and the Fatal1ty X99 Professional/3.1 has all the same OC features as the OC Formula. I liked how the board was able to keep up a 4.5GHz CPU and cache overclock, while maintaining the 3200MHz memory overclock. It was very easy to overclock this motherboard, and I achieved my overclocking goals the first time I aimed for them.
USB 3.1 Support: This board comes with two USB 3.1 controllers, one soldered on the PCB which supports the backpanel Type-C port, and another soldered onto the removable PCI-E card for two Type-A ports. If you want USB 3.1 on an X99 motherboard, ASRock has given you the ability to add or remove the number of ports you desire, and even perhaps move the card to another system when you move on from X99.
Solid Performance: The board performed very well compared to the rest of the herd, especially in gaming benchmarks.
Large variety of features: With Ultra M.2, M.2, mPCIe, 4-Way SLI, USB 3.1, Intel NIC, Killer NIC, 12 phase VRM, OC Features, 10 USB 3.0 ports, SATA Express, and more unique ASRock features, the Fatal1ty X99 Professional is one of the most loaded Intel X99-based motherboards on the market.
X Series OC Socket and Mounting: ASRock's OC socket really helped increase the board's cache and memory overclocks. The board also has open holes where the CPU heat sink screws in so that the PCB won't be damaged if you over tighten.
What's Not
CMOS Battery and USB 3.1 Card Placement: Placed right below the first PCI-E 16x slot the battery is in a bad position if you need to remove it during extreme overclocking. The ASRock Fatal1ty X99 Professional/3.1 has no PCI-E 2.0 slots, only PCI-E 3.0 slots from the CPU. This makes it a bit hard to find a good location for the USB 3.1 A+A card, other than the middle black PCI-E slot, and that is already shared with the Ultra M.2 connector.
Final Thoughts
I was quite impressed with ASRock's Fatal1ty X99 Professional/3.1 because it improved upon its predecessor while not compromising any features or quality. This board is ASRock's flagship gaming series motherboard, and as such, I expected a lot and the Fatal1ty X99 Professional/3.1 didn't disappoint.
However, I didn't expect the board to overclock as well as it did. Since auto rules are different on all the boards I test, sometimes I am not able to hit that 4.5GHz cache overclock, but ASRock has heavily optimized auto rules in the UEFI to increase the proper voltages in the background and I hit 4.5GHz. Not only that, memory overclocking was also quite simple.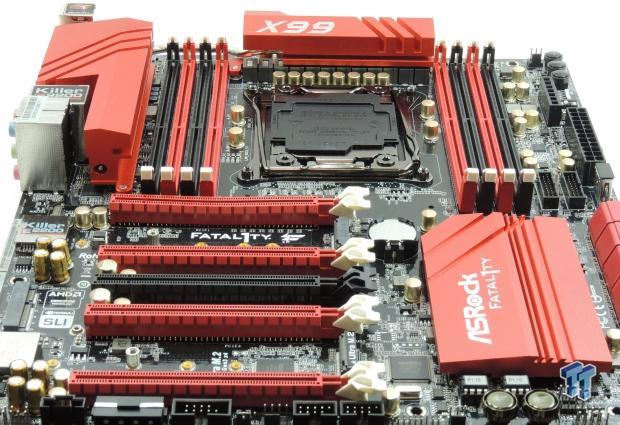 The price of the board at $359.99 might be a problem for many, but the board comes loaded with features to justify the price, it's also not the most expensive X99 motherboard either.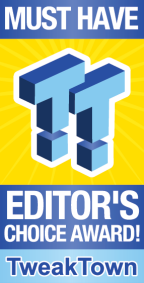 | | |
| --- | --- |
| Performance (including Overclocking) | 94% |
| Quality including Design and Build | 95% |
| General Features | 92% |
| Bundle and Packaging | 89% |
| Value for Money | 90% |
The Bottom Line: Whether you are looking for a feature-packed motherboard, a gaming motherboard, or an overclocking motherboard, the Fatal1ty X99 Professional/3.1 can fill any of those roles with ease. It, simply put, is a solid high-end motherboard that is built to impress.
PRICING: You can find products similar to this one for sale below.

United States: Find other tech and computer products like this over at Amazon.com

United Kingdom: Find other tech and computer products like this over at Amazon.co.uk

Australia: Find other tech and computer products like this over at Amazon.com.au

Canada: Find other tech and computer products like this over at Amazon.ca

Deutschland: Finde andere Technik- und Computerprodukte wie dieses auf Amazon.de
We openly invite the companies who provide us with review samples / who are mentioned or discussed to express their opinion. If any company representative wishes to respond, we will publish the response here. Please contact us if you wish to respond.