ASUS ROG G751 17-inch NVIDIA G-Sync Gaming Laptop Review
ASUS has one of the most powerful gaming laptops on the market, sprinkling NVIDIA's G-Sync tech into the mix, making it one of the most special ever made.

Published Mon, Jul 20 2015 1:15 PM CDT
|
Updated Tue, Nov 3 2020 6:59 PM CST
Rating:

95%
Manufacturer: ASUS
Introducing the G-Sync Powered Mobile Powerhouse: ASUS ROG G751
I have been a desktop gamer since I was very young, so for over 20 years. I started off with the Amiga 500, moving to a 486 when they arrived. I upgraded to nearly every version of Windows, I've had every generation of product from Intel, AMD and NVIDIA over the decades, and every change in technology that has happened such as SSDs, VR headsets (even in developer kit form as they are now) and monitors - where I've easily spent $50,000 over the years on displays.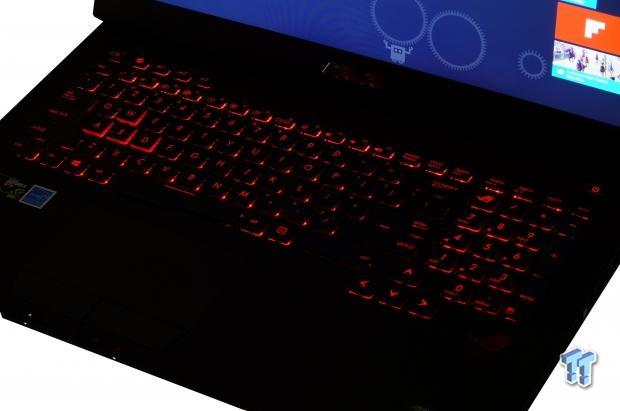 But one aspect of technology I didn't really invest time or money into were gaming laptops. This is mostly because I've owned seriously fast and multi-GPU or multi-monitor desktops, but laptops could never offer me more than 60Hz with a super-fast machine behind it, and a video card that could handle it all. Until the ASUS G751JY, that is.
Because I'm not a gaming laptop owner, or have had many other gaming laptops to compare again, I'm going to be comparing this to my desktop gaming experience, and how close or similar it is to that. This will give you a different style of review, and as we get more gaming laptops, we can begin to compare them against each other.
To start with, the main reason we're here is NVIDIA's G-Sync technology being deployed. This provides the ASUS ROG G751 (G751JY) the tag of being the 'first gaming laptop in the world with NVIDIA G-Sync' and it really is the bragging point of an already amazing machine.
Quick Specs
The ASUS ROG G751 positively oozes the latest technology, with the star of the show being the 17.3-inch 1920x1080 display that features NVIDIA's G-Sync technology. The panel has been cherry picked by ASUS and NVIDIA, and is clocked at 75Hz - up from the 60Hz that virtually every other laptop features. This Full HD panel doesn't have an NVIDIA G-Sync module, as it is directly connected to the Maxwell-based GeForce GTX 980M GPU from NVIDIA.
Continuing with the display capabilities, we have a 17.3-inch Full HD panel based on IPS technology (In-Plane Switching) and is antiglare. Something that really comes in handy with gaming on-the-go. Inside, NVIDIA has used the GeForce GTX 980M with 4GB of GDDR5, there's a huge 24GB of 1600MHz DDR3 RAM, a 256GB PCIe-based SSD backed by up a 1TB 7200RPM storage HDD, a Blu-ray R/W drive, 4 x USB 3.0 ports, 1 x Thunderbolt, 1 x HDMI, and an SD card reader.
It's a gigantic laptop, so you won't be grabbing it easily with a single hand. We have a total weight of 8.4 pounds, or 3.81kg. I'm coming in from a Lenovo Yoga 2 Pro which weighs just 3.06 pounds, or 1.38kg.
Warranty & Support
ASUS has world-class technical support behind the ROG G751, offering one-year accidental damage protection and 30-day Zero Bright Dot guarantee behind the 17.3-inch display.
Availability & Price
ASUS is currently selling the new ROG G751 on Amazon for $2311 at the time of writing, with it available on Amazon Prime for super-quick delivery depending on your state and city. This of course makes it an expensive purchase, but you get what you pay for.
Packaging & Detailed Look
The Packaging
Both sides of the box don't have much going on, but it is a nice looking box with its black and red styling. You can instantly tell this is a ROG product.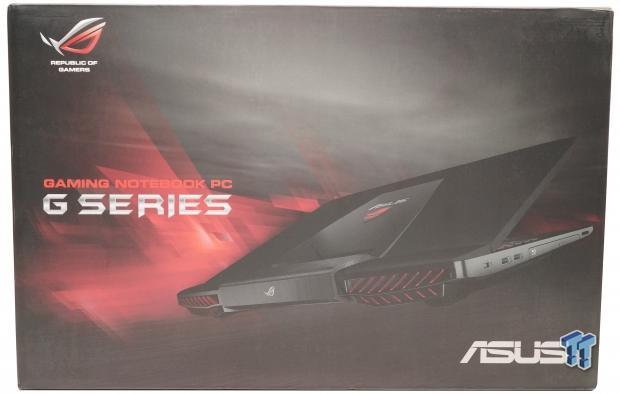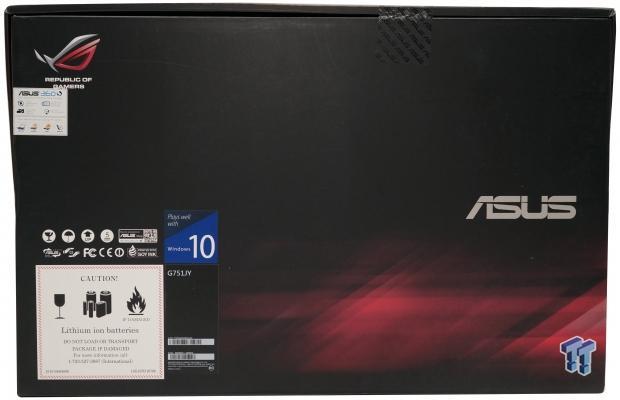 The box looks quite good, and while it doesn't go extreme in terms of huge splashy hot girls in barely any clothing, it gets the message across that it's a ROG product.
Detailed Look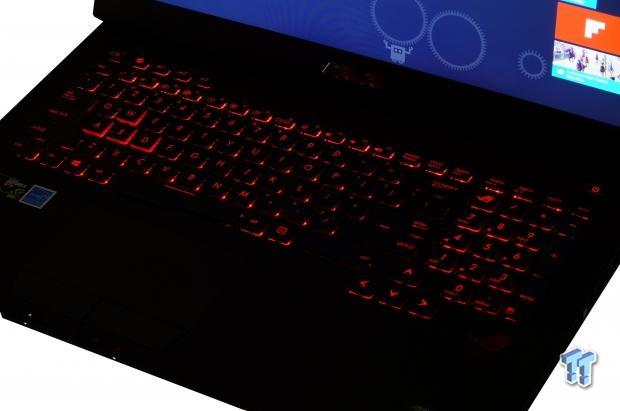 Starting with the front of the ROG G751, we have the great one-piece backlit keyboard which is actually quite good to type on. I type very fast, and the ASUS ROG G751 has no issues keeping up with me.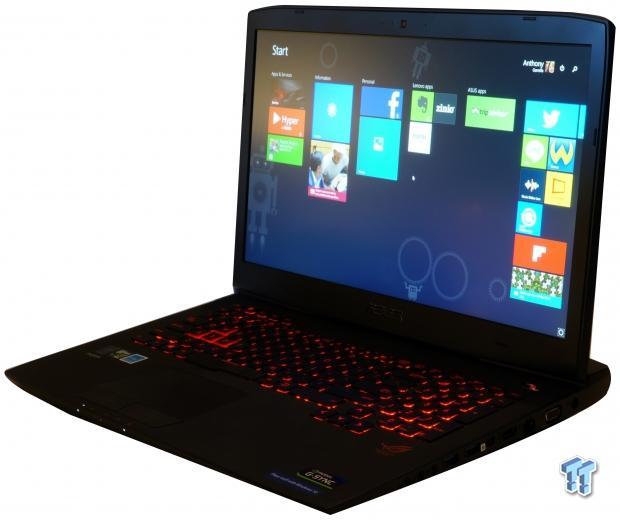 The 17.3-inch IPS-based Full HD display looks great in person, with a stylish look.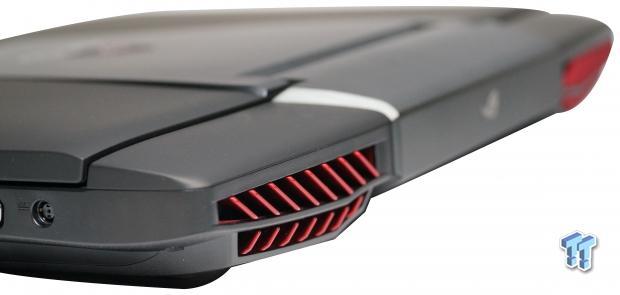 Rear venting ports to keep your ROG G751 nice and cool under gaming loads.
ASUS ROG G751 Specifications, External Ports & Layout
Desktop Replacement Hardware
We have some serious specifications with the ASUS ROG G751, with the standout feature here being the 17.3-inch FHD IPS-based panel with NVIDIA G-Sync technology.
Screen size - 17.3-inch (IPS)
Resolution - 1920x1080 (Full HD)
Processor - Intel Core i7-4720HQ (2.6GHz quad-core)
RAM - 24GB DDR3L RAM
Storage 1 - 256GB M.2 SSD
Storage 2 - 1TB HDD
GPU - NVIDIA GeForce GTX 980M w/4GB GDDR5
OS - Microsoft Windows 8.1
Battery: 8-cell 6000mAh
Weight - 8.4lbs (3.8kg)
As you can see, ASUS isn't playing around. There is some serious horsepower in the ROG G751, with desktop-class performance.
External Ports
ASUS has provided plenty of connectivity options on the ROG G751, with:
1 x microphone jack

2 x headphone jacks

1 x VGA

1 x Thunderbolt

4 x USB 3.0

1 x HDMI

1 x SD card reader

1 x GbE
The inclusion of four USB 3.0 ports was great, as is the Thunderbolt port. That came in handy to hook up a second 34-inch ultrawide monitor to enjoy two 3440x1440 monitors hooked up to the ASUS ROG G751 at once.

On the left of the ASUS ROG G751, we have two USB 3.0 ports, the Blu-ray RW drive, and the SD card reader.

On the right, we have the microphone and (amplified) headphone ports, two more USB 3.0 ports, a Thunderbolt port, HDMI, Gigabit Ethernet, VGA and the AC power port.
Layout
All of this joins forces for one hell of a beautiful gaming laptop, which you can see from above. The 17.3-inch FHD display is joined by a front-facing camera for video calls.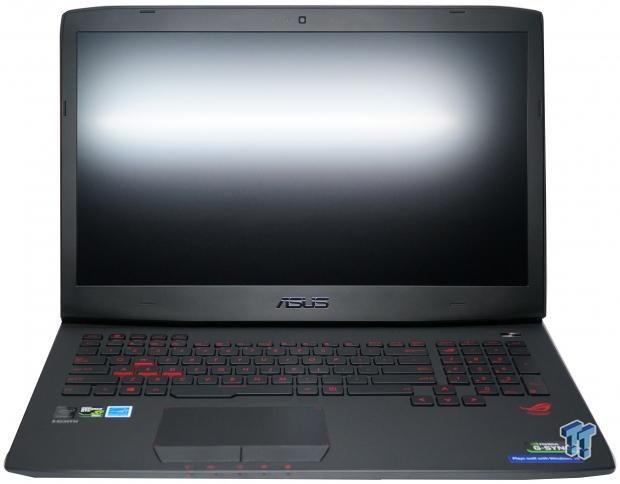 Looking down at the keyboard, to the top left, you can see ASUS has included a dedicated Steam key. Pressing this will open up Steam, and from the default settings that ASUS provides on the ROG G751, it will open up Steam in Big Picture Mode. To the right of the keyboard is a number pad, which I thought was a weird inclusion on a gaming laptop. I didn't use it, so I would've preferred something else in its place. A touchscreen, or some dedicated ROG buttons, or something... just something different, or unique. Starting on the left, we have the aforementioned Steam button, joined by some Macro buttons that can be customized to your liking.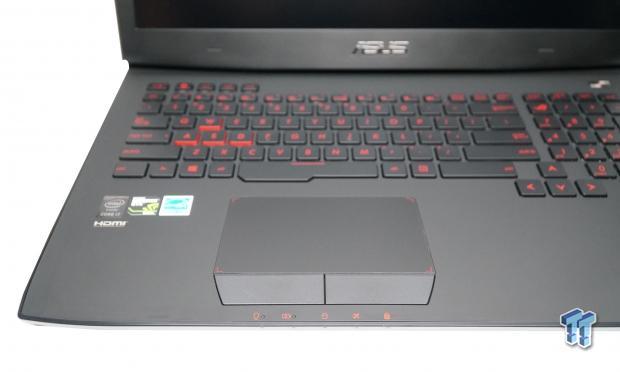 The track pad on the ROG G751 isn't actually too bad, but this is a gaming laptop, so it'll only get used in extreme circumstances. Under the track pad, we have some activity LEDs for charging, disc use, airplane mode and more.
Testing Method & Equivalent PC GPU
Testing Method
I've played Battlefield 4 on a 64-player server to provide some real-world performance numbers. I've found this is one of the best ways to provide the most realistic performance numbers, as it involves actual gameplay in a large server that really strains most setups.
For now, I'm going to be using the same suite of benchmarks I've been using on my Tweakipedia articles, which uses a mix of synthetic benchmarks with Futuremark's 3DMark and Unigine Heaven. After that, we have a bunch of titles with built-in benchmarks (which does not represent actual in-game performance) but they are repeatable for you at home to gauge the performance of your PC or GPU.
Over time, I will be adding in new benchmarks and a new section that will concentrate solely on real-time gaming benchmarks. This will take more time per review, as I'll have to invest time into actually physically playing the games, but it'll be worth it in the long run. For now, let's get right into the synthetic benchmarks and see how this ASUS ROG G751 gaming laptop performs.
What We're Using The ROG G751 Against
Because this is a new start of laptop reviews, we're going to change up benchmarks to start with. Normally, you'd see a suite of benchmarks comparing laptops that have been previously reviewed, but because this is a first for me, we're going to line up the results from our benchmarks against a few different GPU reviews I've written. We'll compare the ASUS ROG G751 against the ASUS GeForce GTX 980 Matrix Platinum video card, an overclocked GTX 980.
We only recently built our new X99-powered system, something you can read about here. As for the detailed specifications, this is what we're running:
CPU: Intel Core i7 5820K processor w/Corsair H110 cooler
Motherboard: GIGABYTE X99 Gaming G1 Wi-Fi
RAM: 16GB Corsair Vengeance 2666MHz DDR4
Storage: 240GB SanDisk Extreme II and 480GB SanDisk Extreme II
Chassis: Lian Li T60 Pit Stop
PSU: Corsair AX1200i digital PSU
Software: Windows 7 Ultimate x64
Benchmarks - Synthetic
3DMark Fire Strike - 1080p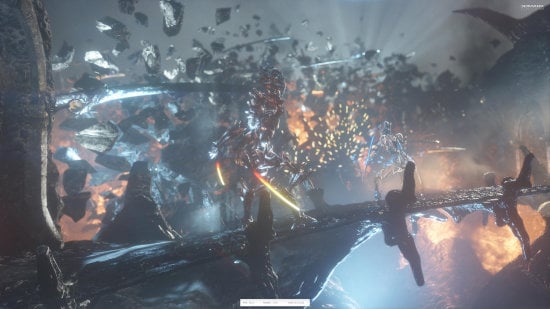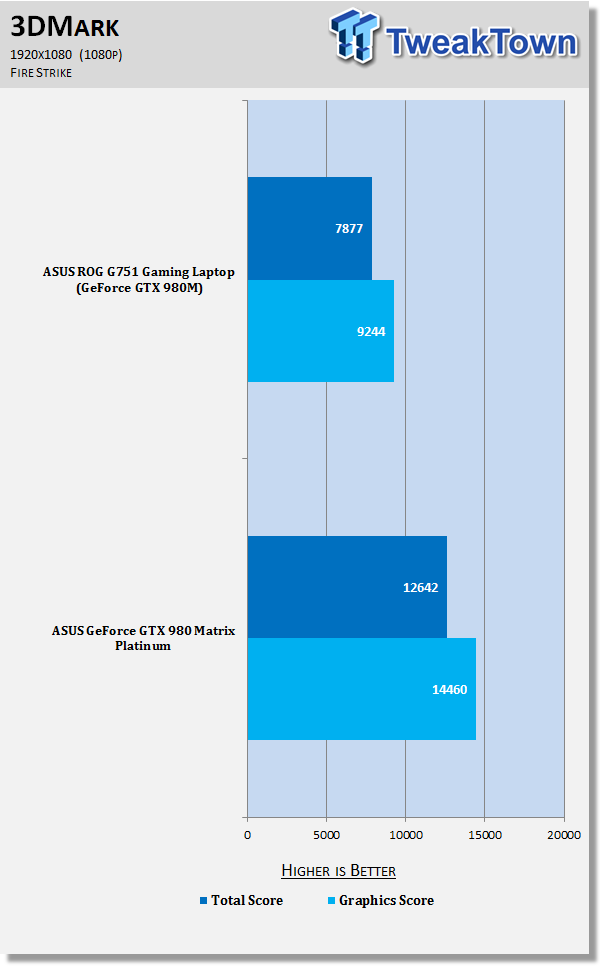 Heaven - 1080p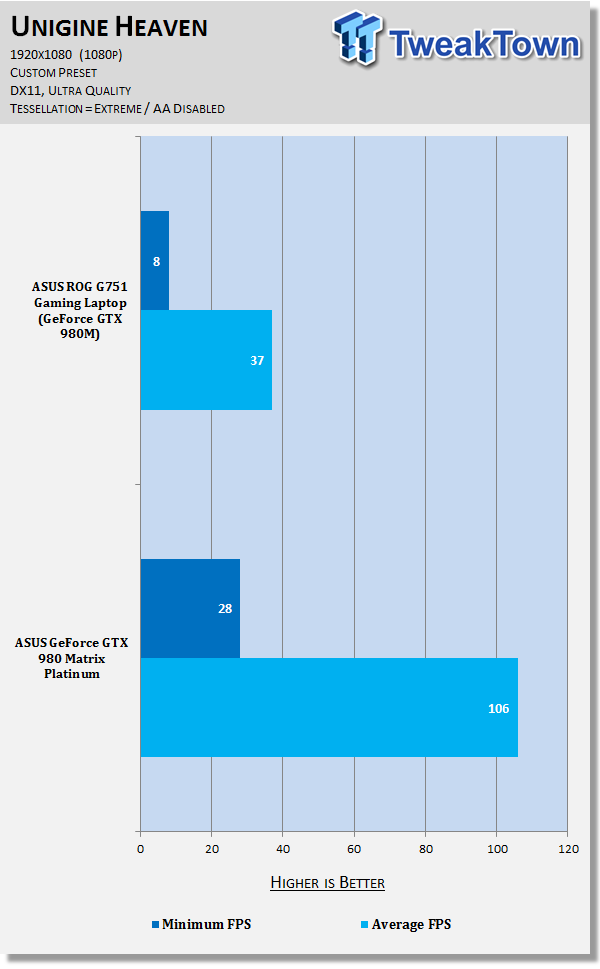 We only tested the ASUS ROG G751 gaming laptop to show you how the GeForce GTX 980M inside of the laptop performs against the GTX 980. We knew it wasn't going to compare, but this shows you that the GTX 980M is a damn fast mobile GPU in both 3DMark and Heaven.
Benchmarks - 1080p
Battlefield 4
This is one game that we did differently, as it does not feature a built-in benchmarking feature. When it comes to Battlefield 4, there are countless ways you can benchmark it. Some find a spot in the single player campaign which is easily repeatable, and use that. For our testing, we've chosen to use a 64-player online multiplayer server for real-time performance statistics.
We joined a 64-player map and played for five minutes using FRAPS, pulling our minimum/average and maximum FPS. We did this for each test, we run the game for 5 minutes at 1080p/1440p and 4K two times each. One time with Medium settings, and another with a custom Ultra preset (disabling AA). It's time consuming, but it gives us a perfect look into true real-world performance.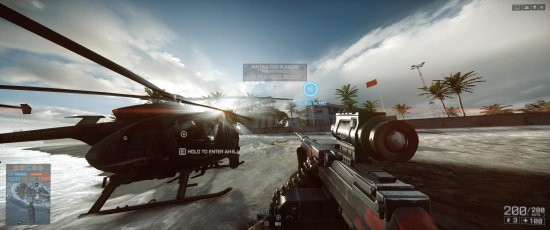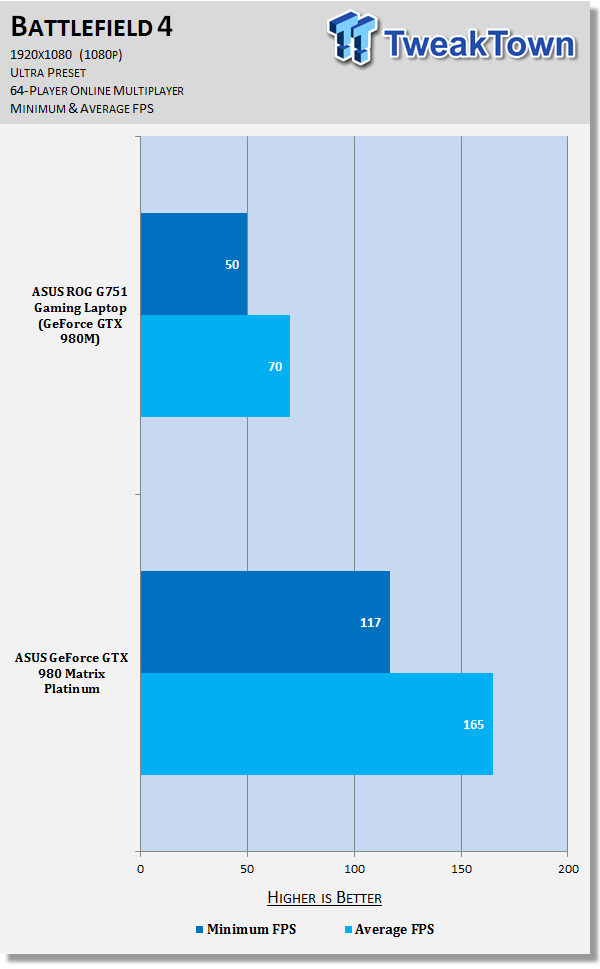 Middle-earth: Shadow of Mordor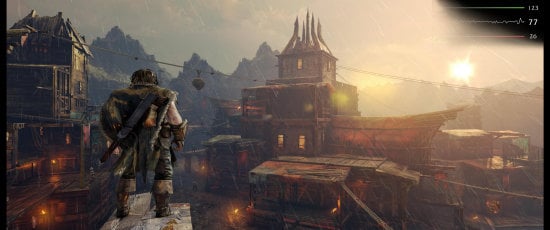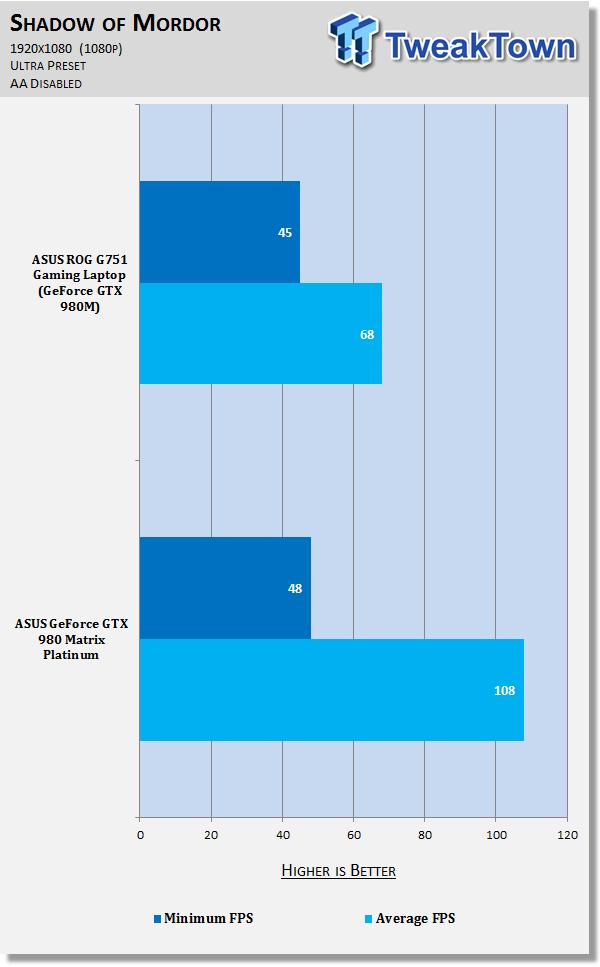 Thief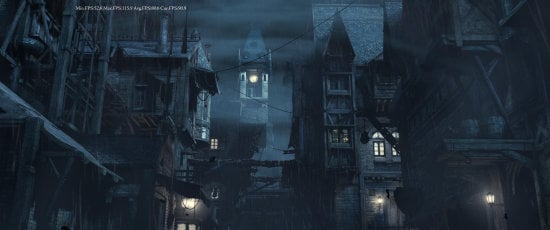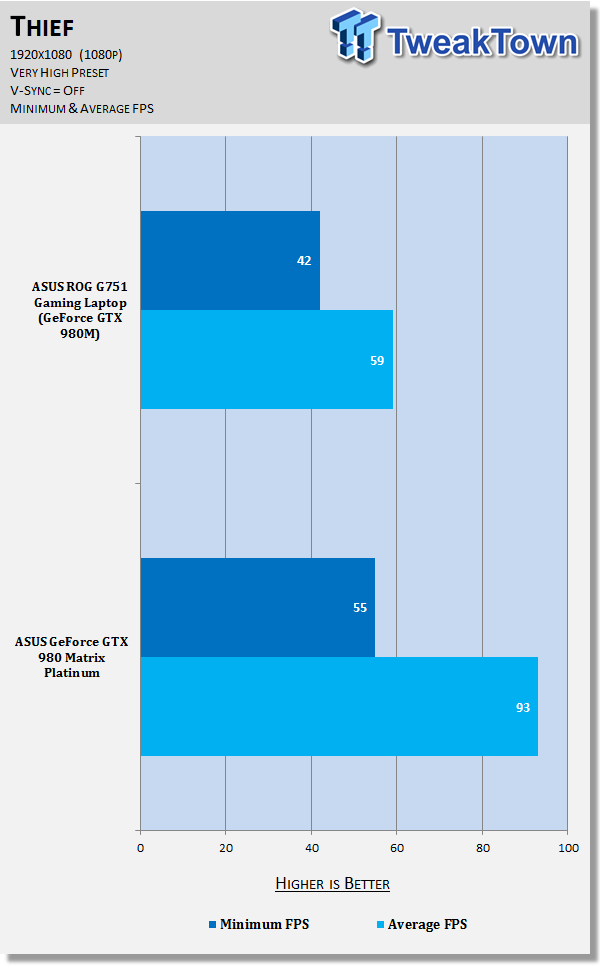 Tomb Raider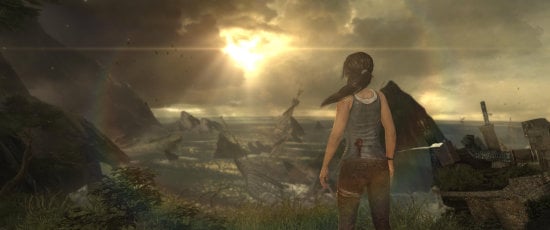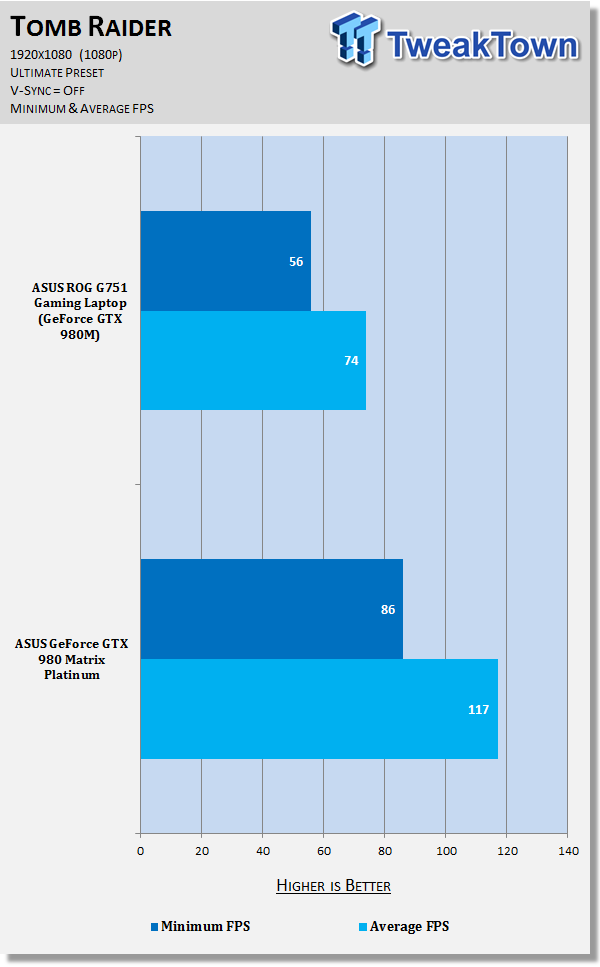 BioShock Infinite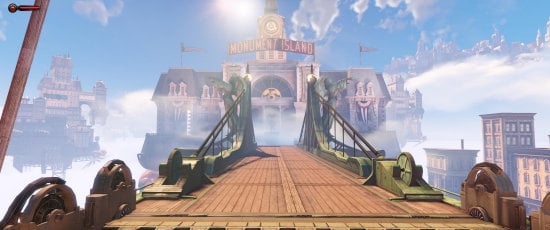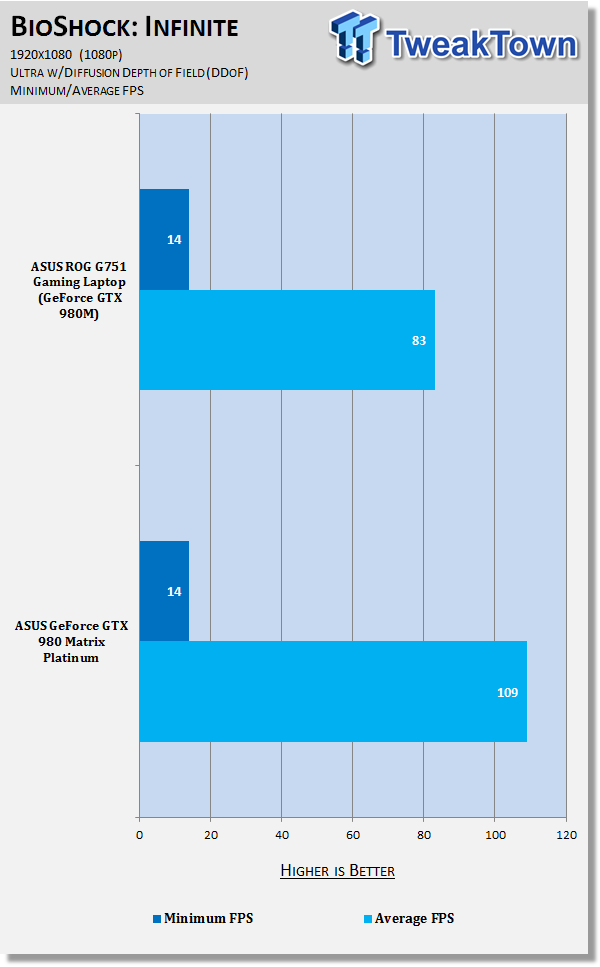 You can find our performance summary of all of our gaming tests later in the review.
Two Weeks with the ASUS ROG G751 & Performance Summary
Two Weeks Gaming-On-The-Go with the ROG G751
For my entire life, I have gamed at my desk. It is the only place that I can enjoy my enthusiast level hardware, as I'm quite the princess when it comes to gaming. I've always spent ridiculous amounts of time and money on the best hardware, so for the last 15 years, I've never gamed at anything less than 60FPS.
But with the ASUS ROG G751, mobile gaming has become a reality. Sure, it's not the most practical thing to take around, but I actually took the ROG G751 around to my brother's house five times in a period spanning two weeks to see what it would be like packing it up, setting it up, and gaming in a LAN-type environment.
It was great. So much easier to packing up my entire PC, screen and keyboard. This way, I'm just throwing the laptop into a bag, along with the power adapter and my Corsair gaming mouse. It takes me less than 1-2 minutes to be out of the door, versus 10-15 minutes of unplugging everything and putting it into the car.
One of the key reasons I used this machine as my desktop replacement and mobile gaming machine as the inclusion of NVIDIA's G-Sync technology. Ever since the ASUS ROG Swift monitor (review), I haven't gamed on anything less than a G-Sync powered monitor. Thanks to ASUS powering the 17.3-inch FHD panel with G-Sync technology, you're getting a liquid smooth gaming experience, anywhere.
Not only does it feature G-Sync, but we have a 75Hz refresh rate, which is just great. Even in Windows, the ASUS ROG G751 feels ultra-smooth to use, which is thanks to the 75Hz refresh rate. As soon as you're in games, the 75Hz refresh rate with the magic that is NVIDIA G-Sync turns this machine into something that wasn't available before it - gaming on the go, with G-Sync.
Performance at 1080p
The full-fledged GeForce GTX 980 (and overclocked) trounces the GTX 980M, but it's not like the GTX 980M inside of the ASUS ROG G751 is useless. It's not like it used to be years ago when the mobile GPUs were next to useless when compared to their desktop counterparts.
Tweaking some of the in-game settings resulted in 75FPS average (or so) at 1080p, which is what you want to hit. With the G-Sync panel at 75Hz, if you're getting 60FPS or higher, you're golden. Achieving around 60FPS will 'feel like' 75FPS thanks to G-Sync, and achieving 75FPS minimum is just sublime.
You'll have no worries playing any game out on the market right now, with some changes to in-game settings, at 60FPS+ on the ASUS ROG G751 at 1080p.
Power Consumption
While a desktop PC might use 300W or easily much more when you move into a multi-GPU system, how much does a seriously fast gaming laptop like the ASUS ROG G751 consume?
The ASUS ROG G751 gaming laptop only consumes 200W while playing Battlefield 4. Comparing this to our full desktop PC with an ASUS GeForce GTX 980 Matrix Platinum video card, which consumes 320W.
What's Hot, What's Not & Final Thoughts
This is where you can fast forward to the final section of the review, and get a quick recap and points on the ASUS ROG G751.
What's Hot
It Has Become My New Desktop Workstation: The ASUS ROG G751 is now my new desktop workstation. I hope ASUS realizes that this laptop has completely replaced my workstation PC. I have my 2 x 34-inch ultrawide 3440x1440 monitors plugged into it, with my normal Corsair keyboard and mouse combo and it is utterly awesome. Desktop level performance, and the ease of two gigantic 3440x1440 panels plugged into a laptop doesn't hurt.
It's A Mobile Desktop: Away from home, the ASUS ROG G751 is just as great. I took it away on multiple nights out, trying out gaming in a LAN environment. My entire desktop was at my portable disposal, thanks to the powerhouse specifications inside of the ASUS ROG G751.
OMG - Mobile NVIDIA G-Sync: I'm a huge enthusiast user of NVIDIA's G-Sync technology, with my gaming PCs being powered by an Acer XB280HK monitor. But mobile G-Sync is even more impressive, having a liquid-smooth display on the go.
Achievement Unlocked: Mobile PC Gaming: The first time I fired up the ASUS ROG G751, I jumped right into a 64-player Battlefield 4 match, which left my jaw on the floor. 1080p, 75Hz, G-Sync, all powering Battlefield 4 at 1080p 75FPS, looking liquid smooth. Desktop gaming performance, all on my lap.
Great Storage and Connectivity: The ASUS ROG G751 has an M.2-based 256GB SSD which is super-quick, as well as a 1TB 7200 mechanical HDD. ASUS has provided a miniDP port and HDMI 2.0 port, allowing for a couple of 4K displays or a 34-inch ultrawide or two like I did. We have Thunderbolt, USB 3.0, and an array of audio ports, as well as the much-welcomed GbE port. Did we mention it has a Blu-ray RW drive inside? Yes, you can burn Blu-ray discs from the ROG G751. We also have dual-band 802.11ac Wi-FI.
Great Styling and Looks: The ASUS ROG G751 has insanely good looks and styling with the usual red and black Republic of Gamers look bleeding right into the DNA of the ROG G751. It looks great from a distance, and even more so in front of you.
Doesn't Run Hot, Or Loud: Even during a heavy session of Battlefield 4 or something like the CryEngine 3-powered ARK: Survival Evolved, the ASUS ROG G751 was silent. During heavy loads, you're normally playing a game which you would have the sound on for. But even without sound, or the built-in speakers, you can barely hear the laptop operating.
What's Not
Heavy: The only thing that I could fault the ASUS ROG G751 is on its weight, which is something that is certainly getting better from previous desktop replacements.
Battery Boost Enabled By Default: When I first started playing games on the ROG G751, the entire machine was locked to 30FPS. It took me a few minutes to realize that ASUS has enabled Battery Boost in NVIDIA's GeForce Experience software. Leaving this enabled provides additional battery life, but locks the GPU to 30FPS. I think ASUS should have a prompt when the laptop comes on to notify you that this is enabled by default.
Final Thoughts
I used to LAN every single weekend during my teenage years, back in the 90s when mobile gaming was impossible. The closest thing we had was taking our games (and not our consoles) over to our friends' houses, to game on their console. This was before the Internet, and before most people had multiple TVs in the house.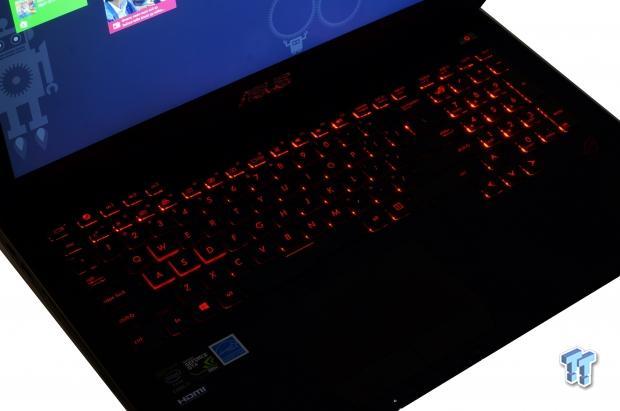 But this ASUS ROG G751 is a bloody beautiful machine, providing 1080p gaming at 75FPS+ without a problem with a few tweaks to in-game visual settings. The first time I fired up Battlefield 4 and Team Fortress 2, I was completely blown away by how silky smooth everything was. I had the ASUS ROG G751 sitting on my lap and I was playing Battlefield 4 at 75FPS at 1080p, I simply couldn't believe my eyes. I had to recheck the settings to make sure I wasn't somehow locked at 720p, but I knew it was 1080p; I was just trying to reaffirm that this laptop was capable of that level of performance.
I'm writing this entire review, and every little bit of content you've seen from me in the last 2-3 weeks from the ASUS ROG G751. I'm not lying when I say it has become my new workstation machine, as it has. The ability of having two seriously high-end displays (a 34-inch 3440x1440 ultrawide and a 27-inch 1440p 144Hz G-Sync) hooked up to it is marvelous.
I don't know what I'd improve in the next model, but maybe a slightly bigger screen and a resolution of 2560x1440. I'd like to see a gaming laptop with a removable track pad, or something that can be tucked away underneath the shell. That would be a great addition. Other than that, this is one of the best mobile gaming offerings right now, thanks to NVIDIA's G-Sync technology. G-Sync completely transforms the ASUS ROG G751, and I think I'm now spoiled: I won't be able to go back to any mobile laptop without G-Sync. Thanks for that, ASUS and NVIDIA.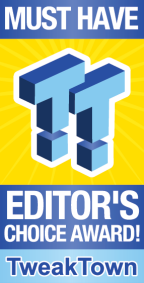 | | |
| --- | --- |
| Performance | 99% |
| Quality (build, design, cooling) | 95% |
| General Features (display outputs, etc) | 95% |
| Bundle, Packaging & Software | 95% |
| Value for Money | 90% |
The Bottom Line: The ASUS ROG G751 gaming laptop is a desktop PC replacement, and some. With NVIDIA's G-Sync technology and a 75Hz refresh rate, this is one of the best gaming laptops money can buy, period.
PRICING: You can find products similar to this one for sale below.

United States: Find other tech and computer products like this over at Amazon.com

United Kingdom: Find other tech and computer products like this over at Amazon.co.uk

Australia: Find other tech and computer products like this over at Amazon.com.au

Canada: Find other tech and computer products like this over at Amazon.ca

Deutschland: Finde andere Technik- und Computerprodukte wie dieses auf Amazon.de
We openly invite the companies who provide us with review samples / who are mentioned or discussed to express their opinion. If any company representative wishes to respond, we will publish the response here. Please contact us if you wish to respond.