Terminator: Genisys (2015) Cinema Movie Review
"I'm not a man, not a machine... I'm more."

Published
3 minutes & 2 seconds read time

Terminator: Genisys (2015)
The original 1984 Terminator and its 1991 sequel Judgment Day set the benchmark for modern action films, by giving audiences an enthralling, yet nightmare-inducing vision of the future, unlike nothing audiences had ever seen. Sadly, the franchise's next two sequels (and a TV show) saw diminishing returns in all senses - artistic, critical and financial, before shutting up shop with 2009's Terminator Salvation, which did the unthinkable; trying to justify an existence without leading man Arnold Schwarzenegger.
Fast forward to today, and Genisys is attempting to jump start a brand new trilogy, with the Austrian Oak back on board to give the franchise some closure before the door shuts permanently when rights revert back to creator James Cameron in 2019. So, how exactly does the film fare in the latest incarnation?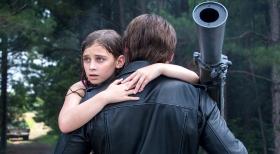 The year is 2029 and while the battle for Earth has waged for three decades, mankind, led by warrior John Connor (Jason Clarke) is now on the cusp of victory against the machines. Not willing to accept defeat, SkyNet deploys their insurance policy - a time machine containing a T-800 (Arnold Schwarzenegger) to once again strike at Sarah Connor (Emilia Clarke) and unborn son John. But when the timeline becomes altered and future events are once again in flux, all bets are off as past and present collide and the war to ensure the survival of the human race continues.
The very fact that Terminator: Genisys even exists is something of a minor miracle in itself, with bankruptcy, necessary recasting and rights issues causing headaches behind the scenes, not to mention a very tangled narrative web caused by multiple clashing ideals that screenwriters needed to unravel. Perhaps emboldened by audience's acceptance of the reset button as seen in the recent Star Trek reboot, the filmmakers have sought to outright ignore the last two entries, creating an alternate timeline to allow carte blanche to chart their own course.
It makes sense for the most part, even if ... it doesn't always make sense. The Terminator franchise has always worn its heart on its sleeve when it comes to the mind bending time travel pastiche and some of the lowest ebbs in Genisys come when an attempt is made to explain it all away with technobabble that would make even J.J. Abrams blush. Terminator is nothing if not a thrill ride and it works best when it's lunging forward at a million miles, not screeching to a halt to explain the pseudo-science.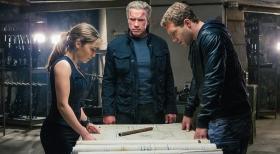 With the exception of Schwarzenegger, the rest of the cast are entirely new to this version and inhibit the legacy roles of characters we know and love reasonably well. I've never been much of a fan of Jai Courtenay, but it has to be said that he does a pretty job of filling Michael Biehn's shoes, even if he doesn't have quite the same emotional range. More disappointing is the casting of Game of Thrones star Emilia Clarke as a battle-hardened Sarah Connor, which might work fine on paper, but just doesn't translate with an appropriate believability factor. Meanwhile, Jason Clarke, a fine actor who's starting to accrue some solid roles, but just isn't called upon to do much here.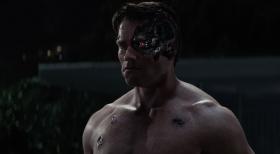 In isolation, Genisys is a fine enough action blockbuster. It has all the right elements, but for some reason it just doesn't gel quite like it should. Despite high hopes, Genisys has opened pretty softly in the United States and it's hard to point out exactly what went wrong, because in truth, it's a bunch of elements.
Many have pointed out the film marketing (which was amateur hour at best) which culminated in the decision to reveal a significant plot thread in the theatrical trailer (spoiler ahead), which revealed mankind's would-be savior John Connor as a corrupted half-man, half machine warrior of the evil SkyNet. While I certainly won't defend that decision, I'll point out that the precedent was set way back when the trailer for Judgment Day did exactly the same thing, by revealing Schwarzenegger's T-800 Terminator as not the villain, but the hero - and that didn't seem to have hurt the film that much at all.
Ultimately, perhaps the Terminator franchise just eroded itself irrevocably over the years, coupled with the fact that Schwarzenegger is no longer the draw card he once was. The real question is whether we still get to see the conclusion of the series, or if audiences in 2015 have done what SkyNet never could - terminate the future.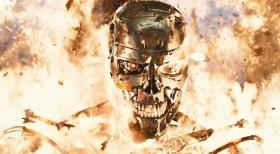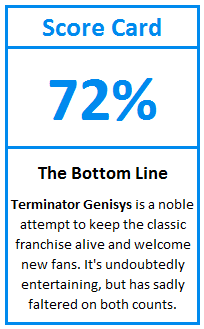 PRICING: You can find products similar to this one for sale below.

United States: Find other tech and computer products like this over at Amazon.com

United Kingdom: Find other tech and computer products like this over at Amazon.co.uk

Australia: Find other tech and computer products like this over at Amazon.com.au

Canada: Find other tech and computer products like this over at Amazon.ca

Deutschland: Finde andere Technik- und Computerprodukte wie dieses auf Amazon.de
We openly invite the companies who provide us with review samples / who are mentioned or discussed to express their opinion. If any company representative wishes to respond, we will publish the response here. Please contact us if you wish to respond.