TweakTown's Rating: 90%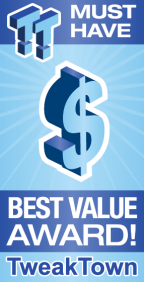 The Bottom Line
The Thecus N5810 Pro carries enterprise features, performance and aesthetics all at an amazing MSRP of $699.
Introduction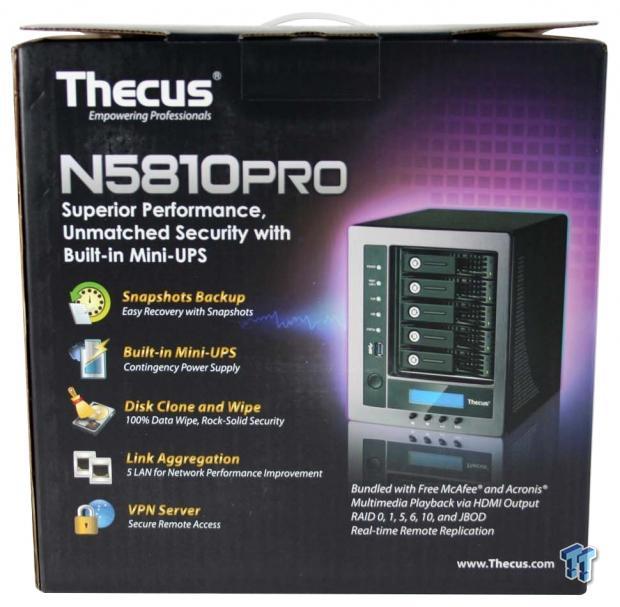 Throughout the last three years at TweakTown, I have yet to see a NAS appliance as downright interesting as the unit we have here today. It doesn't come as much of a surprise, due to my past role as the consumer NAS editor, but as things have changed, I now get to look at the Thecus N5810 Pro.
The Thecus N5810 Pro is for all intents and purposes a storage based NAS appliance, and while it does have cloud capability, you will see once we get to the images on the next page why I say it's a storage appliance. If I haven't said it already, the Thecus N5810 is downright gorgeous to look at; it reminds me, for some reason, of industrial storage or what industrial storage should look like. The front of the unit features black metal with a small LCD screen at the bottom and when you look at the drive tray a bit of chrome plating stares back at you.
Internally, this unit shares a similar design that has become quite popular with vendors. The base of this unit comes from the Intel Bay Trail platform featuring the Intel J1900 SoC. Thecus has paired this with 4GB of DDR3, while additional connectivity is made available via the unit's three USB 3.0 ports and two USB 2.0 ports, HDMI and a lineout round out the units audio/video capabilities.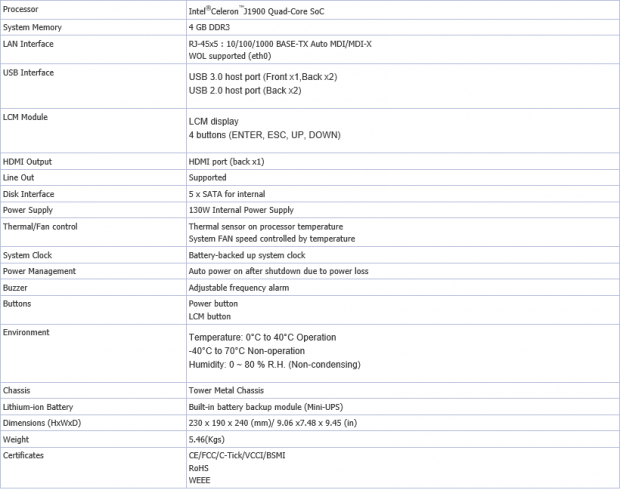 Above, we have the full system specification pulled from the Thecus website. Adding to the specifications we mentioned above, Thecus has outfitted the N5810 Pro with a total of five RJ45 Ethernet ports that all support gigabit transfer rates and AUTO-MDIX. The power supply for this unit is internal to the design as is the built-in mini UPS that can power the unit in case of a power loss event.
Thecus N5810 Pro SMB NAS
Packaging and a Closer Look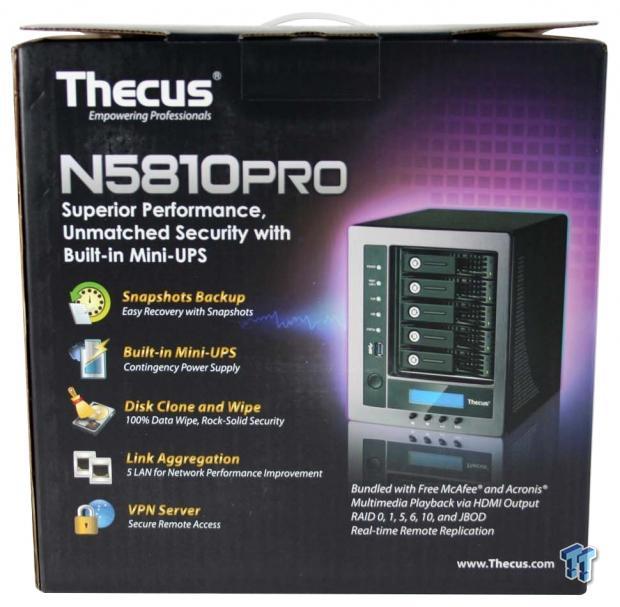 Packaging for the N5810 Pro is quite vibrant with an image of the NAS to the right. To the left, we have top features listed with a quick description of the unit above.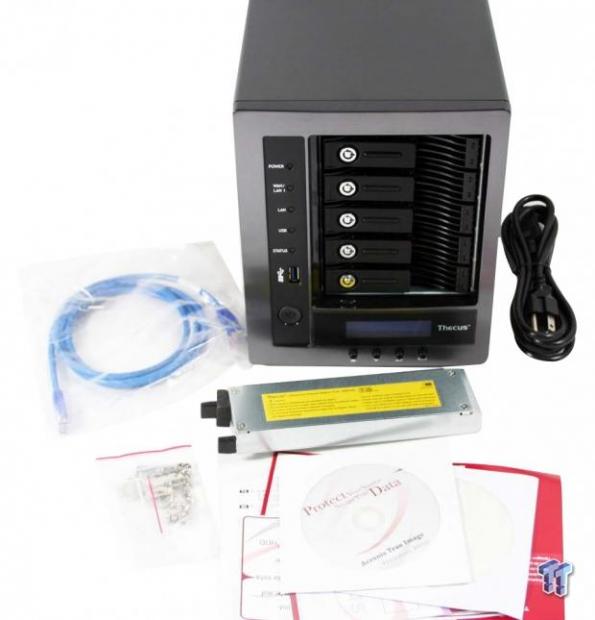 Scope of delivery includes the power cable, Ethernet cable, reading materials, and the battery for the built-in UPS.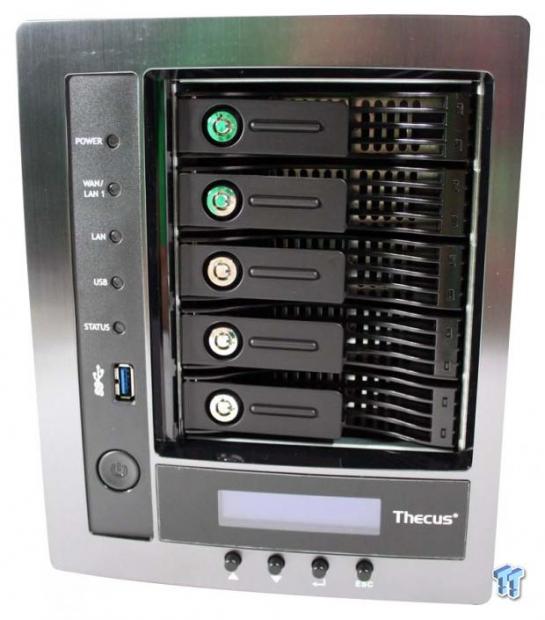 The front of the NAS houses five drive bays, while a small LCD screen has been fitted below. To the left, we have a full range of LEDs with the USB 3.0 port and power button below. Built in to the drive trays are two LEDs one denoting a drive is installed while the other for activity.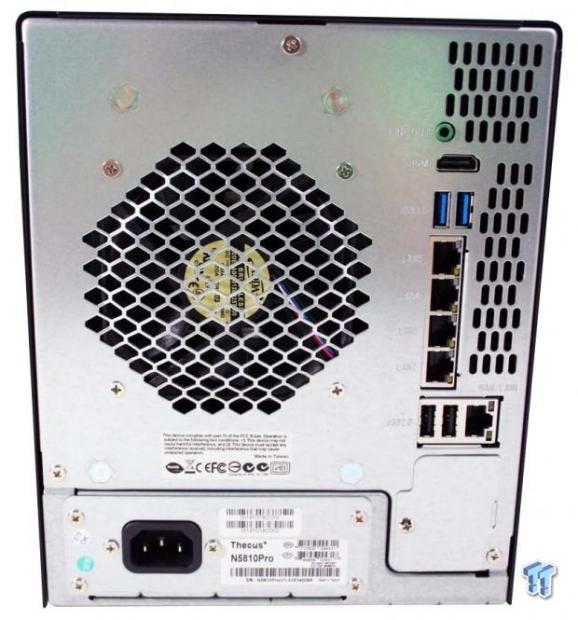 The backside of the NAS is all business, as you can see we start with the lineout port followed by the HDMI. We then get into dual USB 3.0 followed up with a bank of four gigabit Ethernet ports. Down below, we have both of the USB 2.0 ports next to yet another gigabit Ethernet port. All of this is then rounded off with the built-in power supply at the very bottom, which has a removable cover to the right where you install the battery for the UPS.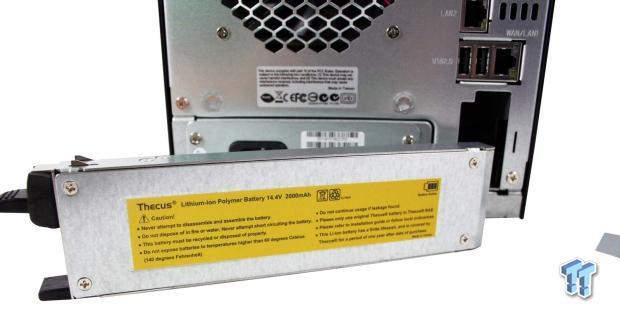 Above is the battery for the built in UPS, it is rated at 14.4v at 2000mAh.
Test System Setup and Web Management
Test System Setup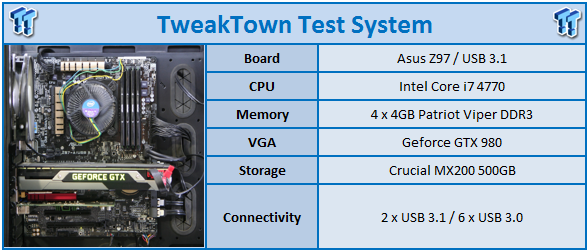 Our Consumer NAS test 'system' is setup similar to what you have at home. Here we have the base of a ASUS Z97 USB 3.1, housing an Intel Core i7 4770 with 16GB of Patriot Viper DDR3 supporting. Our Operating System of choice is Windows 8.1 x64 Enterprise, with all available updates and patches installed on a Crucial MX200 500GB SSD.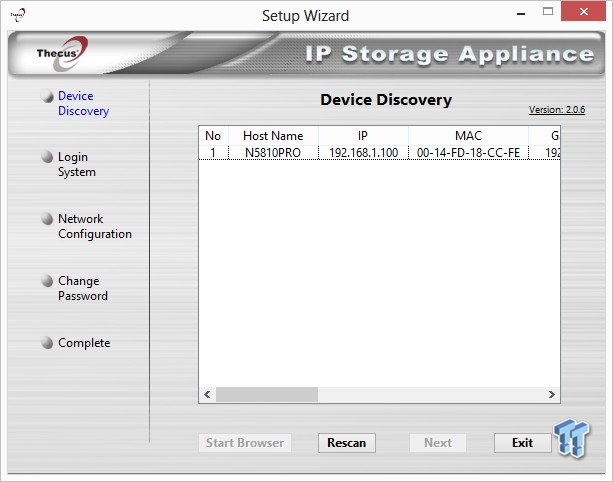 The N5810 Pro uses the original finder application. As seen above it is rather simple to use and takes just a few steps to get you setup.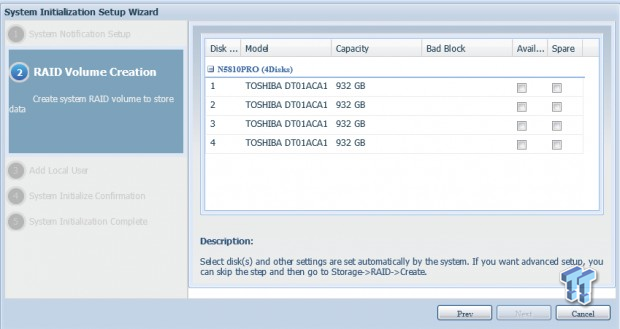 Above, we have the RAID setup wizard for the N5810 Pro.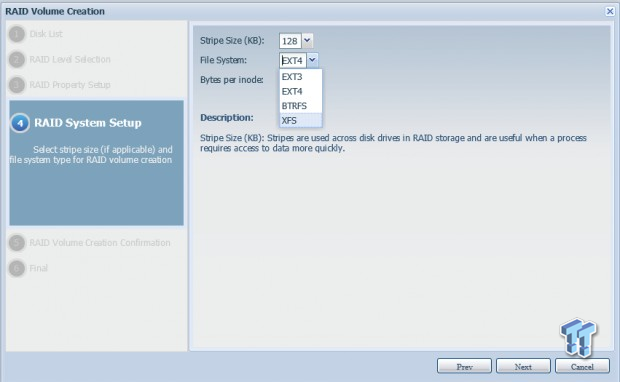 Something that was inviting to see, and we don't see too often with NAS appliances is the availability of multiple file systems. With the N5810 Pro, you have the option to use EXT3, EXT4, BTRFS and XFS.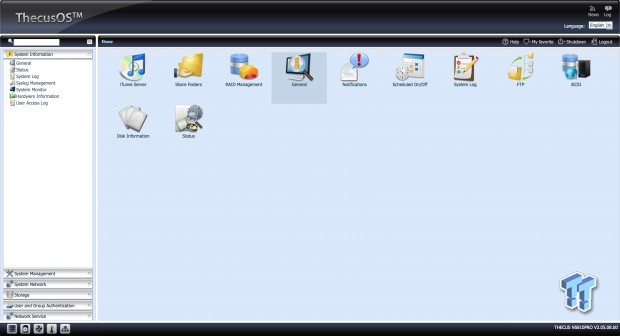 The main page for Thecus OS gives you a good amount of options to configure your NAS. As seen above, RAID management along with control of iSCSI shares is made available along with music iTunes and FTP.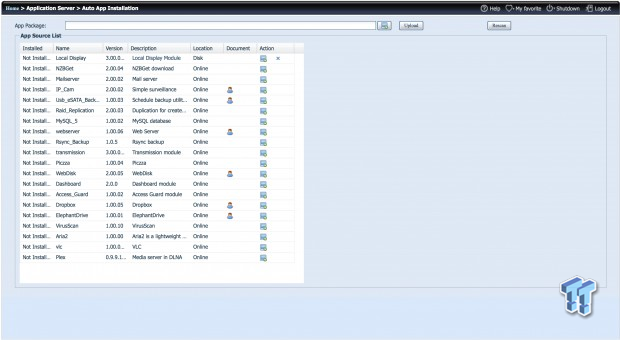 Above, we have a list of the application sources. This includes quite a few packages with everything from IP Cam services to Dropbox and Elephantdrive.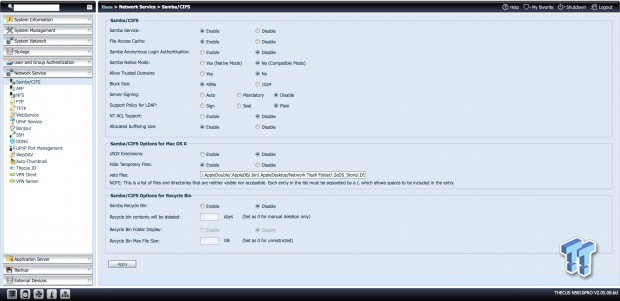 To the left in the image above, you can get an idea of the many network services available with the N5810 Pro. This includes the standard Samba, AFP and NFS, along with higher-level features such as DDNS, VPN client and server and SSH.
Benchmarks - Single Client Throughput
Workload
HD Video Play - 720p HD stream from Windows Media Player, 256kB reads
2HD Video Play - 2x playback
4HD Video Play - 4x playback
HD Video Record - 720p HD stream, 256kB writes
File Copy From NAS - 4GB file copy, 64kB reads
File Copy To NAS - 64kB writes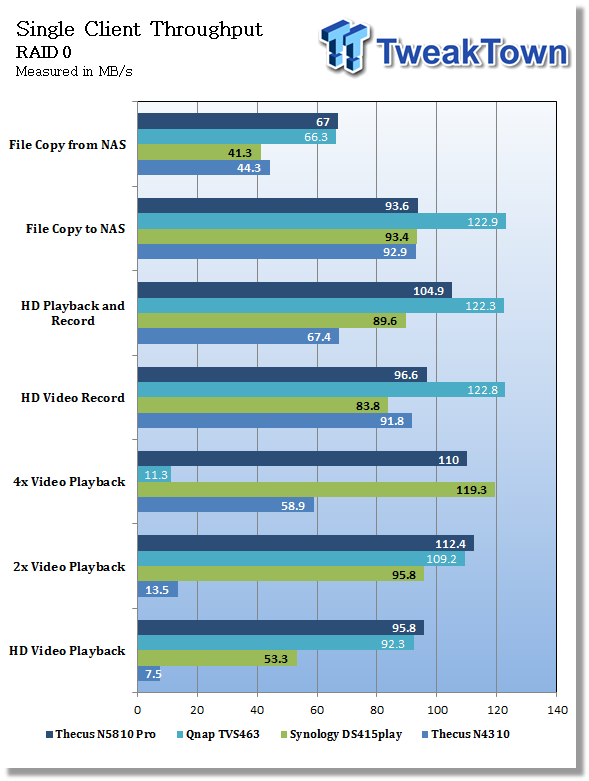 Starting out with our testing, we have for comparison the TVS 463 Pro from QNAP, Synology ds415play and N4310 from Thecus.
In our first single client test, the N5810 Pro configured in a four disk RAID 0 array did quite well. We started with impressive numbers of 95.8 MB/s, 112.4 MB/s and 110 MB/s for video playback then moved into similar results for video record. File copy operations came in at 93.6 MB/s to the NAS and 67 MB/s from the NAS.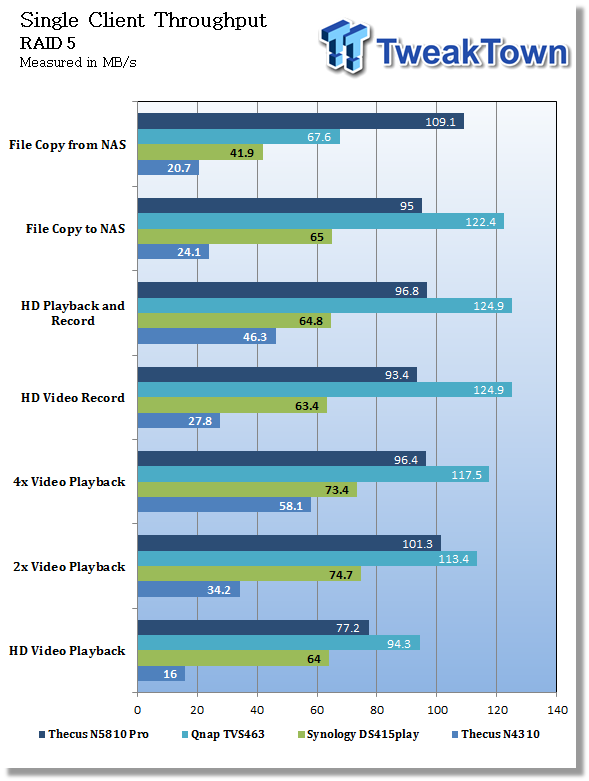 RAID 5 produced quality numbers setting the NAS up in second spot in this chart. Highest performance was recorded within copying from the NAS at 109 MB/s, while the lowest was 77 MB/s during video playback.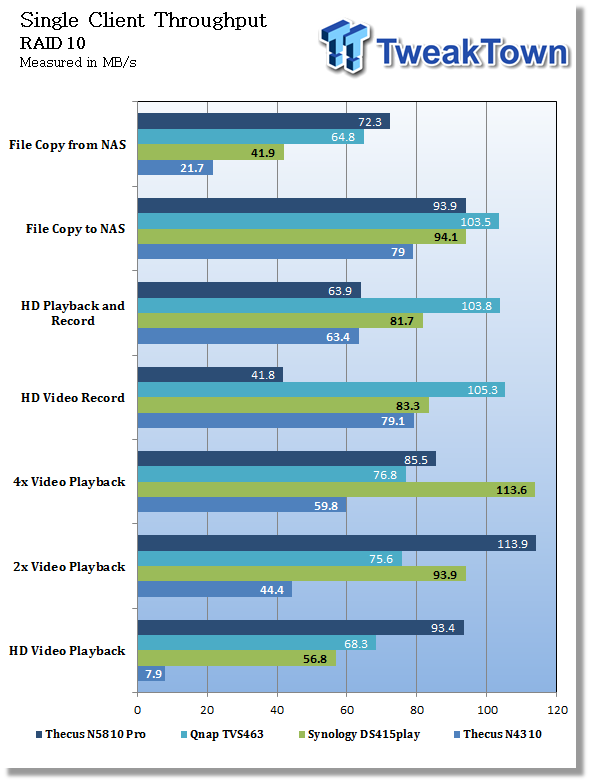 Next up we have the N5810 Pro in RAID 10, performance starts out at 72 MB/s copying from the NAS, while moving down we find really great performance in 2x video playback touching 113 MB/s.
Benchmarks - Sequential Workloads
Our Sequential read/write workload is centered on 128K transfer sizes.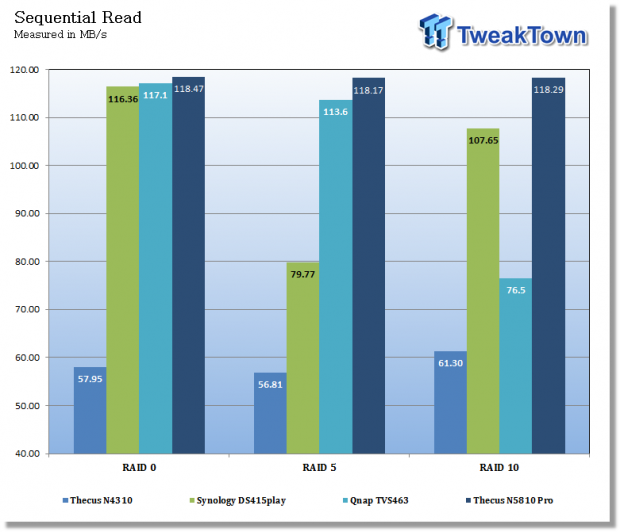 Sequential read for the N5810 Pro was at the top of our charts in all RAID modes with performance being a pretty consistent 118 MB/s.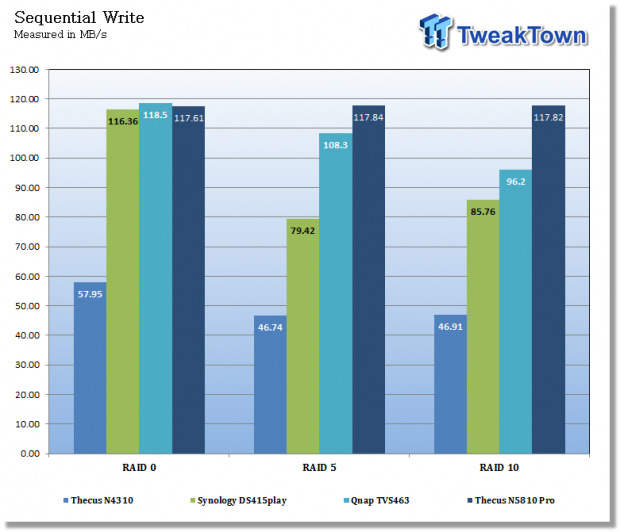 Sequential write showed similar results as each RAID setup produced a consistent 117 MB/s.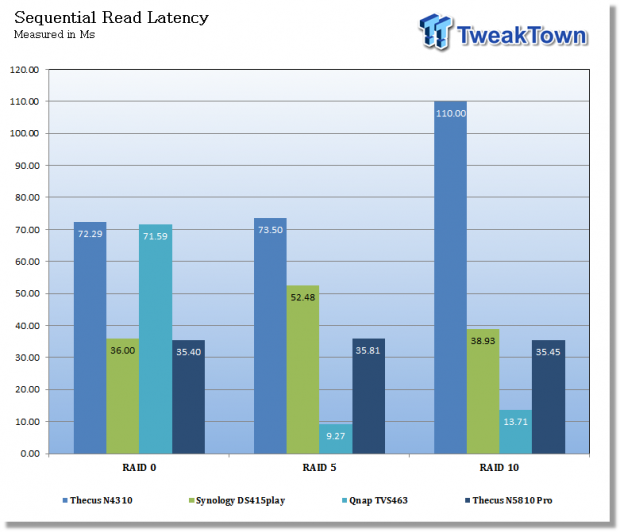 Latency results for Sequential read were pretty consistent as well at 35ms across the board.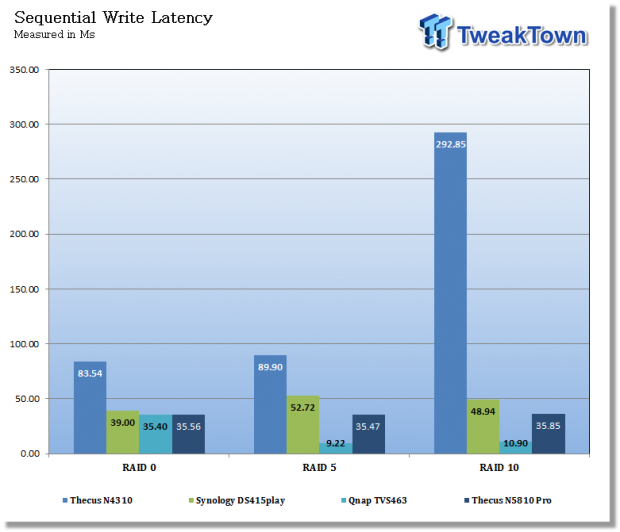 Write latency showed the same 35ms across each RAID mode.
Benchmarks - SMB Workloads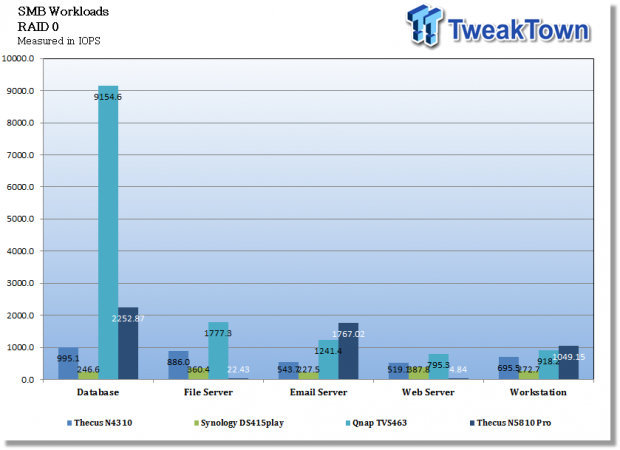 Starting off our SMB workloads, we have the RAID 0 chart above and as you can see the N5810 Pro did quite well. Starting with a nice 2052 IOPS in database to 1767 in Email Server and finishing up with 1049 IOPS in Workstation.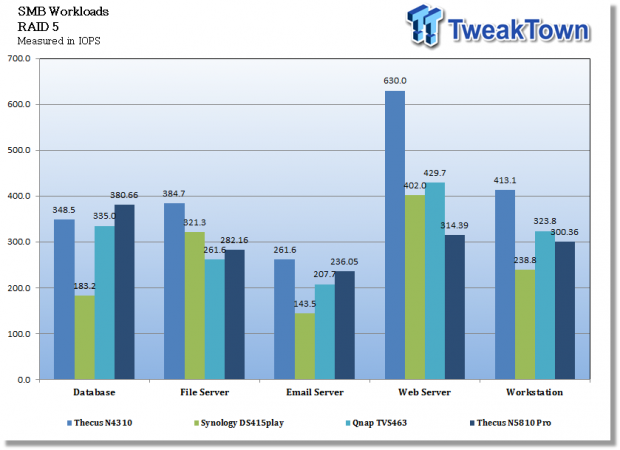 Next up we have our RAID 5 array where the N5810 Pro took the top spot in database with 380 IOPS. This was followed up by 282 IOPS in File Server, 236 IOPS in Email Server and 314 IOPS in Web Server.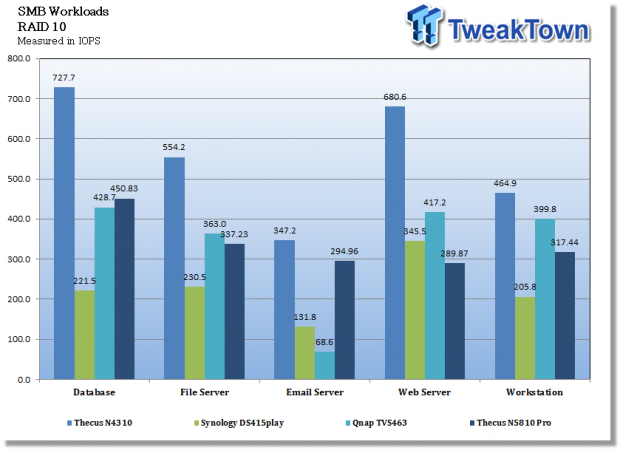 RAID 10 was good for the N5810 Pro where the NAS peaked at 450 IOPS in database, followed by 337 IOPS with File Server testing was rounded of with 317 IOPS in Workstation.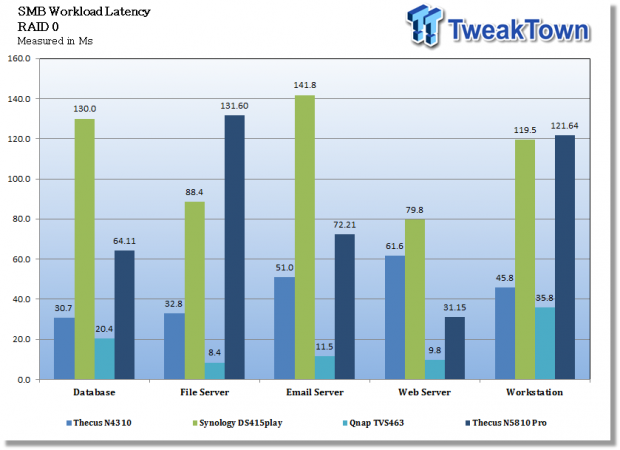 Latency results were up and down for the N5810; we started at 64ms with Database with peaks at 131ms in File Server and 121ms in Workstation.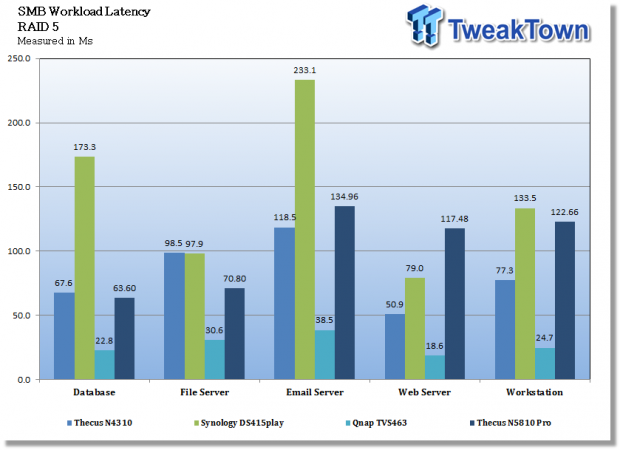 RAID 5 gave us similar results again we got 64ms in database with peaks coming in both Email Server and Workstation.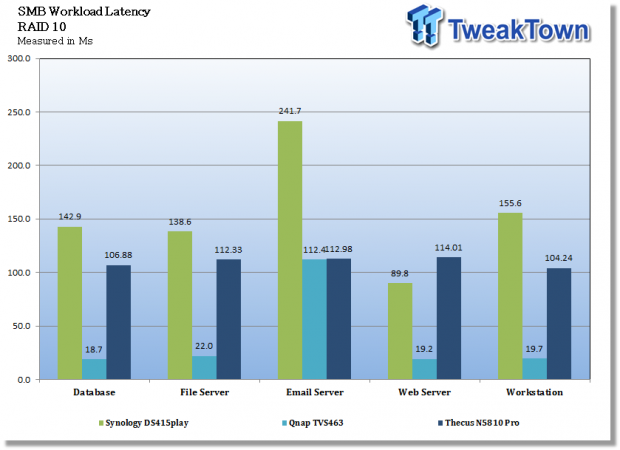 Moving on to RAID 10, the N5810 gave us 106ms in Database followed by 112ms for both File and Email Server then rounding out testing with 114ms in Web Server and 104ms in Workstation.
Final Thoughts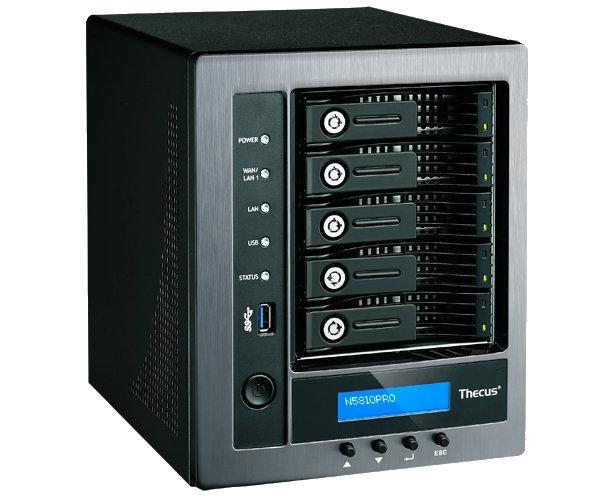 AS far as NAS appliances are concerned, Thecus has done a remarkable job putting together the N5810 Pro. From the bottom up, this unit houses an internal power supply rated at 130 watts, adding to it a built-in UPS allowing you enough time to shutdown the NAS softly to avoid any data corruption. When using the NAS, I simulated a power loss event where the UPS took over without issue and granted me an extra 15-20 minutes to shut the NAS down properly.
Next up is the amazing amount of Ethernet connectivity. This is especially important for multiuser environments where loads of users will be connecting to the unit simultaneously, as it relieves any bottlenecks from a typical single port solution. USB 3.0 connectivity adds to the package and allows users to expand on the five internal bays with external enclosures among other devices. Last, but certainly not least, we have the HDMI output that allows a local display for the NAS for everything from media to managing the appliance.
Build quality of the N5810 Pro is remarkably solid; this unit is built like a tank and as I stated in the introduction is what industrial storage should look like. With the chassis and surrounding components comprised of metal everything down to the drive drays exudes durability. Performance of the N5810 Pro was rather good in our Single Client testing, with the unit for the most part taking top honors across each chart. Sequential testing allowed for the N5810 to produce upwards of 118 MB/s read with 117 MB/s write through all RAID modes.
Moving on, we found the Thecus to be a bit shaky when confronted with our SMB workloads, on one hand the NAS did quite well with Database, Email Server and Web Server, while File Server and Workstation gave the NAS fits at times. With that said, it was able to stay within the top two appliances, even if there were a few rough spots.
Overall, the Thecus N5810 Pro is an extremely well built, high performance zero crash NAS appliance that carries a rather impressive MSRP, and that is hard to ignore.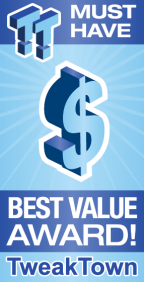 | | |
| --- | --- |
| Performance | 86% |
| Quality including Design and Build | 92% |
| General Features | 91% |
| Bundle and Packaging | 88% |
| Value for Money | 91% |
The Bottom Line: The Thecus N5810 Pro carries enterprise features, performance and aesthetics all at an amazing MSRP of $699.
PRICING: You can find products similar to this one for sale below.

United States: Find other tech and computer products like this over at Amazon.com

United Kingdom: Find other tech and computer products like this over at Amazon.co.uk

Australia: Find other tech and computer products like this over at Amazon.com.au

Canada: Find other tech and computer products like this over at Amazon.ca

Deutschland: Finde andere Technik- und Computerprodukte wie dieses auf Amazon.de
We openly invite the companies who provide us with review samples / who are mentioned or discussed to express their opinion. If any company representative wishes to respond, we will publish the response here. Please contact us if you wish to respond.