ASRock Beebox (N3000) Fanless Small Form Factor PC Review
Steven tells us about ASRock's new Beebox N3000 silent small form factor PC. If you're looking for a small computer at a great price, have a look.
Published Jul 3, 2015 4:14 PM CDT
|
Updated Tue, Nov 3 2020 6:59 PM CST
9 minute read time
TweakTown's Rating: 91%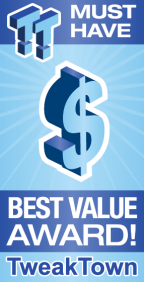 The Bottom Line
At the price point of the ASRock Beebox, you can't expect it to replace your main computer, but it will offer excellent value and solid performance as an HTPC, streaming box, wireless access point, digital signage, or even a low use desktop all without making any noise.
Introduction, Specifications, and Pricing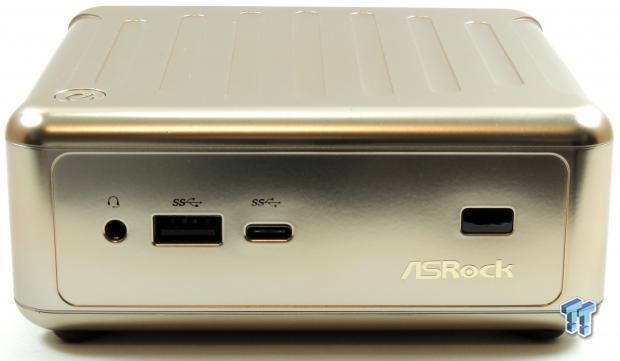 The exciting thing about small form factor PCs (SFF PCs) is the limitless possibilities in terms of price, performance, and even size. Today, I have a little machine on the test bed; ASRock's Intel Cherry Trail based Beebox delivers a fan-less design with some really nice options. Compared to other SFF PCs such as the Intel NUC, the Beebox is remarkably small and light. It's perhaps the smallest SFF PC I have tested; only the Intel Compute Stick is smaller.
Not only is it small, but it's also stylish. The sample I received came in champagne gold (like an iPhone), and looking at ASRock's website, there are also white and black models available. Today I take you through the world of the ASRock Beebox, an exciting little SFF PC.
Specifications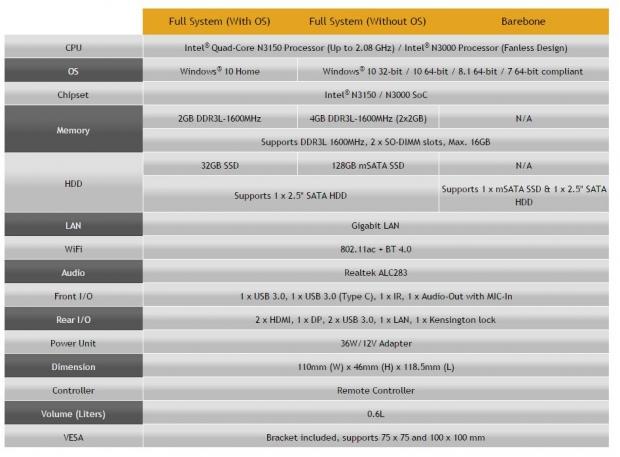 The CPU is a Celeron N3000, otherwise known as Braswell, which is part of the Cherry Trail line. It has a stock frequency of 1.08GHz and a burst up to 2.08GHz, its Intel HD graphics has 12 execution units and supports three display outputs as well as 4K displays. As far as memory goes, ASRock is pushing their dual-channel design, while others are using single-channel memory as per Intel specifications.
ASRock claim that the dual-channel memory offers real 4K display playback, while the single-channel designs lack the ability to seamlessly stream 4K. The sample I have here is the prebuilt version of the Beebox with a 128GB mSATA drive and 4GB of DDR3 (2x2GB). It also features 1T1R wireless AC/BT 4.0, Realtek audio, 1GBit wired NIC, and a bunch of USB 3.0. ASRock has implemented a C-Type reversible USB 3.0 receptacle, the same style used for USB 3.1.
Pricing
ASRock has told me that the estimated retail price of the prebuilt fan-less Beebox (the one I am testing) in white and black will be $220. Looking at mini PCs on Newegg, there isn't anything resembling the Beebox for its price. While the version I have doesn't have an OS, there is a version that comes with Windows 10 and it's actually $200 (but it only has 2GB of memory and a 32GB SSD).
Packaging and System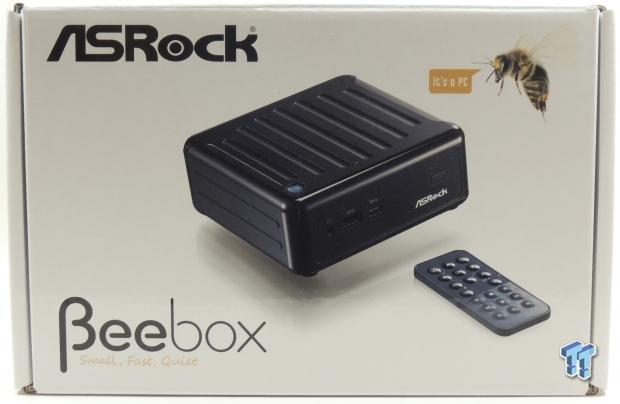 This device is tiny, and the box is small as well. ASRock is aiming for simple aesthetics. One advantage of the Beebox can be seen on the box, and that is the IR controller, which surprisingly isn't a common accessory with most SFF PCs I have reviewed.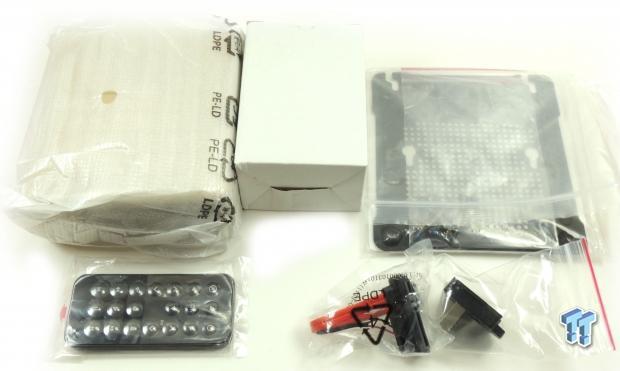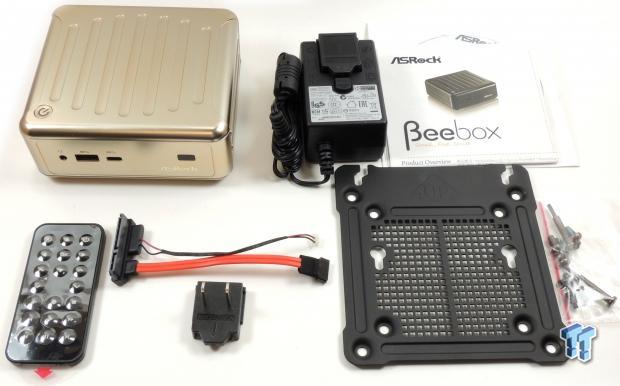 The Beebox is well protected inside its box. Unpacking everything is quite easy and there is a good deal of accessories. Accessories include: AC/DC power converter (36W) with two pronged insert, SATA power/data adapter, VESA back plate and screws, remote control with battery cell, and of course the driver DVD and manual.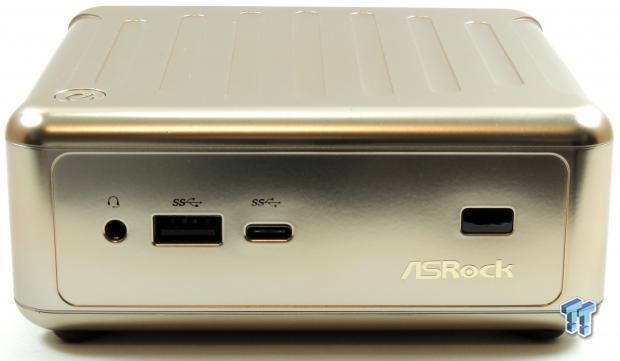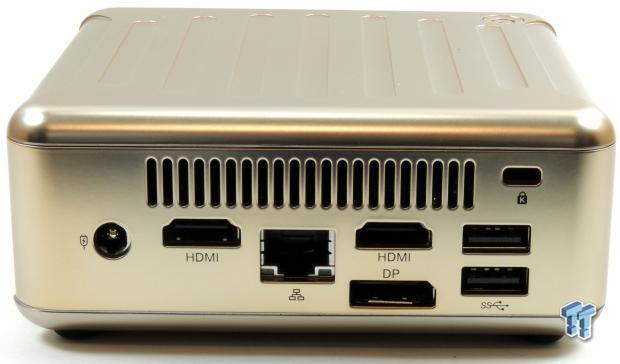 The front of the unit carries the IR receiver, headphone/microphone combo jack, USB 3.0 type-A port (normal USB port), and a USB 3.0 type-C port. The back of the unit has a vent, DC power jack, 2x USB 3.0 ports, 2x HDMI ports, RJ-45 LAN, Display Port, and a Kensington lock port. The unit supports up to three simultaneous displays.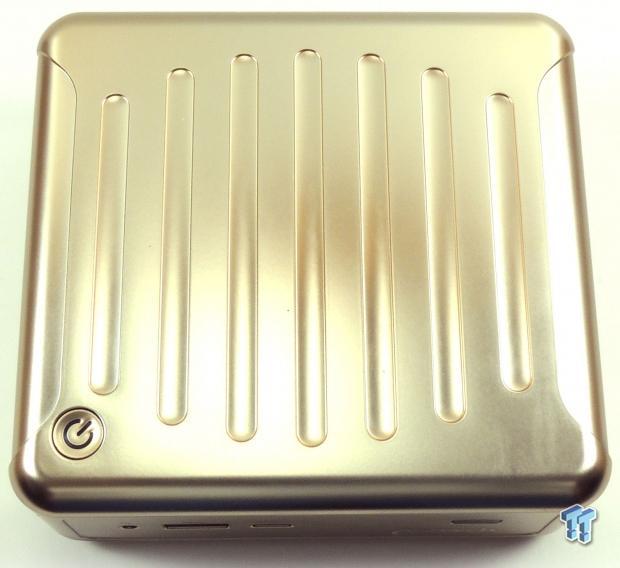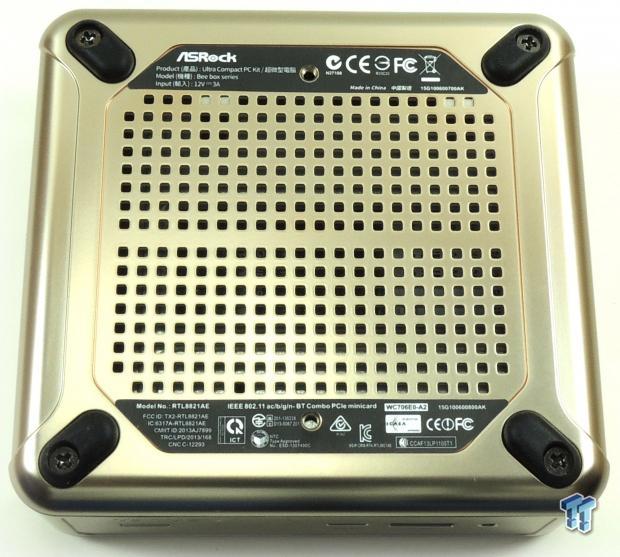 The body of the unit is made of plastic which is supported by a metal internal structure. An angled power button (with internal LED) is positioned in the left hand corner. The bottom of the unit has some very nice rubber feet, ventilation holes, and VESA mounting holes.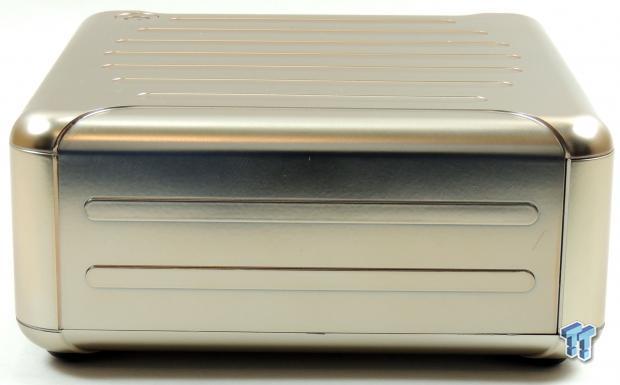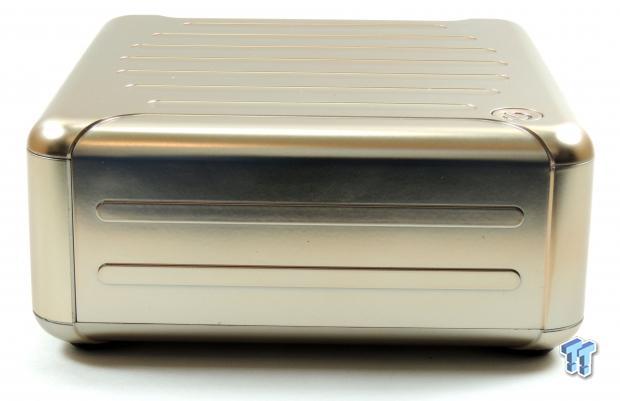 The sides of the unit are plain. One advantage of using this type of non-reflective plastic is that fingerprints are harder to spot and easier to clean off. Many SFF PCs which use reflective plastic have to be regularly cleaned of all the fingerprints. The Beebox shouldn't need that kind of attention to keep appearances up.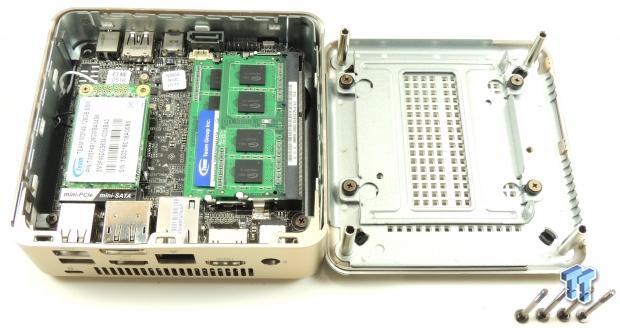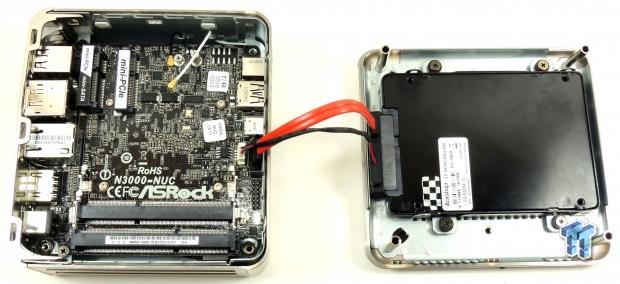 Opening the Beebox is simple; just unscrew the four screws on the bottom of the unit. I was surprised to see that the Beebox can actually fit a full sized 2.5-inch drive. My unit is the prebuilt one without an operating system, so it came with 4GB of memory and a 128GB mSATA drive. I also installed a 240GB SSD just to see if it would fit, and there was wiggle room when fitting the bottom back on.
Teardown of the Beebox
The Teardown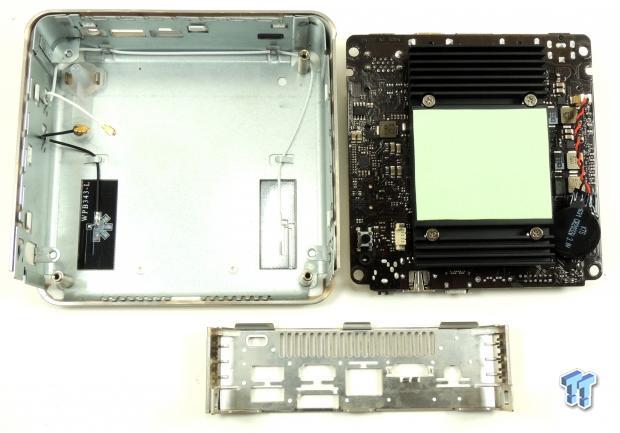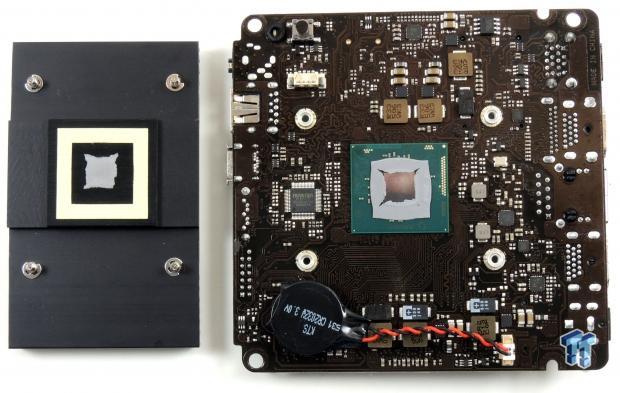 Removing the PCB from the chassis wasn't too tough, but there are no serviceable parts under there except the CMOS battery which should last for many years. The heat sink has a large thermal pad which conducts the heat from the heat sink to the metal chassis. Thermal paste is used to conduct heat from the SoC to the heat sink.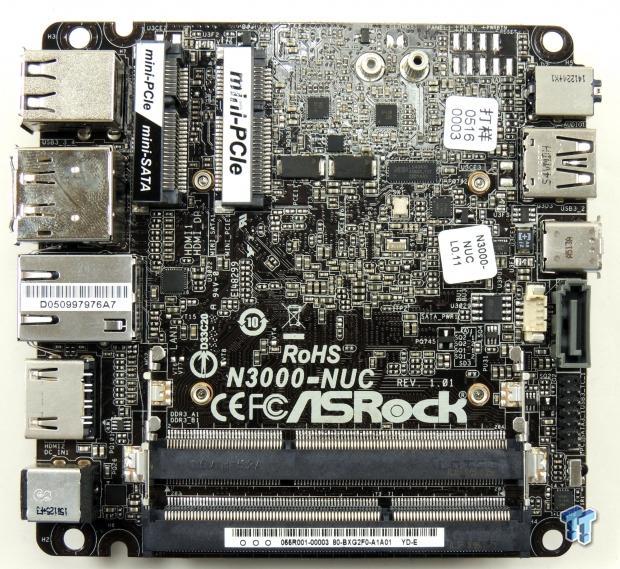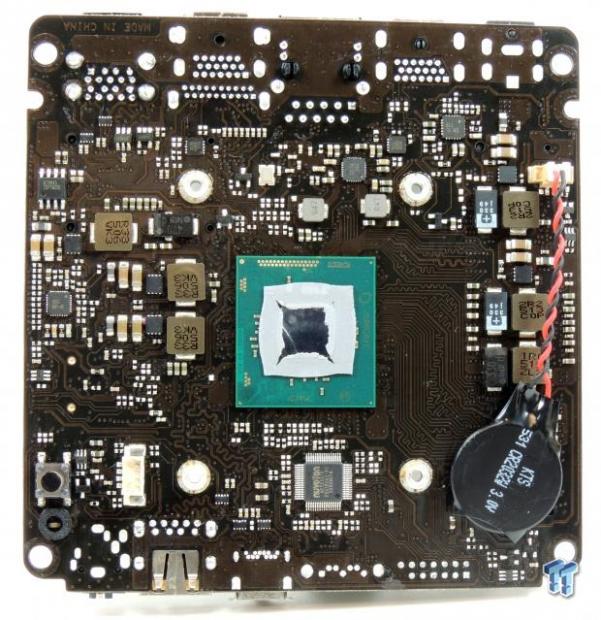 The PCB supports mini-PCIe (WIFI/BT module pre-installed), mini-PCIe/mini-SATA (128GB mSATA SSD pre-installed), two SO-DIMMs (2x2GB DDR3L 1600MHz pre-installed), and a single SATA port with SATA DOM power. The CMOS battery is stuck to the underside of the PCB by double sided tape.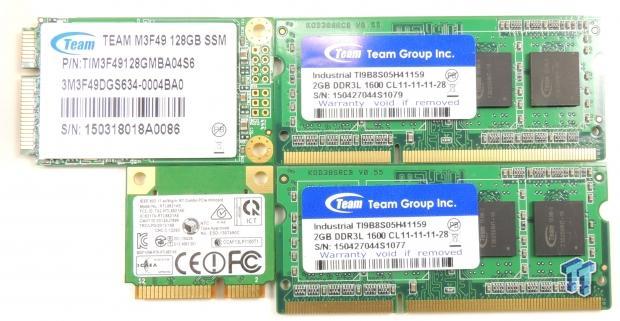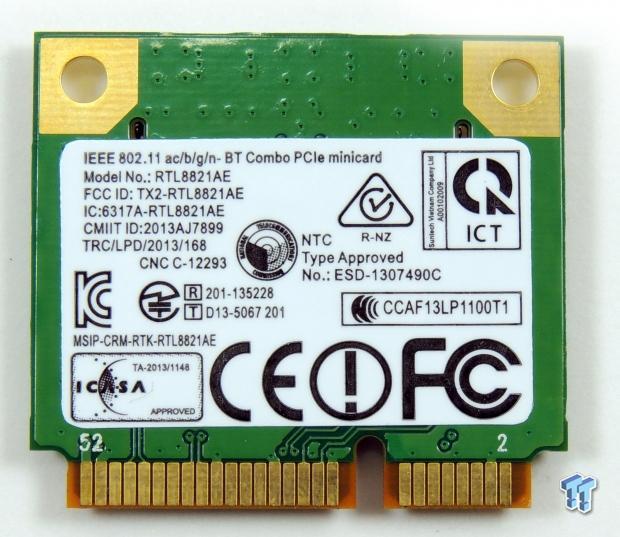 The Beebox which is prebuilt and fanless comes with 4GB (2x2GB) of Team Group DDR3L 1600MHz, a 128GB Team Group mSATA SSD, and a WIFI/BT card. The WIFI/BT card is a RTL8821AE, which is optimized for ultra-low power operation. Since the Wireless AC is a 1T1R card, it's limited to 433Mbps.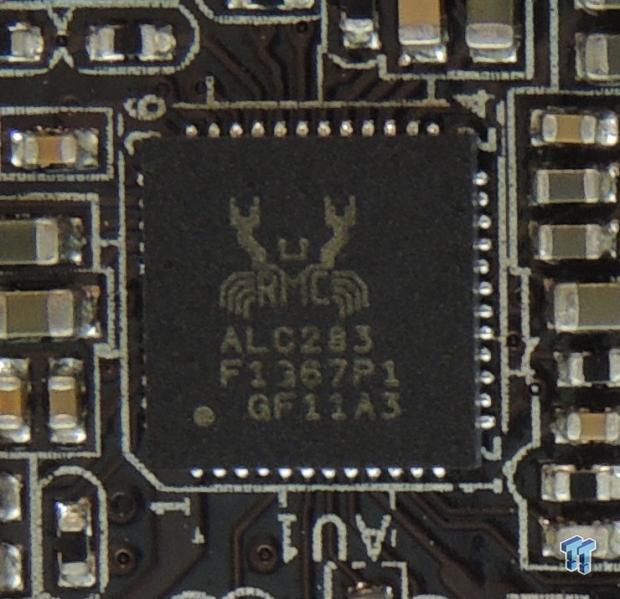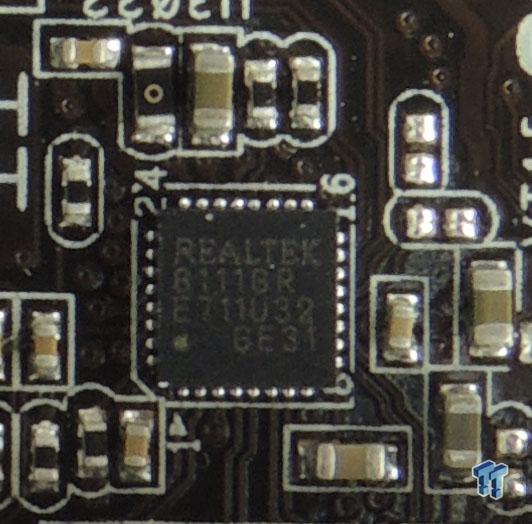 A Realtek ALC283 is the audio codec for the headphone/microphone jack, while a Realtek RTL8111G provides 1GBit LAN.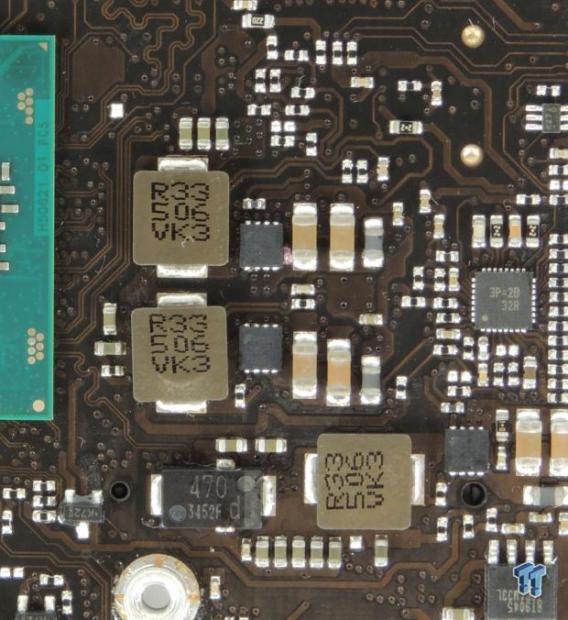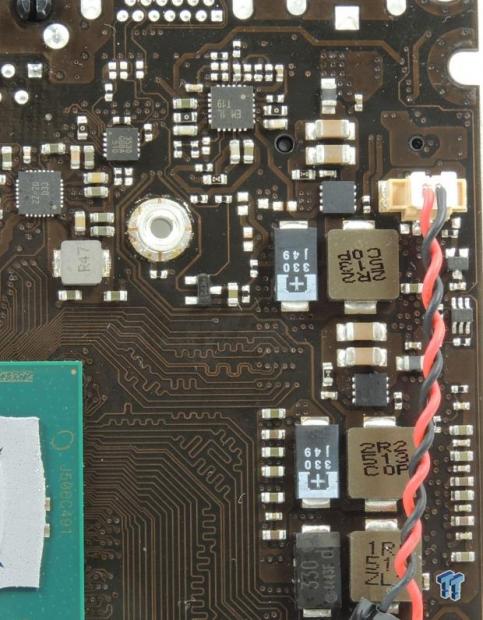 The power circuitry was very hard for me to decode, and I wasn't able to identify everything because of the Richtek marking codes. There is one IC labeled "EM" and this is a RT8205, the main power supply chip, meaning it converts the 19-12v input into voltages usable by the other devices. There are three chips labeled "3P=" I believe that they are PWM controllers (or POLs), one for the main SoC, another for the DRAM, and perhaps one more for SATA or one of the mPCI-e slots.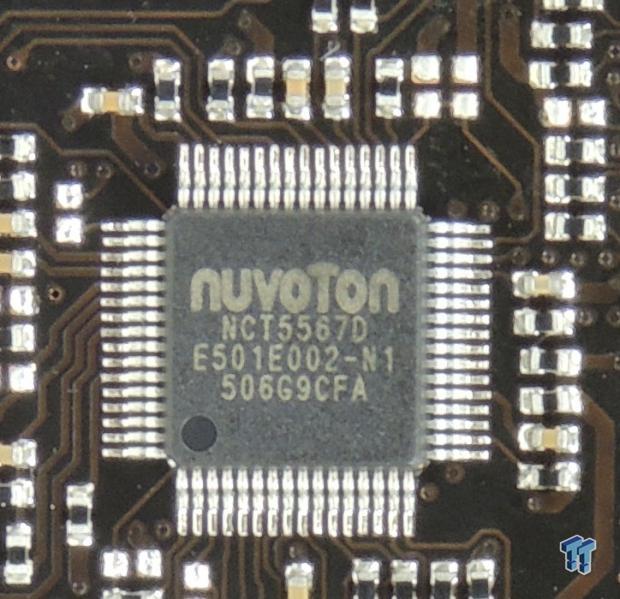 A nuvoTon NCT5567D is the SuperIO in charge of system monitoring and random tasks.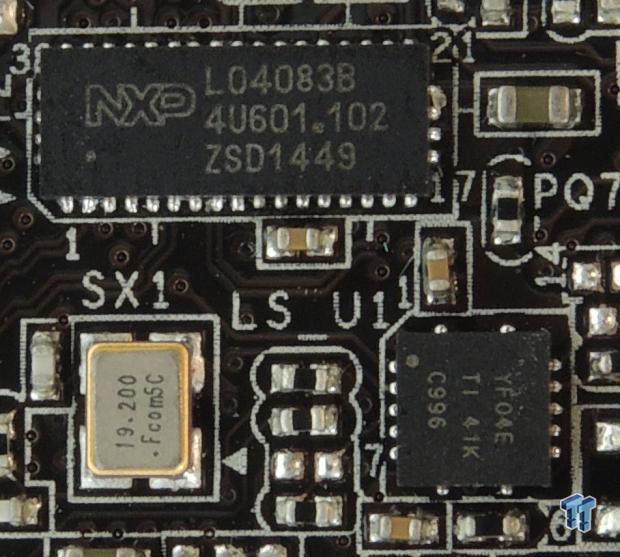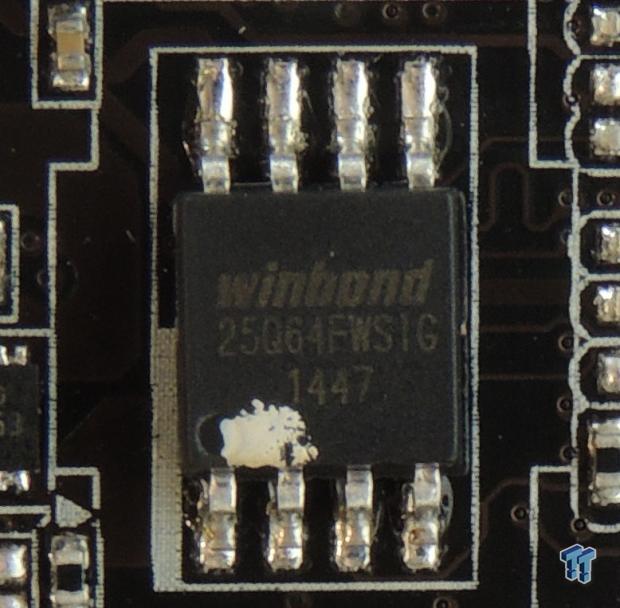 An NXP L04083B is a 4 differential channel PCI-E 3.0 quick switch and I believe it is used for the display outputs in conjunction with two Texas Instruments TXS0104 one of which is pictured above. A 64Mbit (8MB) BIOS ROM is also present.
BIOS
I was very surprised to find that ASRock provided the Beebox with a fully equipped UEFI.
The UEFI was smooth and had most options one would expect in a prebuilt machine, it provides full drive options so you can configure things the way you want them. I decided to just use the provided mSATA drive.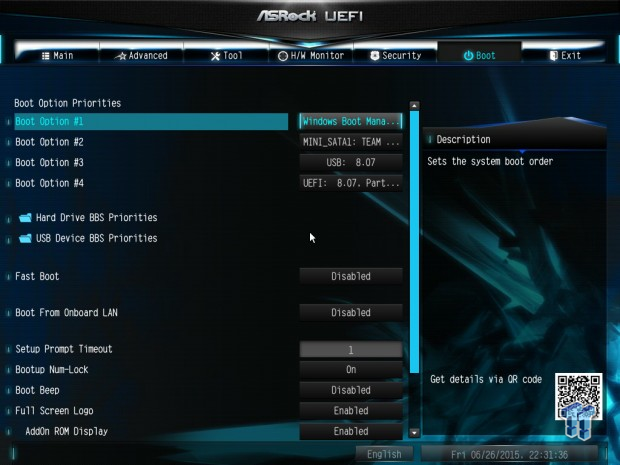 There isn't too much to do in the UEFI on a system like this, except perhaps change the boot order.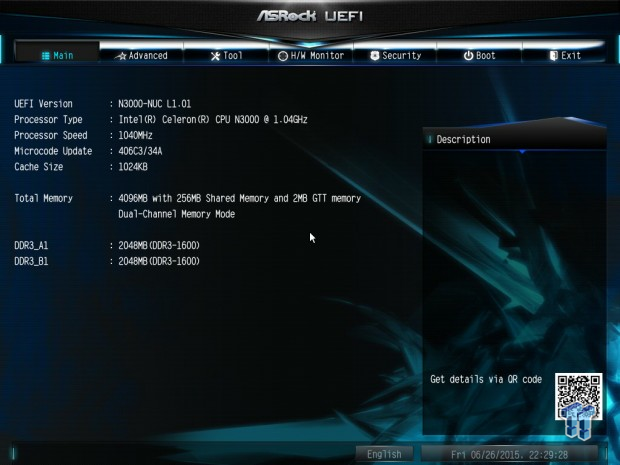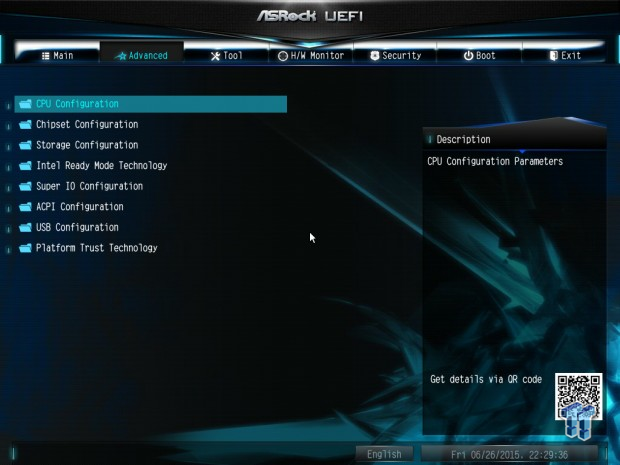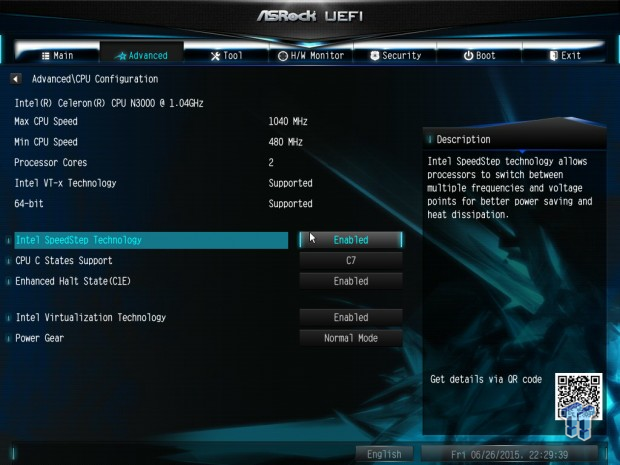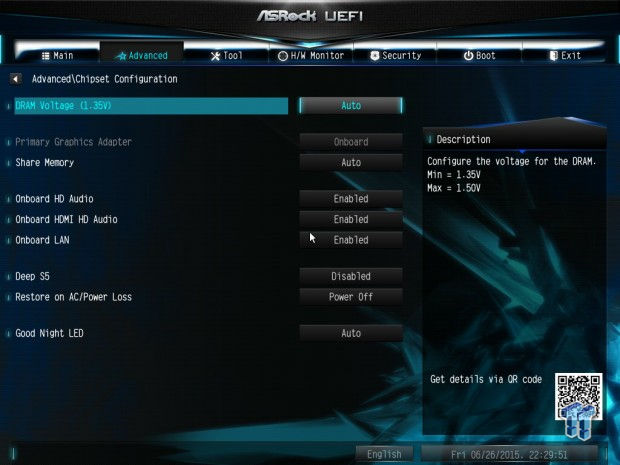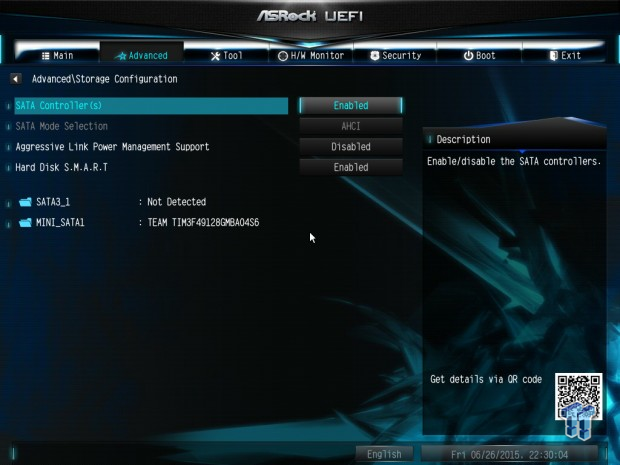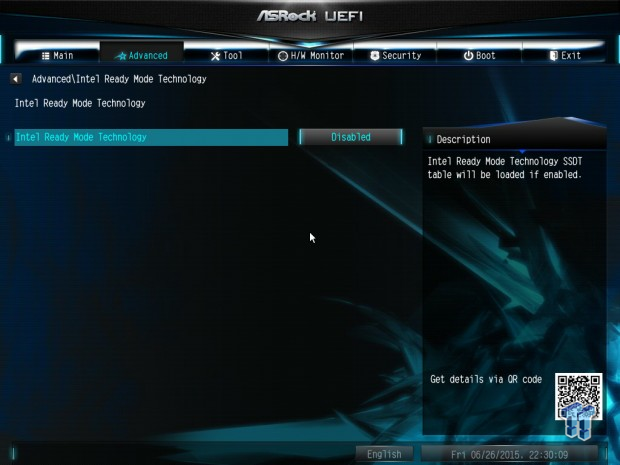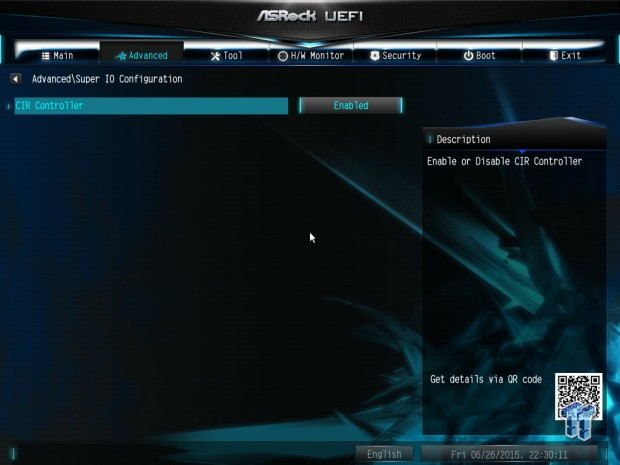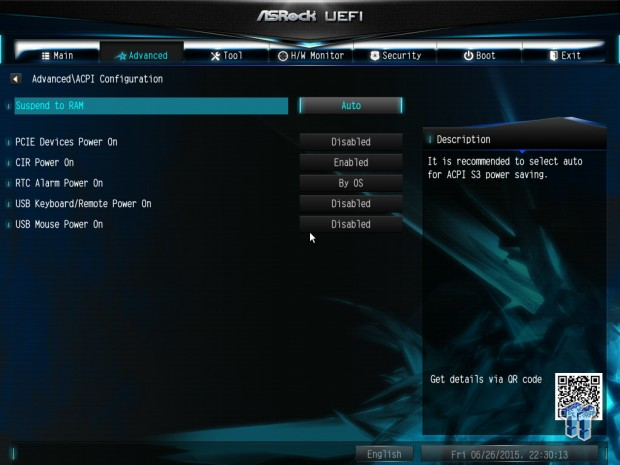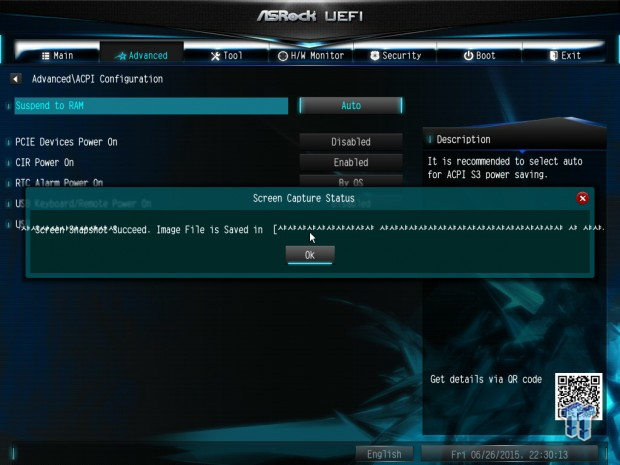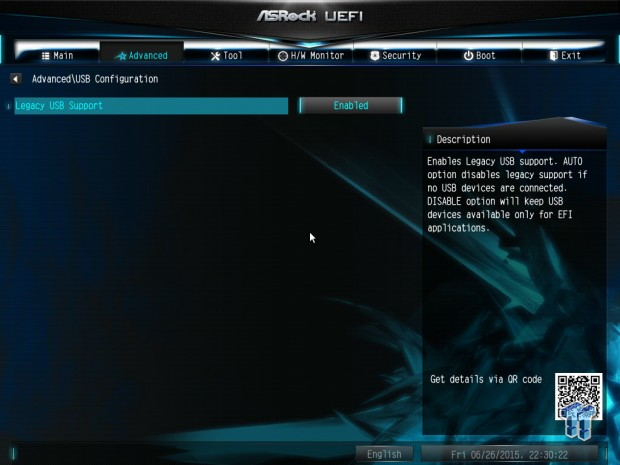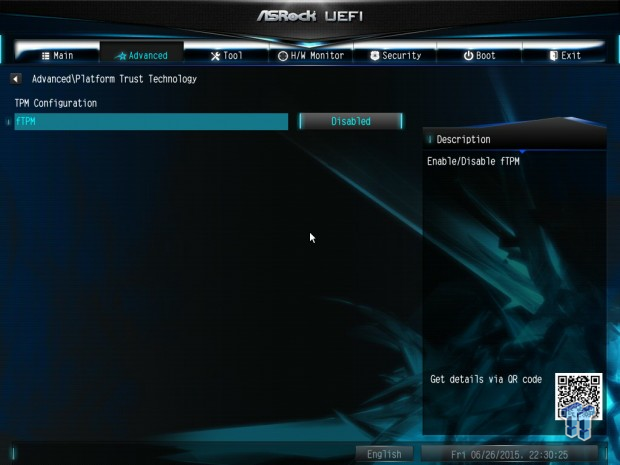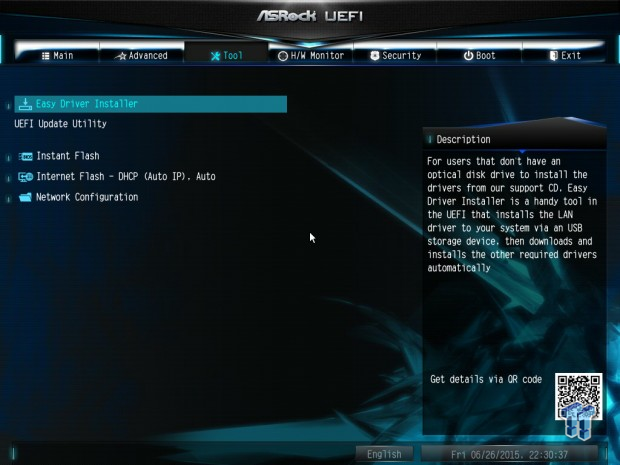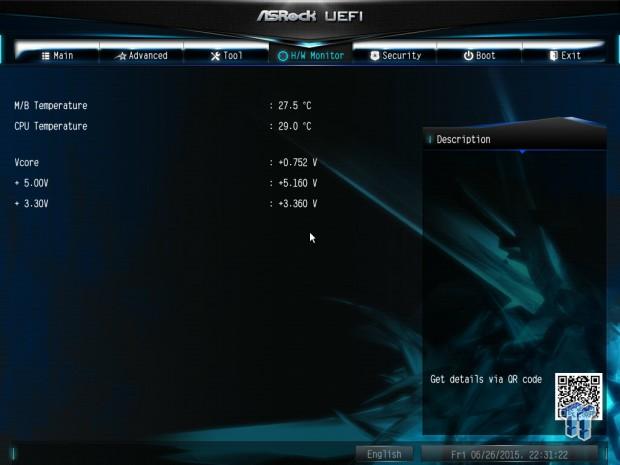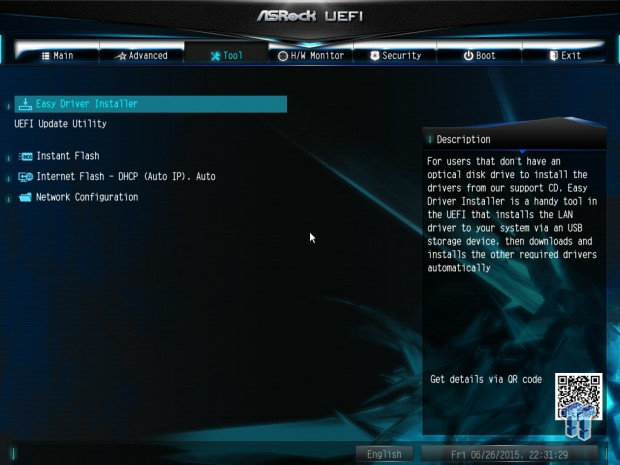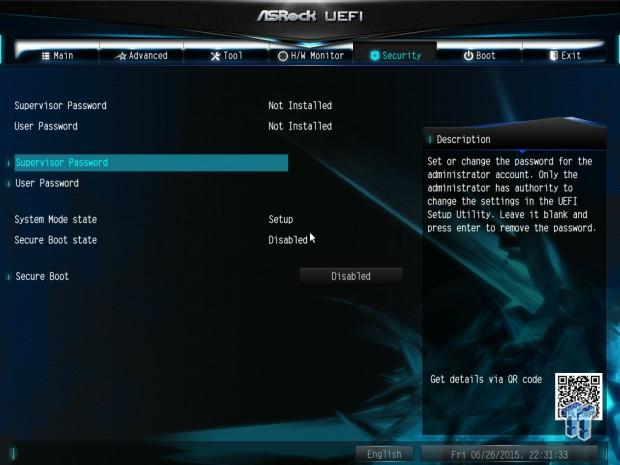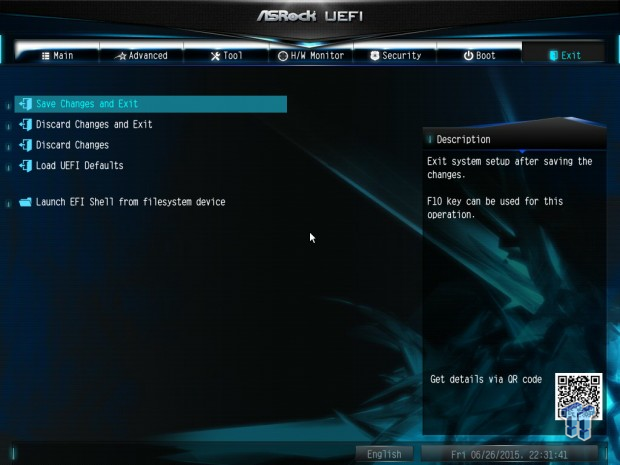 Test Setup and Benchmarks
Test Setup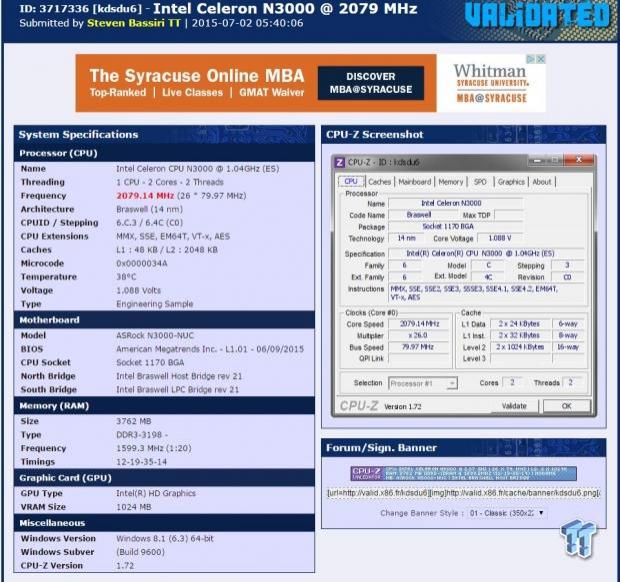 The system is already pre-built; all the end-user needs to do is install an operating system. I chose to install Windows 8.1 Pro. It looks like CPUz is misreading the memory frequency as 3200MHz, instead it should be 1600MHz.
CPU, Memory, and System Benchmarks
CINEBENCH 11.5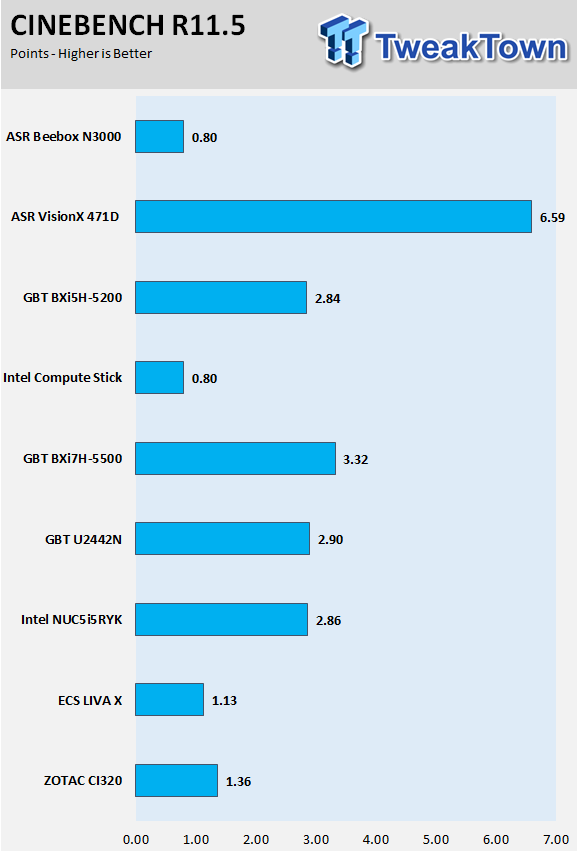 wPrime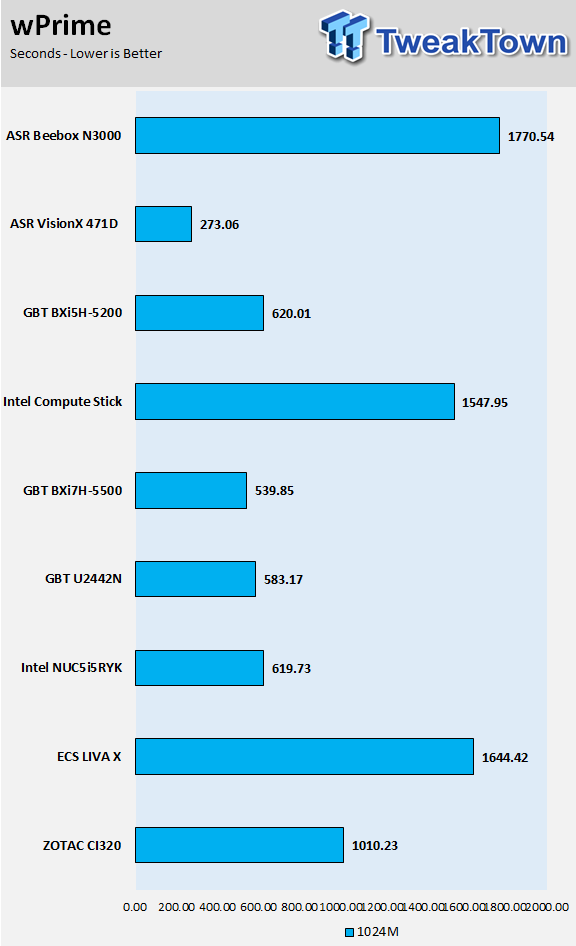 AIDA64 AES and HASH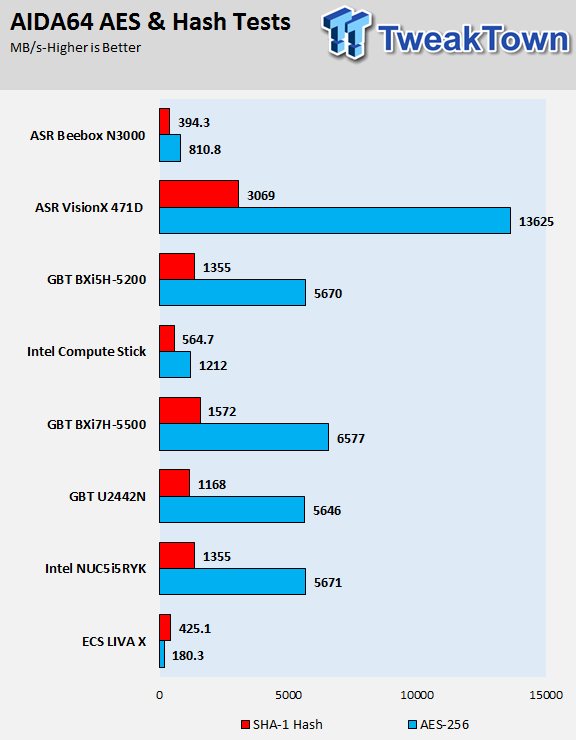 AIDA64 Memory
PCMark8 Home Test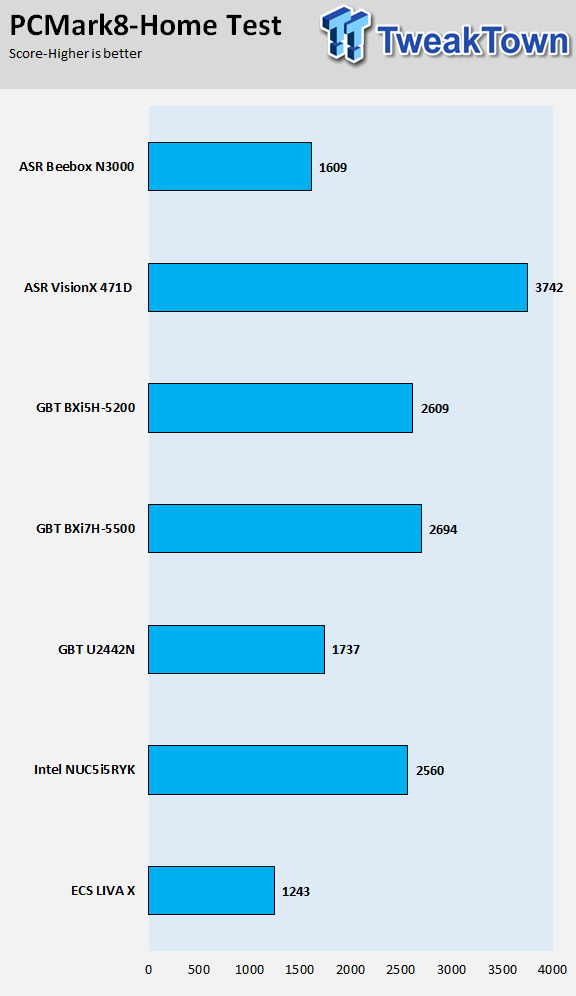 PCMark8 Work Test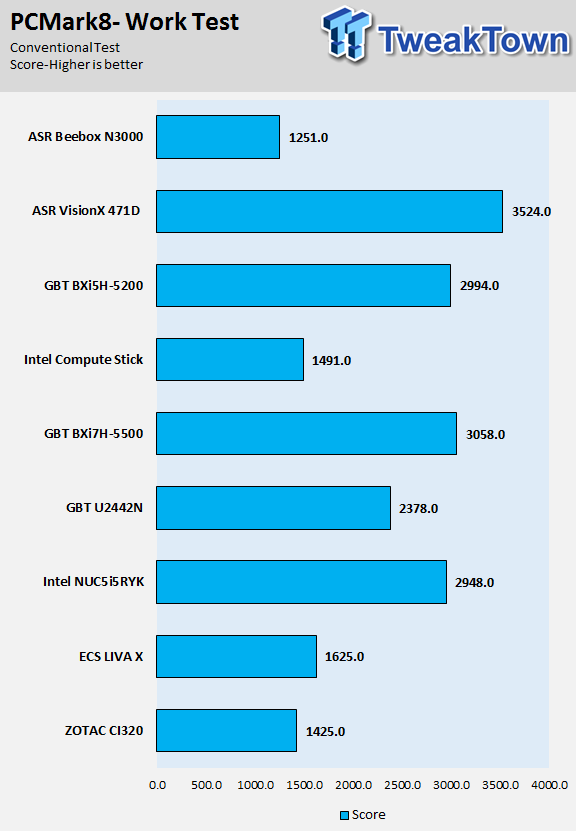 Graphics Benchmarks
3DMark11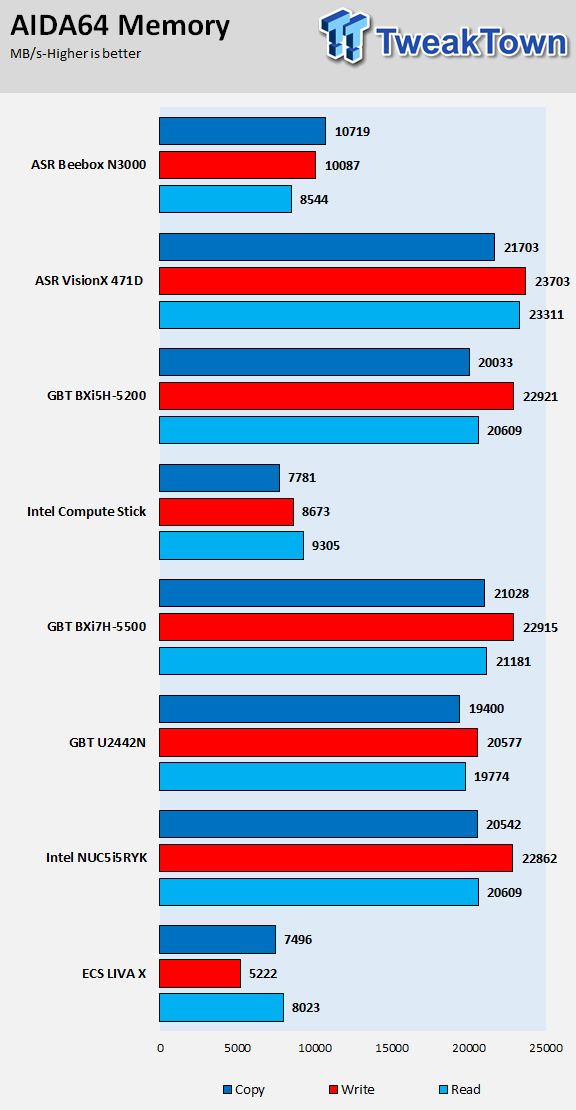 UNIGINE Heaven 4.0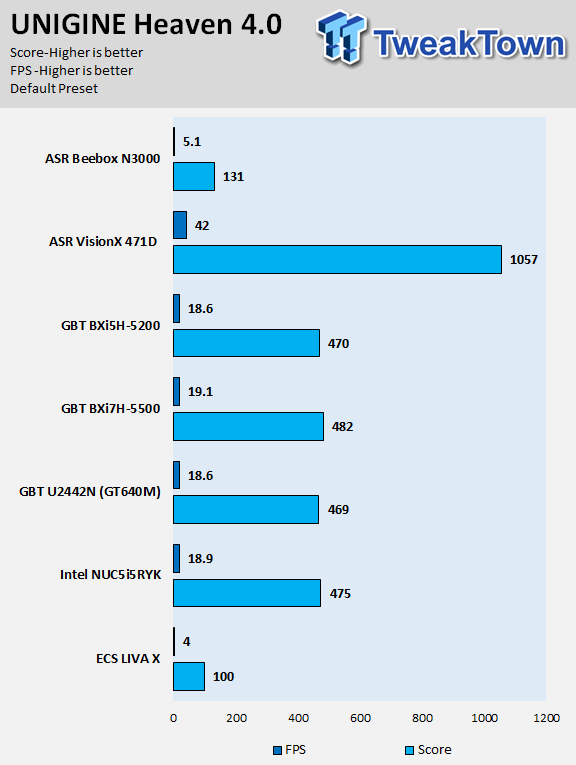 Lost Planet 2 DX11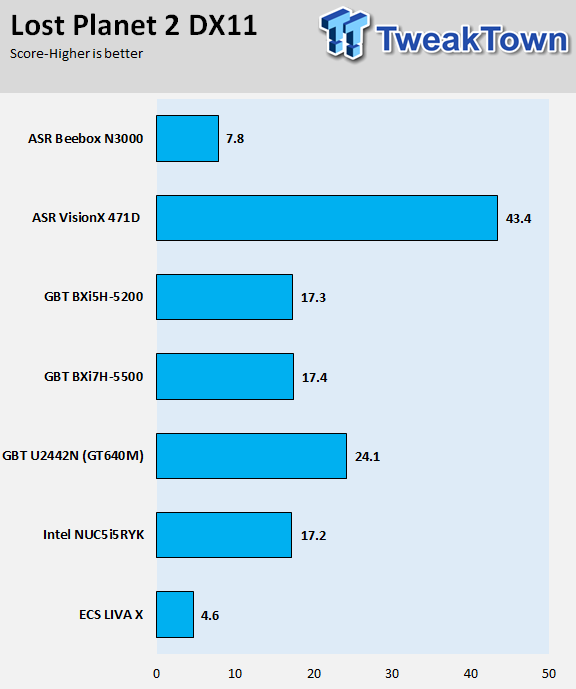 Resident Evil 6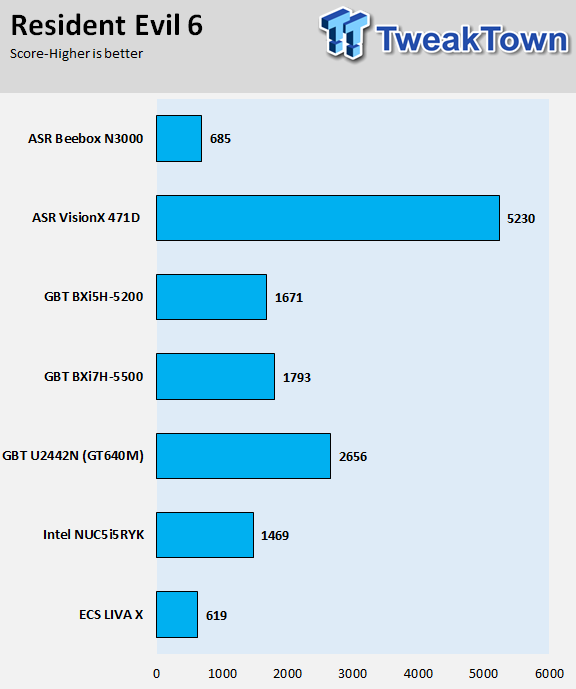 There is no hiding the fact that the Braswell based Celeron N3000 SoC isn't a high performance CPU, it's not even a medium performance CPU, instead it's an extremely low powered basic CPU. It's the same type of device you would find in any fan-less design product because of its incredibly low 2W TDP. That being said, the system does feel much faster than these benchmarks are letting on, perhaps because of all the expanded IO.
The Beebox feels faster than both the LIVA X and the Intel Compute Stick, many of the tasks I ran required little CPU performance, rather total system performance is quite good on the Beebox. Any system is as fast as its slowest component, and in this case the CPU is the slowest component. That being said, CPU technology has come so far in the past decade that even a very slow CPU is quite quick.
System IO Benchmarks
Storage and Network Performance
CrystalDiskBench-Read: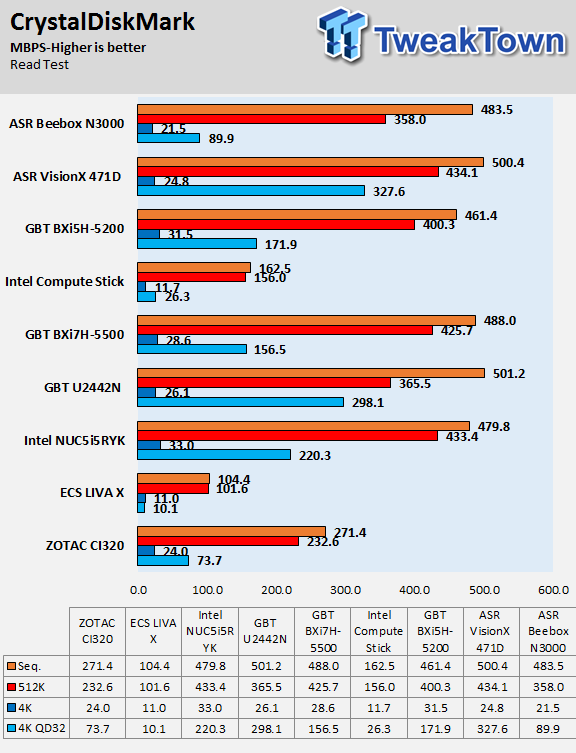 CrystalDiskBench-Write: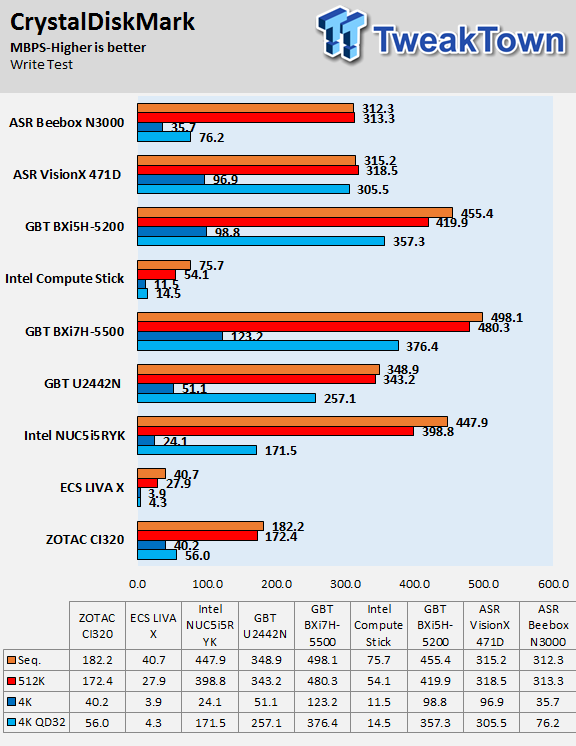 Diskbench USB 3.0 Speed: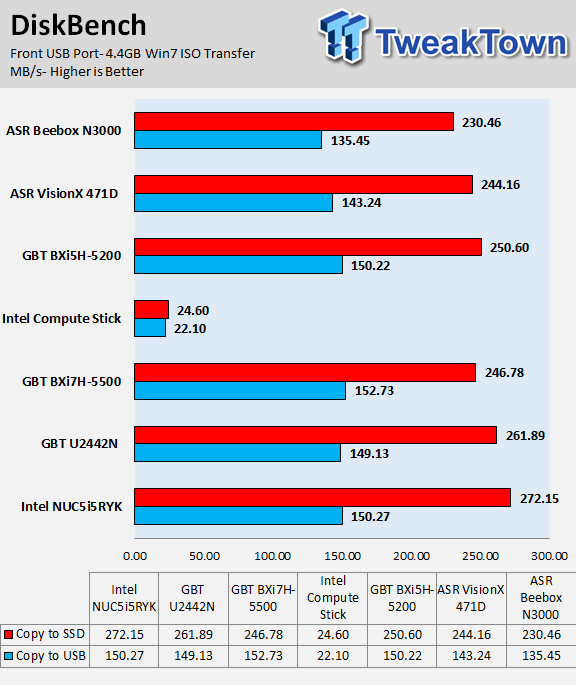 ixChariot Network Throughput: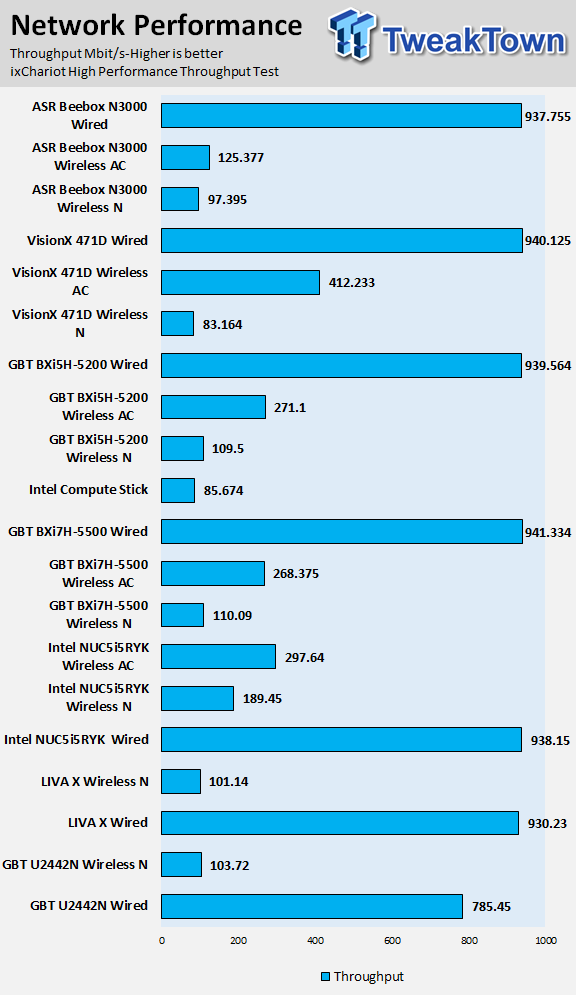 The installed mSATA SSD is pretty quick, and I noticed it while using the device. The wireless AC performance is quite slow, that is because the Wireless AC card is design for ultra-low power conditions. If you want faster wireless AC then you can just replace the provided card with another module since it isn't soldered in place.
Temperature and Power Consumption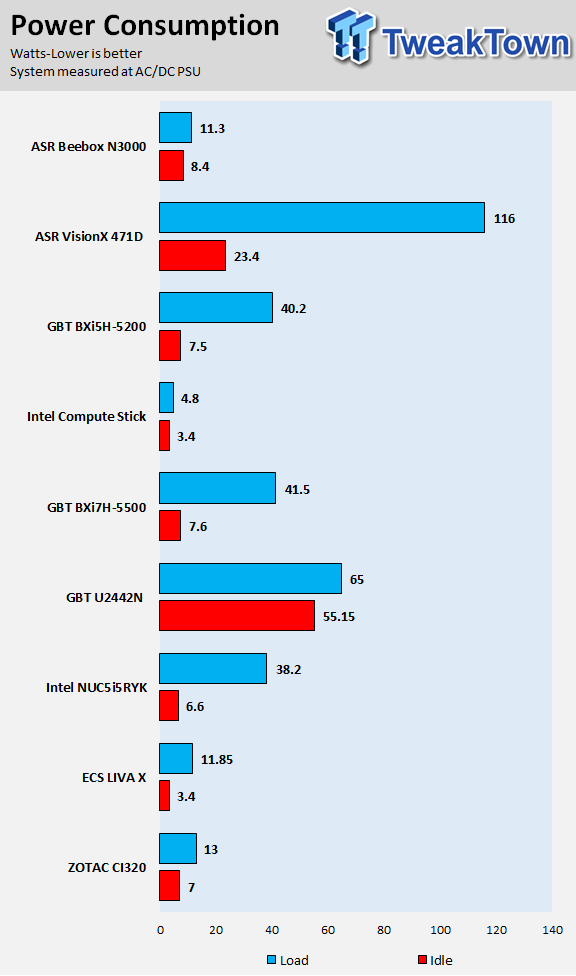 I was very surprised at the power consumption of the Beebox, I figured since the CPU has a 2W TDP, I would get around 5W at full load. What I didn't consider is that the CPU runs cooler than the memory and mSATA drive! Together plus all the other IO like the four USB 3.0 ports, total system power consumption can easily reach 10W, which isn't a big deal, just a little surprising.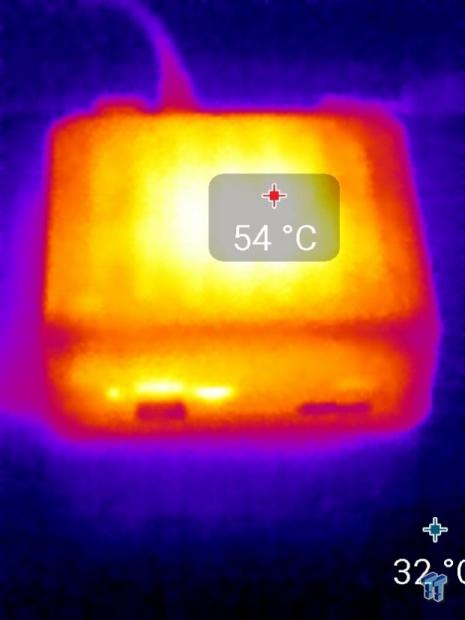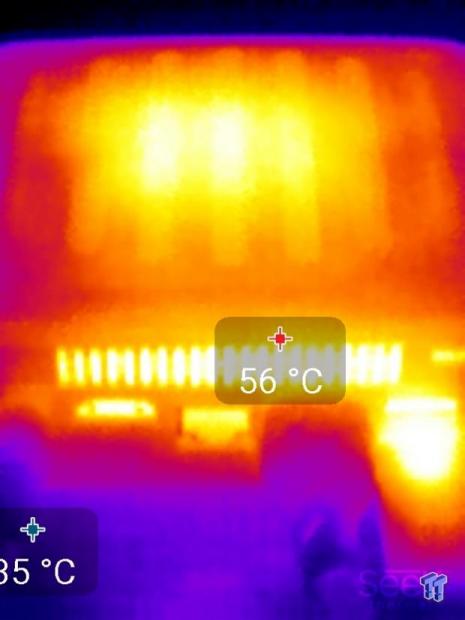 Shot of the front and back of the Beebox after 30 minutes of 100% load. The device never went above 60C, however, that is still pretty toasty. Granted, you probably won't run the box hard enough to ever get these temperatures, as they are artificially induced by stress test programs, but the tiny box does okay.
The cooling system does seem to work and evenly spread the heat around the entire chassis.
What's Hot, What's Not & Final Thoughts
This is where you can fast forward to the final section of the review, and get a quick recap and points on the ASRock Beebox.
What's Hot
Pre-Built Out of the Box: Many SFF PCs require the user to install storage and memory, and that can be a turn off for many consumers who are too scared to do the job themselves. ASRock has done a good job of selecting fast components to compliment the Intel Celeron SoC. You still need to install an OS, and ASRock is providing a version of the Beebox that comes with an OS pre-installed.
Dual-Channel DDR3L for 4K: The ASRock Beebox is advertised as having dual-channel memory, and it is unique in that aspect considering most others have implemented single-channel memory per Intel's specification. The dual-channel memory should theoretically provide more bandwidth, which should support seamless 4K streaming.
Versatile SATA, mSATA, mPCIe, and SO-DIMMs: ASRock didn't go the solder route like some other SFF PCs such as the LIVA X and the Intel Compute Stick, instead they are allowing the user to replace the WIFI/BT card, mSATA SSD, and even memory DIMMs. While my sample came with an mSATA SSD, I can still add even more storage with a 2.5-inch drive, providing many possibilities for a media center PC.
Included Remote Control!: Other than ASRock's VisionX which costs over $1000, the ASRock Beebox is the only SFF PC I have reviewed to date which comes with its own remote control. I think that if a PC is going to be sold as a media center/HTPC it should come with a remote, and while many SFF PCs come with IR receivers, they usually don't supply a remote.
Sleek Looks: Let's be honest, a media center PC is going to be seen, so it better look nice. The Beebox is cute, it's clean, it's elegant, and it's sleek. I actually like the gold champagne body, and I am sure it will become a conversation piece when guests come over.
Very Affordable: The black and white versions of the prebuilt system I tested today are estimated to cost $220, and that is an awesome price considering it comes with 4GB of DDR3L and a 128GB mSATA SSD.
Noiseless: Since there are no moving parts on the N3000 model of the Beebox there is no noise, making the Beebox great for the bedroom or living room.
What's Not
The CPU is slow: This is perhaps the biggest downside to the Beebox, the CPU isn't meant for CPU heavy tasks, especially not ones which take advantage of multi-threaded capabilities since the N3000 is only a dual-core. CPU performance is similar to that of the LIVA X and the Intel Compute Stick, which means it can do basic tasks like stream, browse the web, use Microsoft Office, and do other basic tasks. On the upside, performance feels faster than the benchmarks let on.
Wireless AC at 1T1R is a bit on the slow side: While I didn't have issues streaming Netflix, the benchmark tests show that the wireless AC is quite slow. Granted it is a 1T1R system which limits it to 433Mbps compared to 2T2R which is limited at 867Mbps. It will be a little faster than Wireless N, but not noticeably so.
Final Thoughts
The cost of the black and white versions of the Beebox I reviewed today is estimated at $220 (with mSATA SSD and DDR3L included), I think the gold version might cost a few dollars more. At that price, the Beebox is one of the only SFF PCs to have this feature set and include 4GB DDR3L and a 128GB mSATA drive. Together the same storage and memory can cost you anywhere from $100-200 more on top of the purchase price of a bare-bone.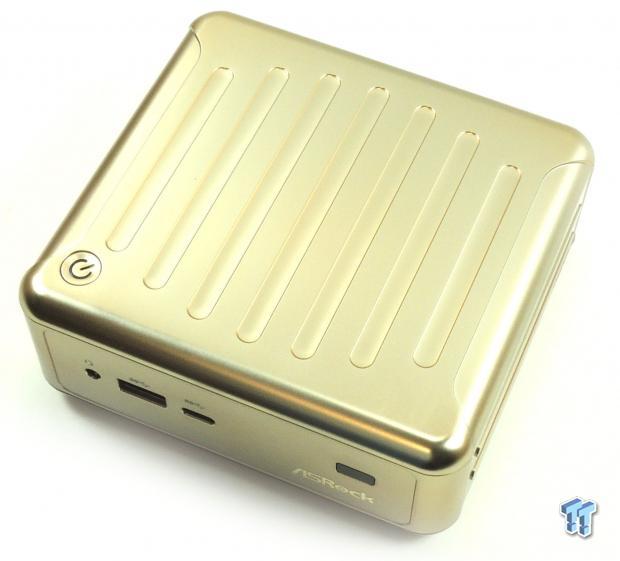 The value of the Beebox is immense, and while it does have its shortcomings in the CPU and wireless departments, its performance is acceptable for its price and use scenarios. I know many people feel buyer's remorse after buying a mini-PC with a strong CPU, and using it just for streaming Netflix, and the Beebox is the solution to that scenario. It offers a different balance of CPU versus system, and it should prove to be quite useful.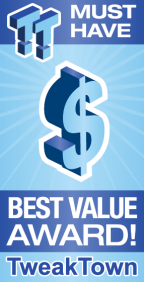 | | |
| --- | --- |
| Performance | 81% |
| Quality including Design and Build | 90% |
| General Features | 92% |
| Bundle and Packaging | 94% |
| Value for Money | 97% |
The Bottom Line: At the price point of the ASRock Beebox, you can't expect it to replace your main computer, but it will offer excellent value and solid performance as an HTPC, streaming box, wireless access point, digital signage, or even a low use desktop all without making any noise.
PRICING: You can find products similar to this one for sale below.

United States: Find other tech and computer products like this over at Amazon.com

United Kingdom: Find other tech and computer products like this over at Amazon.co.uk

Australia: Find other tech and computer products like this over at Amazon.com.au

Canada: Find other tech and computer products like this over at Amazon.ca

Deutschland: Finde andere Technik- und Computerprodukte wie dieses auf Amazon.de
We openly invite the companies who provide us with review samples / who are mentioned or discussed to express their opinion. If any company representative wishes to respond, we will publish the response here. Please contact us if you wish to respond.