Synology BeyondCloud Mirror 6TB Consumer NAS Review
Tyler tells us all about Synology's BeyondCloud Mirror, a new DiskStation NAS product which by the looks deserves your attention.

Published
5 minute read time
TweakTown's Rating: 90%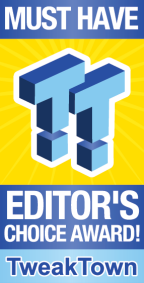 The Bottom Line
Synology's BeyondCloud Mirror is a well built, solid performing NAS solution for the home user. Adding to it is the DSM platform that will allow users to grow into and become familiar with one of the most reliable NAS platforms.
Introduction

With many vendors now offering a pre-built NAS storage solution, Synology has emerged with their very own turnkey solution to take on the likes of the Personal Cloud from Seagate and MyCloud from Western Digital. The Beyond Cloud as Synology is calling their latest comes in two flavors both offering the proven DSM NAS platform at the core.
The standard single bay solution carries the BeyondCloud moniker, while the dual or two bay solution we had sent over is setup with two bays and is appropriately named the BeyondCloud Mirror. Several capacity options are being launched at the same time with the single bay version offering both 2TB and 3TB setups, the Mirror or dual bay model is being offered with two 3TB drives for 6TB of raw storage or 3TB mirrored.
The BeyondCloud Mirror is based on the Marvell Armada 370 platform that we have seen in previous NAS appliances. This SoC operates at 800MHz, while being paired together with 256MB of DDR3 memory. Compatible drives range from your standard 3.5" solutions, while 2.5" drives are supported when using Synology's optional disk holder. For a full list of compatible drives, Synology carries a list on their website support. Connectivity ranges from the standard gigabit Ethernet port down to dual USB 2.0 ports. Internal drives use the EXT4 file system, while externals connected to the unit can use everything from HFS+ with volumes smaller than 2TB to FAT, NTFS and EXT3.
With this solution being powered by DSM, we have a maximum volume size of 16TB supporting 256 internal volumes and 10 iSCSI targets. RAID types range from standard RAID modes 0, 1 and JBOD over to Synology Hybrid RAID that allows users to mix volumes sizes while maintaining both data redundancy and performance.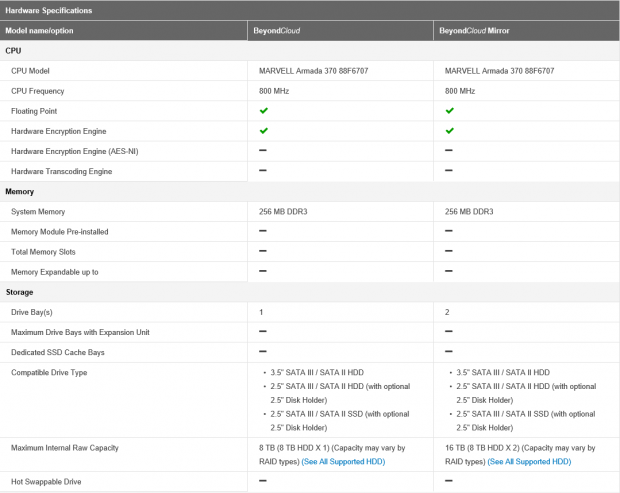 Above, we have the system specifications pulled from the Synology website. As you can see, much of this is what we spoke of above with the Armada 370 SoC at 800MHz and 256MB of DDR3. Towards the bottom, we find mention of 8TB HDD support, allowing the latest storage technology to be used internally.
Synology BeyondCloud Mirror
Packaging and a Closer Look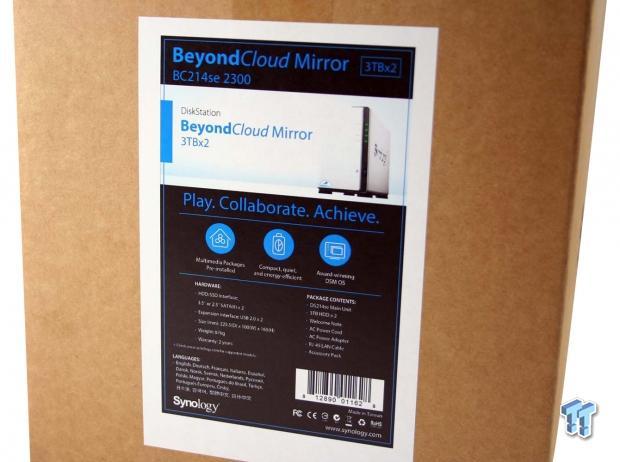 Packaging is a standard brown box with a label on the end. The label includes capacity information along with an image of the NAS. Package contents are listed down below next to NAS information and warranty.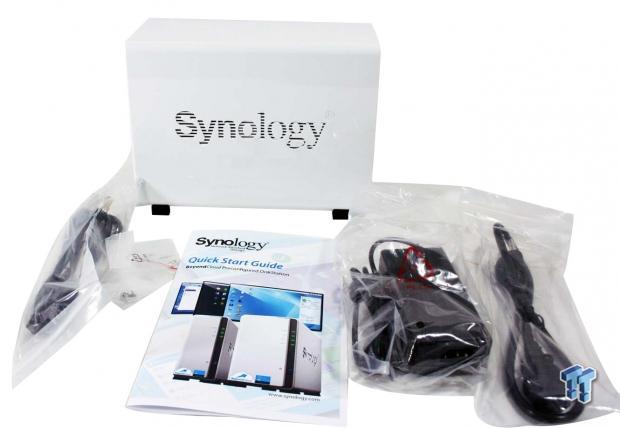 Scope of delivery for the BeyondCloud Mirror gives us the NAS, power adapter, Ethernet cable, and reading materials.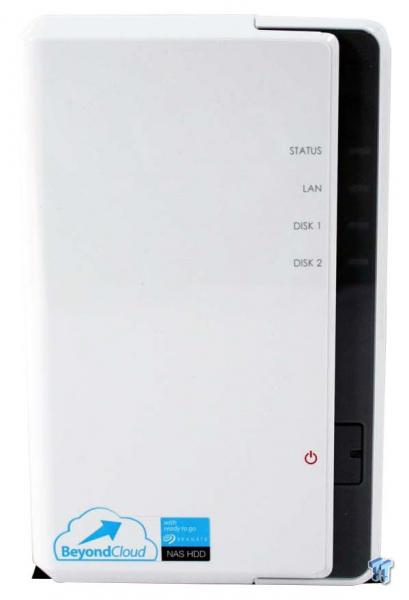 The NAS itself comes with a white exterior that gives it a clean look. The right side houses all the LEDs for power and drive activity, towards the bottom we have the power button.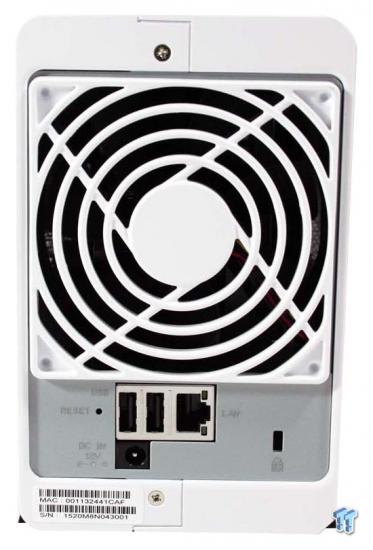 The back of the NAS houses a 92mm cooling fan with connectivity options down below. These options include a single gigabit Ethernet port and dual USB 2.0 ports.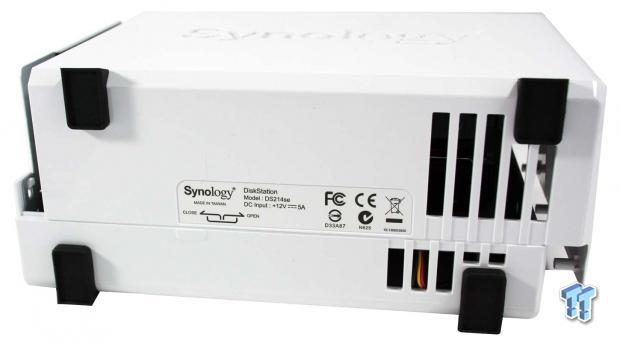 Opening up the unit is rather simple. After removing two screws, you simply slide the left side away from the chassis.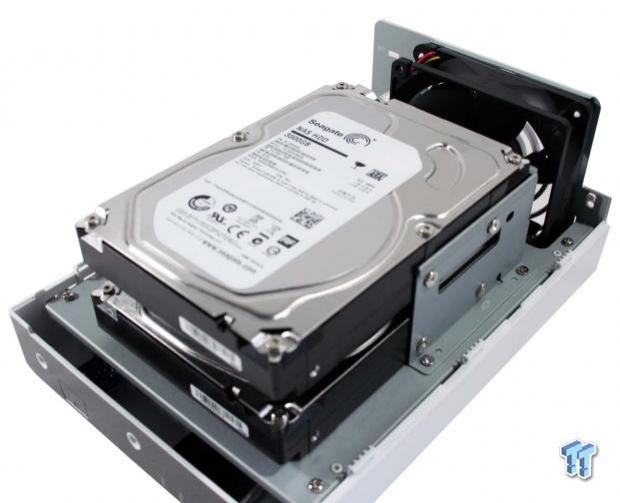 Once inside, we have a large metal sled that houses both drives. The drives used in our unit were 3TB Seagate NAS drives.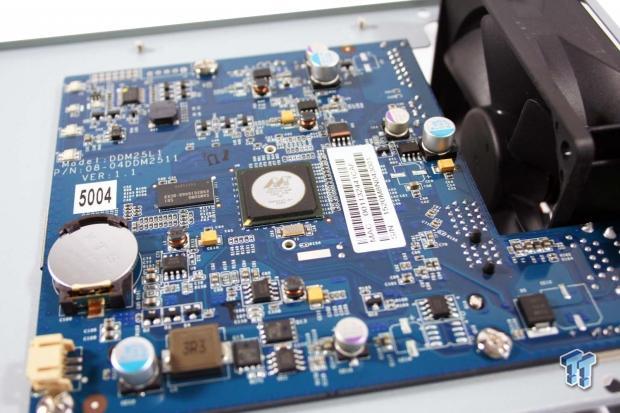 Digging a little deeper into the unit, we were able to uncover the motherboard for this system. In the center, we have the Marvell Armada 370 with Samsung DDR3.
Test System Setup and Web Management
Test System Setup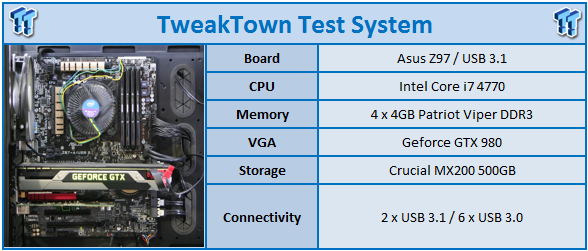 Our Consumer NAS test 'system' is setup similar to what you have at home. Here we have the base of a ASUS Z97 USB 3.1, housing an Intel Core i7 4770 with 16GB of Patriot Viper DDR3 supporting. Our Operating System of choice is Windows 8.1 x64 Enterprise, with all available updates and patches installed on a Crucial MX200 500GB SSD.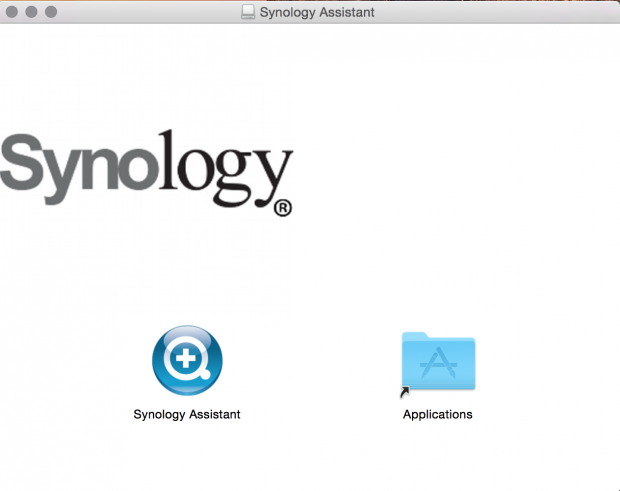 To aide in setting up the NAS, Synology uses its finder app called Synology Assistant. Seen above, we are running it on OS X.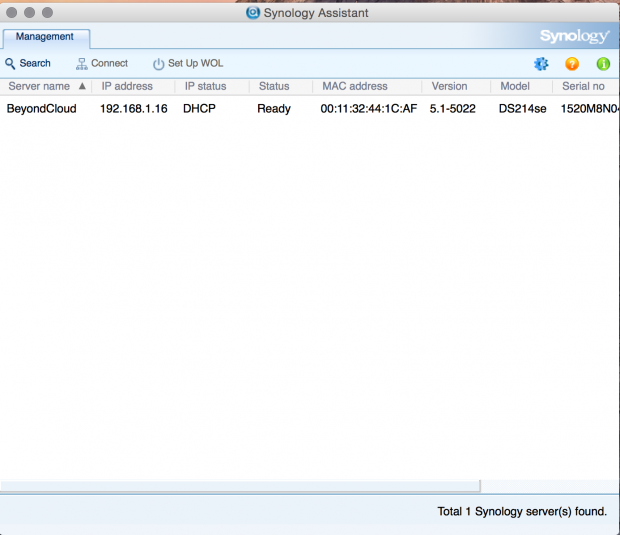 After launching the application, we wait for a few seconds while it searches out NAS appliances on the network. After it finds your BeyondCloud appliance, you simply click connect to start setup.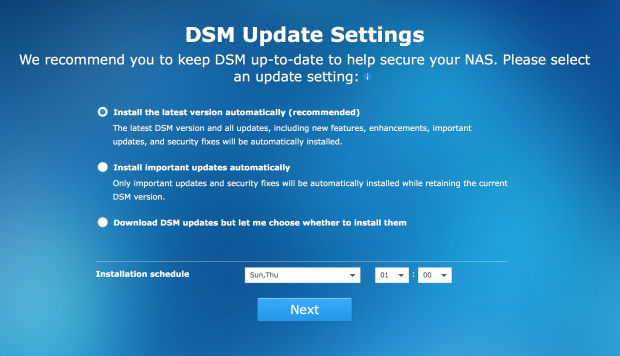 Starting the setup procedure, we first choose our update settings. Options include an automatic update feature, along with downloading but waiting for you to confirm before installing.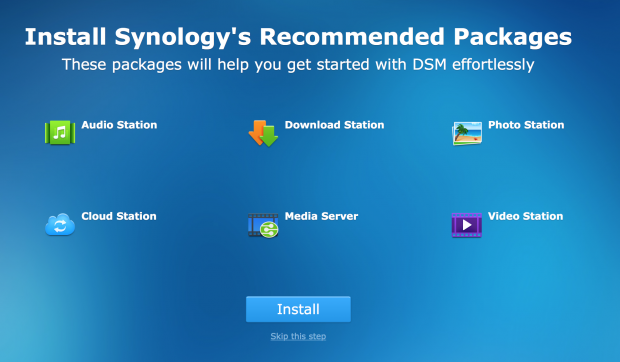 Next, we choose which of the recommended packages to install.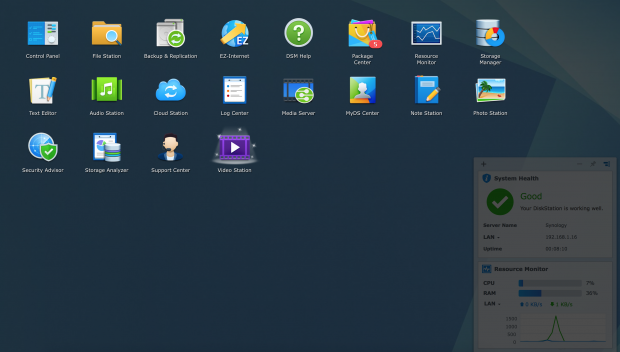 Once we enter DSM, we get a transparent menu that shows you all the sub menu items available.
Benchmarks - Single Client Throughput
Workload
HD Video Play - 720p HD stream from Windows Media Player, 256kB reads
2HD Video Play - 2x playback
4HD Video Play - 4x playback
HD Video Record - 720p HD stream, 256kB writes
File Copy From NAS - 4GB file copy, 64kB reads
File Copy To NAS - 64kB writes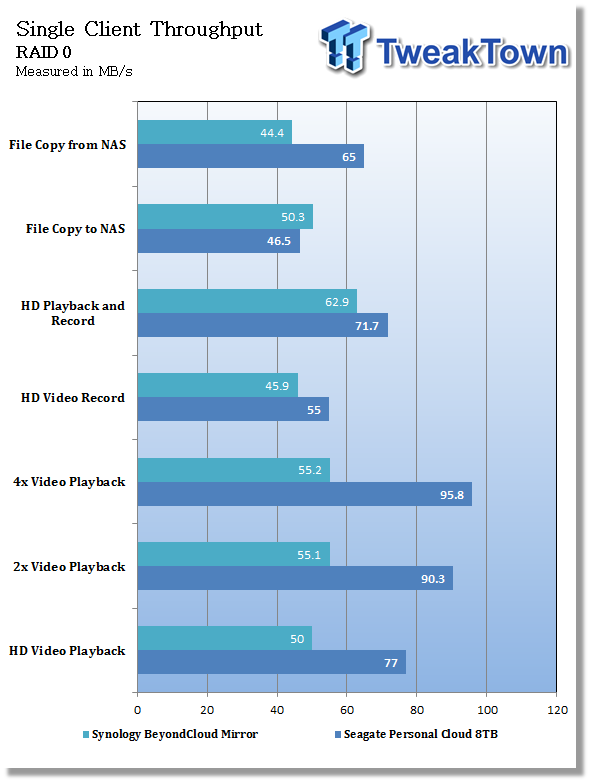 Starting our single client testing with our BeyondCloud setup in RAID 0. We find it not doing quite as good as the Seagate with video playback, but on par with file copy operations.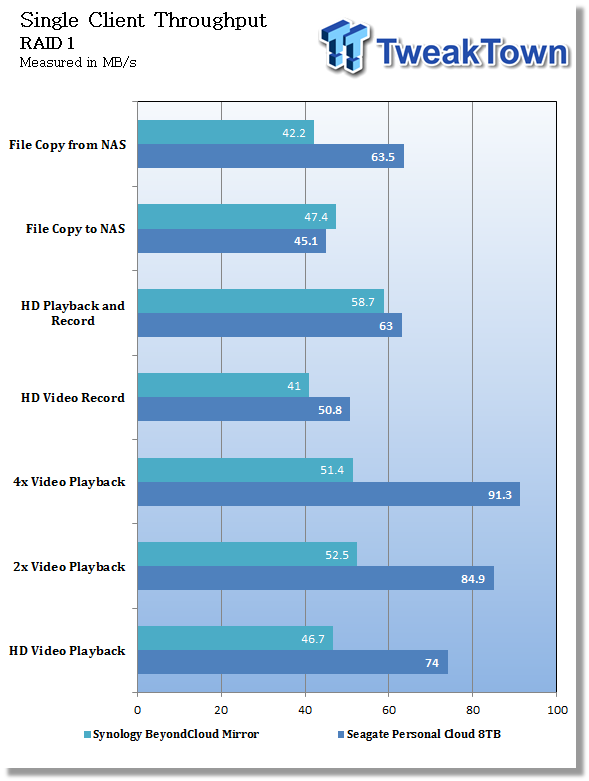 Swapping over to RAID 1, we find similar results with video playback results hovering around the 50 MB/s mark, while file copy operations sit around 45 MB/s.
Benchmarks - Sequential Workloads
Our Sequential read/write workload is centered on 128K transfer sizes.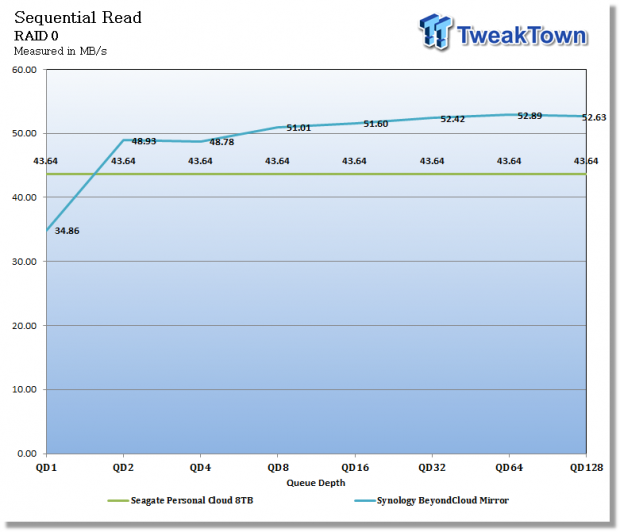 Moving on, we started our sequential testing, again with RAID 0. As we found with our single client testing the BeyondCloud Mirror does quite well with file transfers starting out at 34 MB/s at QD1, but quickly ramping up to 52 MB/s at QD128.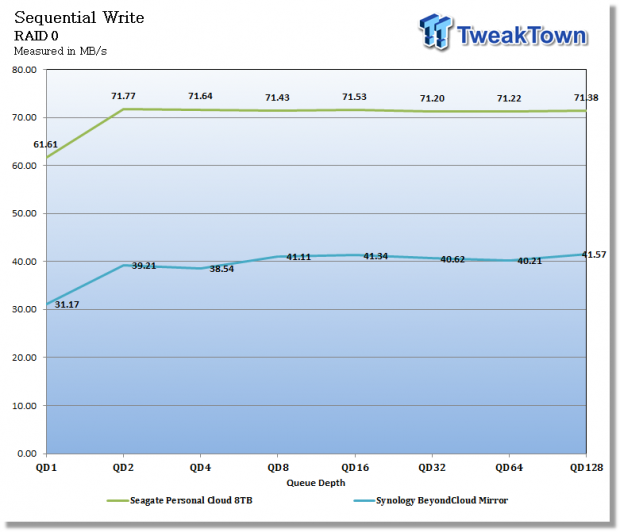 Sequential write came in a bit lower than the Seagate solution, as you can see our range here was from 31 MB/s to 41 MB/s.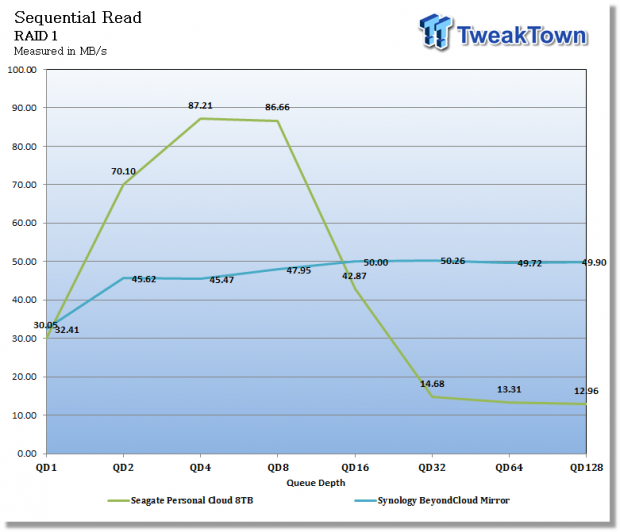 RAID 1 started near the same 32 MB/s, but ended around 50 MB/s at QD64.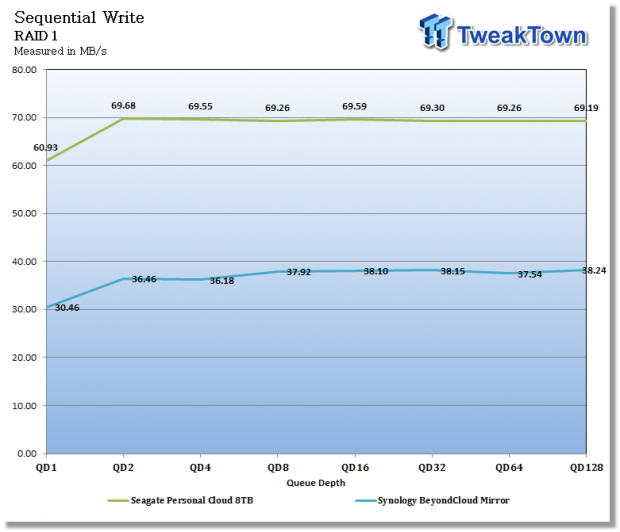 Sequential write started at 30 MB/s at QD1 and ended at 38 MB/s at QD128.
Benchmarks - SMB Workloads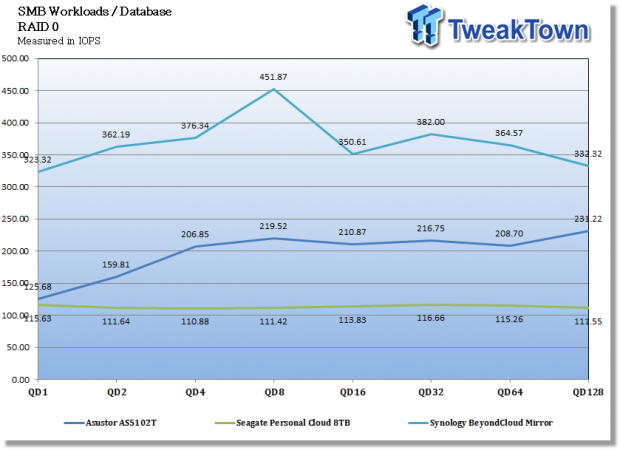 Starting off our SMB workloads, we find the Synology unit doing quite well with our database workload. Starting off at 323 IOPS at QD1 with its peak coming at 451 IOPS at QD8.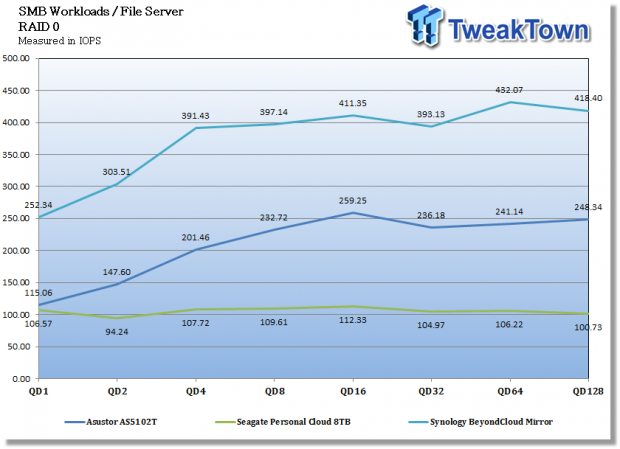 Moving to File Server, we see the Synology unit scale quite well through the queue depth. Here we have results starting at 252 IOPS at QD1 and ending at 418 IOPS at QD128.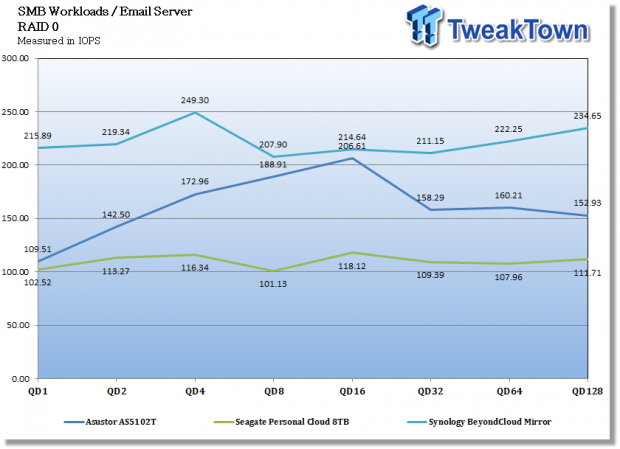 Email server started off at a very nice 215 IOPS and scaled quite well up to QD4 with a small drop off after.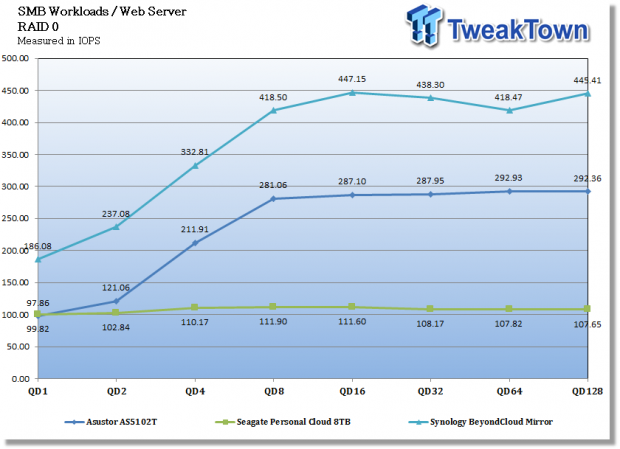 Web Server showed some pretty impressive scaling from 186 IOPS at QD1 through QD128 where we ended at 445 IOPS.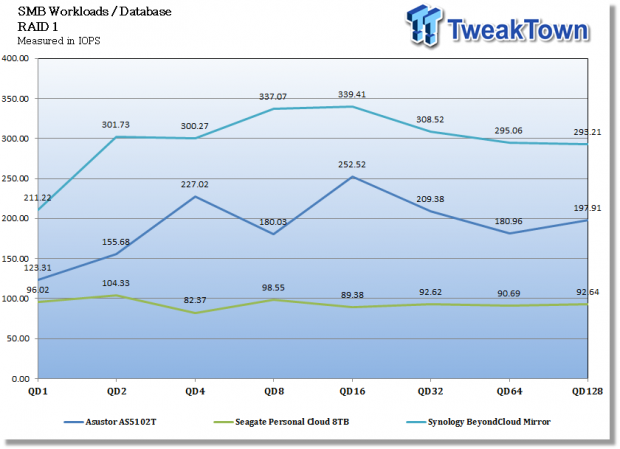 Moving our NAS back to RAID 1, we start again with database where we see peak IOPS coming in at 339 at QD16.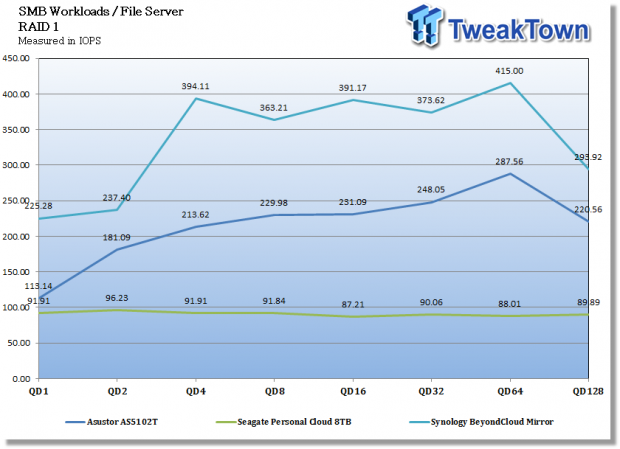 On to file server where we find a great start at 225 IOPS at QD1 with a peak of 415 IOPS at QD64.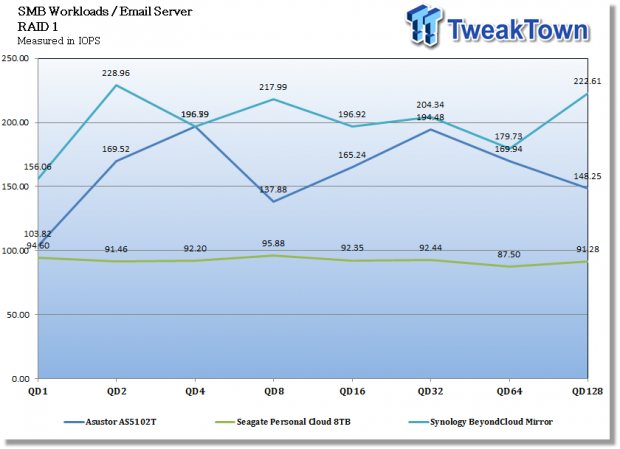 Email server showed some good scaling that moved in the same pattern as the Asustor. Peak IOPS came at QD2.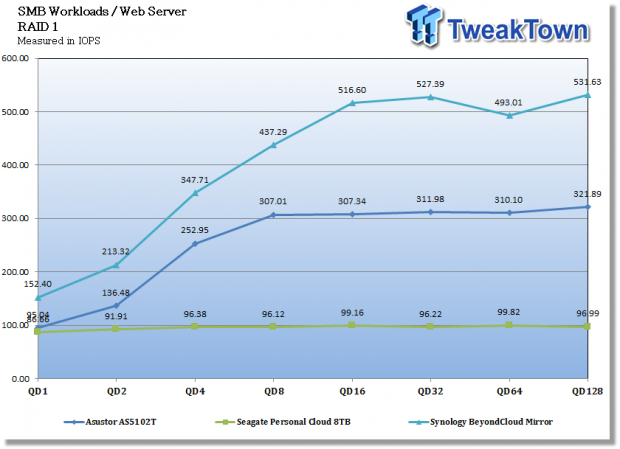 Lastly, we have the Web Server workload with some amazing scaling. 152 IOPS is where we start at QD1 which then quickly ramps up to a peak of 531 IOPS at QD128.
Final Thoughts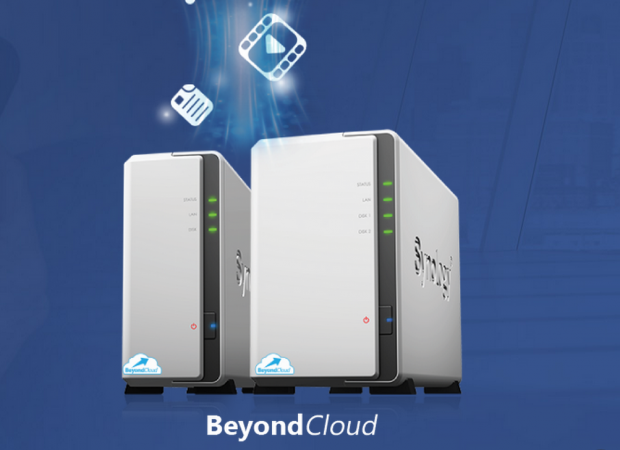 With many vendors offering turnkey NAS solutions, the Synology BeyondCloud Mirror is surely one of the best on the market. Backed by DSM, which is a proven NAS platform, only increases the overall value of the package as it enables a plethora of features that most pre-built solutions don't have. Some of these features include all the cloud backup services such as OneDrive, Dropbox and Box along with higher-level feature like iSCSI support for 10 clients. In addition, you will have the full package library at your fingertips with DSM.
Build quality of this appliance is quite superb, especially since this unit is meant to split apart for adding or upgrading drives. The plastics fit together amazingly well and while we do have a glossy exterior that will surely attract dust, this time it is white so it won't be so visible. Connectivity options are plentiful with a single gigabit and dual USB 2.0, but I would have liked to see at least one USB 3.0 for quick backup to a flash drive.
Performance of the BeyondCloud was quite good, while it didn't do extremely well with video playback in our single client testing, once we switched over to sequential testing, it began to show it carries ample performance for transferring data back and forth. Moving over to workload testing, the Synology unit really woke up, taking over the tops of almost all charts in both RAID 0 and RAID 1.
Overall, the Synology BeyondCloud Mirror tested here today is a solid, well performing solution for any home user that wants an easy to use NAS appliance that is backed by one of the leaders in the market.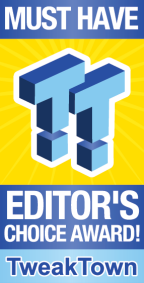 | | |
| --- | --- |
| Performance | 84% |
| Quality including Design and Build | 91% |
| General Features | 92% |
| Bundle and Packaging | 89% |
| Value for Money | 93% |
The Bottom Line: Synology's BeyondCloud Mirror is a well built, solid performing NAS solution for the home user. Adding to it is the DSM platform that will allow users to grow into and become familiar with one of the most reliable NAS platforms.
PRICING: You can find products similar to this one for sale below.

United States: Find other tech and computer products like this over at Amazon.com

United Kingdom: Find other tech and computer products like this over at Amazon.co.uk

Australia: Find other tech and computer products like this over at Amazon.com.au

Canada: Find other tech and computer products like this over at Amazon.ca

Deutschland: Finde andere Technik- und Computerprodukte wie dieses auf Amazon.de
We openly invite the companies who provide us with review samples / who are mentioned or discussed to express their opinion. If any company representative wishes to respond, we will publish the response here. Please contact us if you wish to respond.
Related Tags