Etekcity RoverBeats T3 Wireless Mobile Speaker Review
Both the T12 and T16 from Etekcity performed well with their sound quality outperforming the rest. In comes the T3 and it's a little different yet again.
Published
5 minute read time
TweakTown's Rating: 83%
The Bottom Line
Etekcity's RoverBeats T3 wireless mobile speaker is certainly cheap and sounds better than many, but for a few dollars less, the Etekcity T16 does a better job.
Introduction, Specifications, Pricing & Availability
As mentioned in the summary, the T16's big brother, the T12, absolutely blew us away in testing. We rated this $25 speaker with a high score and plastered an award along with it. The T16 gave a similar response, but took off a speaker and added in a nice carry pouch.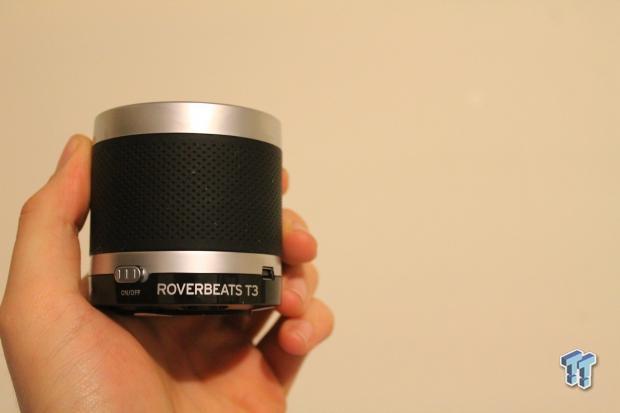 Although once again charged through mini USB, this product looks to be solid and is of similar shape and design to the T16. Read on to find out our thoughts on this product.
Specifications
This product contains a single 3W speaker in order to deliver you music or phone call audio. This driver has a frequency response of 80Hz - 20KHz, which is a slightly larger range than offered with the previously reviewed T12 and the same as the similarly specified T16.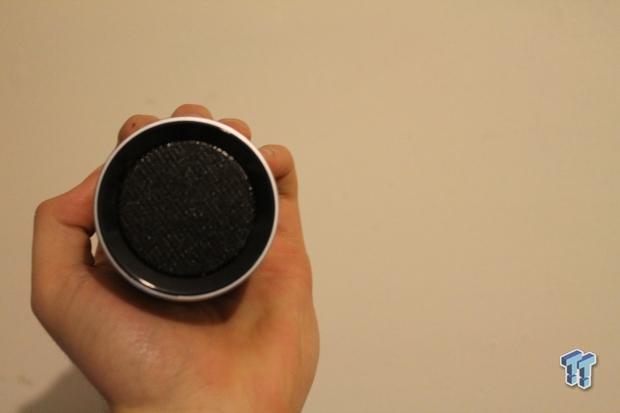 Connectible to your device of choice through Bluetooth 2.1 or 3.5mm AUX options, this product measures 2.52 x 2.52 x 2.64 (inch) and weighs in at 6 ounces which is slightly less than the T16. The internal battery will provide you with a claimed 7 hours of playback time, however, I would say that this is for AUX only and the Bluetooth playback to be closer to 4.5 hours in total. It's unfortunately not listed exactly what size the battery is, but given similar models, you could comfortably say it is 400mAh.
Charged through mini-USB, this device comes with a supplied cable, which is an improvement on the T12 that came with an outdated wall charger (who does that anymore?), but it's still annoying that it's mini-USB at all as you're likely to have micro-USB cables coming out of your ears for other products.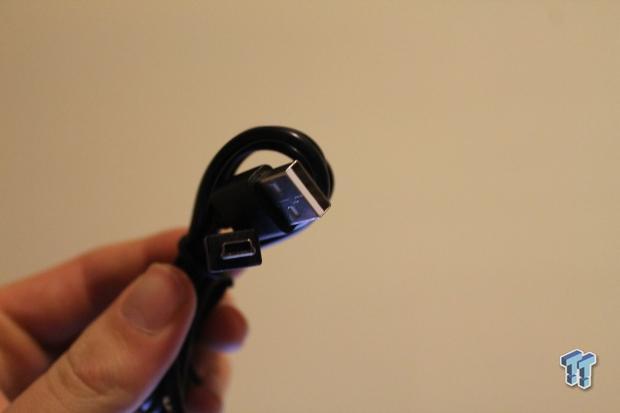 Pricing & Availability
The Etekcity RoverBeats T3 will set you back a $19.99 plus shipping costs from Amazon. Add this speaker as another to the cheap Etekcity product range - cheap doesn't necessarily mean low quality either, from our experience.
What's in the box?
This speaker comes complete with a soft carry pouch, the mini-USB charging cable, the user guide and an AUX 3.5mm cable.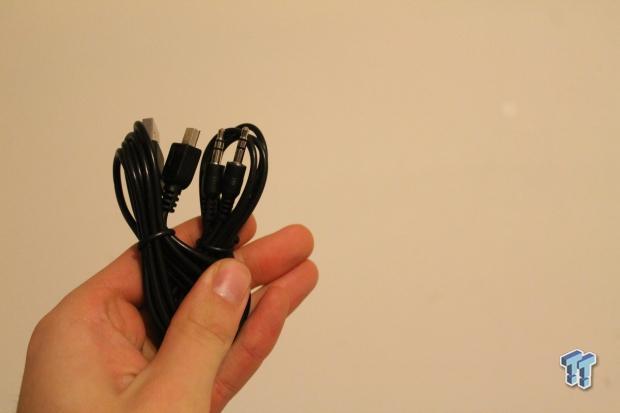 The AUX and charging cables are of adequate length and ensured I breathed a sigh of relief when untangled. Many companies are providing ridiculous 2-inch charging and AUX cables giving you no room to adapt or move and ensuring pain when trying to charge or play music through your newly purchased product. There's an included anti-skid pad attached to the bottom of the frame. There's also the soft pouch, which is always a great inclusion in my books, as I feel all accessories that will be constantly on the move should feature a carry case.
A Closer Look, Listening Experience and Final Thoughts
Let's dig deeper
The soft rubber exterior looks quite nice and the speaker mesh, base and carry case all feel well constructed. I'd rate it as a little under the T16 as the aluminium on it will give some extra protection and it's easier to clean design purposes, the T3 is nothing too shabby though.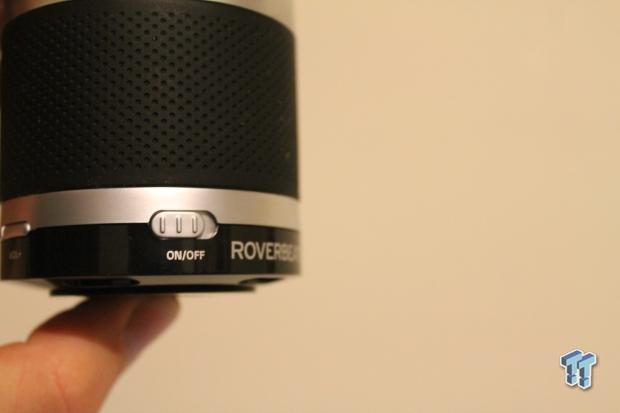 The T3 is adequately loud, but not quite at the same level as the T16 and this is for reasons we will explain next. As seen with other high-quality speakers when played at full volume, there is no distortion of the speakers, no bass rattling the products frame and the only thing moving being my desk vibrating as each bass beat hit in Flume's remix of Disclosure and Eliza Doolittle's song You & Me.
Bass is something that generally lacks heavily in all similar audio options, leaving you hanging for more and mostly removing your need for them within a home environment (because why not just use PC speakers). The T16 and T12 do a good job in this test, but the T3 falls a little short.
The buttons feel great, although the volume up/next button works the opposite way of most other devices which is very confusing at first - volume is turned up by holding the button and songs are changed by a single press. The on and off is also a switch which is great though and I much prefer this over a button style, but it is purely personal preference at this point.
The anti-slip bottom works as intended as the speaker won't vibrate across my desk even at 100% unlike many models.
Not quite blowing me away
This speaker is fairly loud and bass is present, but just not quite at the same level as other Etekcity products. The punch is lacking and turning this speaker up loud will hurt your ears - not just because it's loud, but because it lacks overall quality.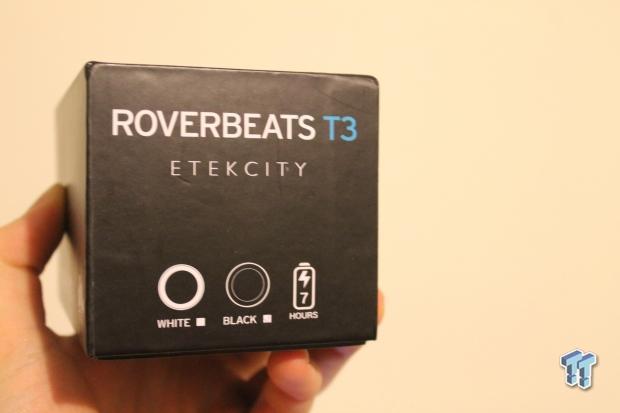 Playing 'Don't Wanna Fight' by Alabama Shakes reports back an adequate experience. This speaker performs probably 15% less than it's brothers, the T12/T16. This single 3W speaker is completely outclassed by the similar T16, unfortunately.
There's a little background hiss when the intro or outro is going slow and quiet thanks to the Bluetooth connection, but besides this, the clarity is top notch - something we've experienced across basically every Bluetooth speaker and particularly those by Etekcity.
When listening to songs with maximum clarity is when most Bluetooth options start to suffer. Listening in to Duke Dumont's 'Won't Look Back' introduction reports back adequate sound once again - similar to something like the Braven Mira which we have reviewed previously.
If you're looking for more of a heavy metal experience like 'The End of Heartache' by Killswitch Engage performs just as you would expect as seen with the above comparisons. Lacking a little punch and a little 'tinny' in nature, but overall an okay experience.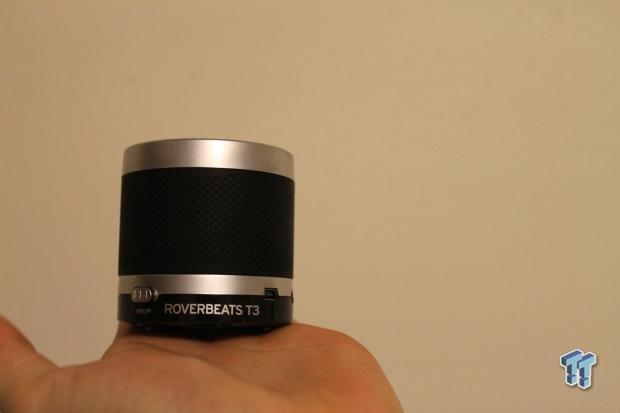 There has been no issue of random song pausing as seen with the T16, which is a strong positive. This further shows that there is either a design flaw in the T16 or I have a partially faulty product. It's quite easy to connect to your phone to this device and the user manual works well, alongside a handy LED coupled with a description as to exactly what each color means.
What's Hot
Sturdy and sleek: It's well built, the structure helps performance, and it looks quite good overall.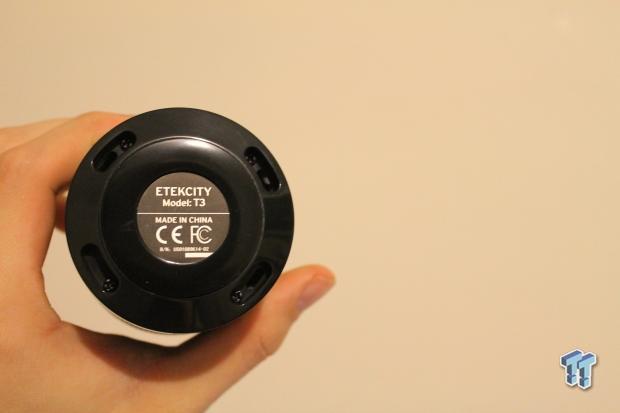 Sound projection: It's loud, but can be a little annoying at 100% volume.
Quality even when at full speed ahead: Even when jacked up to 100%, this speaker will provide you with clarity in its sound as seen at 20%. The speaker won't distort and the product won't jump all over the table.
Bass: There's a hint of bass and it's more than many competitors offer.
The price: It's another Etekcity product at half the price you would expect it to be.
What's Not
Buttons confusing: The next song/volume up buttons work the opposite way to most other products which is confusing at first.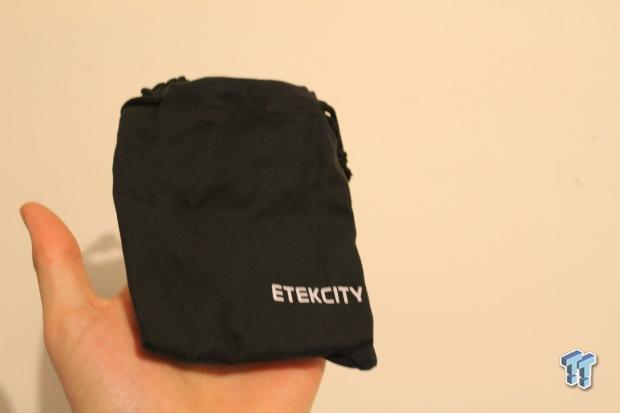 Slight hiss on occasion: Some songs have a slight hiss in the background when connected through Bluetooth (see the above tested songs for explanation).
Lack of punch: Why buy this one over the T16? No idea.
Final Thoughts
The speaker sounds acceptable, looks good, feels great, and it's cheap. The issue comes when it's compared to similar Etekcity products like the T16. It's rated the same, the structure is essentially the same, and the accessories are almost identical, but the T3 does not match up in the sound department.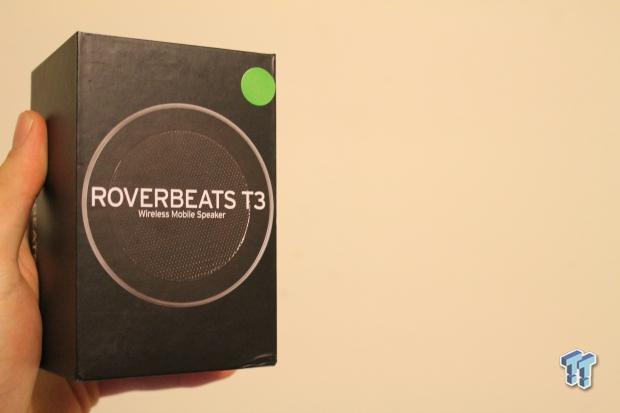 This is coupled with the fact that the T3 costs a few dollars more and is slightly harder to clean due to the rubber exterior. If you for some reason can't get the T16, by all means grab a T3, otherwise it just isn't worth the extra money. Also, what's up with the mini-USB charging socket? I really hope Etekcity fixes this in the future - there's no real reason not to run micro-USB.
| | |
| --- | --- |
| Performance (audio quality) | 75% |
| Quality including Design and Build | 80% |
| General Features | 85% |
| Bundle and Packaging | 85% |
| Value for Money | 90% |
The Bottom Line: Etekcity's RoverBeats T3 wireless mobile speaker is certainly cheap and sounds better than many, but for a few dollars less, the Etekcity T16 does a better job.
PRICING: You can find products similar to this one for sale below.

United States: Find other tech and computer products like this over at Amazon.com

United Kingdom: Find other tech and computer products like this over at Amazon.co.uk

Australia: Find other tech and computer products like this over at Amazon.com.au

Canada: Find other tech and computer products like this over at Amazon.ca

Deutschland: Finde andere Technik- und Computerprodukte wie dieses auf Amazon.de
We openly invite the companies who provide us with review samples / who are mentioned or discussed to express their opinion. If any company representative wishes to respond, we will publish the response here. Please contact us if you wish to respond.
Related Tags