Supermicro Gaming S5 Mid-Tower Chassis Review
We typically expect to see server motherboards from Supermicro, but today we have a surprise, a mid-tower case designed for gamers.

Published Apr 16, 2015 9:06 AM CDT
|
Updated Tue, Nov 3 2020 6:59 PM CST
12 minute read time
TweakTown's Rating: 94%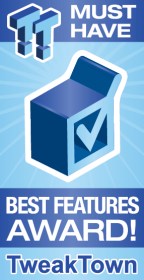 The Bottom Line
We completely get why Supermicro chose this chassis to use for their systems. Not only is it great for flexibility, but it is a great mix of what both they and the end-user wants in a chassis! If only they had painted the interior.
Introduction, Specifications and Pricing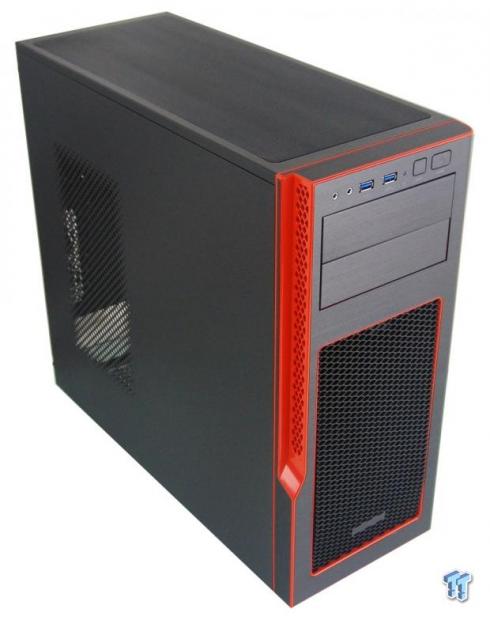 It seems Supermicro appreciates our opinion on what makes a chassis a top competitor in today's market, and as such, they have offered us one of their own gaming chassis designs to have a look at. While usually we do not see offers from builder companies, or those that allow you to choose components, they build it and test it, then ship the assembled system to you. In fact, in our tenure, we can only recall ever doing this once, and that was for Maingear, many moons ago. While they have been using some slightly funky looking chassis for their gaming builds previous to this, why looking like a Cylon from Battlestar Galactica, it does sport some cool options like an easy to use carry handle, front load storage bays, covers to keep the theme seamless on the front, and even offered multiple choices of LED colors.
This time around when it came to chassis design, they wanted something a little sleeker looking. That does mean they went back to a more typical shape, but by no means that it means that this is a plain Jane choice in cases either. They have upped the game externally into today's expectations of something we would likely choose off the shelf. Using things like colored accent trim on the bezel, opting for finer materials than just plastic to front this design, and while the main body of the chassis does not offer a window, there is ventilation in the left side, plenty of ventilation at the top covered with a large magnetic dust filter, and is also tended to in the floor as well for the PSU and optional fans. There are more tricks held inside as well, but we'll save that all for later, but the point is that this chassis is indeed something you almost wish were available off the shelf and not only the option to build a system inside of it to obtain one.
While we will be looking at this chassis in terms of a full on review, there are two factors that make it really tough on us. First of all, there is only one way to obtain this chassis, as we mentioned. With that, unless you check out an entire system, there is no way to offset the cost to figure out the chassis pricing, and with no word on the web or directly from Supermicro about this, it really will leave us straining to offer an award at the end. The plan here is more of a take on how well the chassis suits their needs as system builders, and more of how choosing this chassis over the previous option will not only spruce up the room with something classy and attractive, but with an entirely new design being used, what other aspects of the chassis should indeed prompt you to choose this Gaming S5 mid-tower chassis when going with Supermicro to build your next gaming system.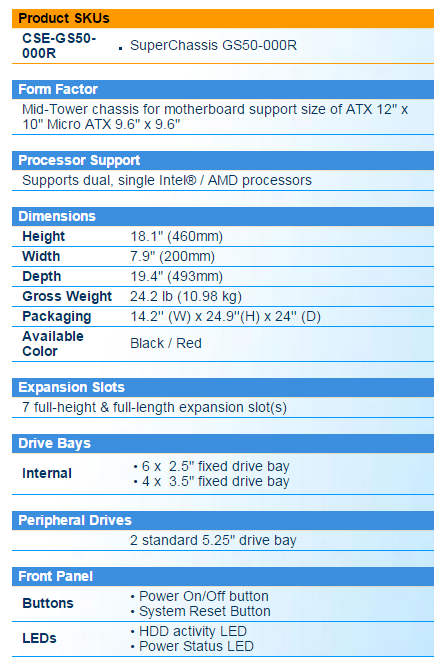 Supermicro does indeed provide their own chart for the chassis though when it comes down to the specifications. While the rest of the page does not go by the naming, this chart refers to this chassis as the "SuperChassis" GS50-000R, and just below we see we are dealing with a mid-tower chassis capable of housing either an ATX, or a Micro-ATX one, and due to being a system builder, they need to let customers know that AMD and Intel builds are both fine in this chassis. Next, we run into dimensions and weighting. There we find this chassis stands 460mm tall, it is 200mm wide, and is 493mm in depth. Although we are given the gross weight of 24.2 pounds, without the foam and cardboard it was shipped in, it is slightly less than 20 pounds empty.
Inside of the chassis, you have access to seven expansion slots at the back of the chassis, just below a 120mm exhaust fan. At the other end of the chassis, from the floor up, you will find a trio of drive cages that hold up to four 3.5" drives and in a thinner rack accommodates up to six 2.5" drives. Then just above that are two 5.25" bays that use slide out trays for optional storage room, and when out, they can be replaced with optical drives or possibly a card reader or fan controller. In front of the storage cages, there is also another pair of 120mm Naidec fans acting as the intake for this chassis. While the front I/O offers everything you will need for any build, like HD Audio and USB 3.0 connectivity, the switches and LEDs do terminate in a proprietary connection for Supermicro motherboards. That does not stop them from building with other motherboards either, as they also include an adapter and wiring harness to go from their connection to the typical leads that work with the more typical layout of pins on motherboards.
While you can go to Supermicro and easily start the system build by picking this chassis, there is no other way we have found, or that we know will be possible to obtain this chassis. While that is a bit of a bummer, at least those who are going the pre-built route will have a very slick option to put it all inside. At this point, let's just keep everything simple, and get to the chassis at hand. Since the packaging was nondescript, just thick cardboard and foam used as we would find anywhere really, we will pass that right by and get right to the Gaming S5 Mid-tower chassis that Supermicro has sent over.
UPDATE - Since our review went live, we found out from Supermicro that you can actually buy the S5 from retailers on its own. This is great news and the pricing is really quite reasonable.
Supermicro Gaming S5 Mid-Tower Chassis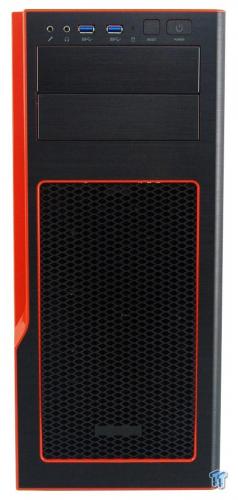 The front bezel is where most of this design's flavour is found. Using the bright red at the top, left, and bottom edges, along with the ring around the mesh section does make this attractive. Using brushed aluminium at the top and around the mesh definitely dresses this up as well.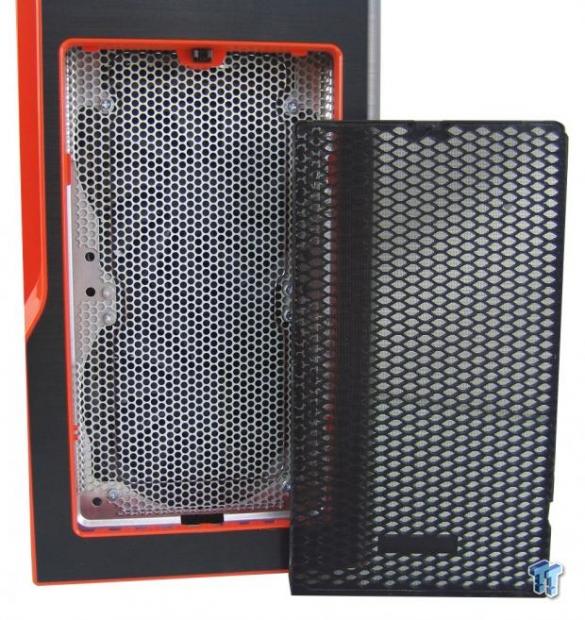 By pushing in at the center of the top of the front vent, the clip will release and allows the cover to angle out. You do have to lift the filter off of a set of pins at the side, but allows great easy access for cleaning of swapping out the fans later on in the cases life.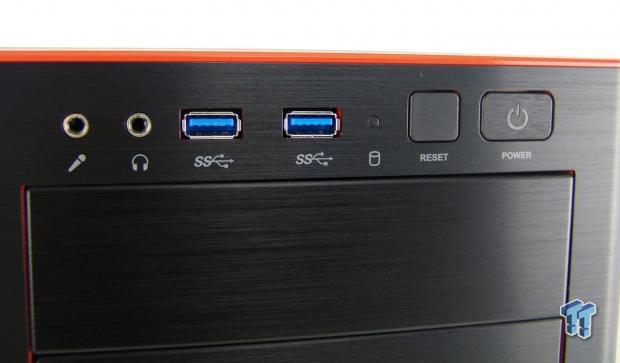 Right above the pair of 5.25" bay covers, we find the front I/O panel. In it, we see microphone and headphone jacks at the left, next to the pair of USB 3.0 connections. There is then a tiny HDD activity LED, a square reset button, and a rectangular backlit power button at the right end.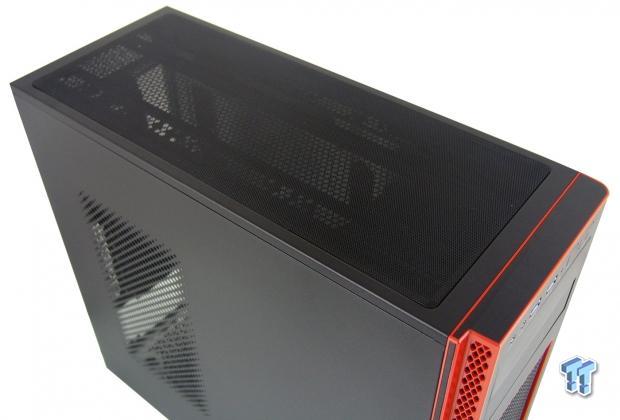 The top of the chassis does not leave a bunch of exposed steel to view, but instead we have a thin edge of steel around a large ventilated area that runs from front to back. We also find that the mesh on top is actually magnetic and easily lifts out of the way.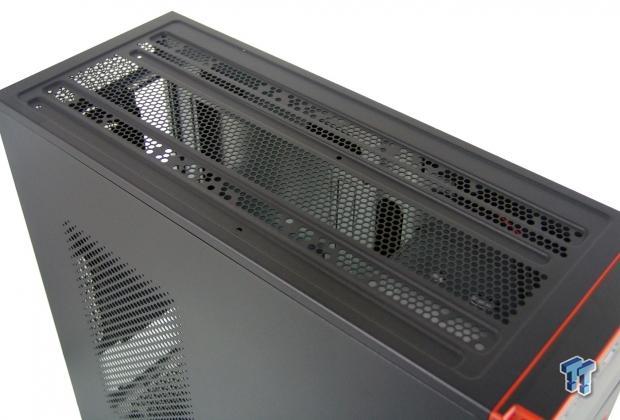 Removing the dust filter, we can see that Supermicro opened the top as much as possible to allow for optional fan or even AIO cooling support. In doing so, they also left enough steel and molded sections to allow this chassis to still be very solid in its feel.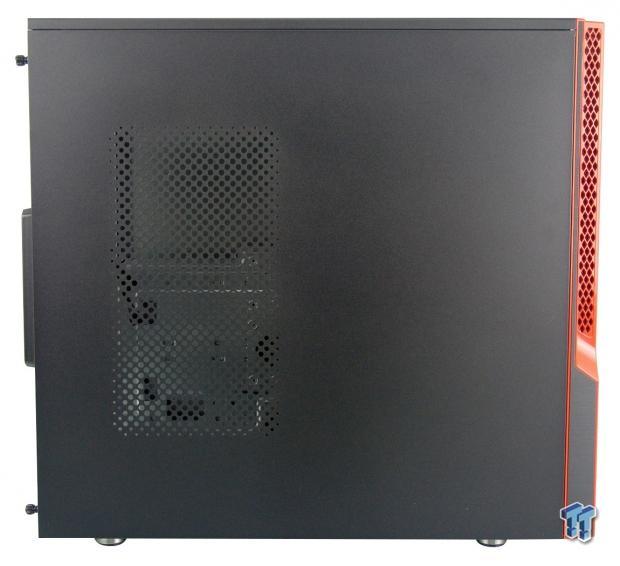 The left side of the chassis is largely an expanse of textured black steel panel. At the back, over the CPU and video cards, there is a mesh pattern of circles cut out there. While the fan mounting holes are not so obvious, you could install fans here, depending of course on the CPU cooler choice.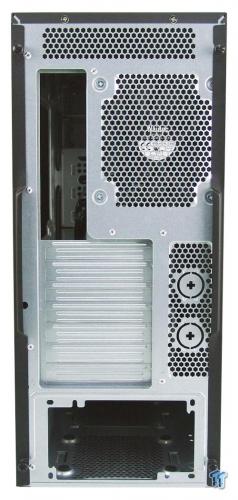 The back of the chassis is our first inclination that the interior of the chassis is lefty natural, as this back panel is left natural and not painted. There is ventilation above the I/O and fan, and seven solid expansion slot covers. The PSU does install at the bottom, and if you would like external water cooling, a pair of knock-outs offers that choice.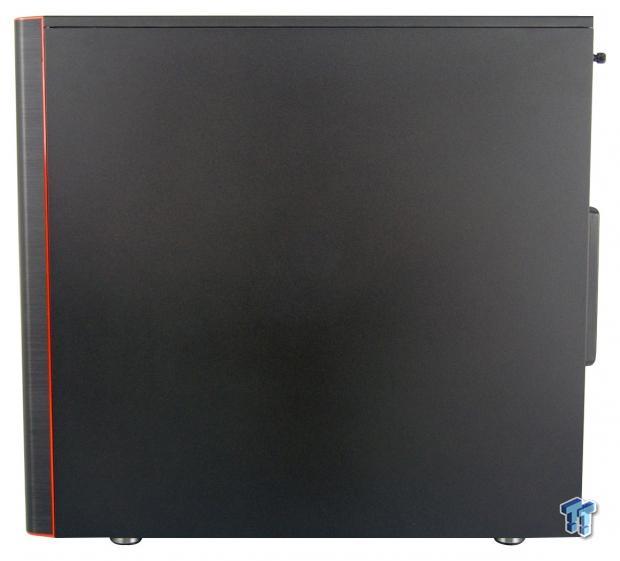 With just a tiny stripe of red to break up all the black on this side, we do find a solid right panel with no bumps for wiring or option for a CPU socket fan to break up this side of the chassis design.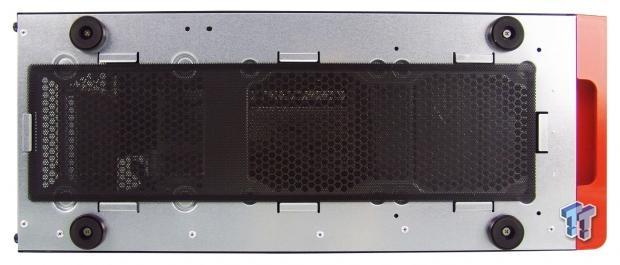 The underside of the chassis is natural as well, and at the edges, very near the front and back are the round plastic feet with rubber pads that do give this a solid footing. We also see down the middle of this chassis that they have offered a magnetic dust filter for the entire bottom covering optional fan locations and the PSU.
Inside the Gaming S5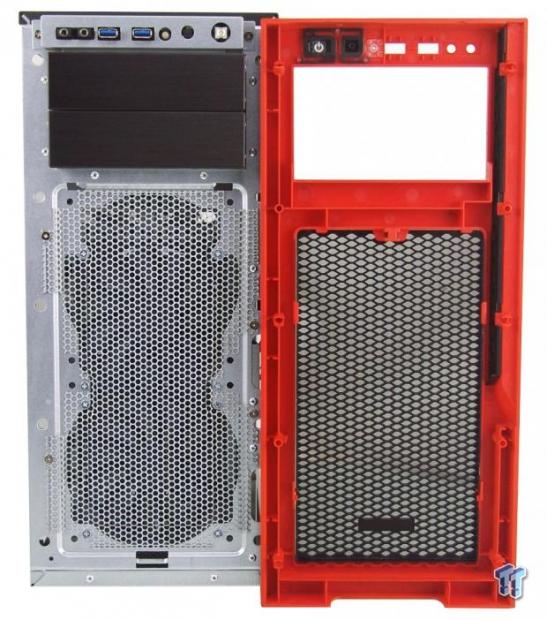 Proving they had their head in the game when choosing features; having the front of the chassis completely free to come off for cleaning is a huge plus. There is a thin screen in the bezel to clean, and this is also how you access the front 120mm fans, or opt to install 140mm fans if you wish.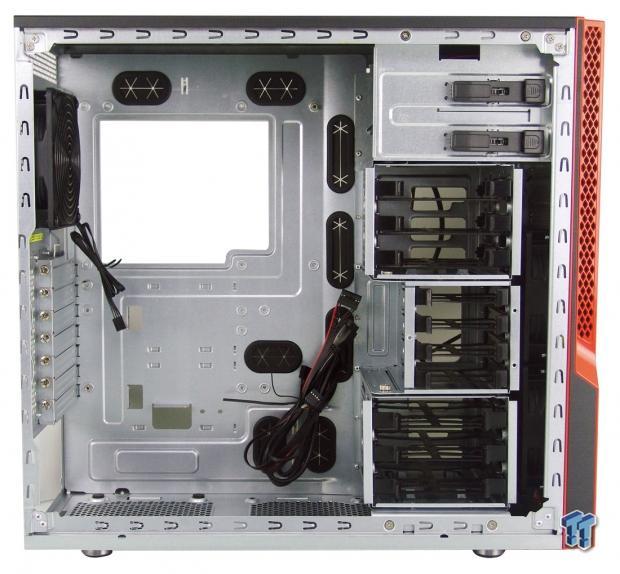 Our first look inside, while they opted not to paint it, does have all the things we look for. What hardware is sent comes in a large box set into the foam, and we will see that in a bit, but we do see the wiring is tended to and run through a grommet to keep it safe in transit. Of course none of that matters to the end-user of this chassis.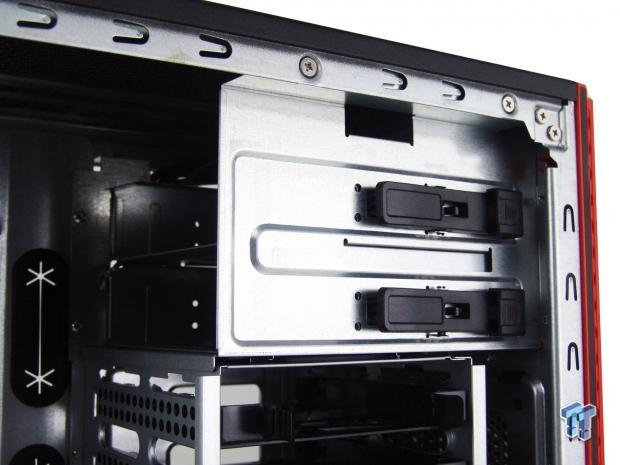 There is just a hint of the full trays that are holding on the front bay covers that are already locked into these 5.25" bays with the tool-free locks. The trays are designed to slide out and be used for devices, or they are drilled to accommodate either a 3.5" or a 2.5" drive as an option.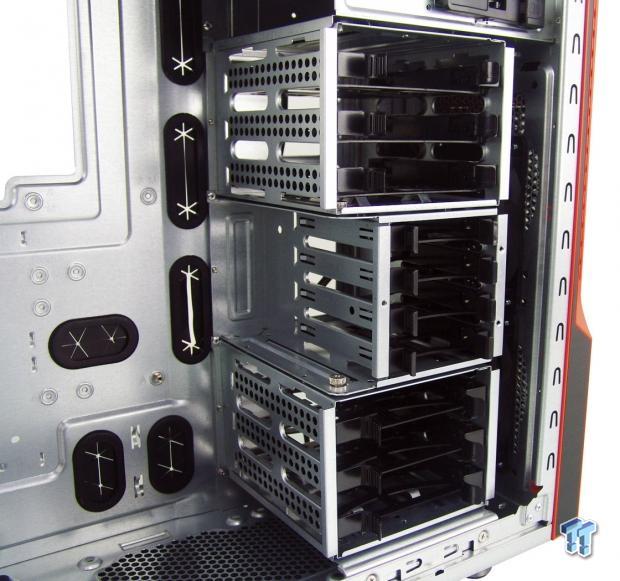 You would not think that with six bays for 3.5" drives and four in the middle of them specifically for 2.5" drives that the ODD bays would need storage options. The thing is, all of this can be removed and allow for water cooling options to be used in the front of the chassis and do away with these all together.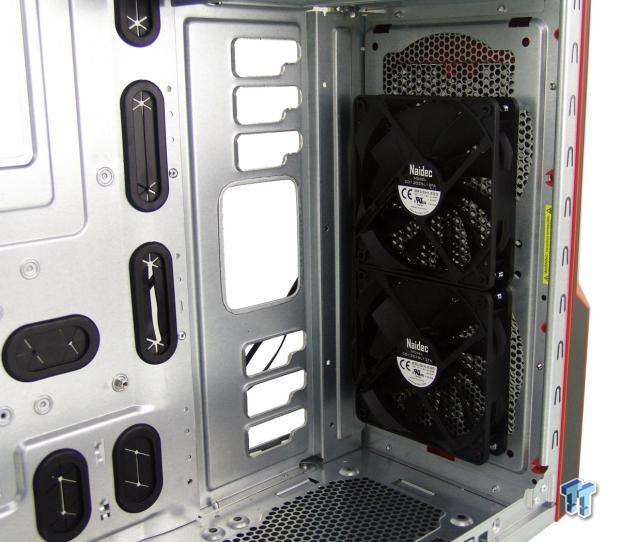 Exactly like this shows, all three cages, including the support frame at the bottom, will remove from this chassis with just a bit of time and a Phillip's screwdriver. Of course, you could use a 240mm radiator here, but there is also the option to move to 140mm and use a 280mm based cooling solution as well.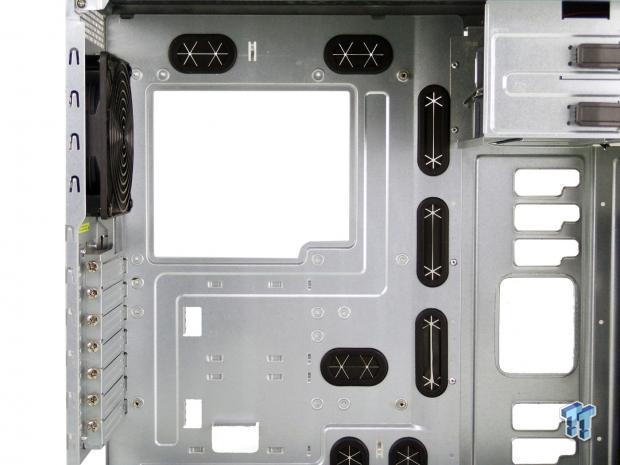 The motherboard tray offers labelled spots to put the standoffs for ATX or Micro-ATX layouts, has a large access hole for the CPU cooler, and offers six locations to run wiring to the motherboard. Also, while not all in great locations, there are a few places stamped out to allow wires to be tied up behind it.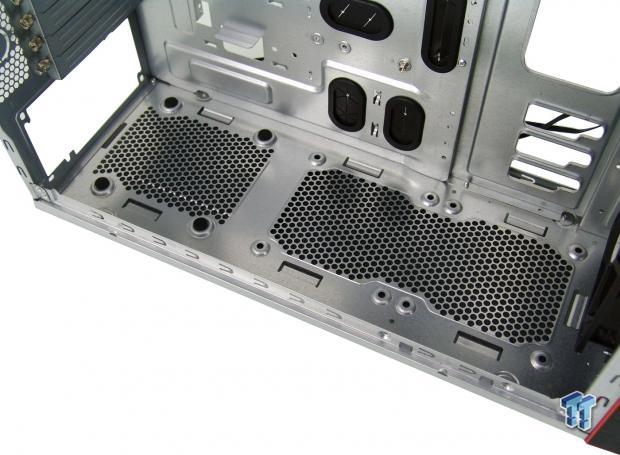 The floor of the chassis offers four rubber pads to isolate and support the PSU at the back. If the PSU is not too long, and you need the use of a couple of those HDD cages, the floor offers two 120mm fan locations that could also support water cooling, as the front would be blocked by cages.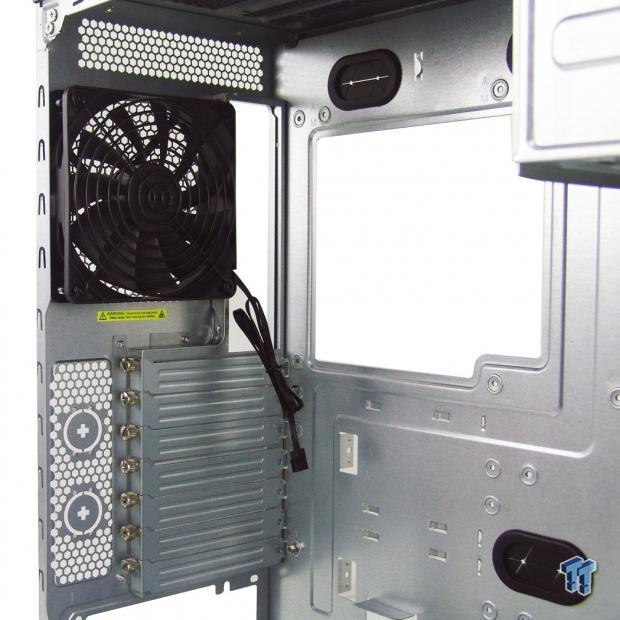 Very few companies offer a fan grille for the rear exhaust fan, but this will save any accidents or possible fan breakage that has been seen before. This fan as well as the others uses 3-pin connections for power. While the back is well ventilated passively, we do feel solid covers are a bit old and a missed opportunity.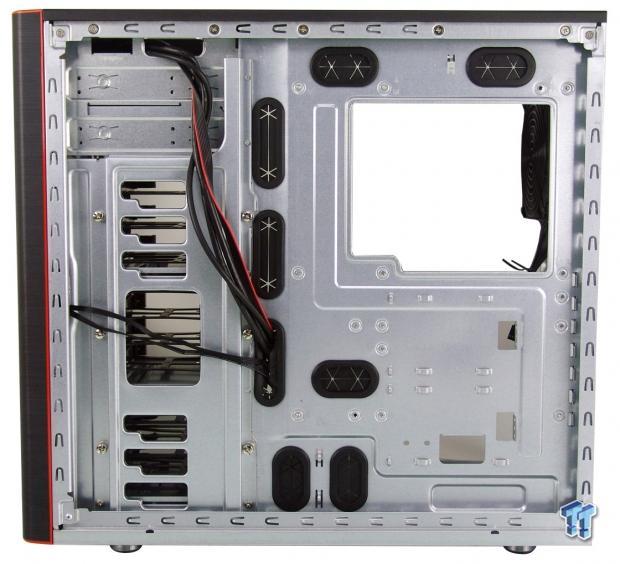 With near 20mm behind the motherboard tray, wiring will not be an issue for most. Where the storage drives stack at the left, the room is cut back to nearer 10mm. There is a bit of an inset to the drives to accept the plugs, so all you have to deal with is the main leads fitting.
Accessories and Documentation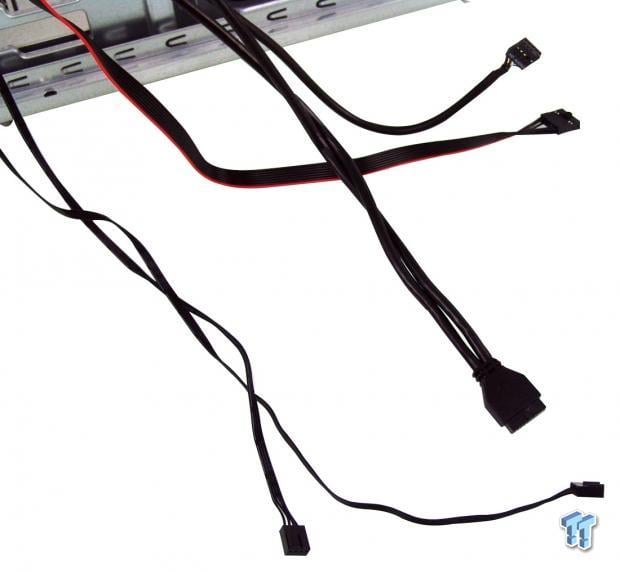 From the front I/O, we find all of the wiring is black, and would hide well had they painted the interior. Here, we have the pair of front fan power leads at the left, and from the I/O, we see the HD Audio cable, the proprietary connection by it, and the native USB 3.0 connection lying across them.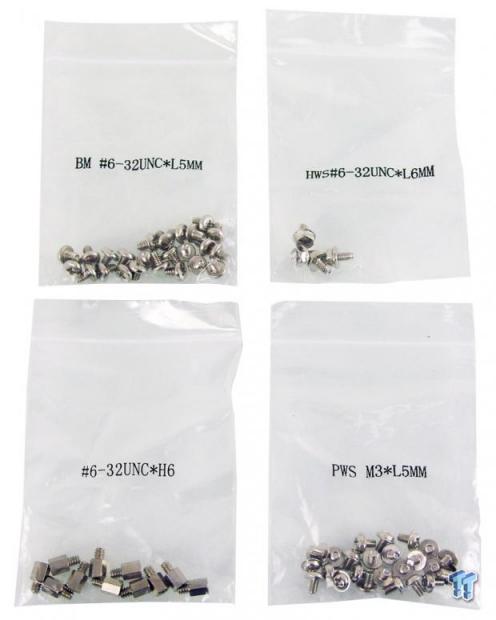 We received four bags of hardware to use inside of the chassis. At the top left is a bag of motherboard and HDD screws, with the PSU screws in the bag to the right of it. At the bottom, we find a bag of standoffs, and to the right of it is a bag with screws for ODD and SSD installations.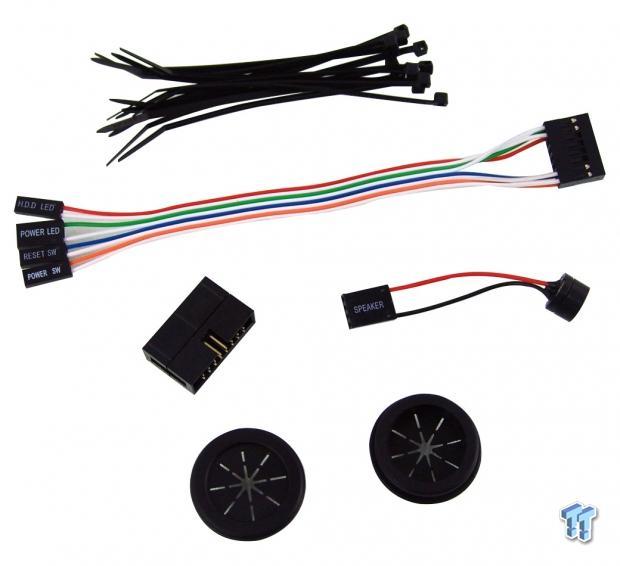 The rest of what you get we have here. There are ten zip ties to manage wiring, and the rainbow ribbon cable is an adapter for non-Supermicro motherboards. The black clip at the left is to be used with the adapter and has the motherboard speaker next to it. At the bottom, we have optional grommets if you choose to knock out the tubing hole covers at the back.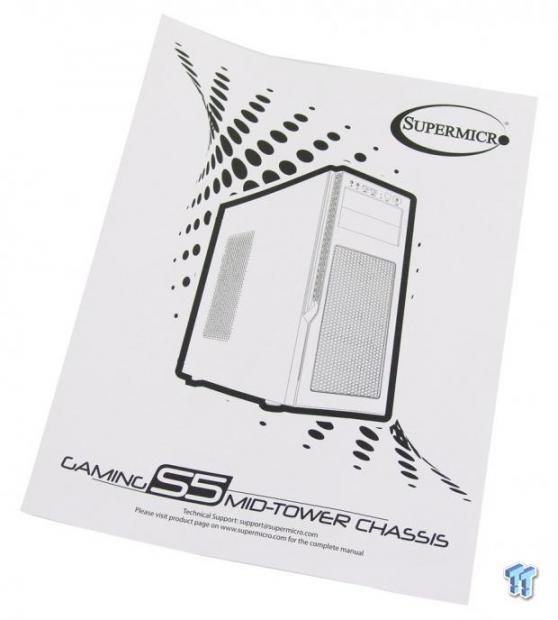 The manual is very basic. On the inside, you are shown the parts list and what each one is used for, and there are very basic build instructions included. Again, since they are going to do the work, the manual is pretty much pointless anyways, but it will get you through the build.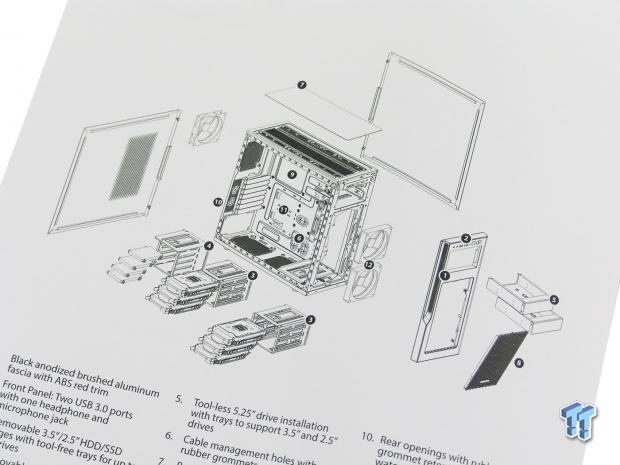 Just in case we missed anything, or may have confused you in any ways, the manual does offer this exploded diagram to sum up where everything is and what access you do indeed have with the Gaming S5 chassis.
Case Build and Finished Product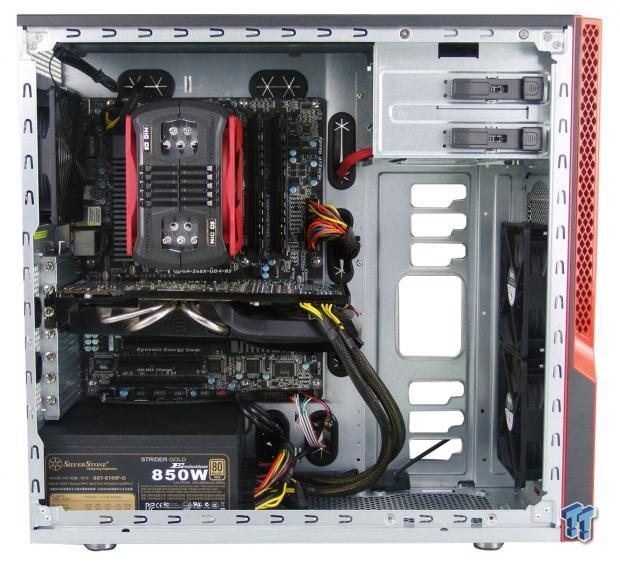 Putting in the standard test gear, we had no issues at all. There is still room above for a thin radiator, the front and floor are pretty much wide open for water cooling, and considering this is a mid-tower, we feel this is a great chassis for them to base many configurations from.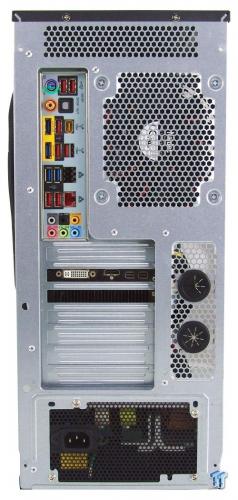 The PSU lined right up at the bottom and was easy to get screwed into place, and the same goes for the GPU as well. When it comes to the rear I/O shield, we did find ourselves struggling a fair bit to get it correctly lined up and locked into place, but we did eventually win that battle.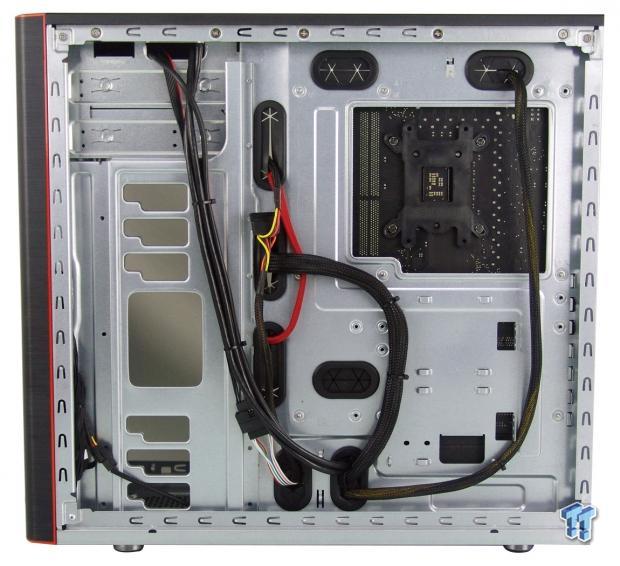 Using a Molex to power the front fans, we quickly tucked that away at the bottom, out of sight. The front I/O wiring drapes with a gentle curve to the grommets at the bottom, and left us plenty of clearance for the 8-pin and 24-pin leads we did run back here.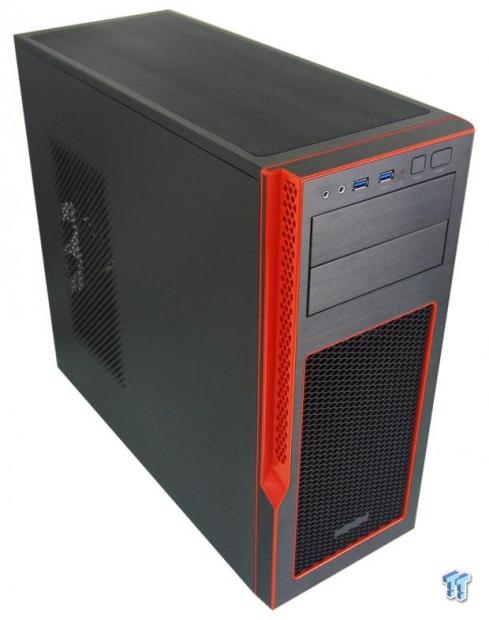 If you choose to go ODD-less, as we did, you get to keep all of that brushed aluminum on the front that the chassis offers out of the box, and we like that. Using it for storage as we did is a handy feature as well, and we did test a drive finding it did sit flush with this bezel.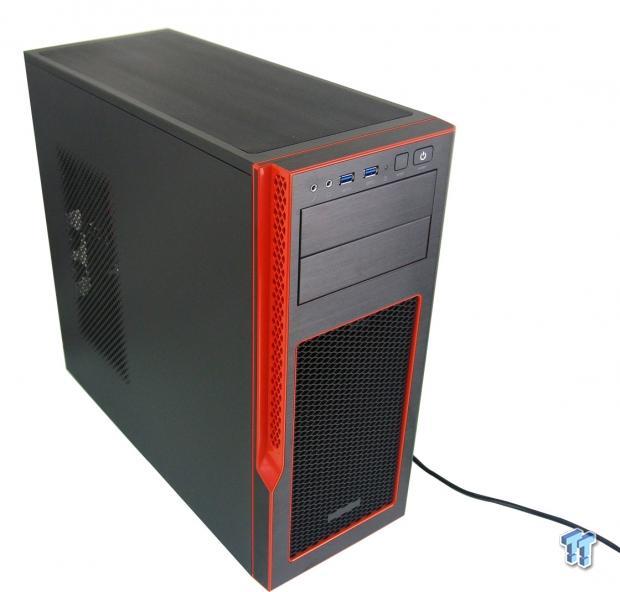 Powering the system, we like the subtle change in appearance with the now white power icon illuminated on the power switch, although we missed the flicker of the HDD LED in this image, but that is the only thing that may distract the eye or annoy someone if they are picky about lighting.
Final Thoughts
Supermicro has definitely stepped up their game from their previous gaming chassis solution. They have left an option for those that like aggressive designs that look like science fiction characters, and then there is this sleek, simplistic, exterior with brushed aluminum and a sporty red accent used to spice it up just a touch. Easy to remove dust filters, or simple access to those slightly more complicated to remove, we do feel externally that they have hit the nail right on the head when it comes to what most gamers like.
The inside is just as feature rich in our opinion, and while we may not personally agree with some of the final decisions, we do appreciate what is capable within this chassis, and for a company that needs a universal design, this is a good answer to both sides of the want list from the manufacturer and the end-user. While we definitely would have painted the interior, without a window or a good view of the back, nobody will ever really know anyways, and it does not affect airflow or performance in any way, painted or not, so we will give them a pass here.
We did like that the ODD bays are removable, and that the bay covers are part of a storage tray system widening the options. The storage drive rack is designed to stay in place and allow for longer cards to be used still, but anyone can appreciate them being modular and removable all together. We also like that with the floor, front and top all in play when the chassis is gutted, not only is it still sturdy, the water cooling options open right up with room to cool even a beastly build.
While there isn't any pricing information at hand, and rightly so since this is basically a chassis that will only be obtained by purchasing a Supermicro assembled gaming rig, we feel that it is a solid, feature rich option with grommets and rolled steel edges, you don't come away from it cut and scraped, and compared to the other choice, to us aesthetically this is the favored goose, and the other is sort of an ugly duckling. While it does impede on us presenting Supermicro an award, as value plays a huge part in that, we will indeed still go through and award it anyways. Being as blunt as we can with this Gaming S5 chassis from Supermicro, if it were to be painted on the inside, and made widely available in the $100 to $150 range, this chassis would fly off the shelves.
For those of you that do opt for this chassis when using Supermicro to build your next gaming rig, it has everything needed to get your options list sorted, and still offers you modularity to expand on storage or cooling options later in the PC's lifespan. Even stock the cooling is sufficient and only hits 32dB on our meter when the fans are going at full speed. While things are what they are right now, for anyone looking to them for a build, even if not in the gaming realm, this is a slick enough design to fit any usages, even in a modern office space for daily use. All around, Supermicro gets two thumbs up on their choice of case from this editor.
UPDATE - Since our review went live, we found out from Supermicro that you can actually buy the S5 from retailers on its own. This is great news and the pricing is really quite reasonable.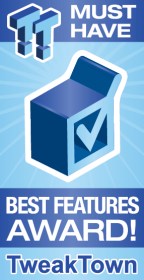 | | |
| --- | --- |
| Performance | 94% |
| Quality including Design and Build | 98% |
| General Features | 93% |
| Bundle and Packaging | 89% |
| Value for Money | N/A |
The Bottom Line: We completely get why Supermicro chose this chassis to use for their systems. Not only is it great for flexibility, but it is a great mix of what both they and the end-user wants in a chassis! If only they had painted the interior.
PRICING: You can find products similar to this one for sale below.

United States: Find other tech and computer products like this over at Amazon.com

United Kingdom: Find other tech and computer products like this over at Amazon.co.uk

Australia: Find other tech and computer products like this over at Amazon.com.au

Canada: Find other tech and computer products like this over at Amazon.ca

Deutschland: Finde andere Technik- und Computerprodukte wie dieses auf Amazon.de
We openly invite the companies who provide us with review samples / who are mentioned or discussed to express their opinion. If any company representative wishes to respond, we will publish the response here. Please contact us if you wish to respond.