Soniq Rock 7 Bluetooth Outdoor Portable Speaker Review
This shock and water resistant portable Bluetooth speaker is marketed towards outdoors, but can the sound carry well enough in the wind and rain?
Published Mon, Mar 23 2015 9:15 PM CDT
|
Updated Tue, Nov 3 2020 6:59 PM CST
Rating:

81%
Manufacturer: Soniq
Introduction, Specifications, Pricing & Availability
With a "solid aluminum alloy body wrapped in rugged durable high elastic silicon", as quoted on the packaging, this product is marketed at those who would like their music on the go and whilst outdoors.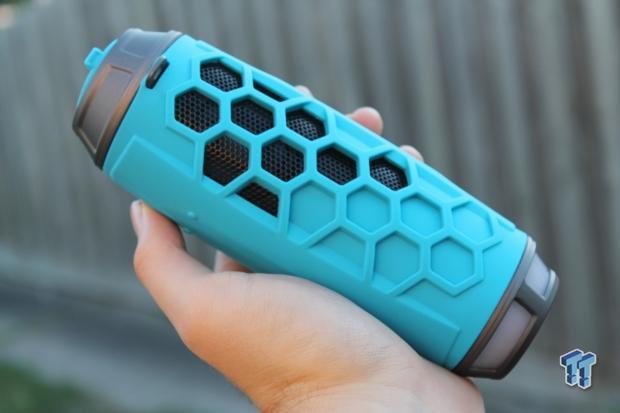 Suitable for a hiking adventure, camping trips or a family picnic, the Rock 7 will have three main issues to combat with these claims:
Will the sound carry enough?

Will the quality be sufficient?

Will there be any sound distortion when at high volume?
Read on to find out exactly how the product performs in 'the wild'.
Specifications
Connecting to your device through Bluetooth 2.1 or higher, you will see most older major manufacturer devices supported ranging from the iPhone 3 to the iPod Touch 3rd generation and the first iPad edition. There's also the option to connect through a 3.5mm AUX input, however, this will negate the water resistance of this product when utilized.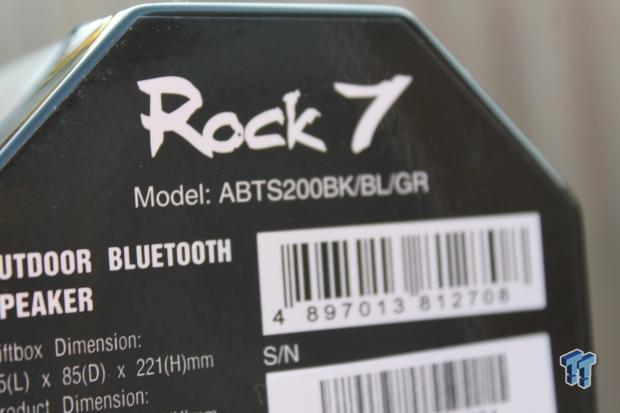 The 2000 mAh internal battery provides you with six hour playback time, alongside a 6-8 hour charging cycle from empty to 100% as charge input is unfortunately limited to 0.5A only.
One of the cool features is the lamp-style LED light located at the top of the device, this light gives you an illumination distance of just under 30 feet and draws less than 1w from the device itself.
As for the speaker, provided is a 2-inch driver pumping out 3W RMS, coupled with a claimed 30ft Bluetooth connection range. There's also the ability to take calls through your smartphone, with a built-in microphone supplied.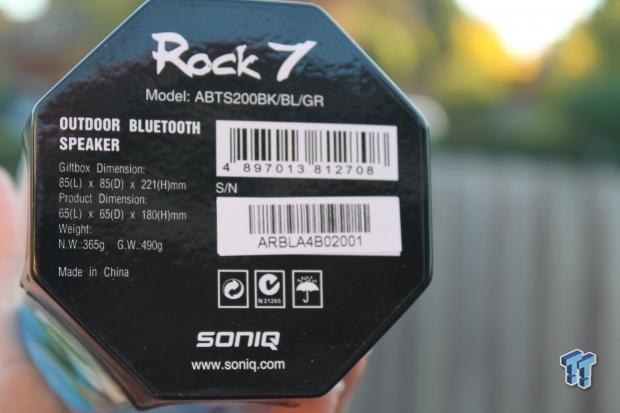 Lastly is the chassis material, as touched on above. Complete with a "solid aluminum alloy body wrapped in rugged durable high elastic silicon," the Rock 7 claims to be "highly resistant to the elements."
Pricing & Availability
Sitting a little high on the price scale, the Rock 7 will set you back $129 AUD from their official online store at the time of writing. Rated at double the price of our previously reviewed Braven Mira, will the sound quality and metal chassis be enough for us to recommend the product?
What's in the box?
Once again, providing a fairly simple package as is commonly seen with these types of products, tearing open the packaging presents you with a metal carbine clip, a micro-USB charging cable and the included user manual.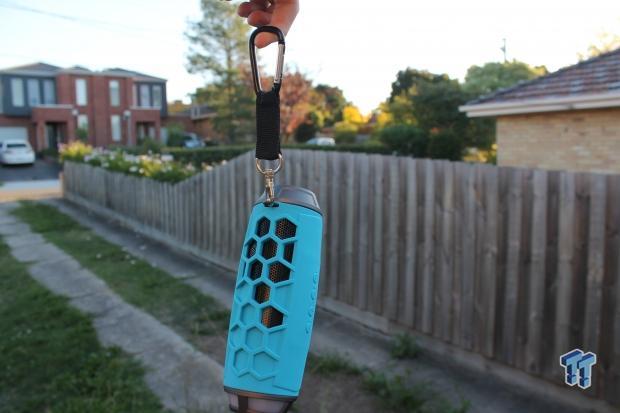 Unfortunately, there's no AUX 3.5mm cable included in the package, which is disappointing, coupled with the fact that there is no carry case. It can be argued that the carry case isn't a necessity as the product itself is durable and water resistant, however, it's a nice addition to help with travel and keeping your product clean.
A Closer Look & Listening Experience
Let's dig deeper
The structure as a whole feels extremely sturdy and well constructed, the design looks good and the clip for your carabiner seems extremely solid, meaning you should have no issue storing this on the outside of your hiking backpack through the wind, rain and snow.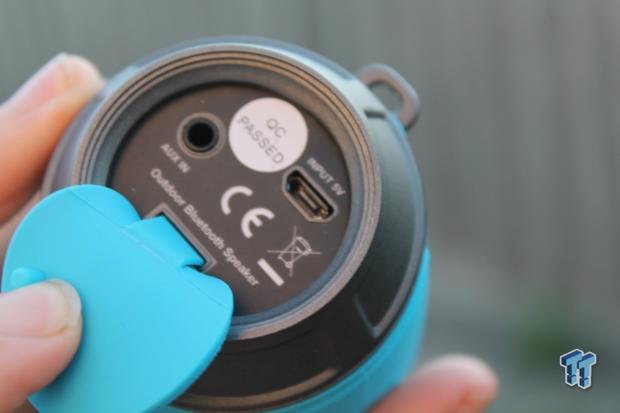 It looks nice and is built well, how exactly does it sound? For $129 AUD, you're obviously going to expect some fairly decent sound quality, however, a lot of this cost would be going into the design and materials needed for the solid structure. Still, it's double the price of the Braven Mira, and three times the price of Arctic's S113BT.
When listening to songs that pack a little punch, like Flume's remix of Disclosure and Eliza Doolittle's song 'You & Me', there is no rattling of the frame or speaker distortion which shows initially that the product is well designed and uses quality parts.
The plug which hides the internals is well sealed and has a solid grip on the product, meaning no pesky water will make its way inside.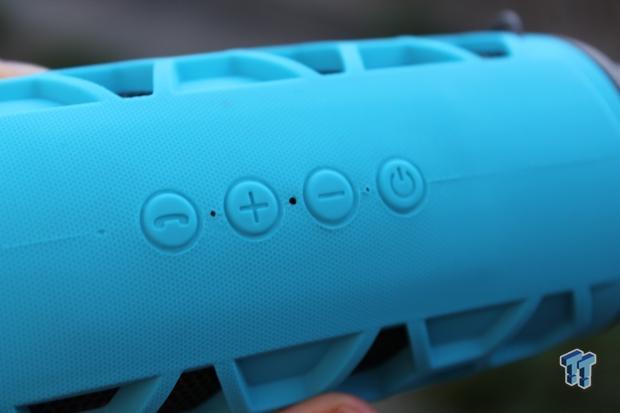 The buttons give good feedback and have a solid click to them, although their function can be little confusing. If you hold down the power button for too long, you're going to turn the product on and off in one go, however, if you don't press it for long enough, nothing will happen. Sometimes the top light has a mind of its own too, seeing you turn it on and off constantly before you get the timing just right.
Listening Experience
The volume levels are certainly enough to make my ears ring when sitting on my desk and pumped to 100% when paired with my Spotify-playing Samsung Galaxy S4, showing similar levels to our previously reviewed Braven BRV-X in 'outdoor mode'.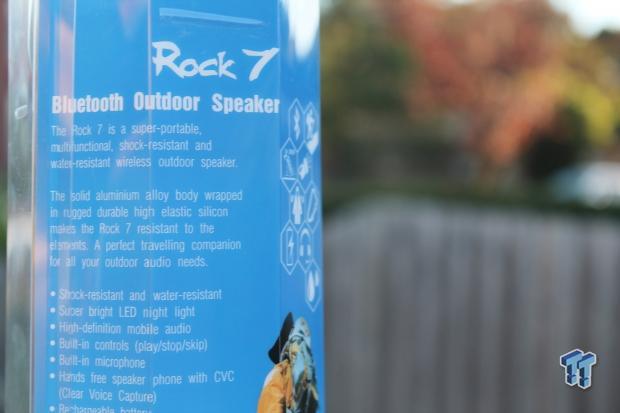 Unfortunately, there's just an overall lack of 'punch' when playing most music. Sure, the volume is there, but you're not going to be rattling any windows and your music will feel a little lifeless. Don't get me wrong, most Bluetooth speakers are the same, but I feel that this device has poured all of the research and development into providing you with an amazing frame and skimped out a little on the actual drivers themselves.
There are issues added when listening to songs that call for maximum clarity - this is when all Bluetooth options start to suffer. Listening to Duke Dumont's 'Wont Look Back' reports a hollow musical experience coupled with disappointing bass drops, however, the sheer volume can be seen as somewhat of a saving grace overall if you're needing to project the sound to multiple people.
Moving on to a heavy metal experience like 'The End of Heartache' by Killswitch Engage, you're going to have a slightly better time, with the vocals sounding better than some other speaker offerings thanks to the lack of bass.
What's Hot, What's Not & Final Thoughts
What's Hot
Sturdy and waterproof: I dare-say you could put this in a ring one-on-one with your old Nokia 3310 and it would stand a chance - there will be no issues with this product breaking.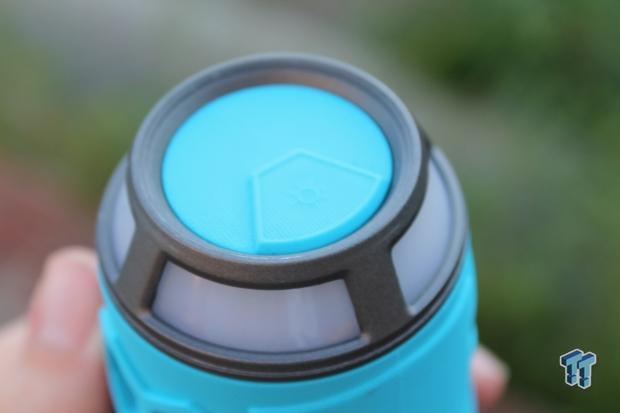 Sound projection: As mentioned many times, this speaker is loud.
Sound quality even when at full speed ahead: A sure-fire sign of good design, the Rock 7 doesn't compromise any sound volume for quality.
What's Not
Confusing buttons: The on and off button causes some issues as mentioned previously.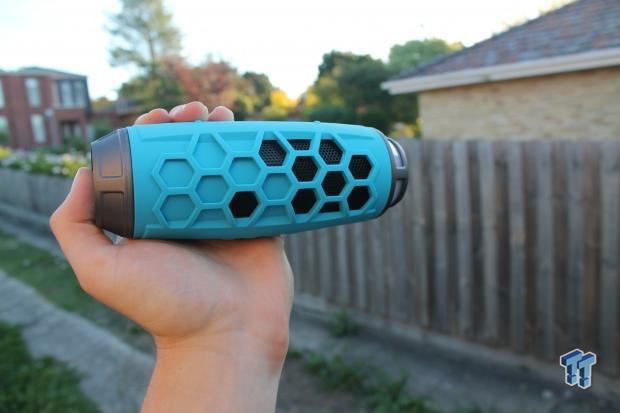 The punch of your little sister: The build-up sounds great and then as soon as the bass drops a massive wave of disappointment will hit your from head to toe.
Final Thoughts
As with the Braven BRV-X, this speaker is extremely sturdy, loud, waterproof, and cheap. If you're really looking for an outdoor travel buddy and something that will project enough sound to wake up the neighborhood, this speaker may be just for you.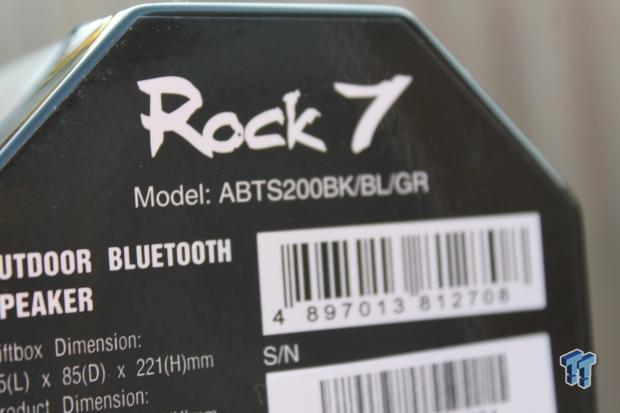 If you're looking for something to provide you some punch when listening to genres like house, techno or others, you may want to steer clear. The best part is this speaker is so sturdy, it's more likely to crack your floor than its own chassis.
| | |
| --- | --- |
| Performance (audio quality) | 70% |
| Quality including Design and Build | 95% |
| General Features | 85% |
| Bundle and Packaging | 80% |
| Value for Money | 75% |
The Bottom Line: Soniq's Rock 7 portable outdoor Bluetooth speaker is extremely solid, well-built, and water resistant, however, a distinct lack of bass and punch lets it down overall. If they could improve onto those areas, we'd be onto a winner.
PRICING: You can find products similar to this one for sale below.

United States: Find other tech and computer products like this over at Amazon.com

United Kingdom: Find other tech and computer products like this over at Amazon.co.uk

Australia: Find other tech and computer products like this over at Amazon.com.au

Canada: Find other tech and computer products like this over at Amazon.ca

Deutschland: Finde andere Technik- und Computerprodukte wie dieses auf Amazon.de