Braven Mira Water Resistant Bluetooth Portable Speaker Review
Water resistant and with the ability to operate in the shower or rain, there's something holding this speaker back, right? You might be wrong.
Published Sat, Mar 14 2015 12:21 PM CDT
|
Updated Tue, Nov 3 2020 6:59 PM CST
Rating:

96%
Manufacturer: Braven
Introduction, Specifications, Pricing & Availability
Quoted on their website as the "world's most versatile home speaker" and on the box as "the world's more talented speaker," obviously high expectations are to be met from the get-go. Featuring an IPX5 water resistance rating, a handy hook and stand combo, alongside a 10-hour playback rating, this speaker packs everything that you would expect and more - so how does it perform?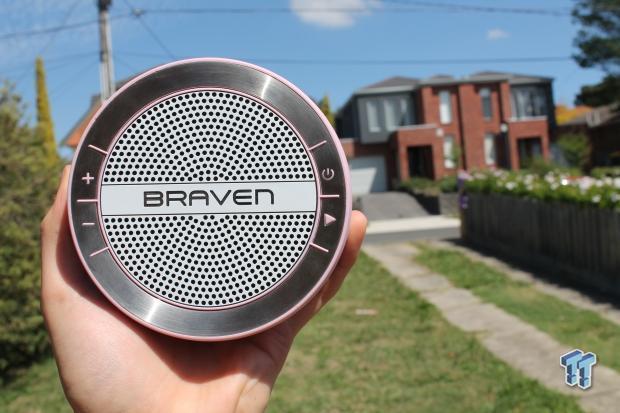 If you're really unable to get away from music, the Braven Mira has been marketed for shower use - a little creepy maybe, but certainly cool. This also means that you can use it without worry in the wind and rain, hopefully cheering up a failed picnic attempt or birthday party.
Specifications
Featuring a combination of rubber coating and metal (brushed and painted), this sturdy product holds 10 hours worth of Bluetooth playback within, meaning an AUX 3.5mm connection should see this extended to around 12 hours, as an estimation.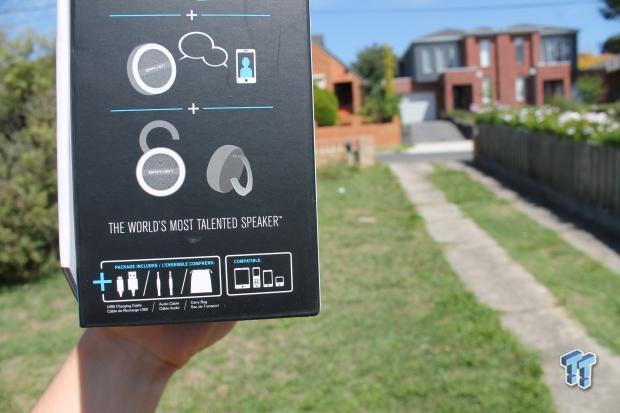 Connectible to your device of choice through Bluetooth and 3.5mm options, the Braven Mira hides all of these workings away behind a double sealed rubber flap, helping keep the water resistant rating high.
As according to the definition, IPX5 water resistance means that your product will withstand an onslaught from "water projected by a nozzle (6.3 mm) against enclosure from any direction shall have no harmful effects," at a pressure of 30kPa and a distance of 3m.
Charged through Micro-USB only, this device takes a 5A input as seen with almost all speaker brands. Unfortunately for Braven, this speaker's bigger brother, the BRV-X, takes a wall-supplied DC input only, which kills much of the practicality of the product.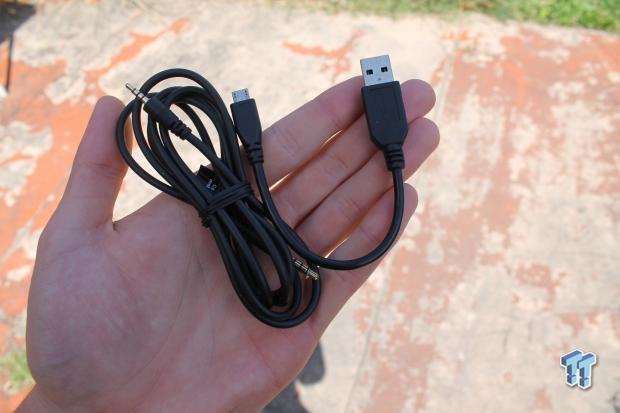 Included are the general options of using this product as a smartphone loudspeaker, alongside providing you with your volume up and down, and song skip buttons tied into one. Another notable feature is the ability for this product to charge in 2-4 hours, as quoted in the owner's guide.
Pricing & Availability
So, we've talked the speaker up quite a bit so far and eluded that it may sound pretty great, but what does it cost? If you're quick and snap up one of the few remaining, you can get this product for an absolute steal at $54 from Amazon at the time of writing. The normal recommended retail pricing is $100 and that's good enough for us, $54 is just ludicrous!
What's in the box?
Packed complete with a water-resistant carry pouch, unfortunately our model didn't come with one of these, so we cannot test it for you. However, you do receive the general inclusions of a USB charging cable, a three-ringed AUX cable for audio and microphone capabilities, and the general owner's guide.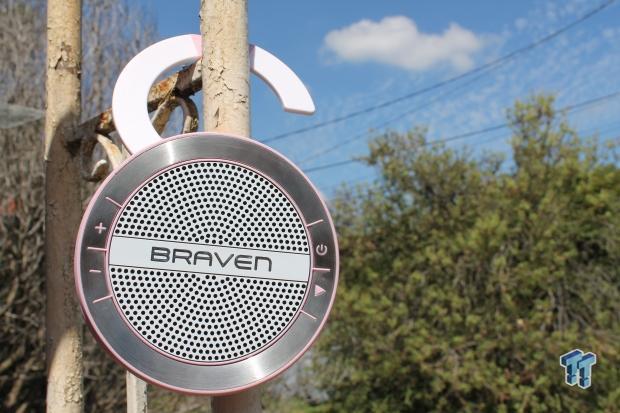 There are no clips or hangers needed as the Braven Mira comes with one built in to the structure. This handy hook can either be used to hand the product off something, or can be used to prop the speaker upright for optimum sound.
Something is to be said for the 3.5mm auxiliary cable. Most companies will give you a 4-6 inch tiny cable that will often see you purchasing a third-party option in order to get your music fix. Thankfully, Braven has included a much longer cable with this device, giving you around three times the length as commonly seen.
PRICING: You can find the Braven Mira Portable Wireless Speaker for sale below. The prices listed are valid at the time of writing but can change at any time. Click the link to see the very latest pricing for the best deal.
United States: The Braven Mira Portable Wireless Speaker retails for $54.07 at Amazon.
Canada: The Braven Mira Portable Wireless Speaker retails for CDN$109.99 at Amazon Canada.
A Closer Look and Listening Experience
Let's dig deeper
We said before that for $100 this speaker is great, let alone for the crazy price of $54 while it's on special at the time of writing. So, why exactly do we think this? As pointed out with our Braven BRV-X review, most speakers will squeeze every single last decibel out of their products in order to push for pure sound and a great sign of a quality speaker is their patience and ability to scale back this overdraw of power in order to focus more on their sound clarity and quality.
What exactly does the Braven Mira do? For $54, it gives you the loud aspect and most of the clarity, too. As soon as my housemate arrived home from work, he instantly asked me what I was reviewing as when punching at 100% there is no distortion of the speakers, no bass rattling the products frame and the only thing moving being my desk vibrating violently as each punchy bass beat hit in Flume's remix of Disclosure and Eliza Doolittle's song You & Me.
It doesn't feel very heavy, but it sure does feel extremely solid. The rubber and metal frame combined with the thick plastic hinge and stand means I have absolutely no worry when taking this product on the road or accidentally dropping it on my bathroom tiles. Obviously, it's not going to last forever if you do this, so I wouldn't recommend doing it too much.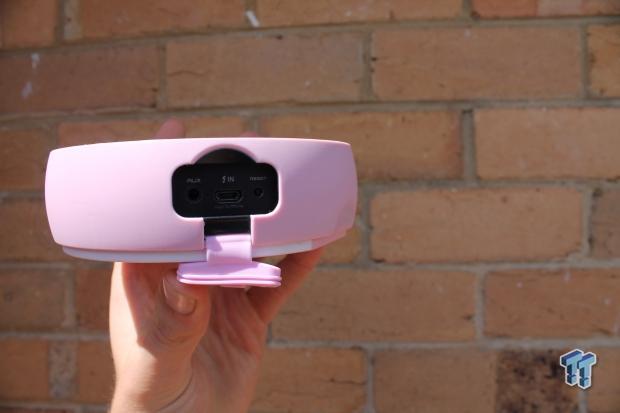 The plug which hides the internals is double-sealed and has an extremely solid grip on the product, meaning no pesky water will make its way inside.
The buttons are a little mushy and unresponsive, sometimes you're not sure if the press you just made will put up the volume or not. It'd be great if Braven could make these more 'clicky' and responsive in the future.
Braven the wind and rain
I've used the same pun as the BRV-X review because, well... why not? As I said in that review too, this product isn't "going to provide with with a completely full-sound experience like you come to expect with headphones or a home theatre system, but this comparatively small speaker sure does pack a massive punch." It's enough to make my ears ring when sitting on my desk and pumped to 100% when paired with my Spotify-playing Samsung Galaxy S4 and it's as loud as the Braven BRV-X when switched to 'outdoor mode'.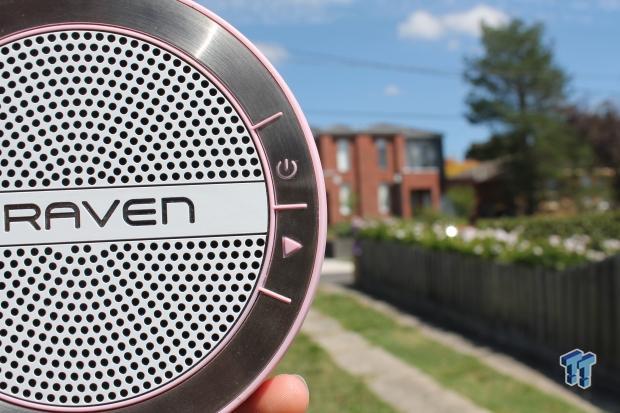 The last line kind of makes you think, why would I bother going for the more expensive Braven BRV-X? Well, you probably shouldn't, unless you want the ability to connect two speakers seamlessly as the Braven Mira does not provide this ability.
The Braven Mira obviously has to cheapen out on some music experience, otherwise it'd be $1,000 and not $54 - so, where exactly does it fall down? When listening to songs with maximum clarity is when all Bluetooth options start to suffer. Listening in to Duke Dumont's 'Won't Look Back' reports some muddy mid's followed by boring high's, however, when the drop comes and the bass hits, all is well again.
If you're looking for more of a heavy metal experience like 'The End of Heartache' by Killswitch Engage, you're going to have a better experience, alongside most likely waking up your neighbourhood in the process if you decide to crank it up to 100%.
Further Analysis
As stated previously, the hook is made of solid plastic and serves extremely well as a stand, alongside as a hanging alternative. The sound is punchy and carries far, alongside most of your general Top 40 hits sounding perfectly fine.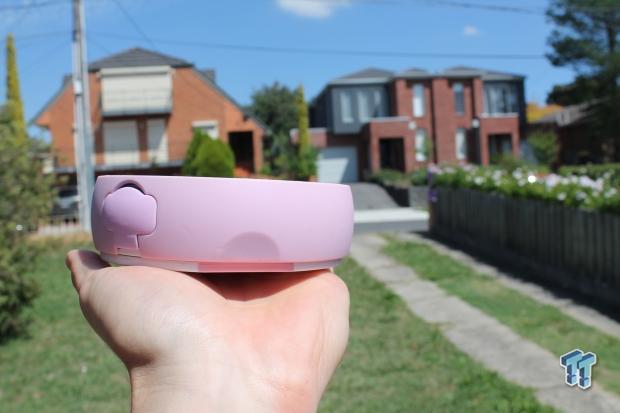 Even when blasted to full volume, this speaker holds its composure quite well and that's something that I commend Braven extremely highly for as we've seen the same thing with their BRV-X speaker also. If you're wanting to use this at home and in a dry environment, this speaker will also charge while playing your tunes just fine. The location of the ports means that you can easily charge it while it's propped up or hanging in your kitchen.
What's Hot, What's Not & Final Thoughts
What's Hot
Sturdy and water resistant: You'll have no issue dropping it a few times, taking it through the sea spray on your boat or into the shower.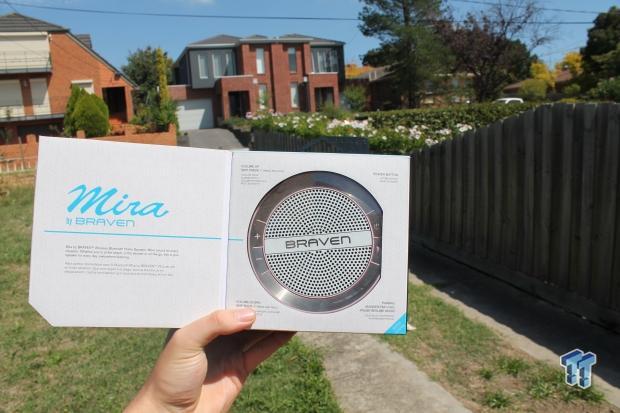 Sound projection: Providing a crazily large reach as similar to the Braven BRV-X in outdoor mode, this smaller 'hockey puck' product packs a massive punch.
Sound quality even when at full speed ahead: Even when jacked up to 100%, this speaker will provide you with clarity in its sound as seen at 20%. The speakers won't distort and the product won't jump all over the table.
What's Not
Soft and seemingly-unresponsive buttons: The buttons are a little mushy, if they could have a firmer click and feel in the future this speaker could almost reach a 100% rating.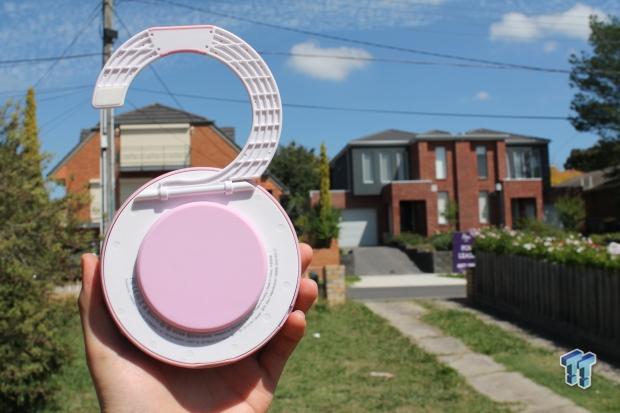 Lack of clarity: An issue that plagues every speaker, if you're an audiophile fan of classical music, you really need some headphones instead.
Final Thoughts
This speaker is extremely sturdy, loud, water resistant, and cheap. I don't think there's anything else to say to be honest. If you're in the market to purchase yourself a Bluetooth speaker offering, I'd find it extremely hard to recommend anything else at this stage.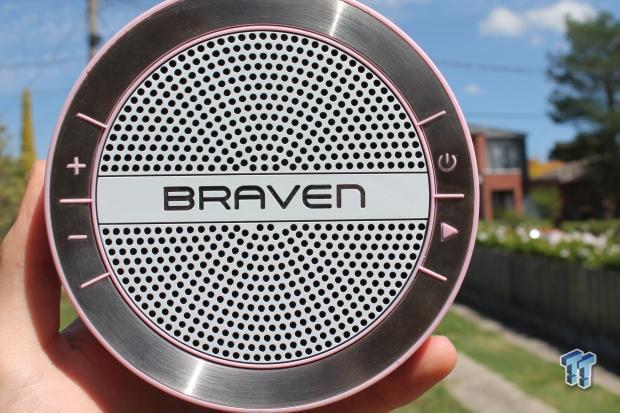 Around this price range there is nothing even close in comparison. The only reason I could see for those wanting another product would either be the fact that they want a smaller device, or they wish to connect two speakers at one time. Otherwise, go and get yours right now! And don't worry, they don't all come in pink. We think the black model black looks the best, but that's up to you and your tastes.
PRICING: You can find the Braven Mira Portable Wireless Speaker for sale below. The prices listed are valid at the time of writing but can change at any time. Click the link to see the very latest pricing for the best deal.
United States: The Braven Mira Portable Wireless Speaker retails for $54.07 at Amazon.
Canada: The Braven Mira Portable Wireless Speaker retails for CDN$109.99 at Amazon Canada.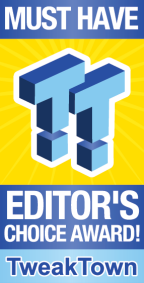 | | |
| --- | --- |
| Performance (audio quality) | 99% |
| Quality including Design and Build | 95% |
| General Features | 95% |
| Bundle and Packaging | 90% |
| Value for Money | 99% |
The Bottom Line: Braven's Mira portable speaker is extremely sturdy, loud, waterproof, and cheap. I don't think there's anything else to say to be honest.
PRICING: You can find products similar to this one for sale below.

United States: Find other tech and computer products like this over at Amazon.com

United Kingdom: Find other tech and computer products like this over at Amazon.co.uk

Australia: Find other tech and computer products like this over at Amazon.com.au

Canada: Find other tech and computer products like this over at Amazon.ca

Deutschland: Finde andere Technik- und Computerprodukte wie dieses auf Amazon.de