OCZ Vector 180 960GB SSD Review
Today OCZ introduces its newest SSD to the world, the Vector 180. Chris tells us all about the 960GB model which brings with it host power loss protection.
Published
11 minute read time
TweakTown's Rating: 93%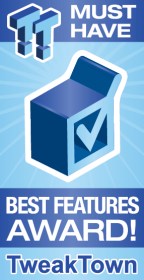 The Bottom Line
OCZ brings another feature to the flagship product line, while increasing capacity. The Vector 180 SSD should be the last stop before NVMe arrives.
Introduction & Specifications, Pricing and Availability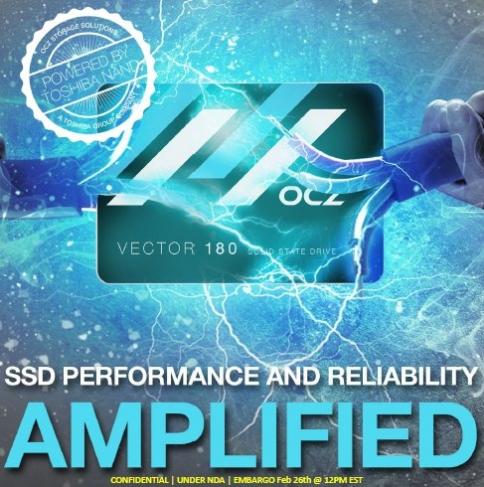 OCZ Storage Solutions displayed the company's first NVMe product at CES just a couple months ago. We fully expect OCZ to shake up the enthusiast market in a few months with an ultra-high performance product, but until that happens, we have a new Vector branded part to tide us over.
The new OCZ Vector 180 uses the aging Indilinx Barefoot 3 controller that first appeared in November 2012. Since first released, the controller hasn't undergone any major changes aside from a minor clock adjustment for the Vertex series. On one side of the coin, this shows that the controller is reliable; some SKUs have less than a .1% failure rate. On the other side of the coin, the Barefoot 3 hasn't delivered many new features that are present on other products, like DEVSLP, for reducing power consumption.
Vector 180 brings one new trick in this revision, a tantalum capacitor that provides additional power to the controller should a host power loss event occur. The capacitor has enough charge to flush the at-rest data. On more than one occasion, we've killed a client SSD in our notebook power test that lets the notebook run on the battery until the power fails. One drive we killed even has host power failure protection. We'll talk more about this in the conclusion of this review and introduce a new test as well.
The new Vector 180 also receives a flash upgrade to Toshiba's A19 MLC. This is Toshiba's second-generation 19nm flash that has a die size of 19x19.5mm. The first 19nm flash from Toshiba measured 19x26mm. The change isn't that significant when talking about a single die, but is a significant shrink at the wafer level. Toshiba can produce more die per wafer, thus reducing the cost of the flash.
Specifications, Pricing and Availability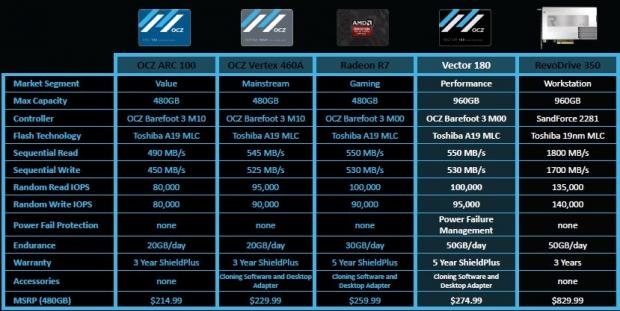 Vector 180 is a drop in replacement for Vector 150 in OCZ's client product line up. OCZ kept the same M00 version of the Barefoot 3 controller, just like Vector 150 and the Radeon R7. This is OCZ's first client product to feature Power Failure Management.

Vector 180 pulls this series into the terabyte era for the first time. It's difficult to imagine, but OCZ hasn't had a flagship SATA product in this capacity size. OCZ released other 1TB models in the past though - the Octane hit 1TB, and RevoDrive has a few large capacity models as well.
Like many SSDs series available, the 120GB Vector 180 is slightly slower than the larger models. The 960GB and 480GB models share nearly every performance specification. The 480GB model provides a slightly higher random write steady state.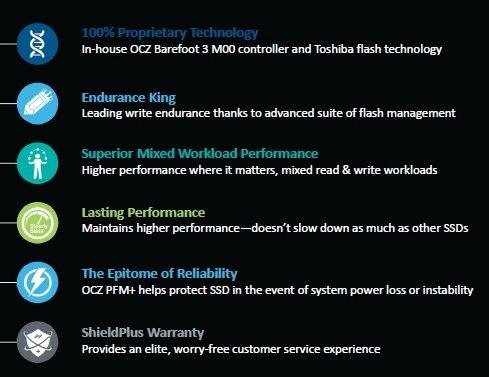 OCZ did what they could to update the Vector product series. Some of the features listed carry over from other products in the OCZ lineup yet others are new. We're happy to see a company tune mixed workload performance. We've harped about the importance of mixed workload performance since last June when we first introduced a new mixed workload test to our product test suite. It doesn't surprise us to see OCZ jumping at the challenge before others.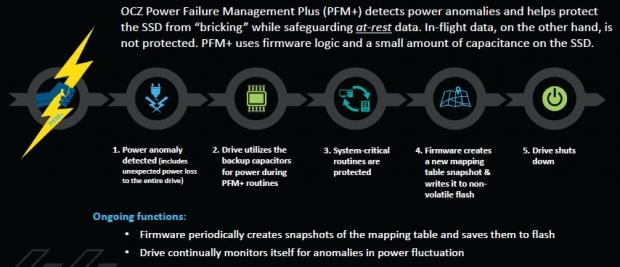 Vector 180 isn't the first client SSD to incorporate a form of host power fail protection, but there are very few client SSDs with this technology. OCZ calls their technology PFM+ or Power Failure Management Plus. This technology protects at-rest data, but not in-flight data. One of the easiest ways to brick a client SSD is to interrupt power during a write operation. This feature is a lot more than a marketing gimmick.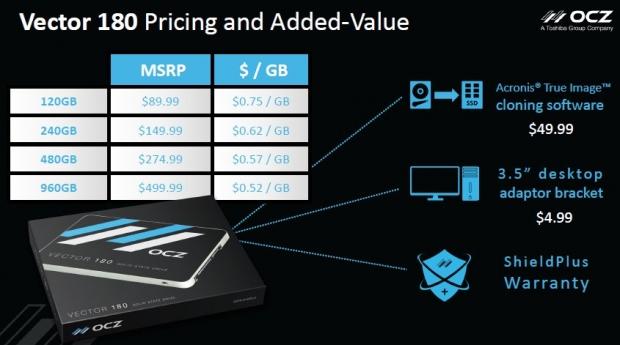 The new Vector 180 ships with OCZ's premium accessory pack. Users receive a desktop adapter bracket and Acronis True Image disk cloning software. This drive also works with OCZ's SSD Toolbox software and an upcoming revision of SSD Toolbox called SSD Guru.
With the drives for testing, we received Vector 180's MSRP data. The 960GB model under test today will sell for $499.99 at launch. The other capacity size models are listed in the image above.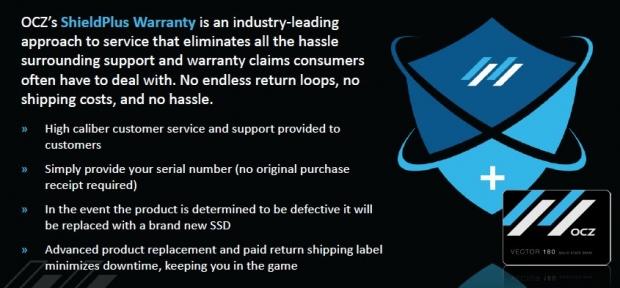 The Vector 180 products are covered by OCZ's ShieldPlus Warranty. This refined warranty was introduced with other products from OCZ, but now carries over to the Vector 180 series.
OCZ Vector 180 960GB SSD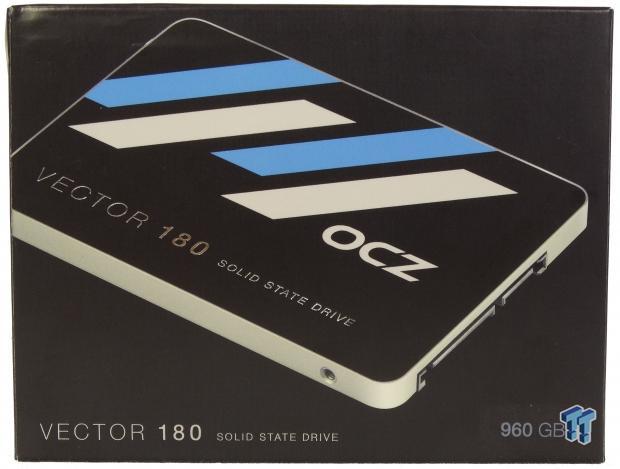 The package for Vector 180 follows the tradition set by other OCZ products in the past.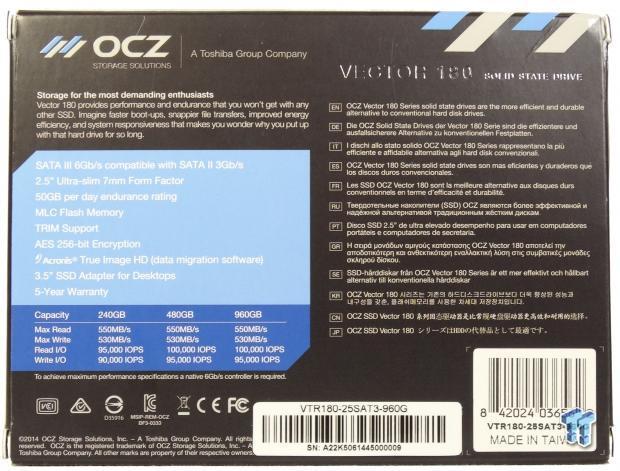 OCZ printed the specifications and some of the features on the back of the package. This is useful in a retail environment when shopping for a SSD and allows customers to compare products.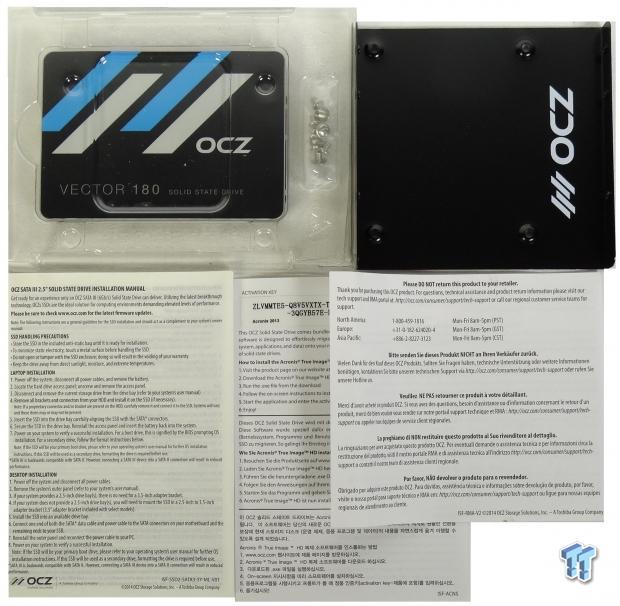 Inside, we found a desktop adapter bracket, screws for mounting, three paper manuals, one with the activation code for Acronis True Image and the SSD.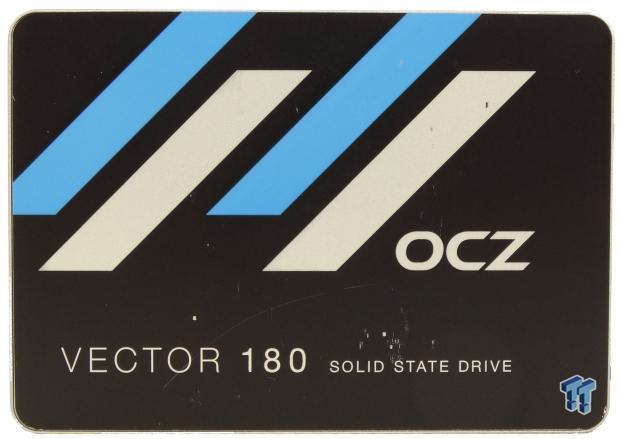 Here we get our first look at the Vector 180. Our sample was an engineering test unit at point so it was well used. The retail drives will not have scratches on the top cover.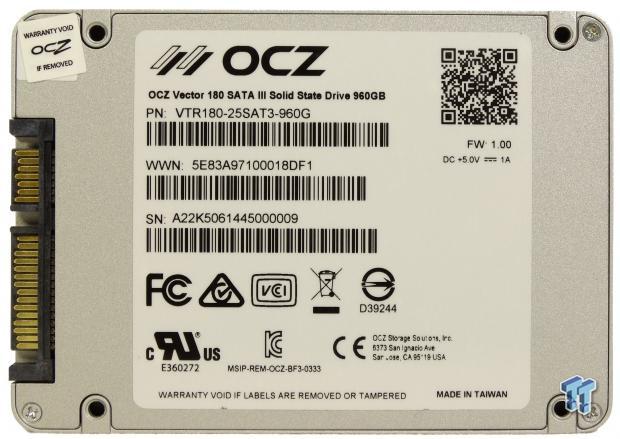 Vector 180 use the same metal case that other OCZ products have in the past. The case is a bit heavy, but it also doubles as a heat sink for the controller.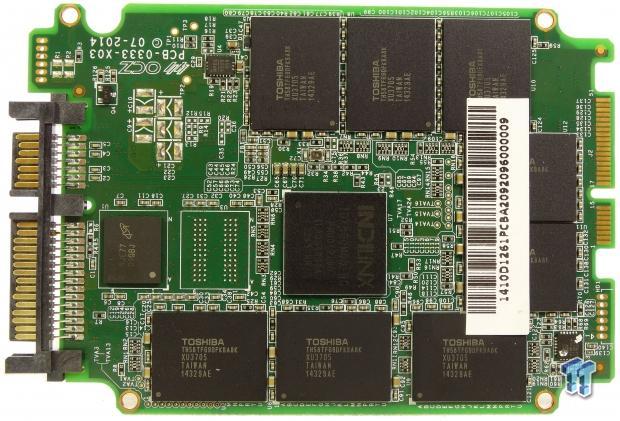 This side of the PCB doesn't reveal too much. The capacitor is on the other side. The Indilinx Barefoot 3 controller is in the middle of the other components.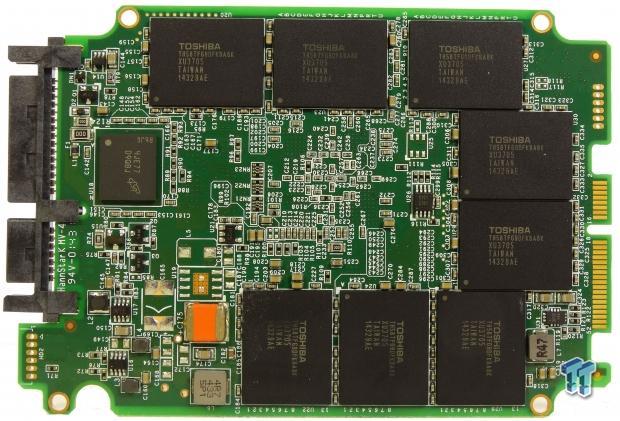 There are sixteen NAND flash packages total, two DRAM packages and the bright orange capacitor that provides buffer flushing power in the case of a host power fail event.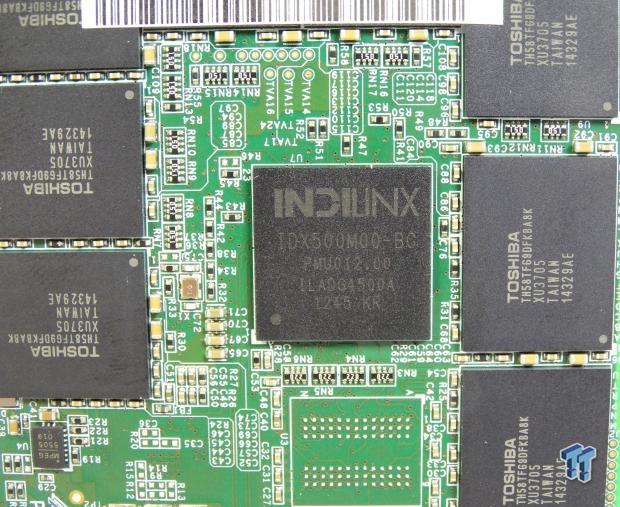 Vector 180 uses the original M00 version of Barefoot 3. This version has a higher clock speed than the M10 version used on the Vertex series SSDs from OCZ.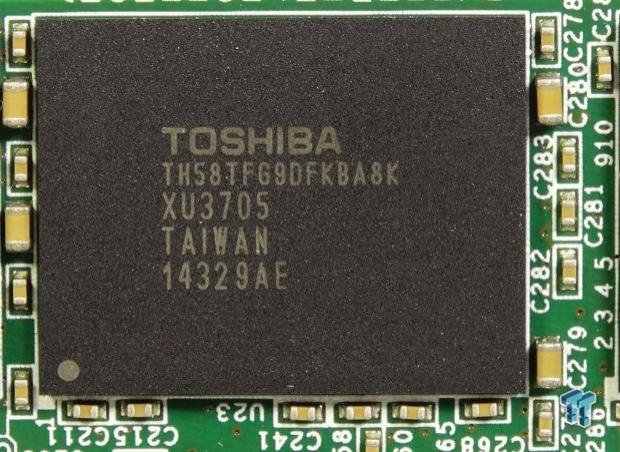 The flash is from parent company Toshiba and is the new A19 19nm version.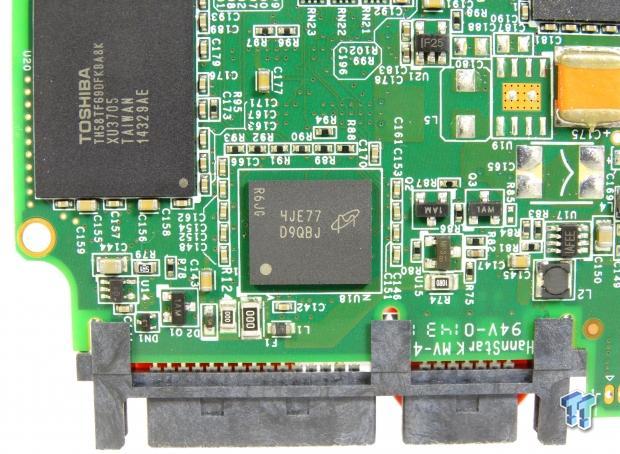 Two DDR3 packages, one on each side of the controller, cache page table data.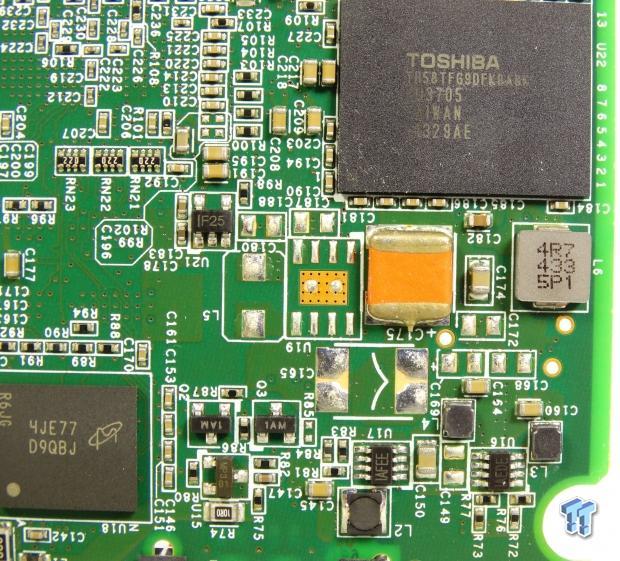 The capacitor is made from tantalum, a substance 15x rarer than gold. Early Vector 180s shown to media at various shows appeared with several smaller tantalum capacitors, but the retail Vector 180 only sports a single capacitor.
Test System Setup and Initial Performance
Desktop Test System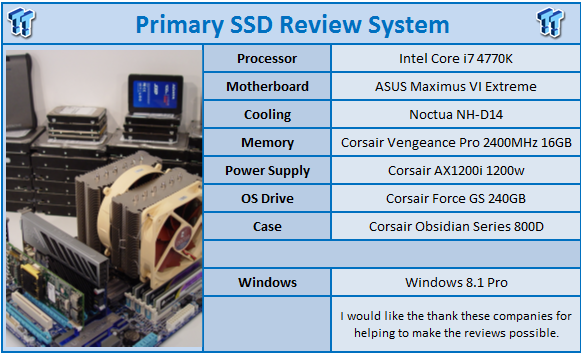 Lenovo T440 - Notebook Power Testing with DEVSLP and Windows 8.1 Pro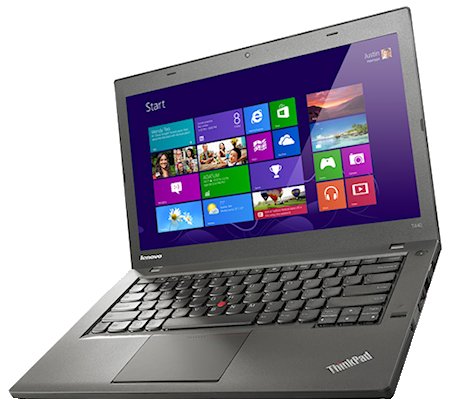 Nearly all of the performance tests run on the desktop system but we use a Lenovo T440 to run the power tests. The T440 is the latest addition to our client SSD test lab and allows us to test the notebook battery life offered by an SSD with advanced features like DEVSLP enabled.
Initial Performance Evaluation - 4-Corner and then Some Tests
Sequential Read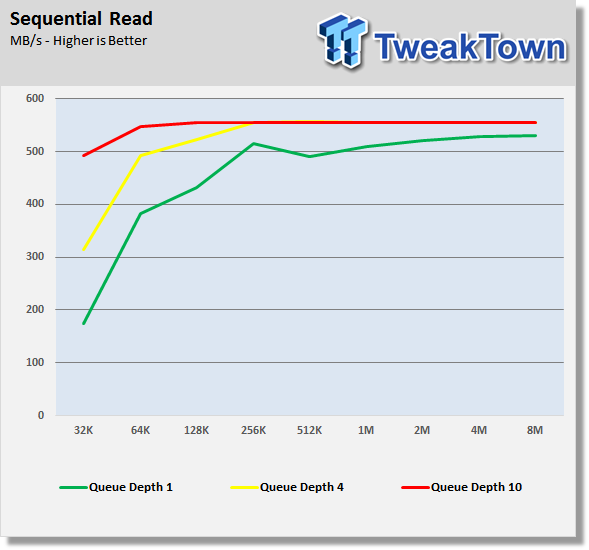 Sequential Write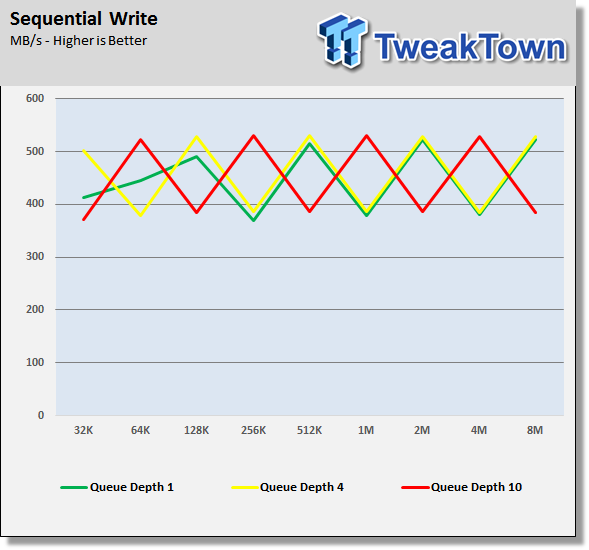 Sequential 80% Read 20% Write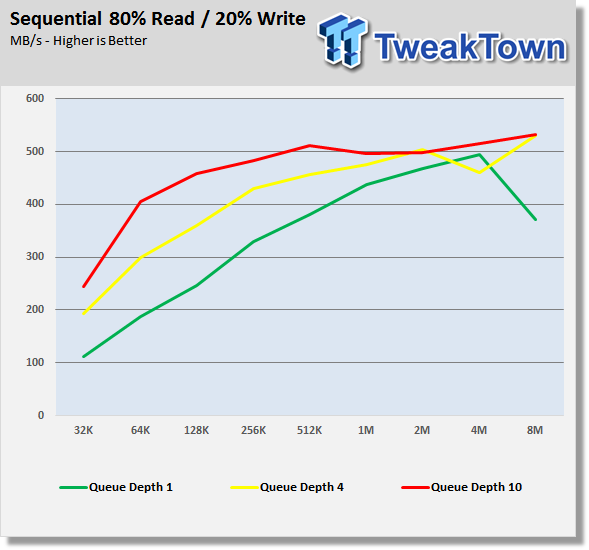 Random Read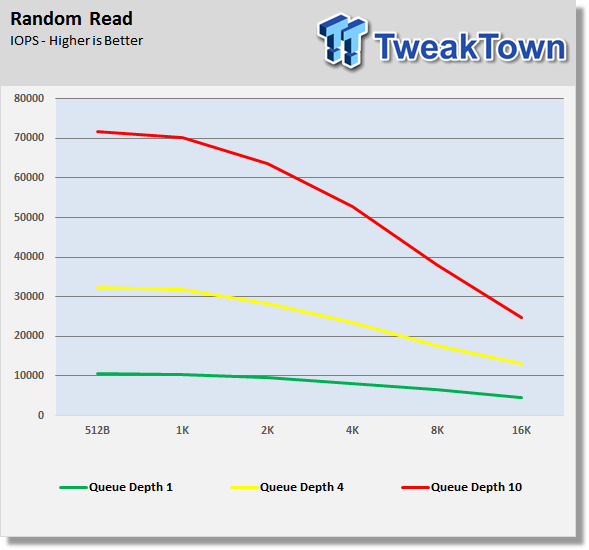 Random Write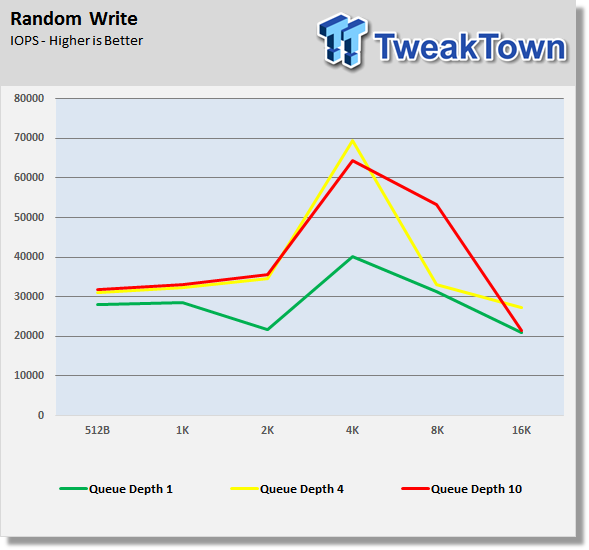 Random 80% Read 20% Write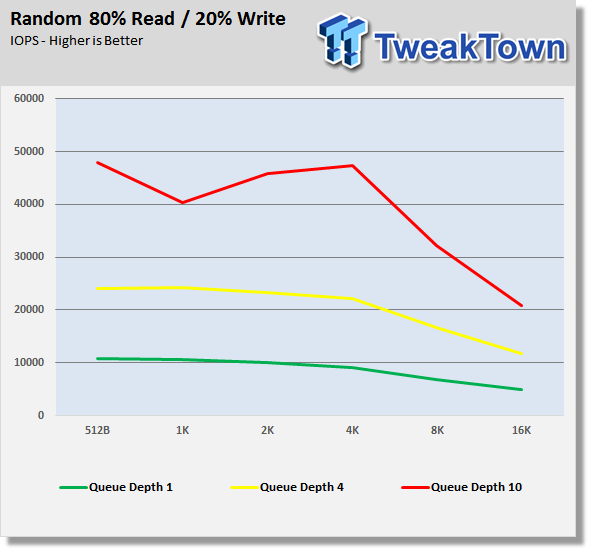 Benchmarks - Sequential Performance
HD Tune Pro - Sequential Performance
Version and / or Patch Used: 5.50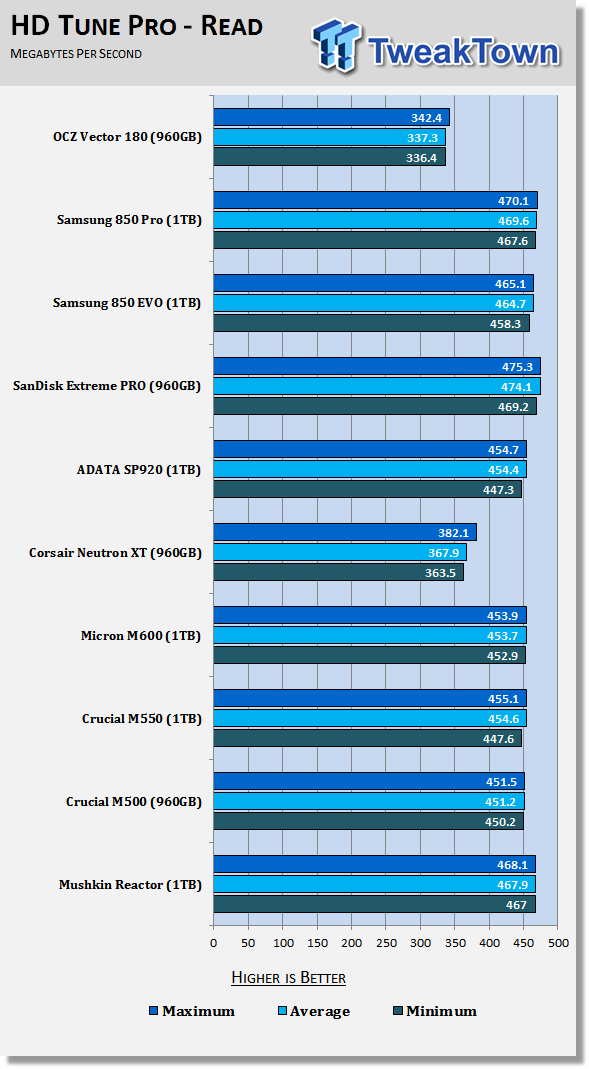 The results from HD Tune Pro don't surprise us. OCZ has limited QD1 reads and writes artificially since the Vertex 4. This limit with block sizes less than 128KB allow the drive to reserve performance for multitasking. With the same 64KB block size test, but with a queue depth of two the Vector 180 saturates the SATA 6Gbps bus.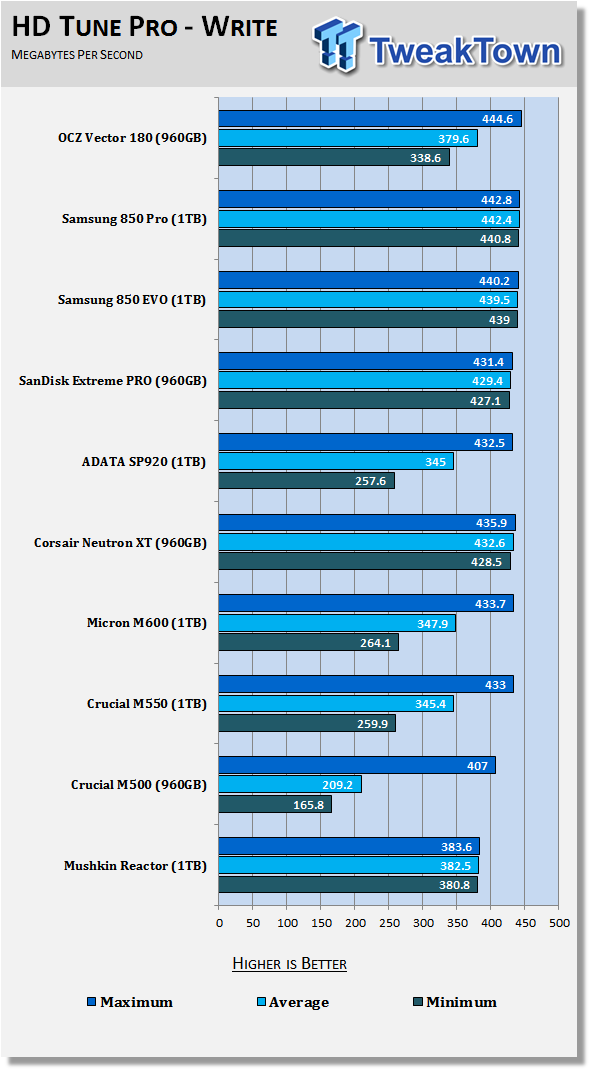 The Barefoot 3 controller's strong suit is writing data. It appears that OCZ has lifted the 64KB block QD1 write limit and the Vector 180 is now in line with other high performance SSDs on the market.
HD Tach - Sequential Write Performance after Random Writes
Version and / or Patch Used: 3.0.4.0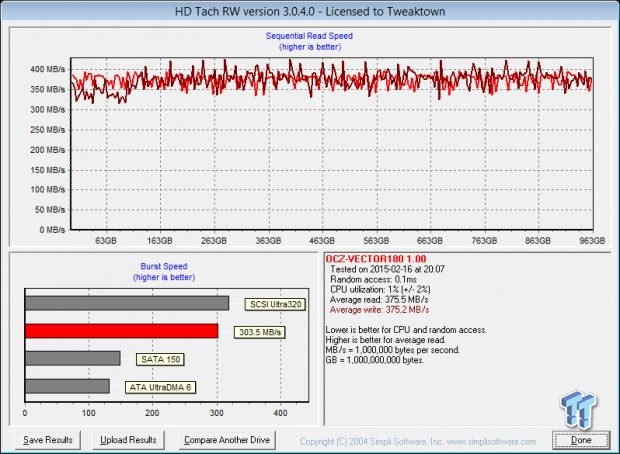 After a reasonable number of sequential and random writes to the drive, we ran HD Tach with 128KB blocks to look for large dips in write performance. The Vector 180 didn't have any issues like we've found with some other products in the past.
Benchmarks - Anvil Storage Utilities
Anvil Storage Utilities
Version and / or Patch Used: RC6
So what is Anvil Storage Utilities? First of all, it's a storage benchmark for SSDs and HDDs where you can check and monitor your performance. The Standard Storage Benchmark performs a series of tests; you can run a full test or just the read or the write test, or you can run a single test, i.e. 4k QD16.
Anvil Storage Utilities is not officially available yet, but we've been playing with the beta for several months now. The author, Anvil on several international forums, has been updating the software steadily and is adding new features every couple of months.
We can use Anvil several different ways to show different aspects for each drive. We've chosen to use this software to show the performance of a drive with two different data sets. The first is with compressible data and the second data set is incompressible data. Several users have requested this data in our SSD reviews.
0-Fill Compressible Data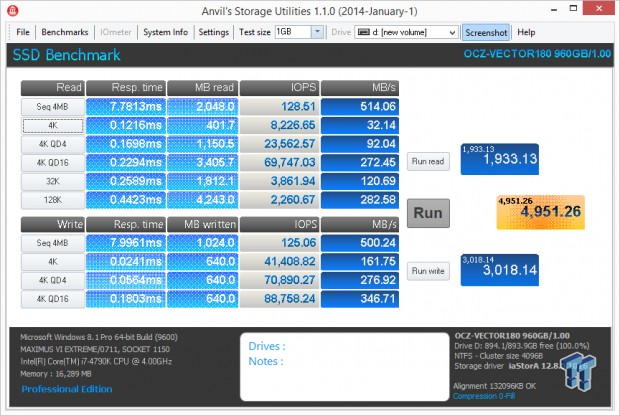 Incompressible Data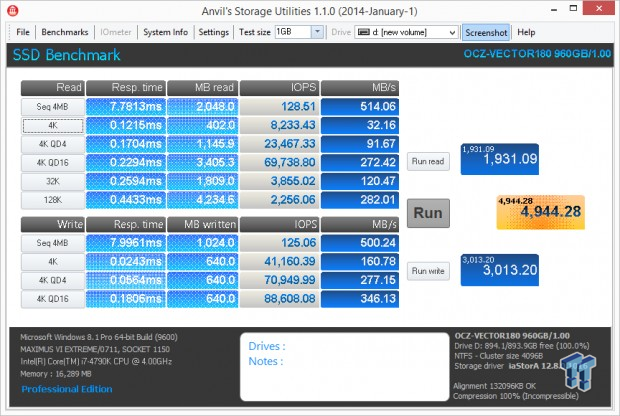 Vector 180 doesn't lose performance when reading or writing with incompressible data. The performance is the same regardless of data type.
Low Queue Depth Read IOPS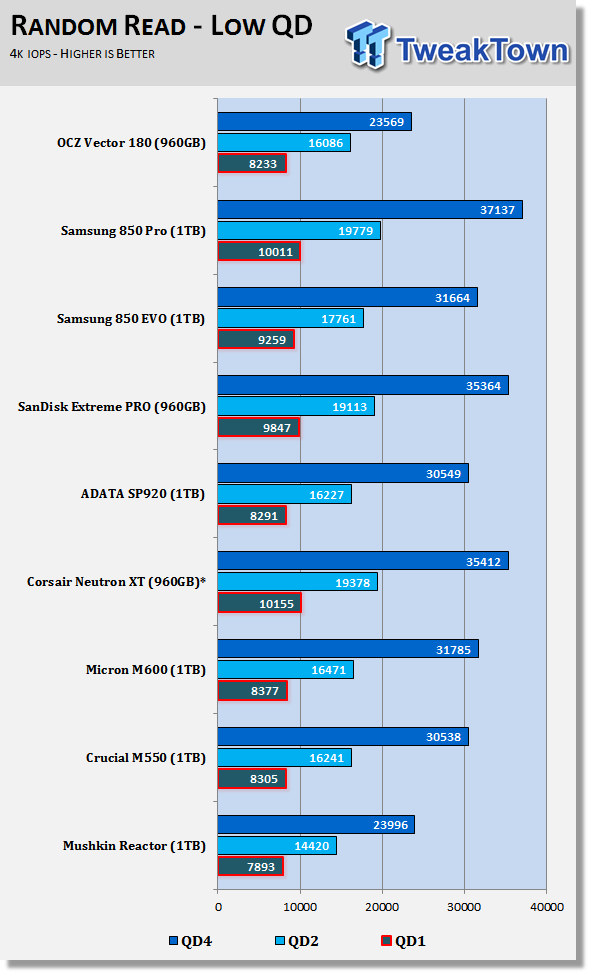 The single QD random read performance tipped the scales at 8233 IOPS. We saw good scaling to QD2, but performance started to trail off at QD8 with only a minor gain.
High Queue Depth Read IOPS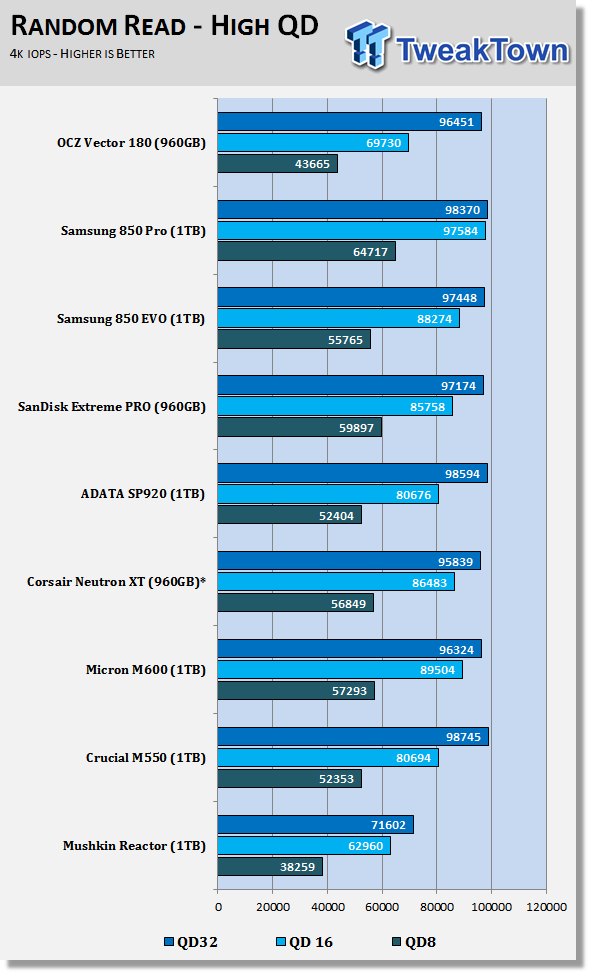 Random read performance recovered very well for the high queue depth tests.
Low Queue Depth Write IOPS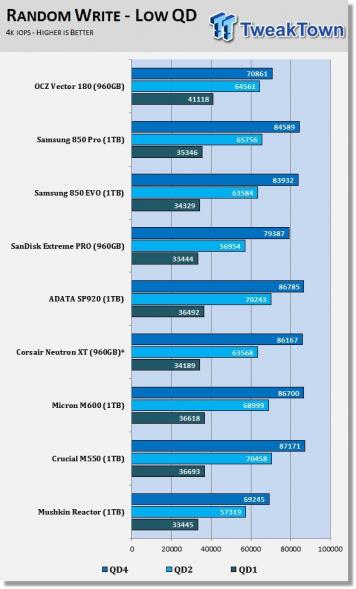 Random write performance has always been OCZ's strong suit after the company started writing firmware. The Vector 180 follows the 150 and original Vector in delivering the best in class QD1 random write performance. The drive does fall off at QD4 just as it did with QD4 random reads.
High Queue Depth Write IOPS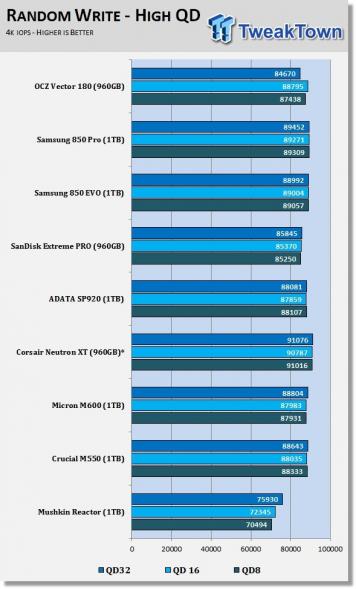 The leap in performance from QD4 to QD8 is large though, the drive recovered very well.
Benchmarks - Mixed Read / Write Workloads
Sequential Mixed Read / Write Workloads
In this series of tests, we measure mixed workload performance. We start with 100% read and then add data writes to the mix until we get to 100% writes, in 10% increments. We believe this will be the next major area SSD manufactures will address after performance consistency.
Sequential Mixed Workload Bandwidth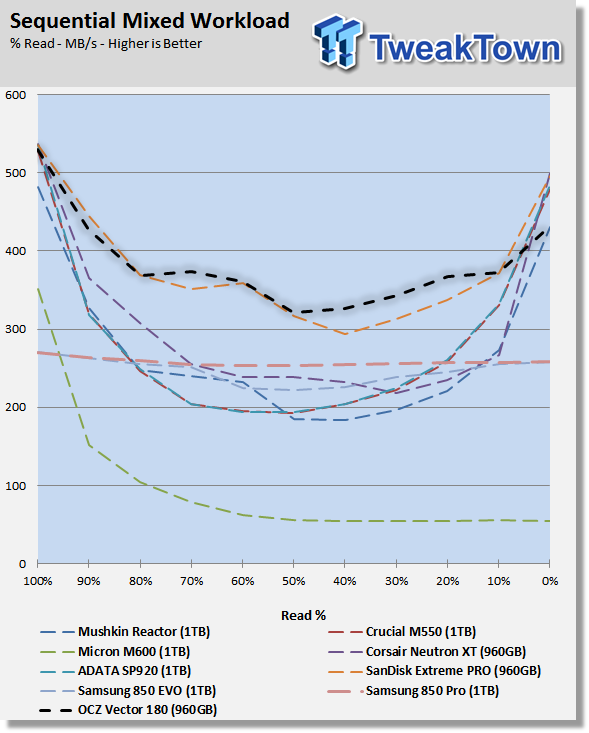 OCZ's made note of performance tuning for mixed workloads. It appears the company has. The Vector 180 loses less performance in steady state mixed workload tests than any other SATA 1TB drive we've tested. The Extreme PRO does come a very close second.
Sequential 80% Read / 20% Write Bandwidth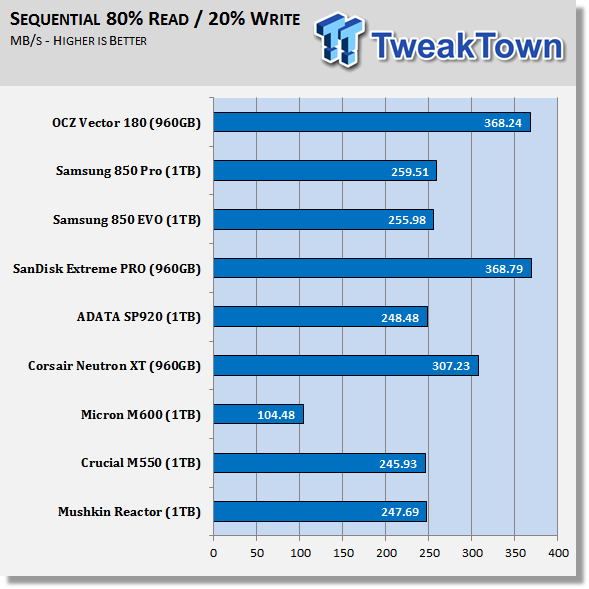 In this chart, we see the 80% read results, a representation closer to a consumer mix. Two drives really standout for highest performance and Vector 180 is one of them.
Random Mixed Workload Response Time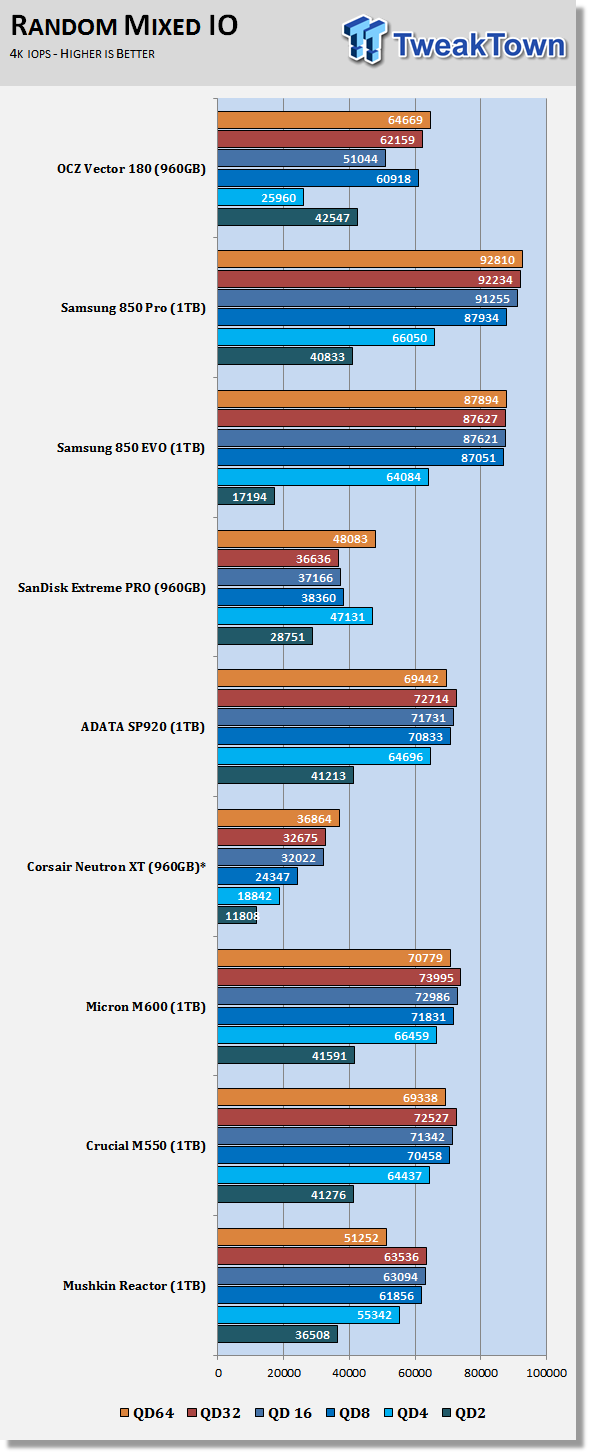 The 50% random read mix performance is down a bit compared to some of the other products. We never could figure out the QD4 dip, but we suspect it has something to do with the random read QD4 dip we saw on the previous page.
PCMark 8 Consistency Test
Futuremark PCMark 8 Extended - Consistency Test
Version and / or Patch Used: 2.0.228
Heavy Usage Model:
Futuremark's PCMark 8 allows us to wear the test drive down to a reasonable consumer steady state and then watch the drive recover on its own through garbage collection. To do that, the drive gets pushed down to steady state with random writes and then idle time between a number of tests allows the drive to recover.
Precondition Phase:
1. Write to the drive sequentially through up to the reported capacity with random data.
2. Write the drive through a second time (to take care of overprovisioning).
Degradation Phase:
1. Run writes of random size between 8*512 and 2048*512 bytes on random offsets for 10 minutes.
2. Run performance test (one pass only).
3. Repeat 1 and 2 for 8 times, and on each pass increase the duration of random writes by 5 minutes.
Steady state Phase:
1. Run writes of random size between 8*512 and 2048*512 bytes on random offsets for 50 minutes.
2. Run performance test (one pass only).
3. Repeat 1 and 2 for 5 times.
Recovery Phase:
1. Idle for 5 minutes.
2. Run performance test (one pass only).
3. Repeat 1 and 2 for 5 times.
PCMark 8's Consistency test provides a ton of data output that we use to judge a drive's performance. Here we see the three states of performance for the select SSDs, light use, consumer steady state and worst case.
Storage Bandwidth - All Tests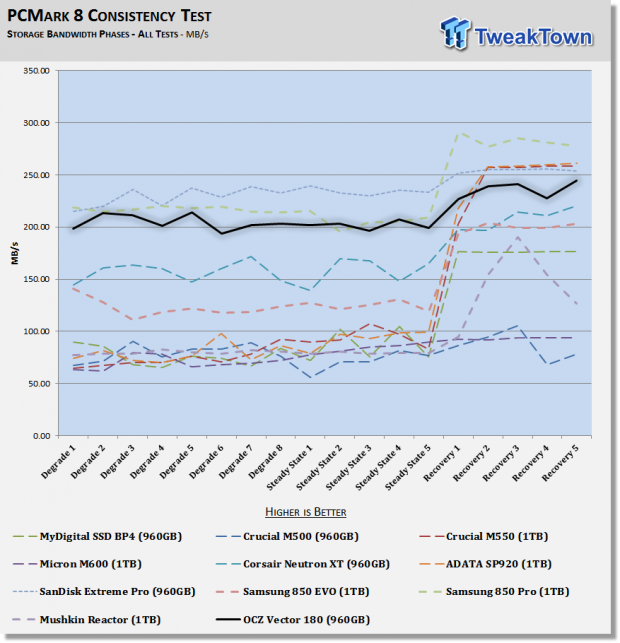 The Vector 180 960GB compares really well against other drives in the PCMark 8 Extended Storage Tests. The previous Vertex and Vector products were down around where we measured the Neutron XT at, but OCZ has improved performance quite a bit.
Storage Bandwidth - Heavy Load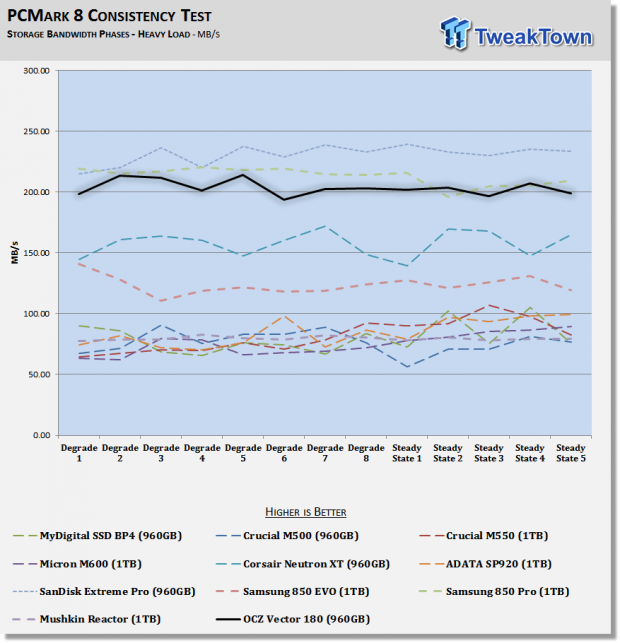 The heavy workload environment puts OCZ in the top three in throughput. It's not like previous Vector products were slow by any means, but Vector 180 is much faster. We think this is a result of the push in mixed workload performance and we are seeing that carry over.
Storage Bandwidth - Typical Consumer Load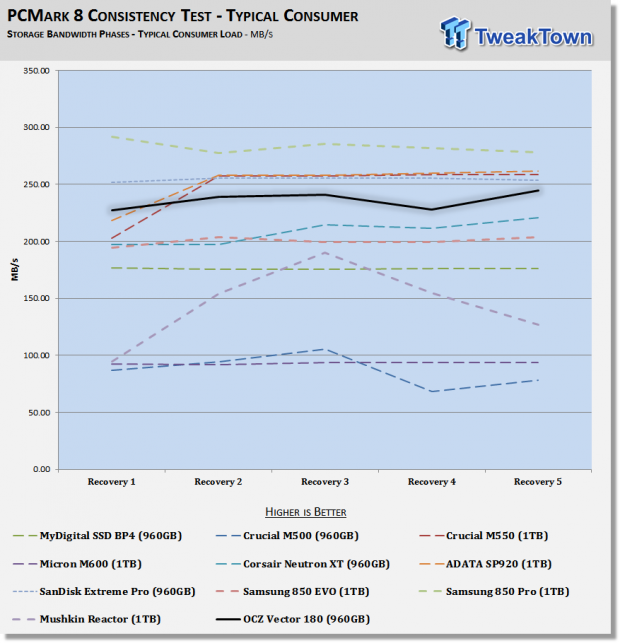 In the client workload tests, we see the Vector 180 slip back to fifth. The SLC cache in the Crucial M550 and Samsung 850 EVO give those products a performance boost when the cache is effective.
PCMark 8 Consistency Test - Continued
Total Access Time - All Tests
The access time test measures the total latency across all 18 tests. This is one of, if not the most important test we run at this time for consumer SSDs. When your latency is low your computer feels fast, it's just that simple.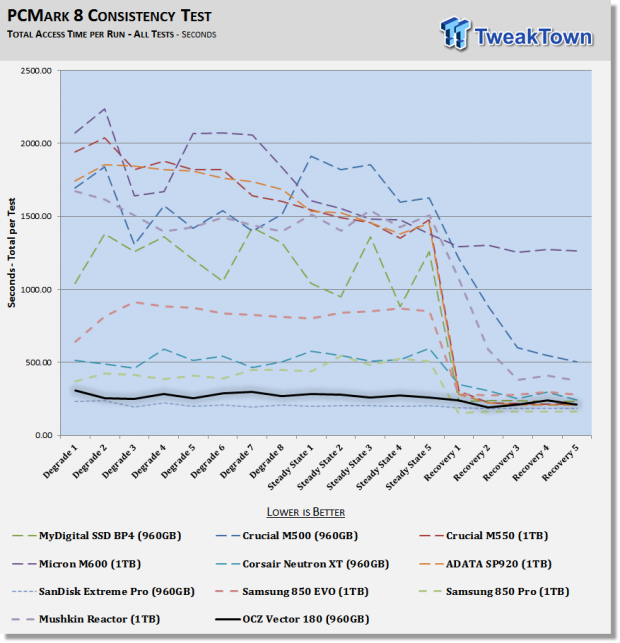 The largest improvement for the Vector 180 over previous OCZ products is in the latency results. The Vector 180 960GB hangs with the Extreme PRO 960GB and delivers lower latency than the Samsung 850 Pro most of the way through the entire test.
Total Access Time - Heavy Load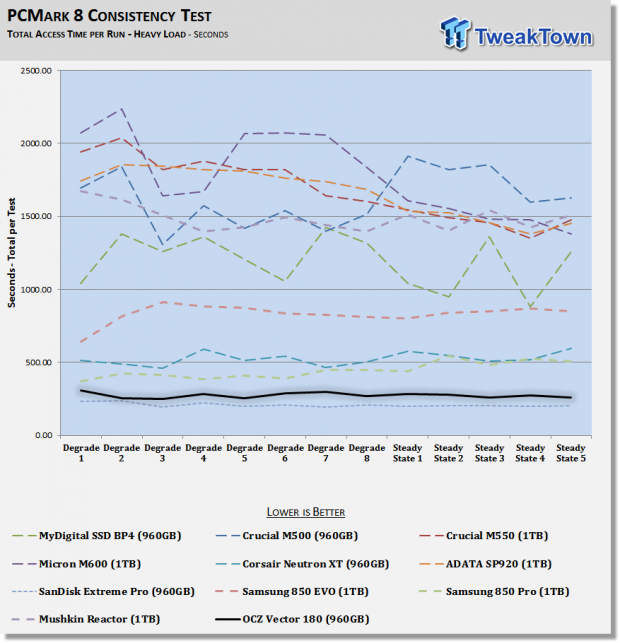 The largest gains are here in the heavy workload tests. Vector 180 960GB acts more like an enterprise SSD than an off-the-shelf client drive.
Total Access Time - Typical Consumer Load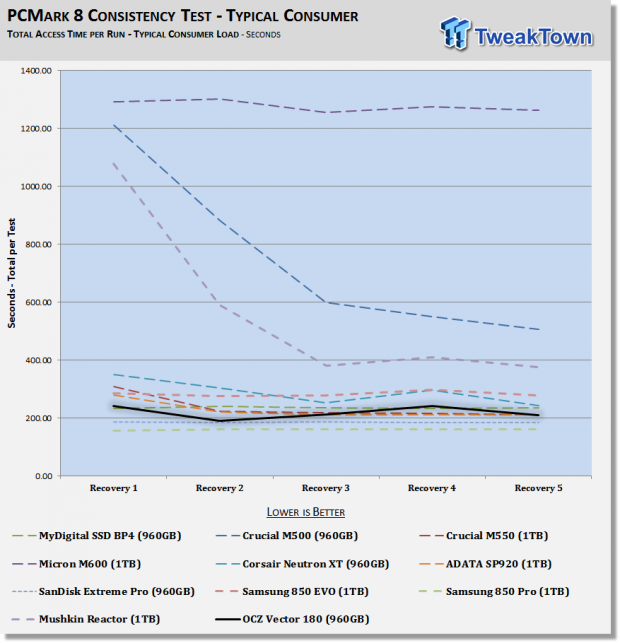 The pack tightens up with the consumer workload latency test. The Vector 180 still puts on a good show with very low latency.
Benchmarks - Power Testing and NAS Cache
Bapco MobileMark 2012 1.5
Version and / or Patch Used: 2012 1.5
Developer Homepage: http://www.bapco.com
Test Homepage: http://www.bapco.com
MobileMark 2012 1.5 is an application-based benchmark that reflects usage patterns of business users in the areas of office productivity, media creation and media consumption. Unlike benchmarks that only measure battery life, MobileMark 2012 measures battery life and performance simultaneously, showing how well a system design addresses the inherent tradeoffs between performance and power management.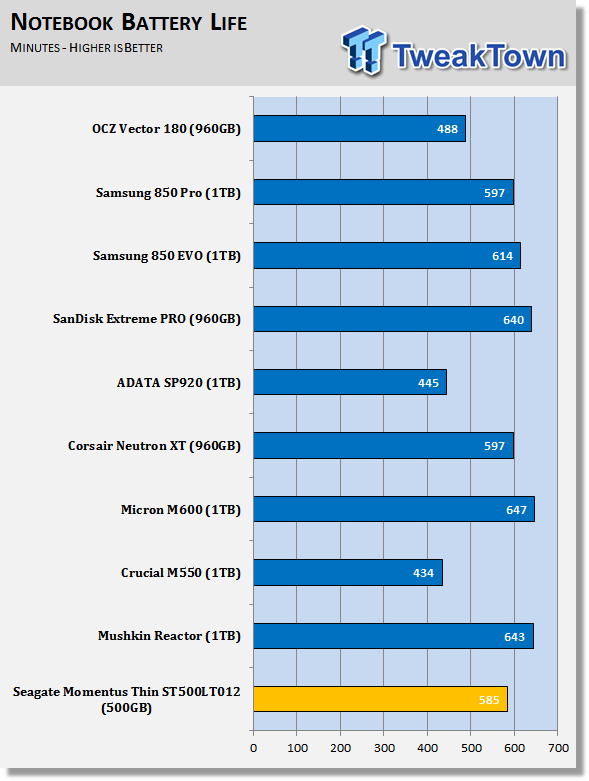 Without DEVSLP, the Vector 180 falls well short of delivering the same notebook battery life as other modern SSDs. This is something to consider if you plan to use the drive in a notebook that is on battery power for a long period.
Power Limited Performance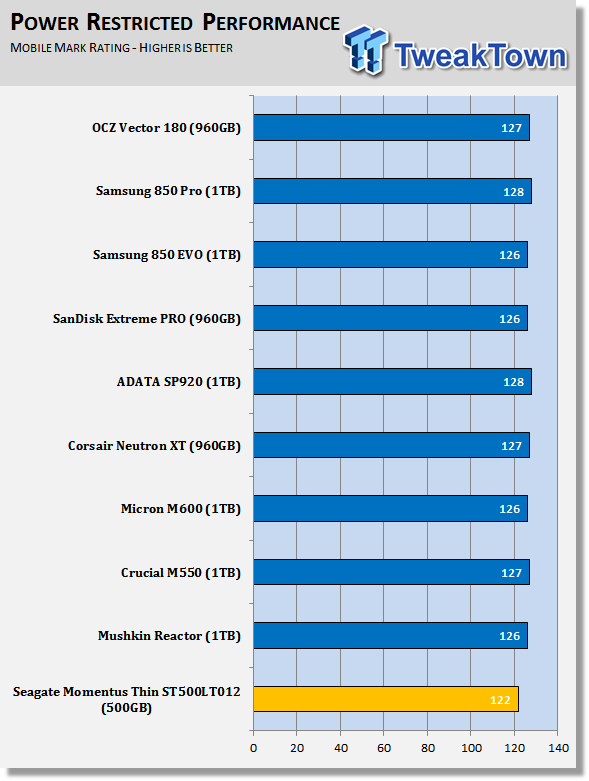 In a power-limited environment with the processor, system bus and other components running in a restricted mode to preserve power, the Vector 180 performs very well. It's too bad the drive uses so much power to achieve these results.
Final Thoughts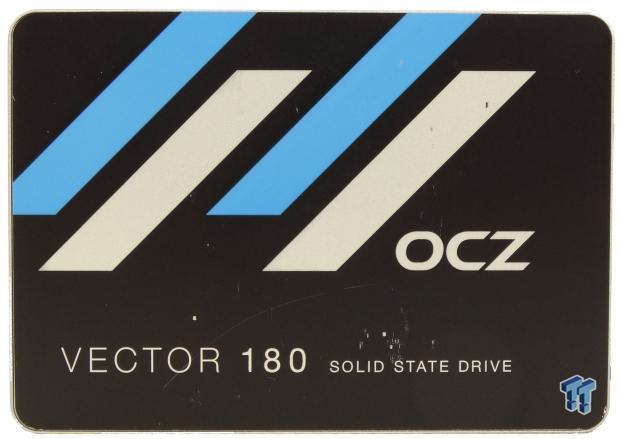 In the review, I stated we would talk more about Vector 180's power failure protection. The drive protects data at rest only and not data in flight.
What is really important is what the feature does for you as a user. Over the years, I've killed several SSDs under test. Most of the preproduction drives in for early tests usually pass away before I'm finished. Those out of the equation, the number one reason for a drive to die under test comes from running secure erase before the drive finishes background activity from heavy workloads.
The second most often reason is the notebook power test where power abruptly fails and the system goes down. Some products take this better than others do, but we've ended the life of many drives like this. The test needs to end like this or we don't get a result with MobileMark 2012 v1.5. We can't control what the SSD is doing at the time of the power failure either.
OCZ's new power scheme takes steps to control data at rest loss. What the Vector 180 does is provide enough power to back up the page table data, the location of your bits on a map. Vector 150 had a very low failure rate to start with, but it's nice to see OCZ taking the extra steps to further decrease failures. For the most part, the new function will be seamless.
The move to A19 flash doesn't bring or detract anything from the Vector 180, at least not in the 960GB capacity size. If anything, Vector 180 is faster than previous larger capacity models. The new flash does allow OCZ to deliver a 1TB capacity size, a product OCZ desperately needed.
The Vector 180 960GB is a very fast SSD for both client workloads and heavy workstation workloads. On the heavy workstation side, OCZ does have the RevoDrive 350 already, and many of us need good workstation performance some of the time, but not enough to buy an expensive PCIe All-in-One RAID device. The performance in workstation workloads is very good.
The client performance could be a bit better. OCZ still doesn't have a strong SLC cache layer IP like some of the other makers. This shows in some of the client tests where other products manage to overtake Vector 180 with slightly lower latency. Overall, the Vector 180 is well balanced, delivering exceptional workstation performance and very good client performance.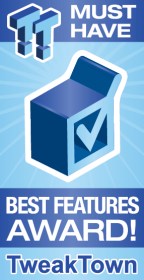 | | |
| --- | --- |
| Performance | 93% |
| Quality including Design and Build | 93% |
| General Features | 96% |
| Bundle and Packaging | 93% |
| Value for Money | 90% |
The Bottom Line: OCZ brings another feature to the flagship product line, while increasing capacity. The Vector 180 SSD should be the last stop before NVMe arrives.
PRICING: You can find products similar to this one for sale below.

United States: Find other tech and computer products like this over at Amazon.com

United Kingdom: Find other tech and computer products like this over at Amazon.co.uk

Australia: Find other tech and computer products like this over at Amazon.com.au

Canada: Find other tech and computer products like this over at Amazon.ca

Deutschland: Finde andere Technik- und Computerprodukte wie dieses auf Amazon.de
We openly invite the companies who provide us with review samples / who are mentioned or discussed to express their opinion. If any company representative wishes to respond, we will publish the response here. Please contact us if you wish to respond.