Crucial CT4G4DFS8213 DDR4-2133 16GB Quad-Channel Memory Kit Review
For his first review as our new memory editor, today Chad reviews Crucial's Value DDR4-2133 16GB quad-channel memory kit.

Published Wed, Feb 25 2015 9:10 AM CST
|
Updated Tue, Nov 3 2020 6:59 PM CST

While DDR4 may be slightly new, as well as the system we put together to continue on with testing at TweakTown, with some decent clocking skills, it did not take long to get used to the kit, and be able to really put some of this DDR4 through its paces. To get a grasp on just how DDR4 worked, we went to Crucial and asked them for a baseline kit of 2133MHz memory so that we can start at the low-end of memory speeds and work our way up.
That request culminated in us receiving the Crucial CT4G4FS8213 C8FAR1 16GB quad channel kit we are bringing to you now. This kit sports decent timings that anyone should be more than capable of running, where XMP will load these Micron D9 ICs with timings of 15-15-15-36 2T and requires 1.2V to do so. This is memory from their Value line up, so don't expect glitz and glamour with this kit, but like us, you may be surprised at just what is capable from what is seen at the low-end of the spectrum.
Without a whole lot to go from, we did take time to select testing that seems to support what you will find in day to day usage, and we plan to run XMP settings and are going to try to clock for the stars, but also while doing so, we also look for the sweet spot of the memory where we find it may give better results. We also will be running all testing with the CPU overclocked to open up any and all bottlenecks, and hopefully we are able to deliver a competent and thorough review of this Crucial base kit.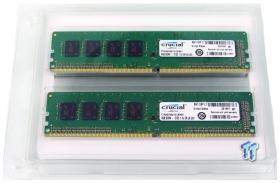 The package arrived and once opened, we see Crucial really puts forth no effort to dress things up. We are offered our four sticks inside of the plastic containers like most memory is shipped in, but the paper insert is left plain, and the only thing denoting what is inside is found by looking at the stickers on the RAM itself.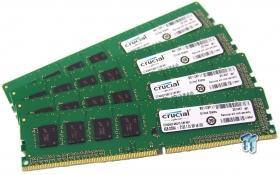 All four of our sticks are single sided, use green PCBs, which is not a favorite of anyone really, but color does not affect performance. Also, if you look closely at the sticks, without any heat spreaders, you can plainly see the Micron D9 RGQ ICs used in this batch.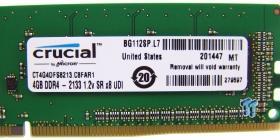 On the sticker, we see the Crucial name and just below is where you will find the model number, type, speed, and voltage of this kit, but no mentions anywhere of the timings used, you need to check the place of purchase or Crucial's site directly to get the 15-15-15-36 timings. It also states to the right that if the sticker is removed it will void the warranty, and with a lifetime guarantee on this kit - we suggest you leave them be.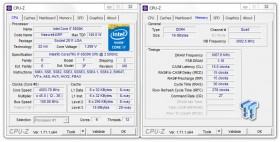 With the kit installed and XMP enabled, we can see to the right that this kit does indeed boot at the stated speed and timings. When looking at the charts to follow, this one would obviously be marked as XMP results for this kit in testing.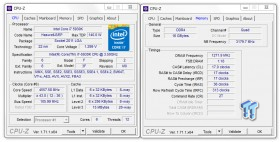 After a bit of fooling around with this Crucial kit, we were able to get a pretty healthy overclock on them as well. To do this, we pushed to voltage to 1.35V for the memory and booted higher straps, and as you can see we also fiddled with the BCLK a bit to get the maximum speed we could out of them. We ended up with 2543MHz with 17-17-17-36 2T timings.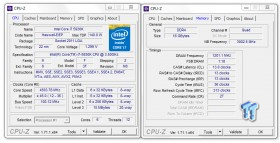 The other angle we took with this kit was to boot the highest memory strap we could, in this case it was the 2400 strap we used, and we simply took the timings down until instability occurs, or there is a drop in the performance level. For this kit, we were able to achieve 2400MHz, but with 1.35V applied still, we were able to drop timings down to 13-13-13-36 2T. Performance continued to go up, but as we tried to post with CAS 12, the system would hard lock and sent the motherboard speaker screaming. In this instance, more voltage did not seem to help our cause, so we stopped with these results.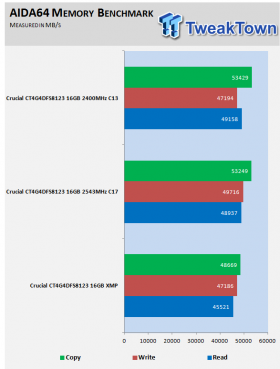 The first bench we put the kit through once we had our setting is the one test we are sure everyone runs at some point to obtain a metric on the speed and efficiency of the memory after tweaking it. Running AIDA64 Memory Benchmark, the results show us that while XMP results are pretty good, when it comes to overclocking, overall speed does not win out over tighter timings. Copy and read like the tighter timings, and only the write speed is benefitted by a larger speed.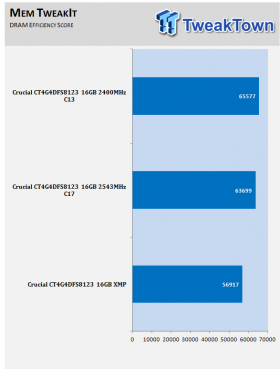 Another easy way to look at the performance of memory, both stock and overclocked, is to download Mem TweakIt, which is a way of changing timings of the memory in Windows. The cool thing about it is that there is a score system that is based off the speed and timing combination, and is a simple way to check if improvements are made. Here again we see that both ways to overclock outperform the XMP results as expected, but again we see that 2400MHz and 13-13-13-36 2T timings won out again.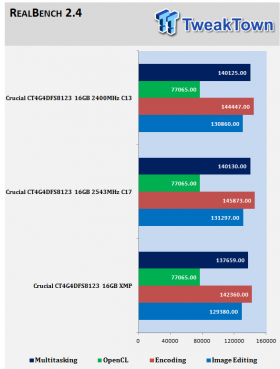 While we run a gamut of testing to verify stability, RealBench 2.4 is a good stability indicator. This test offers heavy multitasking, an OpenCL test, as well as doing some encoding and image editing. They offer an overall score, but we chose to break them into individual scores so the larger picture is revealed. This test suite was chosen because this one does show where speed can overcome timings, even if just slightly, running the higher speed would save you time day to day in these tasks.
Of course, this my first go at DDR4 (as the new memory editor) and the potential of what is capable, but we can say this, for a set of baseline memory, we thoroughly enjoyed its ability to be tinkered with, and even adding some value to our sample, as we were even able to attain the next memory strap (2400MHz) with ease. While we have put sort of a soft voltage limit of 1.35V due to that being the top end of what XMP profiles offer, even adding a bit more into the 1.4V range did not seem to bring us much change. Of course, the XMP profile took off and ran without a hitch providing good numbers for CAS15 2133 RAM, but as our charts show, there is still a bunch of room to play.
In our day to day PC usage, we do a lot of photo editing, but very little work with video, and for our personal needs and usage, we would definitely opt to go ahead and clock this kit to 2400MHz and start dropping those timings. As you saw, even with an additional 150MHz or so, the timings are too loose to show any real increase in performance and that is also with the BCLK higher, CPU speed being higher, and even the cache speed increased and only one set of numbers favored this setup. All in all, we have absolutely no issues with the XMP performance, or the ability once overclocked and adjusted.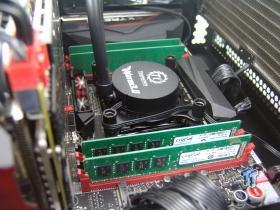 If there is one thing that will be a turn off for most users, it has to be the green PCBs. Of course, this is more the normal way of delivering "value sticks", but even so, we would have much preferred black sticks to hide a bit better in our system, rather than the contrast of that bold green sticking out like a sore thumb. Also, we have found that even without spreaders or active airflow directed right at this DDR4 memory from Crucial, we found no issues with heat at higher voltages, and with XMP set, they run cool and steady.
Considering that the Crucial CT4G4DFS8213 C8FAR1 DDR4-2133 16GB kit can be found for $179.99 at Amazon, including free shipping, there isn't much in this price range at all, and we could only find one or two kits at this speed that even fall under the $200 mark. Then when you factor in that you can attain 2400MHz speeds with this same kit, we again find only three kits comparable in pricing and with the low timings we were able to achieve, it is likely we would outpace the XMP profiles of these kits as well.
Not coming with spreaders and the fact that the PCB is green will limit those who opt to buy this kit, but in our experience, if you don't mind the looks, the Crucial CT4G4DSF8213 16GB kit does offer quite a bit of bang for the buck, and hours and hours of RAM tinkering fun. The reality is, we only tinkered with the main timings in our testing to make our efforts more replicable in other systems, but had we taken the time to tinker with secondary and tertiary timings, performance can only get better for this kit. Looking at things in the aspect of plug and play with the XMP profile in use, you will still be hard pressed to beat the pricing of this kit, and we feel it is a great kit to enter the realm DDR4, its speeds, and on top of all that, still affords the enthusiasts some time to play and get things just the way you want them for your system.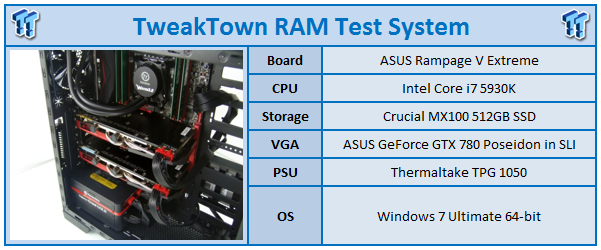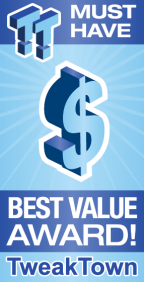 | | |
| --- | --- |
| Performance (including Overclocking) | 91% |
| Quality including Design and Build | 85% |
| General Features | 80% |
| Bundle and Packaging | 75% |
| Value for Money | 96% |
The Bottom Line: This kit may not be pretty, but the capacity, its overclocking ability, and the bottom of the barrel pricing are all great reasons why this 2133MHz speed 16GB kit may be just what you are looking for.
PRICING: You can find products similar to this one for sale below.

United States: Find other tech and computer products like this over at Amazon.com

United Kingdom: Find other tech and computer products like this over at Amazon.co.uk

Australia: Find other tech and computer products like this over at Amazon.com.au

Canada: Find other tech and computer products like this over at Amazon.ca

Deutschland: Finde andere Technik- und Computerprodukte wie dieses auf Amazon.de
We openly invite the companies who provide us with review samples / who are mentioned or discussed to express their opinion. If any company representative wishes to respond, we will publish the response here. Please contact us if you wish to respond.