Justin 2,000mAh Ultra Slim Power Bank Mobile Battery Review
Suitable for a classy night out or a handy addition to store in your bag or car, the Justin power bank will give you a quick emergency zap of power.
Published Feb 18, 2015 9:05 PM CST
|
Updated Tue, Nov 3 2020 6:59 PM CST
TweakTown's Rating: 85%
The Bottom Line
Looking sleek, sexy and streamline, Justin's Ultra Slim Portable portable battery could be more popular with $5 off the asking price and a 3,000 mAh capacity.
Introduction, Specifications, Pricing & Availability
Don't be fooled by their simplistic website - Justin Power Products provide amazingly elegant, stylish and well-thought out portable power solutions.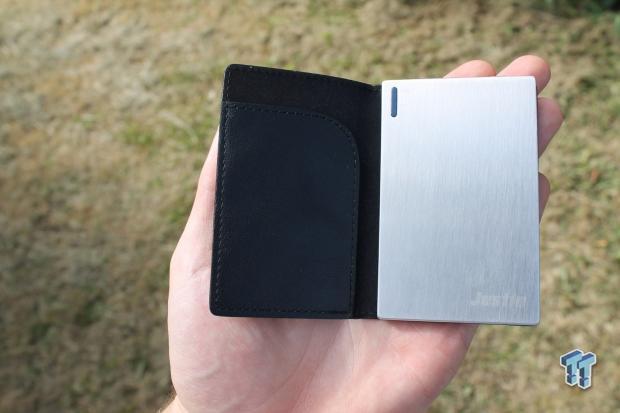 I seriously can't go far without a power bank these days. Whether you're travelling on business, simply visiting clients, or out for a fun-filled day without a wall-socket available, you'll find your phone running extremely low even with 'general use'. Think about a public transport (train) trip into the CBD for example, this is some of the stress your phone will be under:
Spotify constantly pumping beats in the background

Mobile and 3G/4G reception constantly dropping in and out due to tunnels

Friends organizing where to meet over Facebook messenger

Checking your Facebook notifications

A quick scroll of Instagram updates

A refresh or two of your Twitter feed

Activation of your GPS when you get off the train to figure out where you're going

You forget to close all the apps you're not using
5pm rolls around and you hear the well-known 'bloop bloop' of your smartphone informing you that you only have 15% of battery storage remaining. Furious, you open up the control menu only to find that GPS, Wi-Fi, 3G and full screen brightness is still activated - never fear, the Justin Portable Slim is here! Whip it out of your pocket, plug it in and feed on the sweet, sweet glory that is 2,000 mAh of life-saving juice.
With the TYLT 5,000 mAh being my current potable option of choice, can the Justin 2,000mAh overtake this? Read on to find out.
Specifications and Pricing
Featuring 2,000 mAh of internal storage, a brushed metal finish, and a handy leather carry pouch, this charger comes with the ability to rock it solo (without the pouch) or be easily stuck on if you see fit. We found it online for sale for around $40.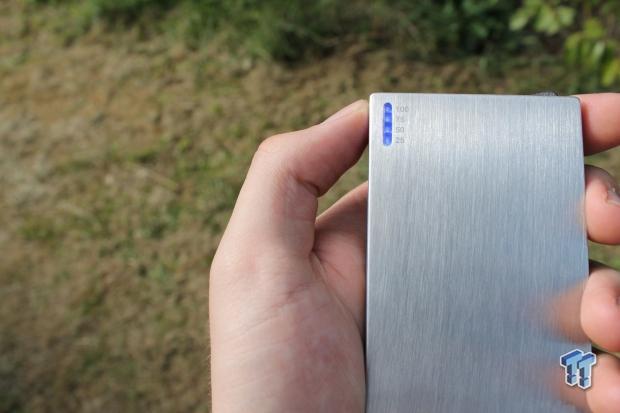 It's also got one of the best battery capacity meters I've ever seen with clearly displayed LED's marking 25%, 50%, 70% and 100% levels on the exterior of the device. Most other chargers have one, two or three randomly displayed or colored lights that loosely represent different battery levels, making it generally very hard to see where they stand exactly.
Of course, because this is only 2,000 mAh, don't expect to round up your mates and pump all of their Galaxy Note's full to the brim - 2,000 mAh will equal realistically about 1,850 mAh when injected into your phone thanks to losses in power, meaning that by my calculations this equals:
66% of a Samsung Galaxy S5

63% of an iPhone 6 Plus

102% of an iPhone 6

57% of a Google Nexus 6
What's in the box?
Alongside the unit itself and some short manuals, included is the synthetic leather carry case, designed for holding the small charging cable that comes with the device - set to utilize the one included cable to complete various tasks including charge and discharge of the battery thanks to a range of adaptors included within the box.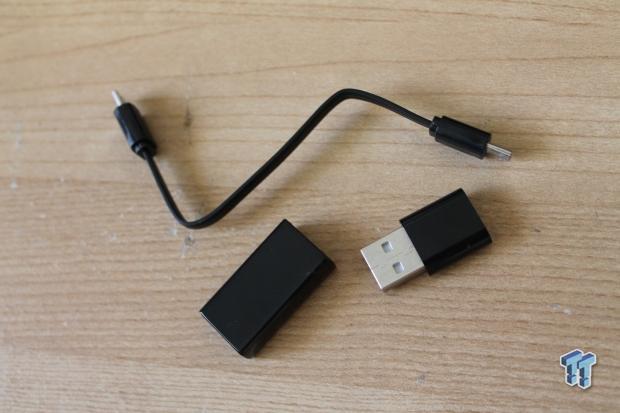 The cable itself is micro-USB male to micro-USB male in design and comes with two adaptors - a micro-USB female to USB-male and a USB-female to micro-USB female port. These two adaptors insure that no matter what your set-up (Android standard providing), you can charge and discharge the device.
Complications then come with alternative devices. For example, if you have an iPhone, you will have to either get your own micro-USB to Apple cable, or you could use their micro-USB female to USB female converter - adding your pre-existing Apple cable into the mix. Confusing? Yes. Handy? Also yes. However, this makes for quite a lot to carry - nullifying the small, light and simple design.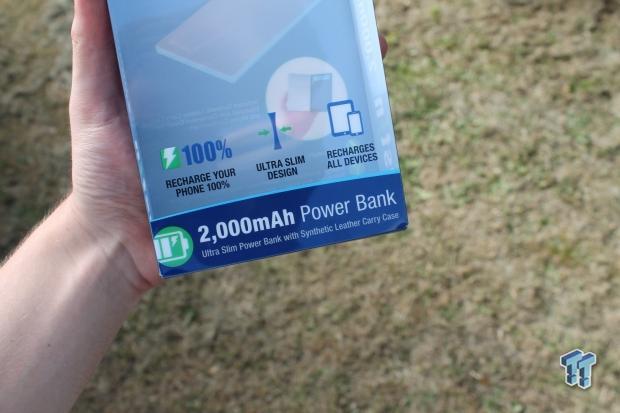 The actual box itself is nicely produced and displays the product well, without you having to open and flaps or really dig deep into the exterior.
A Closer Look
Let's dig deeper
The included pouch is big enough to fit in two or three cards of choice, meaning you can pack away an ID, credit and debit card when travelling or spending a night away from home. However, the issue comes when you're trying to include the cable into the mix. It seems that only the cable and one card could be used at a time.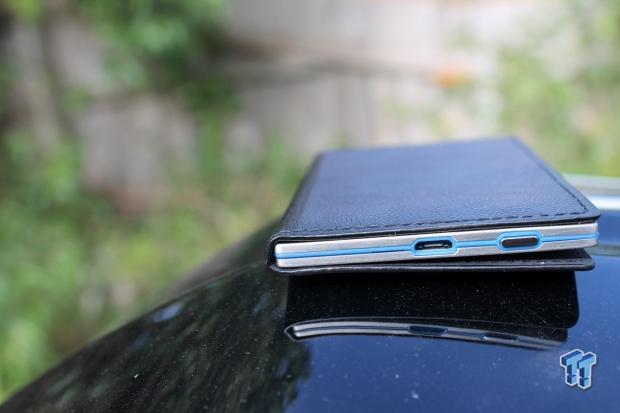 The obvious solution to this issue is to carry the whole device alongside your normal wallet, however, I feel that it removes a lot of the appeal for this product in the first place. It would be awesome if they could include different cover options with the product, either packaged in the same box, as different inclusions when purchasing or as a bonus-purchase option at a later date.
As mentioned before, if you've got an Apple product, you're going to have a bad time - seeing either third-party cables needing to be utilized, or a wide string of cables, adapters and cables again to connect from this device to your Apple device of choice. In the end, this removes the whole 'clean and simple' aspect completely.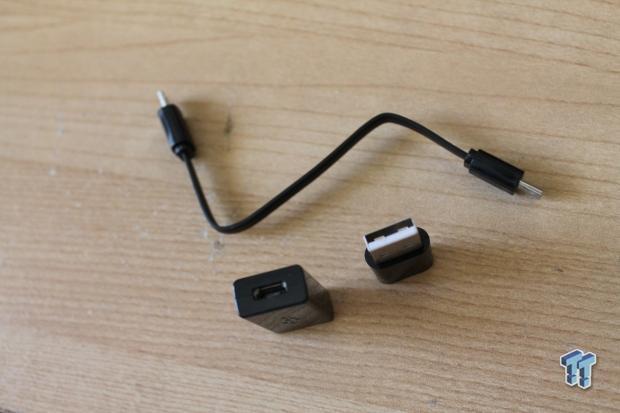 How does it perform in the wild?
At a rave
I took this charger on my trip to go and watch Nosiecontrollers perform live as part of an Australian tour. As mentioned previously, the battery pack covering was simply not large enough to fit in my driver's license, bank card and small amount of cash - meaning, I threw it in my string backpack and wandered off to the event.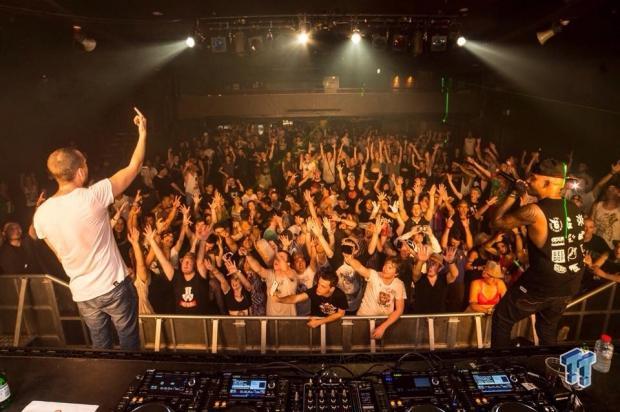 By around 3am my phone was hurting - this was thanks to poor signal within the club, various Facebook Messenger updates from late-arriving friends and Snapchats flying left, right and centre. I found it extremely easy to use this charger whilst operating my phone normally, as it sits very nicely behind my Samsung Galaxy S4 held all-in-one hand. Obviously, I wouldn't use the charger mid-dance, however, when sitting in the cool nightly breeze, I was able to use the charger without any issue.
Small gathering of friends
The second test was at a small house-party that happened on Australia day.
Once again, I was able to keep the charger plugged in for the majority of my experience - as we were sitting down playing Cards Against Humanity. This time I kept the charger plugged in for extended periods of time, whilst operating my phone as per normal use, thanks to the free-flowing BBQ food and beverages meaning that I didn't have to rise out of my comfy chair.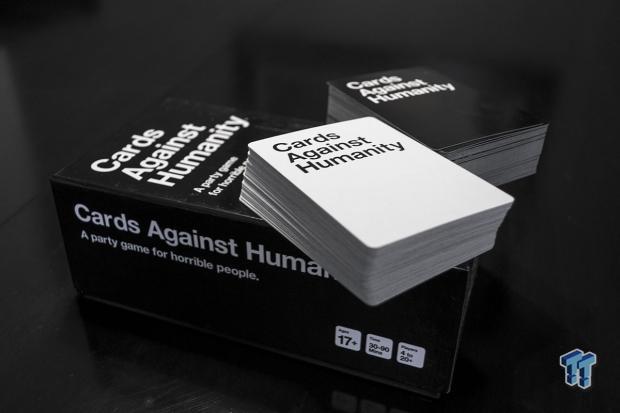 What's Hot, What's Not & Final Thoughts
What's Hot
Simplicity: At first look, the Justin 2,000mAh Ultra Slim Power Bank is sleek, slim, stylish and sexy.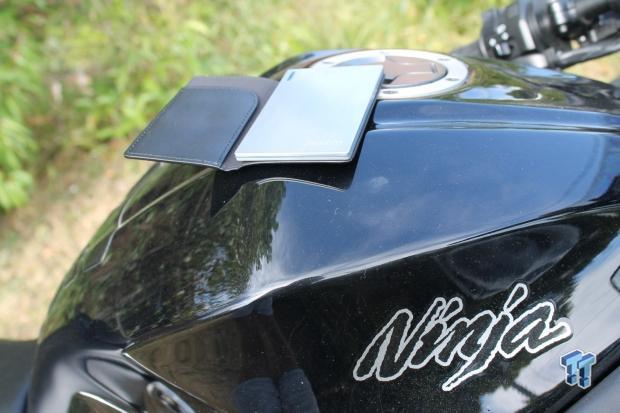 Easy to use all the time: As I mentioned a few times in this review, I was surprised how easy it was to use this device to charge my phone, while continuing to operate my device as per normal.
Portability: There is no issue fitting this product in your jeans, shorts or handbag alongside your other general items like keys, smartphone and wallet.
What's Not
Tricky connections: If you already have a micro-USB cable to charge the device itself and if you're currently using Android product, you're set. However, if you're on the Apple side of life, expect some complications when trying to use this device.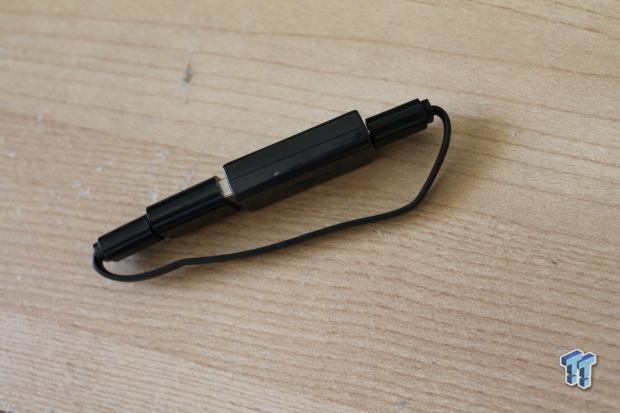 The leather carry case: This is really a hit-and-miss inclusion. Sure, it looks awesome, can fit a small amount within and really ties-off the product - it's just simply not big enough and can't hold enough within. Once again, unless you've got a standard Android micro-USB charged device.
Final Thoughts
If you've got a micro-USB charged device, you seriously would find it hard to look past this offering. As most battery packs contain crazy-large amounts of mAh located within, it means they're large, bulky and take a long time to charge. However, this device is simple to carry, easy to use and comes with a cool pouch that will let you store some simple items within - do you realistically need between two and six charges of your phone while you're out on a day-trip? 2,000 mAh should do just fine.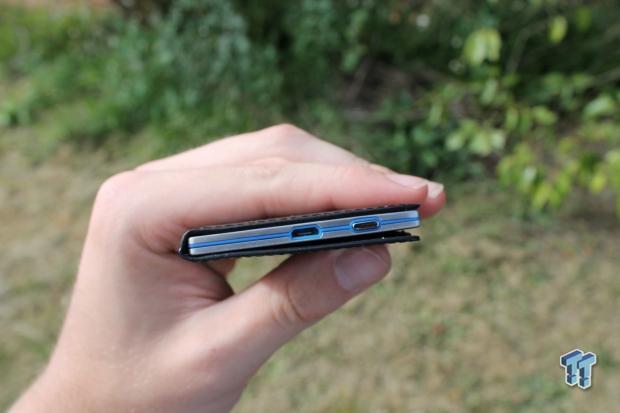 Besides the little pouch being too small to suit some people's needs, you shouldn't have much trouble carrying the product alongside your general additions to the pants-pocket or handbag: your keys, wallet and mobile phone. If Justin could only drop $5 off the asking price, this product could make it into many more people's possessions.
| | |
| --- | --- |
| Performance (Amount of mAh) | 75% |
| Quality including Design and Build | 95% |
| General Features | 90% |
| Bundle and Packaging | 85% |
| Value for Money | 80% |
The Bottom Line: Looking sleek, sexy and streamline, Justin's Ultra Slim Portable portable battery could be more popular with $5 off the asking price and a 3,000 mAh capacity.
PRICING: You can find products similar to this one for sale below.

United States: Find other tech and computer products like this over at Amazon.com

United Kingdom: Find other tech and computer products like this over at Amazon.co.uk

Australia: Find other tech and computer products like this over at Amazon.com.au

Canada: Find other tech and computer products like this over at Amazon.ca

Deutschland: Finde andere Technik- und Computerprodukte wie dieses auf Amazon.de
We openly invite the companies who provide us with review samples / who are mentioned or discussed to express their opinion. If any company representative wishes to respond, we will publish the response here. Please contact us if you wish to respond.