ORIGIN PC MILLENNIUM 4K Gaming Desktop Review
We have probably one of the most overkill desktops we've seen. Sporting three GTX 980s, the MILLENNIUM is built to withstand 4K gaming and beyond.
Published Wed, Jan 7 2015 9:14 PM CST
|
Updated Tue, Nov 3 2020 6:59 PM CST
Rating:

94%
Manufacturer: ORIGIN
Introduction & Specifications, Configurations and Pricing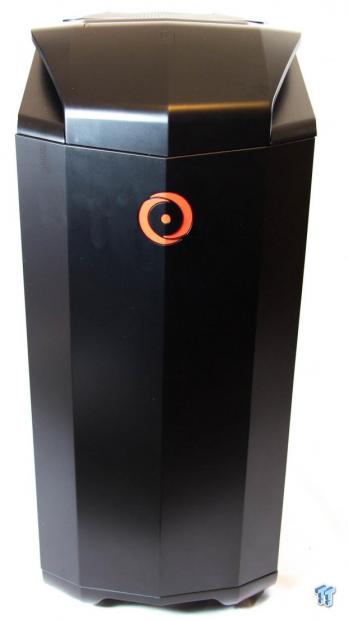 We're taking a look at our first ORIGIN desktop. We've taken a look at numerous ORIGIN laptops and have come away impressed. Will the MILLENNIUM stand up to the high bar we've come to expect from ORIGIN?
A little background on the MILLENNIUM. This mid-tower gaming system is designed specifically for 4K gaming, and features three GTX 980s in SLI to reach that end. So, we're going to throw everything at it, including Futuremark's new 4K test.
We've gone ahead and retired Futuremark Vantage as it was getting a bit long in the tooth. Instead, we will be running the new 4K benchmark from Futuremark, as 4K is where gaming is heading - we just need 120Hz 4K monitors!
Let's go ahead and dive into this review with high expectations and see how the MILLENNIUM performs.
Specifications, Configurations and Pricing
The heart of the MILLENNIUM is an LGA 2011 Intel Extreme Core i7 5960X 8-core CPU. It features HyperThreading, which means the user has a total of 16 threads available. It's manufactured on the 22nm lithography and was just launched in Q3 of 2014. On its own, it will set you back around $1k, so you can see where we're going with this system.
Cooling the CPU is a custom watercooling setup. Our system is cooled by ORIGIN's Frostbyte 360 cooling, which is an all-in-one system featuring a 360mm radiator. We should see excellent cooling from this system, making overclocks quite easily achievable.
Playing the spine of our system, the ASUS X99-DELUXE makes its way into our system. This X99 system features ASUS' patent-pending OC Socket, dual M.2 x4 expansion slots, on-board 802.11ac Wi-Fi, and five PCIe x16 slots. On the IO panel, we have dual Intel LAN, 10 USB 3.0 ports, and 8-channel audio. Suffice to say, this board kicks ass.
Slotted into the four-channel DIMMs, four 4GB sticks of Corsair LPX 2133MHz DDR4 RAM provides a total of 16GB of RAM for the user. This follows my rule-of-thumb of 1GB per thread, though I certainly wouldn't mind having 32GB. Battlefield uses quite a bit of memory--6GB+--on my system, and games will likely only take up more and more RAM.
Here is where the overkill continues. We have triple 4GB GeForce GTX 980s in SLI, making for one hell of a graphics powerhouse. We even have NVIDIA's gorgeous SLI bridge used to connect up the cards, making the system one slick machine. The only downside is that the three cards are stuck right next to each other, restricting air flow and causing the fans to spool up more than should be required. We'll see how this affects the noise production a bit later in the review.
Power for this beast of a machine is provided by a 1300-watt EVGA Supernova 1000 G2 PSU. As you'll see on the power draw page, this should probably be upped to 1400-1500W.
Windows 8.1 64-bit is installed upon the 1TB Samsung 840 EVO SSD. Mass storage is provided by an ORIGIN approved 3TB hard drive.
The entire system is stuffed into a custom ORIGIN case, which features easily removable doors and a white theme, though really any color can be applied to the side panels. The case also features remote-controlled lighting that can produce a wide range of colors.
As always, ORIGIN offers highly customized versions of the MILLENNIUM, and configurations start at just $1500. This specific config will set you back an eye-popping $5,999.
Packaging, Bundle & System Pictures
Packaging
Above left, you can see the ORIGIN PC Wooden Crate Armor that our system arrived in. Make sure you have an electric drill on hand as you'll have to remove around 16 screws to gain access to the inside. Above right, you can see what we were greeted by after removing just the top of the crate.
Above left you can see the system's box with the crate side panel removed as well. We definitely recommend following the instructions or you'll have a battle just to remove it. Above right, you can see how the system was packed in the box. The box is easy to remove the system from. Just simply undo the plastic clips, and the outer shell will easily lift straight up, leaving the system available for easy access.
Above left, you can see that the system ships with a protective cloth covering to protect from dings and scratches during shipping. Above right, you can see that the standard vacuum foam is used to protect the triple GTX 980s.
System Pictures
The following pictures are of the system:
Above left, you can see the front of the system. Above right, you can see the system with its front door open. Inside the front door, the 5.25-inch bays can be found, as well as a 5-bay hot-swap HDD cage.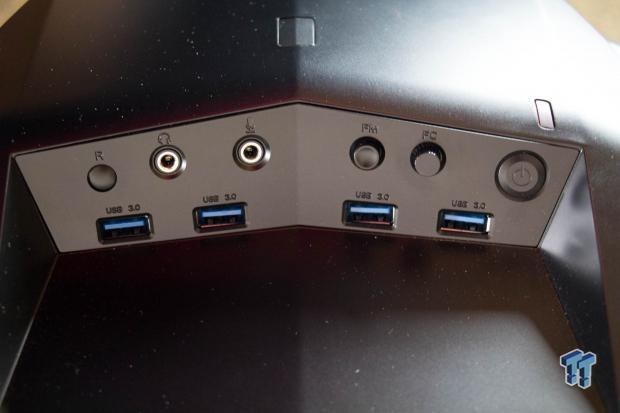 Above, you can see the front IO. We have a reset button, four USB 3.0 ports, a headphone and microphone jack, power button, and a fan control dial.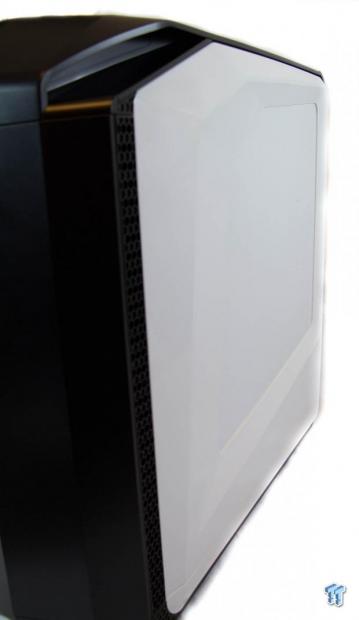 This is the right side of the system. As you can see, the case makes use of white side panels, matching the motherboard and sleeved cabling, which you will see shortly.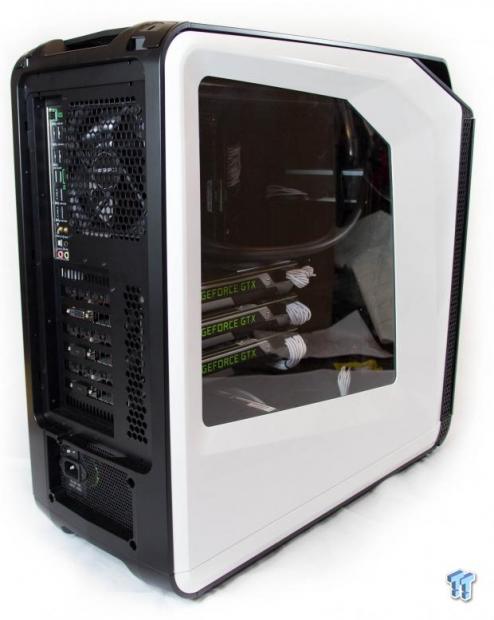 Here you can see the left of the system, which is the panel you'll want to remove to access the internal components.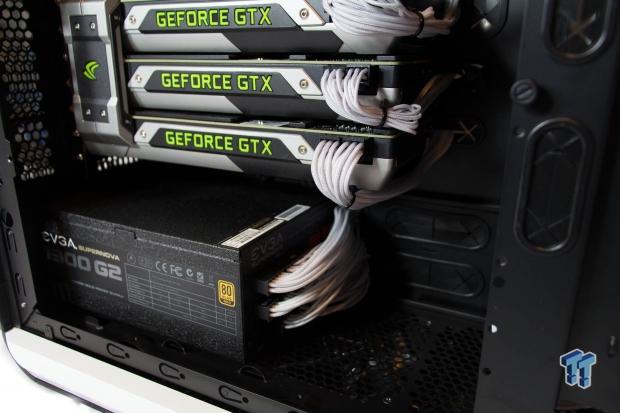 Here we can see the majority of the internals. You can see the waterblock features ORIGIN's logo. In the top of the case, the 360mm radiator is mounted.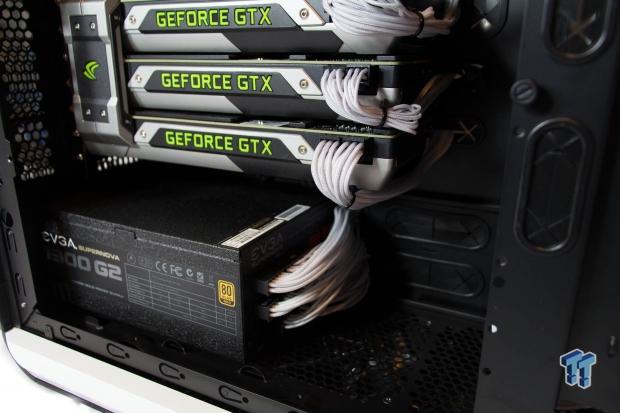 This is a closeup of the sleeved cables. As you can see, the overall system has a white theme. You can also see how much work went into the cable management.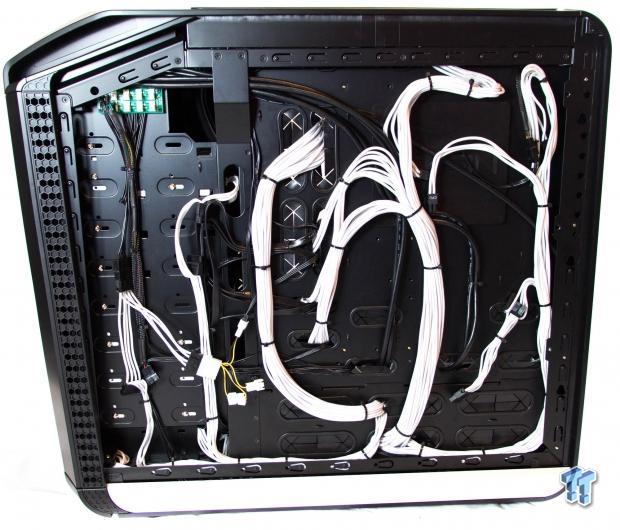 Speaking of cable management, here is the backside of the motherboard tray. It's quite beautiful indeed.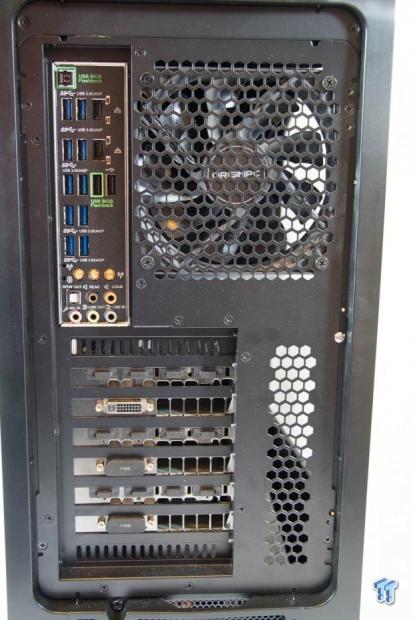 Here we have a picture of the IO. The highlights include the 10 USB 3.0 ports and dual Intel LAN.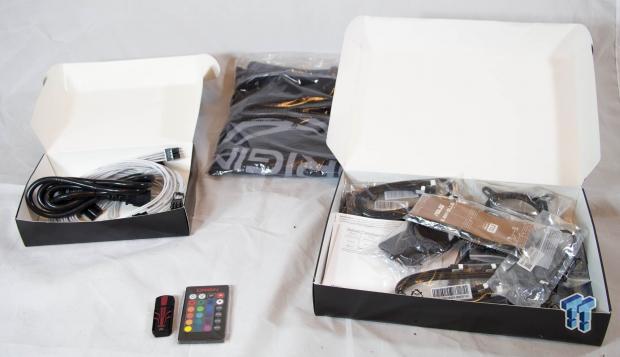 Here we have the spare and unused parts, an ORIGIN shirt, manuals, the light controller, and a 16GB recovery USB.
Testing Methodology
We appreciate the support provided by Corsair, GIGABYTE, and ASUS. Without their support, our job would be much more difficult.
Benchmarks and Testing Methodology
- CPU Tests
Cinebench R11.5 starts off our tests. The multi-threaded rendering test is ran and the score reported.
wPrime is ran for both the 32M calculation and 1024M calculation with the number of threads available on the system.
- Storage Tests
CrystalDiskMark is run to put a number on how well the system hard disk drive / SSD runs. It measures five different metrics, of which higher is better for all. The higher the numbers, the snappier the operating system will feel, especially if the "4K" number is high as most operating system files are small files.
HD Tune is run on any storage drives installed in the system. Maximum, minimum and average read and write speeds are reported in the charts.
- System Tests
PCMark 8 Creative is run to get an idea of how the system performs as a whole. It tests all aspects of the PC and puts a score on how well it performs overall. In this test, a low scoring area can affect the overall score, so it's important to read the analysis. A higher score is better.
- Gaming Tests
3DMark 11 is run on the Extreme preset and the Physics, GPU and combined scores are reported. This test is only run if the system supports DirectX 11. A higher overall score is the target, though a high individual result shows prowess in a particular area.
3DMark- Fire Strike Extreme Test is run on the system to measure DirectX 11 performance and CPU performance. 3DMark is the latest version of Futuremark's widely used gaming benchmarking software. The combined, GPU, and Physics scores are all reported in the charts.
3DMark- Fire Strike 4K test is run on the system to measure 4K performance. This benchmark replaced Vantage.
Battlefield 4 is run at 1080p and 4K resolution with the graphics preset set to "Ultra." FRAPS is used to record 60 seconds worth of FPS data. The game is played in a similar manner each time.
Crysis 3 is run at 1080p and 4K resolution with the graphics specifications set to "Very High." No anti-aliasing is used. See picture on actual test page to see full details. FRAPS is used to record 60 seconds worth of FPS data. The game is played in a similar manner each time.
- Heat, Noise and Power Consumption
The system is fully loaded using Furmark and Prime 95. Component temperatures are recorded using CoreTemp and Furmark. Noise is recorded in front of the system, midway up, six inches from the machine using a decibel reader.
Idle power consumption is system consumption while sitting at the desktop, as recorded by a Kill-a-watt style meter. Loaded consumption is recorded during the load of Prime 95 and Furmark using the same meter.
Benchmarks - CPU Tests
Cinebench
Version and / or Patch Used: R11.5 build CB25720DEMO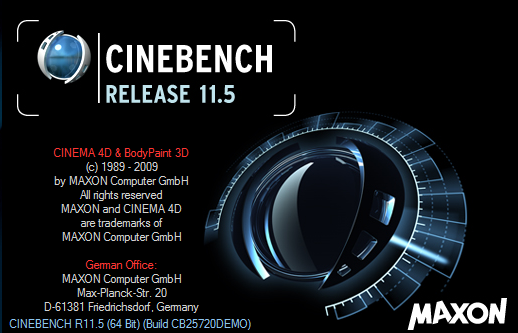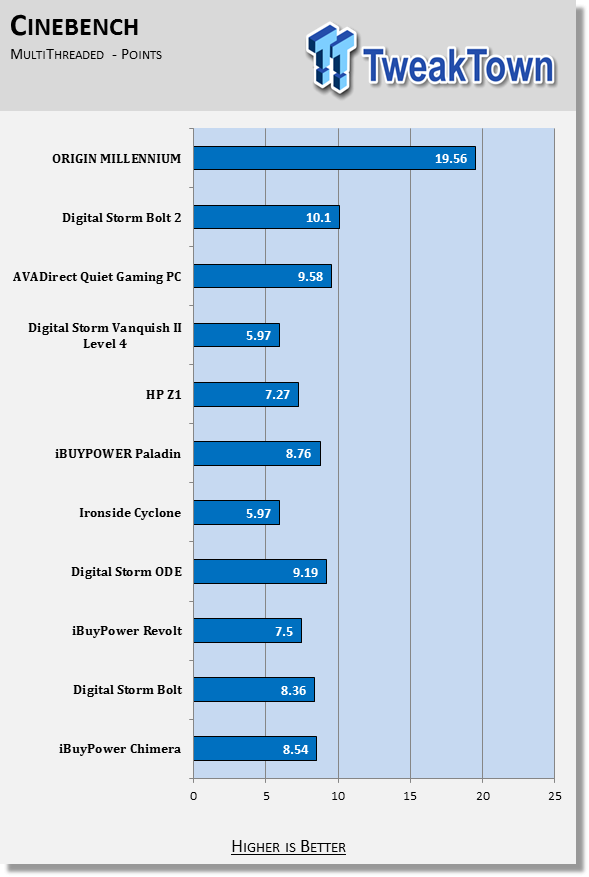 The MILLENNIUM is simply in a category of its own. It's the first LGA 2011 desktop we've had in the lab, and it features twice the cores and threads of the other systems. As such, it absolutely dominates with a score of 19.56. Wow.
wPrime
Version and / or Patch Used: 2.09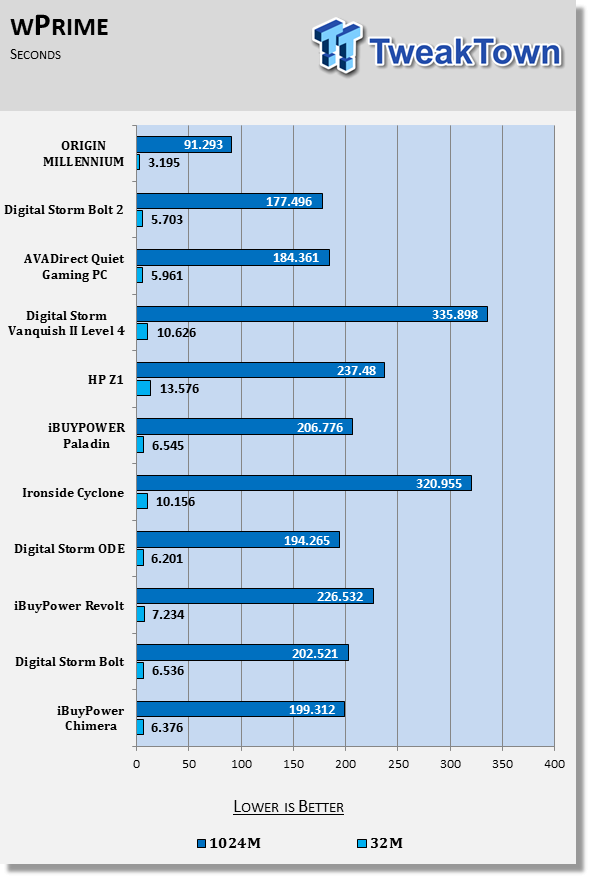 The MILLENNIUM also dominates wPrime, and this is a trend I expect to continue throughout the benchmarks. We see a blistering 3.195s for 32M, and just 91.293s for 1024M.
Benchmarks - Storage Tests
CrystalDiskMark
Version and / or Patch Used: 3.0 Technical Preview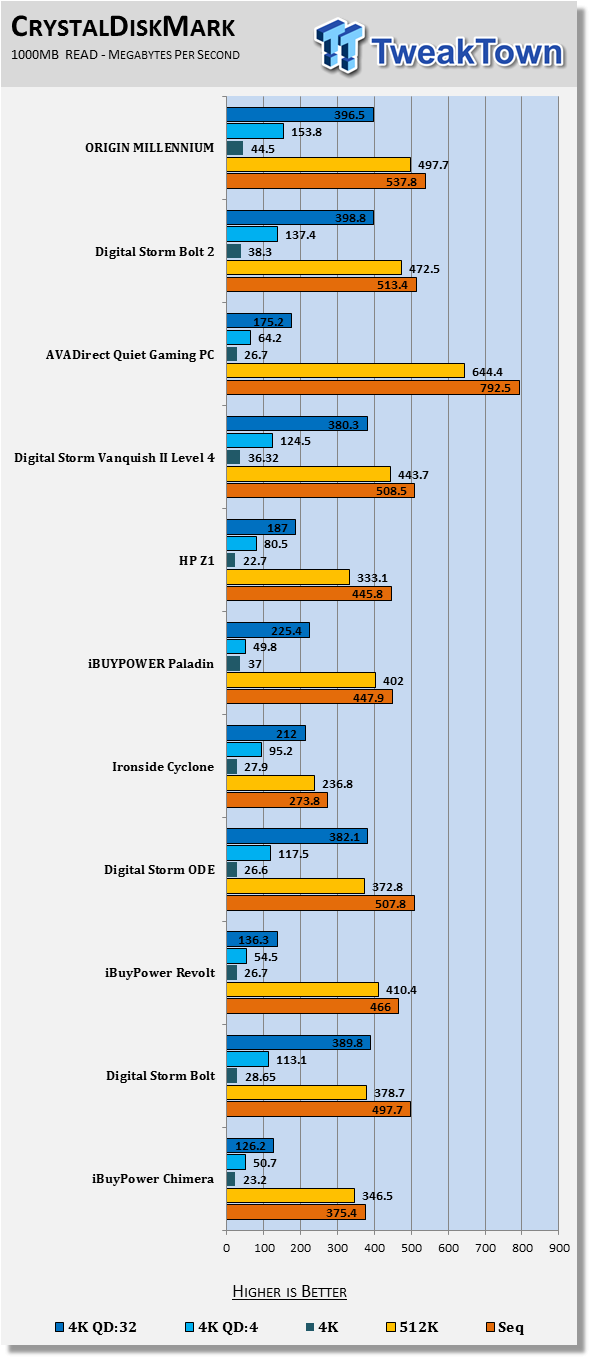 The MILLENNIUM produces the fastest 4k read speeds, though the sequential speed is behind some other systems. 4k read speeds are most important as most operating system files at around 4k in size.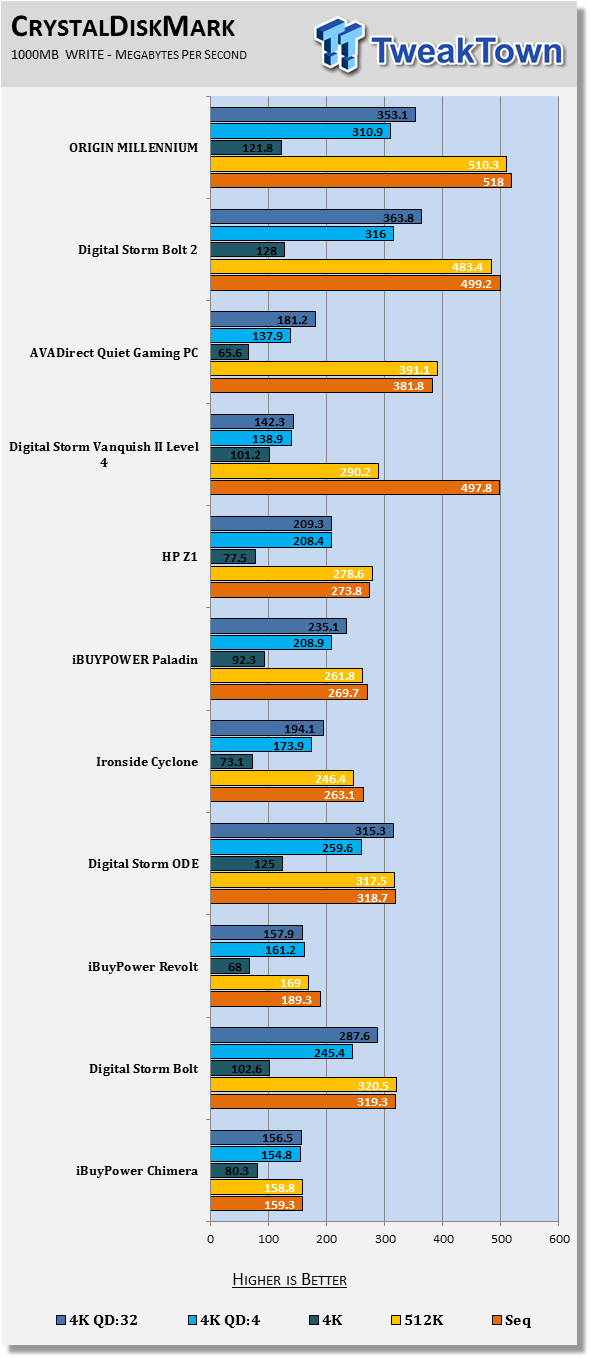 Write speeds are equally impressive, with the 4k write speed coming in at 121.8 MB/s. This is behind a couple of other systems, but just by a bit. The sequential write speed tops our chart at 518 MB/s.
HDTune
Version and / or Patch Used: 5.00
HD Tune Pro gives us accurate read, write and access time results and for the last couple of years has been gaining popularity amongst reviewers. It is now considered a must have application for storage device testing.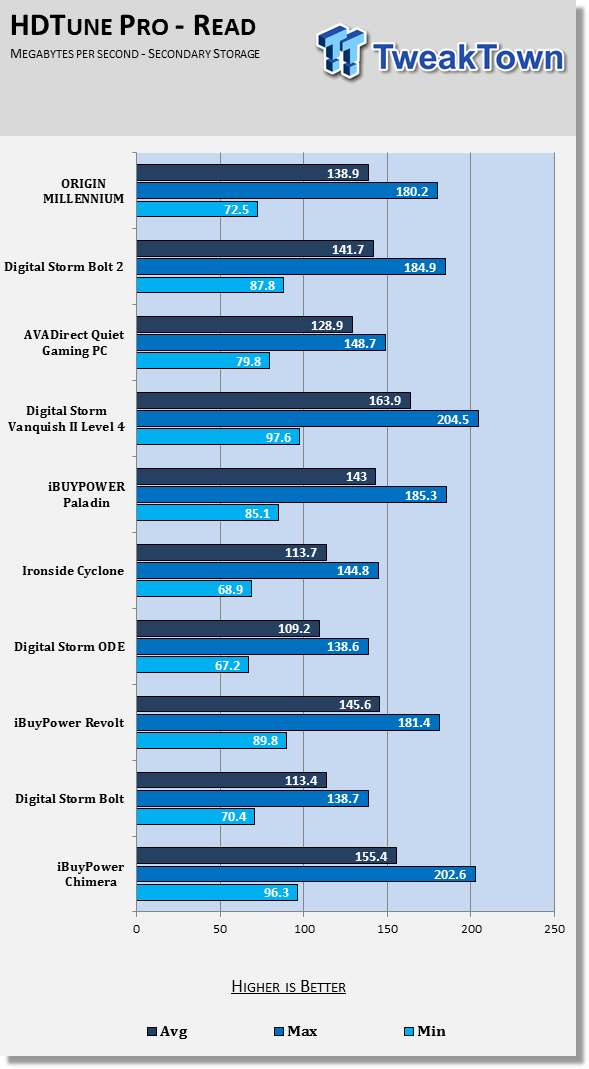 Our ORIGIN Approved mass storage drive falls in line with most of the other drives tested. We see an average read speed of 138.9 MB/s, which is roughly middle of the pack.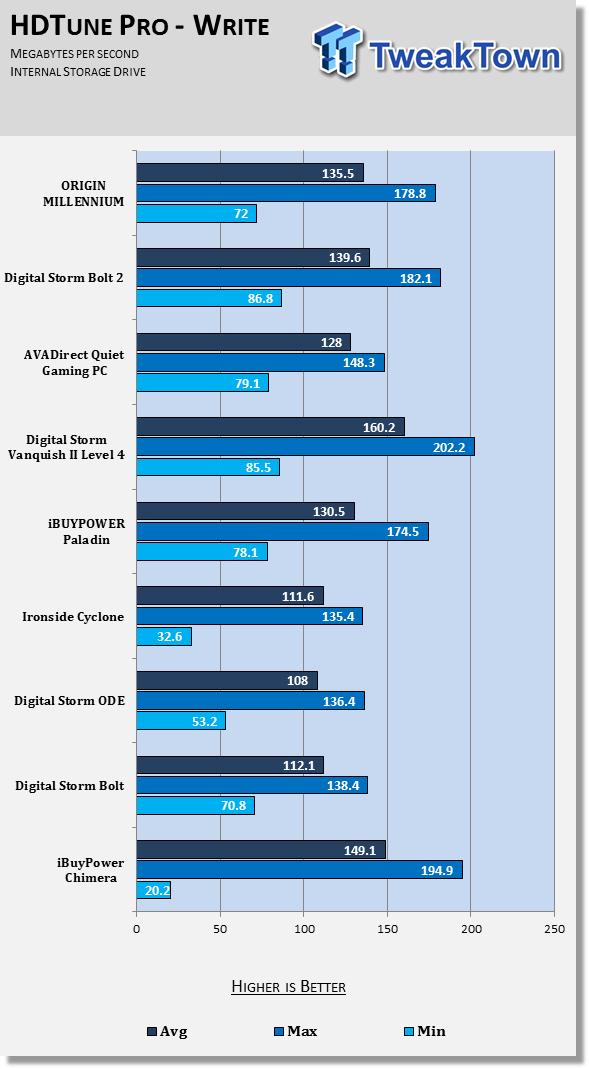 Write speeds see the same as above. We see an average write speed of 135.5 MB/s, which is towards the front of the pack.
Benchmarks - System Tests
PCMark 8 - Creative Test
Version and / or Patch Used: 2.0.228
PCMark 8 comes with various benchmarks to assess PC performance in key areas. As we are testing performance desktop systems, we utilize the Creative Test, non-CL accelerated.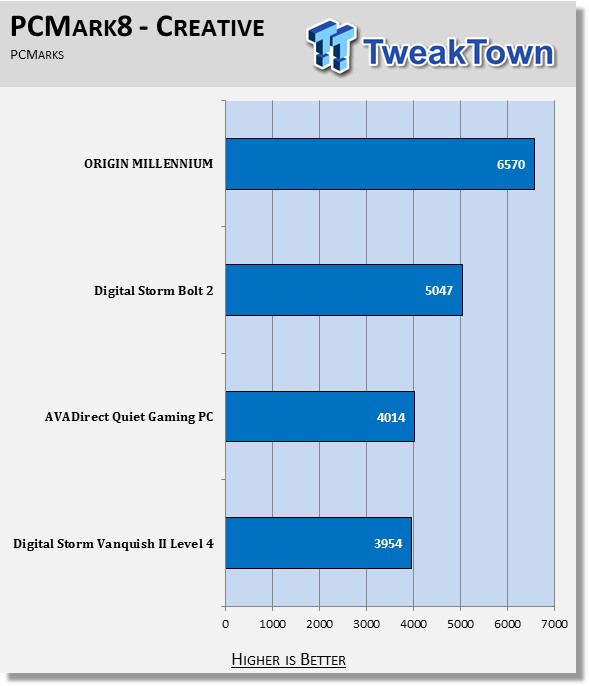 The ORIGIN PC MILLENNIUM absolutely dominates the competition, keeping with the results we've seen so far. This powerful desktop produces a score of 6,570, which is over 1,500 higher than the next best desktop we've had in the lab.
Benchmarks - Gaming Tests
3DMark 11
Version and / or Patch Used: 1.0.3.0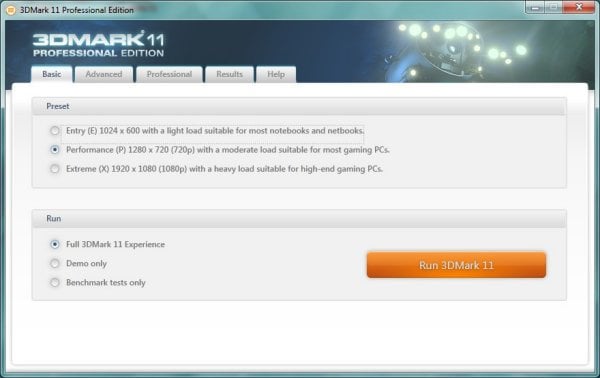 3DMark 11 is the latest version of the world's most popular benchmark. Designed to measure your PC's gaming performance 3DMark 11 makes extensive use of all the new features in DirectX 11 including tessellation, compute shaders and multi-threading. Trusted by gamers worldwide to give accurate and unbiased results, 3DMark 11 is the best way to consistently and reliably test DirectX 11 under game-like loads.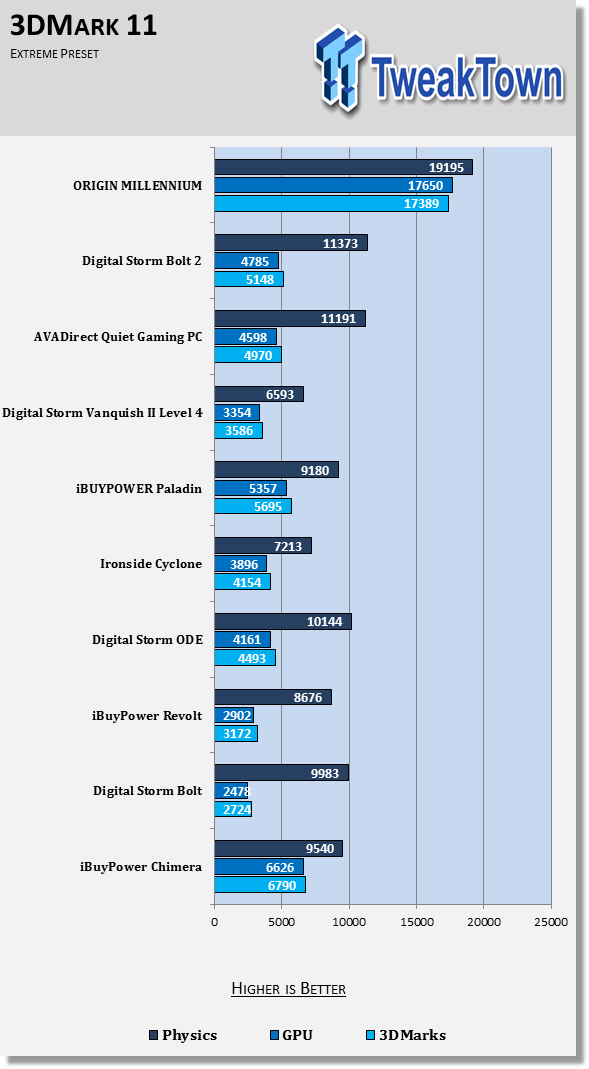 None of the other systems in our chart even stood a chance. The MILLENNIUM absolutely dominates with an overall score of 17,389. The next highest score is just 6,790. That's a difference of over 10k points.
3DMark - Fire Strike Extreme
Version and / or Patch Used: 1.0.0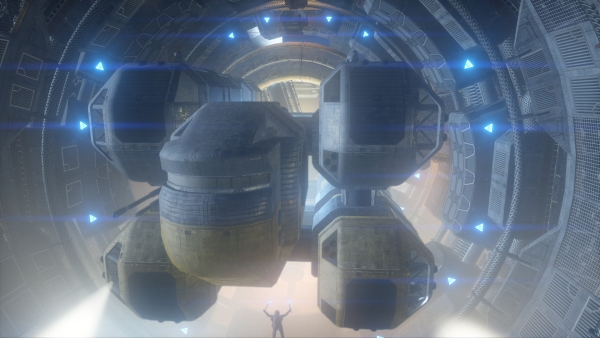 Fire Strike is a new test that is designed for powerful gaming desktops. We have checked the "Extreme" test option to make it that much more torturing on the system. Overall, CPU, and GPU scores are reported.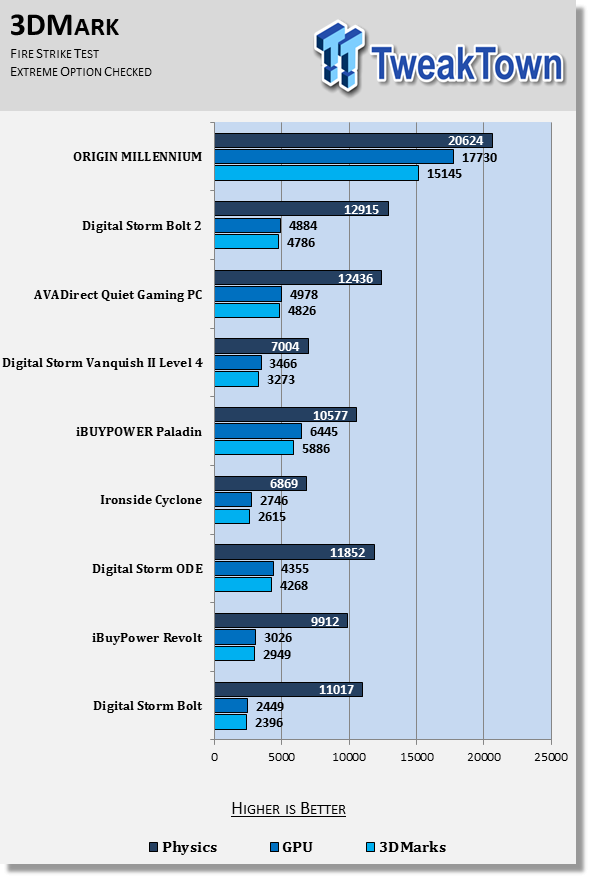 Again, the MILLENNIUM absolutely kills the other systems with an overall score of 15,145. The next closest score is nearly 10k lower. But you will pay for this performance.
3DMark - Fire Strike 4K
Version and / or Patch Used: 1.4.778

Fire Strike Ultra is a new test that is designed for powerful gaming desktops. This benchmark renders at 4K, putting an incredibly large load on systems.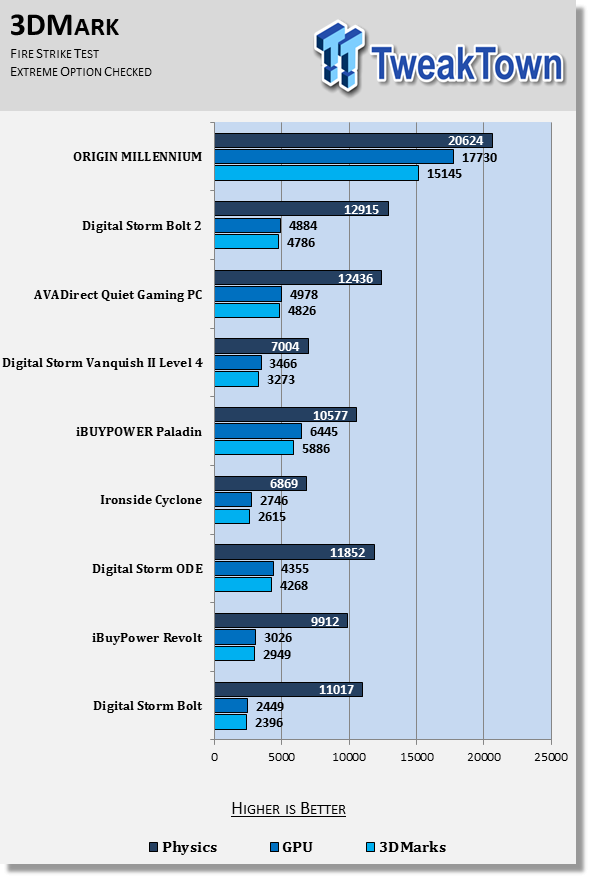 This is our first system to come through the lab to get the Fire Strike Ultra 4K treatment. This will be a standard benchmark going forward. Without any comparison systems, it's hard to judge where this system stacks up, though I am confident in saying it is towards the top of most all systems.
Battlefield 4
Version and / or Patch Used: Latest Origin Update
Battlefield 4 is the latest installation in the Battlefield franchise. We benchmark BF4 with a custom 60 second run played in a similar manner each time. Settings are 1080p and 4K for the resolution with the "Graphics Quality" set to Ultra.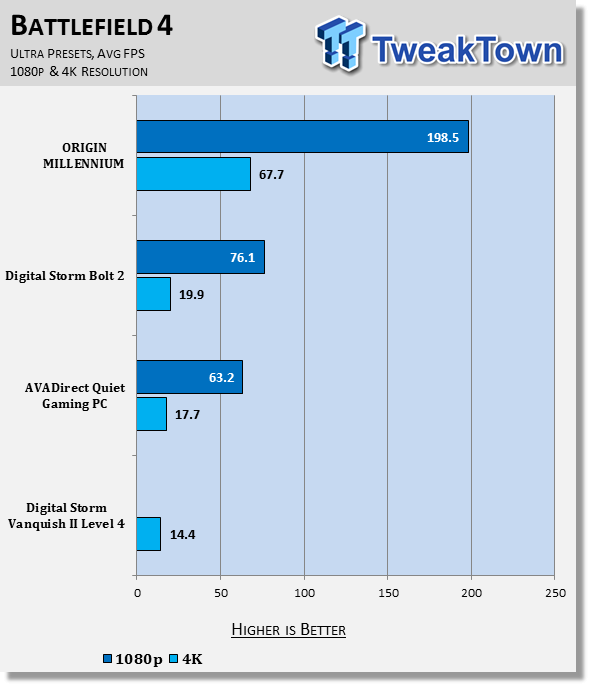 We have finally tested a PC capable of playing Battlefield 4 at 4K resolution at Ultra Detail. The triple 980 system produces an average of 67.7 FPS. At 1080p, that jumps to 198.5 FPS. Stunning!
Crysis 3
Version and / or Patch Used: Latest Origin Update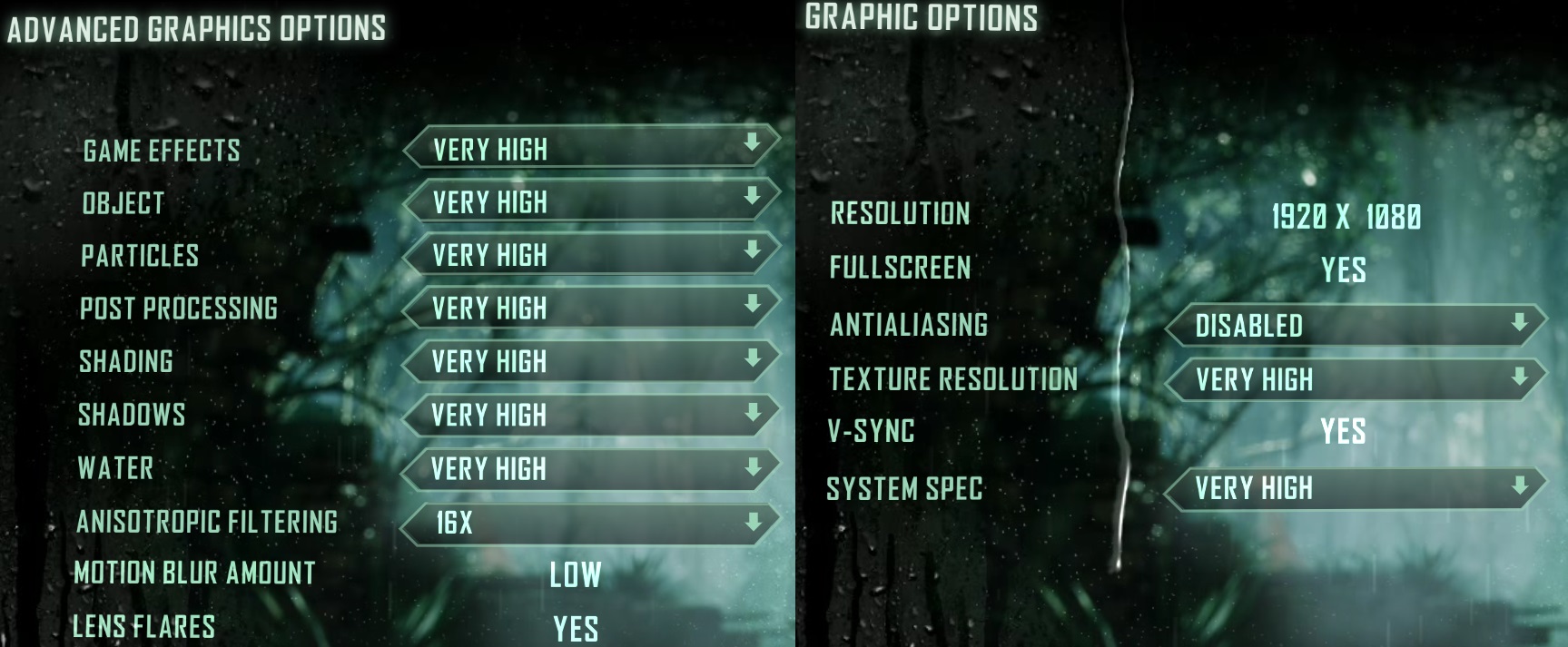 Crysis 3 is run at 1080p and 4K resolution with the graphics specifications set to "Very High." No anti-aliasing is used. See picture above for full details, aside from resolution. FRAPS is used to record 60 seconds worth of FPS data and recording starts at the start of the campaign and finishes most of the way up the tower. The game is played in a similar manner each time.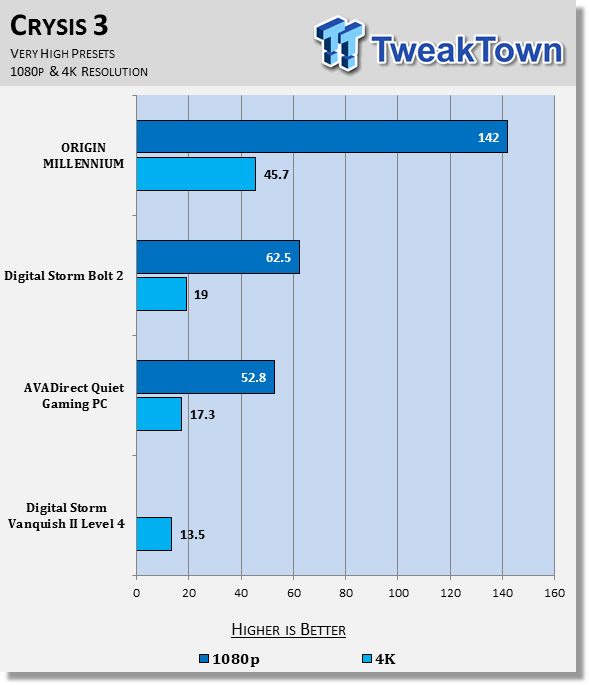 In Crysis 3, the MILLENNIUM produces 45.7 FPS at 4K, which is lower than we'd like. A detail drop could bring this up to 60+ FPS easily, so 4K gaming on Crysis 3 is totally doable. At 1080p, the MILLENNIUM jumps to 142 FPS.
Temperatures and Noise & Power Consumption
Temperatures, Cooling and Noise
The system is fully loaded using Furmark and Prime 95, similar to our laptop testing. The sound recordings are made in front of the machine, about 6 inches from the center of the tower. Temperatures are reported as recorded by CoreTemp and Furmark.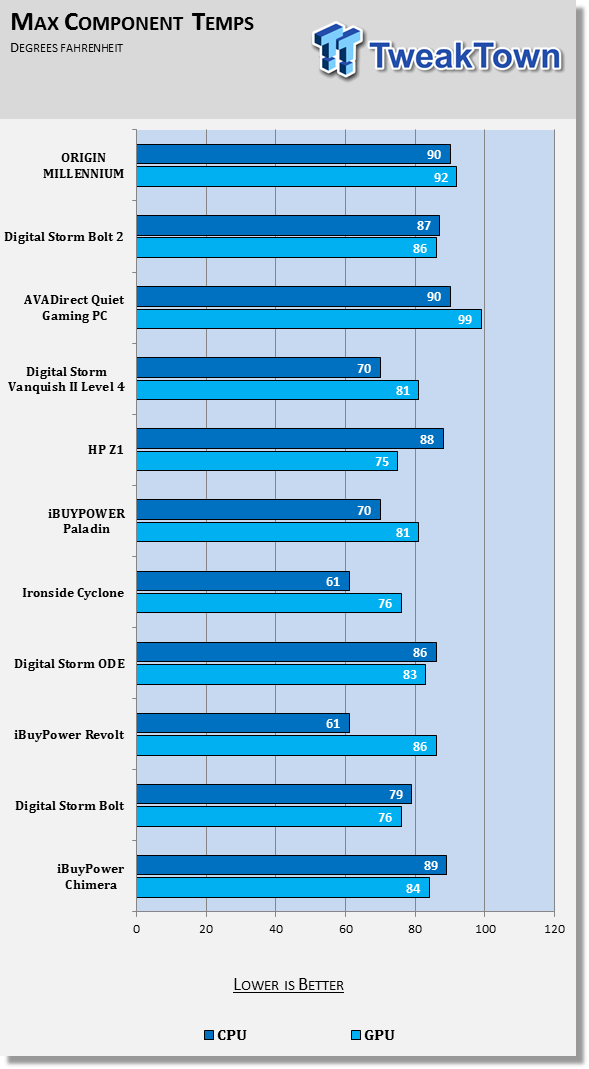 Our overclocked 8-core CPU reached a maximum temperature of 90 degrees Celsius, which is a bit on the high side considering we have watercooling on the CPU. We're sure the overclock contributed to this number.
The hottest GPU reached 92 degrees Celsius, which is the second highest GPU temperature recorded. It certainly didn't help that all three GPUs are stacked together without a slot in between, as is the norm with three GPUs.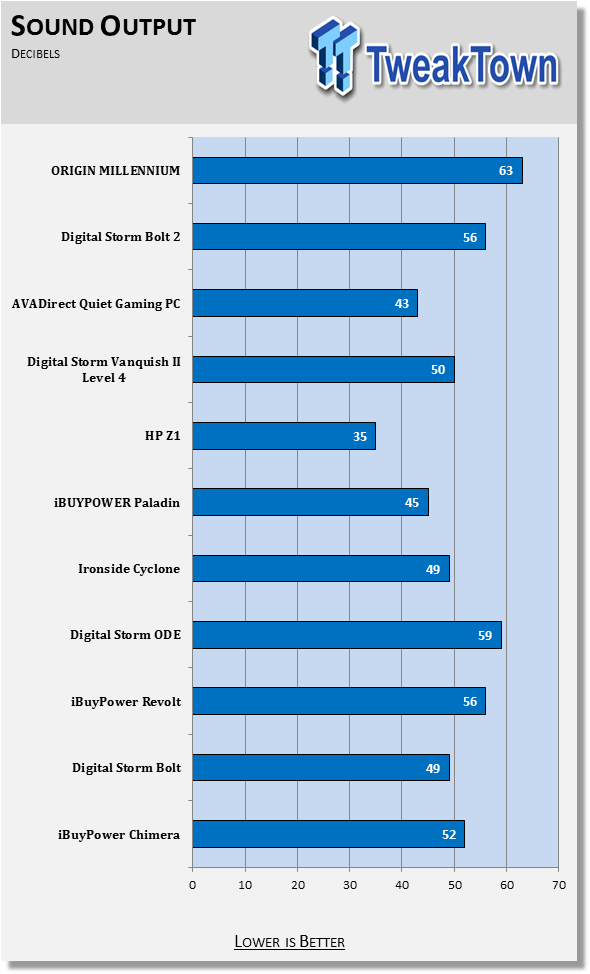 And due to the stacked GPUs and incredible performance, we also get a pretty loud sound from the MILLENNIUM. We recorded a maximum sound level of 63 decibels, of which the GPUs contributed the most.
Power Consumption
Power consumption is measured while the system is loaded for the temperature test and while sitting idle at the desktop. Measurement is taken at the wall, so it includes everything running in the system, not including the monitor.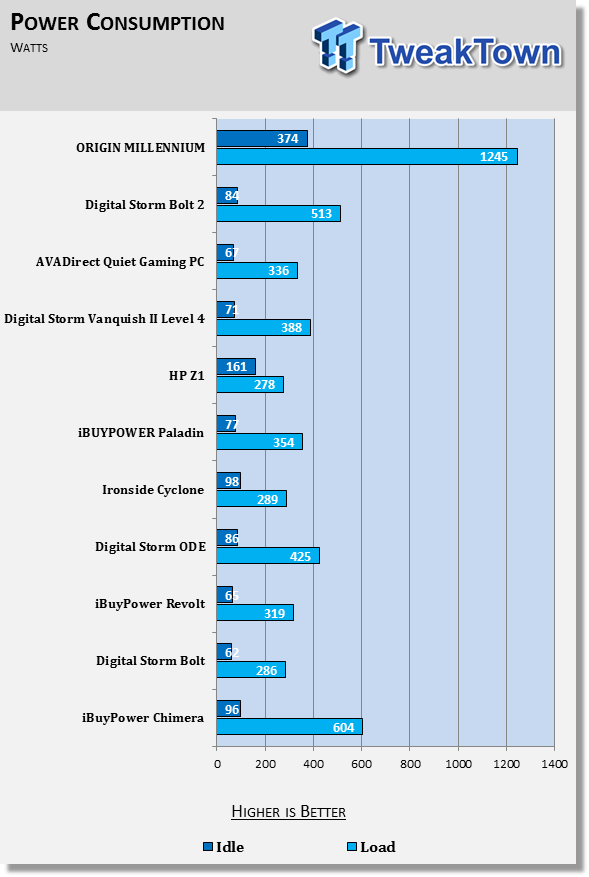 The overclocked CPU and high-performance SLI GPU setup combine to make a large power draw. We recorded a maximum power draw of 1,245W. As we have just a 1300W PSU, we will cause undue wear and tear and early aging on the PSU. This is why we recommend a 1400-1500W PSU.
At idle, we recorded a draw of 374W, which is more than a large portion of our systems at load. It goes without saying that performance this great will come with a large power draw, and a large associated power bill. But if you can afford this beast, you can likely afford the power draw associated with it.
Final Thoughts
I don't think there really is much for me to say at this point, but I won't let that stop me! We've seen the hard data, and the hard data paints a pretty picture of the MILLENNIUM. It is hands down the most powerful, most over-kill gaming PC we've had the pleasure of having pass through our labs.
ORIGIN PC continues to impress us with its performance systems, where barriers don't seem to exist. Not only have they stuffed triple GTX 980s into a mid-tower, they've watercooled the CPU and done beautiful cable management, too.
The RGB lighting is a nice touch, and the white theme allows you to choose nearly any color choice without having it clash. We did prefer the classy white, but there are a wide range of choices available to the end-user.
When it comes down to it, there really isn't anything wrong with this machine-and there better not be for the price. I have only one real complaint, and that is that the system's case-ORIGIN PC's custom job-feels just a bit flimsy. And this is me being extremely nitpicky. The overall system is a beautiful construction, one that I would kill to have as my own. But that doesn't mean I wouldn't make some changes if I were to run out and buy one on my own dime. After all, most of us don't have budgets that allow for a $6k machine.
One of the quickest, and likely most dramatic, changes in terms of price would be replacing the 5960X with the 5930X. That change will lose you two cores and four threads and save you about $500 off the top. And if you don't have a 4K monitor, you could certainly do away with one-or both-of the GTX 980s.
But those changes don't change my opinion on the machine that I received for review. This thing is absolutely overkill and will destroy games at 4K with high detail settings. So, as we wind this review down, I'm left with just one thought: do I get to keep it? Joking aside, this thing kicks some serious ass, but you will have to pay for it.
For the $5,999, you get free Lifetime 24/7 US-based tech support, Lifetime labor for repairs and upgrades, and a 1-year parts warranty with a 45-day free shipping warranty, in case something happened during shipping.
If you can afford it, you would be hard pressed to build a better gaming desktop than what ORIGIN PC has assembled here today. If you read the review, you saw how much it destroyed the other systems. I am left with absolutely no choice in the matter of awarding this with TweakTown's Best Performance Award. And that award understates just how much above the rest this system sits.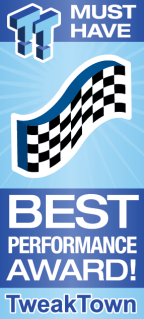 | | |
| --- | --- |
| Performance | 100% |
| Quality including Design and Build | 95% |
| General Features | 95% |
| Bundle and Packaging | 95% |
| Value for Money | 85% |
The Bottom Line: If 4K gaming is your goal, and power consumption and price are no object, look no farther than the MILLENNIUM from ORIGIN PC. This chart-topping system is incredible... and costly!
PRICING: You can find products similar to this one for sale below.

United States: Find other tech and computer products like this over at Amazon.com

United Kingdom: Find other tech and computer products like this over at Amazon.co.uk

Australia: Find other tech and computer products like this over at Amazon.com.au

Canada: Find other tech and computer products like this over at Amazon.ca

Deutschland: Finde andere Technik- und Computerprodukte wie dieses auf Amazon.de