The Hunger Games: Mockingjay - Part 1 (2014) Cinema Movie Review
"Miss Everdeen, it is the things we love most that destroy us."

Published
2 minutes & 30 seconds read time

Hunger Games: Mockingjay Part 1 (2014)
Ever since Warner Bros. created the precedence with the final installment of the Harry Potter franchise in The Deathly Hallows, we've seen a worrying trend by studios to exploit every last cent out of popular franchises by manufacturing two films out of material that can't support it, criticisms that have also been levelled at The Hobbit. Now it's time for the final Hunger Games movie to split into two. But with what result?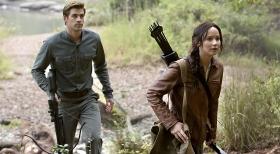 Following on from the events of Catching Fire, where Katniss (Jennifer Lawrence) is rescued from the destroyed games arena, the victor is whisked away to District 13, where a plan to overthrow the Capitol by rebel leader Alma Coin, the President of the District, is well advanced.
Hoping to entice Katniss to be the 'Mockingjay', the figurehead for the rebellion, Coin and former games master Plutarch Heavensbee (Philip Seymour Hoffman) send Katniss to the ruins of District 12, with significant death and destruction strewn all around. Katniss quickly becomes a willing pawn in a propaganda program by Coin when a complication involving Peeta Mellark (Josh Hutcherson) threatens to derail the plan.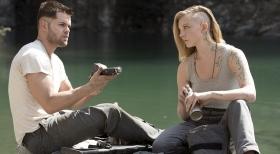 Having not read the original Suzanne Collins novels, my only exposure to the world of Hunger Games has been through these three movie adaptations, which all feature noticeable peaks and troughs of quality, although I'm willing to bet that many of the perceived flaws can be traced back to the source material, not just to a film series struggling to find its feet. While the last entry, Catching Fire, was far consistently superior to the original in both story, performance and pacing, Mockingjay, presents a surprising regression in many areas, however, I'm confident that most are self-inflicted by studio greed.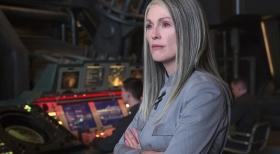 My biggest complaint with the film is that is essentially one half of a whole story. A regrettable consequence of the studio's decision to stretch out the narrative, the screenplay by Peter Craig and Danny Strong fails to handle well what The Deathly Hallow or The Hobbit did arguably more successfully; that is, craft a three part structure with a clearly defined beginning, middle, and end. From my limited research, it seems this creative decision was made long before cameras rolled, so it's a head scratcher and the complete opposite of what occurred on The Hobbit, with the seams far less evident.
Away from the competitiveness of the games, (which I'm glad aren't revisited for a third time), the story calls for Katniss to take up the mantle of rebellion figurehead. As she has shown throughout the last few years, and indeed on the first two features, Lawrence is a gifted actress, yet she is given little to do in this script other than simply react to what is happening on screen. There's very little introspection to her actions, and as she is manipulated further and further, it makes less and less sense compared to her previously displayed intelligence and resourcefulness, altering her characteristics that the audience has come to expect.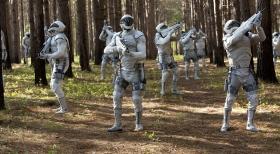 With a bit of upheaval in the plot, some of the previously central characters are sidelined including Hutcherson, yet others are given meatier roles, including Philip Seymour Hoffman, whose true motives have now been revealed. The introduction of Cressida (Natalie Dormer) stirs the pot a little, yet in a fairly one-dimensional, 'point a to point b' kind of way.
From a technical point of view, Mockingjay does everything it should. But it's a disappointing feature in isolation, and undoubtedly the weakest in the series. As it is, Part 1 shuffles from set piece to set piece, progressing without haste, nor sense of looming threat, before simply concluding, without even a hint of a cliffhanger. I hope the pay-off in the delayed finale makes up for it.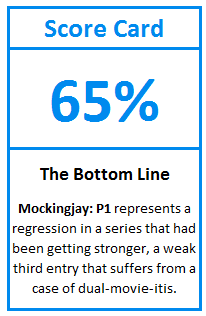 PRICING: You can find products similar to this one for sale below.

United States: Find other tech and computer products like this over at Amazon.com

United Kingdom: Find other tech and computer products like this over at Amazon.co.uk

Australia: Find other tech and computer products like this over at Amazon.com.au

Canada: Find other tech and computer products like this over at Amazon.ca

Deutschland: Finde andere Technik- und Computerprodukte wie dieses auf Amazon.de
We openly invite the companies who provide us with review samples / who are mentioned or discussed to express their opinion. If any company representative wishes to respond, we will publish the response here. Please contact us if you wish to respond.