Acer Aspire V Nitro Black Edition Gaming Laptop Review
Acer's new gaming notebook is a thing of beauty, but looks only go so far. How does it perform? Well, read on to find out. Spoiler: Pretty damn well.
Published Thu, Nov 27 2014 9:16 AM CST
|
Updated Tue, Nov 3 2020 6:59 PM CST
Rating:

94%
Manufacturer: Acer
Introduction & Specifications, Configurations and Pricing

Acer's new Aspire V Nitro line of gaming notebooks are quite spectacular. They come in a variety of load outs, including one that will be shipping with a 4K display. You read that right: a laptop with a 4K display.
We're going to be taking a look at the middle of the road 15.6-inch V Nitro Black Edition with a 1080p display. Later, we're going to take a look at the 4K-equipped notebook, but that is for another review. In this review, we'll be focusing on how the V Nitro stacks up to some of the best gaming notebooks around.
Without further ado, let's dive in!
Specifications, Configurations and Pricing
Our Aspire S7 features Intel's Haswell-based Core i7-4710HQ CPU. This processor is a quad-core model with Hyper-Threading, which means that it features eight threads. It also features TurboBoost, which allows the processor to overclock itself when under a low load.
The i7-4710HQ is coupled with 8GB of DDR3L RAM. 8GB should ensure a smooth-running system, even with multiple programs and web browser tabs open. 8GB will also assist with modern games, which require a large amount of RAM (Battlefield, I'm looking at you).
Graphics are provided by NVIDIA's 860M GPU. While not the fastest mobile GPU on the market, it is a modern NVIDIA chip based on the new Maxwell architecture.
Windows 8.1 is installed upon the 128GB SSD. Before you start shouting at your screen that 128GB isn't enough, you might care to know that it also features a 1TB drive for your mass storage. With that in mind, 128GB is plenty for your operating system and core programs-and then some! You probably won't want to be installing all your games to it, though.
Packaging
The packaging is standard Acer. The inner product box is protected by an outer plain brown box. While the system arrived safely, I would like to see a bit more foam or protection for the laptop.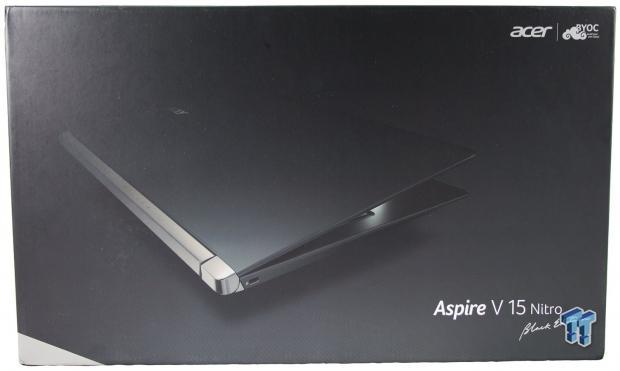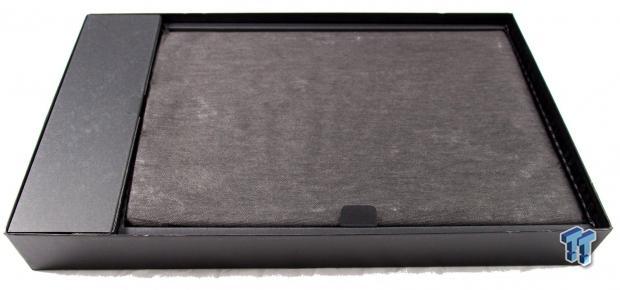 PRICING: You can find the Acer Aspire V15 Nitro Black Edition VN7-591G-74SK 15.6-Inch Full HD Laptop for sale below. The prices listed are valid at the time of writing but can change at any time. Click the link to see the very latest pricing for the best deal.
United States: The Acer Aspire V15 Nitro Black Edition VN7-591G-74SK 15.6-Inch Full HD Laptop retails for $1299.99 at Amazon.
Temperatures, Cooling and Noise
The Aspire V Nitro Black Edition is slim for a gaming laptop, which could impact temperatures under full load.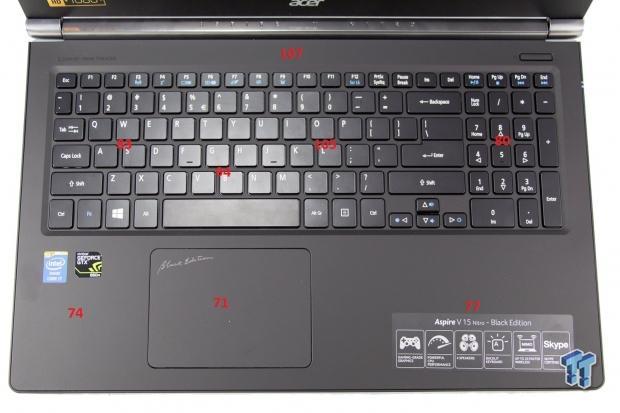 As you can see, on the front of the system, we logged a maximum temperature of 107 degrees Fahrenheit. This high temperature was located towards the top of the system, away from anything you should be touching frequently, if at all. The keyboard reached 105, but the all-important WSAD keys only reached 83, which is acceptable in my book. The palm rests under a cool 80 degrees.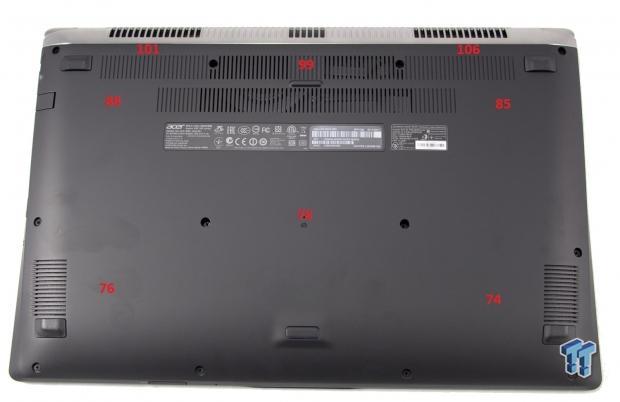 Moving around to the backside, temperatures were about the same. The maximum observed temperature was 106 degrees Fahrenheit, one degree less than the front side of the system. However, the rest of the temperatures observed were all less than 100 degrees, aside from 101 at the other system vent. Using the system on your lap while fully loaded would still be ill advised, and gaming with a system on your lap is, well, inconvenient.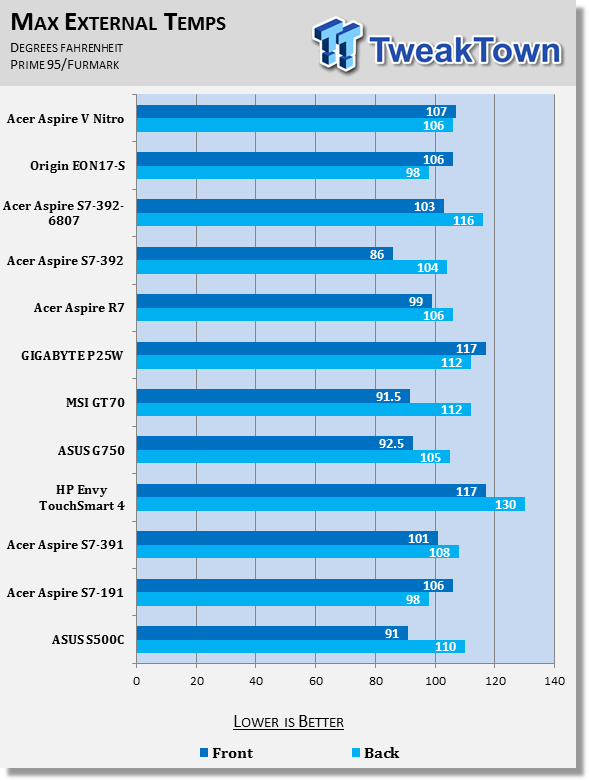 The maximum observed GPU temperature was 86 degrees Celsius. The CPU reached a maximum of 96 degrees Celsius. This is quite a bit hotter than I like to see CPUs running at, but this is the tradeoff you receive for having a slim design. Taking the temperatures and design into consideration, it's hard to say where the noise will sit.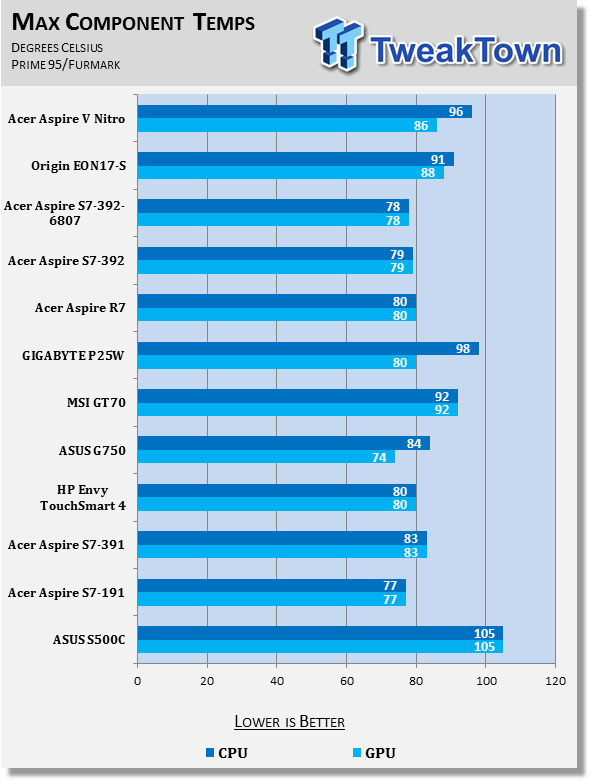 The V Nitro produced a sound level of 46 decibels, which is right in line with other gaming systems, but noticeably higher than most Ultrabooks. For what it is worth, the noise wasn't particularly grating. Our measurement is taken in front of the laptop at roughly head level. For comparison: 30dB is a totally quiet nighttime in the desert, 40dB is whispering, and 60dB is a normal conversation.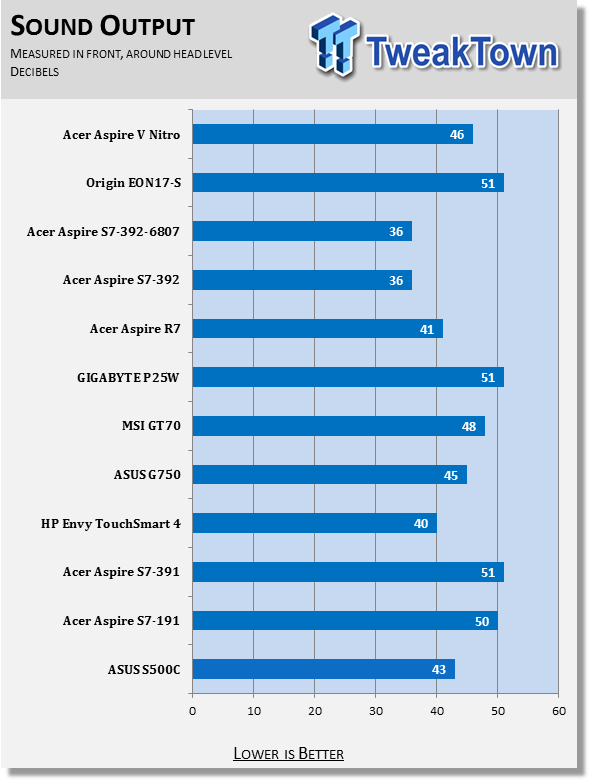 User Interfaces
Keyboard and TouchPad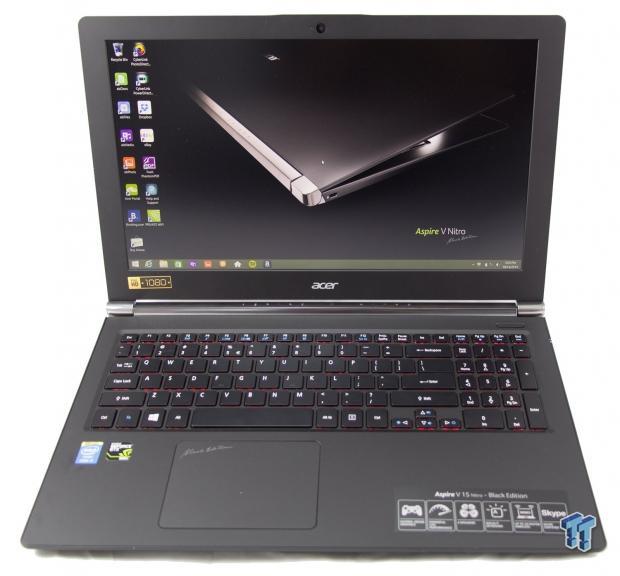 The Aspire V Nitro comes with, as you would expect from a premium gaming system, a backlit keyboard. The color used by Acer is red, which is a common color for gaming keyboards to use. Brightness won't blind you at night, and the keys can still be seen in brighter conditions.
The keyboard Acer has chosen to equip the V Nitro with is quite solid. There is some flex present near the backspace key, but the WSAD keys are solid as can be. The typing experience is also quite good, and I had no difficulties adjusting to the keyboard from my mechanical desktop keyboard.
Key throw, as you would expect, is small, but it is noticeable enough to not affect my typing speed or accuracy. Noise from the keyboard is minimal, but enough that you can tell that the key was articulated.
The keys are perfectly flat. The overall keyboard design makes use of the now standard island style. Worthy of a mention are the arrow keys, which are those slightly odd half keys, but if you are going to use the arrow keys for gaming, they will do the job. You'll just be likely mishit the key every now and again. Besides, as a PC gamer, you should be using the WSAD keys!
The touchpad is made from a single piece of material. The touchpad is large and features a slight rubbery texture, like the texture some smartphones use. The entire trackpad depresses for a single click, and if you use two fingers, a right-click will register. The touchpad is ever-so-slightly recessed into the palm rest.
Screen
The Aspire S7 features a 15.6-inch Full HD display (1920x1080). It uses a matte display cover, helping to reduce glare. While colors stay quite true as you move off-angle, the display noticeably dims. This is most noticeable when the display is pushed back, i.e. you are below the optimal viewing angle. The display isn't the brightest I've ever seen, but it gets the job done.
I can't wait to take a look at the 4K-equipped V Nitro. That should be a thing of beauty.
Testing Methodology
View our full testing methodology article.
- Accessory Port Testing
Ports to which an external storage device can be connected to are tested using HD Tune Pro, to obtain their maximum, minimum, and average read and write speeds. USB 2.0, USB 3.0, and eSATA ports are tested using a Corsair Neutron GTX 240GB SSD that is capable of saturating the theoretical bandwidth available.
The Corsair Neutron GTX is housed inside an Icy Dock external enclosure, which features a SATA I/II/III to USB 3.0 and eSATA converter.
- Gaming Tests
3DMark Vantage is run on the Performance preset, to get a feel for how the computer would manage gaming. The CPU, GPU, and combined scores are reported. A higher overall score is the best, and a high GPU or CPU score shows particular prowess with tasks that use that part of the computer.
3DMark 11 is run on the Performance preset, and the Physics, GPU, and combined scores are reported. This test is only run if the system supports DirectX 11. A higher overall score is the target, though a high individual result shows prowess in a particular area.
3DMark is the latest benchmark by Futuremark. The Cloud Gate test is run with all of the default settings, and the score, GPU score, and physics score are all recorded in the chart. The Cloud Gate test is intended to be run on home desktops, and notebooks.
- System Tests
PCMark 7 is run to get an overall idea of how the system performs as a whole. It tests all aspects of the PC, and puts a score on how well it performs overall. In this test, a low scoring area can affect the overall score, so it's important to read the analysis. A higher score is better.
CrystalDiskMark is run to put a number on how well the system hard disk drive / SSD runs. It measures five different metrics, of which higher is better for all. The higher the numbers, the snappier the operating system will feel; especially if the "4K" number is high, as most operating system files are small files.
- Battery Life
PowerMark is used to measure battery life of the system when set to the "Balanced" power plan. This test simulates several different activities, but uses custom built applications.
Accessory Port Layout and Performance

The left side (from back to front) features just the Kensington lock.

The right side (from back to front) features the power jack, two indicator lights, an Ethernet port, an HDMI port, and three USB 3.0 ports. Finally, a headset (combo mic/headphone) jack is present.
USB 2.0 is not tested as the system has no USB 2.0 ports.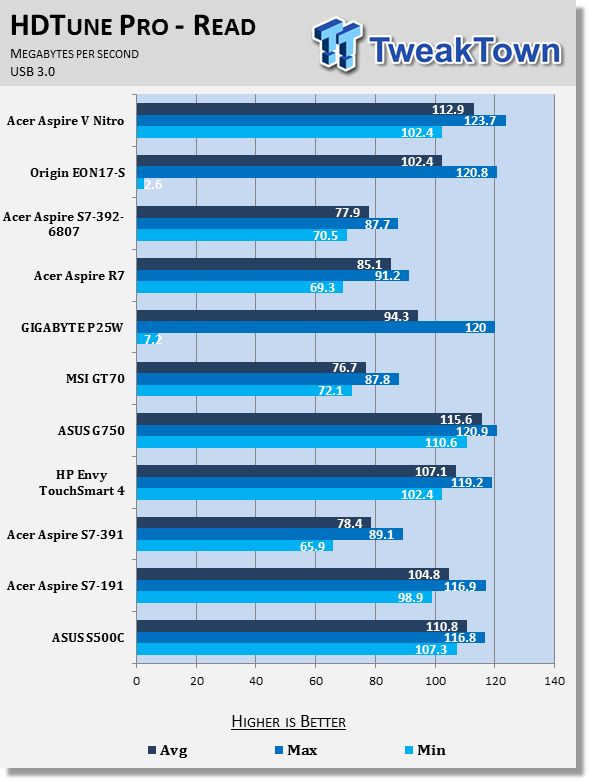 As far as USB 3.0 performance goes, the V Nitro performs quite well. Its average read speed of 112.9 MB/s is the second fastest on the chart.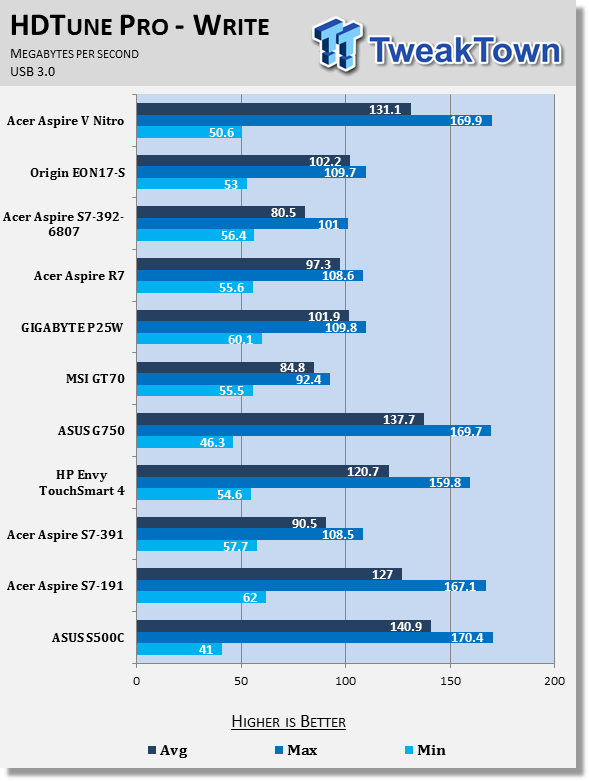 Write speeds are similarly speedy, and the system sees an average write speed of 131.1 MB/s - good for third place on our chart.
Benchmarks - Gaming Performance
3DMark Vantage
Version and / or Patch Used: 1.1.0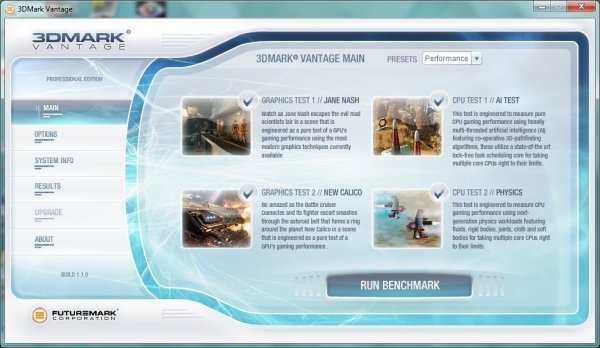 3DMark Vantage tests both processor and graphics performance, and is a good indication of how systems compare. The results are generally more repeatable and consistent than other forms of benchmarking. Vantage uses DirectX 10, and can handle multi-core CPUs.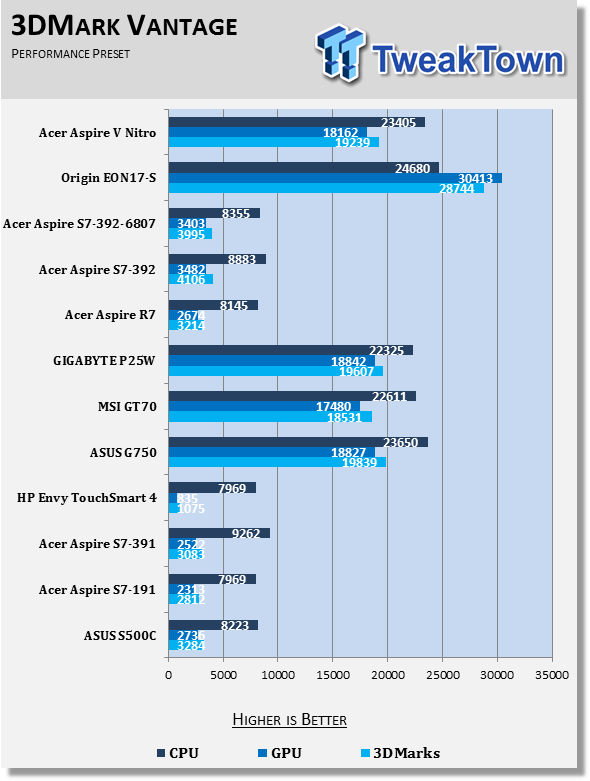 The majority of our systems in the chart are Ultrabooks, which are in a completely different class. You can see, however, that this system hangs and beats the top-tier gaming system of yesteryear (also known as last year). We see an impressive 23,400 and change score for the CPU, 18,162 for the GPU, and an overall score of 19,239, putting the V Nitro in fourth place, but very close to second.
3DMark 11
Version and / or Patch Used: 1.0.1.0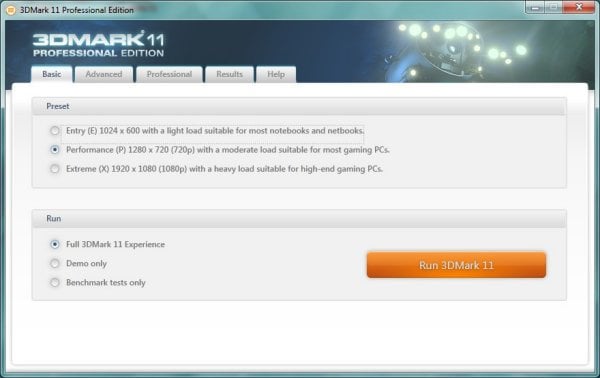 3DMark 11 is the latest version of the world's most popular benchmark. Designed to measure your PC's gaming performance 3DMark 11 makes extensive use of all the new features in DirectX 11 including tessellation, compute shaders and multi-threading. Trusted by gamers worldwide to give accurate and unbiased results, 3DMark 11 is the best way to consistently and reliably test DirectX 11 under game-like loads.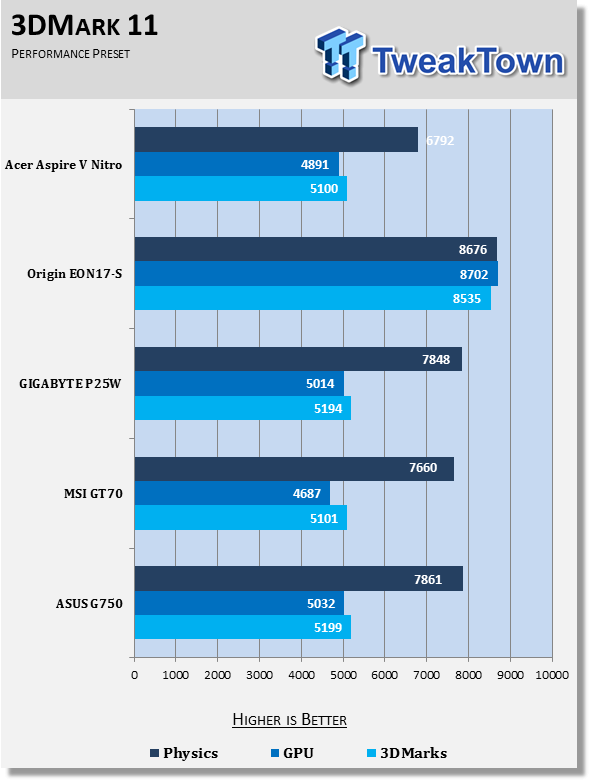 We only test gaming notebooks with 3DMark 11, and as you can see in the chart above, we have several closely stacked systems, with one clear standout. The V Nitro technically comes in last, but the difference between last and second is only 100 points, a difference so small that it can be considered a tie.
3DMark - Cloud Gate
Version and / or Patch Used: 1.0.0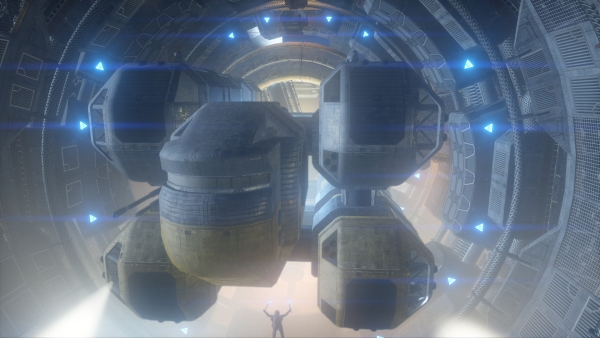 Cloud Gate is a new test that is designed for Windows notebooks and typical home PCs. Cloud Gate includes two graphics tests, and a physics test. Cloud Gate uses a DirectX 11 engine limited to Direct3D feature level 10, making it suitable for testing DirectX 10 compatible hardware. Cloud Gate will only be available in the Windows editions of 3DMark initially.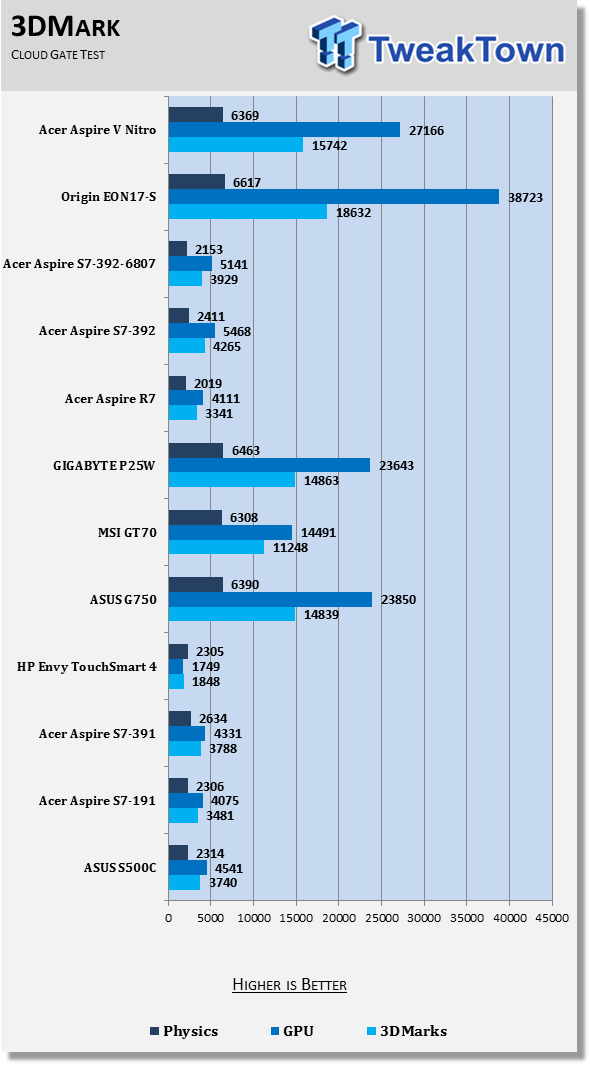 With Cloud Gate, we expect the newer Maxwell architecture to show improvements that come with the newer DirectX version. And we see exactly what we expected. The V Nitro comes in second only to the incredibly overpowered EON 17-S, and the EON's lead is only by 3,000.
Battlefield 4
Version and / or Patch Used: Latest Origin Update
Battlefield 4 is the latest installation in the Battlefield franchise. We benchmark BF4 with a custom 60 second run at the beginning of Siege of Shanghai. Settings are 1920x1080 for the resolution with the "Graphics Quality" set to Ultra.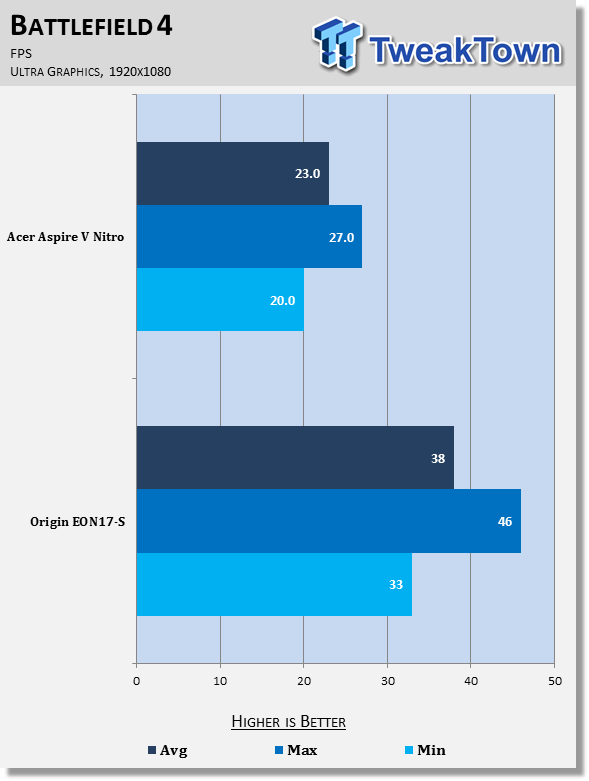 The EON 17-S continues to be the standout, but the V Nitro doesn't go down without a fight. It manages an average of 23 FPS. While not playable, a detail drop would definitely bump those FPS up into the playable region, without much difficulty or loss of visual fidelity.
Crysis 3
Version and / or Patch Used: Latest Origin Update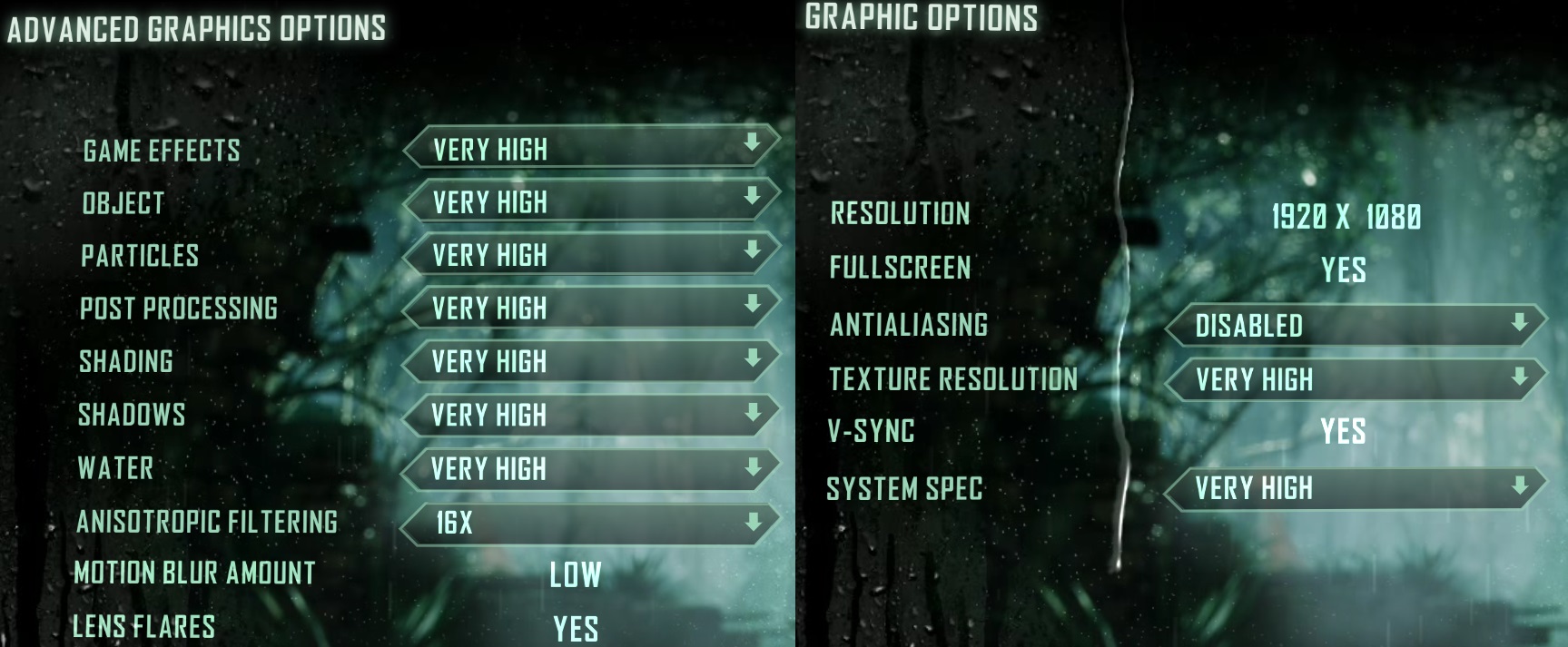 Crysis 3 is run at 1920 x 1080 resolution with the graphics specifications set to "Very High." No anti-aliasing is used. See picture above for full details. FRAPS is used to record 60 seconds worth of FPS data and recording starts at the start of the campaign and finishes most of the way up the tower. The game is played in a similar manner each time.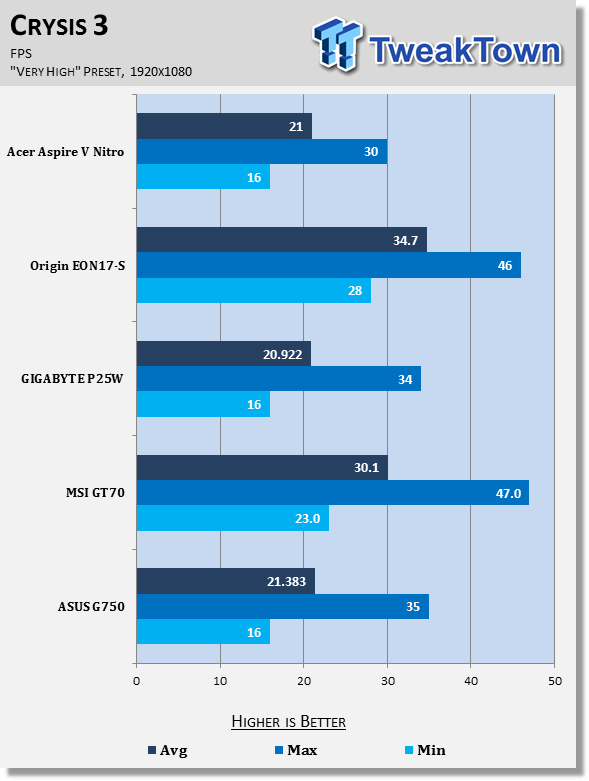 Crysis 3 also sees similar results, with the V Nitro falling short of at least 30 FPS. A detail drop to get the FPS up to at least above 30 FPS wouldn't reduce visual fidelity much. So, yes, it can play Crysis... just not at the maximum detail level offered.
Benchmarks - System Performance
PCMark 8 - Home Test
Version and / or Patch Used: 2.0.228
PCMark 8 comes with various benchmarks to assess PC performance in key areas. As we are testing consumer systems, we utilize the Home Test, non-CL accelerated.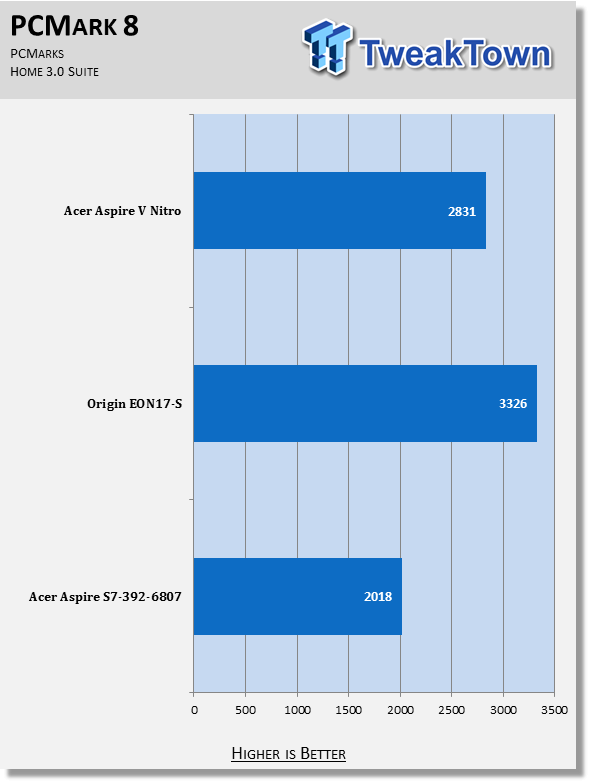 You can see in the chart above that the V Nitro falls behind the EON 17-S, but blows the Aspire S7 Ultrabook out of the water. It falls in line where we would expect given the other results. The two main contributing factors are a slower CPU and slower main system drive, as you will see shortly.
CrystalDiskMark
Version and / or Patch Used: 3.0 Technical Preview
CrystalDiskMark is a disk benchmark software that allows us to benchmark 4K and 4K queue depths with accuracy.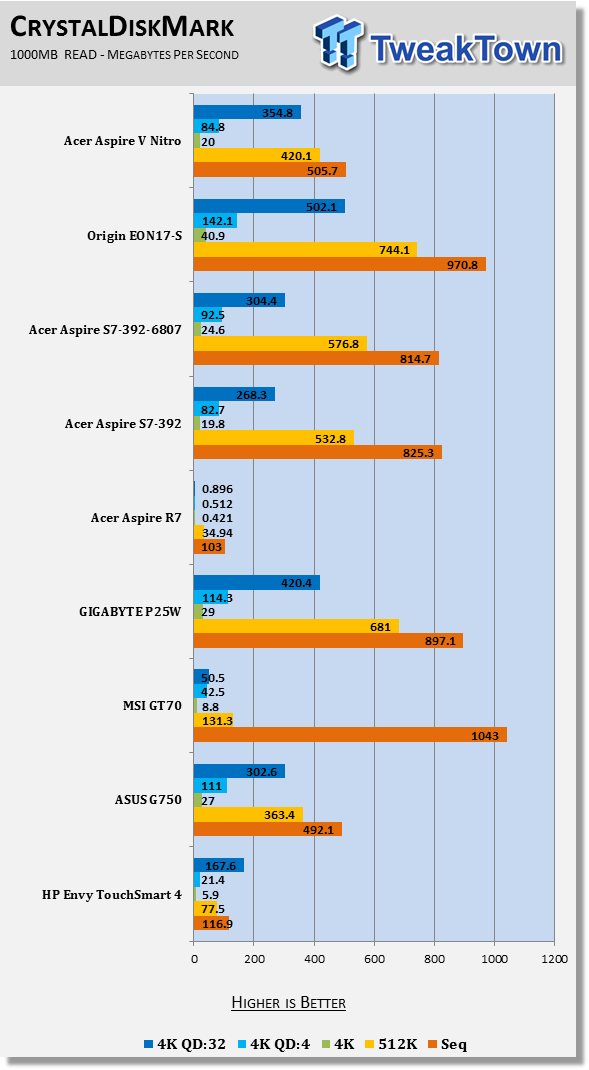 When I mentioned a slow system drive, I meant competitively to the EON 17-S. The V Nitro produces a respectable 505.7 MB/s sequential read speed, with 4K reads coming in at 20 MB/s.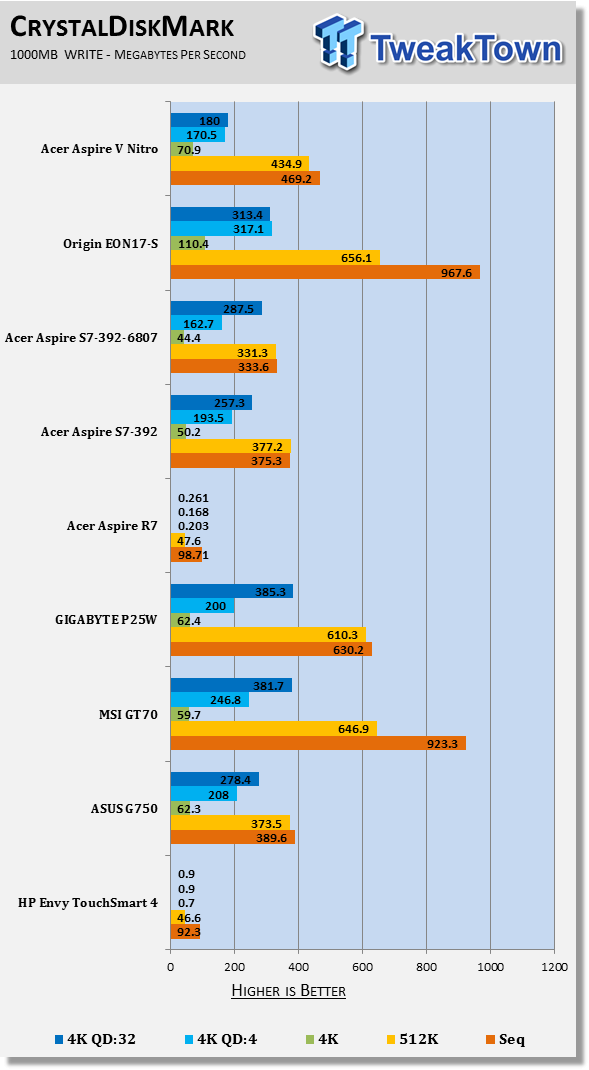 Write speeds are similar to the read speeds. We see a decent sequential write speed of 469.2 MB/s. 4K write speed comes in at 70.9 MB/s.
Battery Life Performance
PowerMark
Version and / or Patch Used: 1.1.1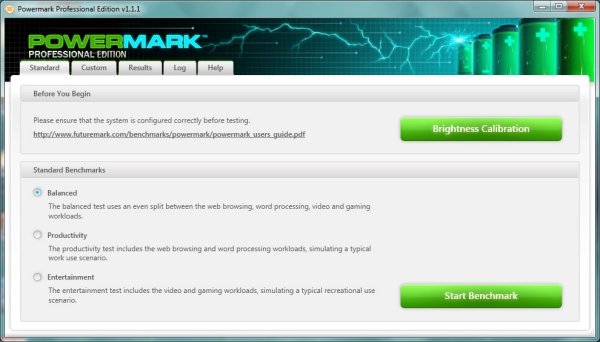 PowerMark is a benchmark produced by Futuremark that simulates different usage scenarios in order to determine battery life. It loops these different scenarios infinitely, until the battery hits 15%, and then gives us an estimated battery life time. For our testing, we use all four different scenarios. These are video playback, gaming, web browsing, and word processing.
The test is run once with the computer's Power Options set to Balanced.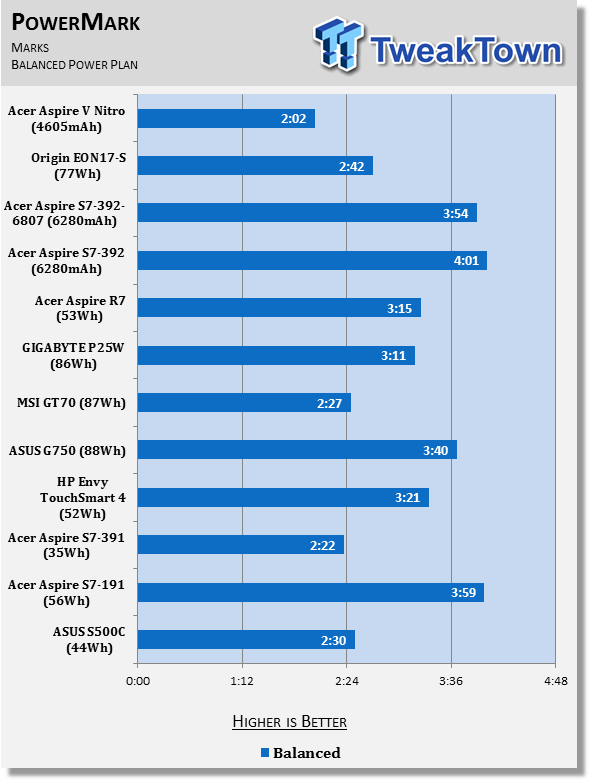 Here is the one place that I feel improvement needs to be made. The V Nitro comes with a pretty small battery at just 4605 mAh. This results in a paltry 2 hours and 2 minutes of battery life, the lowest in our chart. This is with the energy-sipping Maxwell GPU and Haswell CPU.
However, throwing in a bigger battery would result in a heftier system, reducing portability. Just know going into this system that you will need an outlet nearby, especially if gaming.
Final Thoughts
So, here we are again at the end of a review. I'm pretty sure you all know what's about to happen, so take a read or skip to the bottom to see the bottom line ranking.
Let's talk performance. The V Nitro first and foremost is a gaming system. It's being marketed as such, so it better perform as such. And indeed it does. We see decent gaming performance, though it could always be improved by including a faster GPU. However, with the GPU used, gaming performance is plenty for a system that is made to go on the road easily.
Portability of the V Nitro is quite good. It is only a 15.6-inch notebook, but it comes with the full keyboard, including number pad, and excellent performance. It has a sleek chassis, beautiful accents and detailing, and doesn't weigh a million pounds. The one place its portability suffers is battery life.
If you need to be away from an outlet for an extended period of time, you may have to look elsewhere. Our testing highlighted the small battery, and we received just 2 hours and 2 minutes of battery life. But don't let this deter you if you don't need incredible battery life. It makes up for is with its portability, something that would be hampered by a bigger battery.
The display is quite good. Glare is a non-issue, and the 1080p resolution at 15.6 inches is a high enough density that the sharpness is good. However, if you would like a higher res screen, Acer has a 4K V Nitro in the works.
Pricing on the V Nitro is also quite good. As we head into the holidays, many will be shopping for a new system, possibly for a loved one off at college or heading there shortly, or maybe for one's self. At just $1,199.99 MSRP, you're getting a pretty powerful laptop without the usual price tag.
We like the V Nitro a lot, but we're holding out to get the 4K model in our hands. The V Nitro also comes in various flavors, including a 17.3-inch model, as well as a model without an SSD, though we can hardly recommend that unless on a budget.
Keep your eyes out for our impending review of the 4K-equipped V Nitro. If you can't wait, however, the V Nitro reviewed here today is available now and would make an excellent companion.
PRICING: You can find the Acer Aspire V15 Nitro Black Edition VN7-591G-74SK 15.6-Inch Full HD Laptop for sale below. The prices listed are valid at the time of writing but can change at any time. Click the link to see the very latest pricing for the best deal.
United States: The Acer Aspire V15 Nitro Black Edition VN7-591G-74SK 15.6-Inch Full HD Laptop retails for $1299.99 at Amazon.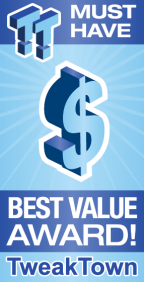 | | |
| --- | --- |
| Performance | 92% |
| Quality including Design and Build | 98% |
| General Features | 95% |
| Bundle and Packaging | 93% |
| Value for Money | 90% |
The Bottom Line: Acer's Aspire V Nitro Black Edition is one stylish gaming accessory. While it provides good gaming performance, battery life leaves something to be desired. However, the price is really quite good for what you get.
PRICING: You can find products similar to this one for sale below.

United States: Find other tech and computer products like this over at Amazon.com

United Kingdom: Find other tech and computer products like this over at Amazon.co.uk

Australia: Find other tech and computer products like this over at Amazon.com.au

Canada: Find other tech and computer products like this over at Amazon.ca

Deutschland: Finde andere Technik- und Computerprodukte wie dieses auf Amazon.de