Super Mario Bros. (1993) Blu-ray Movie Review
"Trust the Fungus!"

Published
6 minute read time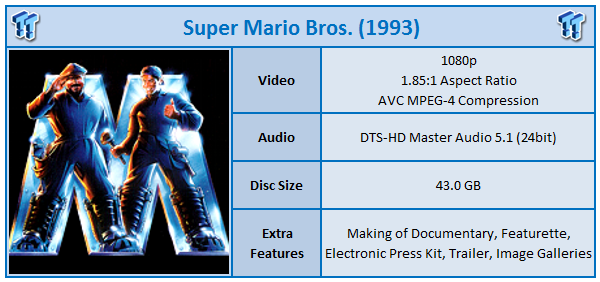 Super Mario Bros. (1993)
Over the last 21 years, the Super Mario Bros. film has been described differently by many, and almost always negatively. From a "turkey" by critic Leonard Maltin, to "the worst thing I ever did" by none other than star Bob Hoskins, the film is perhaps a little easier to defend with the distance of time. Firstly, there was no precedent for what filmmakers were attempting to achieve. The Mario Bros video game franchise had just entered the 16-bit era, with technology not yet advanced enough to tell the sprawling and theatrical narratives that modern gamers have become accustomed to.
As such, short of fundamental elements and established 'canon', there was very little to base a feature film on, and in fact, there had never been an adaptation of a videogame to a feature film before. Coupled with the numerous production battles including multiple rewrites and daily revisions, budget problems and studio skirmishes, which culminated in husband and wife directing duo Rocky Morton and Annabel Jankel being removed from production even before photography was complete, it's quite obvious that the film is not what it could have been.
Down and out Brooklyn plumbers Mario Mario (Bob Hoskins) and Luigi Mario (John Leguizamo) are being squeezed out by the infinitely better financed and equipped, mafioso-like Scapelli company, when they meet archaeology student Daisy (Samantha Mathis), who is being antagonized by company head Anthony Scapelli. When Daisy is kidnapped by two goons, Iggy (Fisher Stevens) and Spike (Richard Edson), Mario and Luigi become embroiled in a multi-dimensional battle against a power-hungry dictator, Koopa (Dennis Hopper) and a plot to take over the world.
I'll be upfront. Super Mario Bros. is not what you'd term 'a classic for the ages'. It's a schizophrenic, tonally offbeat and just downright bizarre motion picture. Since its release, its numerous flaws not only haven't dissipated, they've become even more obvious. But that doesn't mean the movie isn't enjoyable or entertaining, and there are some very positive points. The casting of leads Bob Hoskins, John Leguizamo and Dennis Hopper wasn't just totally appropriate, it was inspired.
The production design by David L. Snyder (of Blade Runner fame) is dense and subversive, and serves as one of the final examples of the gritty reality of large scale set design, before CG willed entire landscapes into existence. It's also perhaps a surprise that the once cutting edge visual effects still look perfectly acceptable after all this time.
Before I was bitten by the Star Wars bug, Super Mario Bros. was my first movie love. Sure, there's equal parts rose-colored glasses and nostalgia at work, but even if they might not have been executed well, there are some undoubtedly solid ideas at the heart of the film. Moreover, there's something strangely lovable and undeniably appealing about the film, which is truly unlike any film that's been produced since. Despite its shabby treatment over the years, a critical re-appraisal of Super Mario Bros. is well overdue and with this superlative Blu-ray release from Second Sight, I believe it's time has now come.
Note: This UK Blu-ray release employs region B coding and is only suitable for play in the UK, Australia and New Zealand. A workaround is needed to play the disc in other countries. The disc is currently available from Amazon UK.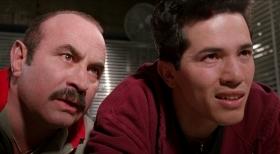 Video
Super Mario Bros. is presented in the original theatrical aspect ratio of 1.85:1.
Relative to the film's poor standing in the pantheon of cinema, Super Mario Bros. has been perverted on home video; particularly in the United States, where the transfer produced for Disney's laserdisc release of 1993 was repurposed bit-for-bit for the 2003 DVD release - right down to the appalling lack of 16x9 enhancement, ill-defined detail and complete absence of any bonus features.
Fast forward to today, and Super Mario Bros. has finally been gifted a brand new transfer, which looks to me to emanate from the original camera negative. This is not just a superb transfer in its own right, but a veritable revelation compared to all previous releases.
The image is crisp and clear at all times, with a superb level of detail evident in almost every shot. Colors are bright and bold, with suitable cartoon pop in the primaries and plenty of varying gradients in the darker moments. The transfer has preserved a very fine layer of film grain, which far from being intrusive, provides a gentle reminder that this was a time before digital production pipelines.
The source material has evidently been kept in wonderful shape over the intervening years, with only one or two artifacts obvious to mar the image. The increase in fidelity reveals plenty of previously hidden details, especially in the fabulous production design, and on the intricate make-up effects. Sure, there's the occasional downside; lookout for the aliasing on some of the elements in the opening CG 'dimension' animation - a telltale sign of being rendered at sub-HD resolution. But such deficiencies are inherent to the film's production and now a part of its charm.
Overall, Second Sight should be heartily congratulated for pulling out all the stops to strike a superb new transfer for such an obscure title. It has become clear that copyright holder Disney was never going to invest in a film they've ignored for twenty years, so it's great that an independent distributor has stepped up to the plate, secured the rights, and gone all the way. For fans, new and old, it's the fulfillment of what was once an impossible dream - I just hope when sales figures come in, it was worth their while.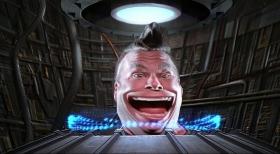 Audio
Super Mario Bros. is presented in a remixed DTS HD Master Audio 5.1 track at 24 bits, and the original stereo mix encoded with PCM 2.0 at 24 bits.
In 1993, digital mixing technology was very much in its infancy and designers were only just moving away from 2 and 4 track mixing, to dedicated digital surround. As such, Super Mario Bros features the option of a very conservative surround mix, along with the original 2.0 mix.
With such a superb video transfer, it's hard to not be a little disappointed with the mix here - the nicest thing I can say is that it's 'serviceable'. The mix is very front heavy, with most of the mix emanating from the three front speakers. Whilst there is only a minimal amount of rear surround effects, occasionally you will be surprised by a panning or split surround effect. It is a little concerning that the mix sounds very 'muddy', generally bereft of that crisp and clear sound that we are so used to from modern films.
Bass is generally quite lacking, and when it appears, it's mostly an indistinct rumbling, rather than a defined and punchy response. It's also wildly inconsistent, with explosions and dramatic sequences contributing little low frequency impact, yet a landed punch during the climactic Mario/ Koopa battle reverberates with force.
In its Blu-ray debut, Super Mario Bros. features a decidedly average, slightly disappointing audio mix, yet one which doesn't introduce any technical problems into the equation.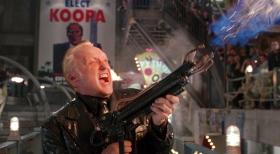 Extras
Second Sight, in conjunction with online resource the Super Mario Bros. Archive, have produced a wonderful set of supplements, both new and archival, which more than makes up for the complete lack of features in previous home video releases. Let's take a look.
The crown jewel of the set is the 55 minute long 'This Ain't no Video Game' documentary, which reunites key members of the cast and crew, including newly shot interviews with co-directors Rocky Morton and Annabel Jankel, stars John Leguizamo and Richard Edson, producer Roland Joffe, writer Parker Bennett, production designer David L. Snyder and editor Mark Goldblatt, to name just a few. In future, this documentary will no doubt serve as the definitive document of the various tales from the behind the scenes of Super Mario Bros, with the intervening years allowing for full honesty from all contributors.
Perhaps the most telling inclusion is a throwaway line from Mark Goldblatt who recalls being told by an unnamed producer that the film was in trouble. This was on day one of production. Whilst it's fantastic, and undoubtedly a must see for fans of the film, it's admittedly a shame that both Bob Hoskins and Dennis Hopper passed away before being able to tell their stories, along with the absence of co-stars Samantha Mathis and Fiona Shaw.
Next up is the original 1993 'Making of' Featurette. Made to promote the film, it features a far more congratulatory tone than the aforementioned documentary, but it is worth it to see some great behind the scenes footage, including the superb puppetry that brought Yoshi to life, alongside an interview snippet where Bob Hoskins displays early hostility, lamenting that "he used to do Shakespeare".
For posterity, it's nice to have the complete electronic press kit, which includes the above featurette, some more interview snippets from cast and crew and the film's trailer, in an uninterrupted, 30 minute long feature.
Finally, we have the film's original theatrical trailer (in SD) and a collection of image galleries of behind the scenes photos and storyboards.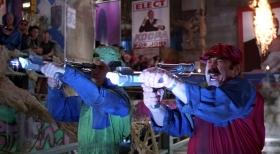 PRICING: You can find products similar to this one for sale below.

United States: Find other tech and computer products like this over at Amazon.com

United Kingdom: Find other tech and computer products like this over at Amazon.co.uk

Australia: Find other tech and computer products like this over at Amazon.com.au

Canada: Find other tech and computer products like this over at Amazon.ca

Deutschland: Finde andere Technik- und Computerprodukte wie dieses auf Amazon.de
We openly invite the companies who provide us with review samples / who are mentioned or discussed to express their opinion. If any company representative wishes to respond, we will publish the response here. Please contact us if you wish to respond.