Interstellar (2014) Cinema Movie Review
"Mankind was born on Earth. It was never meant to die here."

Published
2 minutes & 30 seconds read time

Interstellar (2014)
Over the last 15 years, Director Christopher Nolan has proven to be one of cinemas great white hopes, imbuing his creations with equal part excitement, intelligence and an eye for epic scope, recalling some of Hollywood's classic films of yesteryear, with all the benefits of modern cinema technology, but not shying away from tried and true technology, such as models and celluloid. Warner Bros. is positioning Interstellar as a modern day 2001: A Space Odyssey, but how does it stack up against Stanley Kubrick's space classic? Read on, dear reader.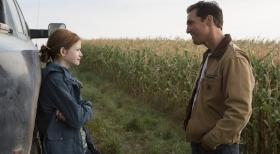 In an undated future, yet one obviously not too far detached from today, the world has become increasingly uninhabitable. Violent dust storms pummel the arid landscape and crops are failing year on year, falling to blight. The military has been disbanded, and space travel has been all but publically shut down, with the moon landing shunned as a hoax to bankrupt the Soviet Union.
NASA pilot, turned farmer Cooper (Matthew McConaughey) is attempting to keep his family of daughter Murph (Mackenzie Foy), son Tom (Timothée Chalamet) and father-in-law Donald (John Lithgow) together when an opportunity is extended, which might mean the future of the human race, but which will come at a high personal price.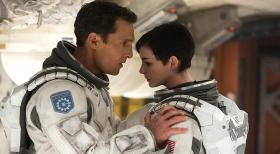 After all the hype from the last few months, could Interstellar possibly live up to the hype? Probably not. Is it the best film it could be? Definitely not. However, it is curious that a deep split has been created between cinemagoers and some critics over whether the film is the second coming and this generation's 2001, and those who claim the film is an long, poorly scripted and borderline pretentious feature. The truth lies somewhere in the middle. First, let's talk about what the film does well.
There's no doubt that Christopher Nolan excels in the set-up. Like most Nolan films, the scope of Interstellar is humungous. Its design is sumptuous, and the visuals are just stunning. Some of the films images, including the miles-high wave on Miller's planet are spectacular - icons in the making - and the empty vistas the crew visit are totally believable as a completely alien world. The artificial intelligence machines TARS and CASE are unlike any robots you've seen on screen before.
The cast, led by Matthew McConaughey and Anne Hathaway, are suitably solid and hit all the right notes, the former eliciting a huge lump in the throat with his nuanced reaction to a devastating and important emotional plot point.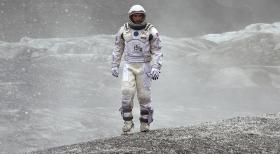 Where Nolan doesn't excel in is the pay off. Numerous plot elements go nowhere and fail to justify their inclusion, only serving to pad out the films nearly three hour, butt-busting runtime. But let's be clear about Nolan's perceived failure; there are some huge scientific and theoretical concepts at the heart of Interstellar, and with a slavish devotion to science, very few in the audience are going to follow exactly what's going on.
Of course, that's not necessarily a deal breaker in itself, but Nolan has a history, going back to The Prestige, and particularly in Inception, of making his films unnecessarily complex and entangled in its own plot threads. Some of the dialogue too, clearly suffers. Nolan needs to find a reliable script doctor to join the fold.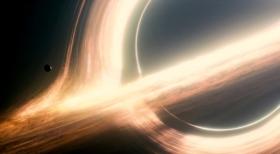 I should also comment on complaints that the sound mix has been overcooked, resulting in some dialogue being missed towards the end of the film. While this is no mistake and is exactly how Nolan wanted it crafted, I don't agree with his creative decision here.
Ultimately, Interstellar is equal parts fascinating and frustrating, and whilst it is a good film in its own right, it does fall short of the perfect combination of fantasy action and thinking man's science fiction.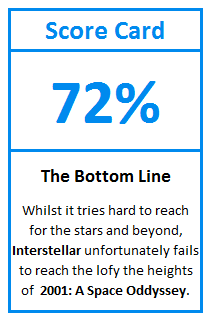 PRICING: You can find products similar to this one for sale below.

United States: Find other tech and computer products like this over at Amazon.com

United Kingdom: Find other tech and computer products like this over at Amazon.co.uk

Australia: Find other tech and computer products like this over at Amazon.com.au

Canada: Find other tech and computer products like this over at Amazon.ca

Deutschland: Finde andere Technik- und Computerprodukte wie dieses auf Amazon.de
We openly invite the companies who provide us with review samples / who are mentioned or discussed to express their opinion. If any company representative wishes to respond, we will publish the response here. Please contact us if you wish to respond.