TweakTown's Rating: 91%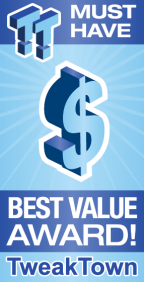 The Bottom Line
Given the build quality and exceptional battery life, Fujitsu's F100 SSD should be considered if you want a low-cost, high-capacity SSD that will stand the test of time.
Introduction & Specifications, Pricing, and Availability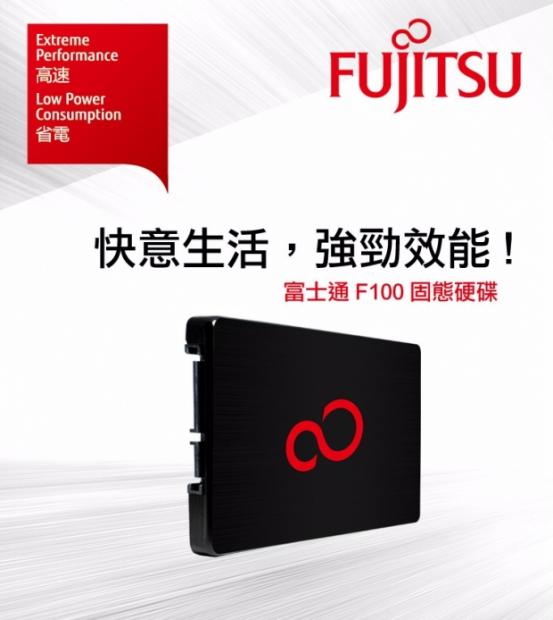 Fujitsu Asia Pacific Ltd is a subsidiary of Fujitsu, and a company large enough to need no introduction. This subsidiary of Fujitsu has made a lot of noise in Asian computer DIY markets with a trio of SATA III, and a unique PCIe SSD for the consumer market.
Today we're testing the value product of the Fujitsu consumer SSD family, the F100. We brought this drive back with us from Computex. It was actually the first 512GB capacity size SSD we acquired with a Silicon Motion controller, and we have run extensive tests on it. Like other SSDs with Silicon Motion controllers, the F100 firmware comes from SMI, while the NAND flash, PCB, and design come from the drive manufacturer.
At this time, very few Fujitsu consumer SSDs are sold in the U.S., but Newegg has started carrying a few of the SandForce based drives. Sadly, the SandForce based FSX model, the one model with up to 256GB of Intel Single-Level Cell NAND flash, is still not on U.S. shores. The Fujitsu PCIe All-in-One RAID product with a Marvell RAID controller and four mSATA SSDs is also not on U.S. shores at this time either. Both products are available throughout Asia, and have a strong presence in Taiwan.
Specifications, Pricing, and Availability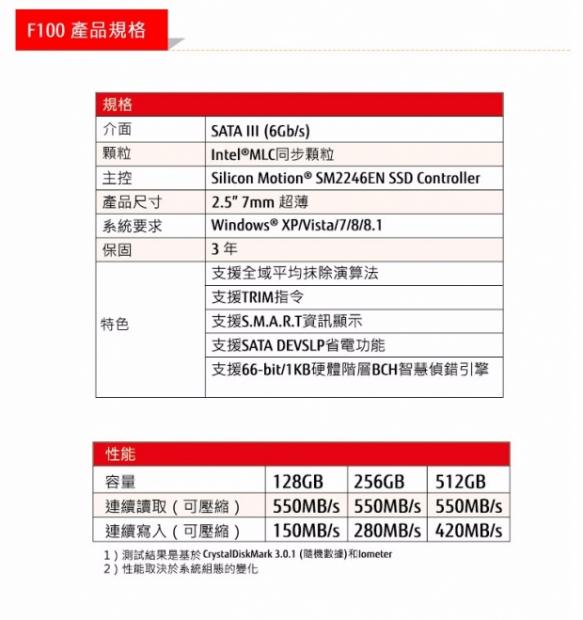 The F100 ships in three capacities, 128GB, 256GB, and 512GB. At the heart of the SSD is a Silicon Motion SM2246EN four-channel flash controller paired with Intel MLC NAND flash.
Fujitsu lists read sequential performance at 550MB/s across all capacities. The sequential write performance differs across capacities. Sequential write for the 512GB model we're testing today is 420 MB/s; the 256GB's sequential write is 280 MB/s, and the 128GB's is 150 MB/s.
The regular assortment of SMI goodies is also provided, including TRIM, SMART, DEVSLP, and 66-bit every 1KB BCH error correction.
The F100 is sparse on accessories. We found a retail drive online in Taiwan, and learned this series ships as a drive only model with a warranty statement. The warranty is three-years in Taiwan, where we found the F100 512GB on sale for $7299 NTD ($239 USD). The price is in line with other value / mainstream SSDs sold in Taiwan in the same capacity, like the Crucial MX100 and OCZ ARC 100.
Fujitsu F100 512GB SSD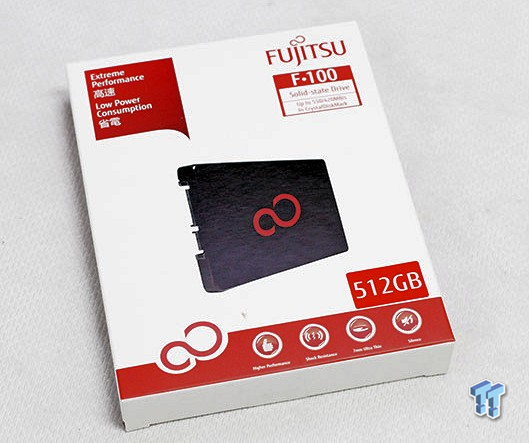 We found an image of the retail packaging through a retailer in Taiwan. Our early sample was a bare drive intended for a preview article that introduces Fujitsu to the rest of the world, outside of Asia.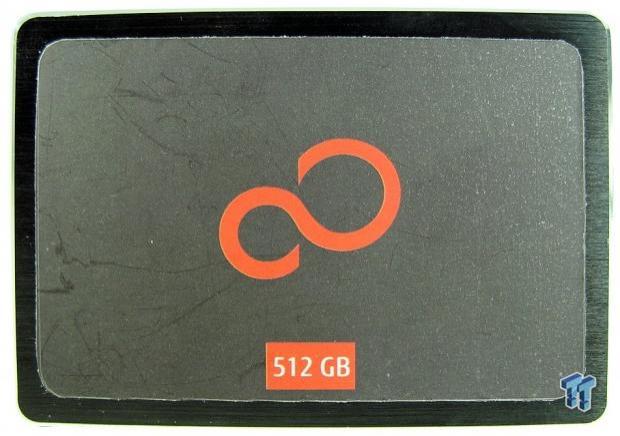 We brought back a number of products from Computex, including many bare drives. Our F100 512GB fared the trip well, but there are a few imperfections in the label. This is due to the rough handling during travel, and not an issue with Fujitsu's quality.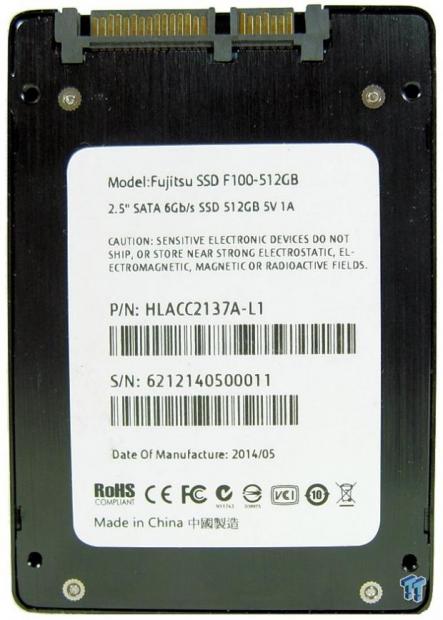 The label on the back shows the part number, as well as the serial number, capacity, and government regulation markings.

The F100 has a 7mm z-height, so it fits in new Ultrabook designs that require the ultra-thin design.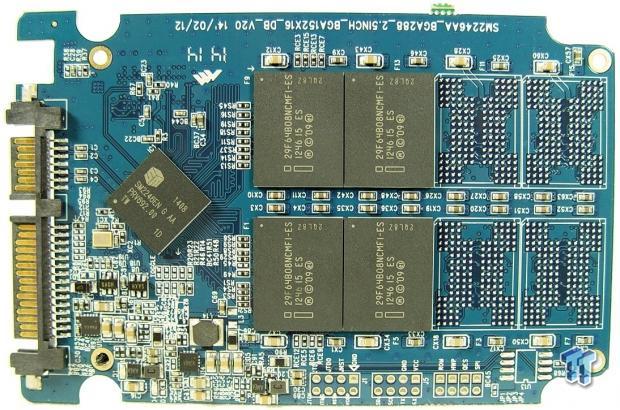 Inside, we found a full-size PCB with a four-channel Silicon Motion SM2246EN controller. Four Intel flash packages reside on each side of the circuit board.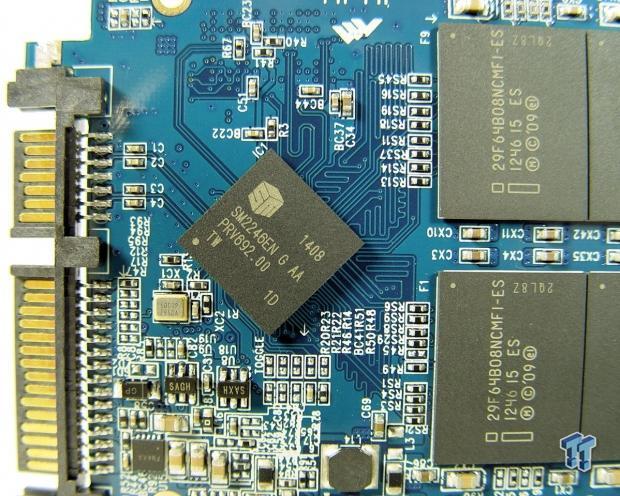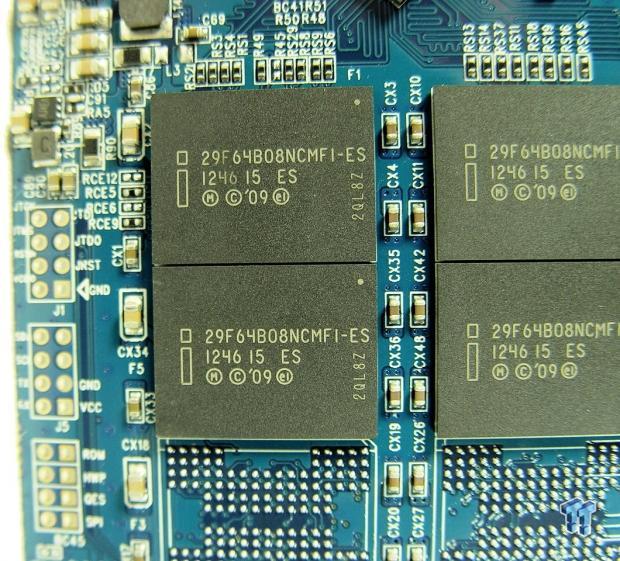 Intel flash ships on all Fujitsu consumer SSDs.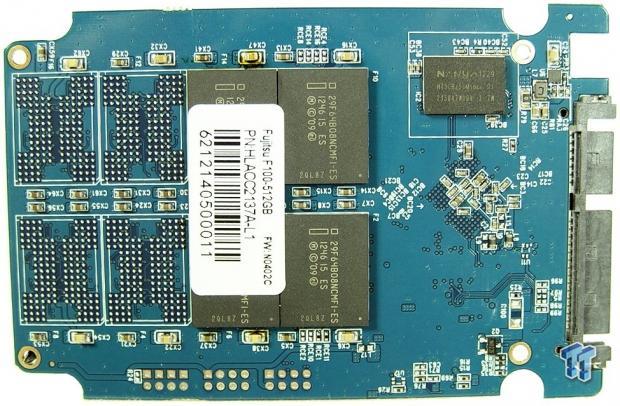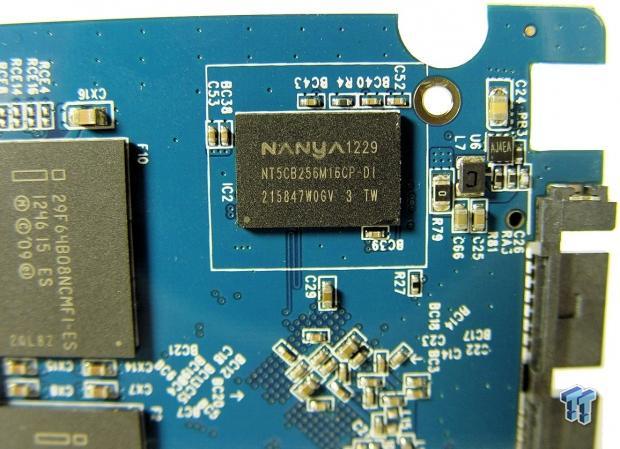 The F100 uses a single 512MB NANYA DDR3-1600 DRAM (256Mb x 16) for a buffer.
Test System Setup and ATTO Baseline Performance
Desktop Test System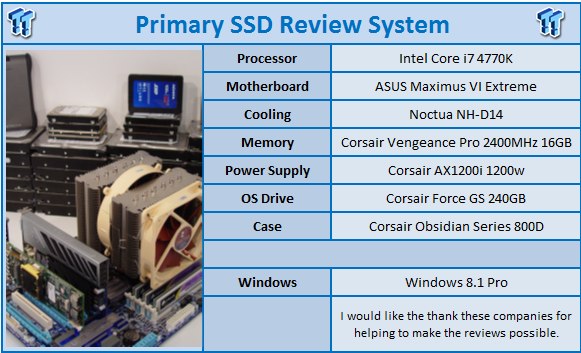 Lenovo T440 - Notebook Power Testing with DEVSLP and Windows 8.1 Pro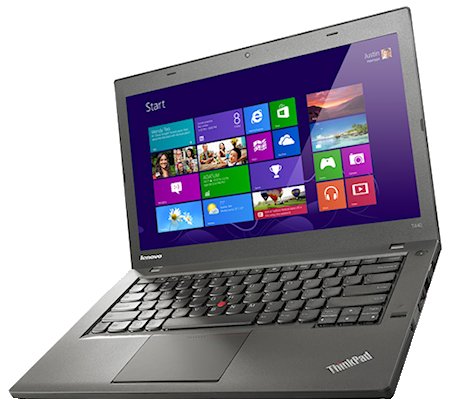 Nearly all of the performance tests run on the desktop system, but we use a Lenovo T440 to run the power tests. The T440 is the latest addition to our client SSD test lab, and allows us to test the notebook battery life offered by a SSD with advanced features like DEVSLP enabled.
ATTO - Baseline Performance
Version and / or Patch Used: 2.34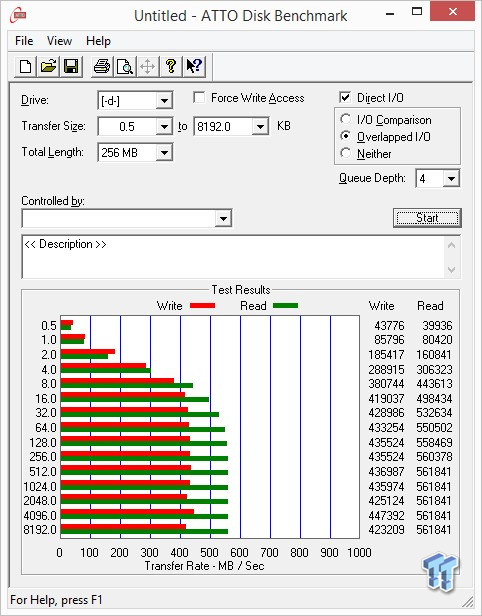 In ATTO, the Fujitsu scored at 561 MB/s read, and 447 MB/s write speeds. The write speed is around 50 MB/s higher than the peak sequential write performance Fujitsu quotes on the specification sheet.
Benchmarks - Sequential Performance
HD Tune Pro - Sequential Performance
Version and / or Patch Used: 5.50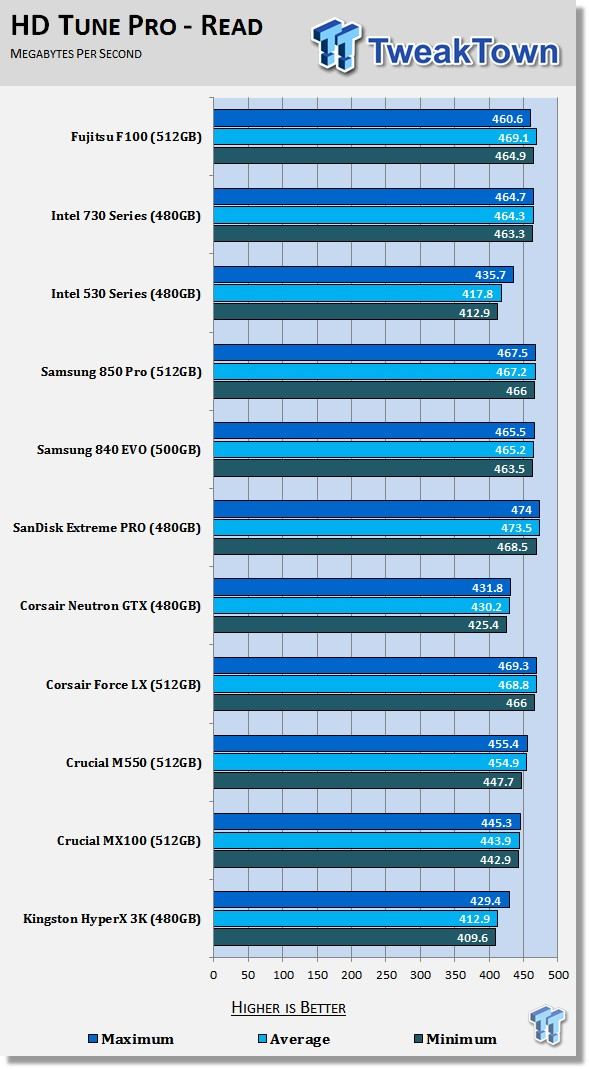 Silicon Motion's low power, four-channel controller has never had a problem delivering high sequential write performance. The Fujitsu F100 delivers 464.9 MB/s sequential write speed on average in our test where we read across the entire LBA span of the drive.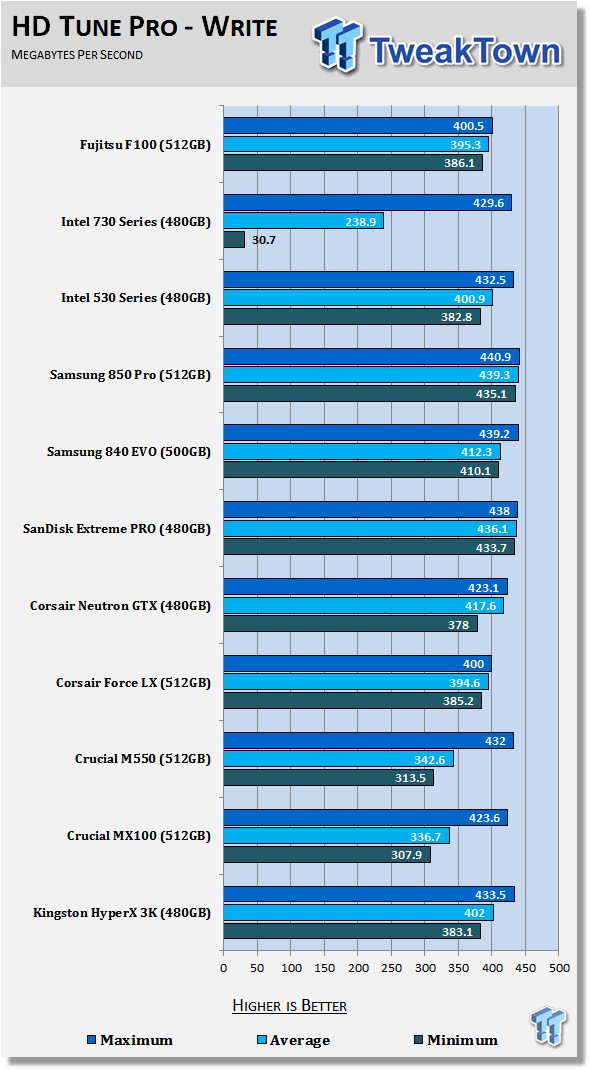 Although the claimed sequential write performance is slower than many other drives on the market, in the real-world, with 64KB blocks, the F100 doesn't fair too bad. In this test, the F100 512GB delivers nearly 400 MB/s sequential read performance.
HD Tach - Sequential Write Performance after Random Writes
Version and / or Patch Used: 3.0.4.0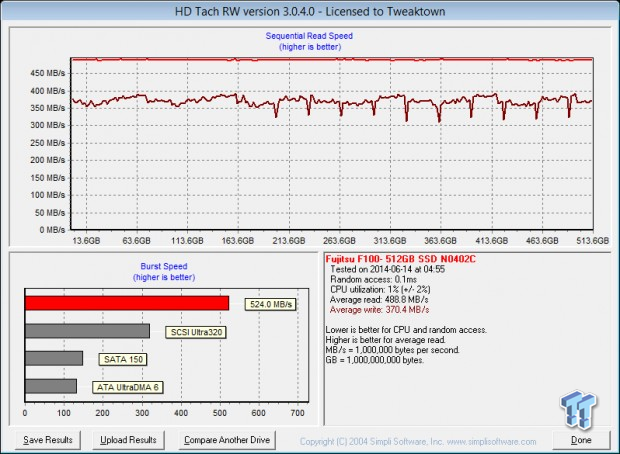 After a number of sequential and random writes, we tested the F100 512GB with HD Tach to gauge sequential performance with the drive performing garbage collection tasks. The F100 fared well here, and didn't have any significant large performance loss.
Benchmarks - Anvil Storage Utilities
Anvil Storage Utilities
Version and / or Patch Used: RC6
So, what is Anvil Storage Utilities? Well, it's a storage benchmark for SSDs and HDDs where you can check and monitor your performance. The Standard Storage Benchmark performs a series of tests; you can run a full test, or just the read or the write test, or you can run a single test, i.e. 4k QD16.
Anvil Storage Utilities is not officially available yet, but we've been playing with the beta for several months now. Anvil has been updating the software steadily on several international forums, and is adding new features every couple of months.
We can use Anvil several different ways to show different aspects for each drive. We've chosen to use this software to show the performance of a drive with two different data sets. The first is with compressible data, and the second data set is incompressible data. Several users have requested this data in our SSD reviews.
0-Fill Compressible Data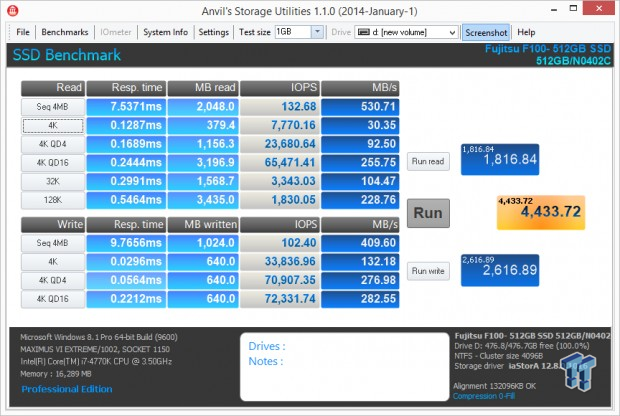 Incompressible Data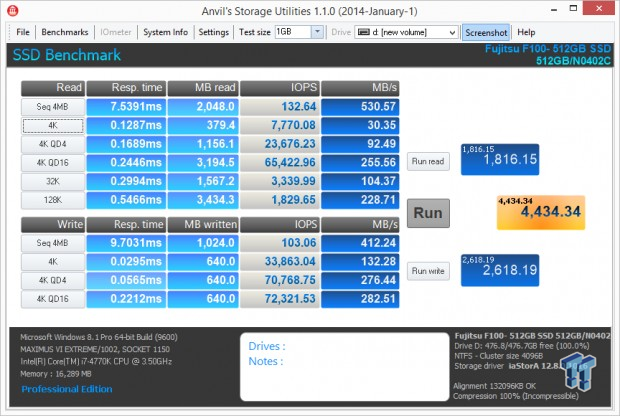 The Fujitsu F100 handles compressible and incompressible data the same way, so there isn't a performance loss when working with incompressible files.
Low Queue Depth Read IOPS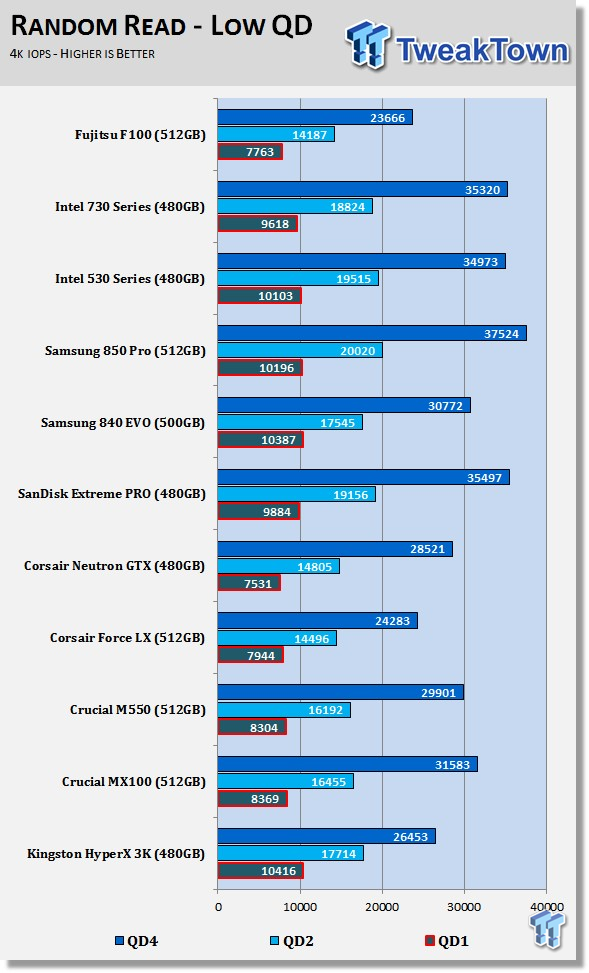 High Queue Depth Read IOPS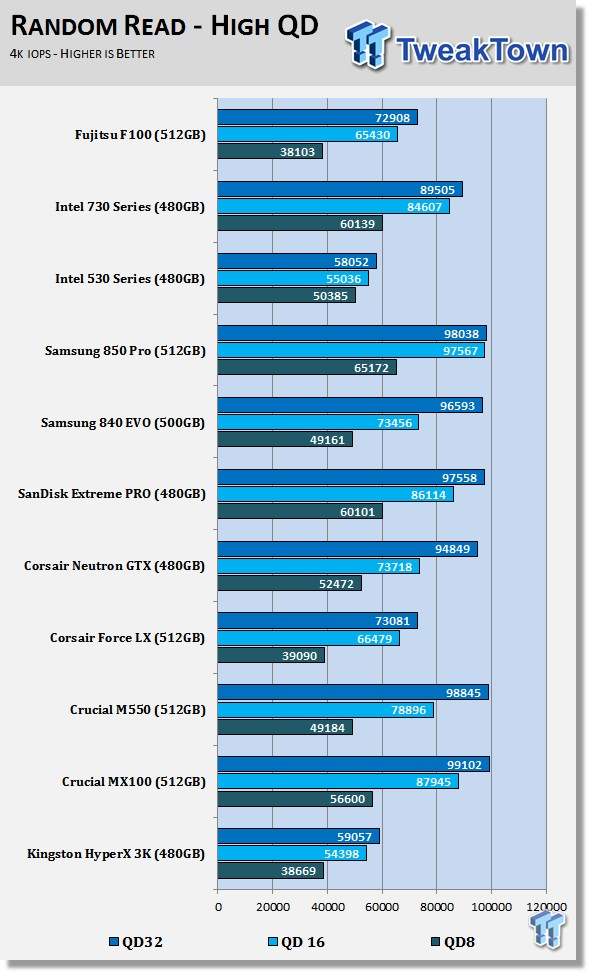 As a value drive, we don't expect the F100 to deliver 10K random read IOPS at QD, but users still want a drive that scales. That's exactly what the Fujitsu F100 does; it scales all the way to 72K random read IOPS at queue depth 32.
Low Queue Depth Write IOPS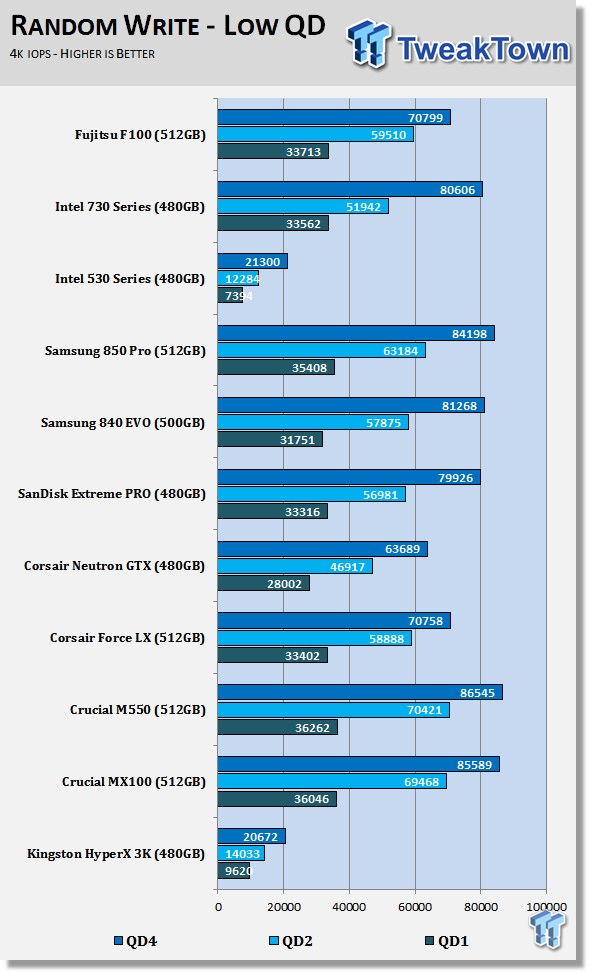 High Queue Depth Write IOPS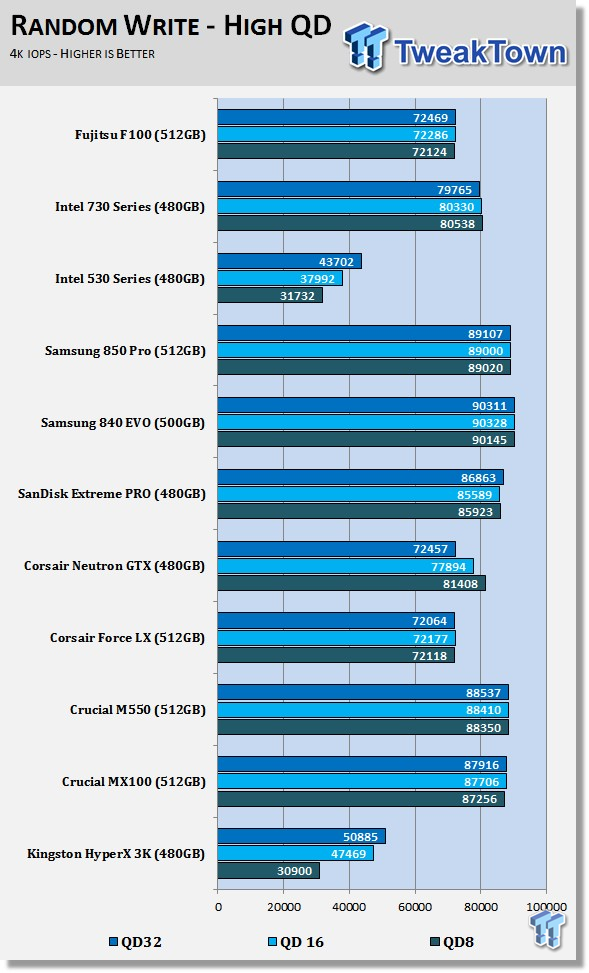 The Intel flash allows the F100 to deliver high random write performance at low queue depths. At the upper end of the queue depth scale, the F100 reaches 72K. By queue depth eight, the F100 nearly reaches peak random write performance.
Benchmarks - Mixed Read / Write Workloads
Sequential Mixed Read / Write Workloads
In this series of tests, we measure mixed workload performance. We start with 100% read, and then add data writes to the mix in 10% increments until we get to 100% writes. We believe this will be the next major area SSD manufacturers will address, after performance consistency.
Sequential Mixed Workload Bandwidth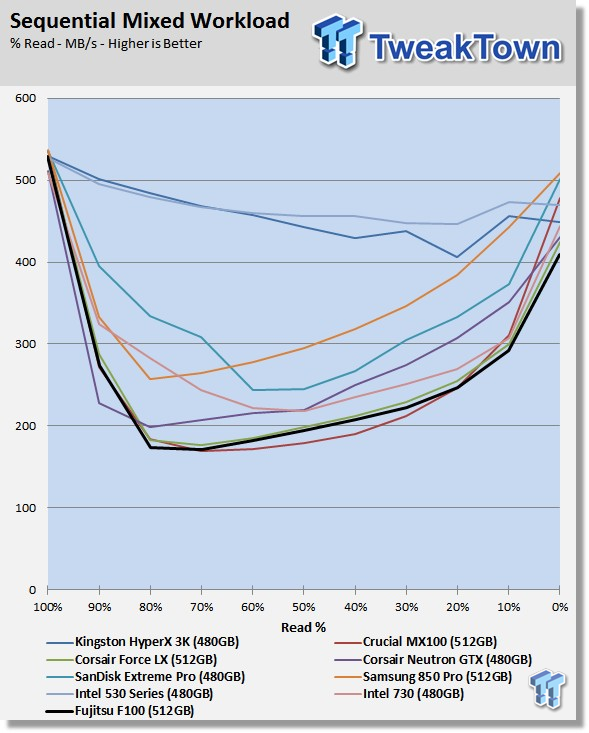 Our mixed workload steady state test has proved to be brutal on value focused SSDs. Here we see the F100 dipping very low after the initial 100% read test. Once you start adding sequential writes to the mix, the performance drops until finally recovering strongly at the 100% sequential write mark.
Sequential 80% Read / 20% Write Bandwidth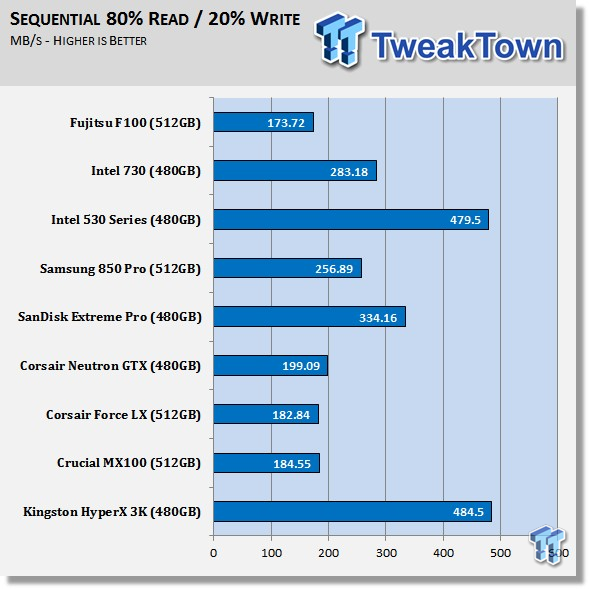 For consumer workloads, we measure at the 80% read / 20% write point. The Fujitsu is the slowest model in this mix on the chart today.
Random Mixed Workload Response Time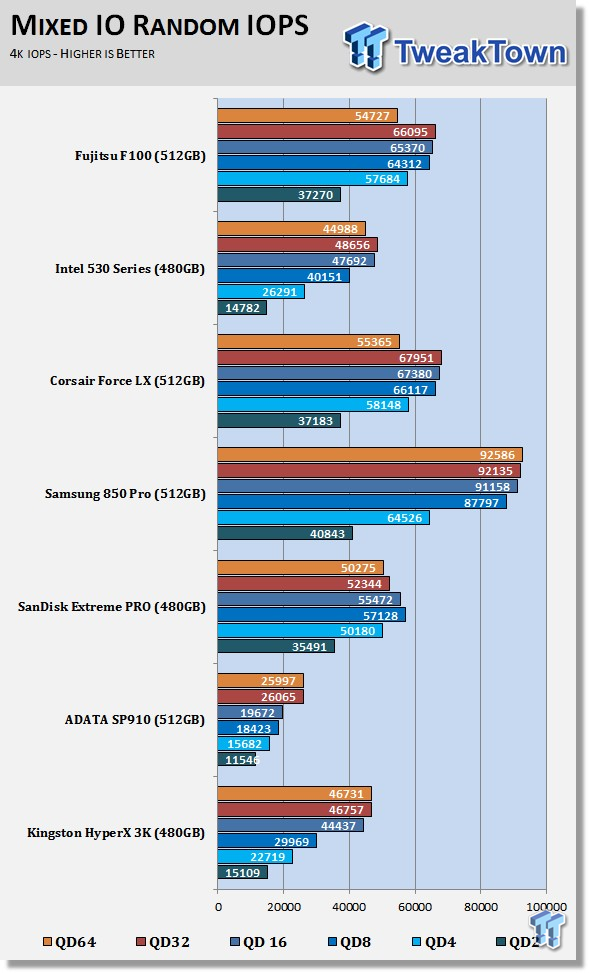 Things look better with random mixed data; here the Fujitsu F100 scores very well against the other products on the chart.
PCMark 8 Consistency Test
Futuremark PCMark 8 Extended - Consistency Test
Version and / or Patch Used: 2.0.228
Heavy Usage Model:
Futuremark's PCMark 8 allows us to wear the test drive down to a reasonable consumer steady state and then watch the drive recover on its own through garbage collection. To do that, the drive gets pushed down to steady state with random writes and then idle time between a number of tests allows the drive to recover.
Precondition Phase:
1. Write to the drive sequentially through up to the reported capacity with random data.
2. Write the drive through a second time (to take care of overprovisioning).
Degradation Phase:
1. Run writes of random size between 8*512 and 2048*512 bytes on random offsets for ten minutes.
2. Run performance test (one pass only).
3. Repeat one and two, eight times, and on each pass, increase the duration of random writes by five minutes.
Steady state Phase:
1. Run writes of random size between 8*512 and 2048*512 bytes on random offsets for 50 minutes.
2. Run performance test (one pass only).
3. Repeat one and two, five times.
Recovery Phase:
1. Idle for five minutes.
2. Run performance test (one pass only).
3. Repeat one and two, five times.
PCMark 8's Consistency test provides a ton of data output that we use to judge a drive's performance. Here we see the three states of performance for the select SSDs, light use, consumer steady state, and worst case.
Storage Bandwidth - All Tests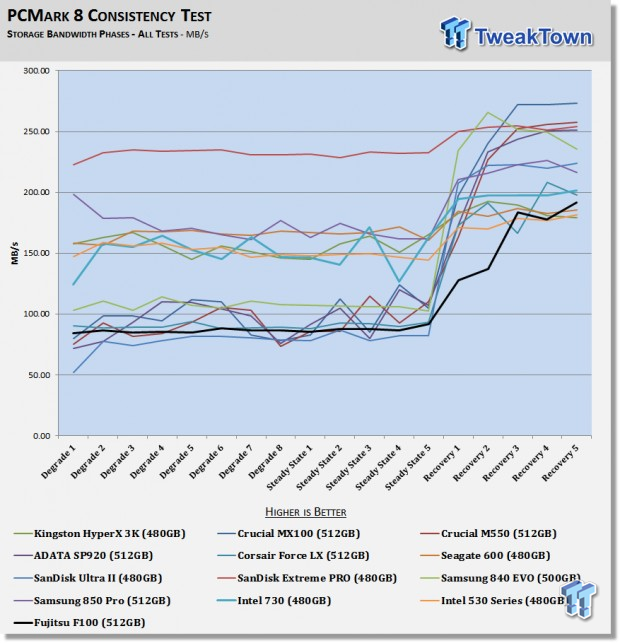 Storage Bandwidth - Heavy Load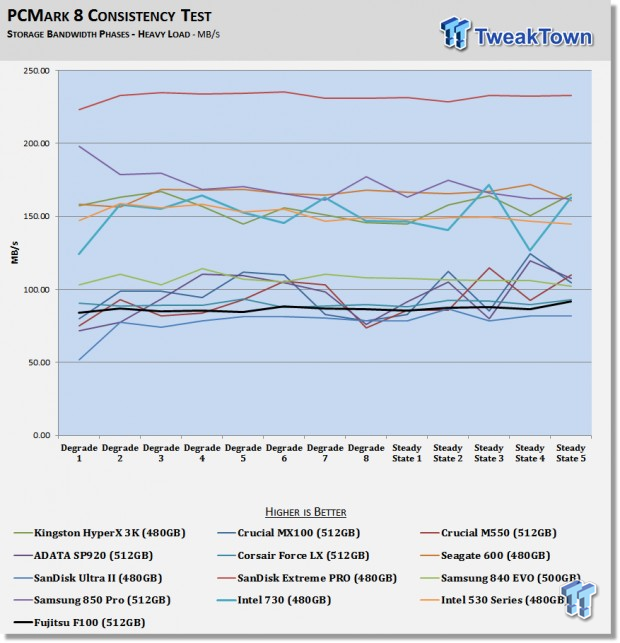 Storage Bandwidth - Typical Consumer Load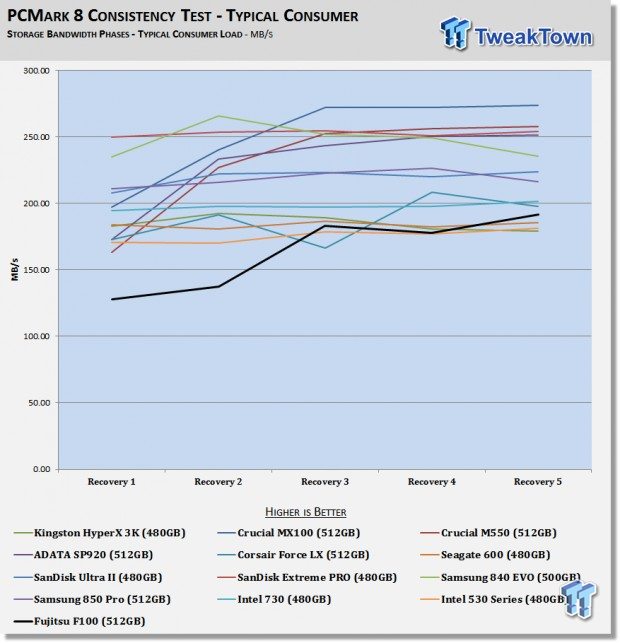 In our storage bandwidth charts, we first see all of the tests graphed with the Fujitsu shown on the chart with a black line. As a value SSD, we don't expect the F100 to perform well in our heavy load tests, but this drive struggles in the typical consumer load as well. The F100 does recover after a longer period of time in an inactive state - after the garbage collection has time to cleanse the flash.
PCMark 8 Consistency Test - Continued
Total Access Time - All Tests
The access time test measures the total latency across all 18 tests. This is one of, if not the most important of all tests we run at this time for consumer SSDs. When your latency is low, your computer feels fast; it's just that simple.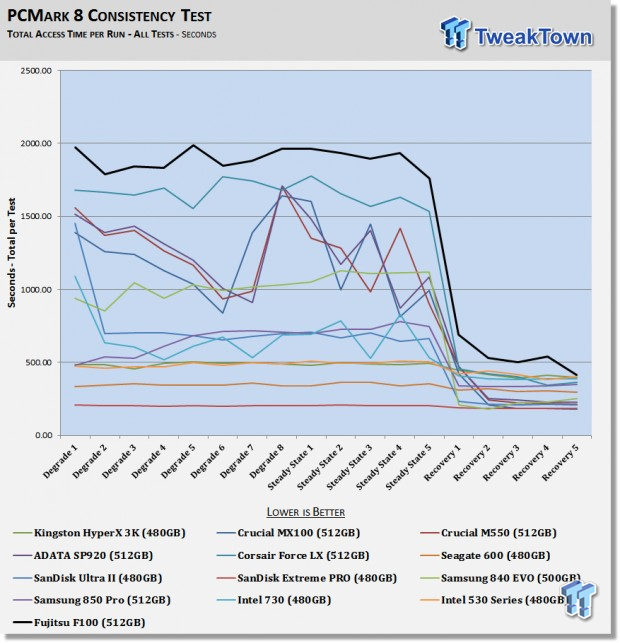 Total Access Time - Heavy Load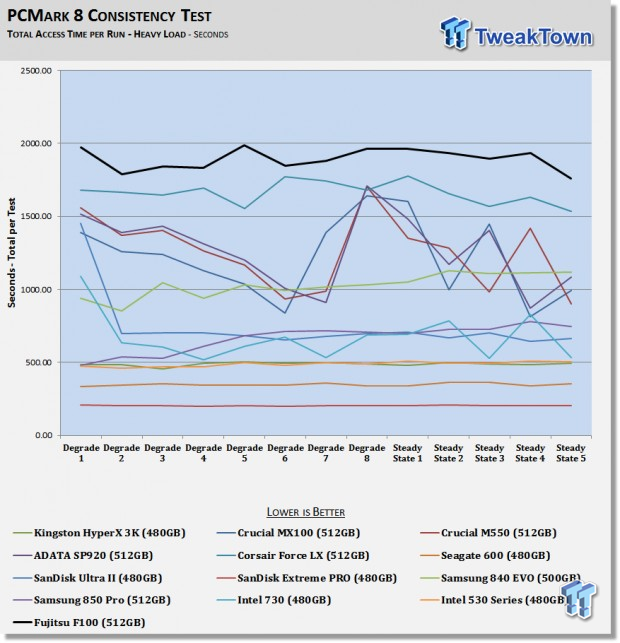 Total Access Time - Typical Consumer Load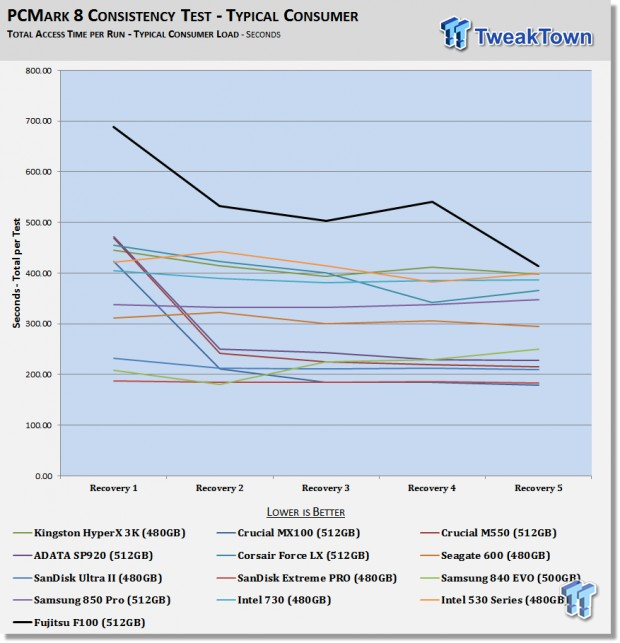 The latency tests are some of the most important in this review since they show the way your computer feels when working with data on your PC. In the bandwidth test, the F100 eventually performed a little faster than some of the other drives on the chart, but in the latency test, the F100 consistently performs worse than everything else on the chart.
As we mentioned in the introduction, this was the first SM2246EN drive we received in this capacity. It still has the release firmware on the drive, and hasn't been updated to Silicon Motion's latest firmware.
Benchmarks - Power Testing
Bapco MobileMark 2012 1.5
Version and / or Patch Used: 2012 1.5
Developer Homepage: http://www.bapco.com
Test Homepage: http://www.bapco.com
MobileMark 2012 1.5 is an application-based benchmark that reflects usage patterns of business users in the areas of office productivity, media creation, and media consumption. Unlike benchmarks that only measure battery life, MobileMark 2012 measures battery life and performance simultaneously, showing how well a system design addresses the inherent tradeoffs between performance and power management.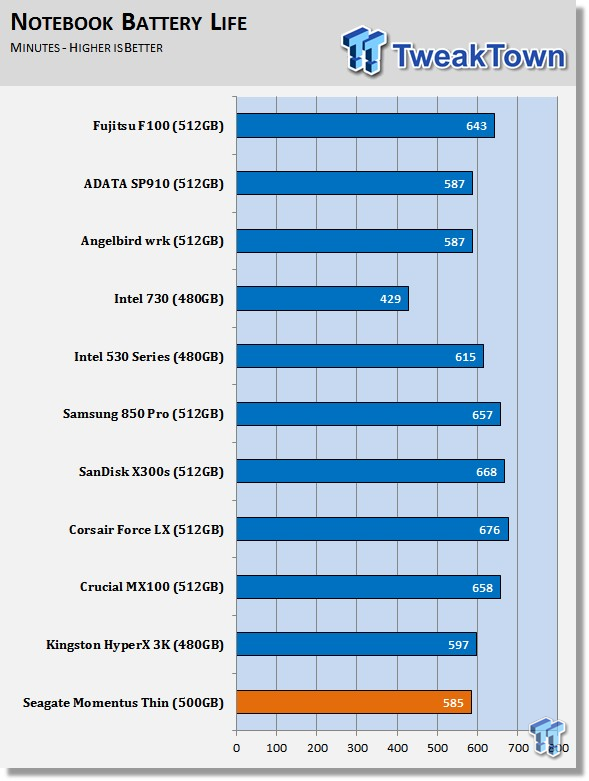 One of the reasons we haven't updated the firmware on the Fujitsu F100 is because this drive delivers an amazing amount of notebook battery life. The firmware we found on the Apotop S3C 240GB was released after the firmware we're testing today, and the notebook battery life wasn't as good. Many of the low-cost SSDs on the market end up installed in notebooks. This fact makes low-cost SSD notebook battery life a bit more important than the high performance SSDs that are more often installed in high performance desktops.
Power Limited Performance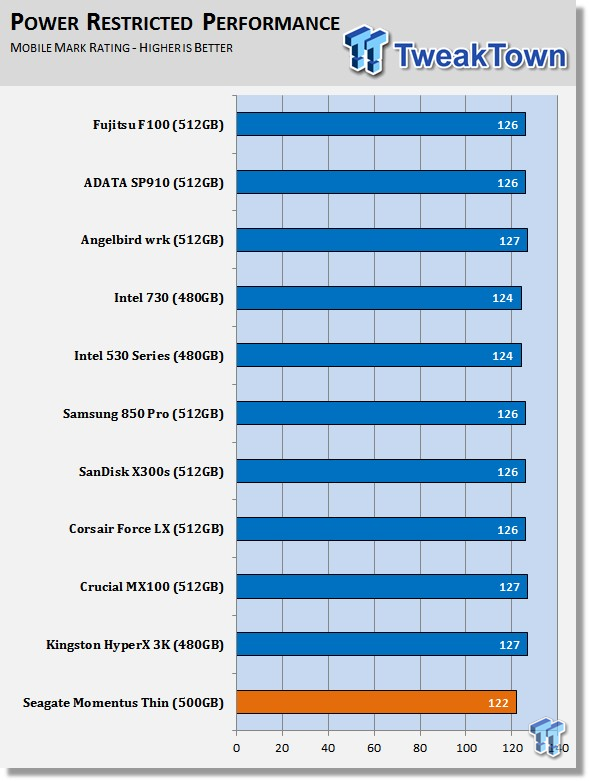 In a notebook on battery power, your system reduces clock speeds and system bus speeds. This creates what I call a power-restricted environment. Most SSDs perform about the same with the system busses reduced, as you can see in this chart.
Final Thoughts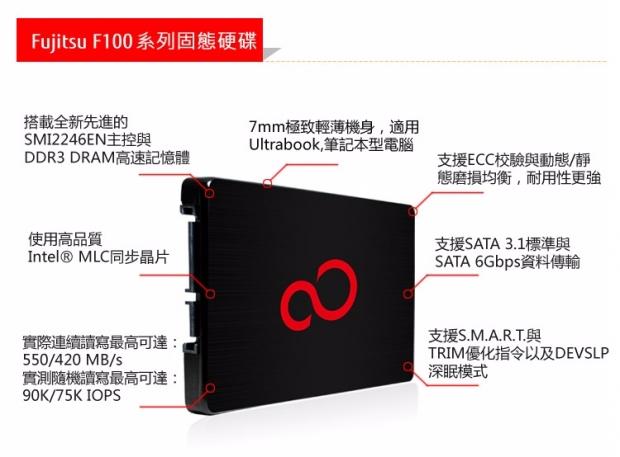 Although you cannot find the Fujitsu F100 in the U.S. market at this time, Fujitsu is coming. The FSA product line is already at Newegg, and enthusiasts should anticipate the arrival of the FSX line with SLC flash up to 256GB (around $200 USD). We can't wait to test the FSX line as cache drives in our NAS reviews!
In Taiwan and the rest of Asia, the Fujitsu F100 competes with several other low-cost products like the Crucial MX100. As tested, the F100 is a good drive that delivers very good notebook battery life. The performance should be a bit faster with the latest firmware that also fixes the notebook battery life issue found on the mid firmware release.
Performance and price are only two considerations when shopping for a value class SSD. The Fujitsu F100 ships with genuine Intel MLC flash designed, manufactured, and packaged by Intel. Many of the Silicon Motion SM2246EN drives we've tested ship with unknown flash that was packaged by a third party, labeled, and passed along to the SSD builder. From our talks with manufacturers, we know some very low quality flash is floating around, some with as little as 1K P/E cycles. Hell, some drives you expect to find a Silicon Motion controller in don't even ship with this controller.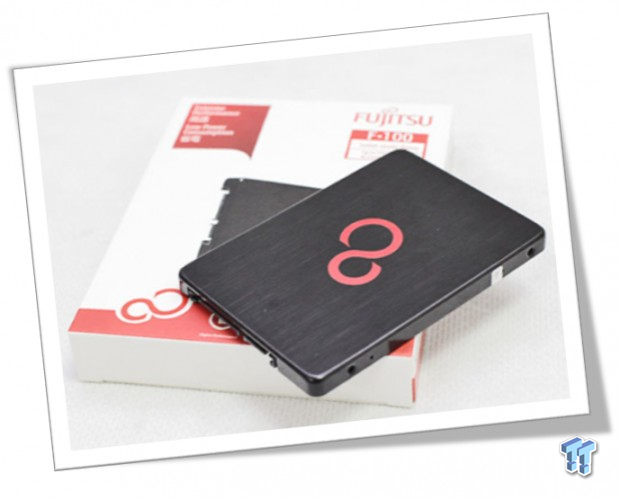 With the Fujitsu consumer SSDs, you will get genuine Intel flash that you can count on for several years, not some third party packaged flash that may or may not survive past the first year of use. This is an important distinction because you don't want to lose your data, and you don't want to worry about going through a complicated RMA process.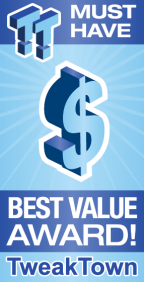 | | |
| --- | --- |
| Performance | 88% |
| Quality including Design and Build | 94% |
| General Features | 93% |
| Bundle and Packaging | 88% |
| Value for Money | 94% |
The Bottom Line: Given the build quality and exceptional battery life, Fujitsu's F100 SSD should be considered if you want a low-cost, high-capacity SSD that will stand the test of time.
PRICING: You can find products similar to this one for sale below.

United States: Find other tech and computer products like this over at Amazon.com

United Kingdom: Find other tech and computer products like this over at Amazon.co.uk

Australia: Find other tech and computer products like this over at Amazon.com.au

Canada: Find other tech and computer products like this over at Amazon.ca

Deutschland: Finde andere Technik- und Computerprodukte wie dieses auf Amazon.de
We openly invite the companies who provide us with review samples / who are mentioned or discussed to express their opinion. If any company representative wishes to respond, we will publish the response here. Please contact us if you wish to respond.