Swiftech H220-X All-In-One CPU Cooler Review
Swiftech shows they cannot be held down as they release a new way of looking at sealed water loops with their latest H220-X All-In-One CPU cooler.

Published Nov 3, 2014 6:02 PM CST
|
Updated Tue, Nov 3 2020 6:59 PM CST
14 minute read time
TweakTown's Rating: 99%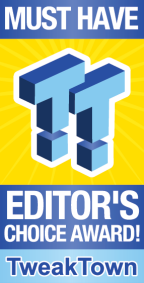 The Bottom Line
Swiftech does it again! Just when all hope was starting to be lost, they bounce back with the H220-X all-in-one CPU cooler, and jump into the top four, with an AIO like no other, also at an outstanding price.
Introduction, Specifications, and Pricing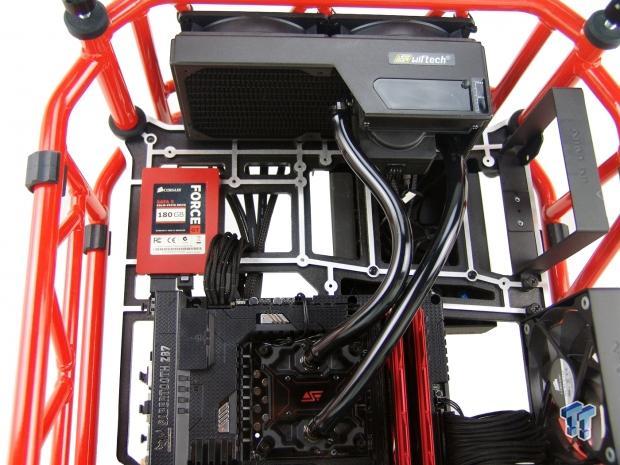 For those of you, like us, that got to see all the hype surrounding the original H220 through its release, and even the few people in the U.S. that got to use and enjoy the H220, we found the hype was certainly worth the wait. In this design, we saw custom components used in an orientation similar to more generic AIOs we are all used to seeing and using by now. The big deal about the H220 was that not only did the kit come sealed, but it used a well-known pump, and allowed modifications, all while still keeping within the manufacturer's warranty on the components as a kit.
That all came to an abrupt standstill once Asetek caught wind of their results designs. Of course, they were claiming that the design Swiftech used infringed upon their own design in the most basic terms. In particular, the design includes a head unit that offers both the cold plate/block with a pump built into it. We are not here to play judge and jury on past happenings; you can all draw your own conclusions as to how you feel about it, as information is widely available on the net. As to why we are here, it is because Swiftech figured out a way around things, and is able to deliver something very similar to the original concept, but this time more refined as well.
Today we will be taking a very close look Swiftech's new H220-X, which is again a modular, sealed, AIO, but this time things had to be different. In this design, since the pump needed to be removed from the CPU, it left Swiftech room to play with designs, and the one that comes on the H220-X is no slouch when it comes to performance, as well as looks. In this design, and as the naming implies, the system is based on a dual 120mm radiator, and for those who want a bit more cooling capacity, they do offer a H240-X as well. This is where things change quite a bit though. Rather than using a standard radiator, this one took on a complete redesign that allowed for a brand new pump, and a windowed reservoir to become part of the radiator. Swiftech not only figured out a way to put themselves back in the AIO game with a superior offering, but the refinements and changes made here really raises the bar for everyone else.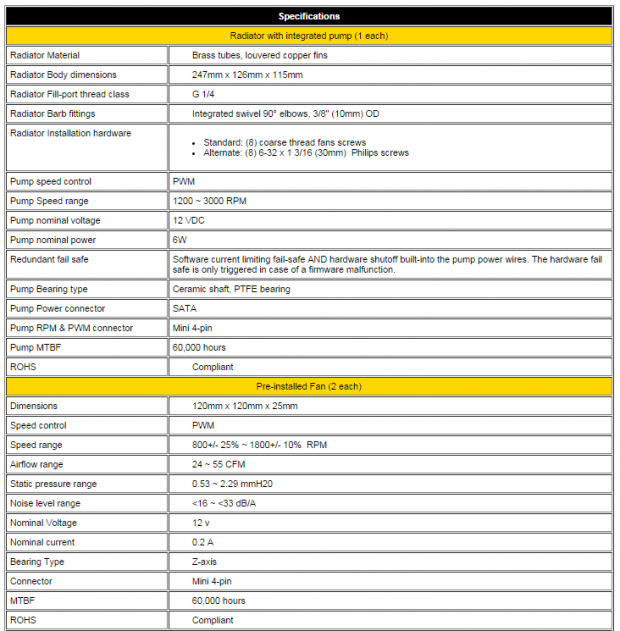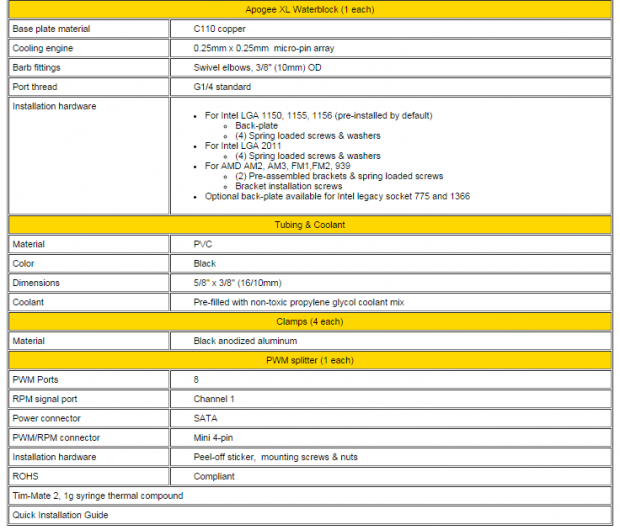 As the charts provided from Swiftech show, we start out with the 247mm long, 126mm wide, and 115mm thick dimensions of the radiator made with brass tubes and copper fins. In that 155mm of thickness, only 29mm of it is the radiator. The fittings on this radiator are threaded with G1/4 threads and have ninety degree fittings with 3/8 inch OD barbs for the tubing. There are also course fan screws, and 30mm fan screws included to mount the fans to the radiator, as well as to the chassis. This is also where the MCP-30 pump is located. It is PWM controllable, and can spin up to 3000RPM only using six watts of power via the secondary SATA power lead. As for the fans that cool this section of the radiator, there is a pair of Helix-PWM 120mm fans included. They can deliver 55CFM of flow, 2.29mmH2O in pressure, and are rated with a maximum sound level of 33 dBA. Both the pump and the fans use four-pin connectors for PWM control, and both offer 60,000 hours of run time.
Further down, we find that this kit offers the Apogee XL water block, which is a new design, and this one offers interchangeable plates for LED color options. It is milled from a solid block of C110 copper, and for the coolant to capture the heat, the inside of the block is milled with 0.25mm X 0.25mm micro pins. It also comes standard with G1/4 threads, and is compatible for all current sockets for AMD and Intel, but for legacy users of LGA775 or 1366, you will need to acquire an additional backplate to accommodate those particular sockets. As for the tubing that passes the coolant around this sealed unit, Swiftech uses black PVC tubing with 3/8 inch ID and 5/8 inch OD, and since it is sealed, there is propylene glycol coolant mix already filling the H220-X to the appropriate level. To keep all of the tubing in place, Swiftech uses black, anodized aluminum clamps that screw tight, but also will not over tighten when using the correct tubing, just in case you plan to modify your H220-X
At this time, the H220-X is not so widely available. A quick glance at the Swiftech product page shows that they have set the MSRP of the H220-X to $139.95, and I am sure stock won't last long at all. As time progresses, maybe more of the usual suspects like Amazon.com will start to list it, but for now, you are pretty much limited to Swiftech's stock. Considering most other typical 240mm radiator based AIOS release at $119.99, and offer very little in comparison to this kit, we feel that Swiftech is practically giving these things away at this price. For modularity and customizability all still included in the three-year warranty, it makes the decision so much easier to make.
Packaging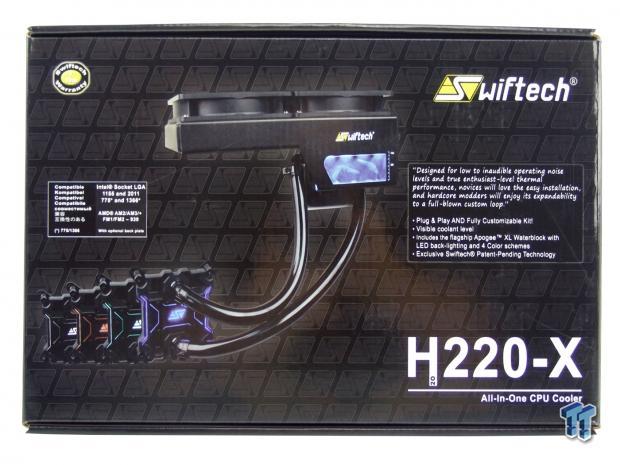 On top of bunches of little Swiftech logos, they proudly put an image of the H220-X in the center, displaying the reservoir backlit in white LED, and the four color options for the water block. They also show off the warranty, compatibility, and offer a brief statement behind the design.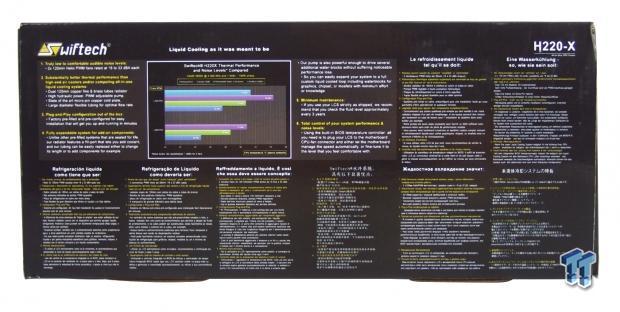 This panel offers a bit of "behind the scenes" into what makes the design comfortably audible, substantially better in performance, why it is essentially plug-and-play ready, how it is expandable, how it offers low maintenance, and the total control offered in this design. They also include a few charts for the noise and performance that they were able to produce in their testing.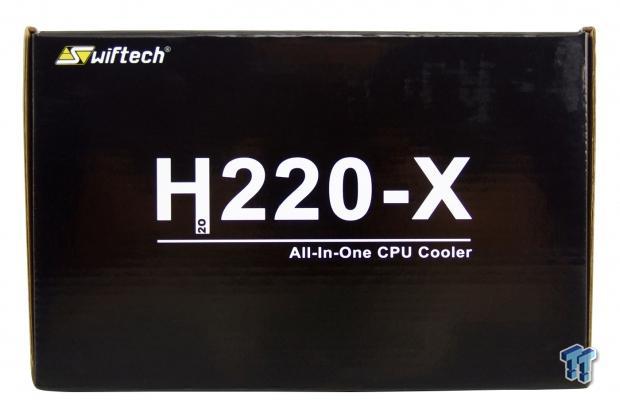 Both of the smaller ends are kept simple, offering only a small Swiftech name and logo at the top left, with the H220-X displayed largely across the middle, making this very easy to spot.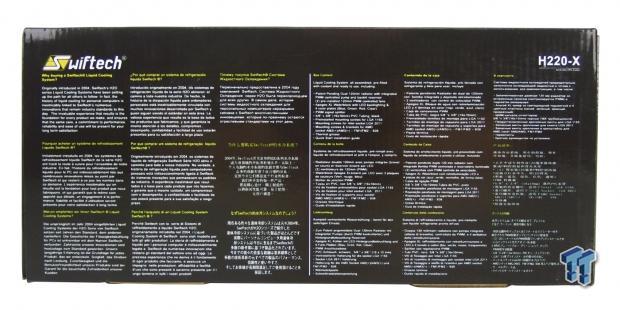 Here, at the left side, you are given a brief history and a statement regarding why you should feel comfortable buying Swiftech products. To the right, we find listings of the package contents; all of which gets repeated in many languages to cover Swiftech's customer base.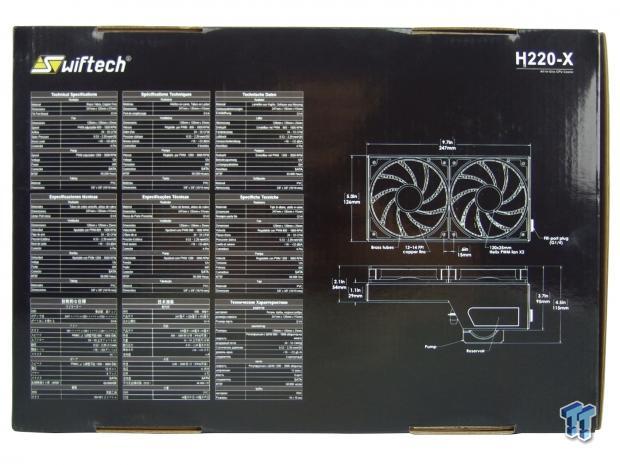 The bottom of the box is where we find the many specifications charts in a more simplified form. To the right, there is also a pair of dimensional renderings, so installation is easy to if your chassis will allow the H220-X to properly mount to it.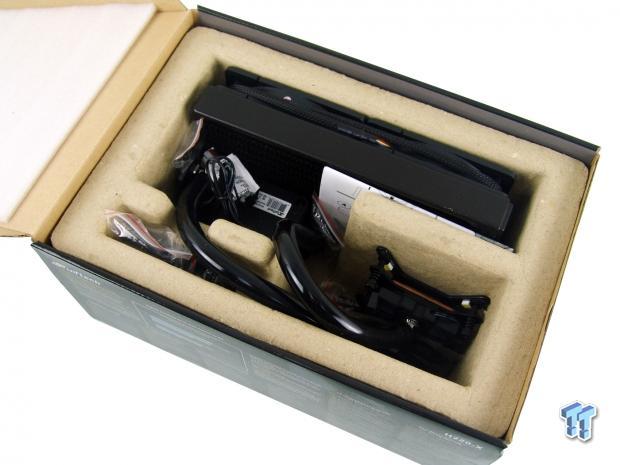 As many AIOs are, the H220-X is packed in a recycled cardboard, compartmentalized, tray that keeps all the bits safe and sound without touching each other during transit. There is also a dense foam pad that tops everything to keep things well in their place, and in our instance, it allowed our H220-X to arrive in terrific condition.
Swiftech H220-X all-in-one CPU Cooler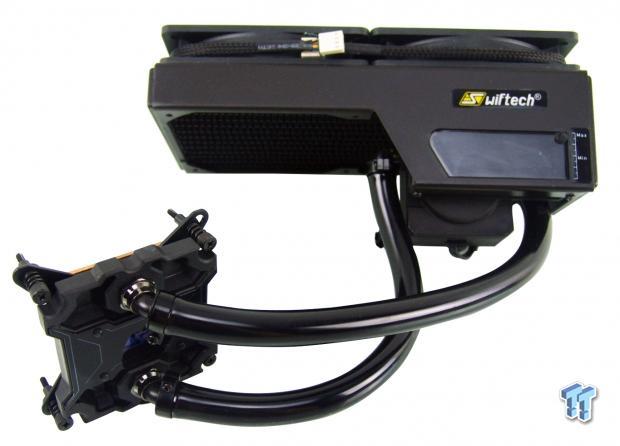 Here we have the H220-X fresh out of the box. There is a much thinner water block this time around since the pump was moved to the radiator, which is nice, and also allows for a much larger LED lit area on the Apogee XL. Fans are pre-installed in a push configuration on top since the reservoir and pump block almost half of one fan spot under the radiator.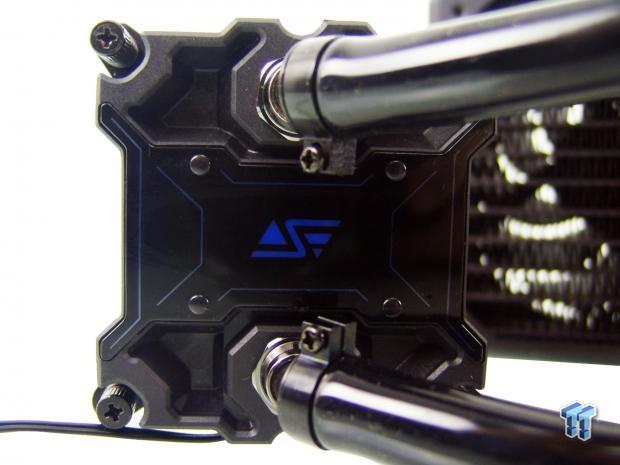 The Apogee XL you see now can be purchased individually, in various configurations, but with the H220-X, we get the black model with the large plate with the backlit logo in the center.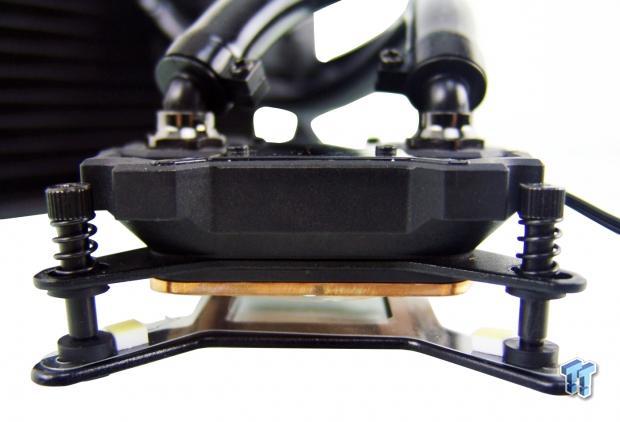 As we move around to the side, we find they start slim at the bottom with the copper base plate, and gradually get wider nearer the top. Along with that angular design, the sides are also cut with angles around them, and are clear of the pre-installed Intel mounting hardware.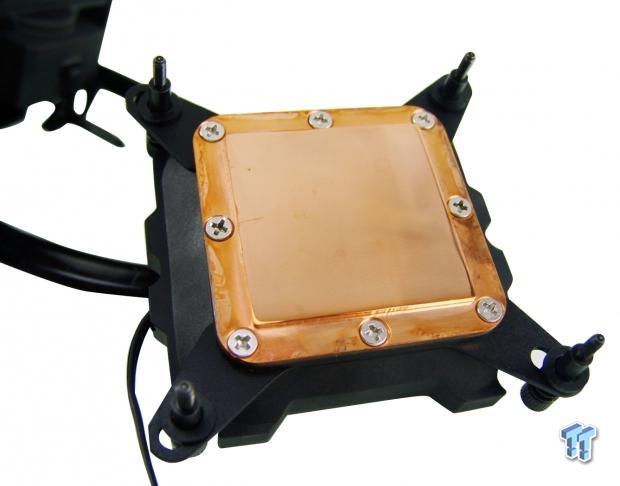 Under the Apogee XL, we find a base that is higher in the middle than it is at the edges, and it is polished to a near mirror shine. The edges of the contact pad on this base do appear to be rounded, but keep in mind, that is well outside of the contact area of the CPU.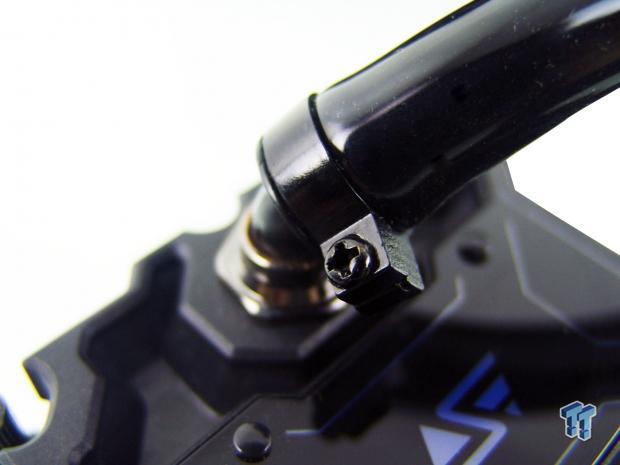 To keep the 3/8 inch ID tubing securely fastened to the CPU block, Swiftech uses anodized aluminium clamps that hold the tubing to the swivel fittings. Also, with the screw block side, they cannot be over tightened and cause potential leaks just as easily as under tightening them. This way is foolproof.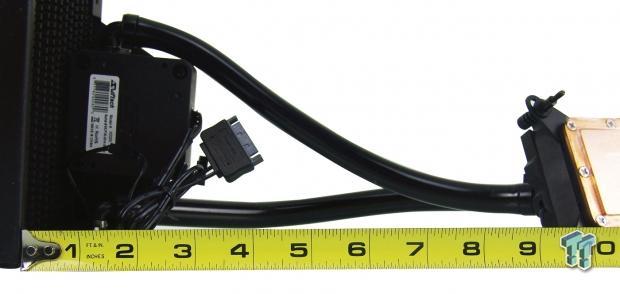 In this newer configuration, we see that there is nine and a half inches of tubing from the CPU block to the radiator. In most top mounting instances, this will not be an issue, but the nice thing is, if it doesn't reach as you want it to, you can just replace the tubing and refill the loop. Simple.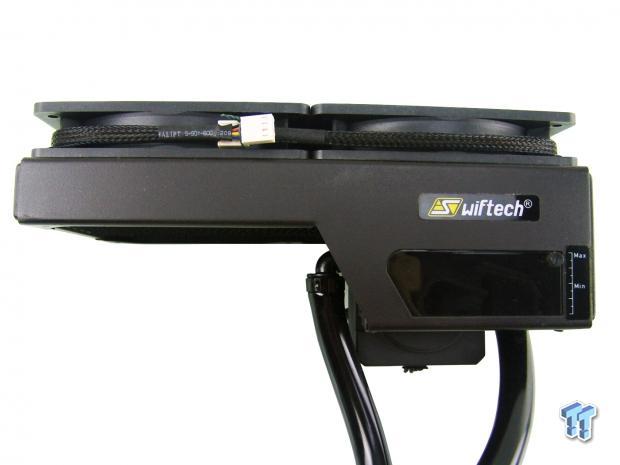 The radiator/pump/reservoir combination component of this design is how Swiftech chose to arrange things. The pump pulls in coolant through the reservoir, and out the line on its left side. In the window under the logo, when powered and backlit, you can keep an eye on coolant levels.
Swiftech H220-X Continued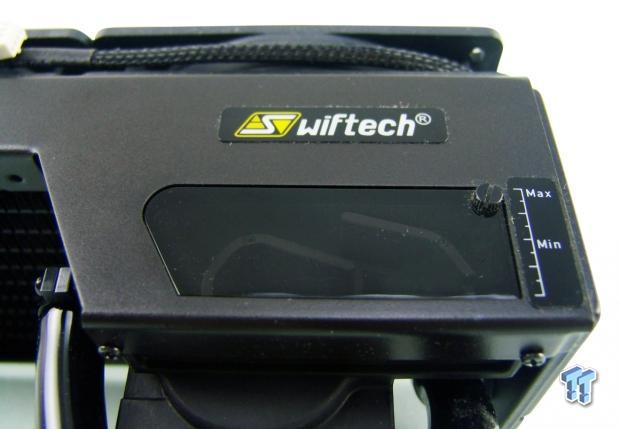 As we get a better angle and play on the lighting, we can see that inside of this reservoir there are diversion plates incorporated in here too. At the left is where the pump intake is, and to the left is a plate to force as many of the bubbles to the top as possible, rather than passing right to the intake.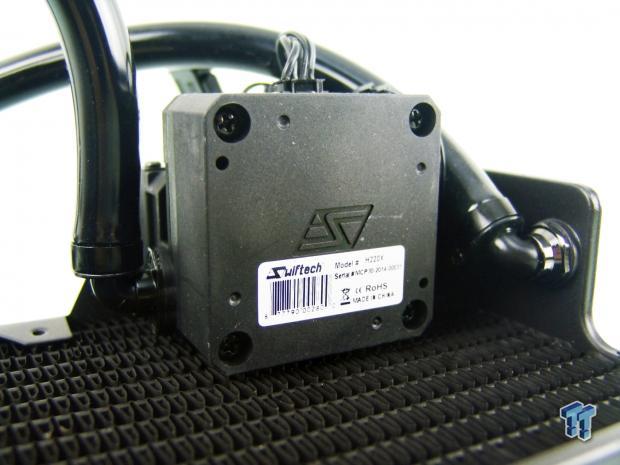 This is a good look at the MCP-30 pump used in this kit. As it is installed, water passes in through the manifold on the right, moves through the radiator, and settles in the reservoir; it is then pulled from there by this pump, and sent out the line at the left to the water block.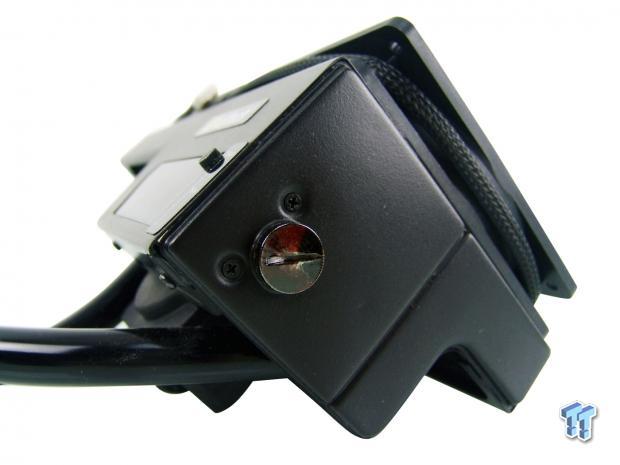 For those that decide they want to add blocks, or whatever the need may be, even a simple tubing change, it is all made easier with this fill/drain port on the end of the radiator. This cap will simply unscrew and allow for easy drainage, and when filling, it is the highest point in the kit.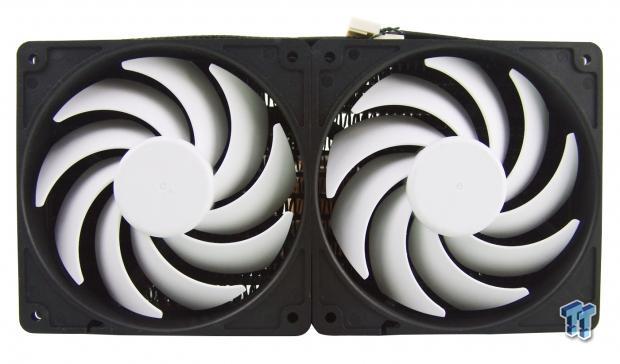 The pair of Helix-PWM fans cover the entire radiator, and the nine white blades and black frames will not be hard to fit in with most builds today. Of course, these can be flipped over to pull out the top of a chassis, but for the front of a case, it is ready to go as-is.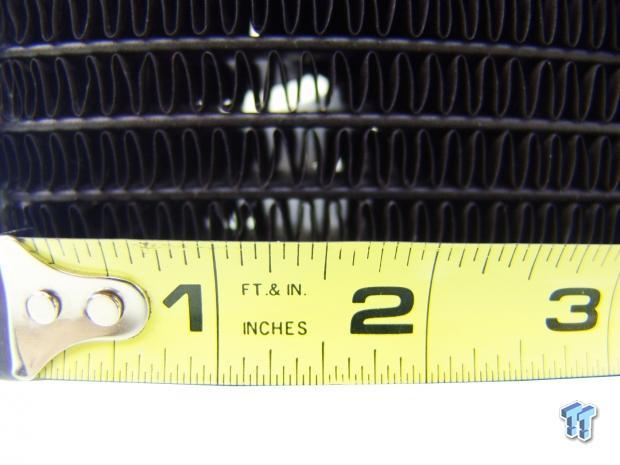 After choosing a random spot on the radiator to measure, we find the radiator is manufactured with a 16FPI design. This is where that high pressure rating comes into play since this isn't exactly a low FPI offering.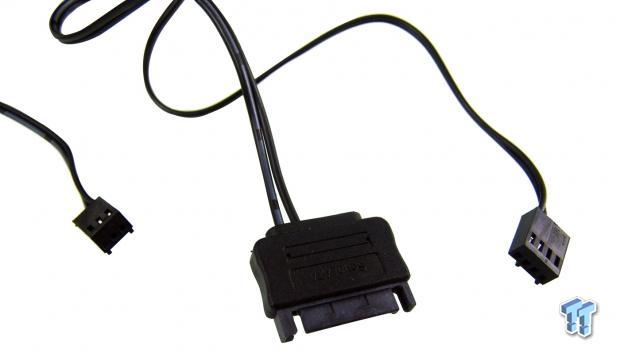 The last bits to discuss are what we have here, the connectivity. Of course, there are also the two fans to consider, but there is a SATA power lead for the pump, as well as the four-pin fan plug for its PWM control. To light the LED in the CPU water block, you also need to plug in the three-pin fan connection to get that.
Accessories and Documentation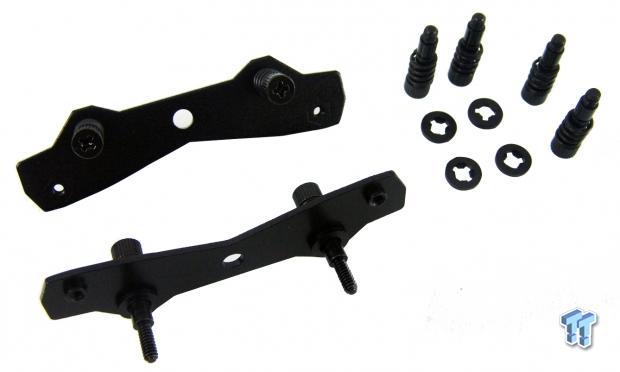 Along with the pre-installed Intel hardware, Swiftech also ships the set for AMD users. These are not so simple to swap out, as the base of the block needs to be removed to install these. It also offers the mounting screws and retainer clips, but the stock backplate is needed to use this.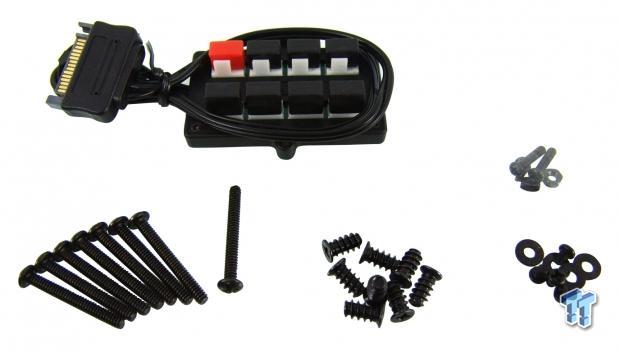 We also find a fan hub like we saw in the H220 that will definitely simplify the wiring that is needed to power this system, and will even allow for more of your chassis fans to be added as well. There is hardware to mount the fans to the radiator, and to the chassis, and hardware to mount the hub too.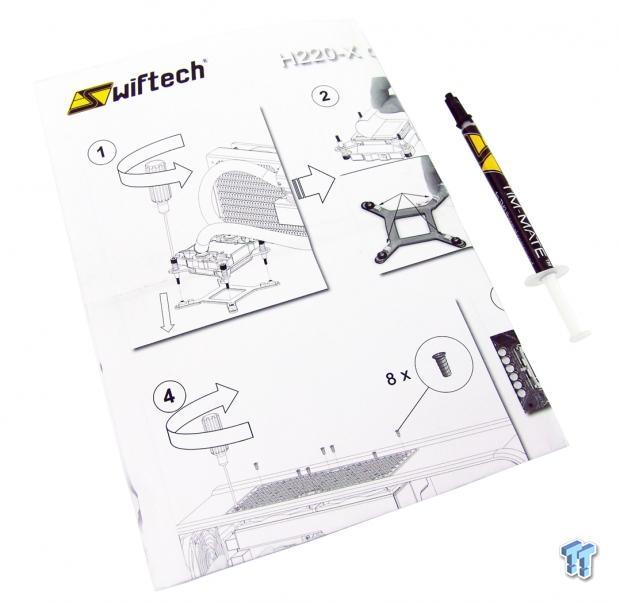 The installation guide is addressed mostly with images to get the processes of installation through to the readers, and they do a good job at that. In this manual, there is one thing you need to see though, as there are only three of four potential orientations that will allow the H220-X to run properly, and it cannot function properly upside down.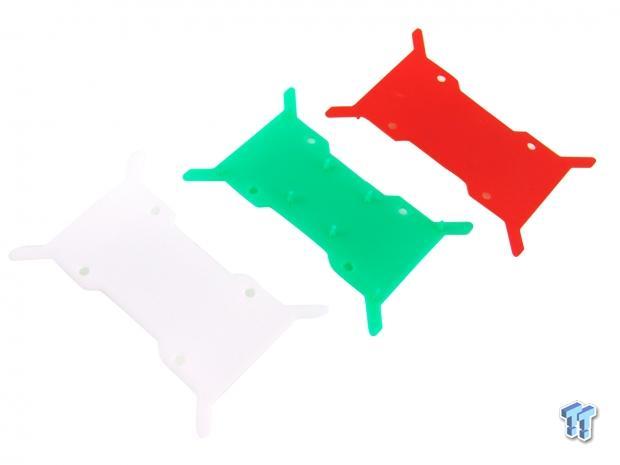 If you recall, the Apogee XL had a blue color to the logo, and we see here that there are three other options to choose from. It takes a bit of work and finesse to get it done, but the plates are exchangeable to match the CPU block to the chassis or motherboard theme.
Installation and Finished Product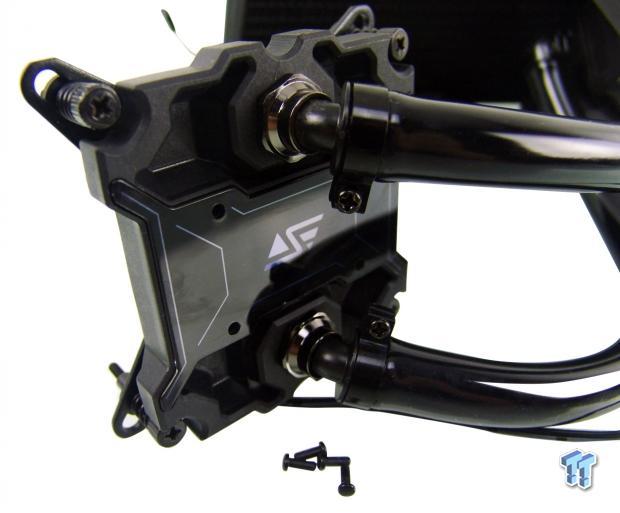 First thing is first. Since the blue in the CPU block does not match our test system, we started off by using a fine, flat-tipped screw driver to get under the heads of the four pins we removed by pulling them straight out of the block.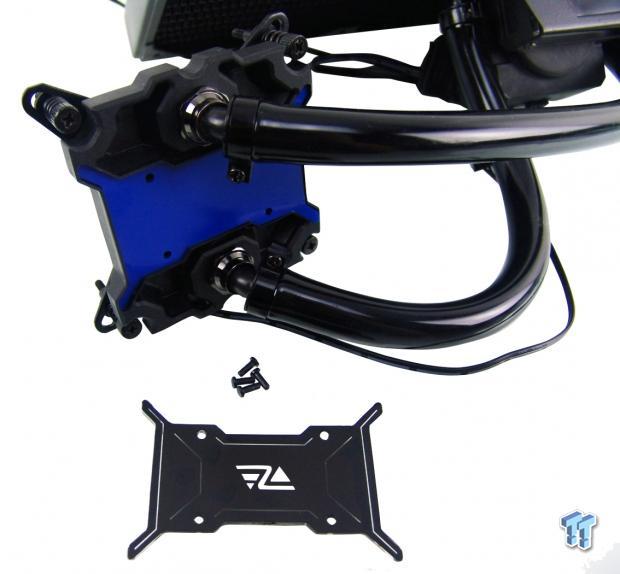 It would seem reasonable that the cover plate would simply fall away once the pins come out, but in reality, there is a bit of a vacuum between the plates, and we used that same screwdriver to lift a corner and get the black painted clear cover out.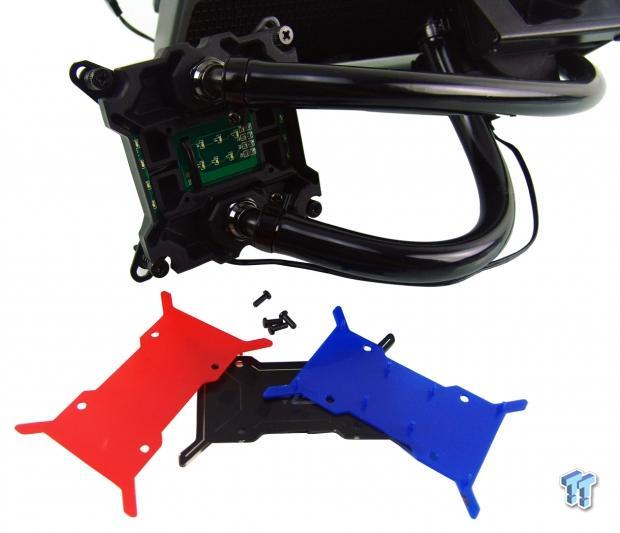 All we have to do now, with the blue insert now out of the way, is place in the red insert, and reverse the steps we already took to get everything securely back on the top of the block.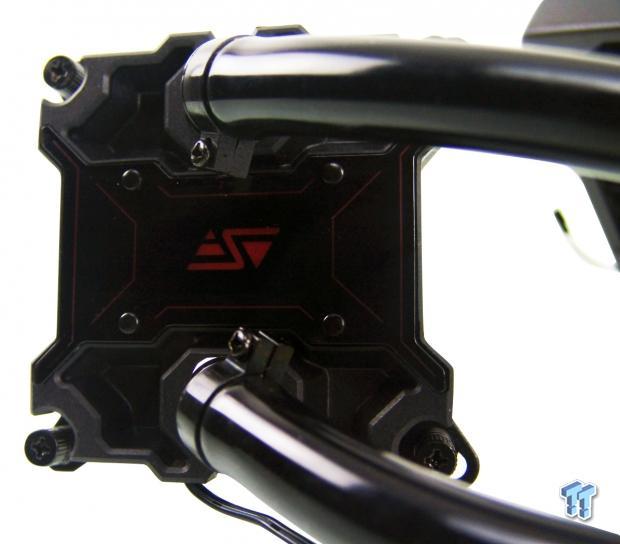 That's much better. Now our H220-X matches the chassis, as well as the black and red theme of the test system we run.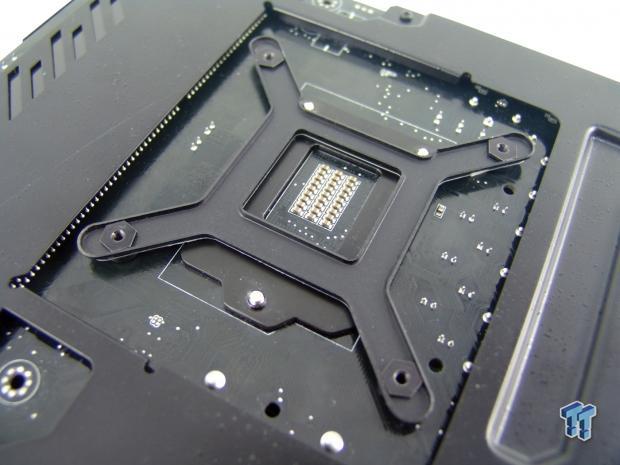 There are tiny pads on the reverse of this back plate, and you will need to peel the cover off of them to allow this plate to stick to the board and hold it in place. Orientation of the plate is restricted, and will only go on in one way, as only one side is cut to allow for the socket bolts.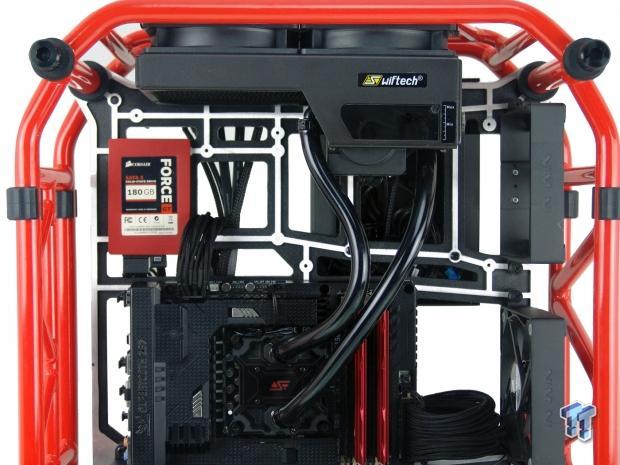 Adding some thermal paste and screwing the block down is simple enough. For our installation, we mimic a standard chassis, using the top of the chassis as the exhaust, and reorienting the fans to aid in this process. In this image, we are all connected and running. The photo lights washed out the reservoir LED, but the water block is glowing red.
Test System Setup, Thermal Tests and Noise Results
Test System Setup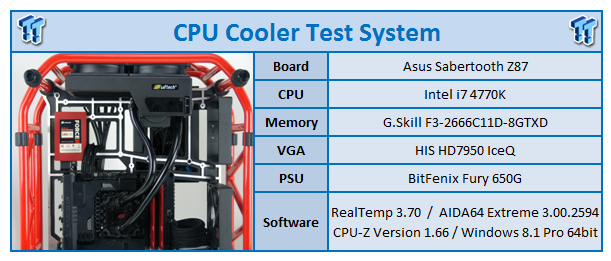 I would first like to thank ASUS, InWin, Corsair, and Fractal Design for supplying products for me to test with.
To see our testing methodology, and to find out what goes into making our charts, please refer to our CPU Cooler Testing and Methodology article for that information.
Thermal Results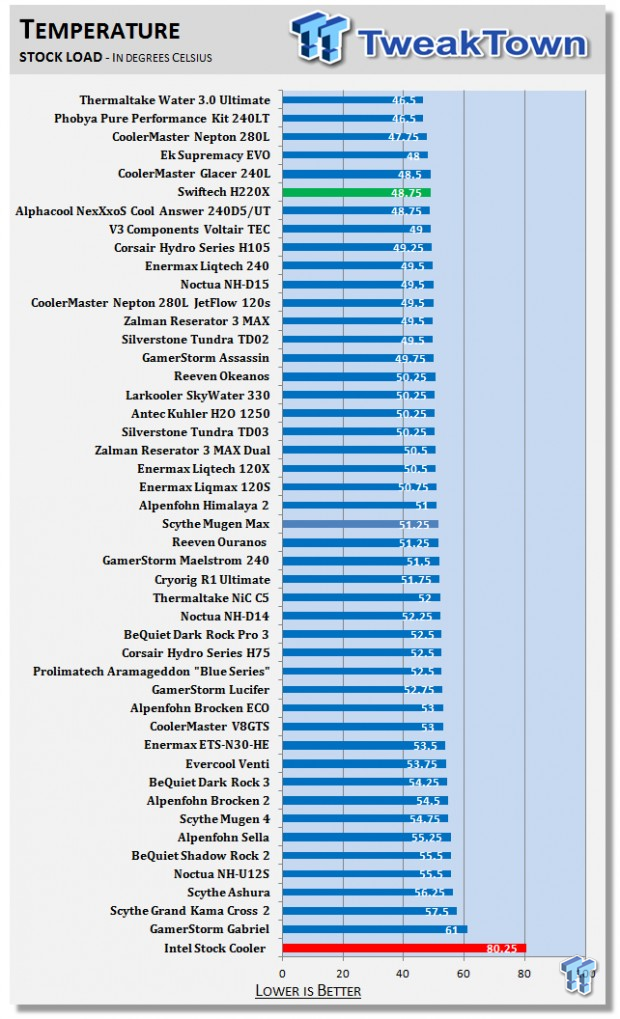 With the stock level of testing applied to the H220-X, we find a very reasonable temperature result with the 48.75 degree average in our tests. Again, the pump is left running full speed, and only the fans are limited for this testing. We did allow for PWM in one round of testing, and found them to be similar to our method at this level.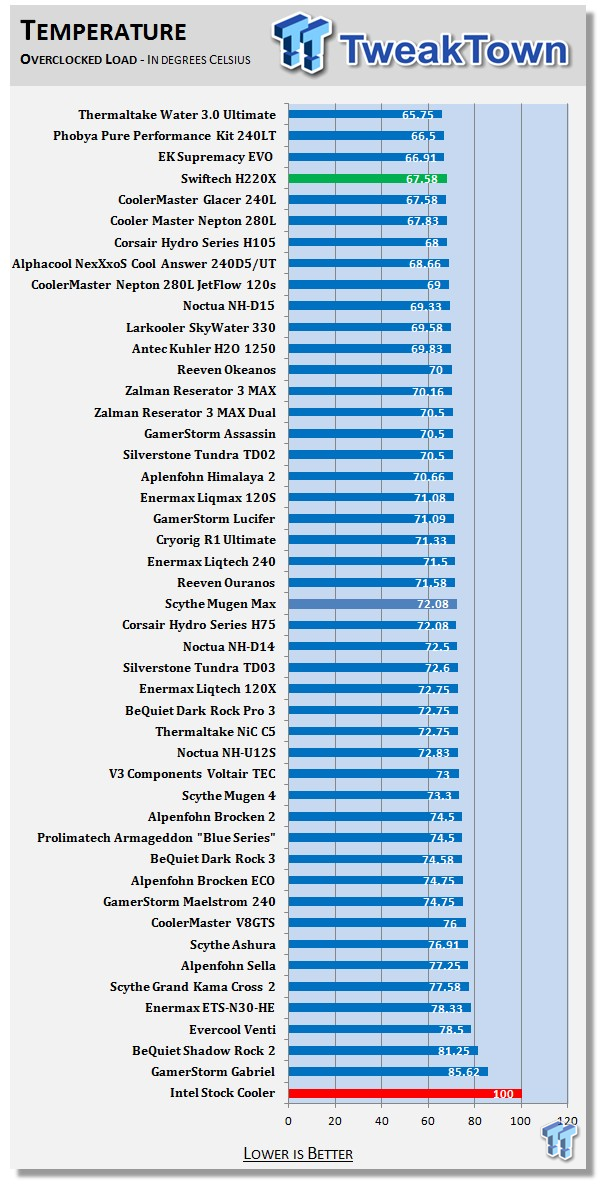 As we turn up the heat, the Swiftech H220-X goes from sixth best in our last chart to fourth at this level, with an average temperature of 67.58 degrees. It is the top performer in its class of sealed 240mm radiator based AIOs; in fact, only a triple radiator AIO, and only a couple of full on custom kits did better. Keep in mind: we are speaking of less than two degrees from first to fourth.
Noise Level Results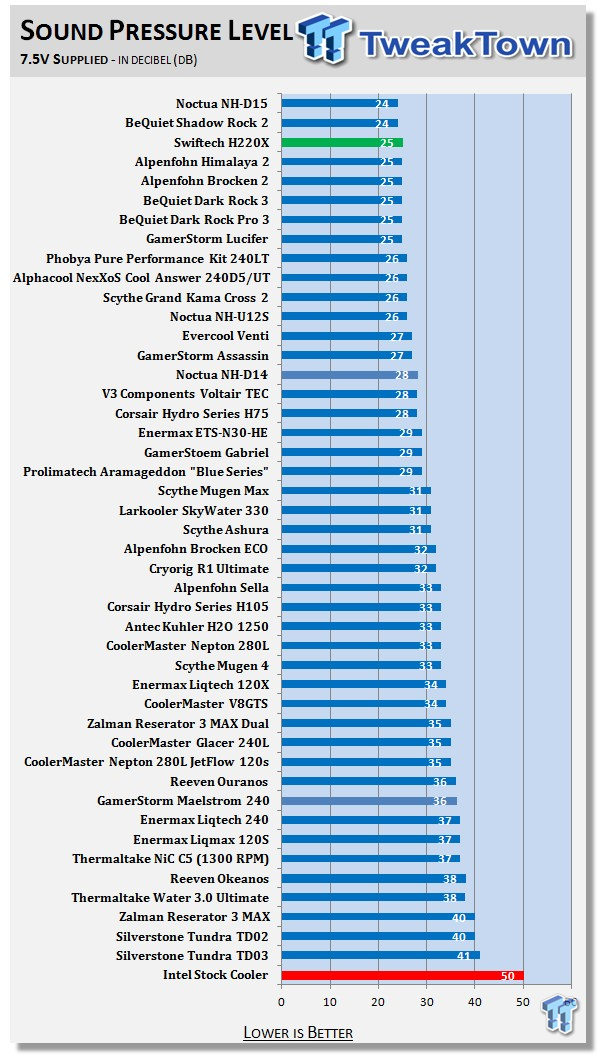 At this point, we are limiting the fan speeds, and with 7.5 volts supplied to them in this test, we found the Helix fans were spinning at 1050 RPM, delivering only 25 dB of noise into the room.
To put that into perspective, if you left it alone and allowed PWM control of it all, you wouldn't be hearing much of the H220-X unless benching or playing some serious games.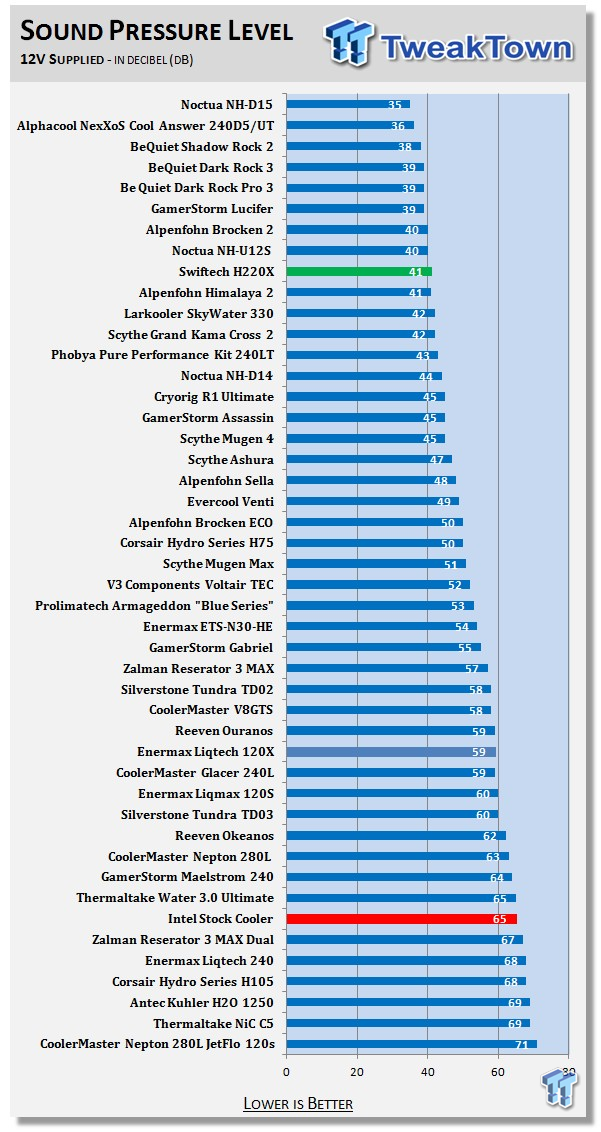 After letting the fans spread their wings with the voltage tuned back up to twelve volts, we found the fans spinning at 1850RPM, and delivering 41 dB of noise into the office.
While we were not shocked at what Swiftech was able to accomplish here, we are indeed pleased with what we found in our testing.
Final Thoughts
As we like to do, let's start off with all the things we liked in the H220-X. There is, of course, the performance this kit affords that is top on most buyers' lists, and Swiftech is on top of their game here. There is also the sleek new CPU water block with the Apogee XL design, offering one of the most normal looking AIOs on the market, at least from the perspective of a customized looking loop rather than the standard AIO offerings. Then, of course, it allows for four color options, making it fit that much better into your build. There is also very little noise associated with the fans; even at full speed, they are very tolerable, and noise from the pump at full speed is unheard until you get within about three inches of it, where there is a slight audible hum. What we really like about all of this is that while it's a fair bit different than the H220 that got pulled from U.S. shelves, Swiftech came back swinging and delivered the whole world another take on a simple idea, and this time they did it without stepping on any toes.
There were some things we did not care for too much about this design, but that list is very short. AMD mounting hardware is not just a simple swap, and is something to consider. The other thing we not so much disliked, but are more limited by, is the fact that there is only potential for three fans in the H220-X. With the way this design is, the pump and reservoir do block the potential for one of the fans if you had desire for a push/pull setup like I currently run with my H220-X. On the flip side though, Swiftech was able to get quite a lot out of this design with what we received, and to be honest, with results like this, we can deal with not having fans on both sides. Also, it's important to remember the pump and reservoir can never be above the radiator when it is installed, as it will allow air to be pulled right into the pump. Either side of the radiator is fine, or you can install it like we installed it in our system for testing. This isn't something we disliked, but it is just something to remember.
Outside of the major checklist of things we discussed, we found the H220-X to be a great performer; it installs easy enough, and is Intel ready out of the box. In most cases, using the top of the chassis to hang this radiator, you will have all the tubing you need for an easy install, almost plug-and-play easy, but if you care about tidiness, running and connecting the wiring may take some time. The major factor that our review did not dive into, and that was that we can, under no penalty of our three-year warranty, open this kit up, change the coolant, change the tubing, change the block if you want to, or even add components into this loop for things like GPU cooling and even more radiator surface area.
So, whether you are an enthusiast with huge dreams of a much more simplified loop that can be changed as your needs and components change, or if you are a relatively inexperienced user looking to dive into the world of AIO cooling, Swiftech makes it really hard not to blow right by all those one and two-year warranties that other "sealed" AIOs on the market offer. For a relatively small investment, you get better results than all but one AIO on our charts, and there is so much more yet to offer beyond initial CPU cooling with this kit. To purchase anything else in the realm of an AIO is pretty pointless if you have room for the H220-X. We are glad that everyone does not have to miss out on the idea Swiftech tried to bring the world before, and Swiftech stuck to their guns to deliver everyone a new take on a brilliant idea.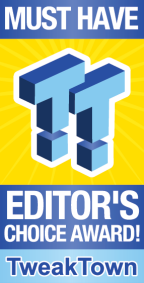 | | |
| --- | --- |
| Performance | 98% |
| Quality including Design and Build | 97% |
| General Features | 100% |
| Bundle and Packaging | 100% |
| Value for Money | 98% |
The Bottom Line: Swiftech does it again! Just when all hope was starting to be lost, they bounce back with the H220-X all-in-one CPU cooler, and jump into the top four, with an AIO like no other, also at an outstanding price.
PRICING: You can find products similar to this one for sale below.

United States: Find other tech and computer products like this over at Amazon.com

United Kingdom: Find other tech and computer products like this over at Amazon.co.uk

Australia: Find other tech and computer products like this over at Amazon.com.au

Canada: Find other tech and computer products like this over at Amazon.ca

Deutschland: Finde andere Technik- und Computerprodukte wie dieses auf Amazon.de
We openly invite the companies who provide us with review samples / who are mentioned or discussed to express their opinion. If any company representative wishes to respond, we will publish the response here. Please contact us if you wish to respond.
Related Tags