G.Skill Phoenix Blade 480GB PCIe SSD World Exclusive Review
G.Skill hasn't released a SSD in a long time, but now they've returned, they've done it in style. Here's our exclusive review of the G.Skill Phoenix Blade.
Published Nov 3, 2014 12:02 PM CST
|
Updated Tue, Nov 3 2020 6:59 PM CST
12 minute read time
TweakTown's Rating: 96%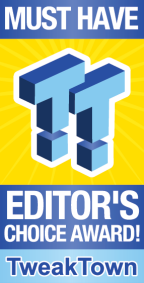 The Bottom Line
G.Skill's Phoenix Blade 480GB PCIe SSD performs amazingly well in both consumer and prosumer applications. The drive is the best we have tested at mixed environments, without a penalty on either side.
Introduction & Specifications, Pricing and Availability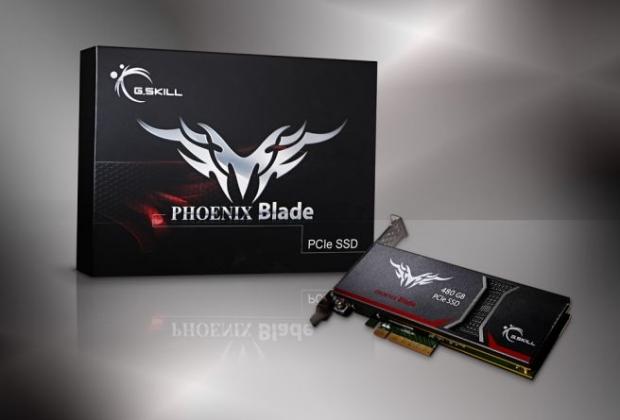 We had several memorable moments at Computex 2014 this past June, but one of the most exciting was hearing about the reemergence of G.Skill in the SSD market. G.Skill played a small role in the infancy of consumer SSDs. The company battled it out with OCZ Technology (now OCZ Storage Solutions, A Toshiba Company), ADATA and Patriot for the lowest priced flagship products. For a time, G.Skill didn't even bother with a two SKU product scheme, it was a flagship or nothing. Eventually that nothing became a reality. When flash became scarce, G.Skill was on the outside, looking in. Without reliable sources of NAND flash, G.Skill quietly left the performance SSD market.
At trade shows like CES, CeBIT and Computex companies do everything they can to attract media to booths. The booth space is very expensive, and on top of that, you have to build large displays, some as large as and as expensive as a very nice house. Women wearing next to nothing: check. All of the professional overclockers pouring LN2 out of massive containers: check. Products that are so outrageous they can't be real: check again. When we first saw the G.Skill Phoenix Blade, we didn't know if it was a marketing gimmick or a product that could actually make it to market.
The marketing gimmick to get journalist to the booth vs. a real product question has been answered. Let's get started!
Specifications, Pricing and Availability

At this time, the G.Skill Phoenix Blade is only offered in one capacity size - 480GB. The drive uses four SandForce SF-2281 controllers with four separate banks of 128GB Toshiba MLC NAND flash. Overprovisioning on each bank reduced the available flash density to 120GB per bank. This increases performance by allocating more space to background operations like garbage collection and wear leveling.
The SandForce SF-2281 controllers are held together by a SBC 208-2 PCIe 2.0 8-lane to SATA RAID controller. We've yet to find a lot of information on this part, even though this is our second time encountering it.
G.Skill's claimed performance is up to 2000 MB/s read and write. CrystalDiskMark performance is also quoted at 1900 MB/s sequential read, 1050 MB/s sequential write speeds. The random performance specification came from IOMETER, 90K random read and 245K random write. We more than doubled the specifications for random read performance during our testing, but we had to get into very high, enterprise level queue depths to do it.
The performance should stay high since the Phoenix Blade passes TRIM to the drives through the SCSI unmap command. SandForce SSD controllers are very good about flash management in this type of environment. There is a reason why client side PCIe to SATA RAID products use SF-2281 controllers.
Newegg already has the Phoenix Blade 480GB in stock. The price at the time of writing is $699.99. Price is important for the Phoenix Blade since it competes directly with the OCZ Storage Solutions RevoDrive 350 480GB, which currently sells for $799.99 at Newegg, a full $100 more than G.Skill's Phoenix Blade in the same capacity.
G.Skill back the Phoenix Blade with a full three-year warranty and includes a half-height adapter for use in 2U rackmount systems. The form factor is an important aspect to consider as well. The Phoenix Blade is a half-height, half-length (HHHL). This is an enterprise term, but one that will perk some potential customers ears with video render farms. The OCZ RevoDrive 350 is a full-height form factor so it will not fit in a 2U server vertically. If you want to render large video files on a separate system, you are looking for two things. The first is a high sequential performance and the second is low price.
G.Skill also lists gamers as potential customers for a product like this. We'll talk about this in the final thoughts, after measuring performance.
G.Skill Phoenix Blade PCIe 480GB SSD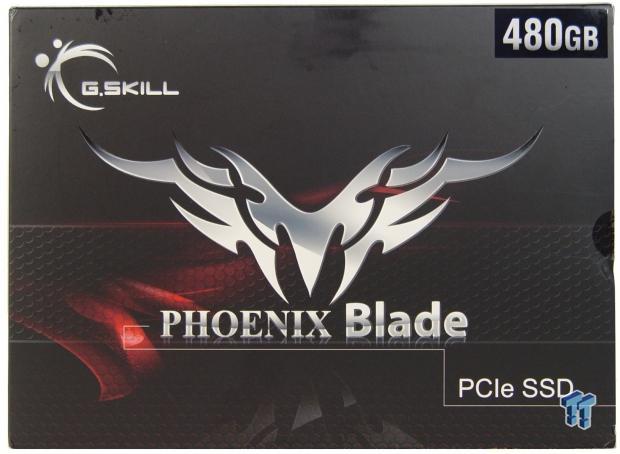 G.Skill put together an attractive package for the Phoenix Blade 480GB PCIe SSD.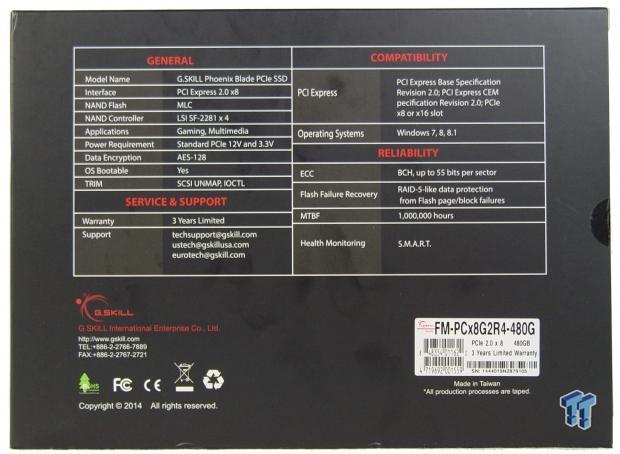 The back of the package lists product specifications, service and support contract information, and the label on the bottom right corner has the model and serial number information.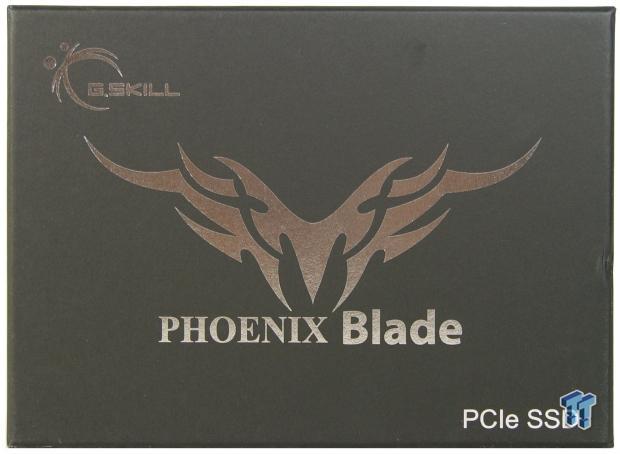 Two boxes in one!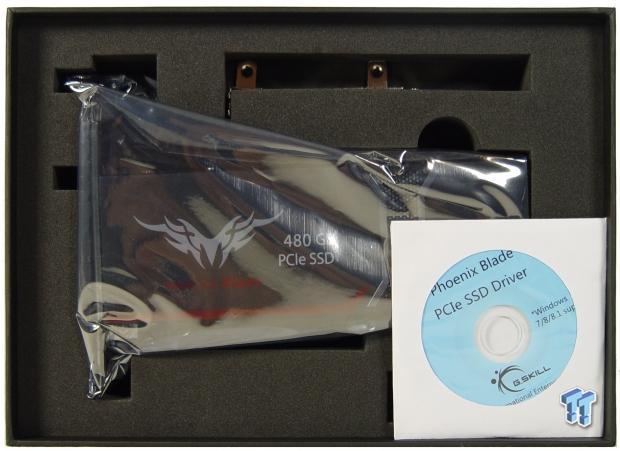 Once you peel through the layers, you are left with the Phoenix Blade drive in an anti-static bag, a driver disk, and HH bracket.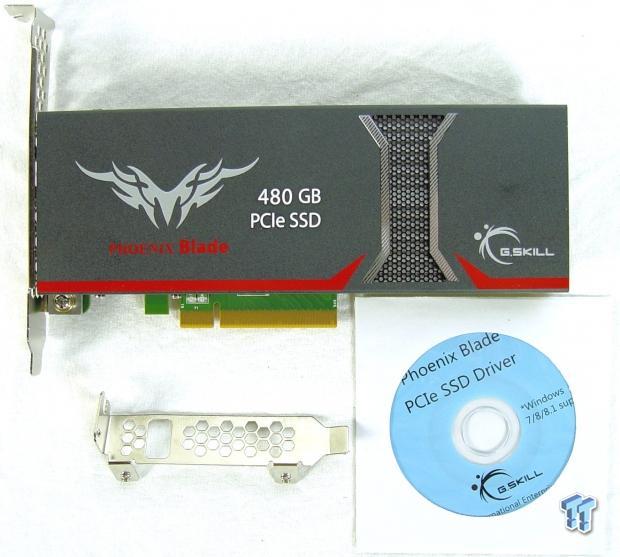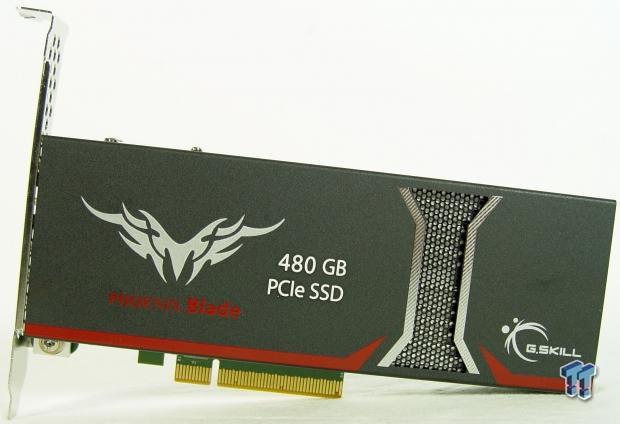 If your company is making a grand reentrance to the SSD market, this is the way to do it. The Phoenix Blade looks and feels enterprise, like the LSI Nytro MegaRAID products we've tested.
A plate on the bottom of the drive acts as a heat sink for the two SF-2281 controllers and NAND flash just under it.

The card is actually two layers with heat sinks in key locations to keep everything cool. At idle, the Phoenix Blade consumers just 8 watts of power, but under full load that climbs to 18 watts. With a maximum operating temperature of 55C, you need to keep the inside of your computer case cool of the card may throttle or worse, fail.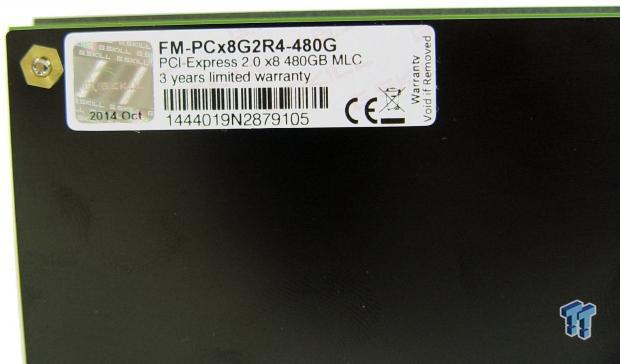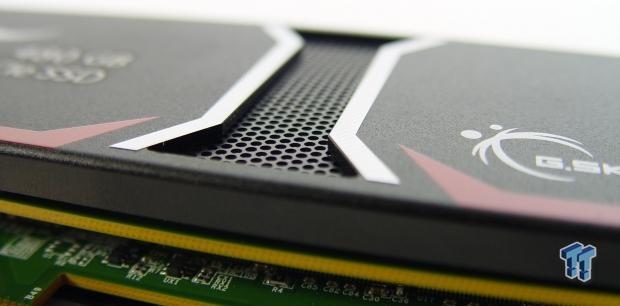 A vent on the top of the card helps to dissipate heat from a heat sink under the mesh opening. It also looks really damn cool.

Air escapes through the perforated backplate. Two status LEDs let you know the drive is working.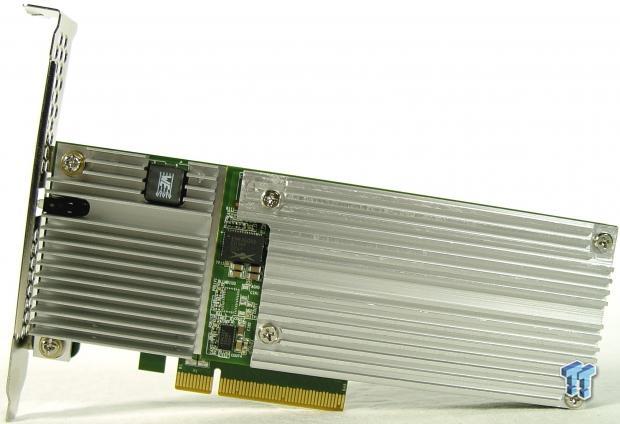 With the cover removed, we can see the heat sinks that cover the RAID controller and top side SF-2281 flash controllers.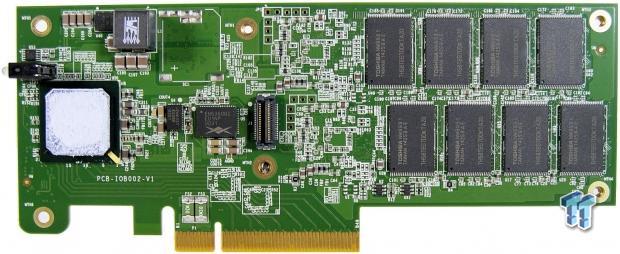 With the top PCB and heat sinks removed, we can see the main layer of the drive.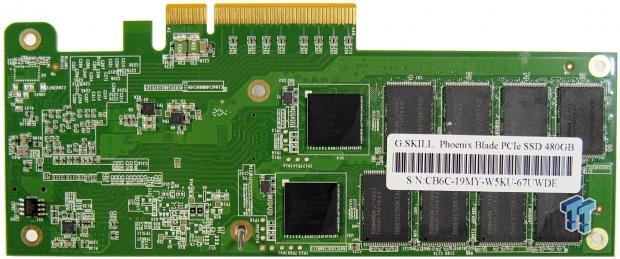 The backside gives us a little more information. Each SF-2281 flash controller has eight dedicated NAND flash packages. This is like having four full 120GB SF-2281 drives in RAID 0.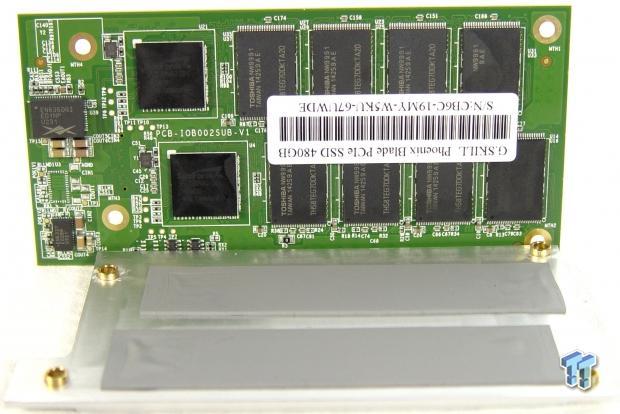 The daughter board holds the other two SF-2281 chips and another sixteen NAND flash packages. A heat sink keeps everything cool since all of these heat-producing components are housed so close to each other.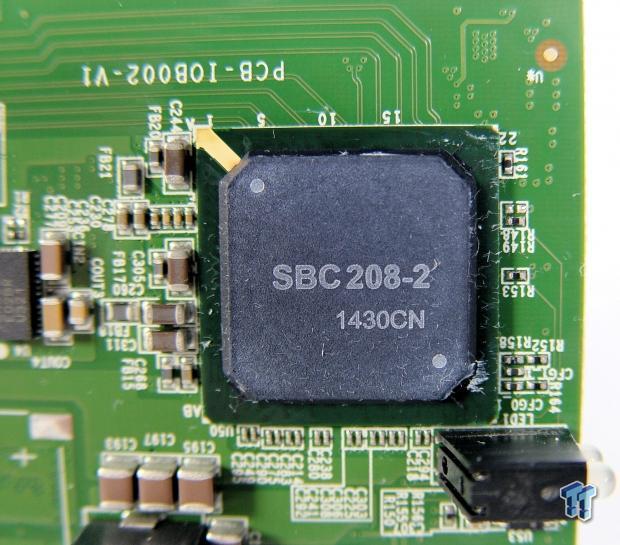 The RAID controller uses what is called ScaleBoost Virtualization Technology, and passes TRIM and SMART information to the host system.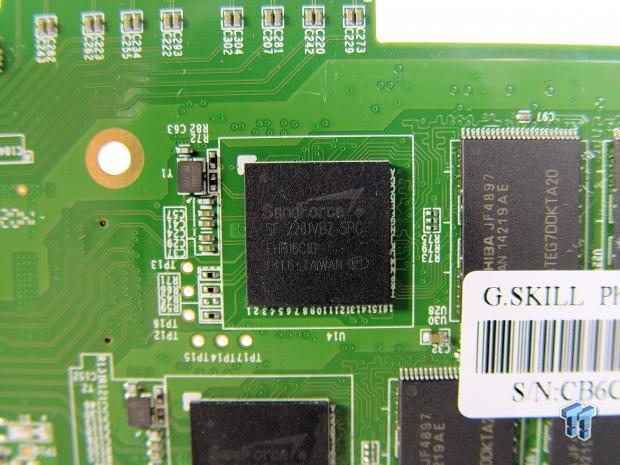 The flash controllers are SF-2281 and use the VB2 stepping. This stepping reduces power and also supports DEVSLP, although I doubt the SBC RAID controller can pass DEVSLP commands to the chips in this configuration.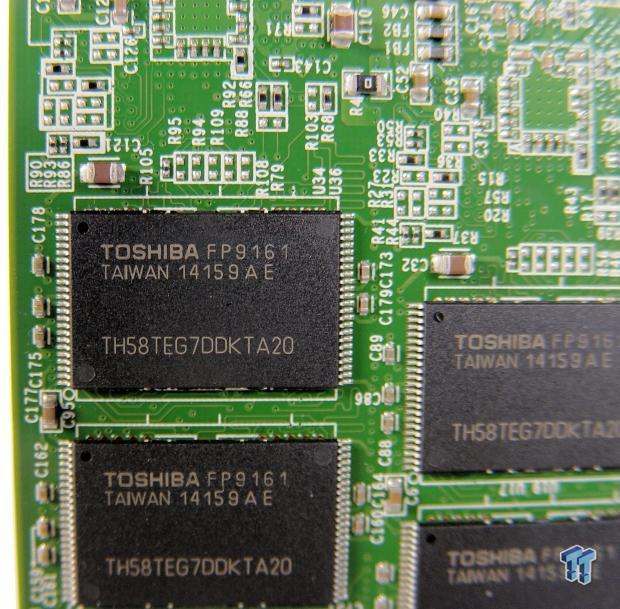 Toshiba single plane 19nm flash in a TSOP package rounds out the significant components list. There are 32 NAND packages on the Phoenix Blade.
Test System Setup and ATTO Baseline Performance
Desktop Test System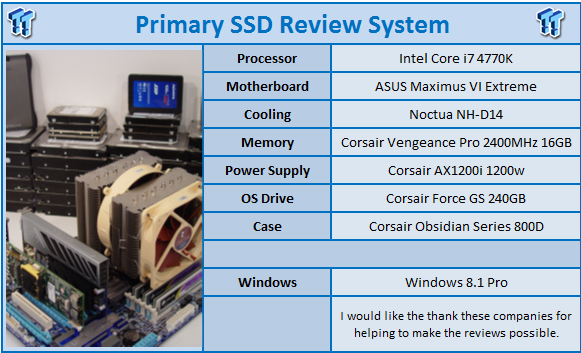 Lenovo T440 - Notebook Power Testing with DEVSLP and Windows 8.1 Pro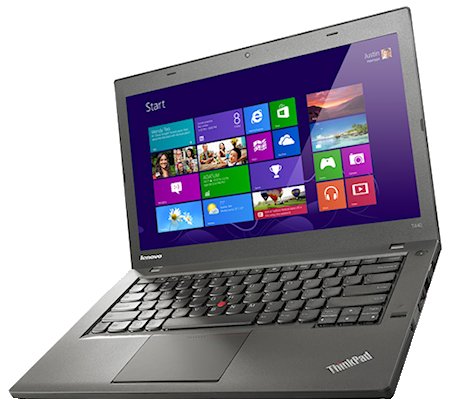 Nearly all of the performance tests run on the desktop system but we use a Lenovo T440 to run the power tests. The T440 is the latest addition to our client SSD test lab and allows us to test the notebook battery life offered by an SSD with advanced features like DEVSLP enabled.
ATTO - Baseline Performance
Version and / or Patch Used: 2.34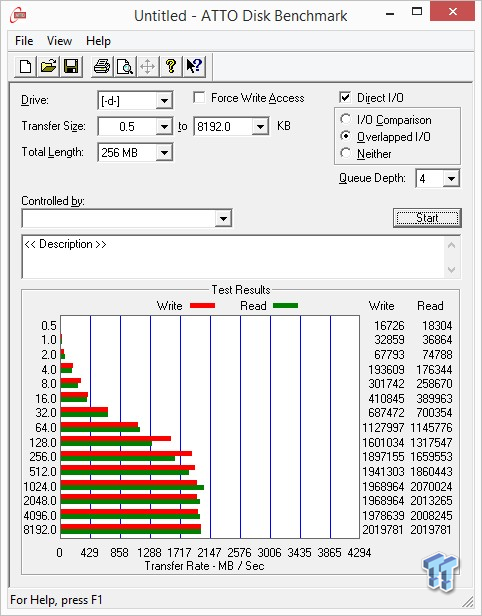 In ATTO with a queue depth of four, we surpassed G.Skill's rated performance and achieved 2019 MB/s in both the read and write tests! To put that into perspective, the Phoenix Blade can transfer three full resolution CDs in under 1 second.
Benchmarks - Sequential Performance
HD Tune Pro - Sequential Performance
Version and / or Patch Used: 5.50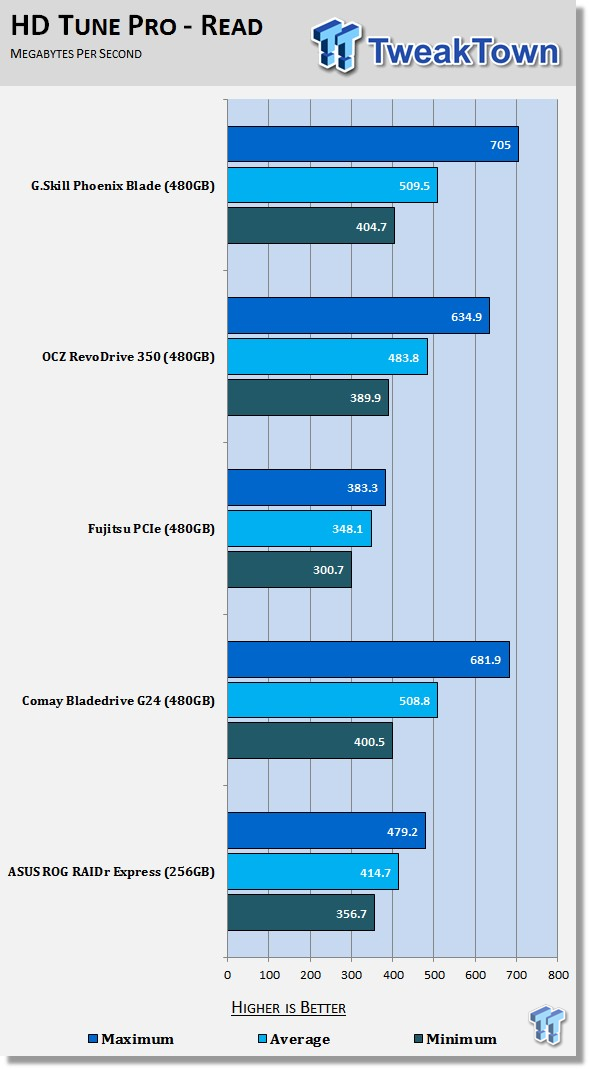 The G.Skill Phoenix Blade is like many all-in-one RAID devices, you have the potential to reach very high performance levels, but in order to get there, you need a workload that pushes the device to perform. In this test, we read across all of the user available LBA space in 64KB blocks sequentially. The peak and average sequential read performance at queue depth 1 is higher than a standard 2.5" consumer SSD, but at low queue depths, you won't hit 2000 MB/s.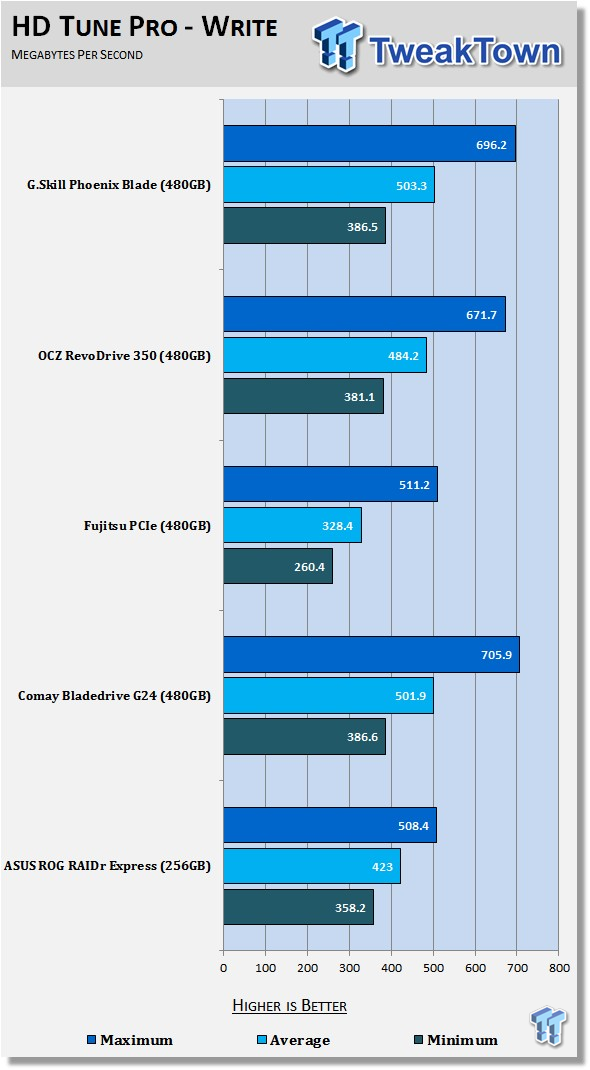 The QD1 sequential write performance is also higher than a standard SATA consumer SSD. When looking through the charts today, you will want to pay close attention to the performance differences between the OCZ RevoDrive 350 480GB and the Phoenix Blade 480GB. OCZ is the current king of the hill when it comes to all-in-one RAID with a product line that goes back several years. G.Skill wants to push them over the cliff.
HD Tach - Sequential Write Performance after Random Writes
Version and / or Patch Used: 3.0.4.0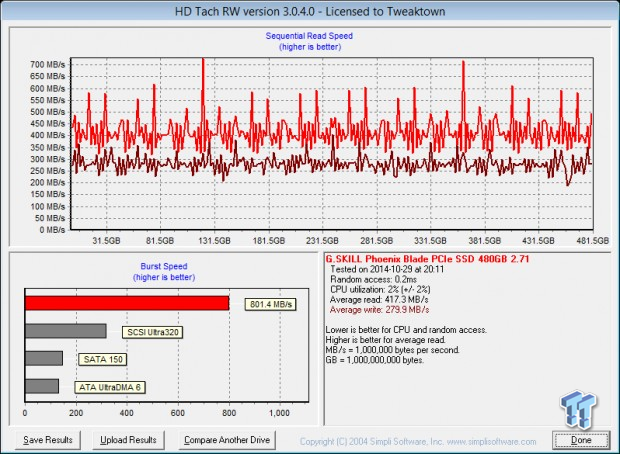 After writing to the Phoenix Blade with sequential data and a reasonable amount of random data, we run HD Tach to see the 128KB sequential performance in a real-world environment with TRIM and garbage collection working. These numbers would increase with more than one instance running at a time, but this is what you might expect from a single transfer.
Benchmarks - Anvil Storage Utilities
Anvil Storage Utilities
Version and / or Patch Used: RC6
So what is Anvil Storage Utilities? First of all, it's a storage benchmark for SSDs and HDDs where you can check and monitor your performance. The Standard Storage Benchmark performs a series of tests; you can run a full test or just the read or the write test, or you can run a single test, i.e. 4k QD16.
Anvil Storage Utilities is not officially available yet, but we've been playing with the beta for several months now. The author, Anvil on several international forums, has been updating the software steadily and is adding new features every couple of months.
We can use Anvil several different ways to show different aspects for each drive. We've chosen to use this software to show the performance of a drive with two different data sets. The first is with compressible data and the second data set is incompressible data. Several users have requested this data in our SSD reviews.
0-Fill Compressible Data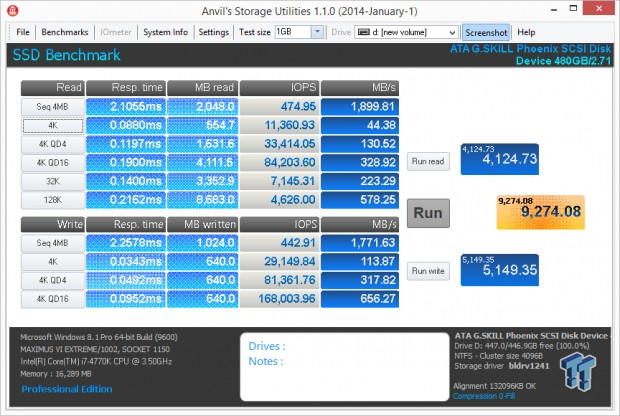 Incompressible Data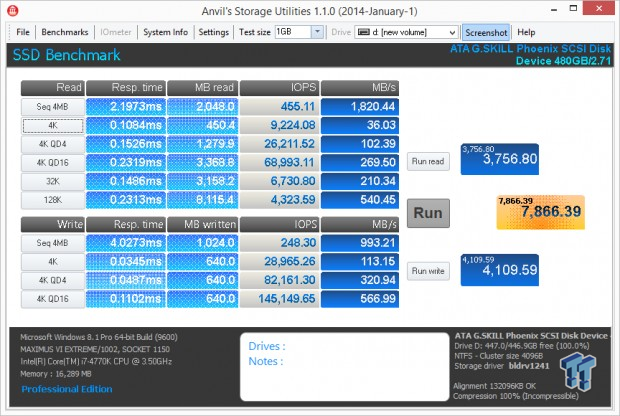 The SandForce controllers used in the Phoenix Blade compress data that is not already compressed and then writes less data to the flash. This increases performance and reduces the wear on the flash. It also means data that is already compressed writes slower than data that is not. Here we see a number of results with both data types and can compare the difference between compressible and incompressible performance.
Low Queue Depth Read IOPS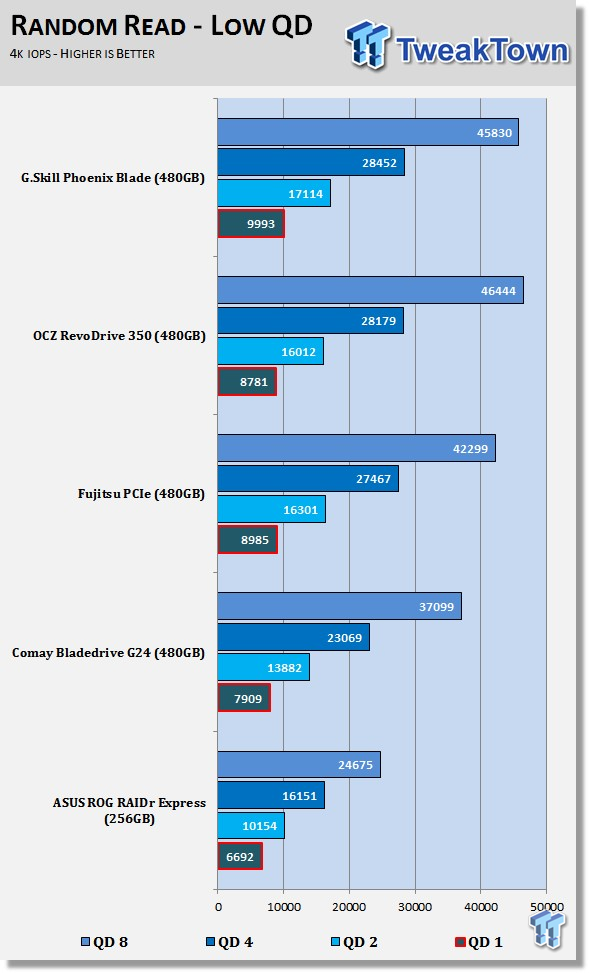 Of all the all-in-one RAID products on the chart, the G.Skill Phoenix Blade is the only one to get close to 10K random read IOPS at QD1. The 10K mark is an important number because it is the same performance level offered by the fastest consumer SSDs like the Samsung 850 Pro. Anything under 10K QD1 random read IOPS means you're penalized for going with an all-in-one product. The G.Skill Phoenix Blade doesn't have this problem.
Also, in this chart, you may notice I included the QD8 setting in the low queue depth.
High Queue Depth Read IOPS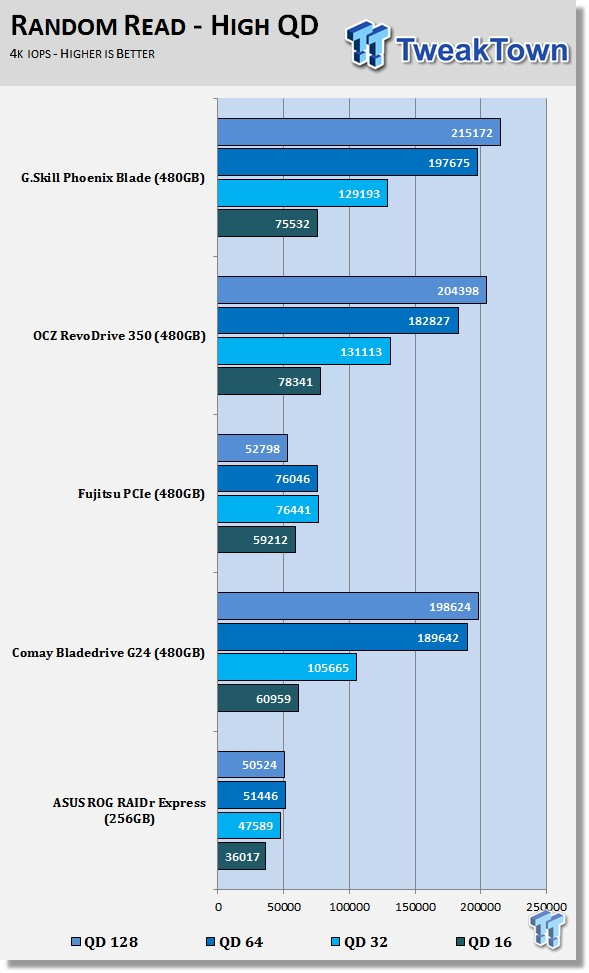 The reason why we put QD8 in the low QD chart is because the Phoenix Blade uses an enterprise RAID controller that can scale to high queue depths without a penalty. The Fujitsu and ASUS all-in-one products use Marvell consumer SATA RAID controllers that do not scale well to high queue depths. You can see the brick wall and reduction in performance at ultra-high queue depths with the consumer RAID based products.
The G.Skill Phoenix Blade 480GB scales well all the way up to QD128! At QD128, we returned a result of over 215K IOPS. G.Skill's marketing document only lists 90K read IOPS, but that isn't a valid return, we suspect internal company testing only went to QD32, where you would stop testing regular consumer products that use SATA technology. SATA doesn't scale past QD32.
Low Queue Depth Write IOPS
Our write IOPS chart changed as well, in these tests we go to QD64, but on the low chart we show QD1 to QD8. Again, the Phoenix Blade 480GB gives us the equivalent QD1 performance to high-end consumer SATA drives, so there isn't a penalty for using enterprise technology. The drive scales well too.
High Queue Depth Write IOPS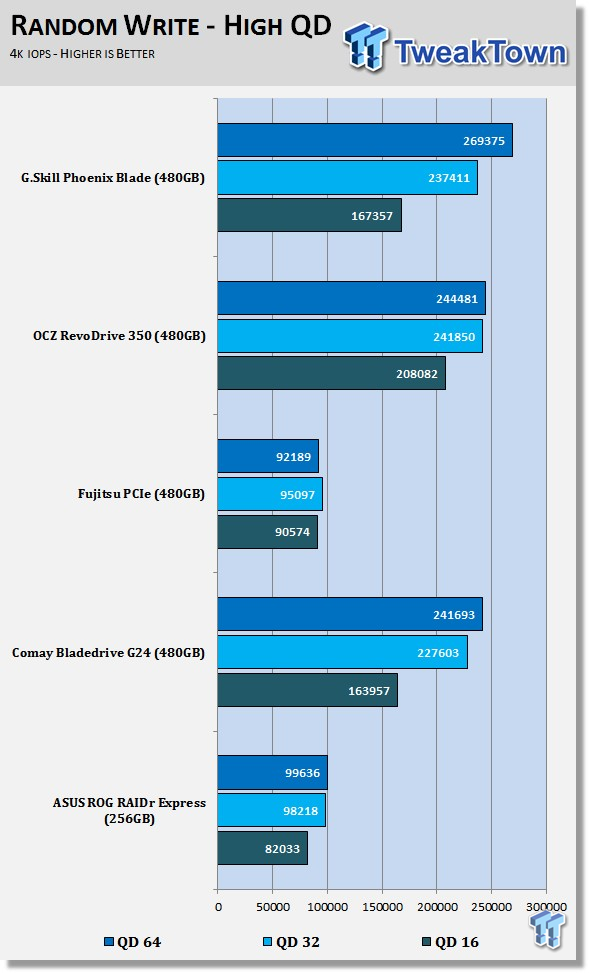 At QD64 random write, we measured the Phoenix Blade to 269K IOPS.
The trick is getting YOUR workload that high. If you are just a gamer, this isn't going to happen, but if you multitask, run several Hyper-V systems on your computer or access a lot of data via different streams, then you can get to high queue depth levels and actually take advantage of the performance available.
Benchmarks - Mixed Read / Write Workloads
Random Mixed Workload Response Time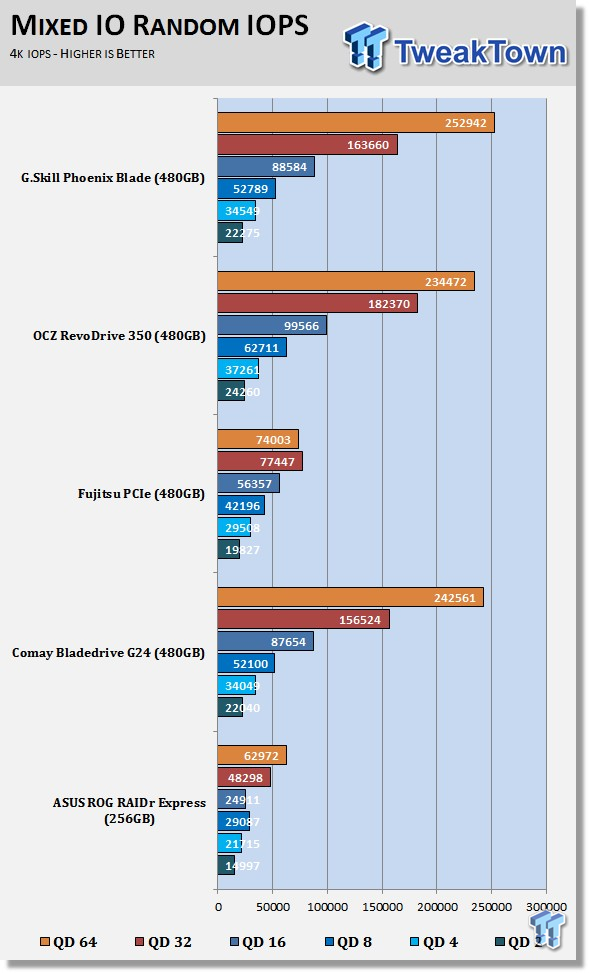 The G.Skill Phoenix Blade 480GB scales really well with mixed IO random data.
The low queue depth performance is a little low, around half of what the 850 Pro offers, but the drive quickly scales to levels consumer SATA SSDs could never achieve.
PCMark 8 Consistency Test
Futuremark PCMark 8 Extended - Consistency Test
Version and / or Patch Used: 2.0.228
Heavy Usage Model:
Futuremark's PCMark 8 allows us to wear the test drive down to a reasonable consumer steady state and then watch the drive recover on its own through garbage collection. To do that, the drive gets pushed down to steady state with random writes and then idle time between a number of tests allows the drive to recover.
Precondition Phase:
1. Write to the drive sequentially through up to the reported capacity with random data.
2. Write the drive through a second time (to take care of overprovisioning).
Degradation Phase:
1. Run writes of random size between 8*512 and 2048*512 bytes on random offsets for 10 minutes.
2. Run performance test (one pass only).
3. Repeat 1 and 2 for 8 times, and on each pass increase the duration of random writes by 5 minutes.
Steady state Phase:
1. Run writes of random size between 8*512 and 2048*512 bytes on random offsets for 50 minutes.
2. Run performance test (one pass only).
3. Repeat 1 and 2 for 5 times.
Recovery Phase:
1. Idle for 5 minutes.
2. Run performance test (one pass only).
3. Repeat 1 and 2 for 5 times.
Storage Bandwidth All Tests
PCMark 8's Consistency test provides a ton of data output that we use to judge a drive's performance. Here we see the three states of performance for the select SSDs, light use, consumer steady state and worst case.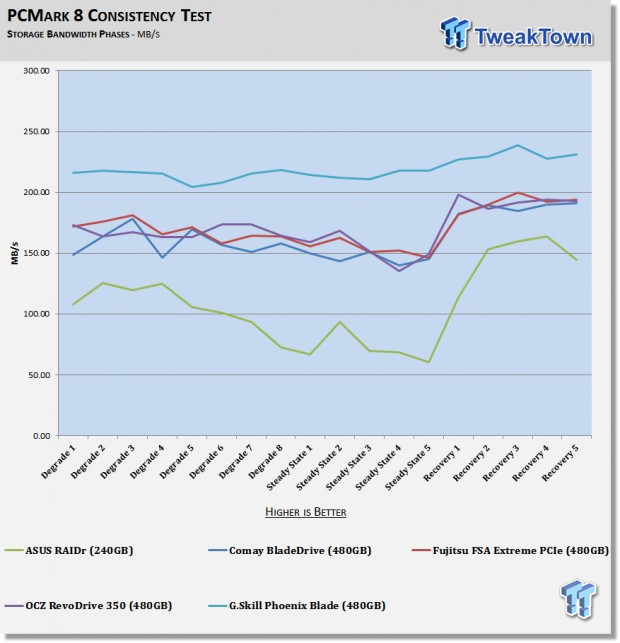 When it comes to performance consistency with real-world workloads, the Phoenix Blade 480GB takes top honors when compared to our other PCIe all-in-one RAID devices. Here we see all of the tests, but in all of the states.
Prosumer / Heavy Workloads
In the prosumer workloads where the drives are hit hard with many data writes with little to no time to recover, the G.Skill Phoenix Blade shows a significant advantage in throughput.
Typical Consumer Workloads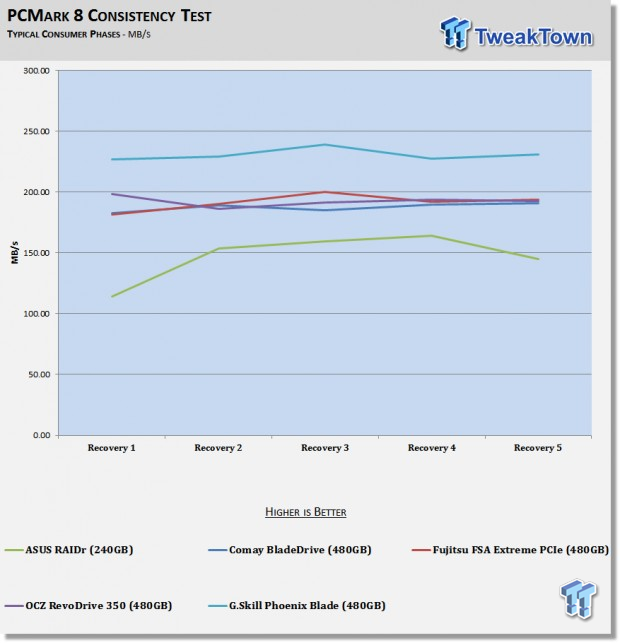 The built-in SCSIunmap command recognition allows the Phoenix Blade to recover from the heavy loads and still keep its performance lead even in the typical consumer levels of stress to the drive.
PCMark 8 Consistency Test - Continued
Total Access Time All Tests
The access time test measures the total latency across all 18 tests. This is one of, if not the most important test we run at this time for consumer SSDs. When your latency is low your computer feels fast, it's just that simple.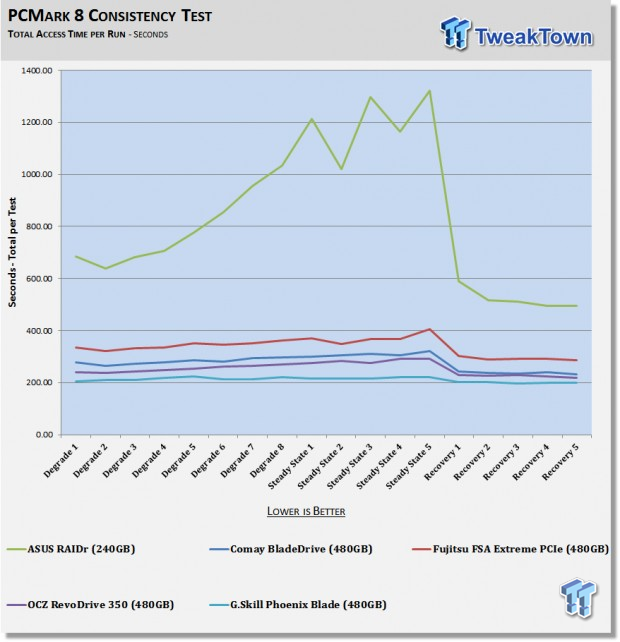 Here we see the latency from all of the tests. If you want your computer to feel fast, this is the most important test in this review. Again, the Phoenix Blade 480GB is better in all tests when compared to the other drives on the chart.
Prosumer / Heavy Latency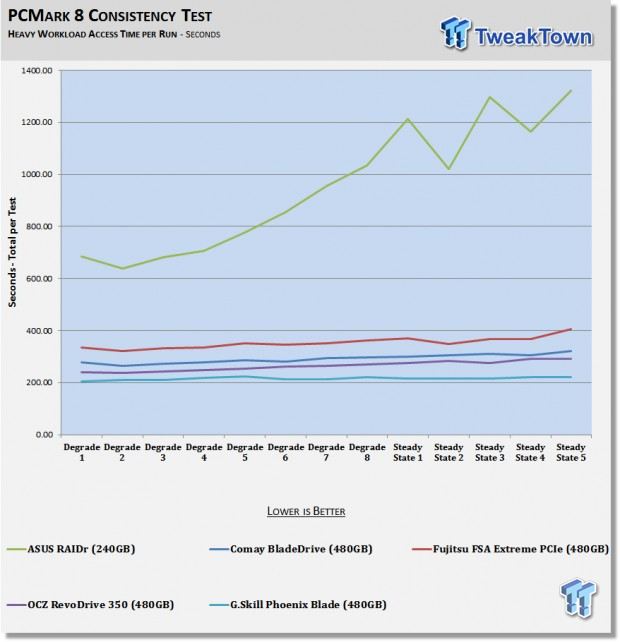 Typical Consumer Latency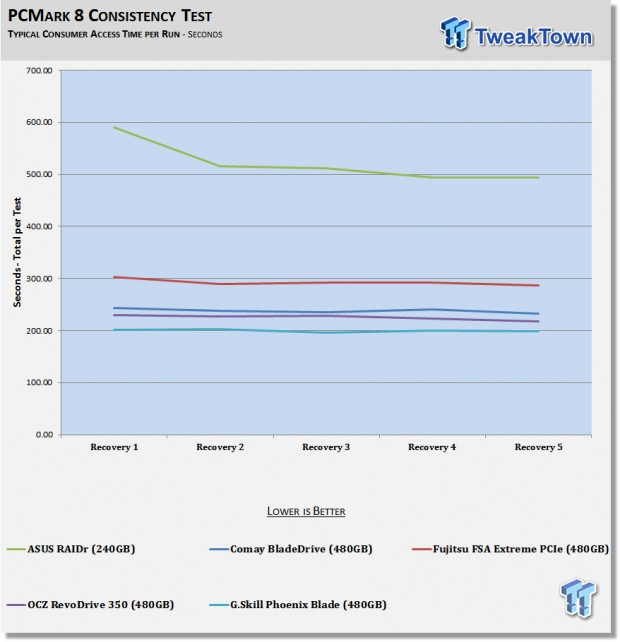 Both the heavy use and typical consumer latency charts show just how good the Phoenix Blade really is. The drive doesn't penalize users for using enterprise technology and delivers a consistent experience across workloads and states of use.
Final Thoughts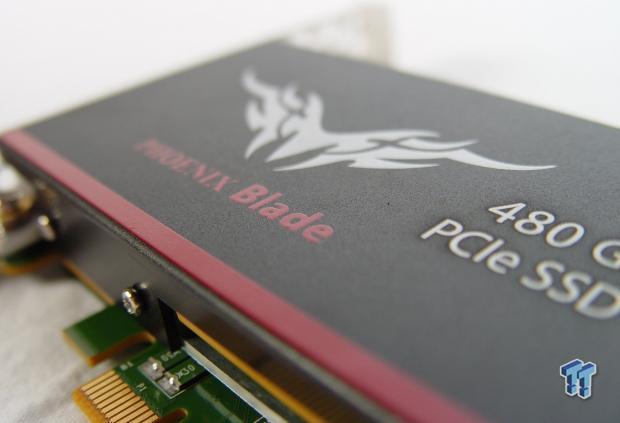 At $699.99, the G.Skill Phoenix Blade costs significantly more than a typical 512GB capacity SSD. We talk a lot about two different classes of SSDs on the market, value / mainstream, performance and the hyper drives. In the value market, you find drives like the Crucial MX100, SanDisk Ultra II and so on and they cost around $210 in this capacity size. Then you have the next step up with the M550, Samsung EVO and other drives that cost roughly $230 to $260. The last set, the hyper drives consist, at this time, of the Samsung 850 Pro and SanDisk Extreme PRO, and prices range between $300 and $400.
OCZ built the RevoDrive series, but the prices were always a quantum leap over the SATA models. At this time, the RevoDrive 350 480GB costs $799.99. G.Skill was able to undercut the RevoDrive 350 by $100 at the time of writing, and even deliver higher performance.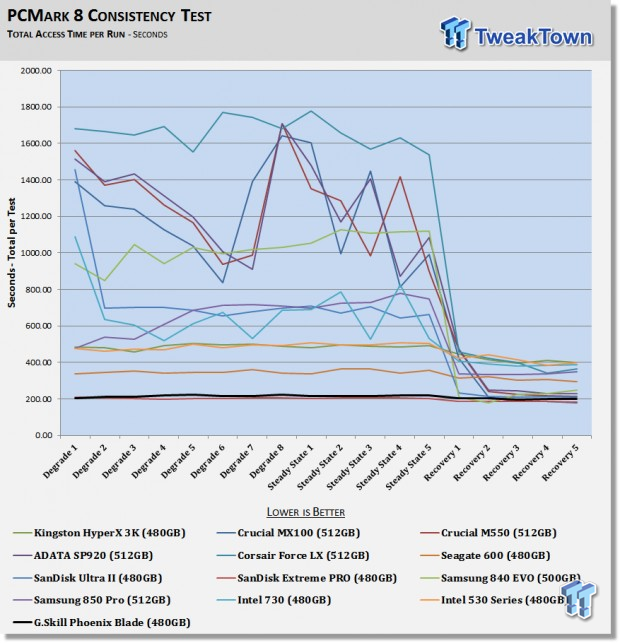 Before we get to the intended market performance, I want to first look at consumer application performance. On the previous pages, we saw the G.Skill Phoenix Pro outperform the other PCIe all-in-one RAID drives and by some margin. In this review, I talked briefly about how using enterprise storage sometimes slows your consumer workloads since the hardware is designed for intensive applications and high queue depth loads. In this chart, we see the latency, one of the most important tests in the review today. The red line on the bottom is the SanDisk Extreme PRO 480GB, the best performing SATA III consumer drive on the market when it comes to delivering low latency - running right with it is the G.Skill Phoenix Blade 480GB. When I say the two drives are running right together, I mean they are like two snakes in a make out session, overlapping and twisting around in places. This is important to note because there isn't a penalty for running regular desktop applications and the Phoenix Blade is a contender for the fastest drive in those applications.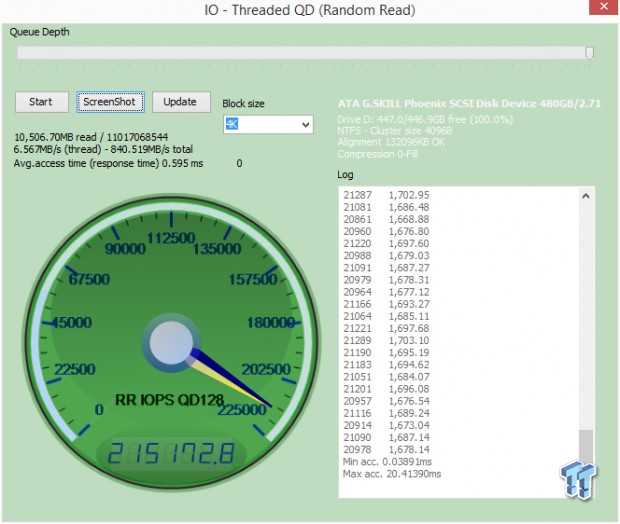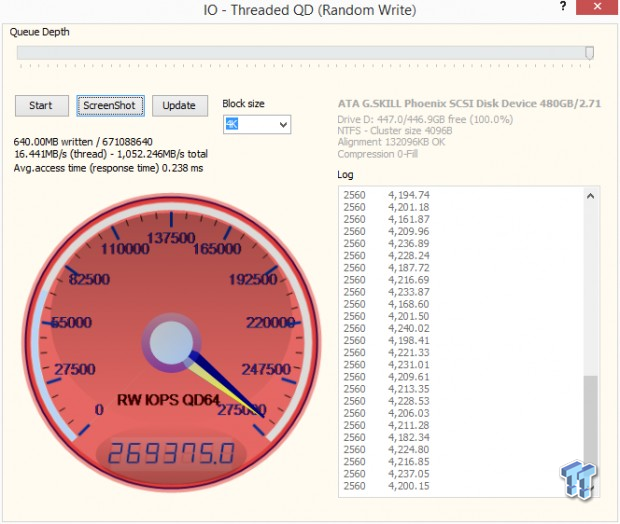 You might then ask, why spend the additional money when you could buy a SanDisk Extreme PRO and get the same desktop performance?
If you can use the extra performance because you run applications that take advantage of it, then you can surpass the 100K IOPS performance limit of SATA and go into enterprise territory. Granted, the high random numbers are not steady state numbers, but represent idle time between load, like what you have in a workstation environment. Again, the drive doesn't just magically make this happen, you have to have the applications, or combination of applications running at the same time to push the Phoenix Blade to perform at high speeds.
What we're left with is a prosumer SSD that competes with the best consumer SSDs in consumer workloads, outperforms existing prosumer PCIe SSDs in prosumer workloads and costs less than same existing PCIe prosumer SSDs. It doesn't get any better than that until we get prosumer NVMe based SSDs sometime next year.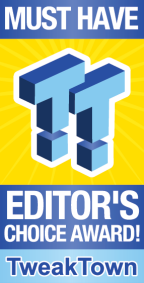 | | |
| --- | --- |
| Performance | 97% |
| Quality including Design and Build | 96% |
| General Features | 96% |
| Bundle and Packaging | 95% |
| Value for Money | 94% |
The Bottom Line: G.Skill's Phoenix Blade 480GB PCIe SSD performs amazingly well in both consumer and prosumer applications. The drive is the best we have tested at mixed environments, without a penalty on either side.
PRICING: You can find products similar to this one for sale below.

United States: Find other tech and computer products like this over at Amazon.com

United Kingdom: Find other tech and computer products like this over at Amazon.co.uk

Australia: Find other tech and computer products like this over at Amazon.com.au

Canada: Find other tech and computer products like this over at Amazon.ca

Deutschland: Finde andere Technik- und Computerprodukte wie dieses auf Amazon.de
We openly invite the companies who provide us with review samples / who are mentioned or discussed to express their opinion. If any company representative wishes to respond, we will publish the response here. Please contact us if you wish to respond.
Related Tags