GOTTA WYSIWYG Boost Portable Chargers Review
GOTTA has some stylish chargers in its WYSIWYG Boost lineup of portable batteries, ranging from 2600mAh to 5500mAh. Anthony tells us all about them here.

Published
5 minute read time
TweakTown's Rating: 84%
The Bottom Line
GOTTA enters the mobile battery space with a great first entry with three good chargers. The Boost 5500 is definitely the star of the show here, though.
Introduction
Introduction, Specifications, & Pricing
I received a package from GOTTA around a month ago, but with my busy home life schedule (having two kids under four chews up some serious time), and travelling to the U.S., I only got around to reviewing these chargers recently. GOTTA is a new to me, and most likely new to you as well, so let's introduce the company before we dive into the review.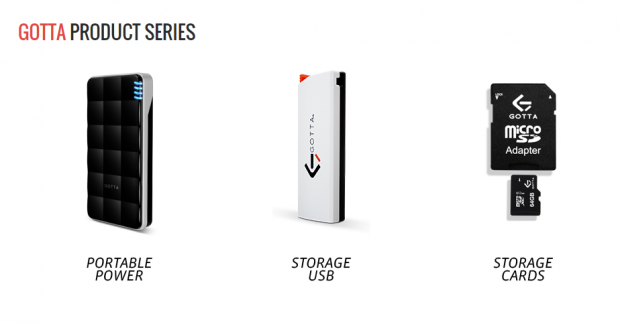 GOTTA sells a few products, including the mobile batteries in their "Boost" lineup, with a "WYSIWYG" tag stating that you are guaranteed to get the advertised mAh out of their batteries. GOTTA also sells portable storage, and storage cards, but we will focus on the batteries today.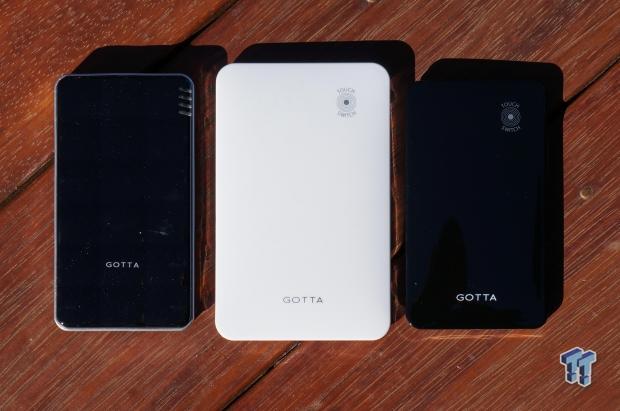 What we have today, are the three Boost chargers: Boost 2600, Boost 4500, and Boost 5500. Each of these chargers has a different style, so they're not all the same look and feel, which is a great touch from GOTTA.
When it comes to pricing, GOTTA is pricing the batteries at a little above average, but we'll find out later in the review if we think they're worth that slight premium. The Boost 2600, Boost 4500, and Boost 5500 have MSRPs of $29.99, $39.99, and $49.99, respectively.
Taking a Look Around the GOTTA Boost Batteries
Let's start with the Boost 2600, which I think is the best looking of all of the GOTTA chargers we have here today. The Boost 2600 features a beautiful black, gloss front, with a touch control for on/off abilities, and a battery indicator to the left. It's also super slim, coming in at just 9mm thick.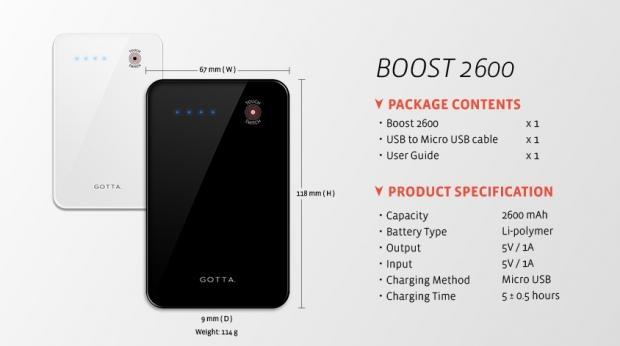 The GOTTA Boost 2600 only outputs at 5V/1A, with input set at 5V/1A also. It takes around five hours to charge, which is slow; I think GOTTA could've provided 2A here, which would've been much better. The 1A output is a real downer, as it'll charge your phone up much slower than the slew of 2A or 2.5A chargers out there.
The GOTTA Boost 4500 cranks things up a notch, offering a 4500mAh internal li-polymer battery, two USB outputs (1A and 2A), and an LED flashlight function. The look of the Boost 4500 is unique with the checkerboard style design on the front, which is really unique for a portable battery.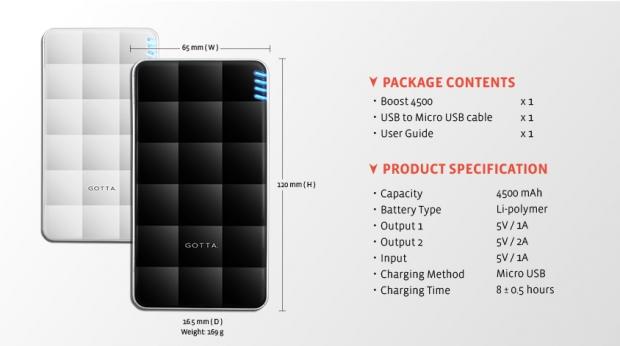 The Boost 4500 features two outputs (5V/1A and 5V/2A), which means you can charge two devices at once. The 2A output allows you to charge your tablet, or capable smartphone much quicker than the 1A port on the Boost 2600 would charge it. Charging time for the Boost 4500's 4500mAh internal li-polymer battery is around eight hours or so.
Finally, we have the Boost 5500, which looks like its sibling, the Boost 2600. I'm loving the black gloss look, and even though it has a much-increased li-polymer battery, it is only 13mm thick. The touch control makes an appearance again, and two USB outputs are available for charging two devices at once.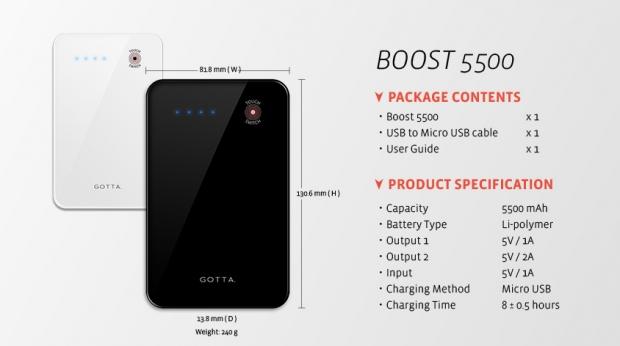 The two USB outputs offer the same charging capabilities of the Boost 4500, with 5V/1A and 5V/2A, giving you the ability to charge two devices at once. With the Boost 5500, you can charge your smartphone or tablet up with 2A, which is much, much faster than 1A. The charging time for this device is around eight hours, which is similar to that of the Boost 4500.
Pressing the Boost Button, Literally
Using the GOTTA Boost Batteries in the Real World
First off, the devices that I was charging were two Sony devices: the Xperia Z2 smartphone, and the Xperia Z2 Tablet. The Xperia Z2 smartphone features a 3000mAh battery, while the Xperia Z2 Tablet has a 6000mAh battery. This range gives us a good feel for the "average" users out there.
Boost 2600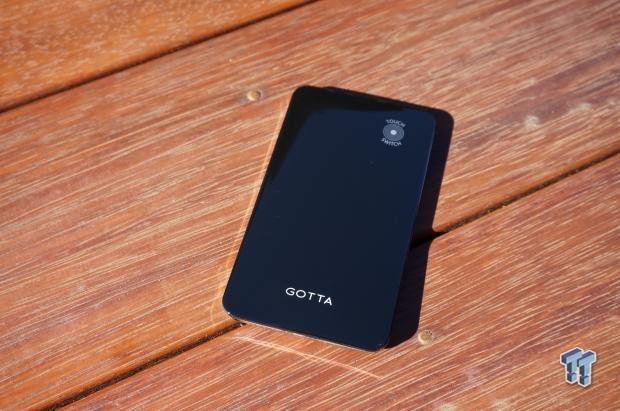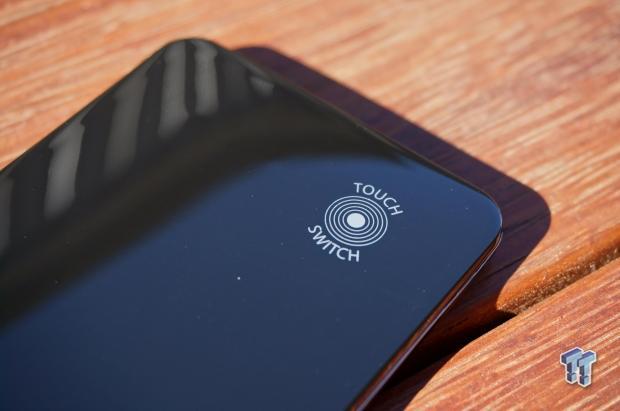 The Boost 2600 would fall into my second most-loved battery from GOTTA, in part because of its super-stylish black and glossy look, and thin 9mm design. The Boost 2600 fit into my pocket without a problem for a day out with my wife and kids. I was able to charge my Z2 smartphone from around 30% to maximum charge while it was in the car and I was driving, so when I got to dinner, my phone was ready to go.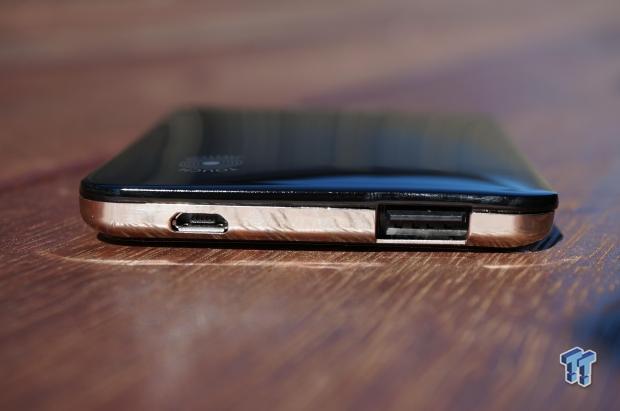 The "touch switch" at the top is great, as I'm not having to fiddle around to find the power button to turn it on. The 9mm design is also great, as it fit into my pocket nicely, but also slid right into my backpack for travel, without protruding too much. The 2600mAh of internal charge is good, but not great, so for users who want to charge up a tablet, or their phone more than once, the Boost 4500 or 5500 might be the way to go.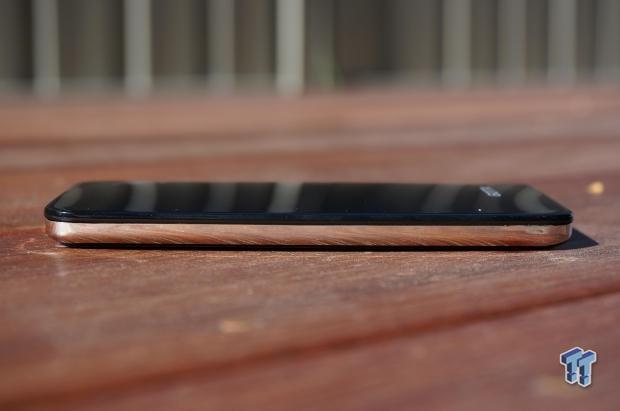 The big letdown here is the 1A of output, which charges up your device much slower than the 2A outputs on the Boost 4500 and Boost 5500 models.
Boost 4500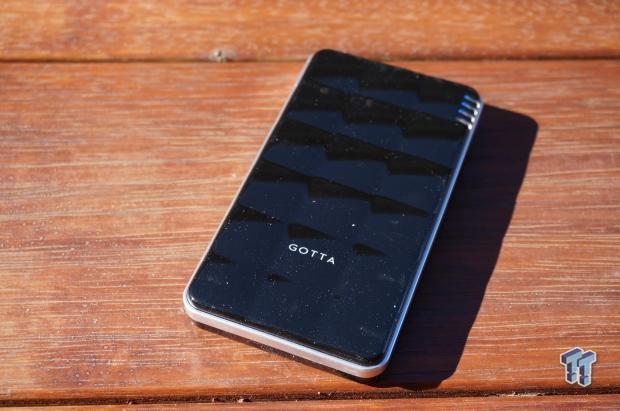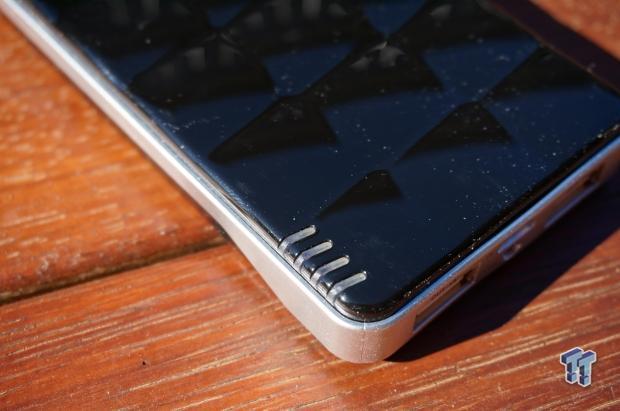 The Boost 4500 is my least favorite battery from GOTTA, purely from a personal perspective: I didn't dig the aesthetics. I did enjoy it in some way, because it was totally unique from any other portable battery I've tested, but that is about it.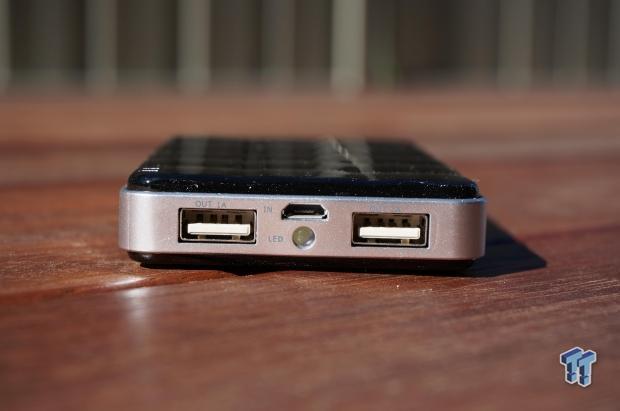 The four LEDs that indicate the level of charge are a nice addition, and the additional USB port for charging up a second device is something that I think more chargers need. In terms of specifications, the Boost 4500 wins over the Boost 2600, offering 2A instead of 1A. Also, the included LED flashlight is definitely a nice touch.
Boost 5500
And finally, my favorite GOTTA charger: the Boost 5500. Offering 5500mAh of mobile charge, two USB outputs, and the stylish glossy look, it stands out from its siblings in more ways than one.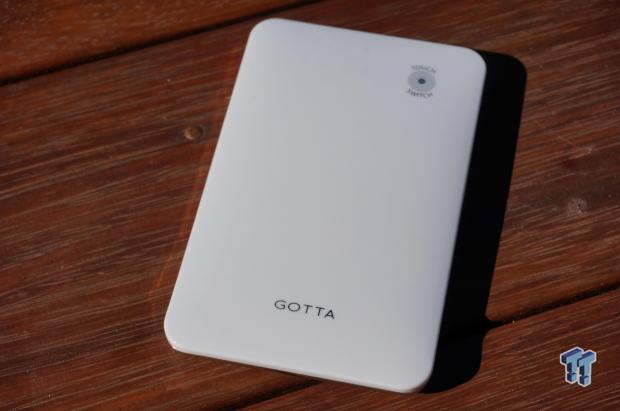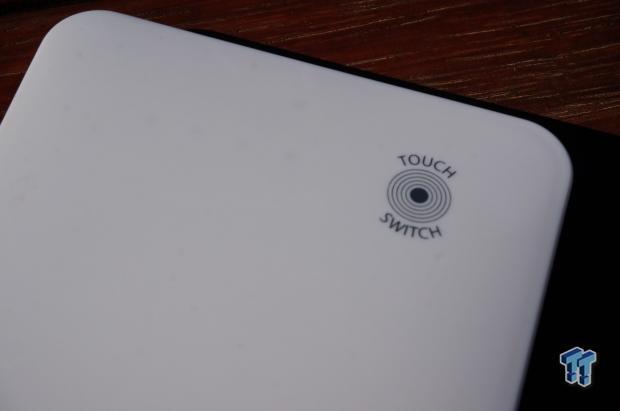 The Boost 5500 features the nice touch switch that the Boost 2600 had, but amps up the 2600mAh internal li-polymer battery to 5500mAh. Where the Boost 2600 is only 9mm thick, the Boost 5500 is only 13mm thick, which is great considering we have slightly over double the internal battery.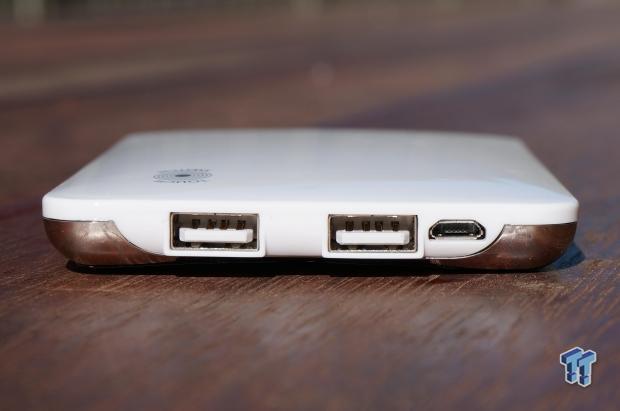 The two USB outputs with 1A and 2A top it off. This means I could charge up my Xperia Z2 smartphone and Xperia Z2 Tablet super quick, which is something I really need to do as someone who lives on their smartphone, not just personally, but professionally.
What's Hot
They Look Awesome: GOTTA surprised me right out of the box with some impressive looking mobile batteries, but one of them did let me down a bit, the Boost 4500. The other two models featured the slick-looking glossy finish that I really came to love.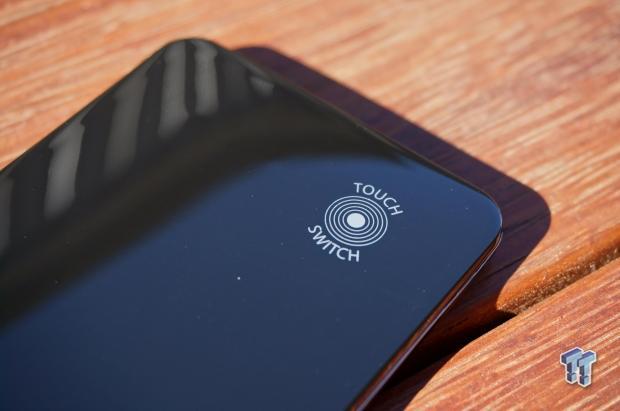 Touch Switch: Two of the GOTTA chargers featured a touch switch, which made operating them very simple. Simply touch the "touch switch" and the charger turns on, which is great for ease of use.
LED Torch on Boost 4500: The one saving grace of the Boost 4500, is that it sports a LED flashlight, which really does come in handy. It might not seem like it, but when you get home at night and have forgotten to turn your front light on, the battery in your bag or pocket can really, really come in handy - for those spider webs and the peril of them.
What's Not
5V/1A on the Boost 2600: I've become so used to 2A+ of output charge power that going back to 1A is like crawling, compared to sprinting. 1A charges your phone much slower, but if you have an older smartphone, or don't mind the additional charging time, then the Boost 2600 is for you. If not, steer clear of the Boost 2600.
Final Thoughts
GOTTA is another company that appeared out of nowhere to surprise me with their chargers, which is always welcomed. GOTTA has a slight premium on their chargers, which keep them from achieving a higher award, but that's not to say that we have subpar chargers on our hands.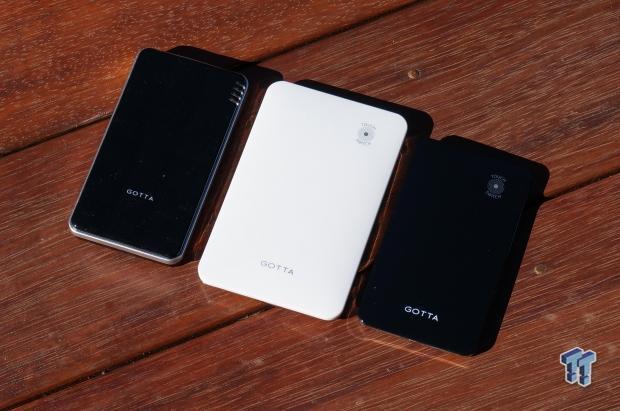 I think the Boost 2600 should have had 2A output, because the 1A crippled it. The Boost 4500's style didn't do anything for me, personally. The Boost 5500 is a beast with the slick look of the 2600, and with 2A output; now that's what I'm talking about. Out of the three, the Boost 5500 is definitely the one you'll be wanting to part with your money for.
On the other hand, if you're in the market for something cheaper, and don't mind the additional charge time, the Boost 2600 is still a pretty slick portable charger.
| | |
| --- | --- |
| Performance (mAh, output power) | 80% |
| Quality including Design and Build | 90% |
| General Features | 90% |
| Bundle and Packaging | 80% |
| Value for Money | 80% |
The Bottom Line: GOTTA enters the mobile battery space with a great first entry with three good chargers. The Boost 5500 is definitely the star of the show here, though.
PRICING: You can find products similar to this one for sale below.

United States: Find other tech and computer products like this over at Amazon.com

United Kingdom: Find other tech and computer products like this over at Amazon.co.uk

Australia: Find other tech and computer products like this over at Amazon.com.au

Canada: Find other tech and computer products like this over at Amazon.ca

Deutschland: Finde andere Technik- und Computerprodukte wie dieses auf Amazon.de
We openly invite the companies who provide us with review samples / who are mentioned or discussed to express their opinion. If any company representative wishes to respond, we will publish the response here. Please contact us if you wish to respond.