Quanta MESOS CB220 Continuous Availability NAS Review
Today Chris spends time investigating the Quanta MESOS CB220, a Continuous Availability NAS. If you're after a serious NAS setup, check this out.
Published Oct 3, 2014 12:15 AM CDT
|
Updated Tue, Nov 3 2020 6:59 PM CST
11 minute read time
TweakTown's Rating: 97%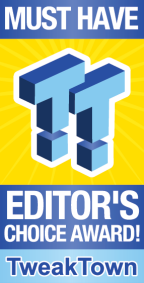 The Bottom Line
Quanta's MESOS CB220 is a unique solution that brings continuous available and efficient technologies into a lower price range. The base system is nice, but the performance SKU turns it up a notch.
Introduction

There is a good chance you already own a product manufactured by Quanta Computer Inc. and just don't know it. The company is the largest ODM builder in the world, manufacturing a majority of notebooks, desktops, and servers in the market today. Quanta Cloud Technology (QCT) is a subsidiary of Quanta Computer, but the subsidiary functions in a similar way, making industry leading solutions that are sold to other companies for branding and resale.
QCT's product stack consists of enterprise servers, storage, and networking products. QCT also uses the products in full rack solutions like Rackgo X, a product inspired by the Open Compute Project. This is an important aspect to consider when making a purchasing decision. QCT not only builds, but also uses their products. I can't count the number of times I've used a product and wondered why the final design came as it did. By using their products before sending them to market, QCT should eliminate those moments.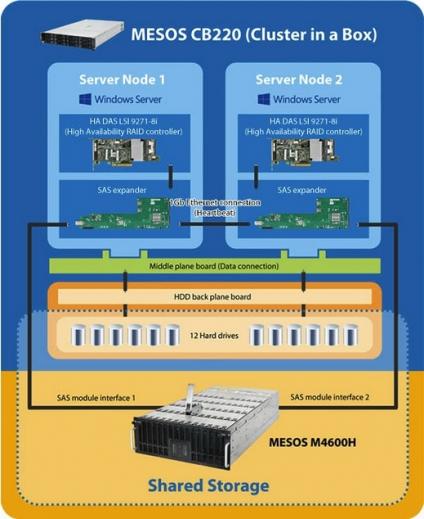 Today we're looking at the main component from the MESOS Storage system from Quanta. The MESOS CB220 is a dual node, twelve-bay storage server that ships in standard, or high performance configurations. The CB220 delivers one notch higher than high availability, continuously available. This comes from the system's LSI Syncro CS technology that provides node level transparent failover for the highest possible system uptime.
Hardware Specifications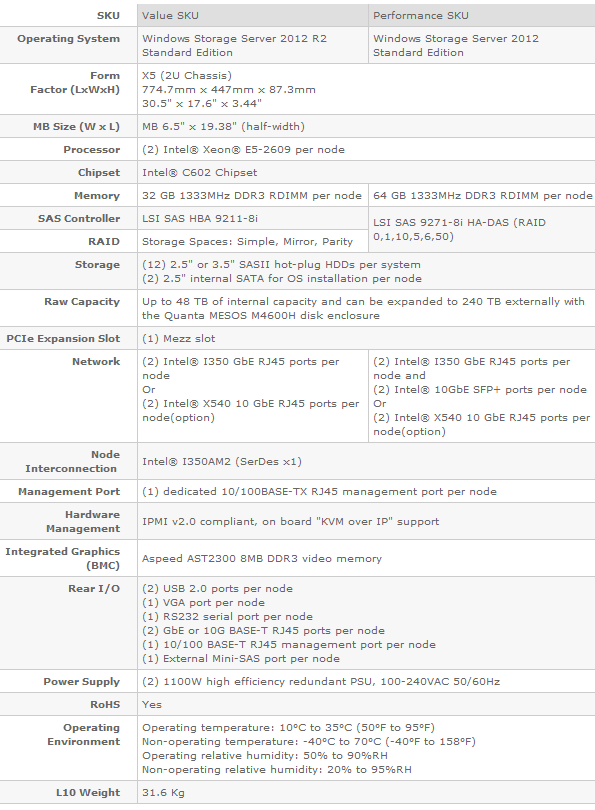 As mentioned, the Quanta Cloud Technology MESOS CB220 ships in two hardware configurations. Both systems use the same X5 (2U chassis) with the same Intel Xeon E5-2609 processors (two per node, four total per server). The Value SKU ships with 32GB of DDR3 DRAM per node, while the Performance SKU doubles that to 64GB per node.
Other differences between the two product SKUs reside in the SAS controller system and network options. The Performance SKU uses a LSI 927108i HA-DAS controller in each node for hardware RAID, and LSI Syncro CS technology. The Value model ships with a LSI 9211-8i HBA in each node, and uses Windows Storage Spaces for RAID. The performance model also has a dual 10GbE SFP+ option for network connectivity. Both models ship with dual Intel I350 one gigabit ports with an option for Intel's X540 10GBE RJ45 ports, again per node.
An Intel I350AM1 offers SerDes communication between each node. This adds to the continuous availability by allowing communication to the other node should a communications cable be lost, or a failure occur in the network infrastructure.
Twelve 3.5" hot-plug SAS drive sleds are shared between the two nodes. The drive sleds support both 2.5" and 3.5" drives. Our system shipped with Seagate 2TB 3.5" SAS drives. We have the performance SKU in for testing, and verified the LSI 9271-81 cards support CacheCade SSD caching, but our system didn't ship with any solid state drives.
The system uses two 1100w high efficiency redundant power supplies to power the system.
Expansion
QCT offers two 4U JBOD expansion enclosures for use with the MESOS CB220 system.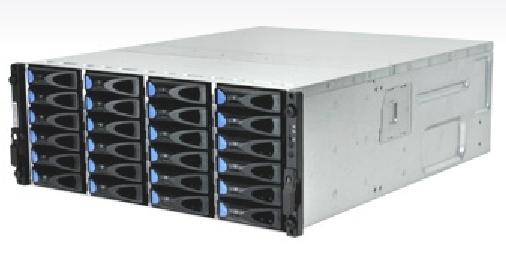 The first is the M4240H, a 24-bay SATA III / SAS II JBOD with redundant 760w PSUs. This JBOD has six 6Gb/s min-SAS ports with two console ports, and two controller modules. We found the M4240H online for as low as $2,822.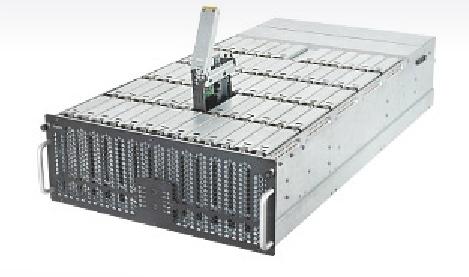 The M4600H brings extreme capacity to the MESOS product family. With sixty 3.5" hot-plug drive bays that also support 2.5" drives, and dual 1400w high efficiency redundant PSUs, the M4600H is your go to JBOD for high capacity in your continuous availability system. The M4600H ships with two host interface modules, each with 4x 6Gb/s miniSAS ports. We were unable to find the M4600H online with a price associated with it from a channel seller.
Pricing
We asked QCT about pricing, and a representative came through. The CB220 Value SKU with 48TB of disk storage (12x 4TB SAS) came in at $18,610. The Performance SKU with the same 48TB of disk storage paired with Syncro CS hardware RAID is $25,163.
After researching online, we found that Serversdirect.com sells the Value SKU without disks, or the 10GbE mezzanine card, for just $9,225. The SFP+ dual 10GbE NIC add-on will set you back $315, and the X540 dual port 10GbE RJ45 NIC sells for $318. Servers Direct quotes a three-year warranty period.
PRICING: You can find the Quanta MESOS CB220 (Value SKU) for sale below. The prices listed are valid at the time of writing, but can change at any time. Click the link to see the very latest pricing for the best deal.
United States: The Quanta MESOS CB220 (Value SKU) retails for $9,491.00 at Amazon.
Quanta MESOS CB220

The Quanta MESOS CB220 is in a 2U chassis with twelve forward facing 3.5" HDD drive sleds.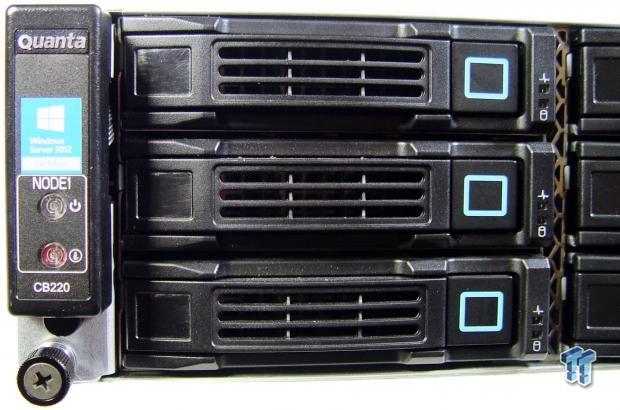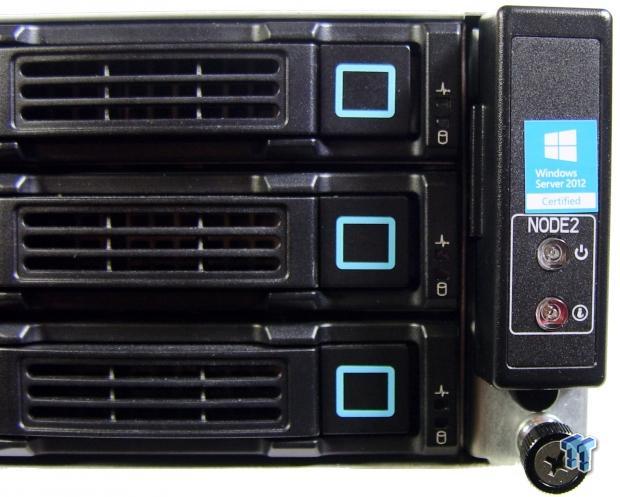 An information LED on each side shows the states of each node, and there is also an embedded power button.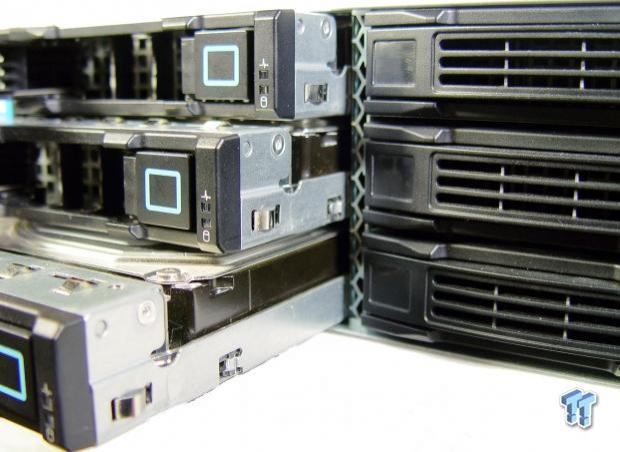 The drive sleds fit perfect in each slot. The sleds use the bottom mounting points on drives; both 2.5" and 3.5" form factors are supported.


The two systems inside the server chassis share a pair of failover power supplies mounted in-between the two nodes.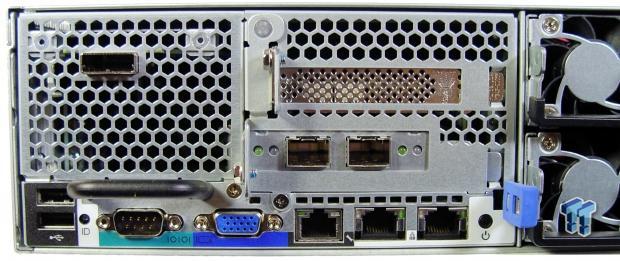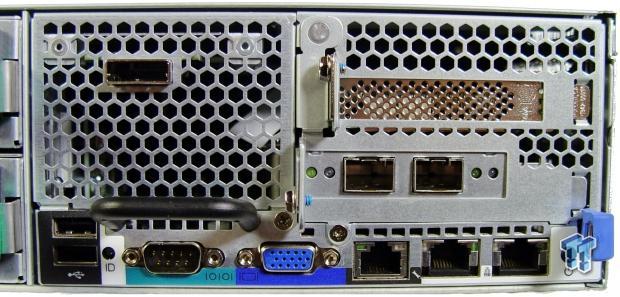 On the back of the nodes we found the SAS expansion slot, a pair of USB 2.0 ports, a serial port, VGA port, three gigabit Ethernet ports (one for management), and a pair is 10GbE SFP+ ports. The second node is identical, as you can see in the image.
Each node also has an unlocking lever and handle, so you can slide the entire node out for service.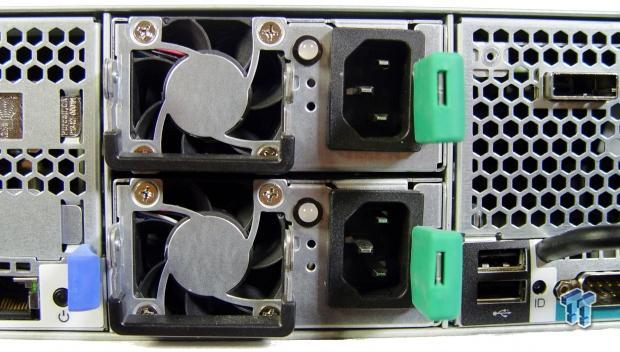 Here we get a closer look at the redundant power supplies. Each PSU has an exhaust fan, lever, and handle for extraction.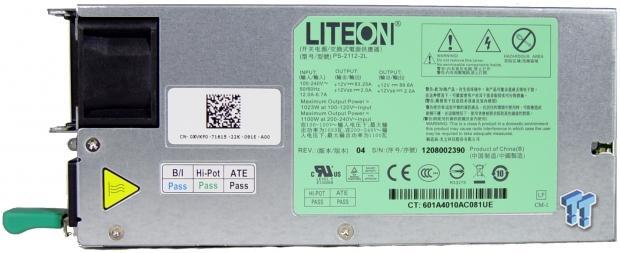 Each PSU has a maximum output of 1023w at 110-120v (1100w at 200-240v).

The nodes are almost like a work of art. A team of designers and engineers fits a full server in each section - twice the components of a powerful notebook in roughly the same PCB space.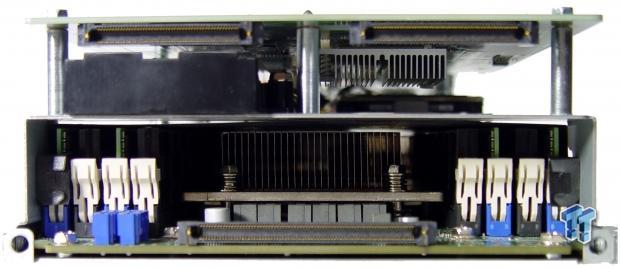 Looking through the back, see wee the eight DRAM slots for the front-most CPU. The three connectors (two at the top and one at the bottom) plug into the HDD backplane. These are the only connectors for the node attached inside the enclosure.

Each node has two 2.5" mechanical HDDs in RAID 1 for the operating system, two LGA2011 Xeons, and sixteen DDR3 DRAM slots. Two 10GbE SFP+ ports come from a mezzanine card, and a LSI 9271-8i with Syncro technology populates a PCIe slot.

The CPU and DRAM are covered with a shroud to reduce the volume of air the fans need to push to keep the components cool.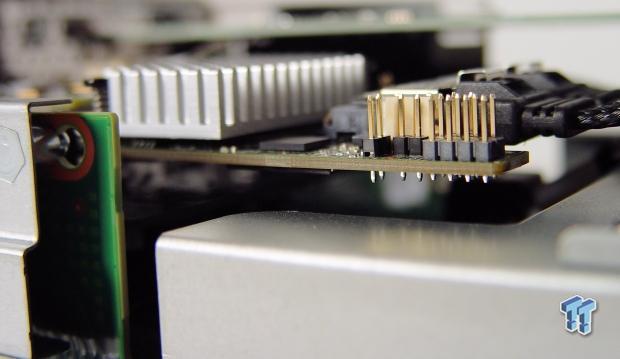 A heat sink on the top of the LSI 9271-8i Syncro card keeps the LSI controller cool.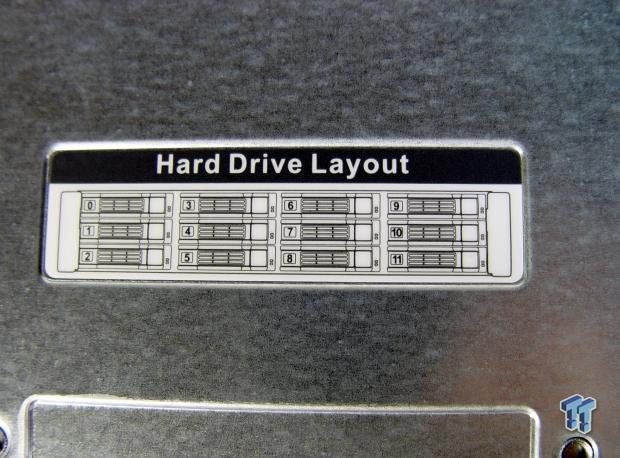 Last, but not least in our look around the Quanta Cluster-in-a-Box CB220 is a HDD layout sticker on the top of the system, so you can easily see the drive layout.
Software Features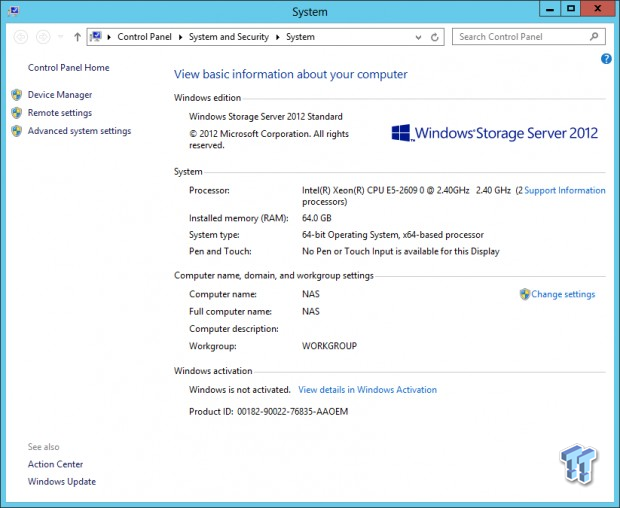 The Quanta MESOS CB220 runs on Windows Storage Server 2012 R2. Our sample shipped with Storage Server 2012 (sans R2) since the updated operating system package wasn't available when we first received the system.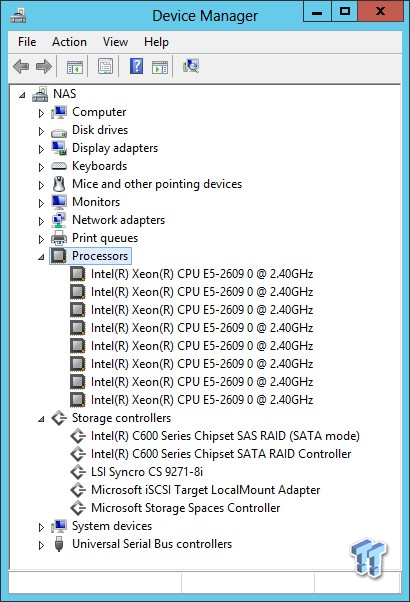 The system has eight physical cores running at 2.4 GHz with a powerful storage system. With that much multitasking power, you can run applications on the system as well, like SQL Server.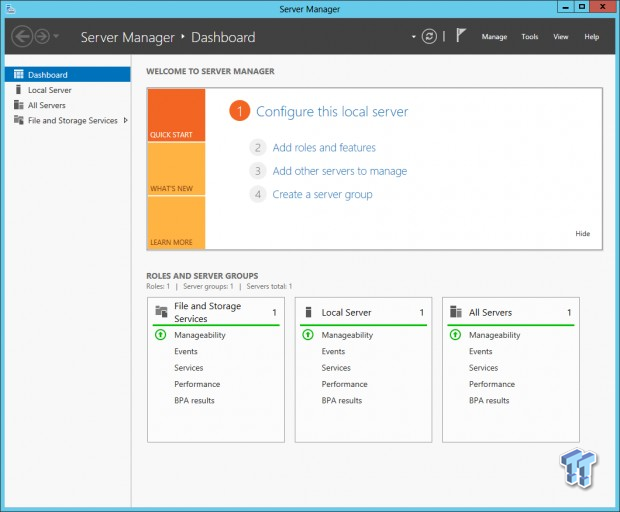 Storage Server 2012 (and 2012 R2) easily configures for iSCSI, and other network protocols.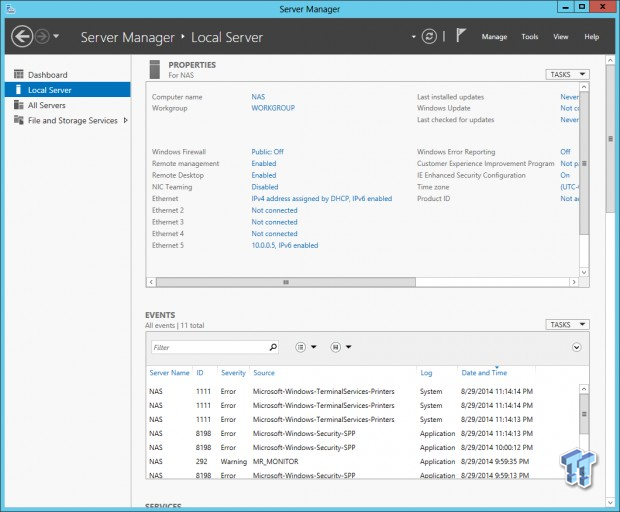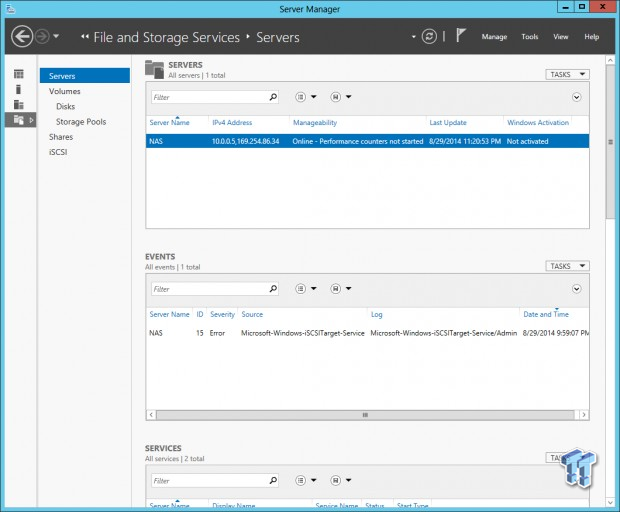 The add-on JBOD systems can be configured a number of ways through Storage Spaces.
The system's failover configuration is the major feature. One step past high availability, continuous availability means the only event to take your CB220 down is a total power outage, but most systems at this level should have battery backed power with a high availability network to go with it.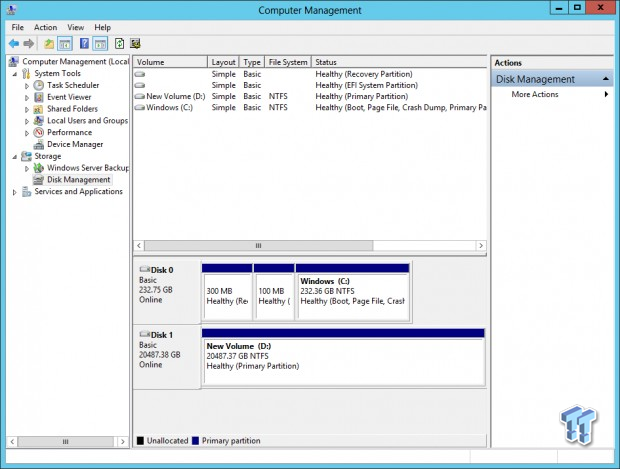 The storage is divided into two sections. The first is the operating system drive, and the second is the shared storage that is identical on both nodes.
Windows Storage Server 2012 supports two newer technologies that make file based storage more efficient, SMB 3.0 and data deduplication.
Test System Setup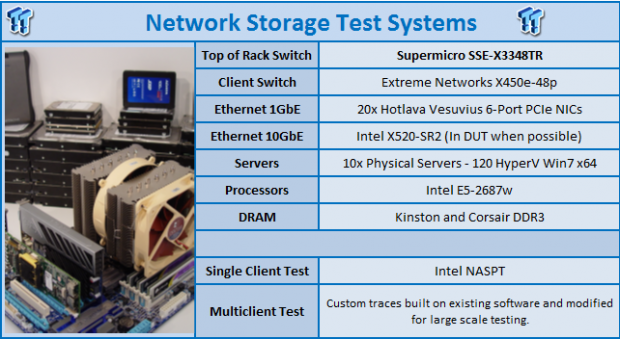 Our NAS test "system" has migrated to three 42u racks, much like what you'd find in a datacenter. There are ten servers that attack the target NAS with 120 Hyper-V installations of Windows 7 64-bit; each has a dedicated gigabit Ethernet port. The systems feed to three Extreme Networks X450e-48p switches, and then to a Supermicro SSE-X3348TR top-of-rack switch. The device undergoing testing connects to the Supermicro switch via 1GbE, 10GbE, or 40GbE. The iSCSI and NASPT tests use a single machine connected to the Supermicro switch.
This level of testing wouldn't be possible without the help and support from several companies, many of which have little to do with NAS products. We would like to thank AVADirect, Antec, Corsair, GIGABYTE, Icy Dock, Kingston, LSI, Noctua, Rosewill, Seagate, Thermaltake, and Western Digital for their much appreciated support.
Intel NASPT
The Intel NAS Performance Toolkit (NASPT) is a file system exerciser and analysis tool designed to enable direct measurement of home network attached storage (NAS) performance. Designed to emulate the behavior of an actual application, NASPT uses a set of real-world workload traces gathered from typical digital home applications. Traces of high definition video playback and recording, office productivity applications, video rendering/content creation, and more, provide a broad range of different application behaviors.
TweakTown Custom 120-Client Office Test
The TweakTown Custom 120-client Office Test uses 120 Windows 7 Hyper-V installations, and custom software to stress each NAS with traces from Microsoft Office tasks. Both throughput (in Mbits per second) and latency (in milliseconds) are measured.
Supermicro SSE-X3348TR 10GbE / 40GbE Switch

With a switching fabric of 1284 Gbps through forty-eight 10GbE ports with RJ45 connectors and four 40GbE QSFP connectors, the SSE-X3348TR is our switch of choice for testing SMB and enterprise network attached storage products. Many server and motherboard manufacturers have included 10GbE on top-tier offerings. 2015 will be the year for a 10GbE take over.
Benchmarks - RAID 5 Single Client Performance
Benchmarks - RAID 5
RAID 5: Block-level striping with parity data distributed across all member disks.
HD Video Playback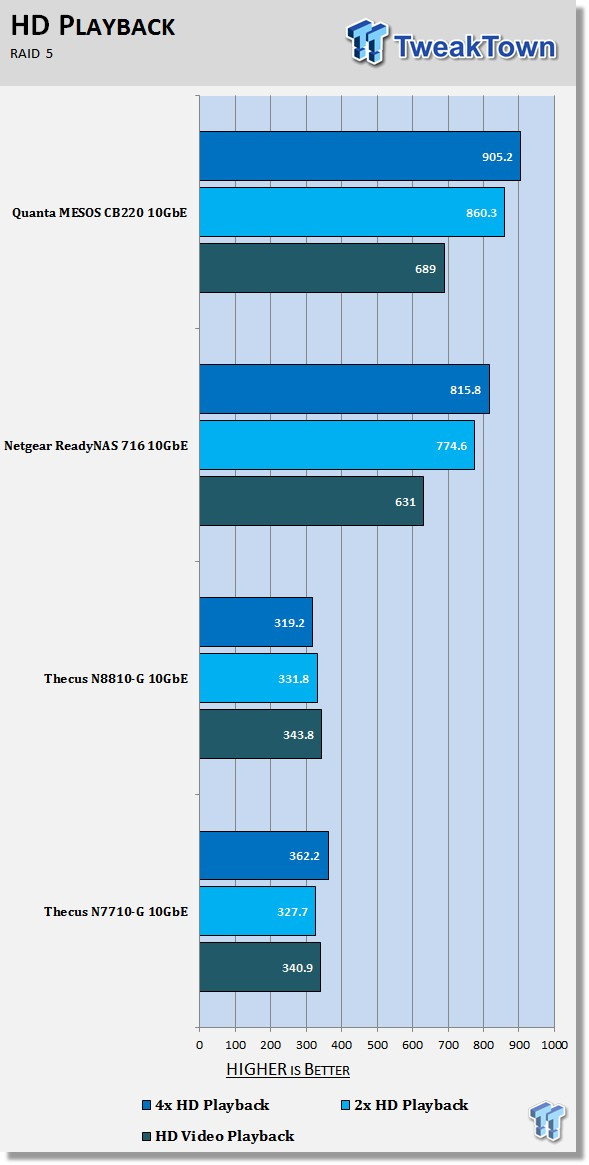 HD Video Play - 720p HD stream from Windows Media Player 256kB reads.
2HD Video Play - 2x playback.
4HD Video Play - 4x playback.
HD Video Record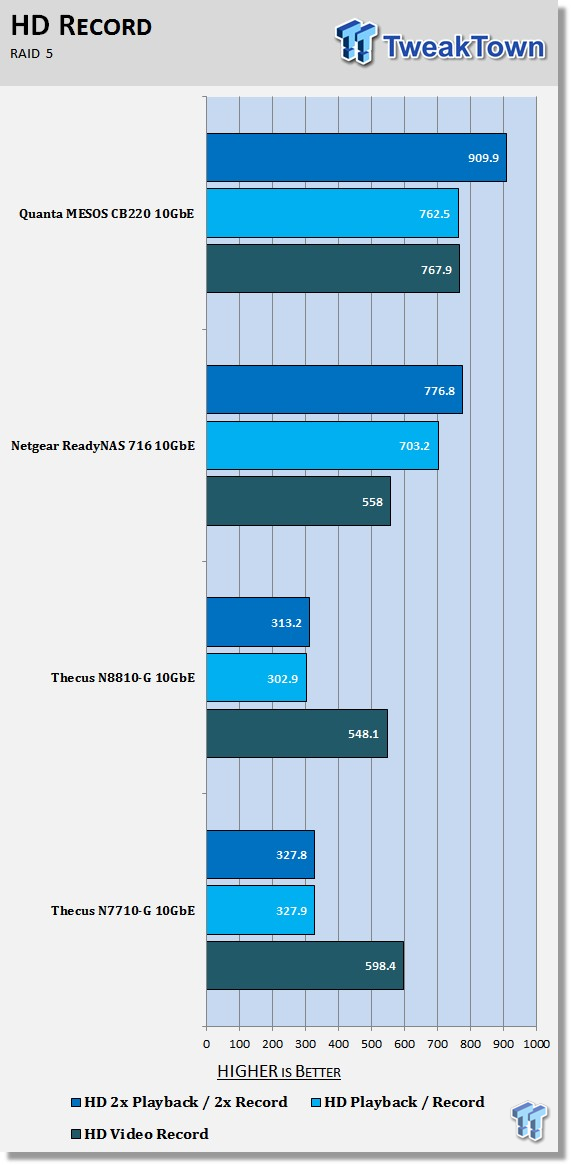 HD Video Record - 720p HD stream, 256kB writes.
HD Video Play & Record - One playback, one record simultaneously.
2x HD Video Play & 2x Record - Two playbacks, two records simultaneously.
Content Creation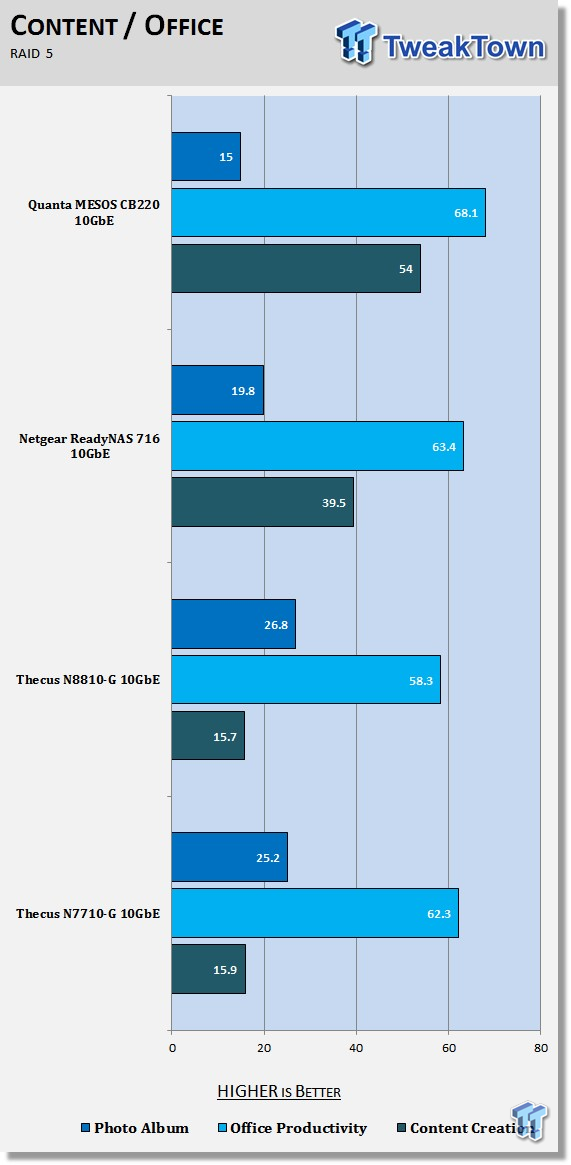 Photo Album - All reads - wide distribution of sizes.
Office Productivity - Reads and writes; 1kB & 4kB reads; mostly 1kB writes.
Content Creation - 95% writes; 1k, 4k, & little reads; writes up to 64kB.
File / Directory Transfer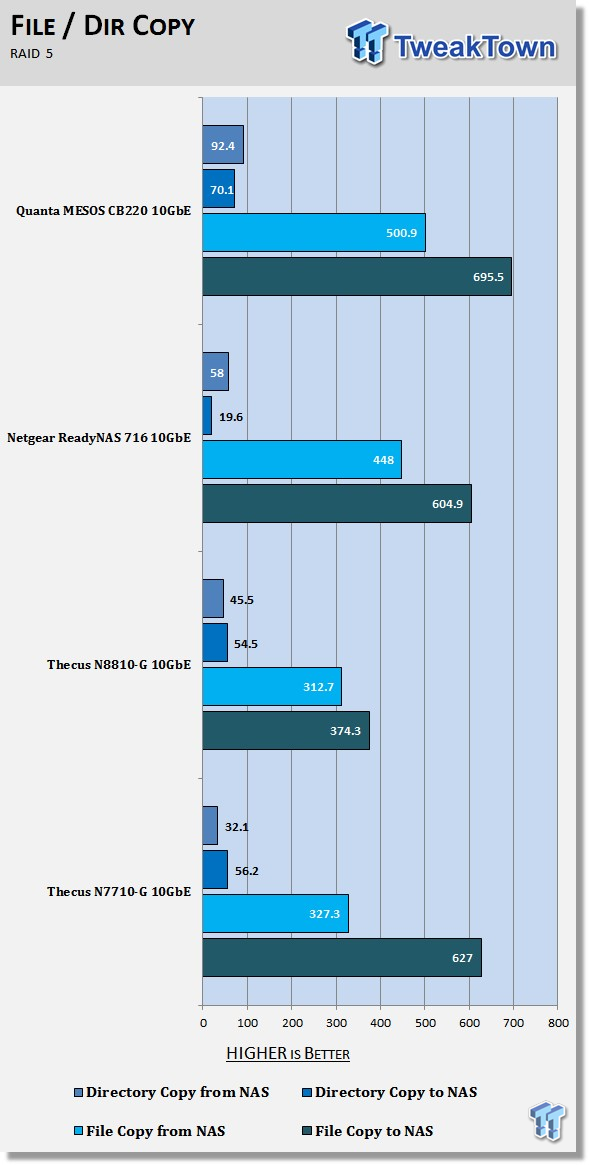 Directory Copy From NAS - 64kB reads.
Directory Copy To NAS - Predominantly 64kB writes, wide scattering under 16kB.
File Copy From NAS - 4GB file copy, 64kB reads.
File Copy To NAS - 64kB writes.
Single Client Performance Summary
A system like the Quanta MESOS CB220 isn't going to spend a lot of time serving video to a single client system, but these tests are a staple for testing NAS products. We generally don't see this much variation between products, but the CB220 is in another league when compared to the other 10GbE NAS units we have in the charts today.
Benchmarks - iSCSI Enterprise Workloads
Database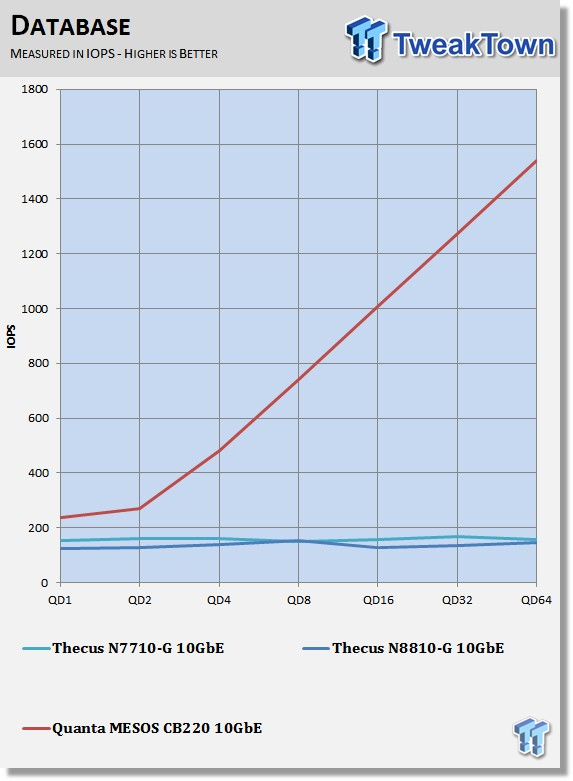 File Server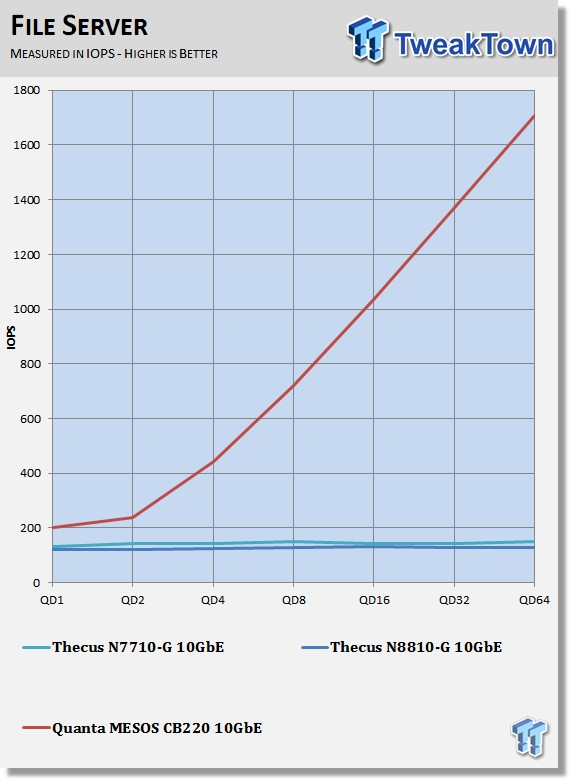 Email Server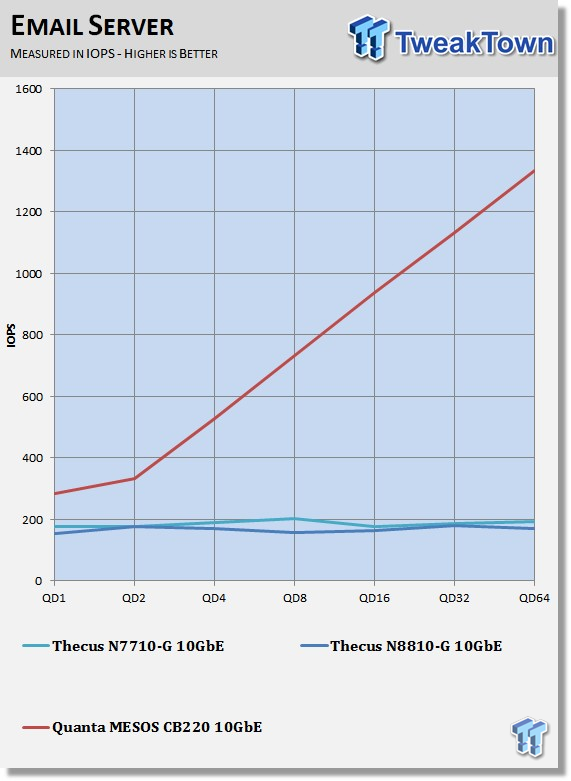 Web Server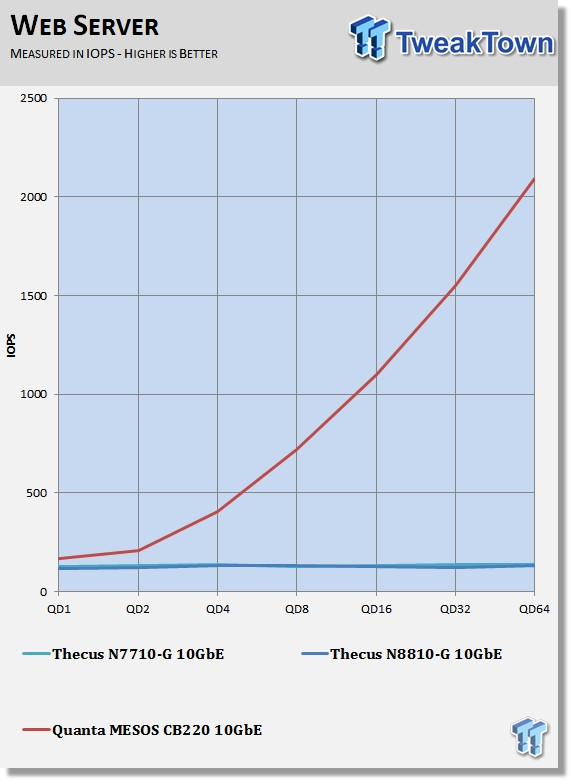 Workstation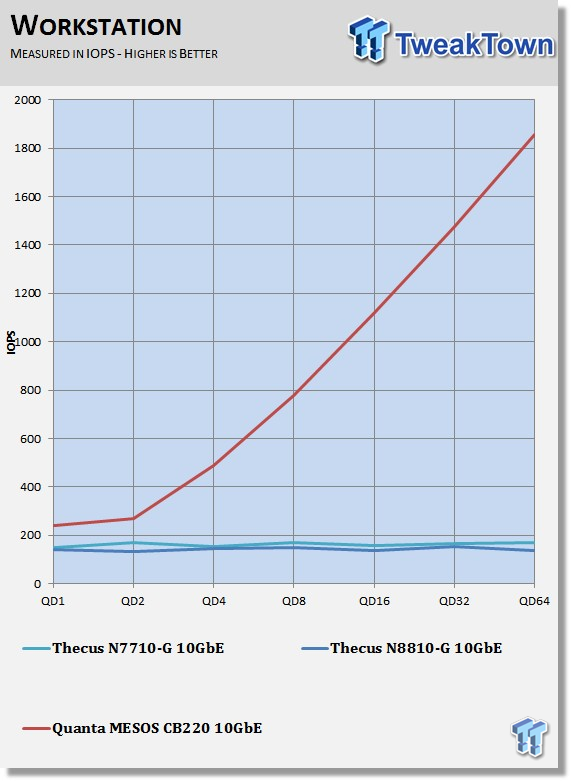 iSCSI Enterprise Workload Summary
The additional processor cores allow the Quanta MESOS CB220 to break away from the other units as we get into workloads at higher queue depth. Even in these tests, we're still only using half of the processing power on the CB220.
Benchmarks - iSCSI Workload Latency
Database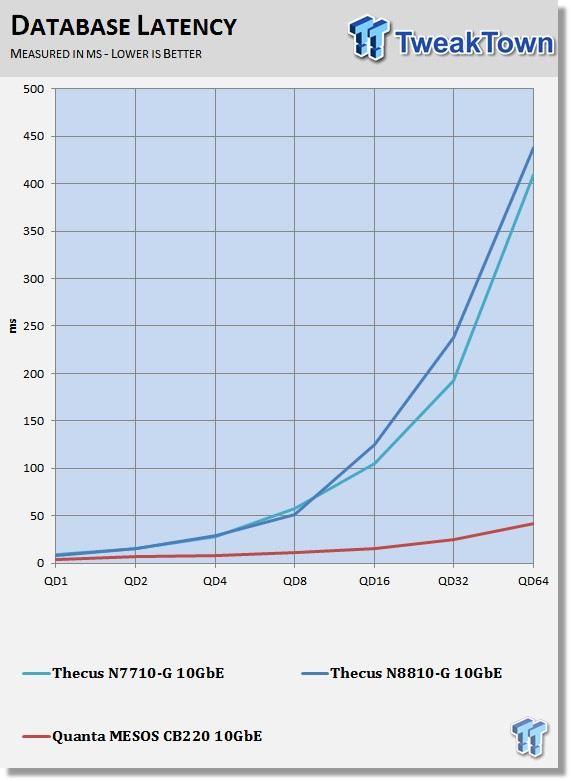 File Server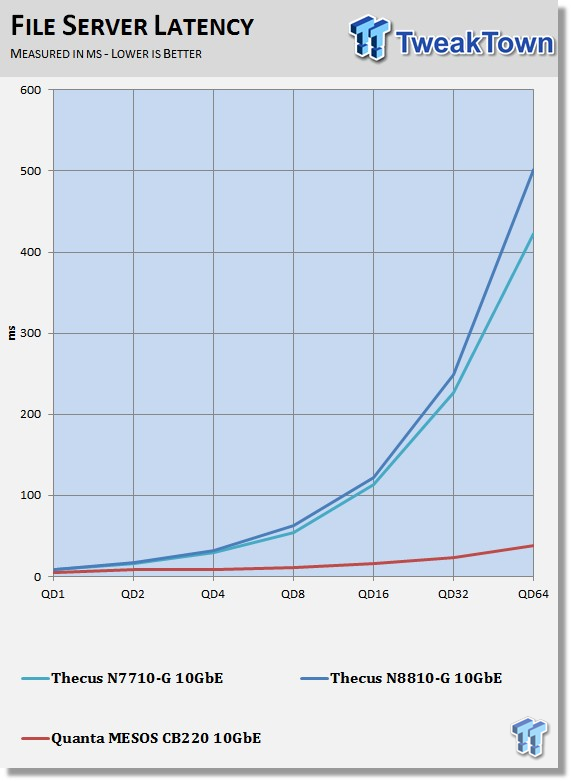 Email Server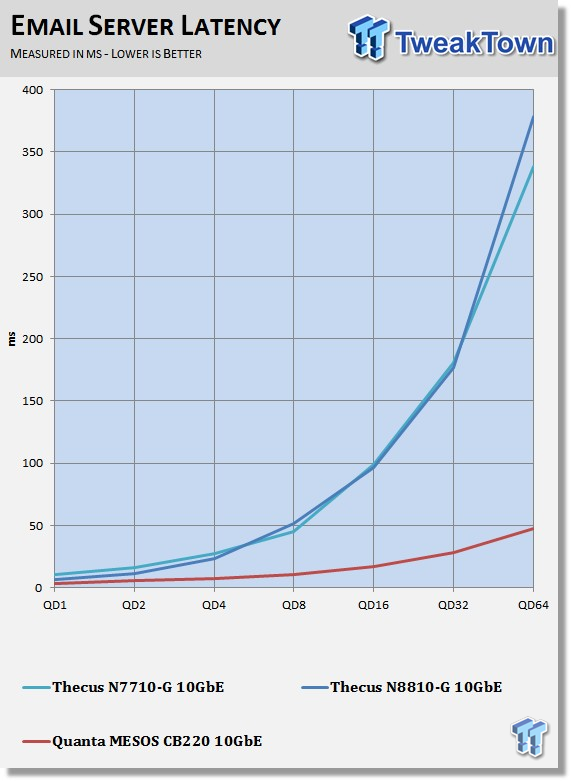 Web Server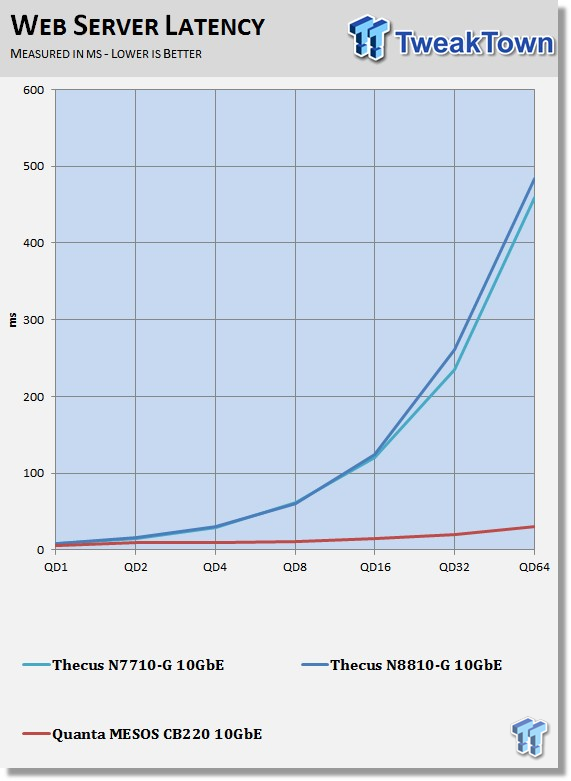 Workstation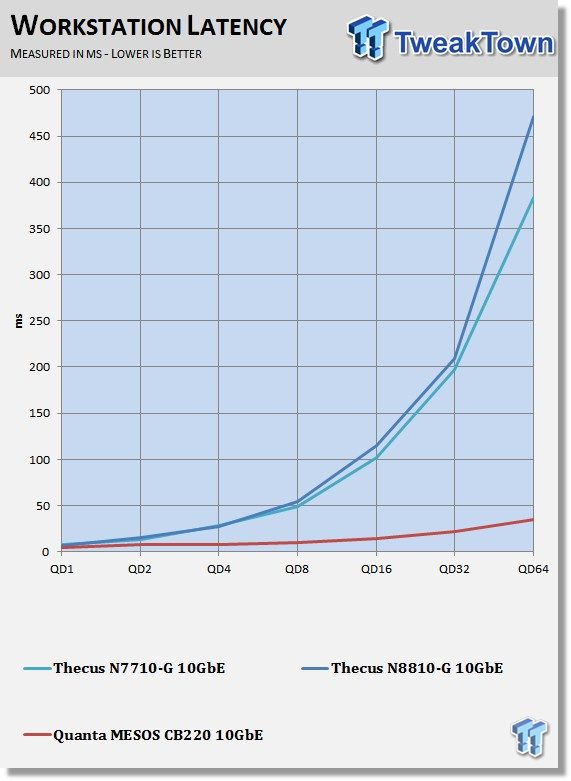 iSCSI Enterprise Latency Summary
The other side is the very low latency under these workloads. All three systems on this chart use 10GbE connectivity to the network, and the test system also uses 10GbE.
Benchmarks - Multi-Client Test
The Intel NAS Performance Tool (NASPT) is an excellent way to determine NAS performance in a single user environment. However, any review that only uses NASPT assumes that only a single computer will access the target NAS at one time. We took issue with this method of testing, and spent over a year designing, building, programming, and finally validating the TweakTown Multi-Client Test.
The test uses Microsoft Office data recorded to traces, and played back to the NAS from up to 120 client Windows 7 installations (clients). We record total throughput of all clients, and average response time per client.
Over time, we'll populate the two multi-client charts with several NAS products from a span of categories. The products range from a dual Xeon server with 2x 10GbE to a 2-bay NAS with a single gigabit Ethernet connection. The products will fall into their performance categories based on performance, and not marketing material, or opinion.
Throughput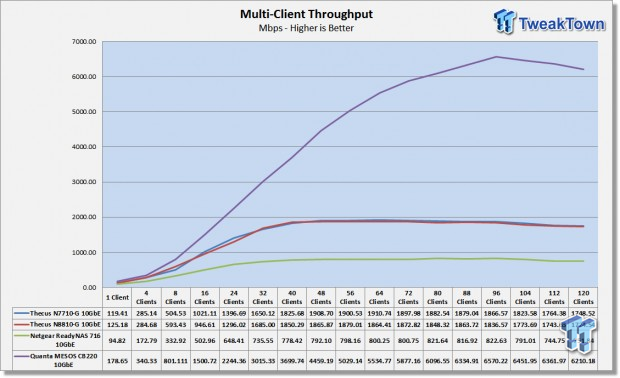 After what we observed in the previous tests, the results of our multiclient test are not surprising. Again, we're only using half of the processing power of the MESOS CB220, but we are using all of the disk storage.
The CB220 quickly differentiates itself from the off-the-shelf NAS products after adding just a few clients to the test. At 32 clients, the Quanta delivers nearly twice the throughput of the other units, and it just keeps going up from there. By the end of the test, with 120 clients talking to the NAS units at the same time, the Quanta is over three times faster than anything else on the chart.
Latency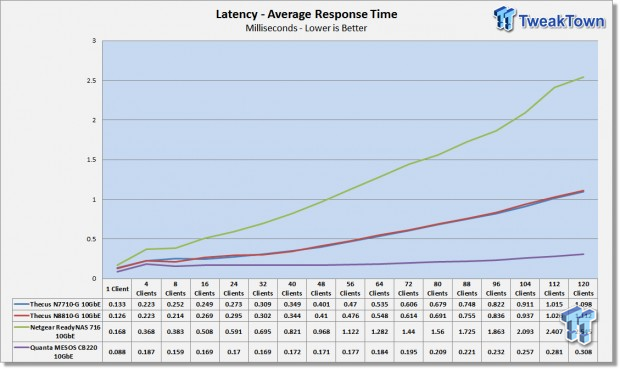 More important than the high throughput is the low latency. The Quanta keeps the latency under .5ms throughout the whole test, even when we get up to 120 clients. At 120 clients, the Quanta is just over .3ms of total latency, which is the highest reading in the test, but still the lowest latency we've ever recorded in this test on a NAS.
Final Thoughts

Quanta's use of advanced software and hardware features from Microsoft and LSI means you don't just receive two dual Xeon storage servers in a 2U package. The nodes link together to create a continuously available storage solution that is efficient and low cost.
SMB 3.0 makes data transfers to and from the system efficient. The technology allows Quanta to use lower power and less expensive processors to keep the transfer rates high and the latency low. Data deduplication allows the MESOS CB220 to hold more data than would be possible without the technology. Since deduplication isn't a traditional compression method that heavily taxes the processor and DRAM, performance remains very high without using a lot of system resources.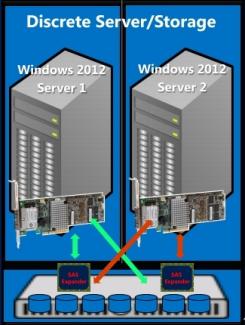 The main feature comes from the hardware. Quanta used LSI's Syncro CS technology to share the twelve drive bays among the two nodes. If a node goes down, either through a system issue or a network issue, the other node takes over and serves as both nodes.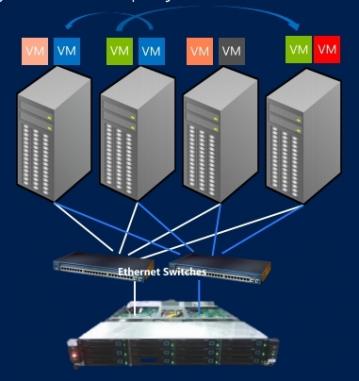 In a proper environment like a datacenter, the CB220 is able to serve several servers running large deployments of virtualized systems. SMB 3.0 and deduplication makes the CB220 store and perform like a larger, more expensive SAN. Also, since the CB220 uses ten gigabit Ethernet, the network infrastructure costs significantly less than a sixteen gigabit or even eight gigabit fiber channel network.
The Quanta MESOS CB220 is a bit more expensive than what we normally test, but it's easy to see the value in the product. The Value SKU CB220 is currently online for less than $10,000 with processors, 32GB of DRAM per node, and gigabit connectivity. Adding 10GbE to both nodes increases the cost slightly, but we found that two Quanta mezzanine cards cost about the same as a single 10GbE Intel X520 for a server.
Our system shipped with Windows Storage Server 2012, but since our system arrived, Quanta has updated the package with Storage Server 2012 R2. The R2 upgrade brings even more Windows based features, like storage tiering, to the CB220. Our system also shipped with twelve 2TB HDDs, but Quanta has increased the system capacity to 48TB with 4TB drives. The two add-on JBOD systems allow you to increase capacity even further if desired.
PRICING: You can find the Quanta MESOS CB220 (Value SKU) for sale below. The prices listed are valid at the time of writing, but can change at any time. Click the link to see the very latest pricing for the best deal.
United States: The Quanta MESOS CB220 (Value SKU) retails for $9,491.00 at Amazon.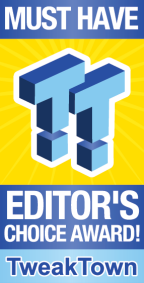 | | |
| --- | --- |
| Performance | 97% |
| Quality including Design and Build | 98% |
| General Features | 98% |
| Bundle and Packaging | 97% |
| Value for Money | 96% |
The Bottom Line: Quanta's MESOS CB220 is a unique solution that brings continuous available and efficient technologies into a lower price range. The base system is nice, but the performance SKU turns it up a notch.
PRICING: You can find products similar to this one for sale below.

United States: Find other tech and computer products like this over at Amazon.com

United Kingdom: Find other tech and computer products like this over at Amazon.co.uk

Australia: Find other tech and computer products like this over at Amazon.com.au

Canada: Find other tech and computer products like this over at Amazon.ca

Deutschland: Finde andere Technik- und Computerprodukte wie dieses auf Amazon.de
We openly invite the companies who provide us with review samples / who are mentioned or discussed to express their opinion. If any company representative wishes to respond, we will publish the response here. Please contact us if you wish to respond.