Teenage Mutant Ninja Turtles (2014)
One of the more, shall we say, improbable franchises of all time, Teenage Mutant Ninja Turtles started out as a craze based off the back of a comic book in the late 1980s, spawning multiple TV shows, three live action movies, a CG animated movie, and billions in toys, video games, and lucrative licensing rights. Through it all, the franchise has exhibited exceedingly strong resilience, perhaps more so that it deserves. So what makes the franchise tick and more than twenty years five on, does it have what it takes to survive in the world of today?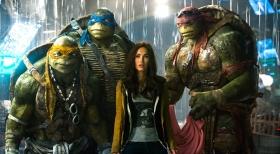 A dangerous gang known as the 'Foot Clan' is terrorising the citizens of New York, and intrepid, but unrespected reporter April O'Neil (Megan Fox) is attempting to blow the lid off the threat. But when she comes into contact with four turtles following a Foot Clan attack, she puts her job on the line to get past resistance from her higher up skeptics.
When O'Neil discovers she has more than a passing history with the turtles, she becomes a target for the Clan and its leader Shredder (Tohoru Masamune) who just might be in collusion with rich industrialist, masquerading as city hero, Eric Sacks (William Fichtner).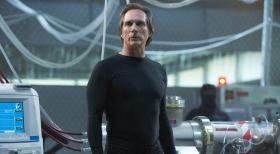 Confession time. I was ready to pour the hate on Teenage Mutant Ninja Turtles. Pretty much all the promotional materials and every trailer I had seen was uninspiring at best and cringe inducing at worst. Plus the involvement of Michael Bay as the film's producer and the casting of Megan Fox as the savvy April O'Neil did nothing to help its own cause.
But, by the end Teenage Mutant Ninja Turtles had almost won me over. Almost. Don't get me wrong, it's the equivalent of cinematic belly button fluff and instantly forgettable, but throughout the mercifully brief (90 minute) run time, I was generally entertained, the 3D was generally good and I distinctly remember only wanting to stab myself in the face just once. Well, probably twice. But still.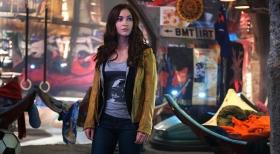 A far cry from the original 1990 motion picture (and especially its sequel The Secret of the Ooze - memories), the updated turtles are convincingly animated, with all the trimmings of modern day CG, even if the buffed up designs move precariously away from the classic models with non threateningly bulbous noses and wide set mouths. They spout the same goofy dialogue (although I don't remember it being so cringing), with the same surfer dude voices. The re-jigged origin story is borderline offensive to long term fans, but you need to keep in mind that the original was hardly Shakespeare. April O'Neil still wears a yellow jacket in a nod to the original, albeit suitably sexed up. So I guess the formula is mostly there.
Probably the character that fares the worst is Shredder. Far from being a scary villain, he's about as threatening as a paper cut, complete with a plot to bring evil to New York which is as ham fisted as anything Krang could come up with. That's a thought. Where is that brain in a jar? I guess they're keeping him for the sequel. Speaking of which...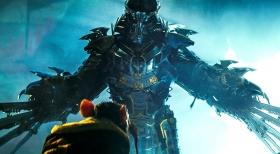 With the pronouncements of doom repeated loudly and often before release, the success of the film has already prompted Paramount and Nickelodeon Pictures to greenlight a sequel. Let's face it; I'll probably be there, if only to check its pulse. But to be honest I'd be just as keen to watch the original animated show on DVD on a lazy Sunday afternoon. But I guess it validates what Megan Fox about fans complaining, before turning up anyways. I guess that says a lot about modern day summer blockbusters, which are seemingly content to shoot for mediocrity. It might just get across the line but there's no escaping the fact that Teenage Mutant Ninja Turtles is wholly mediocre. If it's any consolation, it could have been a lot worse.