Logitech UE Boom Wireless Bluetooth 360-degree Speaker Review
Logitech runs rings around the competition with its 360-degree sound pumping machine, the UE Boom. Read on and check out Anthony's full review now.

Published Sep 19, 2014 2:45 AM CDT
|
Updated Tue, Nov 3 2020 6:59 PM CST
9 minute read time
TweakTown's Rating: 94%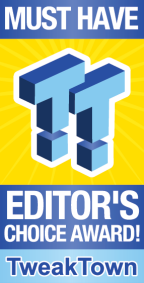 The Bottom Line
Logitech has crafted one of the best portable speakers on the market with the UE Boom. From its striking looks to its gorgeous audio, you simply need to check it out if you're in the market for a new portable speaker.
Introduction, Specifications, Pricing and Availability & Package
The last Logitech audio product I used was the now ancient Z-2300 THX-capable 2.1 speaker setup, which I absolutely loved at the time, and still do. Logitech make a bunch of mediocre sound equipment, but then they release something that is truly kick ass and worthy of your hundreds-of-dollars investment.
The Logitech Ultimate Ears (UE) Boom is one of those products. I hadn't heard of it before, until I was trawling a few websites and saw it pop up, so I shot an e-mail off to my Logitech contact and a few days later I had the UE Boom sitting in my office.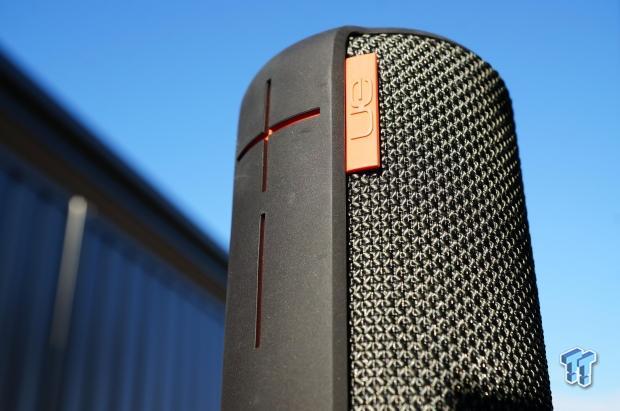 The Logitech UE Boom has some serious tricks up its sleeve, with 360-degree sound, Bluetooth and NFC capabilities, a massive battery, two-year warranty, and some kick ass audio. There's an iOS and Android app that lets you connect a second UE Boom up for some crazy audio goodness, something we hope to test in the near future after we're finished wrapping up this review. For now, we're going to jump right into it.
Specifications, Pricing and Availability
Logitech has obviously spent some time on the UE Boom, baking in a plethora of connectivity options and much more into it. This is one of Logitech's best audio products on the market right now.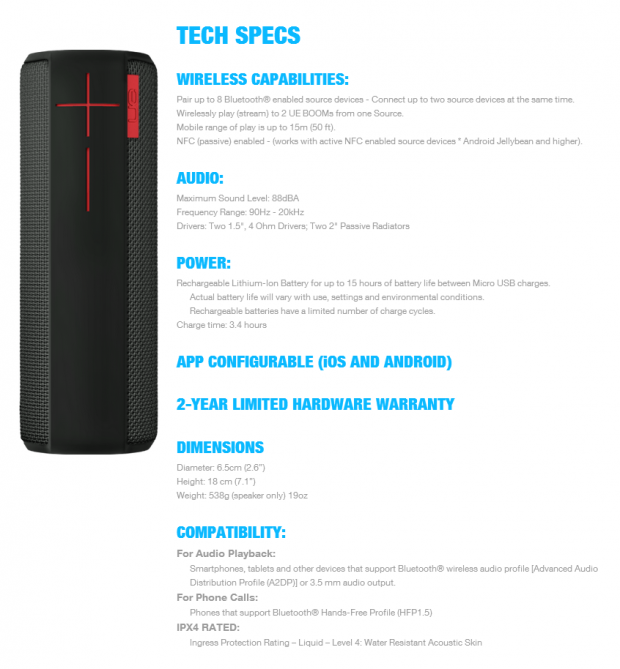 First up, you're able to connect to eight Bluetooth-powered devices at once, which might come in handy for some people. The UE Boom is capable of being paired up wirelessly with another UE Boom from a single source for some seriously powerful, 360-degree audio. The mobile range on the UE Boom sits at around 15m, or 50 feet. NFC capabilities are found in the UE Boom, which makes connecting your smartphone or tablet up to the speaker all that easier.
On the audio side of things, we have a maximum sound level of 88dBA, and trust me - when I get to the 'How It Sounds' part of this review, you're going to hear about just how loud the UE Boom is. We have a frequency of between 90Hz - 20kHz, and then finally the drivers: two 1.5-inch, 4 0hm drivers, and two 2.5-inch passive radiators. This provides the UE Boom with a serious, serious punch in the audio department, something that cranks up considerably. All of this arrives in a unique cylinder design, something that feels great to hold in your hand for portability. The UE Boom weighs just 538g, or 19oz, which makes it very portable.
Logitech has priced its Ultimate Ears, or UE Boom at $199.99, something you can purchase on Amazon or your local Logitech supplier. At $199.99, it's a bit expensive, but I think it is worth each and every dollar.
What's In The Box
Instead of providing some pictures, we've done an unboxing video using Google Glass. You can take a look at that below, but if you don't want to watch the video, we'll tell you what you get in the box below the video itself.
As you can see in the video, Logitech has done a beautiful job with the packaging of the UE Boom, with something that is truly unique. Let's dive into the pictures of the packaging and a look at the UE Boom itself, which looks so great.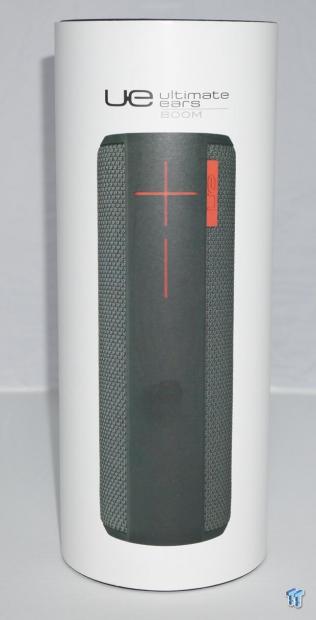 On the front of the box (the picture on the left), we can see the UE Boom itself. On the back of the box (the picture on the right), we have some details of the UE Boom itself, the 360-degree audio, IPX4 waterproof certified, 15 hours of battery, up to 50-feet distance through Bluetooth, and finally the ability to connect another UE Boom up for some added punch.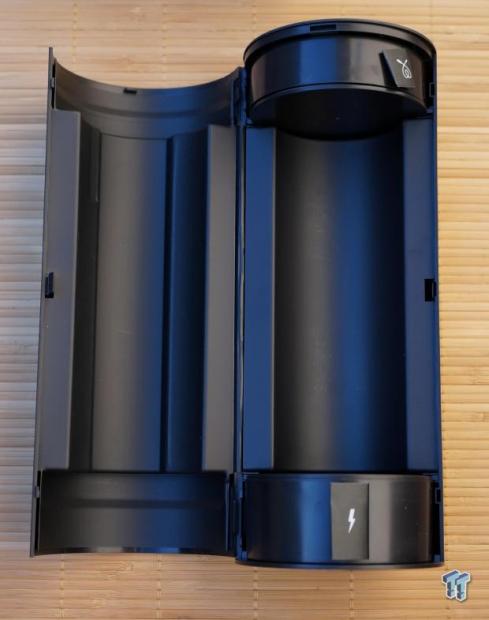 Opening the box, we have a great package where the UE Boom sits in the middle. Removing that, up the top, we can see that there is a small tray that can be removed with the micro USB cable included, and down the bottom, we have another tray to be removed with the power adapter.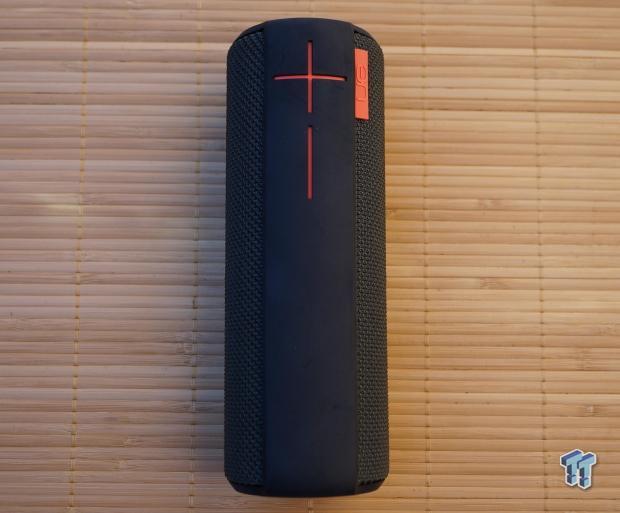 And the star of the show, the Logitech UE Boom.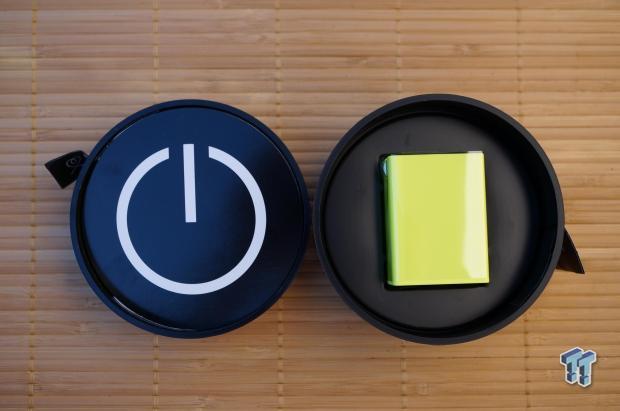 Out of the package, we have the two trays - the one on the left has the micro-USB cable, while the one on the right has the super-bright power adapter.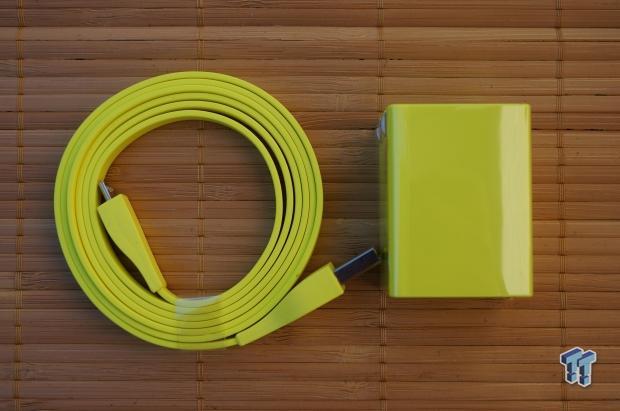 Logitech has chosen to go with a bright yellow theme on the micro-USB cable and power adapter, something I really loved.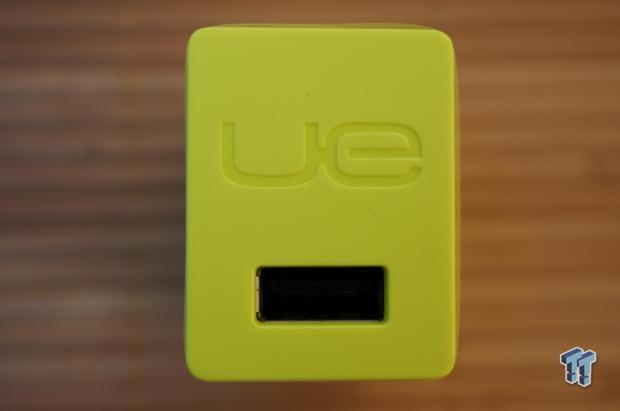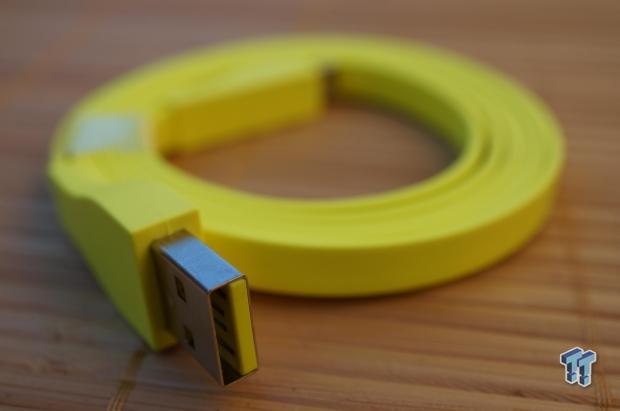 A closer look at the micro-USB to USB cable, and the power adapter.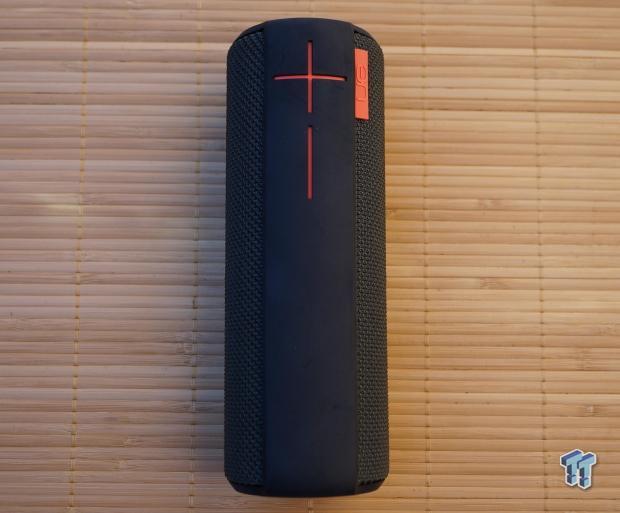 A Closer Look & Standout Features
A Closer Look
Let's get a better look at the UE Boom in all of its 360-degree goodness.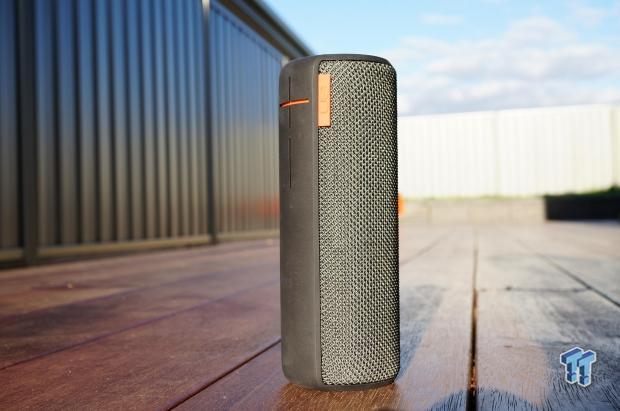 Starting from the top, we have some gigantic volume buttons, and a plastic UE branding tag to the right.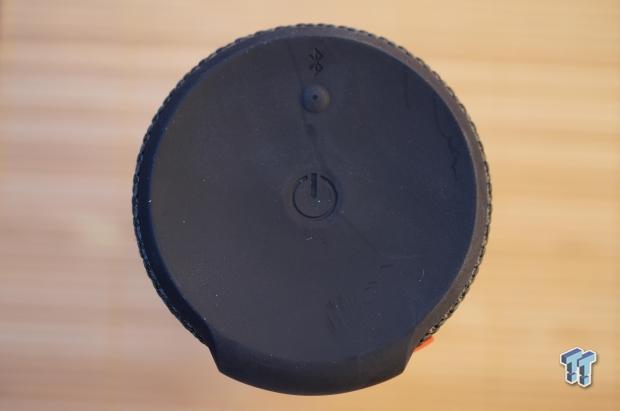 Up top, we have the Bluetooth button (and a tiny LED in the middle), as well as the power button.
On the bottom, we have a 3.5mm jack, and micro-USB port for charging up the UE Boom.
It's a simple speaker, which is great. There's not much to do on it apart from turn it on and turn the volume up and down, which I find cranking it up on the UE Boom and controlling the volume through your smartphone or tablet easier.
Standout Features
The biggest draw card to the UE Boom is its 360-degree audio, thanks to Logitech making the speaker in a cylinder shape. It looks striking when it's standing up, pumping out its noise all around the room. Its design allows for easy portability, as well as allowing the UE Boom to be used in many different ways and positions. It can be used in the car on a road trip, laying somewhere, or anywhere thanks to its 360-degree sound.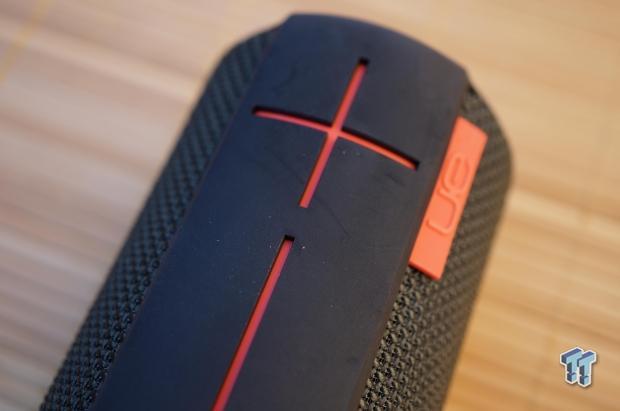 Logitech has provided two very large volume buttons on the UE Boom, something that makes adjusting the volume on it easier than you can imagine. The buttons are just truly gigantic, and have a nice "squish" feeling when you press down onto them.
Another nice touch is the waterproof goodness that Logitech has baked into its Bluetooth-powered speaker, something that even the ports are protected from. Logitech provides a little rubber part that gets installed into the bottom of the speaker, which plugs up the micro-USB and 3.5mm jack from the elements. This makes the UE Boom even better, and even more portable because it can be thrown virtually anywhere, and it won't be hurt. This can include water, or physical damage, thanks to its rubber parts at the top, bottom and sides.
The UE Boom has a really great textured feel to it, too. This is something I didn't expect, but it just feels great to the touch. Even just brushing your finger against it, or grabbing it in the palm of your hand, the UE Boom impresses with its quality. Logitech hasn't spared an expense here with the UE Boom, it's a beautiful product from its packaging, right down to the little finishing touches the company has put on its new flagship Bluetooth speaker.
The rubber part on the side isn't just a nice way of providing the volume buttons, but it acts as a stopper for the speaker from rolling over when you use it laying down. I found I was able to lay it down on my table or outside, and the rubber part of the UE Boom would stop it from constantly rolling off somewhere. It's these little things that really add to the whole experience of the UE Boom.
The Listening Experience, What's Hot, What's Not & Final Thoughts
The Listening Experience
Logitech has thoroughly surprised me with the audio chops on the UE Boom, as I did not expect it to have this much of a punch, but it really does. I used the Logitech UE Boom in a few different environments: my home office, outside of my house, and during a birthday party that was held outside next to a bonfire.
Starting with the home office, I had various tunes blasting through the UE Boom, at 100% volume. It was simply too loud at this point, but I wanted to see how much volume I required for it to be too loud - but this is actually a good thing. I turned it down to 70-80%, and it was a much more pleasurable experience.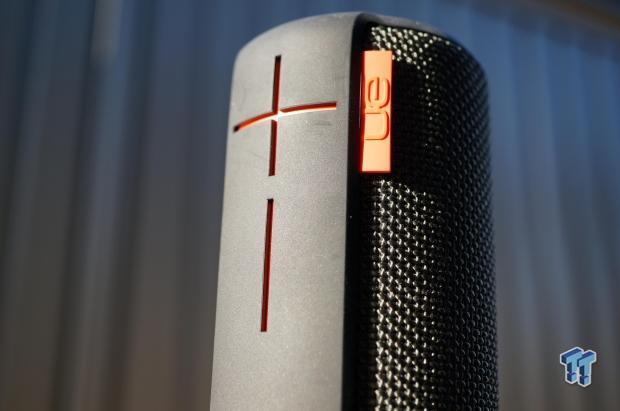 I played a variety of music, from pop to rock, from Justin Timberlake to Rage Against the Machine. The UE Boom handled it all admirably. Guitar strings and vocals were nice and clear in my office, with the same results being said for it being near a bonfire. In my office, I didn't feel much bass at all, something I really missed.
Outside next to a bonfire, we had eight or so people at all times near the speaker. A few different people took turns connecting their smartphones to the UE Boom through Bluetooth, playing a wide variety of music through the speaker - perfect for my review.
The various forms of music played were being pumped out at 100% at this time, because we were outside, and next to a relatively noisy fire and chatter from everyone sitting around it. The UE Boom still provided more than enough audio to fill the backyard with music - perfect for any party.
What's Hot, What's Not & Final Thoughts
For those who want to sum up the entire review in a few points, the What's Hot and What's Not part of my review will help you. Skip right to this bit if you want a quick read, or if you want to find out what I found to be the most notable parts of the Harmoniq Pro, we're going to jump into that right now.
What's Hot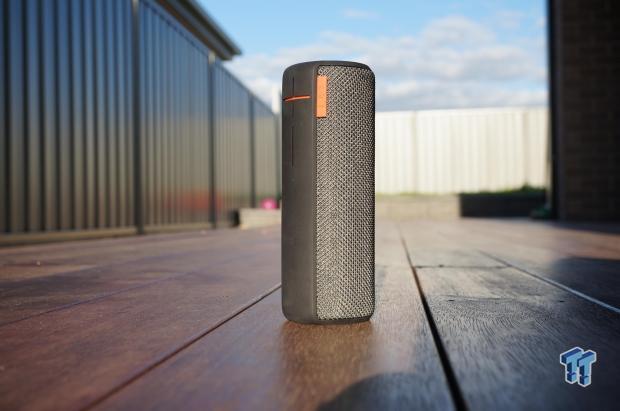 It Looks Striking, Stands Tall and Proud: Logitech has now provided me with the best looking speaker to come through my labs, I absolutely fell in love with the look of the UE Boom. It stands nice and tall, and has easy-to-press volume buttons, with a great rubber finish along the top and sides, which is actually functional, and not just there for their looks. The color scheme that Logitech has gone with is also very impressive to look at.
It's SO Loud, and That's Great!: I didn't think that the UE Boom would blast out so much sound, but it really is quite loud. It's almost too loud. I had to turn it down to under half its volume in my office, because it was too loud. Outside on the other hand, the sound just blasts away from the speaker, and even still, you will probably find yourself turning it down so your neighbors don't call the cops on you for noise disturbance.
Quality Through and Through: Logitech hasn't cut any corners with the UE Boom, not one. Not only does it look great, but it's built from great materials. With my time listening and using the UE Boom, I handled it a lot. From quickly grabbing it and throwing it into my bag, to softly touching it and showing friends or family what Logitech have in the UE Boom, it continues to impress, even after I've wrapped up this review.
At Under $200, You're Getting Quite the Deal: Let's face it: $200 is a lot for a speaker. But, this isn't just any speaker. For the very social of you out there, this is a ninja buy. You can buy the UE Boom and use it to hell at home, but if you're going over to a friend's house for dinner or drinks, you could take the UE Boom with you. If you are going down to the beach or anywhere outdoors, the UE Boom becomes your new portable best friend.
What's Not
Not So Great in the Bass Department: This is the one area where the UE Boom doesn't truly excel: thumping bass. For something that is decently sized, being almost as tall as Jonah on HBO's 'Veep', I expected it to be better with bass. I would've loved to have seen a bottom-firing subwoofer on the UE Boom, let's hope that Logitech does something about UE Boom 2.0, if it ever arrives, which I'm sure it will based on the many reviews I've read on the speaker.
Final Thoughts
I didn't think I would've had such an overwhelmingly positive experience with the Logitech UE Boom, but I really did. It surpassed my expectations greatly, which surprised me, but in a good way. After using a few portable speakers now, the UE Boom has become my new default speaker.
It's such a great speaker to carry around, but it spent most of its time sitting in my office, where I controlled it using my Nexus 7 tablet. This provided a great way to control my music, as I could move through my office and enjoy the wide blast of audio from the UE Boom.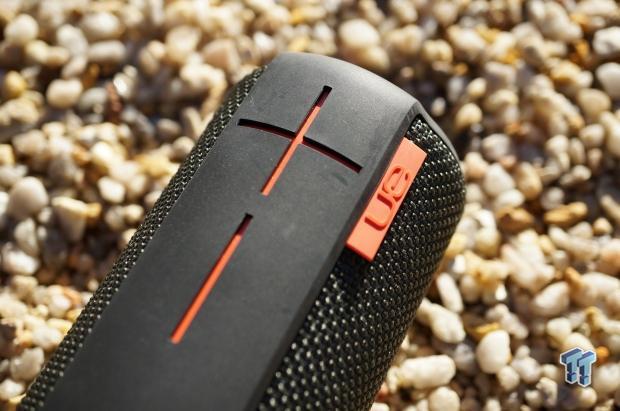 I think the only thing I would want with it that it doesn't already have is more bass - it definitely lacked in the bass department. I was hoping for something with a decent size and weight behind it to have a deep thump behind it for bass, but it didn't. The UE Boom had some crisp, loud sound coming out of it, but it didn't shift the table or rumble the floor. Not that I expected it to have a huge subwoofer feel to it, but it almost felt quite lacking in the subwoofer category. Hopefully with the next UE Boom we see a big injection of bass, but besides that, it's impressive.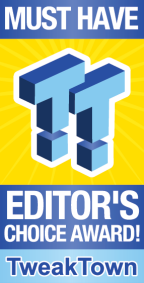 | | |
| --- | --- |
| Performance (audio quality) | 95% |
| Quality including Design and Build | 95% |
| General Features | 90% |
| Bundle and Packaging | 100% |
| Value for Money | 90% |
The Bottom Line: Logitech has crafted one of the best portable speakers on the market with the UE Boom. From its striking looks to its gorgeous audio, you simply need to check it out if you're in the market for a new portable speaker.
PRICING: You can find products similar to this one for sale below.

United States: Find other tech and computer products like this over at Amazon.com

United Kingdom: Find other tech and computer products like this over at Amazon.co.uk

Australia: Find other tech and computer products like this over at Amazon.com.au

Canada: Find other tech and computer products like this over at Amazon.ca

Deutschland: Finde andere Technik- und Computerprodukte wie dieses auf Amazon.de
We openly invite the companies who provide us with review samples / who are mentioned or discussed to express their opinion. If any company representative wishes to respond, we will publish the response here. Please contact us if you wish to respond.