Sentey Harmoniq Professional Gaming Series Headset Review
Sentey has a well-crafted, great-looking PC gaming headset with its Harmoniq Pro, oh and it also sounds great, too. Come and read Anthony's full review.

Published Thu, Sep 18 2014 12:12 AM CDT
|
Updated Tue, Nov 3 2020 6:59 PM CST
Rating:

93%
Manufacturer: Sentey
Introduction, What's In The Box & Specifications, Pricing and Availability
Sentey is a brand that is known in the PC industry, with a slew of devices - including cases, PSUs, keyboards, mice, audio devices, gaming surfaces and more. When it comes to audio devices, the company has five headsets to choose from, with the Harmoniq Pro at the top of the food chain.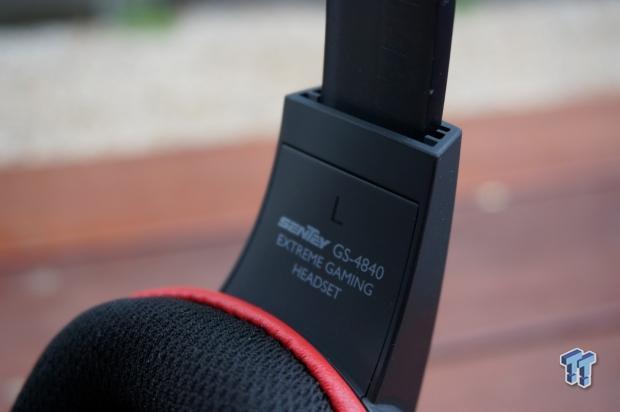 If you haven't heard of Sentey, then I suggest you check them out. They have built themselves quite a product selection, with the Harmoniq Pro leading the pack. Let's get right into the review.
What's In The Box
Instead of the usual unboxing pictures, I decided to do a full unboxing using my Google Glass headset. This gives you a unique view through my point of view, while I unbox the Sentey Harmoniq Pro headset for the first time.
For a detailed rundown of what comes in the box, you can expect the Harmoniq Pro headset itself, a manual, a beautiful and very useful Padded Travel Case, 2 Interchangeable leader pads (also very useful), and a velcro strap for cable management.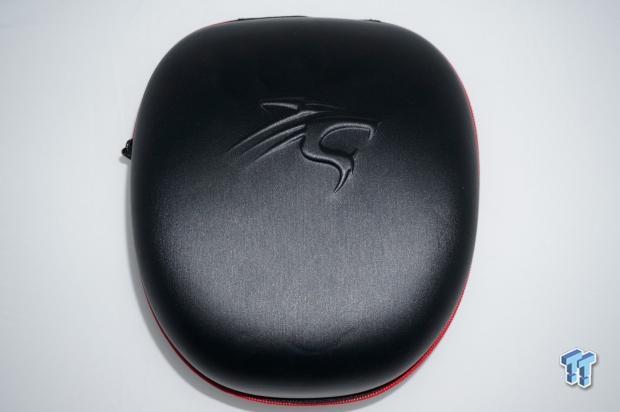 I fell head over heels for the Padded Travel Case, using it for when I travelled to the US recently. It was a great way of keeping my headset protected, while it was banging around in my bag. It was a pleasant surprise to open the box and find something like a travel case included. This will be a big deal for LAN gamers, where they can keep their headset nice and protected.
Specifications, Pricing and Availability
Sentey has done quite the job cramming in some serious features and power into the Harmoniq Pro, something you can check out for yourself in the specifications list below.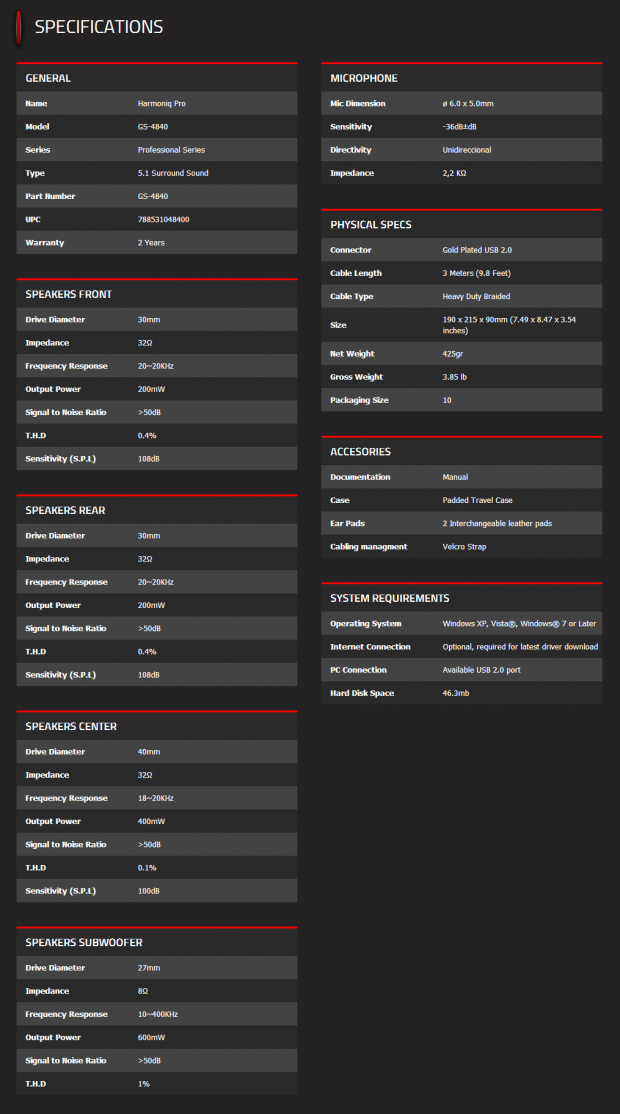 As you can see, we have a 5.1-channel surround sound headset on our hands, under the model number of GS-4840. We have some serious speakers all round, with 30mm drivers at the front and rear, 40mm drivers in the center, while we have 27mm driving the subwoofer. There's 200mW of power available for both the front and rear speakers, while the center speakers enjoy 400mW. The subwoofer cranks this up a bit, having output power of 600mW.
When it comes to connectivity, we have USB - and as I said in the above unboxing video, some people will be turned off by this. But motherboard makers have been making leaps and bounds in the technology baked into motherboards these days, with next to no interference over the USB ports when using USB-powered headsets.
We have a 3-meter, or 9.8-foot cable included - plenty long enough for reaching around the back of your rig. We have a gold-plated USB 2.0 connector, giving you all of your audio through a single USB 2.0 cable. As for weight, the Harmoniq Pro is quite light at just 3.85 lbs, or 1.74 kg.
When it comes to pricing, Sentey has hit a home run. With a normal price of $119.99, the headset can be purchased from Amazon for just $69.99 (at the time of writing at least). This is an incredible price for a headset that I hope to convince you is worth parting with your hard-earned cash for.
PRICING: You can find the Sentey Harmoniq Professional Gaming Series Headset for sale below. The prices listed are valid at the time of writing but can change at any time. Click the link to see the very latest pricing for the best deal.
United States: The Sentey Harmoniq Professional Gaming Series Headset retails for $69.99 at Amazon.
A Closer Look, How They Feel, Software & Standout Features
A Closer Look
Let's take a tour around the Sentey Harmoniq Pro, starting with a good look at the headset itself.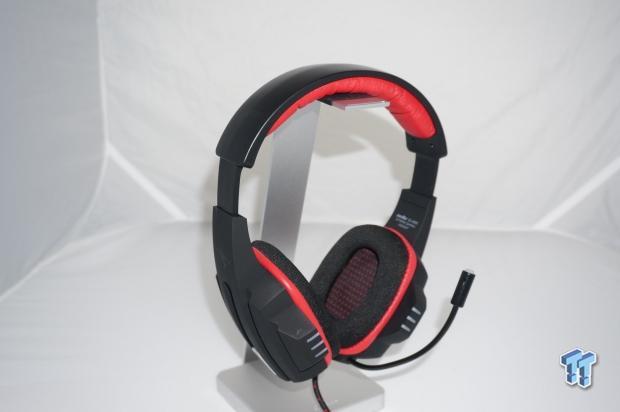 Sentey chose a very appropriate, and very good looking black-and-red design on the Harmoniq Pro, something I think really pays off well.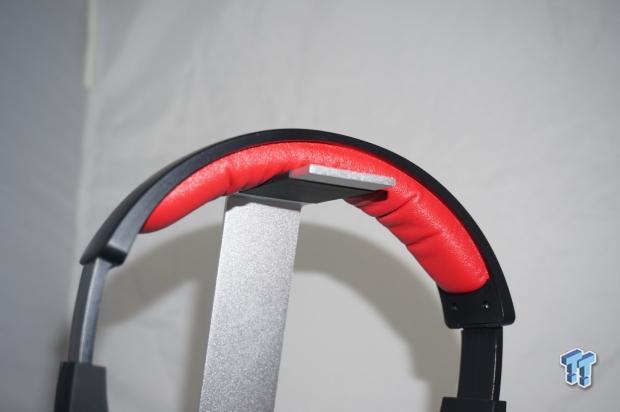 Up top, we have some really comfortable padding.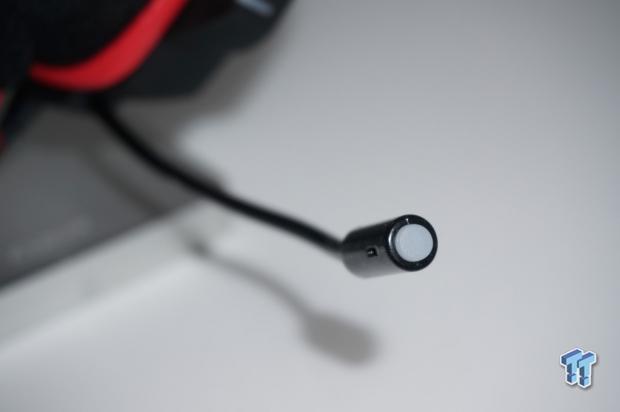 Even the microphone looks great, something that lights up red when it's activated.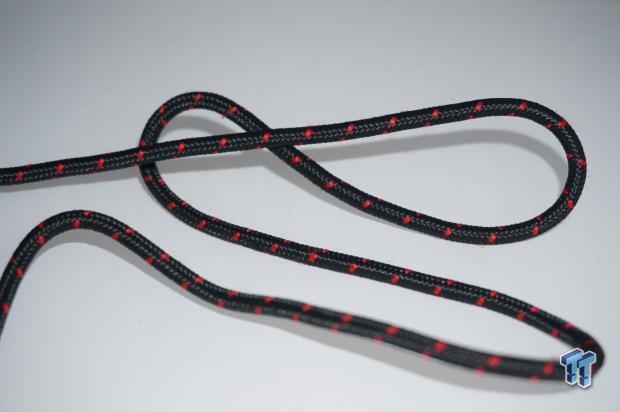 Even the smallest detail, the braided USB cable, doesn't let down in the looks department.
How Do They Feel On My Head?
On a cold Thursday morning and afternoon, I wore the Sentey Harmoniq Pro for the majority of the day for the purposes of this review. Every hour or so I would get up and go to the bathroom or get myself a drink, but then the headset would be back on as soon as I was sitting back on my office chair.
The ear cups cover my entire ear, so there's no stress on them. They feel great on the side of my head, and that cushion at the top of the headset is ample enough that I feel absolutely no stress from the headset. Really, the headset feels like it's barely on my head - something that I have come to really enjoy from my experience with the Harmoniq Pro.
They aren't perfect, but after wearing a softer cup on your ear, you will feel the Sentey Harmoniq Pro. I came in off of a harsher headset, which made the Harmoniq Pro feel much better. Once the Harmoniq Pro is on you head for a minute or two, you become used to it and you don't notice that harshness on your ears or head.
Standout Features
Some standout features of the Sentey Harmoniq Pro would have to include the true 5.1-channel surround sound, which sounds absolutely great in 5.1-channel content. Games such as Battlefield 4 really come into their own, something I loved playing even more with the true 5.1 surround sound pumping into my ears.
The work that has gone into the ear cups and additional pairs of ear pads are excellent. Something else that can't be forgotten is the carry case, something I used when I travelled with the headset. It would be hard to look at another headset in the same way without a carry case now.
Software
Sentey has included some software for the Harmoniq Pro, which is available from their website. The download weighs in at 47MB, and includes a bunch of tweaks that you can perform to the headset to make your listening experience personal, and specific to your needs.
Starting with the Main Setting screen, we have a bunch of options to play with. Starting with System Input, where you can change the amount of audio channels that the Harmoniq Pro is receiving. For music, you would click 2 channels, for movies you would choose 6 channels, and so on. If you click the little question mark to the side, it gives you some advice on what do to.
Below that, we have the DSP mode, where you can select if you want the 7.1-channel virtual speaker shifter mode enabled. Once this is enabled, you can play around with the distance of the speakers inside of the Harmoniq Pro. This will make the audio sound like its coming from further away, or closer to your head. You can also choose the Output Mode, moving it from Headphone to 2, 4 or 6 speakers.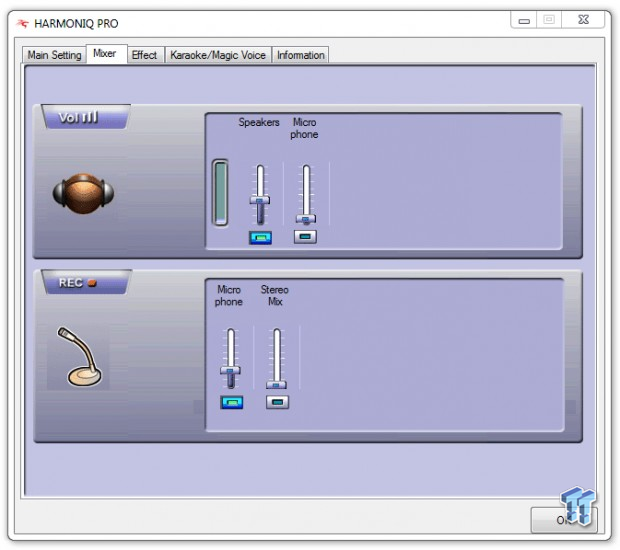 Moving onto the Mixer, here you can choose the volume of your speakers and microphone, as well as the recording volume of your microphone and stereo mix.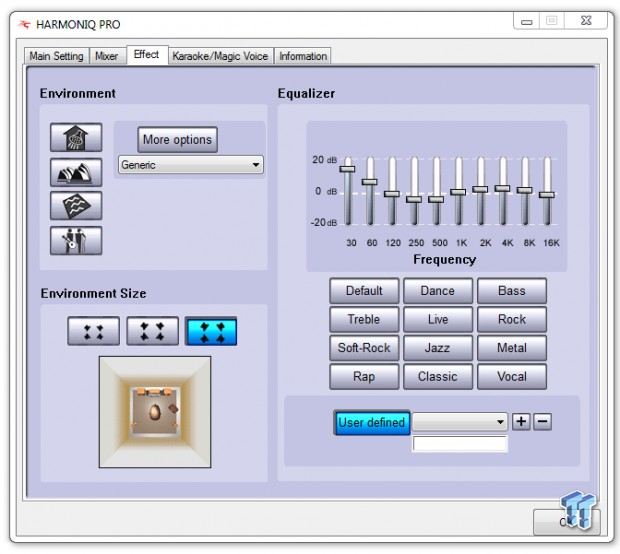 The Effect tab has a bunch of settings that you can play with, starting with the Environment. Here, you can choose a specific environment to simulate, with options like Generic (which is what we kept it on for most of the time for the purpose of the review), Forest, City, Mountains and much more.
Below that, you have Environment Size - depending on the room that you're in, and the listening experience you want, you can change this from a smaller environment, to a large one. To the right, we have the Equalizer, which is self-explanatory. Here, you can choose from pre-defined equalizers, or you can create your own user-defined one.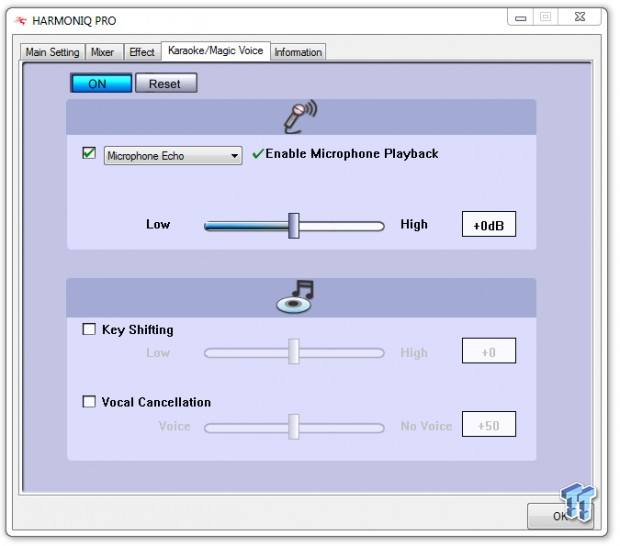 The last two tabs are for Karaoke/Magic Voice and Information. I didn't make any use of the Karaoke or Magic Voice options, but here in here you can choose to enable this option and have a microphone echo, enabling microphone playback. This can be changed with low to high sensitivity. Below that, we have Key Shifting and Vocal Cancellation settings.
The Listening Experience
This is where we're going to test out the actual listening experience of the Sentey Harmoniq Pro, with some varying tests. These tests change from review to review, where we'll have some of the same games (Battlefield 4, Team Fortress 2, etc) and various TV episodes, movies and a large range of music.
Gaming On the Sentey Harmoniq Pro Gaming Headset
I used the Sentey Harmoniq Pro with a few games, including Team Fortress 2, Battlefield 4 and some of my Oculus Rift demos and games. When using the Oculus Rift, you get a totally new sense of directional audio, as your head is turning around in the game world much more realistically. This is because your personal point of view is changing much more realistically, and quicker, so directional audio becomes much more important - and much more real.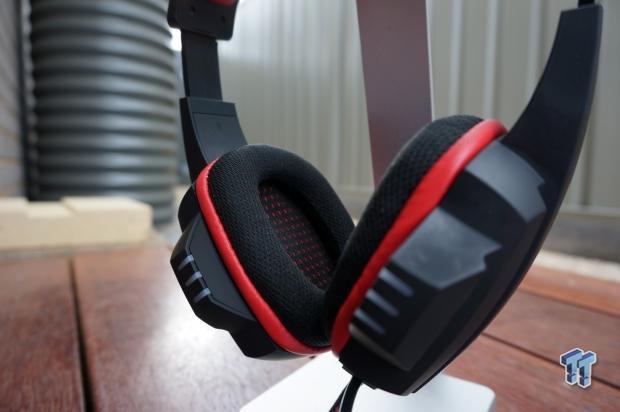 I backed a demo called TECHNOLUST, which is inspired by 1980's and 90's Cyberpunk fiction like Blade Runner, Neuromancer and Robocop. It's a damn cool game from the short amount of time I played with it, even on my DK1 unit. The sound effects in the game were quite great with the Sentey Harmoniq Pro, giving me perfect directional audio. As I turned my head in the game, I could hear the radio on behind me, and to my left and right, as I walked throughout the room. Using the Oculus Rift gives gaming headsets an entire new field to play in, as directional audio becomes so much more important (than it already is).
When it came to playing Battlefield 4, we tried out some of the new Dragon's Teeth DLC. I played as the Engineer class at first, running around and taking a few guys down. A few minutes in, someone spotted me in the distance, and all I saw was a flash - a rocket was flying toward me, right past me, and hit the wall behind me - all the while, I could hear it whizz past me, behind me, and hear the explosion take place for what felt like behind me in my office. Surround sound in games is incredibly immersive.
The same can be said for the clarity of the gunfights in BF4, with each bullet firing from my gun sounding like it was right in front of me. Each hit that I took I could almost feel, with the sound of it hitting my body feeling super realistic. Not that I know what it sounds like to be shot, but it sounded incredibly clear, and crisp. Each bullet I took had a discernable 'thump' which sounded, and felt great.
TV/Movies On the Sentey Harmoniq Pro Gaming Headset
I watched a few TV episodes on the Harmoniq Pro, including a few each from Wilfred, and 24. Wilfred is filled with dialogue mostly, with the Sentey headset providing nice and clear audio throughout the episode. Throughout my media tests on the audio headsets I review, I listen for markers such as the clarity of footsteps, knocks on doors, and that sort of thing. In Wilfred, the sounds from the Harmoniq Pro were nice and clear, with nothing to complain about.
When it came to 24, we had action, action, and more action. There's gunfights, explosions and much more. The gunfire from 24 sounded quite good, with a nice thump to each bullet being fired. Explosions were even better, with a nice crisp explosion feeling like its being simulated right in front of you. The Harmoniq Pro is an all-rounder headset, that's for sure.
Music On the Sentey Harmoniq Pro Gaming Headset
With the Harmoniq Pro on its default settings, on 2-channel output, Analog Output set to "Headphone", no Environment set, and no Equalizer enabled, the headset is nice and clear. But writing this part of the review, I was going through the settings making sure it was all on the vanilla flavor of sound - which is when I began to really learn how much the settings played with the sound.
I was listening to some Bliss n Eso, an Australian hip-hop group, on these settings, and it sounded nice and clear. But when you flick that 7.1 virtual speaker shifter to 'on' the Harmoniq Pro comes to life. It feels like there are five additional speakers that enable on your head, a very weird but welcoming feeling.
I played around with the Equalizer, with a custom setting that provided some higher bass, which ended up sounding great. I played around with some Juno Reactor, which has some beautifully deep bass. With these custom settings the Harmoniq Pro sounded really impressive. I was actually taken aback, considering the $69.99 price and various features that Sentey has crammed into the headset.
What's Hot, What's Not & Final Thoughts
For those who want to sum up the entire review in a few points, the What's Hot and What's Not part of my review will help you. Skip right to this bit if you want a quick read, or if you want to find out what I found to be the most notable parts of the Harmoniq Pro, we're going to jump into that right now.
What's Hot
Build Quality: Sentey has spent considerable time on its Harmoniq Pro, where every detail has been looked after, from the box itself right down to the headset. No detail has been spared, with Sentey building an awesome looking headset in the Harmoniq Pro. The black-and-red styling looks ultra-cool when you have your PC scheme similar to those colors. I was rocking an ASUS Rampage IV Black Edition which is a black-and-red themed motherboard with Corsair Vengeance RAM which is also black-and-red.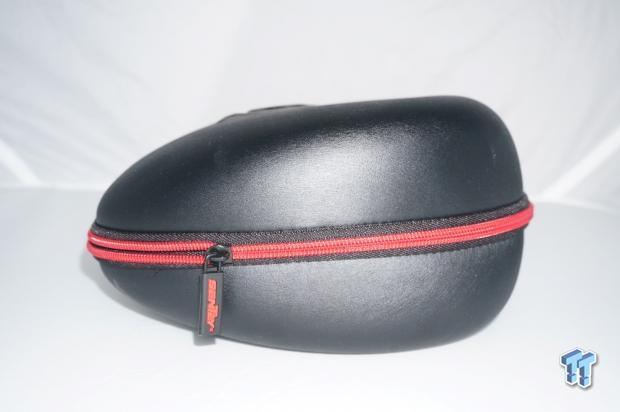 Padded Travel Case Is Super Useful: I used the padded travel case on a trip away, which kept my Harmoniq Pro nice and safe. The travel case can house the two additional ear cups, which is a nice touch. Better yet, the travel case is great for transporting other headphones around, too. You might want to keep your gaming headset at home, and take away a different pair of headphones better suited to music or movies for travel.
They're Super Comfortable: The ear cups on the Harmoniq Pro are really comfortable, which is very important for those all-night gaming sessions. I had them on my head for hours on end writing up content for TweakTown, and again every couple of nights for my gaming sessions. The Sentey Harmoniq Pro never hurt my head, or felt too tight.
Surround Sound is Great: Having a pair of headphones with a serious sense of surround is nothing short of awesome. Most headphones have it done in software, but Sentey uses a mix of great speakers within the Harmoniq Pro and a great piece of software to provide you with a true sense of presence within your environment thanks to its surround sound technology.
At Just $69.99, How Can You Say No?: This is the best part of the Harmoniq Pro, the price. Even at its original price of $120, they're still a great pair of headphones, but $70? Yes please, Sentey!
The In-Line Control: This is another strong point of the Harmoniq Pro, which provides you easy access to individual speaker volumes, the subwoofer level, microphone on/off. Having all of this within arm's reach is another reason why Sentey has thought of everything with its flagship gaming headset.
What's Not
Apart from saying that Sentey could make a better-sounding headset, which would cost more money, there's nothing that I can really peg down on the Sentey Harmoniq Pro. For $69, it's just such a great headset.
Final Thoughts
As I said in my "What's Not" section, there's nothing I can sit here and complain about when it comes to the Harmoniq Pro.
We have a great sounding headset bursting with features, a great padded travel case, extra ear cups, and best of all, a price that should really have heads turning - $69.99. If you're in the market for a new gaming headset and have been looking at the usual players like Tt eSports, Razer, and all of the others - then Sentey deserves your attention. At the usual price of $120, it's a good headset, but for $69,99, you're getting it for a price that other headsets could only dream of.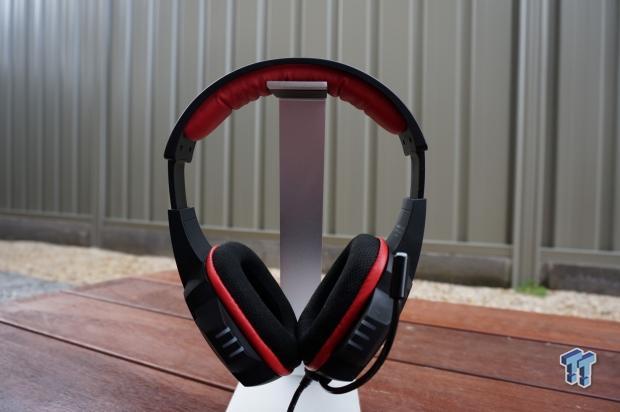 After a few weeks of using the Harmoniq Pro, I came to enjoy it even more. I went to more expensive headsets to readjust my ears, and while they sounded much better, they also cost $200+. I would like to see a wireless version of the Sentey Harmoniq Pro, something I could wear while I walked around my room. But, until then, Sentey has a kick ass headset with its Harmoniq Pro, something well worth your money and consideration.
PRICING: You can find the Sentey Harmoniq Professional Gaming Series Headset for sale below. The prices listed are valid at the time of writing but can change at any time. Click the link to see the very latest pricing for the best deal.
United States: The Sentey Harmoniq Professional Gaming Series Headset retails for $69.99 at Amazon.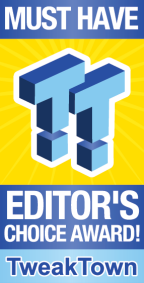 | | |
| --- | --- |
| Performance (Sound Quality) | 90% |
| Quality including Design and Build | 95% |
| General Features | 95% |
| Bundle and Packaging | 95% |
| Value for Money | 90% |
The Bottom Line: At just $69.99, Sentey has one of the best priced, fully-featured gaming headsets available. The Harmoniq Pro has become a new contender for your money.
PRICING: You can find products similar to this one for sale below.

United States: Find other tech and computer products like this over at Amazon.com

United Kingdom: Find other tech and computer products like this over at Amazon.co.uk

Australia: Find other tech and computer products like this over at Amazon.com.au

Canada: Find other tech and computer products like this over at Amazon.ca

Deutschland: Finde andere Technik- und Computerprodukte wie dieses auf Amazon.de
We openly invite the companies who provide us with review samples / who are mentioned or discussed to express their opinion. If any company representative wishes to respond, we will publish the response here. Please contact us if you wish to respond.
Related Tags