Corsair Force Series LX 512GB SSD Review
Today Chris takes a look at a low-cost SSD from Corsair, the Force Series LX 512GB. Read on as he tells us all about it and how it performs.
Published
10 minute read time
Introduction & Specifications, Pricing and Availability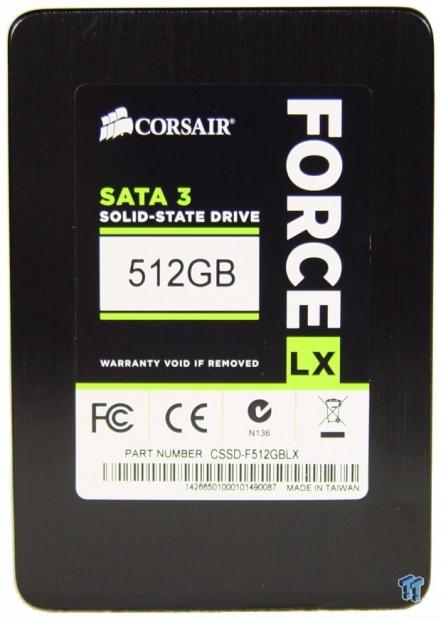 It's starting to feel like the Silicon Motion revolution in my lab. The SMI drives are piling up so high that if they fell over, it would register as a seismic event. This isn't the first time a controller maker took over a market. SandForce and before that JMicron gobbled up a significant number of design wins in the past.
The reason why Silicon Motion went from an unknown to full on assault of my desk space is pretty easy. Like SandForce, SMI creates a controller, reference design and firmware. If you follow the SSD groups on LinkedIn, then you already know that an SSD firmware engineer can write his own ticket right now (China, India, Taiwan and Silicon Valley are looking for you with open checkbooks!). By taking on a large portion of the responsibility and the initial cost, smaller companies can quickly become SSD manufacturers.
This is the second drive from the Force Series LX product family we've tested. The Force Series LX 256GB review can be seen here.
Specifications, Pricing and Availability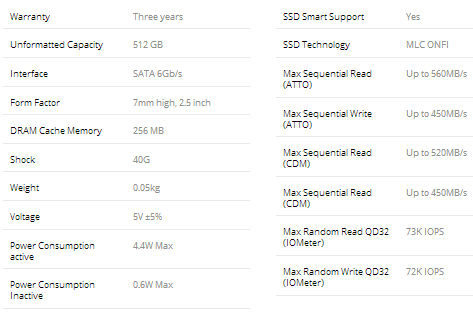 Corsair released the Force Series LX in three capacity sizes, 128GB, 256GB, and the large 512GB model we're testing today. All three capacity sizes use the latest Silicon Motion SM2246EN controller and pair it with Micron 20nm NAND flash. The 512BG model uses 256MB of DRAM cache for page table data. Claimed performance is 560 MB/s sequential read, 450 MB/s sequential write speeds. The random performance at QD32 is 73K read and 72K write.
The Force LX supports DEVSLP for long battery life in notebooks and low power consumption in desktops. The drives also use a 7mm z-height for use in newer Ultrabook designs that require very thin housings.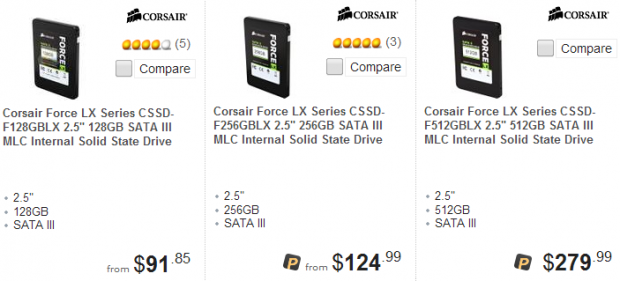 Newegg currently shows all three capacity sizes in story and ready to ship. The 128GB model is currently at $92. The Force LX 256GB is a tremendous value at just $125, but the large 512GB model at $280 gives you enough room to hold several games, applications and media files.
All three models have a three-year warranty from Corsair. Corsair doesn't ship an accessory package with the Force Series LX, but owners do have access to Corsair's SSD Toolbox software free of charge.
Corsair Force LX 512GB SSD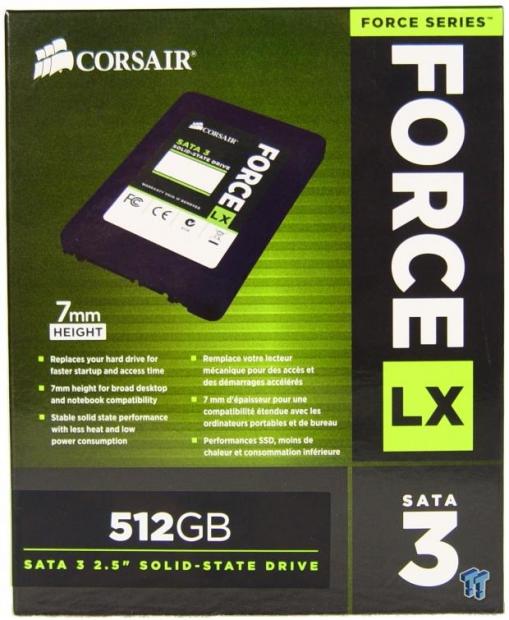 Green is the color of the day today. The Force Series LX continues the Force tradition with a new color, this time lime green.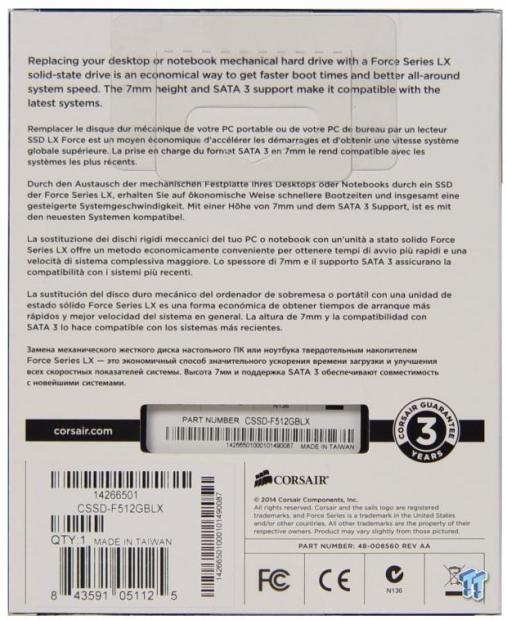 The back of the package gives some general information about the Force Series LX and the cut out on the box shows the capacity size as well as the part number.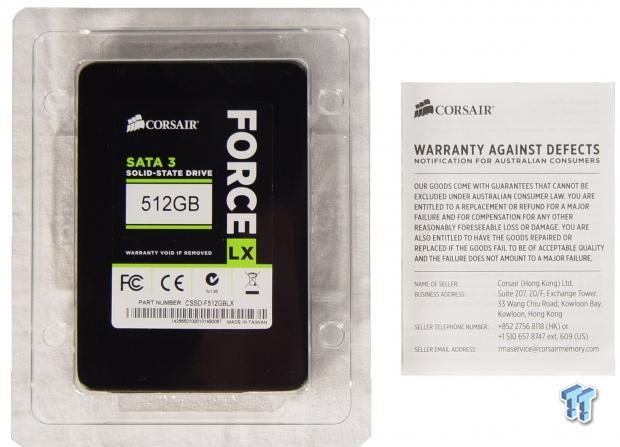 Inside the retail package, we found the SSD and a paper warranty statement.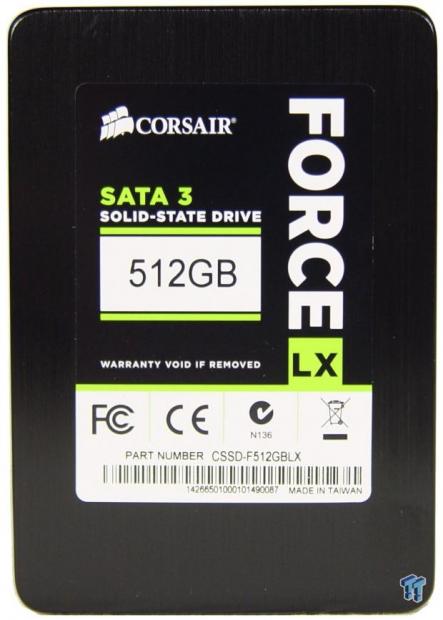 Here we get our first look at the Force Series LX drive. Corsair used a black brushed aluminum case for this SSD.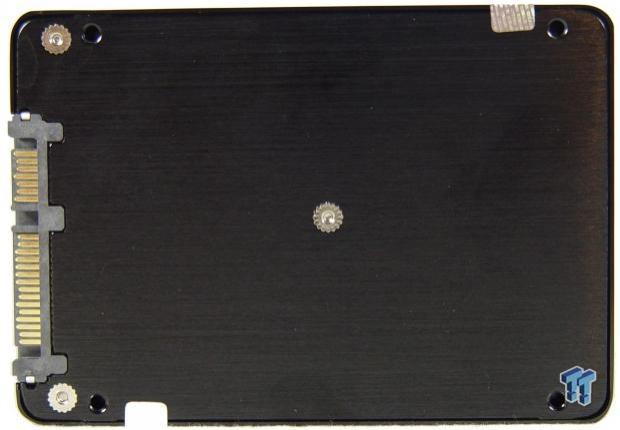 As mentioned on the specifications page, this is a 7mm design, so it will fit in many new Ultrabook designs.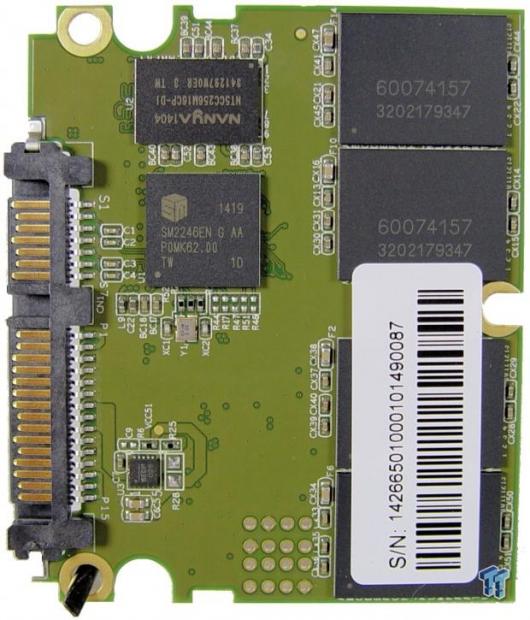 The PCB is a low-cost design that reduces the manufacturing cost.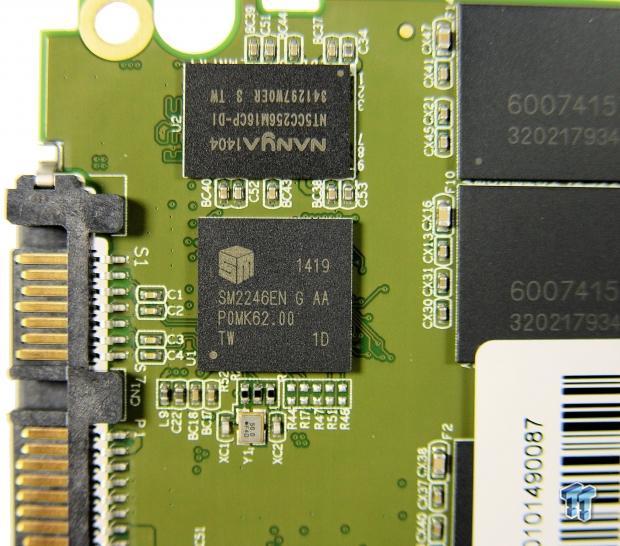 The Silicon Motion SM2246EN controller is a 4-channel design backed by a NANYA 256MB DRAM buffer.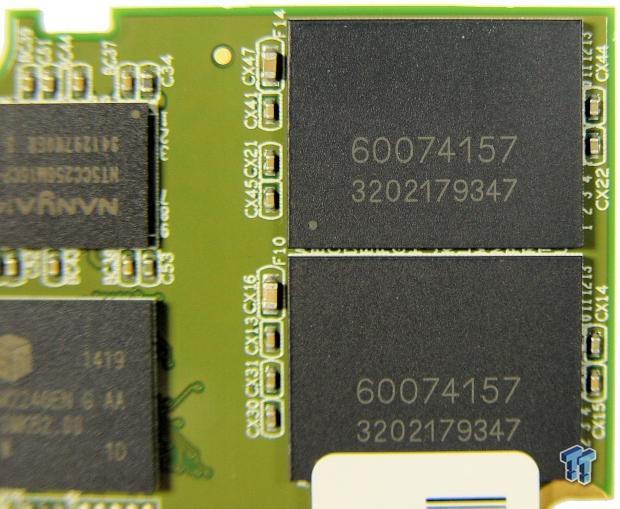 Corsair packaged Micron 128Gbit 20nm NAND flash.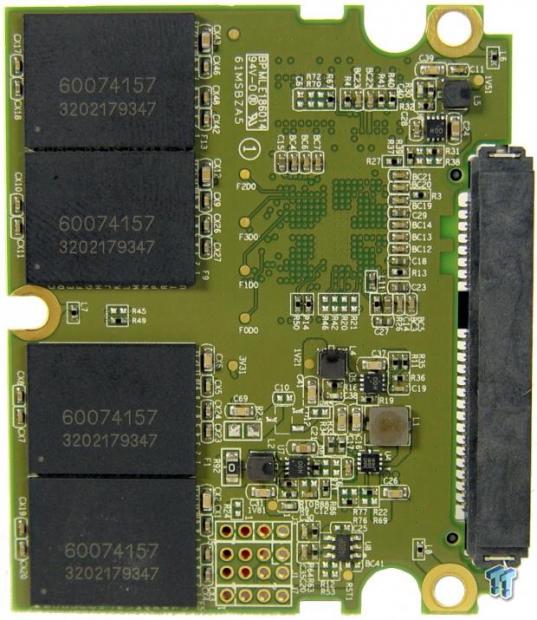 There are eight NAND flash packages in total, eight on each side.
Test System Setup and ATTO Baseline Performance
Desktop Test System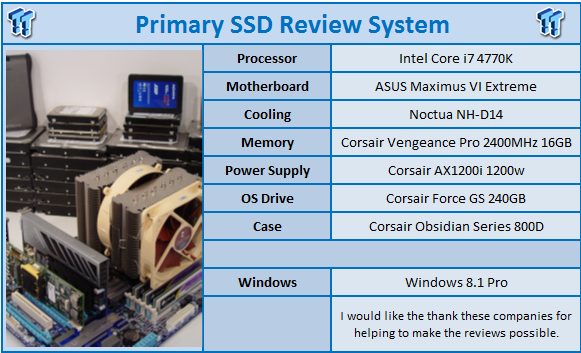 Lenovo T440 - Notebook Power Testing with DEVSLP and Windows 8.1 Pro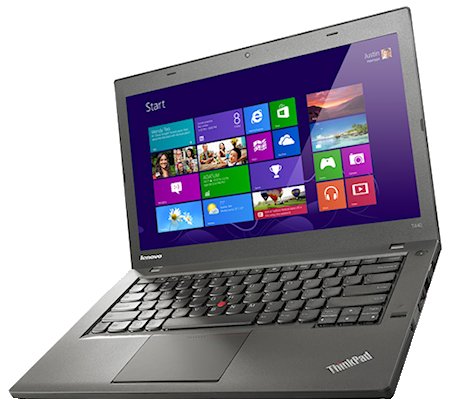 Nearly all of the performance tests run on the desktop system but we use a Lenovo T440 to run the power tests. The T440 is the latest addition to our client SSD test lab and allows us to test the notebook battery life offered by an SSD with advanced features like DEVSLP enabled.
ATTO - Baseline Performance
Version and / or Patch Used: 2.34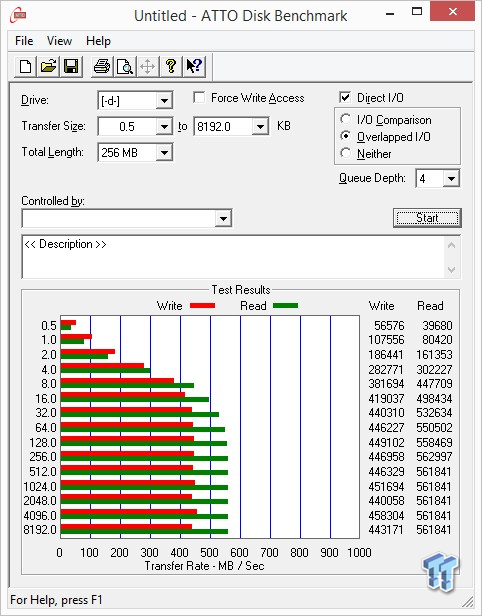 In ATTO, we measured the sequential read speed of the Force LX 512GB at just over 560 MB/s. The sequential write speed came out to just over 458 MB/s.
The drive ramps up quickly and sustains its high performance throughout the test.
Benchmarks - Sequential Performance
HD Tune Pro - Sequential Performance
Version and / or Patch Used: 4.55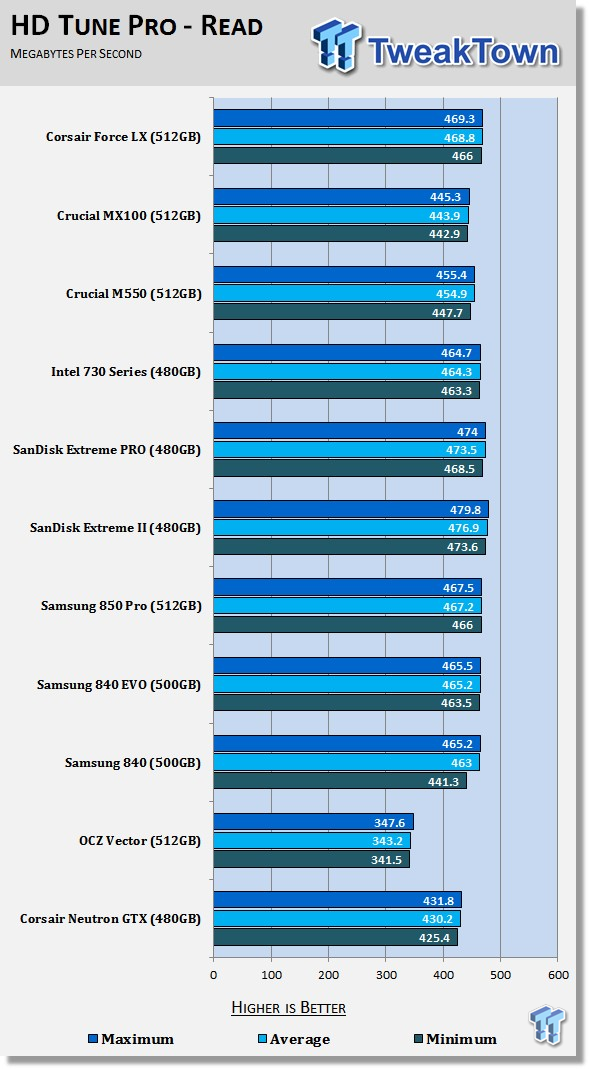 The Silicon Motion SM2246EN controller is known to deliver high sequential read speeds. Gamers who normally wait for loading screens can benefit from the high sequential read speeds from the Force Series LX. As you can see though, in this capacity size, several leading SSDs also read sequential data back at a very high rate.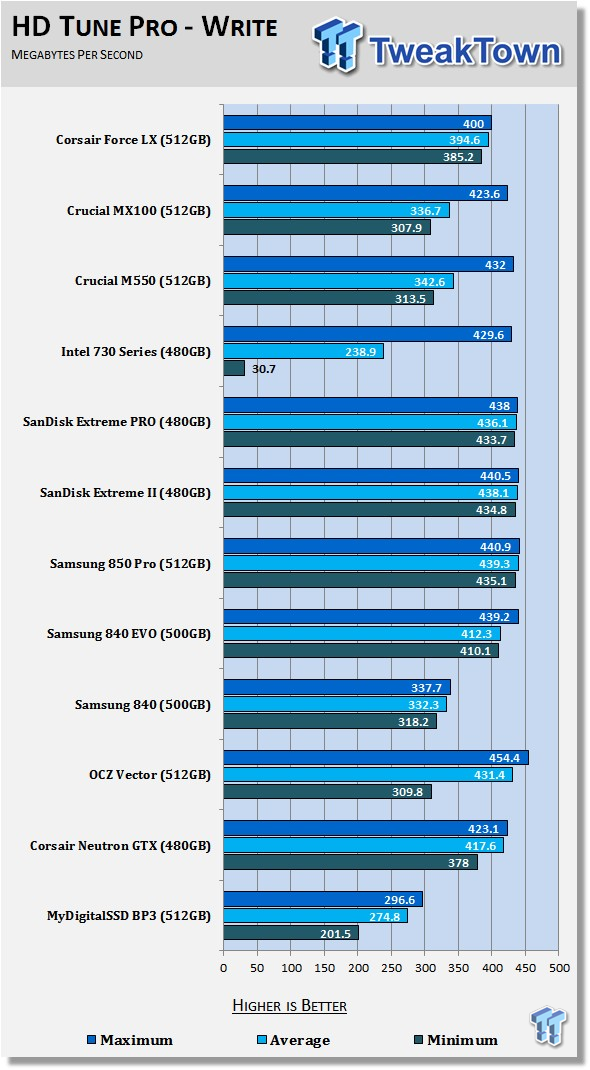 One of the large differences between value and enthusiast class SSDs is the write performance. Many of the enthusiast class SSDs can write sequential data 30 to 40 MB/s faster than the Force LX. At just under 400 MB/s, the Force LX is far from slow though. The Force LX is a bit faster on average than the MX100 512GB.
HD Tach - Sequential Write Performance after Random Writes
Version and / or Patch Used: 3.0.4.0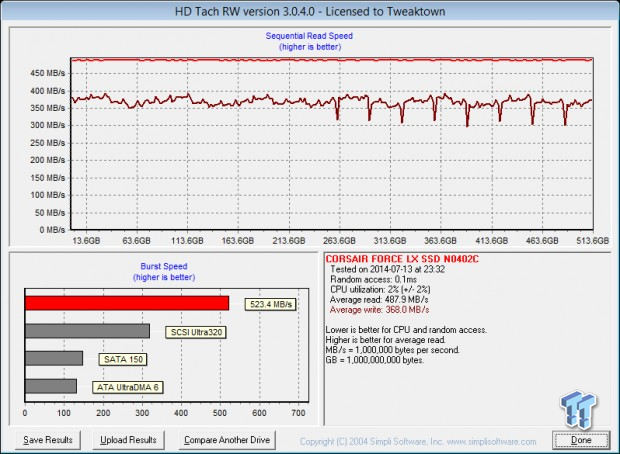 After a reasonable number of sequential and random data writes to the drive, the Force LX still performs very well. This test uses 128KB blocks, a better representation of sequential performance than the previous tests and one that shows performance with garbage collection kicked in.
Benchmarks - Anvil Storage Utilities
Anvil Storage Utilities
Version and / or Patch Used: RC6
So what is Anvil Storage Utilities? First of all, it's a storage benchmark for SSDs and HDDs where you can check and monitor your performance. The Standard Storage Benchmark performs a series of tests; you can run a full test or just the read or the write test, or you can run a single test, i.e. 4k QD16.
Anvil Storage Utilities is not officially available yet, but we've been playing with the beta for several months now. The author, Anvil on several international forums, has been updating the software steadily and is adding new features every couple of months.
We can use Anvil several different ways to show different aspects for each drive. We've chosen to use this software to show the performance of a drive with two different data sets. The first is with compressible data and the second data set is incompressible data. Several users have requested this data in our SSD reviews.
0-Fill Compressible Data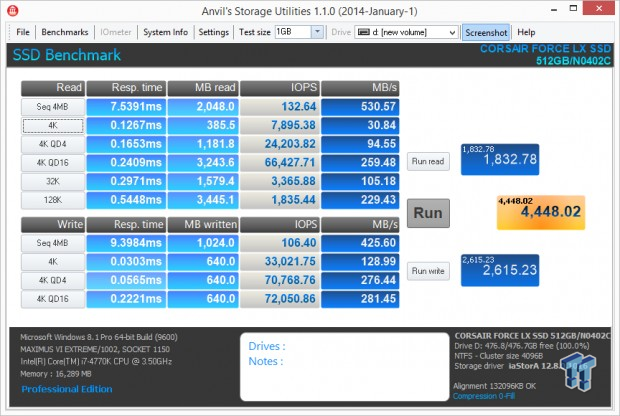 Incompressible Data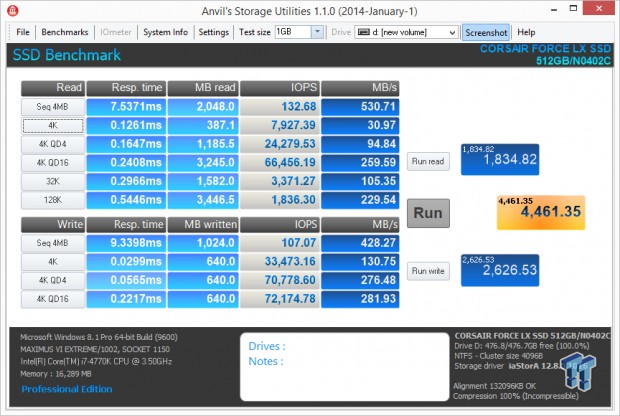 The performance with compressible data and incompressible data is the same, so you don't have to worry about performance loss while editing audio and video files.
Low Queue Depth Read IOPS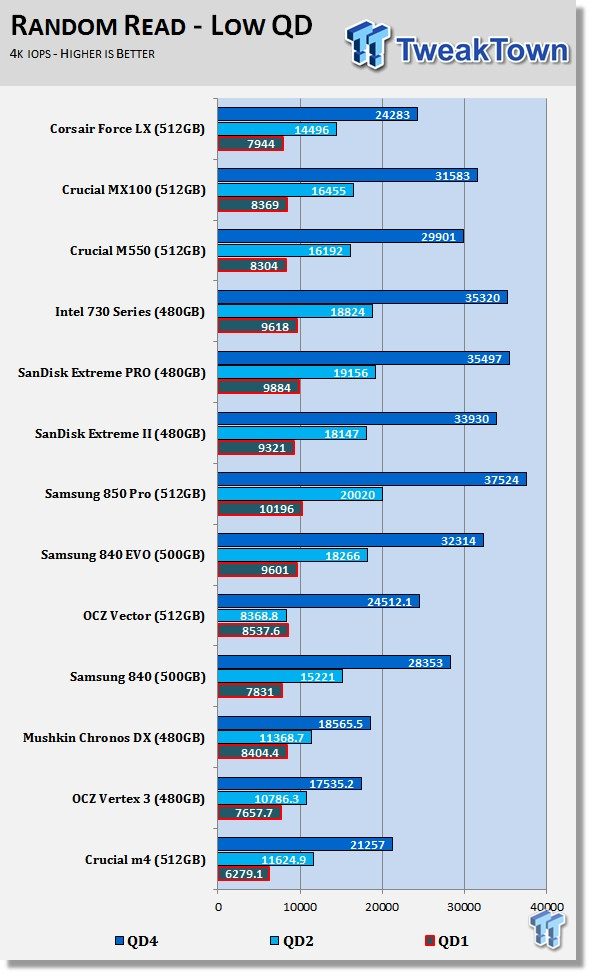 Most data reads back from an SSD occur at low queue depths. SSDs are so fast that the commands can't stack up fast enough unless you are multitasking. Even then, the file system and software was written for hard drives that can barely muster more than 150 IOPS.
The Force Series LX is a value based drive, but its 7,900 QD1 read IOPS performance is high for the price. The main competition at this price point is the Crucial MX100 that is just under the Force LX on the chart. The MX100 is a bit faster in the low queue depth read test.
High Queue Depth Read IOPS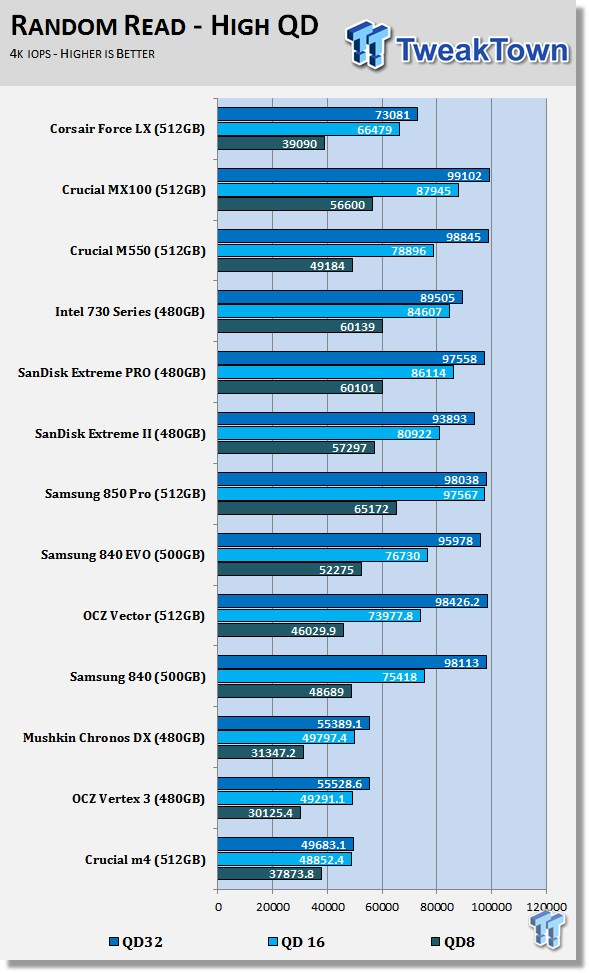 At high queue depths, the MX100 is a bit faster as well, but most of us consumers will rarely get our SSDs into this range.
Low Queue Depth Write IOPS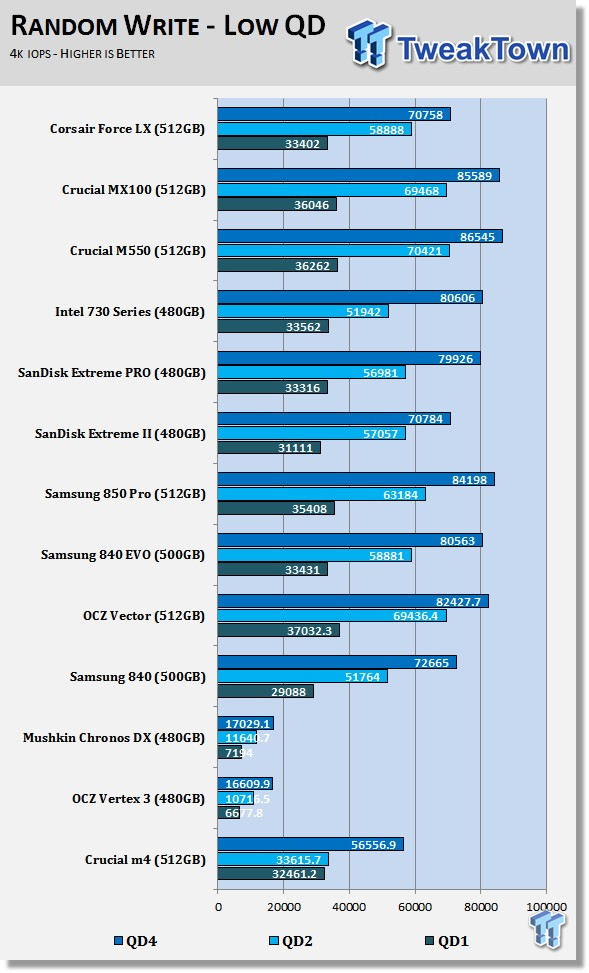 The Force LX 512GB scales well at low write queue depths.
High Queue Depth Write IOPS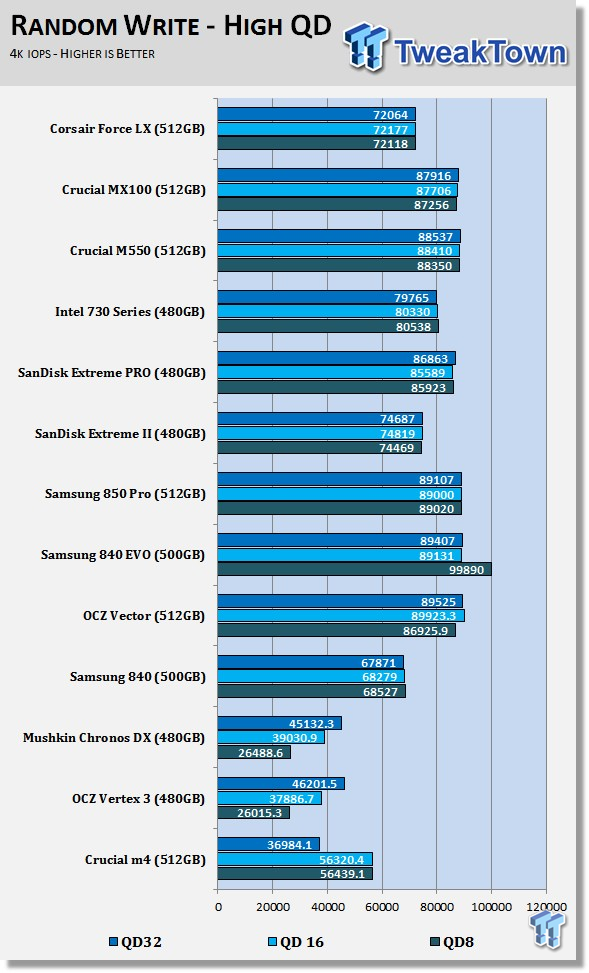 The drive hits a brick wall at 72K IOPS. This is just a little higher than the QD4 result on the previous chart.
Benchmarks - Mixed Read / Write Workloads
Mixed Read / Write Workloads
In this series of tests, we measure mixed workload performance. We start with 100% read and then add data writes to the mix until we get to 100% writes, in 10% increments. We believe this will be the next major area SSD manufactures will address after performance consistency.
Sequential Mixed Workload Bandwidth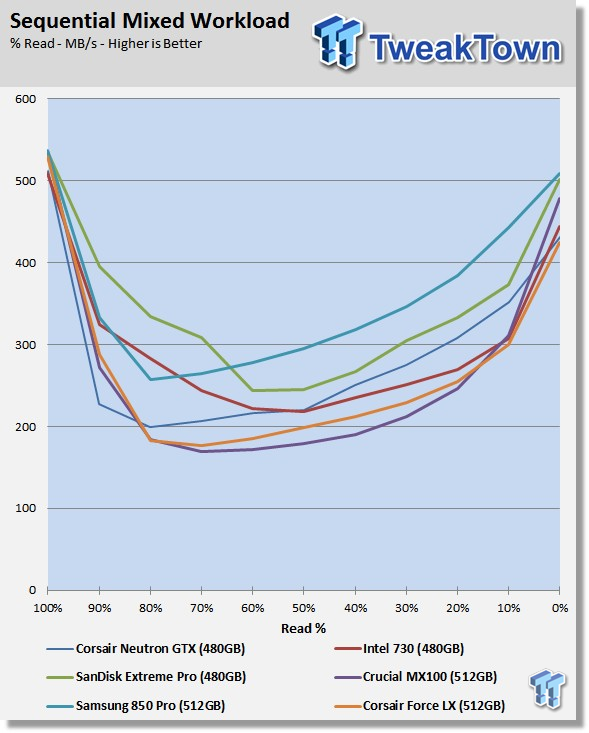 Using sequential data we test the SSDs ability to read and write data at the same time. SATA is half duplex so none of the drives on the chart can actually read and write at the same time but the host PC can send two commands at the same time.
80% Read / 20% Sequential Write Bandwidth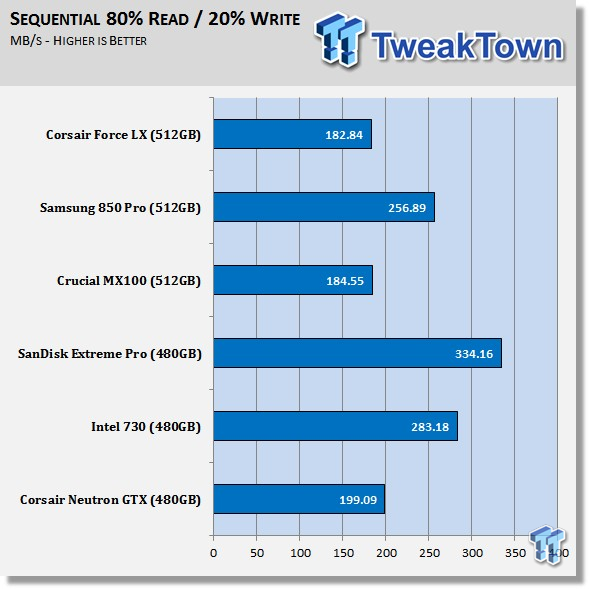 We're still working on getting a large sample size of drives ran through this test, but we have some of the best value and enthusiast class SSDs represented. The Force LX is very close to the Crucial MX100 in this test.
Random Mixed IO 50/50 Workload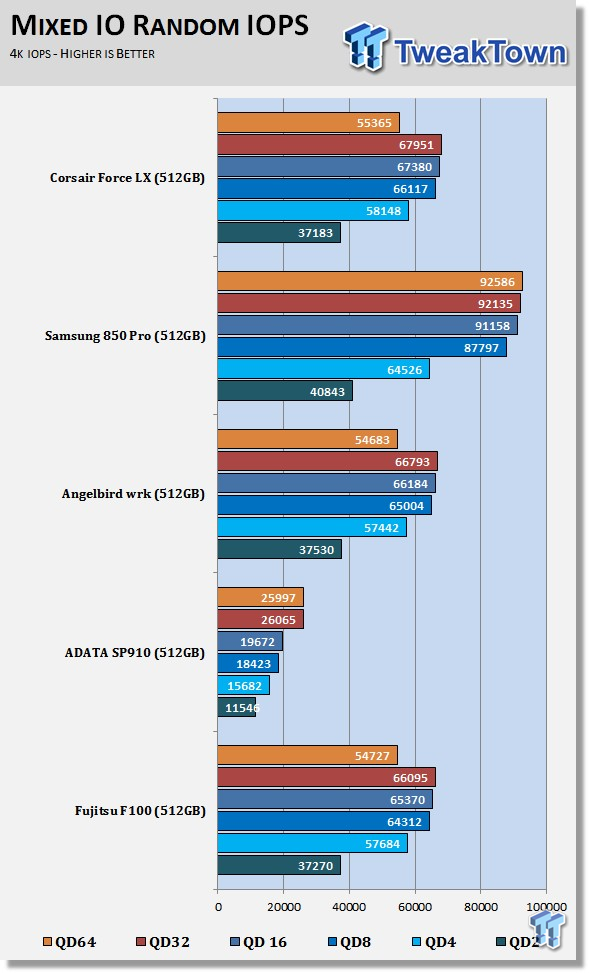 In this series of tests, we're using 4K random data and a 50% read and 50% write mix. Three of the drives on this chart use Silicon Motion SM2246En controllers, the Force LX, Angelbird wrk and Fujitsu F100. The performance in this test is nearly identical between these three drives. We'll talk more about this in the conclusion.
PCMark 8 Consistency Test
Futuremark PCMark 8 Extended - Consistency Test
Version and / or Patch Used: 2.0.228
Heavy Usage Model:
FutureMark's PCMark 8 allows us to wear the test drive down to a reasonable consumer steady state and then watch the drive recover on its own through garbage collection. To do that, the drive gets pushed down to steady state with random writes and then idle time between a number of tests allows the drive to recover.
Precondition Phase:
1. Write to the drive sequentially through up to the reported capacity with random data.
2. Write the drive through a second time (to take care of overprovisioning).
Degradation Phase:
1. Run writes of random size between 8*512 and 2048*512 bytes on random offsets for 10 minutes.
2. Run performance test (one pass only).
3. Repeat 1 and 2 for 8 times, and on each pass increase the duration of random writes by 5 minutes.
Steady state Phase:
1. Run writes of random size between 8*512 and 2048*512 bytes on random offsets for 50 minutes.
2. Run performance test (one pass only).
3. Repeat 1 and 2 for 5 times.
Recovery Phase:
1. Idle for 5 minutes.
2. Run performance test (one pass only).
3. Repeat 1 and 2 for 5 times.
Storage Bandwidth
PCMark 8's Consistency test provides a ton of data output that we use to judge a drive's performance. Here we see the three states of performance for the select SSDs, light use, consumer steady state and worst case.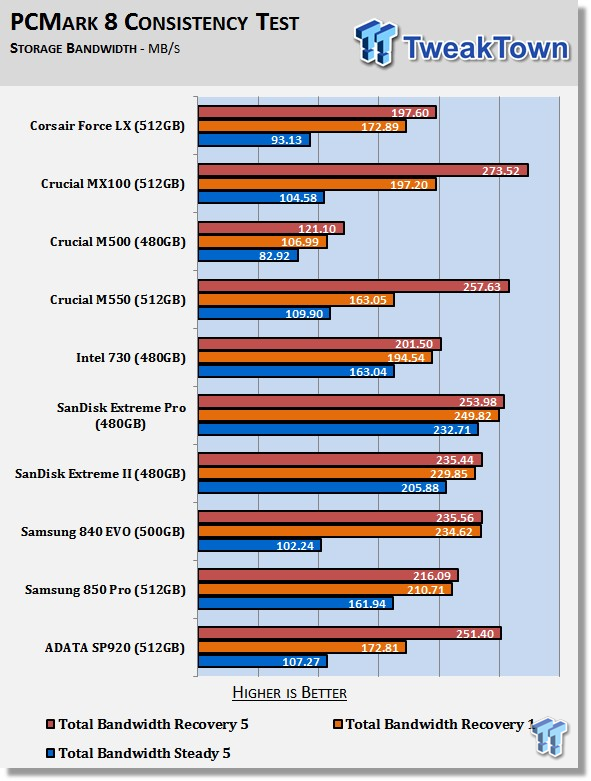 Another very difficult test for SSDs is the PCMark 8 Consistency Test. SSDs perform differently based on the workload. Most potential Force Series LX users will run the drives fairly clean, mainly reading data after the initial blast of software is installed on the drive. Because of that, the orange and red bars should be considered more than the blue bar that represents a high data write environment.
Storage Bandwidth All Tests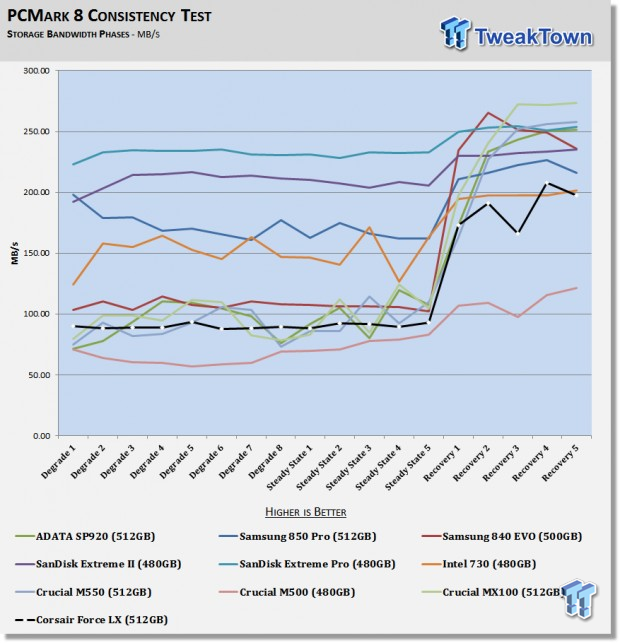 Here we see two distinct groups divided by performance. The top group is the high performance SSDs and the bottom group is the value based drives. The Force LX 512GB is a bit slower than the MX100 in all tests, but faster than the Samsung 840 EVO.
PCMark 8 Consistency Test - Continued
Total Access Time
The access time test measures the total latency across all 18 tests. This is one of, if not the most important test we run at this time for consumer SSDs. When your latency is low your computer feels fast, it's just that simple.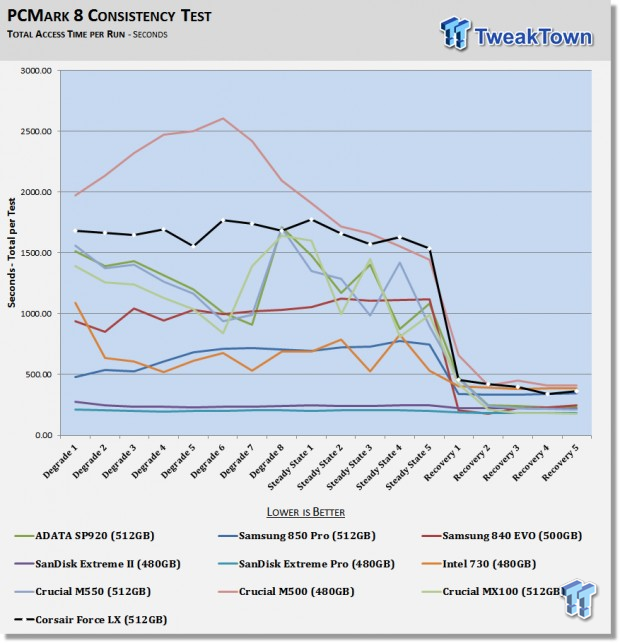 Often times, the latency is more important than the throughput. Latency is what makes your computer feel fast, more to the point, the lack of latency.
The Force Series LX did very poorly in the consistency test and the latency presented in the chart leads us to believe this model should have a larger DRAM buffer to cache more of the table data.
Disk Busy Time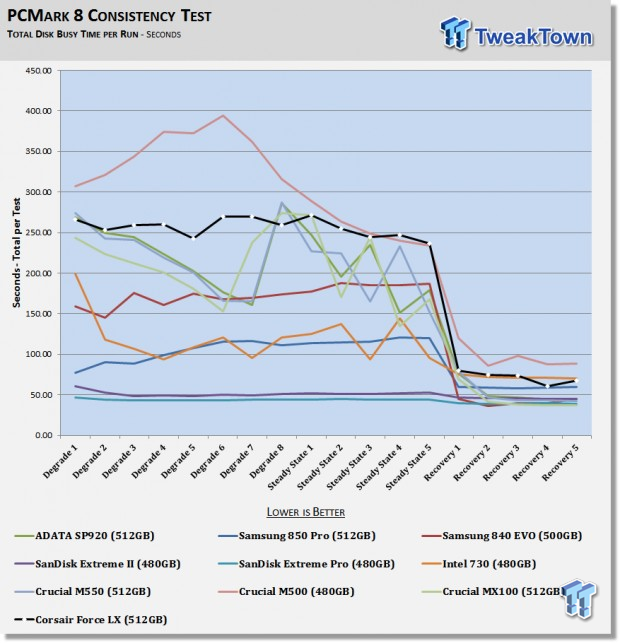 The disk busy time can often tell us a bit about how a drive will perform in our notebook battery life test. The faster a drive can complete a task, the faster it can drop to a low power state.
In this section, we see the Force LX 512GB did a bit better than in the latency test, but the results were still poor.
Benchmarks - Power Testing
Bapco MobileMark 2012 1.5
Version and / or Patch Used: 2012 1.5
Developer Homepage: http://www.bapco.com
Test Homepage: http://www.bapco.com
MobileMark 2012 1.5 is an application-based benchmark that reflects usage patterns of business users in the areas of office productivity, media creation and media consumption. Unlike benchmarks that only measure battery life, MobileMark 2012 measures battery life and performance simultaneously, showing how well a system design addresses the inherent tradeoffs between performance and power management.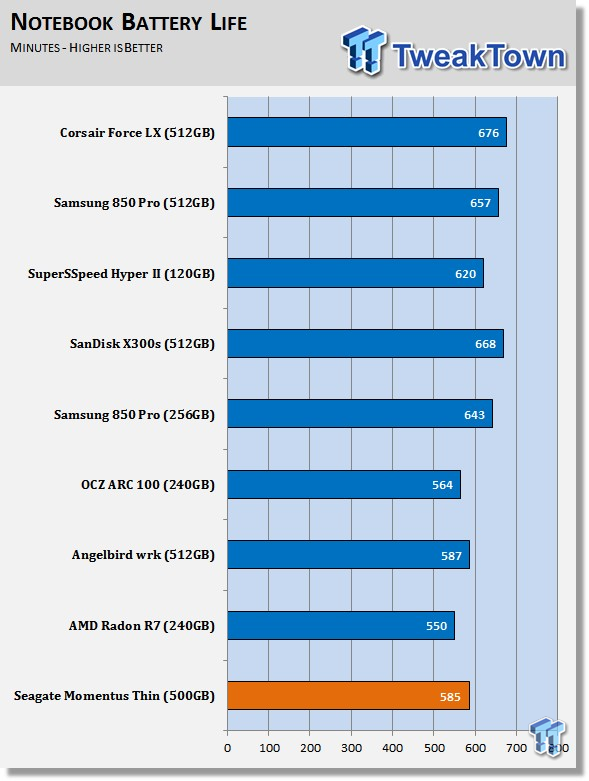 The SM2246EN barely sips power, even in large capacity sizes. Part of that comes from the 4-channel design and part of it also comes from the advanced sleep states. The controller can even go all the way down to DEVSLP to conserve the notebook battery.
Of all the drives on the chart, the Force LX delivered the most notebook battery life. The orange bar is a typical HDD currently shipping in several notebooks on the market. Some of the drives on the chart actually use more power than HDDs.
Power Limited Performance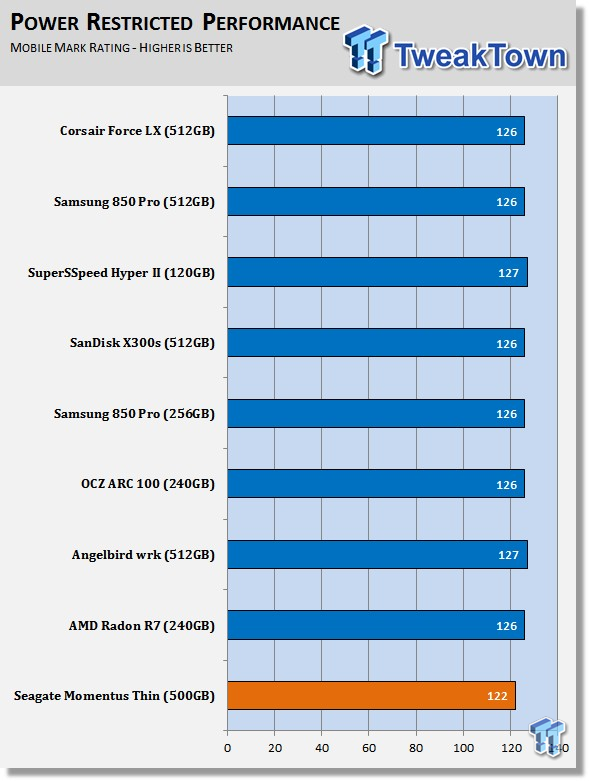 MobileMark also gives us a performance score. With the notebook in a low power mode, the SATA, CPU and PCIe links are crippled. In this performance test, we're looking for efficiency in this crippled power state. Most of the drives perform very close to each other.
The Hyper II, the only consumer SLC SSD on the chart does perform a little better, but you're paying a premium for a small amount of space and a small performance bump in a low power environment. The HDD is clearly the slowest drive on the chart, no surprises there.
Final Thoughts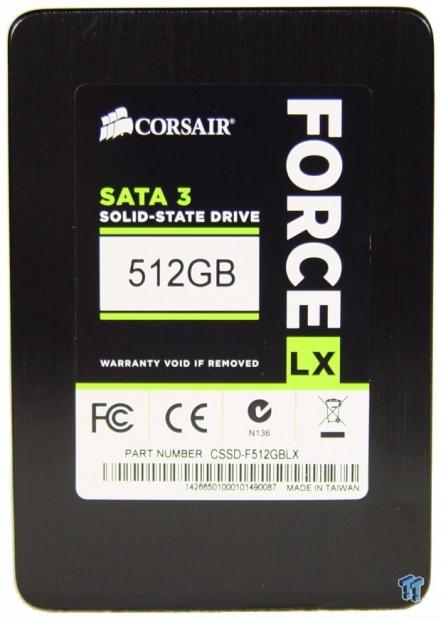 Corsair was one of the early companies that managed to bring solid state technology to the desktop at affordable prices. As much as I respect Corsair and what they have done for consumer SSDs, I have to say the 512GB capacity size Force LX is kind of a loser.
We have a number of drives in with the Silicon Motion SM2246 controller and have yet to run into performance issues outside running enthusiast class tests and getting value class performance. Looking back at the specifications, Corsair states 256MB of DRAM and that doesn't seem as aggressive as it should be. Most SSDs will use 512MB of DRAM for a 512GB SSD, some even go a step further and use 1024MB.
Most companies making value based SSDs don't publish a lot of data about the components used, since the build of materials seems to be (sometimes) dynamic. Some drives initially sold with Silicon Motion controllers don't even guarantee what controller is under the lid. Without a lot of published data, it's difficult to determine if other 512GB Silicon Motion SM2246EN drives use 256MB or 512MB of DRAM.
This is the first time we've linked a DRAM buffer to low performance. We do know the buffer plays a large role in write latency though, the SandForce 480GB drives are DRAM-less, but the 480GB capacity size models wrote random data much slower than the 240GB models. The larger the SSD, the more map data there is. Not all of the data can fit in the DRAM buffer, so the controller has to go back and read from the flash, which is slower than reading from the DRAM. It also increases latency, and that is why we think the latency issues observed in this review can be pinned on the buffer.
If you are looking for a low cost, high capacity size SSD, there are better products on the market. Some offer higher performance, others offer better accessory packages. The Crucial MX100 512GB is a better buy for performance and the ADATA SP610 offers a full accessory package.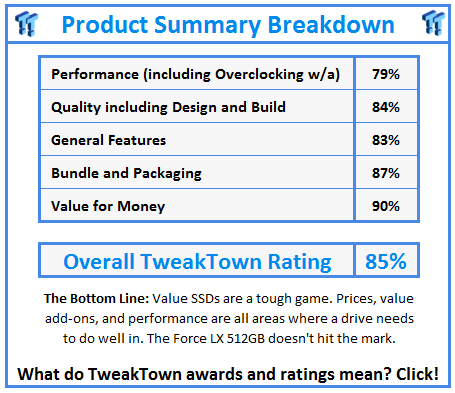 PRICING: You can find products similar to this one for sale below.

United States: Find other tech and computer products like this over at Amazon.com

United Kingdom: Find other tech and computer products like this over at Amazon.co.uk

Australia: Find other tech and computer products like this over at Amazon.com.au

Canada: Find other tech and computer products like this over at Amazon.ca

Deutschland: Finde andere Technik- und Computerprodukte wie dieses auf Amazon.de
We openly invite the companies who provide us with review samples / who are mentioned or discussed to express their opinion. If any company representative wishes to respond, we will publish the response here. Please contact us if you wish to respond.