Antec EDGE 650W 80 PLUS Gold Power Supply Review
Antec's latest line of power supplies delivers performance with silence and modular flexibility. Come and check out Zac's full review of their latest PSU.
Published
9 minute read time
Introduction & Specifications, Availability and Pricing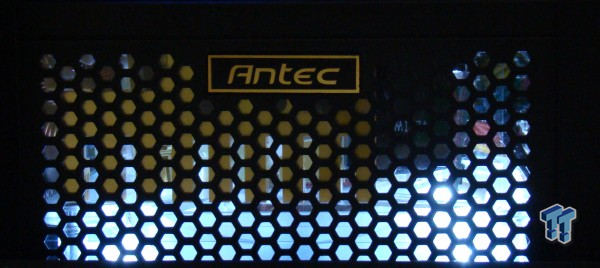 Today Antec introduces a new line of power supplies and if it lives up to the hype surrounding it, it is set to be a favored line for enthusiasts requiring enough power for a duo of high-end GPU's or less. The new series that we are speaking of is the EDGE series. The EDGE series sits between the TruePower Gold and High Current Pro Platinum series of power supplies. Antec's official word on the series is that, "It creates a new top class of maximum efficiency & performance within our range of PSUs with fully modular connectivity."
That makes this the second highest line of power supplies that Antec has to offer. As such, we expect it to perform exceptionally well. Antec has built one heck of a name for themselves throughout the years, and anything less than a great unit, just would not be well received by enthusiasts.
One of the most prominent features of the EDGE series is that it is meant to be a very quiet power supply. We've been toying with the idea of testing the sound levels of power supplies for a while now and are nearing completion of what we would like to see happen. As such, we've got some tools to test with now and we figured that we would give Antec a shot at just how quiet they could be. They sent over a P100 case and some of their True Quiet UFO fans just to see how quiet of a build we could come up with using their products.
Specifications, Availability and Pricing

As far as I/O specifications go, the Antec EDGE 650W power supply doesn't have anything too special going on. It uses a dual 12V rail design with each rail rated for 35A with a combined maximum output of 648W or 54A. Both the 3.3V and 5V rails are rated for 20A each with a combined maximum output of 100W. The 5VSB rail is rated for 2.5A or 12.5W. Maximum combined output for the Antec EDGE 650W power supply is 650W.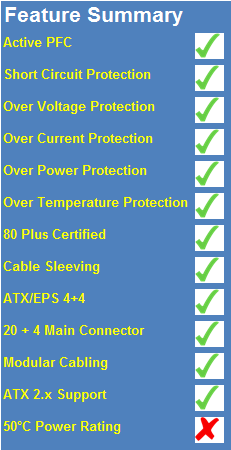 Being towards the top of what Antec has to offer for power supplies, it is expected that the unit be filled with features and protections. Our Feature Summary shows just that, as it has almost every feature that we check for. All protections are present, just as would be expected. The power supply is fully modular and all cables are of the flat ribbon type with the exception of the 24-pin main, which is fully sleeved. The Antec EDGE 650W power supply is rated for 80 PLUS Gold efficiency. Antec lists the operating temperature for the unit as 40C and thus it doesn't receive a pass for being rated for 50C.
Antec lists the EDGE 650W power supply with an MSRP of $129.95. This places it comparatively priced amongst units with similar features and wattages. You'll be hard pressed to find one with all the options the EDGE 650W offers though. Antec backs the EDGE series with a five-year warranty.
Package & Inside the Box
Package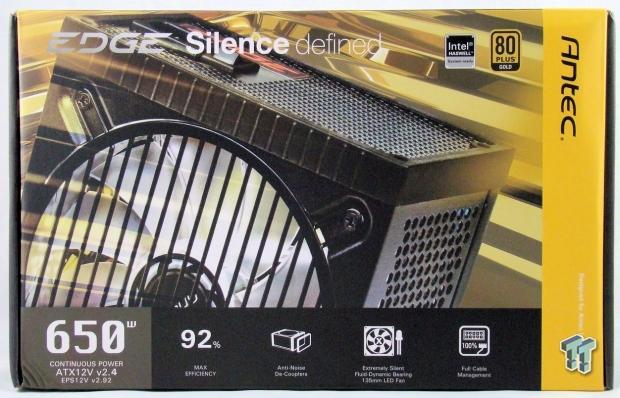 Antec uses their standard layout for the box of the EDGE 650W, but the graphic is a bit more catchy than usual. "Silence defined," is apparently important with the EDGE series if you can't tell.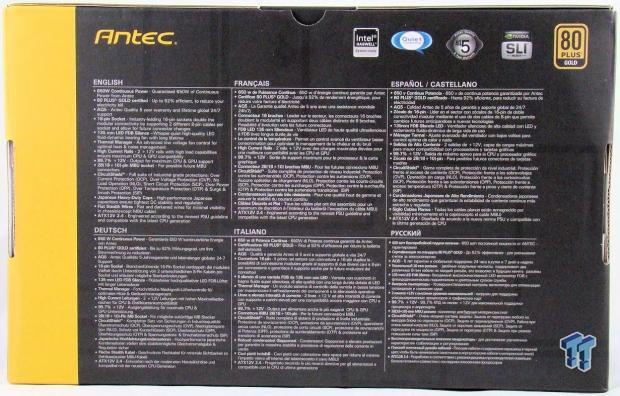 The back presents us with a list of highlights for the EDGE 650W power supply.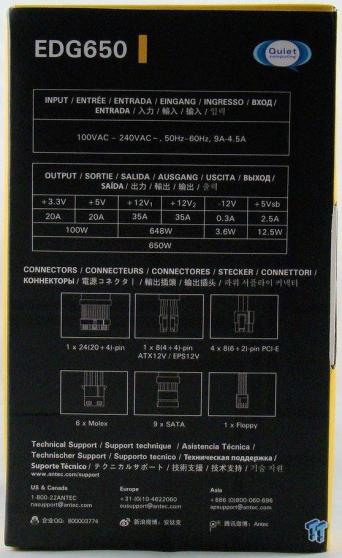 I/O specifications can be found on one end of the box, along with a list of connectors. Unfortunately, there are no cable lengths specified.

A few more features can be found on the bottom of the box. The on/off switch for the LED fan is important to note, as there are many end users who have to skip over units, because they don't want an LED fan and they don't have the option to turn it off.
Inside the Box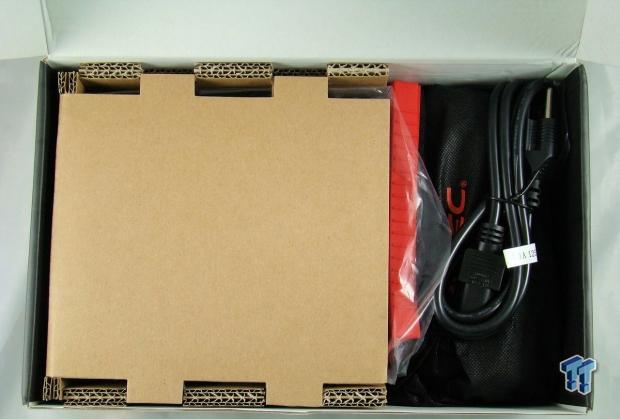 Antec's cardboard packaging seems to do quite well. As seen in previous pictures, our box had some damage in shipping, but our power supply didn't show any damage when removed from the box.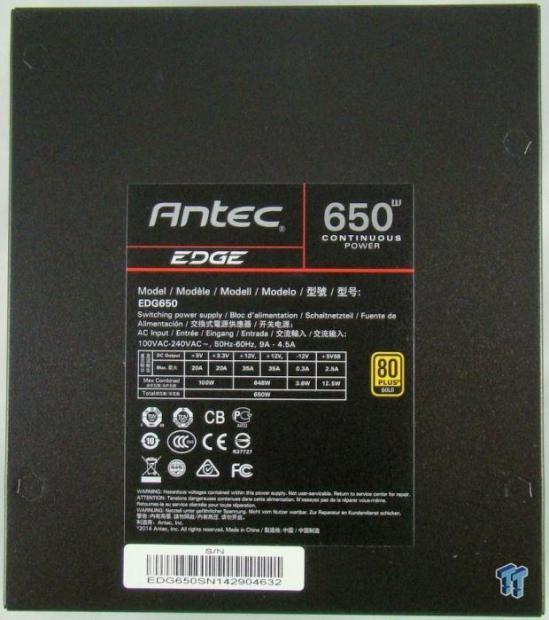 The EDGE series is finished in black paint with the I/O specs listed on the top of the unit.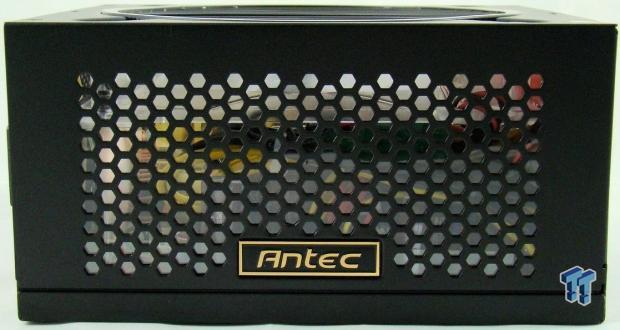 Both sides of the unit feature honeycomb cutouts. At first glance, you would assume that these are for additional ventilation of the power supply.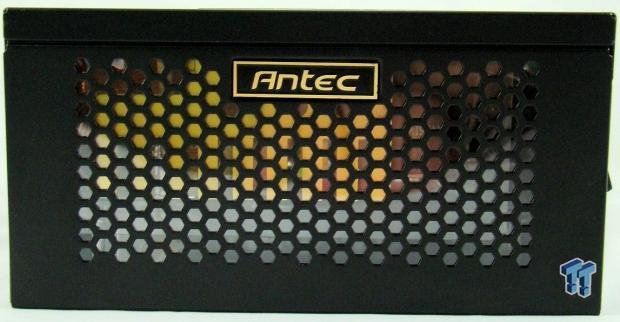 The Antec logo is inverted on the other side so that that it is displayed properly in case the power supply is installed in the bottom of a case.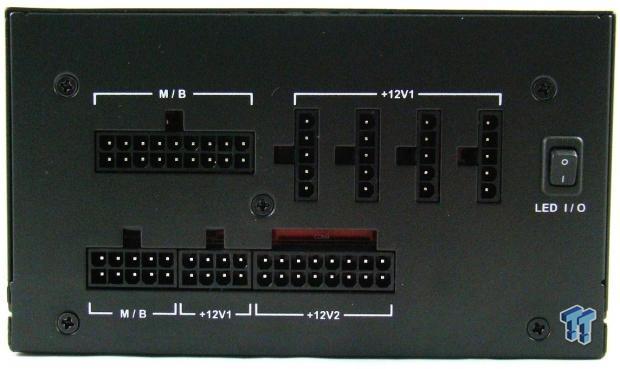 The front is well labeled for connectors and rails aside from the Main connector not having rails identified. It uses both 12V rails, which helps load balancing.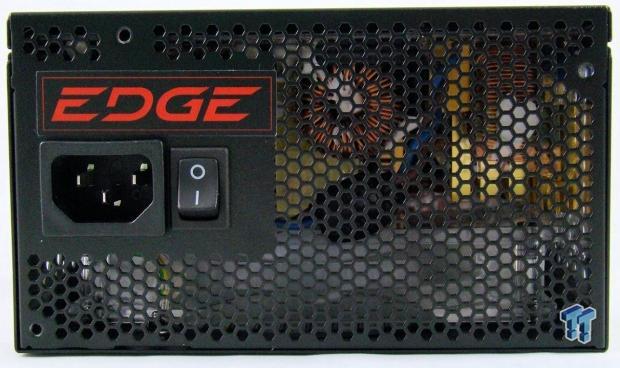 The back looks like any other power supply with honeycomb mesh for venting along with AC input and on/off rocker switch. Antec has also placed a sticker here with the EDGE logo for a little bit of flair.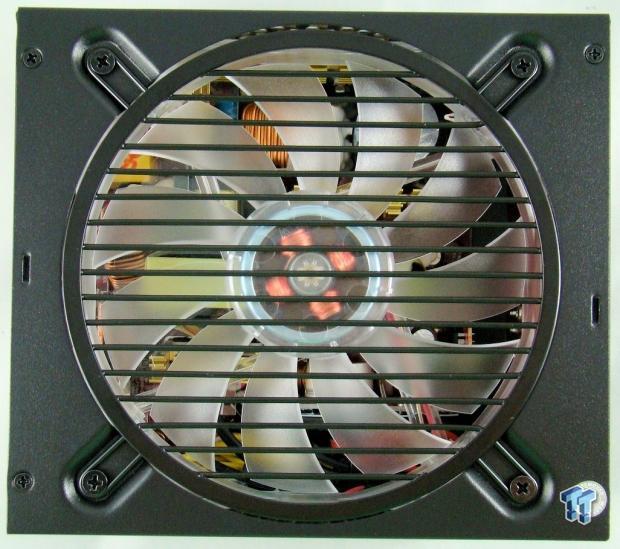 The bottom of the unit shows the clear 135mm fan that provides the active cooling and straight wire fan grill similar to what Corsair and be quiet! utilize.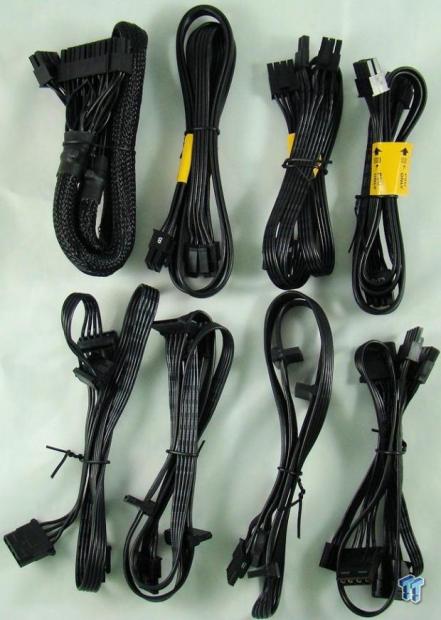 All cables except for the Main are of the flat ribbon type.

Some of the cables are labeled for which end must go to the power supply. This is due to the slim connectors that Antec uses and is what gives the flexibility to use the 16-pin connectors on the front of the power supply in numerous ways to load balance the unit.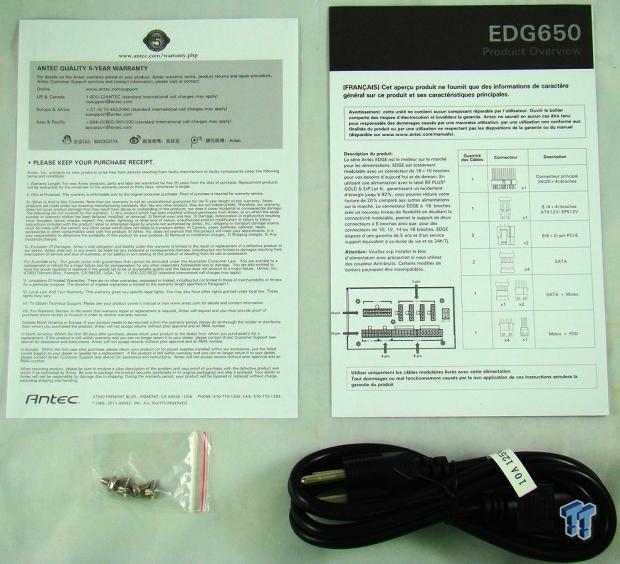 Standard inclusion with any unit is a set of mounting screws, AC input cord, user manual and warranty information.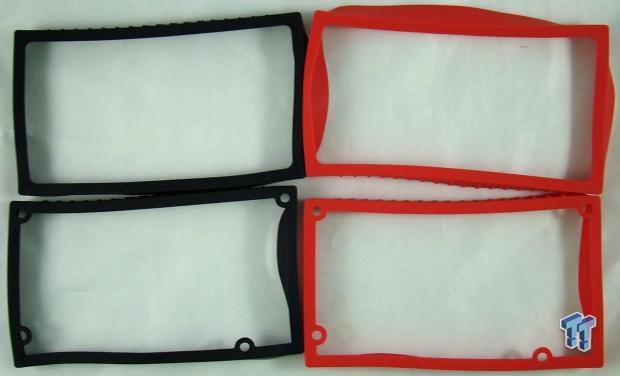 Antec also includes some silicone mounts to go with the EDGE power supply. These go on both ends of the power supply and help reduce noise associated with vibration. Two colors are included for personal preference.
Cabling Arrangement & A Look Inside
Cabling Arrangement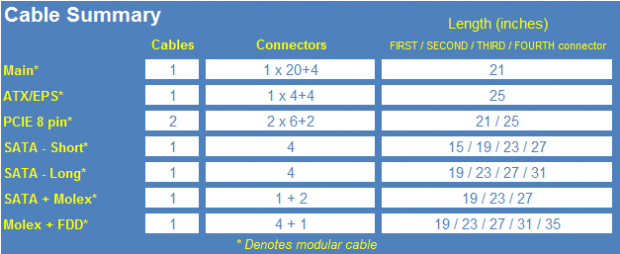 For a 650W unit, Antec does a great job in giving you what you need with the EDGE power supply. All cables are modular, including the 24-pin Main. The varying lengths of SATA cables are more than welcome. The only thing that we would like to see changed is the FDD connector. We would much rather see it as a Molex to FDD adapter and forced upon the user if the Molex cable is needed.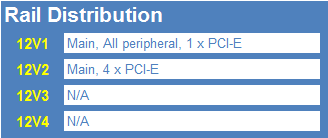 Rail distribution is relatively straightforward for a dual 12V rail unit. The 24-pin main connector is split across both rails. All of the peripheral connectors go to 12V1, along with one of the 8-pin 12V outputs, which can be used for PCI-E or the EPS12V connector. 12V2 is reserved for PCI-E cables or the EPS12V connector if you would like. The flexibility makes it very nice for those who are looking to use the power supply for all the power it has to offer and need to move power around.
A Look Inside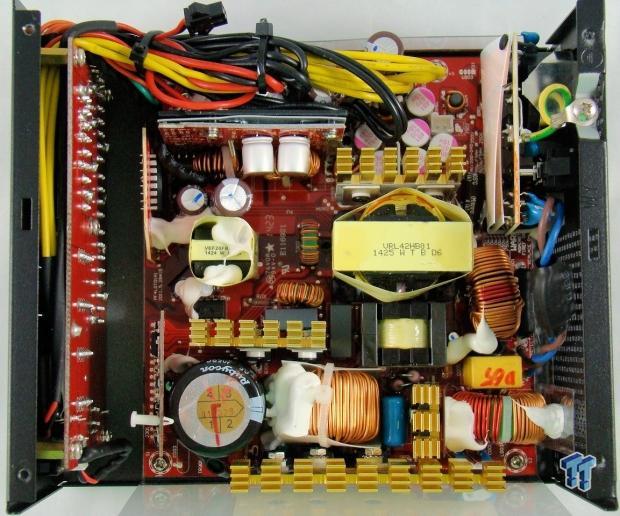 Several smaller heat sinks are present in order to provide passive cooling.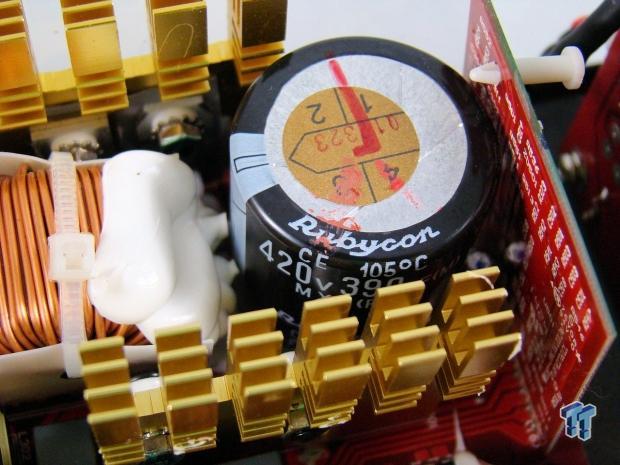 A single Rubycon capacitor is present for the primary side of the power supply.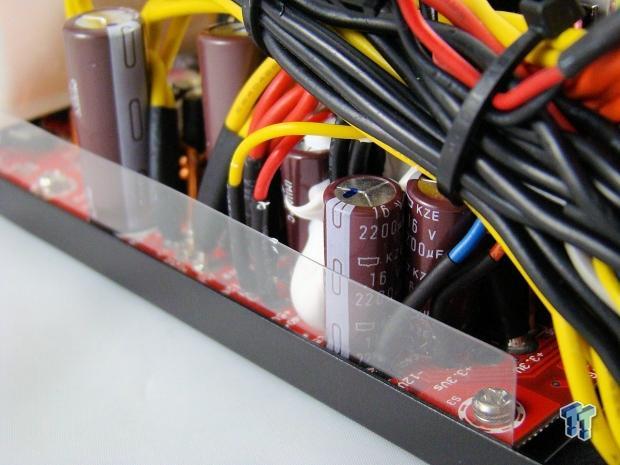 Nippon Chemi-con capacitors are present on the secondary side of the power supply.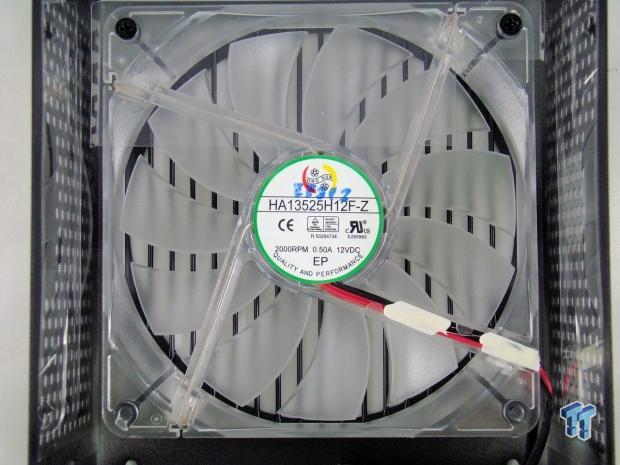 Ong Hua provides the active cooling with the 135mm clear fan. The HA13525H12F-Z uses a fluid dynamic bearing (FDB), which helps reduce noise and increases longevity of the unit.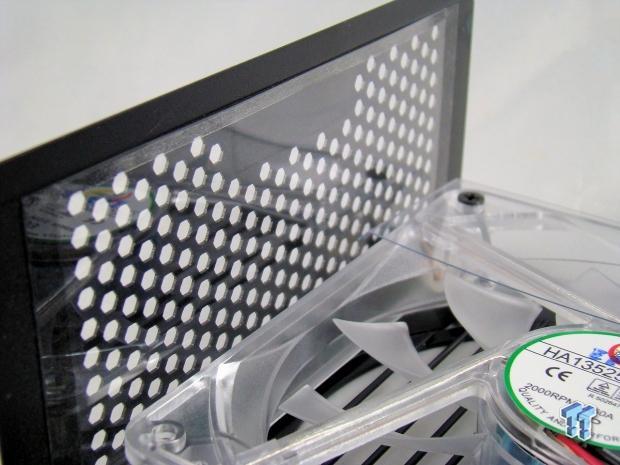 The honeycomb mesh on the sides are not for increased ventilation at all. Both sides are blocked by clear plastic which can mean that they are only for show, most likely when the LED's are enabled on the fan.
Sound Testing
Sound testing is something new that we are starting with power supplies at TweakTown and this will be the first unit that we have officially done any audio measurements with. We are still in the process of getting things where we want them, but we wanted to give you a sneak peak of what we have to offer since low noise is such a key part of this power supply.
We set up two test systems to give you an idea of what you might come across. The first is a full blow quad-Crossfire rig with all the goodies to go with it. This is meant to give you an idea of what some enthusiast gamers hear while sitting at their desk. Second is our silent system with a passive CPU cooler, a single low-end GPU, and just a few of Antec's True Quiet UFO fans to move some air. This simulates what a user would be shooting for in a silent system for use as an office PC, or perhaps an HTPC.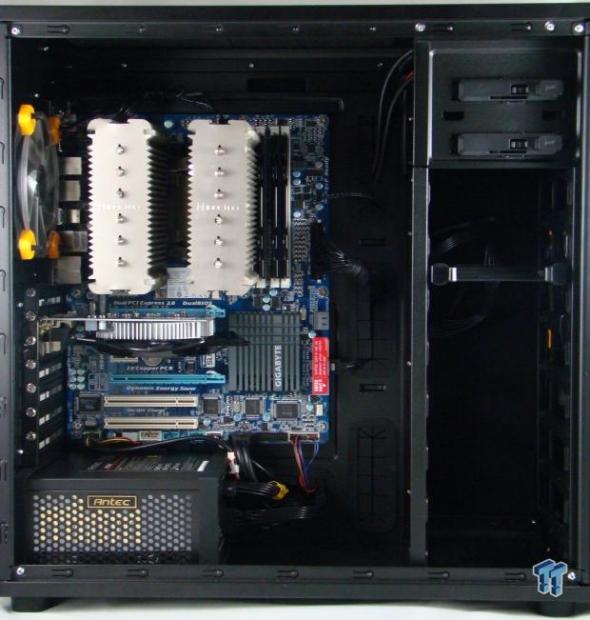 The power supply was one heck of a thing to get installed properly simply because of the silicone anti-vibration mounts on the ends of the power supply. This is because the case doesn't have any room between the bottom add-in slot and the power supply. Without the silicone pieces it would like in perfectly. We wish Antec would have designed this into the enclosure similar to what be quiet! does as it would eliminate this problem.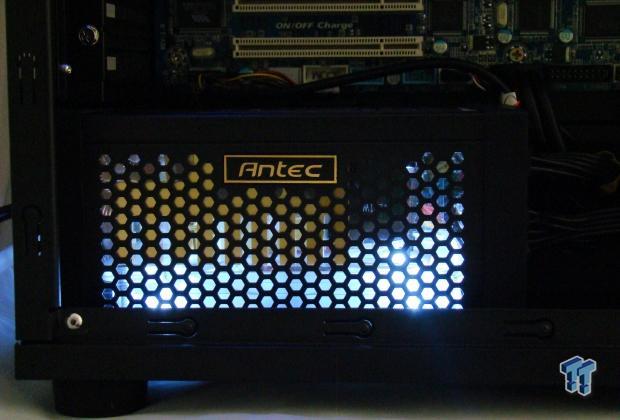 Installed and fired up, we can see the purpose of the honeycomb mesh on the sides. If they weren't covered with the clear plastic, it would vent the exhaust into the case and that wouldn't be beneficial to the system.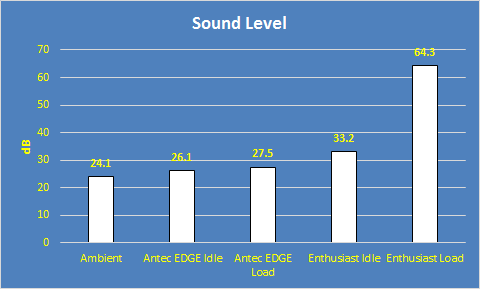 Here are some basic sound levels from what we were able to ascertain in the office. The ambient noise measures in at 24.1 dB. This is as quiet as it gets with no electronics running, no fans, no air conditioner, etc. When our silent system is powered up, we see an increase of 2 dB while it is idling at the desktop. If we add a load to the system, such as playing back a Blu-ray ISO over the network, as you would with an HTPC, noise increases to just 27.5 dB. This is still incredibly quiet and barely noticeable.
To put that in perspective, you can still clearly hear other sounds such as birds outside and cars passing by on the road 50 feet away. Compare this to the enthusiast system that we have put together and it truly is silent. The monster rig with quad ASUS Radeon R9 290's sits idle at 33.2 dB. If we load the system down with BF4 for 30 minutes or so, we see that the enthusiast system is showing 64.3 dB.
Load Test Results & Final Thoughts
Load Test Results
Our load tests utilize a couple of FAST ATE active load testers, and a variety of other equipment such as an oscilloscope, power conditioner, temperature probe, and a power consumption meter. You can read more about our standard testing approach here.
The tests performed are based around six conceivable setups that are out there, and progressively load down the PSU up to the power supply's limits, or 1000W; whichever comes first. Since our test equipment's limits are higher than that of the Antec EDGE 650W power supply, we can test it to the maximum.

The above tests represent typical loads that we have measured from various systems, and are meant to give a rough idea of where your computer might fall in line with our tests. Please keep in mind that each system is different, and actual loads can vary greatly, even with similar hardware.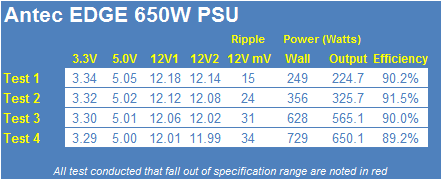 Let's start by taking a look at the voltages, to see how well this unit did during testing. Starting with the 12V1 rail, we see 2% regulation from start to finish, with a total drop of .17V. 12V2 shows slightly better results, still with 2% regulation, but only a .15V drop in voltage. The 5V rail managed to stay within 1% of specification, with a total drop of .05V from start to finish. Moving towards the 3.3V rail, we see that regulation was within 2% of specification, with a total voltage drop of .05V.
DC Output quality for the Antec EDGE 650W was excellent, and well within specifications. During Test One, we saw 15mV of noise on our scope at 15% load. When we increased the loads in Test Two, the ripple climbed to a 24mV at around 50% load. Increasing loads even further showed that the noise on the 12V rail climbed to 34mV at 6500W.
The Antec EDGE 650W is rated for 80 PLUS Gold efficiency. This means that the power supply must perform at 87% / 90% / 87% efficiency, at 20% / 50% / 100% loads respectively. As you can see, the Antec Edge 650W performs exactly as expected. If Antec could have squeezed a bit more out of it, we would be looking at a Platinum power supply instead.
Final Thoughts
Antec's introduction is a welcome addition to their product like. The company has many models for sale, but it did feel like they were lacking in the area of something for enthusiasts who aren't trying to go broke and go home at the same time. The timing couldn't be much better either as there will be a lot of individuals looking to upgrade with the new Intel X99 motherboards and processors that have just hit the market.
From a performance standpoint, the Antec EDGE is a great power supply. Voltage regulation is very much within specifications across the board. When you are staying within 2% regulation and your ripple is also quiet low, you know your power supply will continue to keep your system stable, as you load it down. It even does it all without skimping on the efficiency.
The noise level of the unit is rather impressive too. The rubber isolation mounts do exactly what they are meant to do in combination with the 135mm fan and keep the sound down really low. We were very happy with the results and know we could actually lower the sound a bit more if we removed the GPU and just went with integrated graphics, which is always a viable option, if you aren't going to be gaming.
All of this comes together to make a great power supply that fills the void needed in Antec's lineup. We gladly recommend this unit to anyone that is looking to build something as simple as a low-end office PC, all the way up to someone that is going to be gaming on a pair of relatively high-end video cards. It will do it with or without the flair since you can turn the lights off. The one thing that the Antec EDGE 650W power supply will always do is do it with silence and that's something that we will never argue with.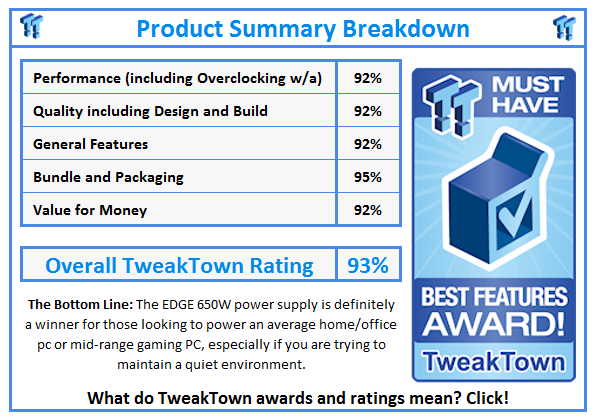 PRICING: You can find products similar to this one for sale below.

United States: Find other tech and computer products like this over at Amazon.com

United Kingdom: Find other tech and computer products like this over at Amazon.co.uk

Australia: Find other tech and computer products like this over at Amazon.com.au

Canada: Find other tech and computer products like this over at Amazon.ca

Deutschland: Finde andere Technik- und Computerprodukte wie dieses auf Amazon.de
We openly invite the companies who provide us with review samples / who are mentioned or discussed to express their opinion. If any company representative wishes to respond, we will publish the response here. Please contact us if you wish to respond.
Related Tags