Introduction and Specifications
When it comes to a company like Rosewill, you've probably never heard of them - but the company makes a wide variety of products - ranging from peripherals like mice, keyboards and headsets, right up to computer cases and yet - even mobile batteries. Rosewill sent me over a few of their batteries, where today we're starting off with the RCBR-13020, which is a 11,200mAh mobile battery that has a fair bit going for it.
First off, it's stylish - style is something very personal, while you may not like it, I actually quite enjoyed the look of the Rosewill charger. It's a big chunkier than I'd have liked, but we do have 11,200mAh of mobile charge inside.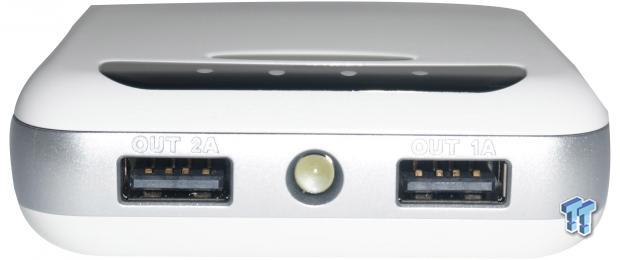 On the outside, we have two USB ports - the first being 5V/2A capable - this is where you'd charge your smartphone if you wanted it topped up quick, and a second 5V/1A port for a tablet. I mainly use the fastest port on any mobile battery, so the 2A port it is!
Snuggled in between these two USB ports is a LED flashlight, which really comes in handy. I'm a big fan of LED flashlights, especially when I get home late at night and need to see where I'm going, or can't see the lock on the door - turning on the mobile battery's flashlight is a real help at times.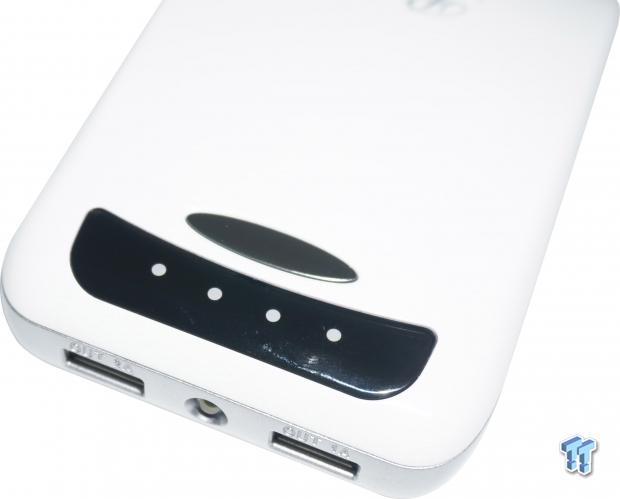 On top, we have a large power button with four LED lights - indicator lights notifying you just how much charge you have left inside of the battery. The big silver button is kind of obvious, but tap that to wake up the Rosewill battery and it'll begin charging your devices.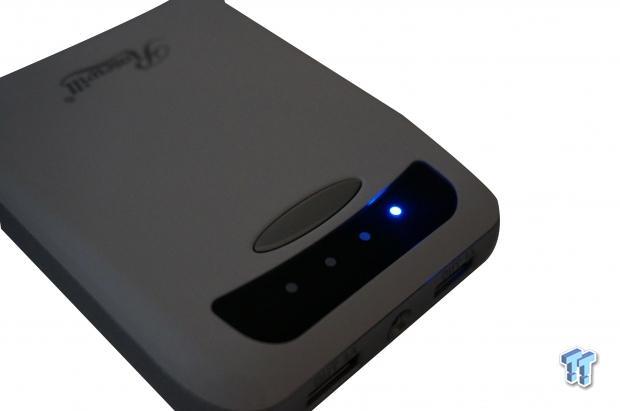 Another shot of the top of the device, this time so you can see the blue LED.

On the side, we have our micro USB port for charging up the Rosewill Powerbank RCBR-13020. Rosewill has the Powerbank RCBR-13020 at $34.99 on Newegg, which is a great price, considering you're getting an 11,200mAh battery here.
Using the Rosewill Powerbank
I took the Rosewill charger away with me to Computex in Taiwan, using it to top up my Sony Xperia Z2 smartphone. The fully-charged Rosewill Powerbank RCBR-13020 (that's a mouthful, isn't it?) was capable of topping up my Z2 just over four times.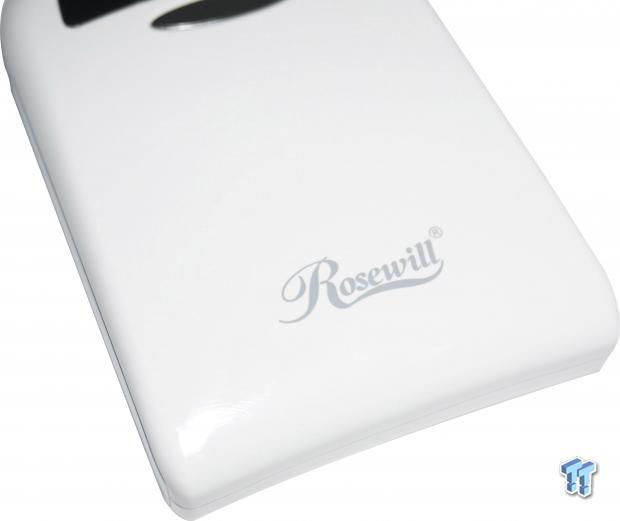 So, for one third of my trip, I relied solely on the Rosewill charger, and it worked beautifully. The 2A port charged my Z2 up incredibly quickly, and that flashlight came in handy, too.
One night I couldn't find the light switch on the side of my bed in my hotel, but I remembered that I had my Rosewill charger plugged into my Xperia Z2. So I pressed the power button twice to enable the flashlight, and voila - let there be light!
I found using the Rosewill charger to be great, with the power button being very easy to push. This is something I quite enjoyed with the charger, being able to easily access the power button to turn it on, or double pressing it to enable the LED flashlight.
What's Hot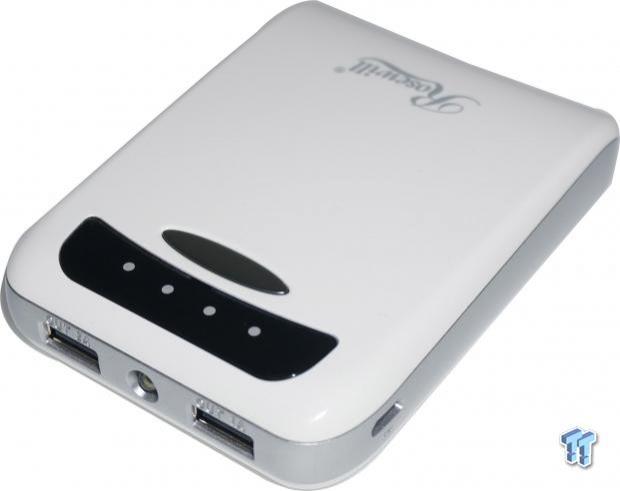 It Looks Good: Rosewill has got a good looking charger on its hands, with a nice pearly white color that bounces off of the Powerbank RCBR-13020. It's not for everyone, but I walked away being a fan of the battery.
LED Flashlight Comes In Handy: I've become a big fan of an LED flashlight being on my mobile batteries, so when I noticed that Rosewill went the extra mile on its new Powerbank, I was pleasantly surprised, or should I say enlightened.
What's Not
No Auto-Charging: I became a massive fan of auto-sensing USB ports thanks to Limefuel's chargers, which is about the only downside to Rosewell's offering here today. It's not something that I would claim would be a problem in the way that you wouldn't buy it - but I'd like to see something like this added to a future battery from the company.
Final Thoughts
An 11,200mAh charger for $34.99 is a damn good deal in my books, a few weeks ago this was priced at over $60, and I would've had a much different tone in the review because of that. But at the time of writing, Rosewill must have dropped the price, as it is only $34.99 on Newegg right now. For under $35, you're getting a great-looking battery that will charge either multiple devices, or a single device for days on end.
Let's not forget the LED flashlight that is on it, and the four-LED rundown of how much charge you have left. All in all, you can't complain for $35. Rosewill has made a good charger here, with an even better price point.
PRICING: You can find the Rosewill Powerbank 11200mAh External Backup Battery Charger for sale below. The prices listed are valid at the time of writing but can change at any time. Click the link to see the very latest pricing for the best deal.
United States: The Rosewill Powerbank 11200mAh External Backup Battery Charger (white) retails for $39.99 at Amazon.