OCZ ARC 100 Series 240GB Value SSD Review
With guaranteed flash from Toshiba, OCZ is in a position expand the company's product line. The ARC 100 is next step for OCZ to regain market share.
Published Aug 13, 2014 9:29 AM CDT
|
Updated Tue, Nov 3 2020 6:59 PM CST
14 minute read time
Introduction & Specifications, Pricing and Availability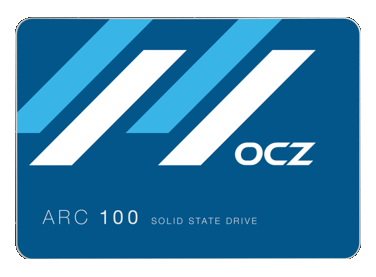 Before falling on hard times, OCZ had the largest consumer SSD product line up of any SSD manufacturer. OCZ's products spanned a wide range of prices, from the workstation focused Revo series, to several ultra-low priced models. At the time, flash was plentiful and it wasn't difficult securing all of the components required to make all of those parts. When Toshiba cut production and IMFT had issues transitioning from 25nm to 20nm flash, the supply dried. Without flash to build products, OCZ lost market share. For a short period of time, SSD prices actually increased after a steady decline.
OCZ Storage Solutions is now under the Toshiba umbrella, one of the few NAND flash makers with a seemingly unlimited supply of flash. Time will tell if OCZ returns to a broad range of products, but as of today, the product line increases by one.
Today OCZ announces a new low-cost consumer SSD product. The ARC 100 was designed for SSD newcomers. As an enthusiast, it's hard to fathom anyone still running on a mechanical HDD for primary storage, but we've heard rumors of those users. To help entice would-be SSD buyers, OCZ has introduced a new warranty claim service, and as you can imagine, the new ARC 100 costs less than Vertex 460 and Vector 150.
Specifications, Pricing and Availability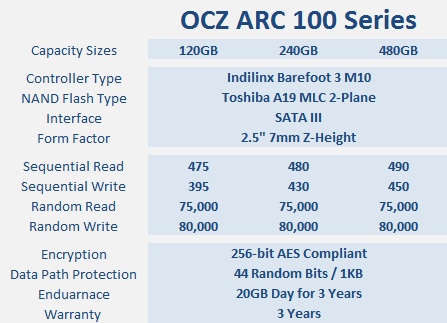 The OCZ Storage Solutions ARC 100 Series comes in three capacity sizes - 120GB, 240GB and 480GB. All three capacity sizes use the same Indilinx Barefoot 3 SATA III to flash controller and Toshiba's new A19 MLC flash with 2-planes. Sequential read and write performance varies between all three capacity sizes with the large 480GB model sporting the highest performance numbers. Today, we're looking at the ARC 100 240GB model with 480 MB/s sequential read and 430 MB/s sequential write performance. All three models show 75K random read and 80K random write performance.
On our chart, we listed the ARC 100 with a 7mm z-height, but the drive is actually a little thinner. OCZ claims 6.7mm, but I've yet to find a product that requires anything sub-7mm, aside from a few ultrabooks that require 5mm Z-heights.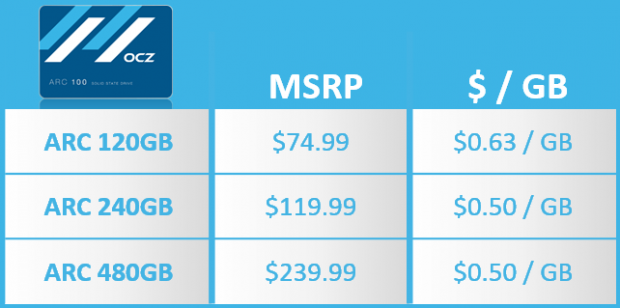 In our marketing document from OCZ, we found the MSRP list for the three capacity sizes. It's important to remember that MSRPs are suggestions and not set in stone. The 240GB model we're testing today costs 50 cents per GB, but we expect this price to drop rapidly. Products like the Crucial MX100, and a growing number of non-fab companies, have pushed prices down to very low levels. This is the market OCZ built the ARC 100 to address. Even OCZ's own Vertex 460 240GB costs just $124.99 at Newegg at the time of writing. OCZ will separate the ARC 100 from the Vertex 460, so I expect the street price of the 240GB model to be closer to $109 within a few weeks of launch.
In the introduction, we briefly mentioned OCZ's new warranty policies for the ARC 100 Series. OCZ calls the new warranty "ShieldPlus Warranty", and we see it as a major step forward for the company.
All ARC 100 SSDs are engineered and tested to ensure superior quality, reliability, and compatibility and also come backed with OCZ's brand new "ShieldPlus Warranty", an industry-leading approach to service that eliminates all the hassle surrounding support and warranty claims consumers often have to deal with. With no original proof of purchase required, end-users simply provide their ARC serial number and a dedicated OCZ customer service representative will provide high-caliber troubleshooting and support.

In the event that the product is determined to be defective, a brand-new ARC SSD of the same capacity will be advance shipped to the customer. When the replacement is received, end-users will find a prepaid return label and need only to place their original drive in the box for a free return to OCZ.

With the value added ShieldPlus Warranty there is no support hassle, no endless return loops, no shipping costs, and end-users will benefit from significantly reduced downtime to maximize their SSD experience and productivity. OCZ ShieldPlus is available in both North America and EMEA at time of launch, and additional supported regions will be announced in the future. With the security of the ARC's ShieldPlus Warranty, OCZ's valued customers will have the peace of mind that they not only have a quality solid state drive, but also the very best service and support should they ever require it.
We asked OCZ about the new warranty and learned it is not retroactive, but the company is still looking at that option for older products like Vertex 460 and Vector 150. I have to say that I really like the idea of ShieldPlus because it takes the hassle out of making a claim and also guarantees a new product and not a refurbished product.
The ARC 100 ships with a three year warranty, but it is void of an accessory package. We'll talk more about ShieldPlus in the final thoughts of this review.
PRICING: You can find the OCZ ARC 100 Series 240GB Value SSD for sale below. The prices listed are valid at the time of writing but can change at any time. Click the link to see the very latest pricing for the best deal.
United States: The OCZ ARC 100 Series 240GB Value SSD retails for $119.99 at Amazon.
OCZ ARC 100 Series 240GB SSD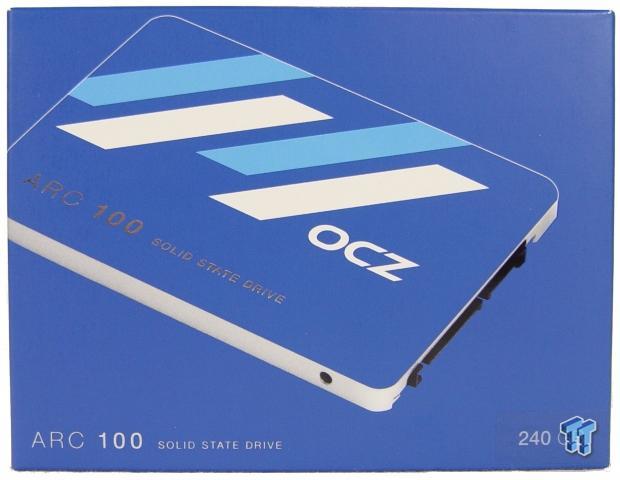 Although OCZ set the ARC 100 Series in a value category, you wouldn't know it from looking at the full color packaging or the actual drive.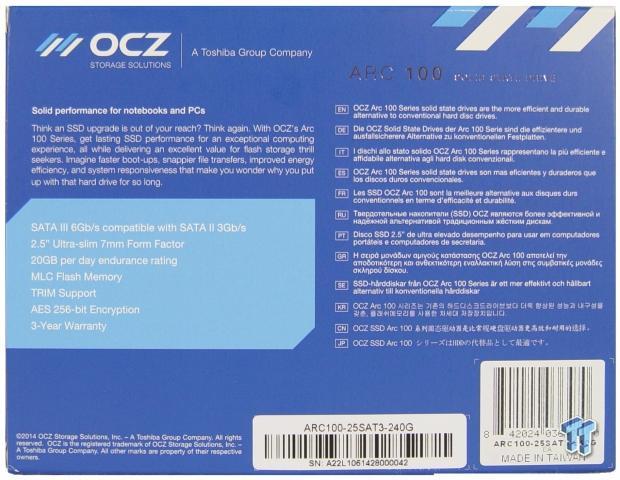 The back of the retail package covers the features and talks about the target market.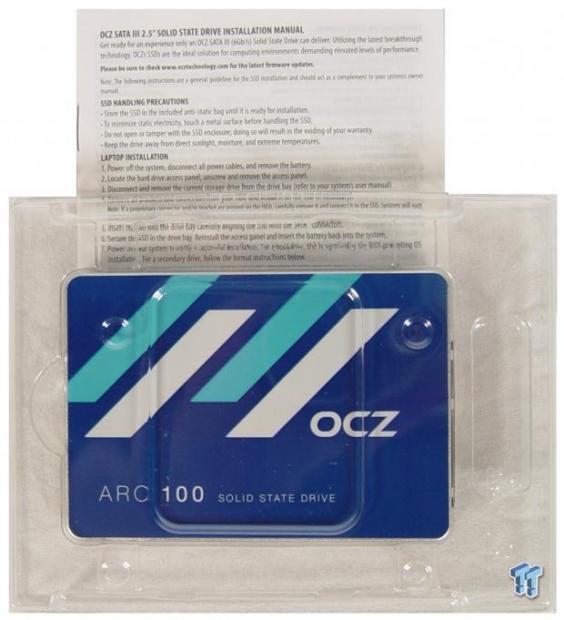 Inside, we found the drive in a plastic shell and a paper pamphlet that doubles as guide and a warranty document.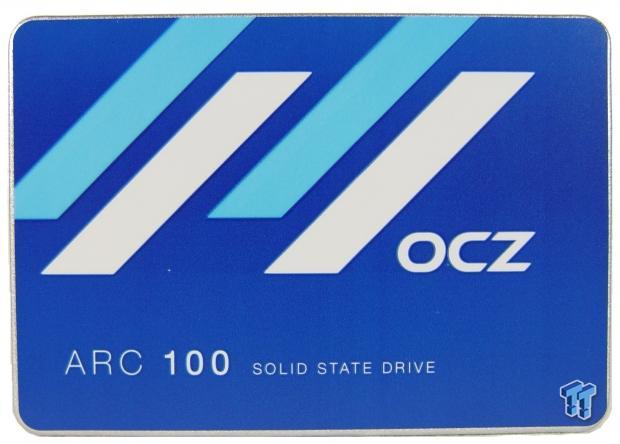 OCZ uses one of the best drive cases on the market today - the aluminum case has some weight to it. OCZ uses the case as a heat sink for the controller, flash and DRAM. Although the ARC 100 is a value product, OCZ didn't cut any corners with the build quality.
I think this is important to express because the company could have moved to a plastic case or a paper thin steel case like some of the other companies have used in the past on value based products. OCZ didn't and it should be noted.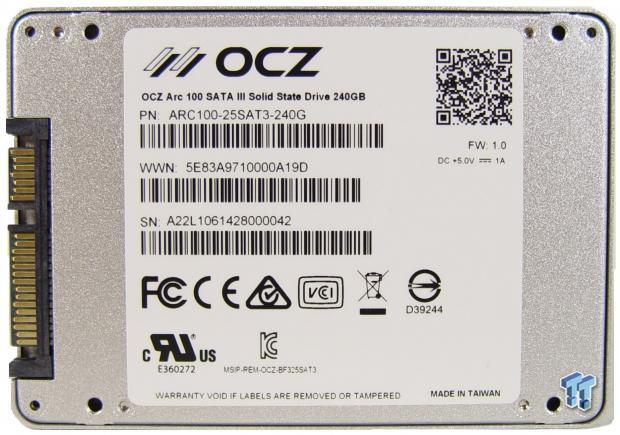 OCZ used a 6.7mm z-height case for the ARC 100. I can't say for sure why the company didn't go with the standard 7mm design, but the reduced height shouldn't be an issue in your notebook, Ultrabook or desktop.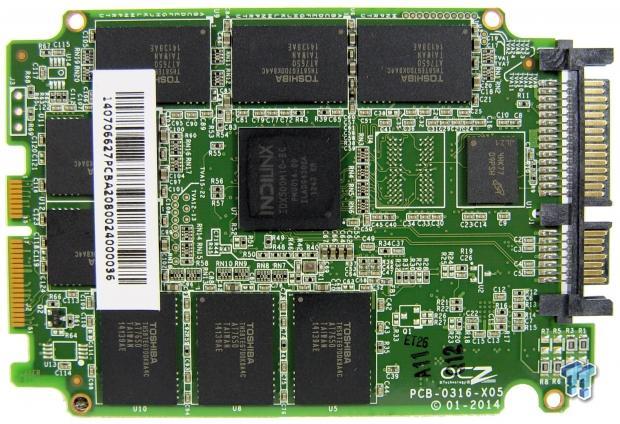 Inside, we found a drive with sixteen NAND flash packages, two Micron DRAM packages and a controller.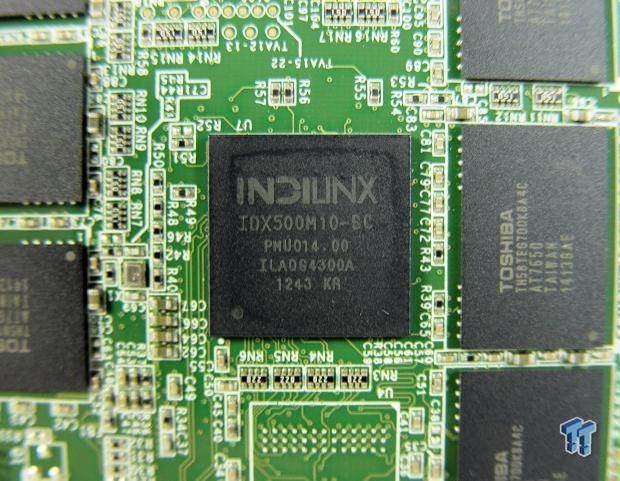 The controller is an Indilinx M10, the same used on the Vertex 460.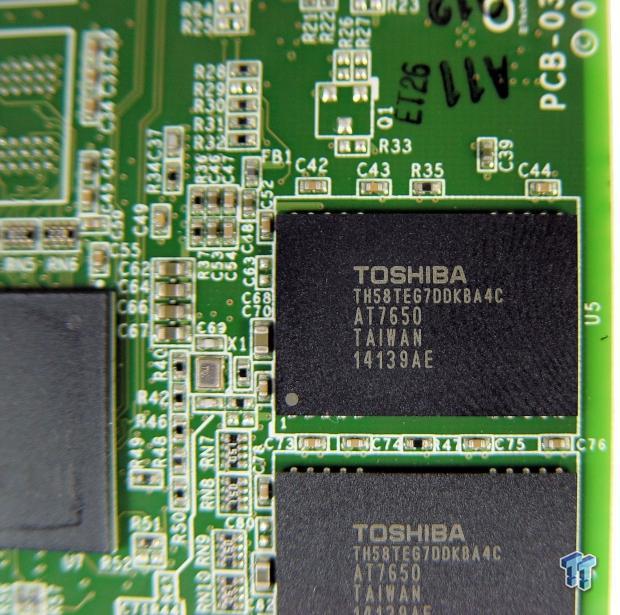 This is Toshiba's new A19 NAND flash. A19 is second generation 19nm flash with 19mm x 19.5mm die, shrunk from 19mm x 27mm. When asked, OCZ stated the flash used in the ARC 100 is 2-plane. Toshiba also makes a faster 4-plane version.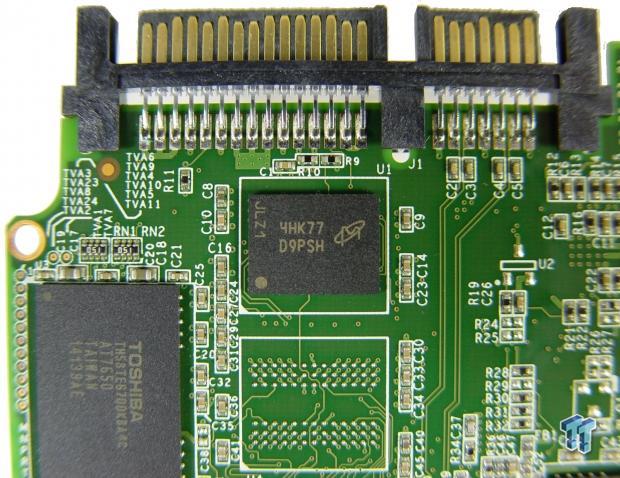 There are two Micro DRAM packages on the 240GB ARC 100, one on each side.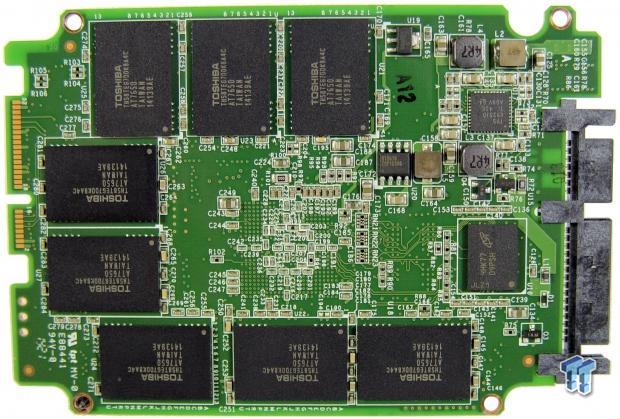 The back of side of the PCB shows more power distribution components, more than what we normally see on value based products.
Test System Setup and ATTO Baseline Performance
Desktop Test System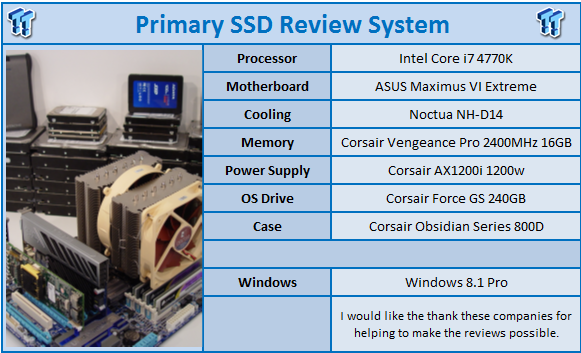 Lenovo T440 - Notebook Power Testing with DEVSLP and Windows 8.1 Pro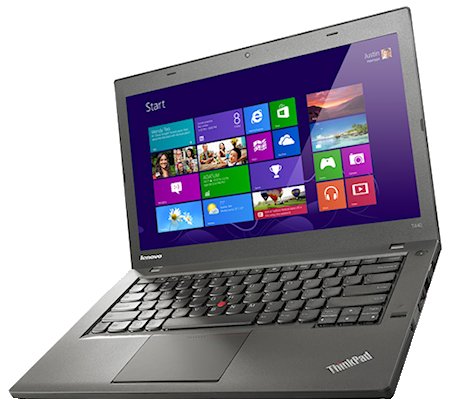 We use two systems for SSD testing. The desktop runs a majority of the tests, and the Lenovo W530 runs the notebook power tests as well as the real-world file transfer benchmark.
ATTO - Baseline Performance
Version and / or Patch Used: 2.34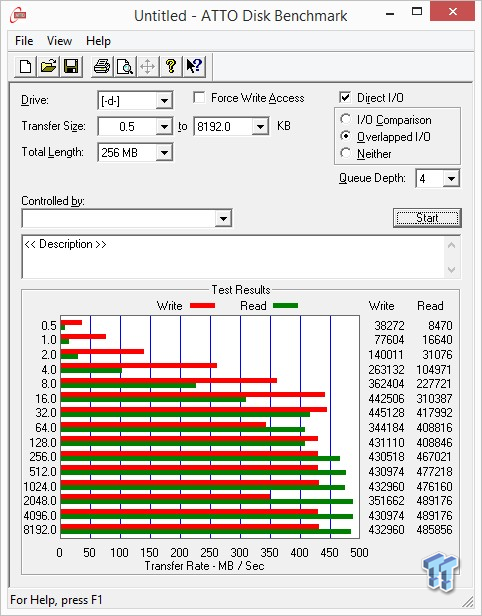 In ATTO at a queue depth of 4, we observed sequential performance at 490 MB/s read and 433 MB/s write. We know from experience that sequential performance doesn't always equate to a SSDs real-world performance.
The ARC 100 is slower than both the Vertex 460 and Vector 150 in this metric, but later on we'll see real-world performance.
Benchmarks - Sequential Performance
HD Tune Pro - Sequential Performance
Version and / or Patch Used: 4.55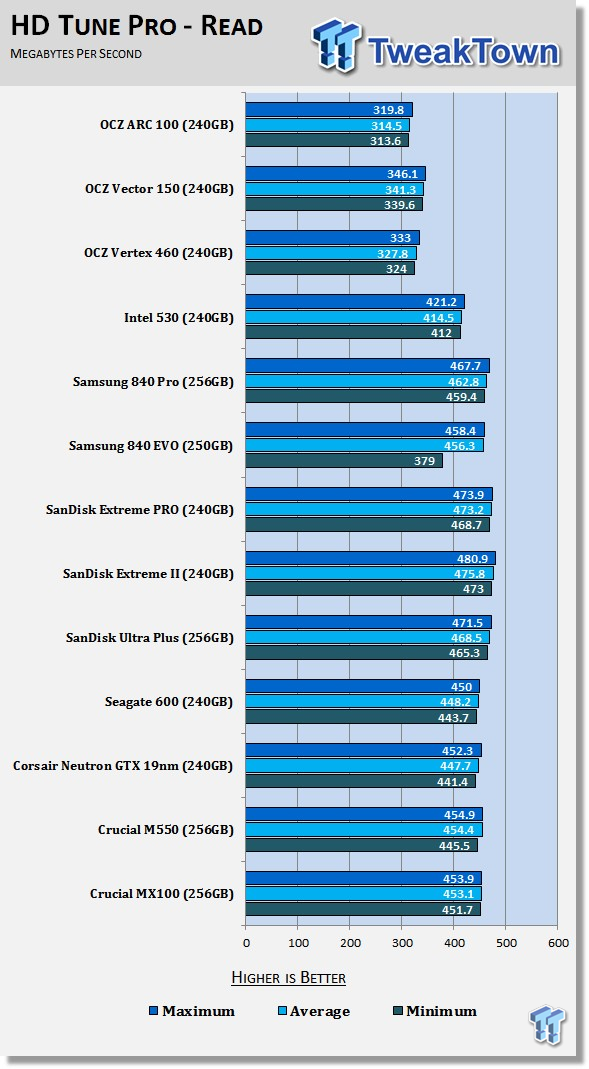 OCZ's architecture misleads this test since OCZ has limited QD1 read and write performance at the test block size. The drives look slower here than what they actually are. We'll see sequential numbers in CDM on the bottom of this page.
Looking at the ARC 100, Vertex 460 and Vector 150, we see the ARC 100 comes in just under the Vertex 460 at QD1 sequential read with the 64KB block size.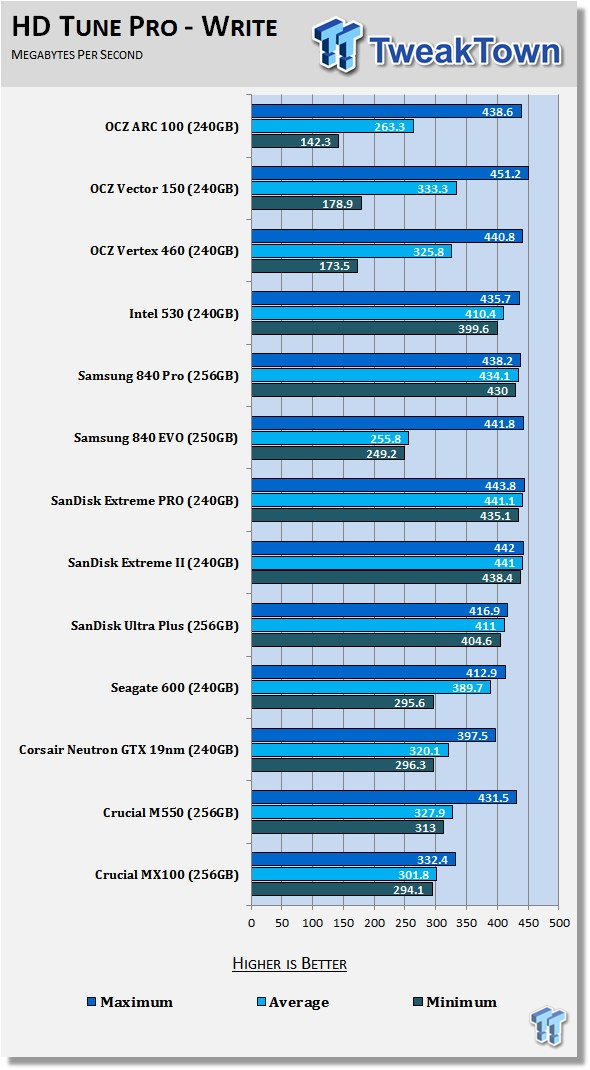 The sequential write performance comes along in the same order with Vector 150 delivering higher performance than the Vertex 460, with ARC 100 just behind. What you can also see here is that the performance difference isn't all that great.
This is a good thing for consumers because it means the performance per dollar is actually a much better ratio than the Vector 150. This chart is also a misleading because OCZ's architecture limits the second half of the drives transfers.
HD Tach - Sequential Write Performance after Random Writes
Version and / or Patch Used: 3.0.4.0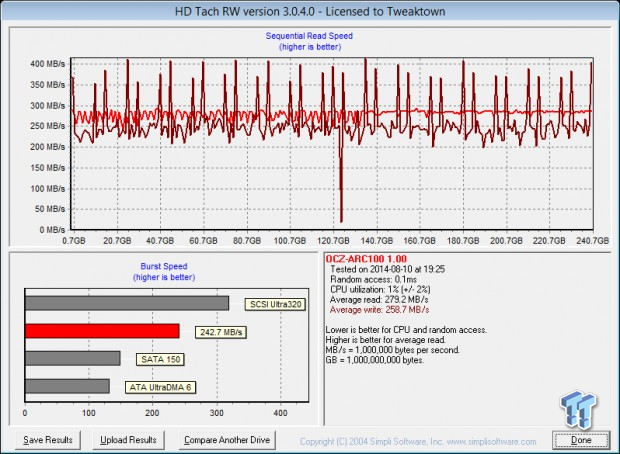 After some preconditioning with sequential and random data, we ran HD Tach to see the true 128KB block transfers with sequential data. The OCZ ARC 100 doesn't act like a value SSD, the performance isn't that far off from OCZ's flagship Vector 150 and even closer to the Vertex 460.
Crystal Disk Mark
Version and / or Patch Used: 3.0 TP1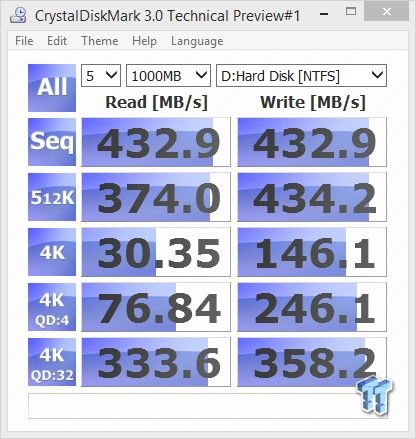 CDM gives us a better look at the sequential performance on the ARC 100. Both Vector 150 and Vertex 460 are higher, but after reading the rest of this review, you will not care about the synthetic performance numbers.
Benchmarks - Anvil Storage Utilities
Anvil Storage Utilities
Version and / or Patch Used: RC6
So what is Anvil Storage Utilities? First of all, it's a storage benchmark for SSDs and HDDs where you can check and monitor your performance. The Standard Storage Benchmark performs a series of tests; you can run a full test or just the read or the write test, or you can run a single test, i.e. 4k QD16.
Anvil Storage Utilities is not officially available yet, but we've been playing with the beta for several months now. The author, Anvil on several international forums, has been updating the software steadily and is adding new features every couple of months.
We can use Anvil several different ways to show different aspects for each drive. We've chosen to use this software to show the performance of a drive with two different data sets. The first is with compressible data and the second data set is incompressible data. Several users have requested this data in our SSD reviews.
0-Fill Compressible Data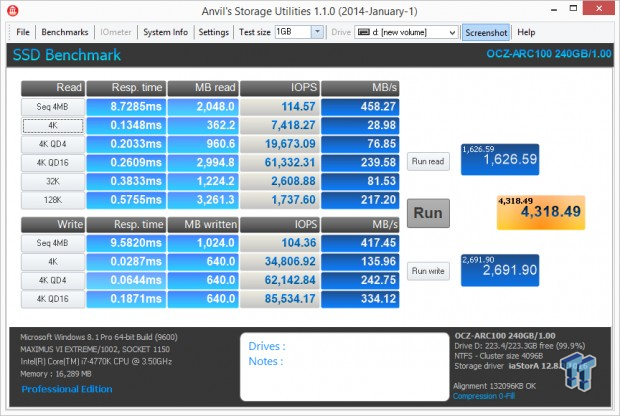 Incompressible Data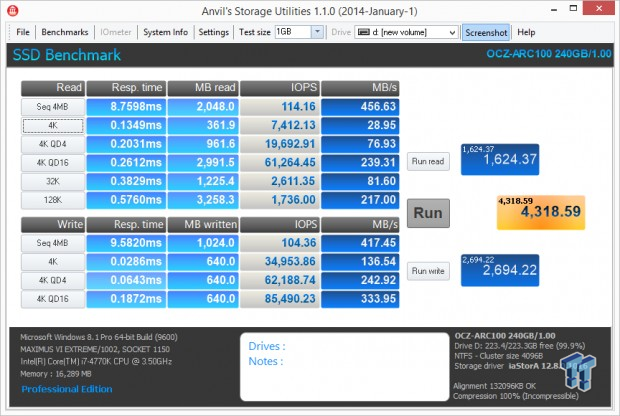 The performance with compressible data and incompressible data is the same, so you don't have to worry about performance loss while editing audio and video files.
Low Queue Depth Read IOPS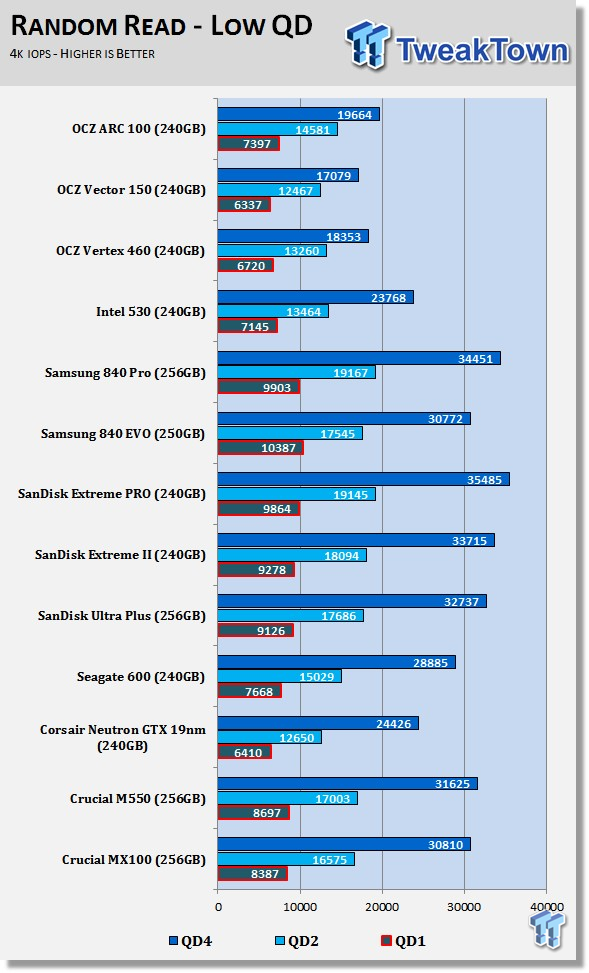 We haven't updated the firmware on our Vertex 460 or Vector 150, but we suspect both have a performance increasing firmware available. The ARC 100 actually has higher QD1 random read performance than the higher spec models with launch day firmware on all three. The low queue depth read scales really well too.
High Queue Depth Read IOPS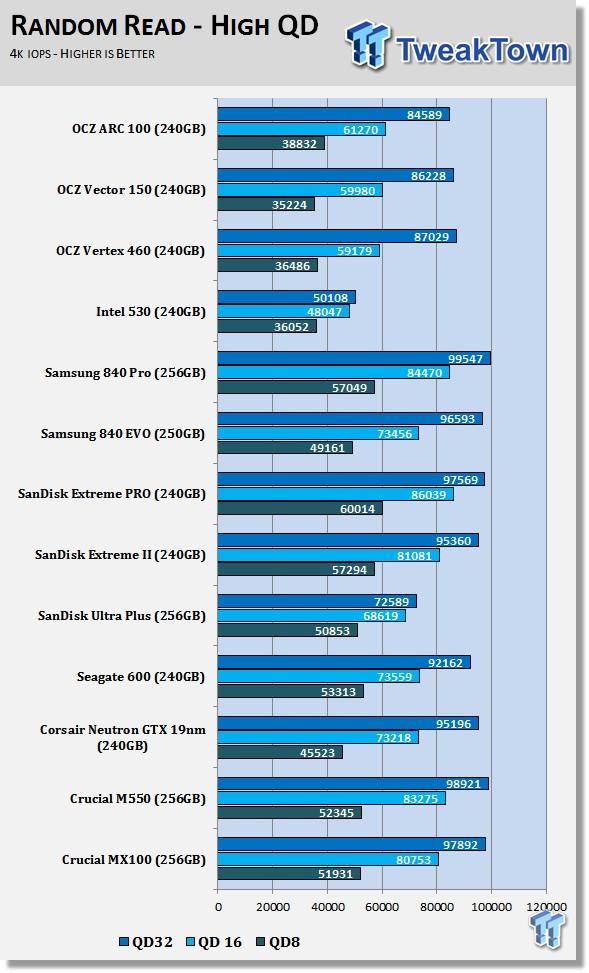 It's rare to reach high queue depth random reads in a consumer environment, but we still run the tests. The ARC 100 does a better than OCZ's claimed 75,000 random IOPS at QD32. Our test is a little different than OCZ's test though.
Low Queue Depth Write IOPS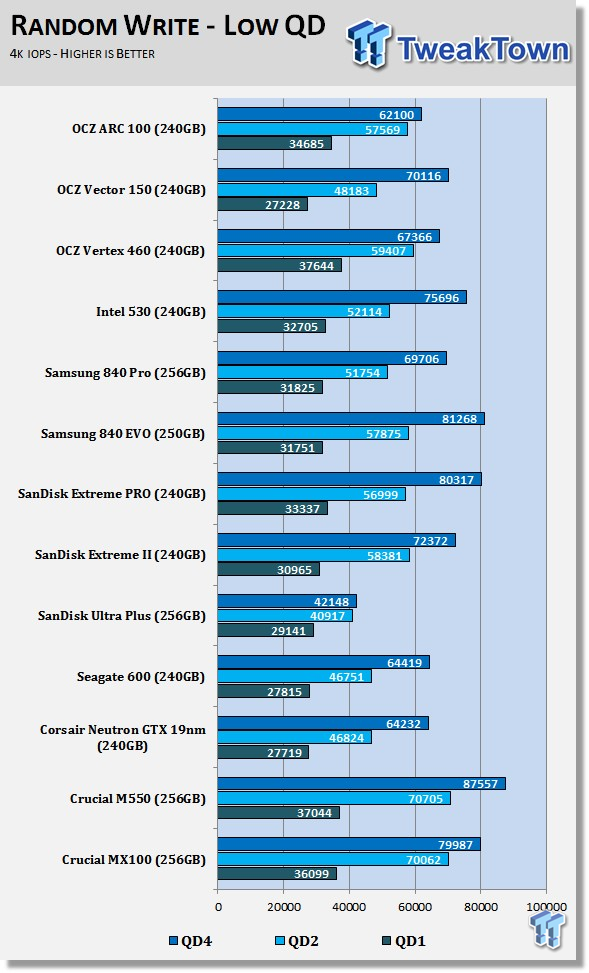 Again, we really need to update the firmware on our Vector and Vertex products. Our ARC 100 Series 240GB does better than Vector 150 240GB at QD1 random writes, but falls a bit behind Vertex 460. By QD4, the Vector 150 fall in line with the random performance we expect, but the ARC 100 isn't far behind.
High Queue Depth Write IOPS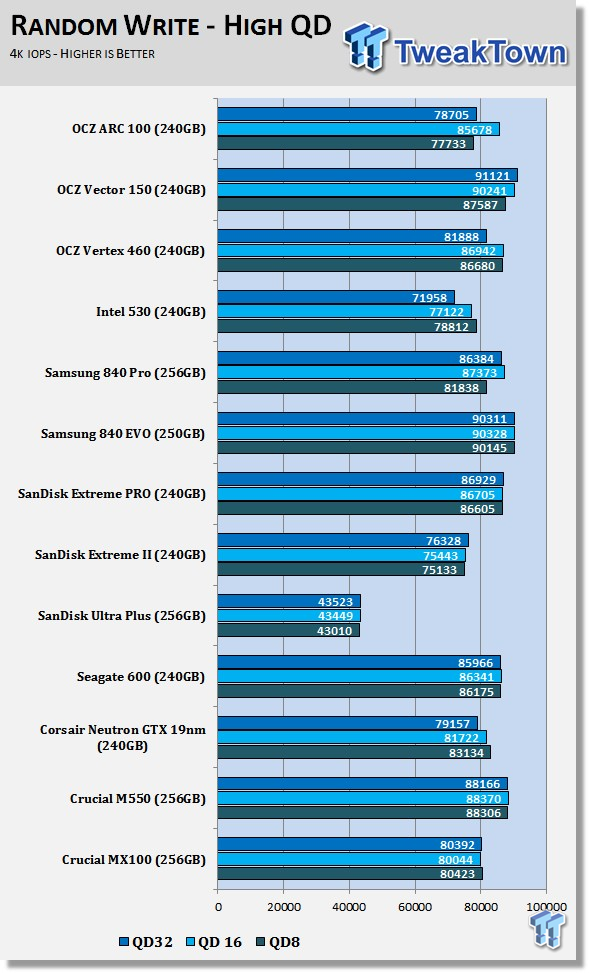 I have to wonder if OCZ tested QD32 random writes when specifying 80K IOPS for ARC 100. In our test, the IOPS regressed at QD32 from QD16. We see this happen quite often as the latency becomes large enough to slow IOPS performance. At QD16, we hit 85,678 random write IOPS.
Benchmarks - Mixed Read / Write Workloads
Mixed Read / Write Workloads
In this series of tests, we measure mixed workload performance. We start with 100% read and then add data writes to the mix until we get to 100% writes, in 10% increments. We believe this will be the next major area SSD manufactures will address after performance consistency.
Mixed Workload Bandwidth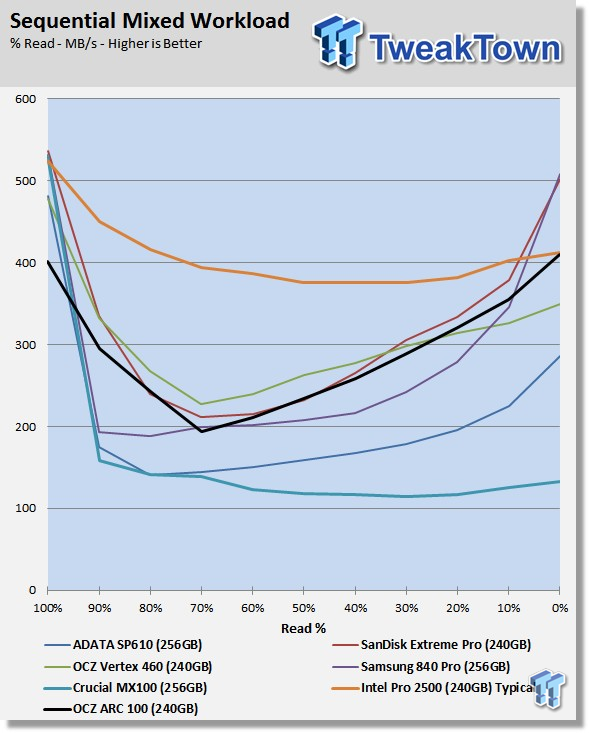 For now, we're just using sequential data for our mixed workload test, but the 4K random test is just about ready. In this test, we use 128KB sequential data and move from 100% reads to 100% writes in 10% increments.
80% Read / 20% Write Bandwidth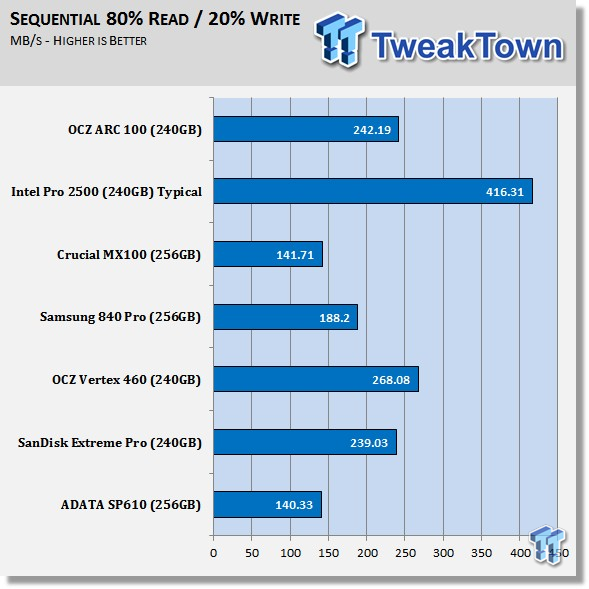 For most users, the 80% read, 20% write balance is what where we should focus. This test shows the Crucial MX100 256GB, what I would call my current favorite for the value SSD market. The OCZ ARC 100 is quickly working its way into that designation.
Mixed Workload Response Time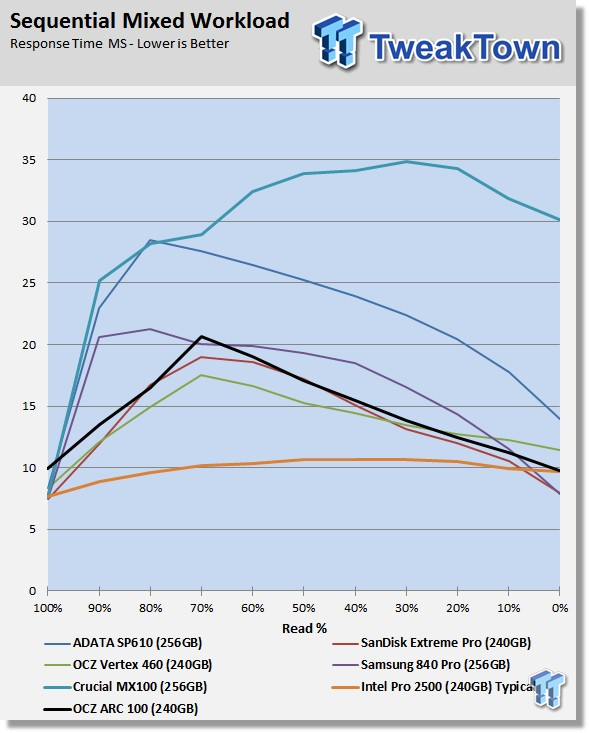 The latency results can be a bit different than the IOPS results, but not so much with the drives we have on display today.
PCMark 8 Consistency Test
Futuremark PCMark 8 Extended - Consistency Test
Version and / or Patch Used: 2.0.228
Heavy Usage Model:
FutureMark's PCMark 8 allows us to wear the test drive down to a reasonable consumer steady state and then watch the drive recover on its own through garbage collection. To do that, the drive gets pushed down to steady state with random writes and then idle time between a number of tests allows the drive to recover.
Precondition Phase:
1. Write to the drive sequentially through up to the reported capacity with random data.
2. Write the drive through a second time (to take care of overprovisioning).
Degradation Phase:
1. Run writes of random size between 8*512 and 2048*512 bytes on random offsets for 10 minutes.
2. Run performance test (one pass only).
3. Repeat 1 and 2 for 8 times, and on each pass increase the duration of random writes by 5 minutes.
Steady state Phase:
1. Run writes of random size between 8*512 and 2048*512 bytes on random offsets for 50 minutes.
2. Run performance test (one pass only).
3. Repeat 1 and 2 for 5 times.
Recovery Phase:
1. Idle for 5 minutes.
2. Run performance test (one pass only).
3. Repeat 1 and 2 for 5 times.
Storage Bandwidth
PCMark 8's Consistency test provides a ton of data output that we use to judge a drive's performance. Here we see the three states of performance for the select SSDs, light use, consumer steady state and worst case.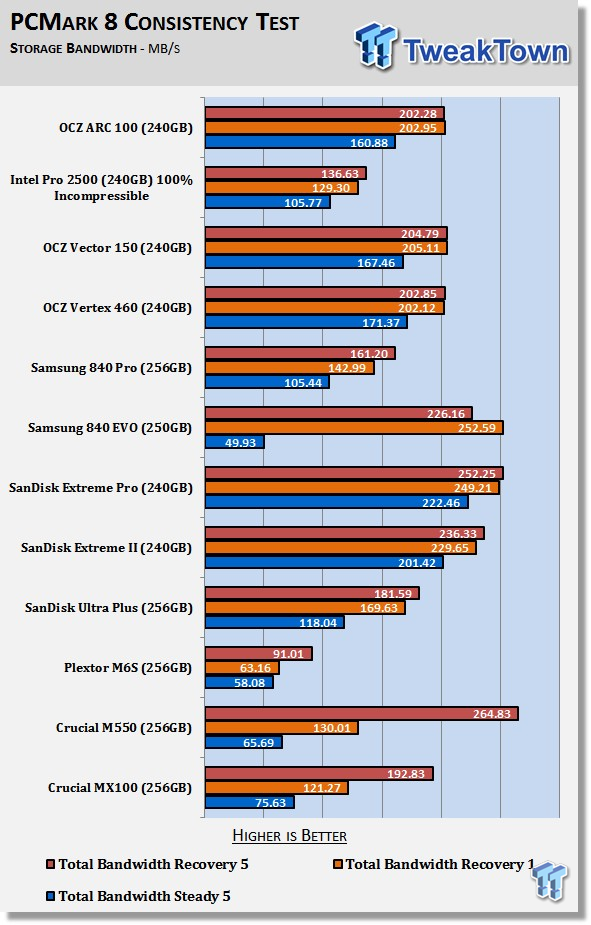 Even though the current OCZ consumer line up falls in line as they should, the performance between ARC, Vertex and Vector is so very close. On the bottom of the chart is the Crucial MX100 and it just gets beaten silly by ARC 100 when both drives are worked hard and even under light use.
Storage Bandwidth All Tests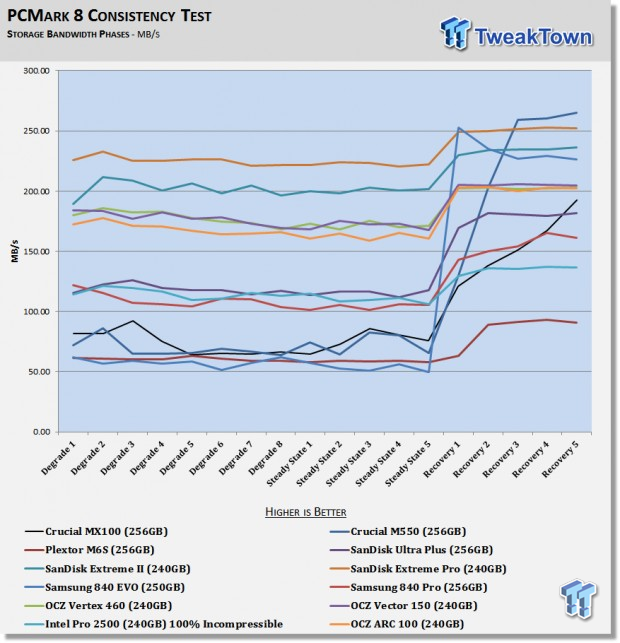 Here we see the full test from start to finish. Again, ARC, Vertex and Vector are all within a sliver of each other. Only the SanDisk Extreme II and Extreme PRO drives are faster under heavy and moderate workload.
The 850 Pro should also be faster, but we don't have that drive tested in this capacity size yet. As a value drive, we expected the ARC 100 to fall in the bottom group, where the performance matches the price (low).
PCMark 8 Consistency Test - Continued
Total Access Time
The access time test measures the total latency across all 18 tests. This is one of, if not the most important test we run at this time for consumer SSDs. When your latency is low your computer feels fast, it's just that simple.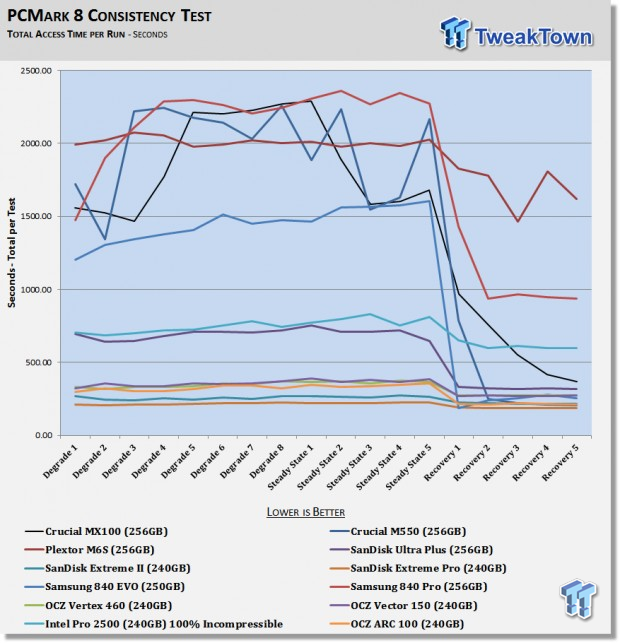 In the latency test, the ARC 100 does a little better than Vector and Vertex most of the way through. After we retest both of those drives with the latest firmware, I suspect the results will change a little, but I can almost guarantee the results will not be a landslide. ARC 100 is not a value drive when it comes to performance.
Disk Busy Time
In the final test, we measure the amount of time the drive worked to read and write the data to complete the test. When a drive is active, it uses more power so the faster it can complete the tasks the faster it can fall into a low power state.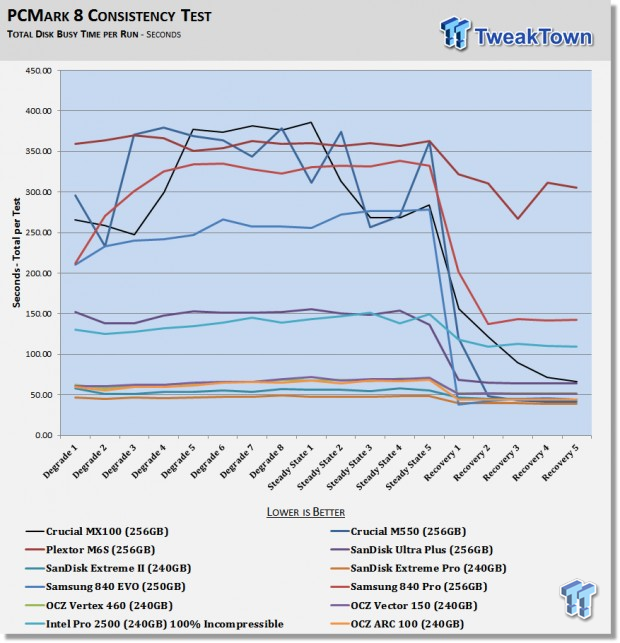 If you weren't excited before, you should be excited now. ARC 100 hits all the marks for a performance SSD, even though it comes in at a low price.
Benchmarks - Power Testing
Bapco MobileMark 2012 1.5
Version and / or Patch Used: 2012 1.5
Developer Homepage: http://www.bapco.com
Test Homepage: http://www.bapco.com
MobileMark 2012 1.5 is an application-based benchmark that reflects usage patterns of business users in the areas of office productivity, media creation and media consumption. Unlike benchmarks that only measure battery life, MobileMark 2012 measures battery life and performance simultaneously, showing how well a system design addresses the inherent tradeoffs between performance and power management.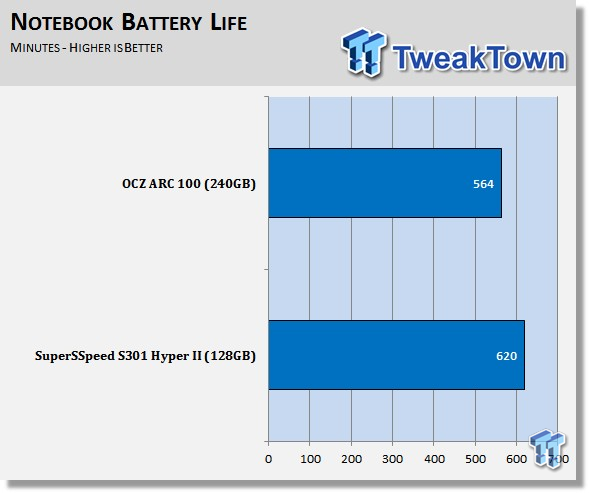 OCZ's marketing documentation doesn't mention DEVSLP on the ARC 100, so we have to assume the drive doesn't support it. That may hurt some notebook users who rely on the battery power for long periods of time.
The new T440 with a single 6-cell batter does a really good job showing the power on time and the impact of choosing the right SSD. So far, we only have two drives tested in the new system, and right off the bat we see the SuperSSpeed S301 Hyper II 128GB delivers an hour more battery time than the OCZ ARC 100 240GB.
Power Limited Performance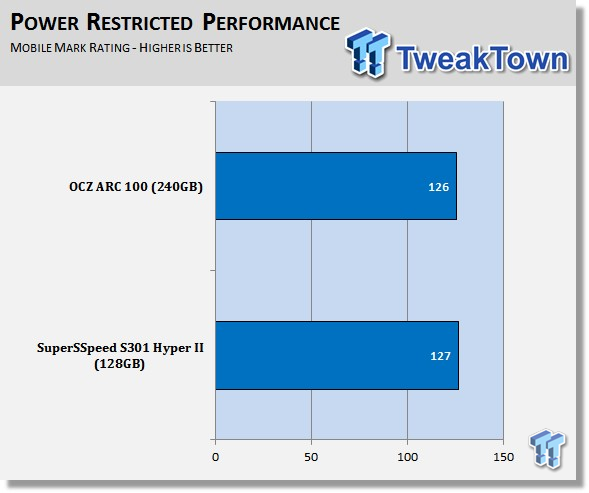 Our move from the Core i7 powered W530 mobile workstation to the Core i5 powered T440 business notebook decreased overall system performance. In this test, we see overall system performance with each SSD in an office / casual user environment and limited by a very tight power scheme.
We don't expect to see a lot of separation here, but some drives are more efficient in the crippling low power state.
Final Thoughts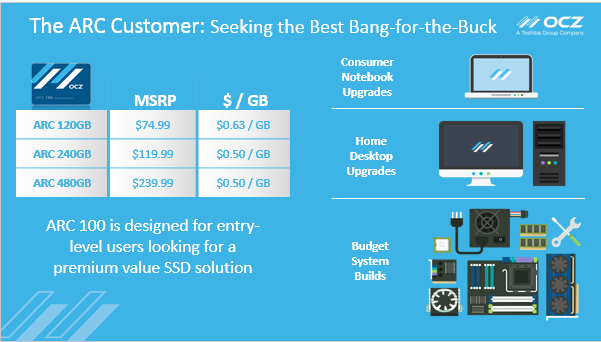 They're back! Let's get historical for a moment. Everyone I know owned an OCZ Vertex. The same can be said about the Vertex 2, and especially the Vertex 3. It didn't matter what other companies were selling, OCZ set the benchmark and everyone else followed. If you didn't own a Vertex 1, 2 or 3, then you were saving up for one. That's just the way it was, period. A product doesn't get icon status based on performance alone. All three of those drives had the right mix of performance, accessories and price at the exact moment when everything needed to come together. I think OCZ's new ARC 100 is the next iconic OCZ SSD. This is kind of like Intel Celeron 300A CPU territory for the modern age.
Here is the breakdown on why I'm predicting this. The first thing is the performance. Firstly, OCZ quoted low numbers to show separation between ARC 100 and Vertex 460. 4-corner numbers are great for paper, but the reason we don't stress them is because they are not representative of real-world performance. In your computer, you will not see a difference between Vector 150 and ARC 100 outside of a pure enterprise workload. Neither drive is the fastest on the market today, but price vs. performance is in the ARC 100's favor no matter what drive you compare it to.
This drive only has a three year warranty, but that really doesn't matter much to our normal enthusiast audience. If a drive is going to fail for anything other than flash endurance, it will happen early in its life. The ARC 100 is covered for 20GB of writes per day for three years. If you are writing 20GB a day on a consistent basis, I applaud you - your torrent collection is deep.
Let's set the warranty length aside and focus on ShieldPlus Warranty part. The bar was down there and now it is up here. ShieldPlus takes the pain out of an RMA. Before, warranties on the East Coast would take weeks. Shipping a drive ground or USPS Priority takes 3 to 6 days, and then it has to process for a day or two, and finally your drive would come back 3 to 6 days later.
OCZ isn't cross shipping, they are shipping. Step 1 is determining if an RMA is required, and step 2 is shipping. You get your drive, a box, and a prepaid label to send your defective drive. It's an enterprise warranty. I don't mean enterprise DRAM or little parts, I mean big iron stuff like servers and $20,000 switches. The process was designed to reduce downtime and inconvenience. It's brilliant.
In the image above, we see the MSRPs. ARC 100 was listed on Amazon several days ago, but not available for shipping. The prices are identical to the MSRPs listed above, and at that price, the ARC 100 is solid. I don't think they will stay that way for too long, though. Several SSD manufacturers have 256GB drives listed at $109.99, and I don't think OCZ can help itself. I could be wrong, but I think OCZ will hunt the other drives like a shark feeding on seals.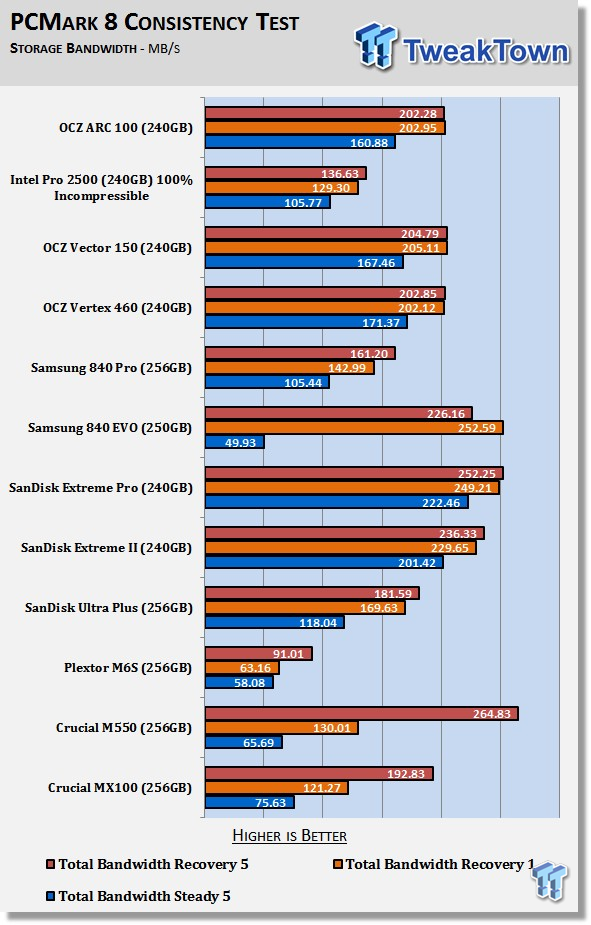 OCZ doesn't even need to play the price war, though. ARC 100 is the best value on the market. This is not a value drive, this is an enthusiast class SSD at a value price. The only thing OCZ could have done better is give new-to-SSD buyers some accessories. Enthusiasts already have desktop adapter brackets and computer cases with 2.5" form factor support. A desktop adapter bracket would go a long way, but I think a SATA cable would be even better. OCZ's target market for ARC 100 is the new to SSD crowd and in that group you have systems from Dell, HP and so on, many without spare SATA cables. If you are searching Google and find this review, be sure to order a SATA cable, because if you buy one at Best Buy, it's going to cost you 15x what it would from Newegg or Amazon.
PRICING: You can find the OCZ ARC 100 240GB SSD for sale below. The prices listed are valid at the time of writing but can change at any time. Click the link to see the very latest pricing for the best deal.
United States: The OCZ ARC 100 240GB SSD retails for $119.99 at Amazon.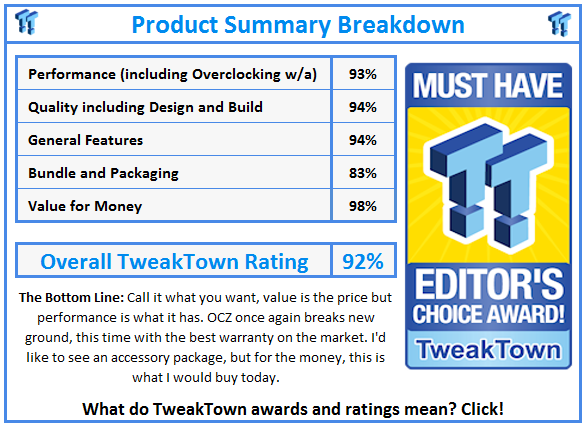 PRICING: You can find products similar to this one for sale below.

United States: Find other tech and computer products like this over at Amazon.com

United Kingdom: Find other tech and computer products like this over at Amazon.co.uk

Australia: Find other tech and computer products like this over at Amazon.com.au

Canada: Find other tech and computer products like this over at Amazon.ca

Deutschland: Finde andere Technik- und Computerprodukte wie dieses auf Amazon.de
We openly invite the companies who provide us with review samples / who are mentioned or discussed to express their opinion. If any company representative wishes to respond, we will publish the response here. Please contact us if you wish to respond.