Introduction & Pricing, Availability and Specifications

Akitio has been pushing Thunderbolt storage solutions since the beginning, and as the technology has started to catch on, it now has a full Thunderbolt ready portfolio.
One of their newer products coming to market is the Palm RAID Thunderbolt. This device houses two mSATA SSDs inside an aluminum chassis slightly larger than a standard 2.5 inch drive. The kicker of this product is not the performance, but rather that the device is bus powered. One of the biggest downfalls of almost every Thunderbolt product we have reviewed over the last year has been the added heft of having to plug the device into the wall for power; so it's a welcomed design to have our first bus powered Thunderbolt SSD solution in-house.
Compatibility of the Akitio Palm RAID Thunderbolt extends to OS X 10.7+ and even Windows 7 and 8 via a driver available on Akitio's website.
Pricing, Availability and Specifications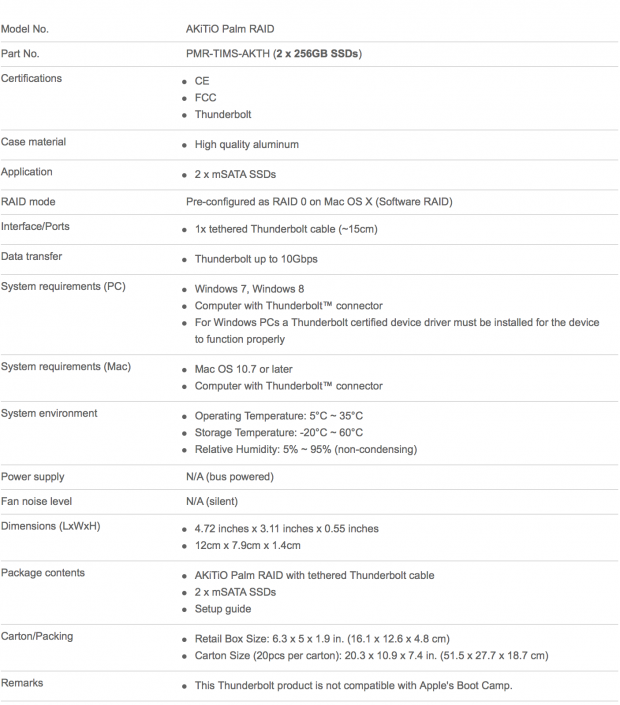 MSRP of the 256GB Palm RAID Thunderbolt is listed at $399.99 with a two-year warranty.
Akitio Palm RAID Thunderbolt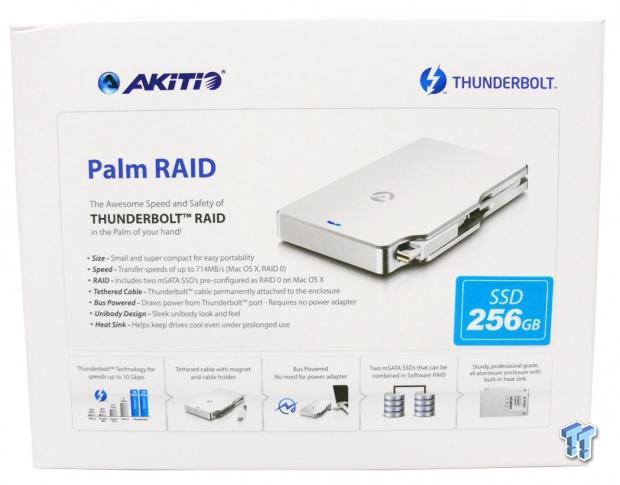 Packaging for the Akitio Palm RAID is rather elegant. Here we have an image of the drive centered, with marketing information surrounding it.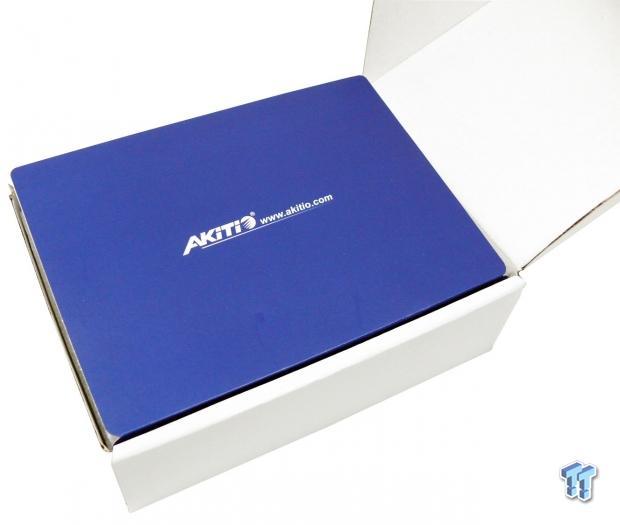 Upon opening the packaging, we found an insert adding to the elegance.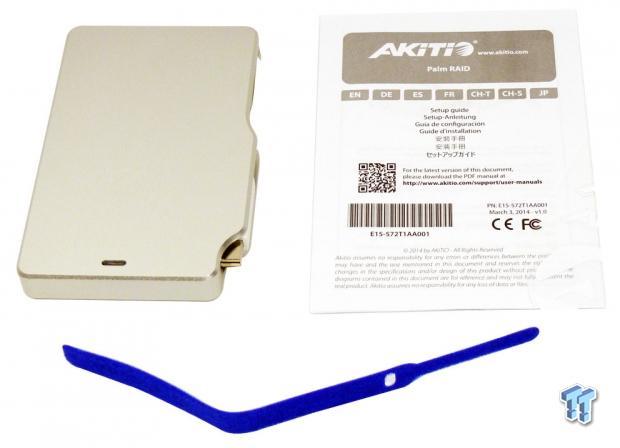 Scope of delivery includes the Palm RAID, reading materials, a Velcro strap, and a few stickers.
Looking over the Palm RAID, I like the idea of having the Thunderbolt cable tucked into the side of the enclosure. At the bottom we also have a LED for activity.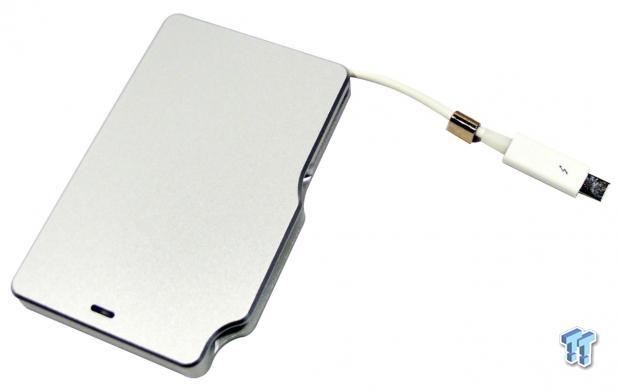 Here you can see the aforementioned Thunderbolt cable.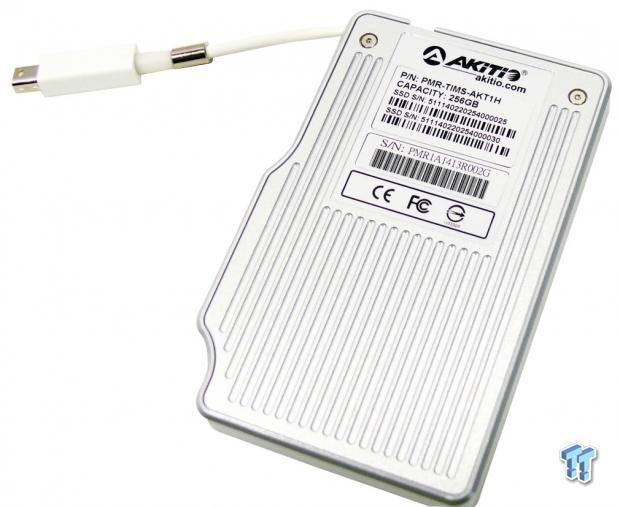 The back of the enclosure carries drive information, including serial numbers of both internal mSATA SSDs.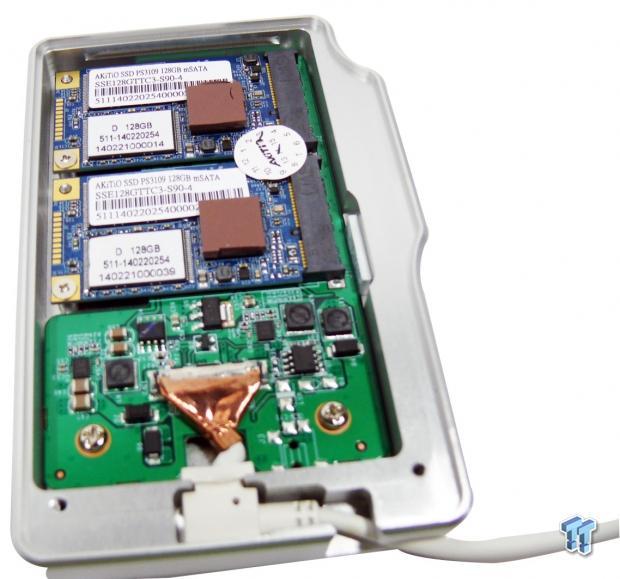 Here we find two 128GB mSATA SSDs powered by Phison controllers.
Test System Setup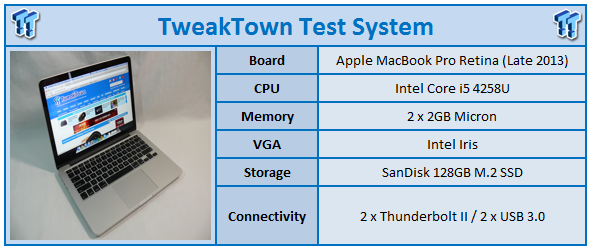 In testing the performance of Thunderbolt storage solutions, we utilize the Apple MacBook Pro Retina Late 2013 model, which, as of this article, is running OS X 10.9.1. Full system specifications are available above. To create RAID volumes in OS X, I use Apple Disk Utility with 64K stripe size for RAID volumes.
Black Magic Design Disk Speed Test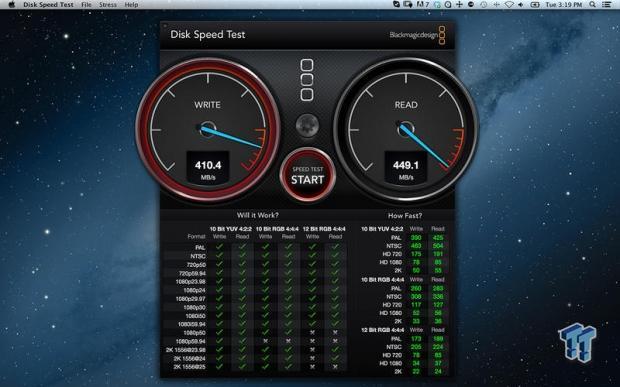 Disk Speed Test is an easy to use tool to quickly measure and certify your disk performance for working with high quality video! Simply click the start button, and Disk Speed Test will write test your disk using large blocks of data, and then display the result. Disk Speed Test will continue to test writes and reads from your disk, so you can evaluate both performance and readability over time.
AJA System Test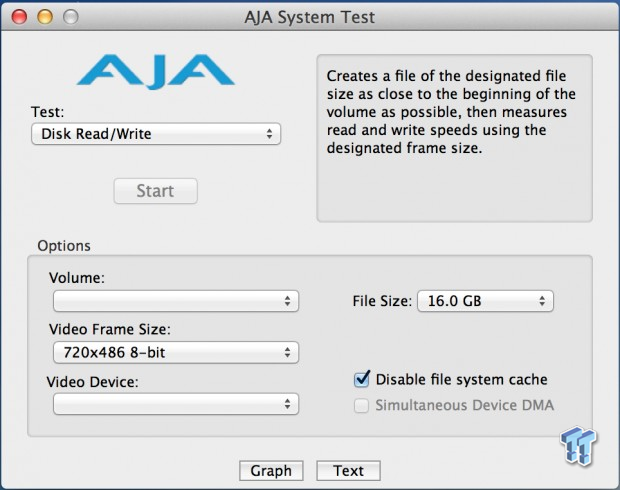 Check the performance of any drive on your system to ensure it is tuned for the performance you need.
Benchmarks – Black Magic Design Disk Speed Test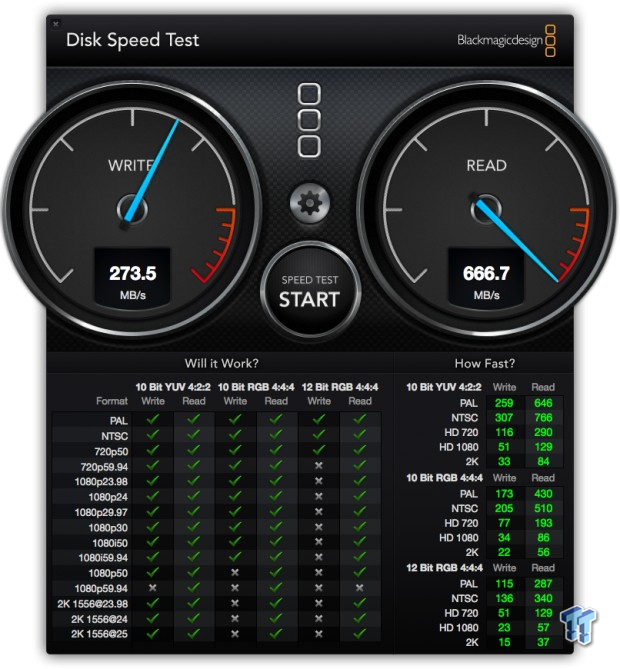 First up we have RAID 0; as you can see, we were able to reach 667 MB/s read, and 273 MB/s write.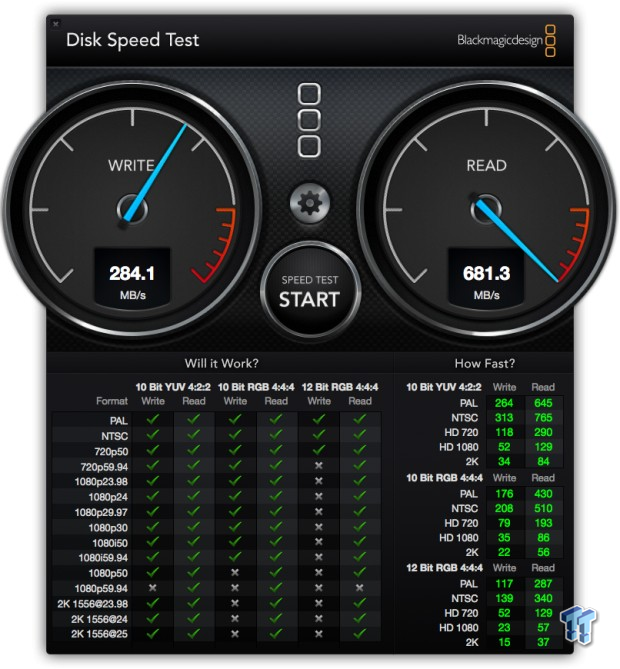 RAID 1 allowed us to hit 681 MB/s read, and 284 MB/s write.
Benchmarks – AJA System Test
All testing with AJA System Test is done with a 16GB file size.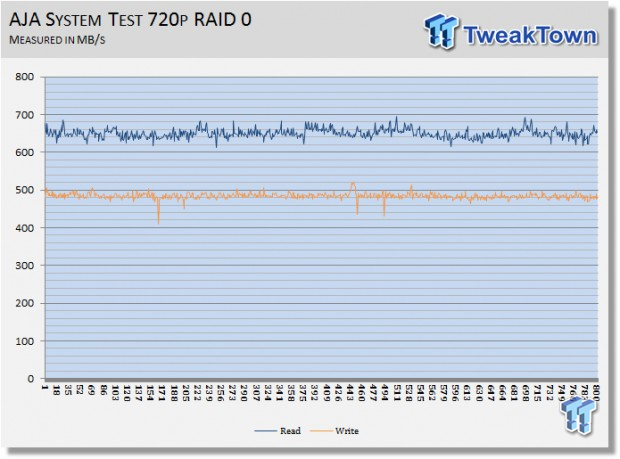 In our first testing with AJA, we look at 720p RAID 0 where we find the Palm RAID coming in at 650 MB/s read, and 500 MB/s write.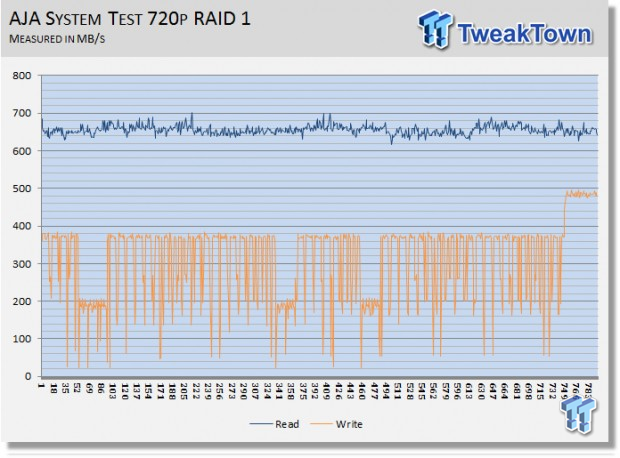 Moving to RAID 1, read performance was about the same at 650 MB/s, but write performance dropped off to around 400 MB/s with some variability in there.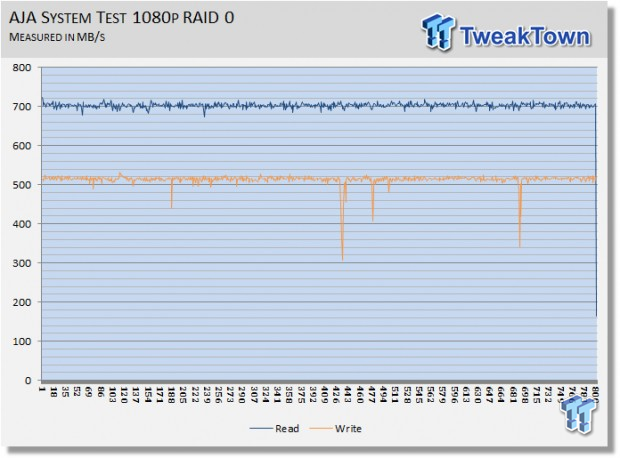 Moving on to 1080p within the RAID 0 array, we found the Palm RAID hovering around 700 MB/s read, and 510 MB/s write.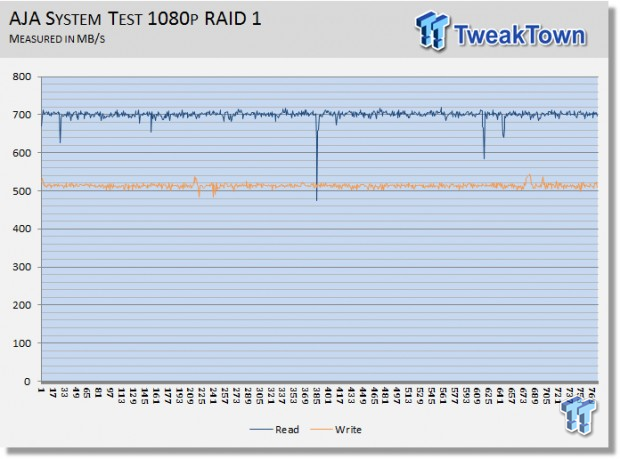 Back to RAID 1 with 1080p, and the Akitio held strong at 700 MB/s read, and 500 MB/s write.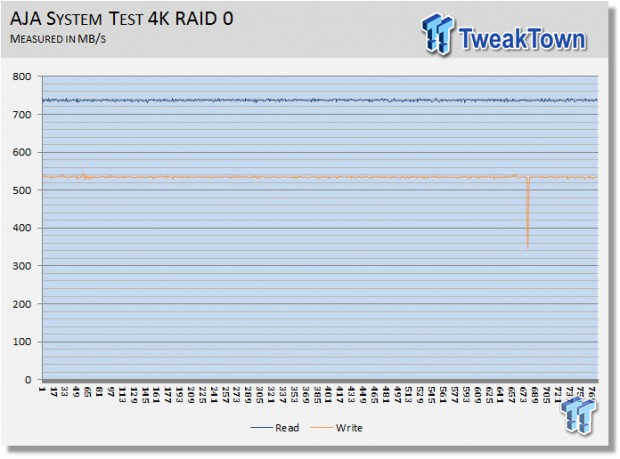 4K allowed the Palm RAID to open up a bit. Here we have the drive hitting 740 MB/s read, and 540 MB/s write.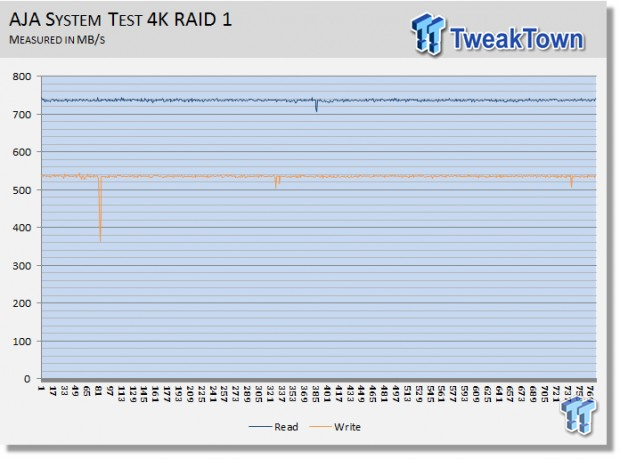 RAID 1 with 4K had the Palm RAID similar to what we saw with RAID 0.
Final Thoughts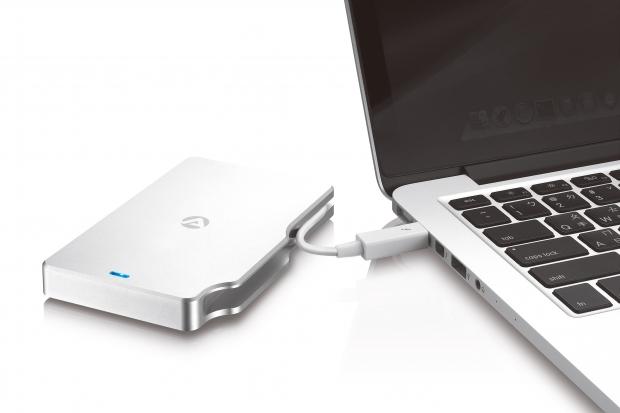 The Akitio Palm RAID Thunderbolt is, in my eyes, one of the better storage solutions on the market; especially for those of you that have been wanting and waiting for a bus powered Thunderbolt storage solution. Previous to this review, I always had to drag out the 6ft long power cord and power brick to hook up my Thunderbolt storage device. Now with the Palm RAID, I finally feel comfortable taking a Thunderbolt solution with me on the go for my MacBook.
On the Performance side of things, the Palm RAID did quite well in testing. Black Magic had the drive right around 600 MB/s read, and 280 MB/s write. In testing with AJA things were even better; 720p managed 650 read, and 500 write, while 1080p and 4K allowed a little more room for the Akitio to open up. At its peak we measured 740 MB/s in RAID 0 from the Palm RAID Thunderbolt.
The MSRP for the Akitio Palm RAID Thunderbolt in the 256GB capacity is set at $399.99 with a two-year warranty.