NZXT Sentry 3 5.4-inch Touch Screen Fan Controller Review
Touchscreen fan controllers are an attractive solution to controlling masses of fans. It's time to see how well NZXT's Sentry 3 does with 15W per channel.

Published Jun 6, 2014 9:03 AM CDT
|
Updated Tue, Nov 3 2020 7:00 PM CST
8 minute read time
Introduction, Specifications and Pricing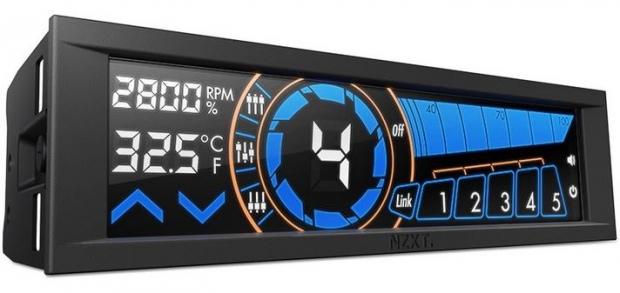 While there still are a few purists out there that really do prefer the finite control that a slider or a turn dial offers for exacting control over their fans, most users are looking for something a bit more stylish than a bunch of knobs. Most users also want a more automated way of taking control of the cooling inside of a chassis. Both views have their merits, and we are not here to dispute one being better over the other – it is just that this latest product from NZXT to hit our labs just happens to fall in the latter category, and is a product we believe many would like to try out for this reason.
NZXT of course went to a touchscreen to clean things up and give this fan controller a much more stylish appearance, and reduced the surrounding bezel as much as possible to offer the 5.4 inch diagonal measurement of this screen. Along with manual and automatic touch controls, it also offers a thermal readout, a probe to measure thermal dynamics to control Performance mode, and it even has an alarm so that users are warned when things get a bit too hot.
We are here today to look at the newest fan controller from NZXT, the Sentry 3. We alluded to a few of the features of this design, but there is still a lot to see and cover as we put this touchscreen fan controller through its paces. While initially we were very taken by the design and specs, there will be some interesting points to note later, so this definitely is a review you will want to read down to the last letter.
As for now, let's dive right in and see what exactly we are dealing with in this NZXT Sentry 3.
Following the chart, we find that the Sentry 3 is also known by the AC-SEN-3-B1 model number. We also see that it is made from steel, ABS plastic, it has a capacitive touchscreen, and of course there is a PCB behind the screen controlling functionality; all of this is packed into a single 5.25 inch bay device that measures 129mm wide, and is 31mm in height. Behind the scenes we find five fan leads that will accept three-pin or four-pin fans, and there is a four-pin Molex connection for power. Along with these leads, there is also a thermal probe that displays a thermal range of 0 – 120 degrees Celsius.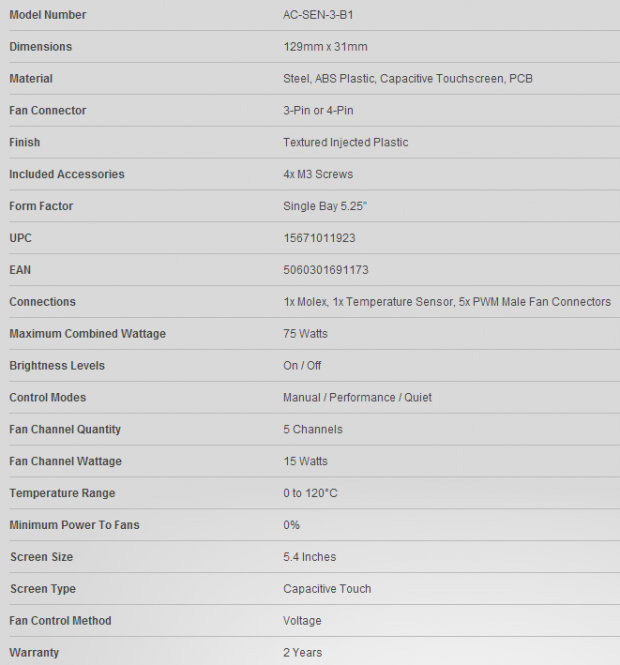 The rest of the specifications show that this fan controller is a power house. Across its five channels, each receives 15W of power for a total of 75W across the entire Sentry 3. This is huge for those looking to control loops with push/pull setups on multiple radiators. It even has enough power that you could build a chassis out of fans, and still control them all with this system. Power delivery isn't everything though, and while definitely strong in this department, and it is most of what counts, we still have aesthetics, control, fit, and an overall opinion to cove.
What is really nice about the whole idea of fan control via a controller such as this, is that you can be the master of the thermal dynamics of a chassis, and typically there isn't a huge expense involved. We have seen some very pricey single bay models, and of course the dual bay and stand-alone versions get even more expensive, but the Sentry 3 from NZXT is priced right along with most of their other single bay models. The Sentry 3 should not cost you more than $30 USD to obtain. Considering what sort of power we are offered, and the amount of controllability, right now we find that there isn't really too much we could complain about on paper.
PRICING: You can find the NZXT SENTRY 3 for sale below. The prices listed are valid at the time of writing but can change at any time. Click the link to see the very latest pricing for the best deal.
United States: The NZXT SENTRY 3 retails for $34.99 at Amazon.
Packaging, Accessories and Documentation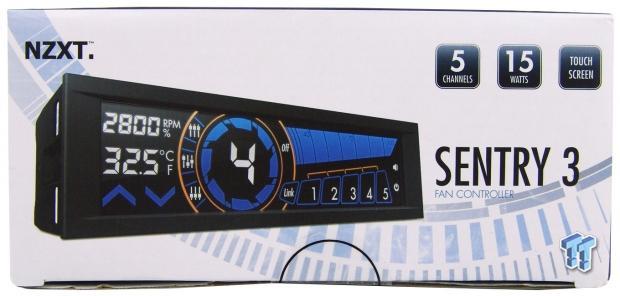 The front of the packaging uses a white background to let the Sentry 3 stand out in black. We see an illuminated Sentry 3 to the left, with its naming to the right under the notifications for five channels at 15W per channel, and that this is, of course, a touchscreen controller.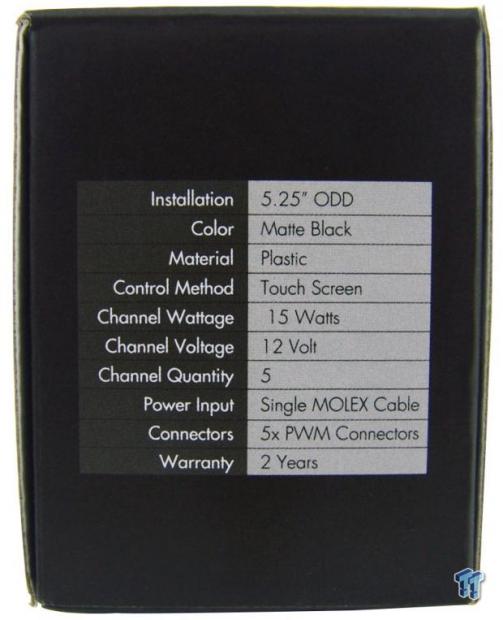 One of the end panels offers a very basic specifications list for this controller. Here we see where the controller goes, its color, the materials it consists of, and its control method. We also see that they do state the power per channel, number of channels, fan connection type, the power input required, the connection used to power it, and that it comes with a two-year warranty against defects, or poor workmanship leading to failure.

If the white panel we saw first was the front, then this is the top panel. Here we are shown the large size of the capacitive touchscreen; to the left side of the image showing this, we see four other features listed on this panel as well, even if they are repeated.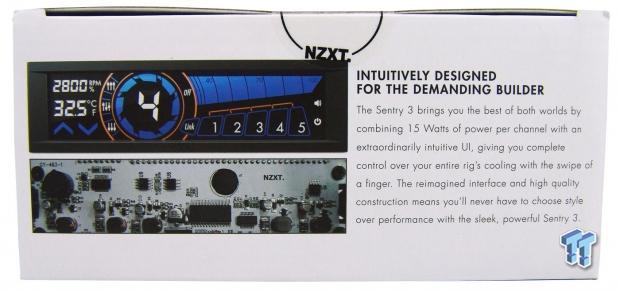 The back panel offers two images. There is one image of the front panel of the Sentry 3, and another of the white PCB used to control what it does. To the right is a description of why NZXT thinks this is the perfect fan controller for your needs.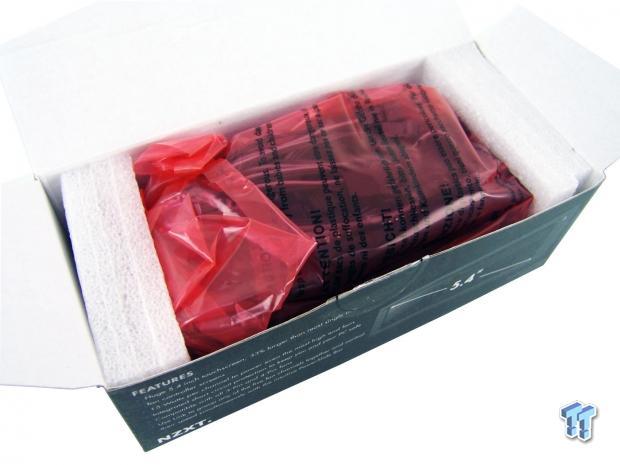 Inside of the box we find the Sentry 3 wrapped in an anti-static bag, and it's then kept in place with the dense foam inserts at either end. The paperwork and accessories are located under the controller.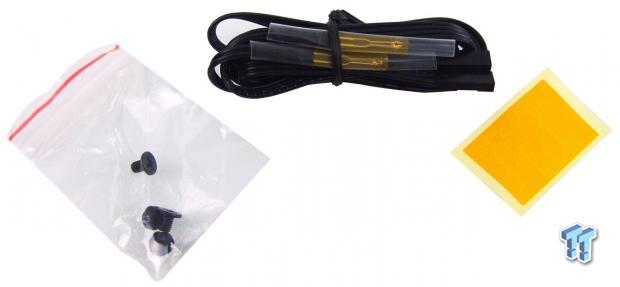 There are some accessories to go along with the Sentry 3. They offer the mounting screws to put the controller into a chassis, they offer a pair of thermal probes in case you damage the one on the controller, and there are also three stickers to attach the probes to whatever you want the reading from.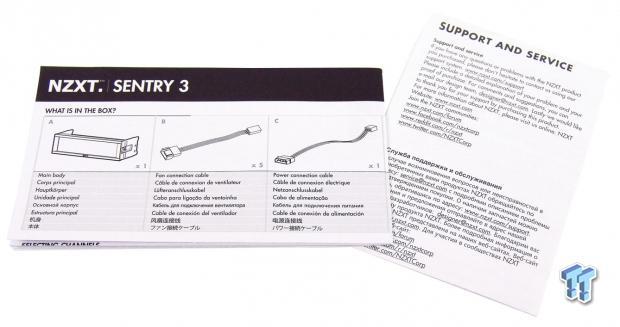 We also received a manual and warranty information. While the warranty information is very basic, and never mentions fan controllers, we know from the packaging that we get two covered years with the Sentry 3. As for the manual, it is well written and very descriptive to aid the user in working all the functions as intended.
NZXT Sentry 3

Without power to the Sentry 3, there isn't much to see outside of the thin bezel and the shiny screen. However, we are able to see quite a few of the touch points from the visible traces and pads, which can give you an idea of how this all works.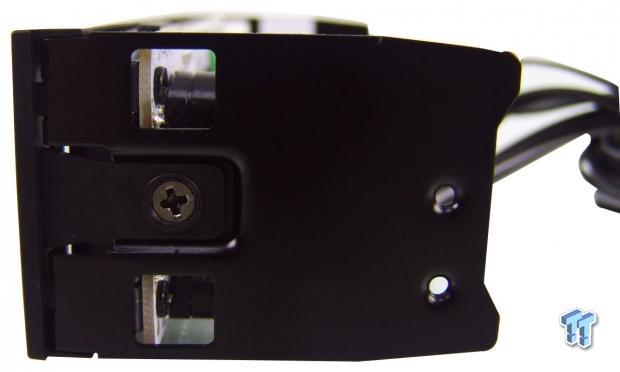 From the side view we see that rather than steel wrapping around from the front to make the side mounts, the Sentry 3 has a removable side. While not all that impressive, it will save case modders some work if there is a desire to put this somewhere other than in the 5.25 inch bays.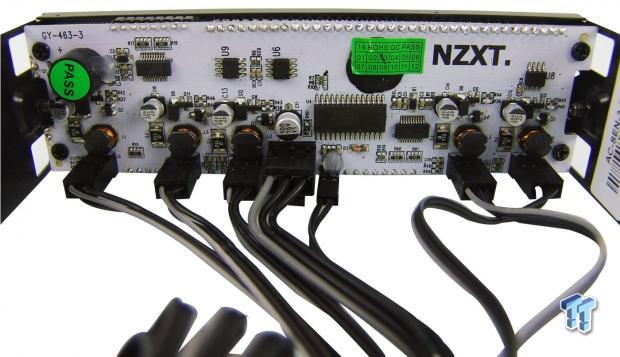 Looking at the back side of the Sentry 3, we now see the white PCB that contains the alarm buzzer. MCU, voltage regulators, capacitors, and all the power, fan lead, and thermal probes get attached along the bottom.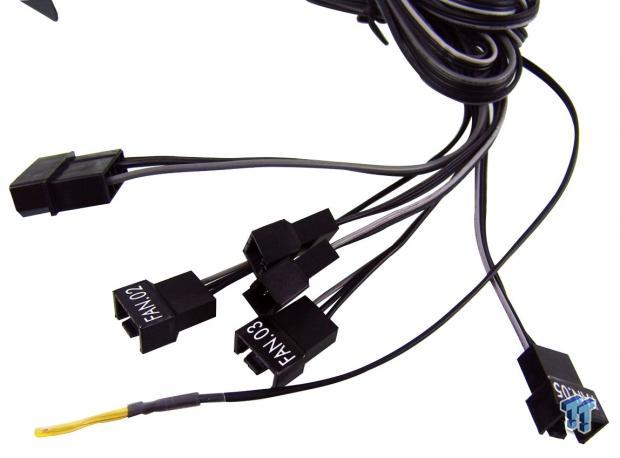 At the end of two foot of wiring, we find five three-pin or four-pin fan connections, the four-pin Molex that powers the device, and the solo thermal probe that is currently protected with a tube and tape.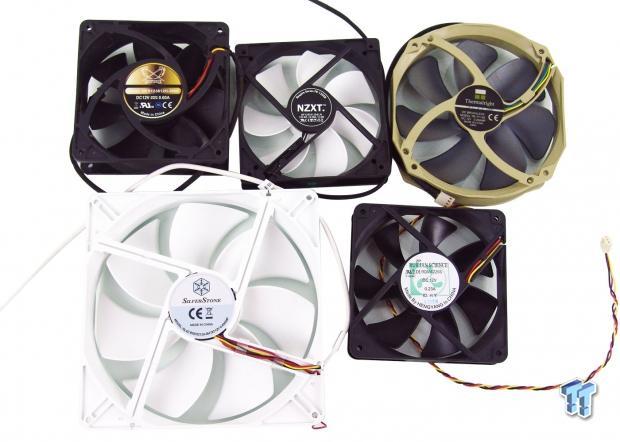 Just so we could say we tried a random selection of fans, we dug deep into the box and pulled out these five fins to test the channels with. Not only will we be running these on individual channels, we will also wire them up to test out the individual channels.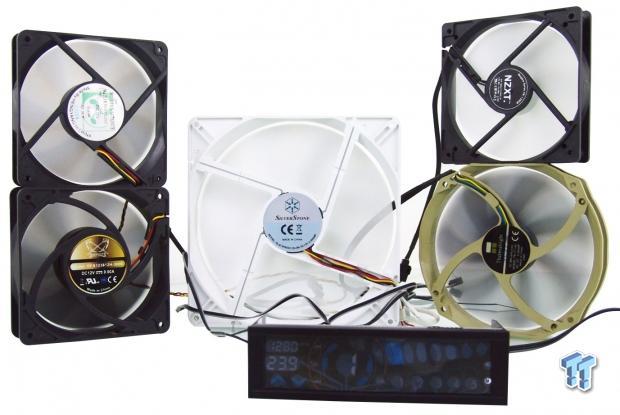 Adding in some power we find that all of our test subjects functioned as expected. You can see we are showing channel one, which is the 38mm Scythe fan, and it is currently running at 1280 RPM, and the ambient temperature in the booth is 23.9 degrees.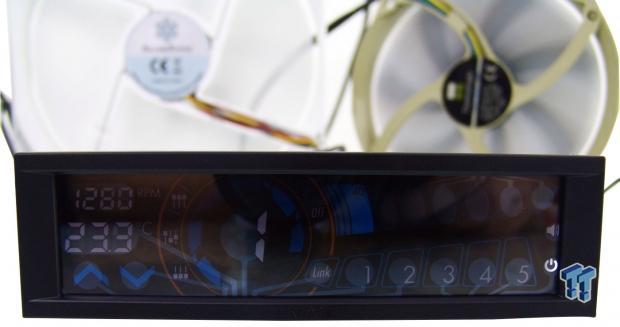 There are major issues we found with the Sentry 3 we will just touch on here, but we will explain these issues more fully later. First is the display when looking at it directly. This is not a camera trick; the screen is just difficult to see when looked at directly. The second issue is the screen is shifted too far to the right to make the two buttons there functional.
Just like with all the images on site, as well as on the packaging, once you get far enough above, below, or to the sides, the screen becomes plainly visible and much easier to read. The RPM and temperature are displayed to the left, and the arrows are for setting the thermal alarm after pressing on the temperature for a few seconds. To the left of the five there are three fan modes to select from, and to the right of it is the power off button, and a link button to set all five channels the same. At the far right we have a slider to use for manual fan control, the five channels at the bottom, and an alarm button and on button flank the right.
Final Thoughts
Usually with a review such as this, we tend to go with the shorter on page review format, but we felt there was too much to discuss with the Sentry 3 to just gloss over things in a single page. So, with all the room needed to put the Sentry 3 in the correct light, let's get to it.
First of all, the power range on the Sentry 3 is amazing. Not only do all the channels function in a range of 6.4V to 11.89V of power delivery to each fan, but with 15W per channel, and 75W of power delivery over the entire device, you are going to run out of places to put fans before you run out of power. The looks of the Sentry 3 are clean and pleasing to look at, but there are issues, and obvious ones at that.
First, the Sentry 3 has a major issue with its visible field of view. While we realize that in most circumstances, viewing the controller will be at some sort of an off-angle, and being able to see it from those angles makes life easy for most users. For those who want to use this in an HTPC, or a smaller LAN box, people will be asking when you are replacing your fan controller, as it looks like the LCD is defective when viewed head on. To us, it needs to be visible while looking directly at it just as much as from odd angles.
The second, and most frustrating issue we found, is that even though we talk of fat fingers when typing, a good capacitive screen will read where fingers are almost before they touch the screen. Since the LCD was shifted so far to the right, we found we could not activate the power button, nor the alarm button; it was either that or both just happened to be broken, but either way that "es no bueno".
On the flips side of all this talk of issues, what we could use functioned well, and is really easy to set and adjust. Performance mode jacks the fans up close to maximum, but still is controlled by the thermal probe readings, so it's fine for most users during gaming. Manual mode in the middle allows users to completely customize the speed each channel runs at. Lastly there is quiet mode, which operates like performance mode, just with the fans set much lower in RPM. The slider worked fine, swapping channels is just a press away, even setting the alarm is fairly easy, and with a post code style motherboard buzzer, when things get warm, you will know it from the cry of that speaker.
Here we sit with one of the most powerful touchscreen fan controllers on the planet, and while we should be raving about the Sentry 3 and all of its benefits, we just can't do that and feel good about the review we are offering. Even being able to find this controller for less than $30 isn't enough for us to overlook the LCD issues we found in our sample. Could it be a one off issue? Possibly, but the reality is NZXT didn't take any straight on shots for press, and from what we see in those images, the two buttons we had issues with are almost under the bezel in them as well.
So even though we loved the power, and we really liked what controls we could use, NZXT and the Sentry 3 seem to miss on some pretty obvious points, and therefore we think you may be better off with another touchscreen controller, unless you need this sort of power delivery over functionality and looks.
PRICING: You can find the NZXT SENTRY 3 for sale below. The prices listed are valid at the time of writing but can change at any time. Click the link to see the very latest pricing for the best deal.
United States: The NZXT SENTRY 3 retails for $34.99 at Amazon.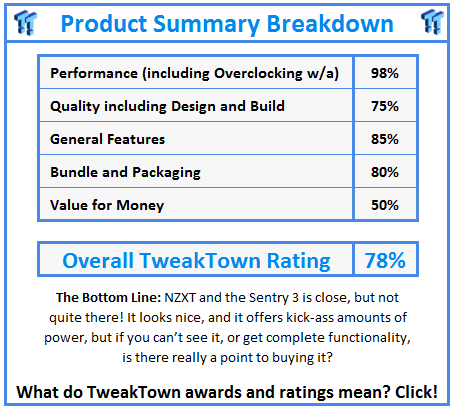 PRICING: You can find products similar to this one for sale below.

United States: Find other tech and computer products like this over at Amazon.com

United Kingdom: Find other tech and computer products like this over at Amazon.co.uk

Australia: Find other tech and computer products like this over at Amazon.com.au

Canada: Find other tech and computer products like this over at Amazon.ca

Deutschland: Finde andere Technik- und Computerprodukte wie dieses auf Amazon.de
We openly invite the companies who provide us with review samples / who are mentioned or discussed to express their opinion. If any company representative wishes to respond, we will publish the response here. Please contact us if you wish to respond.
Related Tags