Limefuel Nexus 5 2860mAh Battery Case Review
Limefuel not only makes great mobile batteries, but they also make a stylish 2860mAh battery case for the Nexus 5. Follow on as Anthony tells us about it.

Published Jun 6, 2014 12:07 AM CDT
|
Updated Tue, Nov 3 2020 7:00 PM CST
4 minute read time
Introduction and Specifications
I use Limefuel's external batteries as my everyday units now, but when the company sent me the Nexus 5 case, I raised an eyebrow. Could it gel the world's of external batteries with a sleek cover for one of the best smartphones on the market?
Limefuel only does one external battery case, which is the one we're reviewing today: the Limefuel Nexus 5 Battery Case, or L28N5.
The Nexus 5 Battery Case features a slim design with an easy-to-install two-piece snap-on design that makes getting your Nexus 5 into it very, very easy. We have pass-through charging, a smudge-resistant rubber finish that feels great in the hand, and four LED indicator lights to tell you just how much charge you have left in the L28N5.

The case has easy access to your speakers, buttons, headphone jack, and camera, so you don't need to worry about it covering up anything special.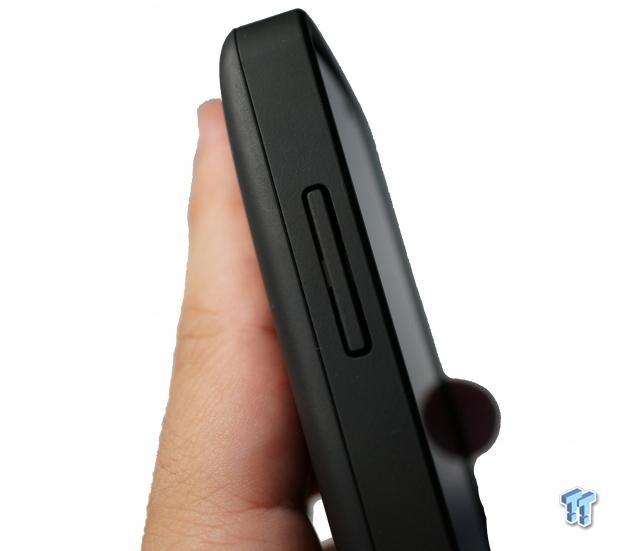 The battery itself is a 2,860mAh model that provides a fully charged Nexus 5 with an entire charge and a smidge left over. This makes the L28N5 the perfect accessory for the Nexus 5, which doesn't last an entire day by itself. With the L28N5, it has no problems going through an entire day of heavy use without running out of juice.
Charging the L28N5 takes around three hours or so because of its 5V/1A input, but don't worry about the output, which is rated at 2A. It doesn't weigh much, coming in at just 105g, adding to the 130g of the Nexus 5 itself. With the Nexus 5 installed into the Limefuel L28N5 cover, we have a total of 235g. This isn't ideal, but for power users, this is a great solution.
Limefuel is selling the L28N5 for $74.99 on Amazon, which is not bad at all. For something that doubles as a protective case for your Nexus 5, this is a competitive price.
Using the Limefuel Nexus 5 Battery Case
I wondered how I would test the Limefuel L28N5 apart from my usual everyday use, but I ended up doing just that. These cases aren't built for those who use their phones a few times a day, as it adds some considerable bloat to the phone. It makes the thin Nexus 5 quite thick, something I didn't enjoy.
It is 16mm, or 0.63 inches wide, making it quite chunky against the petite 8.6mm, or 0.34 inches, of the Nexus 5's body. Adding the Limefuel L28N5 to the Nexus 5 makes it much thicker, which is something you're going to need to decide on whether it works for you.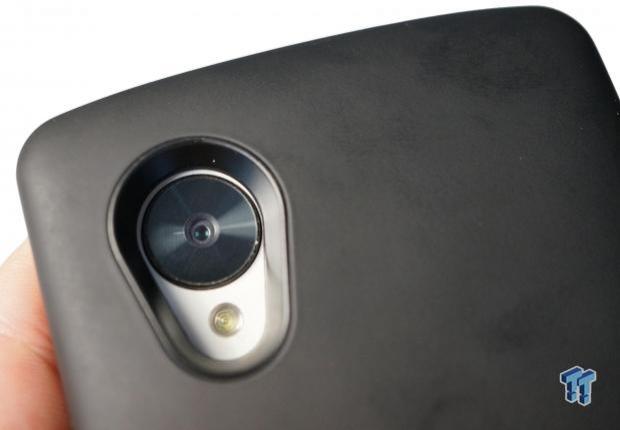 Fitting the Limefuel L28N5 and Nexus 5 into my pocket became much harder, as the Nexus 5 is over twice as thick with it installed. However, these thickness problems became an afterthought once I began really using the Nexus 5 to its potential.
I use my smartphone to tether my mobile Internet connection to my Ultrabook quite often, but this seriously drains the battery from my phone. I usually get a few hours out of it before it dies, but using the Limefuel L28N5, I was able to double my normal battery life. Instead of my Nexus 5 dying just a few hours into work, it was going through the entire day as a mobile hotspot.
For general use, I never had to worry about my Nexus 5 running out of battery. I keep all of my GPS, Bluetooth, and location settings turned on because I'm a big user of Google Now. Bluetooth is constantly going as I have my Google Glass connected for most of the day, so I would consider myself a "power user."
With the Limefuel L28N5 powering my Nexus 5, all of those problems of "will I get through the entire day without recharging" disappear. I would typically carry around the Limefuel Blast L60X with me just in case I ran out of battery. But with the L28N5 on the Nexus 5, I didn't need an external battery when I was out.
The four LED indicator lights on the back are convenient, as you know how low your L28N5 case is getting. Thanks to the pass-through charging capabilities, at the end of the night, you just plug your charger into the bottom of your L28N5, and it will charge both the case itself and your Nexus 5.
What's Hot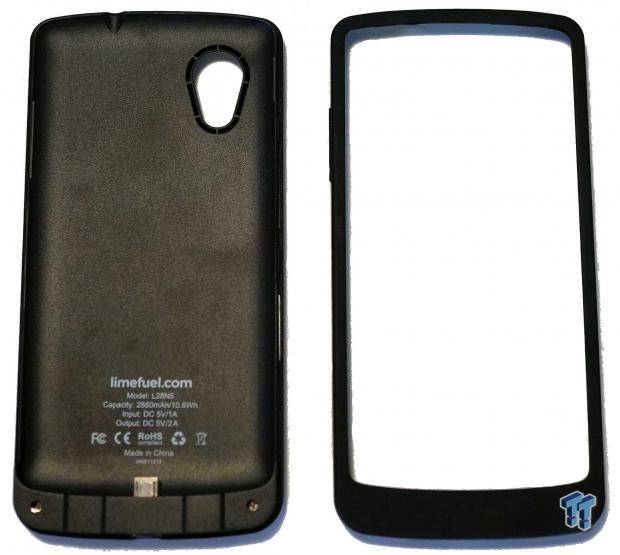 Stylish, Two-Piece Snap-On Design: Limefuel knows how to make its products look attractive, and the L28N5 is no exception. It looks great, and the smudge-resistant rubber finish really comes into play when you've been using your phone for hours on end.

LED Indicator Lights: Just how much charge does your L28N5 have? With four LED indicator lights, you'll always know how much charge you have left. Once all the lights are out, you've still got a fully charged Nexus 5 at your disposal.
Great For Power Users: For those of us who need more battery life out of the Nexus 5, which doesn't have the best battery life, it really is a massive selling point. To be able to use the Nexus 5 so much longer thanks to the extended battery, you can get more done without having to find the closest power socket.
What's Not
It's Just Too Thick: I could make a nice, dirty joke here, but you're on a tech site, right?! Well, Limefuel has another great device here, but the thickness of the L28N5--for me at least--is just too thick. I could barely fit it in my jeans half the time.
Final Thoughts
The Limefuel L28N5 is a no-brainer for Nexus 5 users, especially power users. The one thing holding this back from true greatness is its thickness. I would've preferred something with, say, a 2000mAh charge if it meant I would get a battery case that was significantly thinner.
Limefuel has splashed its delicious design chops all over the L28N5, something the company seems to excel at. It looks great, feels great, and provides your Nexus 5 with more than an entire day worth of charge, something that you can't complain about at $74.99.
PRICING: You can find the Limefuel L28N5 for sale below. The prices listed are valid at the time of writing but can change at any time. Click the link to see the very latest pricing for the best deal.
United States: The Limefuel L28N5 retails for $74.99 at Amazon.
Canada: The Limefuel L28N5 retails for CDN$55.64 at Amazon Canada.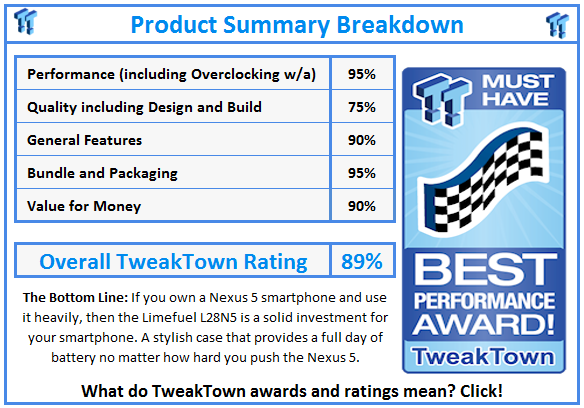 PRICING: You can find products similar to this one for sale below.

United States: Find other tech and computer products like this over at Amazon.com

United Kingdom: Find other tech and computer products like this over at Amazon.co.uk

Australia: Find other tech and computer products like this over at Amazon.com.au

Canada: Find other tech and computer products like this over at Amazon.ca

Deutschland: Finde andere Technik- und Computerprodukte wie dieses auf Amazon.de
We openly invite the companies who provide us with review samples / who are mentioned or discussed to express their opinion. If any company representative wishes to respond, we will publish the response here. Please contact us if you wish to respond.