ASUS PB287Q WLED 4K UHD 28-inch Monitor Review
We check out ASUS' new PB287Q 4K monitor that was just released. How does it stack up against the competition? Read on to find out what Trace thinks of it.
Published
5 minute read time
Introduction and Specifications & Pricing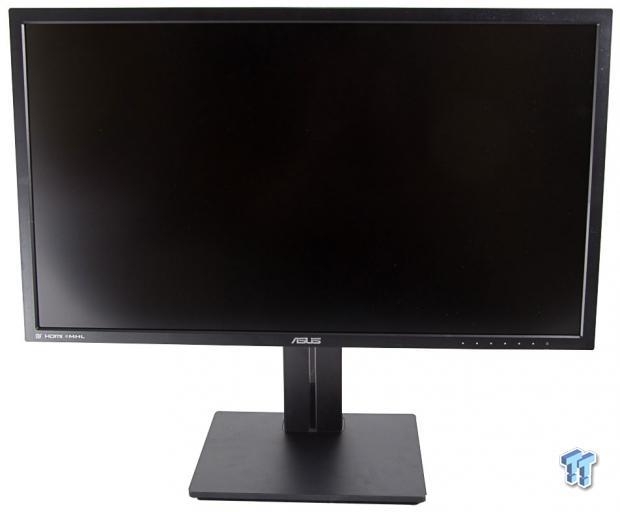 We've got quite the treat in the lab today in the form of the new ASUS PB287Q 4K monitor. 4K is a beautiful technology that provides the same screen area as four 1080p monitors (when you times x and y axis by two), as illustrated in the image below.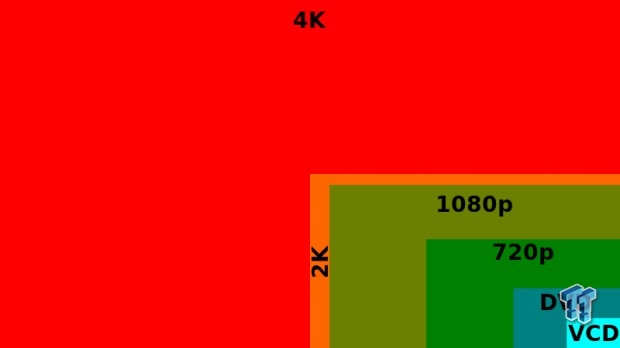 4K monitors are starting to get into a reasonable realm of pricing, meaning that enthusiasts should start to pick up 4K displays to game on, and professionals will be picking them up for the extra screen area. Enter the ASUS PB287Q.
Specifications and Pricing
The PB287Q is a 28-inch LCD widescreen display. The panel features the new 4K resolution that everyone is pushing for. Just a quick note: 4K is really sort of in limbo. As it stands, there really isn't much 4K content--videos, TV shows, etc.--because there aren't very many 4K monitors in the wild. There aren't very many 4K monitors in the wild because of the lack of content and massive toll on the GPU when gaming (you need one heck of a GPU to push 4K in a game with decent graphical settings).
While not specified, I do believe this monitor uses a 16:9 aspect ratio TN panel. The more off-center you view the monitor, the darker and more off the colors will become. ASUS says that this panel has a horizontal viewing angle of 170 degrees and a vertical viewing angle of 160 degrees.
The monitor stand is quite good. It allows for full swivel, tilt, pivot, and height adjustment. ASUS notes that the competing 4K Samsung monitor available for a similar price only features tilt. We haven't reviewed the Samsung monitor, so take that for what it's worth.
Regarding the technical specs, the PB287Q features a maximum refresh rate of 60Hz. To get a 4K monitor running at 60Hz, you require a DisplayPort 1.2-equipped video card and relevant drivers. HDMI can only support 4K at 30Hz.
The PB287Q features a response time of 1ms Gray to Gray, a contrast ratio of 100,000,000:1, a rated brightness of 300 Nits, and support for 1073.7 million colors (10bit). On the connector front, it features a DisplayPort 1.2 port and two HDMI ports, as well as MHL for viewing content from your mobile device that also includes MHL support. The monitor also has built-in speakers for basic audio needs. The monitor also features VESA mounts, something ASUS again notes the competition lacks.
It also comes with a complete complement of features, including features for gamers and content creators, such as a solid 1ms (GTG) response time. Also, for instance, ASUS' GamePlus technology features enhanced aim points and timers depending on the game type.
ASUS says the monitor will release for $649 in the US and $699 in Canada on June 10. Since this review is being written before the monitor is available, we'll have to go off of the above pricing that was provided to us.
Unboxing, Assembly and Port Layout
Unboxing and Packaging
As far as packaging goes, the PB287Q was shipped inside of a plain brown cardboard box that covered some of the main specifications, including the size, resolution, response time, and inputs. As you can see, the box appears to have taken a bit of a beating, but the monitor arrived in perfect condition.
Upon opening the box, you can see the cords are wrapped in plastic bags and are placed in various compartments inside the foam packaging.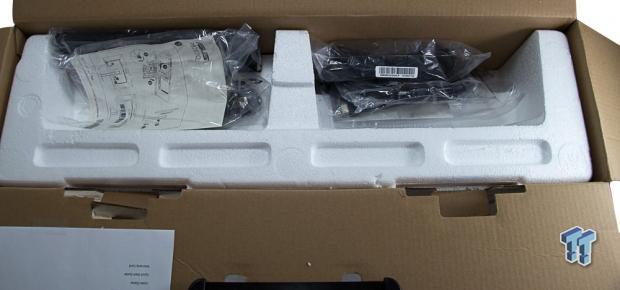 Below, you can see how the monitor is protected by the foam (top foam piece removed). I would like to see the monitor facing the other direction or a bit farther away from the box to protect it from box punctures.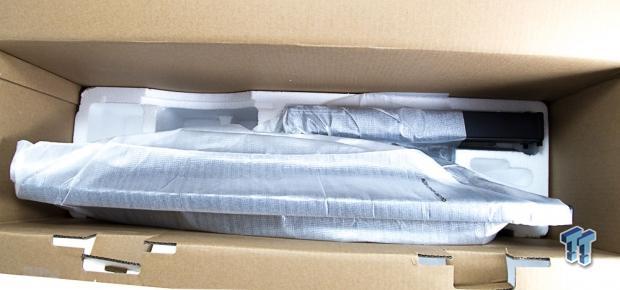 Assembly
Assembly is incredibly easy. The below picture shows how the monitor comes out of the box.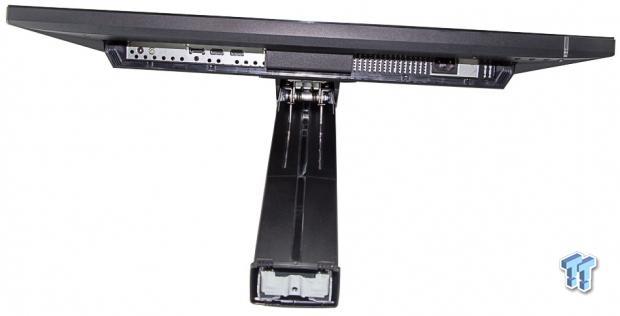 You simply have to latch the base to the stand. Note the two black protrusions in the picture above. Make sure to insert these into the base first (trust me, I learned from experience so that I could provide insight to my readers).
The simply screw the base to the stand using the built-in metal tab or with a flat blade or Philips screwdriver.
Port Layout
You can see in the picture below the layout of the ports.

On the left half of the monitor, from left to right, we have the audio out and in ports, the DisplayPort 1.2 input, and the two HDMI 1.4 inputs (one is MHL compatible).

Above, you can see the sole power connector on the right half of the monitor. It makes use of a standard PC power cable.
Test Results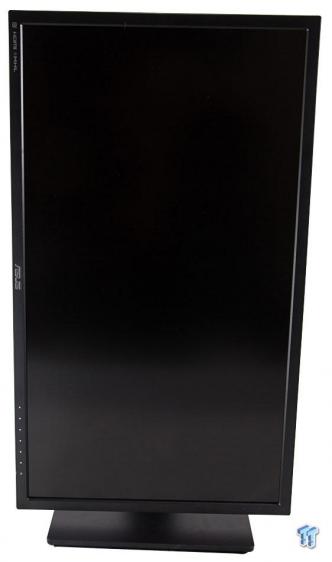 Power Consumption
Power consumption is measured at the wall with a blank Word document open and the monitor on as bright as it can go.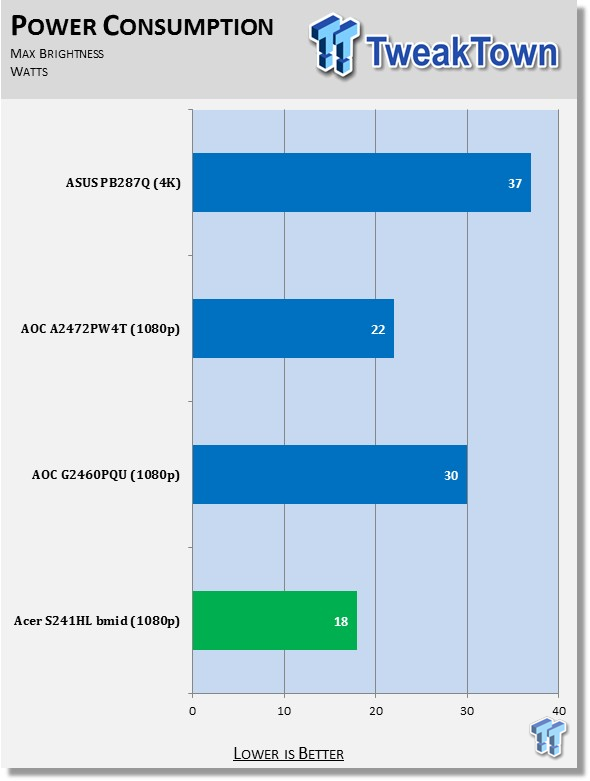 In comparison to the other three monitors we've had the pleasure of reviewing, the ASUS PB287Q consumes the most power. However, this isn't exactly a fair comparison as the other three monitors were all 1080p models.
This 4K monitor is larger and has four times the amount of pixels to drive as the other monitors.
Brightness
We use a LX1010B light meter to measure brightness in Lux. The monitor is placed in the center of the screen on a blank Word document with the monitor at full brightness.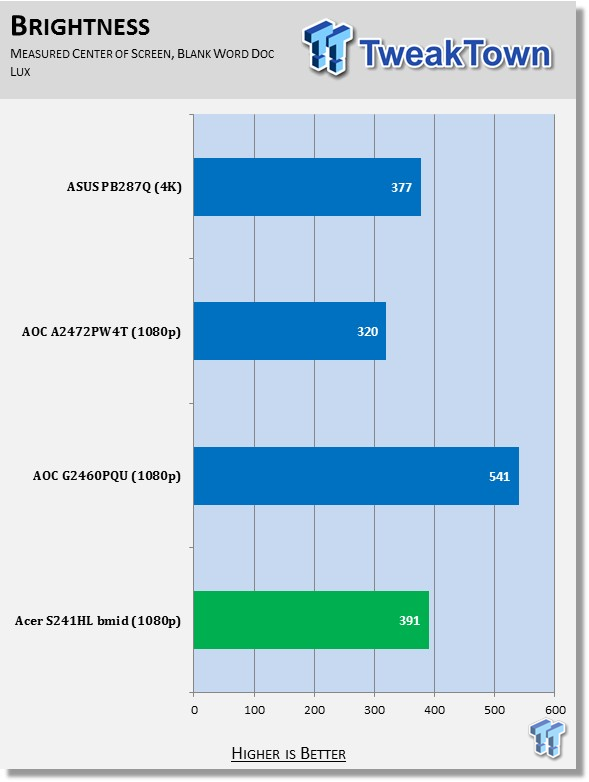 As you can see in the chart above, the PB287Q produced a middle-of-the-road score of 377 Lux. It's not the lowest we've seen, but it is in the bottom half of the pack. It should be noted, however, that 377 Lux is more than plenty for most tasks. Quite frankly, the 541 Lux of the AOC G2460 was absolutely blinding as tuned to its maximum settings.
Lux-per-Watt
We use this as a way to measure a monitor's efficiency. It is simply the monitor's brightness divided by its power draw.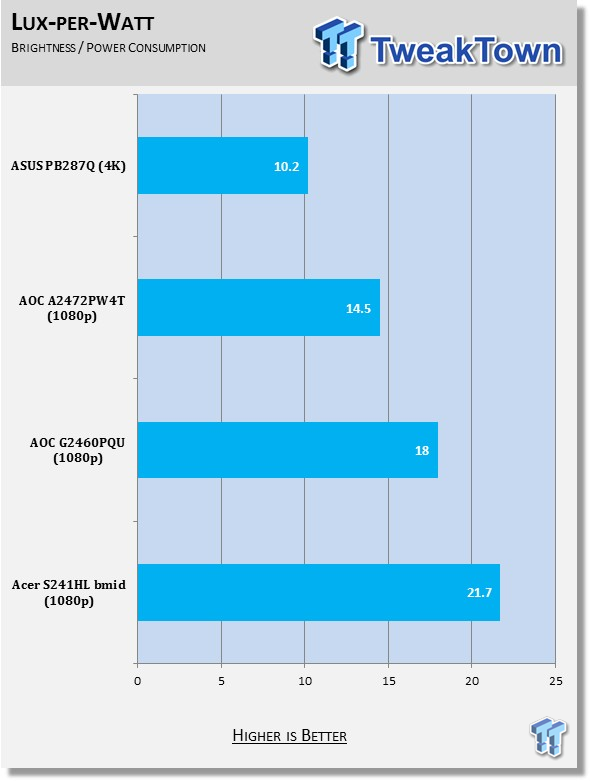 As you can see above, the PB287Q produces a paltry 10.2 Lux-per-Watt. Again, this isn't the fairest of comparisons, so we'll hold off our judgment of efficiency until we get more 4K displays in for review.
Final Thoughts
Let's just start with the obvious. 4K is awesome for professionals. My raw 18-megapixel photos can almost be shown at 100 percent zoom on a 4K monitor, as opposed to a 1080p monitor that just shows a small portion (less than one-fourth).
This is my first chance to get up and close with 4K, and I'm just going to put it out there: 4K is awesome. We've had quite a bit of 4K discussion here on TweakTown. Our video card reviews have just gone to 4K. Our very own Anthony Garreffa has written in detail about 4K. Now we're starting to get 4K monitors in for review. The time is ripe for 4K, so we hope that we'll start seeing 4K content being produced. Netflix, I'm looking at you to lead the way. Movie and TV studios, I'm also looking at you to get into this ASAP.
The monitor has performed admirably during the course of its review. I will note that trying to game on it with my dual 6870s appears to have pushed my secondary 6870 too far as it now artifacts when trying to game. However, I can't be certain that 4K gaming caused that.
Coming in at $649 in the US, the price point is right. Looking at Newegg, the only cheaper 4K monitor available is a Dell for $590. After that, you have the Samsung panel that ASUS felt was apt to compare to the new PB287Q at $699.
Let's face it: 4K is here and it doesn't appear to be going anywhere. Let's just hope it catches on better than the 2560x1440 resolution that didn't seem to get much adoption. At this price, I expect enthusiasts to start going out and picking up 4K monitors for gaming and home use. It's like having four 1080p monitors in one, so it could theoretically replace my triple monitor setup.
Clearly, the ASUS PB287Q has ticked all of the boxes required for a kickass display at a solid price. I certainly want to own this one for myself, making it an obvious TweakTown Editor's Choice display.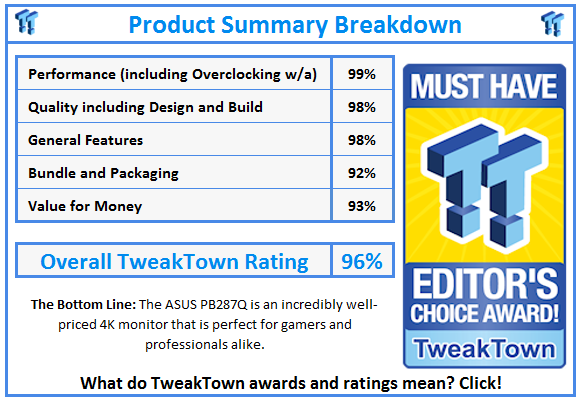 PRICING: You can find products similar to this one for sale below.

United States: Find other tech and computer products like this over at Amazon.com

United Kingdom: Find other tech and computer products like this over at Amazon.co.uk

Australia: Find other tech and computer products like this over at Amazon.com.au

Canada: Find other tech and computer products like this over at Amazon.ca

Deutschland: Finde andere Technik- und Computerprodukte wie dieses auf Amazon.de
We openly invite the companies who provide us with review samples / who are mentioned or discussed to express their opinion. If any company representative wishes to respond, we will publish the response here. Please contact us if you wish to respond.