Acer Aspire S7-392-6807 Touchscreen Ultrabook Laptop Review
Today Trace looks at Acer's Aspire S7-392 equipped with a 2560x1440 touchscreen display. How does it stack up? Read on to find out in our review right now.
Published
9 minute read time
Introduction & Specifications, Configurations and Pricing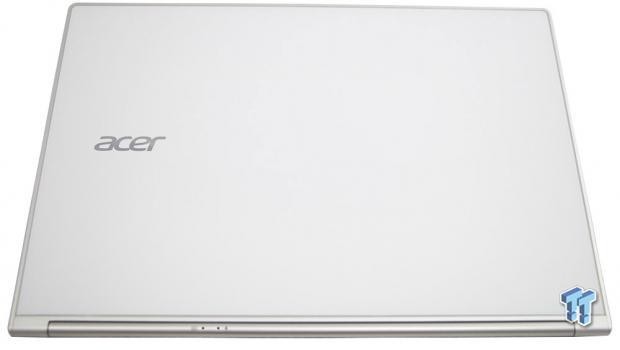 I was really hoping we'd get another laptop in before writing this review, but it just didn't work out. We've got a bunch of new systems and monitors coming in, but no laptops. We expect to start seeing more laptops this summer in preparation for students heading back to school.
This notebook we have in the lab today, the Acer Aspire S7-392-6807, is a variant upon the Acer Aspire S7-392 that we previously reviewed. It comes with a few notable changes, which we will discuss below, but it retains the same form, style, and outward appearance. Let's move on to the specifications.
Specifications, Configurations and Pricing
Our Aspire S7 features Intel's Haswell based Core i5-4200U CPU. This processor is a dual-core model with Hyper-Threading, which means that it features four threads. It also features TurboBoost, which allows the processor to overclock itself when under a low load.
The i5-4200U is coupled with 8GB of DDR3 RAM. 8GB should ensure a smooth-running system, even with multiple programs and web browser tabs open.
Graphics are provided by Intel's very own HD4400 GPU, a fairly capable graphics chipset that is able to provide enough graphics horsepower for most applications. Though gamers would definitely want to look elsewhere, the HD4400 GPU is capable of playing some games at low settings and resolutions. Windows 8 is installed upon a 128GB SSD.
One of the key factors that differentiates this model from the previously reviewed S7-392 is its screen. The S7-392 that we have in the lab today features a 13.3-inch multi-touch display, which features a WQHD resolution. WQHD is an advertising term that means the resolution is 2560x1440. The other differentiating factor is the use of the slower i5 processor.
Packaging
The packaging is standard Acer. The inner product box is protected by an outer plain brown box. While the system arrived safely, I would like to see a bit more foam or protection for the laptop.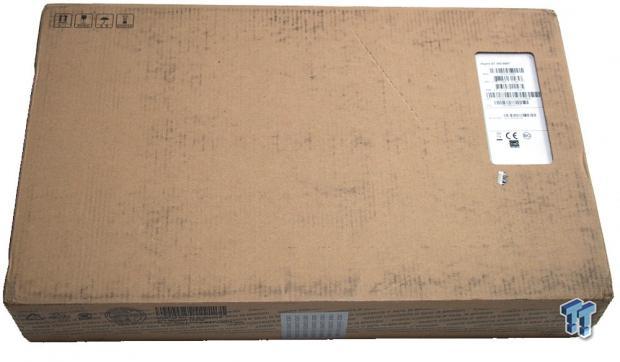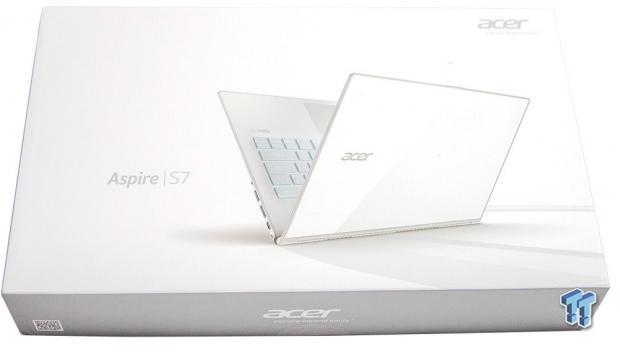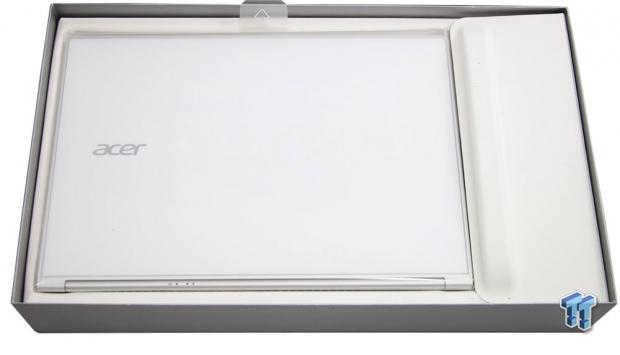 Temperatures, Cooling and Noise
The Acer Aspire S7-392 is a thin Ultrabook, so this could play into how it manages heat.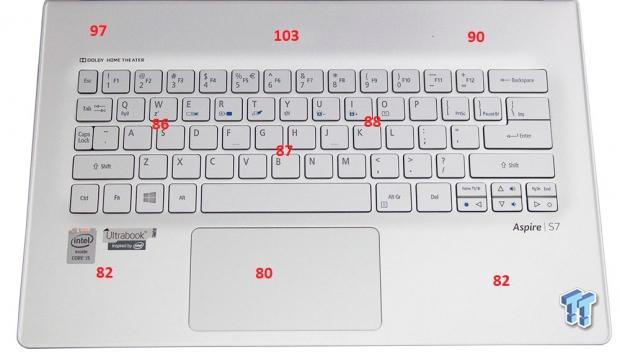 As you can see, on the front of the system we logged a maximum temperature of 103 degrees Fahrenheit. This high temperature was located towards the top of the system, away from anything you should be touching frequently, if at all. The keyboard stayed below 90 degrees, which is acceptable in my book, and the palm rests barely broke 80 degrees.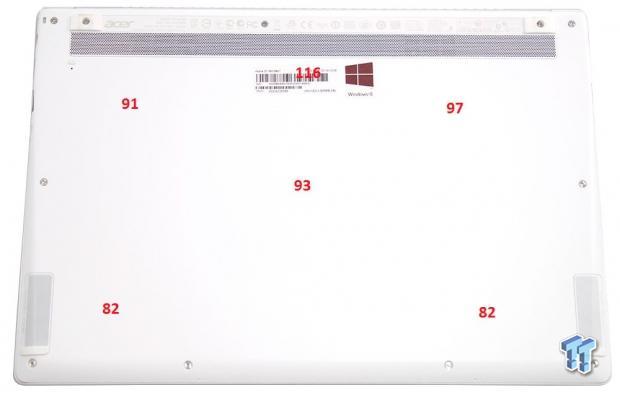 Moving around to the backside, temperatures were worse. The maximum observed temperature was 116 degrees Fahrenheit. However, the rest of the temperatures observed were all less than 100 degrees. Using the system on your lap while fully loaded would still be ill advised, though likely doable.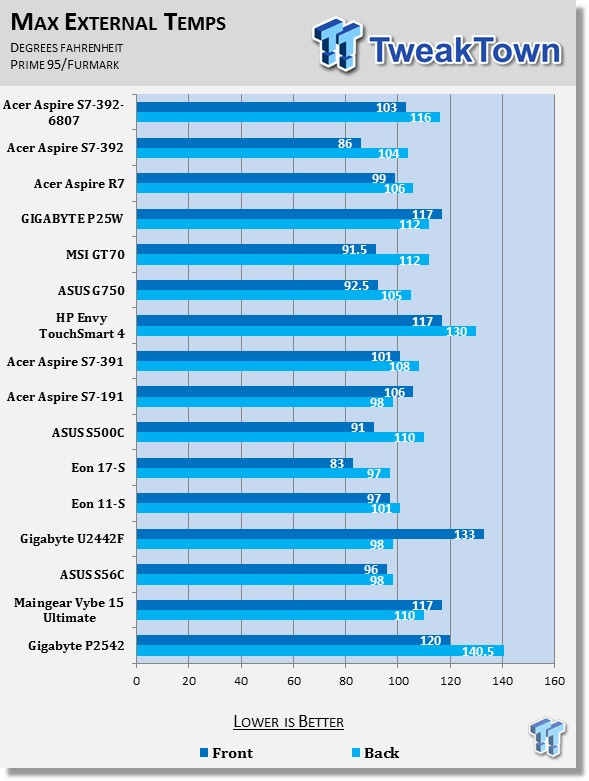 The maximum observed GPU temperature was 78 degrees Celsius, which is the same as the CPU, as they are on the same die. The CPU reached a maximum of 78 degrees Celsius; this is a bit hotter than I like to see chips running at, but is still one of the lower temperatures we have seen a CPU run at in a notebook.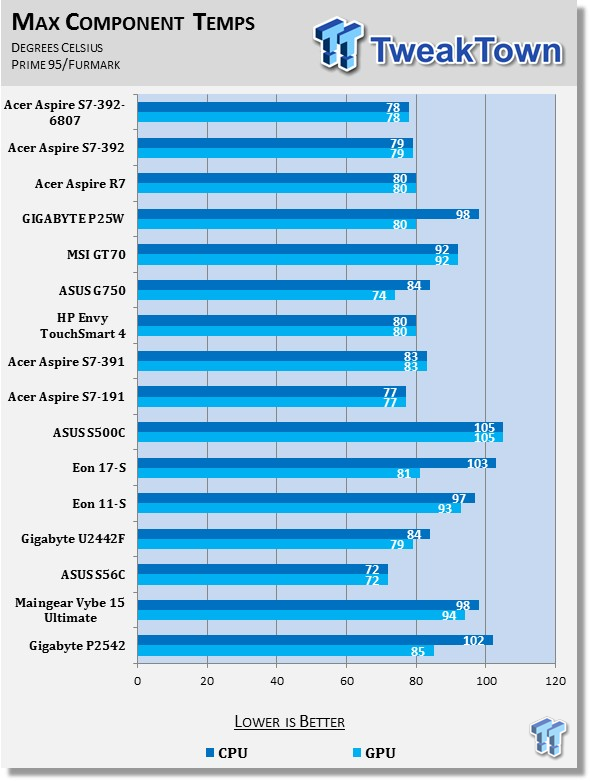 The S7 produced a sound level of 36 decibels, making it one of the quietest notebooks we have had the pleasure of reviewing and the same as its brother, which is something we would expect due to their similarities. Our measurement is taken in front of the laptop at roughly head level. For comparison: 30dB is a totally quiet nighttime in the desert, 40dB is whispering, and 60dB is a normal conversation.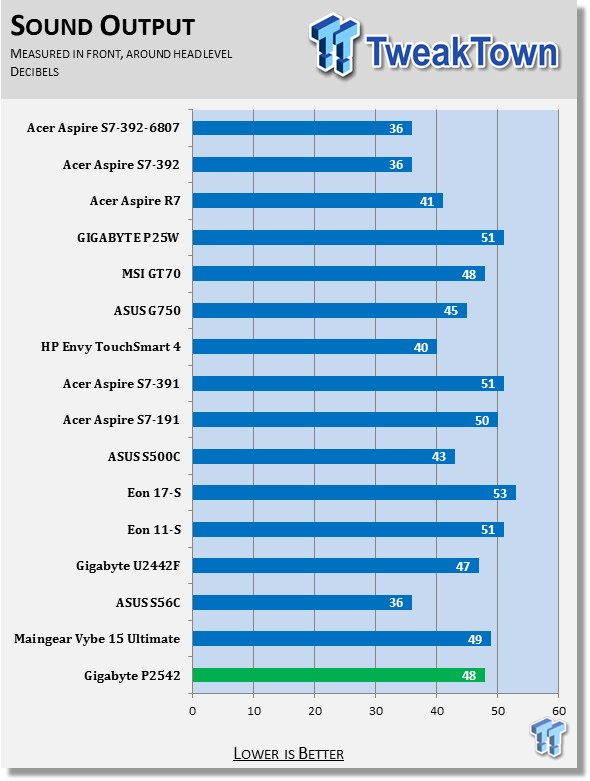 User Interfaces
Keyboard and TouchPad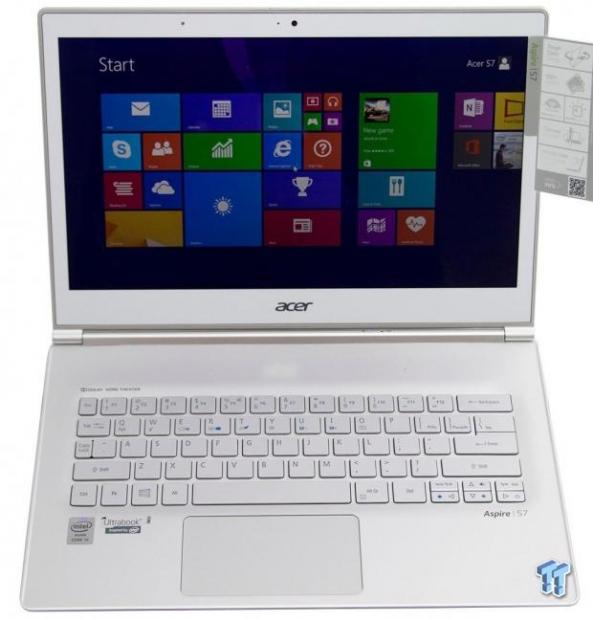 As you would expect, since both of the S7-392s feature the same body and keyboard, there is really no difference to discuss.
The keyboard fitted to the S7-392 is loads better than the S7-391 and S7-191, despite the appearance being unchanged. It is still fitted with the standard island-style keyboard that most notebooks feature. It is still slightly recessed into the chassis to protect the screen. The keys still feature the subdued aqua colored backlighting.
The one place that the S7-392 keyboard is still lacking is in the throw department. The key travel distance is still just a wee bit short for my taste, though my ability to type on this keyboard is much better than it was on the S7-391.
The keys are flat with a slightly grainy texture. They make very little noise while typing, save for the space button that has a rather annoying rattle to it. There is absolutely no noticeable flex across the entire keyboard, likely due to the aluminum chassis.
The touchpad is made from a single piece of material. The touchpad is fairly wide, but is a bit short. The entire touchpad can be depressed for a left click or depressed with two fingers to register a right click.
The touchpad slightly recessed into the palm rest and features a smooth texture, which makes it easy to differentiate between the palm rests and the touch-enabled portion of the system.
Screen
The Aspire S7 features a 13.3-inch WQHD display, meaning it pumps out a resolution of 2560x1440. The surface of the screen is of the glossy glass texture, and it features a 10-point touchscreen. The display is absolutely gorgeous when Windows does a good job of scaling. Not everything scales well, and some things just look plain awful, but not as a result of the screen.
If you turn off scaling, you get more usable space at the cost of size. If you have good eyesight, you could probably get away with it, or at least turn it down a bit to gain the space. Looking at the display from off-angles doesn't seem to affect the color of the screen at all.
Testing Methodology
View our full testing methodology article.
- Accessory Port Testing
Ports to which an external storage device can be connected to are tested using HD Tune Pro, to obtain their maximum, minimum, and average read and write speeds. USB 2.0, USB 3.0, and eSATA ports are tested using a Corsair Neutron GTX 240GB SSD that is capable of saturating the theoretical bandwidth available.
The Corsair Neutron GTX is housed inside an Icy Dock external enclosure, which features a SATA I/II/III to USB 3.0 and eSATA converter.
- Gaming Tests
3DMark Vantage is run on the Performance preset, to get a feel for how the computer would manage gaming. The CPU, GPU, and combined scores are reported. A higher overall score is the best, and a high GPU or CPU score shows particular prowess with tasks that use that part of the computer.
3DMark 11 is run on the Performance preset, and the Physics, GPU, and combined scores are reported. This test is only run if the system supports DirectX 11. A higher overall score is the target, though a high individual result shows prowess in a particular area.
3DMark is the latest benchmark by Futuremark. The Cloud Gate test is run with all of the default settings, and the score, GPU score, and physics score are all recorded in the chart. The Cloud Gate test is intended to be run on home desktops, and notebooks.
- System Tests
PCMark 7 is run to get an overall idea of how the system performs as a whole. It tests all aspects of the PC, and puts a score on how well it performs overall. In this test, a low scoring area can affect the overall score, so it's important to read the analysis. A higher score is better.
CrystalDiskMark is run to put a number on how well the system hard disk drive / SSD runs. It measures five different metrics, of which higher is better for all. The higher the numbers, the snappier the operating system will feel; especially if the "4K" number is high, as most operating system files are small files.
- Battery Life
PowerMark is used to measure battery life of the system when set to the "Balanced" power plan. This test simulates several different activities, but uses custom built applications.
Accessory Port Layout and Performance

The left side (from back to front) features the power jack, power button, one USB 3.0 port, an SD card reader, and a speaker.

The right side (from back to front) features the Thunderbolt port, HDMI port, one USB 3.0 port, and a combo headphone/microphone jack. The other speaker is also present at the front of the system.
USB 2.0 is not tested as the system has no USB 2.0 ports.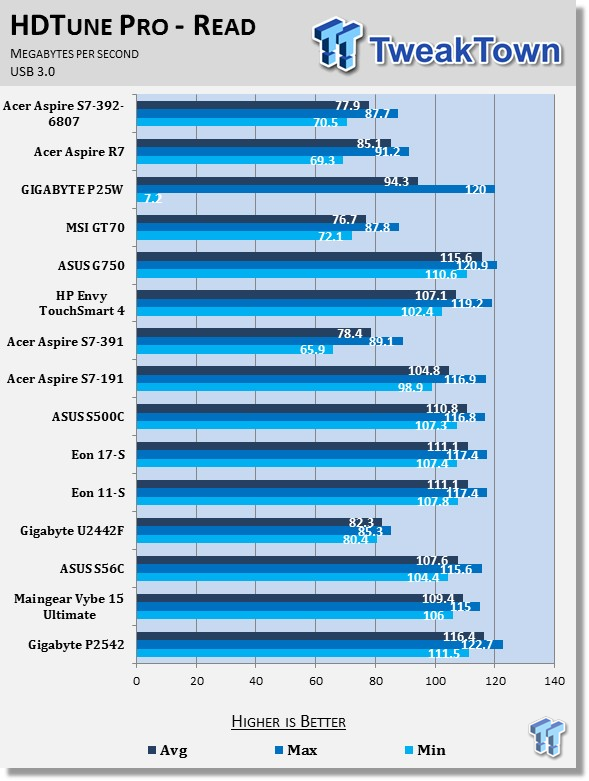 As far as USB 3.0 performance goes, the S7 falls behind the pack, even coming in a bit slower than its previously tested brother. It produces an average of just 77.9 MB/s.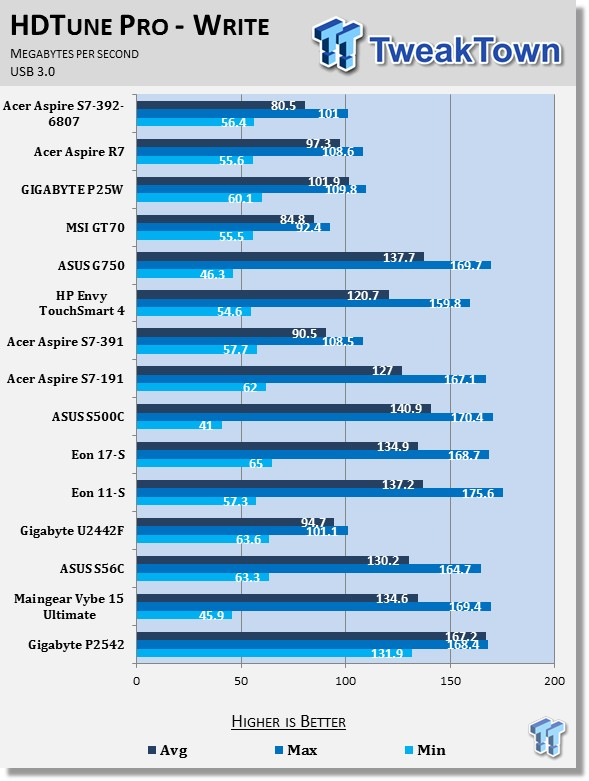 The trend continues with USB 3.0 write speeds, which put the system towards the back of the pack. Again, the Aspire S7 failed to enter the triple digits, producing an average write speed of just 80.5 MB/s, 17 MB/s slower than its brother.
Benchmarks - Gaming Performance
3DMark Vantage
Version and / or Patch Used: 1.1.0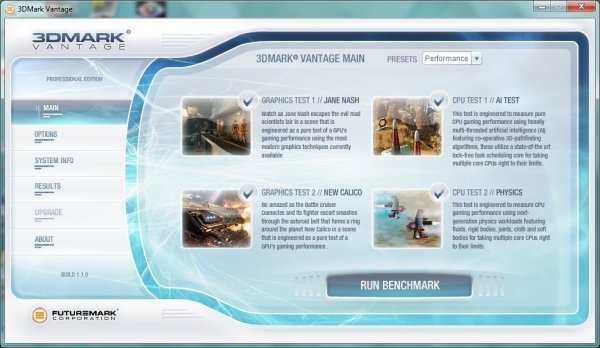 3DMark Vantage tests both processor and graphics performance, and is a good indication of how systems compare. The results are generally more repeatable and consistent than other forms of benchmarking. Vantage uses DirectX 10, and can handle multi-core CPUs.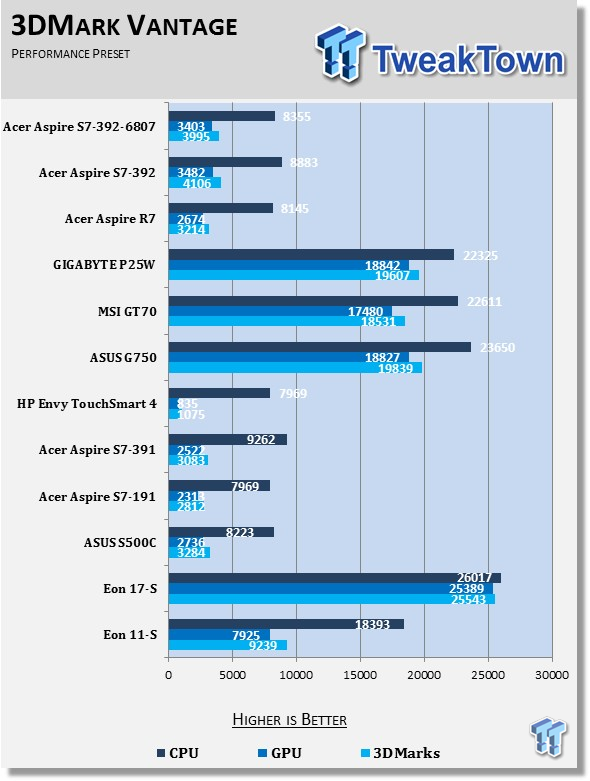 Since an Ultrabook isn't a gaming machine, we weren't expecting to be blown away, and we weren't. Due to the use of an i5 processor, the S7 in the lab produces a lower Vantage score, mostly due to its lower CPU score. The graphics portion end within reasonable distance to consider it as a testing variation.
3DMark - Cloud Gate
Version and / or Patch Used: 1.0.0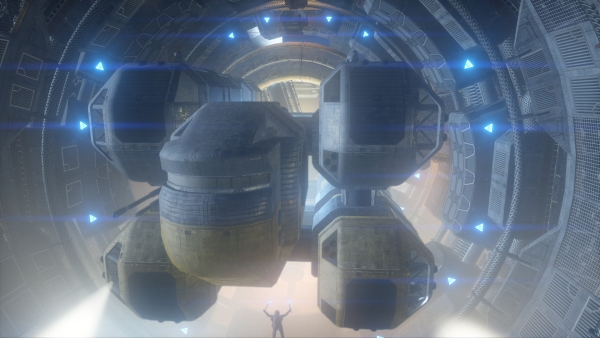 Cloud Gate is a new test that is designed for Windows notebooks and typical home PCs. Cloud Gate includes two graphics tests, and a physics test. Cloud Gate uses a DirectX 11 engine limited to Direct3D feature level 10, making it suitable for testing DirectX 10 compatible hardware. Cloud Gate will only be available in the Windows editions of 3DMark initially.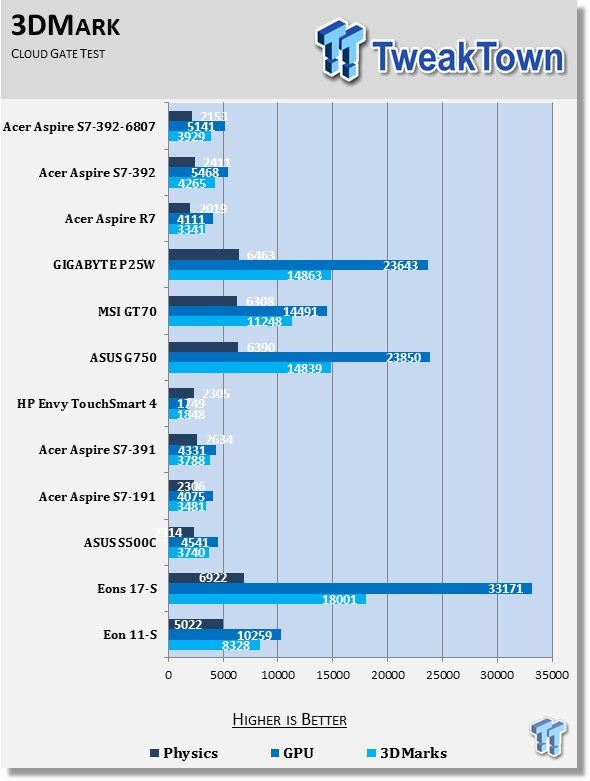 With Cloud Gate, we were expecting similar results to the above. The system again came in below its brother, due to the slower i5 processor used. Interestingly, though, both the graphics and CPU scores game in lower.
Benchmarks - System Performance
PCMark 7
Version and / or Patch Used: 1.0.4.0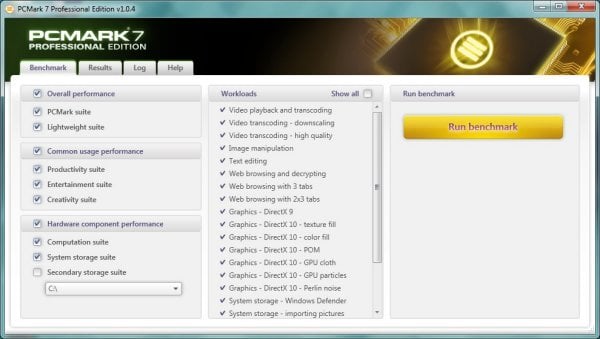 PCMark 7 is a great utility for testing a PC's all-around capabilities. It tests all aspects of the computer, from graphics performance to hard disk performance, and attempts to put a score on it, which is not an easy task.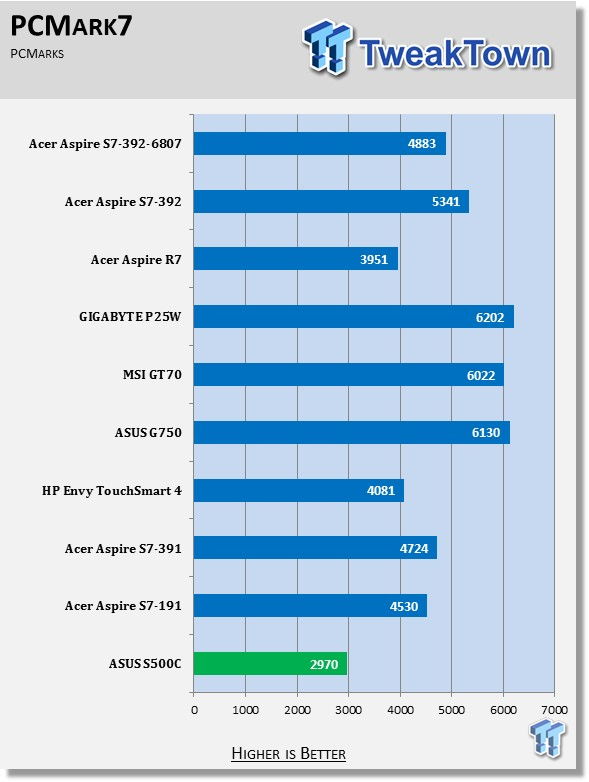 With a lower speed processor, we expected the S7 to come in below its brother that is equipped with an i7 processor. It produced a score of 4883 Marks, which is about 400 lower than the other S7 we tested. Overall, though, it's still one of the best performing Ultrabooks we've had the pleasure of testing.
PCMark 8 - Home Test
Version and / or Patch Used: 2.0.228
PCMark 8 comes with various benchmarks to assess PC performance in key areas. As we are testing consumer systems, we utilize the Home Test, non-CL accelerated.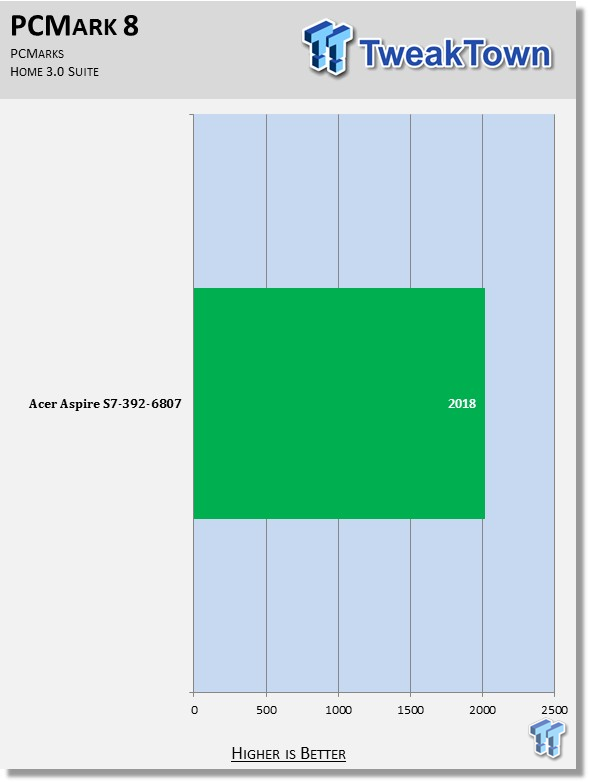 We're introducing PCMark 8 as a new benchmark in our line up. It will eventually replace PCMark 7, but we're not going to remove PCMark 7 until we have several results for PCMark 8 to use for comparison. The S7 produces a PCMark 8 score of 2018.
CrystalDiskMark
Version and / or Patch Used: 3.0 Technical Preview
CrystalDiskMark is a disk benchmark software that allows us to benchmark 4K and 4K queue depths with accuracy.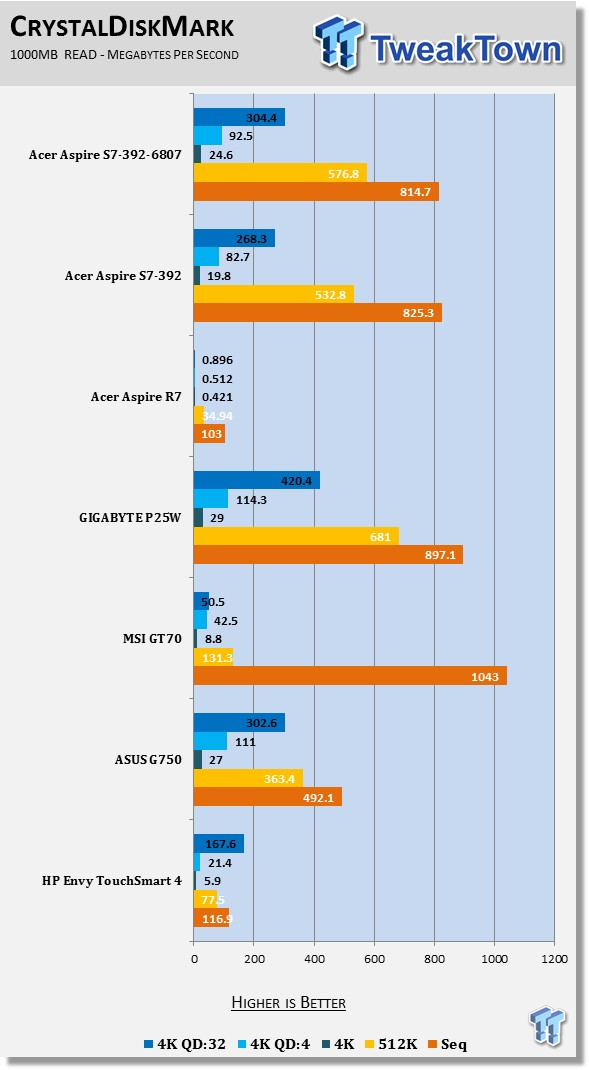 The Aspire S7 manages a sequential read speed of 814.7 MB/s. In one of the key figures, 4k speed at low QD, the S7 produces 24.6 MB/s. This is faster than its previously tested brother.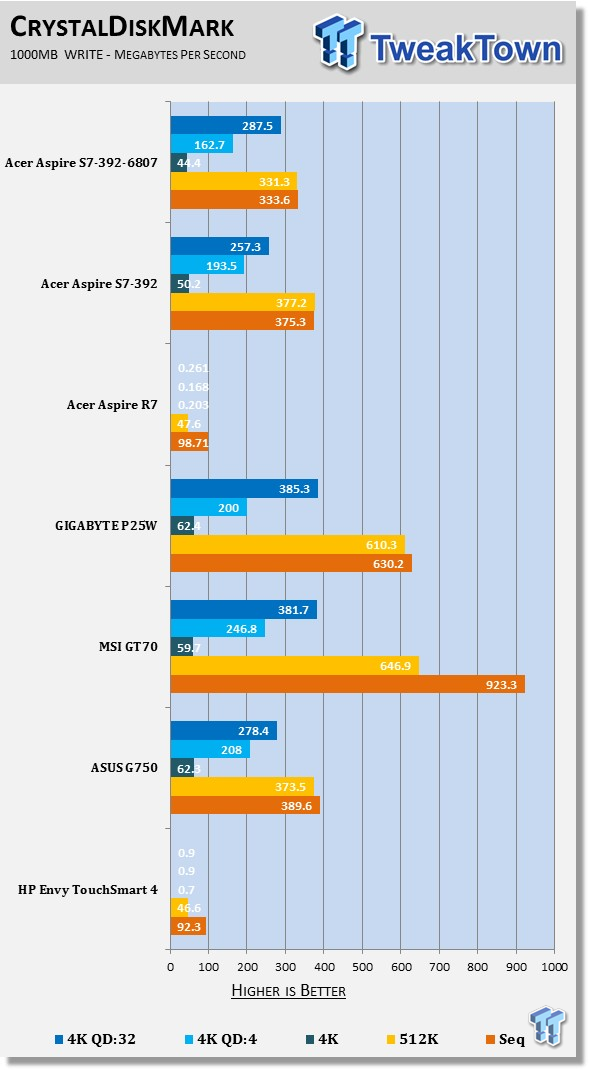 Write speeds see the S7 performing worse that the previously tested S7-392. It produced a sequential write speed of 333.6 MB/s and a 4k write speed of 44.4 MB/s.
Battery Life Performance
PowerMark
Version and / or Patch Used: 1.1.1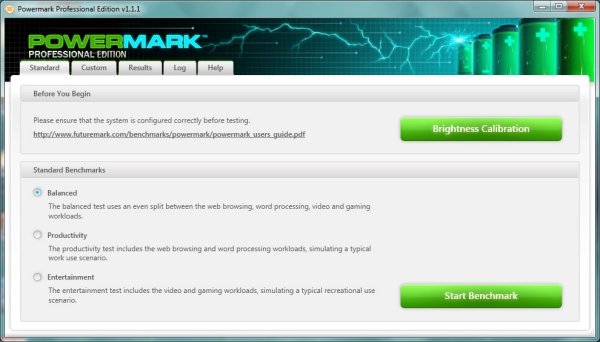 PowerMark is a benchmark produced by Futuremark that simulates different usage scenarios in order to determine battery life. It loops these different scenarios infinitely, until the battery hits 15%, and then gives us an estimated battery life time. For our testing, we use all four different scenarios. These are video playback, gaming, web browsing, and word processing.
The test is run once with the computer's Power Options set to Balanced.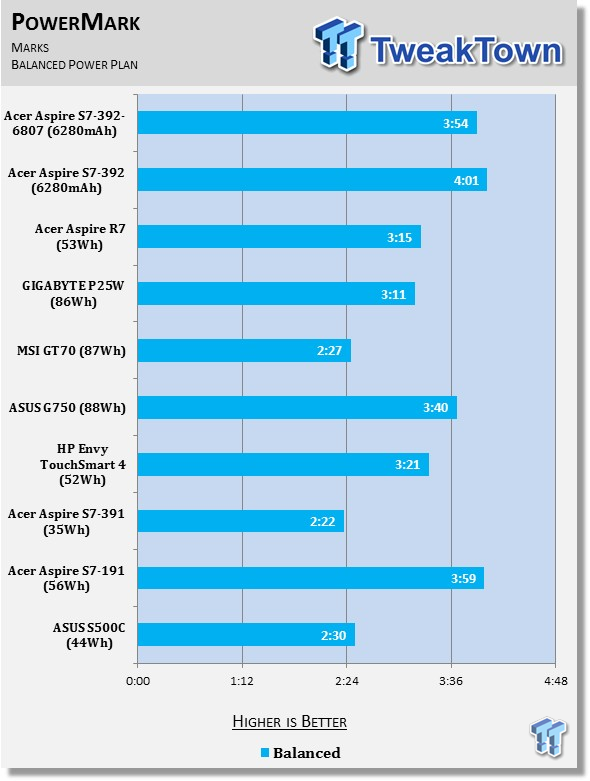 As you can see, the higher resolution did incur a battery life penalty, despite the system using a slower, and therefore lower power, processor. The penalty was low--7 minutes--but it is something to note. Thanks to Haswell, the S7 falls just short of the 4 hour mark with 3 hours and 54 minutes.
Final Thoughts
This is going to be a fairly short final thoughts as most of my thoughts regarding this system were covered in the previous review. The two factors we're going to consider today are performance and display resolution and how they fit into your needs.
Let's start with performance. If you go with this model over its brother that utilizes an i7 processor, you are giving up some CPU performance. GPU performance was mixed; one test showed that the GPUs performed the same, and another test showed this GPU performing somewhat slower.
If the upmost performance is of need, then you should pass on this model and go for the other S7 model we reviewed. If performance isn't so important, we can move onto the display and price.
If you want a high resolution display that is absolutely stunning, the S7-392 we reviewed today provides that. It comes with a few drawbacks, most notable of which include the performance and battery life.
If you want or need a high resolution display over performance, than today's model makes an excellent choice. The battery life and performance issues aren't huge drops, but just marginal ones that you likely wouldn't notice.
The one area that this system has a major advantage is cost. Due to the smaller SSD and slower processor, this model can be found on the Internet for around $1,250, about $250 cheaper than the faster model.
We awarded its big brother the Editor's Choice award for it truly being an Ultrabook. Thanks to the lower cost, better screen, and similar performance, we have no choice but to award this system our Editor's Choice award as we'd like this model much more than the previously reviewed model, which we already love.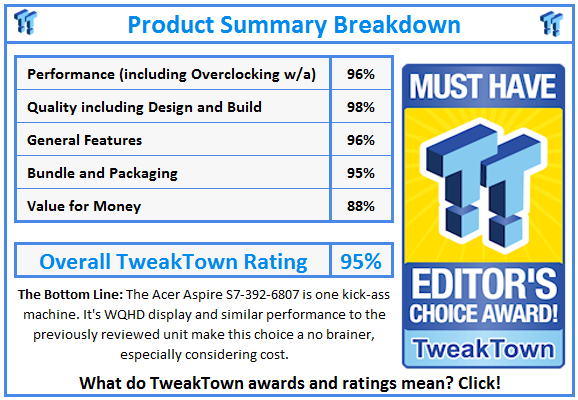 PRICING: You can find products similar to this one for sale below.

United States: Find other tech and computer products like this over at Amazon.com

United Kingdom: Find other tech and computer products like this over at Amazon.co.uk

Australia: Find other tech and computer products like this over at Amazon.com.au

Canada: Find other tech and computer products like this over at Amazon.ca

Deutschland: Finde andere Technik- und Computerprodukte wie dieses auf Amazon.de
We openly invite the companies who provide us with review samples / who are mentioned or discussed to express their opinion. If any company representative wishes to respond, we will publish the response here. Please contact us if you wish to respond.