PAPAGO GoWatch 770 Sports Watch Review
PAPAGO has an interesting Sports Watch in the GoWatch 770, which is designed for the active geek in you. Follow on as Anthony tells us all about it.

Published Apr 19, 2014 1:10 AM CDT
|
Updated Tue, Nov 3 2020 7:00 PM CST
4 minute read time
Introduction and Specifications
PAPAGO is not a household name, so you've probably clicked into this review because you're the curious type, or you're in the market for a sports watch. I'm not going to lie; I didn't know about the company until I was contacted by them, but I was more than happy to check out their latest sports watch, the GoWatch 770.
It's an interesting device, and coming in hot on the heels of my review of Sony's beautiful SmartWatch 2, it was a hard sell. I'm not the most outdoorsy person, nor am I the most active (apart from having a 3-year-old super-active daughter to keep up with).
This didn't stop me from testing the GoWatch 770 in its element, but there definitely has to be a warning here: you only want to be interested in the GoWatch 770 if you're an active person. This is a Sports Watch, and not a smartwatch after all.
First off, let's see what comes in the box.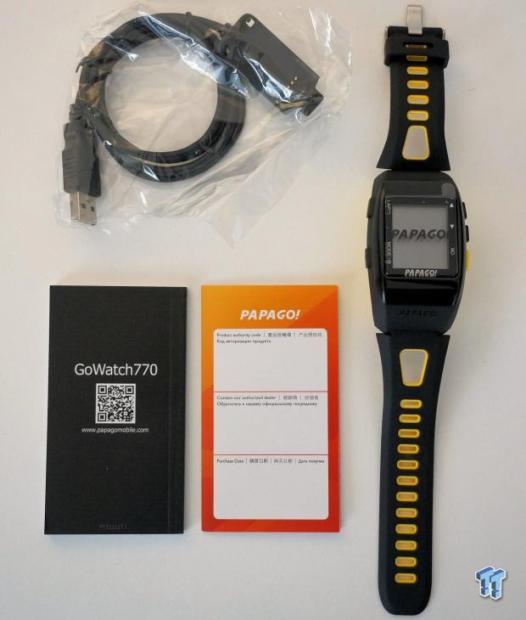 In the box, we have the GoWatch 770 itself (duh), a quick manual, warranty details, and the unique charging cable that attaches to the GoWatch 770 in a strange fashion--something we'll take a look at soon.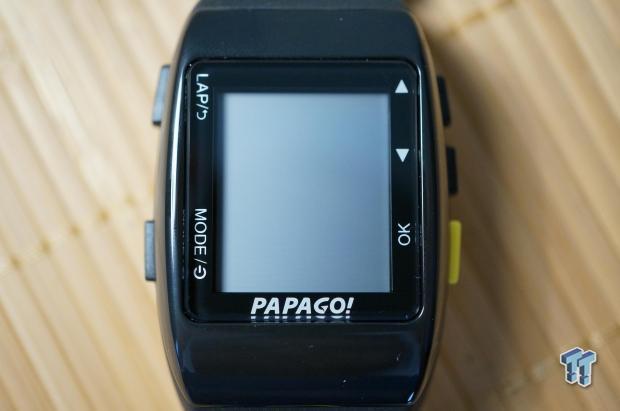 The front of the GoWatch 770 looks great, as the styling of the sports watch has a yellow and black theme all the way through. On the front, we can see that there are five buttons: lap (and back), mode (and power on/off), back and forward, and OK.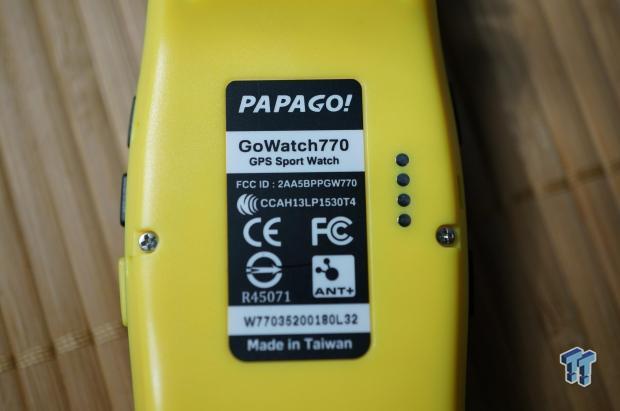 On the rear of the watch, there's not much going on at all, but we can see the usual details. To the right, we have four little silver bits of metal--that's where the charger latches on, which we're going to look at now.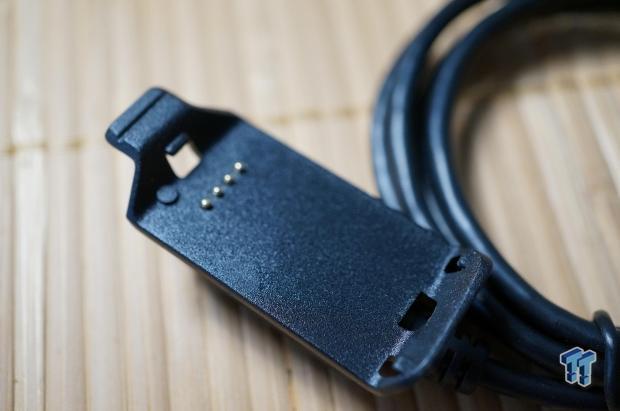 This is the charger. Normally it's a microUSB connector, but PAPAGO has gone for something proprietary. This is something I didn't like about the GoWatch 770, but we'll show you how it connects in the image below.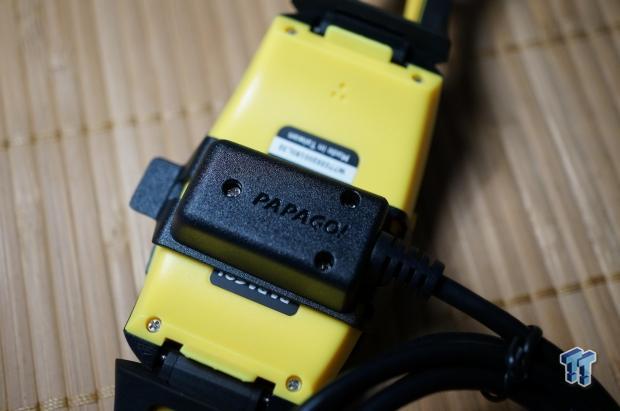 As you can see, it attaches on quite strong. Once it's on, it's really on and it isn't falling off easily.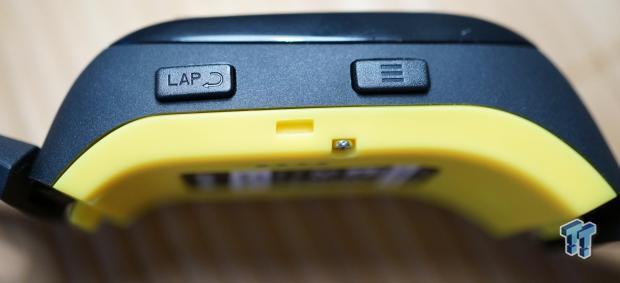 On the left side of the watch, we have the lap and menu buttons.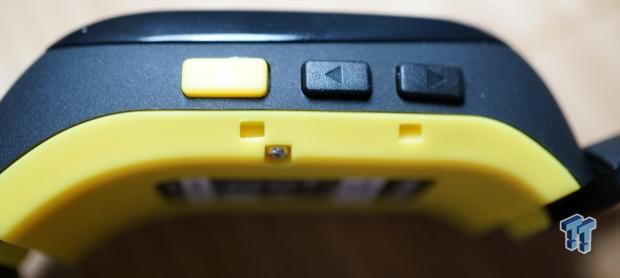 On the right, we have the back and forward buttons, as well as the yellow OK button.

As you can see above, the specifications are quite good. We have a screen resolution of 144x168, waterproof goodness, up to 18 hours of recording time, GPS capabilities, and much, much more.
Now that you know what's going on, we'll talk about the software side of things. PAPAGO has invested some time into the software, something that is quite important on a sports or smartwatch.
The PAPAGO GoWatch 770 works with both Windows and Mac, so you're not just left to using Windows, as Apple's Mac OS X platform is incredibly popular these days.

Once you start downloading it, you're on your way.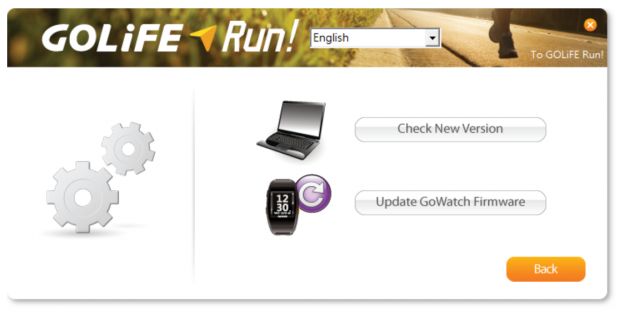 Once the software is installed, you can check for a new version of the software or update the GoWatch 770's firmware.
Using the PAPAGO GoWatch 770
Coming off my review of the Sony SmartWatch 2, which felt incredibly comfy to wear, the GoWatch 770 felt really weird on my wrist. I tried and tried to tweak it, thinking it was my wrist--I have quite thin wrists--but it wasn't. The GoWatch 770 just felt odd on my wrist, and never comfortable. Not a good start.
The GoWatch 770 itself is made from some great materials and feels like a quality device on your wrist. With the sports watch being waterproof, you can go for a run and sweat like crazy without worrying that you're going to damage the GoWatch 770.
Thanks to its GPS capabilities, the GoWatch 770 can be used as a trip tracker, something that other devices can't proclaim. This isn't something I did, but if it's something you're interested in, it's a big selling point for PAPAGO.
Importing your data from the GoWatch 770 into the GoLife Run software is incredible easy, where you need to download and install the software (as we showed above), and once that is done, you simply connect the watch to its USB connector and plug it into your computer.
Once the GoWatch 770 is up and running on your computer, it will import all of the data from the watch, throwing it into your GoLife Run account. From there, it will show you all of the data from your walking, running, or jogging trips.
What's Hot
Filled With Features: PAPAGO has packed its GoWatch 770 with a bunch of features that should have even the most adventurous person intrigued. The GPS capabilities, data recording, and ease of use are all a great part of the total experience with the GoWatch 770.
GPS Capabilities: The GPS capabilities of the GoWatch 770 are great; it tracks virtually every step of your travels, and it is even compatible with Google Earth, so you can get some serious tracking details going on. The NSA would be proud of this one.
It Looks Great: The yellow and black style that PAPAGO has gone for is great; it did look great on my wrist, it just didn't feel that great, something we'll talk about below.
What's Not
It's Simply Not Comfortable (for me at least): This is something that could be personal, but the GoWatch 770 was not comfortable for me. Other than my testing, I couldn't wear it out for long periods of time like I could with other smartwatches.
For something that is built for being a sports watch, you would think it would be as comfortable as possible, but maybe this is just me. It's something you need to test on your wrist before you jump into it.
Final Thoughts
PAPAGO has quite the sports watch on offer with the GoWatch 770. Sure, it's not perfect, but even the big boys are having troubles with their smartwatches and various wearables. Nothing is perfect these days, but PAPAGO does more good than bad with its first foray into the wearable world.
If you're after a sports watch that is waterproof, with truly awesome GPS capabilities and a great look, then you should consider what PAPAGO has on offer with the GoWatch 770.
But a word of caution: you should really try before you buy because of its design; I simply couldn't recommend it to anyone without trying it first, as it was really uncomfortable for me. Other than that, PAPAGO has crafted something quite amazing here, something I'm definitely going to be keen on version 2.0 if it ever arrives.
PRICING: You can find the PAPAGO GoWatch 770 for sale below. The prices listed are valid at the time of writing but can change at any time. Click the link to see the very latest pricing for the best deal.
United States: The PAPAGO GoWatch 770 (Blue) retails for $154.60 at Amazon.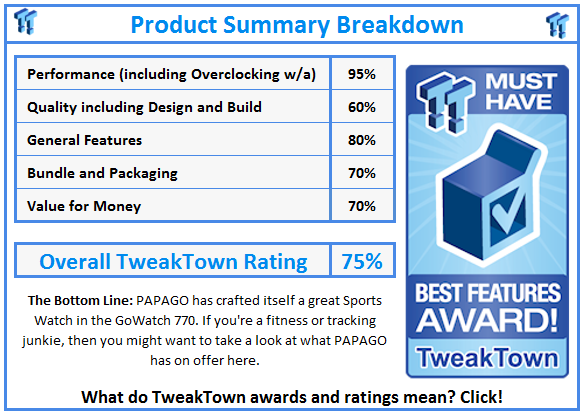 PRICING: You can find products similar to this one for sale below.

United States: Find other tech and computer products like this over at Amazon.com

United Kingdom: Find other tech and computer products like this over at Amazon.co.uk

Australia: Find other tech and computer products like this over at Amazon.com.au

Canada: Find other tech and computer products like this over at Amazon.ca

Deutschland: Finde andere Technik- und Computerprodukte wie dieses auf Amazon.de
We openly invite the companies who provide us with review samples / who are mentioned or discussed to express their opinion. If any company representative wishes to respond, we will publish the response here. Please contact us if you wish to respond.