Linksys WRT1900AC 802.11ac Smart Wireless Router Review
Today we take a look at Linksys' WRT1900AC, a brand new 802.11ac smart wireless router. Follow as Tyler tells us what he thinks of it and how it performs.

Published Apr 14, 2014 9:00 AM CDT
|
Updated Tue, Nov 3 2020 7:00 PM CST
6 minute read time
Introduction & Pricing, Availability and Specifications

From 2002 to about 2007, I don't think I knew anyone that didn't use a WRT54G router from Linksys; the classic design concept that lived previously on the 802.11b routers was transitioned over to the 802.11g router, and one of the most stable wireless platforms was born. Since then, things have changed. Cisco dumped Linksys, and the company was picked up rather quickly by Belkin and has since been reborn into a company going back to its roots.
Nowhere is this roll back more prominent than in the product we are looking at today, the WRT1900AC. This new wireless networking solution from Linksys is the company's top-tier offering for those that want the ultimate in terms of stability, performance, and range.
Features of this high performance router include a 1.2GHz dual-core ARM based processor with 256MB of DDR3 memory complimenting the 128MB of flash Linksys has put onboard. Dual band capabilities of 600Mbps on the 2.4GHz band and 1.3Gbps on the 5GHz band are complimented by the four antennas placed on the unit to provide diversity, where the router will use the three best antenna signal rates to transmit and receive data.
Read on and let's see how it performs.
Pricing, Availability and Specifications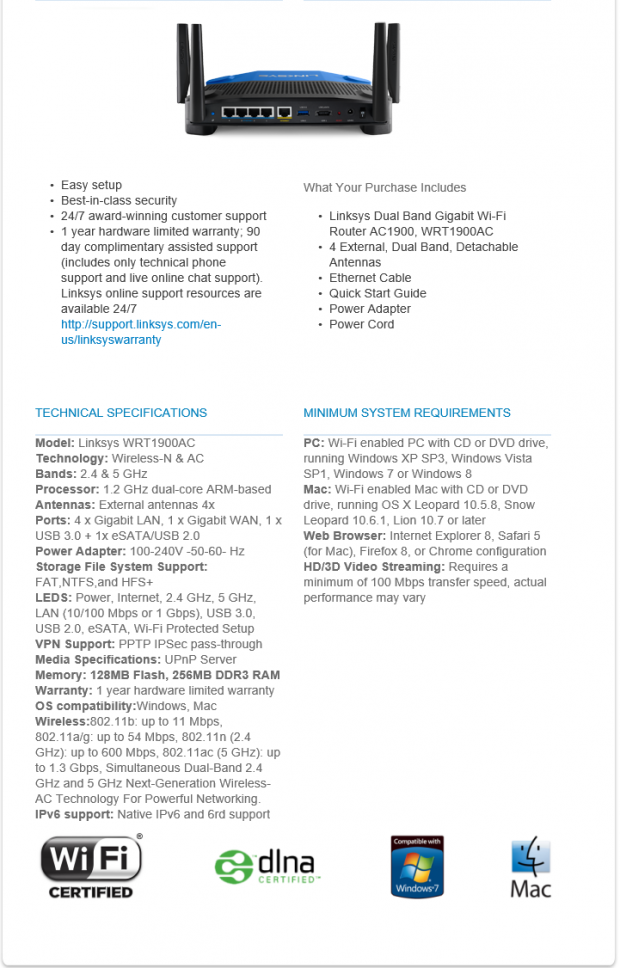 MSRP of the Linksys WRT1900AC wireless router is listed at $279.99 with a one-year warranty. Availability of the router is slim at this point, but you may be able to find it at several stores in the USA.
Router Details
Linksys WRT1900AC Wireless Router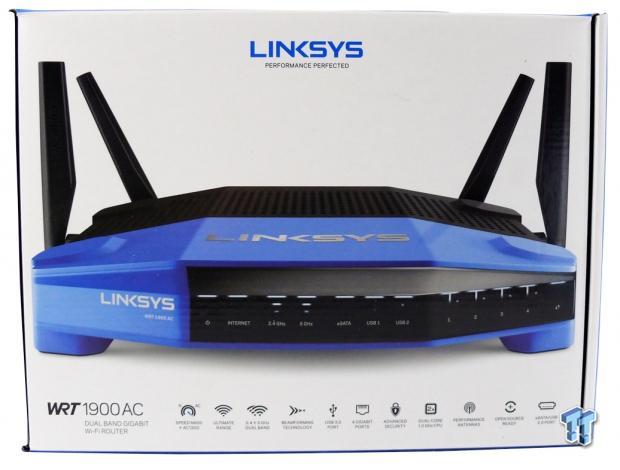 The product packaging for the WRT1900AC carries an image of the router on the front of the box with marketing information below.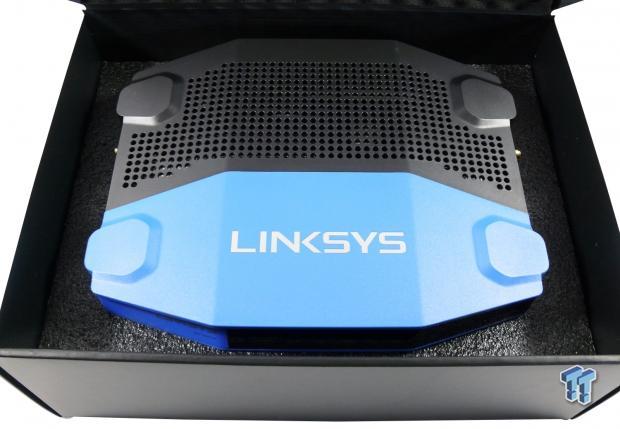 Internally, you can see Linksys took an extra step to really boost the user experience.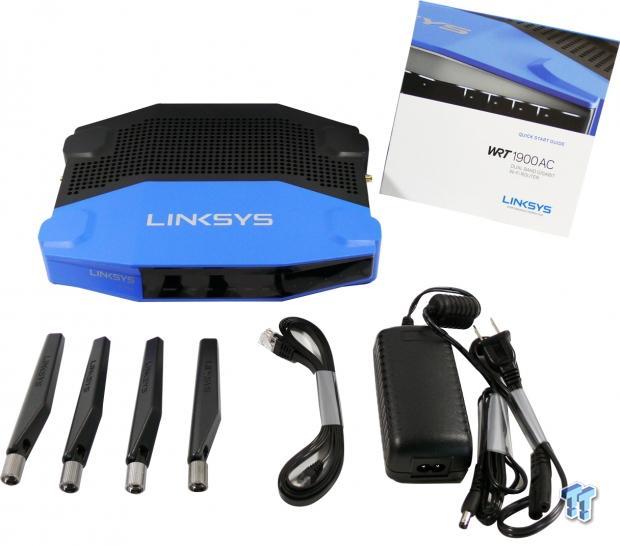 Scope of delivery includes an Ethernet cable, four antennas, power adapter, and reading materials.

The WRT1900, as you know, carries a similar design to the WRT54G, albeit more modern and sleek.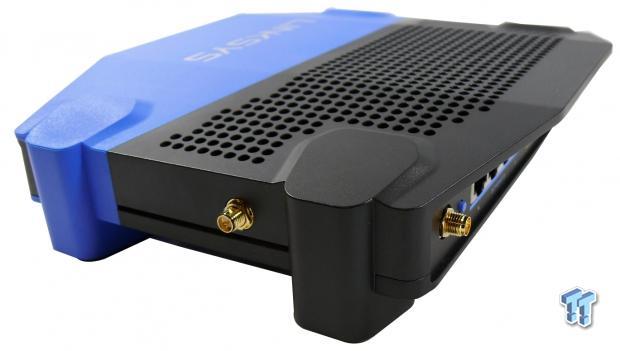 Here we have two of the four antenna SMA connections placed on the unit.

The back of the router houses four gigabit LAN connections next to the single WAN port. We also have a USB 3.0 port and eSATA/USB port.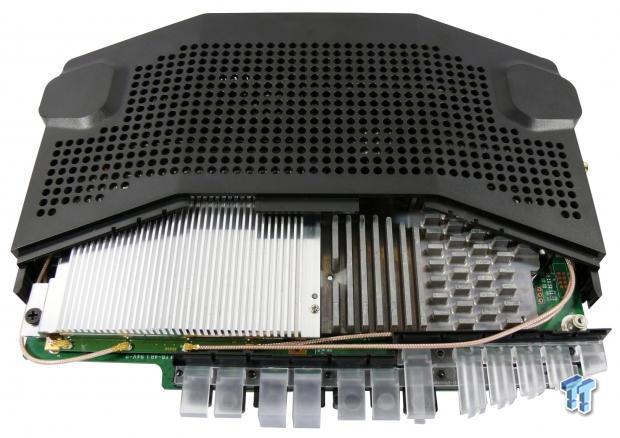 Internally, there isn't much to really get a look at. Everything is covered by heat sinks and tucked away.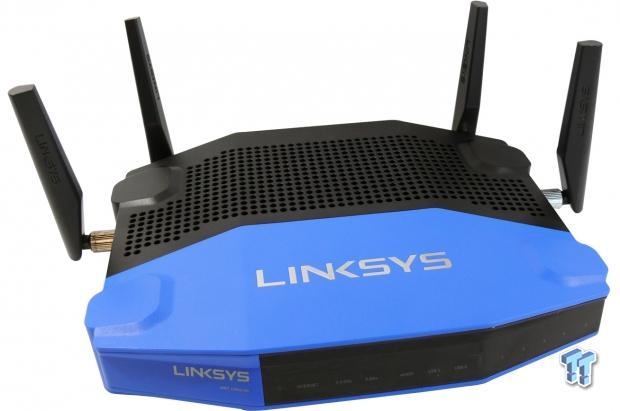 Here we have the router ready for testing.
Management GUI Details
Management GUI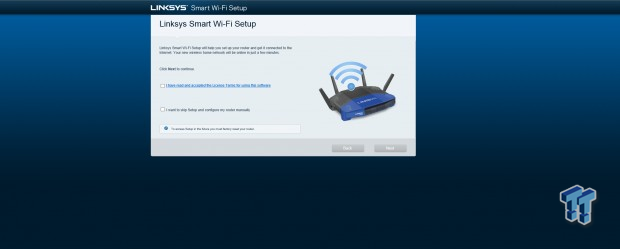 Here we have the setup menu for the WRT1900AC router. There are two options for setting up your router: one uses the wizard that guides you through setup and the other allows manual setup.

Next we setup the wireless SSIDs we want to broadcast along with passwords.

Next we have the option of setting up a Linksys Smart Wi-Fi account; this will allow us to access our home network on the go.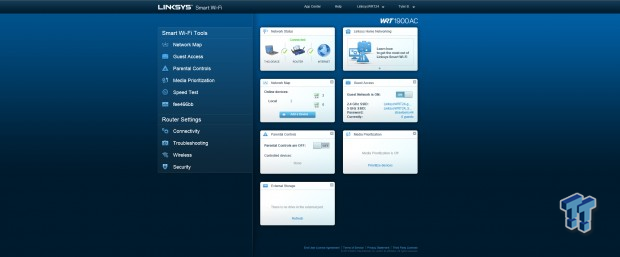 After setting up our Linksys account, we land at the home menu for the WRT1900AC. Here you can see it has a sleek modern layout with all important information listed on the main page.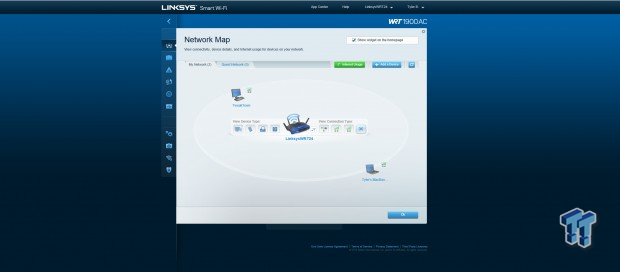 Here we have the network map, which is where you can see what devices are connected to your network and through what type of connection.

Above, we have the built-in speed test. As you can see, my Internet connection isn't too bad.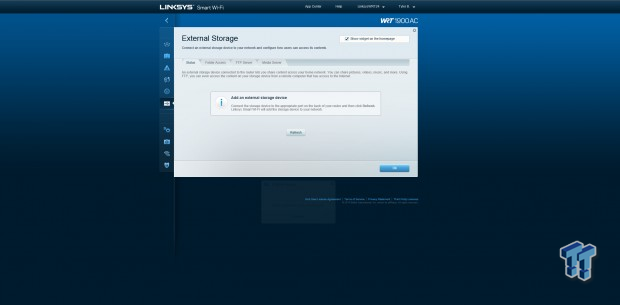 The external storage menu allows you to setup and configure USB and eSATA storage devices to be used on the network.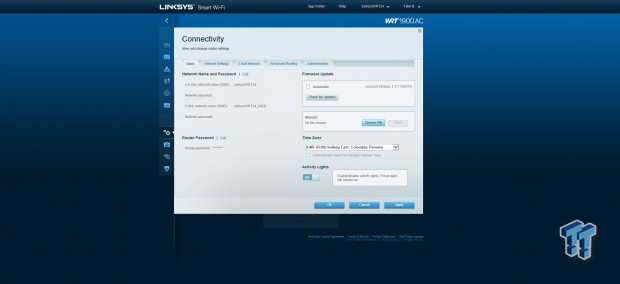 Over on the connectivity menu, you will find options to change your wireless SSIDs along with the passwords. If you switch tabs, there are more advanced options for configuring your WAN manually along with an administration menu to save and restore router settings from a file or reboot and factory reset the router.

Here we have the security menu that allows us to enable or disable firewalls for IPv4 and v6 along with DMZ and port forwarding options.
Test System Setup and Wireless Range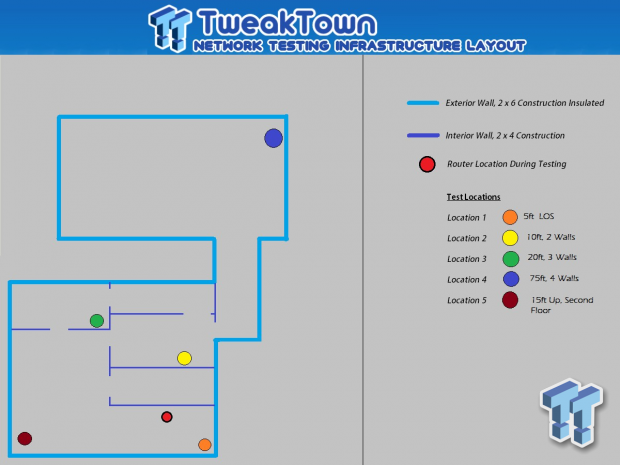 As wireless networking has proliferated in homes and offices around the world, and network vendors keep releasing new devices on a regular basis, you now have so many options that it's hard to make a choice. The truth of the matter is, regardless of how many features a wireless router or access point has, the two most important things about it are its speed and its range.
We test throughput in a dual-node network environment consisting of a custom PC with a GIGABYTE Z77UP5 TH and an Intel Core i5 3570K Processor operating at 3.3GHz with 16GB of DDR3. The system features the Startech.com ST1000SPEX42 quad-port gigabit network adapter. The second system features a GIGABYTE x58 OC mainboard with an Intel Xeon L5639 Six Core CPU, 48GB of DDR3 from ADATA, and the StarTech.com ST1000SPEX42 NIC.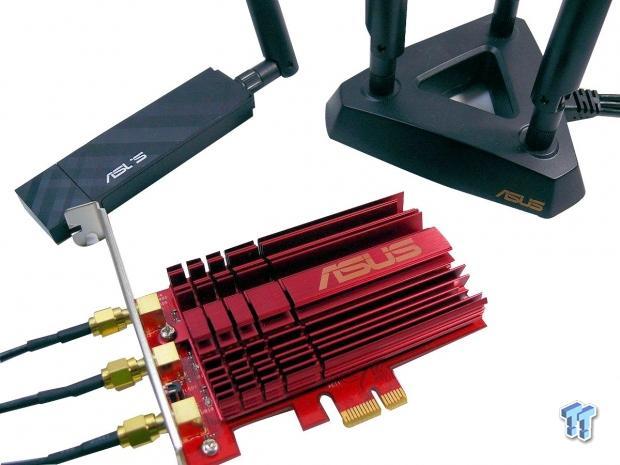 Wireless throughput is tested using the ASUS PCE-AC68 PCI Express Network Adapter. Range is tested with an HP ProBook installed with an ASUS USB-AC56 adapter via USB 3.0.
We perform all tests in a real-world environment. You may get better range and throughput results in a spacious facility with few internal walls or outdoors. Our tests provide a benchmark for estimating the range and throughput of wireless networking devices in an indoor setting with some obstacles.
Wireless Range
For wireless range, we need to refer to the Network Infrastructure chart above. Each chart herein is based on the locations on the table. To make it simple, Location 1 is the closest and within Line of Sight, while Location 4 is the furthest away with many walls in between. Location 5 tests the router's ability to generate enough signal strength to penetrate to the second floor of a home.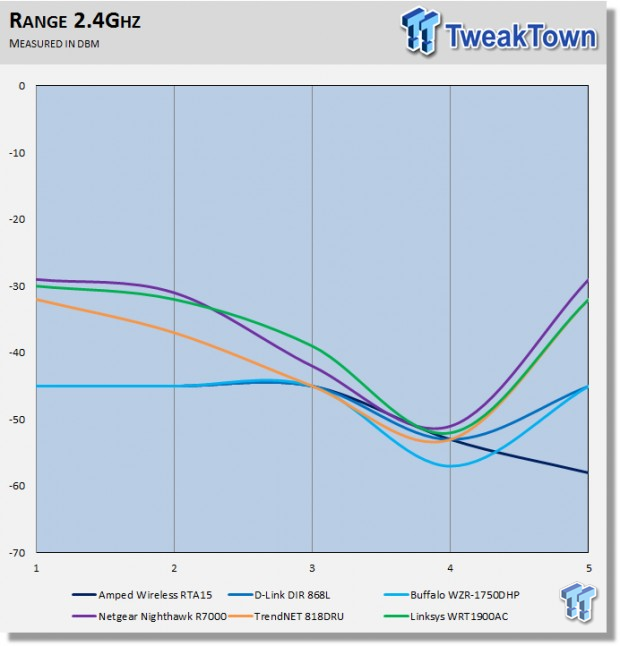 In our 2.4GHz testing, we have the WRT1900 following a similar curve to previously tested routers. At location 3, the WRT is the best solution, whereas at locations 4 and 5, it's just behind the R7000.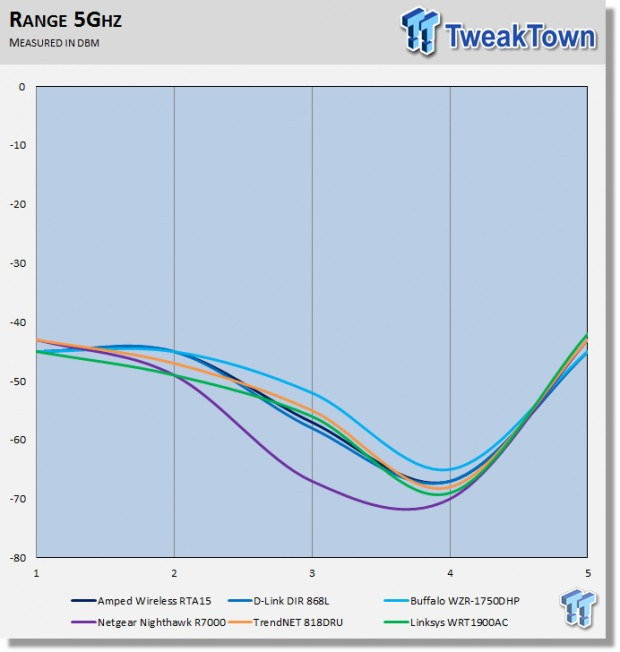 5GHz range sets the WRT1900 at an even curve with most routers on the chart. At location 2, it's right with the R7000, and moving towards location 4, the router stays right with the pack.
Benchmarks - Wired and Wireless Throughput
Wired Throughput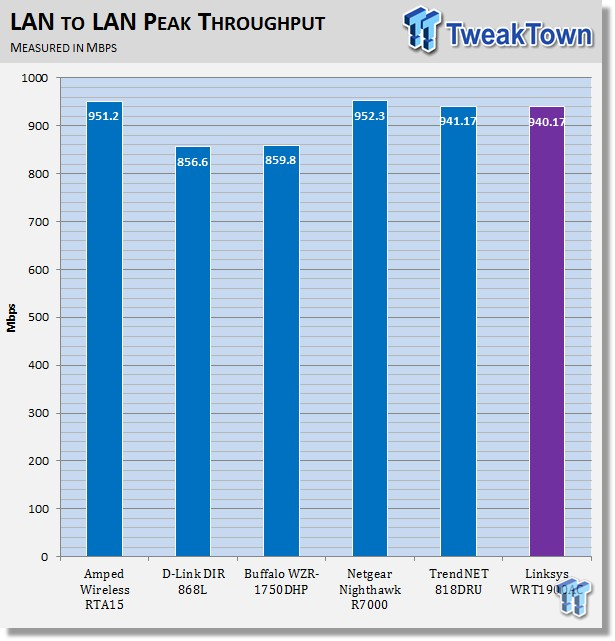 LAN to LAN throughput peaked at 940Mbps for the WRT1900, right with the TRENDnet and just below the R7000 from Netgear.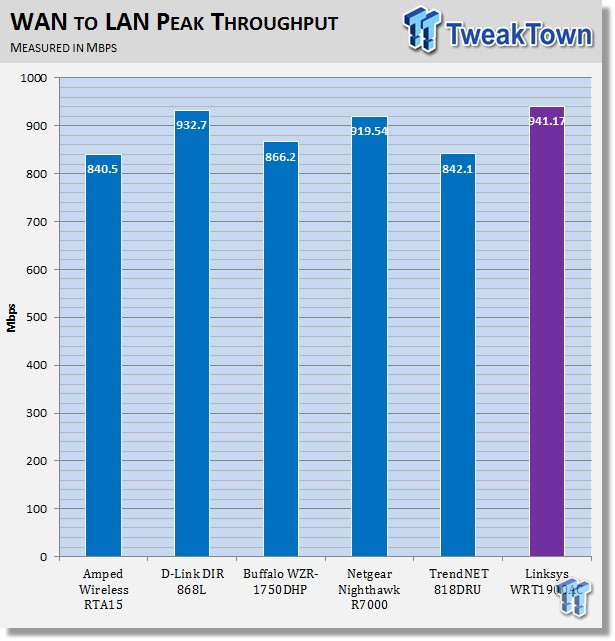 WAN to LAN came in at 941.17Mbps, which tops our charts.
Wireless Throughput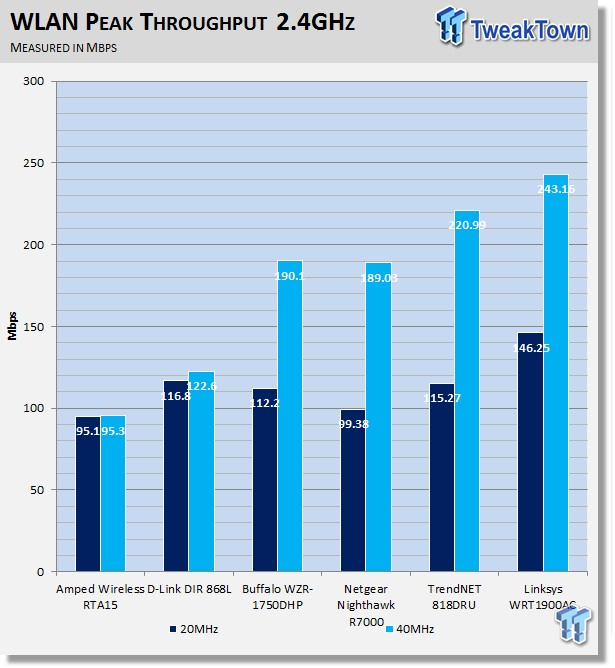 In our 2.4GHz testing, we find the WRT1900AC topping the charts at both 20MHz and 40MHz. On the 20MHz band, the WRT1900 comes in at 146.2Mbps, a full 30Mbps quicker than the next closest solution. At 40MHz, the WRT came in at 243.1Mbps, 23Mbps quicker than the TRENDnet.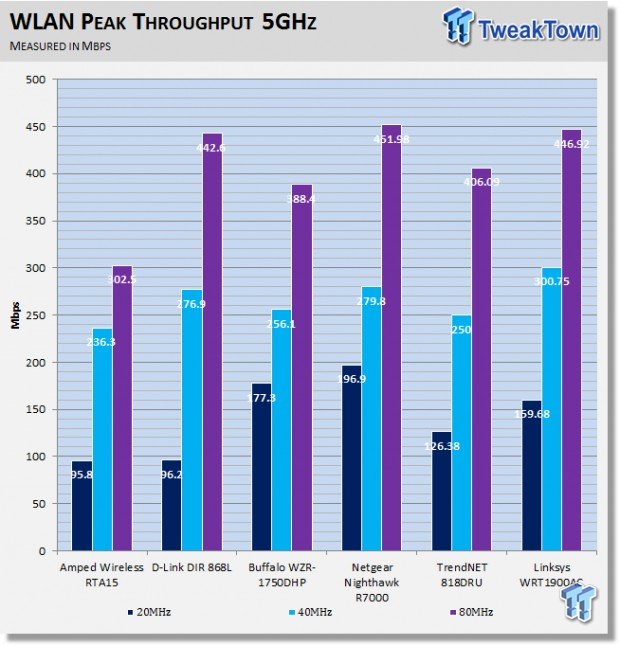 5GHz carries mixed results for the WRT1900. Here we have the router coming in at 159.6Mbps for the 20MHz band, then picking up the pace for 40MHz and landing at 300Mbps, which is top in our charts. Over on 80MHz, 802.11ac bandwidth topped out at 446.9Mbps, just behind the 451.9Mbps of the Netgear R7000.
Benchmarks - File Transfer Test & Final Thoughts
File Transfer Speeds
In our file transfer test, we use a single 4GB ISO file and transfer it from test system one to our second test system via the network. To eliminate any bottlenecks, each system is utilizing a Corsair Neutron 256GB SSD.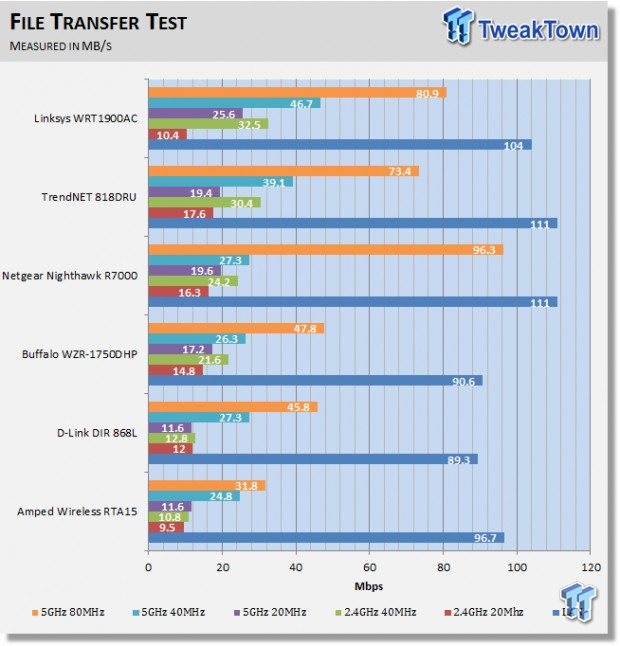 File transfer testing for the WRT1900AC went quite well. At 2.4GHz 20MHz, we topped out at 10.4 MB/s, which puts it next to the RTA15 from Amped and the 868L from DLink. Next, we moved on to 40MHz where we landed at 32.5 MB/s, making the WRT1900AC the quickest on the charts. Over on 5GHz, we start with 20MHz and land at 25.6 MB/s, again the quickest on our charts.
40MHz claimed 46.7 MB/s, once again the quickest in the chart. Then we hit 80MHz where the R7000 shined; sadly, the WRT1900AC couldn't muster enough to top the 96.3 MB/s of the Netgear, but we did grab 80.9 MB/s, which made it the second quickest.
Final Thoughts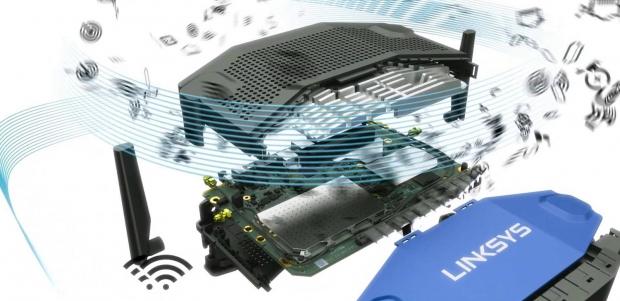 The Linksys WRT1900AC is surely right up there with the Netgear R7000 when it comes to the best-looking router. The classic design spruced up with modern lines really makes this unit stand out. Accompanying the design, we also have excellent build quality, and one thing is for sure: this router is a beast. I'd hazard to say it weighs more than the Netgear R7000 thanks to the massive heat sinks used internally.
Performance of the router was exceptional, and if it wasn't for that pesky Netgear R7000, it would definitely be the top router in every chart. Alas, the unit does perform well where it matters. We have top-notch wireless throughput, and wired throughput is chart leading.
In addition to the performance of the router, the WRT does carry a plethora of features, but the number one in my mind is the inevitable support for OpenWRT, DDWRT, and possibly Tomato. Back when the WRT54G was king, people gobbled those up just for the ability to use DDWRT, leading Linksys to release the GS just for that purpose, so it's definitely great to see Linksys openly supporting use of third party firmware.
This is not to say that the included "stock" firmware isn't good; it's really one of the most user-friendly firmware Linksys has ever used. Everything is laid out in a manner that allows you to see and configure everything rather easy. Of course, then we have the network map, allowing you to see what's connected and the built-in speed test to put the icing on this very awesome router from Linksys.
MSRP for the Linksys WRT1900AC is listed at $279.99 with a one-year warranty.
PRICING: You can find the Linksys WRT1900AC for sale below. The prices listed are valid at the time of writing but can change at any time. Click the link to see the very latest pricing for the best deal.
United States: The Linksys WRT1900AC retails for $351.60 at Amazon.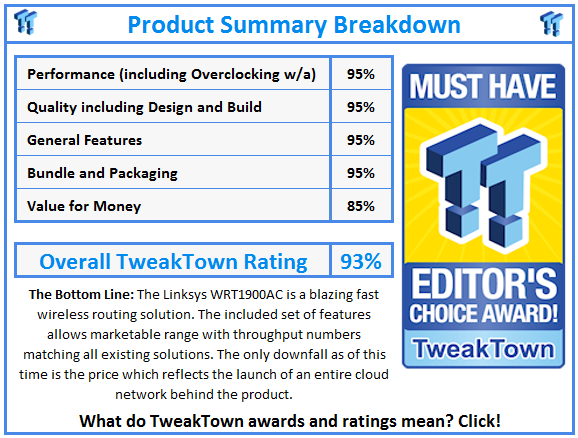 PRICING: You can find products similar to this one for sale below.

United States: Find other tech and computer products like this over at Amazon.com

United Kingdom: Find other tech and computer products like this over at Amazon.co.uk

Australia: Find other tech and computer products like this over at Amazon.com.au

Canada: Find other tech and computer products like this over at Amazon.ca

Deutschland: Finde andere Technik- und Computerprodukte wie dieses auf Amazon.de
We openly invite the companies who provide us with review samples / who are mentioned or discussed to express their opinion. If any company representative wishes to respond, we will publish the response here. Please contact us if you wish to respond.