The Hunger Games: Catching Fire (2013) Blu-ray Movie Review
"Nobody ever wins the games. Period. There are survivors. There's no winners."

Published Apr 6, 2014 10:39 AM CDT
|
Updated Tue, Nov 3 2020 7:00 PM CST
4 minute read time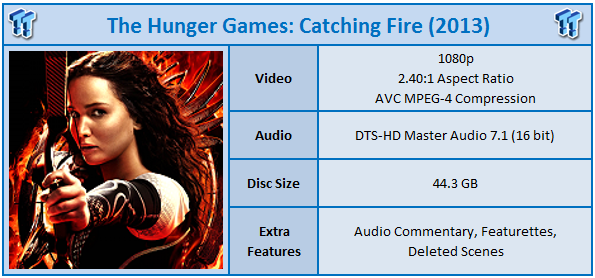 The Hunger Games: Catching Fire (2013)
In this day and age, blockbusters films are a dime a dozen. But successful franchises are even more lucrative and infinitely harder to pull off, especially if they're based on existing literature with pre-built expectations.
Despite this, Director Gary Ross did a reasonably solid job of translating Suzanne Collins' young adult novel The Hunger Games to the screen back in 2011. Taking the reins this time around is Director Francis Lawrence who presents a superior product that builds on the strengths of its predecessors and rights some flaws.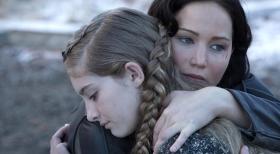 Following the defiant near-suicide of Katniss Everdeen (Jennifer Lawrence) and Peeta Mellark (Josh Hutcherson) at the conclusion of the 74th Hunger Games, the victors are increasingly seen as a symbol of hope amongst the crushed spirits of the desolate districts. Aware of the risk of changing sentiments and threat of an uprising, President Snow (Donald Sutherland) comes down hard on the would-be lovers, recalling them to fight once more in the 75th Hunger Games. Together with the new game's designer Plutarch Heavensbee (Philip Seymour Hoffman), the Capitol hatches a plan to not only tarnish Katniss' pure reputation and thus halt the civilian unrest, but destroy her once and for all in the arena.
Whilst I took exception to certain elements of the first Hunger Games, including the artificial threats within the competition which struck as poor and overly convenient writing, the rules in Catching Fire are more established, and the stakes infinitely higher, with more thoughtful reflections on the ruins of the dystopic future society and civilian conflict. Whilst I haven't read Suzanne Collins original novel, I'd also bet that the source material has served as a superior base, which ably assist with the film adaptation.
All the key members of the cast return, with no roles being recast. Talented starlet Jennifer Lawrence is particularly strong in the role of the female heroine, and she has not shied away from demanding roles since the first Hunger Games, including The Silver Linings Playbook, which was received with acclaim and a deserved Academy Award. Newcomers to the series, including Phillip Seymour Hoffman and Jeffrey Wright, stamp their own subtle marks on pivotal roles, lending even more gravitas to an already star-studded cast, including Elizabeth Banks, Woody Harrelson, and Lenny Kravitz (yes, that Lenny Kravitz).
What could have been the awkward near-middle entry in the series, Catching Fire is not only a satisfying film in its own right, but it does a great job of presenting a more involving story that is clearly building to a much bigger and compelling narrative. Sadly, however, we'll have to wait an additional two years to see it completed.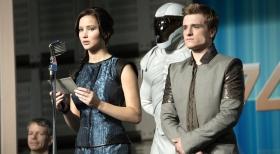 Video
Catching Fire is encoded with AVC MPEG-4 compression and presented in the intended aspect ratio of 2.35:1. It's worth noting that whilst some battle sequences were filmed in the aspect ratio of 1.44:1 for IMAX presentation, none of these are available in the wider format, unlike the US and UK discs.
Filmed with a mix of film, IMAX, and digital cameras, and finished in a 4K digital intermediate (something of a rarity case), Catching Fire looks stunning in this 1080p down convert. Whilst the image rarely looks natural or 'pretty', with heavy colour grading that frequently accentuates blue and yellow tones and the occasional soft focus, these reflect artistic intentions and are in no way a transfer fault. In fact, there's nothing here I could genuinely fault as it comes with a level of detail that reaches the limitations of 1080p encoding. Whilst the image is frequently dark, there is no evidence of black crush, with plenty of fine detail visible in these tones.
Whilst it would have been nice to have the variable aspect ratio scenes included here, ala The Dark Knight Rises and Tron: Legacy, with a transfer this impressive, it seems petty to complain.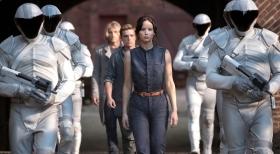 Audio
Catching Fire is presented in DTS-HD Master Audio 7.1 at 16 bits.
For a modern blockbuster release, it will come as no surprise that this is a really accomplished track with a plethora of whiz bang surround effects that are keen to make themselves known, and more subtle jungle effects which heighten the confected isolation of the game arena are also present.
The centre channel is perfectly audible throughout, and I didn't notice any obvious ADR dialogue or audio sync issues, and the front sound stage leaks plenty of effects quite transparently to the mid and rear surrounds. The subwoofer channel is used appropriately but not overly so, which may disappoint some, but I think unjustly.
Overall, this is a really solid track that is very balanced and brings the best of modern mixing techniques to the home.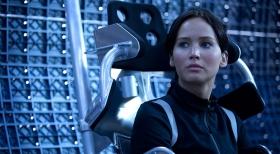 Extras
Fans might be a little torn with the local release of the film, but it seems that the perfect release of Catching Fire is left wanting worldwide. The region coded U.S. release alternates the feature film's aspect ratio for scenes shot in the taller IMAX format and also includes an additional two hour documentary in HD, which has unfortunately resulted in an over-compressed main feature. The local version jettisons the documentary completely in favor of increasing the main feature's bit rate significantly, but it also does not include the IMAX sequences. However, it is worth nothing that the documentary is included in an Australian retailer exclusive released by the JB Hi-Fi chain, but this still doesn't include the IMAX scenes. For this review, I'll be looking at the standard release.
The Audio Commentary with Director Francis Lawrence and Producer Nina Jacobson is one for the true fans only with a few nuggets of anecdotes and info imparted, but it is a bit of a tough slog to get through.
Next up are a few brief featurettes, including Inside District 12: The Hob - A look at the citizens of District 12, which takes a photographic tour through the slums, whilst The Alliance: Returning Cast reunites the continuing cast, growth spurts and all. Friend or Foe: New Cast focuses on the fresh faces who have joined this time around, clearly produced before the untimely death of Phillip Seymour Hoffman,and features interview snippets and cast reflections on his casting. The last, One Vision: A Faithful Adaptation, discusses the intentions of Director Francis Lawrence to the original source material and the accommodations necessary for its visualization. Some of these featurettes annoyingly include tantalizing snippets of the aforementioned IMAX footage, which looks lovely indeed.
Finally, we have four minutes of Deleted Scenes, which don't really seem to be important from a film perspective, but fans of the book might enjoy these brief additional character moments.
PRICING: You can find the Hunger Games: Catching Fire (Blu-ray) for sale below. The prices listed are valid at the time of writing but can change at any time. Click the link to see the very latest pricing for the best deal.
United States: The Hunger Games: Catching Fire (Blu-ray) retails for $22.96 at Amazon.
Canada: The Hunger Games: Catching Fire (Blu-ray) retails for CDN$18.99 at Amazon Canada.
Australia: The Hunger Games: Catching Fire (Blu-ray) retails for $29.99 AUD at Mighty Ape Australia.
New Zealand: The Hunger Games: Catching Fire (Blu-ray) for $39.99 NZD at Mighty Ape NZ.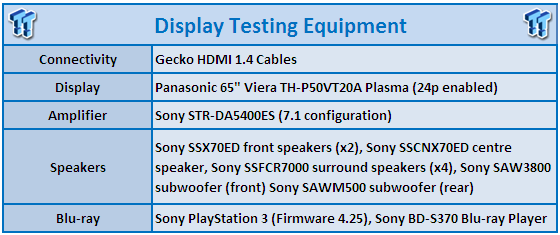 PRICING: You can find products similar to this one for sale below.

United States: Find other tech and computer products like this over at Amazon.com

United Kingdom: Find other tech and computer products like this over at Amazon.co.uk

Australia: Find other tech and computer products like this over at Amazon.com.au

Canada: Find other tech and computer products like this over at Amazon.ca

Deutschland: Finde andere Technik- und Computerprodukte wie dieses auf Amazon.de
We openly invite the companies who provide us with review samples / who are mentioned or discussed to express their opinion. If any company representative wishes to respond, we will publish the response here. Please contact us if you wish to respond.